Many people think Korean vegetarian recipes are limited in diversity. On the contrary, numerous Korean cooking methods can be altered to fit the vegetarian category of your diet. So you better save this post as these recipes are surprisingly delicious.
I know it's not easy to maintain a vegetarian diet; sometimes you just want to have something savory for your meal instead. Don't worry, because you will never have to taste bland vegetables again after this post. Let's go exploring.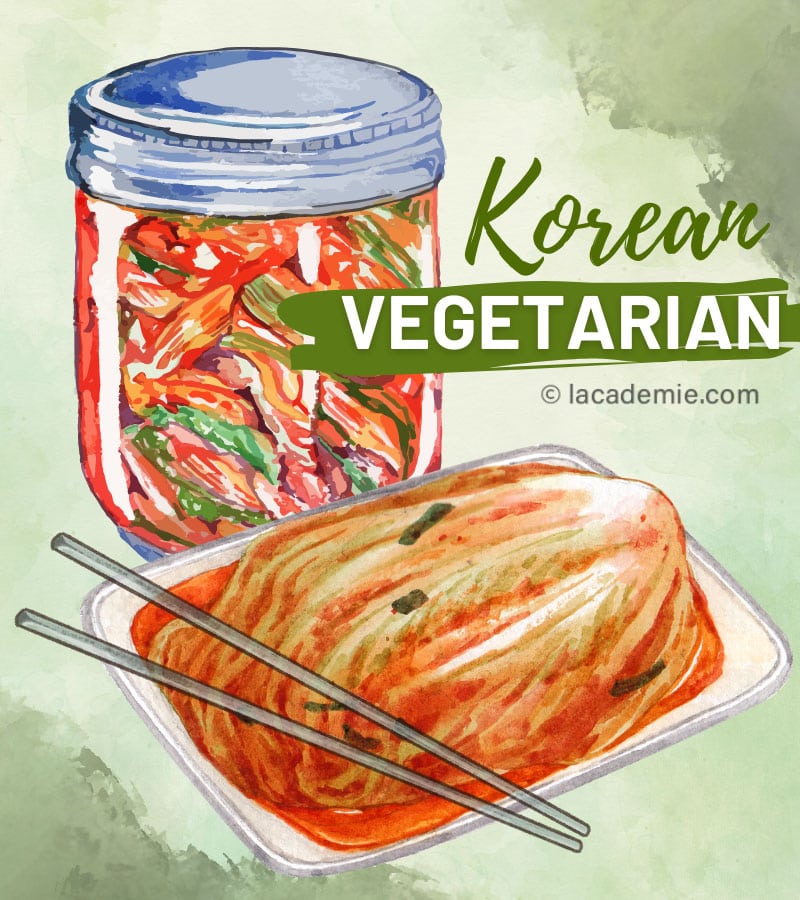 Meatless Korean Recipes To Spice Up Your Diet
These wonderful Korean dishes are super easy to make. In addition, the ingredients are also widely available around you. I'm certain that these Korean vegetarian meals will give you extra motivation to start the day.
Total time: 2 days 1 hour 15 minutes (including 2 days of soaking the veggies).
Whenever Korean cuisine is brought up as a topic, there's a high chance Kimchi will pop up as one of the most iconic dishes in the country. Kimchi has been around Korean culture ever since the Three Kingdoms era (57 BC – 668 AD) as a side dish for commoners and royal individuals.
While it's common for many people to think that Kimchi is fermented cabbage, Koreans consider Kimchi as a method to preserve vegetables for later consumption. Besides cabbage, locals even use green onion, cucumber, or green onion to make Kimchi.
For an authentic approach to Korean Kimchi, it's best if you have access to Napa cabbage for its crispy texture. Commonly, Kimchi has a distinct red color from the massive amount of Gochugaru (Korean pepper flakes) with salt to promote fermentation.
To enhance the Kimchi flavor and texture, I suggest adding a blend of ginger, garlic, and carrot strip into the brine solution. As a reminder, you need to keep the cabbage in big chunks so retain their crispiness. Besides, if you're worried about whether kimchi is vegan, don't use animal-based products like fish sauce.
Finally, it's best to store your Kimchi in a sealed jar for a couple of days or even months before consumption to get the best flavor. However, if you don't possess that kind of patience, you should give the Kimchi at least 2 days of soaking in the brine solution.
Total time: 25 minutes.
It's unclear when Bibimbap made its appearance in Korean cuisine. However, almost every Korean enjoys a delicious bowl of Bibimbap. In terms of meaning, the name of the dish translates to "mixed rice".
Traditionally, locals create Bibimbap by combining various ingredients and condiments into one bowl of rice. People often use eggs, meats, and vegetables to go on the rice. As for the condiments, Gochujang (Korean chili sauce) is used to complement other ingredients.
To turn Bibimbap into a healthy vegan version, you need to leave out the meat and eggs. Instead, you can use numerous types of vegetables like carrot, zucchini, and mushroom for a more diversified texture.
Vegan Bibimbap is as tasty as the standard one. Since it's a meatless recipe, the whole rice bowl gives a light feeling after consumption.
Your vegan diet just got more flavorful with this incredible vegan Bibimbap recipe.
Total time: 45 minutes.
In many Asian countries, people tend to substitute meat for tofu if they're on a vegan diet. Similarly, Korean has an amazing way to process tofu into a mouth-watering Korean barbecue recipe for your next meal.
Beginning with the tofu, I suggest using the extra firm variety as it provides more texture that is fit for grilling. Any finger-licking BBQ will always need a good marinating sauce, so you will need to combine Gochujang (Korean chili paste) with tomato sauce, soy sauce, and sesame seed.
You will need to coat the tofu lightly with cornstarch before frying them to a crisp in hot oil. Only then can you start drizzling the BBQ sauce over the tofu. The dish is surprisingly easy to make with a crispy tofu texture and savory BBQ sauce ready to serve over a hot bowl of rice.
Total time: 1 hour 5 minutes.
Gamja Jorim is a popular side dish in Korean cuisine that has potatoes as the main ingredient. The term Jorim refers to braised dishes in Korean cuisine. If you have some potatoes lying around in your house, it's a perfect occasion to whip out this recipe.
Since the potatoes are usually kept whole, you should use baby potatoes for their small size. In addition, the outer skins of baby potatoes are more sticky and chewy, making the dish's overall experience more delicious.
You can start by browning the outer skin of the potatoes with honey and some sesame seeds. While at it, you should also make a braising concoction consisting of rice wine, brown sugar, and soy sauce. I do have to warn you that Gamja Jorim is an extremely addicting dish.
Total time: 1 hour 40 minutes.
Hotteok is a popular street food delicacy of Korean cuisine that resembles your standard pancakes. The treat came to Korea in the 19th century when Chinese merchants were settling down for business and started selling Hotteok as a snack.
These pancakes are crunchy on the outside and have a beautiful golden brown color to them. On the contrary, the interior of Hotteok is a bit chewy and often stuffed with cinnamon sugar. Koreans love these pancakes because of the sweetness that instantly boosts their energy.
The dough mixture of Hotteok consists of all-purpose flour with the addition of oil, sugar, and yeast. People will knead the dough thoroughly before flattening it into a disk shape. Then, the filling of sugar, cinnamon, and pecan seeds is added to the middle of the dough.
Hotteok offers you the freedom to customize the recipe with your desired fillings.
Total time: 30 minutes.
Aside from the popular cabbage Kimchi, Koreans love to feature Oi Muchim, a type of cucumber salad, as part of various side dishes on the dinner table. Oi Muchim will change anyone's negative opinions about cucumber right after the first bite.
The recipe for Oi Muchim is super simple to make right at home. You only have to pickle the cucumber in rice wine vinegar and sea salt. When served, Oi Muchim should be accompanied by a dressing concoction consisting of rice wine vinegar, sesame seeds, and red pepper flakes.
A friendly reminder: If your cucumber is too salty, you can rinse it with water to lessen the briny taste. The result you will get is slices of tangy, sweet, and crunchy cucumber. They are perfect to complement any dishes that you have in store for your meal.
Total time: 2 hours 20 minutes (with 2 hours of soaking the mushroom).
In Korean cuisine, people refer to Gangjeong as a method of deep-frying food and coating it with a layer of sticky syrup. Beoseot Gangjeong is fit to serve as a Korean starter for your meal. The dish is the vegan-friendly version that takes mushrooms as the central ingredient.
To get the best experience from the dish, I suggest using shiitake mushroom for the meat and rich texture when cooked. Don't forget that you need to soak the mushroom first. Most often, you want to lightly coat mushrooms with either cornstarch or potato starch before frying them.
For the sauce mixture, a simple blend of Gochujang with soy sauce, rice wine, and vinegar will kick the overall flavor to another level. Also, the appearance of colorful bell pepper will help the dish be more appetizing. I'm certain you will love the slightly sweet and sour flavor of the dish.
Total time: 15 minutes.
Sigeumchi Namul is a simple recipe to make for any fan of the spinach vegetable. If you don't know, spinach provides your body with an array of nutrients to maintain your vision, prevent heart diseases, and lower oxidative stress.
Commonly, Sigeumchi Namul is a popular Asian starter for any meal during the day. People first blanch the spinach in hot water, then continue to season it with salt, sesame seeds, and soy sauce. Then, you will need to toss the spinach well until it's coated with flavorful condiments.
The dish offers many options to customize the flavor to your liking. So you should feel free to come up with your recipe for a personalized Sigeumchi Namul.
Discover a new way for you to serve spinach with this tasty Sigeumchi Namul guide.
Total time: 15 minutes.
Here's another delicious side dish that allows you to diversify your meal. Musaengchae is made by soaking sliced radish with various types of Korean spices for some time. In some ways, Musaengchae is quite similar to Oi Muchim, with the only difference being the main ingredient.
The radish slices should be as thin as possible since you want the radish to absorb most of the condiments. Korean locals prefer adding salt, rice vinegar, and Gochugaru along with the radish in the same bowl to benefit the mixing phase.
Before serving Musaengchae, you should taste test the dish first. That way, you can adjust the flavor to suit your taste buds. The natural sweetness of the radish is perfect for mixing with the spiciness and sourness of the condiments.
Total time: 1 hour 5 minutes.
Tteokbokki is a dish that can never leave your head once you give it a taste. People will simmer cylindrical rice cakes in a spicy broth mixture and serve them in a hot pot. In the past, Tteokbokki even made it into the best Korean cookbooks for the royal family.
Conventionally, locals will have fish cakes, boiled eggs, and meat as additional ingredients to this tasty rice dish from Korea. However, Tteokbokki can be fully customized to fit the criteria of a vegan dish. Better yet, the flavor remains the same as the original one.
Instead of using meat, my recommendation is a concoction of mushroom, radish, and dried seaweed for a flavorful stock. To enhance the overall texture that complements the rice cake, I prefer adding crunchy cabbage and soft tofu.
Remember, you need to use Gochugaru chili flakes to get that Korean heat. Most certainly, the bold flavor and spiciness will keep you coming back for more.
Despite the lack of meat, Tteokbokki is still an irresistible dish to try right at home.
Total time: 30 minutes.
Stir-fry dishes are a cornerstone of Asian cooking techniques. In Korea, you will most likely encounter Gaji Bokkeum, a dish made by stir-frying eggplants with spicy condiments. If you've never tasted eggplants before, now is the chance for you to do so with this recipe.
Since eggplants can become brown and mushy relatively fast when cooked, you need to flash fry them to retain the structure. I recommend cutting the eggplants into slices so they are easier to work with. It will only take around a minute to fry them lightly.
For the sauce mixture, my recommendation is Doubanjiang (Korean fermented chili paste) with various ingredients like ginger, garlic, and Sichuan peppercorn. Thanks to the addition of corn starch, the sauce thickens up quite well.
Finally, you can start transferring the flash-fried eggplants to the thick sauce mixture to wrap up the cooking process. Gaji Bokkeum is perfect for serving along with rice because of the mild and sweet flavor of the eggplants.
Total time: 6 minutes – 1 hour 5 minutes.
Let's take a little break with this delicious Korean beverage for winter and summer, the Goguma latte. The name of this drink can be misleading because people call it a latte despite not having any trace of coffee in the concoction.
Goguma Latte is a combination of roasted sweet potatoes with some basic sweeteners and milk. In Korea, locals prefer using purple flesh sweet potatoes for the mesmerizing color and a sweeter taste. In addition, people even have crushed nuts for an extra crunchy texture.
For this recipe, it's up to you to decide which sweet potato variety you want to use. However, you need to substitute the traditional milk with the almond variety to ensure a vegan side. If you want additional richness to your cup of Goguma, then just simply sprinkle extra cinnamon on it.
Total time: 8 hours 15 minutes (with 2 – 3 hours of resting the mixture and 5 hours to wait for the rice grain to float up).
Sikhye is an exotic Korean beverage made with rice. The locals in Korea used to serve Sikhye in the 60s or 70s to celebrate the New Year. In today's world, it's no longer easy to find Sikhye as a homemade drink in Korean households.
Nowadays, many Korean markets sell canned Sikhye, but the taste is nothing close to the original homemade version. Canned Sikhye only possesses a pure sugar water flavor instead of the rice grain flavor.
Genuine Sikhye is characterized by a naturally sweet flavor with some soft rice grain floating in the liquid. Locals make the drink by mixing cooked rice with Malt water (the liquid made from germinated rice grains).
People often strain the liquid many times to eliminate the sediments at the bottom. Finally, you need to maintain the mixture at a warm temperature for some hours before it's good for serving. The best sign to look for is when some rice grains start to float on top.
Total time: 5 minutes.
Dalgona is the latest addition to Korean cuisine, first appearing in 2020. At that time, Koreans were taking part in an online trend of whipping up homemade Dalgona coffee for entertainment during the COVID-19 pandemic lockdown.
In Korean, the word "Dalgona" refers to a type of honeycomb candy. However, the coffee version is completely different. Dalgona coffee is unique because of a dollop of fluffy coffee foam on top of the milk mixture.
As a trend, many people often include Dalgona as a part of their Korean morning meal recipe for an extra boost of caffeine. However, Dalgona is perfect for consumption at any time of the day.
You may want to jump into the kitchen to make a cup of Dalgona instantly, but I need to warn you to swap out the traditional milk for the almond variety. To make the coffee foam, you need to whisk the instant coffee with sugar until the mixture becomes foamy.
When served, pour some almond milk to form your base and top of the glass with the fluffy coffee foam. Dalgona coffee has a similar taste to a standard cup of latte.
Try out this wonderful recipe for Dalgona coffee to hop on board this amazing trend.
Total time: 40 minutes.
Kimbap is everything you love about fascinating Asian cooking procedures served as a roll. Most often, locals use a thin layer of seaweed to wrap the rice with various cooked ingredients into a cylindrical shape.
The origin of Kimbap is still up for debate as some suggest the dish came into Korea from Japan between 1910 and 1945. On the contrary, some say that Kimbap has existed in Korea since the Three Kingdoms era (57 BC – 668 AD).
In addition, Kimbap is entirely different from Japanese sushi. People usually season the rice for Kimbap with sesame oil and salt, while Sushi only uses vinegar and sugar for it. However, the most outstanding difference is the raw fish of Sushi versus cooked fillings of Kimbap.
For a vegan Kimbap recipe, my advice is to diversify your vegetable choices for more flavors. To compensate for the lack of meat, you can use oyster mushrooms to mimic that chewy meat-like texture.
It's best to combine carrot, cucumber, and pickled radish for the vegetable filling of Kimbap. Stir fry the vegetable in soy sauce until all the water evaporates. Finally, you can start assembling and rolling your Kimbap with a bamboo wrapper.
Total time: 25 minutes.
The unique translucent glass noodle of Japchae is unlike any type of noodle that you've tried before. In Korea, locals often stir fry the glass noodle with various types of ingredients and condiments for a flavorful Japchae.
If you're still uncertain about glass noodles, then the one-of-a-kind bouncy texture will certainly convince you to give it a try. In addition, almost every Asian market or supermarket will have these affordable glass noodles up for grab.
Instead of using meat for Japchae, you can use tofu to substitute for the lack of protein. I recommend using firm tofu for a better chewing experience. In addition, you can also mix a variety of vegetables like zucchini, carrot, and mushroom to make your Japchae more flavorful.
Total time: 1 hour 20 minutes.
Although Hobak Pyeonsu is essentially a Mandu, the flavor is lighter thanks to the meatless filling. If you don't know what Mandu is, the dish is the Korean version of dumplings with a filling made from various ingredients and wrapped in a thin layer of dough.
In Korea, Hobak Pyeonsu is also a popular dish for many temples since it doesn't contain garlic and onion in the filling. Recently, the dish has received extra attention due to a rising trend of Korean temple foods.
For the filling, it's best to combine zucchini with shiitake mushroom, Jalapeno (Mexican chili), and some Korean soy sauce. My advice is to buy a wonton wrapper in Asian supermarkets to wrap your filling to save your time on the dough.
No dumpling dish is perfect without having a perfect dipping sauce to accompany. To go with the light flavor of Hobak Pyeonsu, it's best to whip up simple rice vinegar with Guk Ganjang (Korean soup soy sauce).
As a side note, you only need around 8 minutes for steaming Hobak Pyeonsu. You don't want to overcook the dish because the overdone dumplings can get soggy.
Hobak Pyeonsu is the perfect recipe for a light meal in the summer.
Total time: 1 hour.
Don't you just love the creamy sensation of having a bowl of pumpkin porridge? In Korea, locals refer to a soup by calling it "Juk". Koreans usually serve Hobakjuk to post-labor mothers to help them reduce their puffiness.
The key to cooking successfully this savory Korean-style soup recipe lies in the type of pumpkin. For the best outcome, you will want to pick Kabocha pumpkin for the sweet and earthy flesh. Before peeling the skin, you should microwave the Kabocha slices for a couple of minutes to loosen up the texture.
Next, you can either mush the pumpkin while cooking or use a blender to get a smooth porridge. If a chewy texture is what you're looking for, then try making rice dumplings to have along the Hobakjuk.
The dumpling is a simple mixture of hot water and sweet rice powder, which people boil before serving. The Hobakjuk is an amazing comfort food thanks to the mildly sweet flavor and interesting texture of the rice dumplings.
Total time: 22 minutes.
To my surprise, sweet potatoes make an amazing dessert when Koreans coat them in a thick layer of caramelized sugar. Goguma Mattang is very similar to Japanese Daigaku Imo (sweet potato candied). However, the Korean version has bigger chunks of sweet potatoes.
For this tasty Korean treat, you will need to use Korean sweet potatoes because of their natural sweetness and beautiful yellow flesh. Instead of boiling them, locals will fry the sweet potatoes to get that crunchy texture of Goguma Mattang.
The caramel sauce is super simple to make by combining sugar with oil in one saucepan. You need to pay attention because it's easy to burn the sugar. Your caramel sauce should have a nice golden color before you kill the heat to stop the cooking process.
Finally, it's all about throwing the fried sweet potatoes into the caramel pot and mixing it well. To get a little bit of nutty and rich flavor, I highly recommend sprinkling some toasted sesame seeds over the Goguma Mattang.
Total time: 10 minutes (not including the pickling process ranging from 1 – 3 days).
If Kimchi proves to be too much for you to handle because of the spiciness, my advice is to try Jangajji, a pickled vegetable side dish. In Korea, people invented the dish as a way to preserve vegetables through the harsh winter.
Instead of using salt to pickle the vegetables, Korean locals use soy sauce for Jangajji. The solution of Jangajii consists of vinegar, sugar, and soy sauce. Jangjji is a bit different from Kimchi as it uses non-fermented vegetables to make.
Most often, Korean locals prefer using radish, Jalapeno pepper, and onion. Remember, your sauce solution should be warm when added to the vegetables. Tightly seal your Jangajji in a container and let it sit in the refrigerator for 1 – 3 days before you can start serving.
Diversify your side dish option with this crunchy Jangajji recipe.
Total time: 10 minutes.
Let's face it: Salad is a popular dish for any vegetarian menu. So I bring to you a light, tangy, and slightly sweet salad in Korean cuisine to expand your delicious menu. The appearance of Korean spices will take your regular salad recipe up a notch.
The vegetables are quite basic as you only need cabbage as the base with carrots, scallion, and some garlic. Any good salad recipes need a flavorful dressing to enjoy therefore, my suggestion is to mix soy sauce with rice vinegar, Korean chili powder, and sesame oil.
Toss the salad well before you can serve it as a delicious side dish for your meal. The crunchy cabbage with savory dressing is one hard-to-forget experience.
Total time: 50 minutes.
Don't you think it's super convenient to have your vegetarian meal on the go? Well, that's exactly what the Joomuk Bap offers to your menu. These cute Korean rice balls are packed with flavorful vegetables, perfect for you to carry anywhere you need.
Commonly, people will stir fry a variety of vegetables like broccoli, cabbage, and mushroom until the ingredients become tender. Next, I recommend spicing things up by adding Gochujang to the stir-fried vegetables.
The rice should come in last to combine with the stir-fried ingredients. At this stage, you should let the rice and vegetables cool off a little bit. Then, you can start shaping the rice and ingredients into little balls.
To prevent the rice from sticking to your hand, I suggest applying a bit of oil to your hand. Joomuk Bap can also be a delicious side dish for other meals on your dinner table.
Your Vegan Meal Will Never Taste Bland Again
Have you already made up your mind about which dish is your favorite? I'm sure some of these Korean dishes are easy to recreate right from the comfort of your kitchen. I hope that you have picked up valuable recipes for your healthy diet.
That's all I have to bring for this post. Thank you for your appreciation. Please feel free to leave a comment, as it's a great way for me to know what you think. If you know anyone who's struggling with their vegan diet, then lend them a helping hand by sharing this post.
Nutrition Facts
4 servings per container
---
Amount Per ServingCalories130
% Daily Value *
Total Fat 1.9g

3

%
Sodium 10555mg

440

%
Potassium 1043mg

30

%
Total Carbohydrate 23.2g

8

%

Dietary Fiber 5.5g

22

%
Sugars 5.5g

Protein 7.9g

16

%
---
* The % Daily Value tells you how much a nutrient in a serving of food contributes to a daily diet. 2,000 calories a day is used for general nutrition advice.