Asian fruits and vegetables have many mysterious options waiting for you to explore, with exotic flavors and phenomenal health benefits. The thrill of experiencing these new flavors will never disappoint you.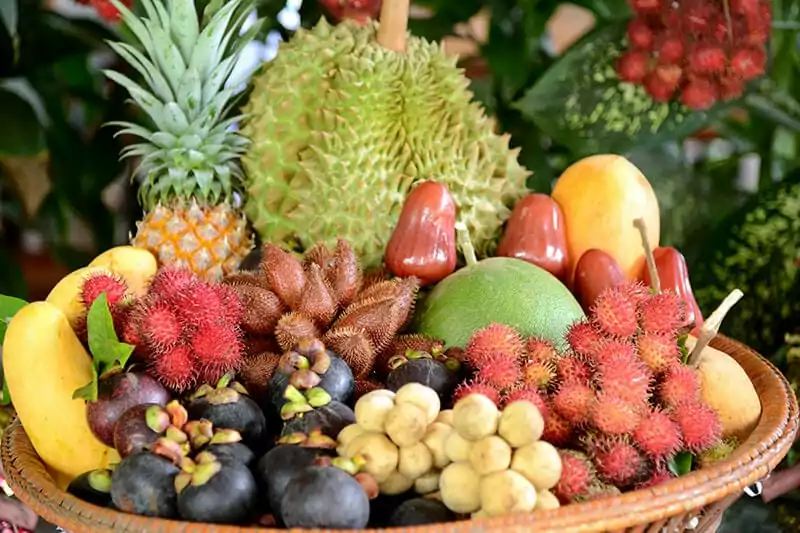 In this article, you'll have a chance to get to know many Asian fruits and vegetables that are perfect as well-loved food ingredients in Asia, which can be incorporated into many traditional Asian delights.
Asian Fruit Lists
1. Pitaya (Dragon Fruit)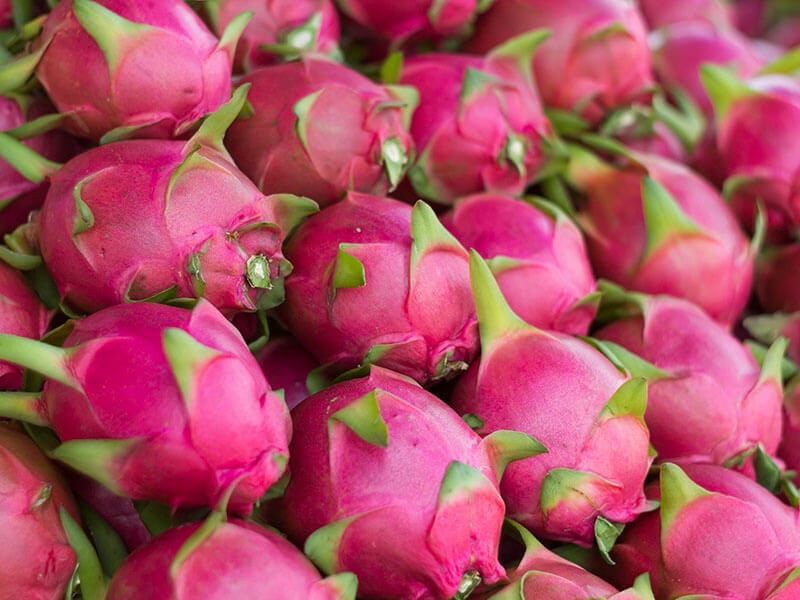 Dragon fruit, known as pitaya or pitahaya, or geow mangon in Thailand, is a sweet, oblong tropical fruit native to a particular cactus. It is popular for its leather-like skin adorned with scaly spikes, which inspired its English name.
They have white, red, pink, and yellow varieties, making dragon fruit have different flavors. Some are sweet, while others bear a sour tang. Vietnam is a major cultivator of this fruit in Asia (1), but it's also well-liked across Southeast Asia, East Asia, and South Asia.
From May to August in Asia, it's easily found at lower prices, but these fruits are also available year-round at a bit more pricey tag. Flavonoids, prebiotics, and vitamin A in this fruit can boost your immune system and digestion and protect your cells from damage (2).
It is also favored for making smoothies, salads, and even dragon fruit ice cream.
How To Eat:
Cut the fruit in half lengthwise. You can either scoop out the flesh with a spoon, leaving the skin behind, or cut it into quarters and peel off the skin. The small black seeds within the fruit are edible.
2. Snake Fruit (Salak)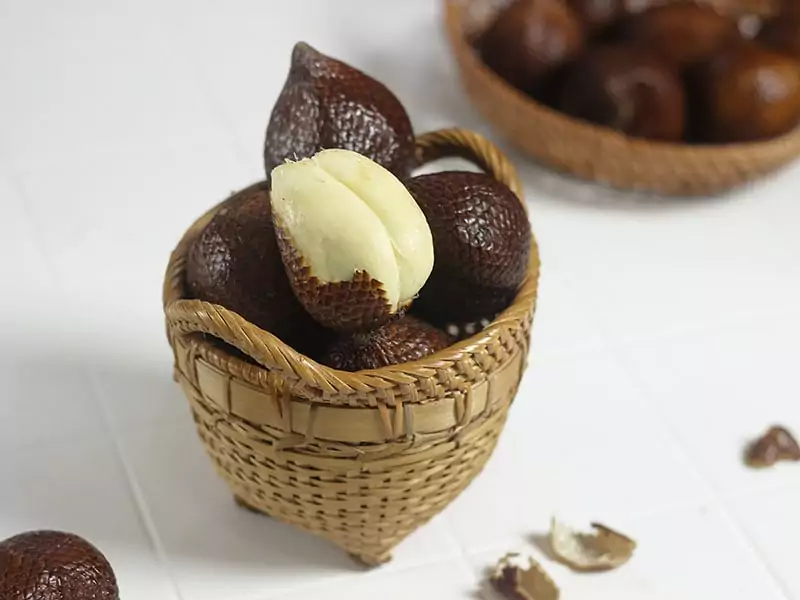 Snake fruit is native to Java and Sumatra in Indonesia, having its roots in the highlands of Bali, specifically the Sibetan village. It's now widely sold throughout Bali, catching the eye of locals and tourists alike.
This tiny Indonesian-origin fruit is a product of the palm tree family (family Arecaceae), boasting an ovate shape with an elongated tip, measuring just 0.8 to 1.2 inches (2 to 3 centimeters) long.
Its rough, reddish-brown, spiked skin opens up to a juicy white or yellow pulp that holds a sweet honey taste with a dash of acidity. This versatile fruit is featured in Biji Salak, a well-liked Indonesian dessert, or in a Salak cake.
The richness of good carbs in snake fruit also gives you an energy boost without affecting your calorie count significantly. Plus, it supports digestion, vision health, cognition, blood sugar regulation, and even weight loss (3).
How To Eat:
The skin of the salak is easily removable by applying a little pressure at the tip. Once the skin is peeled off, you'll find three lobes with inedible seeds in the center which should be discarded.
3. Mangosteen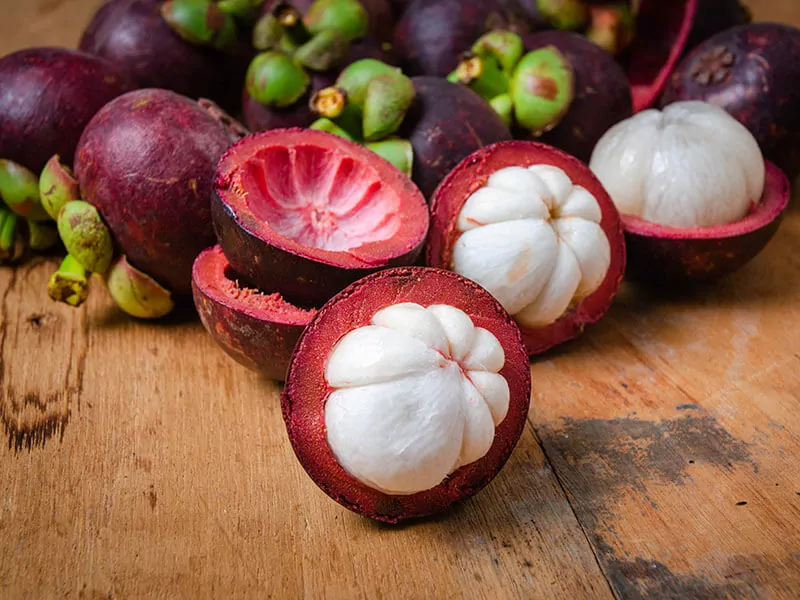 From the tropical landscapes around the Indian Ocean, mangosteen is often called the "queen of fruits" or purple mangosteen. With its unique sweet-sour flavor profile, the fruit has become a staple in Southeast Asia, southwest India, Colombia, and Puerto Rico.
Mangosteen has an inedible, deep, reddish-purple rind (exocarp) and white, sweet, tangy, yet juicy flesh. Mangosteen can fill various culinary roles, lending its royal flavor to desserts, jams, jellies, candy-making, and fruit syrups.
But it's not just about the taste; this fruit is a nutritional gem packed with antioxidants, vitamin C, and folate. It's a natural source of xanthones, potent antioxidants (4).
How To Eat:
Cut around the circumference of the fruit with a knife. Twist the top to remove it. Inside, you'll find soft, juicy segments which are edible. Remember to remove the hard seeds in larger segments.
4. Rambutan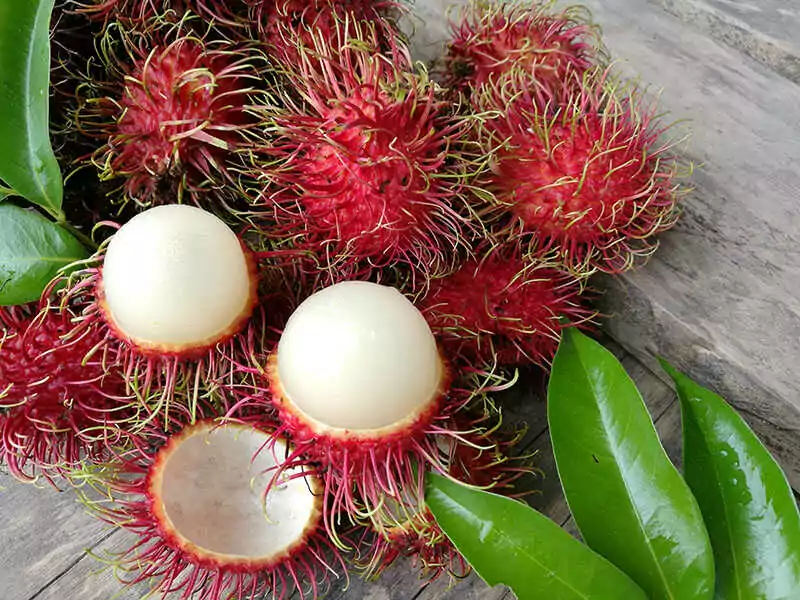 A tropical treat native to Southeast Asia, rambutan comes from a medium-sized tree in the Sapindaceae family. Interestingly, the name "rambutan" hails from the Malay word "rambut" for "hair," referencing the fleshy spines on the leathery, typically reddish skin.
After cracking it open, you'll find a seed encased in the flesh that offers a rich, sweet flavor with a sour hint. From juices and cakes to ice creams, smoothies, and pudding, rambutan's unique taste is loved in numerous Asian desserts.
Not only a flavor burst, but rambutan also offers a great source of vitamin C and potent antioxidant properties (5).
How To Eat:
Use a knife to cut or tear the outer skin (you can also use your fingertip), revealing the jelly-like, translucent fruit inside. The pit inside is not edible, so you must discard it.
5. Lychee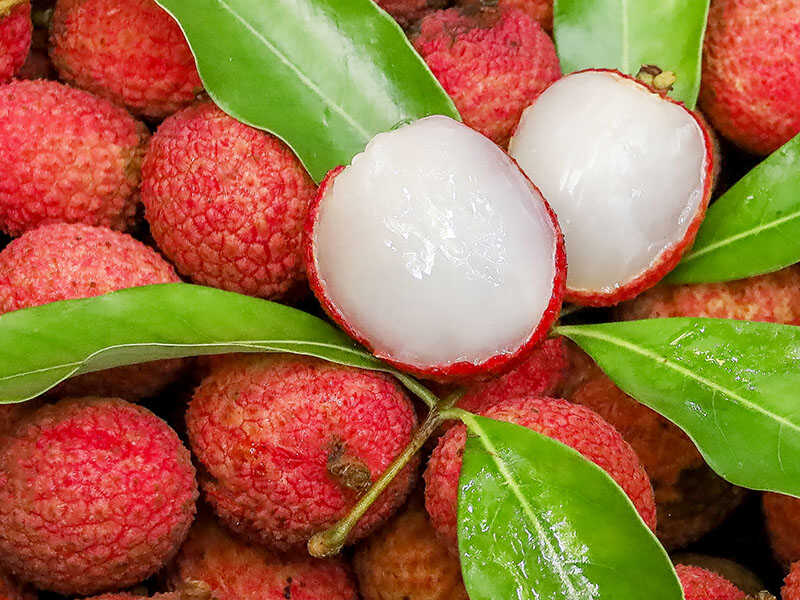 Lychee, with roots in South China, now appears in various parts of Southeast Asia, South Asia, and further beyond. Commonly, lychee has thin, green, tough skin that ripens into a red or pink-red hue, sometimes boasting small sharp protuberances.
Beneath the skin hides a fleshy aril – sweet and white, emitting a floral fragrance. When the skin dries and turns brown, that's your cue of the fruit being overripe.
Its versatility in the kitchen is noteworthy too. Whether it's a punchy addition to fruit salads, a sweet-sour kick in main dishes, or a star ingredient in a lot of Asian-style drinks and desserts, lychee's flavorful presence is always welcome.
When it comes to producing lychee, China is the leading country. Right after that is Vietnam, India, other countries in Southeast Asia, countries in the Indian subcontinent, Madagascar, and South Africa
Regarding its nutrients, the fruit is bursting with health-boosting nutrients like potassium, copper, vitamin C, and antioxidants (6).
How To Eat:
Like rambutan, remove the outer skin to reveal the fruit. The seed in the middle is not edible. Note: lychee's seed is very slippery, so be careful not to swallow it!
6. Longan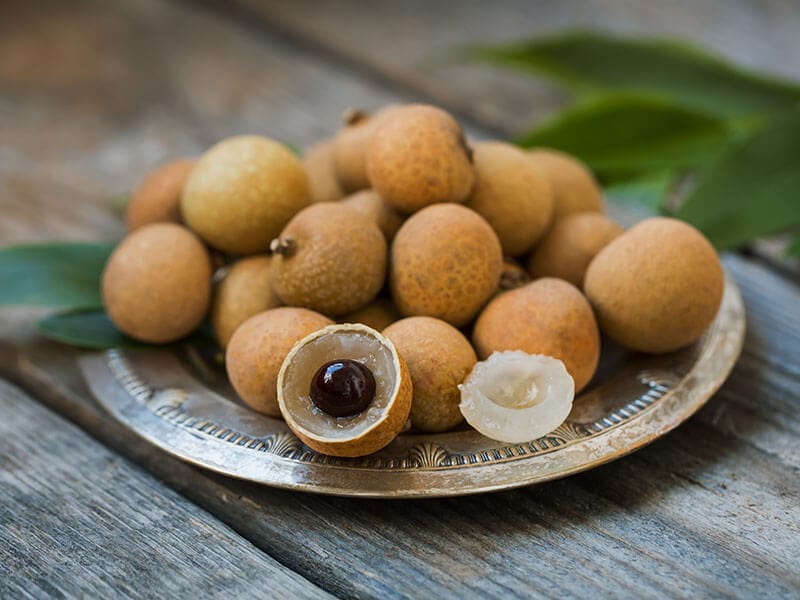 Longan, known as the dragon's eye, is a tropical tree's fruit native to tropical Asia and China. Under its brown shell is a translucent flesh encasing a lacquered hard black seed like a pupil and iris.
In addition, the fruit inside is sweet, juicy, and succulent, resembling its cousins, rambutan and lychee. Longan is also a rich source of vitamin C, potassium, and Riboflavin, promoting overall wellness (7).
As for culinary uses, this versatile gem appears in Asian soups, snacks, desserts, and sweet-and-sour foods. Plus, longan even makes its way into syrupy preserves.
How To Eat:
Simply peel the skin off, then you can eat the translucent fruit. And discard the seed (the seed is also slippery).
7. Pulasan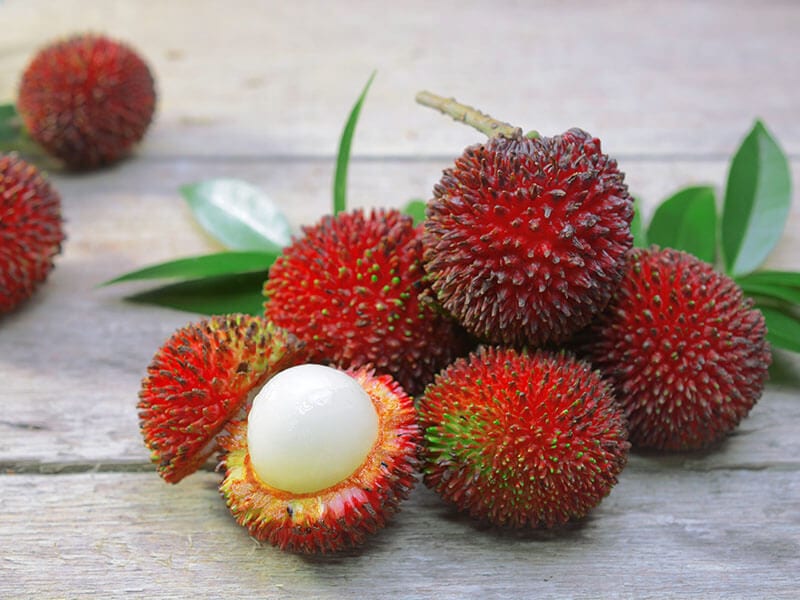 Pulasan is a tropical treasure from the soapberry family Sapindaceae and might be mistaken for rambutan. With a sweetness that tops rambutan and lychee, its flavor balances sweet and sour, like a grape.
Despite its rarity outside Southeast Asia, pulasan leaves a lasting impression with its thick, leathery skin covered in blunt spikes. Within this armor rests a white-yellow sphere of mouthwatering flesh.
Fresh pulasan is the best way to enjoy it, but the fruit also shines in jams, jellies, sauces, and alcoholic beverages. Health-conscious fruit lovers can rest assured as it offers an abundance of calcium, vitamin C, and carbohydrates.
How To Eat:
This is similar to rambutan, you will need to break open the skin to reveal the fruit. Remove the seed while eating.
8. Langsat (Langsah or Lotka)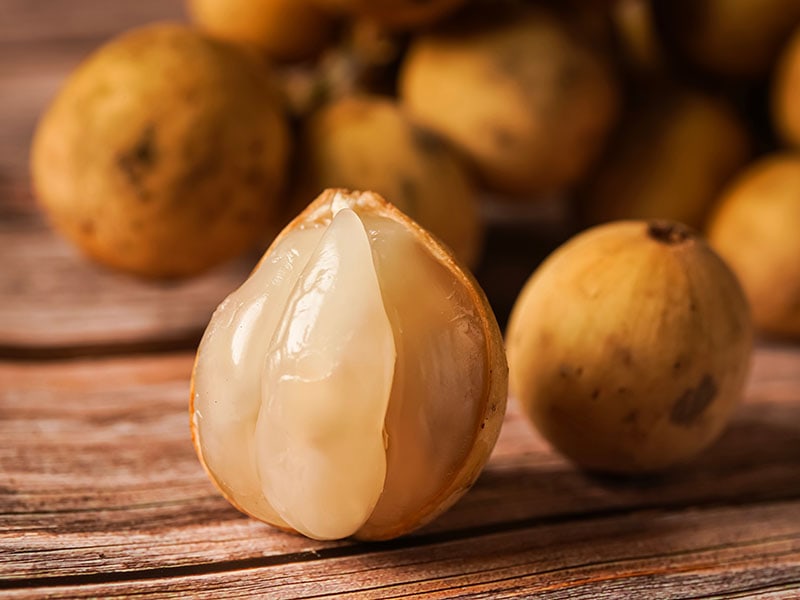 Known by many names, including Lansium parasiticum, langsat, lanzones, longkong, duku (in Indonesian), and dokong, this Southeast Asian native fruit is worth exploring. Its exterior is a simple pale brown skin, but inside you'll find a shiny, thick watery flesh that carries a sweet scent.
The fruit is a surprising twist with a taste that swings between sweet and sour. The small seeds are easy to navigate around when savored raw or bottled in syrup.
Furthermore, langsat is a vital source of proteins, carbohydrates, minerals, vitamins, and dietary fiber. Its vitamin A, thiamine, and riboflavin content are necessary for maintaining a healthy body (8).
How To Eat:
The langsat's skin can be easily removed by pressing between your fingers. The segments inside are edible, though watch out for the seeds.
9. Durian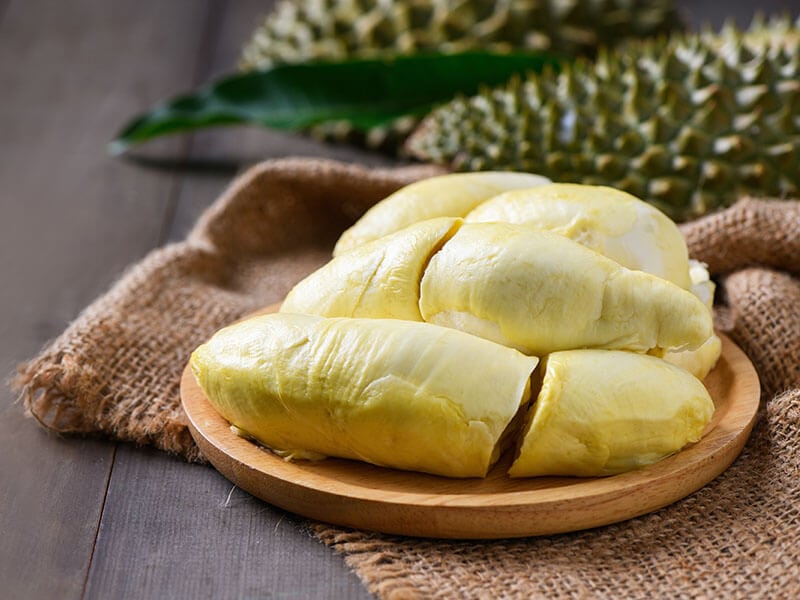 When I first held a durian, I was immediately struck by its formidable appearance. Proudly bearing the title of the "king of fruits," in the Malaysian fruit list, durians are also predominantly harvested in Thailand, Indonesia, and the Philippines.
Durian has a spiky rind with a strong, distinctive odor that piques my curiosity the most. It exudes a pleasantly sweet fragrance to some, but others might find it overpoweringly distinct.
Inside this spiky exterior lies flesh that's edible at any ripeness stage. In some cases, durian flesh can be eaten fresh or used as a base for various dishes, from candies, sauces, and curries to desserts. Surprisingly, even its seeds are edible when cooked (usually steamed or boiled).
Being a fruit lover, I look forward to June through August, when durian is at its peak season. The fruit is a nutritional powerhouse, brimming with vitamins A, C, and B-complex vitamins (9).
How To Eat:
First, you need to be careful with its sharp shell. Use a knife following the lines that run down the fruit to cut it open. The pulp inside can be eaten, but the large seeds should be discarded. Like jackfruit seeds, you can roast (or boil) durian seeds.
10. Breadfruit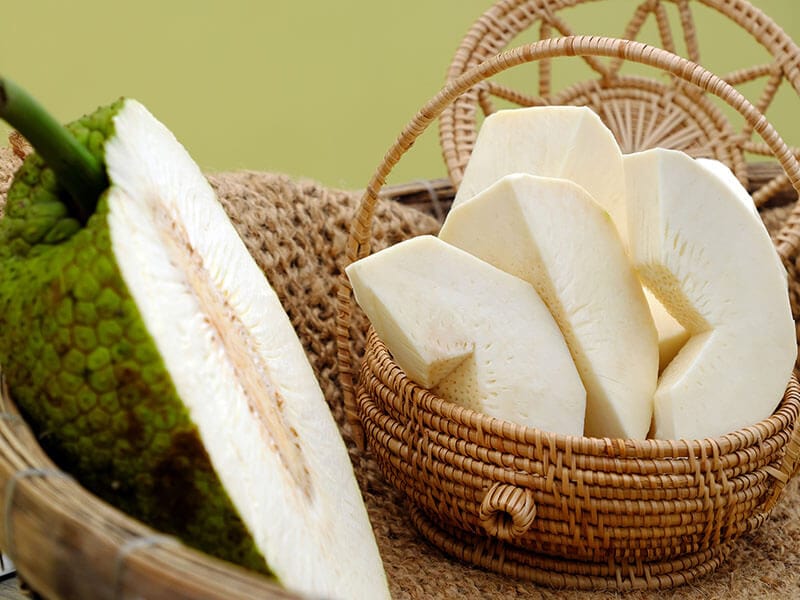 Breadfruit thrives in about 90 countries, including South and Southeast Asia, Central America, Africa, and the Pacific Ocean islands or the Caribbean. The exotic fruit owes its name to the unique texture it gains when moderately ripe and cooked, evoking feelings of warm, fresh bread with a subtle hint of potato.
No wonder breadfruit is a staple in many cultures! It fits right into various dishes, whether ripe or unripe, given it's cooked before consumption. Breadfruits contain fiber, magnesium, potassium, and vitamins like thiamine and niacin (10).
How To Eat:
Use a sharp knife and cut the fruit in half lengthwise. Then cut those halves in half (or into 4 wedges) until you can safely remove the brown core and peel off the outer skin.
Breadfruit is great for roasting, frying, or boiling. For roasting, brush the slices with oil and roast them in an oven at 375°F (190°C) for about 20 minutes or until golden brown and crispy.
For frying, heat oil in a pan and fry the slices until they're crispy. If boiling, add the pieces to a pot of boiling water and boil until they're tender.
11. Soursop (Corossol Fruit or Graviola)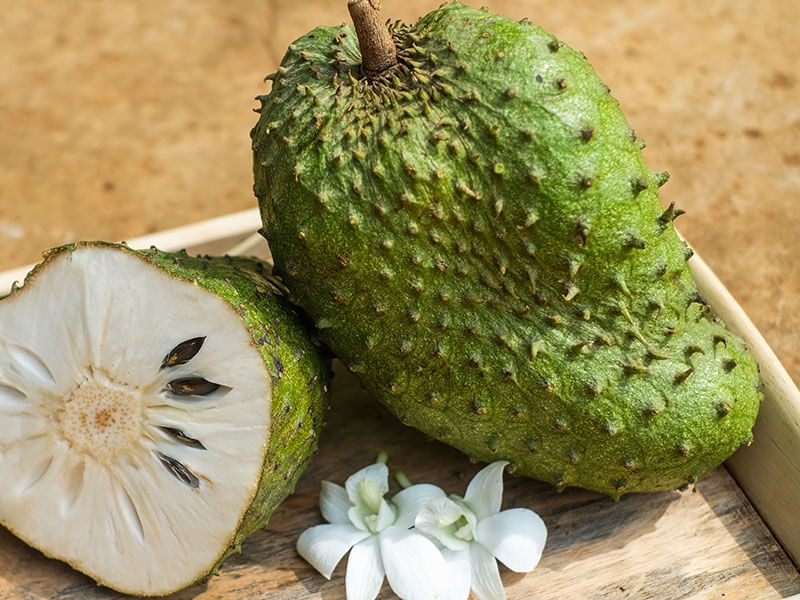 Soursop is a fruit that goes by many names. Some call it graviola, guyabano, or guanábana, depending on which corner of the world you find yourself in. This fruit in Vietnam goes by the name mãng cầu xiêm in the south area or mãng cầu in the north area.
In Malaysia, people call it durian belanda (Dutch durian) or Sabah in East Malaysia, especially in the Dusun community. Additionally, Cambodians named it tearb barung, literally "western custard-apple fruit".
The tree thrives in areas with humid climates and warm winters. Its unique flavor is an alluring mix of strawberries and apples with hints of tangy citrus, while the aroma leans more towards pineapple.
When ripe, soursop can be devoured fresh, but it also lends its distinctive flavor to various products like nectars, smoothies, drinks, candies, sorbets, and even ice cream. Usually, the edible, white pulp of the fruit is encased by some fiber and a host of indigestible black seeds.
Another notable aspect of this fruit is its nutrient profile – dense yet low on calories (11), offering ample fiber and vitamin C, making it a worthy addition to any diet.
How To Eat:
I typically cut the fruit into two halves, scoop out the flesh, and remove the black seeds. You can consume the flesh directly or use it in beverages.
12. Sugar Apple (Sweetsop or Custard Apple)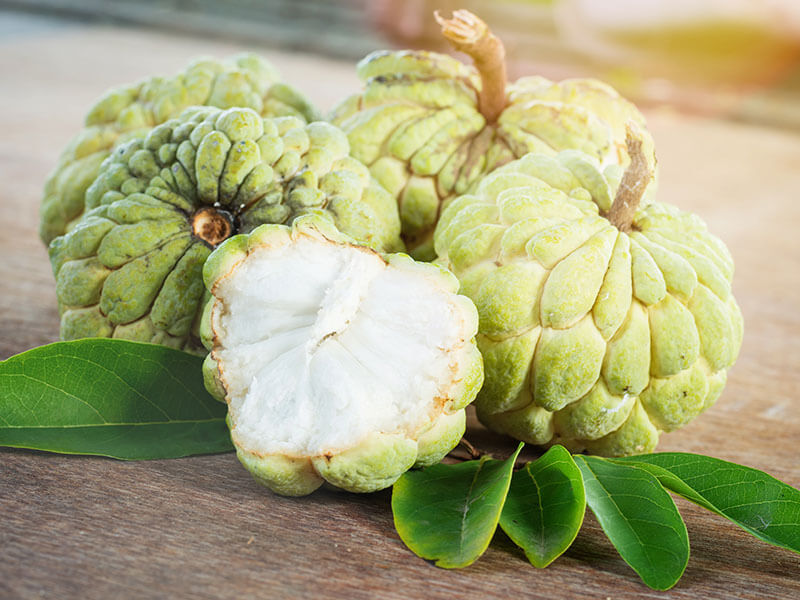 Sugar apple, a tropical darling from the West Indies and the Americas, has a flesh that's as sweet and fragrant as its name implies. Creamy white to light yellow, sugar apple is almost like savoring custard, with the taste of sweet tropical fruits, mint, and a hint of cinnamon.
Sugar apples can offer a soft, juicy, butter, or semi-hard texture, depending on the ripeness. Fresh off the tree, the fruit is delicious but also lends itself beautifully to purees, syrups, and ice cream. And as for nutrients, it's rich in minerals and brimming with phytochemicals and antioxidants (12).
How To Eat:
The fruit can be easily split into two by your hand to reveal the creamy flesh. Remember to leave the skin and seeds while eating.
13. Papaya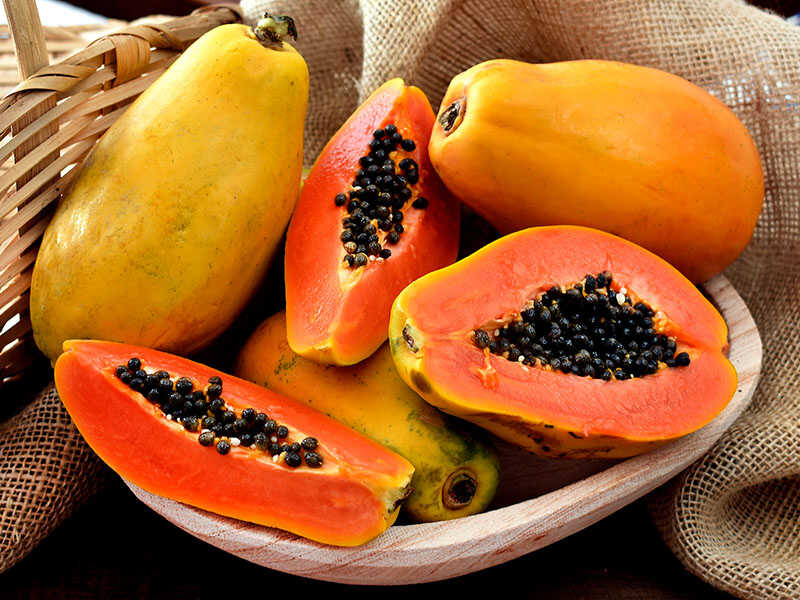 Papaya, or papaw or pawpaw, is a soft and delicious fruit that makes your taste buds swoon with a unique blend of mango, peach, and banana flavors. While the ripe fruit is savored raw without skin or seeds, the unripe green fruit is cooked due to its latex content.
Green papaya is also a star ingredient in pickling, soups, and salads, especially in Vietnam and Thailand. The tiny black seeds are edible with a sharp, spicy taste. Also, papaya contains antioxidants like vitamins A, C, and E, potentially reducing the risk of heart disease (13).
You can do the trick with big green papaya: leave the raw fruit in the sun, and it'll ripen nicely.
How To Eat:
Cut the papaya in half lengthwise to remove the thick rind, scoop out the seeds, then scoop out the fruit, peel the skin off, and cut into pieces.
14. Santol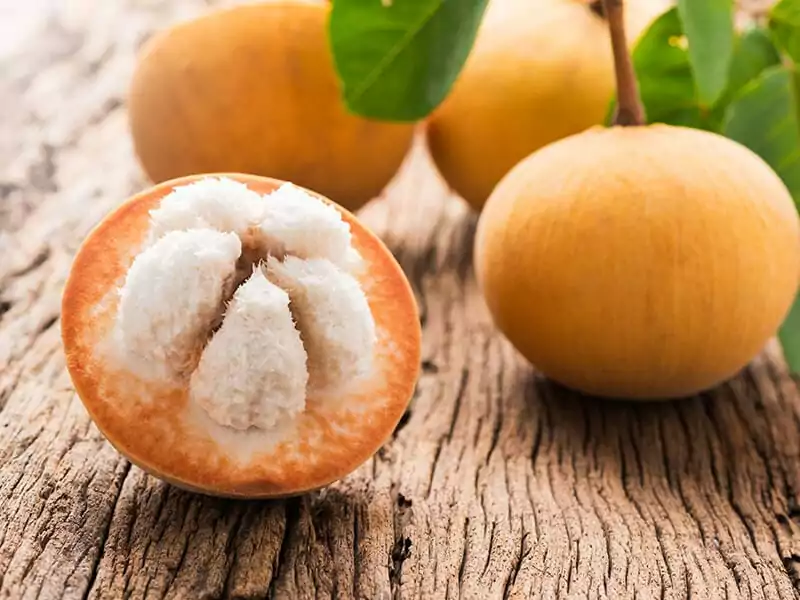 Santol, or wild mangosteen, is a tropical delight native to maritime Southeast Asia. Its appearance, with a hard rind and garlic-like flesh, might trick you into thinking it's mangosteen.
Yet, the flesh, resembling garlic, offers a sour that might remind you of an unripe peach instead of mangosteen. However, the middle of the santol provides a slightly sweeter surprise. Nutritionally speaking, santol offers a generous amount of iron, calcium, phosphorus, and vitamin C.
Summer days mean santol season, making them a staple at local markets. Their versatility makes santols fit well into jellies, jams, syrups, or chutney recipes. For those looking to prolong the goodness, canning is an option, while candying these fruits is a popular choice too.
How To Eat:
Make a shallow cut around the middle of the fruit, then gently rotate the two sections of their thick rind to expose the inner white, cottony pulp. The pulp can be eaten raw or cooked in dishes.
15. Ice Apple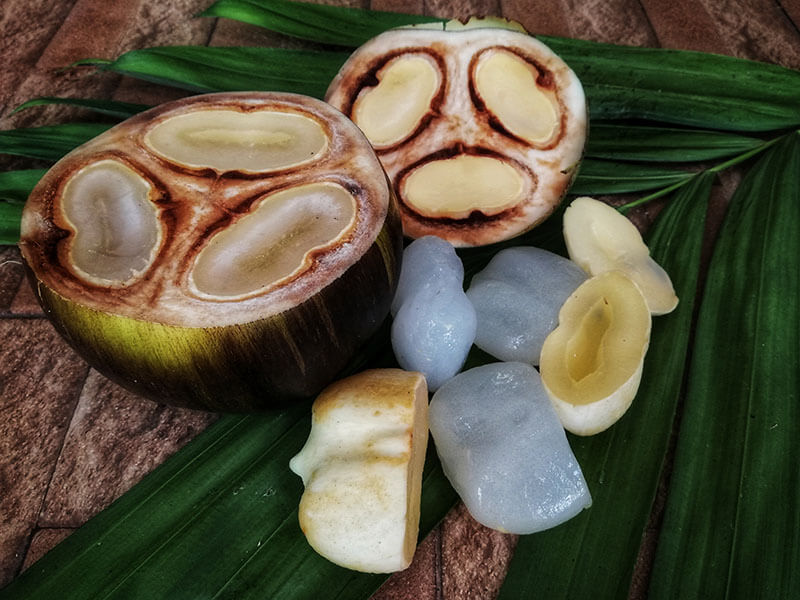 Ice apple, an alias for doub palm or toddy palm, is a native plant of South and Southeast Asia. Its fruit, ranging from 3.9 to 7.1 inches in diameter, sports a black husk and grows in clusters.
Once the thin, yellowish-brown skin is removed, you can spot a translucent, pale-white, jelly seed socket. The flavor can be likened to milder lychee but with the refreshing sweetness of coconut and without the pit.
With a fleshy white body filled with a watery fluid, ice apples are more than just a thirst quencher. It's also an excellent source of dietary phytonutrients, vitamins, and minerals.
How To Eat:
Remove the outer cover. The jelly-like, translucent layer inside is the edible part.
16. Guava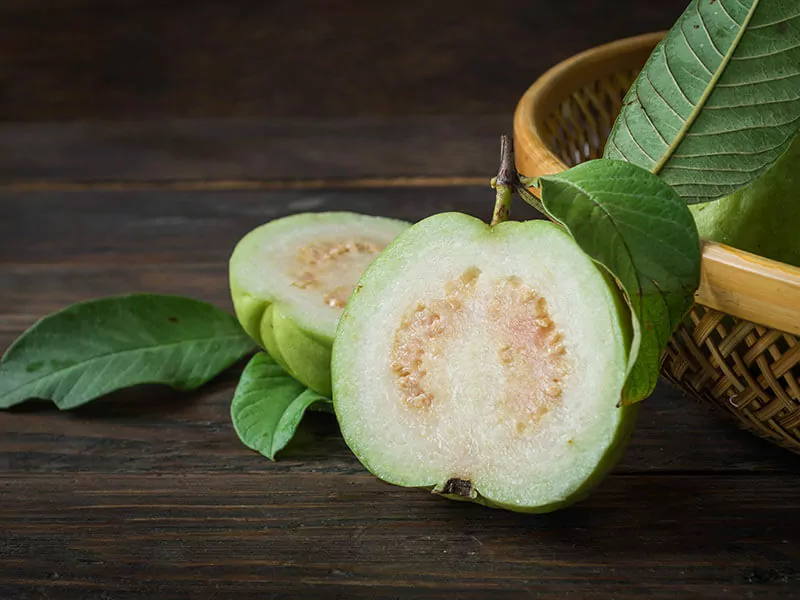 Guava, a tropical delight I'm quite fond of, is cultivated across many tropical and subtropical regions. Its rough outer skin may be slightly bitter or pleasantly sweet, usually shifting from green to hues of yellow, maroon, or remaining green as the fruit ripens.
Inside, the pulp ranges from sweet or sour, with colors from off-white to deep pink. When I first took a bite of guava sprinkled with sweet and sour dried plum powder, it instantly became my favorite combo. According to the Food & Agriculture Organization of the U.N (FAO), India is the top guava producer.
Refreshing guava juice is also a common choice in many countries, or its role as a vibrant addition to fruit salads. Besides its taste, one of my favorite things about guava is its high fiber content, which aids bowel movements and prevents constipation (14).
How To Eat:
Rinse the fruit. You can eat it whole like an apple or cut it into slices. The seeds inside are also edible (but you can remove them if desired).
17. Tamarind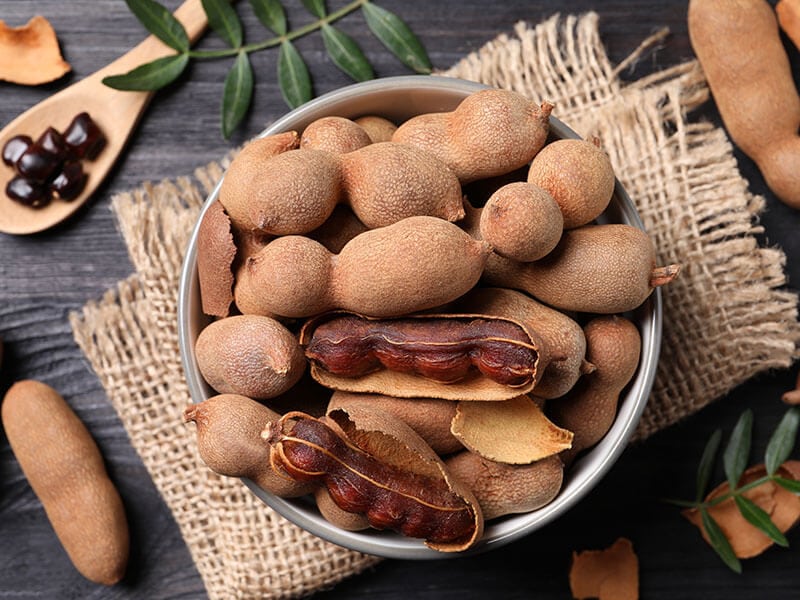 Tamarind, with its fleshy, juicy pulp, transforms from sweet and sour to tangy and tart as it develops. Also, ripe tamarinds are usually sweeter than young ones. This versatile fruit is the secret behind the rich flavors of many Southeast Asian dishes, especially Indian curries, soups, rice dishes, and stews.
Available in a range of forms, from raw pods to paste, purée, or concentrate into blocks, tamarind adds an unmistakable twist. Beyond its taste, tamarind is also a nutrient powerhouse, boasting high amounts of vitamin B1, B3, and potassium (15).
How To Eat:
Crack open the shell and remove it. You can eat the fruit of the seeds inside but don't eat the seeds themselves.
18. Pineapple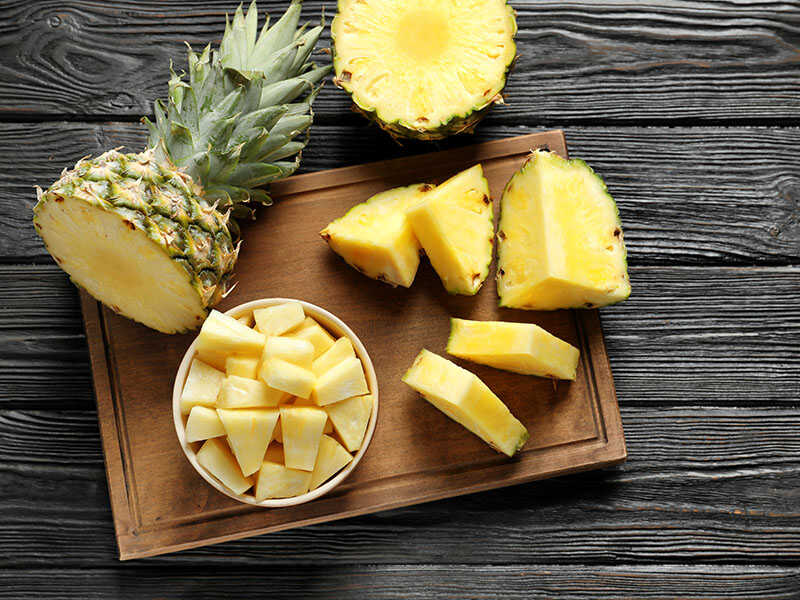 Pineapple is a tropical edible fruit adored in Asia, leading the charts in both production and consumption. Its exterior is a hard rind made up of hexagonal units that shield a fibrous, juicy flesh that ranges from yellow to white.
When fully ripe, pineapples have an extraordinary sweetness, a harmonious blend of citrus and apple flavors. Commonly, pineapples with coconut, papaya, and mango are popular ingredients in many Asian cuisines.
The fruit is also a great source of vitamin C, manganese, and digestion-aiding enzymes (16).
How To Eat:
Cut off the top and bottom, stand it upright, and slice off the skin from top to bottom. Cut the pineapple into quarters, remove the core, and then slice it to your desired thickness.
Citrus Fruit
19. Kumquat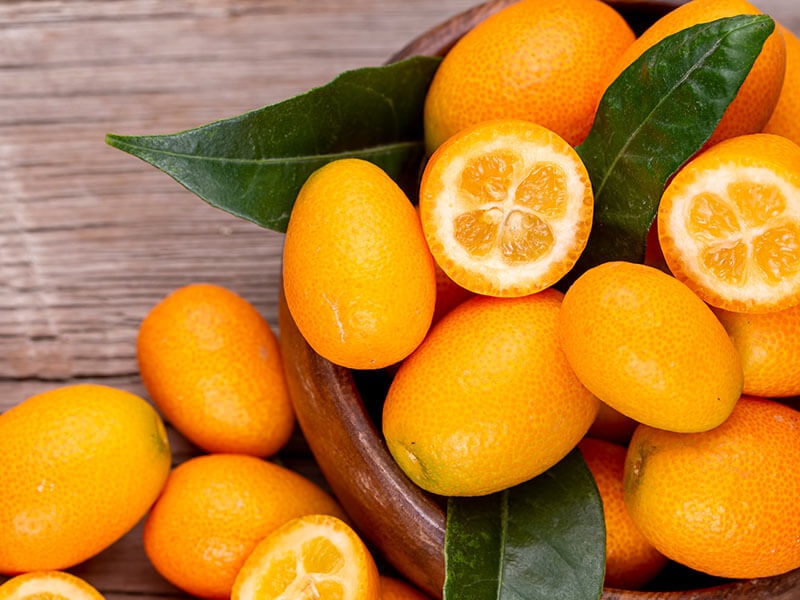 Kumquats, or cumquats, are petite, orange-like fruits from Southern China. With diameters of about 1 inch, these diminutive gems have sweet skin and a slightly acidic pulp inside.
Among the varieties, Nagami kumquats, characterized by white, sweet-smelling flowers, present a more tart profile, while the sweeter, rounder Meiwa is more popular in China. Notably, they're high in vitamin C and offer some vitamin A. Surprisingly, the skin is full of fiber and antioxidants (17).
How To Eat:
These can be eaten whole and unpeeled. The skin is sweet, and the inside is sour.
20. Pomelo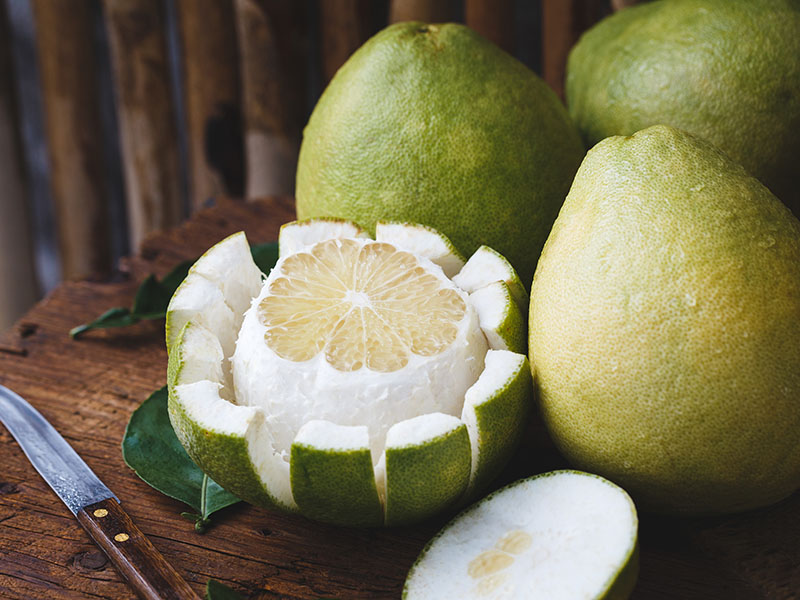 Pomelo, a non-hybrid, natural citrus fruit, has its roots in Southeast Asia. Usually, the flavor is rather similar to grapefruit, with a blend of tartness, sharp acidity, and underlying sweetness.
There's also an appealing diversity with pomelos – their flesh ranges from white to pink to purple, while the seed count varies with the variety. The fruit is a regular at Southeast Asian markets, where it's not just eaten raw and jazzed up salads, juices, and sauces.
However, pomelo is a nutritional goldmine, too! It has fiber, potassium, copper, and other vitamins and minerals (18).
How To Eat:
Starting with cutting off the top and bottom, slicing the skin off from top to bottom, then separating the fruit into segments. Don't eat their white membrane. Remove them and enjoy juicy pomelo segments.
21. Yubari King Melon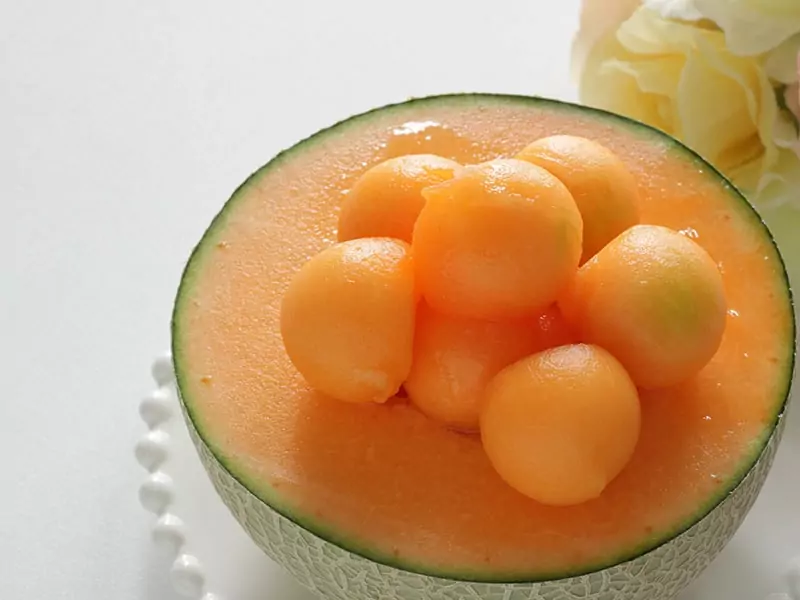 Yubari King melon is a cantaloupe cultivar that gets its name from its birthplace: the greenhouses of Yūbari, Hokkaido. Yubari's climate and the soil, rich in volcanic ash, create the ideal conditions for this delicate fruit.
Created by combining Earl's Favorite and Burpee's "Spicy" cantaloupe, this melon has a perfectly round shape and an exceptionally smooth rind. Inside, the flesh is crisp, sweet, and fragrant, truly refreshing.
Aside from its taste, it also provides a healthy vitamin A and antioxidant flavonoids like Beta-carotene, cryptoxanthin, lutein, and zeaxanthin. In Japan, these melons are cherished gifts, adding sweetness to any occasion.
How To Eat:
Slice off the ends, then cut it in half from top to bottom. Use a spoon to scoop out the seeds, then cut into slices and enjoy!
22. Hami Melon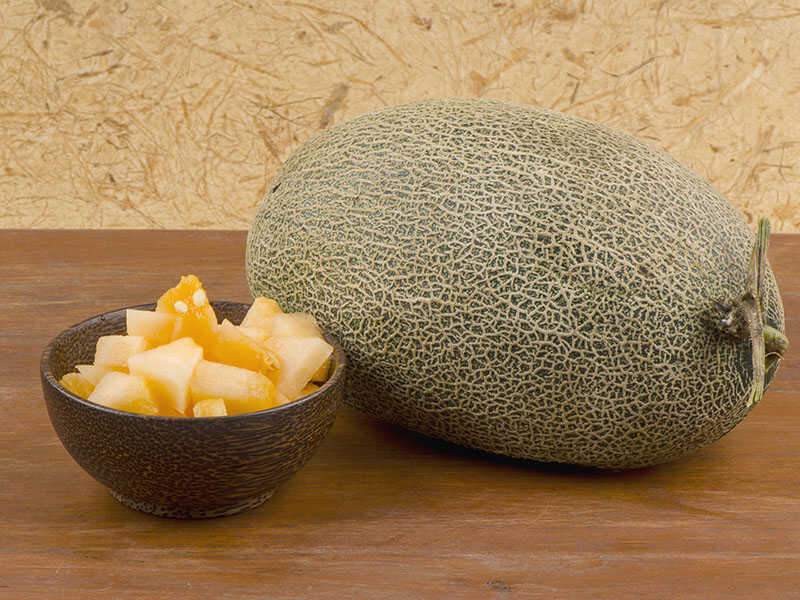 Straight from Hami, Xinjiang in China, the Hami melon is an eye-catching muskmelon. Its oblong shape, yellow skin, and green streaks intrigue the melon.
Hami Melon has juicy, orange flesh that's delightfully sweet and crisp, somewhat like a sugary cantaloupe with a crunch. This melon is also brimming with vitamin C for strengthening the immune system. Also, vitamin A and antioxidants can help shield your cells from free radical damage (19).
How To Eat:
Cut the melon in half, scoop out the seeds, then cut into slices. You can then cut off the skin if desired.
23. Watermelon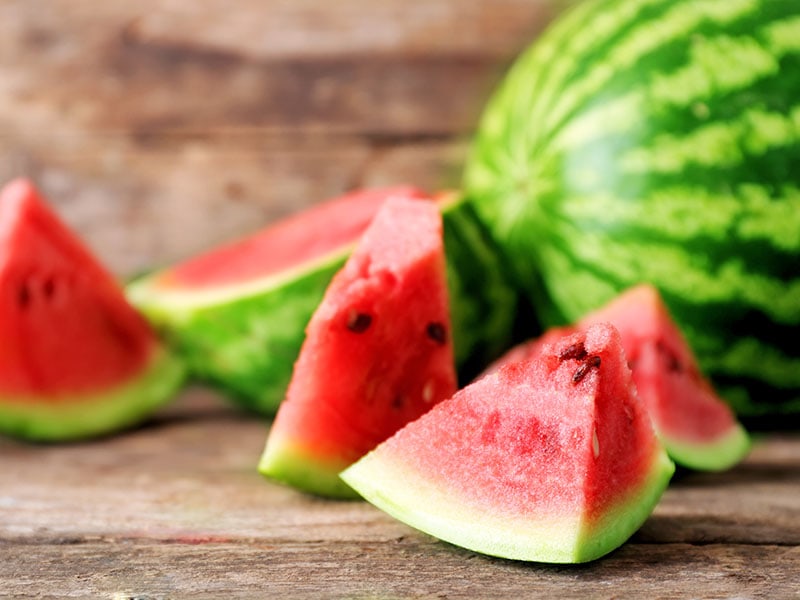 I always have a soft spot for watermelon, a popular fruit in Southeast Asia. The fruit's smooth rind is a dazzling show of green with dark stripes or yellow spots, enclosing a sweet, juicy interior.
The vibrant red-to-pink flesh is familiar to many, but you might stumble upon orange, yellow, or white variants, each peppered with many seeds.
A slice of this juicy marvel packs a punch rich in vitamins C, A, B5, magnesium, and potassium (20). Those hot, sunny days at the beach wouldn't be complete without a generous slice of watermelon!
How To Eat:
Cut the ends off, then cut the fruit in half. Then cut each half into slices and then into wedges. Please note that the skin is not edible.
24. Oriental Melon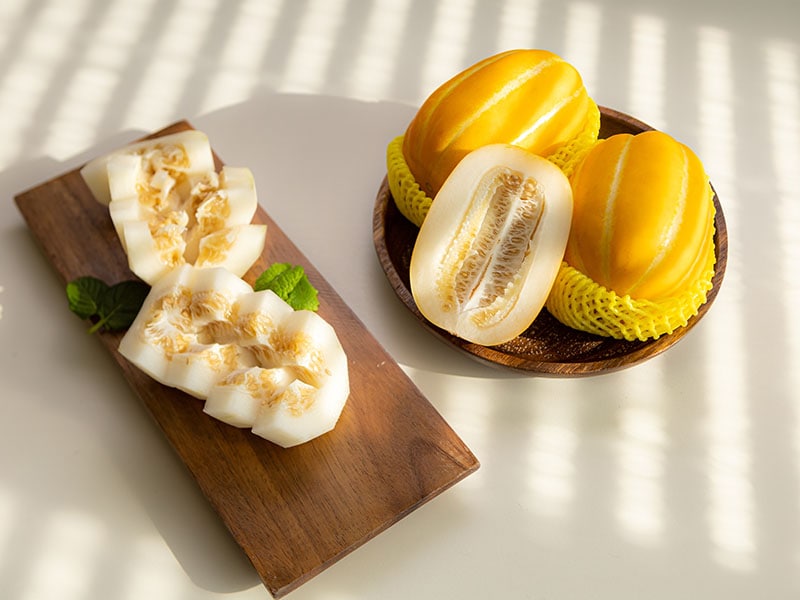 Oriental melon, known as the Korean melon, has roots in eastern India. The fruit is believed to venture through the Silk Road to China before going to Korea and Japan. Flavor-wise, it offers a unique blend of honeydew melon and cucumber, refreshingly less sweet than its Western counterparts.
Comprising about 90% water, oriental melon is crisp, extremely juicy, and notably hydrating. The real thrill lies in its pulp around the seeds, which is rather juicy. This humble fruit in Korea is highly celebrated with two national treasures shaped like it.
There's even an annual festival in its honor, the Yeoju Geumsa Oriental melon festival. Besides being tasty, it's a great source of calcium, vitamins A and C, and helps maintain blood pressure, lower cholesterol, and even boost cancer resistance.
How To Eat:
Similar to other melons, cut it in half, remove the seeds, and slice.
25. Mango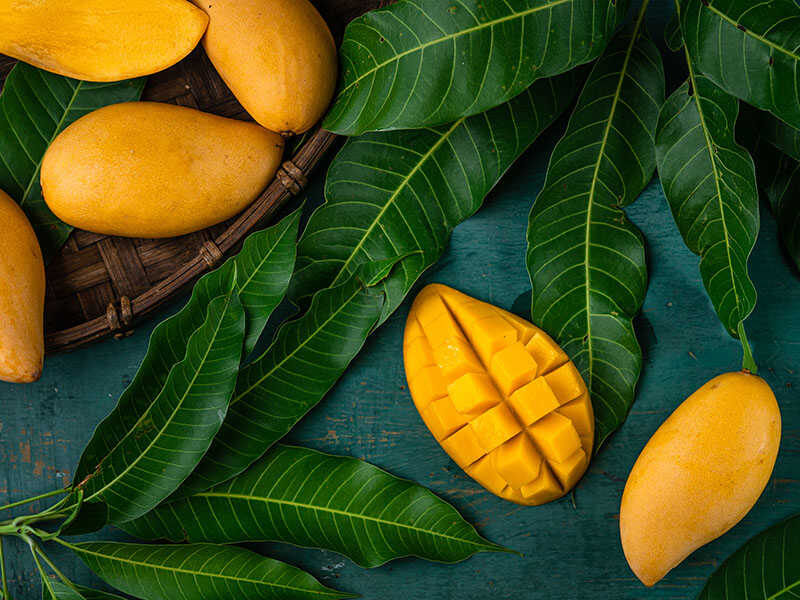 Mango is an iconic stone fruit from southern Asia. Originating from places like eastern India, Bangladesh, and the Andaman Islands, these fruits come in two primary types, the "Indian type" and the "Southeast Asian type".
Each of the several hundred mango cultivars has its charm to the table. Whether ripe or unripe, they're all edible. A ripe mango usually provides sweet, pulpy, juicy flesh, making it a favorite Indian fruit and Asian in general.
On the other hand, unripe mangoes have a tangy twist to chutneys, pickles, and side dishes in Bengali cuisine. Refreshing Mango Lassi is another beloved beverage across South Asia.
On top of their delightful taste, mangoes are also nutritious, brimming with vitamins K and C, beta-carotene, folate, magnesium, and potassium (21).
How To Eat:
Slice off the sides of the fruit, avoiding the large seed in the middle. You can then score the flesh without breaking the skin, then invert the half to make the squares of mango pop out. Alternatively, you can scoop out the flesh with a spoon.
26. Asian Pear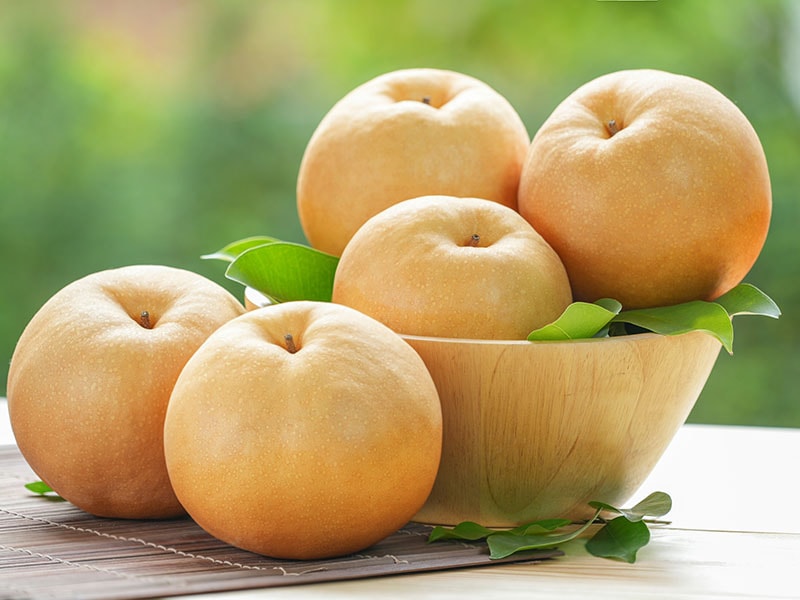 Asian pears have thousands of varieties, each with a unique blend of a crisp, juicy texture. Some say these pears are like an apple, paired with a distinct texture that isn't soft or mushy.
Along with the slightly grainy texture, these Asian pears have a mild sweetness, harmoniously balanced with a touch of acidity. In the past, these pears were treasured as symbols of prosperity and good fortune in China, available only to the rich and noble.
Today, they've won over all of Asia with their refreshing quality. These pears are also nutritional stars, offering high fiber, a good dose of vitamins C and K, potassium, and copper. Their high antioxidant content makes them an even more appealing choice for health-conscious individuals.
How To Eat:
Rinse, then cut it in half from top to bottom. Remove the core, then slice it into smaller slices.
27. Coconut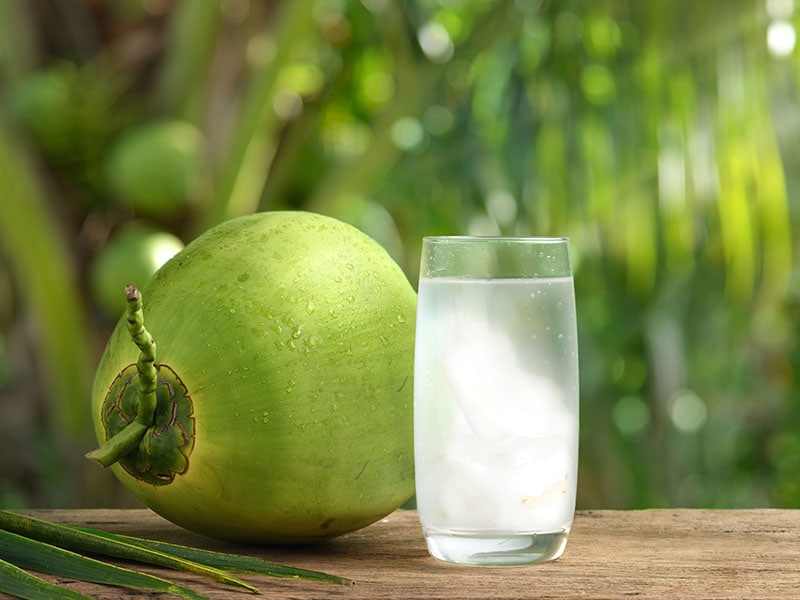 As an icon of tropical regions, coconut history takes root in Maritime Southeast Asia. Also, the warm climate of India, Indonesia, the Philippines, and Vietnam has made them the world's top coconut producers. Despite its name, coconut is botanically a drupe, not a nut.
Inside this drupe, you'll find coconut water, a refreshingly sweet liquid with hints of sourness and saltiness that serves as a great post-workout drink. A friendly tip from my experience, if the water is too sweet, it's probably not natural and contains added sweeteners.
Next is the coconut flesh, which is chewy, nutty, and mildly sweet. When shredded and dried, it transforms into desiccated coconut, a favorite garnish on cakes and confections.
Both the water and flesh are rich in minerals like manganese, copper, potassium, and iron. However, a word of caution from my research is that coconut water is unsuitable for those with kidney diseases (22).
How To Eat:
Using a screwdriver, pierce two eyes at the top and drain the water. If you want to enjoy the white flesh inside, hammer around the center of the coconut to break it into two halves.
28. Goji Berries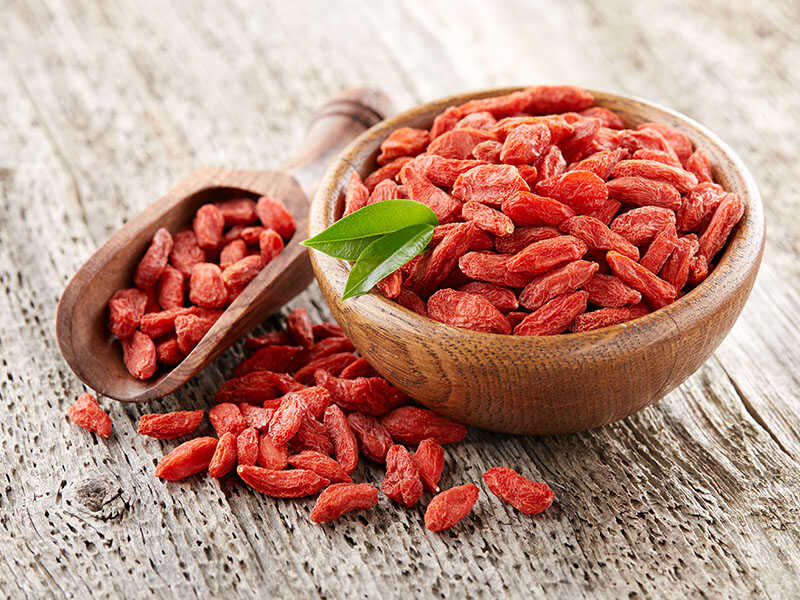 The humble goji berry, known as the wolfberry, calls the fertile floodplains of China's Ningxia region home. The goji berries you find in your local supermarket might be imported from there.
They hit the taste buds with a pleasant blend of herbal flavors, sweetness, and tartness. Fresh or dried, goji berries have their special appeal. The slightly sweeter dried ones are a personal favorite with their longer shelf life.
You can munch them raw, add them to desserts, or follow the Chinese tradition of herbal teas. Vitamin C, antioxidants, and beta-carotene in the fruit can improve your eye, skin health, and immunity system (23).
But watch your portion, or bloating and sleep troubles might tag along.
How To Eat:
Usually dried and can be eaten as is or rehydrated in water
29. Chinese Bayberry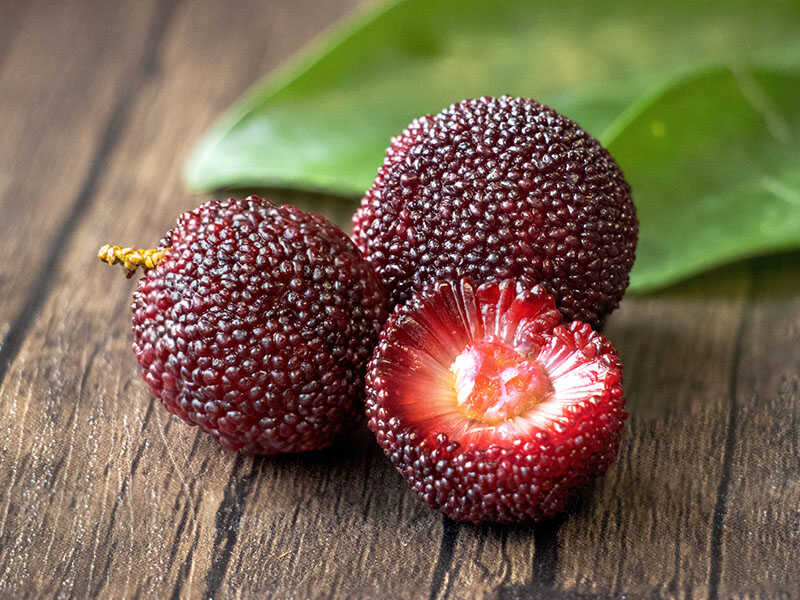 Chinese bayberry, or as some call it, the yumberry, waxberry, or yangmei, hails from southern China. It's an elusive fruit with a fleeting season from May to June.
Therefore, it might take a lot of work to find. But if you manage to get your hands on one, you're in for a fusion of tart and sweet, reminiscent of strawberries and cranberries.
Not just about flavor, they're a healthy choice, too, packed with fiber, vitamins, and antioxidants. The versatility of these berries is impressive – eat them fresh, dried, in desserts, or even as an intriguing ingredient in alcoholic drinks.
How To Eat:
Rinse and eat whole. Remember to spit out the pit.
30. Kiwi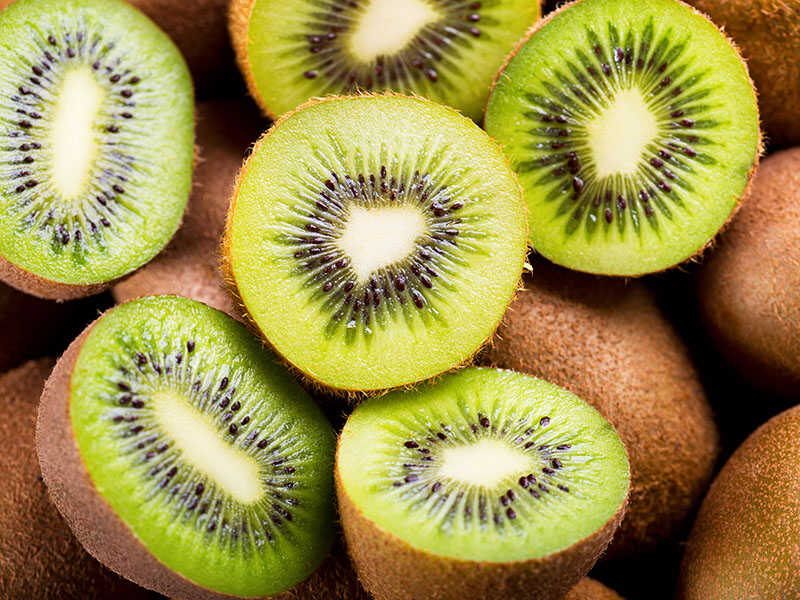 Kiwi, that fuzzy brown fruit, has roots not in New Zealand but in central and eastern China!
Quite the globe-trotter, it used to be known as the Chinese gooseberry. But in a mid-20th-century rebrand, it got its snappier moniker – "kiwi" – and with it, an open ticket to Western markets.
Small as a large grape, its skin is fully edible. Slice it open, and you're greeted with green or yellow-green flesh with tiny black seeds. How about its flavor? It's a taste combo I adore – sweet, yet with just the right amount of tang.
Rich in fiber, antioxidants, and vitamin C (24), it's my go-to low-calorie snack. However, three kiwis a day should be your limit.
How To Eat:
Cut in half and scoop out the flesh with a spoon, or you can peel the skin and slice.
31. Passion Fruit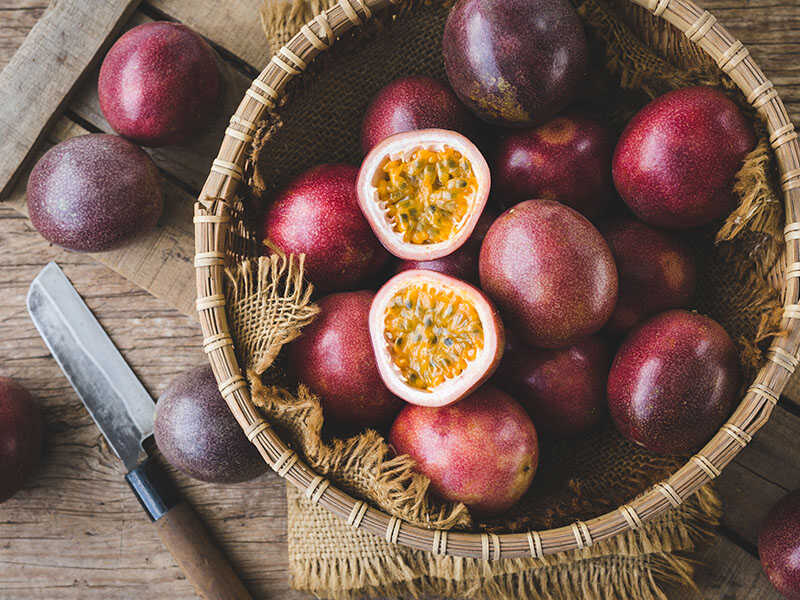 Passion fruit is a real gem I've encountered, originally from South America but feels right at home in Asia's tropics.
Bursting with vitamins, this citrus fruit – which can be round or oval – is a nutritional star. Beneath the rind, whether it's purple, red, or yellow, is an incredibly unique, jelly-like pulp.
And the taste is citrusy with a refreshing tang. It's also got these edible black, crunchy seeds adding a slight hint of bitterness. Remember, you can swallow those seeds whole or give them a good chew.
For serving, eating them as is, blending the pulp for refreshing beverages, or straining them for baking are some of my favorite ways to use passion fruits.
How To Eat:
Cut it in half and scoop out the pulp with a spoon. The seeds are edible.
32. Banana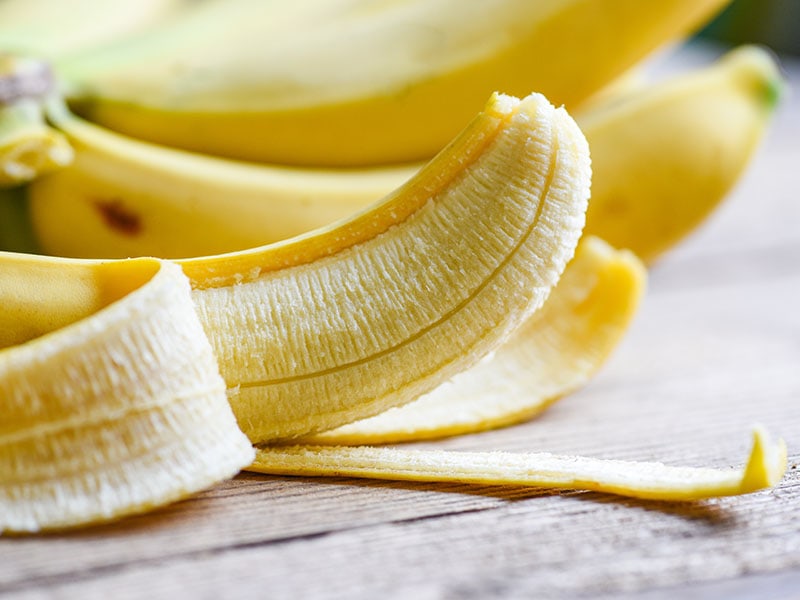 Bananas, with roots tracing back to Southeast Asia or New Guinea, are a favorite across Asia, particularly in China, India, Indonesia, and the Philippines. These nations are some of the top banana producers globally.
In India, the banana tree is even accorded sacred status. Dessert bananas, rather than plantains, dominate the market in Asia.
Munching on a fresh banana is a common practice, but you can discover the magic by adding it to your desserts. For example, a Filipino banana cue ((Filipino fried caramelized bananas) or banana fritters can make your taste buds sing in delight.
How To Eat:
This is the easiest fruit to eat. Simply peel it from the top down and eat the soft, sweet fruit inside. You can eat it fresh or slice it into smaller pieces for a fruit salad or smoothie.
Exotic Fruits
33. Rose Apple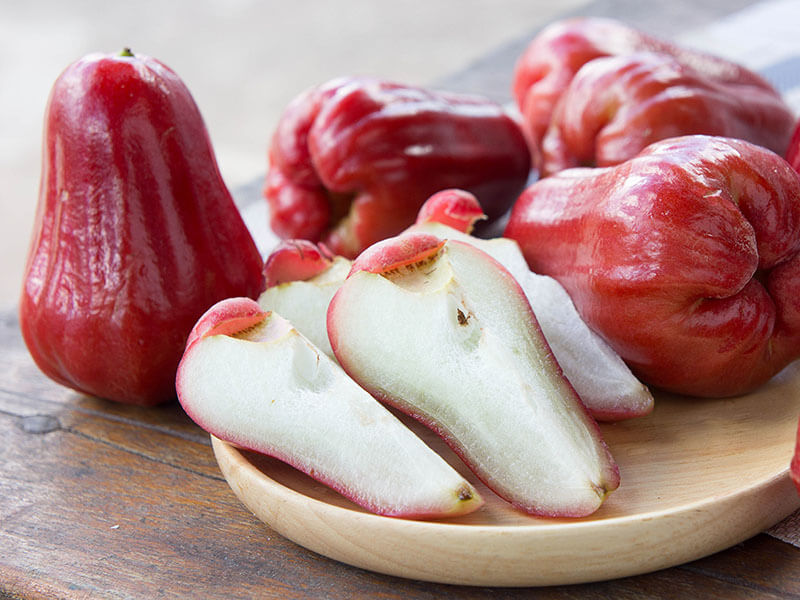 Rose apple, part of the Syzygium family, is a delightful fruit found in Southeast Asia and India. You can recognize it by its ripening colors from pinkish to bold red.
There are several Asian varieties of rose apples, such as the watery rose apple and the Malay rose apple. Crunching into it feels like a fresh burst of crisp hydration, while the taste travels from sour to sweet. Don't bother peeling the skin; it's part of the charming, fruity experience.
How To Eat:
Can be eaten like a regular apple. Remember to rinse it first, cut it into quarters, and remove the seeds. You can even skip the cutting part and immediately grab a bite after rinsing.
34. Jackfruit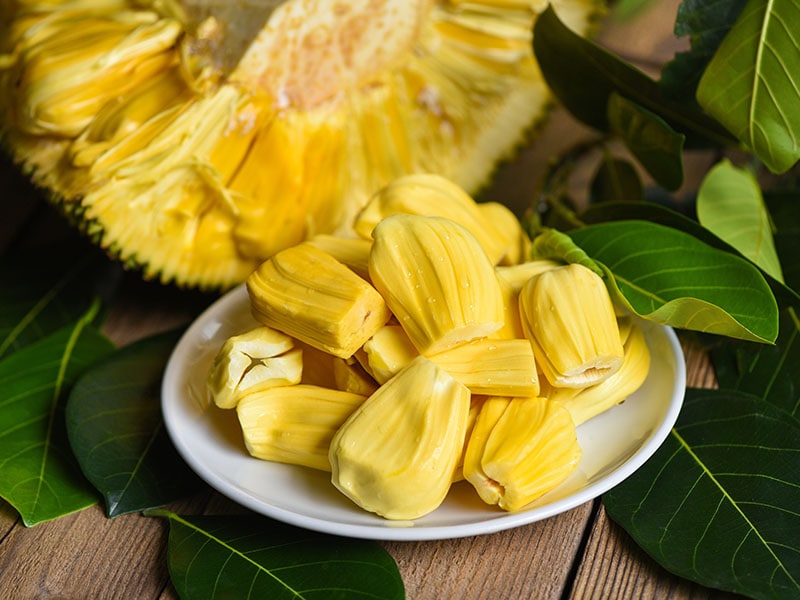 Known as a jewel of tropical and exotic fruits, jackfruit has roots in the Western Ghats of southern India. This fruit also appears in countries like India, Sri Lanka, and Bangladesh, or in the rainforests of the Philippines, Indonesia, Malaysia, and Australia.
The sheer size of the jackfruit is impressive, boasting the title of the largest fruit of all trees. One jackfruit can weigh up to 120 pounds and stretch 35 inches in length! Ripe jackfruit has a unique sweetness, a subtle blend of pineapple and banana-like flavors.
The locals creatively use it in many dessert recipes – from custards and cakes to mixing it with shaved ice, as Es Teler in Indonesia or Halo-Halo in the Philippines. If you have been to Vietnam, you might already see it in freeze-dried form and sold as snackable jackfruit chips.
And the culinary surprises don't end there. The seeds hidden inside the ripe fruits can be cooked and enjoyed. They offer a milky, sweet taste, which always reminded me of Brazil nuts.
Another thing that amazes me is green jackfruit. Canned and readily available, it possesses a meat-like texture and a mild taste, earning it the nickname "vegetable meat." It's a go-to choice for those craving a plant-based, meat substitute.
Yet, the jackfruit isn't just about its exquisite flavors and textures. It's also a nutrition goldmine with vitamin C, B vitamins, folate, niacin, riboflavin, potassium, and magnesium (25).
How To Eat:
Cut the fruit in half and remove the individual fruit pods inside. The pods are ideal for eating fresh. Discard the seeds.
You can keep the seeds and roast them. They have a potato-like texture and chestnut-like flavor.
35. Noni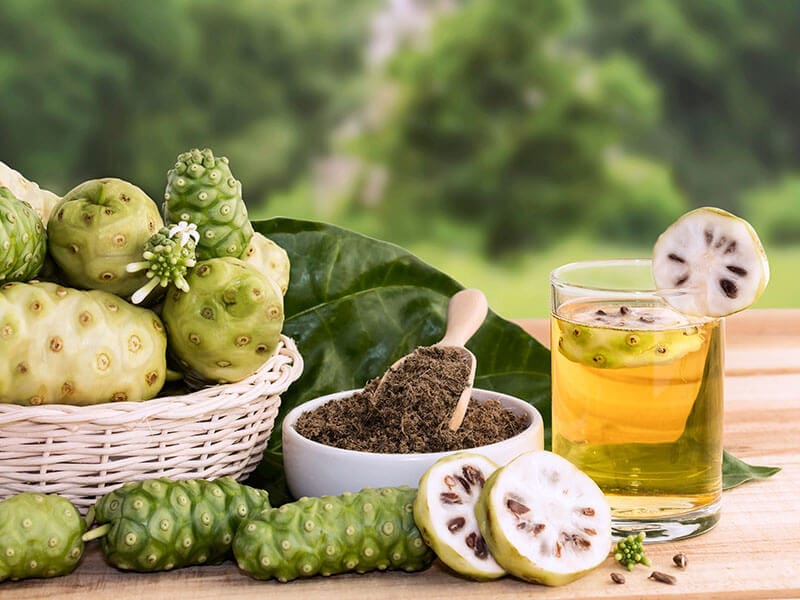 Noni hails from the coffee family Rubiaceae and thrives in the tropical regions of Southeast Asia and Australasia. Its bright green, lumpy exterior may be less appealing, but this fruit has held a significant role in many cultures.
Despite a bitter, sour taste with just a hint of sweetness and an aroma that has earned it the less-than-flattering nickname 'vomit fruit', noni is cherished as a staple food in some cultures.
Its primary form is as a juice or juice blend, though it can also be transformed into a puree or paste. Nomi is also used in traditional medicine for over 2,000 years, especially among Polynesian peoples.
Regarding its nutrients, the juice of noni is rich in vitamin C, biotin, folate, vitamin E, and plant-based flavonoids, boasting an array of organic acids with antioxidant properties (26).
How To Eat:
There are 2 ways to cut it: cut longways into wedges or round slices. Then enjoy them fresh and slip the seeds out. However, as it has a pungent smell when ripe, I prefer to make a drink with it rather than eat it.
36. Starfruit (Carambola)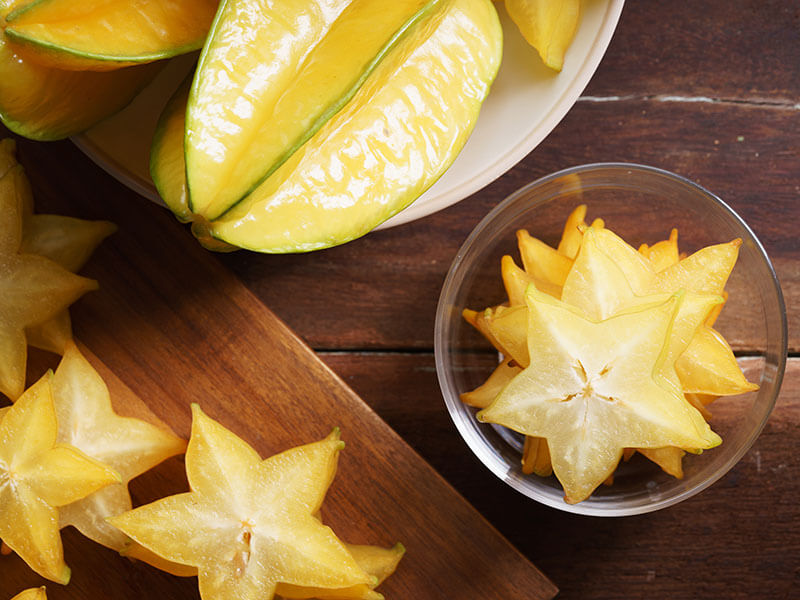 Starfruit is a tropical treat originating from Southeast Asia, and its special shape is truly the star of the show. Cutting into its five to six ridges reveals beautiful star-shaped slices, earning it its name.
The taste, a unique fusion of sweet and sour that reminds me of grapes and oranges, is as intriguing as its shape. Its golden to green-yellow skin is fully edible, so peeling or deseeding is unnecessary.
It's a powerhouse of vitamins A, C, antioxidants, phosphorus, and potassium. Still considered exotic in America, it costs a bit more than your average fruit. And if you have kidney issues, it's best to consult a doctor before indulging.
How To Eat:
Rinse, cut off the ends, then slice into star-shaped pieces.
37. Sapodilla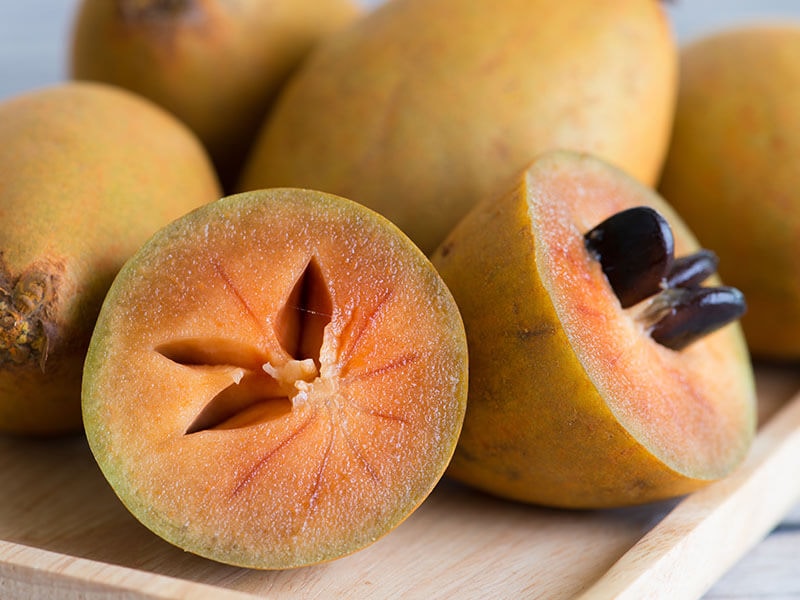 Sapodilla is known by a variety of names, like sapote or chikoo. It originates from Central and South America, but you'll see it flourishing in India and Southeast Asian regions.
Take care when choosing this fruit. Unripe ones can cause a bitter experience and even irritate your mouth. Ripe sapodillas, however, are a sweet indulgence with malty undertones.
Their brown, soft flesh has a grainy, buttery texture. If you're looking to enjoy this fruit, pick those that are soft to the touch – a sure sign of ripeness.
How To Eat:
Peel the skin, cut it in half, remove the seeds, and slice.
38. Japanese Persimmon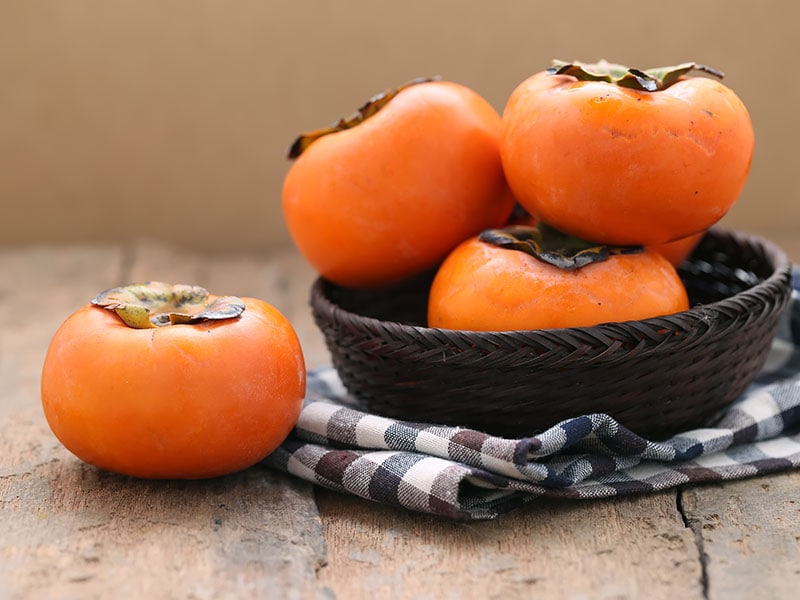 Known as kaki, oriental, or Chinese persimmon, Japanese persimmon glows with a golden-orange hue. This national fruit of Japan heralds the arrival of fall. Beyond Japan, it also thrives in China.
As you bite, the smooth and silky flesh reveals a sweetness that can surprise you with an astringency note from its high tannin content.
This tiny fruit is a nutritional powerhouse, brimming with vitamins A, C, B-complex, fiber, and antioxidants, which can benefit your heart and eyes and reduce the risk of diabetes (27).
How To Eat:
Remove the leaf at the top, then cut it into slices or eat it whole like an apple.
Asian Vegetable Lists
39. Taro Root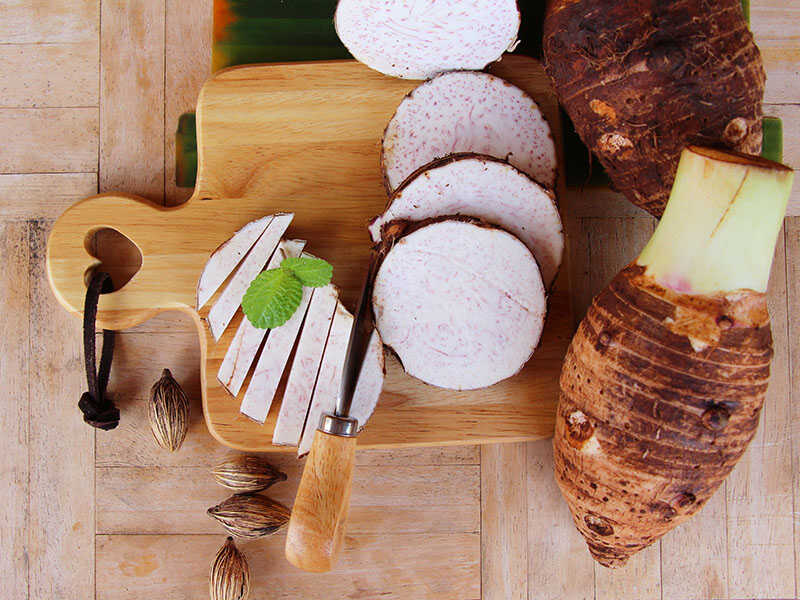 Taro root, one of the earliest vegetables to be farmed, is a culinary favorite in Southeast Asian, East Asian, and South Asian kitchens. Despite its name, taro isn't a root but a corm – an underground stem.
A thick skin covers close kin to yams, taro, and its starch has a mildly sweet taste and an appealing purple hue. Yet, taro's qualities extend beyond its taste and aesthetics.
This humble corm is known to support heart health, regulate blood sugar levels, and act as a natural laxative. Nutrient-dense, taro offers a rich supply of dietary fiber, vitamin C, E, and healthful carbs.
Remember, raw taro is a no-no, but it can be transformed into fries, mashed, boiled, roasted, or baked dishes. For a smooth prep, it is better to wear gloves to avoid irritation from the high calcium oxalate content in the starch. And you should peel it under running water to tame its stickiness.
40. Lotus Root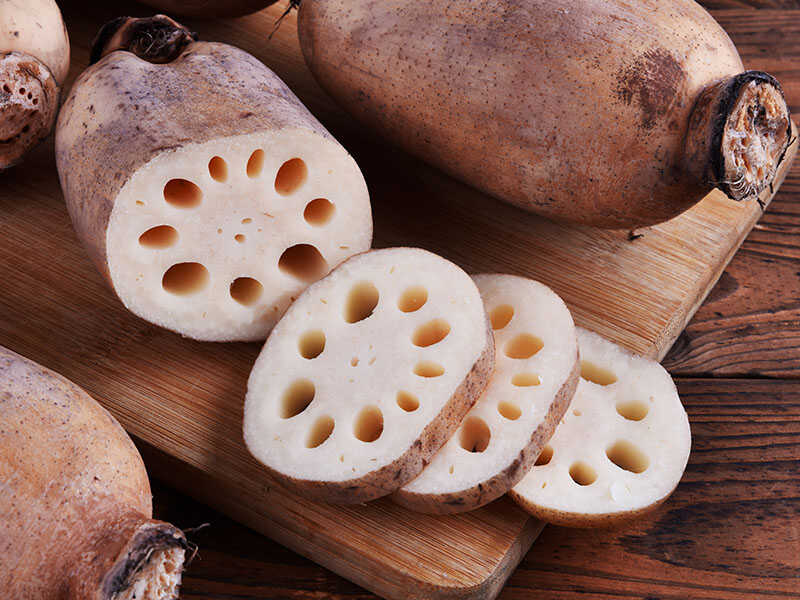 The lotus root is not technically a root but the edible rhizome of the lotus plant. With a hint of Asian flair, it is a celebrated ingredient in East Asian and Southeast Asian kitchens.
Its appeal lies in its crunchy texture and mild, subtly sweet flavor, reminiscent of turnip and parsnip. Lotus root also has impressive health benefits.
Enjoy it raw or in various cooked preparations, from stir-fries and deep fries to boiled dishes. When preparing, remember to cleanse the roots well to remove any dirt. A quick rinse in cold water with a dash of vinegar will help retain their fresh color.
41. Daikon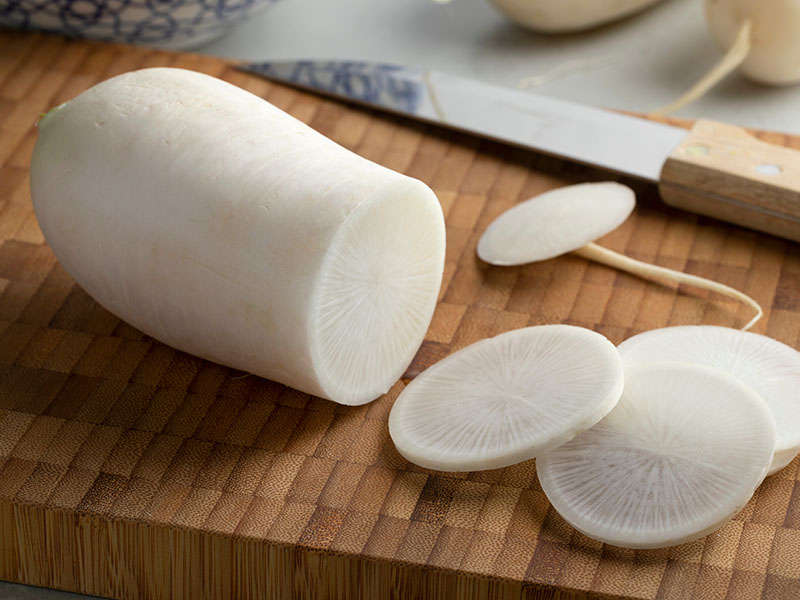 Daikon, known as white radish or oriental radish in some places, is a winter radish from East Asia that has found a home in kitchens worldwide. Its Japanese name translates to "big root", and it lives up to that, growing up to 12-14 inches in length.
It has a crisp texture and mild, slightly peppery flavor, adding a delightful crunch to any meal. I've also used the sprouts and greens in dishes – nothing goes to waste with daikon.
When I buy daikon, I look for bright green leaves and firm flesh to indicate a good one. Young daikon can be eaten raw, even in salads. For mature daikon, I prefer pickling, stir-frying, or cooking them in soups and stocks for an enhanced flavor.
42. Lemongrass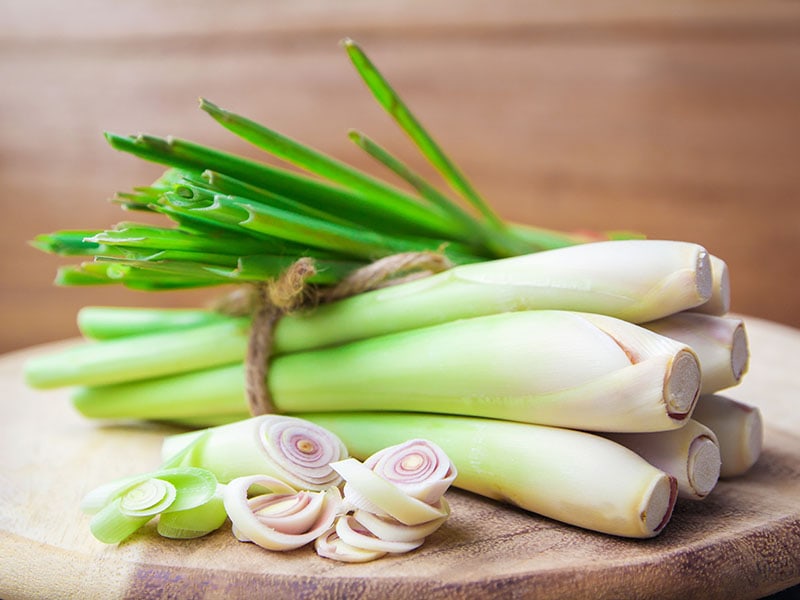 Native to Southeast Asia, lemongrass is also known as Malabar grass or fever grass. It has an amazing citrusy aroma, tinged with a subtle mix of mint and ginger.
It's the aromatic oil-rich stalks of this plant. They can easily be chopped, minced, or even used whole, and do wonders in marinades, curries, soups, and roasted meats! And for those lemon-less days, it's an effective substitute.
One cool fact is that you can store lemongrass in the fridge or freezer for a long time – just remember to keep it in an airtight container.
Beyond its culinary role, lemongrass is a source of antioxidants and has significant health benefits, like preventing some bacteria, relieving pain, or improving blood sugar (29).
43. Galangal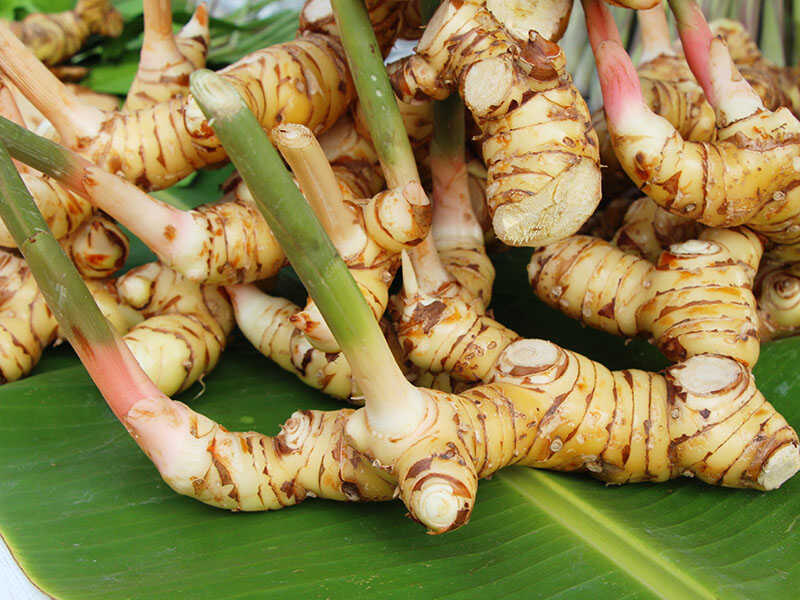 Galangal, a spice native to Southeast Asia, might look like ginger, but don't be fooled! It's a completely different species with a unique flavor profile.
It's robust, packing a spicy, bitter punch with an earthy, citrusy taste and a hint of mustard. Its firm flesh stands in stark contrast to the softer texture of ginger, and its flavors are as different as chalk and cheese.
Therefore, galangal is best not to swap with ginger. Overall, this spice is a boon when I cook seafood, reducing any overpowering fishiness. You can add galangal to stir-fries, soups, and grilled meats if desired.
44. Ginger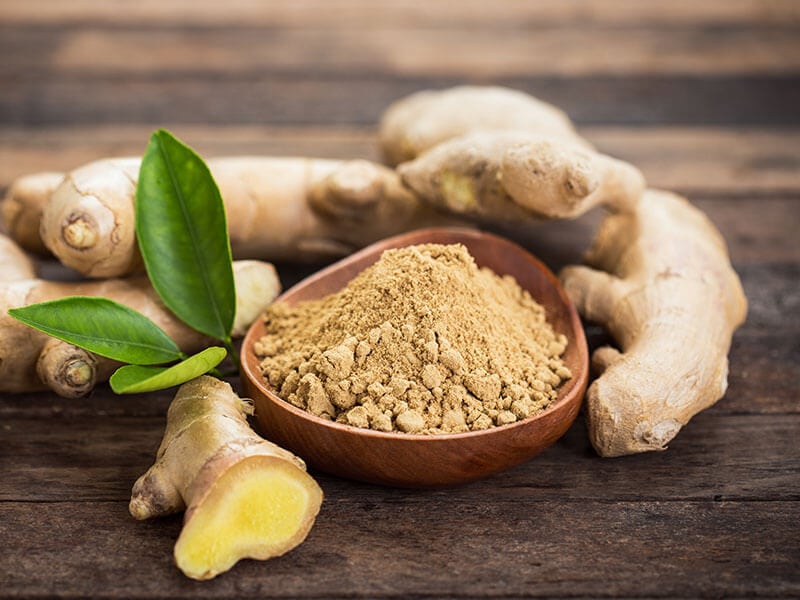 Ginger, a root origin in Maritime Southeast Asia, is another essential ingredient in this area. Packed with antioxidants and anti-inflammatory substances (30), it boasts a wonderfully bold, peppery flavor, softened by a tinge of sweetness.
The soothing aroma of steeping ginger tea has often warmed my afternoons. It's not just a comfort drink but also a testament to ginger's versatility. You might find raw ginger enhancing the depth of marinades and sauces, or providing a hearty kick to soups, curries, and stews.
And let's not forget the cozy aroma of baked goods, all thanks to dried ginger. Cleaning ginger does require a bit of finesse. You should use a spoon or vegetable peeler to remove the peel, primarily for aesthetic reasons and to eliminate residual dirt.
Breaking off a lobe allows for more thorough peeling. And to truly unlock ginger's bountiful flavor, mince, smash, or grate it finely after peeling.
45. Turmeric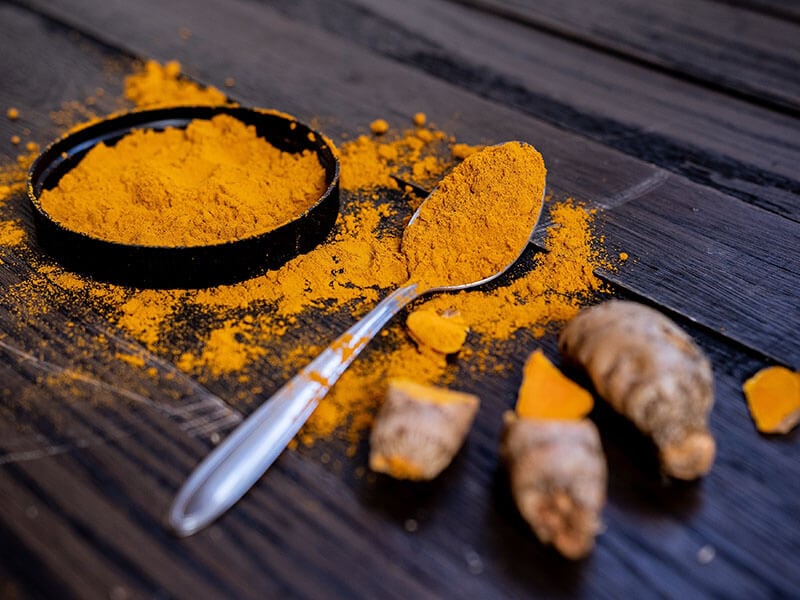 One of my kitchen's most visually striking ingredients is turmeric, with its deep golden-orange hue. When using it, you will see how just a pinch can imbue foods with beautiful color – curries, rice, mustard, cheese, and even Vietnamese savory pancakes (Bánh xèo).
Starchy foods like couscous, quinoa, and bulgur wheat mingle seamlessly with it, while pilaf beams with allure. Even in soups, stocks, juices, smoothies, and baked goodies, a hint of turmeric creates an enticing appeal.
But please note that a little goes a long way. Its bitter, spicy, earthy taste can easily dominate if used recklessly.
On the other hand, it's also a budget-friendly, vibrant alternative to saffron to add color to food. To make a DIY food dye, boil a teaspoon of turmeric in 1/2 cup of water for a brilliant orange dye, or just 1/2 teaspoon of it with 1/2 cup of water for yellow hues.
46. Napa Cabbage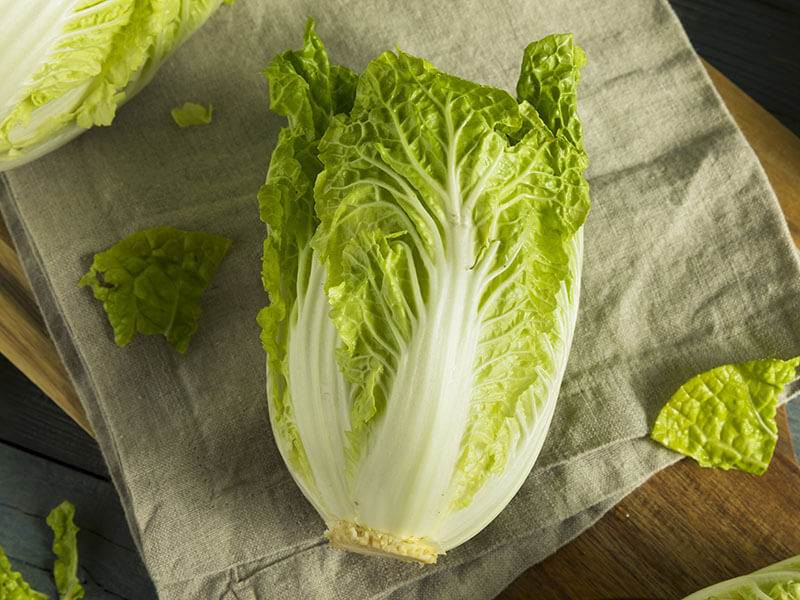 Napa cabbage, with other names like Chinese cabbage, celery cabbage, or Wombok in Australia, is a regular guest on my dinner table. Originating from Beijing, it's found its place in worldwide's culinary traditions, especially in East Asia.
With an oval shape and yellow-green color, it's leafier and longer than the typical cabbage. Napa cabbage has a sweeter, milder flavor, suitable for methods like steaming, sauteing, or making soups.
It's a must for making authentic kimchi, but pay attention to it for fresh salads too! It is quite pricier than standard cabbage, but the trade-off in flavor and nutrients is worth it. Napa cabbage is low in calories and a good source of fiber, antioxidants, and vitamins.
47. Choy Sum / Choi Sum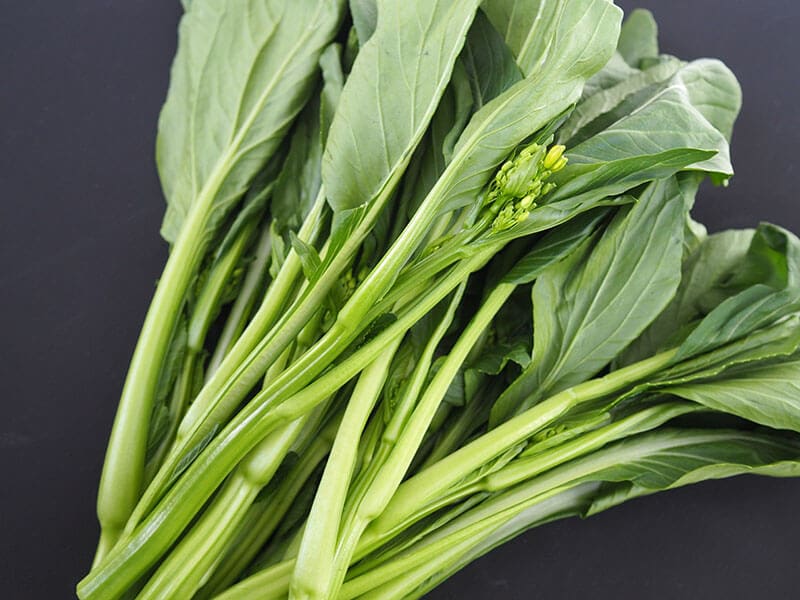 If you've heard about Chinese flowering cabbage, it's choy sum. This Chinese leafy vegetable is a relative of Gai Lan, or Chinese broccoli, with similar looks but a unique flavor profile.
Choy sum's taste is a mix of mild sweetness and a bit of mustard-like bitterness, especially in the mature stems. It reminds me of young broccoli and spinach. Although you can substitute it with spinach or Bok Choy, Choy Sum packs a stronger and more pungent flavor.
Stir-frying and steaming are common cooking methods. Also, I sometimes lightly cook it and add it to an omelet, baked egg, or risotto. Plus, the yellow flowers are completely edible!
48. Chinese Celery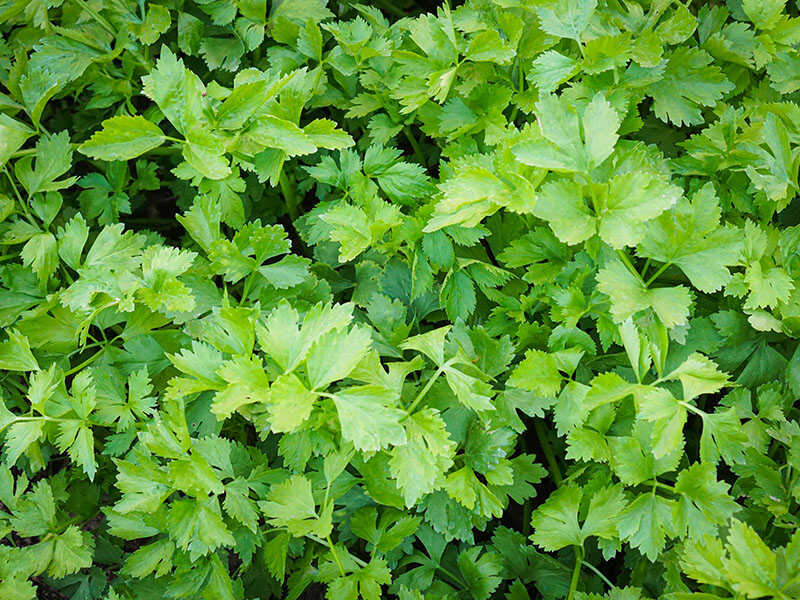 Chinese celery, also referred to as Nan Ling celery or leaf celery, might trick you into thinking it's coriander due to its similar appearance. However, its flavor is noticeably milder. It stands out for its consistently thin, hollow, and crunchy stems, bringing a unique texture to any dish.
But what distinguishes it is the leaves flavor. There's a subtle peppery note, a characteristic it shares with its Western cousin. Feel free to get creative with Chinese celery; steam it, stir fry it, or include it in braised dishes, soups, and stews.
49. Bok Choy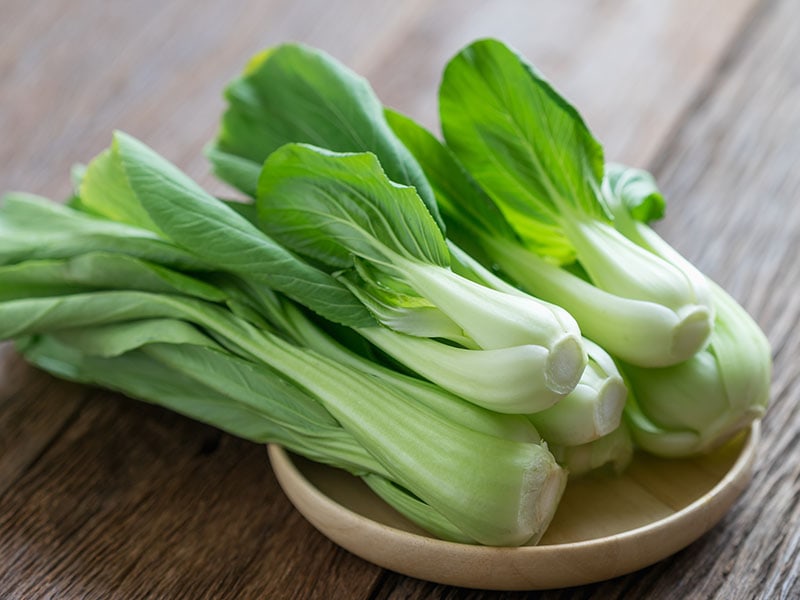 Bok choy, also called bok choi or pak choi, looks interesting with its long, celery-like stalks. It also has a round white bulb at the bottom and dark leafy greens up top. Bok choy's taste combines cabbage, celery, and water chestnut with additional sweetness.
I especially appreciate that every bit of the plant is edible, whether stir-fried, braised, roasted, or raw. Plus, it's popular in many East Asian dishes like steamed buns, dumplings, and spring rolls. However, prices can increase outside its season (spring and fall).
50. Mizuna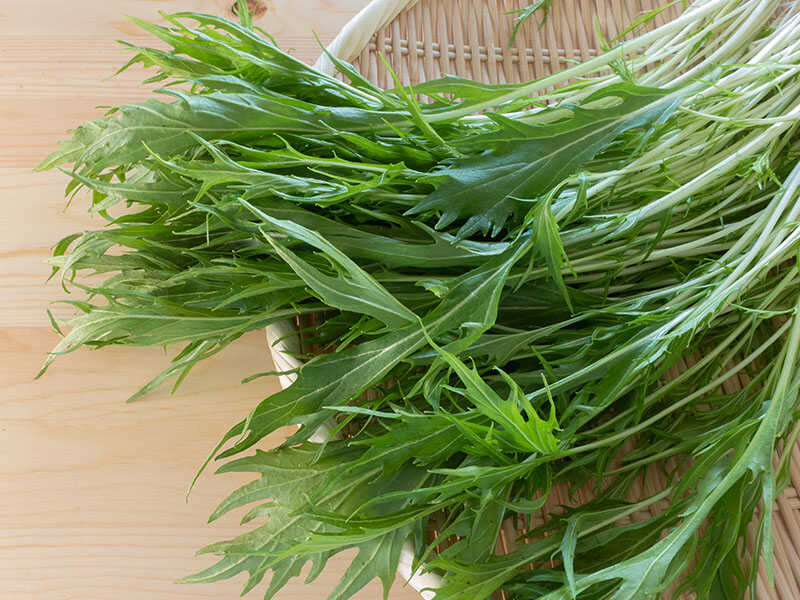 Mizuna, also known as spider mustard or Japanese mustard greens, is a true standout. Its many varieties, boasting dark green leaves and stems, provide a mildly peppery flavor, reminding me of mustard and arugula.
Its popularity is wider than just Japanese hot pots, stir-fries, and soups. You can also find Mizuna in other East Asian countries and the US. Its unique ability to absorb flavors allows you to add twists like lemon juice or fish sauce. Plus, it's suitable for growing as microgreens.
51. Tatsoi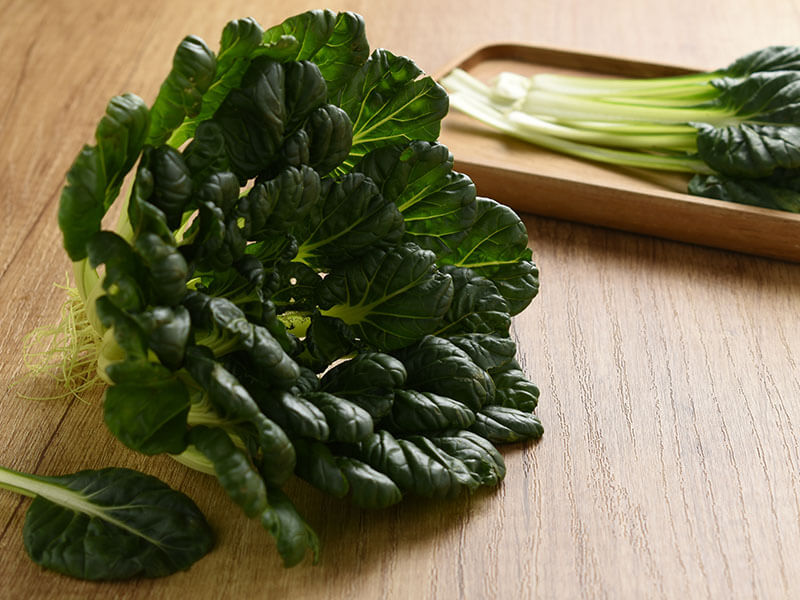 Tatsoi, an East Asian native, shares close ties with bok choy. This gem, also sold as Chinese flat cabbage or spinach mustard, brings a delicate mix of sweet, earthy, and mustardy flavors. Much like spinach, it has a juicy, crisp texture.
But Tatsoi is more than just a spinach substitute. It is a treasure trove of fiber, vitamins, and minerals, especially iron. Blanch it before adding it to your stir-fries or soups for the best results.
52. Gai Lan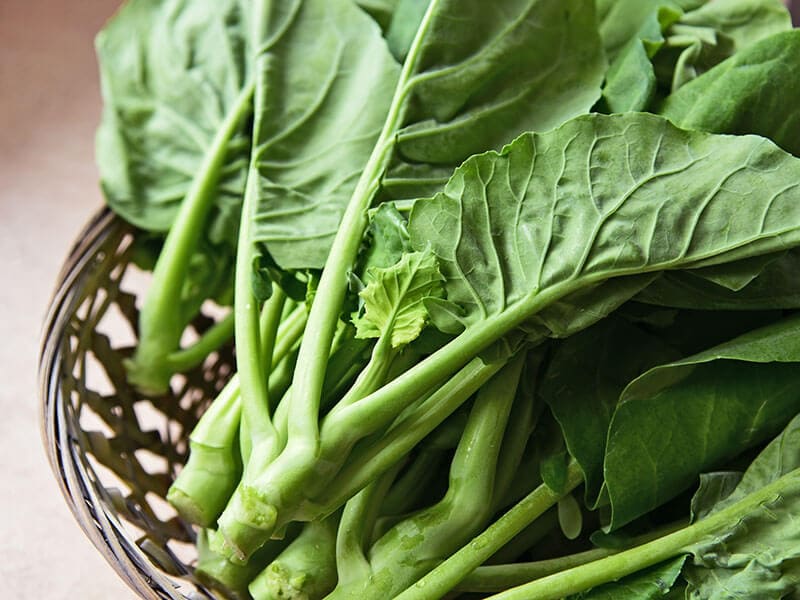 Gai lan, or Chinese broccoli, holds its unique spot in the vast family of greens. It is a relative of broccoli, kale, and cabbage, yet stands out with long, glossy dark-green leaves and thicker stems.
Gai lan's florets are tiny compared to regular broccoli. And its sweet, earthy flavor is also stronger and more bitter. A quick blanch before cooking can tone down that bitterness. I always harvest it before flowering to avoid tough stems.
While it has less fiber than regular broccoli, it tops the chart in folate, also known as vitamin B9 (28). Available year-round, your best bet to locate this rare find is in Asian grocery stores.
53. Water Spinach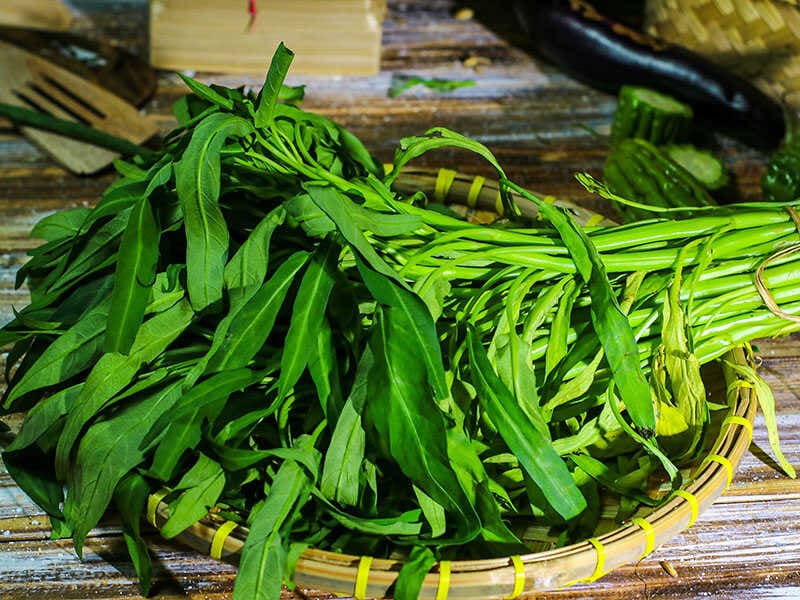 Also known as morning glory or swamp spinach, water spinach is a semi-aquatic vegetable. Despite its name, it's not a spinach sibling but brings a similar tenderness when cooked. Its flavor profile is savory, with subtle mineral hints.
Still, its taste can be slightly off-putting in its raw state despite the crunchiness. Therefore, you should mix it with dressing in a salad, quickly stir-fry it, or simmer it in soup. My particular favorite is simple water spinach and garlic stir-fry.
It's packed with vitamins A, C, and iron. But here's the hitch: its vigorous growth has led some US states to label it as an invasive weed, restricting its sale and consumption.
54. Mustard Greens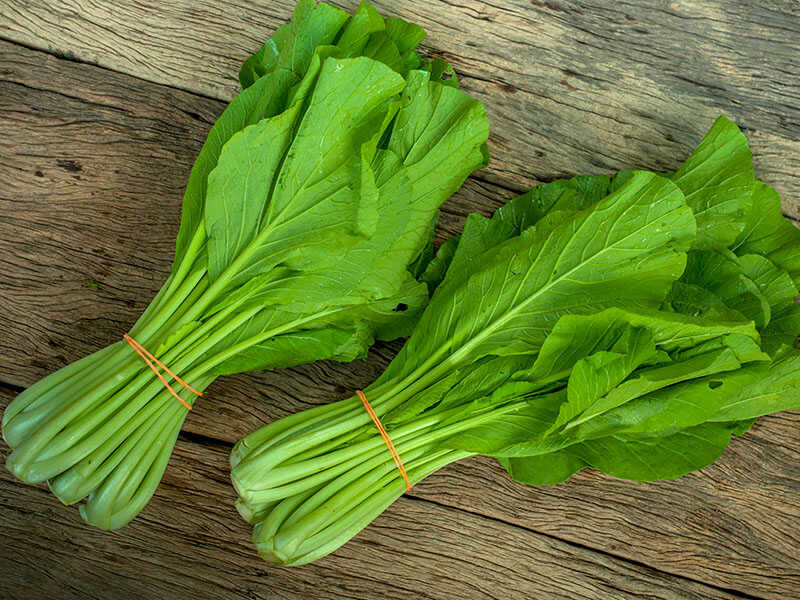 Mustard green, known scientifically as Brassica juncea, is famous in Asian cuisine, earning different monikers like leaf, Oriental, Chinese, or Indian mustard. This peppery green beats collard greens and spinach regarding flavor and is a top candidate for steaming, sautéing, and pickling.
What's more, mustard green grows easily, even in cold areas. A word of caution, though: it's such a robust grower that some US states consider it invasive, barring its cultivation.
Spices And Herbs
55. Cilantro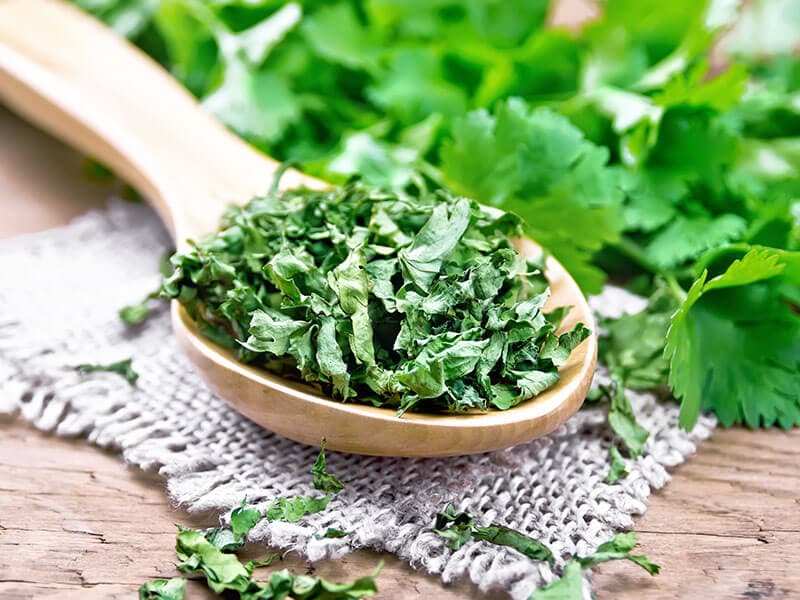 Cilantro, or known as coriander outside the US, is a favorite herb in my kitchen. This spice is from the Coriandrum sativum plant, which has a unique citrusy, peppery taste. Oddly enough, some liken this flavor to soap. Both the leafy parts and the dried seeds are all usable.
But the Americans prefer to call the leaves and stems 'cilantro', saving the term 'coriander' for the dried seeds. I've enhanced many stir-fries, soups, curries, and burgers with cilantro's unique kick. A small tip: Add cilantro after cooking to keep the flavor intact.
56. Vietnamese Coriander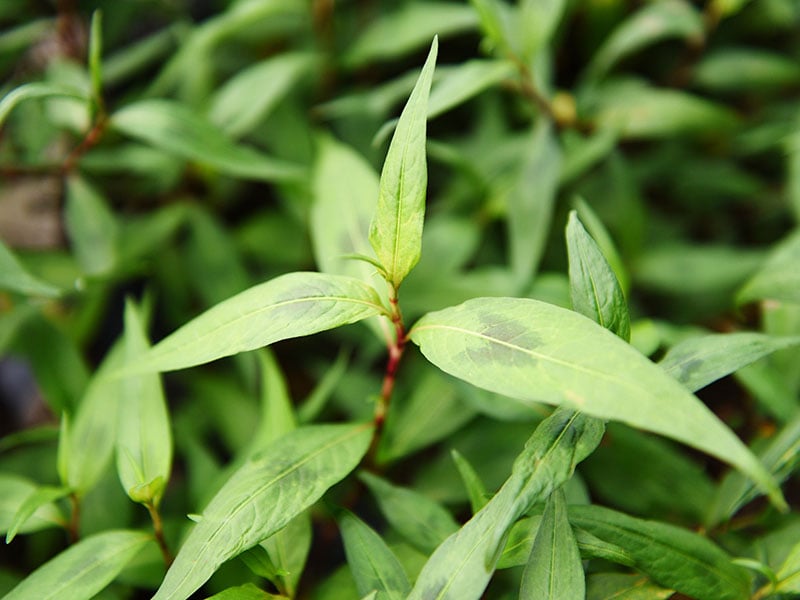 Vietnamese coriander, also known as laksa leaf, Vietnamese mint, or "rau răm" in Vietnamese, is a tropical plant thriving in the summer months. Its leaves possess a unique blend of spicy, citrusy, and musky flavors, drawing comparisons to regular coriander.
However, the mature Vietnamese coriander is quite bitter and overly spicy, so I suggest using young leaves for a balanced flavor. It's a familiar flavor enhancer in Southeast Asian dishes like Vietnamese spring rolls, soups, stews, salads, and even spicy noodle soups.
Try this exciting combination if you have an adventurous spirit, including balut (fertilized duck eggs) with Vietnamese coriander.
57. Thai Basil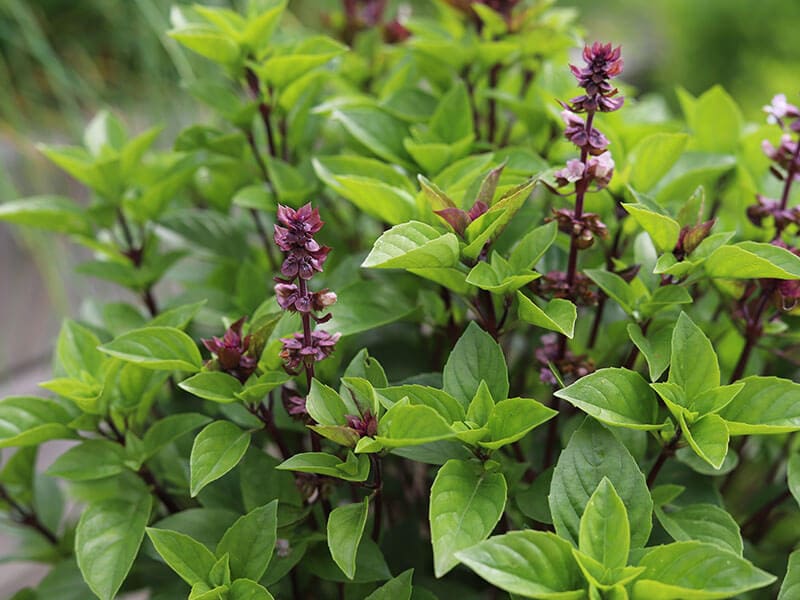 Thai basil is a favorite basil variant in Southeast Asia and parts of East Asia. Its purple stems make a striking contrast to the usual green stems of sweet basil. The flavor is a bit spicier and peppier than normal basil, with intriguing anise- and licorice-like notes.
Another difference is that Thai basil leaves can endure heating better, thus less likely to wilt when cooked. Still, for the best result, use it fresh in your dishes, from savory salads, vegetable recipes, to hearty soups.
Due to its unique flavor, substituting Thai basil for sweet basil, or vice versa, will change the flavor of your dish.
58. Mint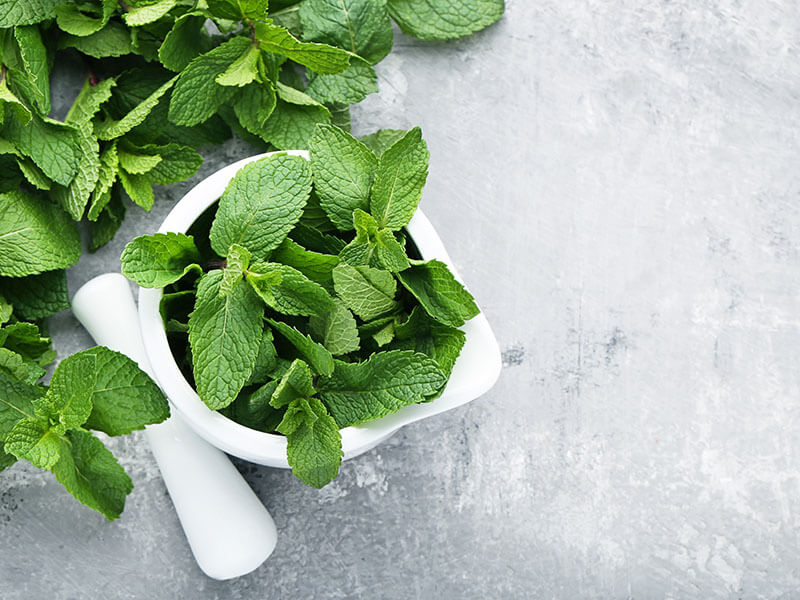 Mint, a fragrant leaf from the Mentha family, is widely used in many countries, particularly in Southeast Asia. It has numerous varieties, like peppermint, ginger mint, pineapple mint, and spearmint. I often use it to add a sweet, cooling sensation to cooked dishes, desserts, and drinks.
Add mint at the end of cooking to keep its refreshing flavor intact. And here's a tip from my kitchen: To keep mint on hand, I chop up the leaves and freeze them in ice cube trays. This way, I always have a ready supply of mint.
59. Cumin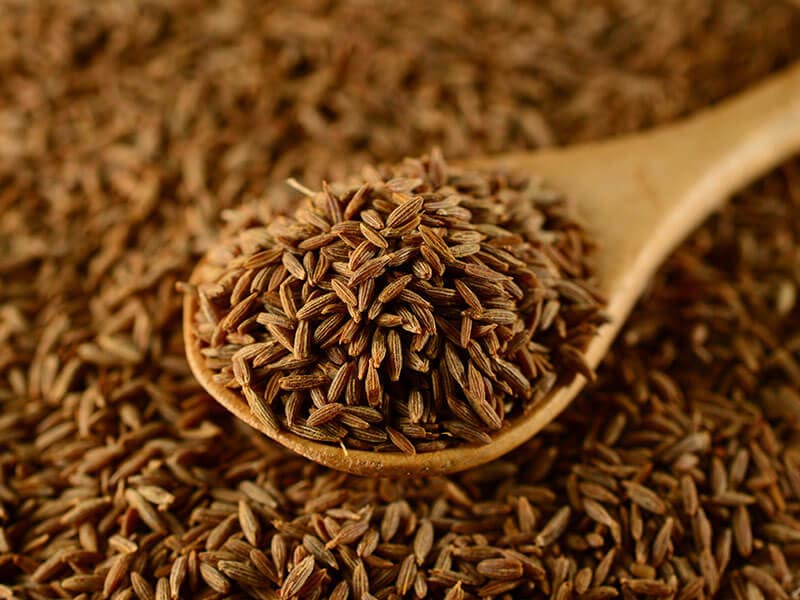 Cumin is the dried seed of the Cuminum cyminum herb, widely used from Central Asia to the Eastern Mediterranean. Known as zīrán in Chinese, cumin is a flavor heavyweight: earthy and warm, alongside a tantalizing hint of citrus.
Cumin's distinct flavor adds depth to soups, stews, and curries. Beyond taste, cumin's richness comes from its flavonoids, acting as antioxidants to prevent various diseases, even cancer (31). The ideal cumin consumption is 300 to 600 milligrams per day.
60. Garlic Chives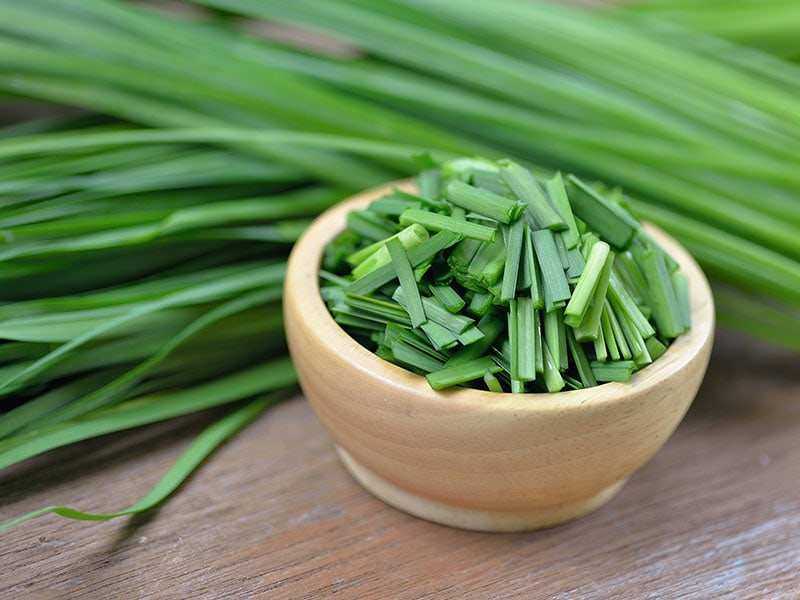 Garlic chives hide an intense garlic flavor behind their chive-like appearance. I've met this vegetable in Chinese stir-fries, where it asserts its bold garlicky taste.
There are three main types: the standard with broad, flat leaves; the flowering with hollow stems and yellow buds; and the mild, onion-like yellow chives with thick leaves.
Garlic chives are always my first choice when I need a garlic substitute. Besides, they have generous amounts of vitamin C, riboflavin, potassium, vitamin A, iron, thiamin, and beta-carotene.
61. Leeks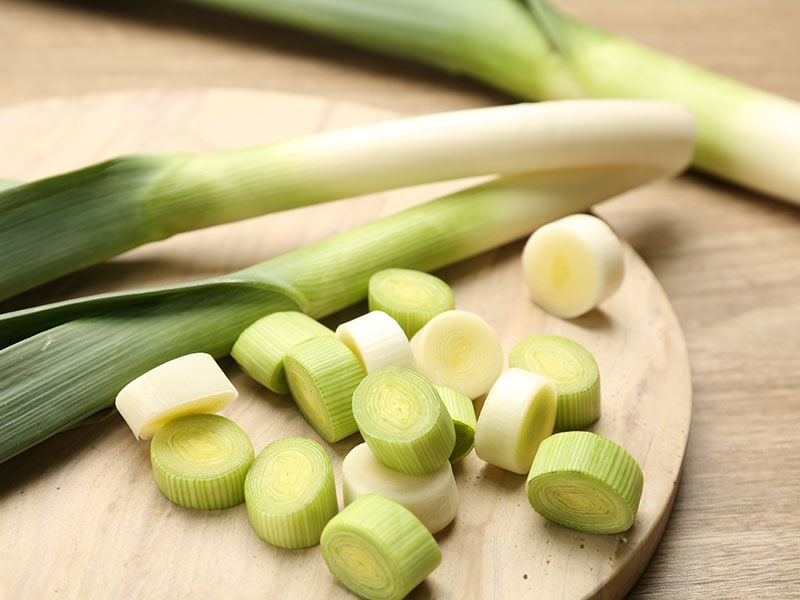 Leeks bring a mild sweetness that refers to their allium family ties. Although they are quite easy to grow, some even reaching a foot or two, with 12-inch stalks, their edible part is only the leaf sheaths.
They're a replacement for onions in warming soups and stews. Despite their rarity in Chinese cuisine, I've seen them in dishes like Buddha's Delight and twice-cooked pork. As a plus, they're packed with health benefits, such as anti-inflammatory, anti-diabetic, and anticancer properties (32).
62. Onions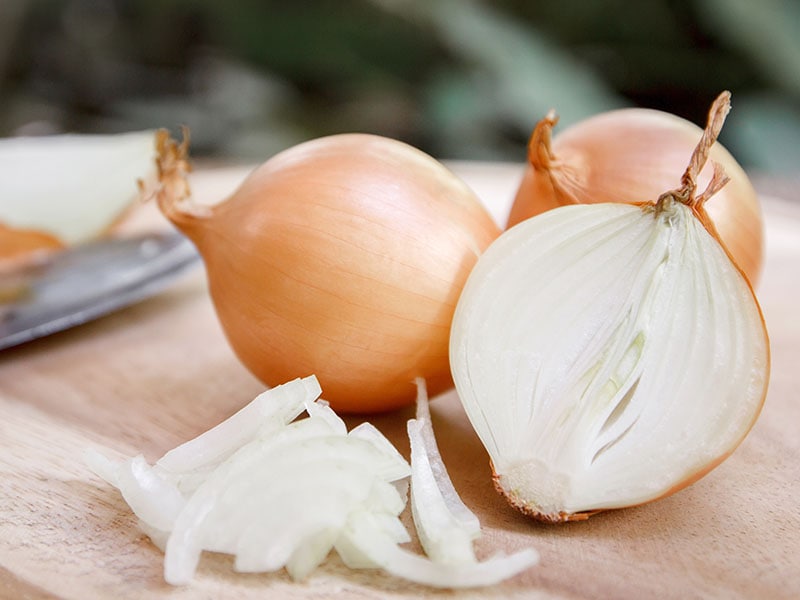 Onions, a vegetable from the Allium genus, is widely cultivated and enjoyed worldwide. Their outer skins can appear yellow, red, or white. And their layers beneath also offer different flavors, from sweet to sour, tangy to umami-rich, and even slight bitterness.
Some onions may be soft and succulent, while others retain crispness. As an essential fragrance base in many Asian dishes, onions are often briefly stir-fried to release their aroma.
Onions will release chemicals, making you cry when cutting them. So, a splash of water under your eyes before chopping can help counter the tear-jerking chemicals.
63. Shallot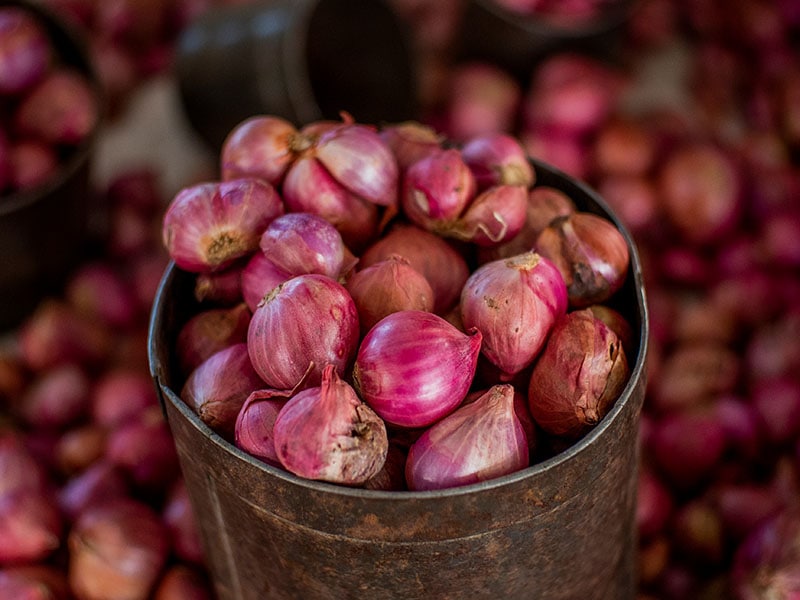 Shallots are the subtle all-stars of the onion family. Their brown or purple hue hides under thin papery skin. Beneath the skin lies a sweet yet subtly sharp flavor, perfectly balanced by a crisp texture.
I've used them in sautéed dishes, sauces, or stocks since they don't leave a tangy aftertaste like their onion cousins. When selecting shallots, pick those that feel firm and heavy for their size instead of dry and light.
Aside from being rich in antioxidants, they can improve circulation, manage blood sugar levels, and even strengthen heart and bone health (33).
64. Winged Bean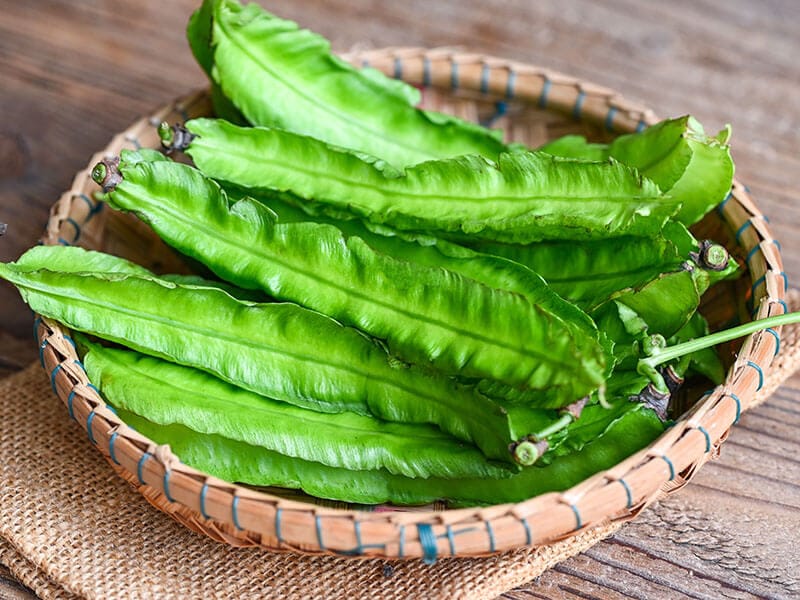 Winged beans, a tropical herbaceous legume, earn many aliases: cigarillas, goa bean, four-angled bean, and dragon bean. South Asian cuisine loves these nutrient-rich green beans because of their disease-resistant properties.
As a true culinary chameleon, winged beans transform from crunchy and fleshy in their raw state to soft and palatable once cooked. Standing 6-9 inches tall, they offer a mild, sweet flavor that compliments various dishes.
All wing beans' parts are edible: leaves taste like spinach, flowers go well in salads, and tubers are tasty whether raw or cooked.
65. Yardlong Beans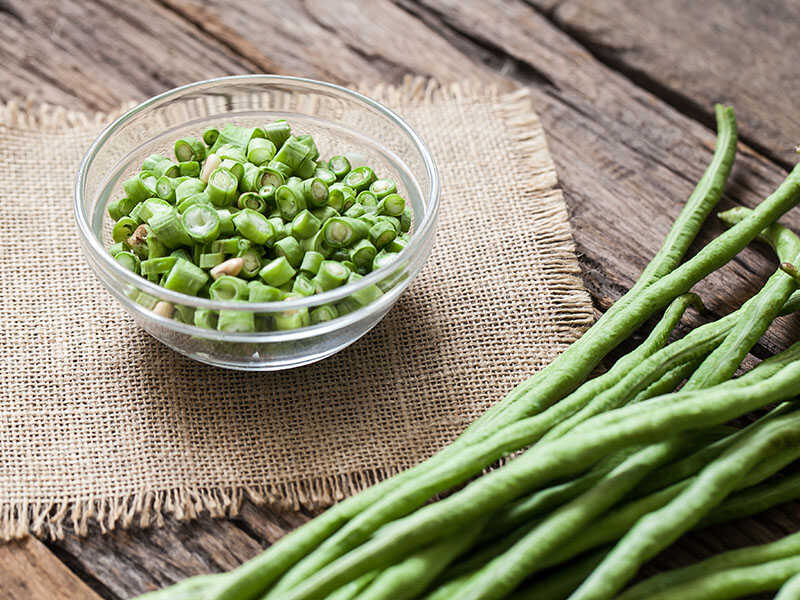 Despite their name, yardlong beans, or asparagus beans, are only about half a yard long. Their green pods, filled with immature seeds, share a similar taste to green beans but with a denser texture.
These beans are adaptable and ideal for both boiled and stir-fried dishes. They're picked before full maturity, capturing the essence of their crispness. Plus, they come with health benefits; they help regulate blood sugar levels, improve digestion, and can reduce inflammation.
66. Snow Peas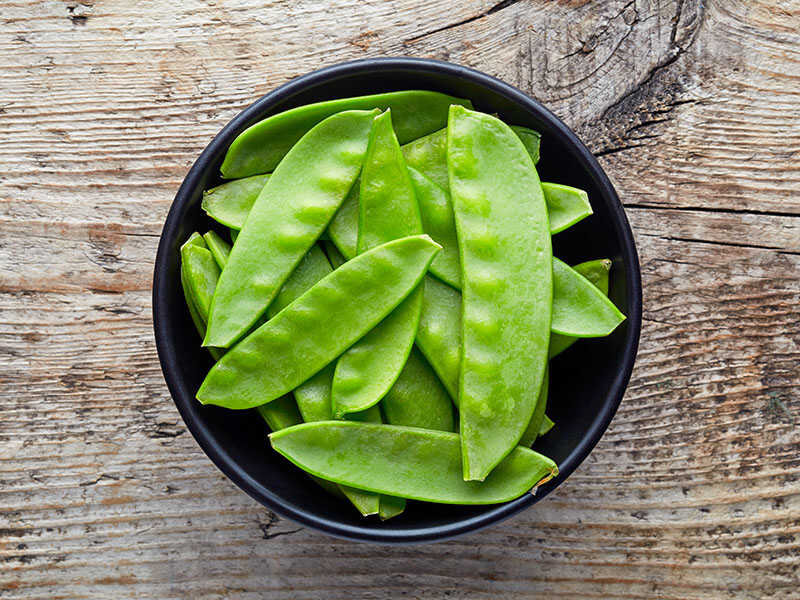 Snow peas are an awesome addition to the culinary world with their edible, flat pods and thin pod walls. Eaten whole while unripened, they burst with a mild, sweet taste and a fresh, crunchy texture.
Whether stir-fried, blanched, or boiled, snow peas bring an appealing crunch to your dish. But it's not just about taste and texture; these green gems are also a rich source of minerals like iron, calcium, copper, zinc, selenium, and manganese.
67. Lentils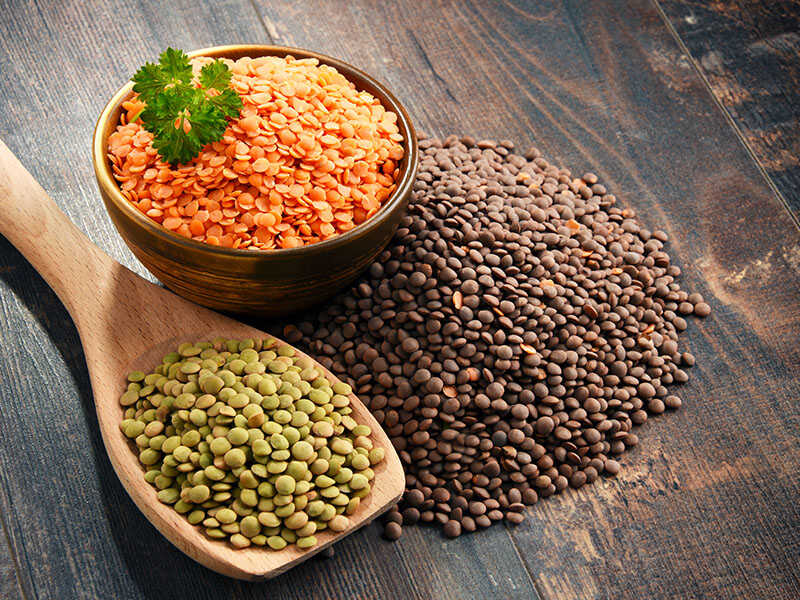 Lentils are edible legumes with lens-shaped seeds sprouting from pods. They go by many names worldwide, but one thing stays constant: their earthy, nutty flavor, quite similar to pinto beans.
When I cook them, their tender yet firm texture, without any crunchiness or mealiness, never fails to impress. That makes lentils have found their way into countless recipes, offering an unmatched culinary versatility.
68. Lotus Seeds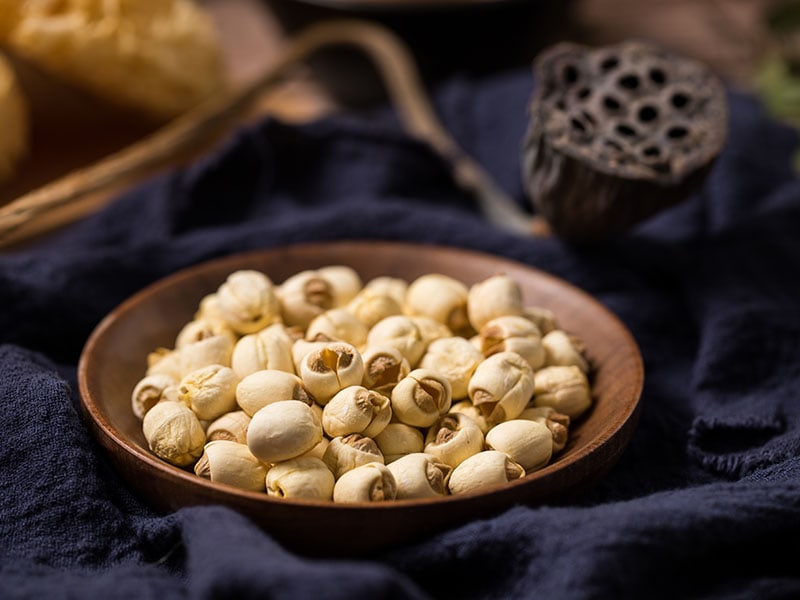 Lotus seeds, hailing from the lotus plant, are quite the superfood. They're sold dried and shelled, ready to bring a subtly sweet and nutty flavor to your dishes, just like chestnuts or almonds.
These seeds are chewy yet softer than your average nut. But before cooking, remember to soak these dried gems overnight, similar to what you do with beans. Their versatility is impressive in soups, congees, Chinese pastries, or popcorn.
Lotus seeds also hold a special place in Asian traditional medicine. The locals believe it can improve sleep quality, reduce blood sugar and anxiety levels, and lower the risk of chronic diseases (34).
69. Opo Squash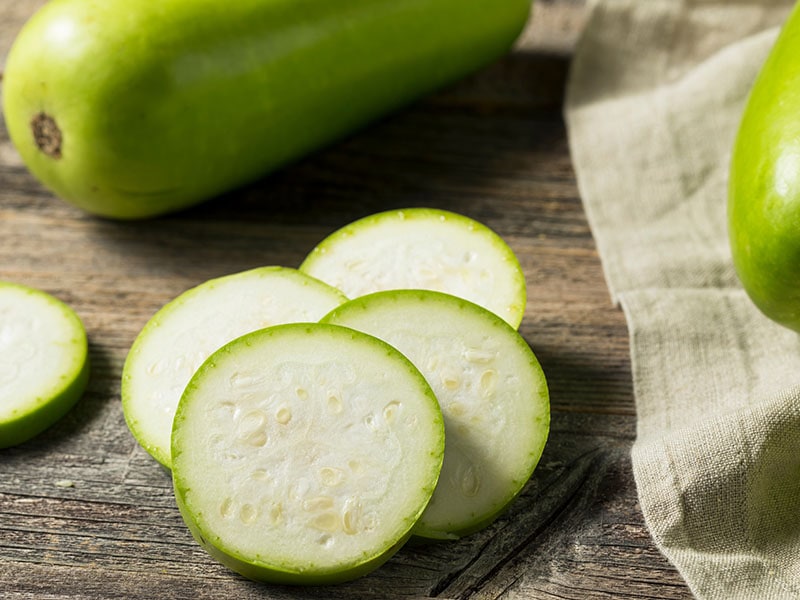 Opo squash, also known as bottle gourd, is quite the multitasker. When it's young, people consume it as a vegetable. But once matured, it serves as a utensil, container, or even a musical instrument.
Opo squash has cool, light green skin with firm white flesh inside. It can grow up to 15 inches, sometimes even beyond a meter!
As for flavor, it's quite mild, akin to zucchini, complemented by a firm texture and tender seeds. It appears in many cuisines: southern Chinese stir-fries and soups, Korean cuisine, and even Japanese sushi makizushi. Plus, folks in Southeast Asian countries love it too.
70. Japanese Eggplant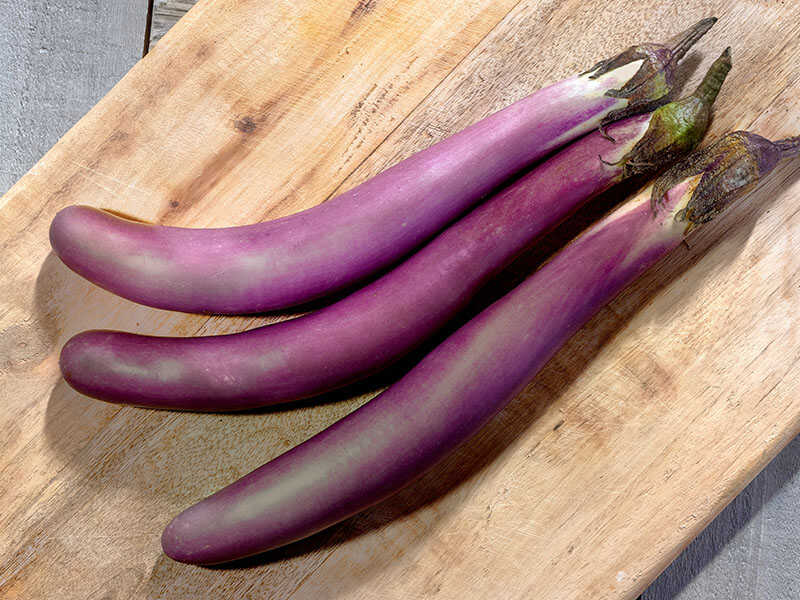 Japanese eggplants are a treasure in my kitchen. They stand out due to their elongated, slender shape, slightly less than 10 inches long, and their striking dark purple color. As soon as you bite, you'll notice they are sweeter, more tender, and delicately bitter than other eggplants.
Another charm of these eggplants is that they have fewer seeds and thin skin. Their sponge-like texture is an excellent trait for soaking up sauces! My favorite dish for them is Nasu Dengaku, Japanese roasted eggplants coated in a salty-sweet miso glaze.
71. Bitter Melon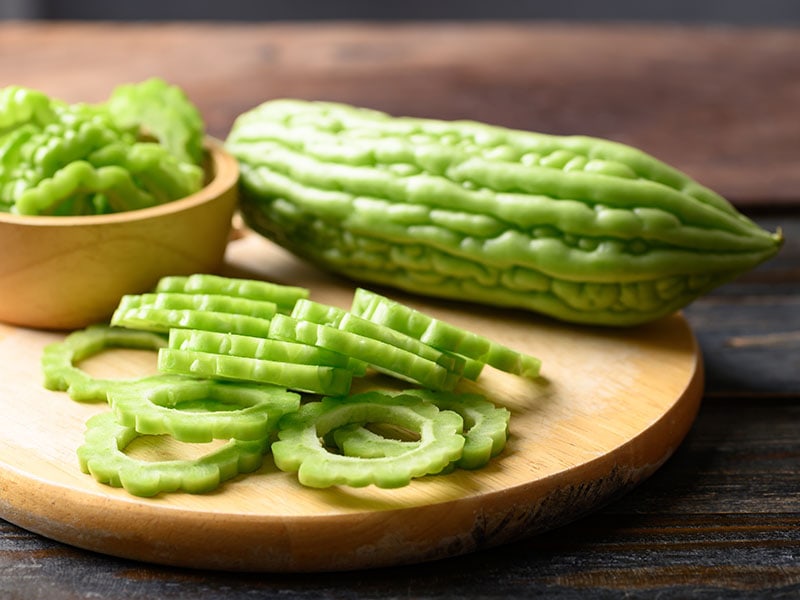 Bitter melon owns several aliases like Goya, bitter apple, bitter gourd, bitter squash, and balsam-pear. Many know about it because of its unique flavor. It's best consumed while still green and young, carrying a signature bitter taste with zero sweetness.
Sprouting from vines, it comes in multiple forms, which are green, white, or ripe orange. While some brave souls may eat it raw, most prefer it cooked.
I recommend cutting and soaking bitter melon before cooking to tone down the bitterness. Some even remove the seeds and the white interior, but others prefer leaving it the same. Stir-frying is its strong suit, but it's also quite versatile.
72. Luffa Gourd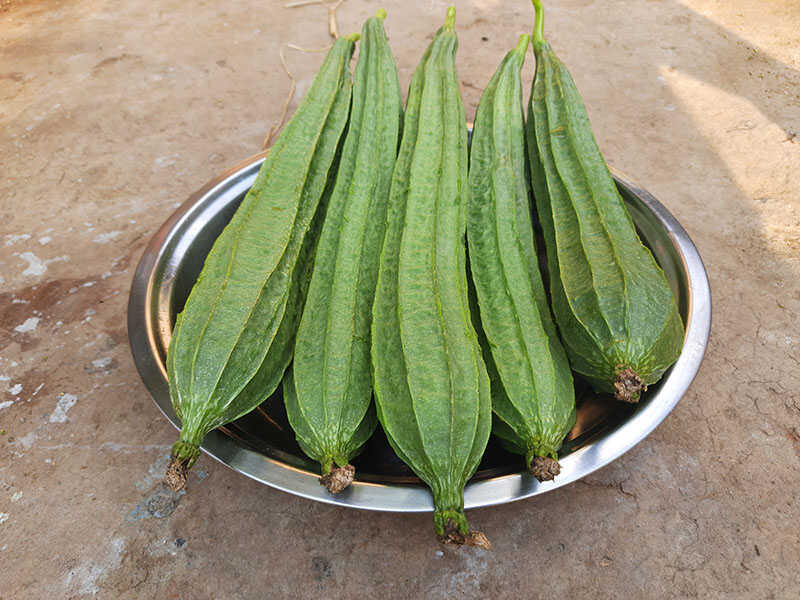 Luffa gourd is a unique player in the gourd, squash, and pumpkin family. It finds its home on tropical and subtropical vines. Even its flowers are a culinary delight. Whether boiled, stir-fried, or raw, it tastes sweet with a zucchini-like texture. Remember to peel it first!
This fruit, mostly treated as a vegetable, presents a mild, slightly sweet white flesh when young. Six inches long is its prime time for harvest. If the fruit stays on the vine too long, it starts forming fiber inside and transforms into a handy scrubbing sponge.
73. Peppers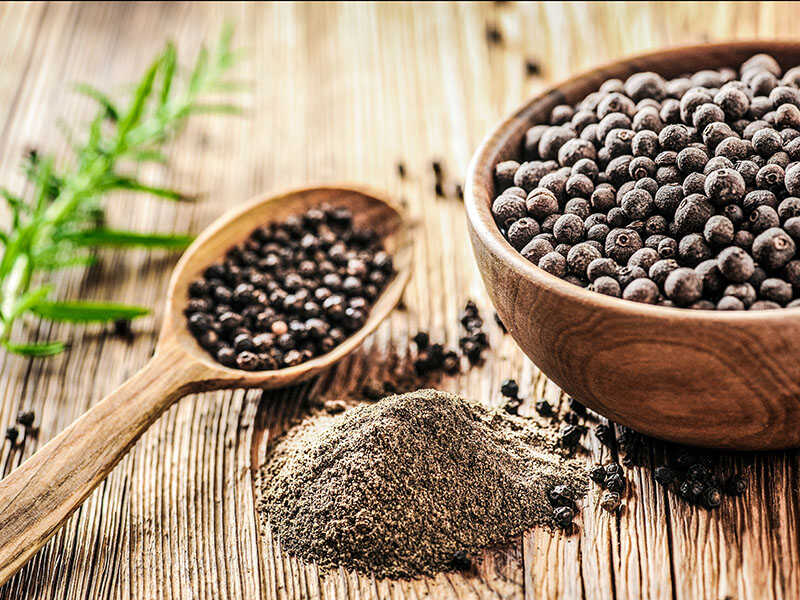 Peppers came to Asia thanks to Portuguese traders and swiftly won the hearts of Southeast Asia. Their hues are a captivating array from green through orange to red. Moreover, multiple varieties offer endless possibilities.
I've savored them in diverse forms: raw, dried, or ground into a fiery powder. I still remember Thai and Indian curries, Vietnamese sauces, and Korean kimchi, each becoming alive with the heat of these vibrant beauties.
74. Banana Flower
Banana flowers, sometimes called banana hearts, are edible flowers or blossoms of banana trees. They are a staple at roadside stands and farmers' markets.
Before eating, you'd better remove the yellow parts and only focus on the purple flower. Soaking these in a mix of water and lemon juice or vinegar helps neutralize their inherent bitter taste.
Banana flowers' flavors are slightly similar to artichoke leaves, hearts of palms, or bamboo shoots, complemented by a crunchy texture. Once prepped, they are a common face of salads, curries, and soups. The young banana flower can work wonders in salads, soups, or stir-fried dishes.
75. Mung Bean Sprouts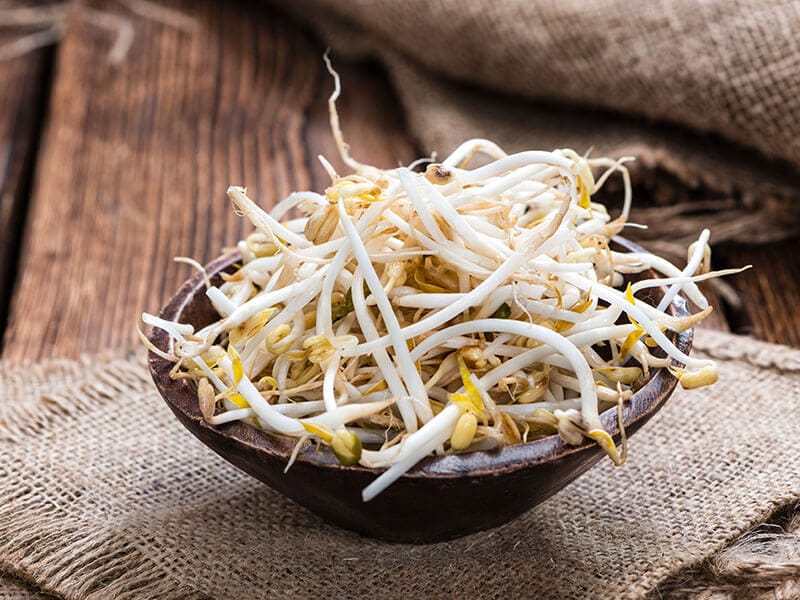 Mung bean sprouts are a staple in East and Southeast Asian cuisine. They are actually sprouted beans grown and watered in the shade until their stems elongate. Not only are they easy to cultivate, but they're also available year-round.
Mung bean sprouts are exceptionally versatile in the kitchen, adapting to stir-fry or microwave recipes. The white stems are mild, clean, vegetal taste, with a crunchy, juicy texture that can soak up the flavors of any seasonings or ingredients they're paired with.
76. Cucumber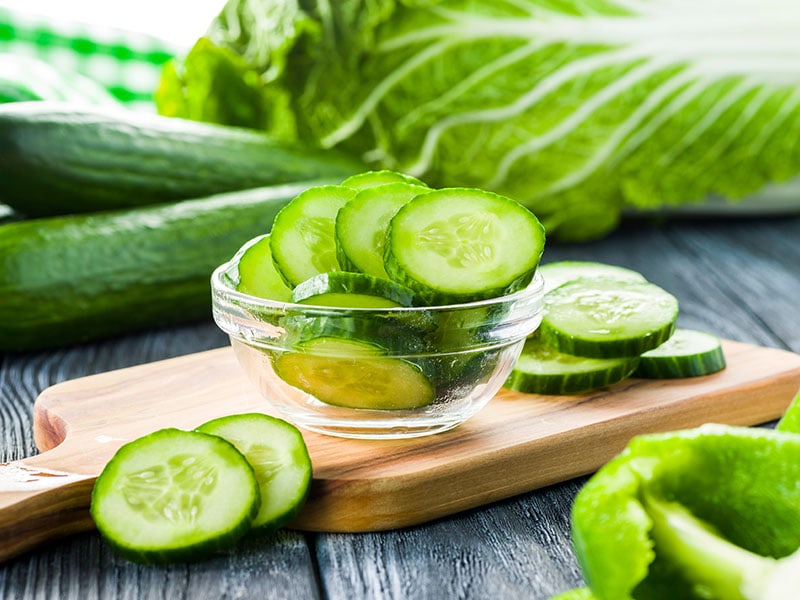 Cucumbers from Southeast Asia distinguish themselves from their Western counterparts with their thicker, shorter physique, usually crossed with different melon types.
The crunchiness of young cucumbers is fantastic for slicing into salads or pickling. Their deep green, bumpy, ridged skin encloses a slightly sweet flavor. As they mature, their flavor evolves, hinting at a sweet melon quality.
To retain their crunchy texture, I wouldn't recommend freezing them; instead, preservation in vinegar or brine is the better option. They are a fine companion for any fried or grilled dish.
Role of Asian Fruits and Vegetables in Asian Cuisines
East Asia: China, Japan, Korea
In Chinese or some regional Asian cuisines, fruits such as lychee and longan are common dessert ingredients to consume fresh. Chinese vegetables like bok choy and napa cabbage are key to stir-fries, dumplings, and soups.
In Japan, yuzu, a citrus fruit, is extensively used in sauces, while daikon radish is served pickled, grated, or in soups. Korea's kimchi, a renowned fermented dish, mainly uses Napa cabbage and radish, highlighting the importance of these vegetables in their cuisine.
Southeast Asia: Thailand, Vietnam, Philippines, Indonesia
Southeast Asian cuisines are noted for their vibrant flavors, with fruits like durian, rambutan, and mangosteen to eat fresh or used in sweet dishes. In Thailand and Vietnam, green papaya and lotus root are used in salads and stews.
Philippine dishes often include bitter melon and winged beans. Indonesia is famous for its use of salak and jackfruit in various culinary preparations.
South Asia: India, Sri Lanka
South Asian cuisine (e.g., India and Sri Lanka), frequently utilizes vegetables like bitter melon, okra, and various beans and lentils.
Tamarind, a fruit, is a common ingredient in chutneys and sauces. Mango, both ripe and unripe, plays a crucial role in many dishes, from pickles to desserts.
Central Asia: Uzbekistan, Kazakhstan
Central Asian countries like Uzbekistan and Kazakhstan commonly use root vegetables such as carrots and radishes in their cuisines. Fruits, primarily apples, apricots, and melons, are often eaten fresh or used in desserts and beverages.
Influence of Asian Fruits and Vegetables on World Cuisine
Influence on Western Cuisine: Asian fruits and vegetables have significantly influenced Western cuisine. Ingredients such as bok choy, daikon, and lychee are now commonly found in Western supermarkets and are increasingly incorporated into traditional Western dishes.
Influence on Fusion Cuisine: Fusion cuisine, which blends culinary traditions from various nations, often utilizes Asian fruits and vegetables to create innovative and flavorful dishes.
Influence on Vegetarian and Vegan Cuisine: With their high nutritional content and flavor variety, Asian fruits and vegetables have become staples in vegetarian and vegan diets worldwide.
Growing and Harvesting Asian Fruits and Vegetables
Suitable Climate and Soil Conditions
Many Asian fruits and vegetables thrive in tropical and subtropical climates with high humidity and temperatures. For instance, durian, mangosteen, and rambutan require warm climates for optimal growth.
On the other hand, temperate fruits like Asian pears and persimmons prefer cooler climates. The soil needs to be well-drained and rich in organic matter for most of these plants, although specific soil requirements can vary from plant to plant.
Harvesting Techniques
Harvesting techniques vary based on the type of fruit or vegetable. Many fruits like mangosteen, durian, and lychee are typically hand-harvested using long poles with nets or baskets attached to catch the fruit.
Vegetables are usually harvested by hand with knives or shears. Plus, harvest timing is crucial for ensuring optimal taste and nutritional value.
Post-Harvest Handling and Storage
Post-harvest handling is important for maintaining the quality of the produce. Fruits and vegetables are often cooled immediately after harvest to slow down ripening and reduce spoilage.
They are then sorted, cleaned, and packaged for transportation. Proper storage conditions, including optimal temperature and humidity levels, are essential to maintain freshness and prolong shelf life. In many cases, fruits are allowed to ripen during storage or transportation.
FAQs
What Are Your Favorite Asian-based Fruits Or Vegetables?
Discovering these fruits and vegetables has been a fun journey to enrich your palate with a fusion of unique flavors and health benefits. I hope this article has provided helpful information about the finest Asian agricultural products.
Share the article with people around you so they can have more options the next time they visit the supermarket for fruits or vegetables. If you want to let everyone know your thoughts, feel free to do so in the comment section.