Are baked beans considered vegetables, or are they something else altogether? The answer to this question is actually more complicated than you might think.
Although beans are full of fiber – a signature characteristic of most vegetables, they are also rich in plant-based protein. As a result, categorizing beans isn't as easy as 1-2-3. So what exactly are baked beans? Read on to know the answer!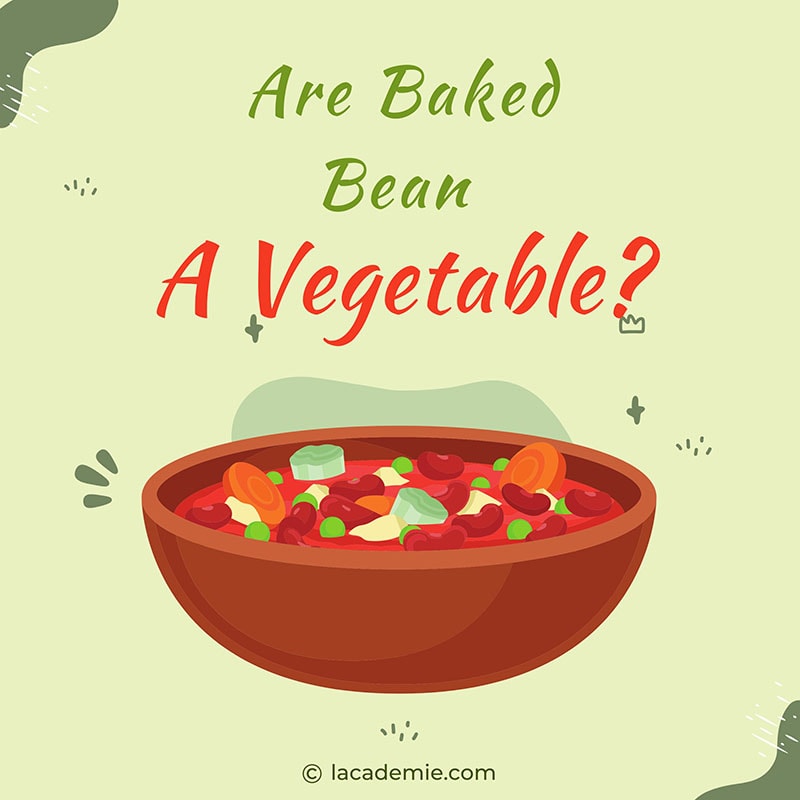 A Quick Introduction To Baked Beans
First, let's get through the "101 of baked beans" to understand what this delicious dish is made of.
As you might have guessed, baked beans are made with, well, beans. Most of the time, parboiled beans are either baked or stewed in some kind of sauce, usually tomato or BBQ sauce, and sweetened with brown sugar, molasses, syrup, or regular sugar. (1)
Baked beans are also commonly smoked to add a layer of smokiness to their flavor. Although the amount of time required to smoke baked beans might be a bit long, most people agree that the result is well worth the wait.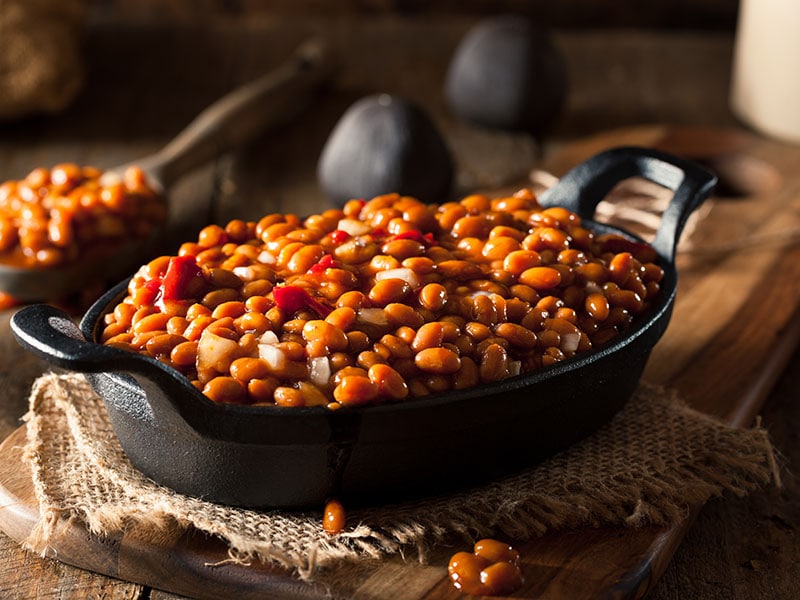 Baked bean is originally a dish in Native American cuisine but has now gained worldwide popularity, partly thanks to the commercialization of canned baked beans in the 19th century. Despite the name, canned baked beans are commonly steamed instead of baked. (2)
While navy beans and other American-originated white beans are traditionally used for making baked beans, almost every kind of beans can be baked. Some people like to mix different bean varieties together, resulting in a unique texture and flavor.
Today, it's hard to imagine an Independence Day celebration or BBQ party without some baked beans. In addition, they're also a vital part of a complete English breakfast which often includes fried eggs, bacon, sausage, grilled tomatoes, mushrooms, toast, and baked beans.
Learn more about how canned baked beans are made.
Are Baked Beans A Veggie?
Now, this is where things get interesting. To decide whether baked beans can be considered a vegetable, let's look more deeply into the food group that beans belong to.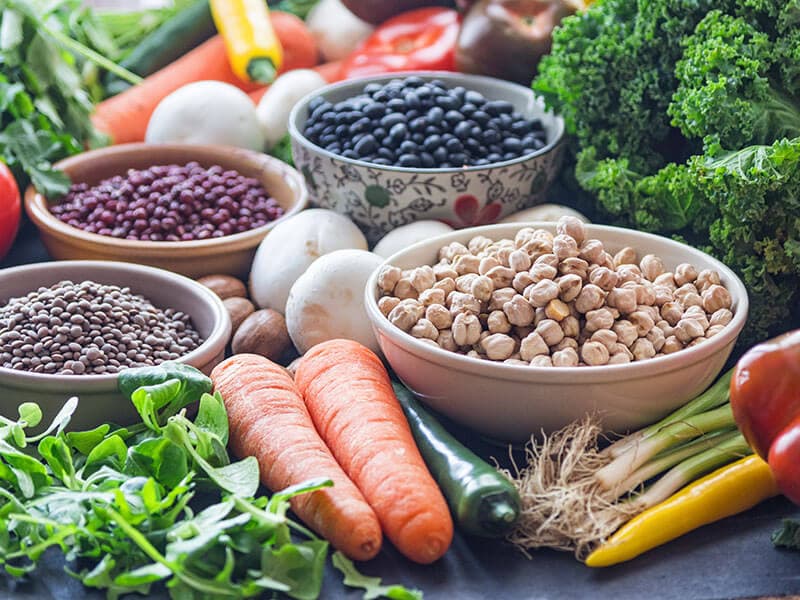 Botanically speaking, all beans belong to a group of plant foods that bear fruits and seeds inside a pod called legumes. Due to its unique nutritional value, some people consider the legume family to be a food group on its own.
However, according to the USDA, all beans, peas, and lentils, whether dried or cooked, are categorized as vegetables. This is because, like other vegetables, beans are extremely rich in dietary fiber, vitamins, and essential minerals such as potassium and folate. (3)
More specifically, beans are a kind of "starchy vegetables", just like squash and potatoes.
Then this is it, right? Beans are a vegetable, end of the story. Well, not really. Remember when I said that legumes have such a unique nutrient content that some people think of them as a distinct food group? The thing that makes beans so special is their protein capacity.
In addition to being an excellent source of fiber, beans are also high in protein and nutrients like zinc and iron. As a result, these bad boys also fall into the protein food group, which is usually associated with seafood, poultry, and eggs. (4)
In short, you can think of beans and, in turn, baked beans as either a protein food or a starchy vegetable.
You should see the video below:
So, Does That Make Baked Beans Vegan?
Although it is true that baked beans are plant-based food, they aren't always vegan, especially if you're talking about canned baked beans. Let me explain.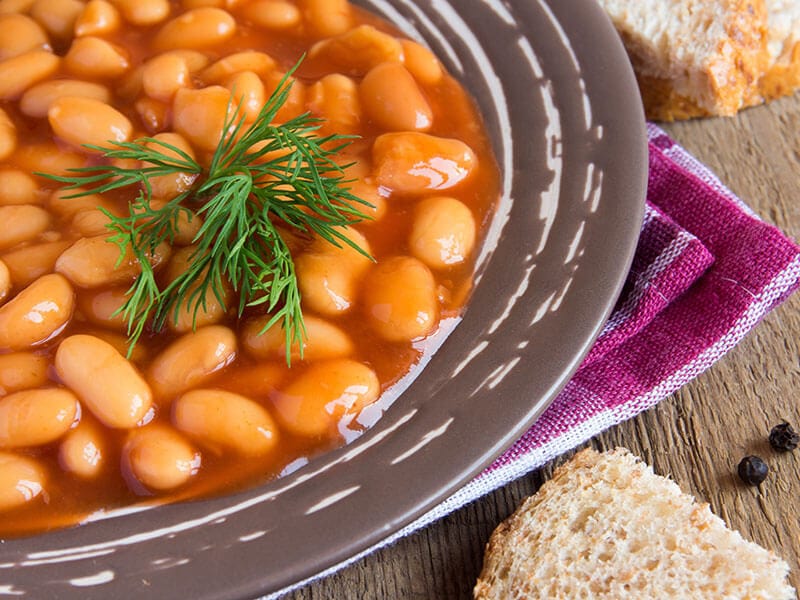 When you look at the canned baked beans market, you'll see that while some companies advertise their products as vegan or vegetarian, others don't. When this happens, it can be due to two reasons.
The first possibility is, these baked beans are "accidentally vegan", meaning that while they're not marketed as a vegan product, they are actually 100% plant-based.
The second reason is that the product might contain some ingredients that are derived from animals, such as bacon, pork, gelatin, or flavorings. If this is the case, these baked beans can't be used in a vegan diet.
So how can you make sure that your baked beans are free of animal products? Well, the simplest way is to purchase products that are specifically labeled as vegan.
If you don't know which vegan canned baked beans to buy, there will be some excellent brand recommendations in the next section, so make sure to keep scrolling!
Don't Miss These Delicious Canned Vegan Baked Beans
While there are many excellent canned baked beans options available on the market, for the reasons mentioned above, not all of them are vegetarian. To save you some research time, here are 6 amazing vegan canned baked beans.
Amy's vegetarian baked beans are made from USDA-certified organic beans, making them an incredibly healthy source of protein and fiber. The beans are slow-baked with organic tomato puree and sweetened by cane sugar, which results in a deep and rich flavor.
B&M vegetarian baked beans are made the old-school way in brick ovens. The company uses a blend of molasses and spices to give the beans their unique taste. Plus, they are 99% fat-free!
Bush's Best is one of the most reputable brands when it comes to canned baked beans. The company offers more than a dozen baked beans varieties, each with its own distinct flavor profile.
In this vegetarian version, navy beans are slow-simmered in tomato sauce until tender and seasoned with brown sugar along with various spices.
Another excellent vegan-friendly choice from Bush's Best, but the beans are even healthier this time round as they are organic certified.
Not only that, but these beans also provide a great answer to the question of whether there are gluten-free baked beans. Hearty, flavorful, and crowd-pleasing, what's not to love about Bush's Best organic baked beans?
Heinz has been the go-to brand of baked beans for many people in the last 60 years, and that fantastic achievement alone speaks louder than any flattering words.
The company's vegetarian baked beans are cooked in a rich tomato sauce that is the source of Heinz's signature flavor.
Walnut Acres baked beans are ready to serve with just a few minutes of reheating. In addition, the beans taste just as delicious as other major brands' products and are organic-guaranteed by the USDA.
A Simple Way To Make Vegan Baked Beans
Another way to make sure that your baked beans are entirely plant-based is to make some at home. Contrary to what people think, baked beans are quite simple to make. Plus, most ingredients can be found easily in any grocery store.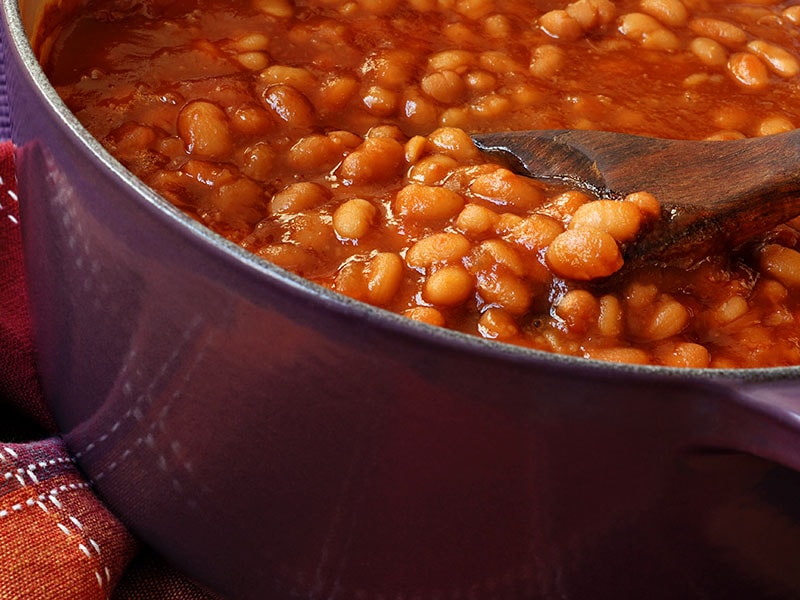 First, Gather These Ingredients
The most important ingredient is, of course, beans. I use canned navy beans in this recipe, but you can also use other beans such as cannellini beans. If you're a fan of dishes featuring cannellini beans, I'd suggest that you opt for these scrumptious beans instead. They're my favorite too.
Canned navy beans: 4 15-ounce cans
Olive oil: 1-2 tablespoons
Chopped medium yellow onion: 1
Minced garlic: 4 cloves
Molasses: ¾ cup
Brown sugar: ½ cup
Ketchup: ¾ cup
Salt: ¾ teaspoon
Apple cider vinegar: 2 tablespoons
Vegan Worcestershire sauce: 1 and ½ tablespoons
Sriracha hot sauce: 2 teaspoons
Let's Bake Some Beans!
Without further ado, let's get to the fun part: cooking!
Step 1: Prepare Your Beans And Oven
First, drain and rinse the beans. Doing this can reduce canned beans' high salt content and some of the excess starch. When you're done with the beans, preheat your oven to 350°F.
Step 2: Cook The Onion And Garlic
Add olive oil to a large pot over medium heat. When the oil has been heated, add the onion. Stir for 5 minutes, then add the garlic and cook for another minute.
Step 3: Make The Sauce
In the same pot, add every other ingredient except for the beans, then stir well to make the sauce. After that, pour the beans in.
Step 4: Bake The Beans
Transfer the mixture to a casserole dish. Use foil to cover the dish, then bake at 350°F for 1 hour, and you're done!
You should see the video below:
How To Store Your Baked Beans
Storing baked beans is a no-hassle process. The easiest way to keep your leftover baked beans safe to eat is to refrigerate them. When refrigerated, the beans will last for 3-4 days.
If you're wondering whether you can freeze your baked beans, then the answer is yes. However, you'll need to be more cautious with this method as the cold air of the freezer can be harsh on food. When properly frozen, baked beans can last for at least half a year.
What To Make With Your Baked Beans
So you've either bought or made your baked beans, but what dish should you use them in? While baked beans are yummy enough to enjoy as they are, you can incorporate them in several mouth-watering dishes.
Since baked beans are protein-rich, they are often utilized as an alternative for meat in vegan diets. You can go full vegan with your burger and use baked beans as the main source of protein, or throw some beans in a ground beef burger to enjoy the nutty flavors.
These cowboy baked beans are among the different ways to make crockpot baked beans. This Western American dish uses multiple types of beans. Cook ground beef and bacon with a variety of beans in a sweet-tangy sauce to create a hearty dish packed with flavors.
Bacon and baked beans have long been a well-loved food combination, but what if you add some pineapple to the mix? Sweet, savory with a touch of refreshing citrusy notes, this recipe is a must-try for a summer get-together.
These Dishes Will Level Up Your Baked Beans
Baked beans are an extremely versatile dish that can be enjoyed with numerous other dishes. If you're looking for some great dishes to elevate your baked beans, don't miss out on this section!
Broccoli salad makes for an excellent pairing with baked beans. Much like beans, broccoli is an incredibly nutritious vegetable with higher protein content than most other veggies. Delicious and healthy, no one can resist this divine food combo!
For my non-vegetarian readers, here's a fantastic dish to impress your guests at a potluck party or picnic. The ribs are so tender that they practically melt in your mouth, and their taste is simply out of this world.
You should see the video below:
Much as I love a good old dish of traditional mac and cheese, I must admit that their baked cousins are on another level of tastiness. The crispy top layer creates an incredible contrast with the creamy noodles underneath that get me every time.
Watch this video to know more:
FAQs
If you still want to learn more about baked beans, here are some common questions regarding this topic.
Baked Beans – A Tasty Combination Of Fiber And Protein
Baked beans are not only delicious, but also contain an impressive amount of fiber, protein, and other vital nutrients. It's no exaggeration to say that beans are worthy of the name "superfood".
I hope that this post has cleared up all your doubts regarding baked beans. If you have more questions, feel free to leave a comment. Lastly, don't forget to like and share this article if you find it useful!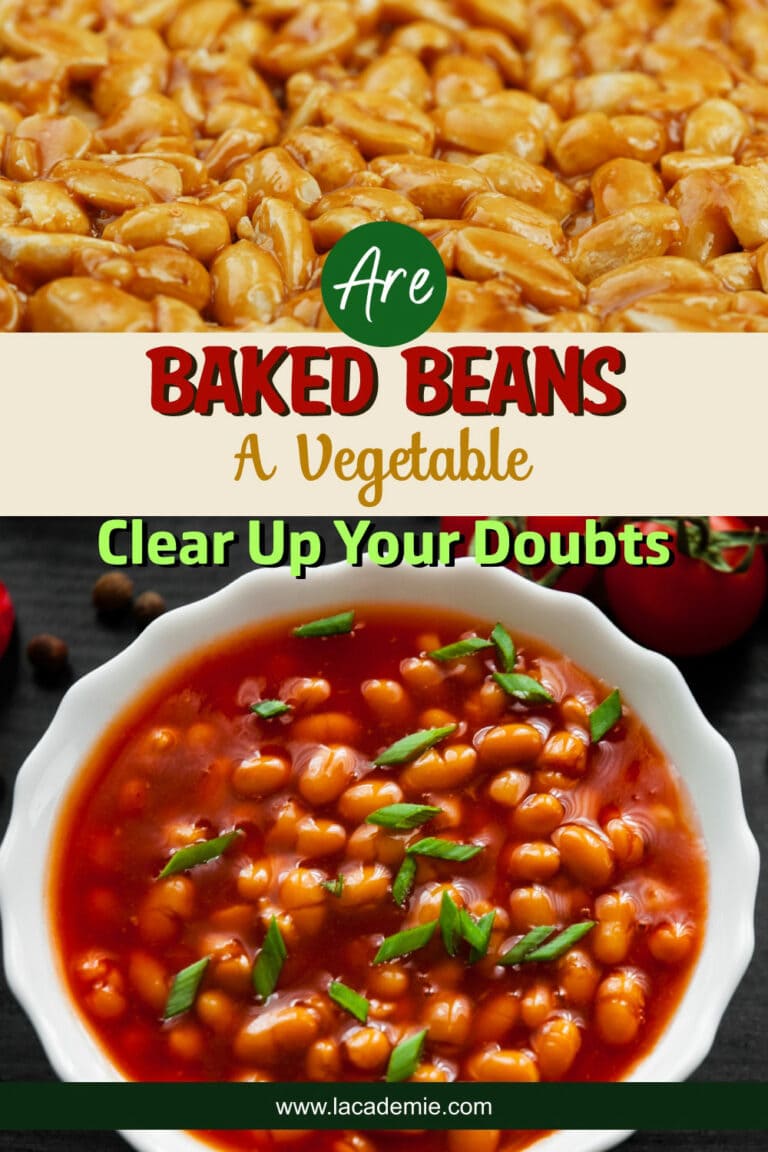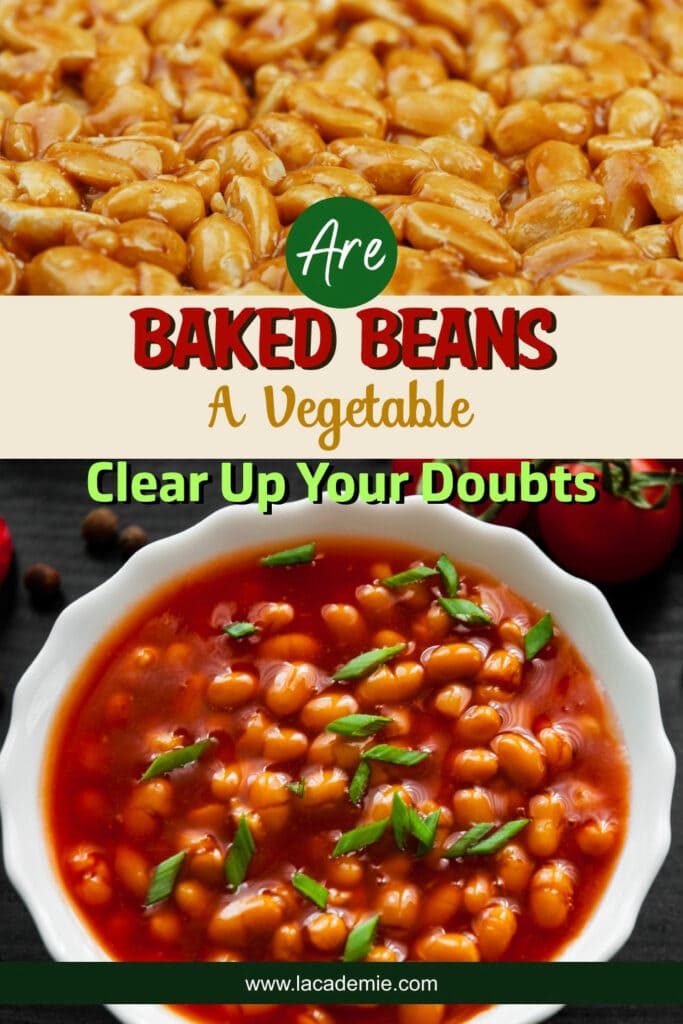 References
Contributors to Wikimedia projects, (2003). Baked beans – Wikipedia [online].
O'Callaghan, L., (2016). How are your baked beans REALLY made? Behind the scenes footage at a factory reveals ALL [online]. Express.co.uk.
Vegetables | MyPlate [online]. MyPlate | U.S. Department of Agriculture.