How long does it take to smoke baked beans? Can baked beans be overcooked? If you aren't well-versed in smoking beans, not knowing the answer to these questions will prevent you from making the perfect smoked baked beans.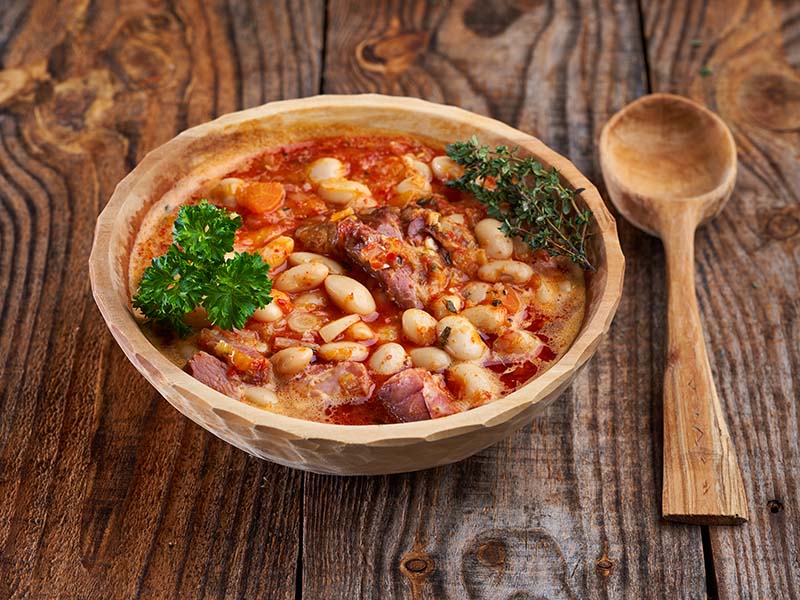 But worry not, as I'm here to help you clear all your doubts regarding smoking baked beans. If you're ready to move on to the next stage of your cooking journey, don't miss out on this post!
Smoking – A Perfect Way To Enjoy Your Baked Beans
First, let's go through the reasons that smoked baked beans are loved by many. This section will also answer your question regarding the best kinds of baked beans to smoke and whether dried beans are better than canned beans.
Why Do People Smoke Their Baked Beans?
For a long time, baked beans have been many people's favorite dish. Not only are beans full of flavor, but they are also extremely rich in nutrients and can help prevent several lethal diseases. (1)
While baked beans are indeed delicious, smoked baked beans are in a league of their own. After some time in the smoker, your baked beans, which usually have a pleasantly sweet, savory, and slightly earthy flavor, will be wrapped in a layer of mouth-watering smokiness.
When done right, the newfound smokiness will create a subtle contrast to the sweetness of baked beans, thus enhancing the dish flavor while not being overly smoky.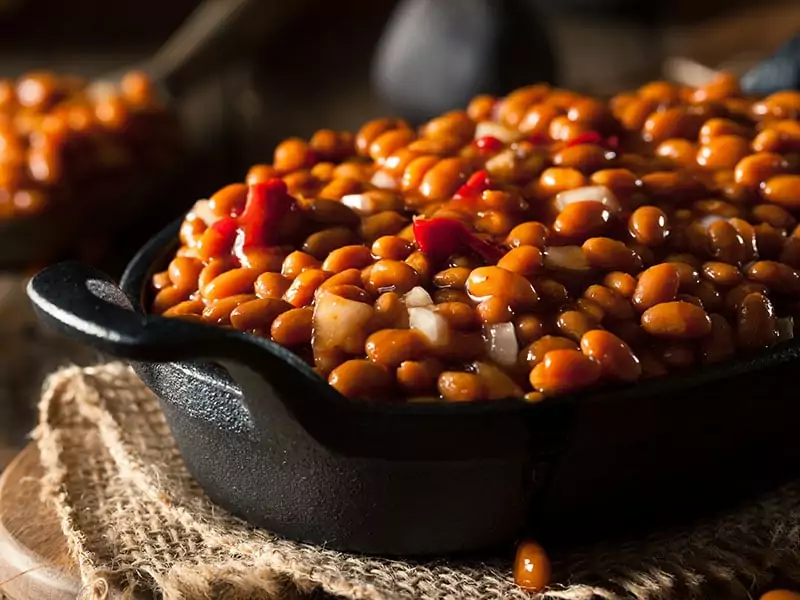 The Best Type Of Baked Beans To Smoke
When it comes to smoking baked beans, you can virtually use any type of beans that you like. But you need to be able to differentiate between pinto bean and black beans or other bean varieties with similar appearance to know which one is the best for your dish.
Navy beans have long been a crowd-favorite thanks to their tender texture and delightful, nutty taste. You can make this dish will cannelini beans as well. Baked kidney, northern, butter, borlotti, or pinto beans will also make for an excellent smoking choice.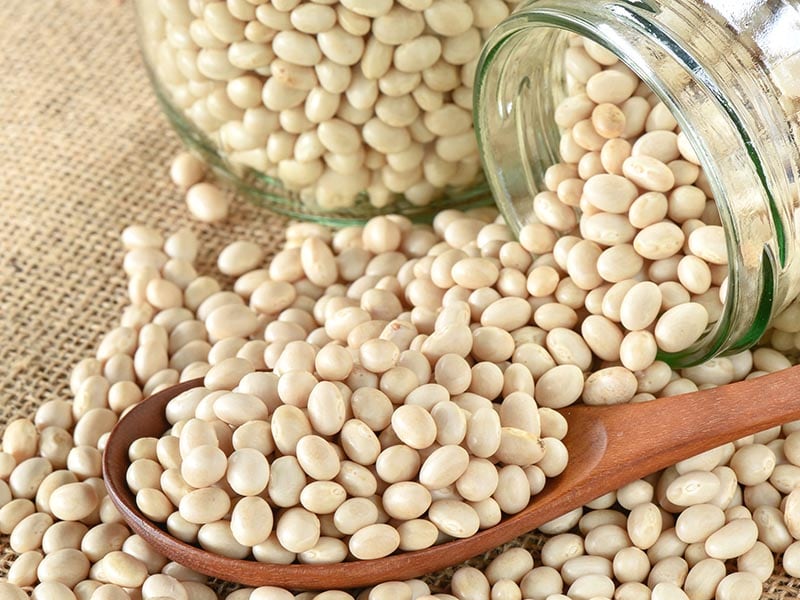 You can also mix and match various types of beans with different textures and flavors to match your liking. So if you love the soft and creamy texture of pinto beans but still crave some of pinto beans' slight crunchiness, there's no reason not to cook them together!
That said, if you're making smoked baked beans from scratch, keep in mind that some beans may take longer to bake than others.
For example, one of the main things that sets red beans and kidney beans apart is their texture. While red beans are tender, kidney beans are a lot more firm and meaty. As a result, you'll have to cook kidney beans a bit longer.
Should You Use Dried Or Canned Beans
Both dried beans and canned baked beans are great for smoking. Regardless of whether baked beans can be classified as vegetables or not, you got to admit that smoked baked beans are perhaps one of the best culinary innovations.
The best thing about using canned beans is that you'll save quite a lot of preparing and cooking time. If you are allergic to gluten, you should definitely need to know exactly whether baked beans have gluten in them.
There are still many good options, though. And their taste is amazing! In other words, if you prioritize convenience, canned beans are the perfect option.
Since most dried beans need to be soaked before cooking, and you also need to see if dried beans can go rancid, they aren't the best choice if you're short on time. However, when properly prepared and cooked, dried beans are better than canned ones in terms of texture and taste.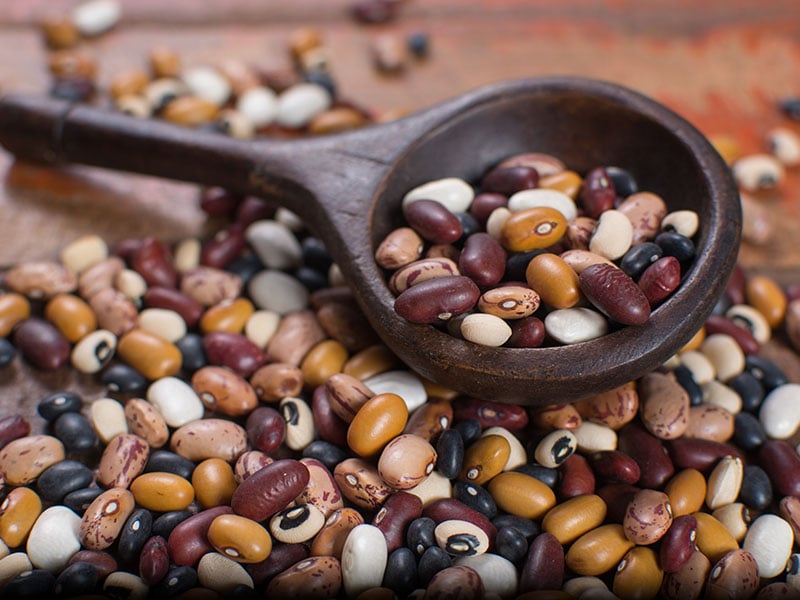 Additionally, canned beans are much higher in sodium than home-cooked dried beans (2). So if you're watching your salt intake, cooking your own beans might be a choice worth considering.
How Long To Smoke Baked Beans
Let's get to the real question of this post: how long to smoke baked beans. Depending on your smoker's temperature, the time it takes to make a perfect dish of smoked baked beans will vary. The ideal smoking temperature for baked beans ranges from 225°F to 250°F.
At 225°F, your baked beans will usually need to sit in the smoker for about 2-3 hours. To save time, you can increase the temperature to 250°F, which reduces the smoking time to about 1 hour and 30 minutes.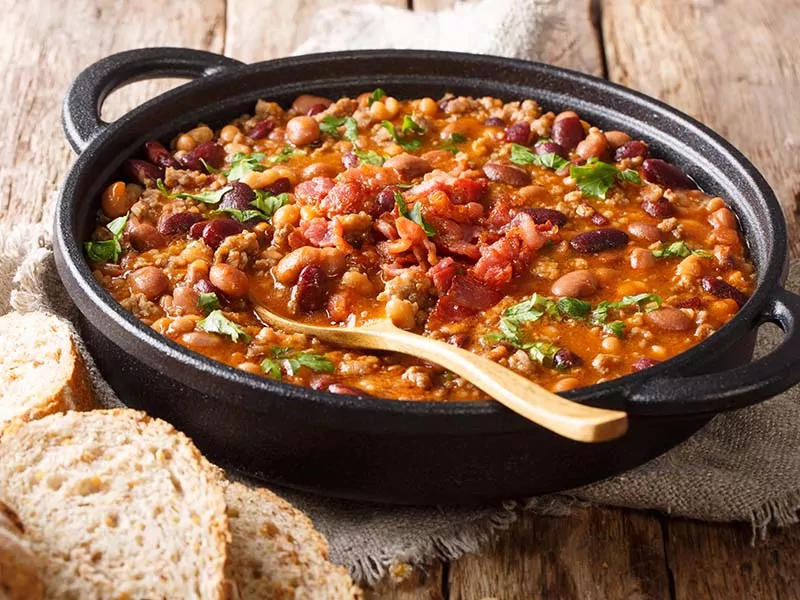 However, some recipes recommend smoking baked beans at 250°F for 2-3 hours. Whatever recipe you choose to follow, always make sure that the bacon and beans are cooked to the right degree of doneness.
Ideally, the bacon strips should have most of their fat melted down and are golden brown on the edges. At the same time, the beans should already be thickened when you take them out of the smoker.
A Simple And Tasty Smoked Baked Beans Recipe
Now that you know the correct time to smoke baked beans, how about some real cooking action? For starters, here's an easy-to-follow baked beans recipe using canned pork and beans.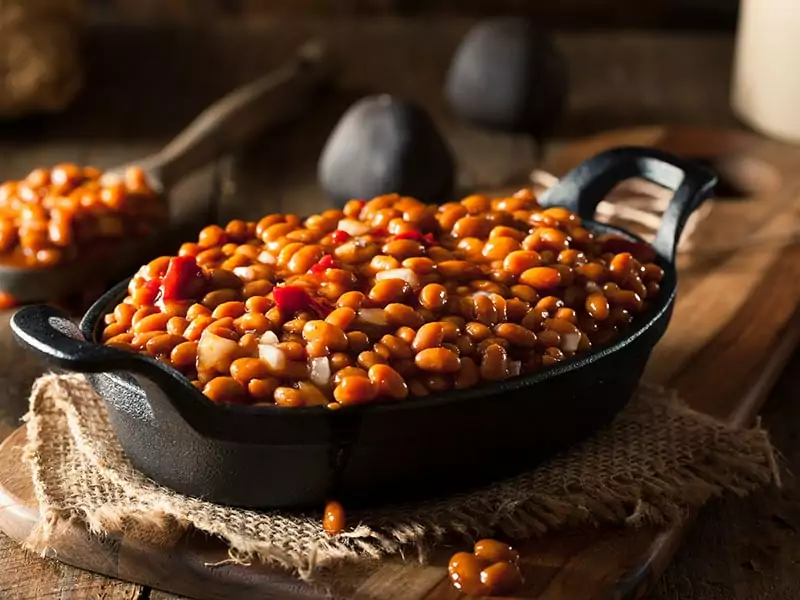 All The Ingredients You Need
You'll have no problem finding the necessary ingredients for this recipe since all of them are widely available in ordinary grocery stores.
Canned pork and beans: 2 15-ounce cans. Many people swear by Van Camp's Pork & Beans, so you can give these beans a try if you don't know which brand to buy.
Bacon: 4 strips. There are many choices when it comes to delicious bacon. Hormel Natural Choice Fully Cooked Bacon is one of the highest-rated bacon products on Amazon. The time limit cooked bacon lasts in fridges is quite long, so you should consider storing it there.
Brown Sugar: ¼ cup. You can use either dark or light brown sugar. If you have some Manuka honey produced by trust-worthy brands at hand, you can also use it in place of sugar. All these ingredients add a touch of sweetness and some caramel notes to baked beans.
Ketchup: ½ cup. Tomato-based sauce helps create that tangy-sweet taste that baked beans are known for. Heinz has one of the best organic ketchup on the market. BBQ sauce is an splendid alternative for ketchup if you've run out of delicious condiment.
Worcestershire sauce: 1 tablespoon. Worcestershire sauce has a strong umami flavor that not only balances out the sweetness of sugar but also adds depth to the dish. Annie's Worcestershire Sauce is an organic brand that you can trust.
Molasses: 1 tablespoon. Similar to brown sugar, molasses is an excellent sweetener. Plus, it'll make the beans more smoky.
Cinnamon: ⅛ teaspoon. Sweet, citrusy, and woody, just a dash of cinnamon is enough to elevate your smoked baked beans.
A Step-By-Step Guide To Smoking Baked Beans
Without any further ado, here's an easy way to make yummy smoked baked beans.
Step 1: Preheat The Smoker
Preheat your smoker to 250°F. Each type of smoker has a different method of preheating, so make sure to check the manual.
Don't know how to prepare your offset smoker? Here's a quick tutorial.
Step 2: Drain
Drain the canned pork and beans, leaving just a bit of the bean' liquid.
Step 3: Combine
Mix all the ingredients well in a bowl to combine their flavors.
Step 4: Pour The Mixture Into A Container
Pour the pork and beans mixture into a disposable aluminum pan, cast-iron skillet, or a grill-safe pan/dish.
Step 5: Arrange Bacon Strips
Cut the bacon strips into 2-inch pieces and place them over the pork and beans.
Step 6: Smoke Baked Beans
When the smoker has reached the right temperature, set the beans in the smoker and smoke for 2-3 hours uncovered.
Step 7: Enjoy!
Take the pan out of the smoker, give the mixture a quick stir, and there you have it! A tasty dish of smoked baked beans.
Another simple smoked baked beans recipe for you to try.
Always Store Your Smoked Baked Beans This Way
Apart from being incredibly delicious, smoked baked beans are also great for preparing in advance since they will last for a decent amount of time when stored properly.
The time length refrigerated baked beans can last is no joke. While some may think that baked beans can only last a day or two in the fridge, this is actually not the case. The truth is, as long as you store the beans in an airtight container, they can stay good for about 3-4 days.
Many people also wonder whether baked beans can be frozen or not, since freezing is a better choice compared to refrigerating for long-term storage.
The good news is, you can totally freeze leftover baked beans. So long as you remember to keep the beans in a freezer bag or container, they will stay good for 3-6 months!
The correct way to freeze all your cooked beans.
When you want to eat them, simply reheat the beans in the microwave, oven or on the stove. If the beans are too thick for your liking, you can add some water or chicken stock.
Don't Miss These Useful Smoking Tips
These handy tips will give you a smoother cooking experience, which in turn leads to a more delicious result. If you're trying to up your baked beans game, make sure to give this section a read!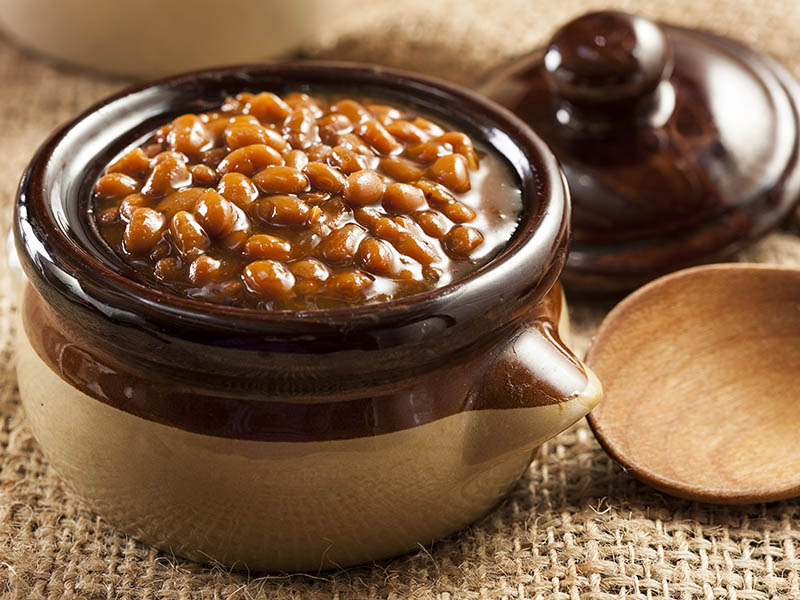 Apart from canned beans, you can also use dried beans for making smoked baked beans. However, it will take more time this way since you'll have to soak the beans for one night and bake it before smoking.
Adding 1 or 1 ½ teaspoon of liquid smoke or smoke salt to your smoker's water pan will enhance the dish's smokiness. This is a must-try tip for fans of the smoky flavor.
You can smoke the beans in a disposable aluminum pan, cast-iron skillet, or a grill-safe pan/dish. Among these, a cast-iron skillet will yield the best result and is great at keeping the beans warm. However, aluminum pans are better for clean-up.
Always leave the pan that you placed your baked beans in uncovered so that the smoke can thoroughly cover your beans.
If you're smoking some kind of meat at the same time as the baked beans, place your beans in the rack underneath the meat. This way, some of the juice from the meat will drip into your beans, thus elevating their flavor.
You can use any type of smoker to make smoked baked beans. While electric and pellet smokers strike a great balance between ease of usage and flavor, propane and charcoal smokers yield the tastiest result but will require more attention.
For charcoal and wood smokers, you should maintain the temperature between 225°F and 240°F.
Before putting the bacon in the smoker, you can quickly cook it first to ensure that your bacon will always come out delicious. To do this, simply preheat a cast-iron skillet over medium-high heat, then cook each side of the bacon for 2-3 minutes.
Be careful not to cook the bacon too thoroughly before adding to your baked beans as it will be burnt in the smoker.
For even crisper bacon, you can broil the baked beans after taking them out of the smoker. 2-3 minutes of broiling is usually enough.
If your beans come out a bit watery, there are several good ways to thicken baked beans. For example, cornstarch is a widely available thickener that can instantly boost the bean's thickness.
If you don't own a smoker, you can also use the oven to make smoked baked beans. When using the oven, your beans should be baked uncovered at 300°F for 2 hours. Some recipes also suggest baking them at 350°F for about 45 minutes.
While they will take a bit more time, there are reliable ways to make baked beans with a crockpot or slow cooker. Typically, you'll need to cook your beans for 4-6 hours on low or 3.5 hours on high. Remember to add a little liquid smoke for the best flavor.
If both a slow cooker and an oven are out of the question, you can also cook your beans on a stove top for 25 to 30 minutes over medium heat.
Apple, pecan, cherry, cider, hickory, blends, and alder woods are the best wood varieties for smoking baked beans. If possible, you should also opt for wood chunks instead of wood chips since they last longer.
If you crave some tropical flavors, don't hesitate to incorporate pineapple into your baked beans. Pineapple's sweet and citrusy flavor will add a refreshing touch to this flavorsome dish.
You can make the beans appear more colorful by garnishing them with cilantro or parsley. Can't decide between parsley and cilantro? You can go for my favorite choice – parsley.
To turn smoked baked beans into a filling dinner, add a pound of cooked and seasoned meat of any type. Chicken, turkey, and ground beef are 3 common choices.
Want some heat in your smoked beans? Add one or two jalapeño into the mix.
Nutrition Facts
6 servings per container
---
Amount Per ServingCalories281
% Daily Value *
Total Fat 8g

13

%
Cholesterol 20mg

7

%
Sodium 897mg

38

%
Potassium 614mg

18

%
Total Carbohydrate 46g

16

%

Dietary Fiber 8g

32

%
Sugars 16g

Protein 9g

18

%
---
Vitamin A

103

%
Vitamin C

4

%
Calcium

96

%
Iron

3

%
* The % Daily Value tells you how much a nutrient in a serving of food contributes to a daily diet. 2,000 calories a day is used for general nutrition advice.
The Best Dishes To Go With Smoked Baked Beans
There are many great side dishes to pair with baked beans, and the same thing goes for its smoked cousins. While you can always enjoy smoked baked beans as they are, these dishes will take the beans to another level of gastronomy.
Crispy on the outside with a fluffy inside, smashed potatoes is a fast, easy-to-make recipe to ease your craving for potatoes. The next time you think about cooking up some French fries, try making smashed potatoes instead!
You'll be surprised by how flawlessly the beans' slight smokiness and sweet, earthy flavors complement the richness of the melt-in-your-mouth meat. BBQ sandwiches, chicken or beef, and smoked baked beans are truly a match made in heaven.
Fruit salad makes a fresh and colorful addition to any dish. If you've already included pineapple in your smoked baked beans, why not go the extra mile to make a bowl of fruit salad?
Cornbread is one of the best bases for your smoky baked beans. A perfect cornbread should be soft and moist with just enough sweetness to round out the flavor without affecting other dishes that you pair it with.
In need of a quick yet tasty and filling breakfast? Scrambled eggs and smoked baked beans are the way to go. 10 minutes are more than enough to whip up some scrambled eggs and add them to your leftover baked beans.
FAQs
If you still have more questions about smoking baked beans, you'll probably find the answer in this FAQs section.
A Little Smokiness To Level Up Your Baked Beans
With just a little more effort, you can turn your baked beans from tasting great to mouth-wateringly delicious. The best thing is, the beans won't be overly smoky, which makes them more crowd-pleasing.
When do you plan to give smoked baked beans a try? If there are some more questions that you want to ask about this tasty dish, feel free to do so in the comment below. While you're at it, don't forget to like and share this article.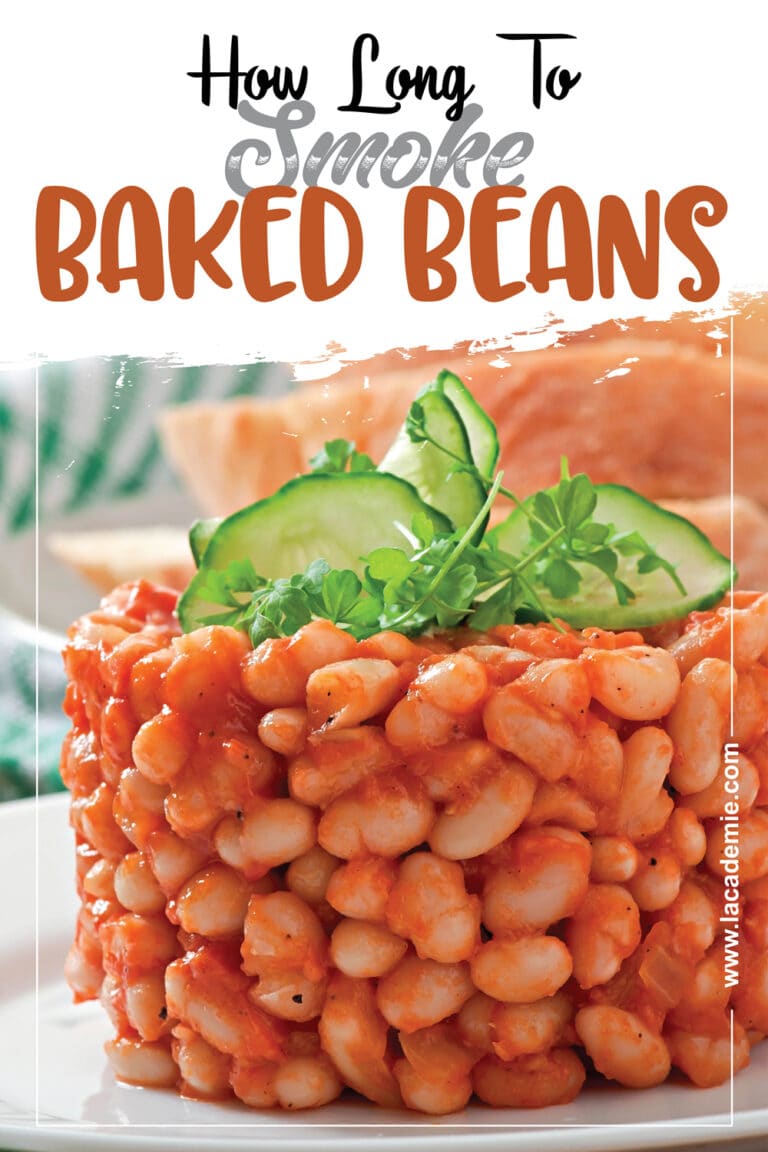 References
Legumes and Pulses [online]. The Nutrition Source.
Are Canned Beans as Healthy as Home-Cooked? | NutritionFacts.org.