In the realm of traditional Asian dishes, there's a world of flavor waiting to satisfy your taste buds. I'm inviting you to join me in unraveling the rich tapestry of these culinary treasures, each resonating with centuries of culture and tradition.
Dive into this article and discover the unique delicacies of each Asian country, along with their unique ways of creating these dishes. Then, you will understand these elements, which can elevate your dining experience and give you more than just a meal but a story to savor.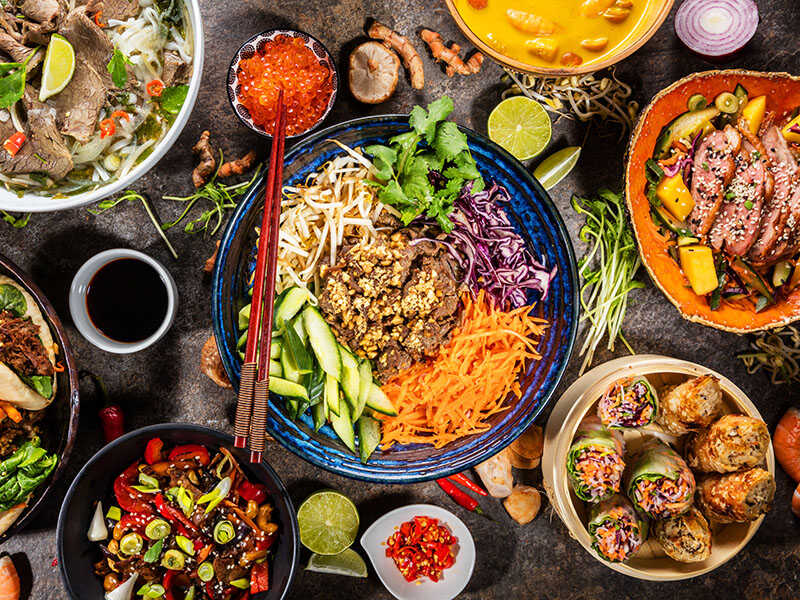 Overview of Asian Cuisine By Region
East Asia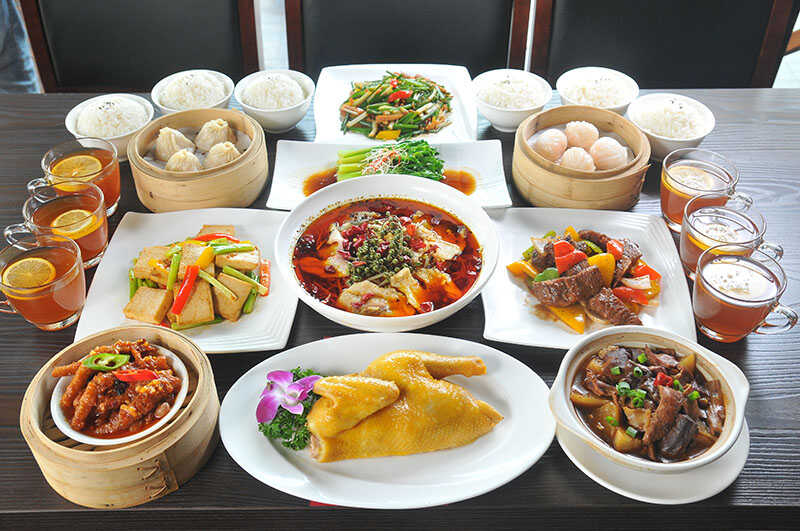 Chinese Cuisine: Boasting a long history, Chinese dishes are known for their diverse flavors and cooking techniques that vary greatly among different regions.
Japanese Cuisine: With a strong emphasis on seasonal ingredients and aesthetic presentation, Japanese cuisine often highlights delicate flavors and ingredients' freshness, especially seafood.
Korean Cuisine: Combining spicy, savory, and fermented elements, notable Korean dishes are kimchi and bibimbap, using a wide variety of vegetables.
Mongolian Cuisine: Dominated by meat and dairy, Mongolian culinary culture reflects the country's nomadic lifestyle, with dishes like Buuz (dumplings) and Khorkhog (barbecued meat).
Taiwanese Cuisine: Famed for its street food culture, Taiwanese specialties feature a combination of Fujianese, Japanese, and even American influences.
Tibetan Cuisine: Influenced by the harsh high-altitude environment, Tibetan cuisine relies heavily on barley, yak meat, and butter tea for sustenance.
Hong Kong Cuisine: As a melting pot of Eastern and Western flavors, Hong Kong cuisine offers various dishes, from dim sum to egg tarts, reflecting its colonial history.
Macanese Cuisine: Representing a blend of Portuguese and Chinese flavors (particularly Cantonese cuisine), the Macanese culinary tradition showcases fusion dishes like African chicken and bacalhau cakes.
Southeast Asia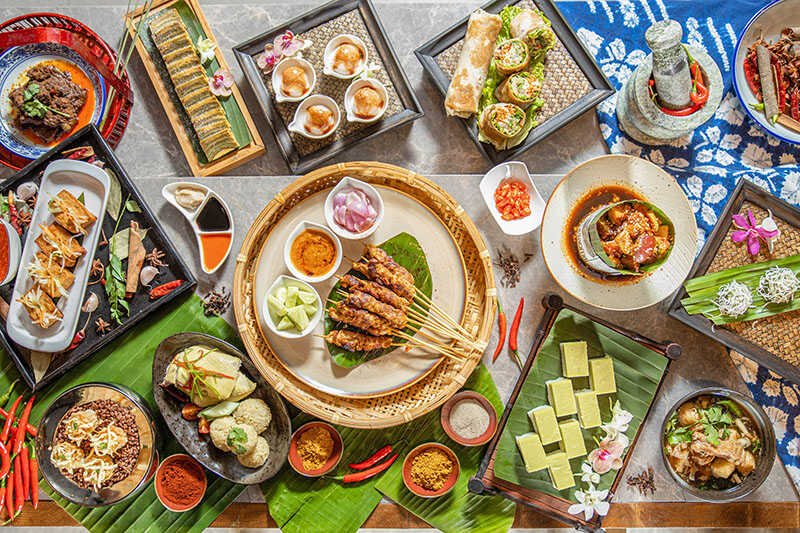 Thai Cuisine: This is a harmonious blend of tastes and textures. It is also famous for its bold, spicy, and tangy flavors.
Vietnamese Cuisine: Emphasizing the use of fresh herbs, meats, and a discerning selection of spices, Vietnamese dishes are celebrated for their delicate balance and lightness.
Indonesian Cuisine: With a diverse culinary heritage, Indonesian cuisine offers an array of richly flavored and spice-laden dishes.
Filipino Cuisine: Combining sweet, sour, and salty elements, Filipino culinary practice presents a unique fusion of indigenous, Spanish, and Chinese influences.
Malaysian Cuisine: Drawing from Malay, Chinese, and Indian traditions, it showcases a rich tapestry of flavors and techniques.
Other: Southeast Asian cuisines also include Bruneian, Burmese, Cambodian, Christmas Island, East Timorese, Lao, and Singaporean cuisines, each with its own distinct flavors and culinary identity.
South Asia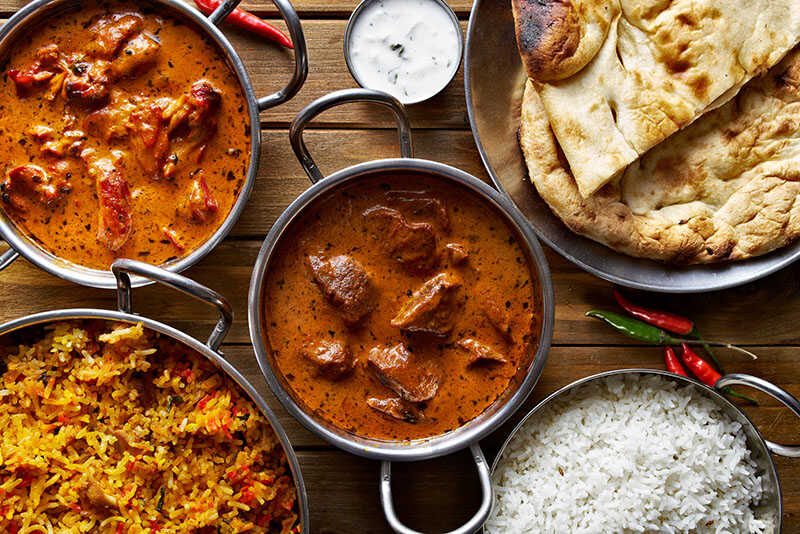 Indian Cuisine: Locals offer wide options for vegetarian and non-vegetarian dishes with bold and aromatic use of diverse spices. The cuisine is also affected by various regional culinary traditions.
Pakistani Cuisine: While sharing similarities with Indian food, Pakistani specialties place a stronger emphasis on meat dishes and use a distinct range of spices.
Sri Lankan Cuisine: Characterized by abundant use of spices, coconut, and rice, Sri Lankan delicacies have a unique flavor profile with a focus on both sweet and hot tastes.
Bangladeshi Cuisine: Predominantly featuring fish and rice, the food here provides a savory blend of sweet and spicy flavors, often featuring lentils and vegetables.
Other: The vibrant culinary landscapes of Nepal, Afghanistan, Bhutan, and the Maldives each provide unique cuisines, with dishes shaped by their respective geographies, cultures, and local ingredients.
Central Asia
Kazakh Cuisine: It reflects the country's nomadic lifestyle, with dishes centered around mutton and horse meat for preparing simple but hearty dishes.
Uzbek Cuisine: Known for Plov, a rice dish with meat and vegetables, and its hearty soups and breads.
Turkmen Cuisine: With a strong focus on dairy products and meats, especially mutton, Turkmen delights showcase the country's pastoral traditions and regional produce.
Other: The culinary tapestry of Central Asia also encompasses the flavors of Tajik, Kyrgyz, and Afghan cuisines with unforgettable gastronomic experiences.
Western Asia (Middle East)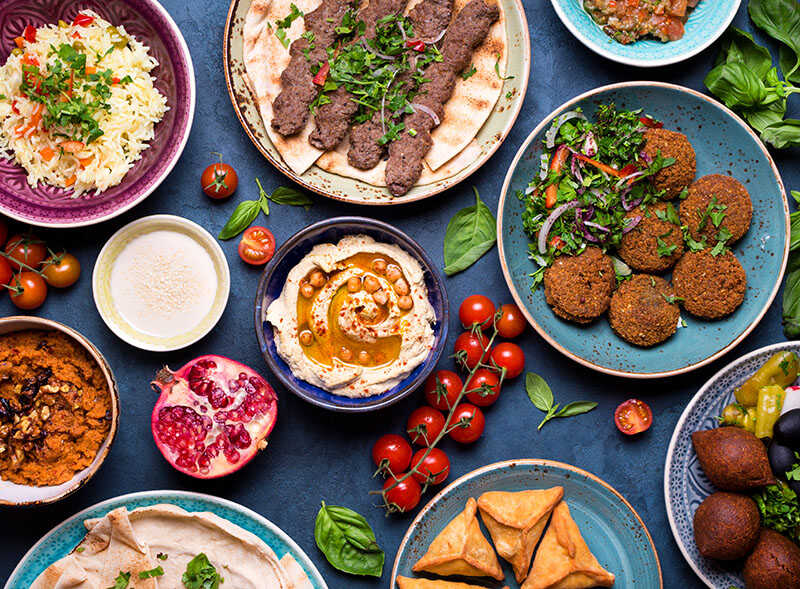 Turkish Cuisine: It emphasizes fresh ingredients and diverse flavors and textures. Famous dishes here are kebabs, meze, and baklava.
Lebanese Cuisine: It is famous for its variety of meze, or small dishes, which include Falafel, Hummus, and Tabouleh.
Iranian (Persian) Cuisine: With a balanced use of spices, Iranian cuisine is acclaimed for its stews, rice dishes, and various kinds of pastries.
Others: Western Asian cuisines further encompass the unique dishes of nations like Syria, Iraq, Saudi Arabia, and Israel.
North Asia
Altai Cuisine: It reflects the Altai people's pastoral lifestyle, which is also known for its use of dairy, game meat, and foraged foods from the mountainous region.
Buryat Cuisine: Also deeply influenced by the nomadic way of life, it prominently contains meat, especially lamb, beef, and dairy products.
Chukchi Cuisine: Rooted in the hunter-gatherer lifestyle, Chukchi foods primarily rely on marine mammals, fish, and wild game.
Sakha Cuisine: It is shaped by the extreme climate of the Sakha Republic (Yakutia) in Russia's Far East. And it emphasizes horse meat and fish.
Tuvan Cuisine: Dominated by dairy products and meats, which are very high in calories, this cuisine reflects their nomadic lifestyle and region's pastoral.
Yamal Cuisine: Stemming from the Yamal Peninsula's indigenous Nenets and Khanty peoples, this culinary practice centers around reindeer meat and fish, which mirror the Arctic environment and nomadic herding culture.
East Asian Dishes
Chinese Cuisine
1. Dim Sum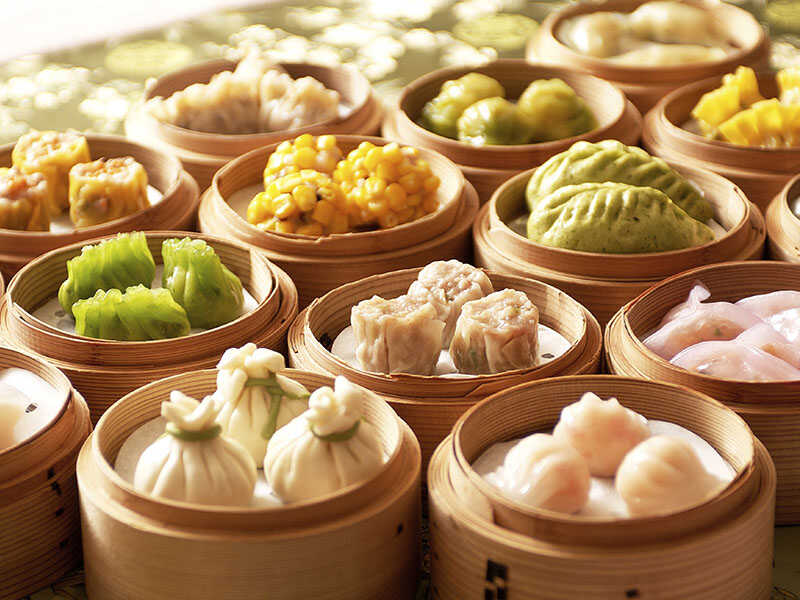 When it comes to iconic Chinese delights, Dim sum is a great idea! This is a Cantonese tradition that offers various small plates of steamed/baked dumplings and snacks! The delicacy is available in many Chinese-owned restaurants across the USA and beyond.
Dim sum can be available in many options, like steamed shrimp dumplings, pork siu mai, chicken feet, char siu bao (BBQ pork buns), and turnip cake.
Originating from the tradition of yum cha, or "drinking tea," dim sum goes well with a pot of your favorite tea, which is also a loved drink in Asia.
Its Chinese name even translates to 'touch the heart'; how sweet is that? Despite their petite size, these dim sums are satisfyingly filling, making them perfect for brunch.
2. Peking Duck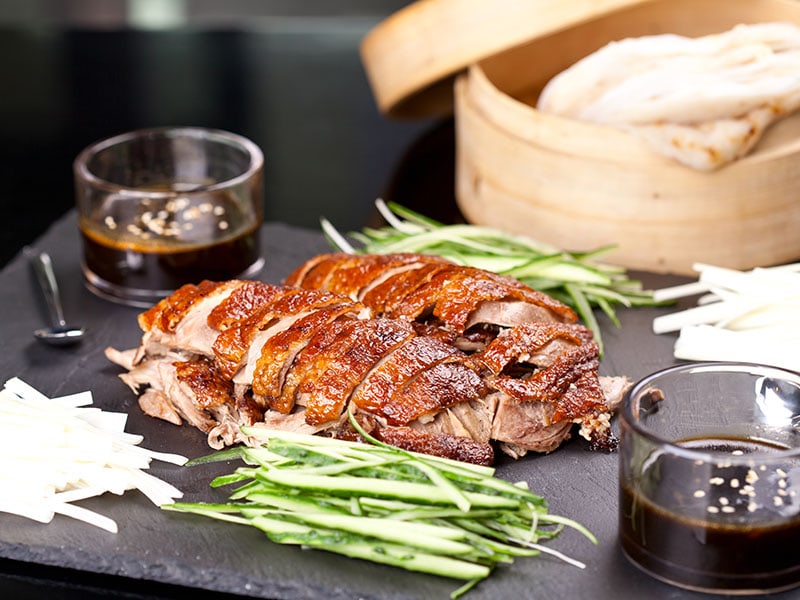 Peking duck is a culinary masterpiece from the Imperial era of Beijing and has won global applause. The national Chinese dish is an elegant arrangement of roasted duck, complete with a thin, crispy skin enveloping tender meat, accompanied by thin pancakes and a sweet-savory sauce.
The display is memorable as a skilled waiter carves the duck into precise slices right before your eyes. Also, cooking this dish requires tremendous skills and time.
To savor this delicacy, you should place a slice of duck on a pancake adorned with a few slices of cucumber and spring onion, then lightly dress it with the sauce. Finally, roll up and enjoy each bite with the rich duck flavors in the sauce.
3. Mapo Tofu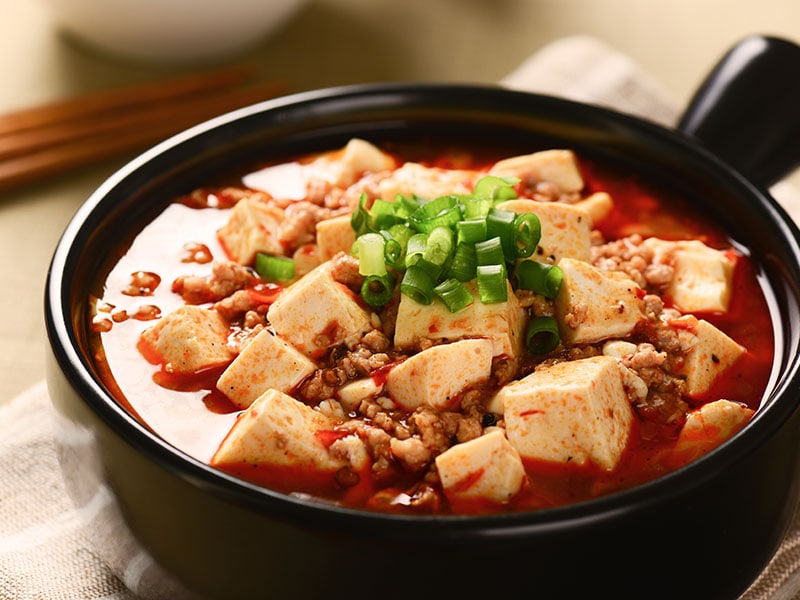 Mapo tofu is the soul of Sichuan cuisine, possessing a blend of fiery flavors that incinerate your taste buds. The key ingredients are commonly tofu, minced meat (pork or beef), and a fermented sauce made from fermented chili peppers and broad beans.
Usually, you need to simmer the tofu with the sauce and minced meat to result in a dish that's authentically very spicy with a bright red hue. However, the level of spiciness is often toned down in Western countries to cater to more diverse palates.
Ideally, I prefer serving Mapo tofu steamed hot with rice to allow the rice grains to absorb its signature flavors. For a vegan twist, you can just skip the meat. Also, a personal touch I love to add before serving is a sprinkle of chopped scallions and ground Sichuan pepper for extra flavor.
4. Kung Pao Chicken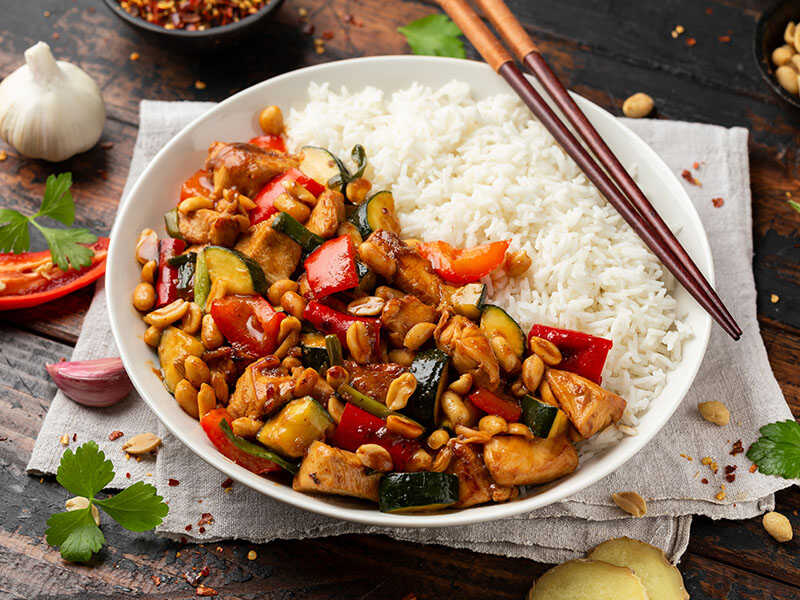 Kung Pao chicken, known as Gong Bao or Kung Po, has roots in the Sichuan province. Now, it's a favorite at Chinese takeouts across America. This stir-fried one-skillet dish combines cubed chicken, peanuts, vegetables, soy sauce, and Sichuan peppers.
This results in a sweet, savory, and spicy symphony of flavors that's incredibly easy to replicate at home. Remember to throw in vegetables like bell peppers and onions for an extra crunch before serving them with white rice.
5. Char Siu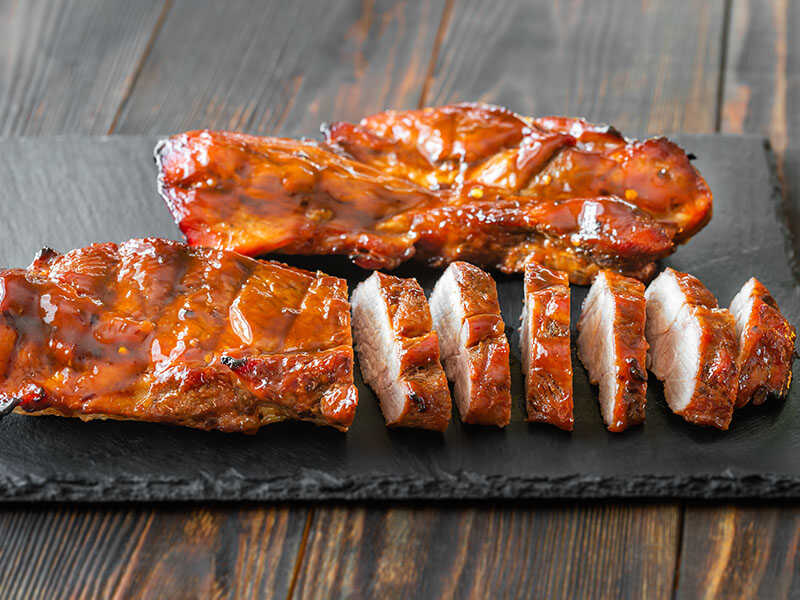 Char Siu is a Cantonese roast meat with its roots in Guangdong. The meat possesses a savory, sweet, and spiced taste, with thick strips of pork retaining the fat for extra flavor.
Typically, I prefer coating the meat in a tantalizing mix of five-spice powder, honey, dark soy sauce, and hoisin. Also, you should cook Char Siu on a long fork in the oven or over a fire to give it a beautiful reddish-pink hue.
For serving, it's best to pair the grilled meat with rice or toss it into a stir-fry noodle dish. Alternatively, you can tuck it into a bun to enjoy a convenient yet flavorful meal.
6. Wonton Noodles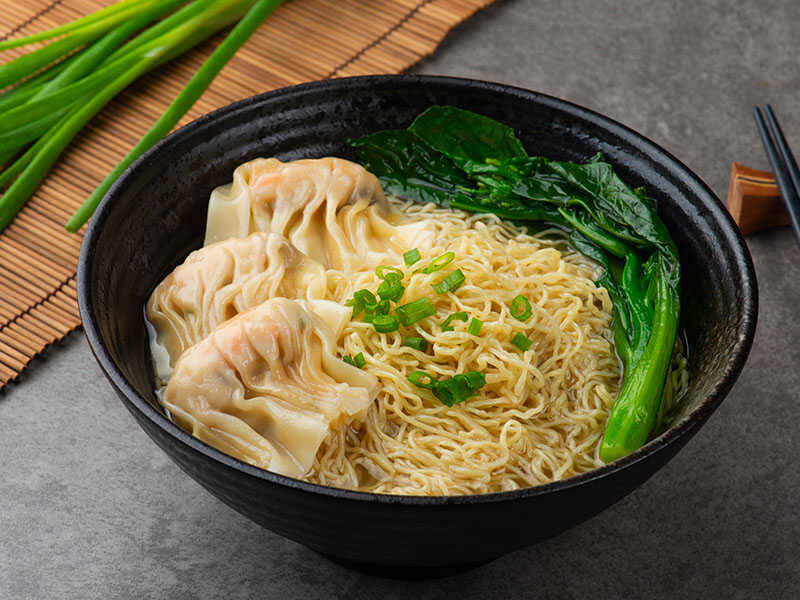 As a cornerstone of Cantonese cuisine, wonton noodles have found admirers from Hong Kong to Indonesia, Malaysia, Singapore, and Thailand. In Hong Kong, you might even discover wontons stuffed with succulent shrimp pieces.
Normally, this dish combines two stars: noodles, crafted from eggs and flour, and small dumplings or wontons, filled to the brim with savory minced pork, spring onions, and other ingredients.
Whether you prefer your order dry or bathed in a soul-warming soup of chicken, pork, or seafood, this main dish is a symphony of tastes. I suggest adding a dash of soy sauce or a few chili slices for a spicy twist. And don't forget the green touch of Chinese kale or bok choy.
7. Mooncake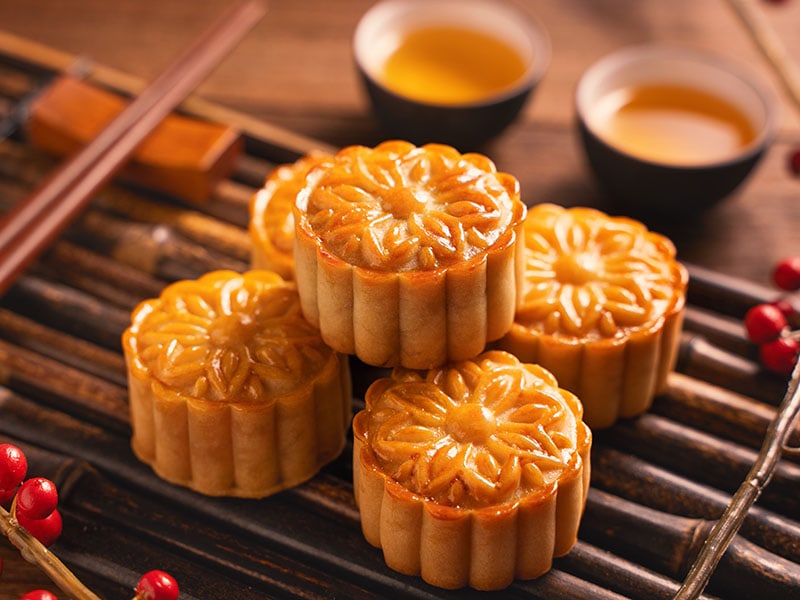 Mooncakes, the iconic Chinese pastries, are synonymous with the Mid-Autumn Festival. Formed in a mold, these round treats symbolize reunion and are shared among close ones.
Each mooncake boasts a tender yet thick golden crust, hiding various surprises. Your favorite filling could be lotus seeds, dried sausage, jam, mung beans, red bean paste, or even salted egg yolk.
If you come to Vietnam, expect a sweeter version of this festive pastry. As for the best companion to these pastries, a cup of tea pairs perfectly, balancing the rich flavors of this festive treat.
8. Baozi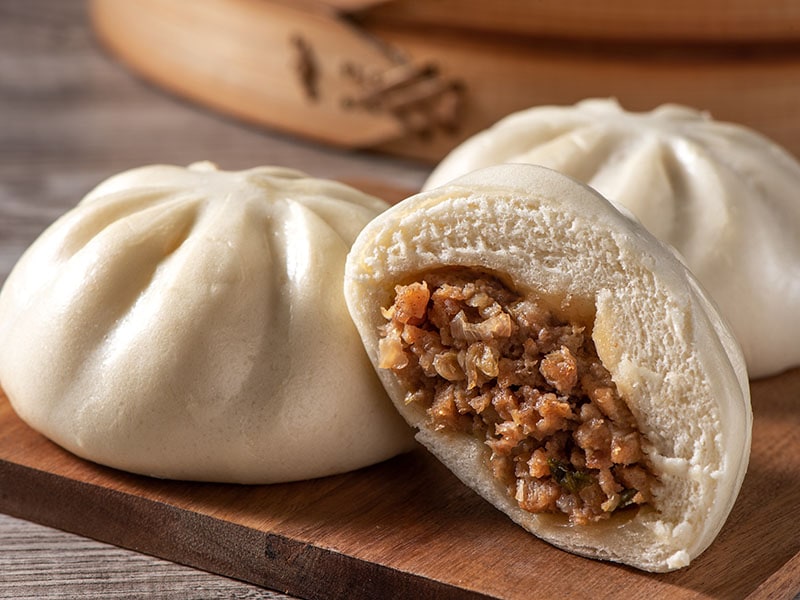 The fluffy steamed buns filled with the delights of Baozi are an integral part of Chinese cuisine. The dough is a simple blend of yeast, flour, sugar, and milk before using the steamer to turn it into a warm, tender bun.
The filling runs from sweet to savory. Meat lovers can rave about char siu bao brimming with BBQ pork, one of the most popular Baozi varieties. On the other hand, veggie enthusiasts can pick many vegetarian options too.
For your information, Northern China has its own spin, Mantou, a soft white bun without filling. Also, you can taste these buns with dipping sauces, like soy sauce or vinegar, chili, and garlic pastes, for an extra kick. Another perk is their make-ahead convenience, ready-to-eat after steaming.
9. Jiaozi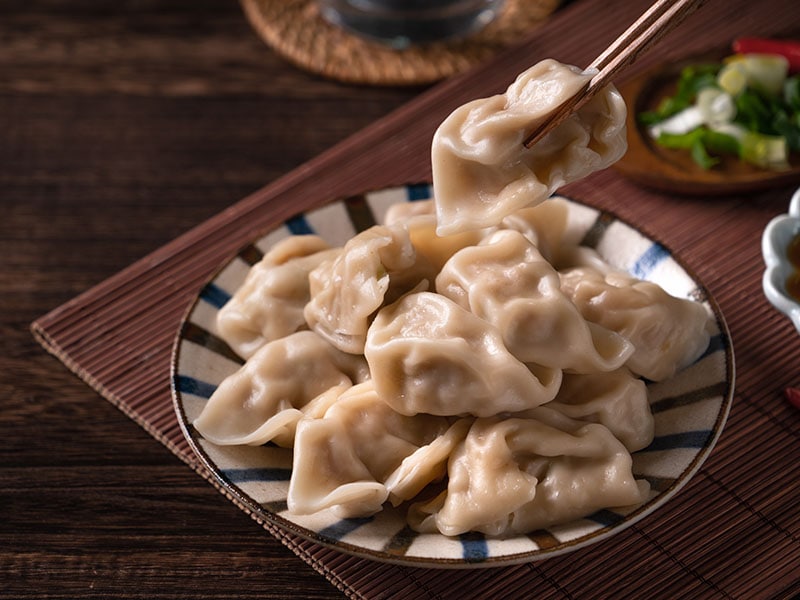 Jiaozi, the celebrated dumpling from Northern China, marks its grand appearance every Chinese New Year. Nevertheless, this gem of a dish is no stranger to the year-round dining table. Fun fact: in the USA, some Jiaozi versions are known as potstickers!
The delicacy's reputation extends far beyond China, making a name for itself from the USA to the UK and Canada. Usually, the spotlight falls on its filling, a savory blend of ground meat or vegetables encased in thin, carefully sealed dough.
Depending on preference, you can choose steaming, boiling, pan-frying, or deep-frying the Jiaozi. Serving them is easy with either a tangy black vinegar or a comforting soup. FYI, in Japan, gyoza is a close relative to Jiaozi, having its own fan base.
Japanese Cuisine
10. Sushi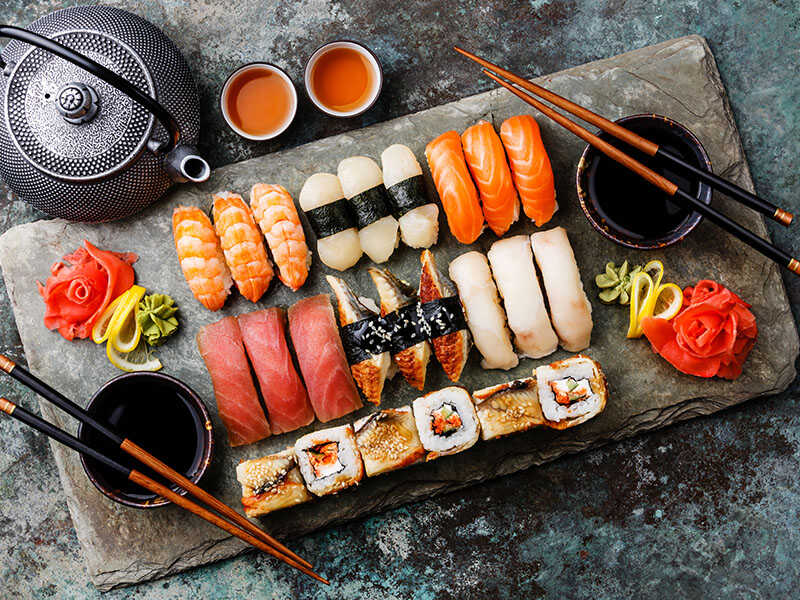 Sushi is the most famous food in Japan, which combines vinegared rice, nori (seaweed), vegetables, and seafood.
Most of the time, the seafood choices can range from succulent fish like tuna and salmon to the likes of eel and squid. Ideally, I prefer using short or medium-grain white rice to form the foundation.
There are various kinds of sushi, but here are three main styles: maki, where seaweed takes the exterior; uramaki, with seaweed nestled inside; and temaki, hand-rolled into a cone. For eating etiquette, simply use chopsticks or lift each piece between your thumb and middle finger.
Don't forget about the supporting dishes of sushi, including fiery wasabi paste, palate-cleansing pickled ginger, and soy sauce.
Quick fact: 'sushi' actually means "sour rice"!
11. Sashimi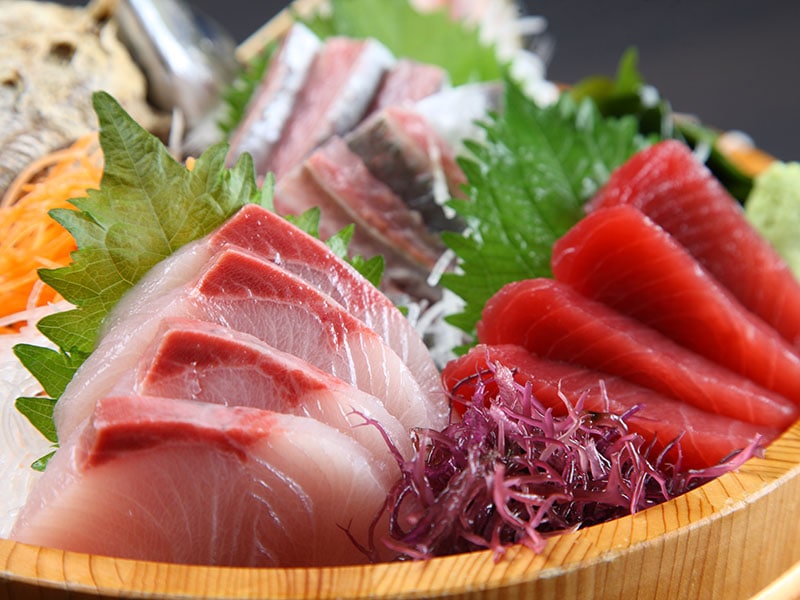 While sometimes confused with sushi by those unfamiliar, Sashimi is another special dish in Japanese cuisine. Also, don't mistake sushi, sashimi, nigiri, and maki, as sushi is entirely different from sashimi by pairing such seafood with sushi rice.
As for sashimi, it is all about enjoying ultra-thin slices of raw fish or meat in its purest form. You can accompany the raw, velvety flesh with wasabi, soy sauce, daikon radish, or pickled ginger.
The ingredients for sashimi extend from the familiar tuna and salmon to mackerel, yellowtail, and even octopus. The thickness of each sashimi slice is tailored to the texture of the fish or meat, with 3/8 inch being a common measure for salmon and tuna.
In addition, freshness is vital for the taste of sashimi, as its raw nature can introduce foodborne illnesses if not handled carefully (1). The skilled preparation of the chef using the freshest, high-quality ingredients ensures each slice of sashimi is a smooth experience.
12. Ramen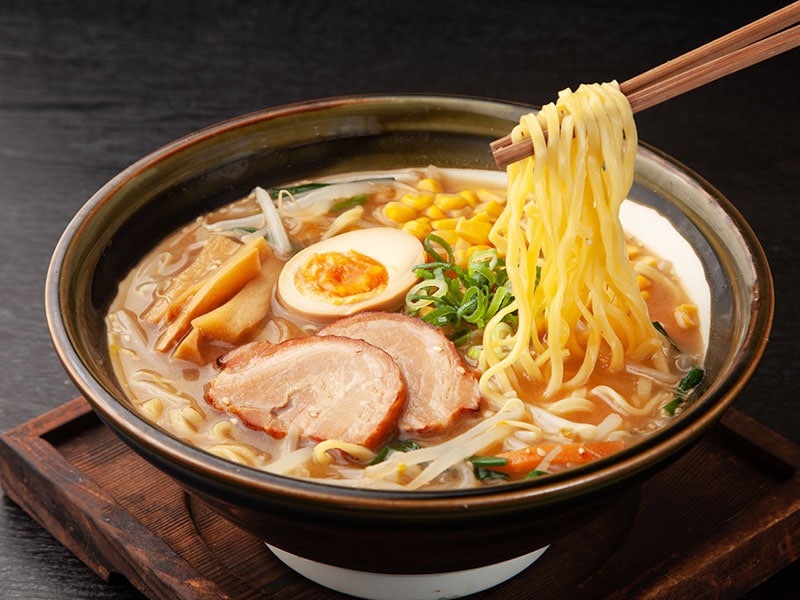 Ramen is a time-honored noodle dish from Japan, starting with Chinese-style wheat noodles made from water, wheat flour, and salt. Furthermore, the various broths lend their unique essence to different ramen styles.
For instance, Hakata ramen swirls around a pork bone base, while Shoyu ramen is steeped in a soy sauce-infused broth. However, Tonkotsu ramen takes it up a notch higher with a pork broth and belly combo.
Additionally, miso and soy sauce add depth to the broth, while toppings like sliced pork, nori, boiled egg, and scallions perfectly complement the dish.
Usually, served in a bowl, ramen calls for a two-handed approach: one hand navigates the noodles and toppings with chopsticks, while the other hand scoops the delectable soup with a spoon.
13. Tempura (Deep-fried Dish)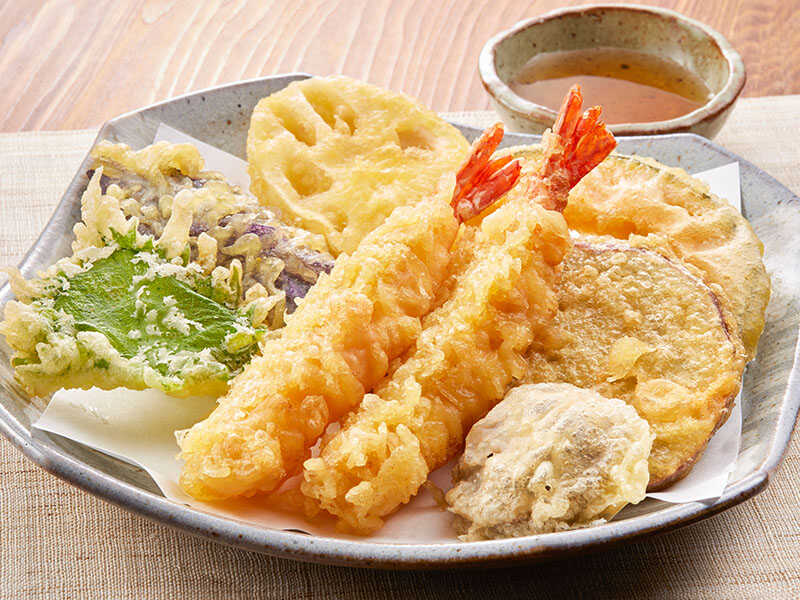 Tempura is a prized dish from Japan, all about seafood, meat, and vegetables coated in a unique batter of wheat flour, iced water, and eggs with no breadcrumbs. Additionally, you can add a few elements, like a dash of baking powder or soda, for a light batter.
Then, coat your chosen slices with the batter and fry them with vegetable or canola oil, sometimes sesame oil, for crispy bites. Enjoy these crunchy bites with a quick dip in Tentsuyu sauce – a savory blend of dashi, mirin, and shōyu, or a dash of grated daikon.
Remember, it's best to savor tempura hot to enjoy the crunchy texture at the peak quality! Tempura also plays well with others, finding a cozy spot in udon soup or a soba bowl.
14. Nattō (Fermented Soybeans)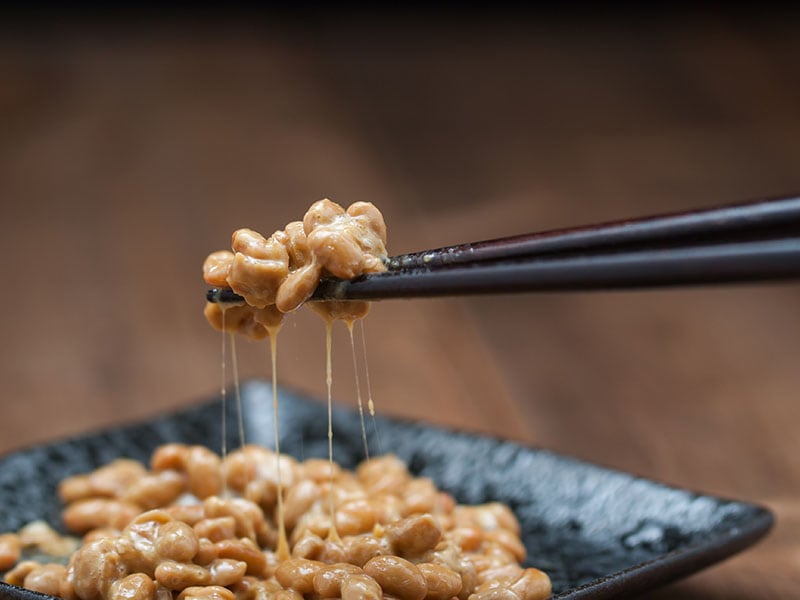 Nattō is a traditional Japanese dish beloved in eastern regions like Kantō, Tōhoku, and Hokkaido. These are fermented soybeans with a distinct aroma; some might compare it to ammonia, which can be unpleasant for newcomers. But if you ask me, it's part of the charm!
The flavor revolves around salty, kind of like cottage cheese, and the texture is unique – slimy and sticky. Nattō is versatile, perfect for breakfast with rice or soup, and a great side dish. You're good to go with a dash of soy sauce and a hint of karashi mustard!
Nattō has plenty of health benefits when packed with calcium, vitamins, and probiotics. It's even been said to lower the risk of illnesses, stroke, and even death (2).
You can find Nattō in almost any Japanese supermarket or make it at home with a bit of patience. It's all about soaking, steaming, inoculating with the bacterium, and then fermenting at a controlled temperature.
15. Gyūdon (Beef Rice Bowl)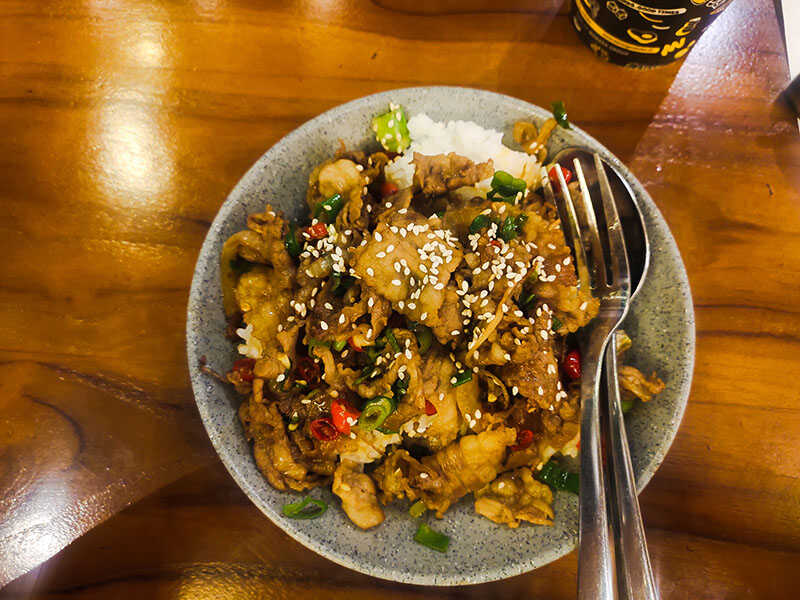 A comforting beef rice bowl from Japan's Kanto region, Gyūdon comes with thin slices of beef, ideally ribeye or chuck, and simmered onions in a sweet-savory sauce. This sauce is a blend of soy sauce, sake, and rice wine mirin, creating a great combination of tastes.
Lied on a bed of fluffy rice, you can top the beef mixture with extras like a poached egg, kimchi, or grated cheese. Don't forget the side of miso soup to complete your meal. You can find most of the ingredients by going to a Japanese-style market for a homemade Gyūdon bowl.
16. Daifuku (Filled Mochi)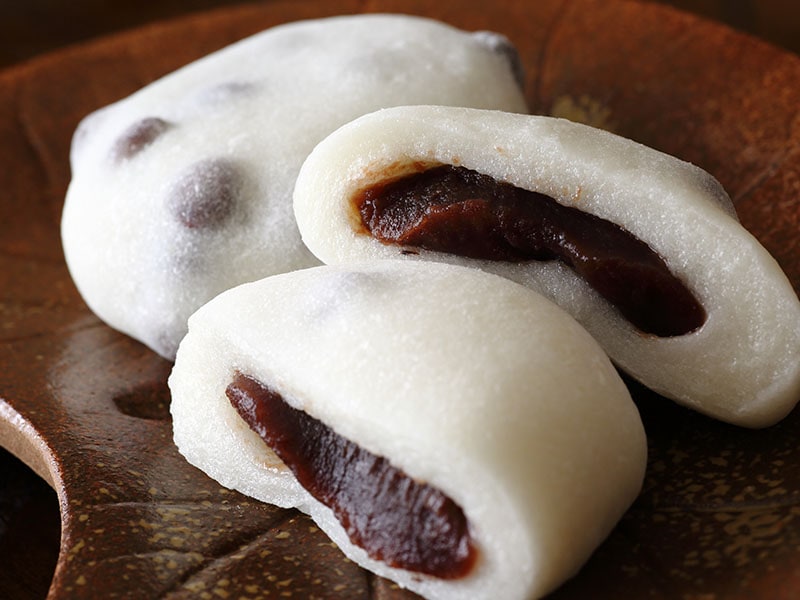 Daifuku is a bite-sized traditional Japanese confectionery. Round and about 1.5 inches in diameter, this filled mochi is made from glutinous rice and dusted with corn or potato starch.
A bite into this small, chewy delight reveals a sweet filling, usually anko or azuki bean paste, although varieties with green tea fillings are also available. The mochi cover may come in various colors for more diverse options to pair with a cup of green tea as a dessert.
17. Miso Soup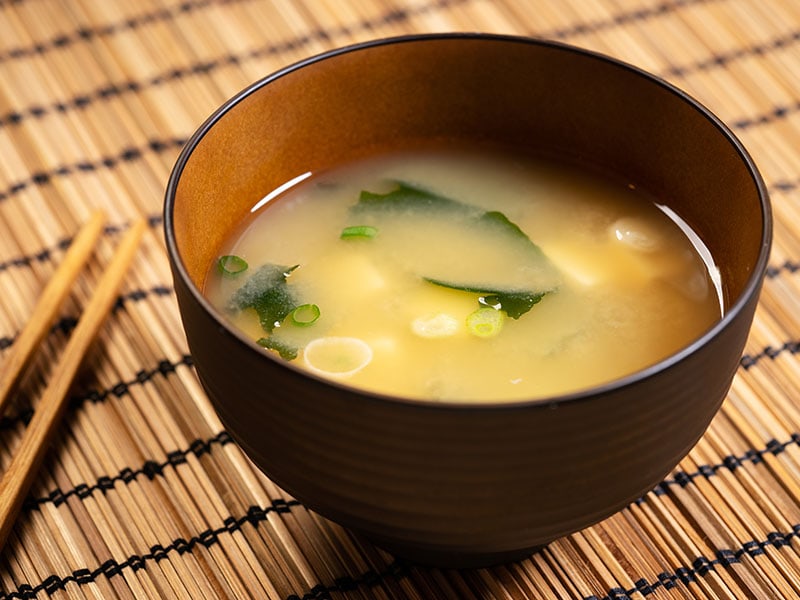 Miso soup, or Misoshiru in Japanese, is one of two basic soups in Japanese cuisine. This tasty soup pairs a dashi stock made from dried seaweed and fish with a flavorful miso paste of soybeans, salt, and koji rice.
Also, additions like tofu and wakame seaweed help round out the savory umami-rich broth. It's an easy-to-make choice as a Japanese-style side dish for breakfast, lunch, or dinner.
Preparing the soup is straightforward, but avoid boiling it to preserve the nutrients and flavor of the miso. Plus, studies suggest it might even help lower cancer risk (3).
18. Tonkatsu (Pork Cutlet)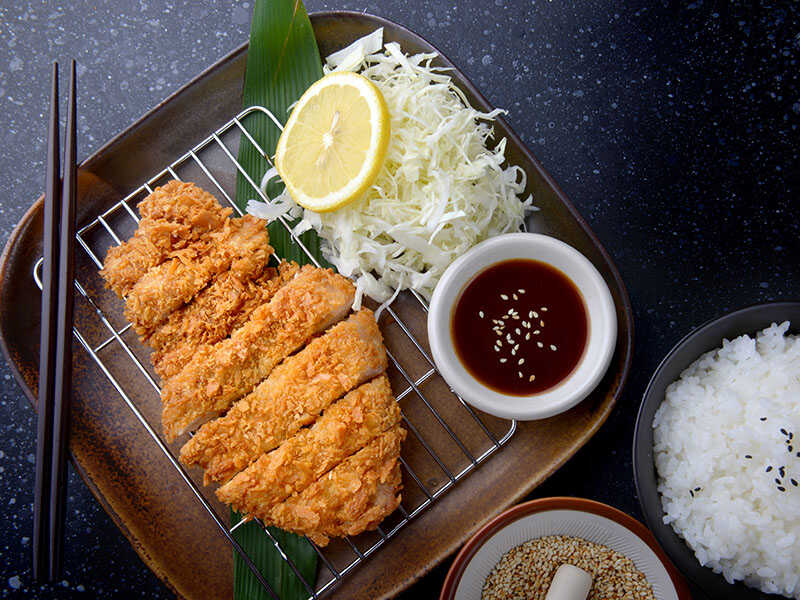 Tonkatsu is a beloved Japanese dish, where a pork slice is breaded with beaten eggs and panko or breadcrumbs, then deep-fried in oil. This process creates a beautiful contrast between the crunchy exterior and the juicy interior.
Typically, Japanese pair Tonkatsu with a thick, brown tonkatsu sauce – my favorite Japanese sauce and condiment, and a mountain of shredded cabbage.
The sauce adds a sweet, savory, and slightly tangy note, while shredded cabbage provides a fresh crunch. Also, steamed white rice makes the perfect companion for soaking up the sauce.
19. Donburi (Rice Bowl)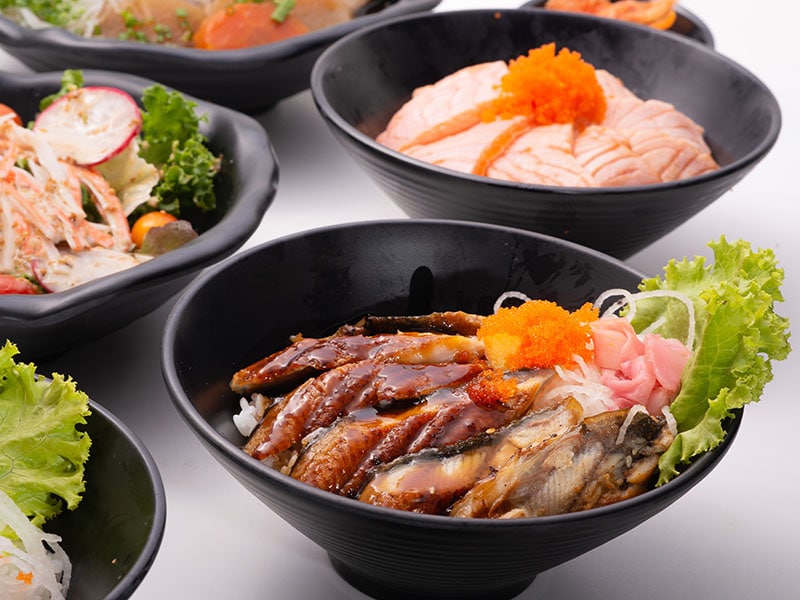 Donburi, translating to "bowl" in English, is a well-loved Japanese dish that promises a hearty meal to satisfy anyone. Steamed rice is generously topped with fish, meat, vegetables, and eggs, unified by a sauce crafted from soy sauce, mirin, and dashi.
Furthermore, there's a great range to the donburi family, with notable members like Gyudon (beef rice bowl), Butadon (pork rice bowl), and Unadon (eel rice bowl). Also, serving Donburi with complementary sides like miso soup and pickled vegetables is customary.
20. Yakitori (Skewered Chicken)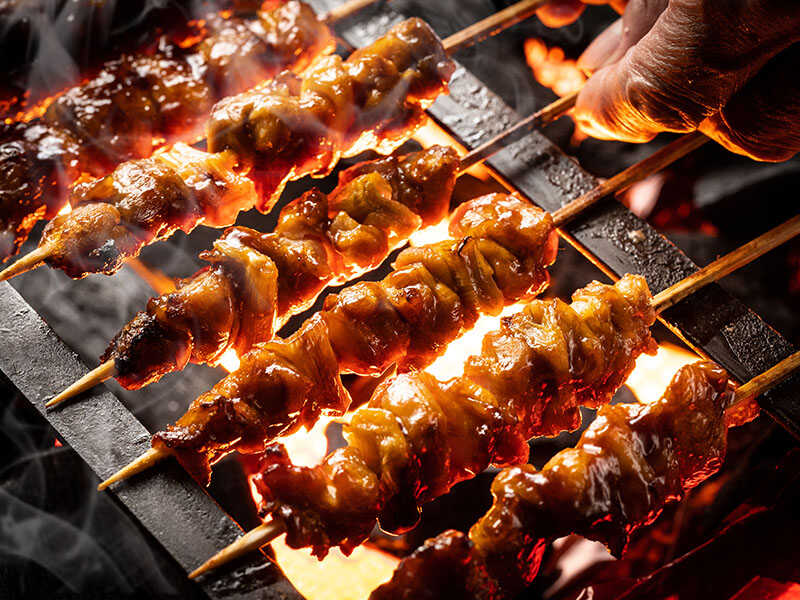 Yakitori is an affordable Japanese dish, usually found at izakaya pubs and street stalls, with chicken being the most popular option. From the breast and thigh to even more unique parts like liver and gizzards, these bite-sized pieces are skewered onto bamboo or steel sticks for grilling.
The seasoning can vary from a thick tare sauce made with dashi, vinegar, sugar, and soy sauce or a dash of salt. Then comes the grilling part, utilizing a charcoal fire to get sizzling skewers with a smoky aroma, best paired with beer. Interestingly, you can pair it with rice and veggie side dishes at home.
21. Onigiri (Rice Balls)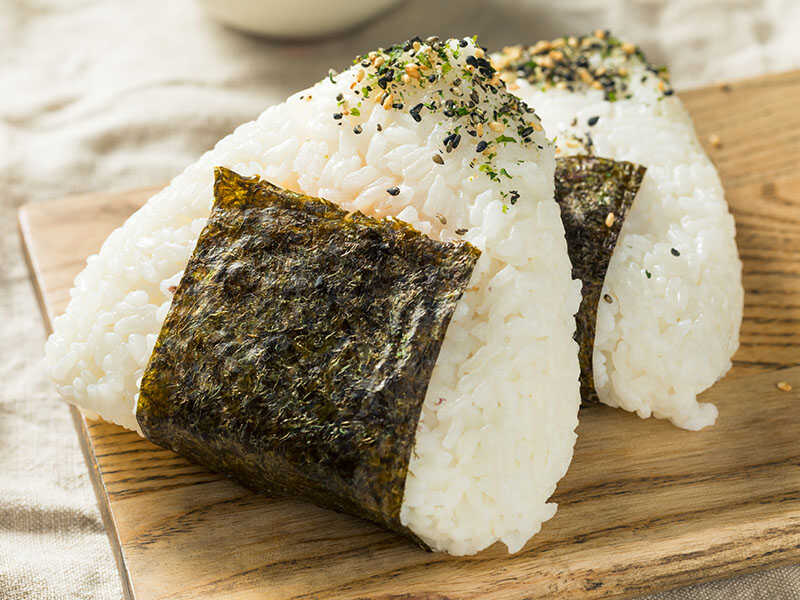 Onigiri, also known as omusubi or nigirimeshi, is a compact meal made of steamed rice and nori. Normally, the rice is neatly wrapped with nori, creating shapes like triangles, balls, or cylinders.
Inside, you can enjoy different fillings, from umeboshi (pickled plum) to simmered kombu, tuna mayo (mayonnaise with tuna), or katsuobushi (bonito flakes). The taste varies based on the filling, making each bite a surprise.
The dish is perfect for serving cold or room temperature, making it the perfect grab-and-go snack. One of my personal favorites is the tuna mayo for the quick, fulfilling bite that never disappoints.
22. Wagashi (Confections)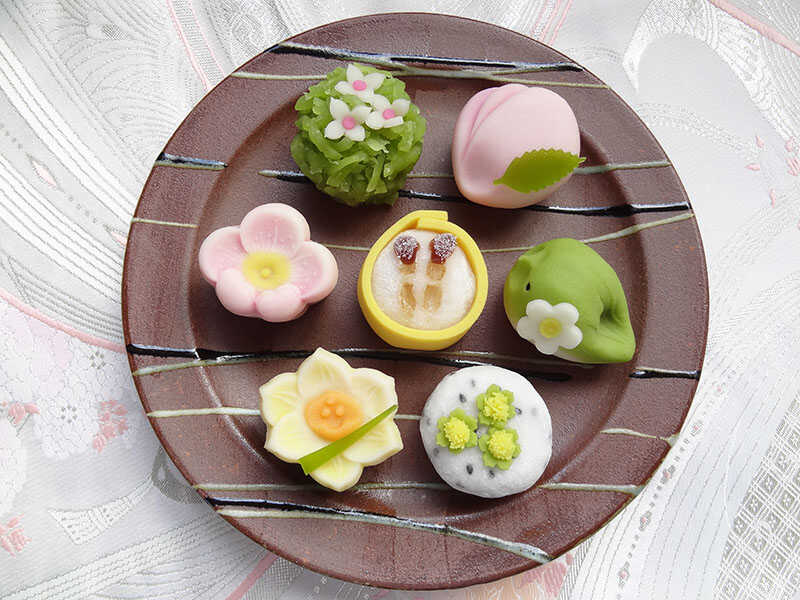 Wagashi encompasses a range of sweet treats from Japan, including mochi, daifuku, dango, dorayaki, and more. These confections often go with tea and are usually crafted with natural ingredients, taking a variety of shapes and textures.
In addition, it takes time and skill to create these lovely sweets. My first time in Japan, I was captivated by the beauty and intricacy of these sweets, especially the colorful mochi. I couldn't resist buying a selection as a gift.
When paired with green tea, the combination of slightly bitter and sweet is amazing!
23. Mochi (Rice Cake)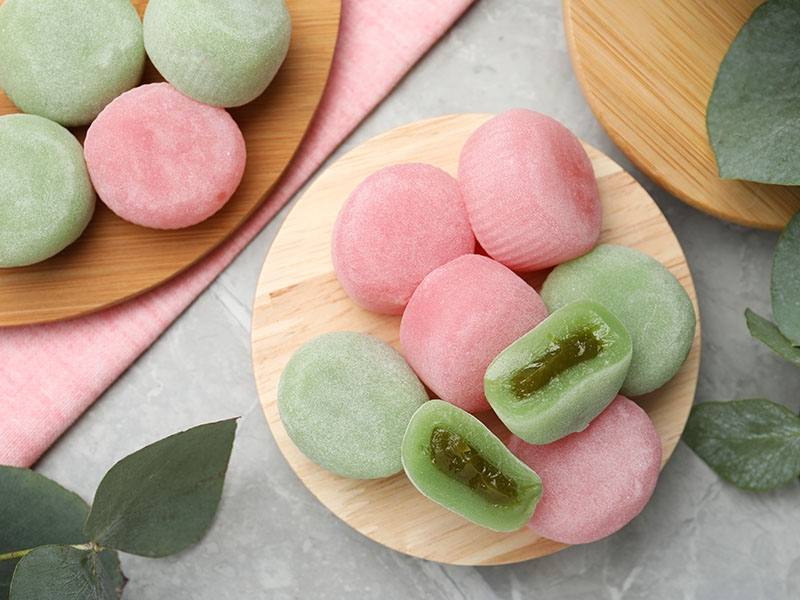 Mochi is a staple in Japanese cuisine, starting as mochigome, a type of short-grain glutinous rice. Steamed to perfection, the rice then transforms into a paste through a rhythmic process of pounding with wooden mallets in a traditional mortar.
The sight of this process, where one person pounds while another keeps the mochi moist, is very interesting. After the pounding, the Japanese split the mochi into serving portions, usually coming in a round shape.
Once formed, mochi takes on a soft, chewy, gel-like consistency that's distinctively satisfying. Mochi has many variations and becomes a centerpiece during New Year's celebrations. Recalling my trip to Japan, I remember the delicious chewy texture of freshly made mochi.
Korean Cuisine
24. Bibimbap (Mixed Rice Dish)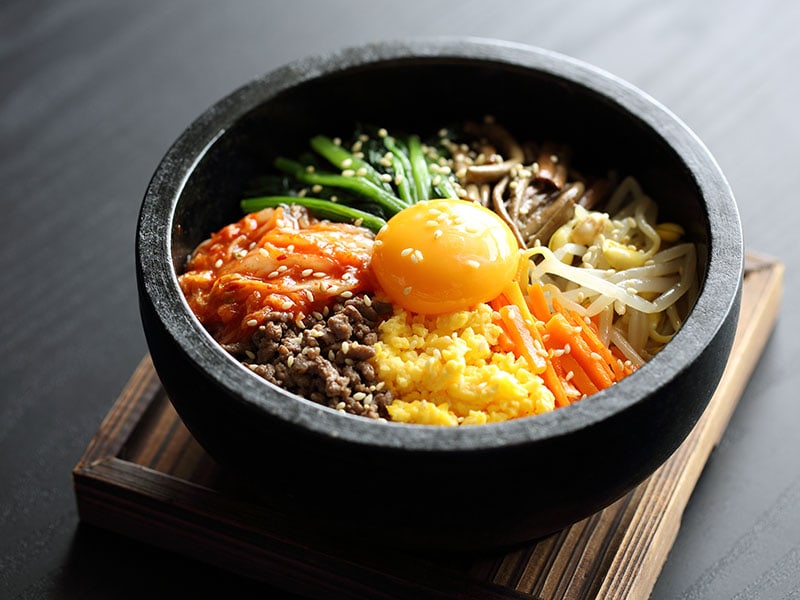 Bibimbap is a popular Korean specialty, combining rice, marinated meat (often beef), an assortment of colorful veggies, a fried egg, and a dollop of spicy gochujang sauce.
Before diving in with your spoon, you should mix all these elements to unlock a vibrant symphony of flavors and textures. This dish isn't just about taste; it also balances healthful veggies and protein that can be served either hot (in the winter) or cold (in the summer).
25. Kimchi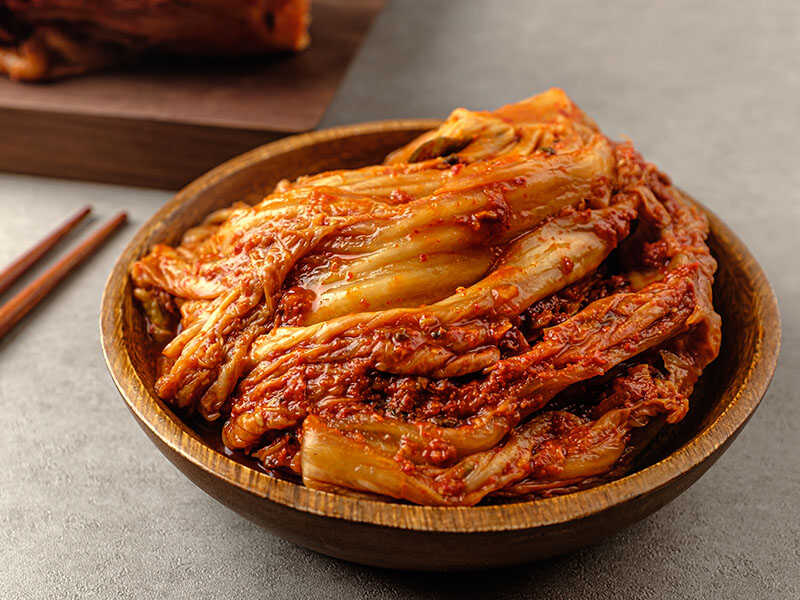 As a Korean national dish, kimchi is a staple at local meals as a classic side. The key elements are napa cabbage or Korean radish, seasoned with a blend of gochugaru sauce, garlic, ginger, and jeotgal.
Then, you can get a salty, spicy, and tangy flavor after leaving it to ferment. Other vegetables also get the kimchi treatment, fermenting in large clay pots. Beyond the taste, kimchi has health benefits, as its beta-carotene and antioxidants prevent diseases (4).
26. Bulgogi (Beef Barbecue)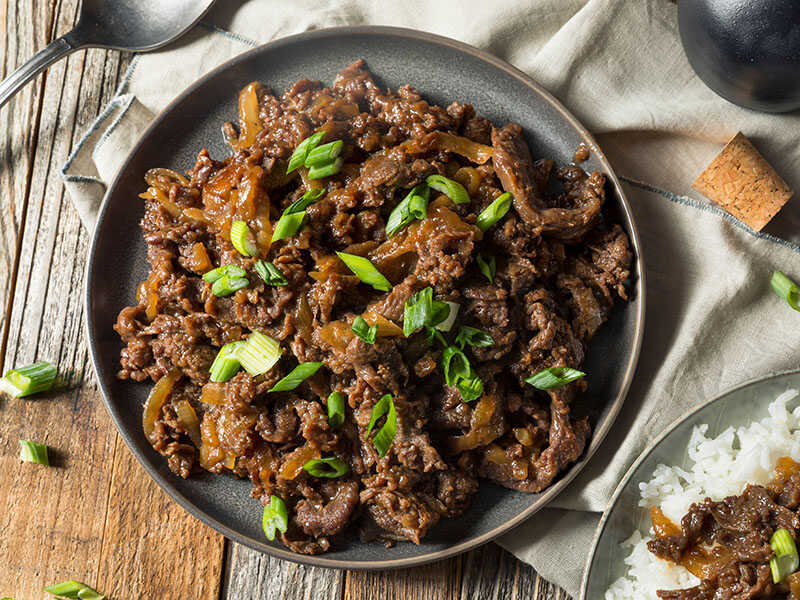 "Bulgogi" translates to "fire meat," a fitting name for this Korean dish featuring thin slices of beef like ribeye, brisket, or sirloin. These slices are marinated with soy sauce, pureed pear juice, garlic, ginger, and sugar, lending them a sweet and savory edge.
After marinating, they're grilled to tender perfection, ready to be savored with kimchi and rice. Sometimes, for a fun twist, you can wrap the grilled beef in lettuce leaves.
27. Tteokbokki (Spicy Rice Cakes)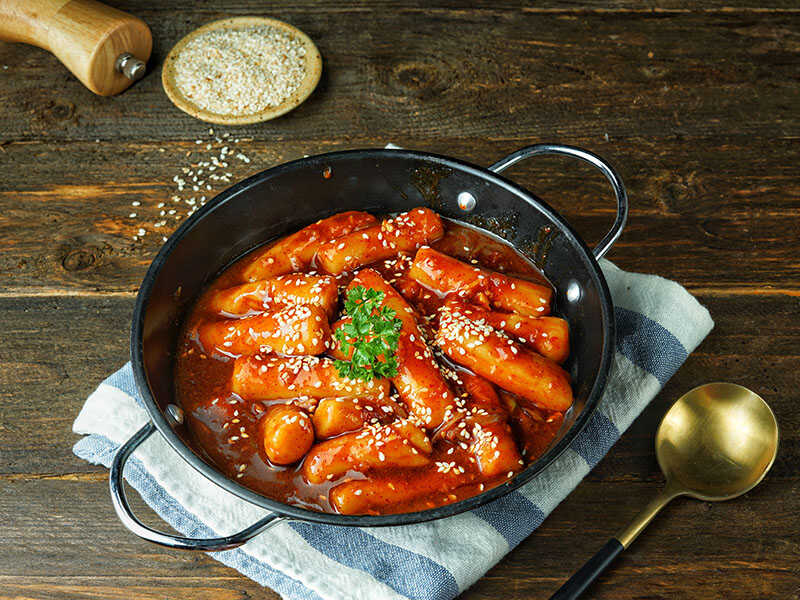 "Tteokbokki" is a popular street food dish in Korea, stirring up love with its chewy, cylinder-shaped rice cakes. The translation of its name, "stir-fried rice cake", hints at its preparation.
Most often, the rice cakes are drenched in a spicy red sauce with a gochujang base. Some variations, like Ganjang tteokbokki, swap the fiery sauce for a soy sauce base. Scallions, fish cakes, and boiled eggs often join the party, enhancing the dish's texture and taste.
Furthermore, you can pair it with noodles or fried chicken for a fiber-rich combo that's high in carbs and fats.
28. Gui (Grilled Dish)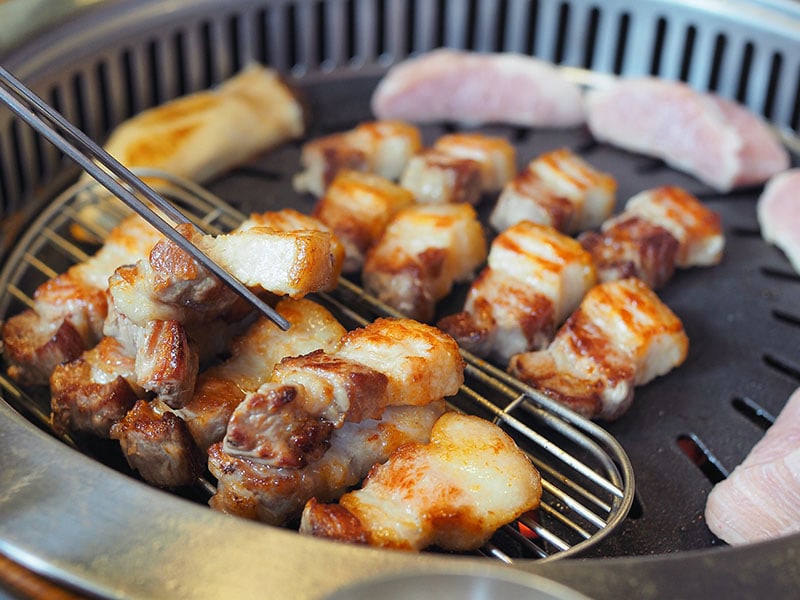 "Gui" or "guee" is a term that encompasses an array of Korean grilled dishes, predominantly featuring meat or seafood but sometimes even vegetables. They will be sizzled over a charcoal grill right at your table.
The choices vary with options like Bulgogi (beef), Galbi (ribs), Samgyeopsal (pork belly), or Dakgui (chicken). You can even go for seafood like eel, mackerel, or scallops, too!
Commonly, Koreans serve Gui alongside assorted banchan, like kimchi and other delightful side dishes and rice bowls for a hearty feast. For the most authentic experience, let's experience these delights at any Korean-style BBQ restaurant in the USA.
29. Kimbap (Seaweed Rice Rolls)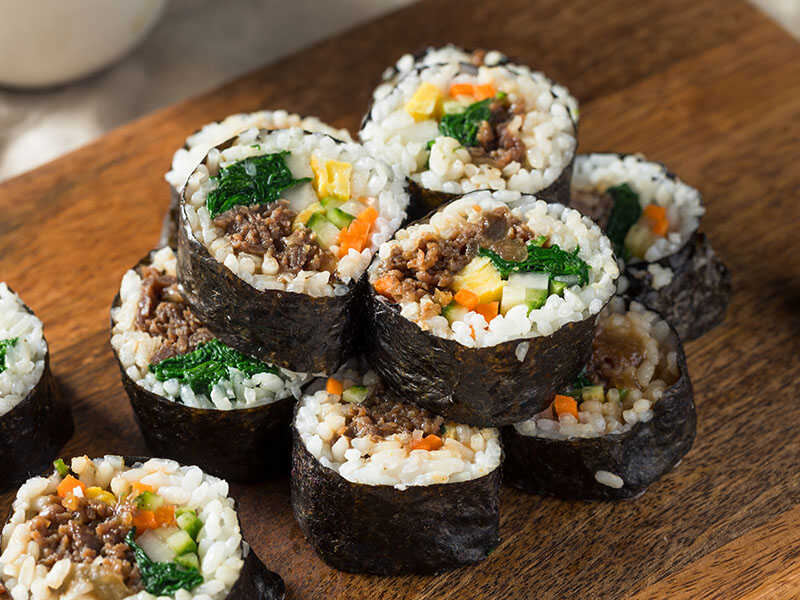 Kimbap, or Gimbap, is like a trusty friend for those on-the-go meals or casual picnics. It's a roll packed with cooked short-grain rice, a mix of vegetables, fish, and meat, all wrapped with dried sheets of seaweed, known as gim.
If you're thinking of sushi, hold that thought because kimbap has its unique charm. Sushi often hosts raw fish with its vinegar rice, while kimbap ingredients are cooked for a quite flexible flavor, depending on your fillings.
The typical choice is a combination of cucumber, ham, beef, carrot, and imitation crab meat. Once rolled, you should use a gimbal (a bamboo gimbap roller) for better-shaped rolls.
After that, slice those rolls into bite-sized pieces. Remember to pair Kimbap with a side of kimchi and a soy sauce-mustard dip, it's pure bliss in every bite.
30. Banchan (Korean Small Side Dishes)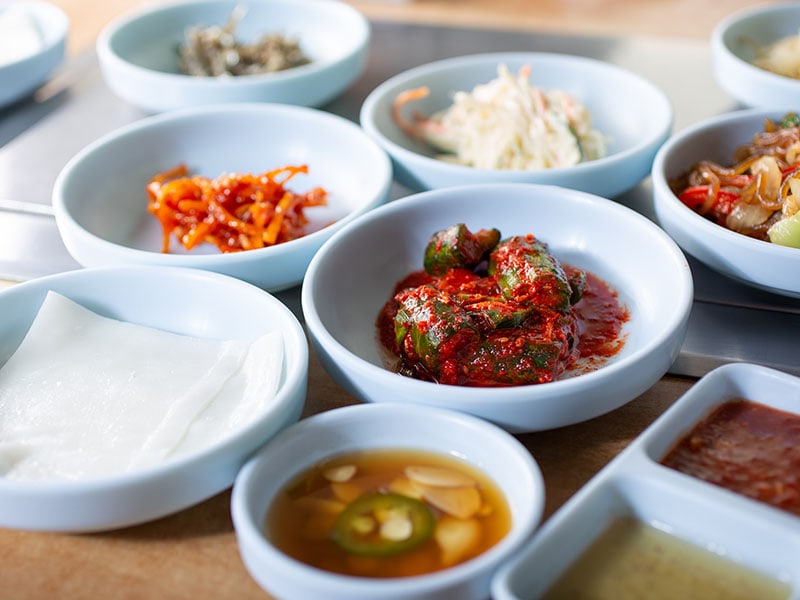 Banchan is the term for Korean side dishes, a major feature in Korean meals, served in charmingly small portions. It might include fresh, braised, or preserved dishes.
You can find everything Korean from the fiery kimchi, the superstar of banchan, to the tender Eomuk bokkeum (fish cake), Kongnamul Muchim (seasoned soybean sprouts), Oi Muchim (spicy cucumber salad), and Gamja Jorim (braised potatoes).
Placed in the middle of the table, banchan is shared among everyone, creating a sense of togetherness while enhancing the flavor of the rice and other dishes.
31. Sundae (Blood Sausage)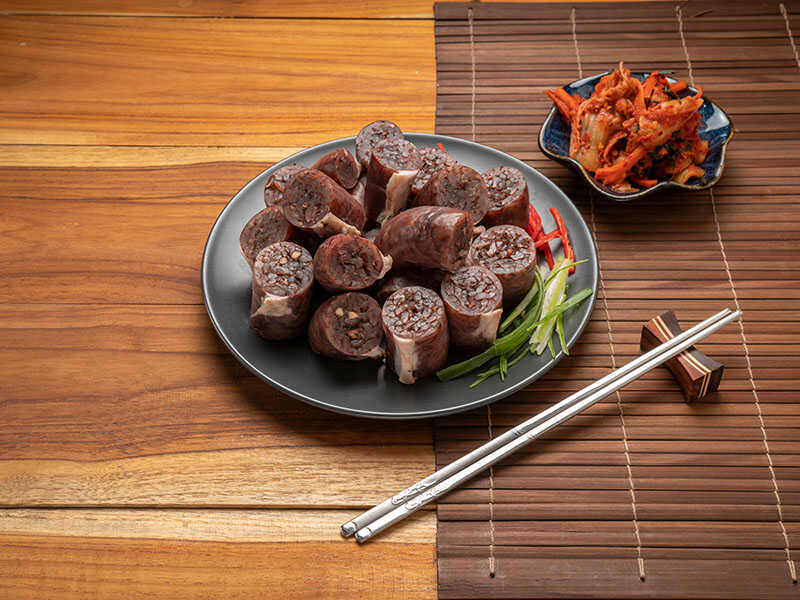 Sundae is a popular Korean street food that shares more than just a name with its ice cream namesake. It's a unique dish, like a Korean-style black pudding, made by stuffing cow or pig intestines with ingredients like blood, cellophane noodles (dangmyeon), and glutinous rice.
Once steamed, it has a distinctive dark color and a mild, gummy texture. While you can savor Sundae on its own with a dash of chili flake and salt, in Busan, the locals will advise pairing it with ssamjang sauce and green chili. It can even be added to soup, creating a Sun Dae Guk dish.
32. Japchae (Stir-fried Glass Noodle Dish)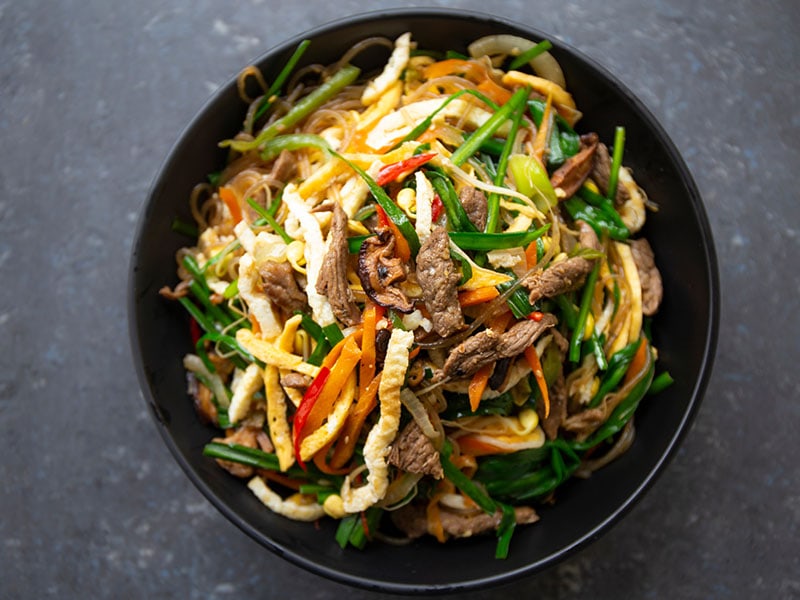 Japchae is one of the most common noodles in Korea. It is a delicious blend of stir-fried glass noodles, succulent meats, veggies, and mushrooms. The glass noodles, or dangmyeon, are chewy ingredients made from potato starch, requiring a good soak before cooking.
The key to Japchae's delectable flavor lies in stir-frying each ingredient separately, then bringing them together with a splash of sesame oil and soy sauce. Also, a touch of sesame seeds or chili threads garnish lends an aesthetic finish.
Japchae fits the bill perfectly for any time of the day, whether it's a special occasion (weddings, birthdays) or a simple meal, hot or cold.
33. Mandu (Dumpling)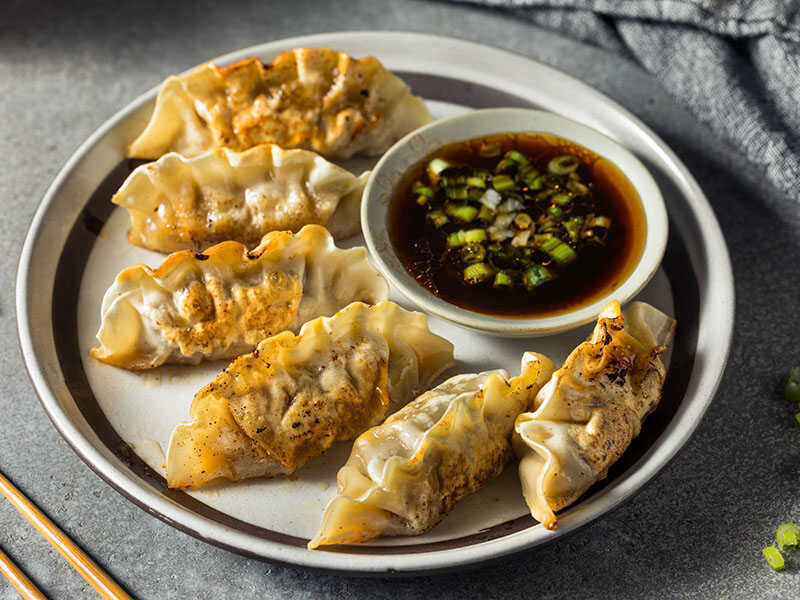 The Korean dumpling known as Mandu is a true culinary delight. It boasts thin dough wrappers with various savory fillings, ranging from ground pork or beef to napa cabbage, sesame seeds, and mushrooms.
You might even stumble upon a vegetarian variant stuffed with sweet potato noodles, napa cabbage, and tofu. To cook these tasty dumplings can vary as much as their fillings, with options from steaming, boiling, or pan-frying to deep-frying them.
Surprisingly, similar dumpling relatives can be found in other cuisines, like Gyoza in Japan, Jiaozi in China, and Buuz in Mongolia.
Taiwanese Cuisine
34. Iron Egg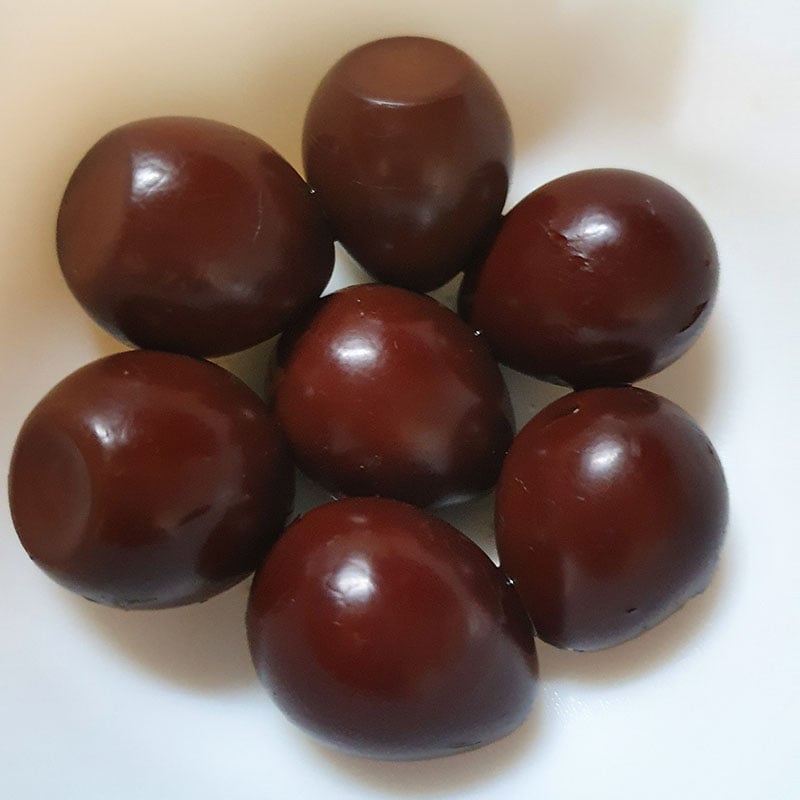 Iron eggs stand as a unique Taiwanese food of the soy egg. This tasty snack has its roots in the Tamsui District of New Taipei City, where shopkeeper Yang Bi-yun started selling them back in 1980.
Typically, the eggs, smaller in size due to extended cooking, are mainly chicken, pigeon, or quail eggs constantly stewed in a medley of spices and then air-dried. The result is dark brown shells housing a chewy, flavor-packed bite with sweet, spicy, and slightly salty notes alongside a rich, concentrated egg flavor.
35. Century Egg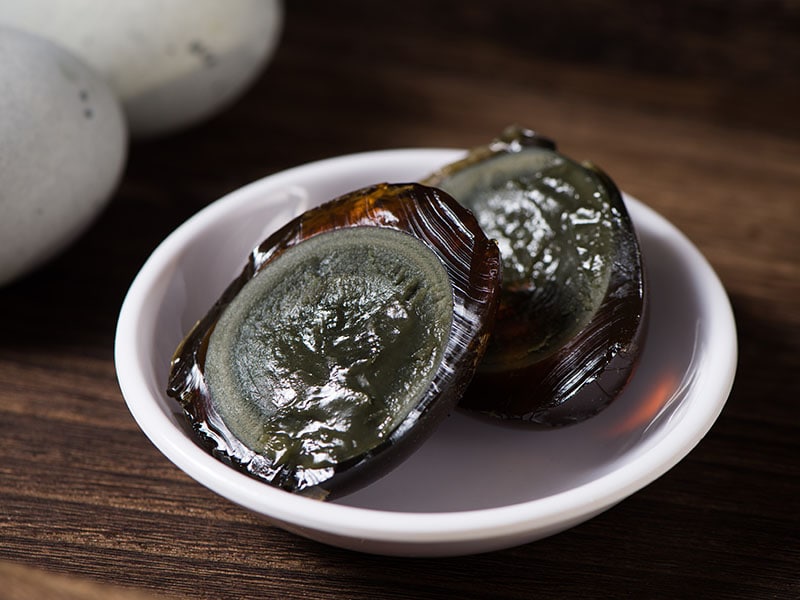 Century eggs originate as a Chinese culinary invention where they use eggs from a duck, chicken, or quail to carefully preserve in a concoction of clay, ash, salt, quicklime, and rice hulls. This process isn't a quick one, though, taking several weeks to complete.
It's a transformative experience for the egg, with the yolk morphing into a dark green to gray color with a creamy consistency while the white turns into a dark brown, translucent jelly. Once you eat it, you will feel the bold flavors with a hint of ammonia.
Modern recipes call for the eggs to be soaked in table salt, calcium hydroxide, and sodium carbonate for 10 days, then aged for several more weeks. Ideally, you should enjoy these eggs straight from the shell or be served sliced and top cold tofu with katsuobushi, soy sauce, and sesame oil.
When I first tried a century egg, its strong flavor was surprising, but pairing it with pickled ginger root, soy sauce, or sesame oil made it an unforgettable dining experience. FYI, this egg has a pH level of around 9-12.
36. Stinky Tofu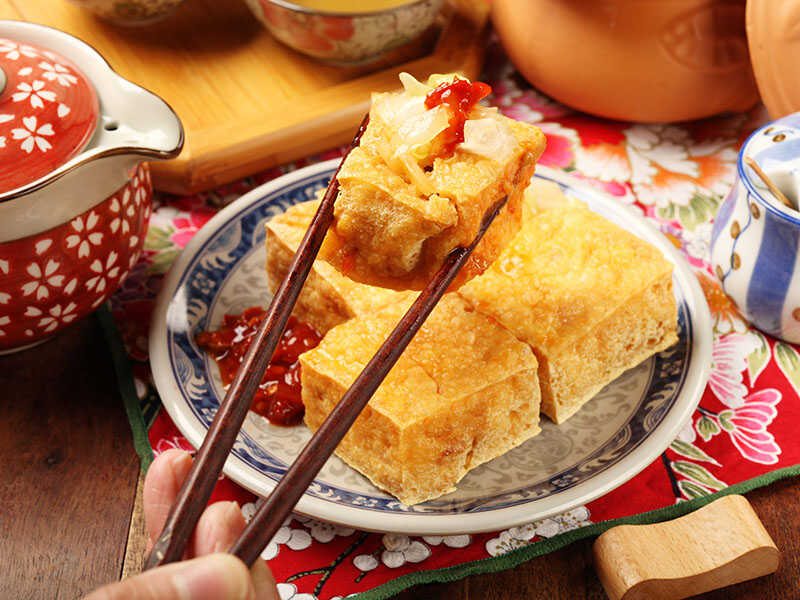 Stinky tofu is a Taiwanese fermented delight famous for its unique, strong aroma. You're more likely to stumble upon this snack at night markets, roadside stands, or lunch bars than at formal restaurants in Taiwan.
The process involves a special brine, a concoction of fermented milk, vegetables, and meat to make stinky tofu. Other intriguing ingredients like dried shrimp, amaranth greens, bamboo shoots, and Chinese herbs may also be added with different variants.
Also, you want to use a mixture of bacteria to aid its fermentation process. Fermenting tofu takes months to complete for a crispy outside and soft inside with a savory, slightly sweet, and sour flavor profile.
To enjoy it properly, I normally eat stinky tofu with pickled cabbage, spring onions, and dips like chili and garlic sauce.
37. Gua Bao (Pork Belly Bun)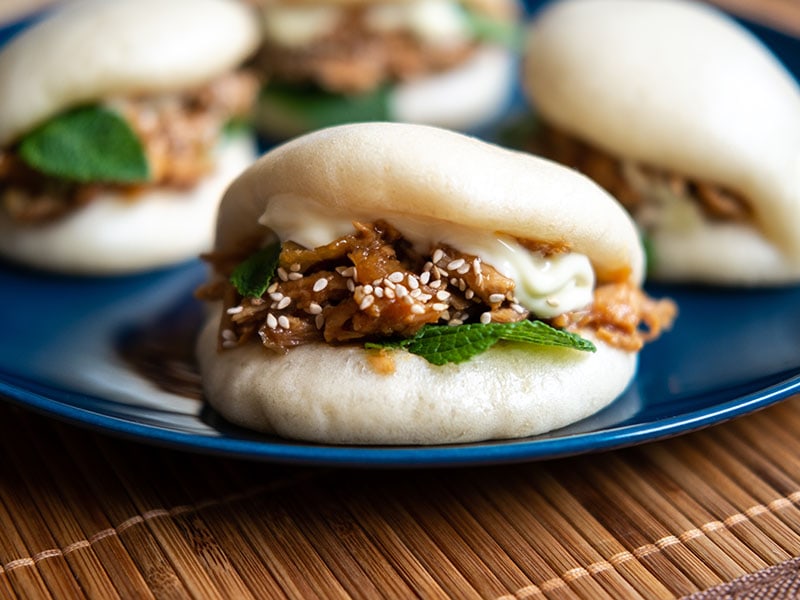 Gua Bao, also known as a pork belly bun or bao bun, hails from the heart of Fujian cuisine. These adorable buns, no bigger than 2.4-3.1 inches, are a hit in Taiwan's bustling night markets and among the street food culture of Singapore, Malaysia, the Philippines, and Japan.
Each bun is a soft, flat piece of steamed bread filled with stewed meat, braised in soy sauce. For your information, the traditional version of this snack is a hearty slice of red-cooked pork belly, complemented by stir-fried suan cai or pickled mustard greens.
38. Danbing (Egg Pancake)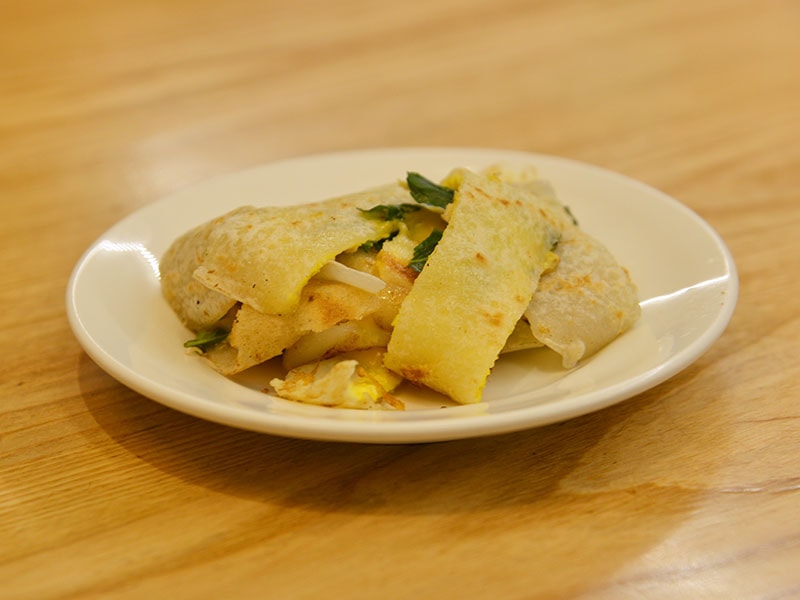 Danbing is the Taiwanese breakfast dish fondly known as the egg pancake or rolled egg crepe, which traces its origins back to mainland China. It's a tasty combination of thin dough kneaded from flour, potato starch, glutinous rice flour, and water, with an omelet right on top.
However, there's a regional twist to it, too, with sweet potato powder added to the dough in southern Taiwan to lend a chewy texture to the Danbing. On the other hand, in the north, a crispy texture Danbing is preferred.
You can find this versatile dish at food stalls, shops, and restaurants in the morning and at night markets. Adding flavors and fillings like tuna chunks, minced pork, or extra eggs can elevate your Danbing. For the final touch, a drizzle of soy sauce or sweet chili sauce is a great idea.
Tibetan Cuisine
39. Tsampa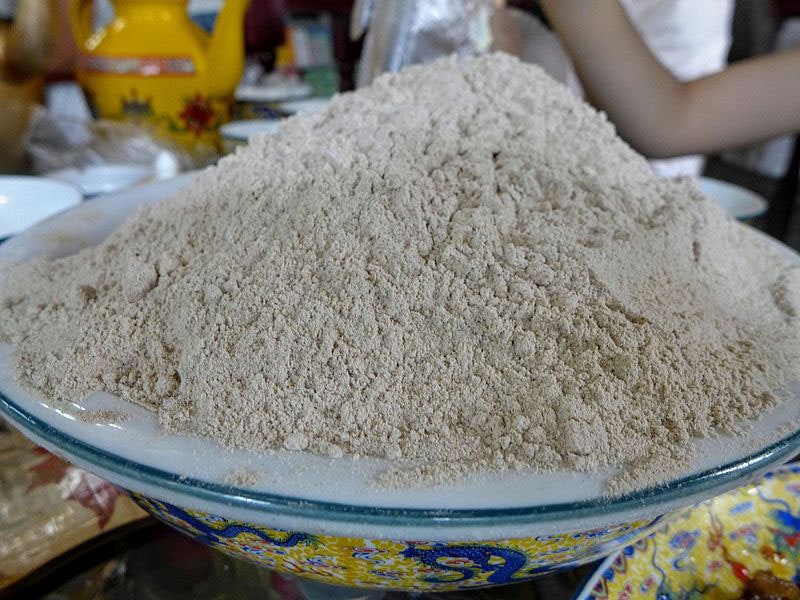 Tsampa is a beloved staple of Tibet, and the Himalayas, making its way to northern Nepal with its simplicity and satisfying taste. Making Tsampa usually starts with roasted flour, often barley, but sometimes wheat or peony seeds.
The flour is mixed with Tibetan butter tea, but water or beer are also viable options. With its pure white hue and pleasing nutty flavor, this mixture forms the base for versatile Tsampa recipes.
Locals often knead Tsampa into a large dumpling-like treat before tearing it into smaller pieces to enjoy. Despite how simple the ingredients are, they can offer such profound satisfaction.
There are many approaches to the dish, with one variation transforming it into a sweet, nutty porridge called Jham-thoo. Another recipe incorporates lamb or yak stock for a savory congee called Tasm-thug.
40. Momos (Filled Dumplings)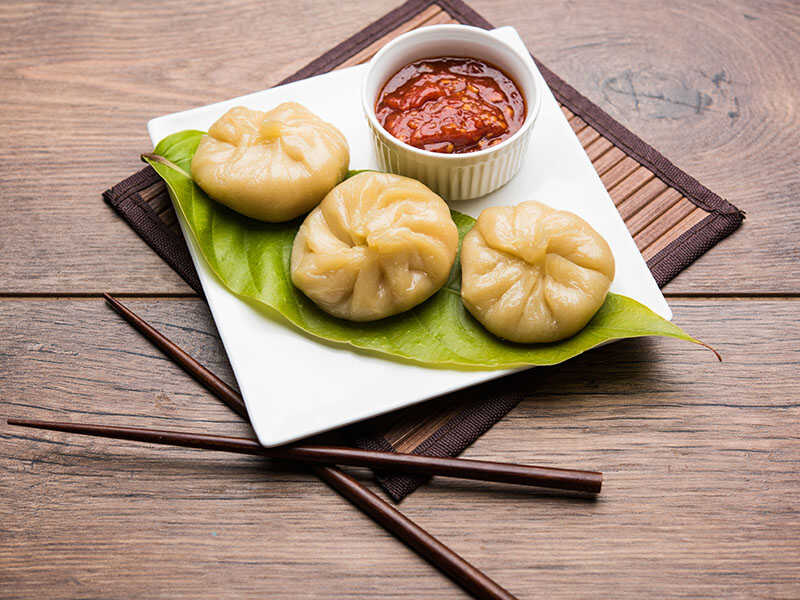 Momos are little circular flat dumplings winning hearts in Tibet, Bhutan, Nepal, and India. Steamed to perfection, they're traditionally filled with chicken, yak, or goat meat between a dough made from white flour and water. Some add a bit of yeast or baking soda for a more doughy texture.
While steaming is a traditional way of cooking, don't be surprised to find deep-fried or pan-fried momos. They can even be turned into a soup known as Jhol momo.
To round out the flavor, the natives often serve Momos with achar, a tangy, sweet, and salty sauce. And for chili lovers, I suggest pairing these dumplings with a fiery chili garlic sauce and pickled daikon.
41. Thukpa (Noodle Soup)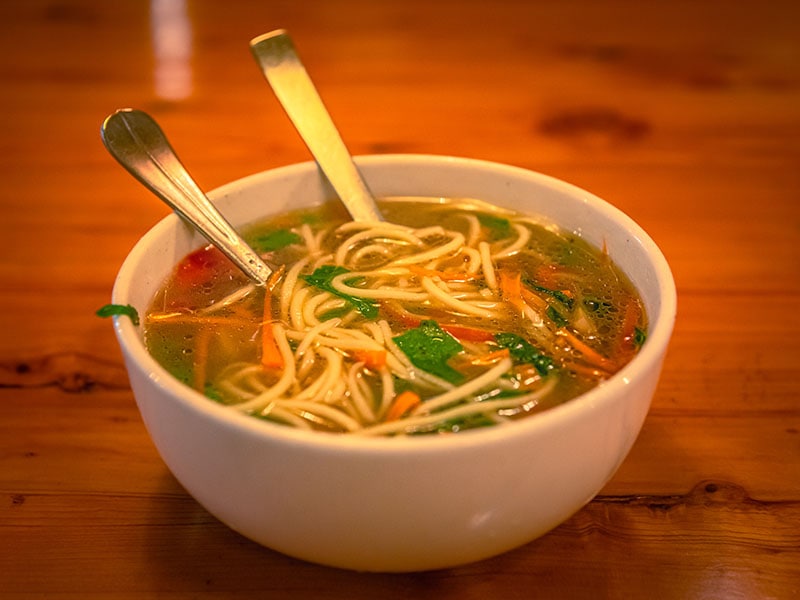 The comforting noodle soup from eastern Tibet that goes by the name Thukpa is a versatile dish that combines stew with noodles in a delightful fusion. This dish, particularly the Amdo Thukpa variant, has found admirers in India, Tibet, and Nepal.
Whether you prefer the vegetarian version or a popular chicken-infused one, the flavorful broth, brimming with meat and vegetables, won't disappoint you. The color of this savory treat also depends on the condiments used, adding an element of surprise every time you dig in.
42. Tingmo (Steamed Bread)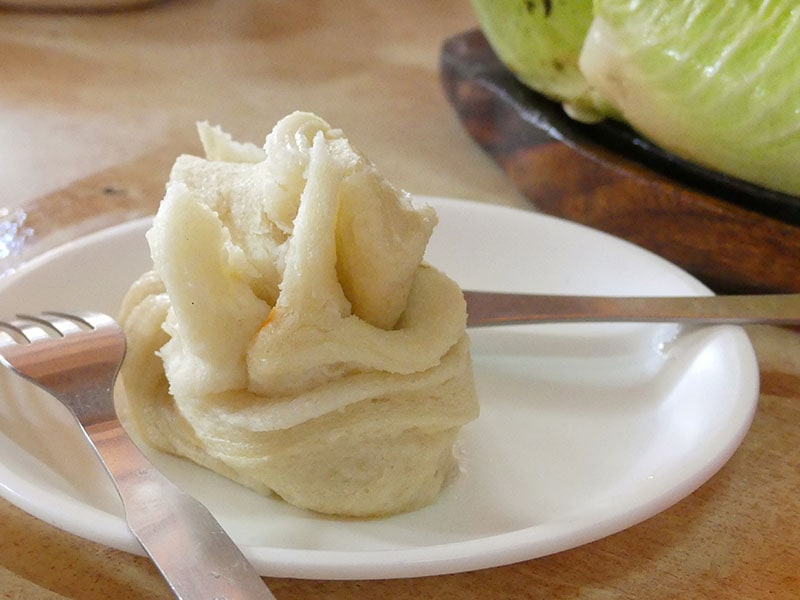 Tingmo, a Tibetan steamed bread, is sometimes known as a steamed bun. Resembling Chinese flower rolls, their soft, fluffy texture and lightweight bread make a versatile accompaniment to various dishes, like vegetables, meats, or dal.
With a distinctive gray and white hue, this filling-free bread becomes a "momo" when filled with meat like beef or chicken. The moniker "tingmo" merges "tinga," meaning cloud, and "momo," denoting dumplings, in Tibetan.
Mongolian Cuisine
43. Khorkhog (Barbecue Dish)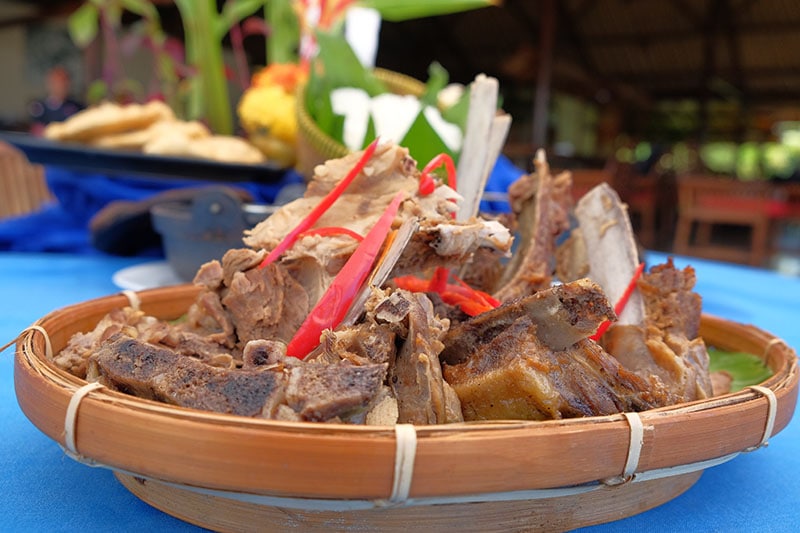 Khorkhog is a traditional Mongolian delight of barbecue that is mainly available in the Mongolian countryside. It's prepared by placing meat, typically bone-in lamb, into a metal milk jug with hot, fist-sized stones and water.
External heat is also necessary for efficient cooking. As a side note, the stones usually turn black due to fire and lamb fat. This imparts a unique smoky flavor to the meat, contrasting beautifully with the blandness of vegetables.
The dish can take up to an hour and a half for the meat to cook to perfection. As a fun tradition, the cook distributes the meat and the still-hot stones, passed from hand to hand, for beneficial properties.
To eat it like a local, you can savor these BBQ dishes with your fingers. The reason is that the Khorkhog dish embodies the nomadic lifestyle of its creators.
44. Buuz (Steamed Dumpling With Filling)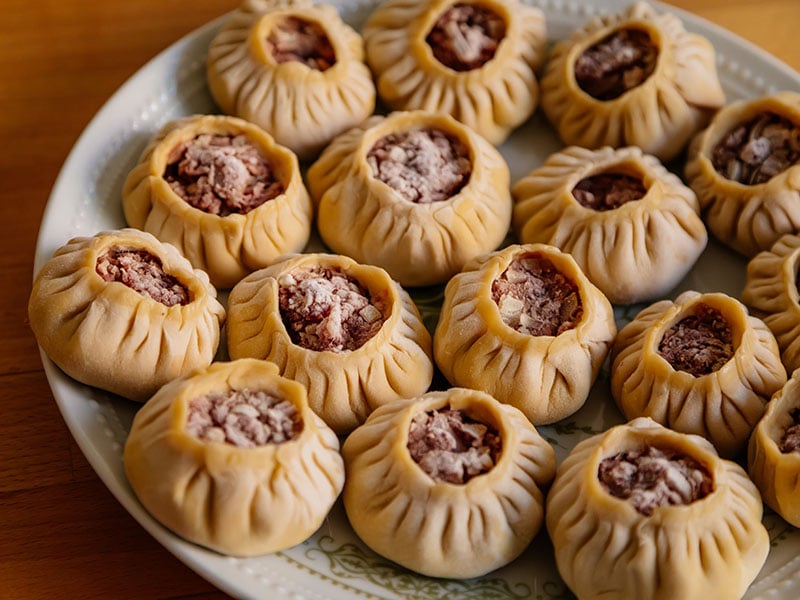 The Mongolian steamed dumpling Buuz with Chinese roots is a cherished part of the Lunar New Year, called Tsagaan Sar. They're everywhere in the capital city of Ulaanbaatar, from home kitchens to cozy cafes.
The filling, typically a flavorful mix of minced lamb or beef with onion, garlic, and salt, is enveloped in a juicy dough that cleverly traps the escaping liquids. Some might opt for fillings like mashed potato, cabbage, or rice.
Unlike its Mongolian cousin, the Khuushuur, Buuz is steamed, not fried, maintaining a soft, delicate texture.
45. Boodog (Barbecued Goat)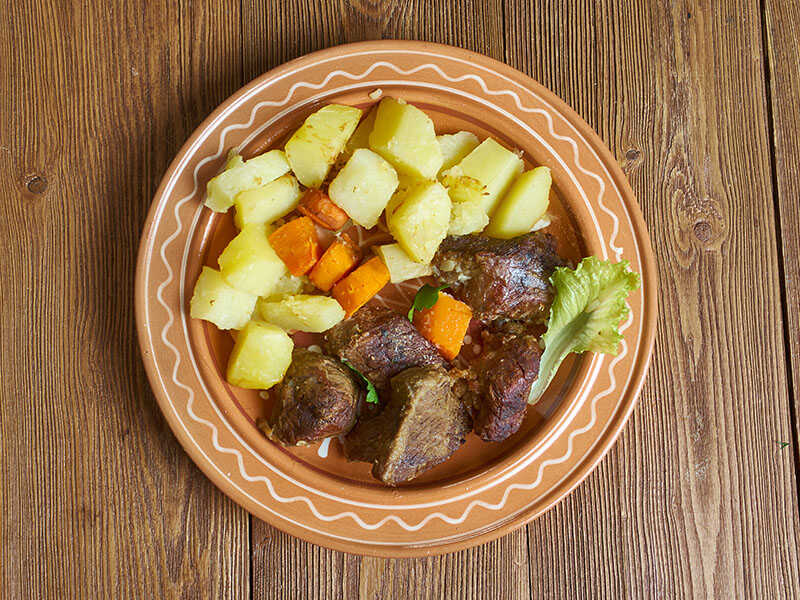 Boodog is a Mongolian barbecued dish that involves barbecuing goat or Tarbagan marmot in a unique way. Commonly, people throw seasoned meat, hot stones, and vegetables into the animal's hollowed carcass to cook from the inside out.
The result is a flavorful delight, typically savored on special occasions. The marmots, most popular for Boodog, are usually hunted during the fall for their larger size. In addition, locals add vegetables into the mix to ensure a balanced meal.
Hong Kong Cuisine
46. Sweet And Sour Pork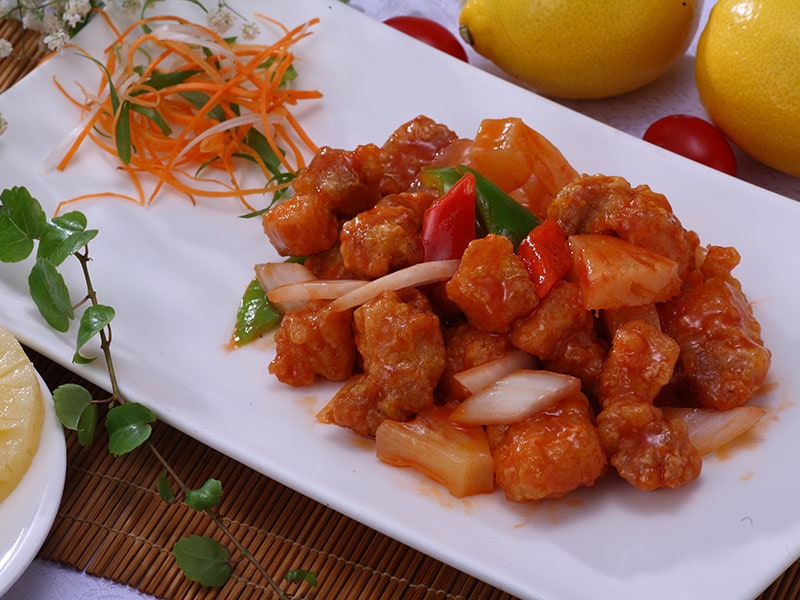 Sweet and sour pork, with roots in the Shunde district's Chencun town, has evolved into a staple of Westernized Cantonese cuisine. Originally, this Hong Kong specialty utilized ribs instead of deep-fried pork chunks, green bell peppers, pineapples, and onions in the modern version.
Its standout character, however, is the almost scarlet-colored sauce, a blend of vinegar, preserved plums, and hawthorn candy. For an extra pop of red, you should add some ketchup to the sauce!
47. Egg Tart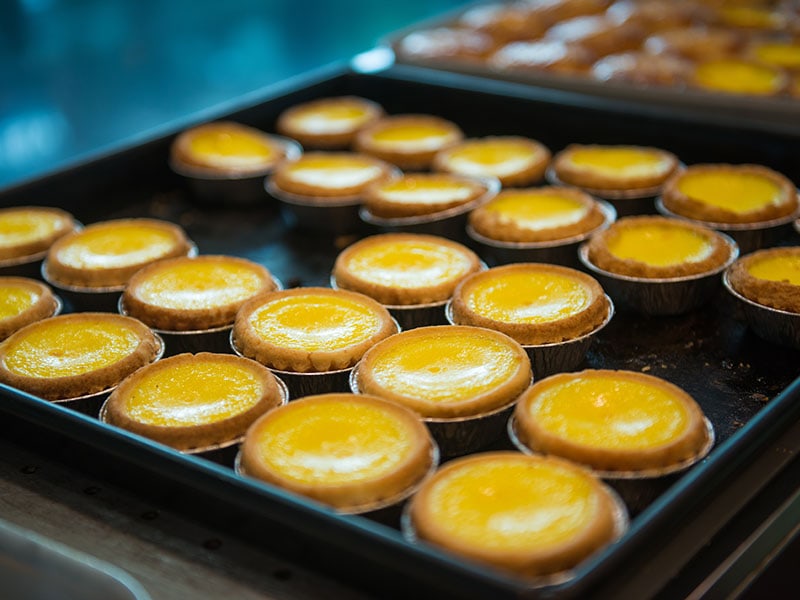 Egg tarts found their way to Hong Kong from Guangzhou in the 1940s, initially appearing on the tables of upscale Western-style eateries. By the 1960s, these silky custard-filled pastries had won over the working-class crowd, thanks to Hong Kong's coffee houses, known as cha chaan tengs.
You will find various smaller-sized Hong Kong versions, often served in pairs or trios, which could include custard fillings with flavors like chocolate, green tea, or even bird's nest! Typically, the shell is a deliciously crafted pastry that might be flaky or crispy, depending on the recipe.
One of the significance of this treat is that its production method is now part of Hong Kong's Intangible Cultural Heritage Inventory.
48. Roast Goose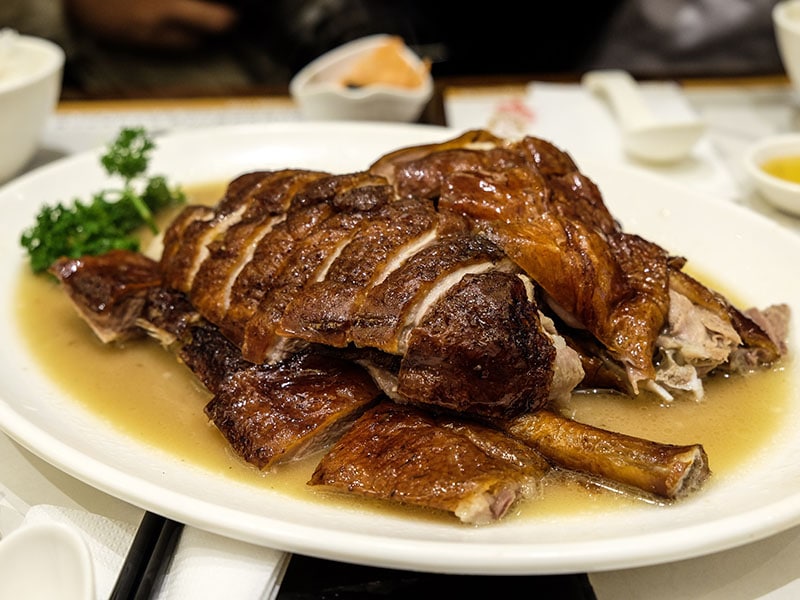 Roast goose holds the crown in Hong Kong barbecue, its preparation mirroring techniques from Guangdong province. The real magic unfolds as a goose roasts, its skin crisping up beautifully while the fat beneath melts into the meat, making it tender and juicy.
Depending on your appetite, this mouthwatering roasted goose is often served in portions – a quarter, half, or a whole goose. Also, the accompanying sweet and slightly acidic plum sauce is hard to resist. Pair it with rice or rice noodles, and you're in for a culinary treat.
Are you eager to try? In Hong Kong, brands like Yat Lok or Kam's have earned their fame in this arena.
Macanese Cuisine
49. Galinha à Africana (African Chicken)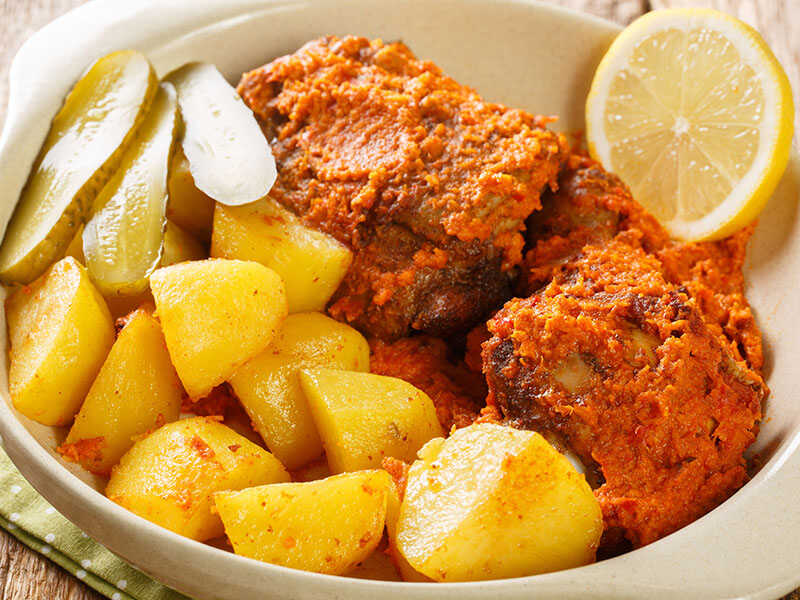 Galinha à Africana is a standout food from Macau that is essentially a chicken bathed in spicy piri piri sauce, then grilled or roasted to perfection.
This dish has roots in Macau's Portuguese colonial past and offers a beautiful blend of creamy sweetness sauce. The chicken meat is a delightful profile thanks to peanuts and coconut with the irresistible fragrance of five spices.
So if you have a chance to visit this country, don't miss this specialty!
50. Galinha à Portuguesa (Portuguese Chicken)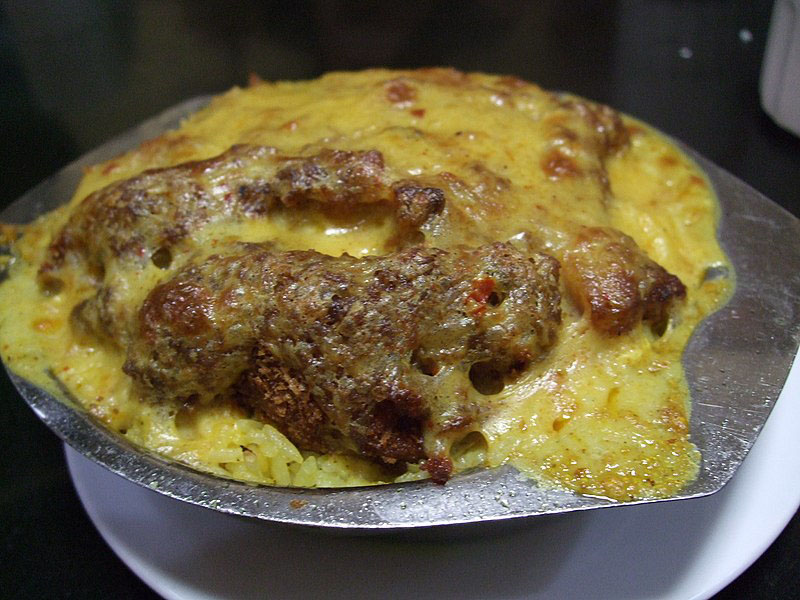 Galinha à Portuguesa, or Portuguese-style chicken, isn't from Portugal but Macau, a Portuguese ex-colony. Many variations might include chorizo sausage, perfect for serving over rice or crusty Portuguese bread.
The dish's distinct yellow hue is thanks to the turmeric in the Portuguese sauce. When enjoying it, you can taste the concoction of coconut milk and curry in the sauce, which gives the chicken pieces a sweet and creamy flavor.
51. Bacalhau (Traditional Portuguese Salt Cod)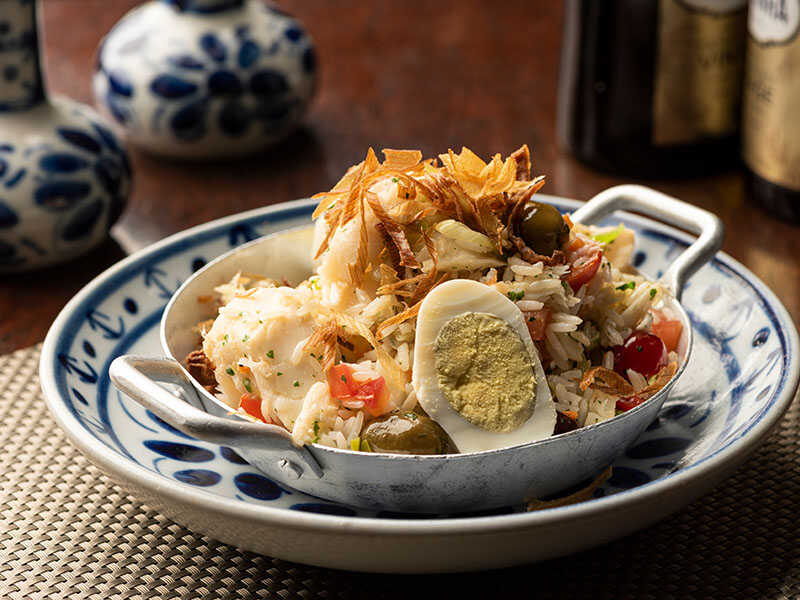 Bacalhau is a Portuguese culinary treasure that represents dried, salted cod. Popular in Portugal and former colonies like Macau, it's a versatile ingredient with over 1,000 recipes to its name!
In terms of cooking methods, they vary by region and tradition, but it's often paired with potatoes, yams, or fresh bread. Flavor-wise, it's mild, with a sweet undertone, yet distinctively fishy.
Be mindful, though, because its saltiness may not fit people with bloating.
Southeast Asian Dishes
Thai Cuisine
52. Kaeng Khiao Wan (Green Curry)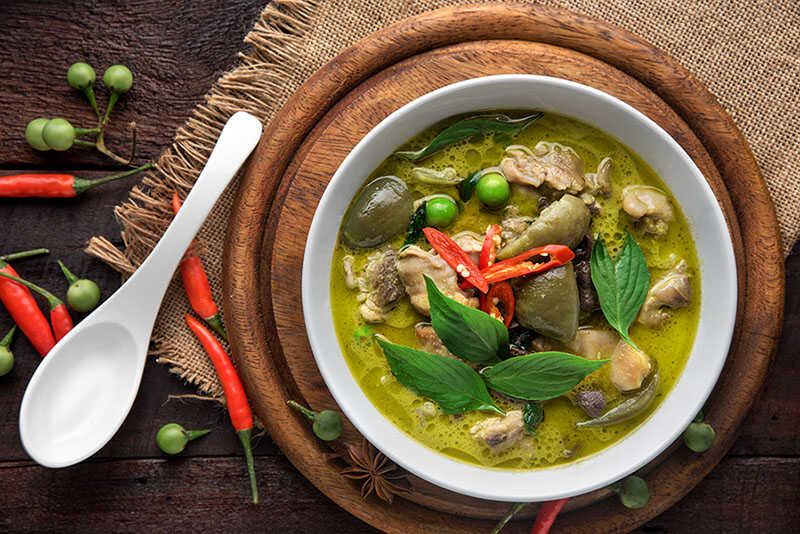 Green curry, known in Thailand as Kaeng Khiao Wan, hails from Central Thai cuisine. The typical Thai food has vibrant green color because the green chilies give the creamy coconut milk base a more spicy kick than milder red curries.
My own culinary adventures have taught me to add fish, meat, vegetables, and even fruits for an unexpected twist.
For a helpful hint, when preparing this curry, you should fry the paste in oil to coax out its aroma, then add coconut milk and other ingredients. Served with rice or round rice noodles, it's a dish that captures the essence of Thai cuisine.
53. Pad Thai (Stir-Fried Noodles)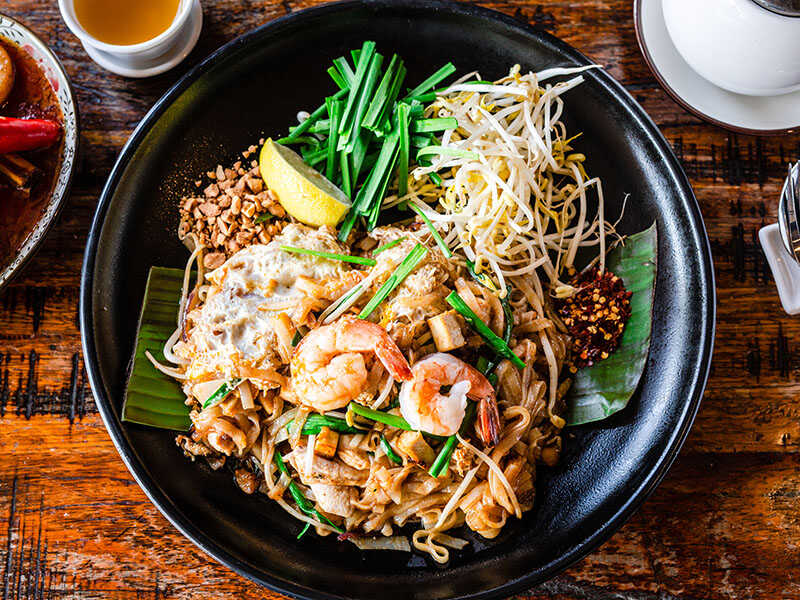 With its humble beginnings as a street food in Thailand, Pad Thai has surged into global popularity since its invention in the mid-20th century. This stir-fried rice noodle dish is a delightful culinary journey of tastes and textures.
Besides rice noodles, it contains fresh shrimp, succulent chicken or squid, scrambled eggs, and crunchy peanuts. Adding bean sprouts, crab, or other proteins is a popular way to tailor it to personal preference.
The magic doesn't stop there; with condiments like red chili pepper, lime wedges, roasted peanuts, and spring onion, it can elevate the dish further. The sour note of tamarind, a distinct ingredient, gives it a unique edge.
As a testament to its irresistible appeal, Pad Thai was listed as the fifth most delicious food in a CNN Go readers' poll in 2017, and even earned a spot in the online Oxford Dictionary in 2022.
54. Tom Yum Soup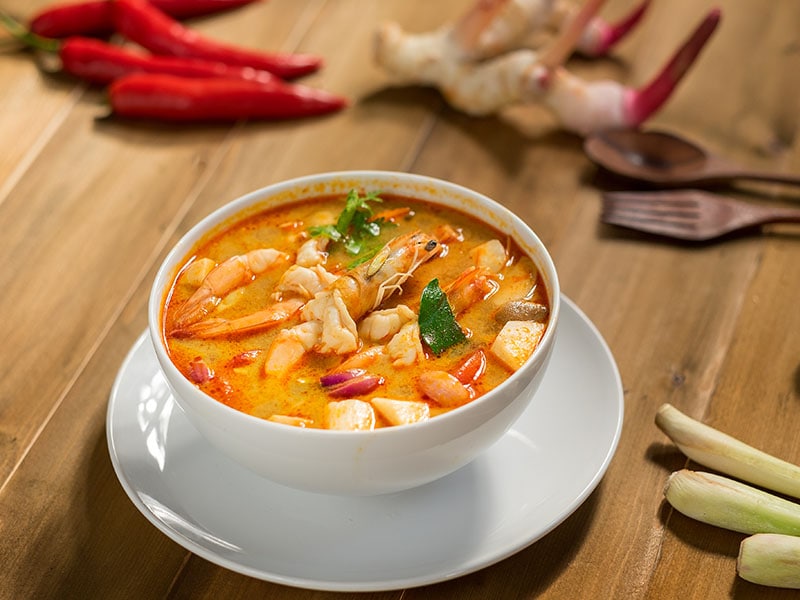 Tom Yum soup, or Tom Yam, is a beloved Thai hot and sour soup with a distinctive aromatic profile. It also has fragrant elements like lemongrass, kaffir lime leaves, galangal, chilis, shallots, and garlic to a water base, coconut milk, or broth.
To deepen the flavor, simmer the soup with shrimp shells and discard them once their essence is released. You can also use a shortcut by employing tom yum paste.
However, it wouldn't be tom yum without proteins like fish, shrimp, pork, or chicken. The ideal balance is a sour punch from lime, a salty tang from fish sauce, and mild sweetness from nam prik pao paste. Ideally, you want to pair it with sticky rice for an authentic Thai experience.
55. Som Tum (Green Papaya Salad)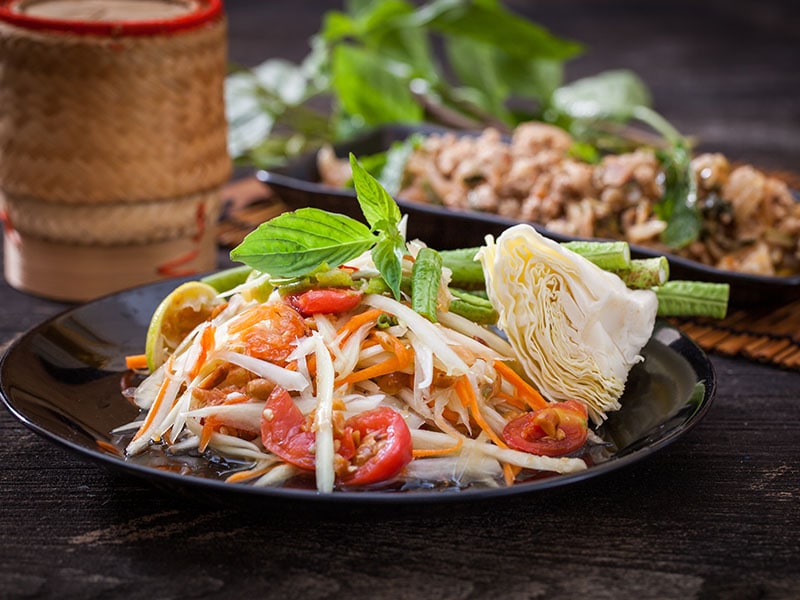 Som Tum is a spicy salad from the Lao people that use shredded unripe papaya as its central character. The dish was famous in Thailand's Northeastern region, offering a delicate balance of sweet, spicy, salty, and sour.
The young papaya also lends a slight crunch to each bite, with non-spicy versions veering towards a sweeter palate. In the Central Thai version, dried brine shrimp and crushed peanuts are beloved additions.
Som Tum isn't short on variations, with unripe mangoes, apples, cucumbers, and carrots stepping in for the papaya. It's customary in Thailand to have Som Tum with Thai sticky rice, a delightful combination where the rice ball soaks up the salad dressing.
56. Pad Krapow (Stir-Fried Holy Basil)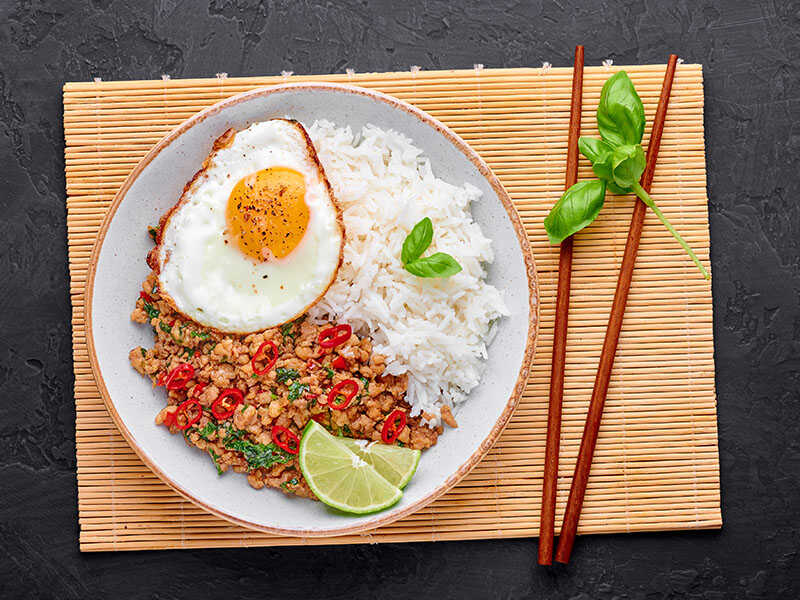 Pad Krapow, also known as Phat Kaphrao or Kaprao, harmoniously blends sweet, salty, spicy, and savory flavors. As for the choice of meat – pork, chicken, beef, or seafood – get stir-fried with Thai holy basil and garlic for the best combo.
It's traditionally served with rice and a crispy fried egg on top. With seasonings like soy sauce, Thai fish sauce, cane sugar, and bird's eye chili, Pad Krapow brings out the dish's authentic Thai taste. Nowadays, new versions may toss in extra toppings for flavorful twists.
Vietnamese Cuisine
[country_flag flag="vn" alt="Vietnam flag" country="VIETNAM" map="VN"]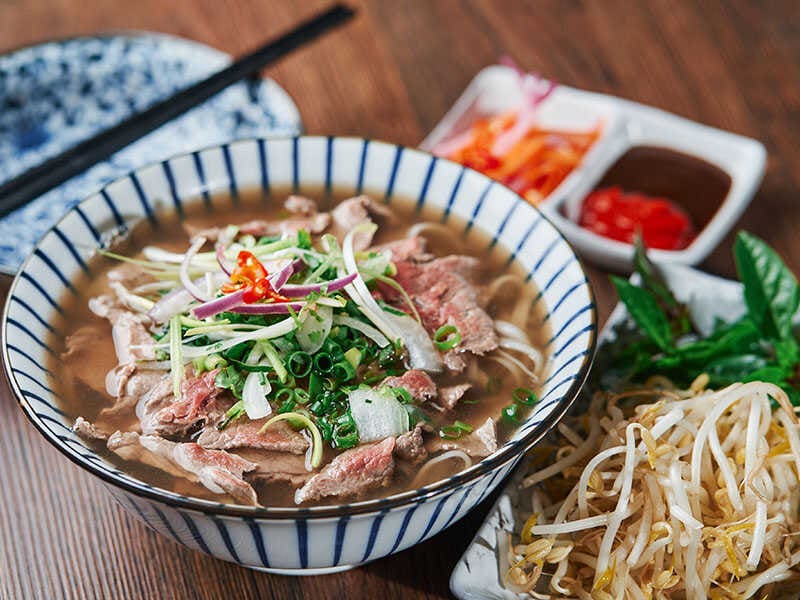 Pho – a well-loved Vietnamese food, is a Vietnamese soup dish crafted between 1900-1907 in Nam Dinh province in Northern Vietnam. It is a beautiful harmony of broth, rice noodles, herbs, and meat that usually appears in households, street stalls, and restaurants.
Phở tái, the most popular version, contains raw, thinly cut beef pieces cooked to perfection in the hot broth. The broth has complex flavors, usually earthy and aromatic.
The North and South have their take on pho, with the North garnishes with scallion, onion, and cilantro and partners the soup with fried pastry sticks, while the South adds Thai basil and bean sprouts. And this is also a favorite street food in Saigon (Southern Vietnam) and Hanoi (Northern Vietnam).
Chicken pho, or phở gà, is another beloved choice. Now, here's a personal tip: after savoring pho, go for a small bowl of poached egg yolk using the pho broth. It's a combo that will leave you spellbound!
58. Banh Mi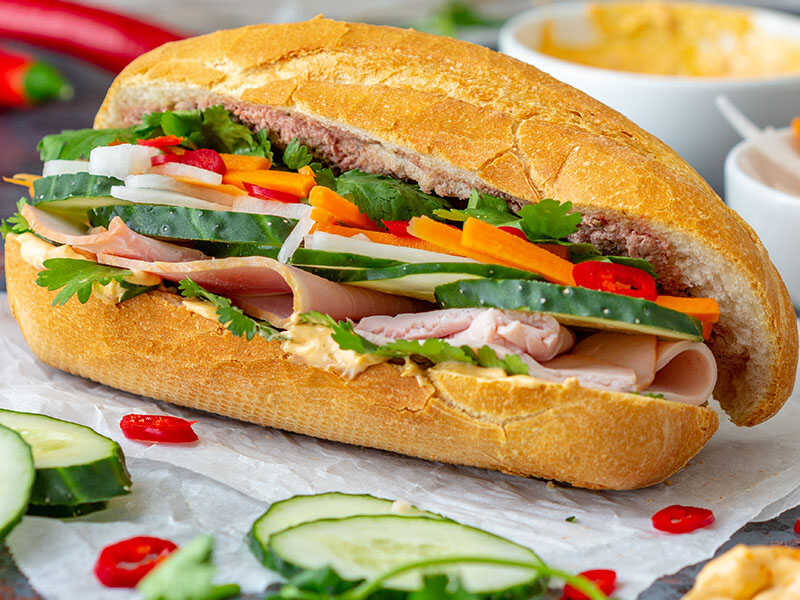 Banh Mi is a Vietnamese culinary gem that could remind you of a submarine sandwich from the States. It's a short baguette with a very crisp crust and soft interior texture. Then they are split lengthwise to be filled with savory ingredients.
The fusion of meats and vegetables includes tantalizing elements like pâté, chả lụa (pork sausage), pickled carrots and daikon, cucumber, and herb (like cilantro). Also, Bánh mì thịt, meaning meat Banh Mi, is the crowd's favorite, filled with a variety of Vietnamese cold cuts.
Normally, my personal choice is Banh Mi with steak or charcoal-grilled meat. And if you love chicken, you can also try chicken Banh Mi.
In case you're planning to travel to Vietnam, especially to Hoi An, don't forget to visit Bánh Mì Phượng, a brand loved even by the renowned Anthony Bourdain.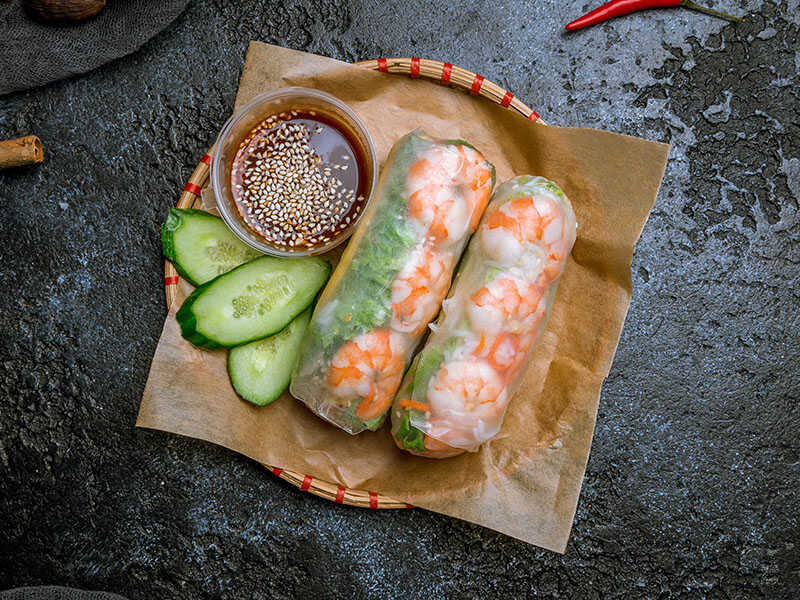 Goi Cuon, as the Southern Vietnamese like to call it, is a traditional Vietnamese dish called a salad roll, summer roll, or rice paper roll. Its contents are simple but flavorful with pork, prawn, vegetables, and bún (rice vermicelli), all nestled comfortably in Vietnamese rice papers.
From my personal experience, stick with cut pieces of boiled pork and shrimp for a simple protein option. And it is always appreciated if you can make and roll them yourself. A tip, though: Be careful not to overstuff, or the spring rolls might burst!
These rolls are served fresh, meaning no cooking after wrapping. While the ingredients themselves might seem unseasoned, the magic of Goi Cuon lies in its accompanying sauces like peanut, fish-based, or hoisin.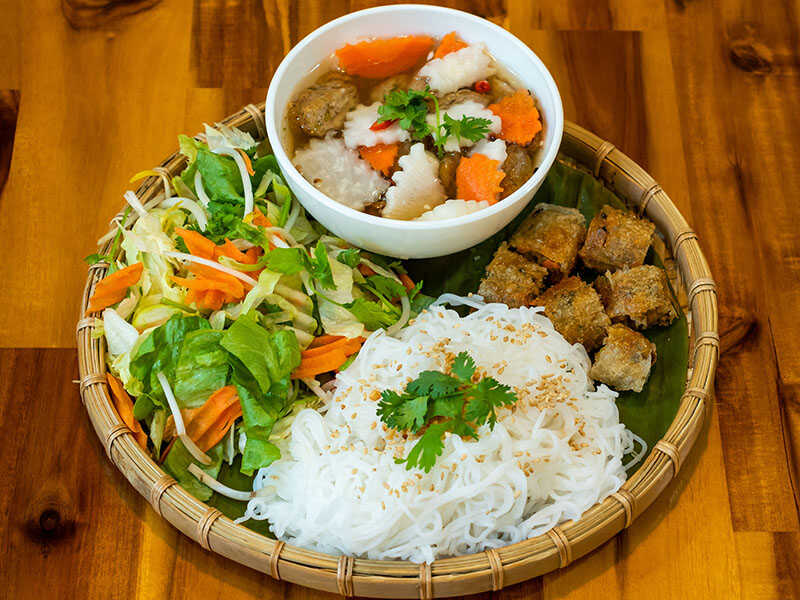 Bun Cha is a dish from Hanoi, Vietnam, a flavorful fusion of grilled pork and noodles. It's a versatile dish, equally at home as a street food item or gracing the table of a luxurious restaurant.
This dish brings together grilled fatty pork and white rice noodles, adding a plate of fresh greens, sides, and dipping sauces for an extra layer of complexity. This main dish presents a stunning harmony of savory, sour, spicy, and sweet flavors, a real lunchtime favorite in Hanoi.
Commonly, two eating styles offer flexibility: dipping the rice noodles into the dipping sauce and savoring, with the grilled meat or combining noodles and meat in a bowl, drizzled with a fish sauce-based dipping sauce.
A famous spot to try this is Bun Cha Huong Lien restaurant in Vietnam, where former President Obama and Anthony Bourdain once dined.
Indonesian Cuisine
61. Nasi Goreng (Fried Rice)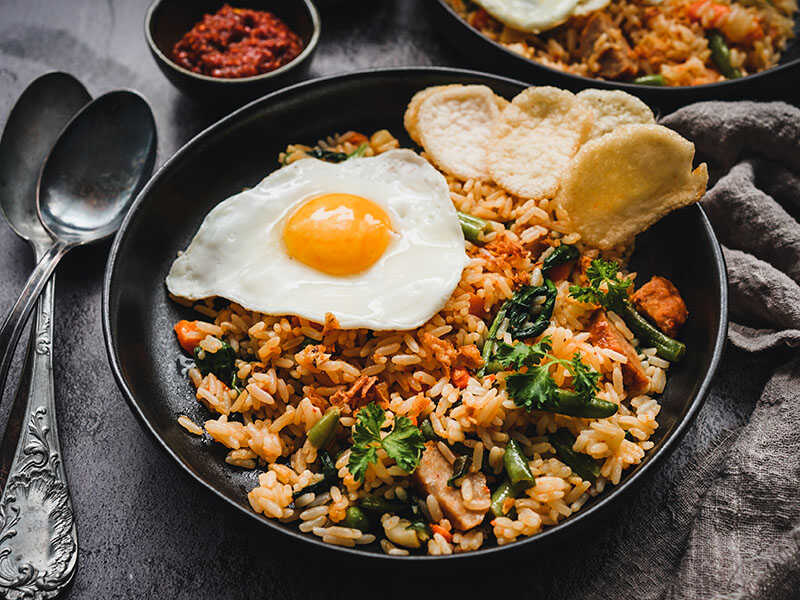 Nasi Goreng, a fried rice dish from Southeast Asia, is a cornerstone of Indonesian cuisine. Acknowledged as a national dish by the Indonesian government, it is loaded with bits of meat and vegetables.
Its distinct smoky aroma and the blend of caramelized yet savory flavors distinguish Nasi Goreng from other Asian fried rice. Most Indonesians usually kick start their day with this dish, found everywhere, from street food stalls to convenience stores.
To get the best texture, I advise using leftover rice. Also, a dash of galangal will bestow it with an authentic Indonesian citrusy and slight pine note. And don't forget the sambal (Indonesian chili sauce) – a pro tip to perfect your Nasi Goreng.
62. Satay (Grilled Meat)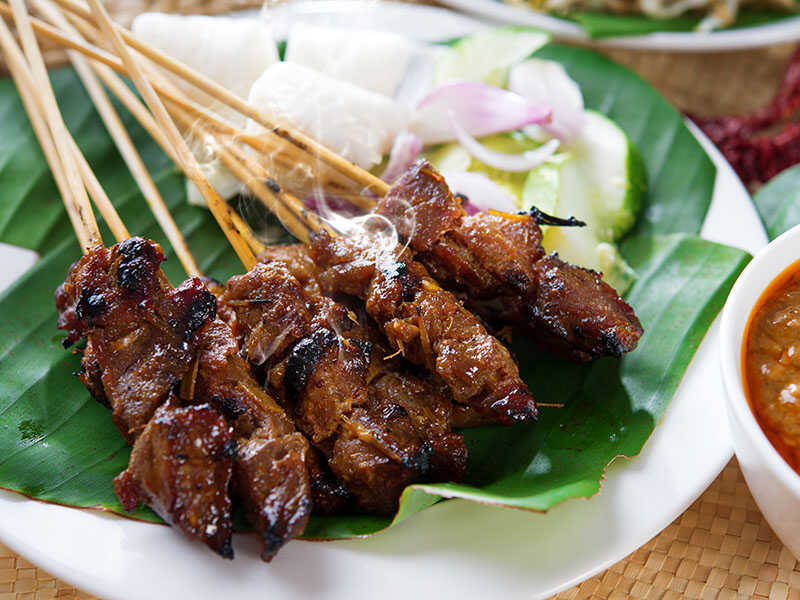 Satay, or sate in Indonesian, is a national dish of Java island. It contains seasoned, skewered, and grilled meat with a distinctively salty-sweet peanut sauce. The choice of meat is extensive – chicken, goat, mutton, beef, pork, fish, or tofu.
To add a traditional touch, chicken satay is often skewered on lidi, the midrib of coconut fronds, rather than typical bamboo sticks. Satay is known for its smoky flavor, often served with lontong, a type of rice cake, for a complete meal.
63. Rendang (Meat Dish With Coconut Milk)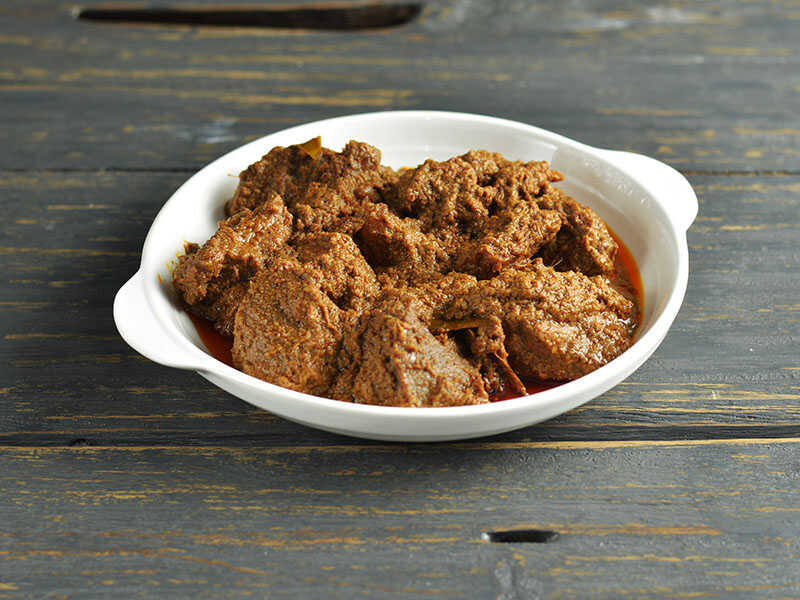 Rendang is a national dish from the Minangkabau region in West Sumatra, Indonesia. It captivates palates with the rich flavors of meat, primarily beef, slow-cooked and braised in coconut milk, with a vibrant blend of herbs and spices.
Personally, I strongly suggest using ginger, galangal, turmeric leaves, lemongrass, garlic, shallots, and chillies for the authentic flavor. The outcome is a tender, caramelized meat that is deep brown, offering a tasty feast.
Rendang, a cultural emblem of the Minangkabau, is also a traditional fixture at ceremonial events. It even has a dry version that lasts for up to four weeks. You should pair it with steamed rice, lemang (a type of glutinous rice cooked in bamboo), and assorted vegetable side dishes.
64. Sambal (Chili Sauce)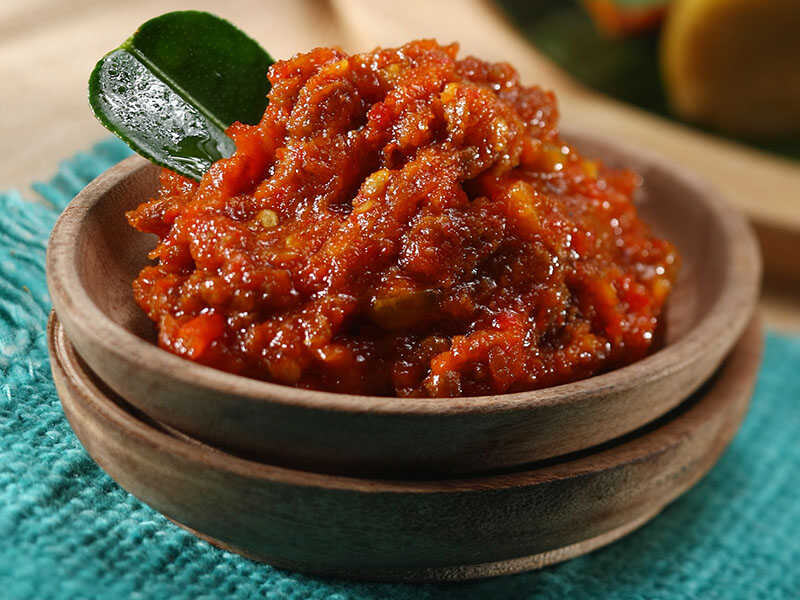 Sambal is a zesty chili sauce of Indonesia, offering a rich mix of flavors. Composed of chili peppers, shrimp paste, shallot, garlic, ginger, palm sugar, and lime juice, it varies in color from vibrant red to dark brown.
The secret of its exceptional taste lies in the stone pestle and mortar, bringing out the depth of flavors. Whether it's sambal masak (cooked) or sambal mentah (raw), each offers a unique taste profile, with the cooked version exuding a distinct aroma, while the raw is perfect for immediate use.
With an astonishing 212 variants, most originating from Java, there's a sambal for every palate. Additionally, this fiery condiment adds a kick to dishes like lalab (raw veggies), ikan bakar (grilled fish), or ayam goreng (fried chicken).
Filipino Cuisine
65. Adobo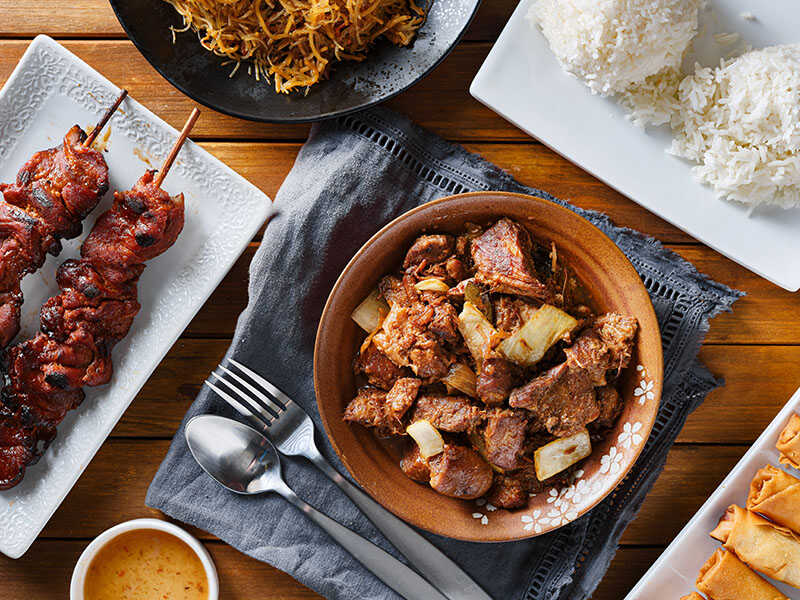 Adobo is the unofficial national dish of the Philippines. This beloved Filipino food is a savory blend of meat, seafood, or vegetables marinated in garlic, vinegar, soy sauce, and bay leaves.
The flavor profile is distinctly salty and sour, often with a sweet undertone. Normally, pork or chicken, or a mix of both, are slow-cooked to serve with white rice for a satisfying meal.
Not only does Adobo burst with flavor, but its shelf-life without refrigeration makes it a popular choice for Filipino mountaineers and travelers.
66. Sinigang (Filipino Sour Soup)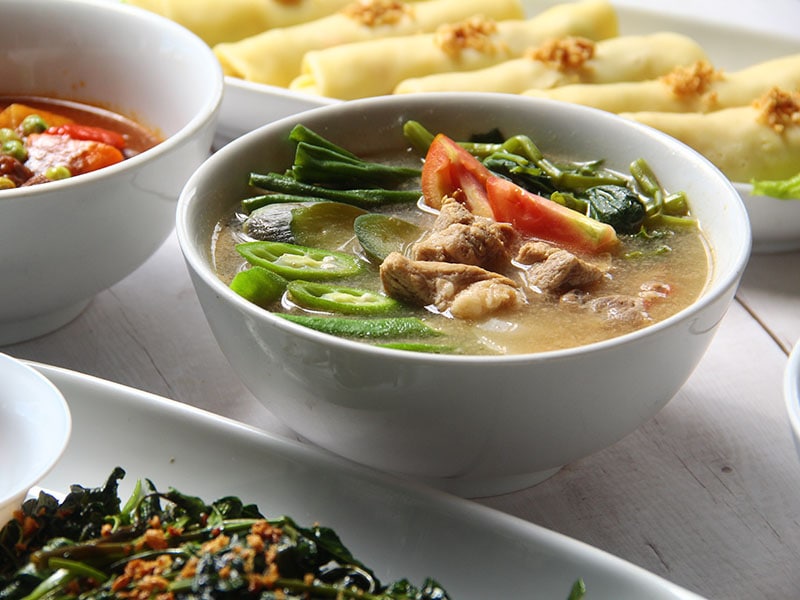 Sinigang is a sour and savory soup in the Philippines. This dish is a tasty concoction of meat or seafood simmered in a tangy broth, mainly from tamarind or other sour fruits.
Served as a main dish alongside rice, Sinigang is a hearty meal that can be further enhanced with fish sauce, long green peppers, or locally made miso.
67. Lechon (Suckling Pig)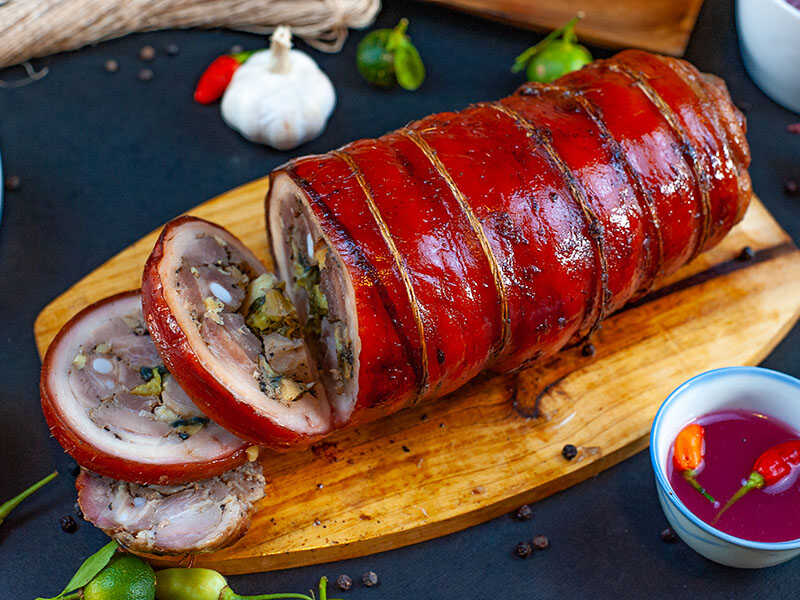 Lechon, also known as Lechon Baboy, is a spectacular centerpiece at a festive Filipino gathering. This national dish utilizes a whole piglet, between two and six weeks, which is stuffed, glazed, and then slowly spit-roasted over coals.
The outcome is a golden brown, crispy skin covering pale, tender meat having a tasty mix of salty, sour, and sweet flavors. Usually, there are two primary methods of preparation – the "Manila lechon," which skips the herbs, and the "Cebu lechon," which embraces them.
In addition, any leftovers of Lechon are perfect for turning into equally delicious dishes, commonly by simmering in a broth to extract the flavor.
Malaysian Cuisine
68. Nasi Lemak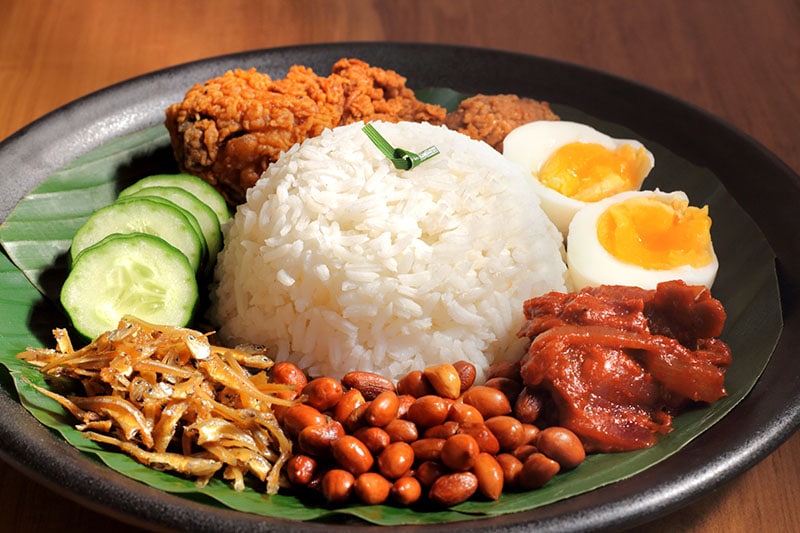 Nasi Lemak is a wonderful Malaysian national dish featuring fragrant rice cooked in coconut milk and pandan leaf for each grain's soft and creamy texture. It's a breakfast staple in Southern and Central Peninsular Malaysia and can be savored anytime.
However, don't mistake it for Nasi Dagang, another Malaysian delicacy on the east coast. The beauty of Nasi Lemak lies in its condiments like spicy sambal or belacan, a savory shrimp paste that can enhance its rich flavor.
I advise you to accompany it with other savory dishes to add another dimension to this gastronomic wonder.
69. Laksa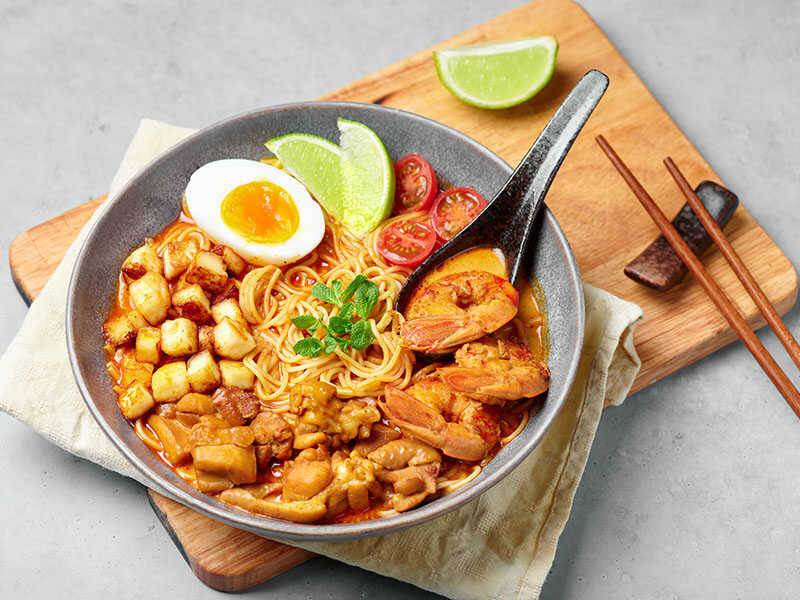 As a versatile dish from the culinary world, Laksa combines noodles alongside a spicy signature broth with a mix of meat, seafood, and vegetables. Typically, the thick rice noodles will soak up the rich, spicy coconut soup, tinged with the unique tang of tamarind.
Now, let's talk about the two versions: curry laksa and asam laksa. You can indulge in the former recipe's creamy, coconut milk-based broth, while the latter leans into the sour punch of tamarind.
70. Satay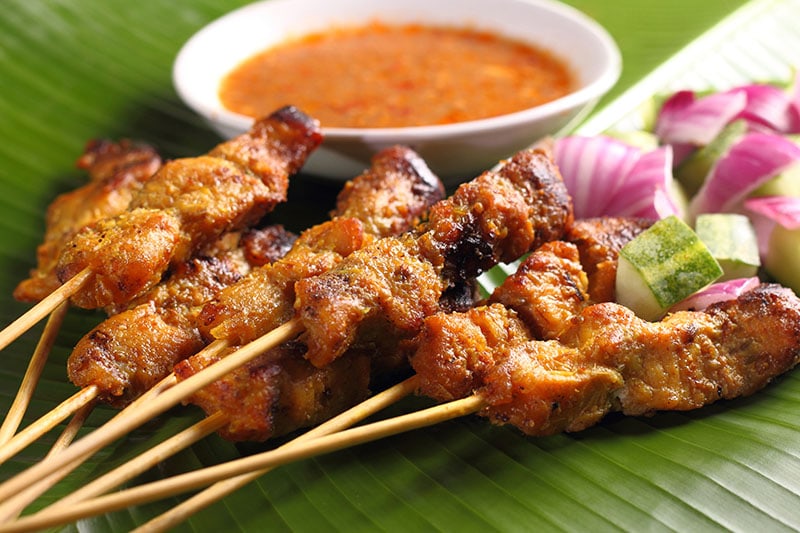 Satay, or 'sate' in Malay, is deeply rooted in the food culture of Muslim Malays. It's a close cousin to the Indonesian version of skewered grilled meat but with its own unique twist.
In Kajang, you'll find "sate kajang," where bigger meat pieces are gloriously grilled and served with peanut sauce or a dab of fried chili paste.
Then there's "sate lok-lok" and "sate celup," fusions of Chinese ingredients with raw meat, tofu, and other delicious elements, all skewered on bamboo sticks.
One rare treat you might stumble upon is the sate made with nipah palm sugar in Linggi Sembilan, served with sliced cucumber and peanut sauce.
Singaporean Cuisine
71. Hainanese Chicken Rice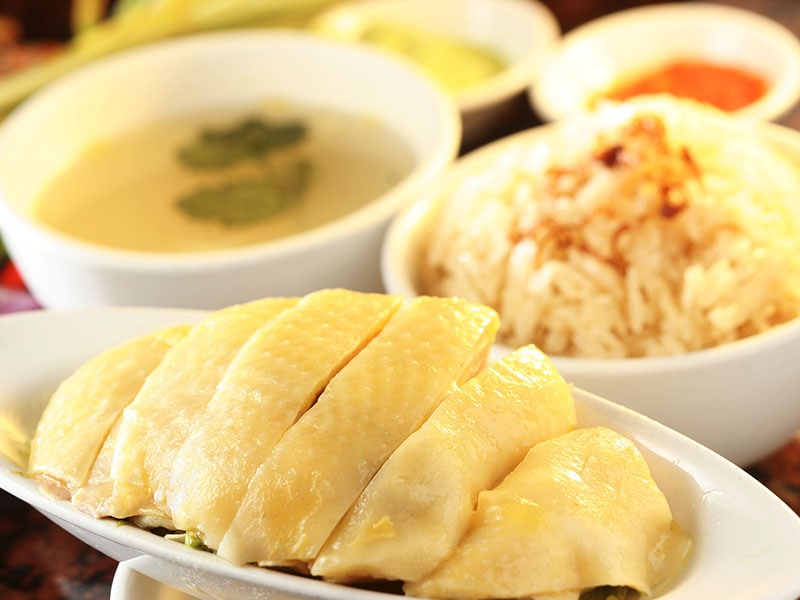 Hainanese chicken rice, known as "Singapore chicken rice" in other countries, is a yummy Singapore-style food that you can order in hawker centers and high-end restaurants.
This brainchild of immigrants from Hainan, southern China, features poached chicken and seasoned rice served with a tangy chili sauce.
Also, it's a national dish of Singapore that many Southeast Asian countries have adopted. Normally, the rice grains subtly bear the essence of chicken, providing a flavorful experience. Mind you that the dish is better with a drizzle of light soy sauce.
72. Chilli Crab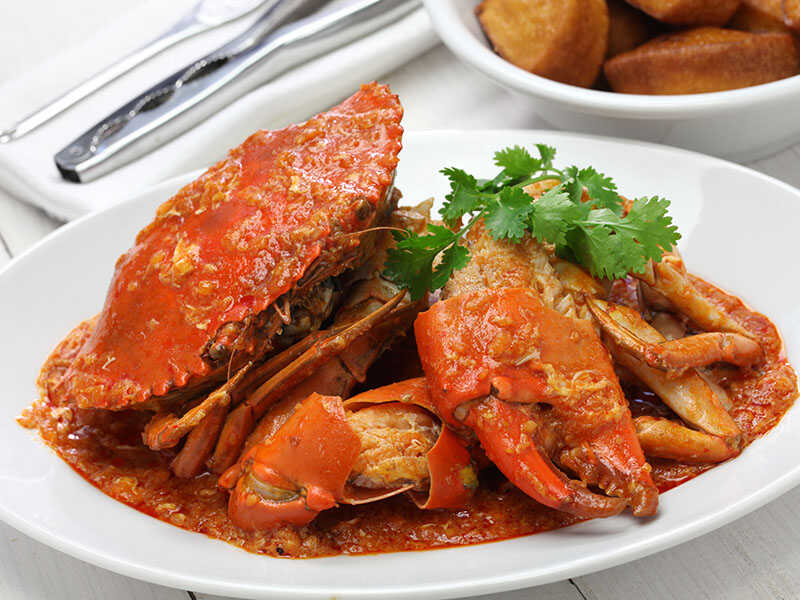 Chili crab is a delectable Southeast Asian dish that has roots in Singapore and Malaysia since the 1950s. The seafood delicacy revolves around a perfectly cooked crab, traditionally a mud crab, enrobed in a unique chili sauce that's both sweet and savory.
The sauce, a blend of tomato and chili, has a semi-rich consistency, making it a highlight with bread. As you break open the crab, the fluffy meat inside complements the robust sauce splendidly. And the best part is those warm mantou buns, either steamed or fried, to scoop up the sauce.
73. Hokkien Prawn Mee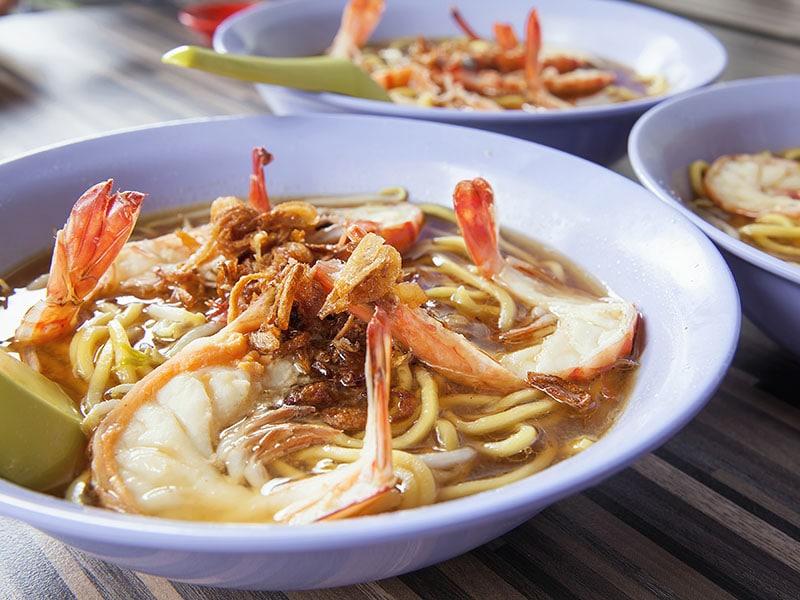 Hokkien Prawn Mee has a fascinating history, introduced by Chinese sailors from Fujian after World War II. This stir-fried noodle dish, a delightful blend of yellow noodles and rice vermicelli, is brimming in a broth made from simmering prawn heads and bones.
Far from its early brown gravy version, the dish now includes eggs, slices of pork, prawns, and squid. Here's a pro tip, you can use Sambal chili and calamansi lime to provide an additional flavor kick on the side.
Furthermore, some stores even serve the noodles on an opeh leaf from the betel nut palm, adding a unique touch to its sensual appeal.
Other Southeast Asian Dishes
74. Ambuyat – Brunei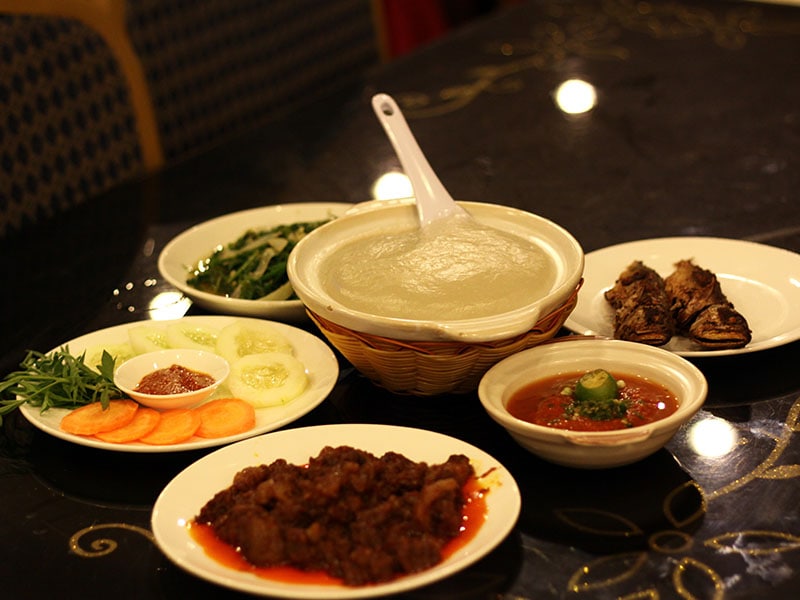 Ambuyat is the national dish of Brunei cuisine and a specialty in the Sarawak state of Sabah, Malaysia. Surprisingly, it's derived from the interior trunk of the sago palm, morphing into a starchy, somewhat translucent substance akin to tapioca.
The taste might be bland, but the fun lies in the eating process! Ideally, I prefer using a bamboo chopstick, or chandas, to roll the starch around the prongs and dip it into a sauce, often a hot shrimp concoction. You can chew or skip straight to swallow Ambuyat because it's already quite soft.
75. Mohinga – Myanmar (Burmese cuisine)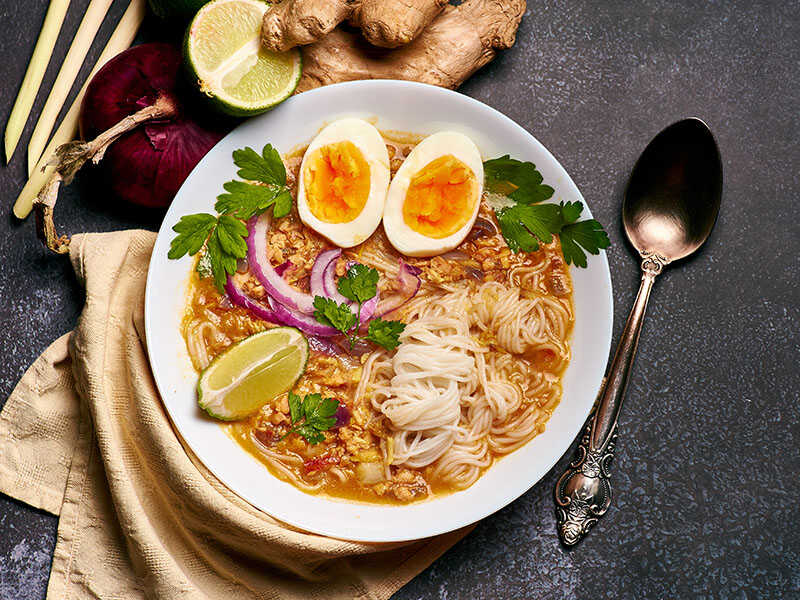 Mohinga is a beloved rice noodle and fish soup from Myanmar. Plus, it's an integral part of Burmese cuisine that many consider a national dish. Commonly, street hawkers and roadside stalls sell it as breakfast, but Mohinga can be as equally delicious as any time of the day.
The recipe includes gram flour rice, garlic, onions or shallots, lemongrass, ginger, fish paste, fish sauce, and catfish. With a spicy, somewhat sour taste, it's a fortifying meal, almost like a lighter take on ramen.
76. Fish Amok / Amok Trei – Cambodia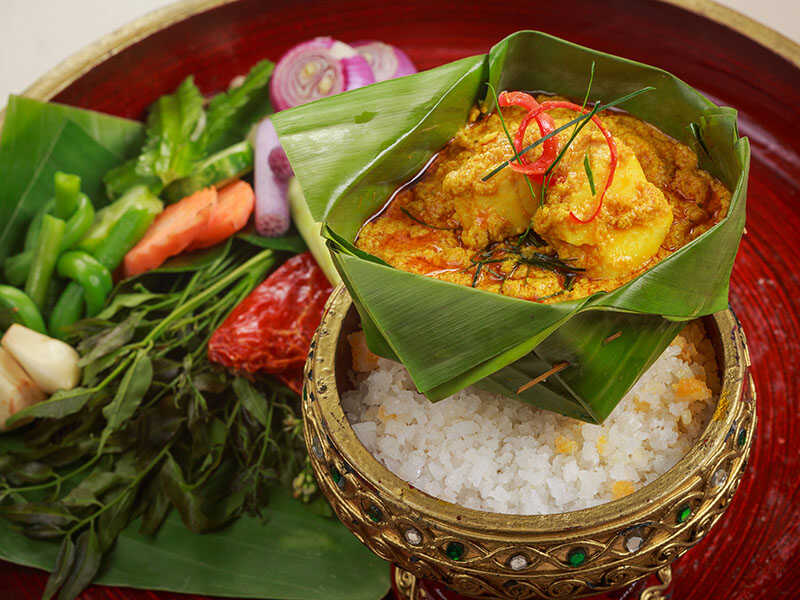 Fish Amok is a steamed fish curry with a mousse-like consistency that holds the title of one of Cambodia's national dishes. Its origin traces back to the Khmer Empire, suggesting the dish used to be a royalty offering.
While this Cambodian signature food calls for goby fish, snakehead fish, or catfish, other fish like cod or salmon can step in. The fish also requires a blend of coconut cream, milk, and eggs, then nestled in a banana leaf with the curry mixture.
After that, locals will steam the fish for about 30 minutes to give it just the right texture. Creamy coconut tones and tender meat mainly dominate fish Amok. And if fish isn't your thing, some versions use chicken, tofu, or beef. It's best served hot with steamed rice.
77. Ikan Pepes – East Timor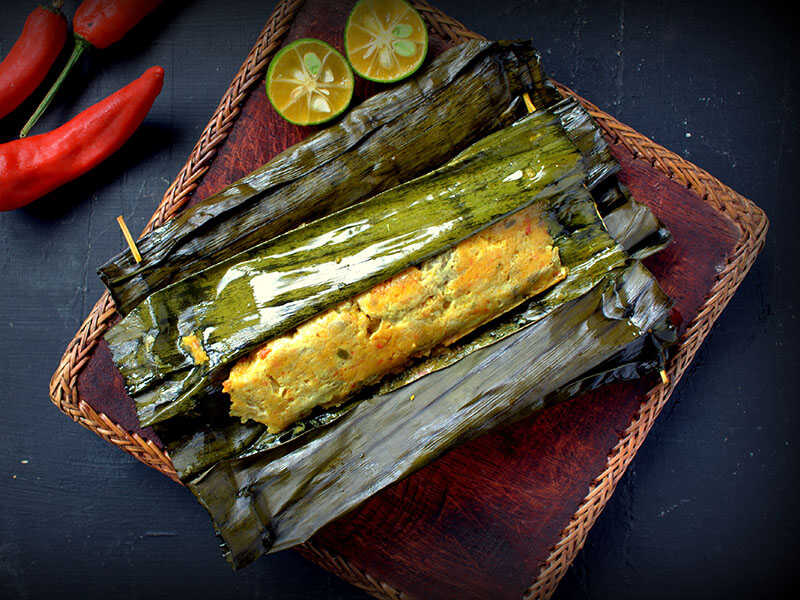 Wrapped in banana leaves like a precious gift, Ikan Pepes presents a whole fish or fish pieces coated in a vibrant spice paste. Depending on your preference, Ikan Pepes can be steamed for an earthy flavor or grilled for a smoky note.
Usually, the mixture of turmeric, tomatoes, shrimp paste, basil, tamarind, spices, and herbs (like lemongrass and chili peppers) creates a symphony of flavors. The most adored version is Ikan Pepes Mas, starring carp as the main ingredient.
As a side note, make sure you add a squeeze of lime or lemon for the perfect finishing touch.
78. Larb / Laap – Lao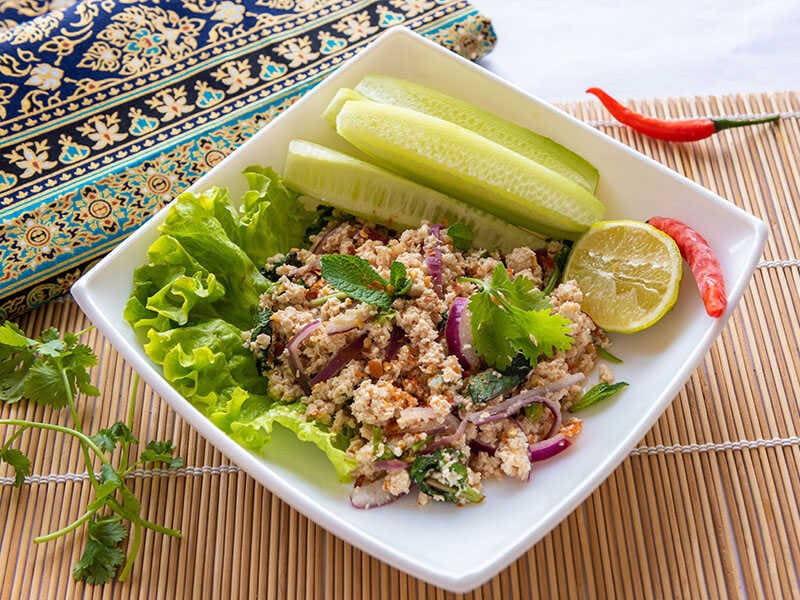 With various spellings such as laap, larp, or lahb, this meat salad is a national treasure, just like the papaya salad. The umami flavor from the meat – be it chicken, beef, duck, fish, pork, or mushrooms – is heightened by a salty-sour duo of fish sauce and fresh lime juice.
Interestingly, the meat can be either raw or cooked, depending on preference. Served at room temperature, it perfectly matches sticky rice and fresh vegetables. A little tip from me: use galangal when making fish and shrimp larb to take the flavors to another level.
South Asian Dishes
Indian Cuisine
79. Biryani (Indian Mixed Rice Dish)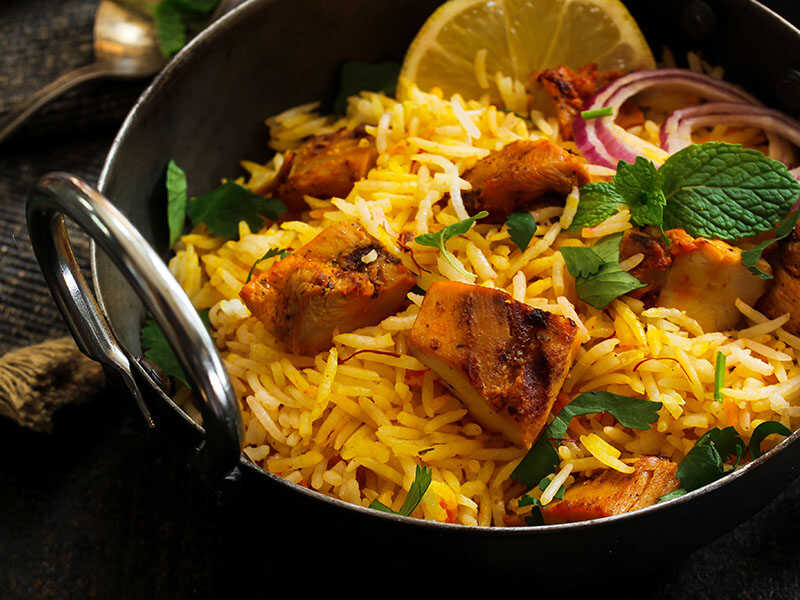 Biryani is a South Asian culinary gem, especially in Indian cuisine, featuring a vibrant mixed rice dish. With a rich combination of Indian spices, various proteins like chicken or lamb, and vegetables, it gives you a burst of savory, spiced flavors, similar to a rice pilaf.
Among all, chicken biryani holds a special place on the dinner table. The abundance of spices lends biryani a strong, curried rice flavor that seamlessly complements many side dishes.
80. Murgh Makhani (Butter Chicken)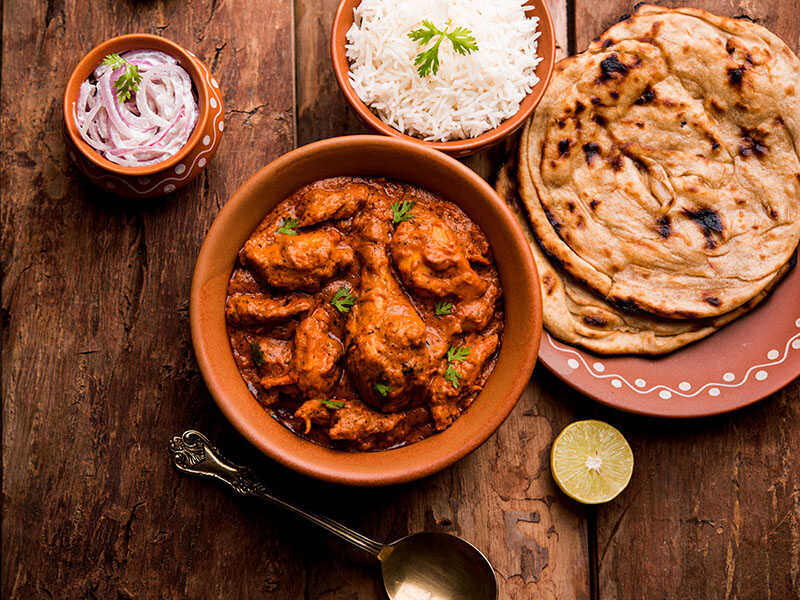 Butter chicken, or Murgh Makhani, is an Indian culinary gift from New Delhi. Created in the 1950s, this rich curry dish envelopes tender chicken in a spiced tomato and butter sauce.
The chicken takes hours to marinate in zesty lemon juice, dahi (yogurt), Kashmiri red chili, salt, garam masala, ginger, and garlic paste. Then, locals grill the chicken in a tandoor, a traditional clay oven, to wrap up the cooking process.
Ideally, the sauce should be velvety and smooth, with a buttery, mild curry taste and a savory-sweet flavor profile. Here's a tip for you: adding cashew paste is a handy trick to thicken the concoction. Pair butter chicken with naan, and it's a meal to remember.
81. Samosas (Fried Pastry)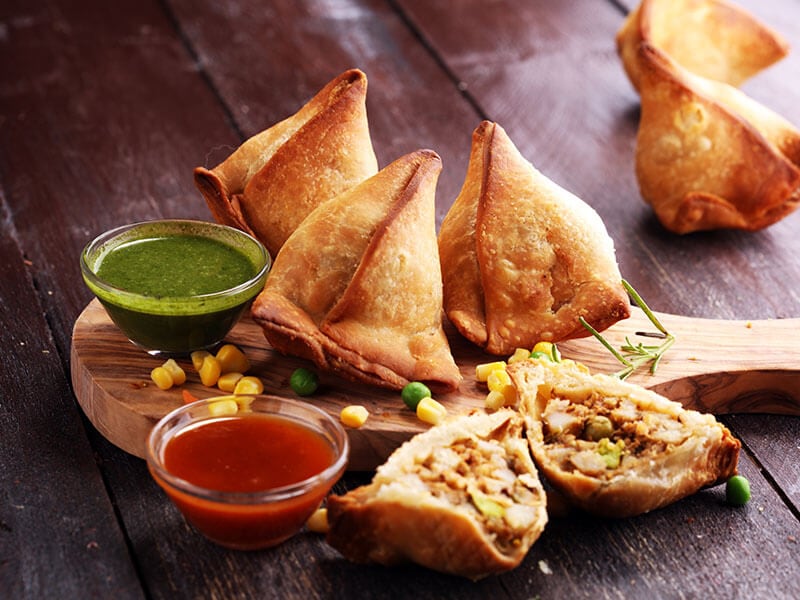 Samosas are savory fried pastries from South Asia. These golden-brown treats come in intriguing shapes using all-purpose flour to create triangular, cone, or half-moon delights.
The interiors usually contain enticing fillings such as spiced potatoes, onions, peas, or even meat and fish. Depending on the filling, samosas cater to both vegetarians and non-vegetarians.
Their crust is commonly brittle with a crisp, flaky pastry underneath. For a perfect finishing touch, a dip in some tangy chutney is something no one should miss.
82. Naan (Flatbread)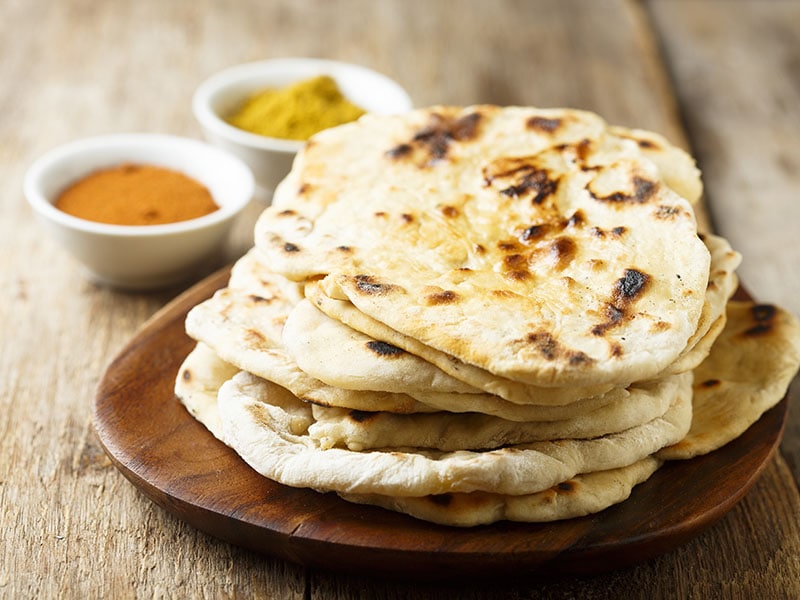 Naan is a beloved oven-baked flatbread having a mix of maida, salt, sugar, yeast, and water. Some bakers even like to toss in milk or yogurt, adding a softer texture to the dough. Most of the time, you'll see naan shaped into teardrop pieces and slapped onto a tandoor oven's sides for cooking.
This bread's flavor should have a mild and slightly nutty profile. Visually, naans have an inviting white, dotted with char marks and crispy edges. The flatbread should be more moist and tender than the pita bread. You can pair naan with any sauce or curry dish to complement the flavors.
83. Poori Bhaji (Deep-Fried Round Flour With Potato)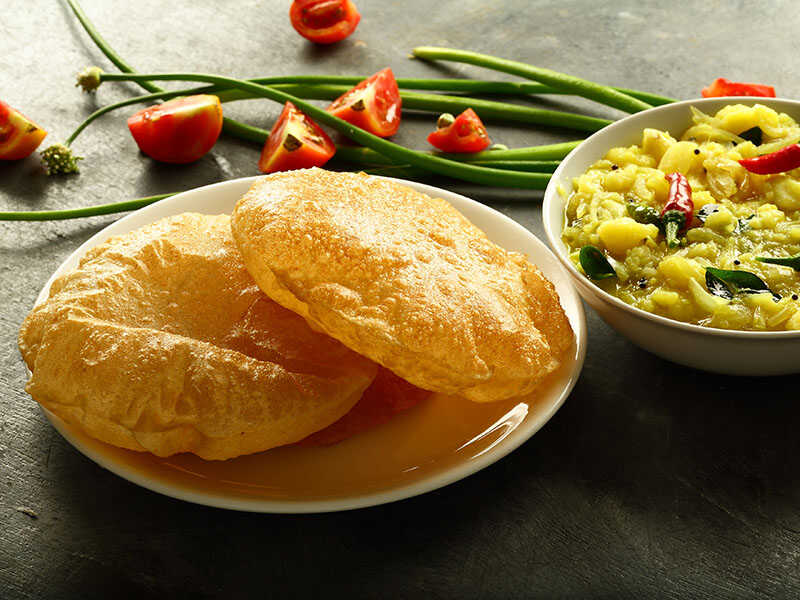 Poori Bhaji, also known as Puri Bhaji, is a humble yet delightful Indian dish. It's a combination of deep-fried flour rounds known as puri and potatoes. The dish is a hit across India, being both affordable and satisfyingly tasty.
With its crispy texture, this vegetarian specialty is a go-to breakfast in North India and occasionally a lunch favorite, best served with yogurt and salad. Also, it's a well-loved packed lunch option on trains, accompanied by pickles or lapsi.
84. Dosa (Indian Thin Pancake)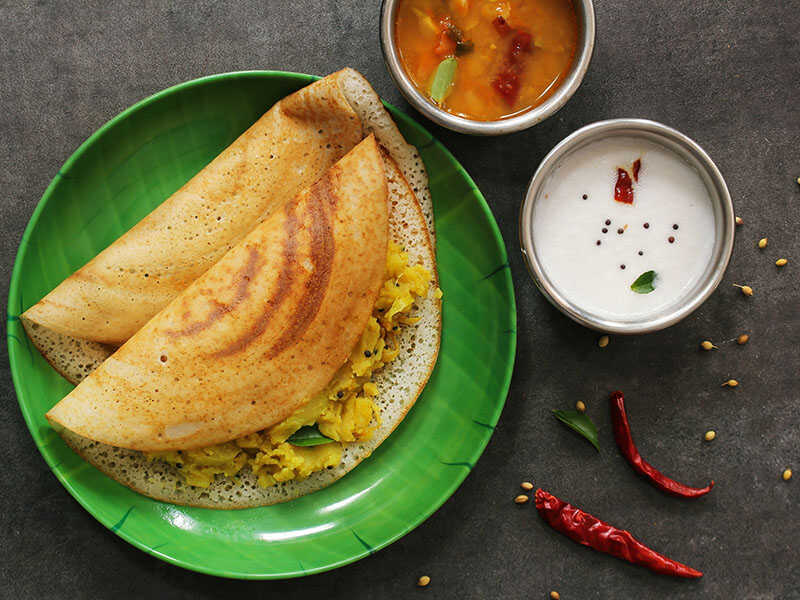 Dosa, or Dosai, is a delightful thin pancake from South Indian cuisine. Made from a fermented mix of ground black lentils and rice, it's a much-loved delicacy in South Asia. The chef usually prepares Dosa fresh for you, spreading the thick batter into a round shape on a hot griddle.
Typically, a standard Dosa is about 9.5 inches in size, having a crispy, savory, and slightly sour taste. Traditionally served piping hot with chutney and sambar, when paired with potato curry, it's known as Masala Dosa when paired with potato curry.
Pro-tip: Break the Dosa using your hand, then dip it with the sauces for an authentic dining experience.
85. Chapati (Roti)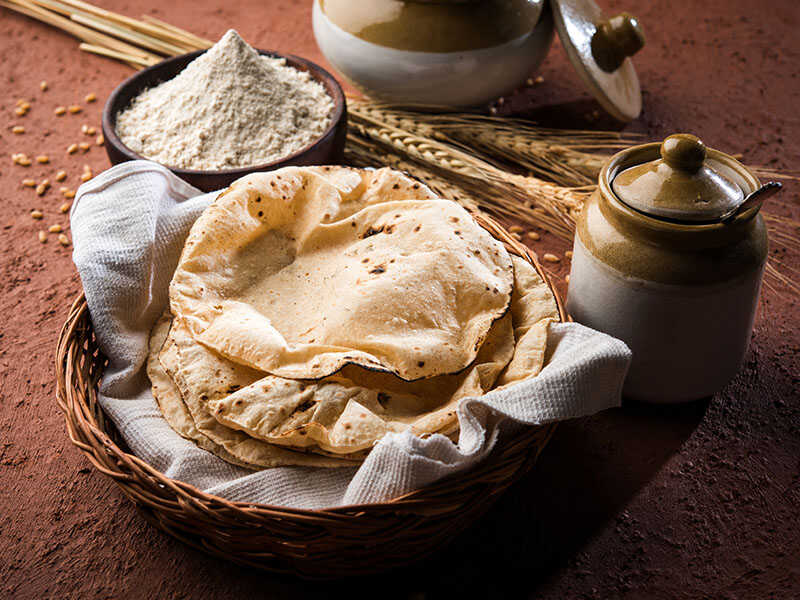 Chapati, also called Roti, is a beloved unleavened flatbread from the Indian subcontinent. You can simply combine wheat flour, salt, and water into a soft dough to create it. Ideally, the dough should be elastic and stretchy.
A good tip is to knead it with your hand knuckles – it works wonders. Once shaped, it's cooked on a flat skillet called a tava. This daily staple has a mild nutty-sweet taste from whole wheat and bears a color akin to Naan.
86. Tandoori Chicken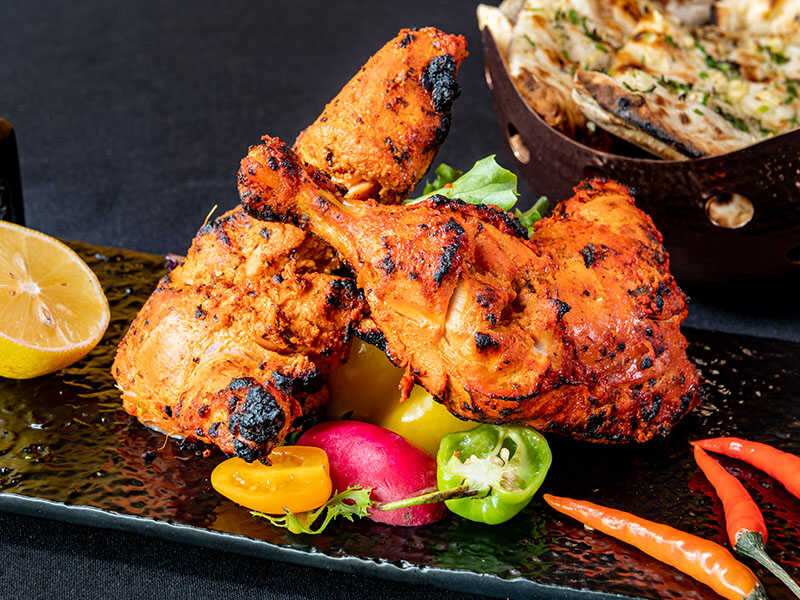 Tandoori chicken is a South Asian delight owing its fame to Moti Mahal, a New Delhi restaurant that popularized it back in the late 1940s. Bathed in a marinade of dahi (yogurt) and tandoori masala, this chicken dish boasts a fiery red hue, thanks to cayenne or Kashmiri red chili powder.
Normally, roasting it in a traditional tandoor oven gives the chicken a slightly smoky taste and succulent texture due to the yogurt. Served with naan, this spicy, flavorful chicken dish is a feast of textures and tastes.
Pakistani Cuisine
87. Chapli Kebab / Chapli Kabab (Pashtun-style Fried Kebab)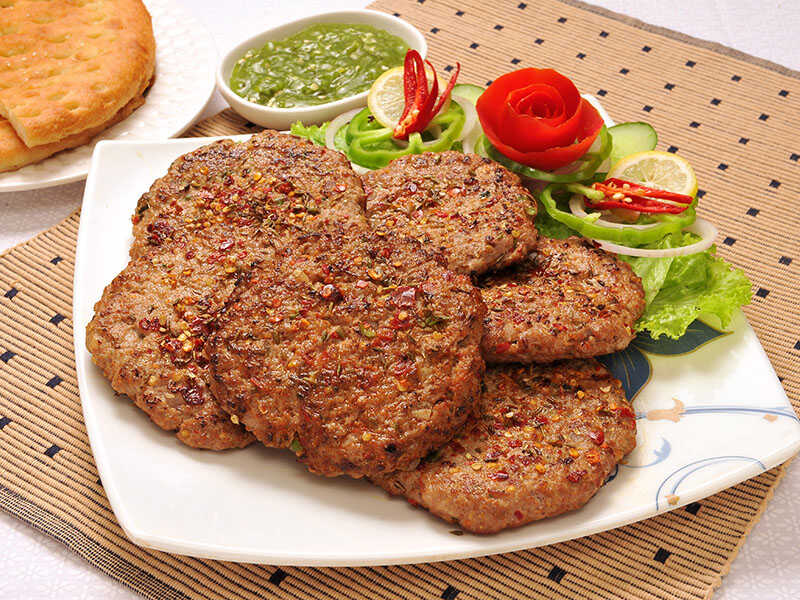 Chapli Kebab is a gem from Pashtun cuisine that puts an exciting twist on the regular kebab. Comprising minced beef, robustly flavored with spices, and a dash of extra fat guarantees a juicy, tender mouthful every time.
Unlike many kebabs, this one is fried, not grilled, and comes out deliciously aromatic. Think of it as a flavorful hamburger, with its slightly charred exterior that I once relished. If you're not a fan of beef, switch it with chicken or mutton.
Also, the accompaniments are a colorful ensemble of chopped onions, tomatoes, chutney, salad, and yogurt, completed with naan, pita bread, or rice. This special dish has even traveled beyond borders into neighboring countries.
88. Haleem (Paste-Like Lentil Stew)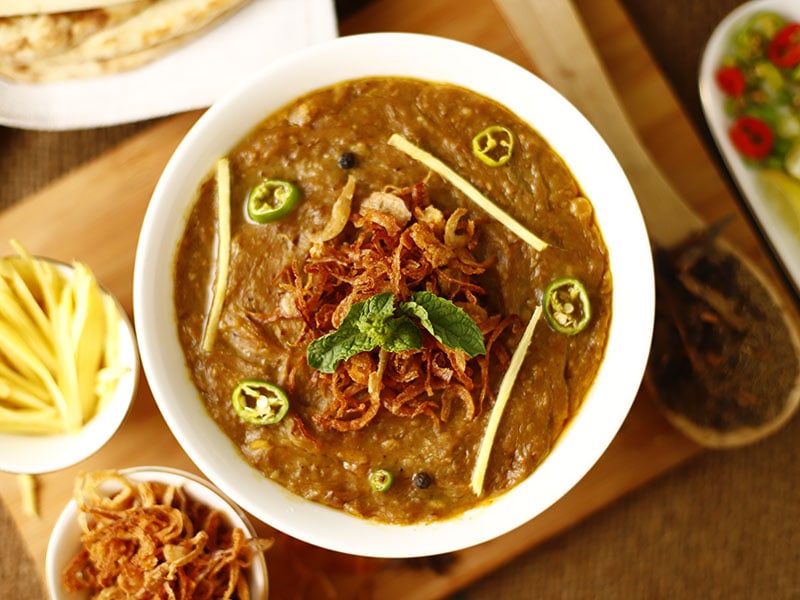 Haleem is a popular stew across numerous Asian regions. This comfort food, particularly favored in Pakistan, lights up tables during the holiest Islamic months of Ramadan and Muharram. It utilizes a mix of grains like barley and rice, lentils, meat (usually beef), and a handful of spices.
Its special charm lies in the long, slow cooking process, simmered lovingly for almost 8 hours till it achieves a paste-like consistency. An Instant Pot can significantly reduce cooking time for those in a hurry.
Nutrition-wise, Haleem is a star, rich in calories and antioxidants. And when it comes to serving this dish, rice or naan makes a great side.
Bangladeshi Cuisine
89. Hilsa Curry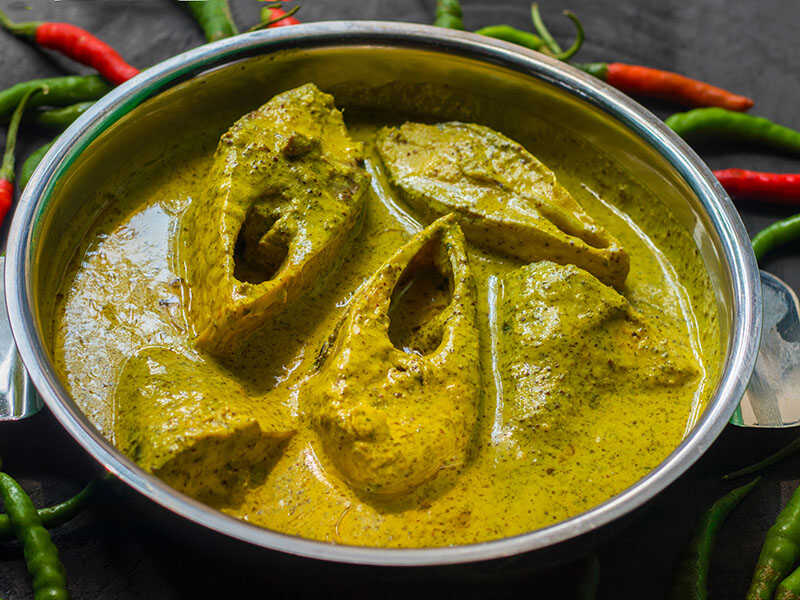 Hilsa curry, or Ilish curry, is a beloved food originating from Bangladesh. The main component is the Hilsa, a herring relative extensively caught in the local rivers and estuaries. The fish is marinated, fried in mustard oil, and then gently simmered in water with turmeric and a blend of spices.
Its popularity in Bangladesh is so vast some people even consider it the national dish of Bangladesh. Special occasions like the Bengali New Year or weddings are the perfect time for this culinary delight.
I remember savoring it for the first time at a friend's wedding; truly a memorable addition to the festivities. To fully appreciate the Hilsa curry, it's traditionally paired with steamed rice or Panta Bhat, a fermented rice dish.
As a side note, adding poppy seed paste or toasted mustard seeds can enrich the curry's texture.
90. Pitha (Bread And Cakes)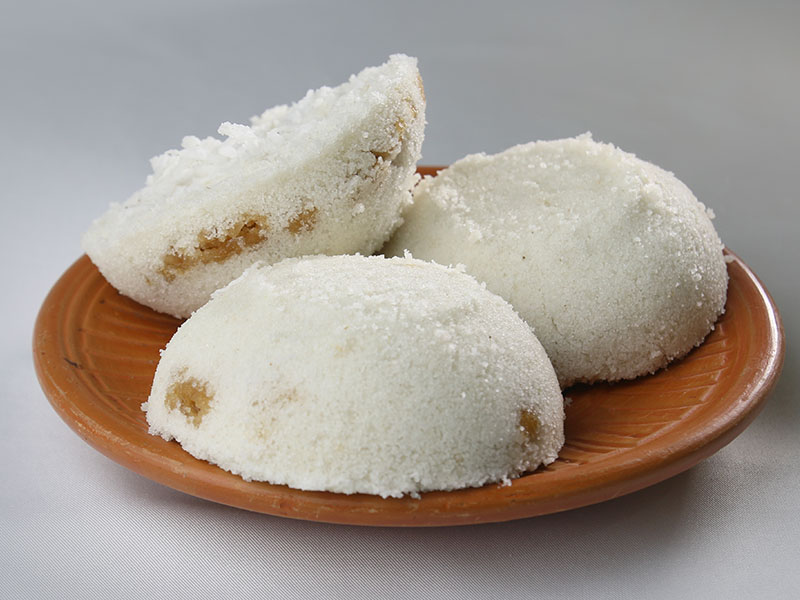 Pitha is a versatile food that resembles pancakes, fritters, or dumplings, from the culinary traditions of Bangladesh. Crafted from rice or wheat flour, it can be prepared in many ways, steaming, roasting, or frying.
The beauty of Pitha lies in its fillings, which can range from sweet jaggery and coconut to savory vegetables. These little delights, often served at weddings and family gatherings, are said to bring joy and prosperity.
Some popular varieties include Nakshi Pitha, intricately molded in beautiful patterns, Teler Pitha, a puffy deep-fried snack; and Aske Pitha, akin to a pancake.
Sri Lankan Cuisine
91. Kottu (Chopped Roti Sauteed With Meat And Vegetables)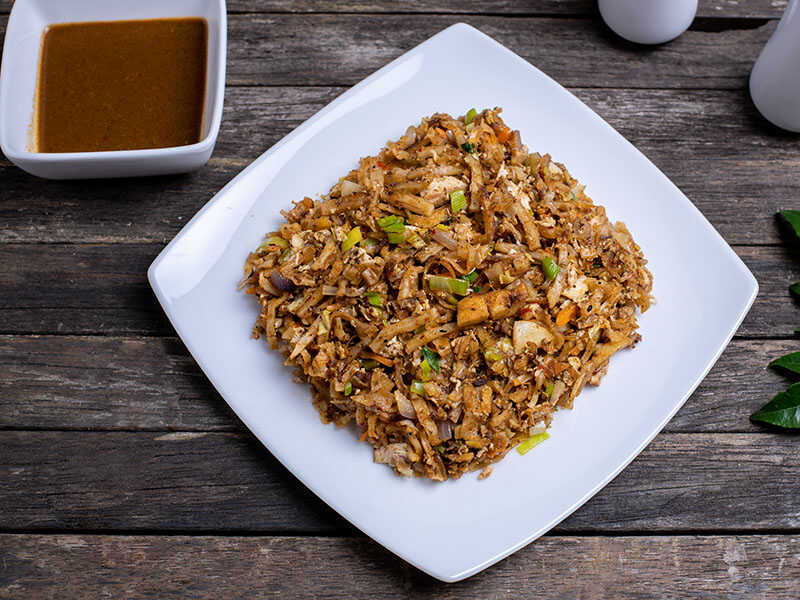 Emerging in the 1970s, Kottu, also known as Kothu Roti, is a delightful Bangladeshi dish that centers around the round flatbread roti. The roti is chopped and combined with scrambled eggs, vegetables, spices, and a protein such as meat or fish, then sautéed on a hot girdle.
This dish can also be made vegan, replacing animal-based proteins with plant alternatives. The name Kottu derives from the Tamil word "koththu" meaning "to chop," which perfectly describes its preparation process.
I remember the first time I tried Kottu in Bangladesh, it was a flavorful fast food alternative that offered a stimulatingly spicy break from my usual Western fare.
92. Hoppers / Appa (Bowl-shaped Pancake)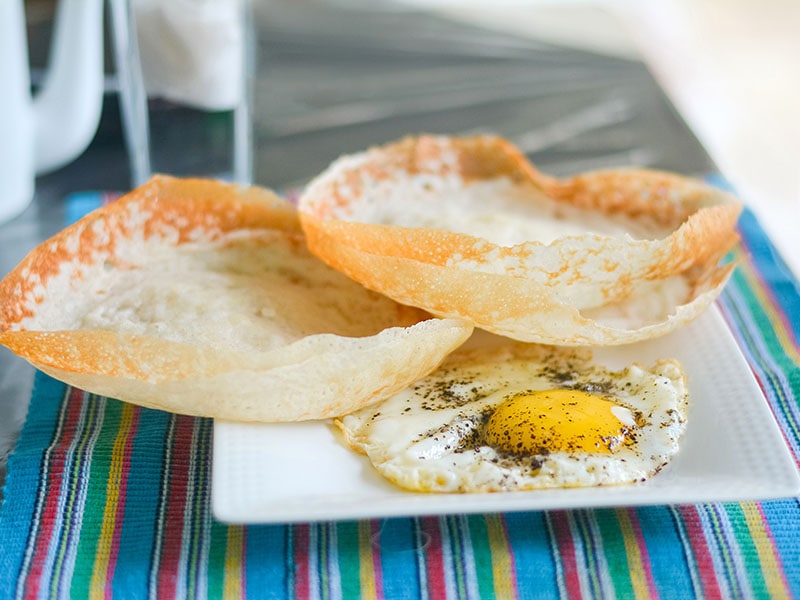 Hoppers, or as they're locally known, Appa, are thin, bowl-shaped pancakes that stand out with a crunchier texture than their regular counterparts. A breakfast staple, these pancakes are made from fermented rice and coconut milk batter, providing a unique flavor profile.
From street food stalls to high-end restaurants, these delightful eats are often accompanied by spicy curry or sambal sauce. Toppings are customary, with the most loved variation being egg hoppers, where a whole steamed egg rests in the middle.
As a small suggestion, you can ask for a double-egg serving of Hoppers to double the dish's tastiness.
93. Idiyappam (String Hoppers)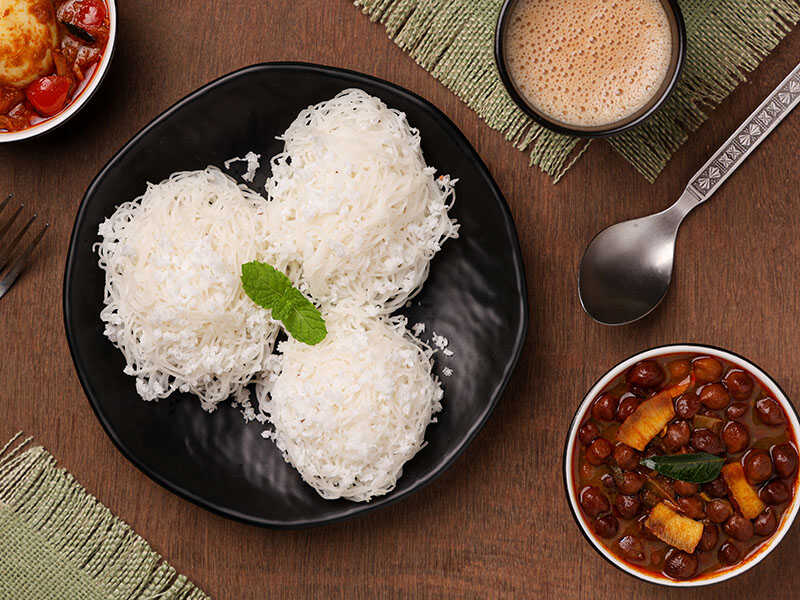 Idiyappam, steamed rice noodles, have a unique charm when molded into disc or ball shapes, adding an appealing touch. This versatile dish, served at breakfast or dinner, pairs well with both savory curries and sweet delights like coconut milk.
In certain regions, locals even amp up the flavor with aromatic pandan extract.
Other South Asian Dishes
94. Dal Bhat (Lentil Stew And Steamed Rice) – Nepal
A nourishing Nepalese specialty, Dal Bhat is a marvel of nutritional balance with its lentil-based stew (Dal) and steamed grains (Bhat), often rice.
The dish is brimming with fiber, vitamins, and proteins that pair beautifully with Tarkari, a spicy vegetable curry, and some unleavened bread. The dish really reminds me of its warmth and rich flavor of Dal Bhat, comforting me against Nepal's chilly air.
95. Kabuli Pulao (Spicy Pilaf Made WIth Lamb/ Beef, Raisins, And Vegetables) – Afghanistan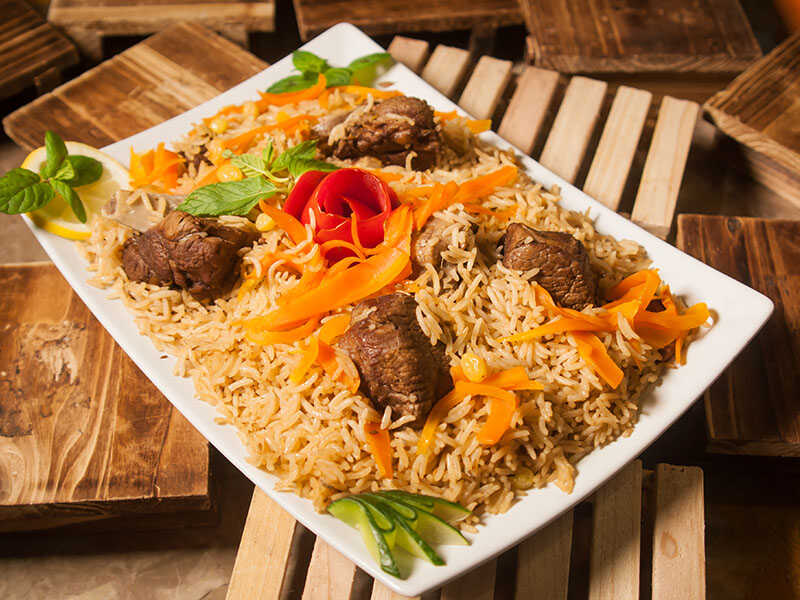 Kabuli Pulao holds a special place in the cuisine of Afghanistan, often regarded as a national dish. It's a delightful mix of juicy lamb or beef slices with fragrant spiced rice for a mouthwatering mix of flavors.
What distinguishes this pulao are vibrant orange carrots, sweet raisins, and crunchy almonds. The first spoonful I had delivered an incredible mix of sweet, rich, and savory notes.
96. Ema Datshi (Chili Peppers Simmered In Cheese) – Bhutan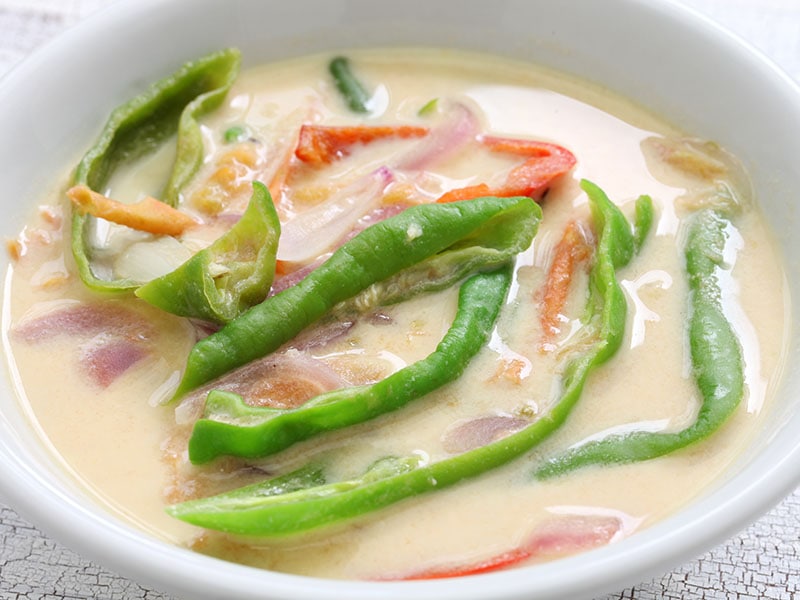 Ema Datshi, hailing from Bhutan, is a remarkable stew where chili peppers take center stage, proving they're not just a condiment but a beloved vegetable in this part of the world. Locals often mix it with onions, garlic, and tomatoes to complement the flavor perfectly.
Whether green or red, fresh or sun-dried, these peppers bring heat to any recipe. Mixing in cheese, preferably yak milk cheese, can mellow the heat and add creaminess. For a milder kick, some tomato sauce or green chili peppers can be incorporated.
97. Garudhiya (Maldivian Fish Broth) – Maldives
Garudhiya, a significant part of Maldivian cuisine, is a clear fish broth, with tuna being the traditional choice. In the cooking process, the fish's flesh, bones, and head are boiled and constantly skimmed to extract the pure essence of the sea.
In addition, I like combining the broth with onions, curry leaves, and garlic to add extra flavor. This dish is served alongside roshi, Maldivian roti, or steamed rice cooked with coconut milk and pandan extract.
Central Asian Dishes
Uzbek Cuisine
98. Plov (Uzbek Pilaf)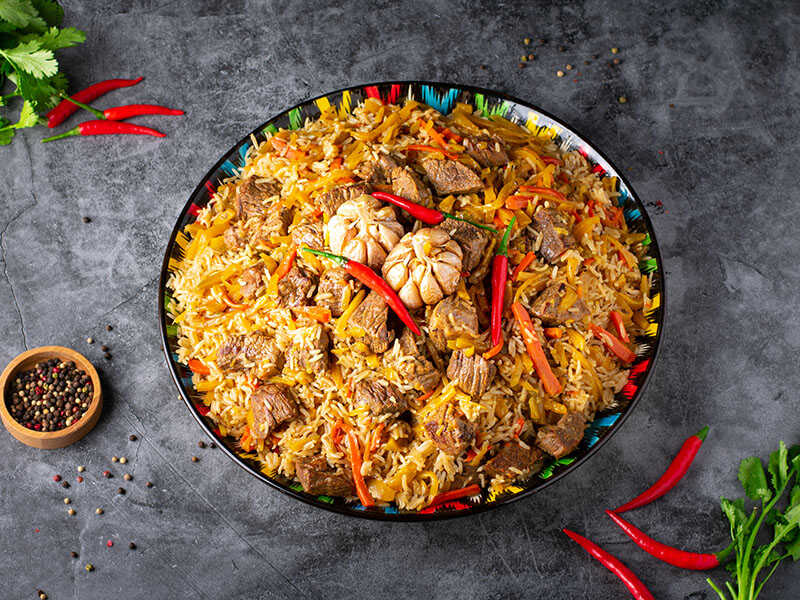 Plov is a famous food in Uzbekistan and many Central Asian countries, resembling pilaf. Traditional Plov is full of lamb meat and fat, though other meats could replace lamb. It's a dinner favorite that appears on special occasions and is traditionally paired with black or green tea.
Ideally, the distinct flavor comes from the devzira rice, known for its high water absorption, simmered in a rich stew, not steamed, to soak in every ounce of taste. Furthermore, spices, especially cumin, and raisins or dried berries, are also key ingredients.
Ideally, you want to steam until the grains are soft but not sticking to one another. During the Soviet Union era, Plov's popularity extended to other Soviet states, like Russia. Some might even argue that Plov from Uzbek restaurants in Moscow could outshine its Uzbekistan counterpart!
99. Manti / Monti (Steamed Dumplings)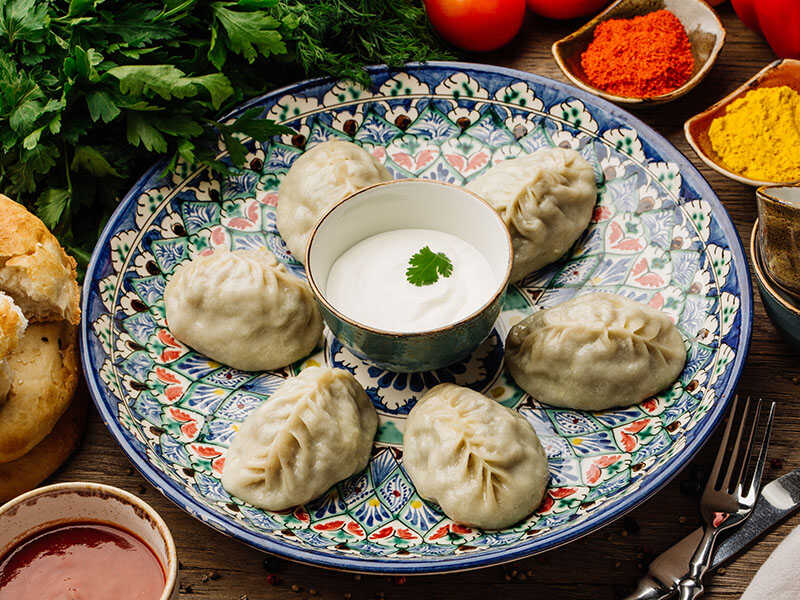 In West Asia and the Balkans, Manti has a juicy filling traditionally made of beef, although lamb or a mixture of potatoes and pumpkins might also appear. Complement these delightful parcels with sides of fresh onions, sour cream, ketchup, or sour and spicy sauces.
A tip from my adventures: eat Manti with your hands, as cutlery can make for a slippery experience.
100. Shashlik (Skewered Meat And Vegetables)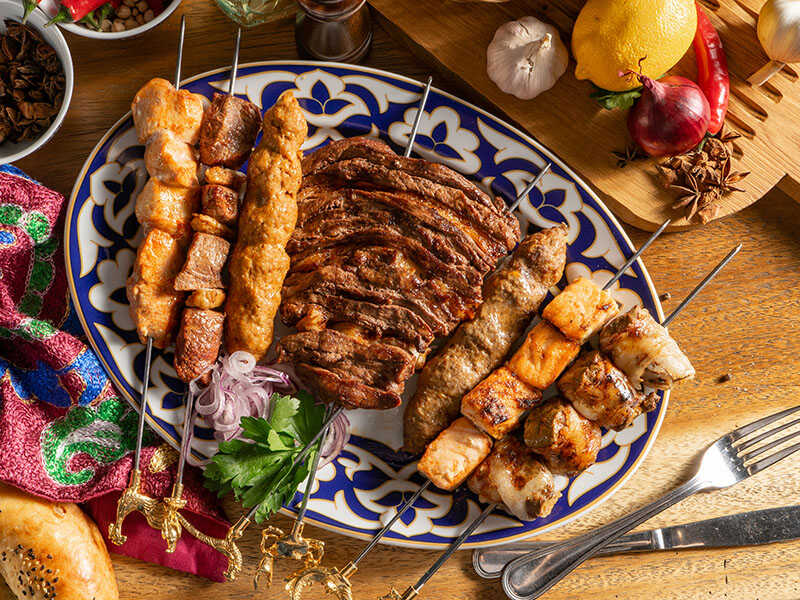 Shashlik is a dish made with Tatar roots, a crowd-pleaser in nations once part of the Russian Empire. Its name, meaning "something on a spit," hints at its preparation: skewering and grilling cubes of meat and vegetables.
Lamb is usually the main protein complemented by veggies like mushrooms, tomatoes, bell peppers, or onions. This dish is akin to shish kebab, a popular street food item and a staple at friendly gatherings, much like American BBQ parties.
Kazakh Cuisine
101. Beshbarmak (Boiled Meat With Noodles)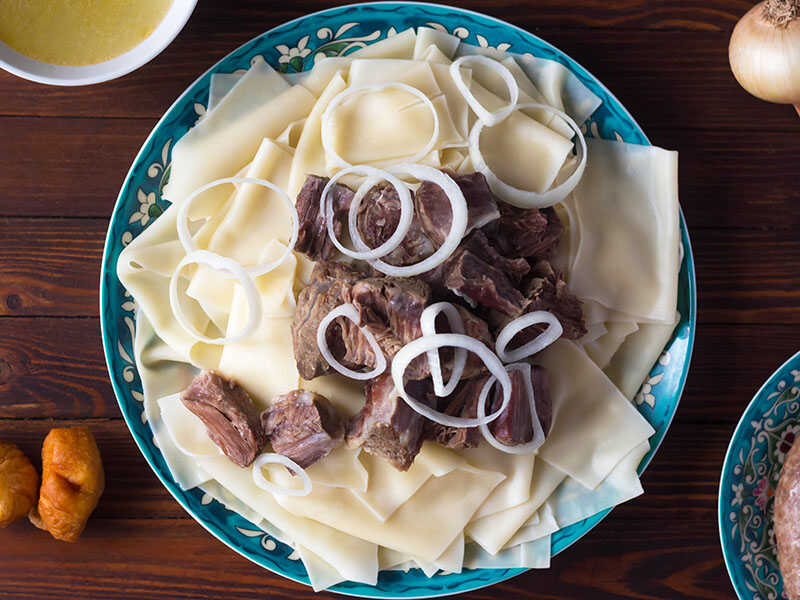 Beshbarmak, also called Besbarmak or Besbarmaq, is a national dish of Kazakhstan that you'll encounter on every special occasion. This dish, deeply rooted in the nomadic past of the Kazakhs, is named "five fingers," reflecting the tradition of consuming it with bare hands.
The main highlight lies in protein, with horse meat being a favorite. Though unusual in many countries, horse meat is considered a delicacy in Kazakhstan. Along with this, thin, square-shaped noodles, onions, and a blend of spices like parsley, bay leaves, and pepper are added.
The meat can take hours of simmering before introducing the homemade noodles to this rich broth. Paired with raw onions and boiled potatoes, the resulting dish is a rustic, salty, and savory delight that leaves a lasting impression.
102. Kuurdak / Kuyrdak (Stir-fried Meat And Potato Stew)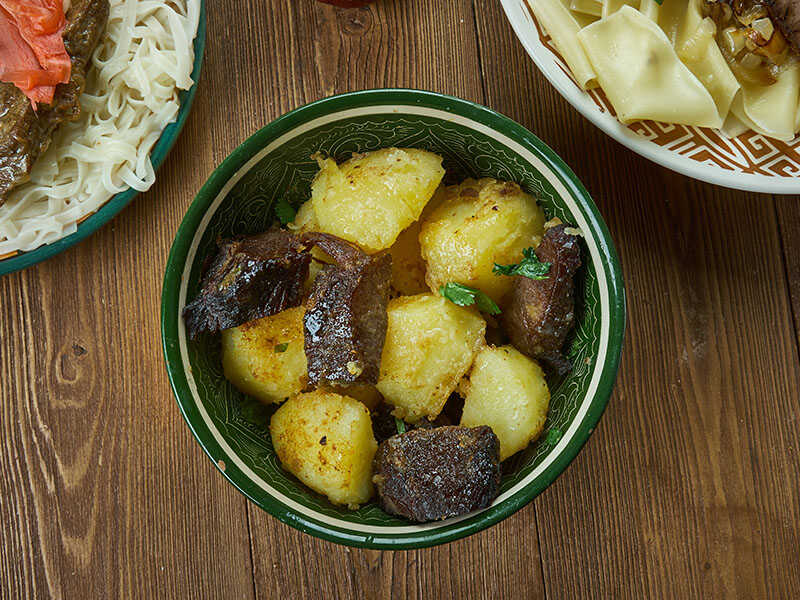 Kuurdak is a popular delight in Central Asia, being a crowd-pleaser at large gatherings. Commonly, people serve the dish before Beshbarmak as an appetizer ahead of the main event.
This straightforward dish utilizes fatty cuts of meat, often lamb, and can even include offals like liver. Cooked down into bite-sized pieces with potatoes and onions in its own fat, it carries a rich, comforting flavor.
Though traditional preparation uses the meat's fat, vegetable oil is an alternative for a lighter version. With a light seasoning, Kuurdak is all set to win hearts at your next party.
103. Baursaks (Fried Dough)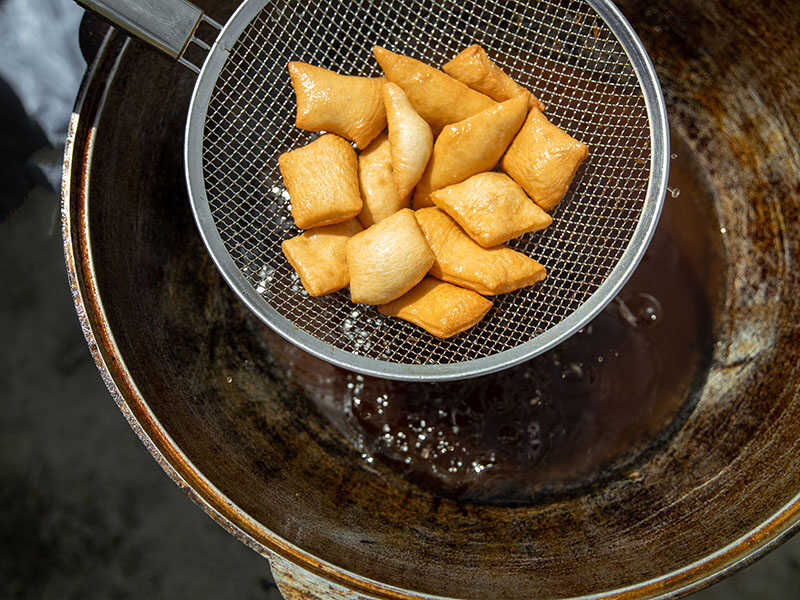 If you've ever been to a Kazakh restaurant, you've likely come across Baursaks, also known as Boortsog. These bite-sized delights, similar to doughnuts, hold a special place in Kazakhstan's hospitality tradition.
Usually, the shapes can range from spherical to triangular depending on the recipes, offering you leavened or unleavened versions. The dough, made of flour, eggs, butter, and milk or kefir, sometimes with yeast, results in a sweet, crunchy bite.
Whether you're starting your meal or wrapping it up, Baursaks can be your go-to appetizer or dessert. And don't forget to pair them with tea, butter, or jam for an extra layer of taste!
104. Kumis (Fermented Mare Milk) – Turkic-speaking Peoples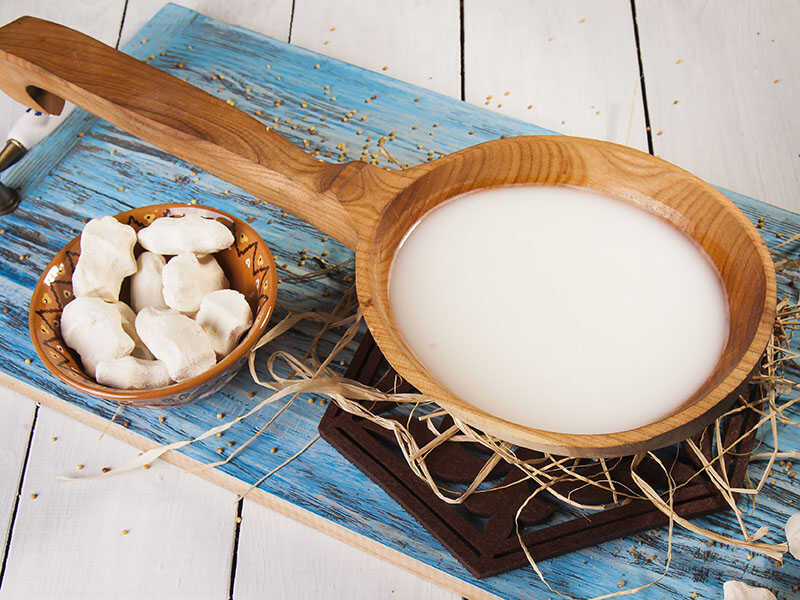 Kumis, Kazakhstan's foamy white national drink, is a unique fermented drink blend. With its roots in the cuisines of Turkic and Mongol people of the steppes, such as Kazakhs, Kalmyks, or Yakuts, it is made distinctively from fermented mare milk and a liquid starter culture – a departure from its kefir cousins.
Your first sip might surprise you with its sweet and tart flavor giving it a taste that might need some time to get used to. But the rewards are worth it, as Kumis is known to strengthen the stomach and aid digestion, like constipation and bloating.
Turkmen Cuisine
105. Kakmach (Cured Meat)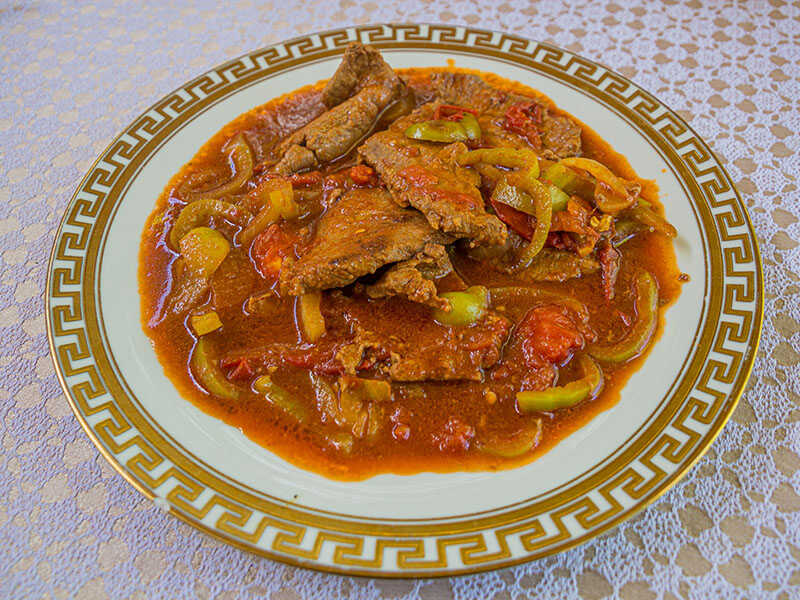 Kakmach is a Turkmenistan staple food capitalizing on the country's intense desert conditions to create unique dried meat. Commonly, large meat chunks are strung on high poles, where they're exposed to the relentless Karakum desert heat.
Over a few days, the sun and wind naturally cure the meat, bringing about a rich, concentrated flavor.
106. Chekdirme / Cekdirme (Stewed Lamb)
Chekdirme is the national stew of Turkmenistan, carrying a warm, comforting aroma. It's a hearty stew, where mutton sizzles in fat until it reaches a deep golden hue. Then, it's joined by a mix of ripe tomatoes and aromatic spices.
The final touch is the rice, or sometimes potatoes, to soak up all the flavorful goodness produced by cooking under a low-to-medium flame. Lastly, a sprinkle of fresh herbs adds a lively finish to Chekdirme.
107. Yshtykma (Stuffed Poultry)
Yshtykma is a wonderful dish featuring either goose or duck at its center. Prepped and dried, the bird is stuffed with various vegetables and spices, like raisins, dried apricots, onions, garlic, pepper, and cumin.
To ensure succulence, locals add citrus juices. Slow-cooked in water, the bird is frequently turned and basted with juices until the water evaporates. Also, here's where rice and more spices jump in, cooking until perfectly done.
Typically, the final presentation sees the poultry, stuffing, and rice each taking center stage on their own plates. While it may be a tad challenging to prepare at home, you may order it from a Turkmen restaurant.
Other Central Asian Dishes
108. Ashlan-Fu (Cold Noodle Soup) – Kyrgyzstan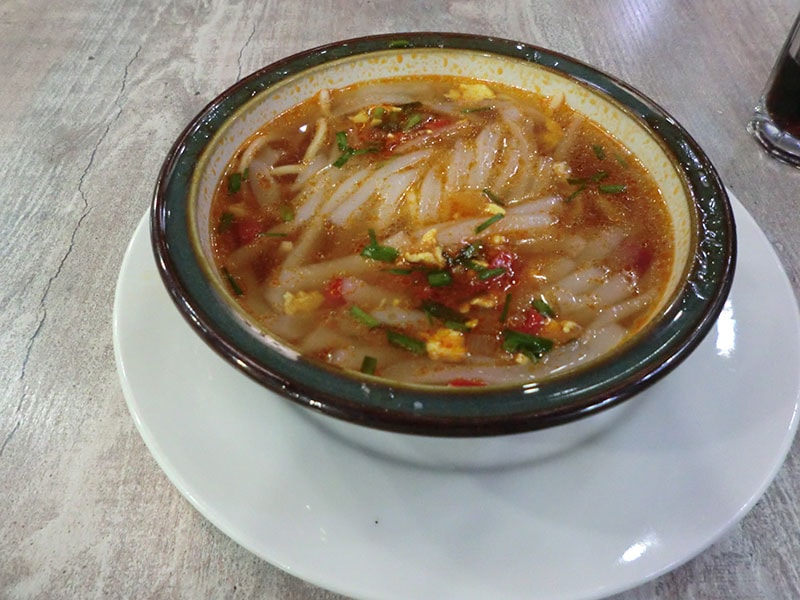 Originating from China, Ashlan-Fu is a culinary masterpiece developed by the Dungan people, who migrated to Central Asia in the 19th century. It's a mesmerizing blend of pulled noodles, eggs, starch strips, tomatoes, crushed red peppers, and vinegar, with or without meat.
The result is a spicy and refreshing bowl that can be served late at night or for breakfast. Some even use it as a hangover cure. Despite its usual presentation as a cold noodle soup, there are occasions when it's served warm.
Next time you're in Karakol, Kyrgyzstan's fourth largest city, you've got to try Ashlan-Fu.
109. Qurutob (Bread Salad With Cheese Sauce) – Tajikistan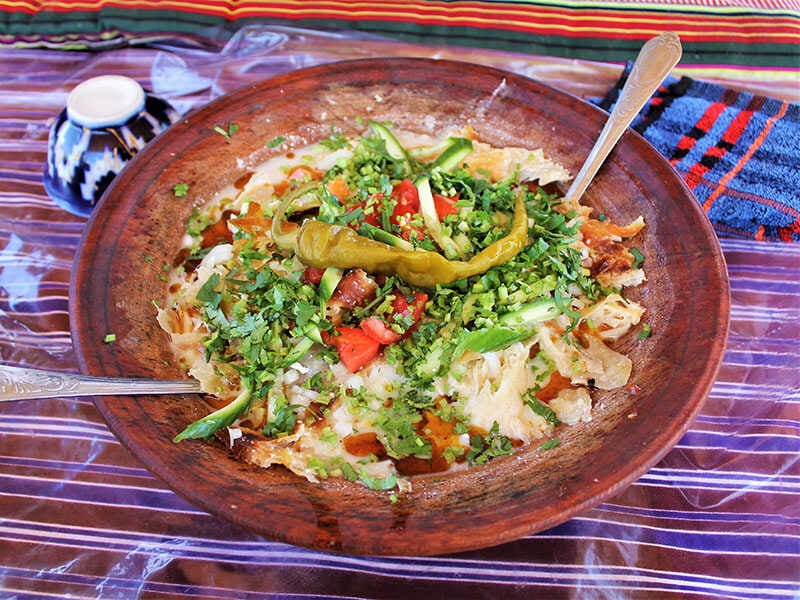 Qurutob, alongside Plov, is cherished as a national dish in Tajikistan. The main highlight is a sauce concocted from qurut, a type of salty cheese ball. This savory sauce is drizzled over a bed of fatir, a flaky flatbread, mingled with onions, and eaten with bare hands.
Fresh cucumbers, juicy tomatoes, and aromatic herbs are also great for enhancing the taste profile. Traditionally a vegetarian feast, you can introduce roasted meat for an extra punch. While the ingredients might be elusive in Western supermarkets, it's worth the shot to try the dish.
Middle Eastern (West Asian) Dishes
Iranian (Persian) Cuisine
110. Chelow Kebab (Steamed Rice With Kebab)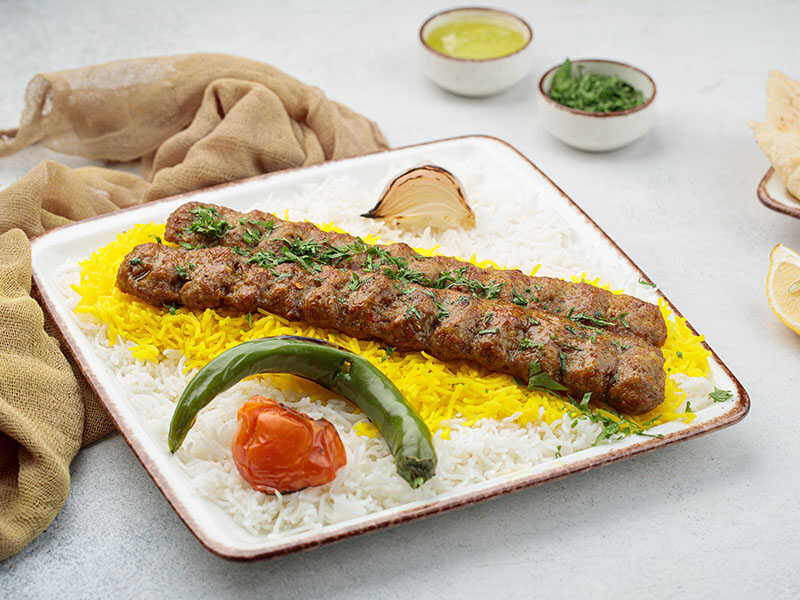 Chelow Kebab simply means "white rice with kebab," which is a culinary legacy from Iran's Qajar dynasty. It's incredibly popular in the northern region, holding the title of Iran's national dish.
Normally, the meal features steamed saffron rice with different variants of succulent kebabs, like Koobideh, Barg, or Jujeh. For serving, the platter is commonly garnished with butter, grilled tomatoes, herbs, and Lavash flatbread.
Finally, you should not forget to taste the traditional Doogh, a yogurt-based beverage that compliments the meal with Chelow Kebab perfectly.
111. Ghormeh Sabzi (Herb Stew)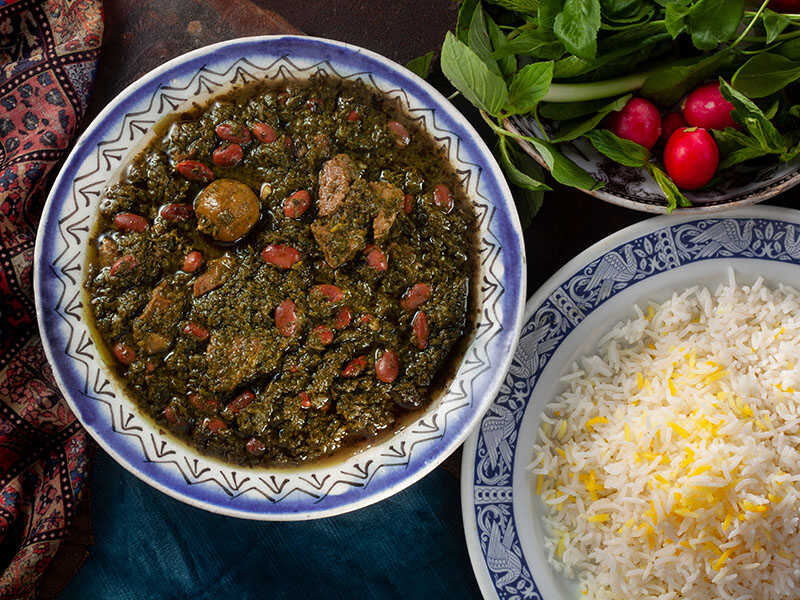 Ghormeh Sabzi is essential to Iranian culinary heritage, tracing its roots back thousands of years. The deeply loved dish is a stew teeming with herbs, greens, spices, and tender lamb or beef. However, the dish has many herbs that might be hard to find in your area.
In this stew, you can also taste other key elements like kidney beans, red onions, dried fenugreek leaves, leeks, spinach, and the distinct Omani limes.
It's perfect for accompanying steamed rice or the crispy Tahdig (Iranian scorched rice), with each spoonful promising a unique blend of sweet and herbal flavors.
112. Fesenjan (Persian Pomegranate Chicken Stew)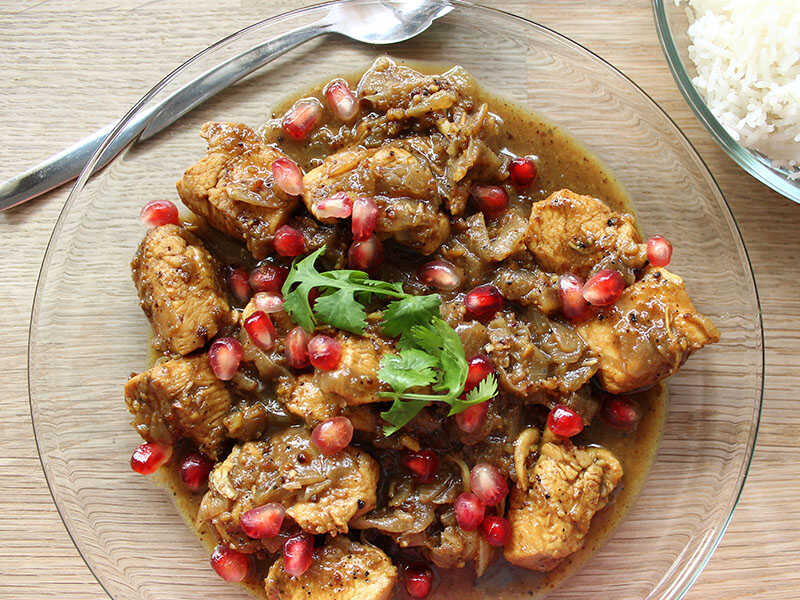 Fesenjan is a renowned Khoresh (Iranian stew) from Northern Iran's Gilan province, a region famed for its rich pomegranate and saffron crops.
Typically, ground walnuts, orange peel, eggplants, and succulent poultry or meatballs are necessary to combine with the pomegranate paste (or molasses), creating a rich, decadent stew. For a final touch, locals normally sprinkle extra pomegranate seeds for garnish.
Traditionally served with rice, Fesenjan appears on the table on special occasions, leaving you with a lingering taste of its irresistible flavor.
Turkish Cuisine
113. Kebab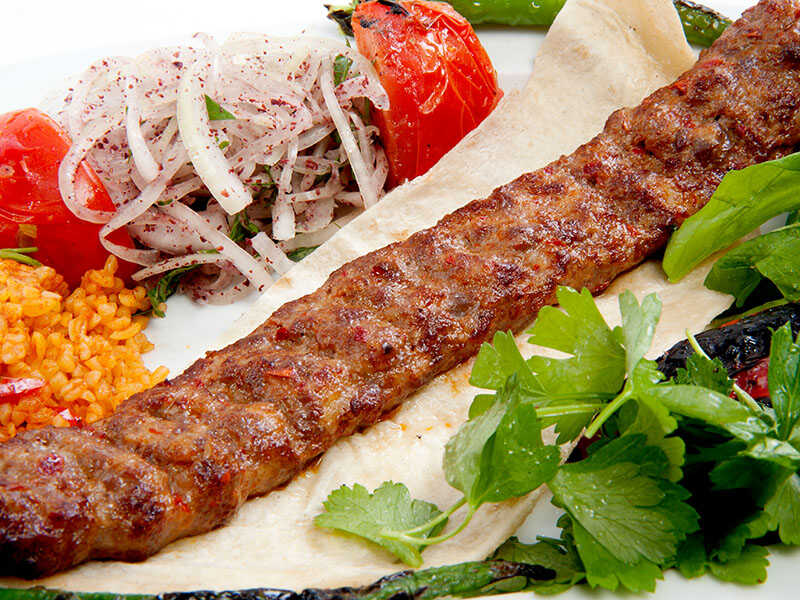 The first time I tasted a kebab, I was in Istanbul. The term 'kebab', with its Turkish roots translating to "roasted meat". This iconic Turkish food, also known as kabab, kabob, or kebap, has gained global recognition. The dish is popular by combining skewered and grilled meat cubes with optional vegetables.
Juicy and flavorful chunks of lamb, chicken, beef, or pork, with sweet vegetables like tomatoes, are common features everyone can find in a kebab. Sometimes, people even cook the meat on a spit.
Among the variations, shish kebab and doner kebab stand out. The former consists of skewered minced meat patties, while the latter involves seasoned meat cooked on a vertical rotisserie, served with rice, or stuffed into sandwiches.
114. Baklava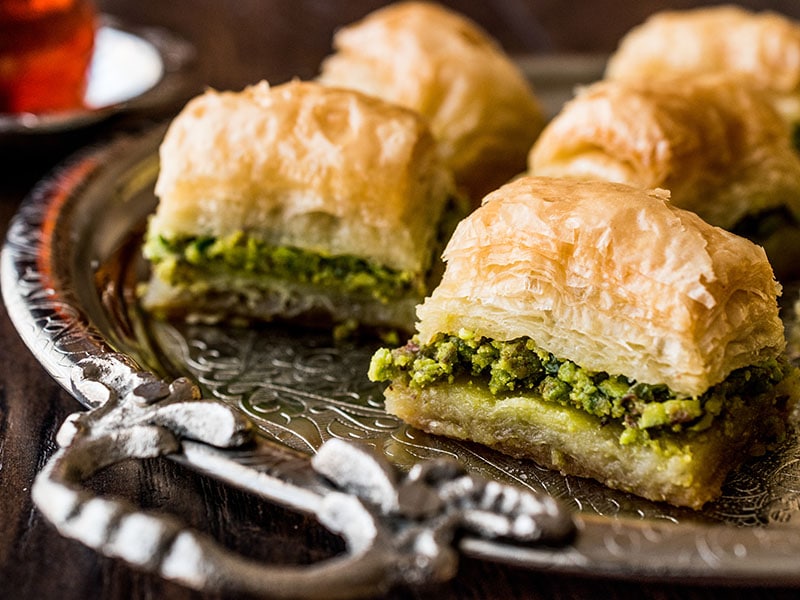 Baklava is a renowned dessert of Ottoman cuisine. Plus, it is also a Turkish delight known for its layers of crunchy filo pastry, drenched in sweet syrup made from honey or sugar and lemon juice.
Furthermore, the crunchy pistachios or walnuts are sandwiched between these thin sheets for a mouthful of sweet and nutty flavors. This treat becomes a staple during the holy month of Ramadan and the festive celebration of Eid al-Fitr, and it's also a popular choice for birthdays and weddings.
Unlike other versions I've tried since, the Turkish baklava was not spiced. With the emergence of modern variations, it introduces elements like carrot slices or chocolate.
115. Dolma (Stuffed Vegetable Dishes)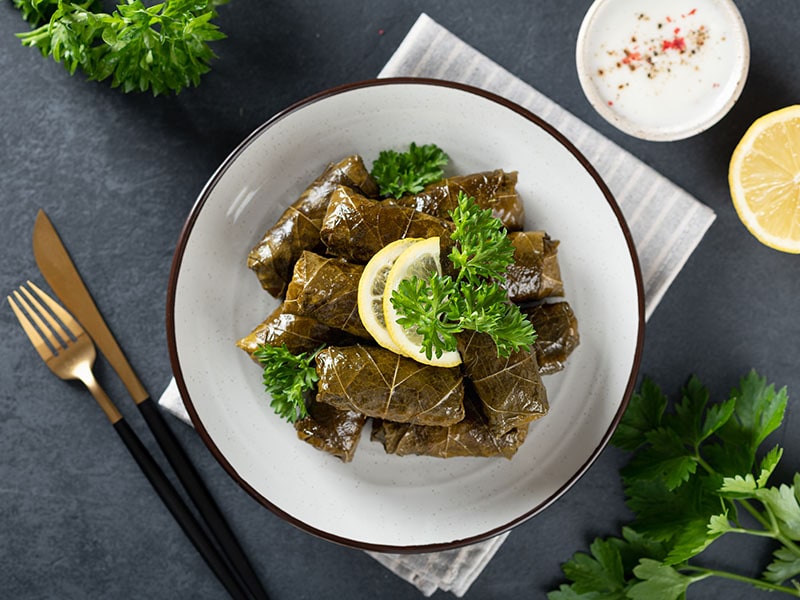 When I was exploring the streets of Istanbul, I also came across a small family-run restaurant where I discovered Dolma.
Dolma is a superstar of Ottoman cuisine with a place in the hearts of many across West Asia, the Mediterranean, and the Balkans. Its Turkish name directly translates to "stuffed," making it a fitting label for the aromatic filling of rice, minced meat (like lamb), and spices tucked inside.
Some variations even swap in fruits, seafood, or offal. The filling is usually placed in vegetables like eggplants, bell peppers, or tomatoes. Dolma is usually enjoyed cold, making it an ideal appetizer or tapa. During Ramadan, it's a nutritious dish frequently appearing on the table.
116. Mezze / Meze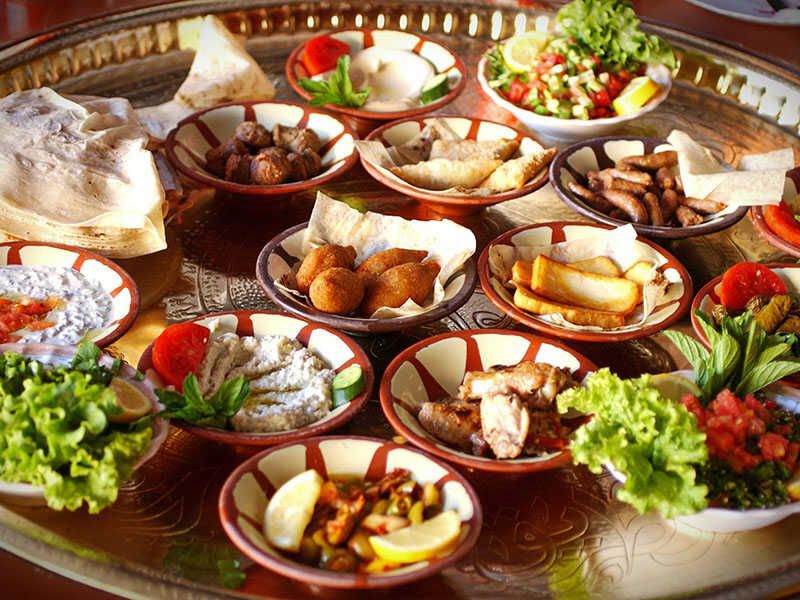 Mezze is a collection of delightful small plates, an essential part of dining culture in regions once ruled by the Ottoman Empire. Think of it as the Middle Eastern cousin of Italian antipasti or Spanish tapas.
Mezze can easily become a complete meal, offering an assortment that may include cheese, yogurt, Dolmas, Cig Kofte, eggplant salad, melons, and artichokes. The first time I sat down to a spread of these delightful small plates, I was overwhelmed by the variety.
Also, it's a tradition to enjoy mezze along with soft drinks or wines. If you're gathering around a table with friends for a chat, a mezze spread makes the moment special.
117. Lokum (Turkish Delight)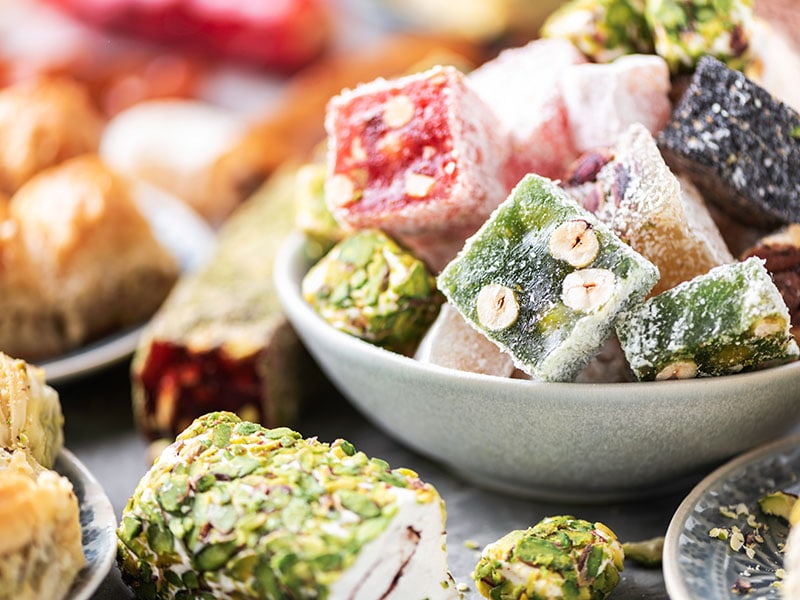 Lokum, an Arabic term for "throat comfort," is a delightful confection offering health benefits with a tantalizing gel-like texture. Crafted from cornstarch, sugar, water, and an enticing mix of bergamot oranges, rose water, and lemons, it's a colorful feast for the eyes.
Normally, a dusting of icing sugar or cream of tartar often adorns this vibrant sweet for a brilliant Turkish treat. Surprisingly, you can find Lokum widely available online.
118. Sarma (Stuffed Vegetable Leaves)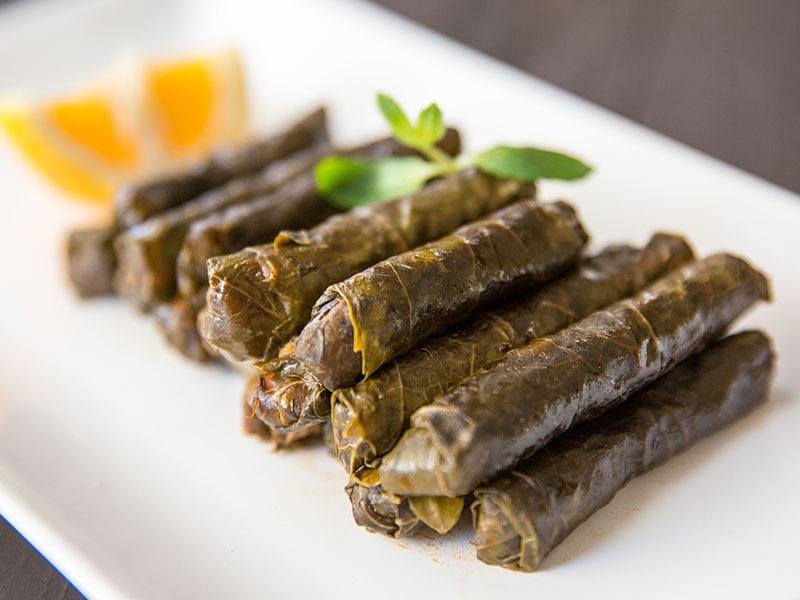 When I first stumbled upon Sarma in a quaint Turkish restaurant, I was instantly drawn to its unique presentation. "Sarma," they told me, translates to "wrapped" in English.
Sarma is a delicious variant of Dolma. Wrapped in cabbage or grapevine leaves, it's a flavor-packed meal that's full of surprises. You might recognize it in Western markets as "stuffed grape leaves" or "stuffed cabbage leaves".
Interestingly, some even use Swiss chard or collard greens for an interesting twist. Usually, the filling echoes Dolma's aromatic composition. In cases when fresh grapevine leaves are hard to come by, your local supermarket's pickle or Greek food section likely stocks vine leaves in brine for you to use.
119. Börek / Burek (Savory Flaky Pastry)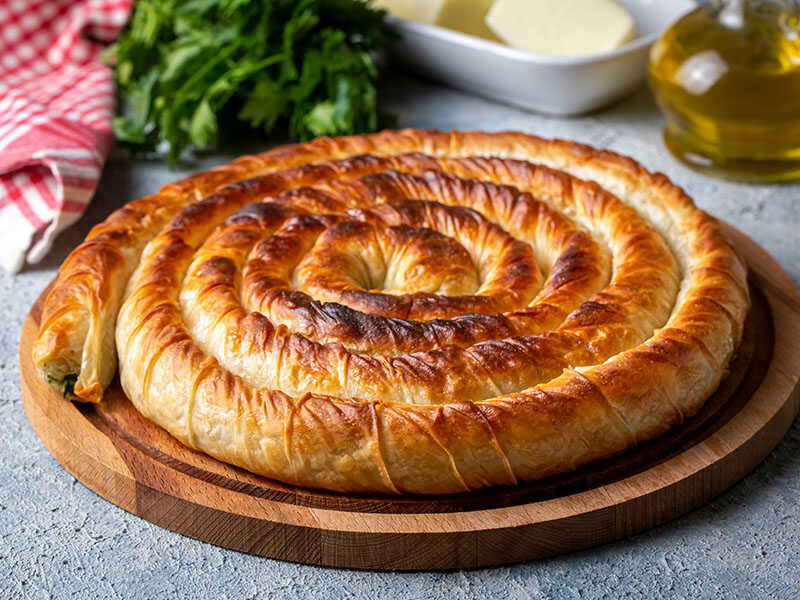 My journey with Börek, a savory pastry rooted in Turkey, started on a chilly morning in Ankara. I remember being entranced by the aroma wafting from a street-side stall.
Börek is a savory pastry with roots in Turkey featuring thin, flaky dough wrapped with various fillings. Typically, the mix can range from ground beef to feta cheese, spinach, sautéed green peppers, and potatoes.
It's like a savory sibling to baklava, equally rich and satisfying. Börek is a versatile delight, served as a snack, appetizer, or even breakfast.
However, it's not just confined to Turkey, though – you'll stumble upon its delectable versions in Central Asia, West Asia, the Balkans, and other parts of Europe.
Varieties like Sigara Börek (spherical, cigarette-like shape), Kol Börek (a long round roll or lined), or Çiğ Börek (half-moon-shaped) can come in shapes and textures.
Lebanese Cuisine
120. Hummus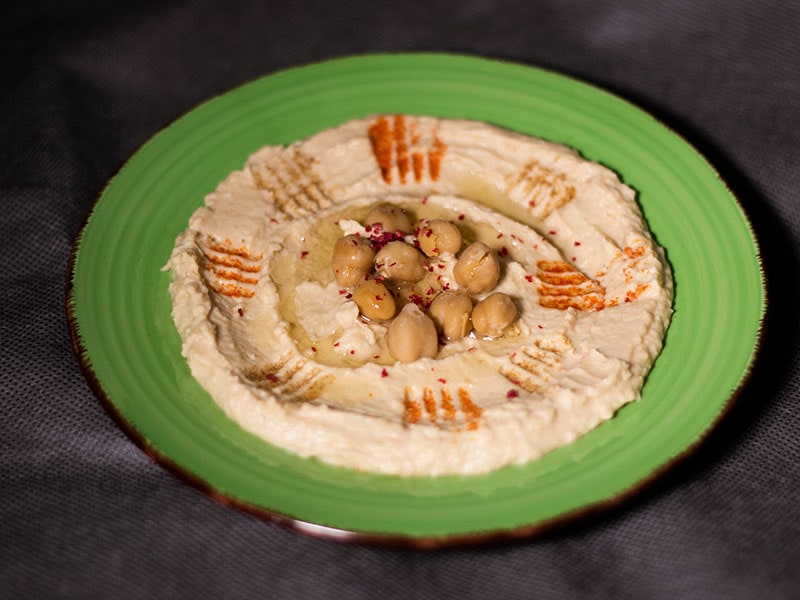 Hummus, or houmous or hommus, is a beloved dip or spread with roots in Arabic cuisine. The origin of this dish is still debated, with Lebanon being a potential birthplace. Hummus is made from mashed chickpeas, garlic, lemon juice, and tahini (a sesame paste).
In fact, the word "hummus" translates to "chickpea," with the dish's full name as hummus bi tahina. With a perfect balance of nuttiness, tanginess, and the pungent kick of garlic, hummus is best made with fresh ingredients and consumed within the day.
To eat like locals, you should enjoy it alongside pita bread, nuts, chips, or various kinds of veggies. You can even use it in savory dishes like Masabacha, a mouthwatering combination of hummus, cooked chickpeas, olive oil, and spices.
121. Tabouleh (Parsley Salad)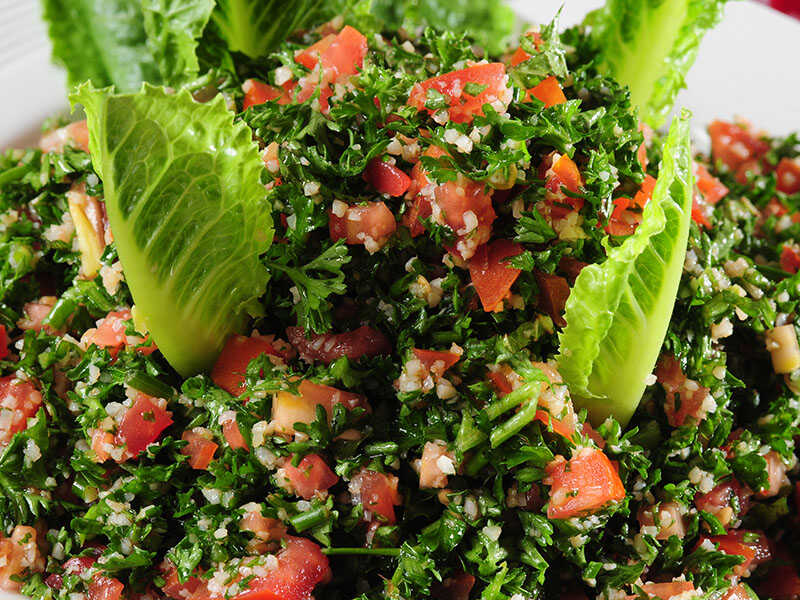 Tabouleh, also known as Tabbouli or Taboulah, is a refreshing parsley salad created by accident with a rich history that dates back thousands of years in the mountains of Lebanon and Syria.
It's a mainstay in mezze, offering a bright burst of flavor. The combination of chopped parsley, bulgur wheat, tomatoes, onions, olive oil, and spices creates an invigorating blend that has become a regular in my kitchen.
122. Mahalabia / Muhallebi (Milk Pudding)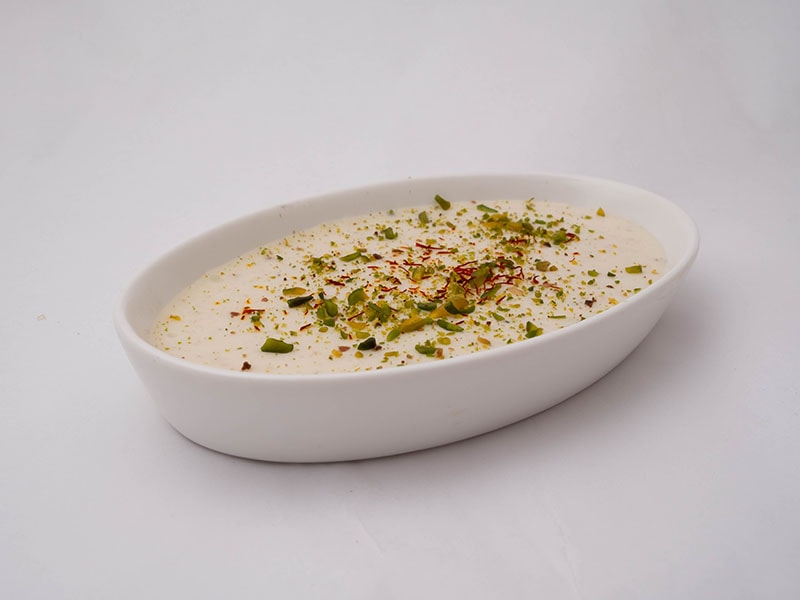 Mahalabia is a great Lebanese dessert that first became popular in Persian cuisine. This creamy delight owes its smooth texture to a blend of corn flour (or cornstarch), sugar, and milk.
What makes it truly special, though, is the aromatic rose water syrup. This infusion of rose water, lemon juice, and orange blossom water gives Mahalabia its unique and inviting flavor. For an extra burst of taste, some recipes even sprinkle in raisins and chopped nuts like walnuts or almonds.
123. Ma'amoul (Filled Butter Cookie)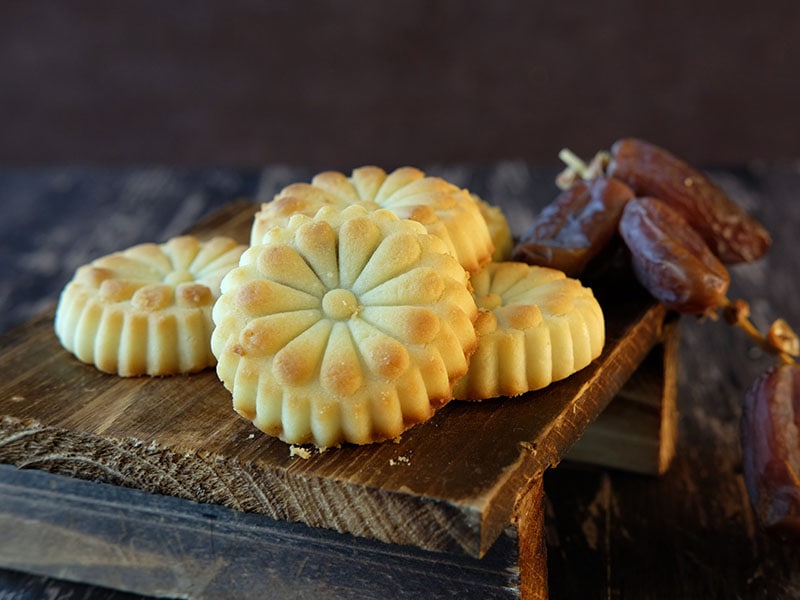 Ma'amoul, also known as Mamool or Mamoul, is a crumbly, buttery cookie that's loved across the Middle East. Its chewy filling varies with options like dried dates, walnuts, pistachios, and almonds.
I remember savoring these small ball or dome-shaped cookies during a visit to Lebanon, where they're popular for special occasions across religions, including Eid al-Fitr and Easter.
124. Shawarma (Roasted Meat On A Spit)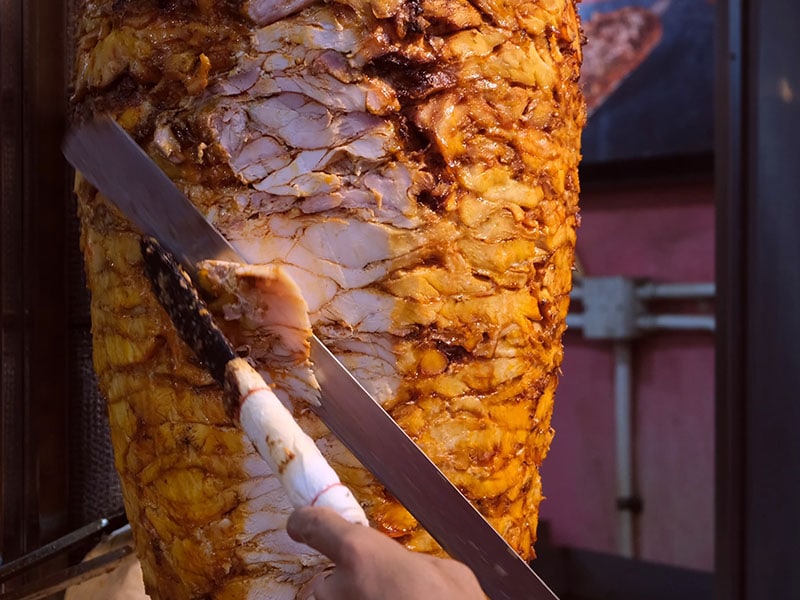 Shawarma. The name itself takes me back to the bustling streets of Beirut where I first tasted this marvel. It is among the most loved street food items, especially in the Arab-Middle East region.
This close cousin of the doner kebab is made by stacking thin slices of marinated lamb, chicken, veal, or beef in an inverted cone on a vertical rotisserie.
Thanks to the slow roasting process, it allows the flavors to meld together beautifully. Once cooked, the meat is expertly shaved off and served on warm pita bread, complemented by falafel, hummus, tahini sauce, or cooked vegetables.
Unlike its Greek counterpart, the gyro, shawarma brings a spicier, more complex flavor profile to the table.
Egyptian Cuisine
125. Falafel (Deep-fried Chickpea And Fava Bean Balls)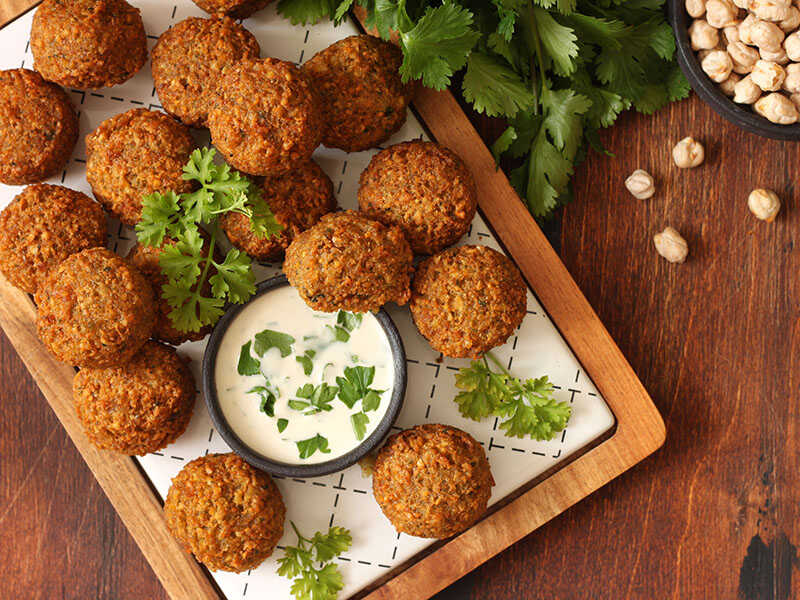 During a vibrant market visit in Cairo, I discovered the magic of Falafel. It is a delicious vegetarian dish, likely originated in Egypt, but its true beginnings remain debated. Shaped into balls or patties, this protein-rich vegetarian dish blends chickpeas, fava beans, and an aromatic mix of green onions, garlic, and parsley.
Typically deep-fried, this Egyptian delicacy offers characteristic crunchiness and spicy, herbal flavors. With its protein-packed ingredients, falafel is a fast-food option catering to Muslims and Christians.
Popularized across continents by immigrants, it's even a street food item across the Middle East and Europe. In fact, Israel has even adopted a version made solely of chickpeas as its national dish.
126. Koshari (Rice Dish With Lentils And Pasta)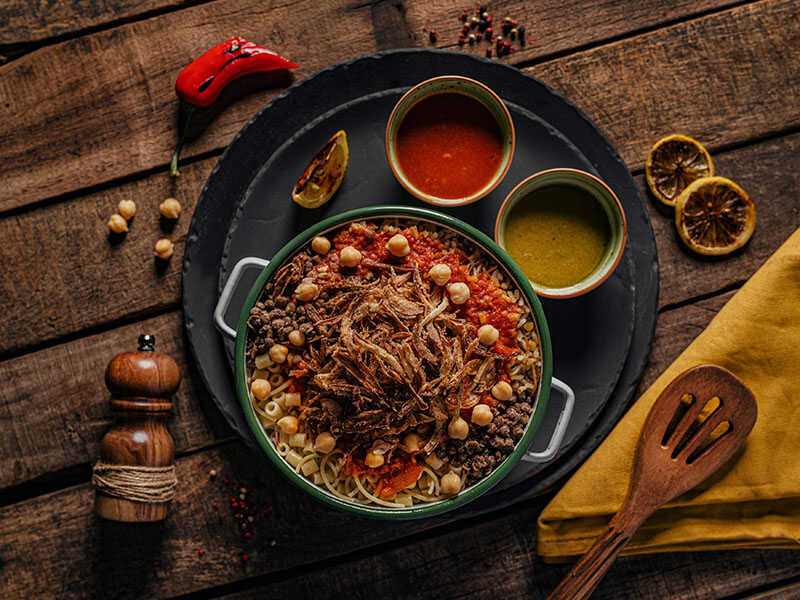 Koshari is an Egyptian national dish with the flavors of the Indian dish Khichdi. In addition, its history traces back to the late 19th or early 20th century. You can easily find them on the street in Egypt. And the good news is, Koshari is a budget-friendly street food.
Koshari offers a filling combination of Egyptian fried rice, pasta, vermicelli, and brown lentils. Furthermore, the topping of tangy tomato sauce, pungent garlic juice, fried onions, and hot sauce adds a burst of flavor.
Koshari is usually served hot at any time of the day and bears some similarities to the Middle Eastern Mujaddara.
Other West Asian Dishes
127. Masgouf (Grilled Carp) – Iraqi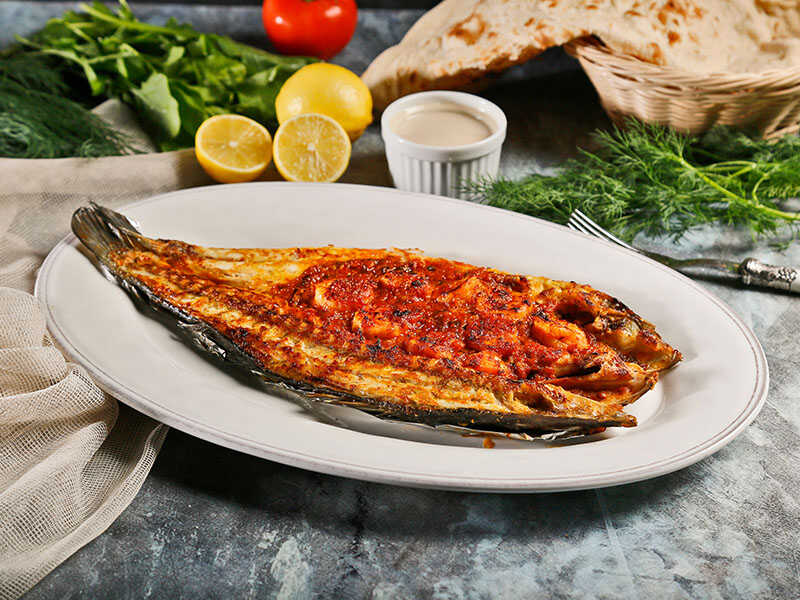 My trip to Iraq introduced me to the historical delight of Masgouf. Masgouf, a national dish of Iraq, has a rich history dating back to the ancient Babylonian empire. It's a delicacy at many restaurants, featuring marinated freshwater carp grilled over hot coals for hours to render all the fat.
The cooking process involves impaling the fish on iron spikes or grilling it over a large grill. Complementing this dish are pickles, chutney, onions, and a sauce made of tomato paste, parsley, vinegar, lemon juice, and cayenne pepper.
The combo also makes a memorable meal, especially when paired with a side of starch or grilled vegetables.
128. Machboos (Aromatic Rice Dish With Meat) – Qatar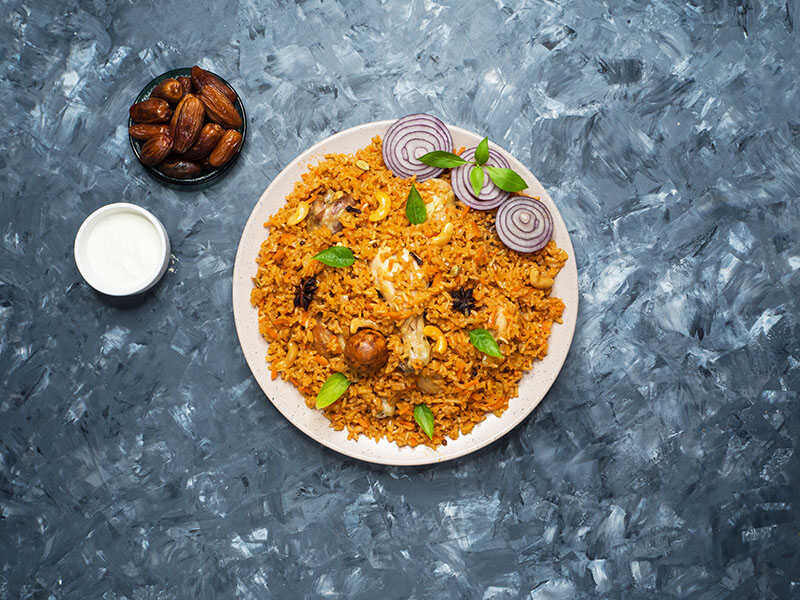 Machboos, known as Majboos or Machbūs in some areas, is a crowd-pleaser in Qatar, Bahrain, and Kuwait. This dish takes inspiration from the Arabic mixed rice dish, Kabsa.
When I tasted it during my travels, I found the slow-cooked chicken or lamb in rice and vegetables incredibly flavorful. The rice also seemed to absorb every bit of savory goodness.
129. Shakshuka (Poached Eggs in Spicy Tomato Sauce) – Israel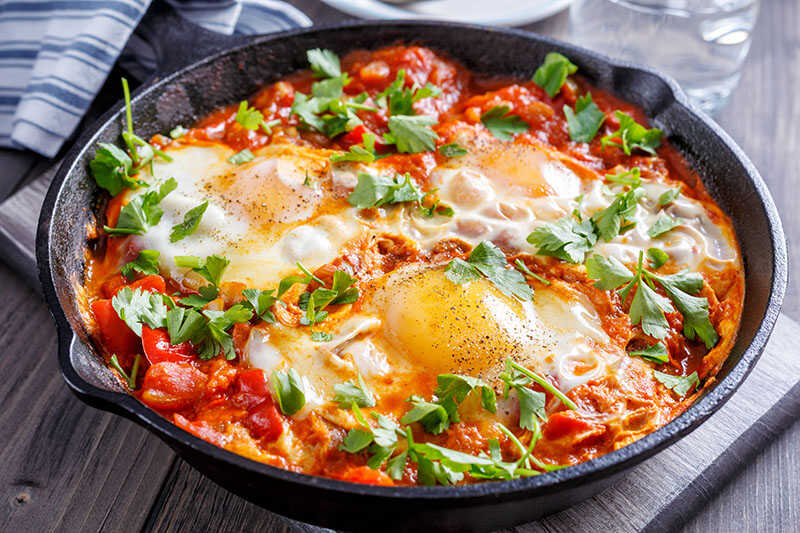 Shakshuka is a dish I discovered during my travels. It is a beloved item of North Africa and the Middle East, with the Israeli version gaining fame since the 1990s. Commonly, the original recipe is best savored with fresh bread to soak up the flavorful tomato sauce.
This version is a savory blend of poached eggs, red tomatoes, onions, and spices for an unexpected dinner staple, contrasting its breakfast status in the West. Surprisingly, the American twist on Shakshuka sometimes includes feta cheese and dairy.
130. Kibbeh (Ground Meat Mixed WIth Bulgur Wheat) – Syria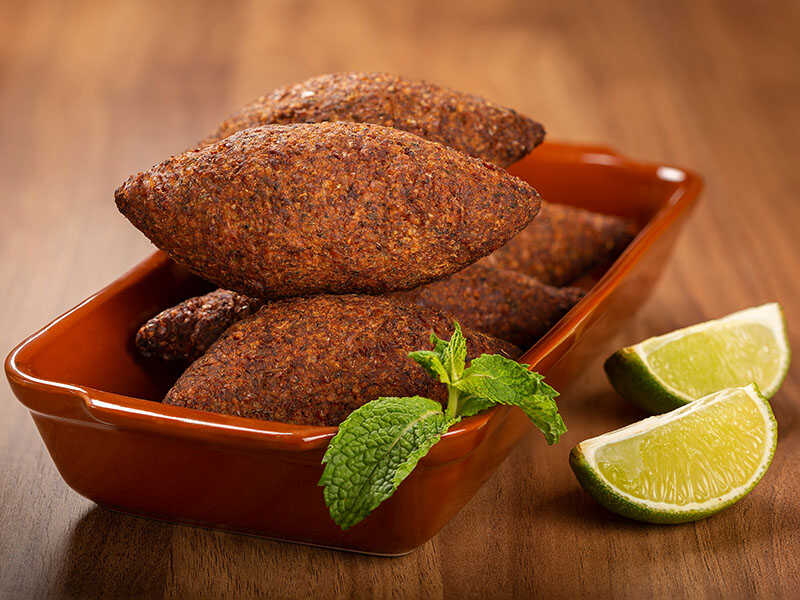 Kibbeh, or Kubba as some call it, is Syria's national dish. But it's also a staple in various Middle Eastern cuisines. This dish is a medley of spiced ground meat – typically fresh, lean beef, onions, bulgur wheat, and spices, all pounded into a fine paste.
The paste is then shaped into ball-like shells, sometimes spritzed with olive oil, and prepared in several ways. You can have it raw, grilled, deep-fried, or cooked with veggies in a soup-like dumpling.
Fascinatingly, the raw version, known as Kibbeh Nayyeh, might be an adventurous choice for some.
North Asia Dishes
Russian Cuisine
131. Pelmeni (Russian Dumplings)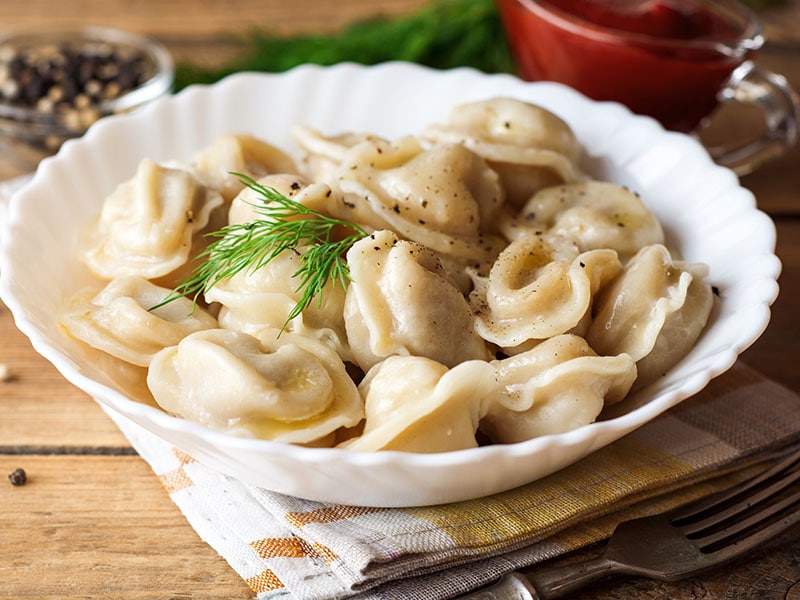 Pelmeni – a Russian favorite food, has its roots back in the Ural or Siberian regions. This dish is a favorite among Russian explorers and hunters, with simple ingredients including flour, eggs, ground meat, grated onions, and spices.
Traditionally, families gather to prepare large batches of these dumplings when temperatures drop. Its long shelf life, especially in winter, is a notable characteristic.
Pelmeni is also quick to cook. You can boil or fry them, then enjoy Pelmeni with traditional Russian sides and condiments, such as Borscht, mashed potatoes, sour cream, pickled onions, or mayonnaise.
Key Ingredients In Asian Cuisine
Here are some staple Asian ingredients in their meals
Spices and Herbs in Asia: Includes ingredients like chili, turmeric, ginger, basil, and cilantro.
Rice and Noodles: these two are a staple source of carbohydrates in many Asian cuisines.
Meat and Seafood: Vary by region but may include pork, chicken, beef, various types of fish, and shellfish.
Asian's Vegetables and Fruits: Feature everything from bok choy and bamboo shoots to mangoes and lychees.
Fermented Foods: Note examples such as kimchi, miso, tempeh, and shrimp paste.
Unique Cooking Techniques In Asia
How do Asians create their delicacies? Following are some most-used Asian-style cooking methods.
Stir-frying: A fast cooking process, often done in a wok, that quickly cooks food at high heat.
Steaming: Commonly used to prepare everything from vegetables to dumplings, helping to preserve the natural flavors and nutrients by cooking using water steam only.
Deep-frying: Used for many dishes, from tempura in Japan to samosas in India, involving dropping food into hot oil.
Grilling: Frequently used in cuisines across Asia, notably for dishes like satay in Southeast Asia or yakitori in Japan.
Fermenting: A traditional method used to preserve food and add complex flavors, as in kimchi in Korea or miso in Japan.
Influence of Asian Cuisine on Western Food Culture
Introduction of Asian foods in the West: Many Asian dishes have become popular in the West, often through immigration and globalization.
Adoption and fusion of Asian flavors: Western chefs often incorporate Asian ingredients and techniques into their cooking, leading to fusion dishes like sushi burritos or Korean tacos.
Health Benefits of Asian Cuisine
Balanced nutrition: Many Asian cuisines emphasize a balance of different food groups, often in accordance with traditional philosophies like Ayurveda or Yin-Yang theory.
Use of medicinal herbs and spices: Many herbs and spices used in Asian cooking, such as turmeric or ginger, have been shown to have health benefits.
Low-fat cooking techniques: Many traditional Asian cooking methods, such as steaming or stir-frying, require little added fat.
FAQs
Have You Ever Been To Asia And Tried Their Specialties?
I hope this exploration of traditional Asian dishes has sparked your newfound appreciation and encouraged you to try recreating many Asian dishes at home. Asian offers an unimaginable ingredient source that makes up endless dishes to satisfy your taste buds.
Make sure to share your thoughts and culinary adventures in the comments. Don't forget to share this article with other food lovers.
https://www.fda.gov/food/people-risk-foodborne-illness/eating-out-bringing-food-safety-moms-be (2018). fda.gov.
Muhammad Afzaal, Farhan Saeed, Fakhar Islam, Huda Ateeq, Aasma Asghar, Yasir Abbas Shah, Chigozie E. Ofoedu, and James S. Chacha (2022). Nutritional Health Perspective of Natto: A Critical Review.
Koji Ito (2020). Review of the health benefits of habitual consumption of miso soup: focus on the effects on sympathetic nerve activity, blood pressure, and heart rate.
Health Benefits of Kimchi (2022). Webmd.com.