What do you know about Saigon street foods? It will be a miss if you are a foodie and have never tried Vietnamese delicacies before. Trust me; you will surely be amazed by how versatile and appealing the foods in this country's distinctive gastronomy are.
Saigon, also known as Ho Chi Minh City, is Vietnam's economic and cultural center. This city gathers culinary quintessence from many different regions of this country, so you can easily find delicious treats to eat on Saigon's streets.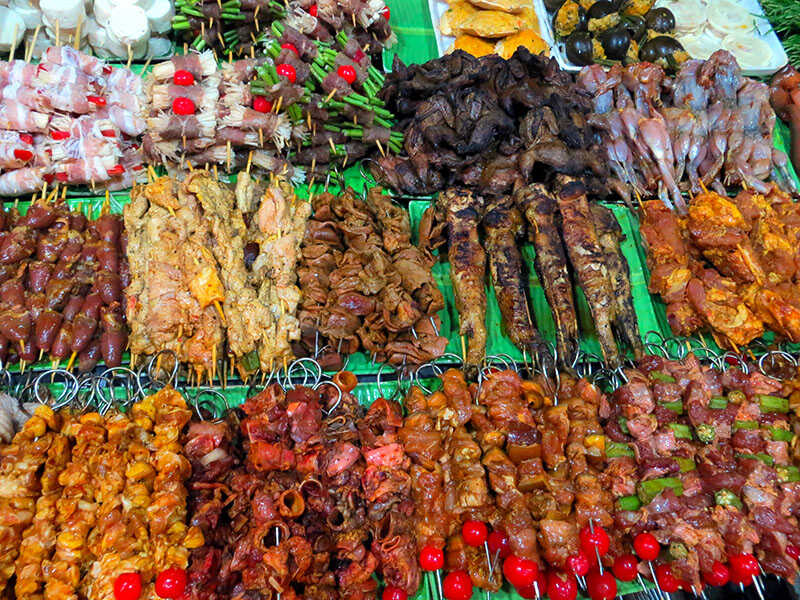 A significant feature of Vietnamese gastronomy in general is you can find almost everything you need on the streets, and this characteristic is also shown in Saigonese culinary culture. To start today's article, let's first mention the Northern-style foods you can find in Saigon.
(Pho – Vietnamese Noodle Soup)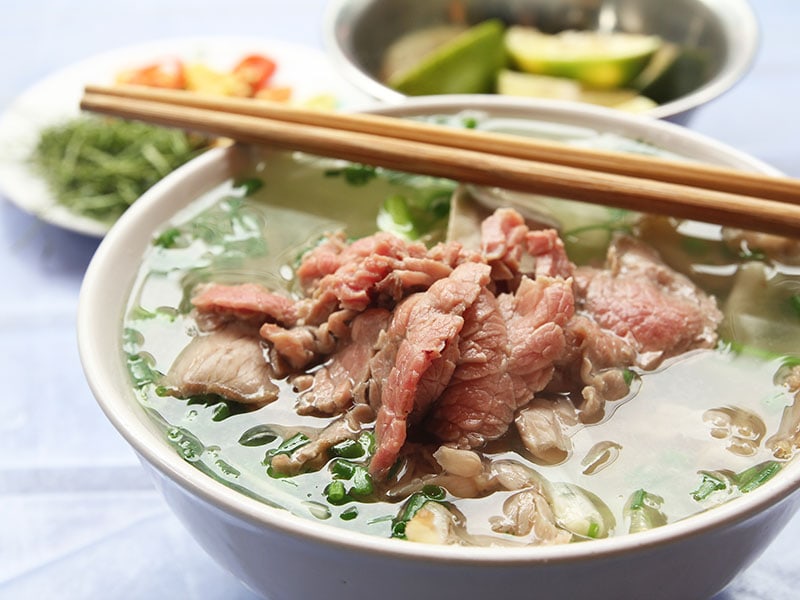 If you have some knowledge about Vietnamese Phở, you'll know a version called Phở. It is famous from the North to the South of Vietnam. Nowadays, there are so many Phở stores that you can enjoy this dish on any street in Saigon.
The main ingredients for Phở are typically medium-rare/sauteed beef or chicken. When coming to the southern city, Saigon, this dish still has those characteristics. But Saigon people have transformed Pho to match their rich culture here.
Typical Hanoi's Phở does not serve too many raw vegetables, while Saigon's Phở does. The broth of Saigon's Phở is also a bit sweeter.
(Noodle And Tofu With Shrimp Paste)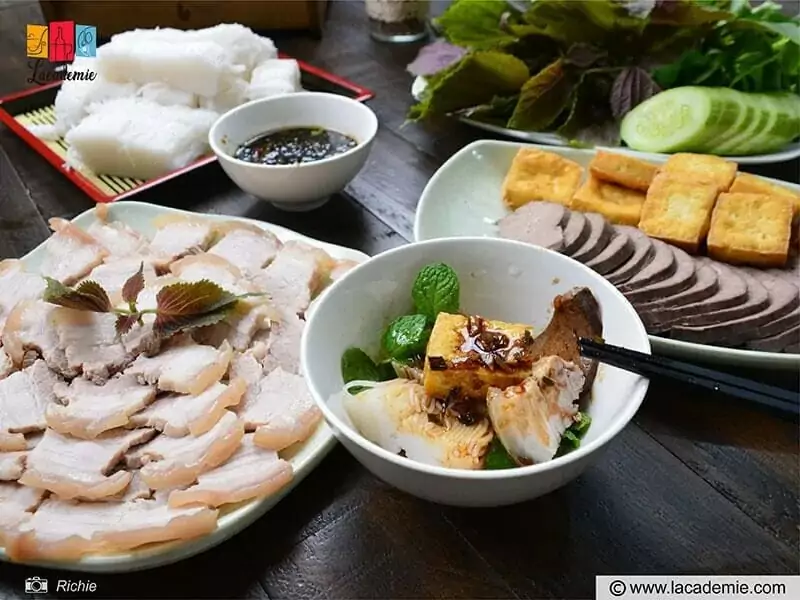 Bún Đậu Mắm Tôm originated in Hanoi, but very few people know when this dish first debuted. Folklore has it that once upon a time, a peasant made Bún Đậu Mắm Tôm for his family to try using just rice vermicelli, deep-fried tofu, and a few fresh veggies.
They thought this meal was rather tasty, so they brought it to Hanoi to sell. Since then, after adapting to match the old Hanoi people's taste, they formed the modern variant of Bún Đậu Mắm Tôm. Many people in Vietnam, particularly Saigonese, enjoy that version as well.
Besides the traditional ingredients, Bún Đậu Mắm Tôm now includes Fried Rice Cake (Chả Cốm), spring rolls, boiled/fried pork intestines, and boiled pork loin. This delicacy is pretty affordable, so there is no reason not to try it.
(Vietnamese Rice And Pork Dumplings)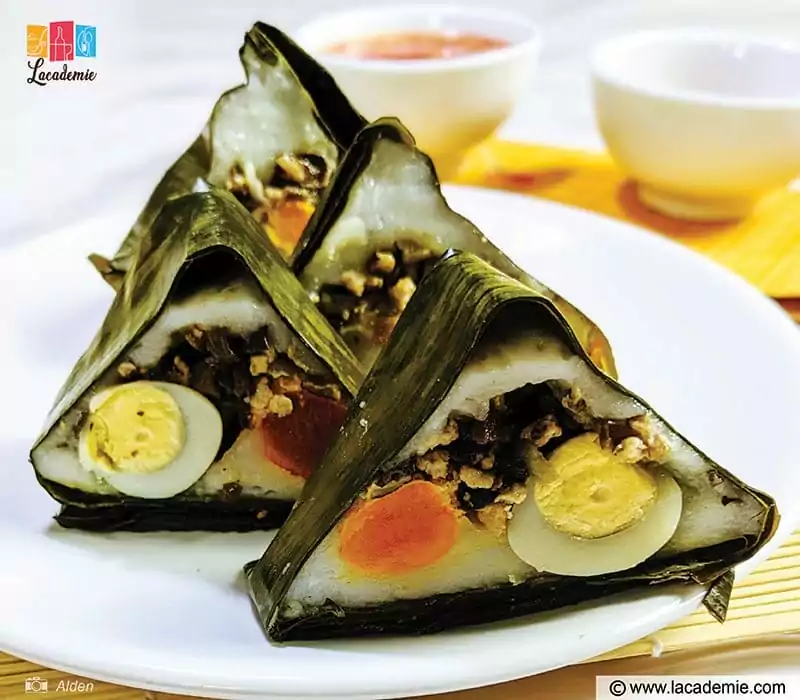 This specialty is one of the most affordable treats that you can easily find on the streets. With only a few bucks, you will have a tasty snack, breakfast, lunch, or even dinner with banh gio.
Made from rice and tapioca starch, mushrooms, ground pork, and quail eggs, banh gio normally comes in a pyramid form covered by banana leaves. Sounds complicated, right? In fact, it is simpler than you think, if you follow these instructions carefully.
If you want to consume it, you have to remove the leaves first. They are ideal for enjoying hot with sauce and other side dishes like pickles, cucumber, or even sausages.
(Vietnamese Pork Balls Noodle Soup)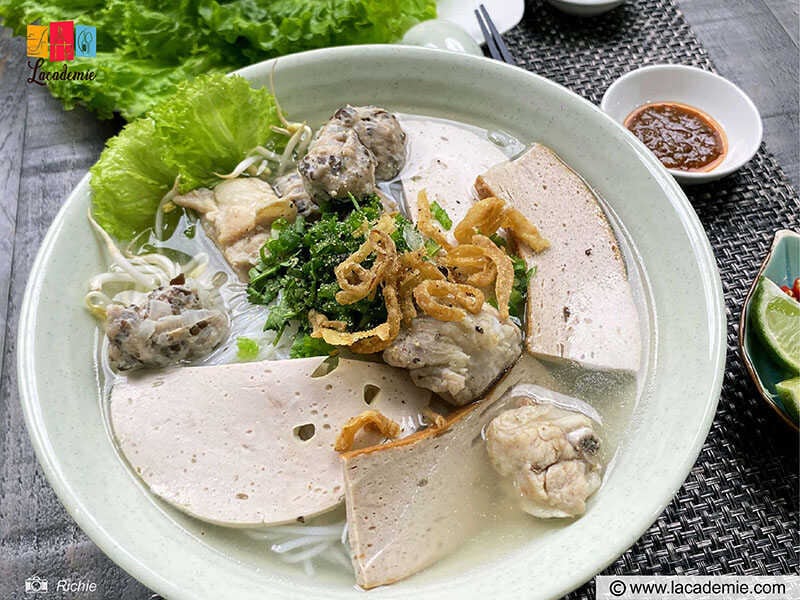 When it comes to the famous dishes of the Northern, it is impossible to overlook Bún Mọc, which has simple but equally appealing and remarkable preparation methods. You can find this delectable traditional dish on many streets across Ho Chi Minh City.
A bowl of Bún Mọc has plenty of ingredients such as Pork Balls (Mọc), Vietnamese Sausages (Giò), and ribs. The Pork Balls have 3 different main types: boiled or fried, and cooked Pork Balls mixed with mushrooms.
The important thing in a bowl of Bún Mọc is the broth. The broth offers you the richness of the pork bones, creating more deliciousness and attractiveness for the dish.
You should not ignore the accompanying fresh vegetable dishes as well. You will want to eat this dish in the most balanced and healthy way.
(Vietnamese Grilled Pork And Rice Vermicelli)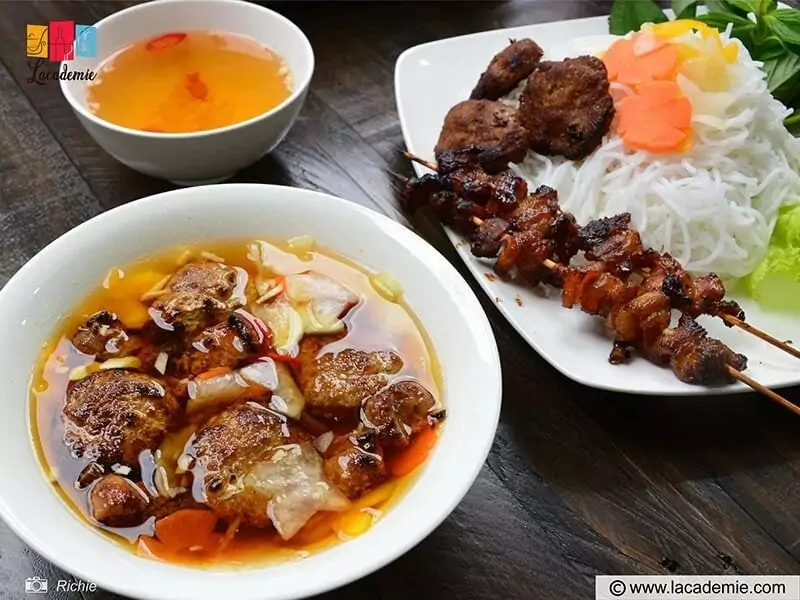 There's no need for heirloom spices like Phở, or to prepare various sorts of complicated ingredients like Bún Mắm or Bún Bò. Hanoi's Bún Chả is surprisingly basic in several respects. Aside from its humble simplicity, this dish has an appealing flavor.
In Saigon, you can quickly notice the appearance of this food on various street stores/vendors. Besides the main components of Grilled Porks/Meatballs, Spring Rolls, pickled papaya, and carrots, the sweet-savory chili-garlic fish sauce is also the highlight.
The Saigoneses can have Bún Chả for almost any meal of the day. You can still opt for this light delicacy if you find a food recommendation for dinner in Saigon. Don't miss a chance to try Bún Chả out when it comes to you!
6. Bánh Mì Cay Hải Phòng
(Hai Phong's Spicy Breadsticks)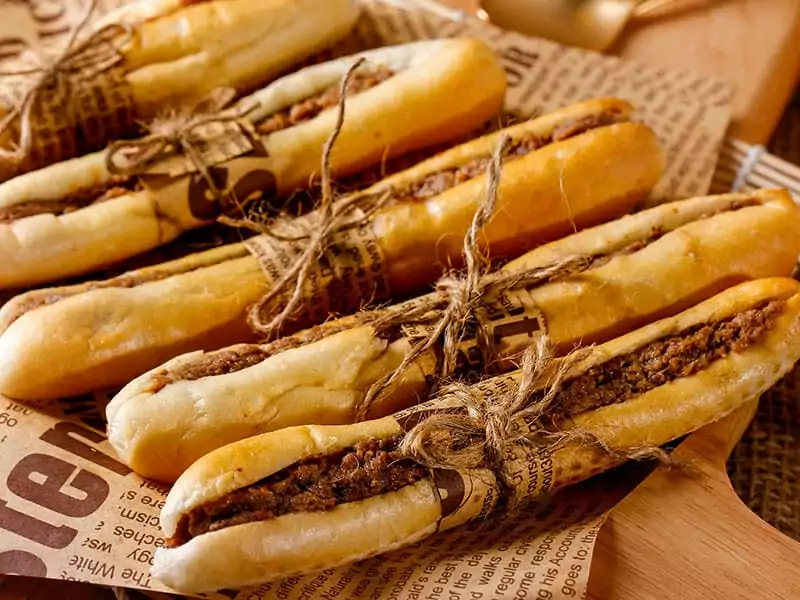 Hai Phong Spicy Breadsticks are derived from the traditional French recipe of baguettes. People in Hai Phong made these Breadsticks according to Vietnamese style to fit people in this country's taste buds.
Not only famous in its hometown, but it is also prevalent in other places. Saigon's Hai Phong Breadstick can attract diners from the first time trying. These mini baguettes are plump and decent with a thick layer of pate, buttery, rich mayonnaise sauce, and spicy chili sauce.
The crust is crispy, so when you eat it, you will feel the crumbling of the crust in your mouth. The alluring taste of the fatty filling mixed with the irresistible spicy chili sauce will surely tempt you. Don't forget to add sliced fresh herbs to neutralize the full flavors of this delicacy.
(Vietnamese Steamed Rice Noodle Rolls)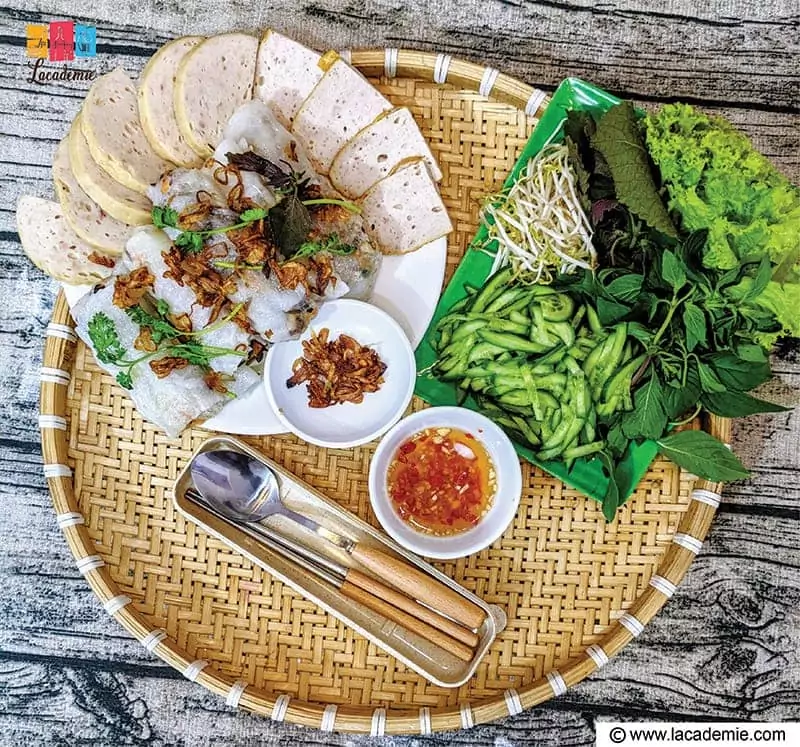 Bánh Cuốn has a thin transparent shell but is still chewy and soft. The richness of the filling mixed with and the starch bases mild has made this dish a snack or breakfast chosen by many Vietnamese people. The fried onions' aroma also helps it become more alluring.
Like many other Vietnamese dishes, the highlight of this dish is the fish sauce mixed in the perfect ratio. If you want more things in your dish, you can add Spring Rolls and Sliced ​​Vietnamese Sausages as side dishes.
For gourmets, the elegant taste in Bánh Cuốn is hard to find in other dishes. So, If you have a chance, you should definitely try this dish.
8. Nem Rán or Chả Giò
(Vietnamese Fried Spring Rolls)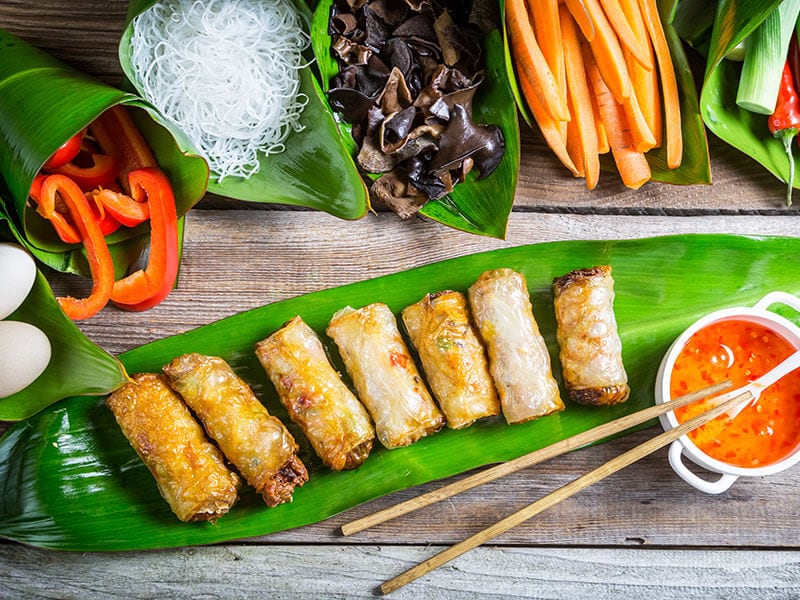 Vietnamese Nem Rán was an ancient Chinese recipe, yet this dish flourished in Vietnam thanks to the smart twists added by the people here. These Fried Spring Rolls have various names based on the regions in this country.
For example, Nem Rán is the name of this food in the Northern regions, while in the Southern part, they call it Chả Giò. In the Middle areas, they typically call it Chả Ram or Ram. All the names refer to the food with a crispy exterior covering a hot and juicy interior.
Therefore, when you order Spring Rolls in Saigon, you should look for Chả Giò in the menu. The fillings for this food are also varied, from seafood minced meat mixed with chopped veggies to vegetarian-friendly ones.
After deep-frying these full-of-filling rolls in hot oil, it will become one of the most versatile Asian side dishes you have ever known. Nem Rán/Chả Giò can be a part of Bún Chả, Bún Đậu Mắm Tôm or be served in any family's meal.
(Hanoi Fried Fish With Turmeric And Dill)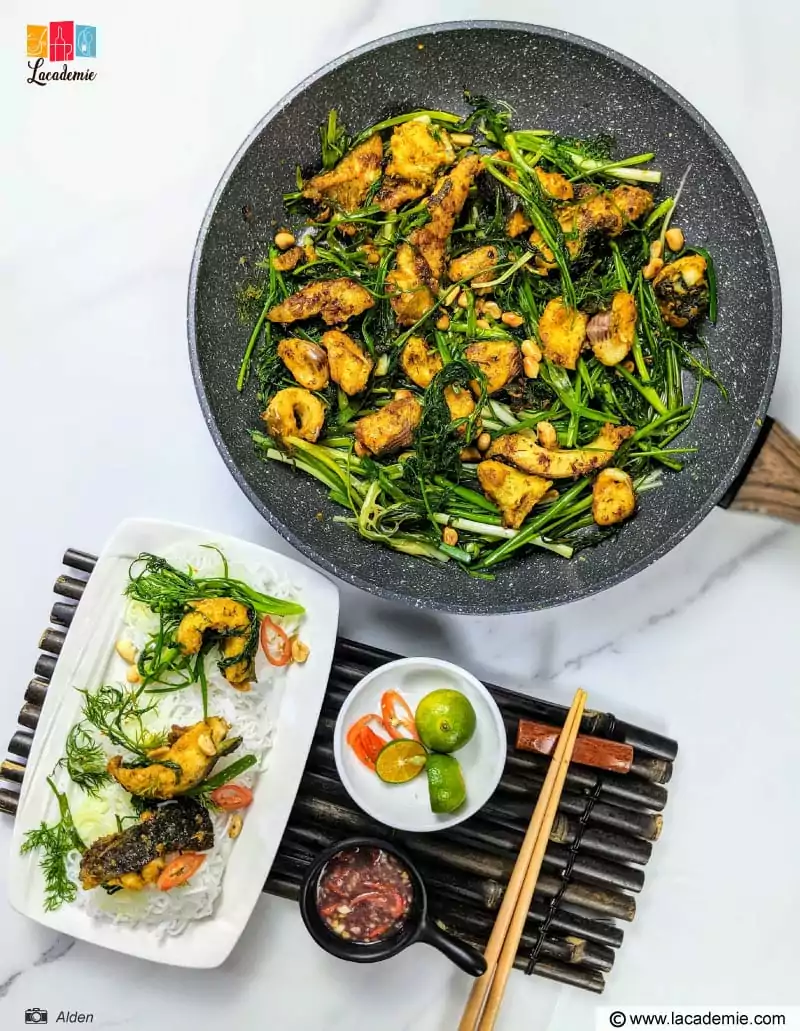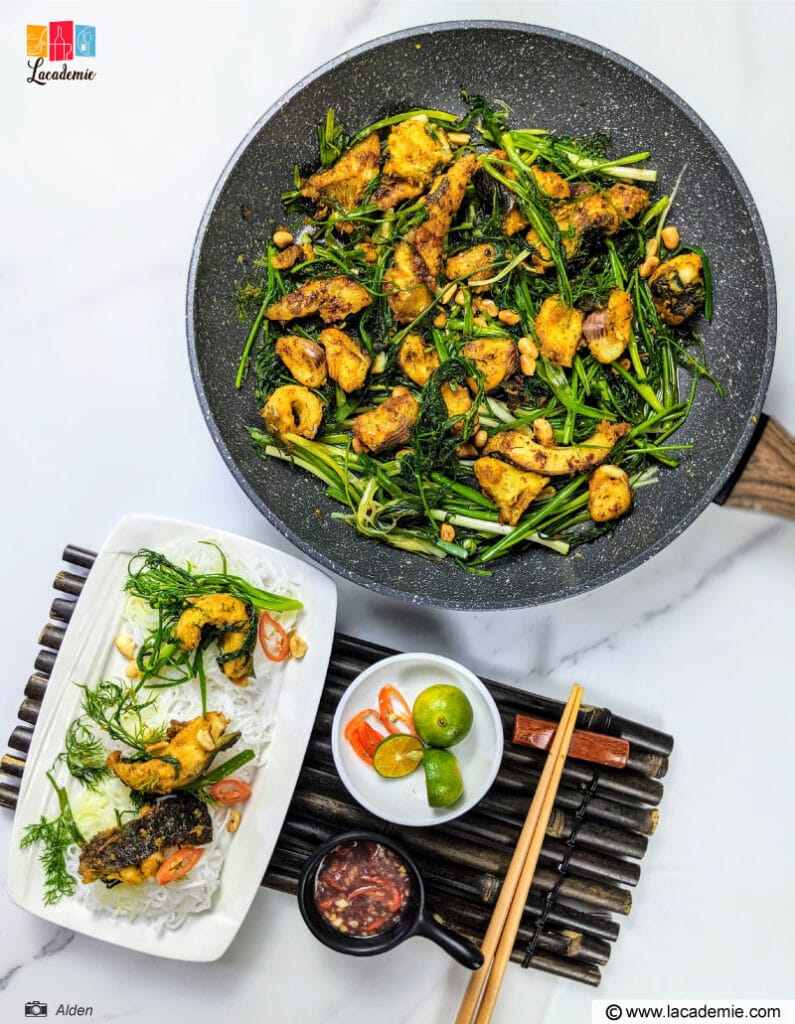 Chả Cá Lã Vọng is a dish created by a Vietnamese Doan family, who lived during the French colonial period. Their family was famous for their Pan-Fried Fish to treat guests.
Gradually, that dish has become a favorite dish for Hanoians, Saigoneses, and Vietnamese in general. About the name, this dish's name was also the name of the first store selling this delicacy (of the Doan family).
The first store has the name "Lã Vọng" since there was always a La Vong (Jiang Ziya, a famous person that lived under the Zhou Dynasty of ancient China) figure inside the Doan's store. Later on, people got used to calling the fish dish "Chả Cá Lã Vọng".
A standard portion of Chả Cá Lã Vọng needs to have catfish (with meatier and firmer flesh) specifically from Da river langur. If you are addicted to foods with dill, you should try it since a portion of the food has plenty of green chives and fresh herbs.
When eating, you will put a bit of shrimp paste, rice vermicelli, crunchy peanuts, and a piece of Fried Fish into a spoon and have them all in one bite. Believe me; it will be absolutely toothsome.
---
Move to the Middle Vietnam specialties that you can find in Saigon! Despite being considered a desolate land with many difficulties in farming, the delicacies in this area are well worth experiencing.
You should refer to the suggested dishes from Central Vietnam to know more about them.
(Hue-Style Spicy Beef Noodle Soup)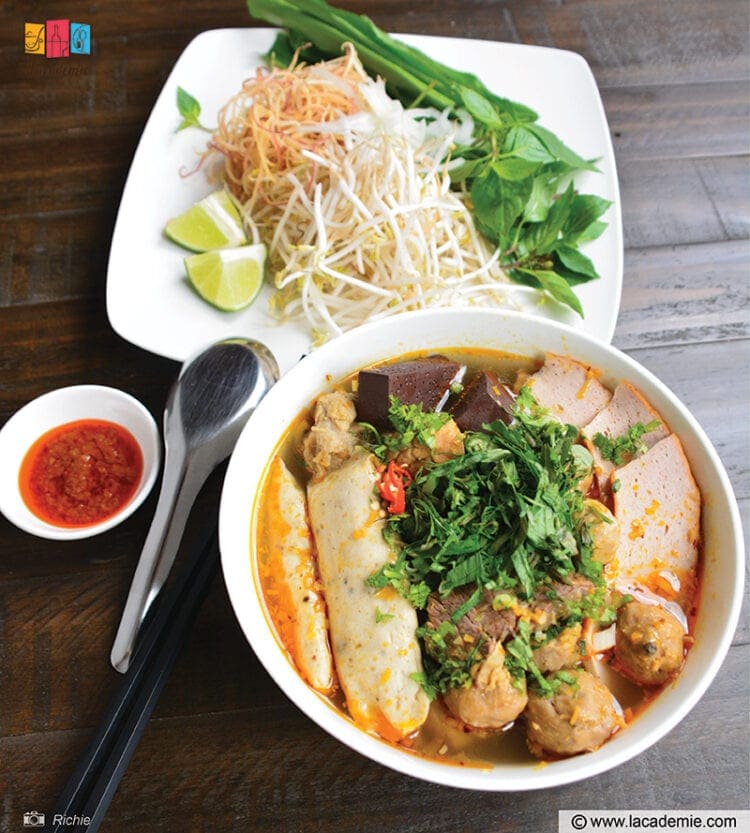 Spicy Hue Noodle Soup was born during the reign of Lord Nguyen Hoang (about the 16th century). People believe that Ms. Bun, a woman living in Van Cu village (now in Huong Tra town, Thua Thien Hue province), was the first one who created Bún Bò Huế.
The "soul" of Bún Bò Huế is the broth made from simmered beef bones, which has a rich sweet taste. In addition, people also add a fish sauce, lemongrass, spices, and some pineapple juice (or fresh pineapple slices) to the broth to create an attractive aroma.
The original version of Bún Bò Huế has only beef and several light toppings. Nowadays, the food includes many other ingredients such as pork rolls, pig blood, and crab cakes, depending on the variation of each region or restaurant.
(Vietnamese Small Crispy Pancakes)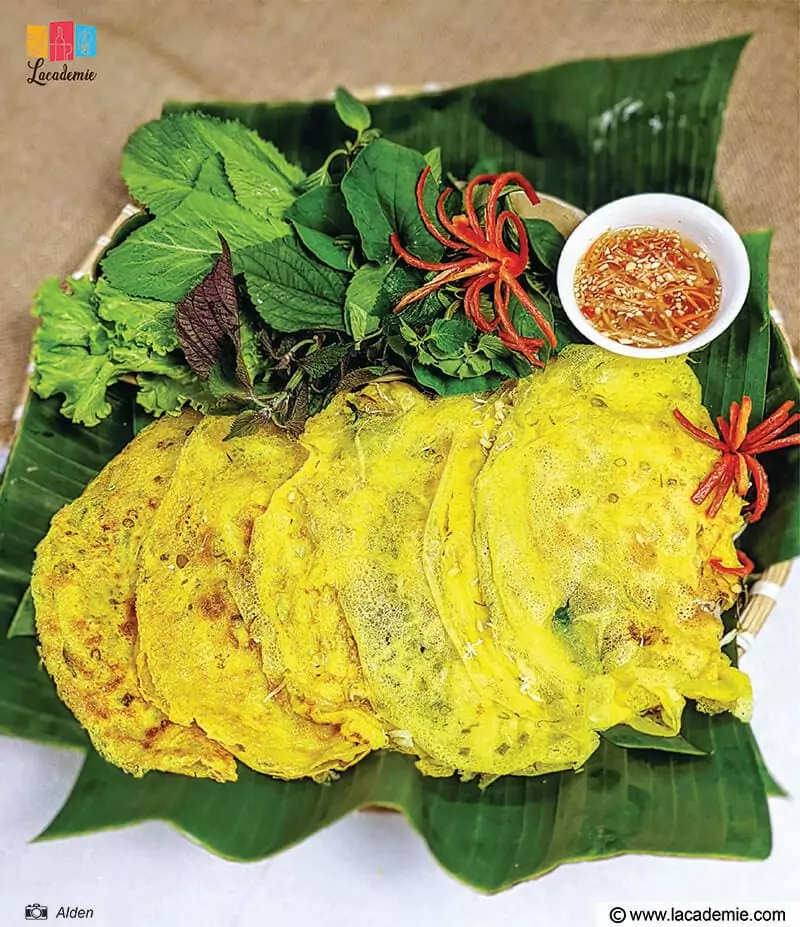 This appealing Bánh Xèo, which appears a lot in small street vendors, has always been one of the typical representatives of Vietnamese street cuisine. The origin of the food is pretty unclear, but many people believe its origin is in Central Vietnam.
The name "Bánh Xèo" comes from the sound when the cooks fry the layer of rice flour on a hot pan. In each region, these Crispy Pancakes have different sizes and ingredients, thanks to which you have many unique and delicious choices to have the food.
For example, the Central-style Bánh Xèo will be smaller with the filling consisting only of shrimp and meat. Meanwhile, the Southern versions will be larger. It is not a daunting task to find Bánh Xèo in Saigon; you need to watch the size to know if you eat the right one.
12. Bánh Căn
(Vietnamese Mini Pancakes With Meatball Fish Sauce)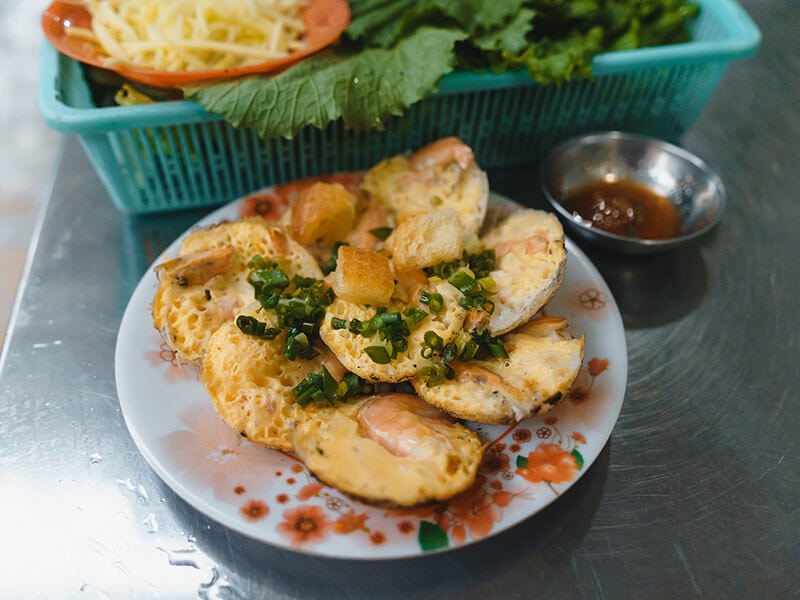 Bánh Căn originates from the Chams people's dish in Ninh Thuan province, Central Vietnam. After a period of learning and development, Bánh Căn has become a special Vietnamese dish. You can find it anywhere in Vietnam, and Saigon is no exception.
Initially, Champa people made Bánh Căn only from rice flour eggs, served with onion oil and sweet fish sauce. Today, people serve this dish with many other ingredients, such as shrimp, squid, or minced meat.
Side dishes will include raw mango, onion oil, or delicious meatballs. The sourness of green mango pairs well with the chili's spiciness, helping the ingredients' natural taste be accentuated. Trust me, those who have once tasted a rustic Bánh Căn will never forget it.
(Vietnamese Turmeric Noodles From Quang Nam)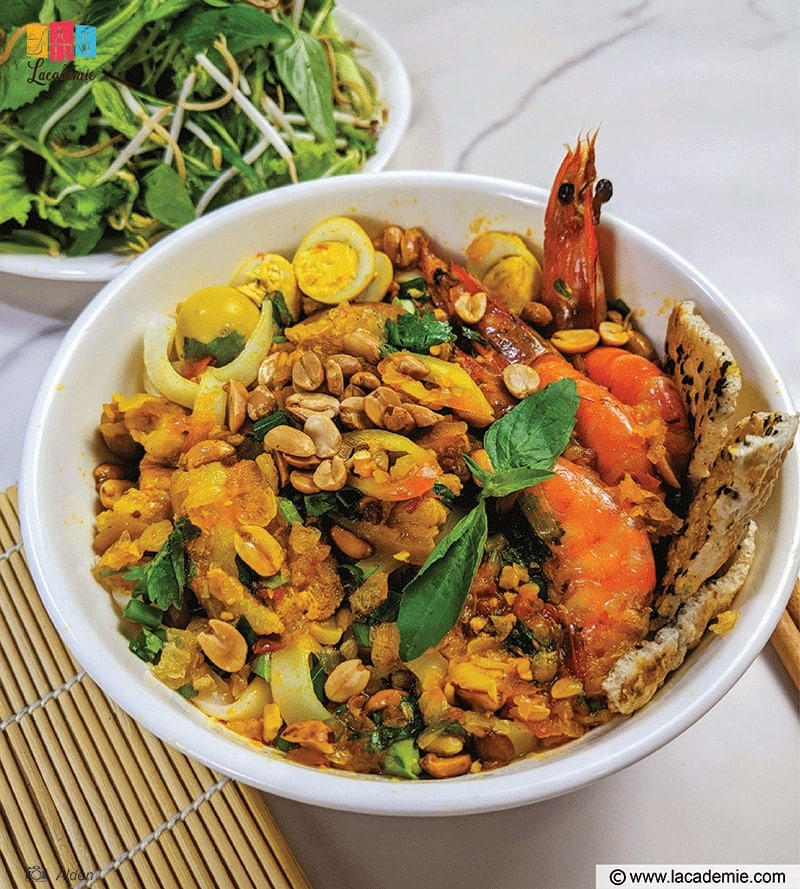 The term "Quảng" in the name of this noodle dish tells you about its origin already. Mì Quảng has its origin in Quang Nam, a province lying in the middle area of Vietnam. People believe that the food combines both Vietnamese and Chinese culinary culture.
In the 16th century, under the Nguyen Dynasty, many Chinese people came to this area and brought their country's specialty with them. After that, the Quang Nam people created a delicious noodle dish with significantly thick strands and a yellow hue.
These noodle strands are neither too chewy nor too dry to create a hearty feeling for the eaters when eating this dish. They also need to prepare other ingredients like shrimp, quail eggs, pork, and chicken to produce the broth and toppings.
Unlike Pho, the broth served with Mì Quảng is not too much (not to soak the noodles), yet its taste is favorable, thanks to the complement of the components.
When the food comes to Saigon, there are some minor twists inside it to fit people's tastes here. However, Mì Quảng is still tasty as it is, and you should spend time trying it.
(Snakehead Fish Soup or Vietnamese Fish Noodles)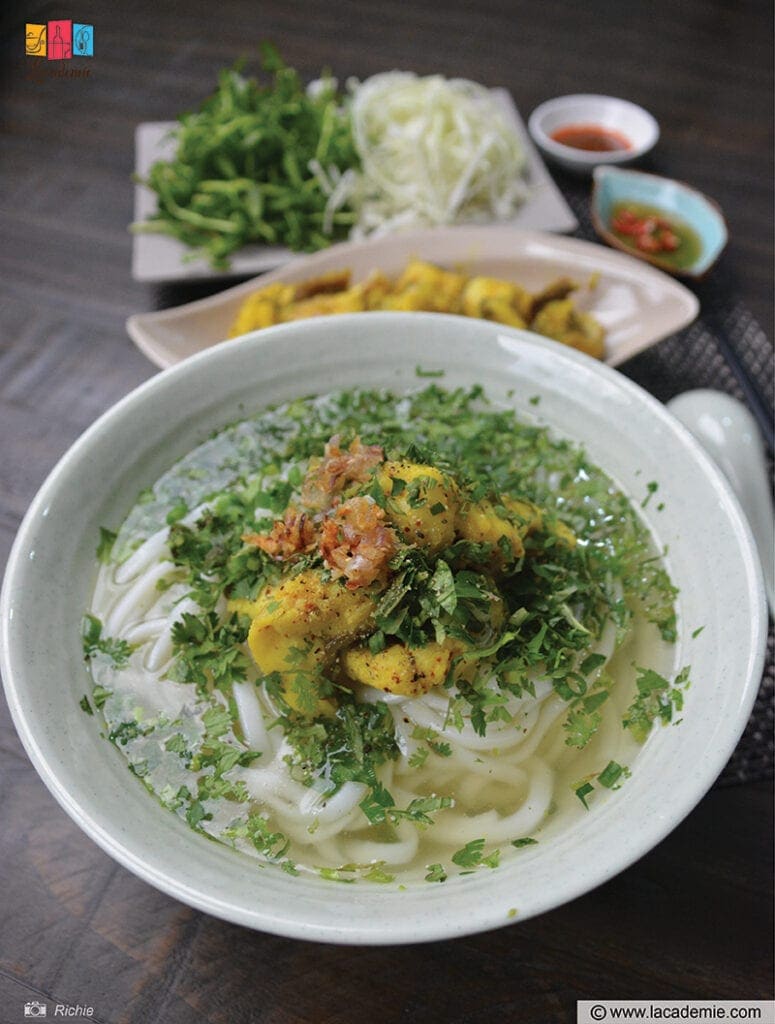 Snakehead Fish Soup is a rustic dish, often sold on sidewalks and small streets, and originates from the Binh Tri Thien area (including Quang Binh, Quang Tri, and Thua Thien Hue provinces).
Nowadays, you can easily find Snakehead Fish Soup in various regions in Vietnam, and Saigon is one of them. A bowl of typical Bánh Canh Cá Lóc consists of thick rice noodles made from rice flour and boiled snakehead fish meat.
Many people love this treat for its sweet and rich flavor from the meticulously prepared clear broth. For more information, there are various variations of Banh Canh, like Banh Canh Gio Heo (Vietnamese thick noodles with pork), Banh Canh Cua (with crab), etc.
To enjoy Snakehead Fish Soup to the fullest, people often add Satay (Chilli-Lemongrass Paste) to create additional spiciness and pangolin flavors as well as attractive colors for the whole bowl.
Furthermore, this delicacy should be served with bitter vegetables, fresh herbs, and bean sprouts to enhance the soup's balance.
15. Bánh Tráng Nướng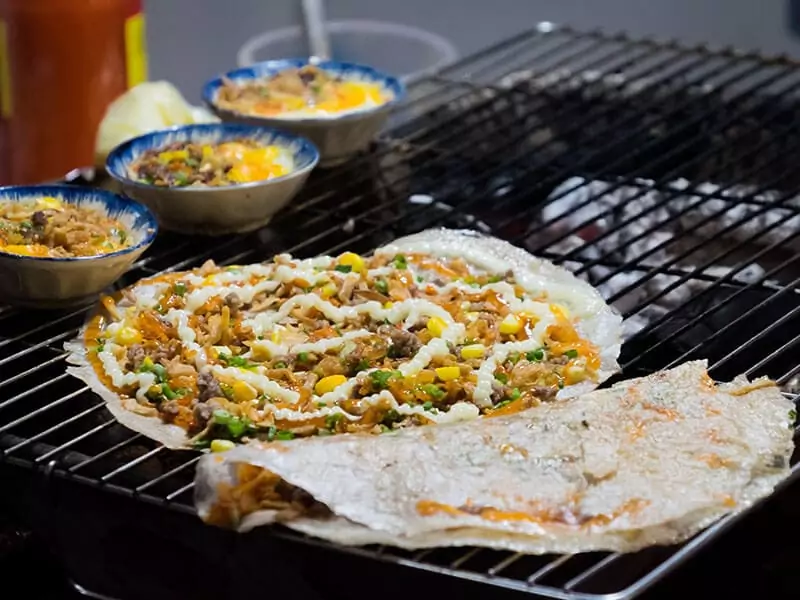 Bánh Tráng Nướng is a famous Vietnamese snack originating from Phan Rang (Ninh Thuan), then became widely popular in Da Lat, Phan Thiet, and Saigon. Basically, the Phan Rang people originally made Banh Trang from thin, crispy rice paper.
Later on, when the treat comes to the other regions, such as Saigon, they add fascinating twists to the delicacy, making its flavors more tempting.
The toppings on the cake are decadent and include ingredients such as sausage, shredded chicken, beef jerky, dried shrimp, eggs, and cheese (similar to Italian pizza). The accompanying sauce is usually tamarind sauce, mayonnaise, and chili sauce.
In Saigon, the image of the vendors preparing Bánh Tráng Nướng besides a charcoal oven become familiar with many generations here.
16. Nem Chua Thanh Hóa or Nem Thính
(Vietnamese Fermented Sausages)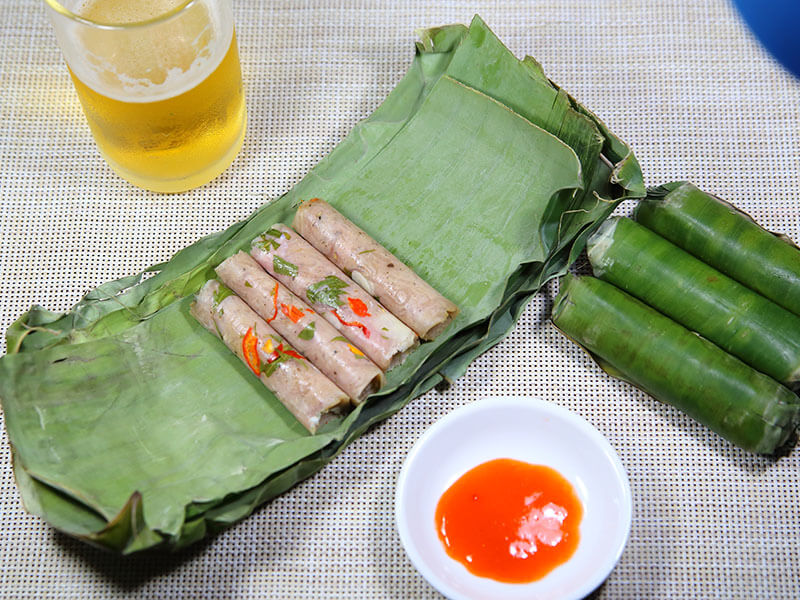 Nem Chua is delicious Vietnamese food, and you can find it everywhere in Vietnam. The true origin of this dish is unclear, but I can guarantee you that the Nem Chua Thanh Hóa is one of the most famous.
To create this dish, people use pork and take advantage of the natural yeast of banana leaves (or guava leaves, fig leaves, etc.) and rice. After a short time, the meat will ferment anaerobically and deliver a very delicious sour taste.
Once eating, you only need to unwrap the banana leaves layer, cut them into small pieces, and serve as a side dish for other Vietnamese delicacies. It can also pair with white rice in a family meal, so you can buy some more of it to bring home as a souvenir.
---
Southern Vietnamese specialties are famous for their richness, fresh flavors, and lovely rusticity. There is no need for sophisticated processing or complicated ingredients; the following delicacies will always satisfy even the most fastidious diners.
(Vietnamese Broken Rice With BBQ Pork Ribs)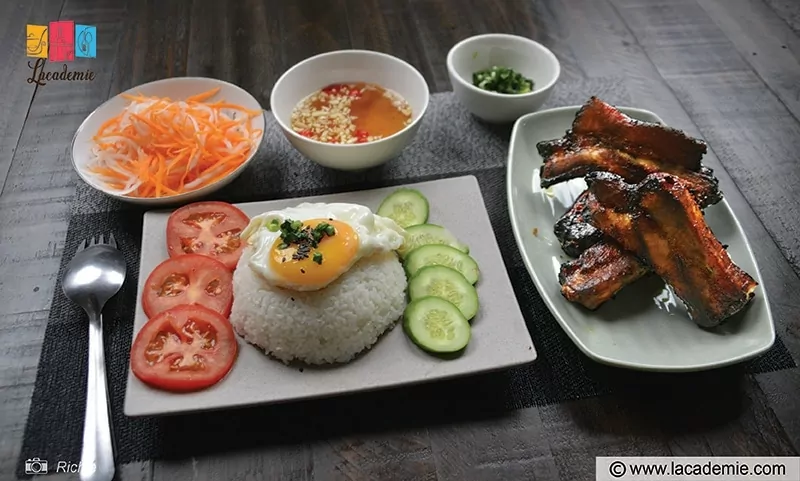 Cơm Tấm is a dish made from broken rice grains that are very popular in the South of Vietnam. This rice dish often includes Sườn nướng (Vietnamese pork chops), Bì (shredded pork skin), fried eggs, pickles, and the "legendary" sweet-spicy fish sauce.
One fascinating fact about this rice dish is that you can have various other options for its toppings (aside from BBQ Pork and fried eggs), such as seafood, chicken, and vegetables.
In the past, Cơm Tấm was a rustic dish that the poor farmers and workers in Mekong Delta prepared for their families in the years of famine. At that time, many people didn't have enough good rice to sell, so they used broken rice to eat through their hunger.
Nowadays, people in Saigon sell Cơm Tấm a lot on their streets, and you can have it for every meal of the day. From the early breakfast to the late dinner, you can always find a portion of warm Cơm Tấm there.
18. Bánh Mì Chảo
(Breakfast Skillet With Banh Mi)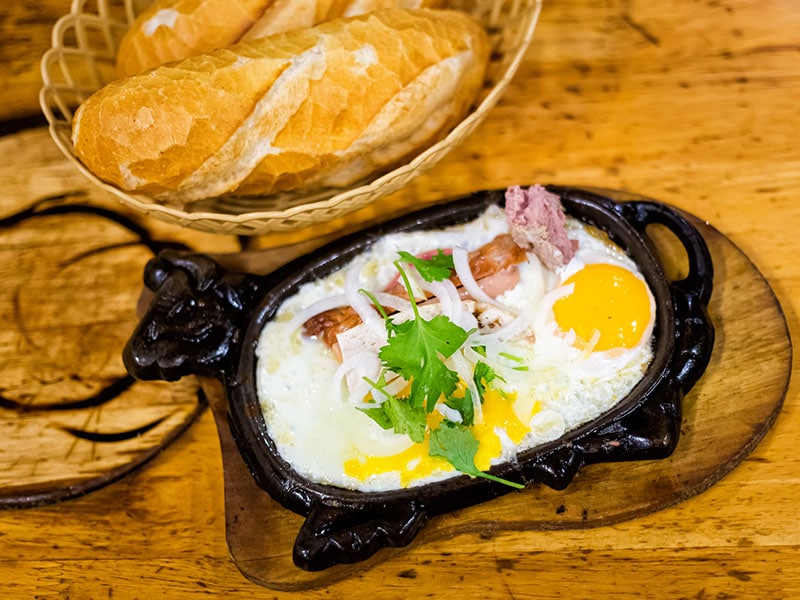 As you might know, Vietnamese Bánh Mì derived from the French baguette, and Hanoians opened the first bakery in Hanoi in 1883. Since then, Bánh Mì itself has gradually become a staple in Vietnamese people's hearts. Vietnamese people enjoy Bánh Mì with chicken, eggs, pork, sausages, pickles and many more fillings.
But, Bánh Mì Chảo originated in Saigon, not Hanoi. The story was about a Hanoian couple who came to Saigon and opened the first Bánh Mì Chảo store in 1958 in former Phan Dinh Phung street (District 3, HCMC).
The first idea to create this food was straightforward. Freshly baked Bánh Mì will be served with a whole pan of mixed ingredients. The selections of components are up to you, including fried eggs, ham, Vietnamese Sausages, sausages, bacon, and more.
Then, the sellers put some sprinkled onions to elevate the dish's attractiveness. When eating, diners often have to add salt and pepper, soy sauce, and chili sauce to taste.
The best way to enjoy Bánh Mì Chảo is to dip the bread into the expanded yolk and eat it with other dishes on the pan. Believe me, I'm an "addict" to this dish!
(Mixed Rice Paper)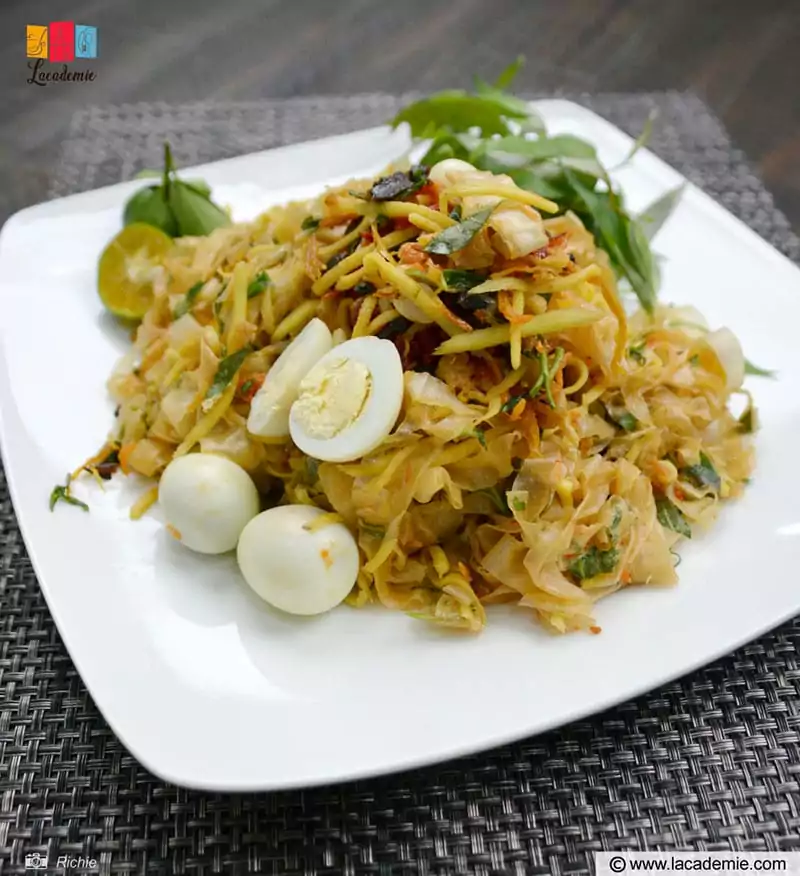 Mixed Rice Paper must be no stranger to many young people in Vietnam since there are many stalls selling Bánh Tráng Trộn at street vendors, especially in the school-front areas.
This street snack initially originated in Tay Ninh, a province in the Southern West regions of Vietnam. The place has long been famous for its rice paper-making traditions.
Although you can find Bánh Tráng Trộn in various other regions of this country, the particular taste of Saigon's version is one of a kind.
With only small pieces of rice paper with various other dried/fresh ingredients, this food is toothsome in a rustic way. It looks simple but actually includes so many different flavors, this Mixed Rice Paper is a must-try snack in Ho Chi Minh City.
(Vietnamese Mini Savory Pancakes)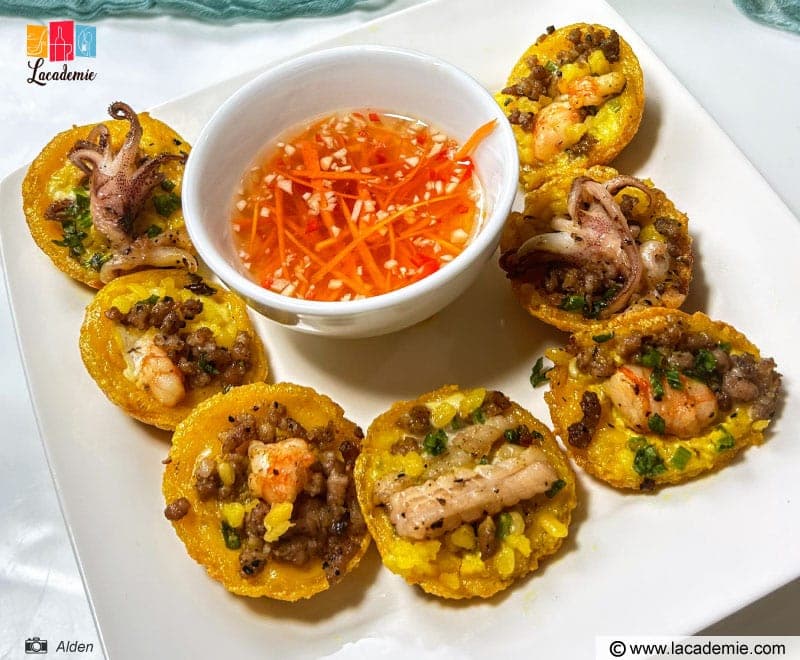 Don't confuse this Bánh Khọt with Bánh Căn. They might look alike, yet the way to process them is different. As illustrated, the chefs will deep-fry Bánh Khọt on a special tray with semicircle holes on it instead of "pan-baked" like Bánh Căn.
Bánh Khọt is a specialty of Vũng Tàu city, but it actually derived from the mentioned Bánh Căn. The term "Khọt" in the name of this treat is from the sound the vendors make when taking the piece of pancake out of the pan.
There is another theory about the name of this treat, but the previous one is more prevalent. The main ingredient for making cakes is pure rice flour. One can add a little turmeric powder to make the cake an eye-catching golden color.
The filling is quite diverse; it can be scallops, fresh shrimp, minced meat, fish cakes with some onion oil, served with raw vegetables. Sweet and spicy fish sauce is the main dipping sauce accompanying this dish.
Luckily, you don't need to go to Vũng Tàu to try this delicacy; you can still try it right at Ho Chi Minh City.
21. Bò 7 Món
(Beef 7 Ways)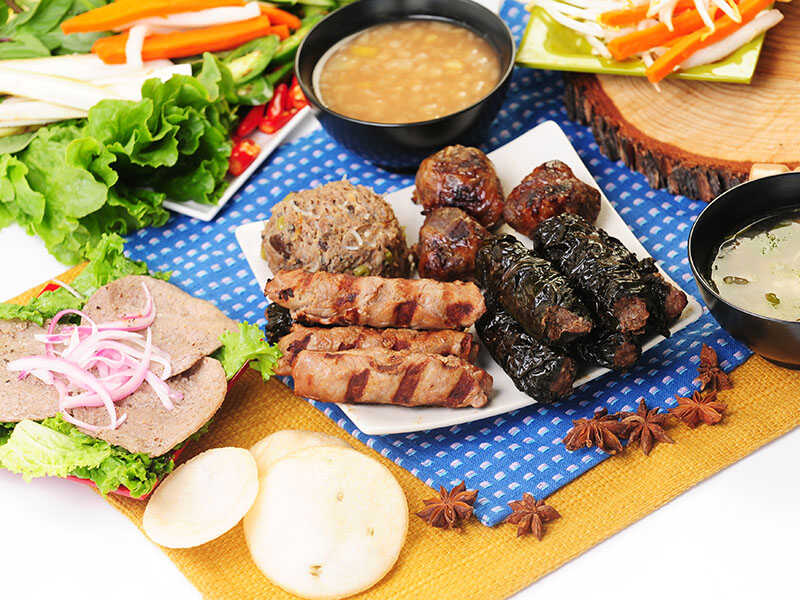 Can't decide which beef course to have in Saigon? Well, just go for Bò 7 món (or 7 courses of beef). This hearty dish is believed to have originated in Southern Vietnam around the early 20th century and is now a representative of Vietnamese gourmet cuisine.
The 7 portions of beef include:
Bò bít tết (beefsteak)
Bò nhúng dấm (sliced raw beef to be dipped in a vinegar-based fondue)
Bò chả đùm (ground beef patties)
Bò lá lốt (grilled ground beef wrapped with Lolot leaves)
Bò cuốn mỡ chài (grilled ground beef sausages wrapped in caul fat)
Bò sa tế (marinated grilled minced beef wrapped in thin beef slices)
Cháo bò (beef rice porridge)
The array of tasty beef dishes are then served with rice paper, herbs, cucumbers, lettuce, carrots, and a special sauce called Mắm Nêm. The unique sauce is made from anchovies with a slight sweetness coming from the added pineapples.
After 1975, Beef 7 Ways made its way to various foreign countries. You can now find restaurants selling this delectable Vietnamese delicacy in France, Canada, America, and Australia.
(Vietnamese Iced Coffee with Milk)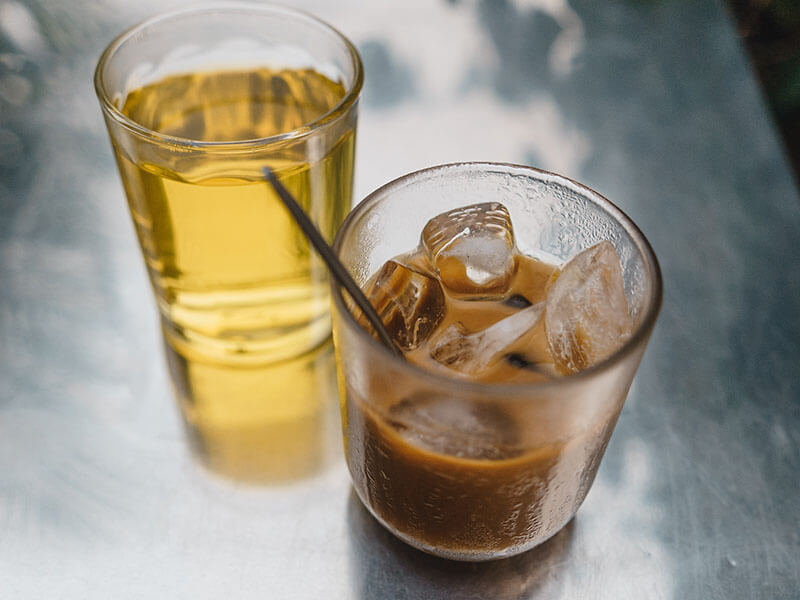 French people were the first to introduce Coffee to Vietnam during the French colonial period. Thanks to the favorable conditions that nature has bestowed, Vietnam is suitable for developing Robusta coffee varieties.
Therefore, most coffee you find at street vendors is also made from Robusta. Time passed by, and Vietnamese people in general or Saigoneses, in particular, have mastered the way of making and enjoying this drink.
It is no exaggeration to say that Iced Coffee With Milk is a drink that represents Vietnam. Perhaps the harmonious combination of extreme bitterness and sweetness has helped iced milk coffee win the hearts of many diners.
In Saigon, you don't have to go to the fussy stores to have perfect cups of Cà Phê Sữa Đá. Feel free to grab a cup of coffee from the streetside vendors, and it will taste phenomenal anyway.
23. Ốc
(Saigonese's Signature Sea Snails Dishes)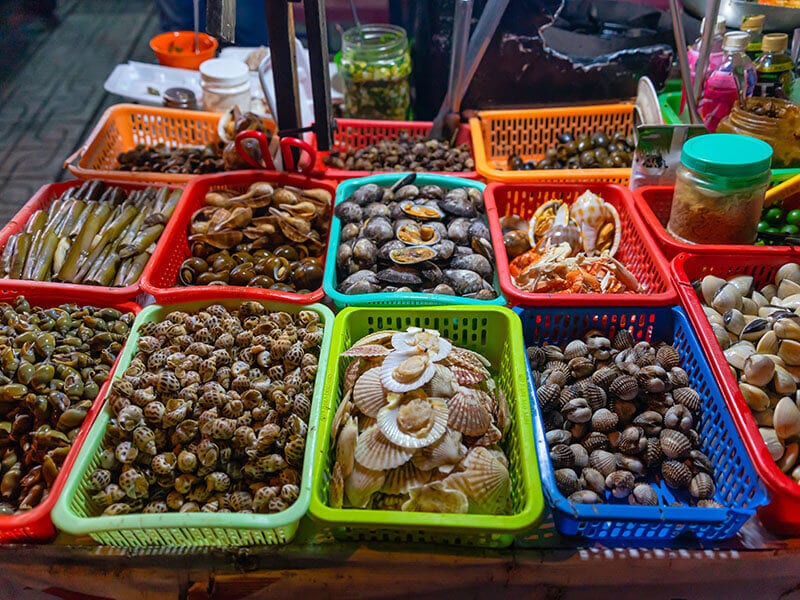 Ever since snails seemed to be just a rustic dish, the habit of eating Sea Snails as a snack when missing a meal has become a unique culinary culture of Saigon. The Sea Snail dishes bring extreme deliciousness, from the aroma taste to the particular processing method.
While Hanoi Sea Snails are simply boiled and steamed dishes with lemongrass and lime leaves, it is a full-fledged "feast" in Saigon. You can easily find dozens of different types of processing, each with its unique sour, salty, sweet, creamy, and spicy flavors.
Nobody knows when sea snails were brought to the country's busiest metropolis. Just know that for a long time, from the modest sidewalks stalls to the luxurious restaurants that serve Sea Snail dishes, they have become the ideal stopovers for many people.
You can partly know more about the deliciousness of these Snail dishes through this review!
---
Besides encasing the features from various regional cuisines, some Saigon street delicacies have their origins in other countries. No more beating around the bush; you can see them right below!
24. Bánh Flan
(Caramel Custard or Crème Caramel)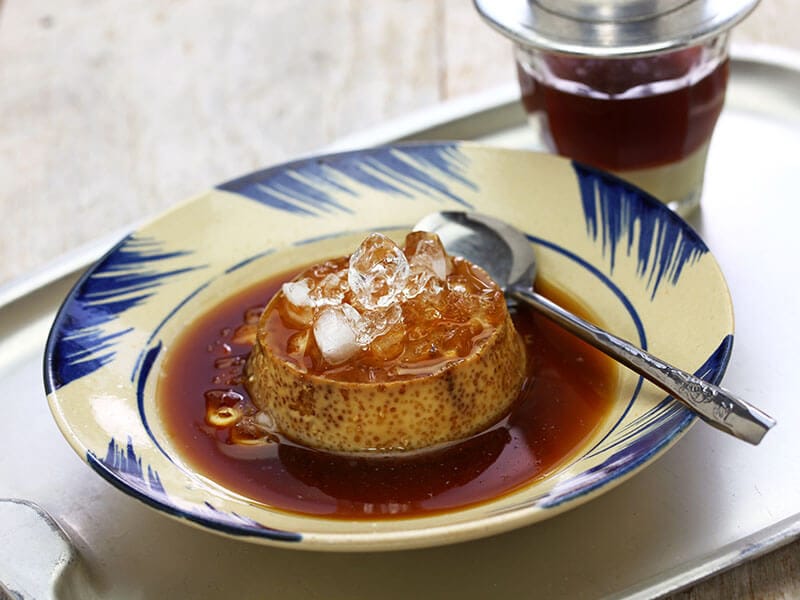 Bánh Flan or Caramel Custard or Crème Caramel is a Romanian creation. Ancient Romanian people first thought of combining chicken eggs with milk to create a luscious, milky dessert a long time a go.
At first, it was only famous in Europe, and Bánh Flan followed the Spanish missionaries to Vietnam a long ago. This appealing Vietnamese dessert, Flan, has its name based on how the French called this delicious sweet.
Today, Flan is well-received in Vietnam, and the sellers often serve it with coffee, shaved ice, and drizzled with condensed milk. People in Saigon have developed their variations of Flan in Saigon in an authentic Vietnamese way for years.
Besides the traditional Flan flavors of only vanilla, milk, and eggs, Saigonese people have added their signature twists to make this dessert taste more "Vietnamese". By infusing it with more taste from matcha, passion fruits, to coconut, Saigon's Flan tastes amazing.
25. Phá Lấu
(Vietnamese Braised Pork/Beef/Duck Offals)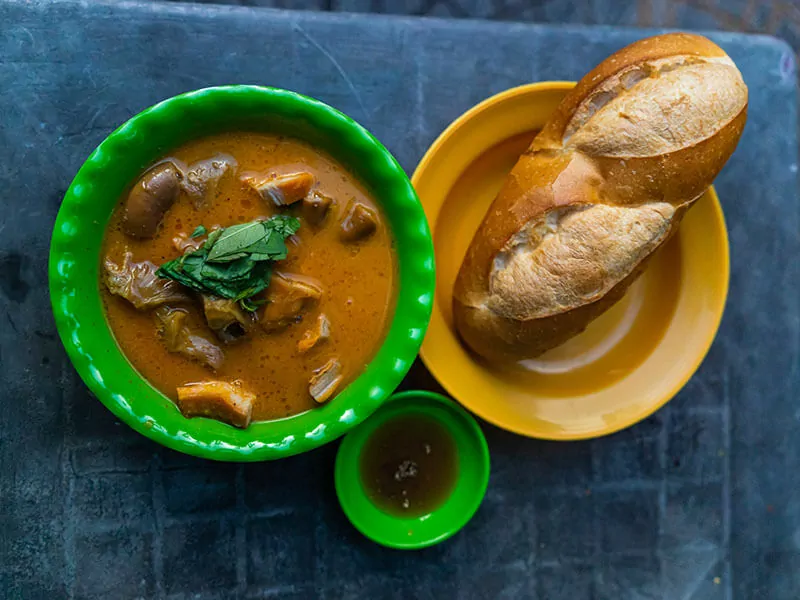 Pha Lau is a popular street food in Saigon that draws a large crowd of locals and visitors from all over the world. Centuries ago, a group of Teochew people brought their hometown's treat to Saigon and developed it based on Vietnamese cuisine.
A standard Pha Lau batch has many components: the stomach (gastric), small intestine, lungs, liver, heart, and other internal offals. The cooks need to clean those things meticulously before cooking. These ingredients mainly come from pork, beef, or duck.
The vendors will then marinate it with aromatic spices before frying it until golden brown and simmering it again until tender. After combining all of the ingredients in the pot, they will add extra coconut milk to the pot to generate a sweet and fatty flavor for the braised dish.
When eating, the sellers will regularly serve Phá Lấu with freshly baked Vietnamese Bánh Mì or instant noodles and a sweet-savory tamarind sauce. With this yummy, saucy treat, these starchy bases and lovely sourness from the tamarind will never go wrong.
26. Bột Chiên
(Vietnamese Pan-Fried Rice Cake)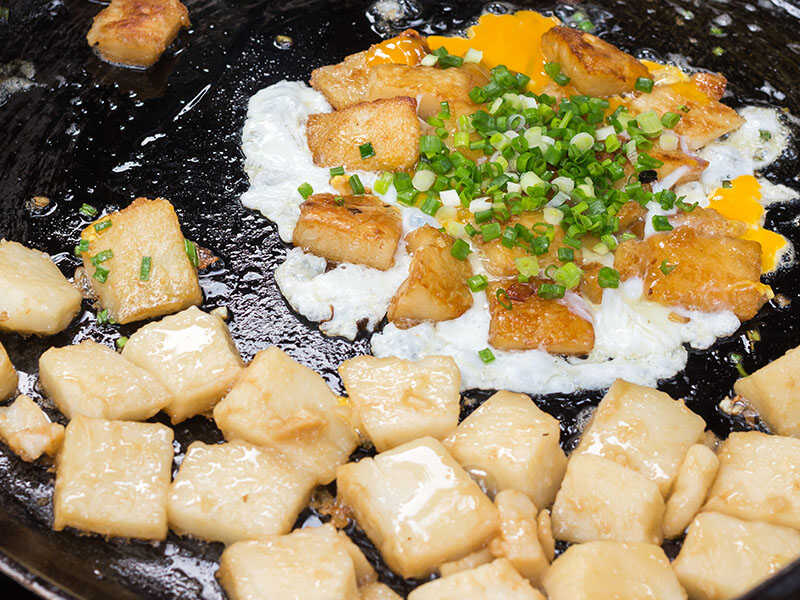 Vietnamese Pan-Fried Rice Cake is a simple dish originating from China. The ancient Chinese immigrants introduced this food to Vietnam as a snack, breakfast, or late-night meal in the Saigon area and some other places.
To this day, the delicious Bột Chiên or Vietnamese Pan-Fried Rice Cake in Saigon is mainly processed by Chinese Vietnamese people, so it is not much different from the original.
The cooks normally make Vietnamese Pan-Fried Rice Cakes from newly-harvested rice's flour. Rice from the previous crop is not a perfect nominee to make Bột Chiên. It is because the old rice flour when frying will have a dark black color, not a beautiful golden color.
Grated papaya, fried eggs, pickles, and dark soy sauce with chili sauce or spicy satay round up a platter of Bột Chiên. Depending on the location, the vendors may serve guests different dipping sauces with their hot Pan-Fried Rice Cake.
Essentially, the vendors/cooks make the yummy broth by heating soy sauce, sugar, and vinegar until it reaches the desired consistency.
(Fermented Fish Soup)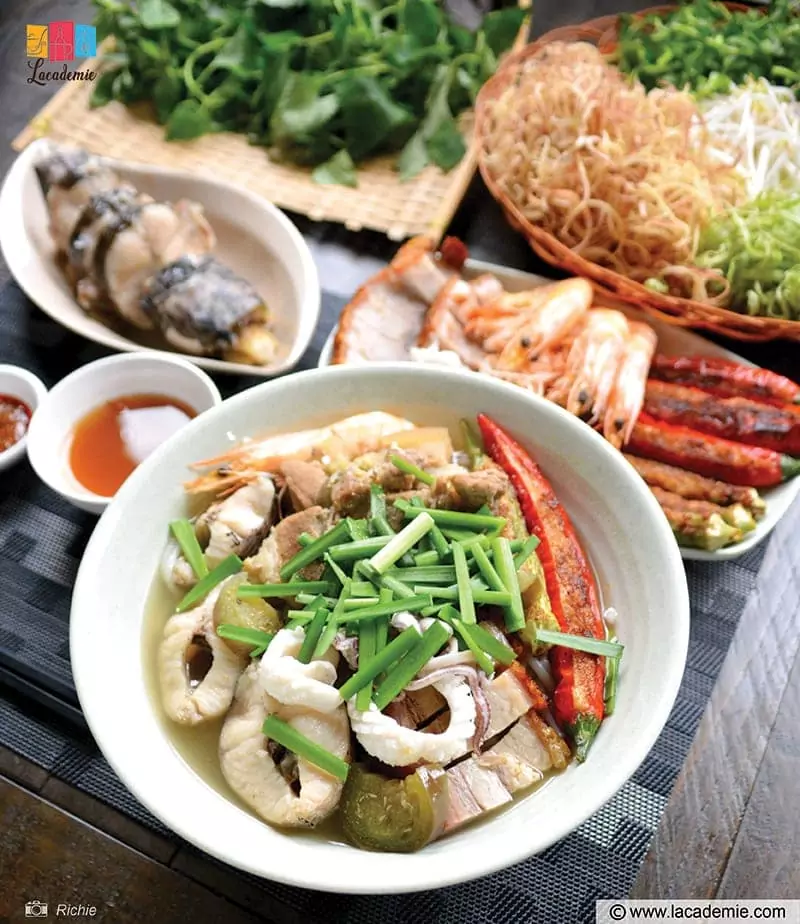 Although not originating from Vietnam, Bun Mam is one of the best specialties of the southwestern region of this country. Regarding the exact origin, Bun Mam is a Cambodian-originated dish and includes a special fish sauce, Pra Hok.
However, Vietnamese people often make this treat with local fish sauces (cyprinid or gourami fish). Bun Mam also comes with various veggies, herbs, and toppings: Sliced Crispy Pork (Heo Quay), boiled snakehead fish, or shrimp. You can find it at many Saigon street vendors.
Last but not least, rice noodles are a perfect partner for this Vietnamese soup as they can help harmonize all of the flavors. Since it is pretty hearty with plenty of ingredients, you can have it as a complete meal.
(Vietnamese Braised Beef Stew)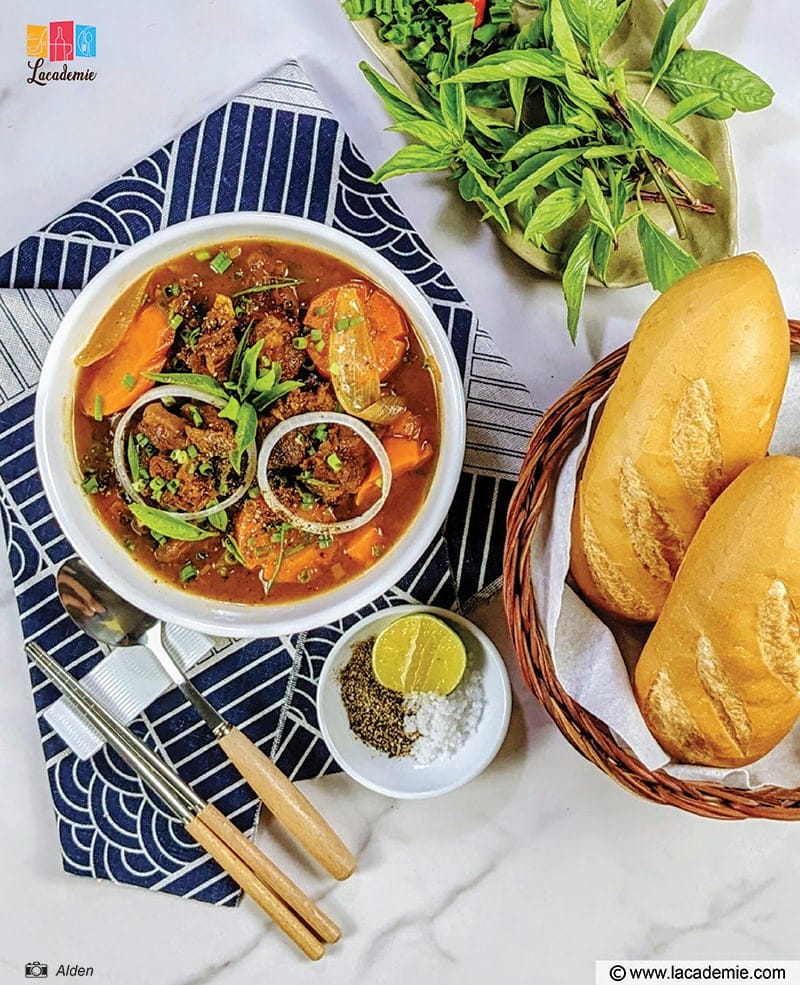 Bò Kho, or Vietnamese Braised Beef Stew, is a familiar dish in Vietnamese meals in Saigon or other regions. You can see people in this country eating this dish for breakfast, lunch, and dinner.
No one knows precisely when they first sold this dish in Saigon, but many think it is from the 1950s. The Chinese communities' cooking method inspired Braised Beef with the right flavor and taste in old Saigon.
Bo Kho is delicious no matter which dishes to accompany. So, you can create as many combinations as you want. Bread is a familiar choice as its crispy texture is an ideal partner for Bo Kho's rich broth.
There are also noodles, shrimp noodles, or braised beef noodle soup, which are also very delicious. Many people like to eat braised beef with hot rice, which is not a bad combination.
(Vietnamese Pork And Prawn Clear Noodle Soup)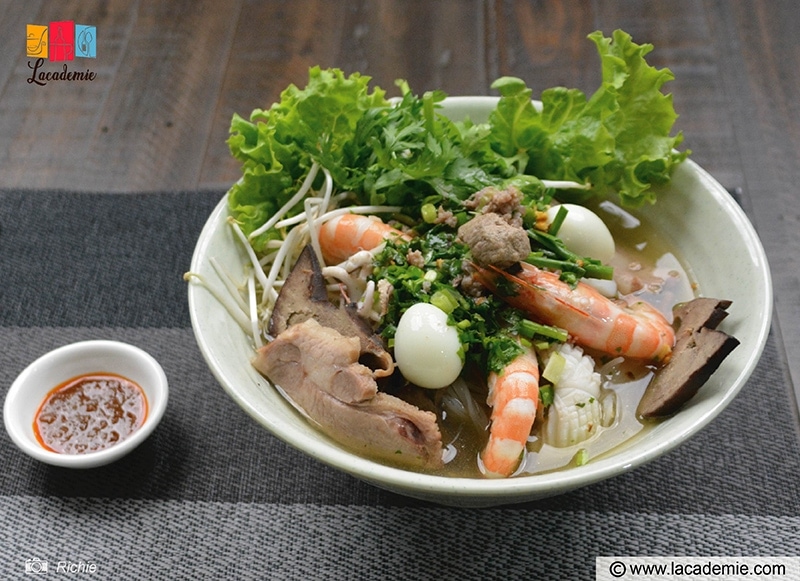 Hủ Tiếu Nam Vang is a dish created from a unique combination of Chinese and Cambodian cuisines. The original variation of this famous street dish in Cambodia is "Kuay Tev", which is slightly different from the Vietnamese one.
When coming to Vietnam, the cooks will add many rich and aromatic spices to Hủ Tiếu Nam Vang. It is because they want to twist it so that the food will match the culinary culture of the Vietnamese people. Thanks to that, the dish became a specialty of Saigon and other areas.
You can enjoy Hủ Tiếu Nam Vang in two ways: dry and with-water with the same main ingredients. The most popular ingredients are noodles, pork liver, octopus, raw vegetables (chives, bean sprouts), and a delicious, frugal broth.
Each store that sells Hủ Tiếu Nam Vang can use different kinds of sauce (to mix dry version) or ingredients, yet all of them are worth trying once.
Don't Hesitate And Eat These Saigon Street Treats!
It is no exaggeration to say that street food is an indispensable part of Saigon. Therefore, street food gradually becomes a highlight of this beautiful city, especially leaving a deep impression in the hearts of international tourists.
If you come here and do not taste the famed dishes, you will regret it later. I hope my recommendations below will assist you in your food tour in Saigon.
Please share this humble article with your loved ones if you think it will also be beneficial to them. Loving is sharing!