Are you unsure what essential Vietnamese cooking tools to have in your kitchen, despite being a fan of the country's rich cuisine? Well, fret no more! This article has got you covered with everything you need to know.
I will cover universal cooking tools that are also commonly used in Vietnam, like ladles and spoons, as well as some more Vietnamese-specific ones, such as woks and cleavers. After reading this post, you'll be able to equip yourself with the right tools to recreate authentic Vietnamese dishes at home!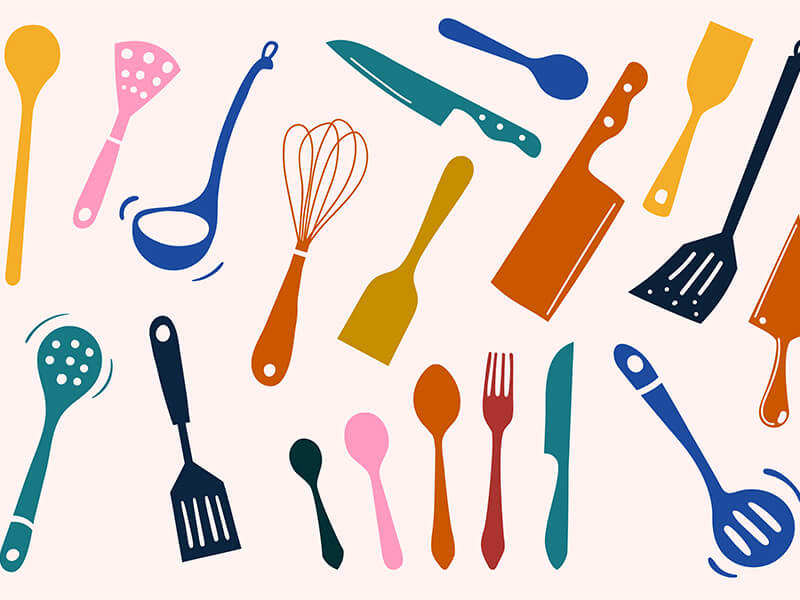 Introduction To Vietnamese Cuisine
Vietnamese cuisine is famous for its masterful combination of five fundamental tastes: salty, sweet, bitter, spicy, and sour. Dishes from Vietnam are famous for their use of fresh ingredients, an array of aromatic herbs, and eye-pleasing presentations.
The food culture of this S-shaped country is influenced by neighboring nations such as China, Cambodia, Lao, and Thai. The French have also left footprints on many Vietnamese dishes due to their colonial rule over the country in the 17 and 18th centuries.
The Vietnamese favor rice-based ingredients, such as noodles, flour, and paper, over wheat-based ones. As a result, most recipes here have a low sugar content and are naturally free of gluten.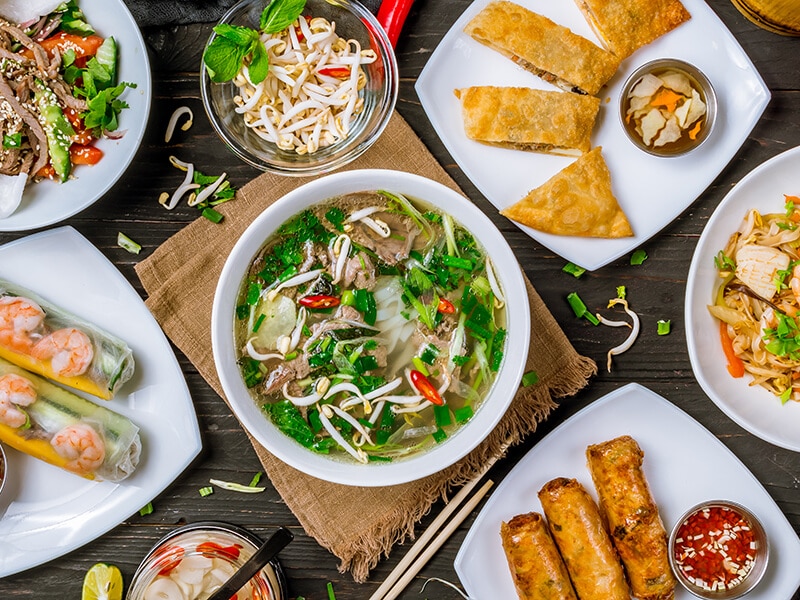 The Diverse Regional Cuisine Of Vietnam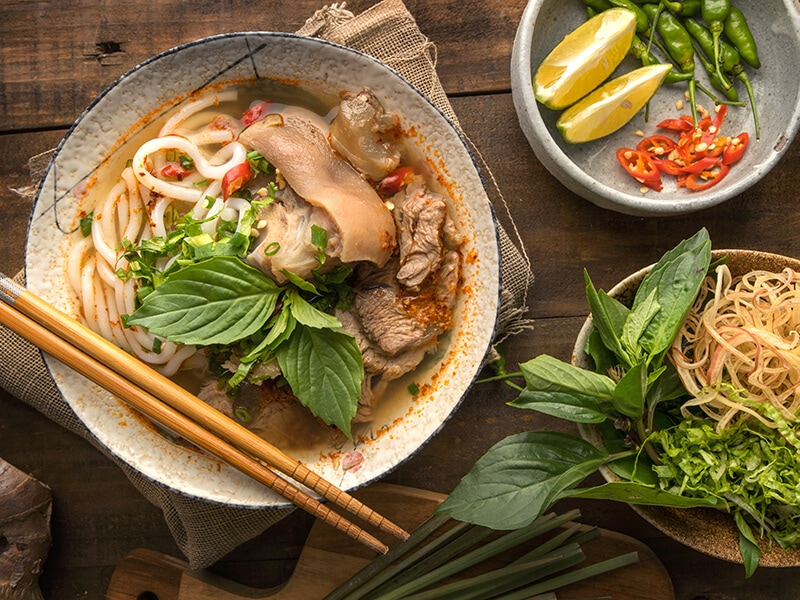 Vietnam is also known for its colorful regional cuisines, which, in many ways, reflect the Vietnamese way of thinking and living.
Northern Vietnamese cooking features various seafood dishes with a light and balanced flavor. This is partly due to the area's colder climate, resulting in a rather limited supply of intense spices. Some signature delicacies from the Northern region are Pho, Banh Cuon, and Bun Rieu.
On the other hand, Central Vietnamese cuisine is well-known for its generous use of spicy ingredients. The region is home to Hue, the capital of Vietnam's last dynasty, whose dishes are praised for being sophisticated and colorful. Bun Bo Hue, Cao Lau, and Mi Quang are some of Central Vietnam's finest dishes.
Last but not least is the food culture of Southern Vietnam, which includes the fertile Mekong Delta region. Blessed with warm weather, this area is ideal for producing numerous kinds of fruit, veggies, and livestock. As a result, the recipes here are vibrant and packed full of flavor from various herbs.
People living in the South tend to add more sweeteners to their food than in the other two regions. Examples of adored Southern Vietnamese dishes are Banh Khot, Bun Mam, and Hu Tieu.
Grasp a better understanding of the art of Vietnamese cooking.
Common Cooking Techniques In A Vietnamese Kitchen
Vietnamese recipes are generally healthy, as they include much less oil than, say, Chinese dishes. Steaming and boiling, which use zero oil, are two of the most popular cooking methods in Vietnam.
Of course, the Vietnamese also enjoy a variety of fried and deep-fried delicacies, such as Cha Gio and Ga Chien Nuoc Mam. Moreover, they love incorporating vegetables and meaty protein in flavorful stir-fried recipes.
You'll also come across numerous stewed and braised dishes on your food journey in Vietnam. The locals will put fish or meat together in a pot together with a plethora of herbs and spices and slow-cook them until tender.
It would be a big mistake not to include grilling in the list of the most popular Vietnamese cooking techniques. One genius way that people in Vietnam use to take grilling to the next level is by wrapping the food in leaves.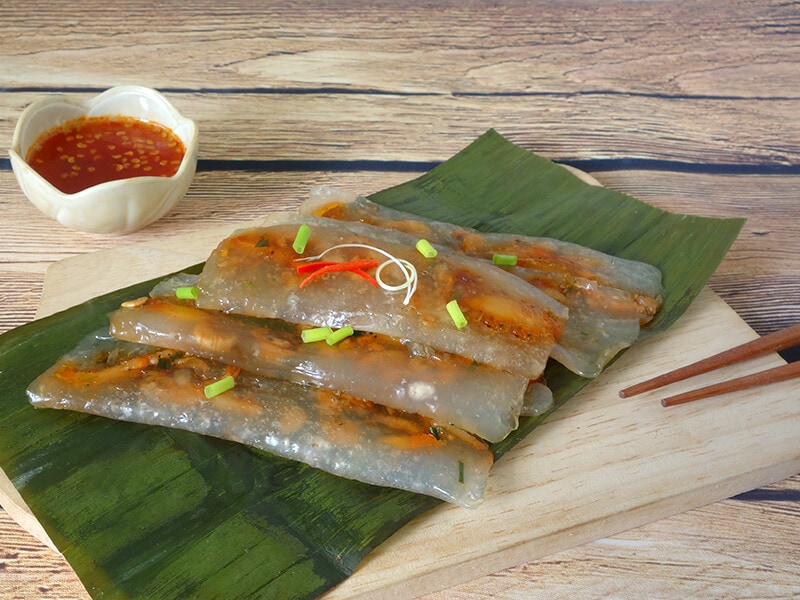 27 Must-Have Vietnamese Cooking Tools
Without further ado, here are the vital cooking tools that you need to prepare authentic Vietnamese dishes. Some of them have very specific uses, while others can be used in a variety of recipes.
| Tools | Main Function | Common Materials | Notable Dishes |
| --- | --- | --- | --- |
| Rice cooker | Cooking rice and grains | Various materials | White rice, brown rice, sushi rice, and congee |
| Rice paddle | Scooping, stirring, and fluffing up rice | Wood, plastic, and metal | Many rice dishes |
| Steamer | Steaming food perfectly | Bamboo, metal | Sticky rice, buns, dumplings |
| Wok | Stir-frying, frying, and deep-frying food | Cast iron, carbon steel | Stir-fries, Chinese-influenced dishes |
| Pan | Frying, searing, sauteing | Stainless steel, non-stick | A variety of dishes |
| Pot | Making broth, soup, and braising recipes | Stainless steel, copper, clay | Vietnamese soup, Pho, and many more |
| Chopsticks | Stir-frying, frying, spooning, and stirring rice | bamboo, wood, metal, ceramics, and ivory | Various rice-based dishes and many more |
| Spoon | Mixing, stirring, taste-testing, and measuring ingredients | Metal, wood | Various dishes |
| Slotted spoon | Retrieving pieces of meat, vegetables, noodles, and other food from a broth-filled pot | Metal | Vietnamese noodle soup dishes |
| Spatula | Stir-frying, flipping, and scraping | Metail, silicone, wood | Stir-fries and recipes that require flipping delicate ingredients |
| Knife | Slicing, dicing, mincing, and precision cutting | Stainless steel, carbon steel | Almost every recipes |
| Cleaver | Heavy-duty cutting, crushing, and smashing tough ingredients | Stainless steel, carbon steel, and ceramic | Poultry and meat-based dishes |
| Chopping board | Providing a flat surface for precise cuts, preventing knife's damages, and boost kitchen hygiene | Bamboo, wood, and plastic | All dishes that requires knife work |
| Mortar and pestle | Grinding and blending spices or herbs | Stone, wood, ceramic, and metal | Various dishes |
| Flat winnowing basket | Separating husk from rice, sifting flour, drying grains and other ingredients | Woven bamboo and natural materials | Bun Dau Mam Tom, Heo Toc Quay |
| Peeler | Peeling and cutting fruits and vegetables into even slices | Stainless steel, ceramic | Mango salad, stir-fries, soups, and stews |
| Ladle | Serving and portioning soup and braised dishes, mixing and stirring ingredients | Stainless steel, ceramic, and plastic | Pho, Bun Rieu, sauces, stews, and braised dishes |
| Mold | Making various Vietnamese Banh (cakes) | Bamboo, aluminum, and plastic | Banh Chung, Banh Khot, Banh Trung Thu |
| Grill | Grilling dishes | Stainless steel | Grilled meats and seafood, Com Tam Suon |
| Teapot | Brewing tea | Porcelain and ceramic | Traditional Vietnamese tea |
| Phin coffee filter | Brewing coffee | Stainless steel | Vietnamese coffee |
| Tongs | Turning, tossing, flipping ingredients, arranging noodles and garnishes | Metal, usually stainless steel | Grilled, stir-fried, and fried dishes |
| Sieve | Straining liquids, sifting and dusting dry ingredients, rinsing grains or beans | Metal, usually stainless steel | Broth, sauces, Banh (cake) recipes |
| Scissors | Cutting herbs, noodles, meat, seafood, opening packaging | Metal, usually stainless steel | A variety of dishes |
| Kettle | Boiling water | Metal and ceramic | Vietnamese coffee, tea, instant noodles |
| Basket | Storing vegetables, fruits, seeds, flowers. Also used for decoration | Bamboo | Various dishes |
| Tray | Serving family meals | Copper, aluminum, wood, plastic | Various dishes |
1. Rice Cooker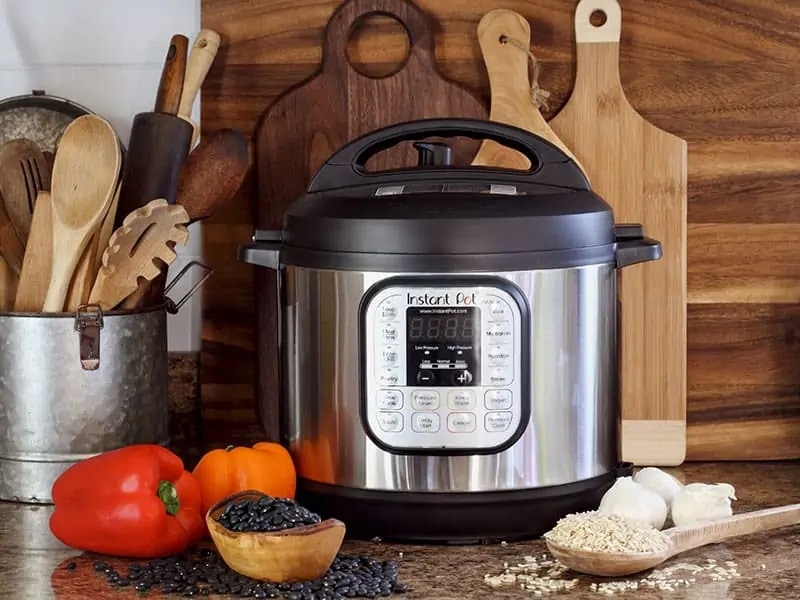 Do you remember the time when people used to cook rice on a stovetop? Neither do I! All jokes aside, since the Vietnamese eat rice practically every day, a rice cooker is certainly the number one must-own device in their kitchens.
You can cook perfect rice with the help of a rice cooker just by pressing a few buttons. Gone are the days when you had to be vigilant to prevent your rice from burning, as modern rice cookers will switch to "warm mode" automatically once the rice is cooked.
Moreover, a high-quality rice cooker, such as Aroma Housewares rice grain cooker and food steamer, can do more than just cook regular rice. Whether you're making brown rice or sushi rice, this device can easily handle these tasks. You can also make Vietnamese Chao (congee) with it.
Learn how to make flawless rice using a rice cooker.
2. Rice Paddle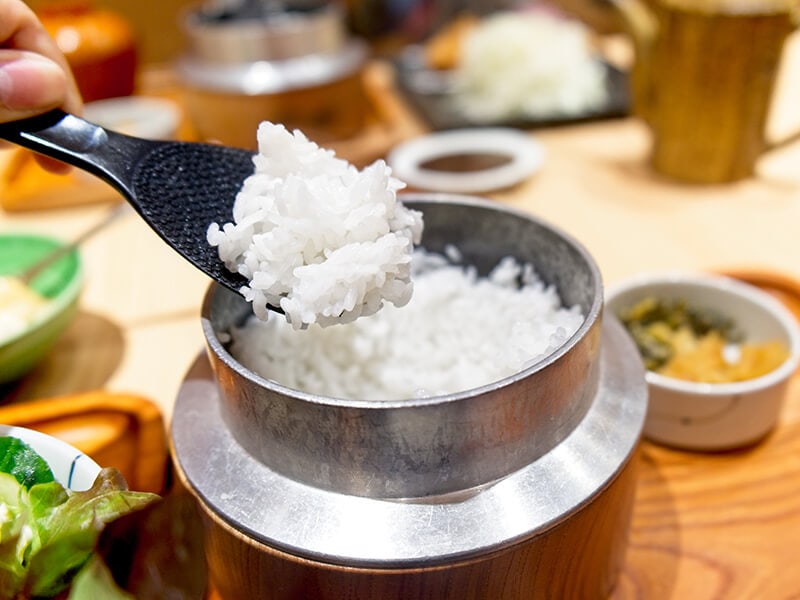 Since the first tool I chose to feature is the rice cooker, it would be a mistake not to include the rice paddle in this list. When it comes to rice paddles, you can choose from plenty of materials, such as wood, plastic, or metal, and a variety of brands, like Inomata or Zojirushi.
Honestly speaking, there's no better way to scoop and serve rice than using a rice paddle, thanks to its broad, non-stick surface area. In addition, you can use this tool to stir and fluff up the rice, which, for the Vietnamese, is a vital step in making perfect rice.
3. Steamer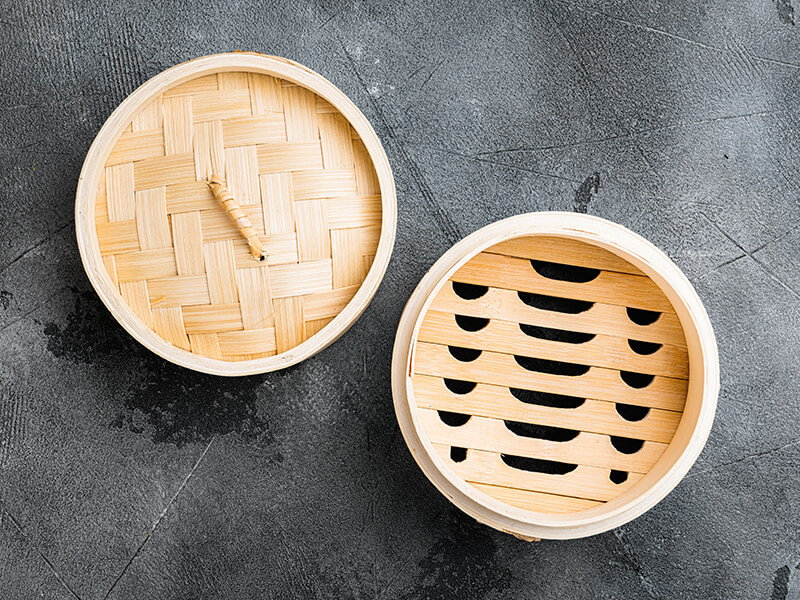 With an abundance of tasty steamed recipes, it's natural that the Vietnamese will need a tool to help them steam stuff. A "Cho" is a kind of steamer that people in Vietnam usually use to steam sticky rice, buns, and dumplings.
Like most steaming vessels, the Cho includes at least two layers. The first one acts as a container for boiling water, and the second one, which has many slots at the bottom, holds the food.
The heat from the hot water will help cook whatever food you place inside your Cho without any oil. In the Vietnamese language, the locals call the method of cooking sticky rice in this tool "Do Xoi," with Xoi being a traditional dish.
Vietnamese food steamers are available in two main materials: metal and bamboo. Joyce Chen offers a great bamboo steamer for the price. If you prefer metal, give the 2-tier steamer from Yamde a try.
4. Wok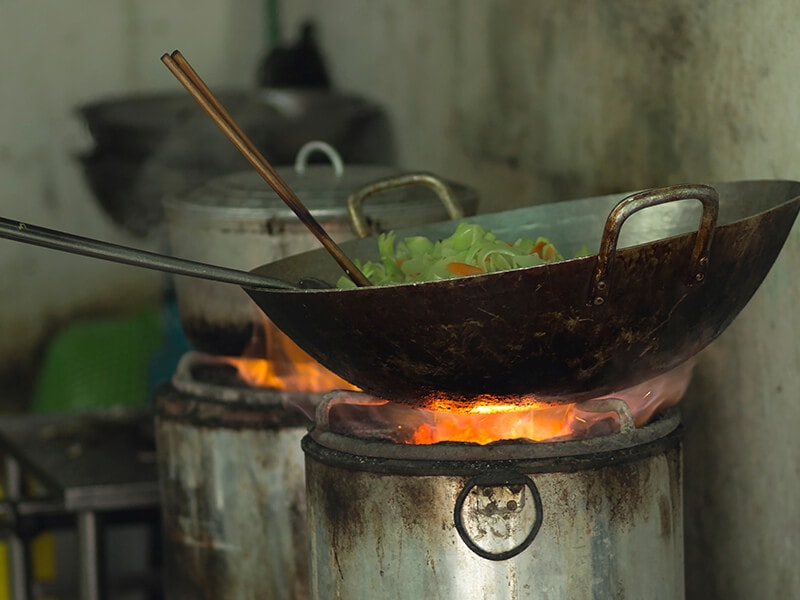 A wok is a type of round cooking pan with a deep bottom in Chinese cuisine. It can be used for plenty of cooking methods, such as stir-frying, pan-frying, deep-frying, braising, and many more.
Since Vietnamese food culture is partly influenced by China, people here have long incorporated woks into their daily cooking as well. Many Vietnamese, especially the Hoa (Chinese-Vietnamese), will use woks for cooking stir-fries or dishes with Chinese roots.
One special thing about cooking with woks is that you can impart a smoky flavor called "breath of the wok" or "wok hei" on dishes. To do this, the cooks need to cook on an open high flame while continuously tossing and stirring the food.
If you're looking for a classic, Asian-style wok, Kenmore Hammond Flat-bottom Carbon Steel Wok and Joyce Chen Classic Series Wok are great options.
Explore the beauty of the "wok hei" in under 10 minutes.
5. Pan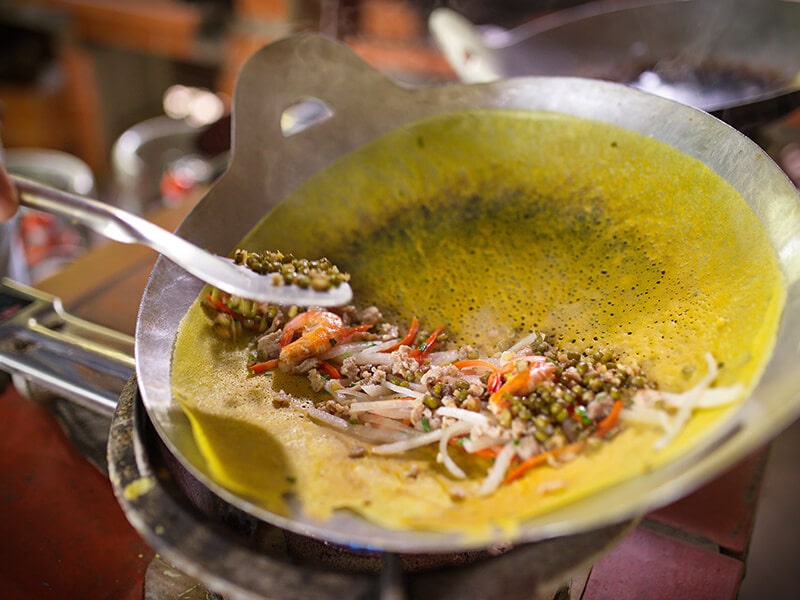 While some Vietnamese households might not have a wok, every home cook undoubtedly has at least one pan. Pans are incredibly versatile and come in all sorts of shapes, sizes, and materials.
As for their usage, you can fry, sear, sauté, brown food, and more. A good pan is like a trust-worthy friend in the kitchen that can handle most cooking needs. Of course, don't expect to make every recipe imaginable in a pan (that would be crazy!)
For beginners, I recommend getting at least an egg pan, a saucepan, and a frying pan. When it comes to materials, I usually opt for non-stick for ease of cooking or stainless steel for something that will last a long time.
For your egg pan, GreenPan Mini Healthy Ceramic Nonstick is a decent option. Cuisinart Chef's Classic is an excellent saucepan choice, and I suggest getting the one from Blue Diamond.
6. Pot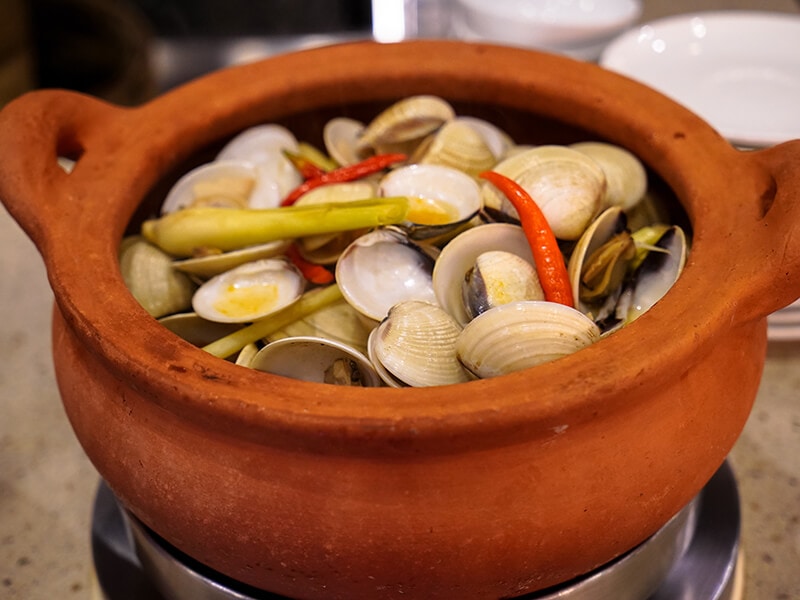 This is where things get interesting, as the Vietnamese use more than just one kind of pot for cooking. First is the "regular pot" that you can easily find in the West, which the Viet often use for making broth and Canh, an iconic Vietnamese soup.
The other type, which is a traditional tool, is the clay pot (Noi Dat). In the past, these pots were made completely from clay, resulting in a long and complicated production process. The upside is that they practically last forever and are believed to bring more flavors to the food the longer you use them.
In Vietnamese traditional culinary culture, Kho (braised) recipes are preferably made inside a clay pot. A prime example of clay pot cooking in Vietnamese traditional culinary culture is a highly sought-after dish called Ca Kho Lang Vu Dai (Vu Dai village braised fish).
For the most authentic taste, you should try cooking your Vietnamese dishes in a good clay pot, such as the non-stick pot that Neoflame offers.
7. Chopsticks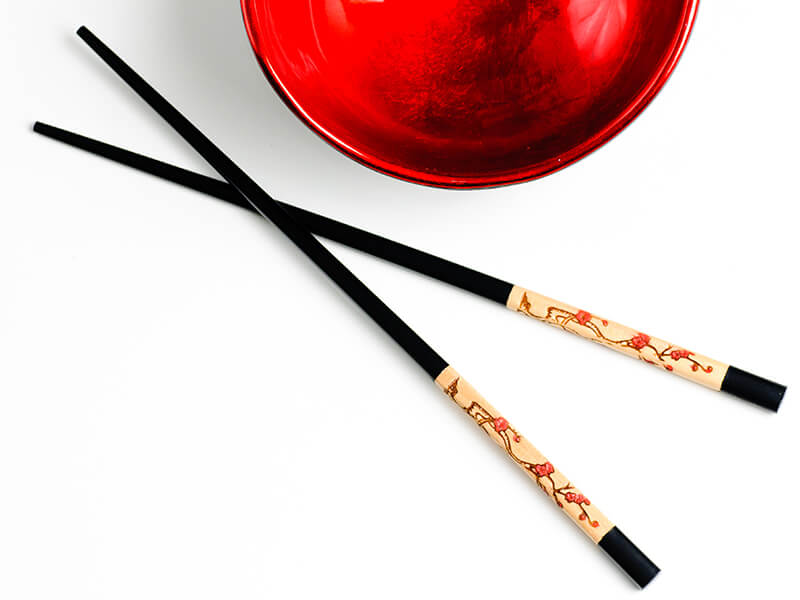 Chopsticks are staples in Vietnamese cuisine. Not only do the Vietnamese use chopsticks daily as serving utensils, but they also have larger ones, which they call Dua Ca (grand chopsticks), for cooking.
Typically, a pair of Vietnamese serving chopsticks is about 6 to 9 inches. On the other hand, cooking chopsticks are larger, ranging from 11 inches to 27 inches. People can make chopsticks from various materials, such as bamboo, wood, metal, ceramics, and ivory.
If you want to truly experience Vietnamese cuisine, learning how to use chopsticks properly is a must. There are two common types of cooking chopsticks, and each one is used for different purposes.
The first kind, which is about 11 inches, is like a longer version of the regular chopsticks. An example of this type is IMUSA USA bamboo cooking chopsticks. People often use these tools for stir-frying, frying, and other cooking techniques to prevent oil from splattering onto their hands.
The second type is shaped flat, somewhat like a spatula but not as wide, and can be up to 27 inches long. The main purpose of these chopsticks is to stir and spoon rice from a pot, but you can also use them for cooking.
8. Spoon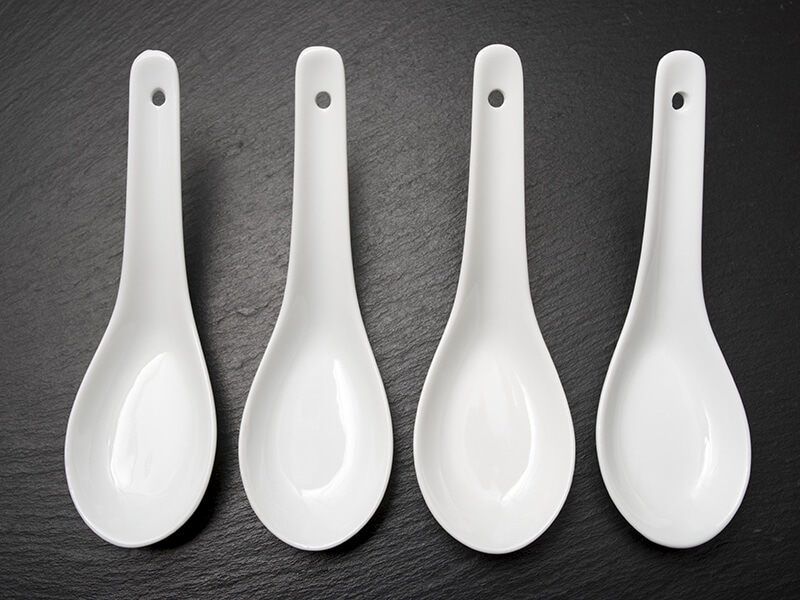 A spoon is a serving and cooking utensil used worldwide. Like in other countries, Vietnamese spoons consist of two main parts: the head, which is shaped like a round or oval shallow bowl, and the handle.
People use spoons for mixing, stirring, taste-testing, and measuring during food preparation. The Vietnamese also cook and eat things with soup spoons, which include deep, flat heads and thick handles. If you want to try using this spoon style, Zebra Asian soup spoon is a good option.
You might have heard somewhere that the Vietnamese like to eyeball ingredients instead of following a recipe. While this is true, a high-quality spoon, like the Hampton Forge Ginger spoon, will come in handy when dealing with strong condiments that can break a dish if added in the wrong amount, like fish sauce.
9. Slotted Spoon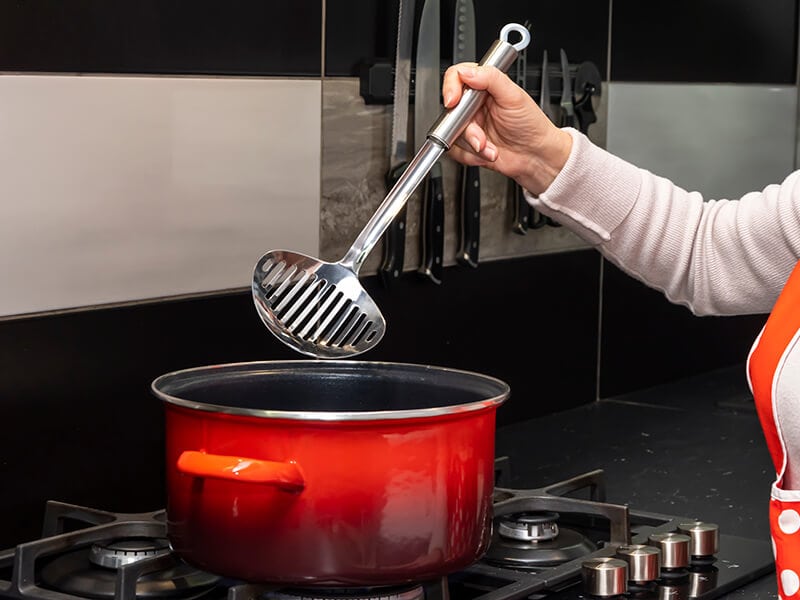 A slotted spoon is designed specifically for retrieving pieces of meat, vegetables, noodles, and other food from a broth-filled pot. The slots on the spoon's head allow the liquid to seamlessly pass through while holding onto the solid ingredients.
Vietnamese cuisine is renowned for its rich and flavorful broth, and cooking these dishes will be easier than ever with a slotted spoon by your side. I suggest giving Farberware's slotted spoon a look. It's a perfect tool to cook classic Vietnamese recipes, such as Pho and Bun Bo Hue.
10. Spatula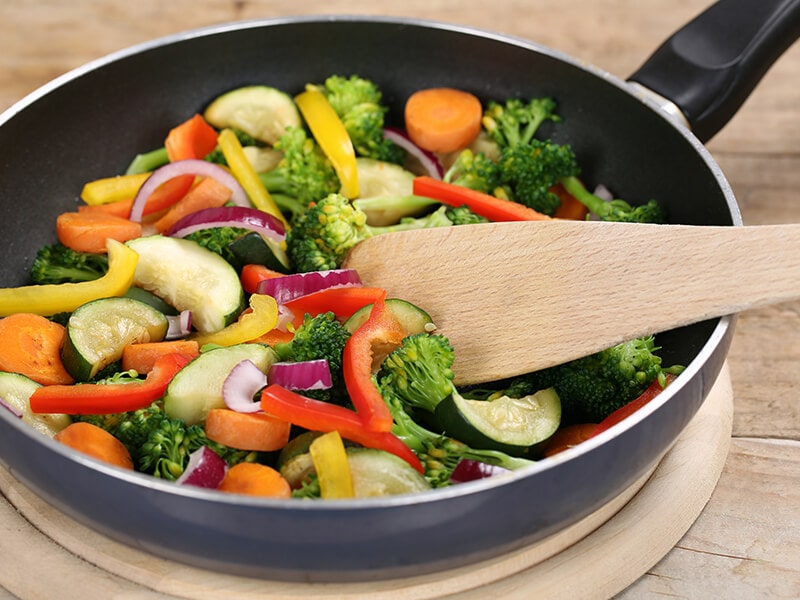 Despite not being a traditional tool in Vietnamese cooking, spatulas have become a common utensil in the country, thanks to the versatility it brings to the kitchen. The name "spatula" is derived from the Latin "spatha" or Greek "spathe", both of which mean "broadsword" or "blade".
The spatula is capable of handling a variety of tasks, including stir-frying, flipping, and scrapping. With the help of this handy tool, you will have no trouble cooking all ingredients evenly and prevent them from sticking to the pan.
Regarding materials, spatulas can be made from metal, silicone, and wood, each with its own merits. Metal, usually stainless steel, and wooden spatulas are great at withstanding high heat and are durable. Meanwhile, silicone ones are flexible and non-stick, making them ideal when dealing with delicate foods.
Depending on your needs, I recommend the Chef Craft spatula if you prefer something metal-made, or the Miusco non-stick kitchen utensils set if silicone is more your thing.
11. Knife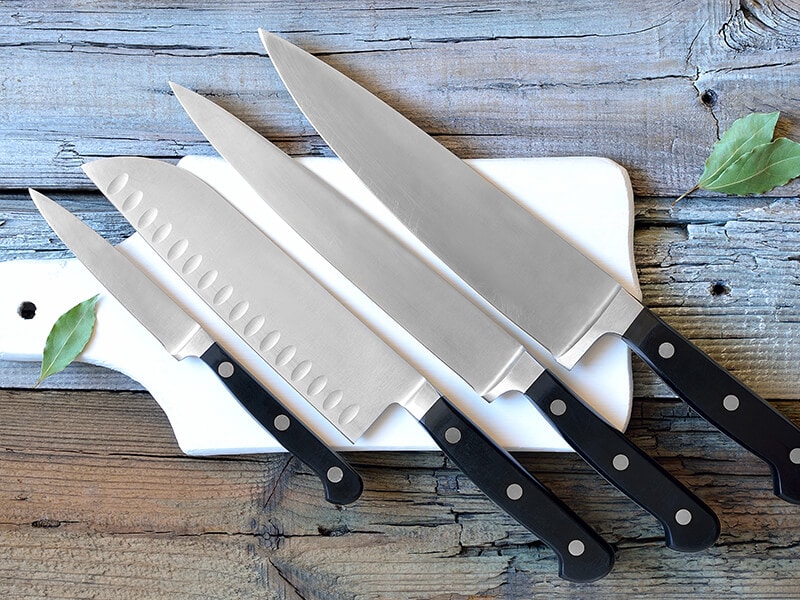 Knives are a must-have tool in any kitchen, and this is especially true in Vietnamese cooking. This tool is like the backbone of every meal, allowing cooks to bring their vision to life and create dishes with precise cuts and elegant presentations.
In Vietnamese cuisine, knives are used for various tasks, such as slicing herbs and meats, peeling, and cutting fruits or vegetables. A well-made knife can make all the difference in the final dish, resulting in better texture and appearance. Plus, it can lead to a more enjoyable and efficient cooking experience.
There are several types of kitchen knives, each designed for a specific purpose. The chef's knife is a versatile all-rounder, perfect for slicing, dicing, and mincing. For example, the Henckels classic knife is sure to satisfy most of your cooking needs.
A paring knife, like this Swiss classic paring knife that Victorinox offers, is great for peeling, coring, and precision cutting. A cleaver is also a must-have in Vietnamese kitchens, but I'll go into details about this heavy-duty knife later.
I cannot stress enough how important it is to sharpen and maintain your knives. Dull knives are frustrating to cook with and can even be dangerous, as they require more force to cut through food, increasing the risk of injury. So remember to keep your knives in top condition. Trust me; you'll notice the difference in your cooking.
All the popular kinds of kitchen knives you'll need.
12. Cleaver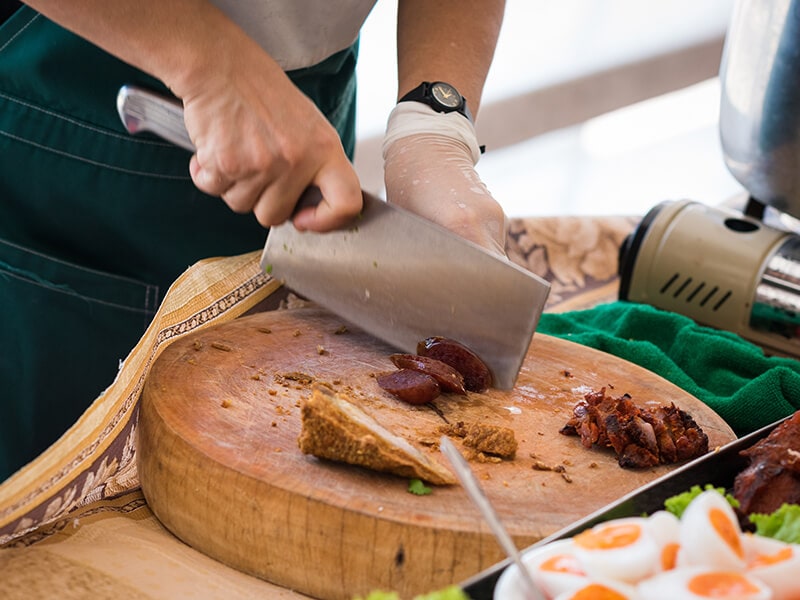 Unlike other kitchen knives, a cleaver is made for handling heavy-duty tasks, thanks to its large, rectangular shape, thick blade, and sturdy handle. This unique design provides it with power and stability when cutting through tough ingredients.
One of the things that set cleavers apart from other knives is the thickness and sharpness of the blade. The blade on a cleaver is rather blunt and relies on momentum to cut through things like meat, bones, and hard vegetables. For this reason, you'll see professional chefs swing their cleavers like how they use a meat tenderizer.
In everyday Vietnamese cooking, the locals utilize the cleaver for a wide range of tasks. People utilize it for mincing garlic or ginger and breaking down meat and poultry. Its sturdy construction makes it ideal for crushing and smashing ingredients, releasing their full flavors and aromas.
It's also an excellent tool for chopping herbs and vegetables, as it can easily glide through hard stems and fibrous roots. For a smooth cooking experience with the cleaver, you should opt for a top-notch product, like this 6-inch cleaver from Farberware.
13. Chopping Board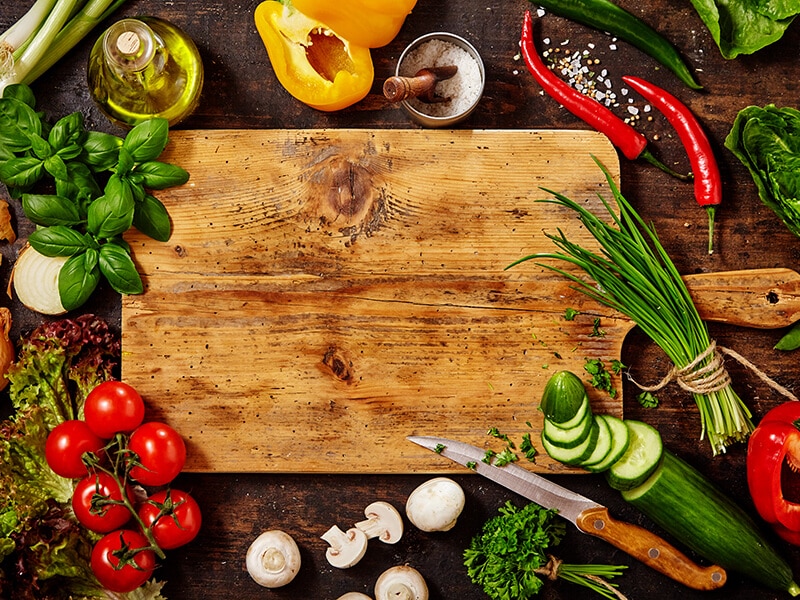 Every good cook knows that using a knife without a chopping board is a big no-no. I mean, you wouldn't want to ruin your beautiful kitchen top by slicing things directly on it, wouldn't you?
In all seriousness, when used in conjunction with a well-maintained knife, a chopping board allows for precise cuts and helps you create uniform food pieces. Moreover, it can prevent your knives from going blunt quickly and ensure hygiene in your kitchen.
There are plenty of choices when it comes to the material of your chopping board. Bamboo and wood and popular choices due to their natural antimicrobial properties, while plastic boards are lightweight and affordable.
If you need some good wooden chopping boards, don't miss this 3-piece kitchen cutting board set from Farberware. Besides, Farberware has a large plastic board of excellent quality.
Regardless of which material you choose, make sure the board you get is large enough to accommodate your ingredients. One more thing to remember is that you should always use separate chopping boards for raw and cooked food to avoid cross-contamination.
14. Mortar And Pestle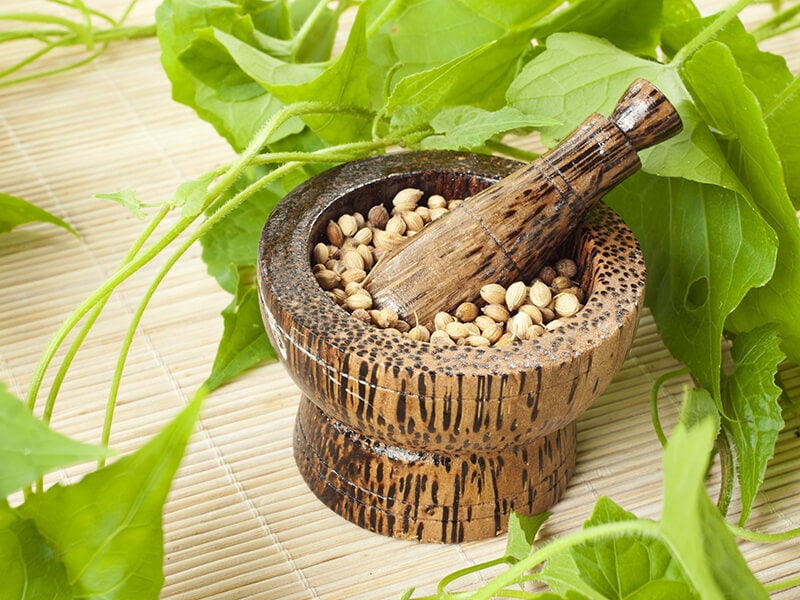 The mortar and pestle are a timeless set of tools that's been in use for centuries in cooking, and it continues to play an important role in Vietnamese cuisine. The mortar is essentially a bowl made from sturdy materials like stone, wood, ceramic, and metal, while the pestle takes the shape of a rounded, blunt club.
The origin of these utensils can be traced back to ancient civilizations, where people utilized them to grind spices, herbs, and grains. Interestingly, the Vietnamese have these giant mortar and pestles that they traditionally use for grinding newly harvested rice.
In general, the primary uses of mortar and pestle remain unchanged throughout the years. The Vietnamese take out their trust-worthy mortar and pestle when they need to ground, crush, and blend multiple spices or herbs together, creating an aromatic mixture.
If your goal is to make authentic-tasting Vietnamese dishes, this set of top-tier mortar and pestle from ChefSofi is an absolute essential.
15. Flat Winnowing Basket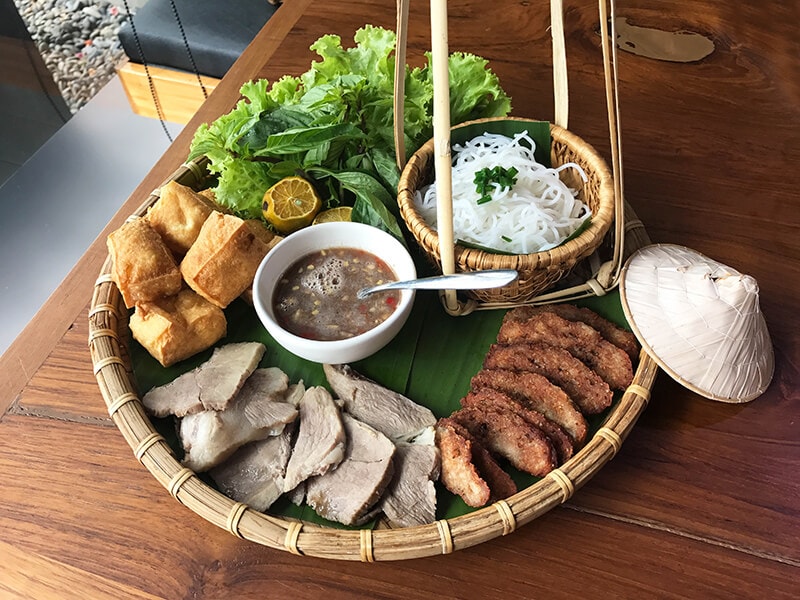 The flat winnowing basket, or Met Tre, is a traditional Vietnamese utensil with a rich history rooted in the country's agrarian past. Made from woven bamboo and other natural materials, the basket is extremely durable and will keep its shape for a long time.
Originating from the rice paddies of Vietnam, the basket was originally used to separate the rice grains from their husk after harvest. People also used it to sift flour or dry grains and other foods.
Interestingly, Met Tre also doubles as the serving plate for famous Vietnamese dishes, such as Bun Dau Mam Tom (vermicelli noodles with fried tofu and shrimp paste) and Heo Toc Quay (roasted wild boar). The natural materials impart a subtle flavor to the food, enhancing the overall dining experience.
Although its uses have remained largely the same over the years, the flat winnowing basket has taken on new significance as a symbol of Vietnamese culinary heritage. Many top-rated restaurants in Vietnam now feature this basket as a decorative element in their dining rooms, paying homage to the country's traditions.
Want to decorate your dining space with some Vietnamese flat winnowing baskets? Here's a set of 3 handmade Met Tre that I believe will suit your needs.
16. Peeler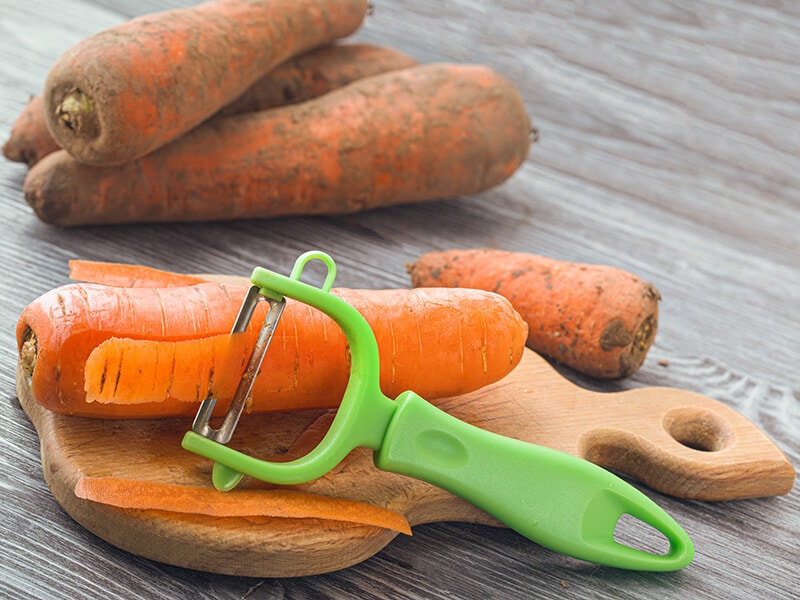 The peeler is a simple yet effective tool that allows you to peel the skin off fruits or vegetables to reveal the flavorful flesh underneath. Moreover, this handy tool can also help you cut mangoes, papayas, carrots, potatoes, and more into even slices or thin strips with minimal effort.
You can then use these beautifully cut fruits and veggies as garnishes or ingredients in refreshing summer salads, such as the well-loved Vietnamese Goi Xoai (mango salad). Alternatively, you can add them to your stir-fries, soups, or stews.
While there are numerous kinds of vegetable peelers on the market, the 2-piece peeler set from OXO has never failed me.
17. Ladle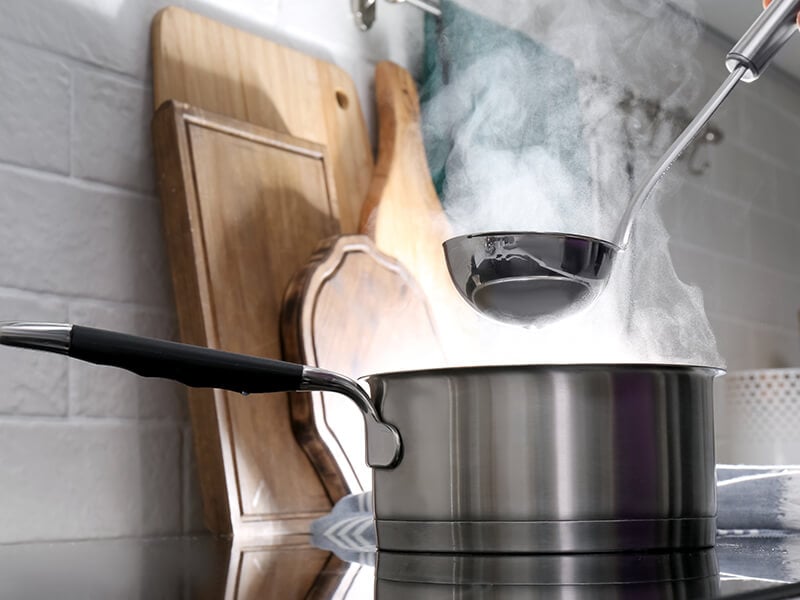 A ladle is a large spoon-like utensil with a deep bowl and a long handle. In Vietnamese cooking, the ladle serves multiple purposes, making it a versatile and indispensable kitchen implement.
One of the main uses of a ladle in Vietnamese cuisine is for serving noodle soups, such as Pho and Bun Rieu. The deep bowl of the ladle is perfect for scooping up the broth, noodles, and toppings without having to reach into the hot broth or risking splatters on the stove.
Another use of the ladle in Vietnamese cooking is stirring and mixing ingredients. The large surface area of the bowl allows for efficient stirring and mixing of sauces, soups, and stews, ensuring an even distribution of flavors and ingredients.
Finally, people also use the ladle for portioning and serving braised dishes. The deep bowl and wide opening help you to serve large portions, while the long handle provides a comfortable grip, allowing for smooth and effortless swing.
If you haven't owned a decent ladle yet, I recommend the Good Grips nylon ladle from OXO.
18. Molds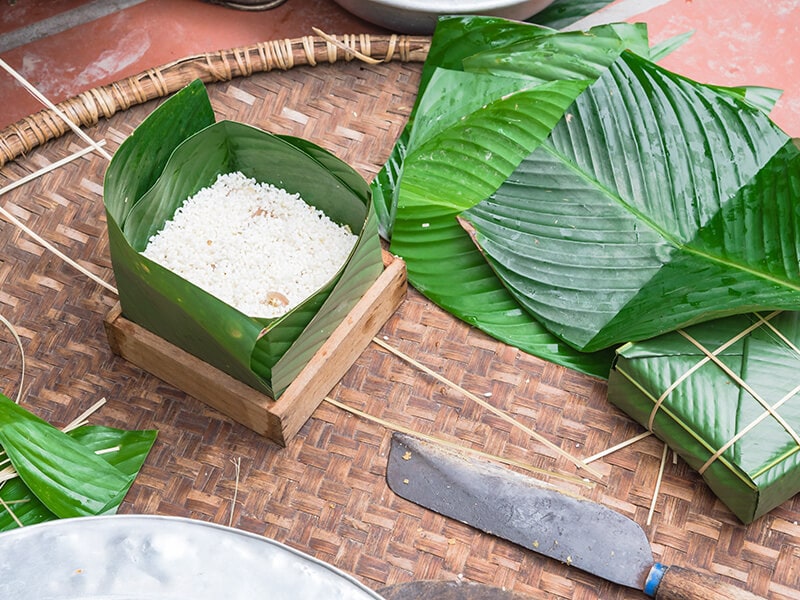 In Vietnamese cuisine, there's a whole category for Banh (loosely translated to "cake"). These unique cakes from Vietnam can be savory or sweet and can be either snacks, appetizers, or desserts. If you want to make these tasty treats at home, a dedicated mold will be a big help.
Different molds are designed for specific Banh dishes. Some come in rectangular shapes for making Banh Chung (Vietnamese sticky rice with mung beans), and others in small cup-like shapes for cooking Banh Khot (Vietnamese mini savory pancakes).
In terms of materials, you can find molds that are made from bamboo, aluminum, plastic, and more. While some Banh dishes are doable without using molds, some are simply impossible. As a result, they're a must-have for anyone who wants to master the art of Vietnamese cooking.
For example, Banh Trung Thu (mooncake), a traditional Vietnamese snack and dessert during the Mid-Autumn festival, has various patterns imprinted on the surface. Unless you're a master chef, these patterns are extremely difficult to create without the use of molds.
Fans of Vietnamese Banh will certainly need a Banh Chung mold, a couple beautiful mooncake molds, and a specialized pan for making Banh Khot.
19. Grill Cooking Grate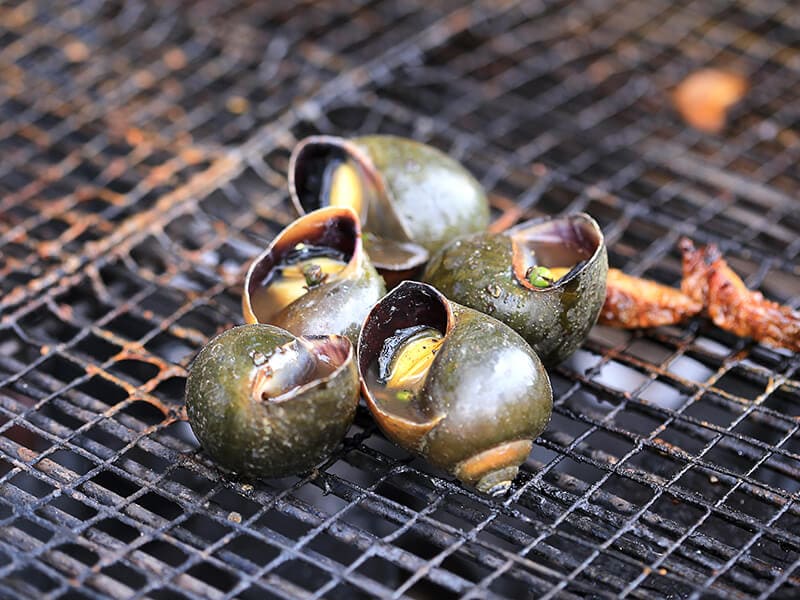 Vietnamese cuisine favors grilled dishes over baked ones, and that's why a grill plays an important part in this country's cooking. This traditional cooking method enhances the natural flavors and texture of the food while limiting the use of oil.
More often than not, the locals grill things over an open fire, leaving behind distinct charred marks and a smoky flavor. The sights and smells of street vendors grilling treats right before your eyes are a common sight in the streets of Vietnam, tempting you with their irresistible aromas.
Com Tam Suon, a famous street food made with juicy and succulent grilled pork and broken rice, is a prime example of the mouth-watering dishes the Vietnamese can create on a grill. The pork is grilled to perfection and paired with a sweet, savory, and spicy fish sauce, resulting in an unforgettable dish.
If you have a thing for grilled delicacies, don't hesitate to grab yourself a grill cooking grate from Weber!
I'm sure you'll fall in love with Com Tam Suon, a classic dish featuring grilled pork in Vietnam.
20. Teapot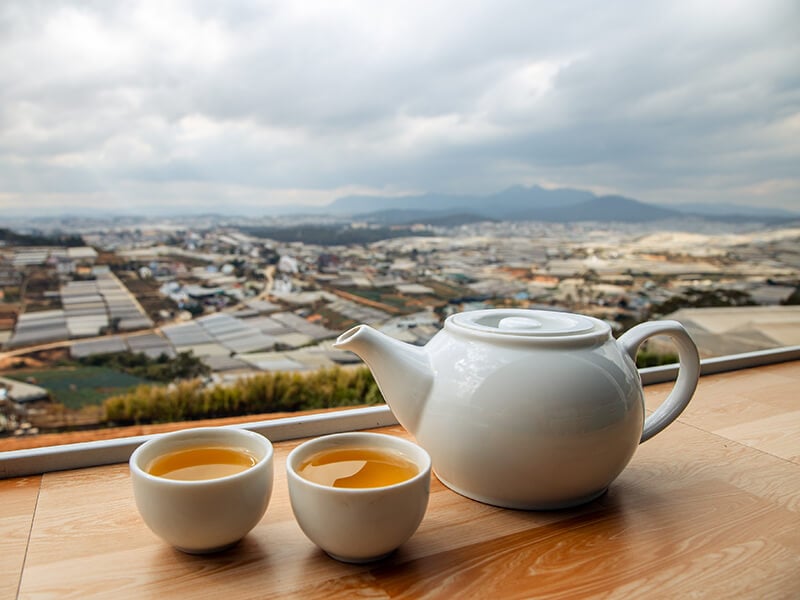 A teapot is more than just a vessel for steeping tea in Vietnamese culture – it is a symbol of hospitality, warmth, and tradition. In Vietnam, serving tea is a gesture of friendship and respect, and a beautifully crafted teapot adds elegance and sophistication to this simple yet meaningful ritual.
Living in Vietnam, it's the norm for the elders to brew tea in the morning and enjoy this healthy beverage throughout the day. Tea is also a must-have during the Tet holiday (Vietnamese Lunar New Year) and engagement ceremonies.
In Vietnam, teapots are available in many shapes, sizes, and styles, from delicate porcelain teapots to sturdy and practical ceramic ones. Many Vietnamese households have that one special teapot and teacup set that they'll only use on special occasions.
To experience Vietnamese tea culture fully, check out this beautiful teapot set made in Bat Trang village – a place known for producing quality ceramic.
21. Phin Coffee Filter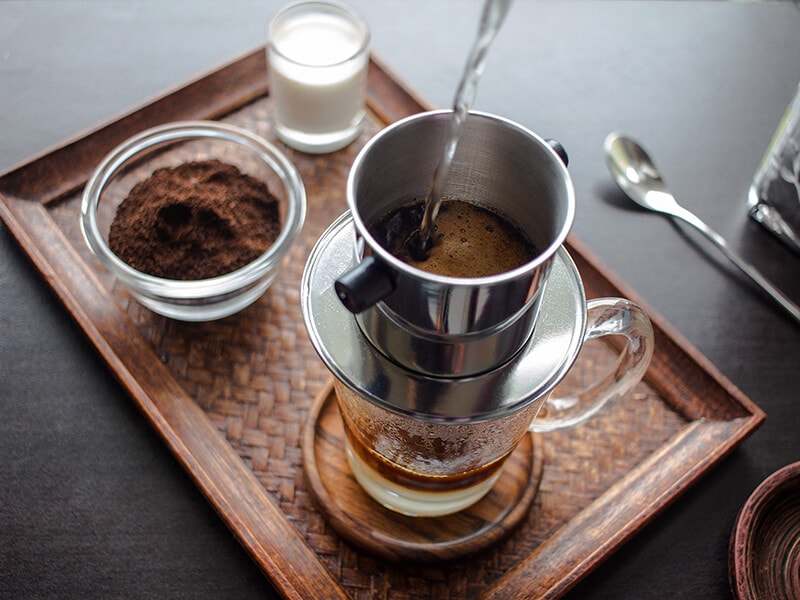 The phin coffee filter is a unique tool for brewing traditional Vietnamese coffee varieties. In Vietnam, coffee drinking is more than just a simple morning pick-me-up. It's a cultural tradition and a way of life, with cafes and street vendors serving up aromatic cups of coffee all day long.
The phin coffee filter is a small, simple, and portable coffee brewing device that consists of a metal or plastic top, a chamber, a damper, and a perforated base. In a country where coffee drinking is a central part of the culture, this tool is essential for creating the perfect cup of coffee.
To make coffee the Vietnamese way, you'll first need to get a good Phin filter set, which comes in many sizes. Then, place the base on an empty cup. The chamber will go on top of the base. After that, spoon in some coffee ground and press it down using the damper. Lastly, fill the chamber with hot water and patiently wait for the coffee to drip.
What sets the phin filter apart from other coffee brewing methods is the way it slowly yet consistently infuses the coffee with hot water. As a result, your coffee will be rich and flavorful. Top it up with the fact that the Vietnamese use robusta coffee beans, and you have an incredibly strong cup of coffee.
Struggling to brew coffee with a phin filter? Here's a good guide.
22. Tongs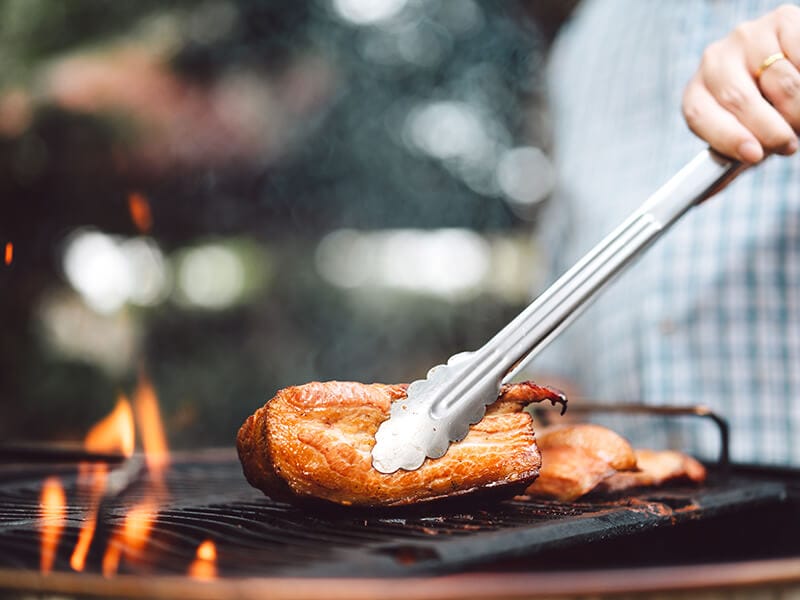 Tongs are a straight-to-the-point tool that aids you in two vital tasks: turning and tossing ingredients. With a good pair of tongs on hand, cooking will be much easier, as you can make sure that your food cooks evenly and doesn't burn.
The Vietnamese are famous for their mouth-watering grilled dishes, in which tongs are particularly useful. Imagine being able to effortlessly flip and move the ingredients around while cooking over an open flame. Yup! The tongs can help you with that!
In addition, tongs are also a godsend when dealing with high-heat cooking, such as stir-frying and deep-frying. Their long handles keep your hand safe from the hot oil, avoiding any unwanted accident. At the same time, the firm grip ensures that the ingredients stay in place and cook to perfection.
On top of that, chefs also utilize this kitchenware to artfully arrange noodles, herbs, and other garnishes, making every dish a feast for both the eyes and tongue. I guess the tongs provide more than just practicality, after all.
If you're in the market for a well-made pair of tongs, I recommend the OXO Good Grips tongs. Having a comfortable grip and durable construction, they're sure to become a big help in your kitchen.
23. Sieve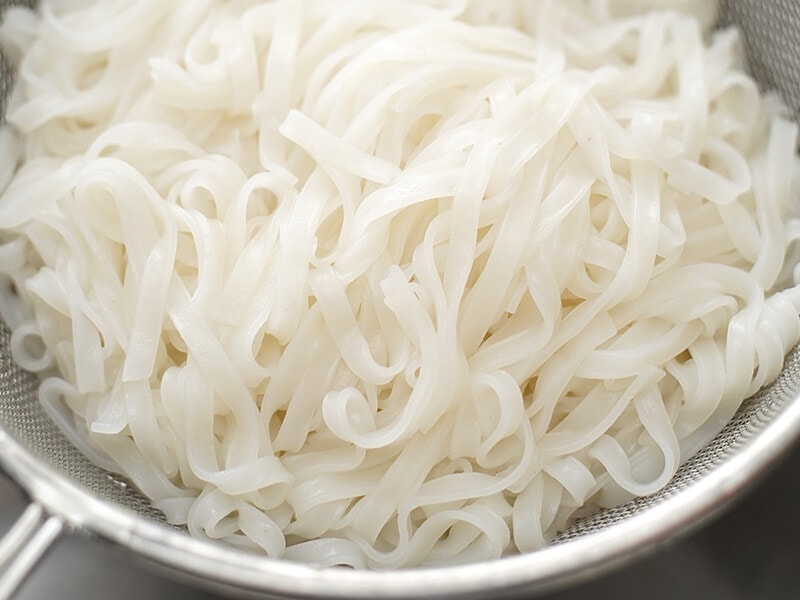 One important thing to know about Vietnamese cooking is that the chefs put great emphasis on the texture of the dish. Thus, a sieve, preferably of high-quality like this 3-piece set from Cuisinart, is a must-have, as it will help you ensure a smooth and consistent texture every time.
The first use of sieves is for straining unwanted bits from liquids, especially from broth and sauces, which are the backbones of many delicacies. Whether it's removing solids from a flavor-packed broth, straining noodles, or separating the juice from a freshly squeezed fruit.
Besides liquids, the sieve also helps you with sifting dry ingredients, such as flour or sugar. With this tool, you can ensure that every component is distributed evenly and free from clumps – a factor that can easily ruin a lot of Vietnamese Banh (cake) recipes.
Moreover, sieves are great for rinsing grains or beans and dusting sweet cocoa or powdered onto desserts or drinks for extra visual appeal.
24. Scissors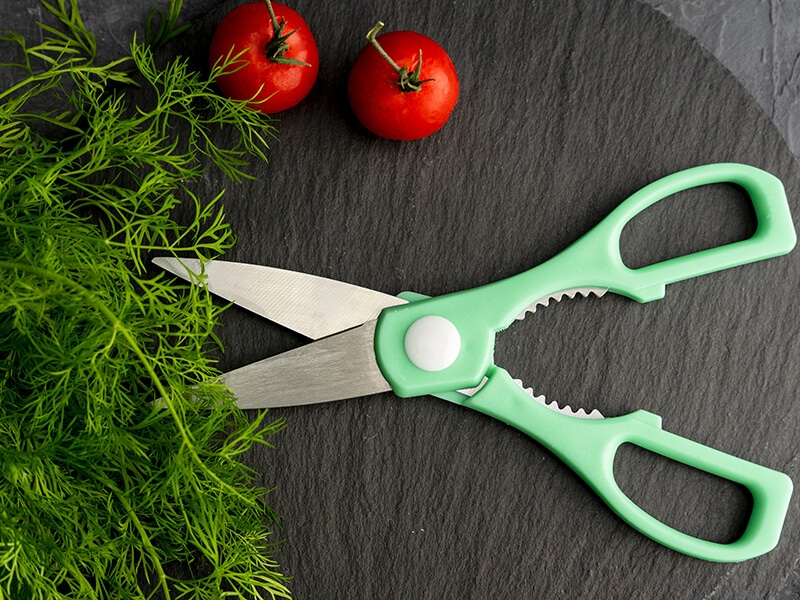 It's common knowledge that people in this country love mixing and matching a plethora of traditional Vietnamese herbs and spices, such as cilantro, spearmint, Thai basil, etc. The sharp blade of the scissors allows cooks to cut the herbs into fine pieces without bruising them, preserving their flavors and aroma.
Moreover, Vietnamese dishes like Bun Bo Hue or Pho feature long and thin noodles that can be difficult to manage and enjoy, especially for children. For this reason, when eating out in Vietnam, you can commonly see parents cutting up noodles for their kids.
Besides herbs and noodles, scissors are also a great help when cutting meat or seafood into small pieces, allowing them to cook more quickly and evenly. Another practical use of this tool is to open packaging for ingredients like dried noodles and spices. You don't want to tear open a large bag of Pho noodles and risk dropping them on the ground, do you?
No matter where you are from, scissors are important tools to have in the kitchen, so don't be hesitant to invest in a good pair. My favorite is the All Purpose Shears from KitchenAid, which also comes with a protective sheath.
25. Kettle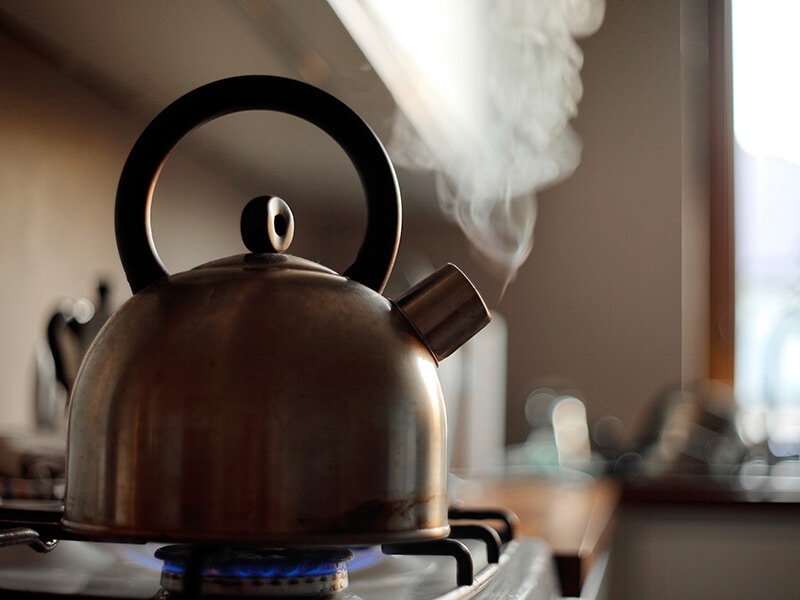 The kettle serves only one main purpose: boiling water. Despite having only one use, you can hardly find a Vietnamese kitchen that doesn't have a kettle. The reason is that hot water plays a vital role in brewing tea and coffee, two beverages that the Vietnamese can't live without.
As mentioned earlier, coffee and tea are quintessential drinks in Vietnam, cherished by locals and tourists alike for their rich flavors and cultural significance. Brewing the perfect cup goes beyond selecting premium tea leaves or coffee beans – it's also about nailing the perfect water temperature.
Every Vietnamese tea variety requires a specific temperature range, and using water that's too hot or not enough can leave you with a bitter, undrinkable concoction. While brewing coffee might be more forgiving in the temperature department, the water still needs to be hot enough to extract the strong flavors of Vietnamese coffee beans.
In addition to making coffee and tea, people in Vietnam also use the kettle to boil water for making instant noodles. Interestingly, these packaged noodles are an incredibly popular breakfast for students and busy individuals.
While you can buy a kettle pretty much everywhere, I recommend the stainless steel kettle from Mr. Coffee Carterton.
26. Basket (Rổ Or Rá)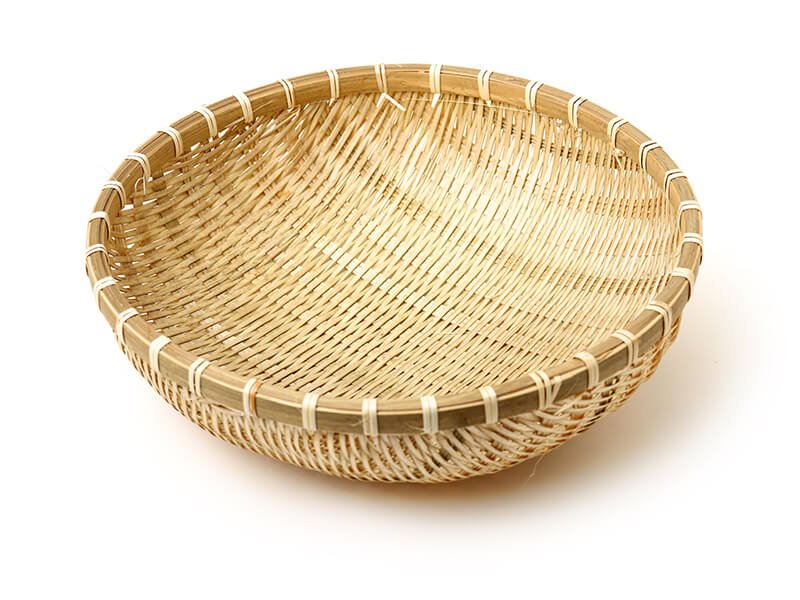 Vietnam boasts a variety of traditional baskets, most of which are made from bamboo. At its essence, Vietnamese Ro or Ra is an item used to store and keep vegetables, fruits, seeds, and even flowers clean.
Made from thin bamboo strips that are skillfully woven together, the Vietnamese baskets boast superior water absorption. Plus, they are environmentally friendly and super easy to clean. Although they might look fragile, you'll be surprised by their durability.
Apart from their practical uses, these rustic baskets are also utilized for decoration, creating a sense of coziness for restaurants and living spaces. In addition to bamboo baskets, plastic baskets, which are cheaper but don't have as much decorative value, are quite popular in the country.
For a multi-purpose basket made from bamboo, this Cedilis woven fruit basket is a fantastic choice. If practicality is all you care for, this plastic basket from Excellanté will suit your needs.
27. Tray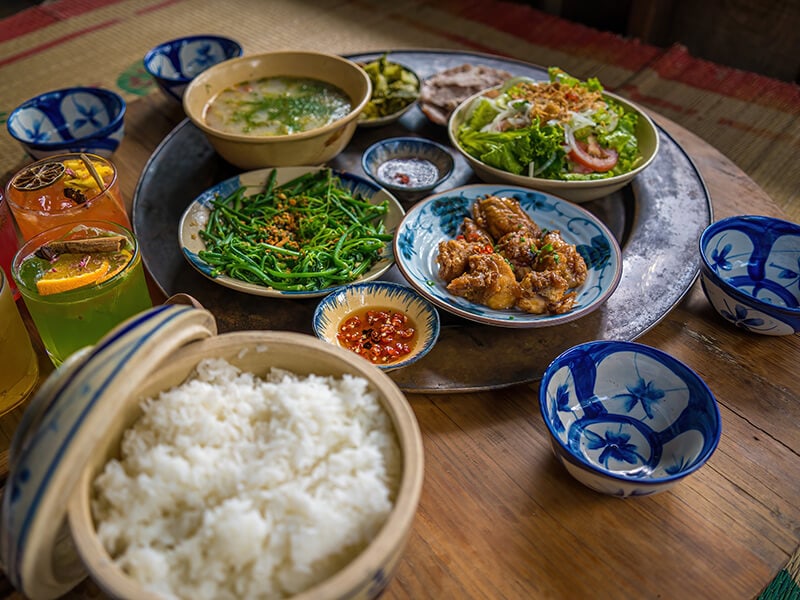 The Mam (tray or food platter) is a fundamental part of Vietnamese cuisine and a fixture in every household. In this South East Asian nation's culture, mealtime is a cherished moment, when loved ones come together to share nutritious and mouth-watering dishes, and the Mam plays an important role in this tradition.
A typical Vietnamese family meal often consists of an assortment of dishes, such as stir-fried vegetables, meat cooked in various ways, steamed rice, and soup. All of them are presented together on the tray, creating a vibrant feast that's both visually impressive and delicious.
When it comes to the materials of the tray, there are several options available, including copper, aluminum, plastic, and wood. If you want to experience a true Vietnamese family meal, I recommend trying out this Winco 16-inch round tray.
It's Time To Test Your Newfound Knowledge!
Having the right tools is crucial to mastering any cuisine, including Vietnamese cooking. By investing in high-quality kitchen tools, you will elevate the quality of your dishes and deepen your appreciation and understanding of this Southeast Asian country's food culture.
Do you know any other tools that I might have missed? Don't hesitate to let me know about them in the comment section. If you find today's article helpful, please consider sharing it with your friends and family who are interested in Vietnamese cooking.