What can be better than a cup of Vietnamese iced coffee to keep yourself alert on a hot, sleepy afternoon? This drink is one of the numerous specialties from the Southeast Asian country that you will never get enough of.
In Vietnam, people from all walks of life enjoy this type of coffee everywhere, from cheap roadside stalls to fancy coffee houses. How about you? Do you like a cup of refreshing coolness that only takes a few minutes to whip up? Scroll down to find out the secret behind it!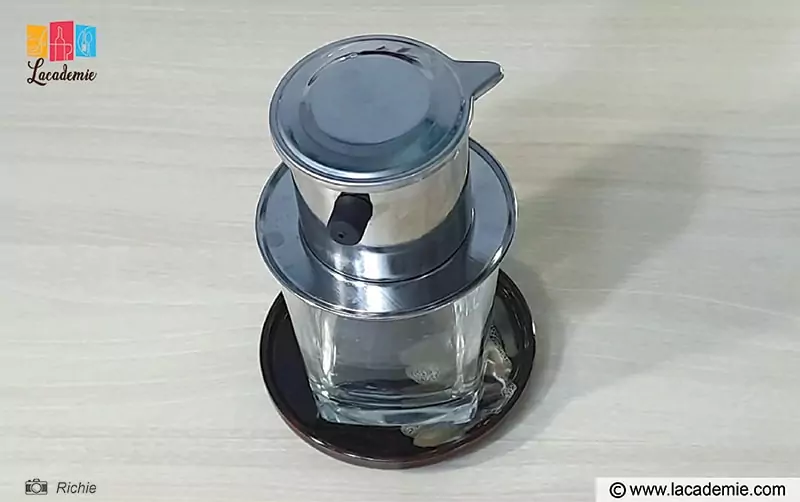 How Did Vietnamese Iced Coffee Come About?
Compared to other popular drinks in Vietnam, coffee has a relatively short history. It came to the country along with the French in the 19th century, and nearly a century passed before the first local processing plant for instant coffee appeared.
If you time traveled back then and told everyone that Vietnam would become a coffee giant, you would be considered a laughing stock at best. But amazingly, the country is among the world's top producers and consumers of this drink.
Given Vietnam's tropical weather, iced coffee is an obvious choice. People usually prepare it from dark roast coffee (coffee arabica is the most popular variety here) and sweetened condensed milk. The result is something that Westerners usually find intense and strangely delicious.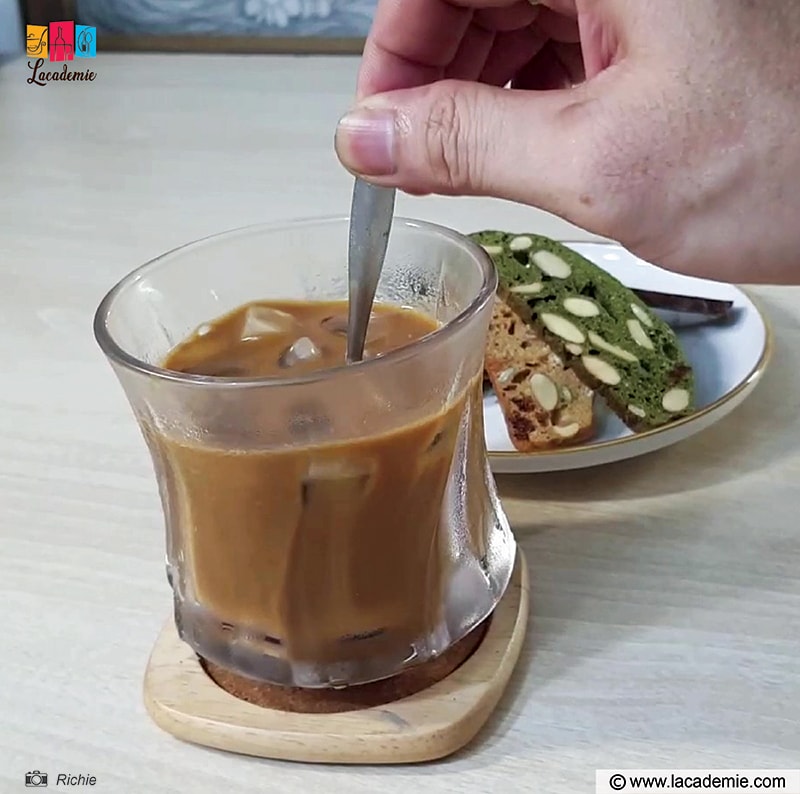 Tools
Let's gather the following tools to experience an iced coffee the Vietnamese way. If they aren't on your cupboard already, just purchase them from local stores.
Coffee filter: a necessary tool to brew coffee. Vietnamese people don't use filters made of bleached paper; they tend to choose stainless steel ones.
Small spoon: to stir the coffee.
Glass: to hold the condensed milk and the coffee.
Pitcher: to contain hot water.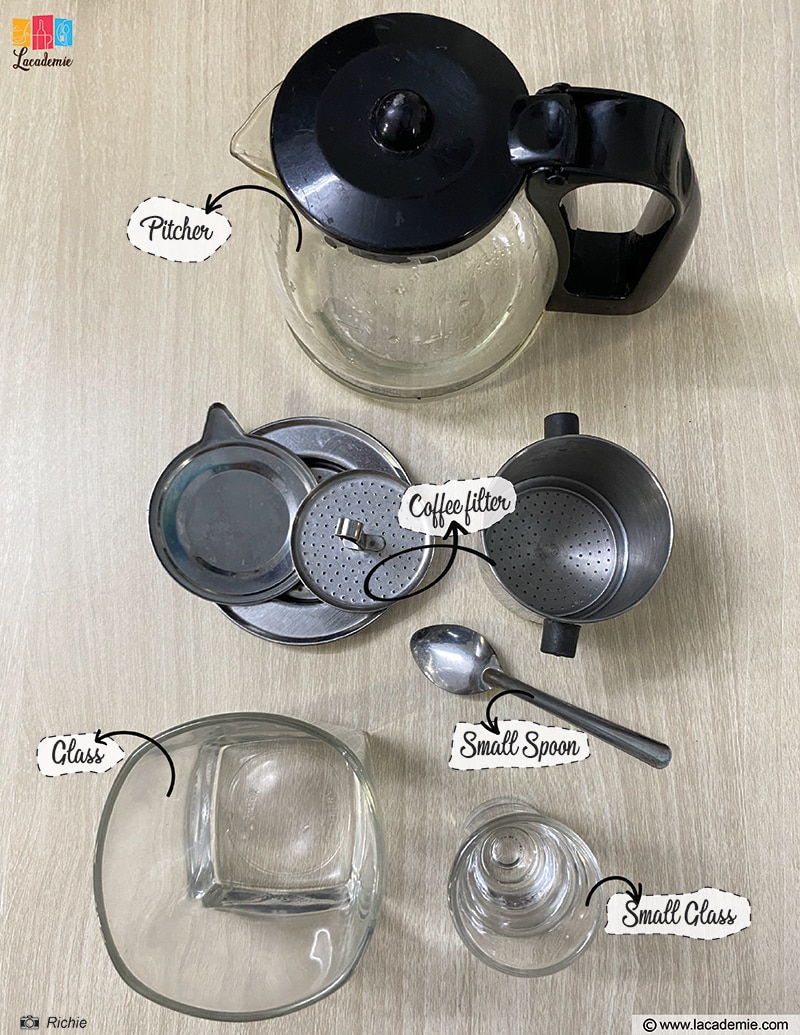 Ingredients
Once your coffee tools are ready, let's move on to assemble the ingredients. Pay attention because some of them may be different from what you think.
Ground coffee: use instant coffee for ease of brewing; just make sure that it is black coffee and not mixed with any sweetener. However, if you can grind and roast your own coffee, your drink will be even more flavorful.
Sweetened condensed milk: this ingredient separates Vietnamese iced coffee from other versions elsewhere. Change it to other kinds of milk, and you won't get the authentic flavor.
Hot water: should be around 200°F (93°C) to perfectly mix the milk and coffee together.
Salt: provides a nice balance to the overall taste of your coffee.
Ice: you should use a suitable amount of ice not to dilute your coffee too much.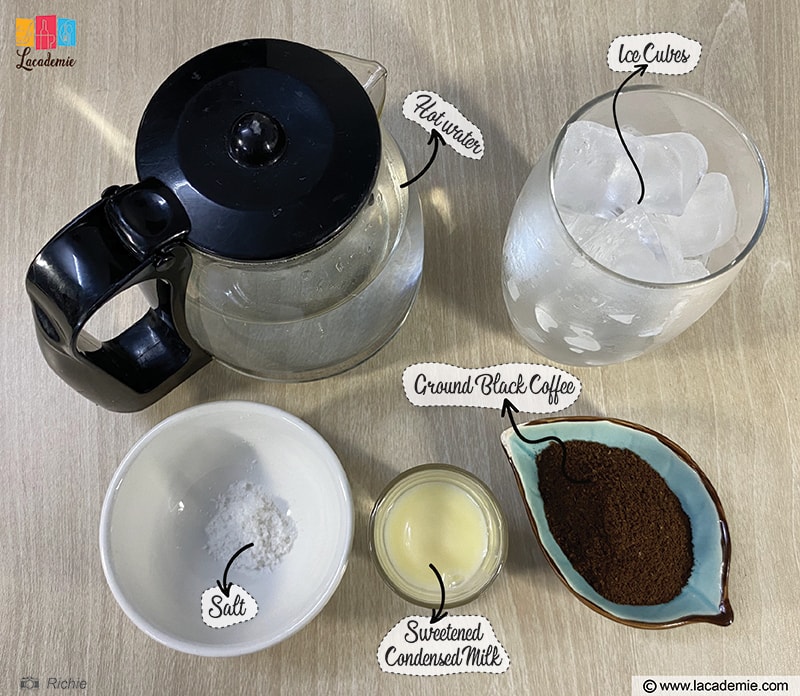 How To Make Vietnamese Iced Coffee
After learning about the basics of the tools and ingredients, you can now confidently prepare your very own ice coffee. You're only a few more minutes away from unlocking the terrific taste of this drink.
Step 1: Prepare The Coffee Filter
Warm the filter and glasses with hot water before adding some ground coffee into the filter alongside a little hot water. Brew for 3-5 minutes.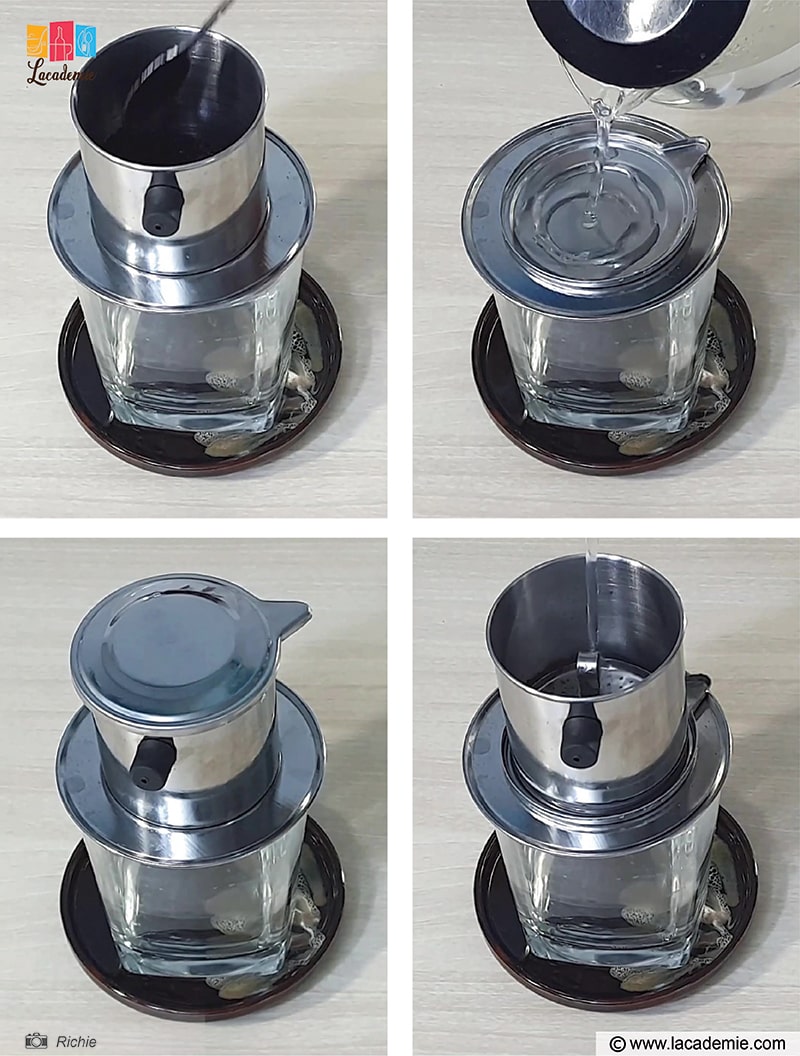 You can press the filter lightly to compact the coffee. If possible, add a few grains of salt to extract more flavors from the coffee.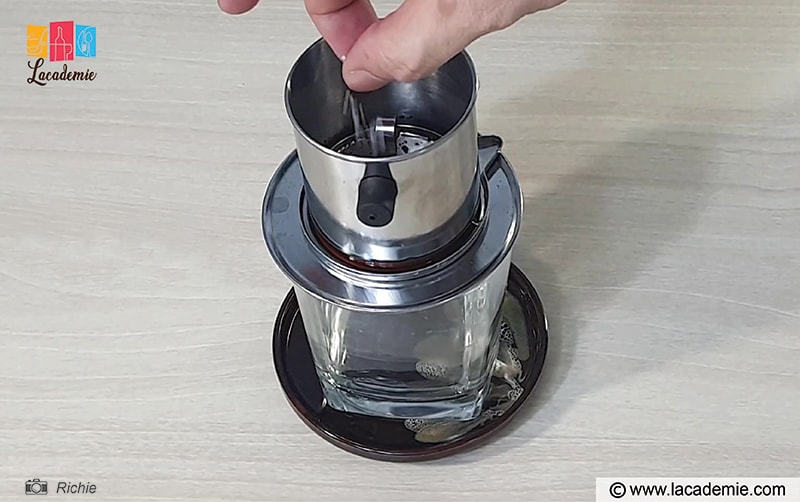 Step 2: Mix The Coffee With Milk
Pour the condensed milk into the glass and put the filter on top. Fill the filter with hot water and patiently wait for the coffee to drip down (which may last for about 5 minutes).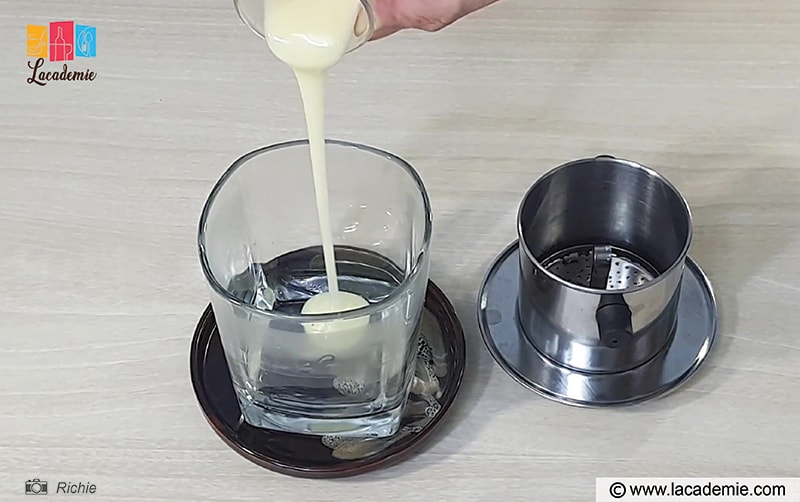 When the last drop is through, remove the filter. The glass now has two distinct layers of dark coffee and white milk. Stir them until they get well mixed with each other. Enjoy your coffee with some ice cubes.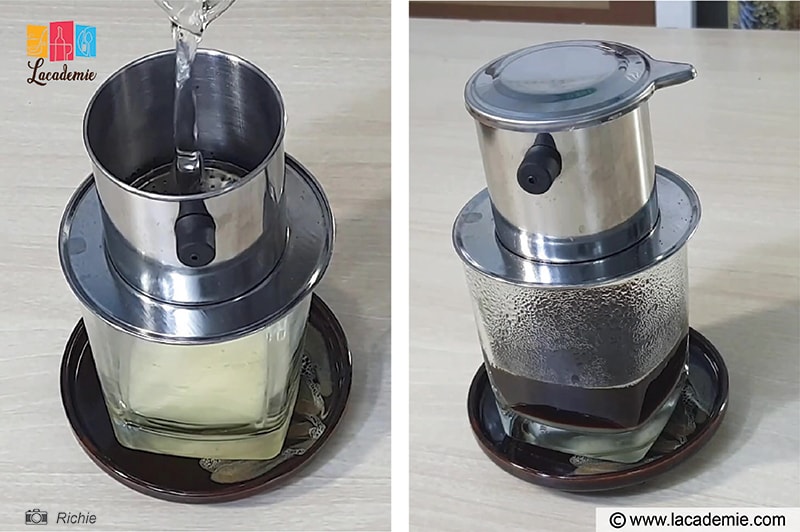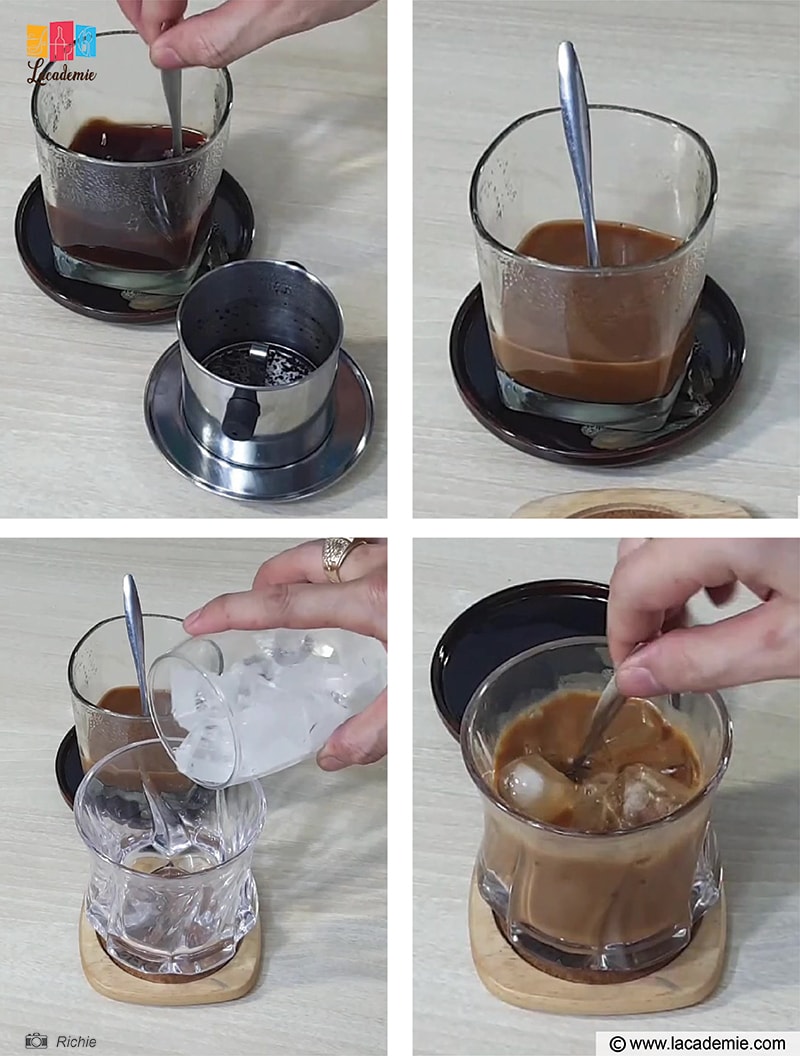 Easy Tips For Perfect Iced Coffee
If you are looking for the best Vietnamese coffee experience, keep the following things in mind:
In case iced coffee isn't your thing yet, you can put the coffee glass along with the filter and coffee in it in a bowl of hot water. Doing so will keep your coffee warm and help it retain its delicious smell.
This energy-boosting drink isn't just for the afternoon. A cup of iced coffee and cookies make a light yet delightful breakfast. The combo will also keep you ready for an energetic morning.
Don't hesitate to change the coffee: condensed milk ratio to suit your taste. The standard recipe is one part milk and two parts coffee, usually around 20 ml and 40 ml, respectively.
Add more milk to make your drink sweeter or increase the amount of coffee for a more bitter mouthfeel. Usually, 20 ml of milk and 20 – 35 ml of coffee creates a sweet drink, while those preferring a bitter taste should use 15 ml of milk and 40 ml of coffee.
What Do You Think About Vietnamese Iced Coffee?
With a cup of Vietnamese iced tea by your side, you will no longer get heavy-eyed on a hot, languorous day. It can easily become your, well, new cup of tea. Have a taste, and you will never look at ordinary espresso or cappuccino the same way again.
I have a small favor to ask: Please share this post with your friends so that more and more people know about this terrific drink. Also, feel free to comment about your experience as well as any trick that you come up with while making this coffee.
Nutrition Facts
1 servings per container
---
Amount Per ServingCalories107
% Daily Value *
Total Fat 2.8g

4

%
Cholesterol 11mg

4

%
Sodium 204mg

9

%
Potassium 305mg

9

%
Total Carbohydrate 17.6g

6

%

Dietary Fiber 0g

0

%
Sugars 17.6g

Protein 3g

6

%
---
* The % Daily Value tells you how much a nutrient in a serving of food contributes to a daily diet. 2,000 calories a day is used for general nutrition advice.