It will be a crime to talk about Vietnamese cuisine at its best without mentioning fresh spring rolls. Those bite-sized delights are a wonderful mix of non-packaged meat, gluten-free starch, and fresh, fiber-rich herbs. Each roll is full of all the necessary nutrients for your body.
In terms of flavors, this Vietnamese specialty is simply more delicious than you can ever imagine. With the mild rice noodles as a blank canvas for flair, the umami-packed meat enriched with the refreshing aroma of herbs is totally capable of making your heart skip a beat.
And did I mention that those rolls are quite elegant and portable, perfect for putting in a lunch box and carrying around? With just a few minutes, you will be able to experience everything that this finger food has to offer!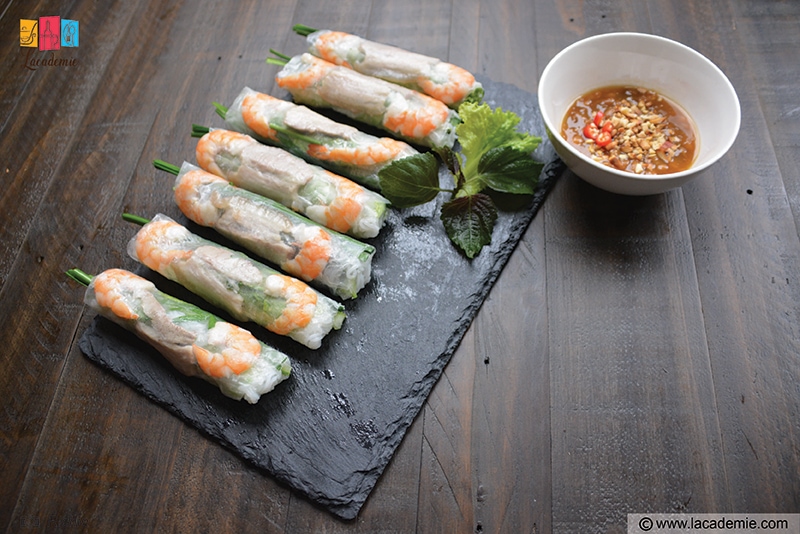 Fresh Spring Rolls – The Pinnacle Of Vietnamese Cuisine
Ask anyone about their favorite Vietnamese dishes, and many of them will probably mention fresh spring rolls. Actually, a more faithful translation of its native name ("gỏi cuốn") should be "salad rolls", which emphasizes the importance of fresh vegetables in this recipe.
Remember that freshness is the keyword. There is another type of spring roll in Vietnamese cuisine called "chả giò" or "nem rán". It is a deep-fried dish made from rice paper, ground meat, diced vegetables, and mushrooms. This one can go with or without a sauce.
By contrast, the recipe I'm about to show you consists of boiled pork side and/ or shrimp, rice noodles, and fresh herbs wrapped around with rice paper. In addition, it requires a good dipping sauce to bring out the best flavor.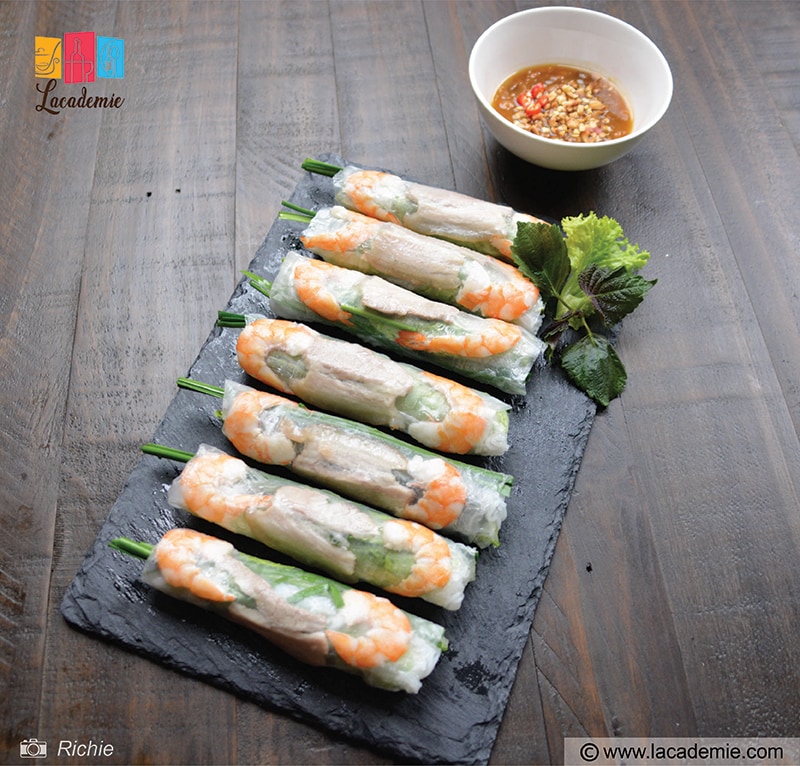 Tools
This recipe doesn't need any tools at all. I bet everything is already sitting on your kitchen wall shelves. It's time to use them.
Chopping board: to cut the meat and shrimp on. Later, you will also form the spring rolls on it.
Knife: the sharper, the better.
Pot: to boil the meat.
Small dishes: to contain the ingredients while you're making the spring rolls.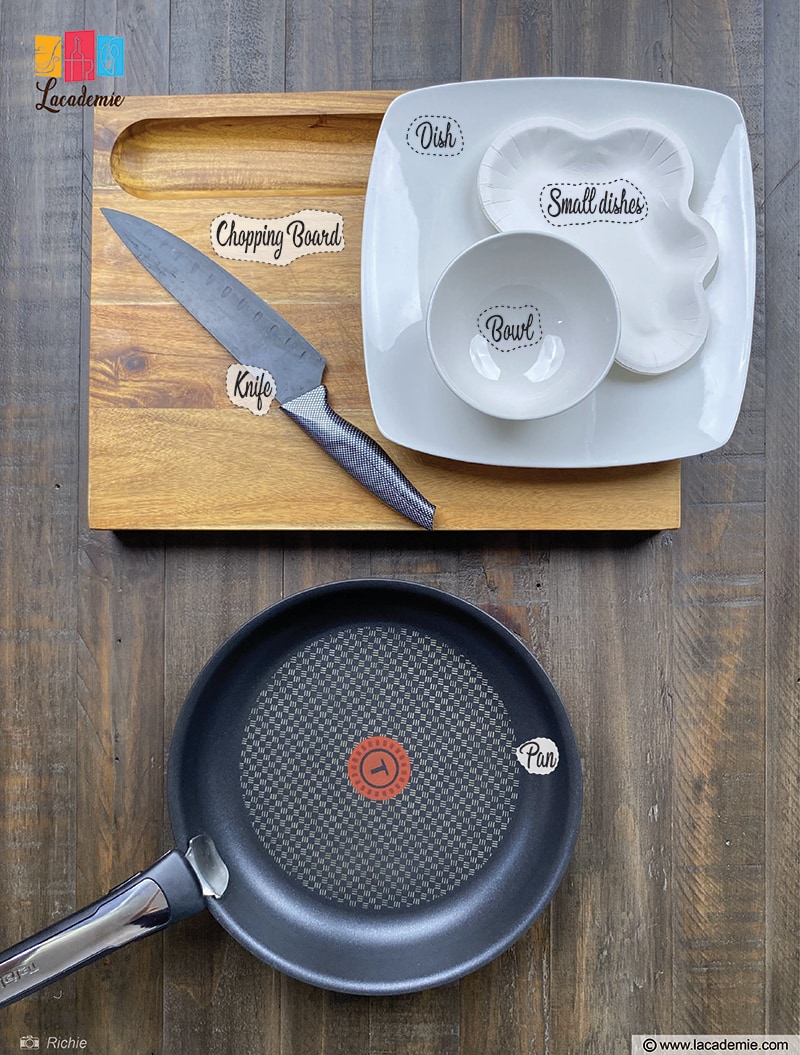 Ingredients
You may have to make a trip to an Asian food store to gather all the necessary ingredients, especially the vegetables. But it is acceptable to be creative and use what you have at hand.
Pork side: although many fresh spring roll recipes omit this ingredient, it is vital to an authentic Vietnamese experience. The back fat on the meat blends wonderfully with the fragrant taste of the fresh herbs, creating an exciting mouth-feel. But feel free to use a leaner cut of meat.
Shrimp: medium-sized shrimp tend to work best for the recipe.
Rice noodles: they help turn the spring rolls into a filling meal. You can use less or more of them, depending on whether you want a snack or something more substantial.
Rice paper: make sure that you buy real Vietnamese rice paper ("bánh tráng"). It can be already soft enough to be pliable or needs to be rehydrated first.
Cucumbers and fresh herbs: though you can freely choose your favorite greens, most versions include lettuce, beefsteak plant, basil, and chives.
Dipping sauce: this recipe uses a sauce made of roasted peanuts, salted fermented soybeans, lemon juice, garlic, fresh chili pepper, and sugar.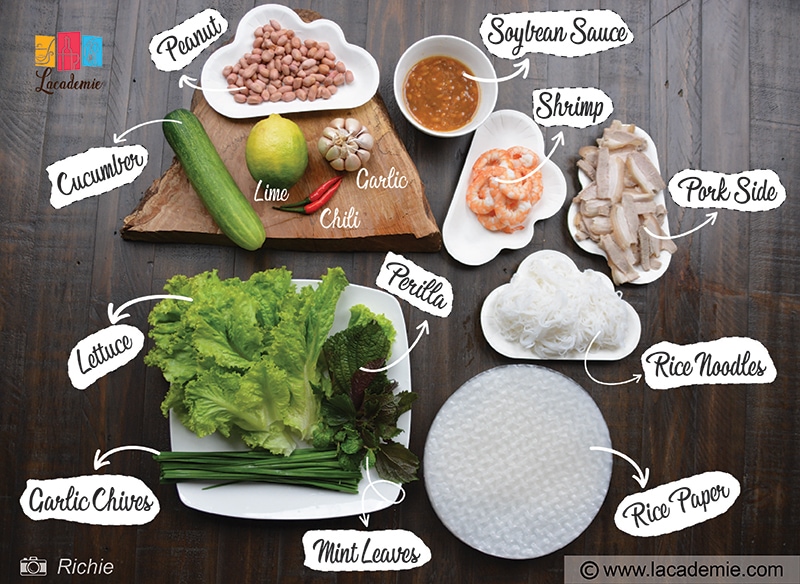 Make Vietnamese Fresh Spring Rolls Like A Pro
It's showtime! Follow the four steps below for an ultimate healthy, gluten-free recipe that you can share with the whole family.
Step 1: Prepare The Ingredients
Rinse the vegetables and let them drain.
Clean the pork side with water several times. You can rub it with some salt to eliminate the odor. Pat dry the meat with a clean towel. Then, parboil it along with some salt for 3 – 5 minutes. Get the meat out and wash it with water once more to make it completely clean.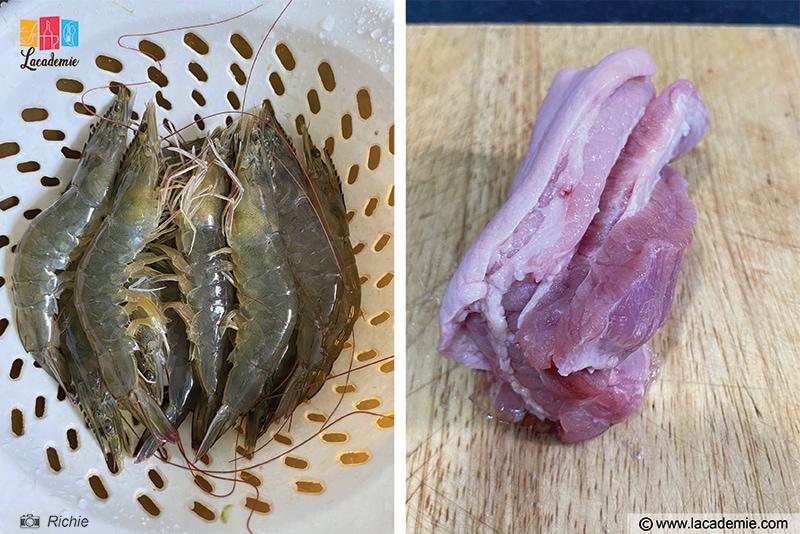 Next, boil the meat along with scallions, ginger slices, and salt (for added flavors) on medium-high heat for 20 – 30 minutes. When it is cooked through, plate it and let it cool.
Remove the heads from the shrimp and devein them with a toothpick, but keep the shells on the shrimp to prevent the flesh inside from drying out during cooking. Wash the shrimp and immediately boil them in the steamer for 5 – 10 minutes.
Step 2: Prepare The Filling
Cut the pork side into thin slices. Next, halve each shrimp along its length. For the cucumbers, cut them into long slices.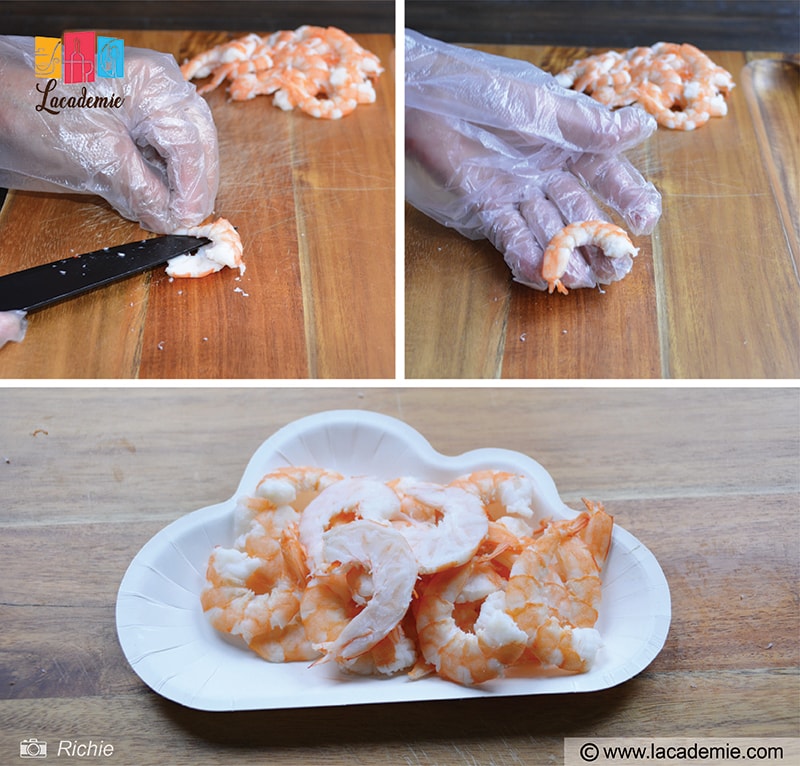 Step 3: Get The Spring Rolls Ready
Lay rice paper flat on a clean chopping board and arrange all the ingredients neatly on it. Follow this order: the herbs and vegetables, rice noodles, pork side, and shrimp.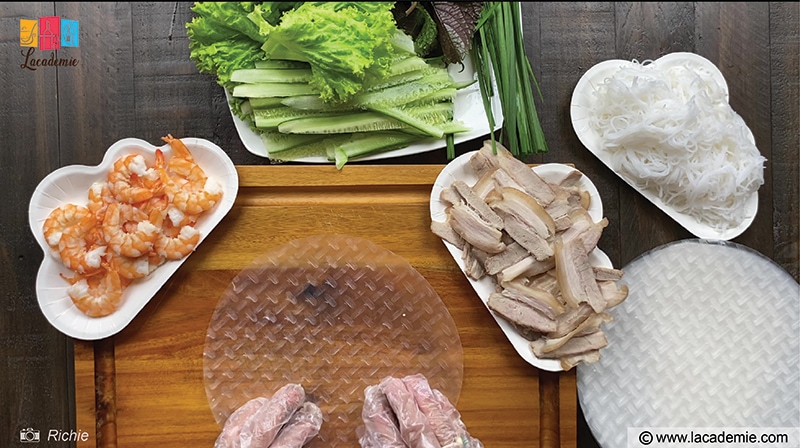 Fold the sides of the wrapper over the ingredients and roll everything up. Add a few garlic chives to the filling before sealing the spring roll. You can rub the wrapper with some water so that the spring roll can keep its form better.
Repeat the process with the remaining rice paper and ingredients.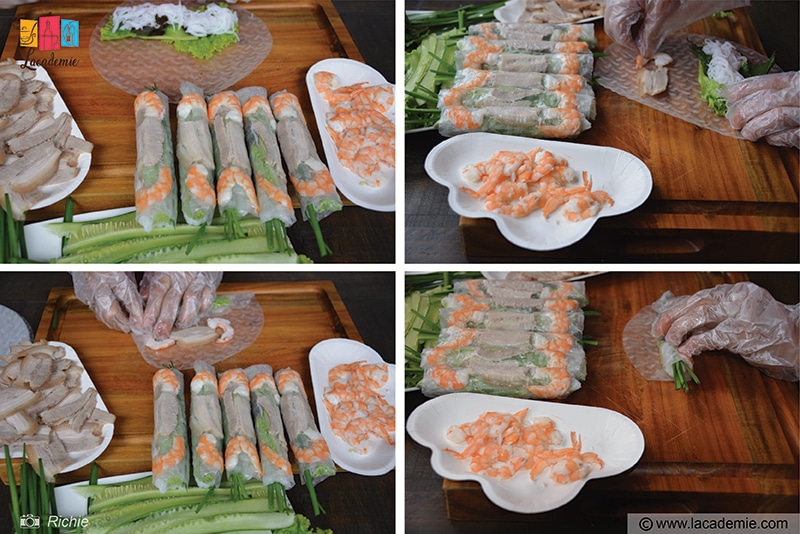 Step 4: Make The Dipping Sauce
In a skillet, roast peanuts on medium-high heat for 5 minutes until brown. Pound them and mix with salted fermented soybeans, minced garlic, fresh chili, and lemon juice.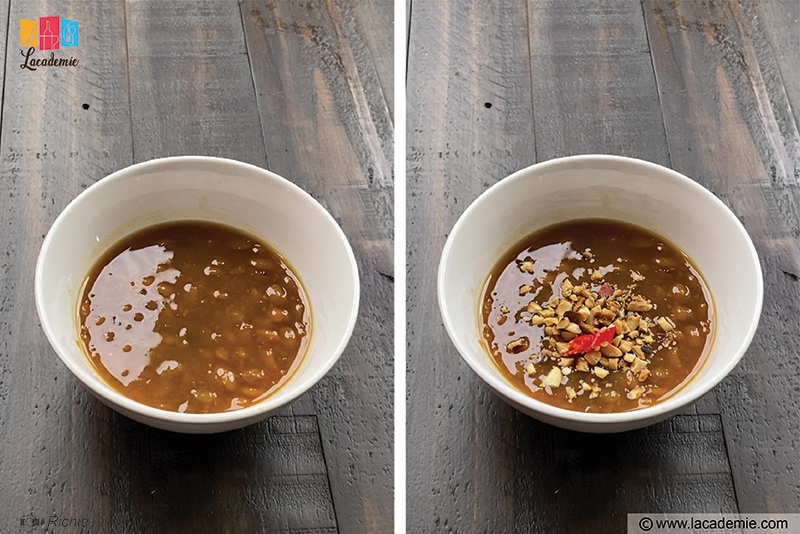 Some Helpful Tips To Remember
Check out this section to learn how to make, serve, and store Vietnamese fresh spring rolls more easily.
Certain types of rice roll wrappers are brittle and have to be dipped in water before use. In addition, they can also get overly wet and sticky. Cut yourself some slack by choosing a soft one that has no need for softening.
You can use a food processor to blend the peanuts and salted fermented soybeans together, imparting a stronger flavor to the sauce.
Practice makes perfect. Your first spring rolls may not look pretty, but keep working and your skill will improve. Anyway, a fresh spring roll is always delicious however it looks.
You can refrigerate fresh spring rolls for 2 – 3 days. But remember to keep each roll separate from each other, or they will stick together. Also, put them in an airtight container to prevent them from toughening up.
While this recipe relies on a dipping sauce made from fermented soybeans because of its nuttiness and distinct aroma, you can choose any sauce that you like. Whether it is soy sauce or peanut dipping sauce, your spring rolls still taste great.
But if you want an unforgettable experience, dip your spring rolls in flavorful Vietnamese condiments, such as mắm nêm (fermented anchovy sauce) and nước mắm chua ngọt (hot and sour dipping sauce).
Roll Up Your Sleeves And Make Those Spring Rolls Now!
Vietnamese fresh spring rolls can play many roles: as a snack, an appetizer, or a main course item for any meal of the day. Despite their impressive nutrition profile, they are quite light and won't leave your stomach feeling heavy afterward.
When your children (or your inner child) have trouble incorporating fresh vegetables into their meals, this recipe can provide you with a great way out. And if you want to impress your friends at the next potluck party or intimate get-together, it can work like a charm as well.
Share this article if you find it helpful and informative. Should you have any questions to ask or experience to share, be my guest. The comment section is always open to you.
Nutrition Facts
16 servings per container
---
Amount Per ServingCalories118
% Daily Value *
Total Fat 3.3g

5

%
Cholesterol 39mg

13

%
Sodium 57mg

3

%
Potassium 68mg

2

%
Total Carbohydrate 6.9g

2

%

Dietary Fiber 0.4g

0

%
Sugars 0.2g

Protein 14.3g

29

%
---
* The % Daily Value tells you how much a nutrient in a serving of food contributes to a daily diet. 2,000 calories a day is used for general nutrition advice.