Vietnamese crispy pork belly or Thịt Heo Quay is a favorite at family dinners and gatherings. You will fall head-to-toe in love with the succulent and tender pork pieces that are roasted to perfection with a layer of bubbly, incredibly crispy skin.
In Vietnamese BBQ shops, the locals will skewer and roast an entire pig on a spit roast. But since you'll be making this dish at home, you don't necessarily need to follow the traditional route. Instead, I'll show you a quicker and more convenient way to recreate this Vietnamese classic using only an air fryer!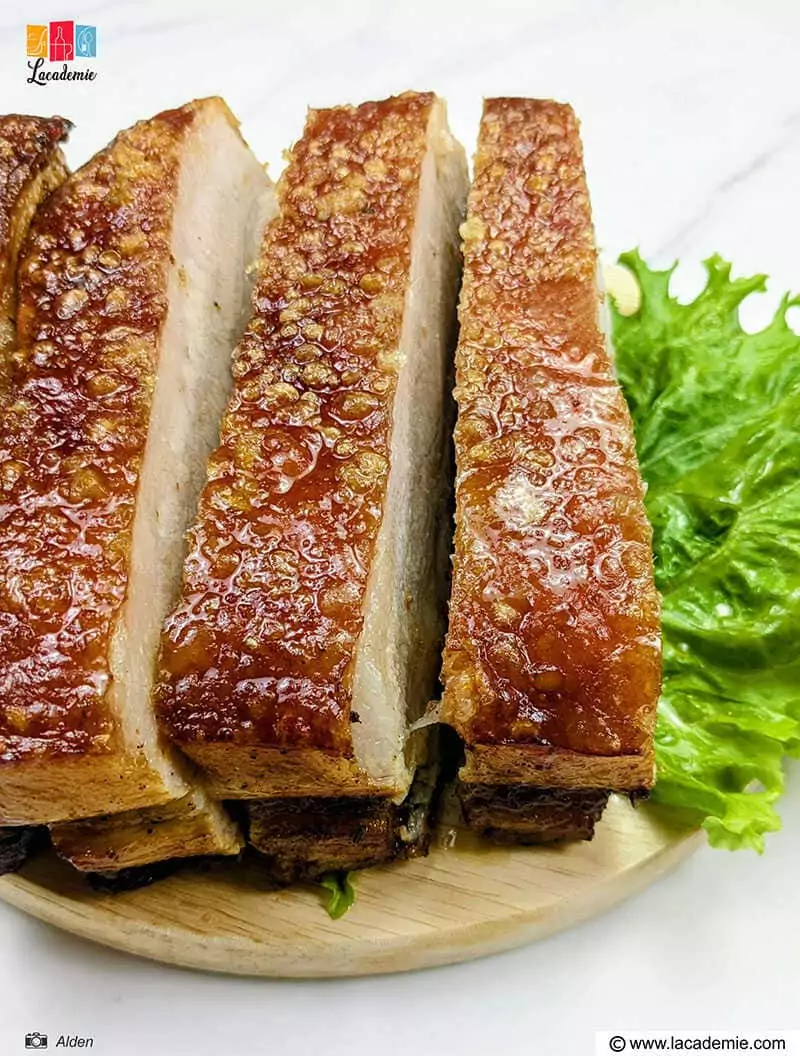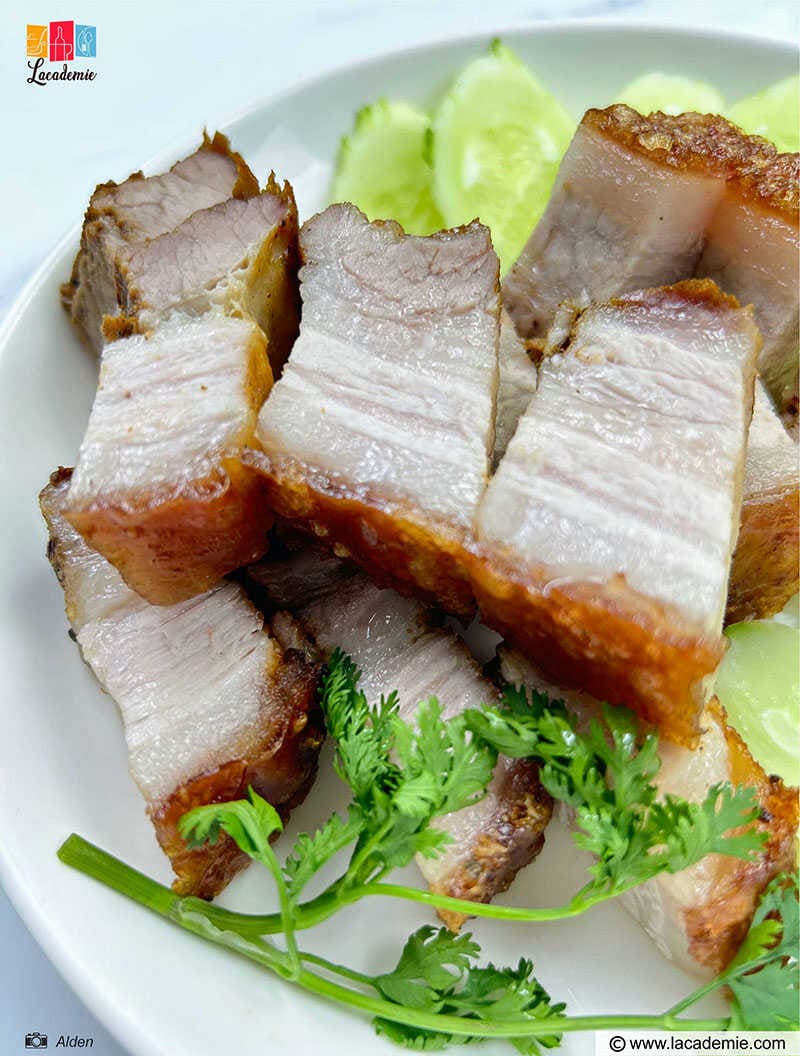 What Is Vietnamese Crispy Pork Belly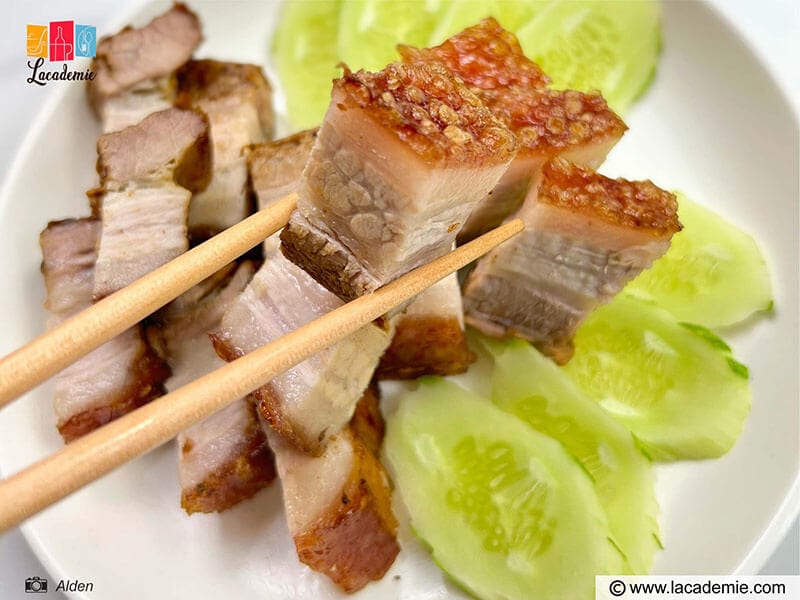 Walking past BBQ restaurants in Chinatown, it's not hard to come across mouth-watering roasted pigs, ducks, and chickens hanging in cart windows. Among them, roasted pigs are the most beloved meat dishes in Vietnamese cuisine.
Thit Heo Quay is most likely to have originated from Cantonese cuisine, where it is called Siu Yuk. In Vietnam, it's one of the most popular dishes at feasts, weddings, family gatherings, and other special occasions.
The most distinct feature of Thit Heo Quay is undoubtedly the out-of-this-world crispy pork skin, which can only be achieved if you dry the meat properly and cook it at a high temperature. The layers of tender and juicy fat and meat underneath the skin, infused with an array of spices, further add to the dish's appeal.
Tools
Let's start with the tools that you'll need to have in order to make this recipe successfully.
Air fryer: A handy modern cooking tool that helps you cook many great dishes without using much oil.
Pot: For boiling the pot. Choose one that allows you to put the whole pork belly in.
Knife and chopping board: For cutting the pork belly into slices after cooking.
Needle meat tenderizer: For puncturing the meat, let it absorb the marinade better.
Basting brush: For brushing the vinegar mixture on the skin (more details on this mixture later).
Tongs: For picking up the ingredients.
Aluminum foil: Use aluminum foil to cover the meat during cooking.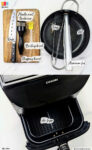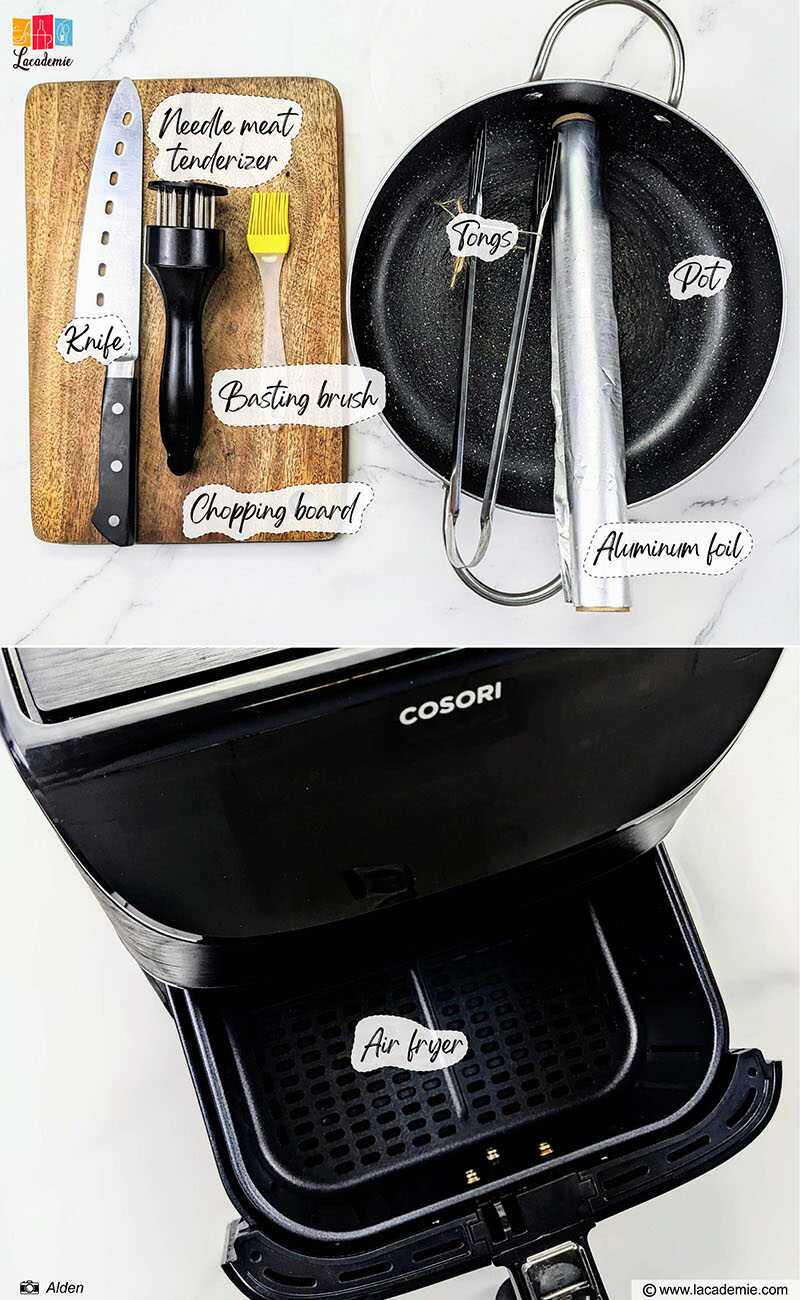 Ingredients
When it comes to the ingredients, here is a list of what you need to prepare:
Pork belly: The best cut for making Thit Heo Quay. Remember to purchase skin-on pork belly. In case you need help with choosing the ideal piece, I've also included a section with useful tips below.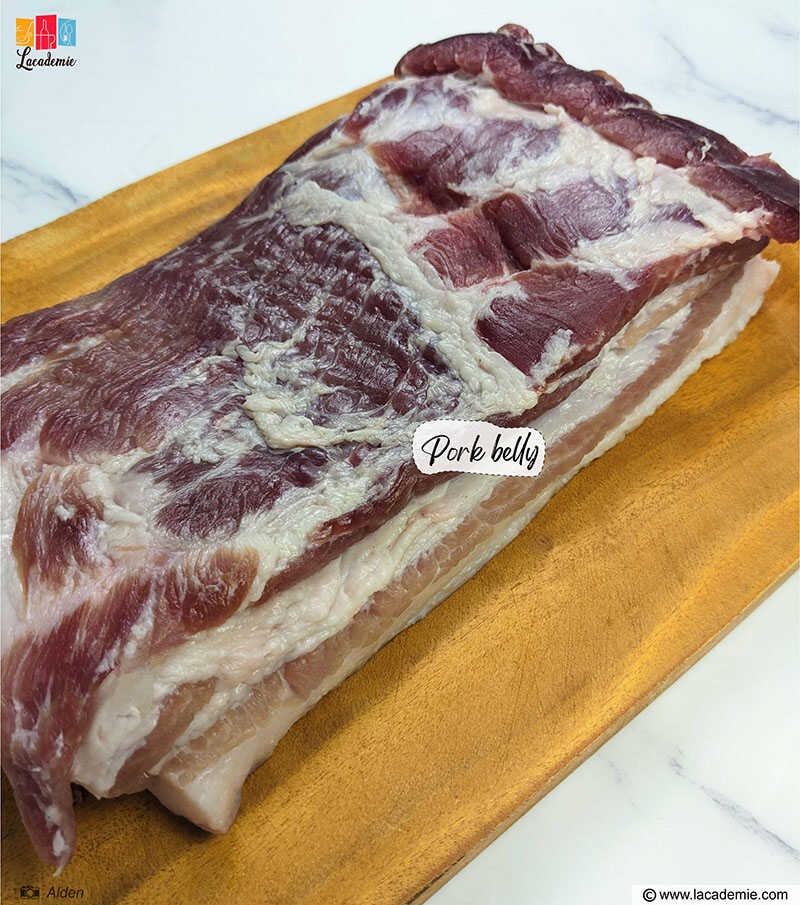 For adding to boiling water: Shallots, ginger, star anises, black cardamom, and salt.
For the marinade: Pepper, soy sauce, onion powder, five-spice powder, annatto powder, ginger powder, paprika, sugar, and salt.
Vinegar: An important ingredient that allows the skin to crisp up. Mix it with a little salt for the best result.
For the sauce: One part of the marinade, garlic, and chili.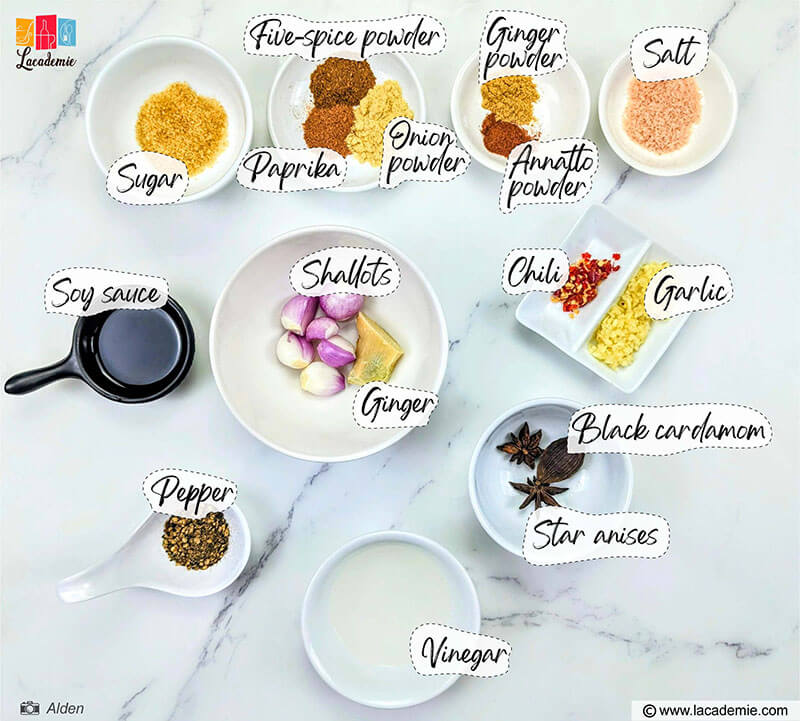 Directions
Making Thit Heo Quay takes time and practice. But worry not; just follow the steps in this recipe closely, and I guarantee you that the dish will come out perfectly!
Step 1: Briefly Boil The Pork
Fill a pot with water and bring it to a boil. When the water comes to a rapid simmer, add the pork belly (skin side facing down), ginger, shallots, star anises, black cardamom, and 1 tablespoon of salt. Boil for 5 minutes, then flip the pork and continue to cook for another 3 minutes.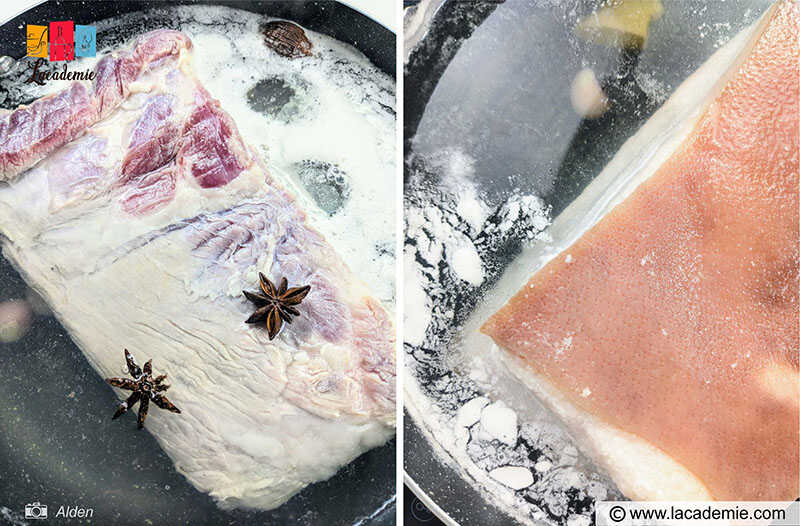 Step 2: Make The Marinade
Combine the following ingredients: 1 tablespoon pepper, 1 tablespoon soy sauce, 2 teaspoons onion powder, 1 teaspoon five-spice powder, 1 teaspoon annatto powder, 1 teaspoon ginger powder, 1 teaspoon paprika, 1 teaspoon salt, and 1 tablespoon sugar.
Mix well to combine.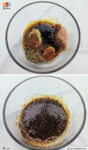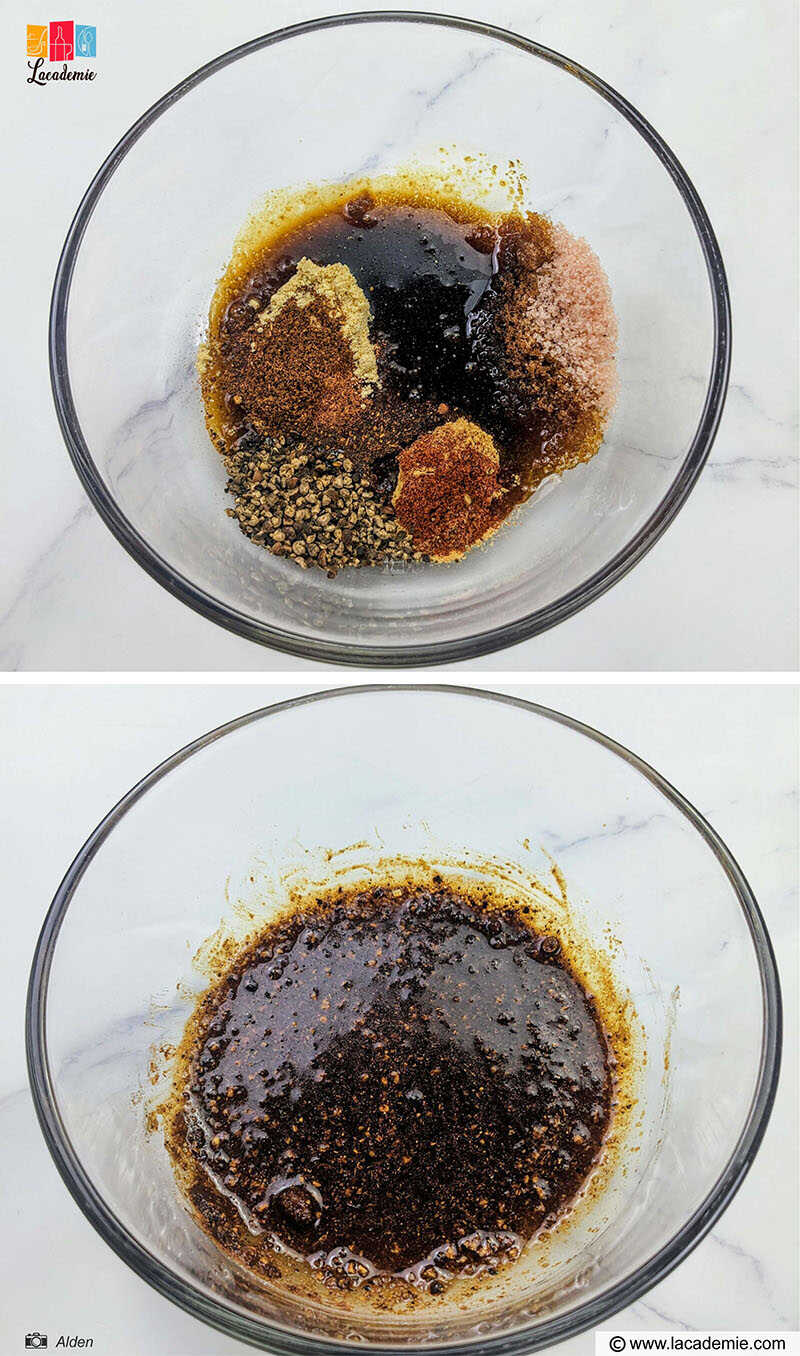 Set aside a small portion of the marinade and use it as the dipping sauce.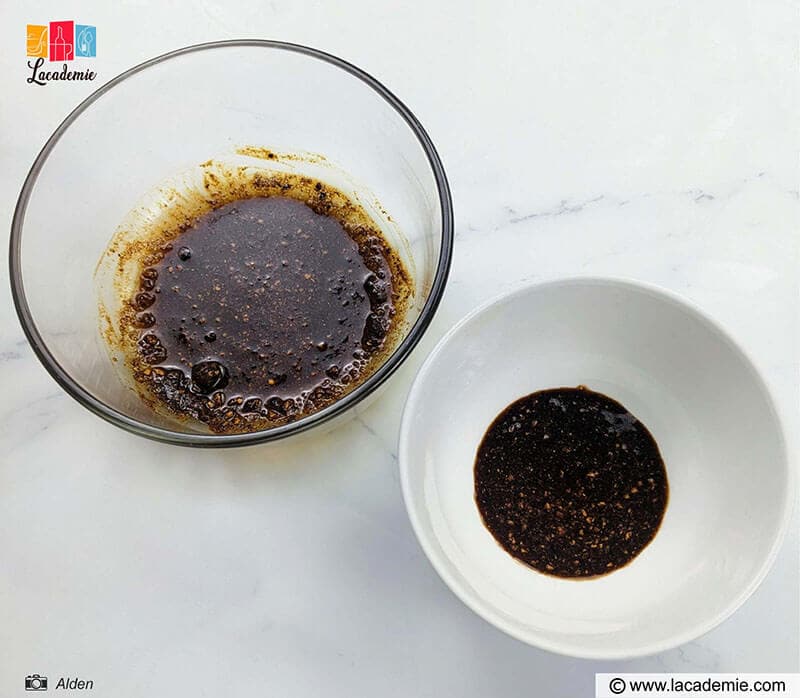 Step 3: Marinade The Pork And Puncture The Skin
After boiling, drain and pat the pork belly with paper towels to absorb the excess liquid.
Score the meat side of the pork, as shown in the photo below.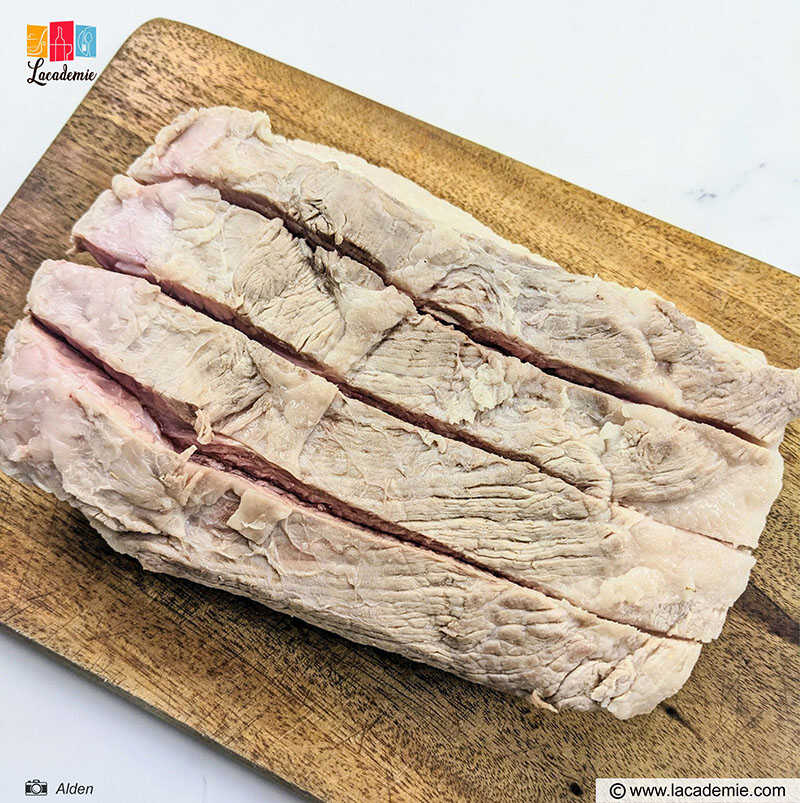 Rub the marinade on the meat part of the pork on all sides.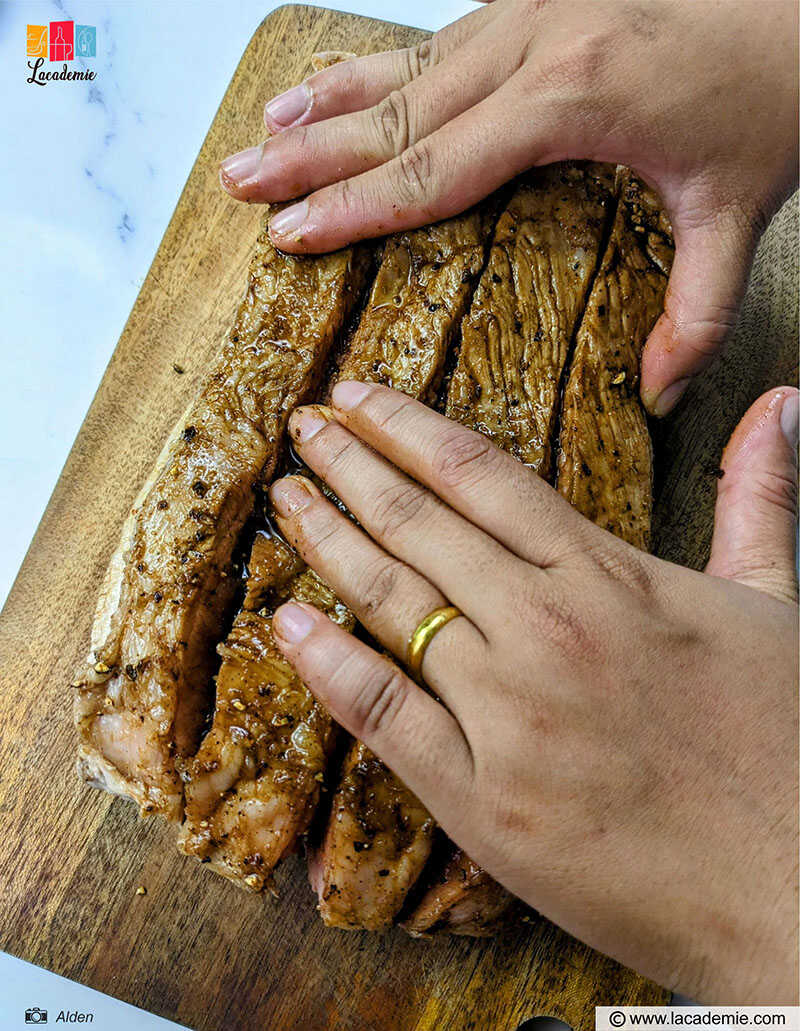 Wrap the pork with aluminum foil, except for the skin side. Using the needle meat tenderizer, poke as many holes as you can on the skin's surface.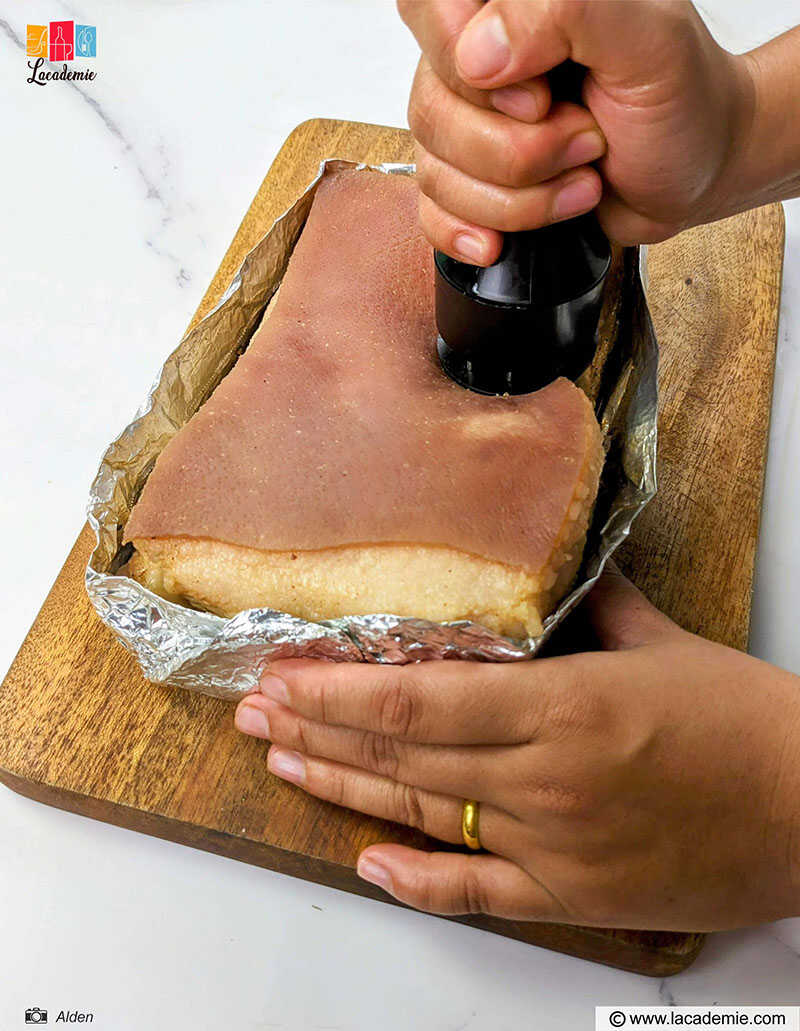 Mix 2 tablespoons of vinegar and 1 teaspoon of salt. Brush this mixture well on the skin.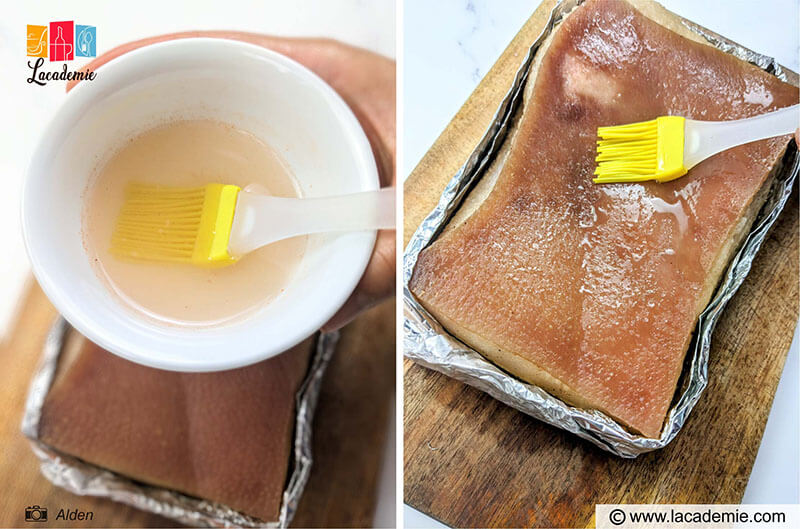 Refrigerate the pork for at least 4 hours to dry the skin out. You can also sun dry the pork or dry it with a hair dryer.
Step 4: Air Fry The Pork Belly
Preheat the air fryer to 400 degrees F (about 5 minutes).
Next, you'll need to air fry the pork 3 times.
First, air fry it at 356 degrees F for 15 minutes (skin side facing up).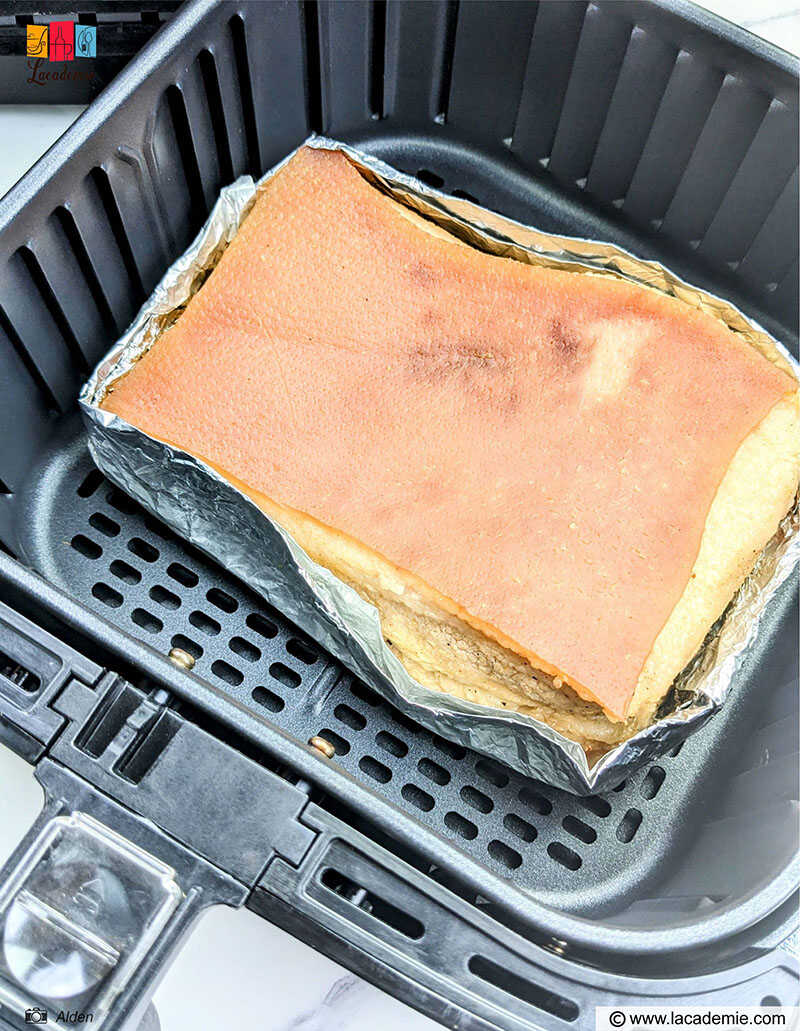 Then, brush the skin with the vinegar and salt mixture.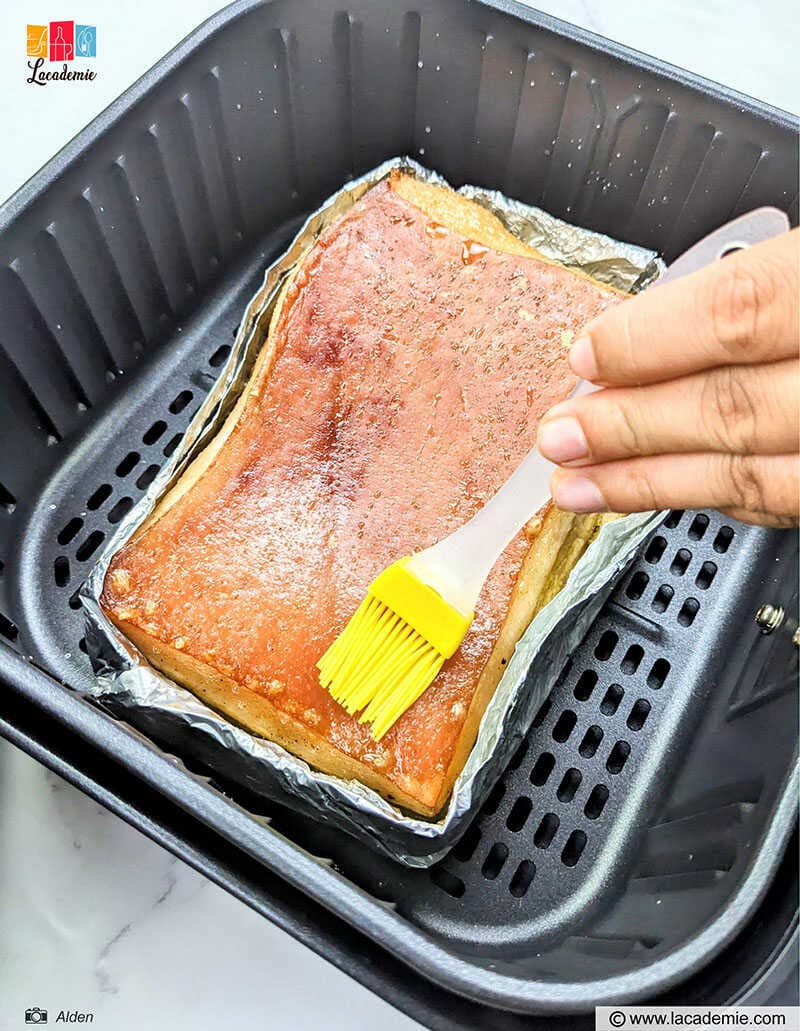 Next, air fry it for 15 minutes at 375 degrees F.
Afterward, remove the aluminum foil and brush the rest of the vinegar mixture on the skin. Once done, air fry the pork for another 10 minutes at 400 degrees F.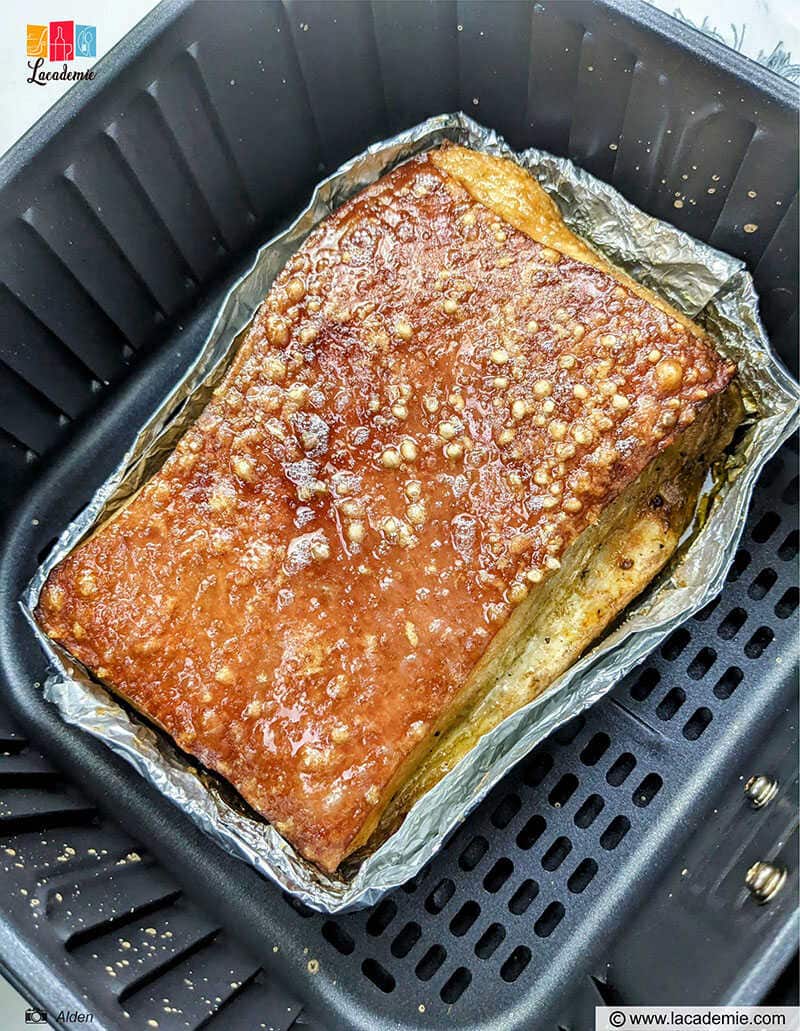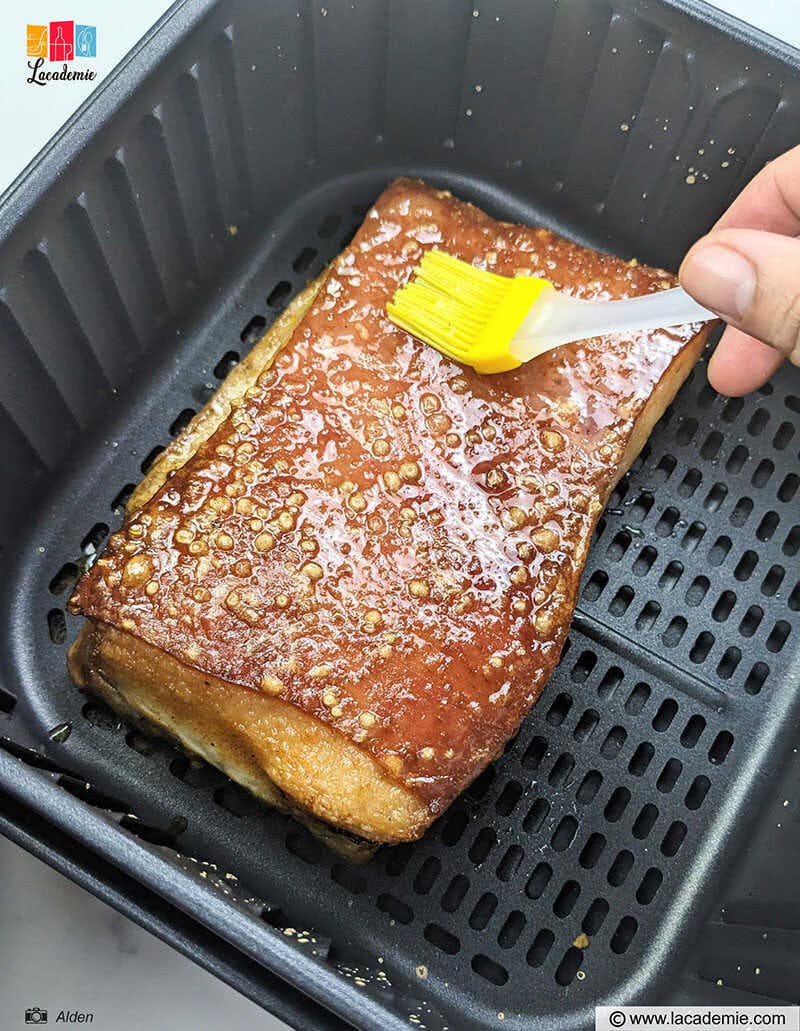 Step 5: Make The Sauce
Boil the marinade that you've set aside with about 1 tablespoon of water. Once the sauce comes to a rapid simmer, add the minced garlic and minced chili pepper. Reduce the heat to low and cook until the sauce thickens slightly.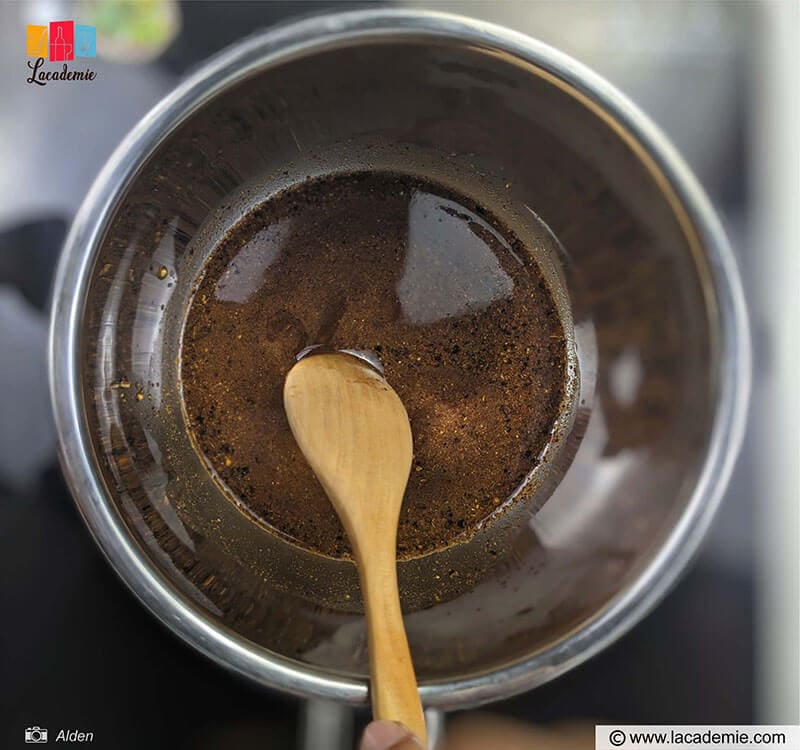 Step 6: Serve The Dish
Let the pork rest for about 15 minutes, then cut it into pieces of your preferred size. Serve it with Banh Mi (Vietnamese baguette), Banh Hoi (woven vermicelli), pickles, cucumber, and vegetable salad.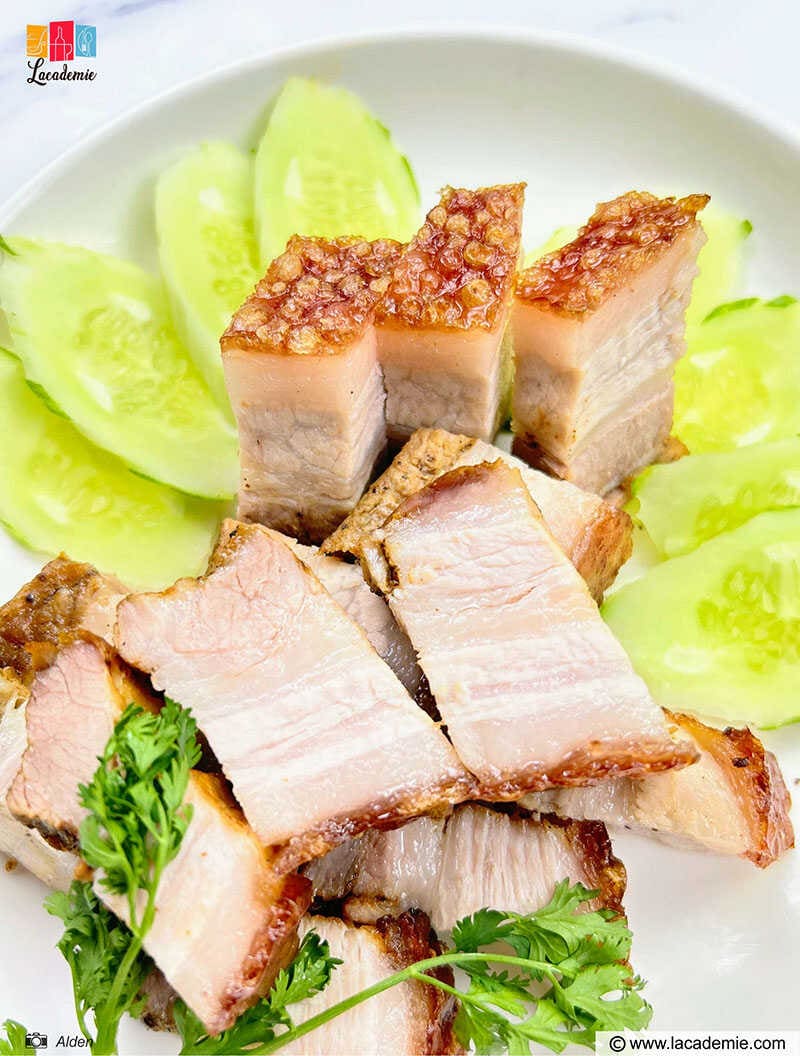 Important Notes And Variations
Take a quick look at these notes to prevent common mistakes and learn a few alternatives for the recipe.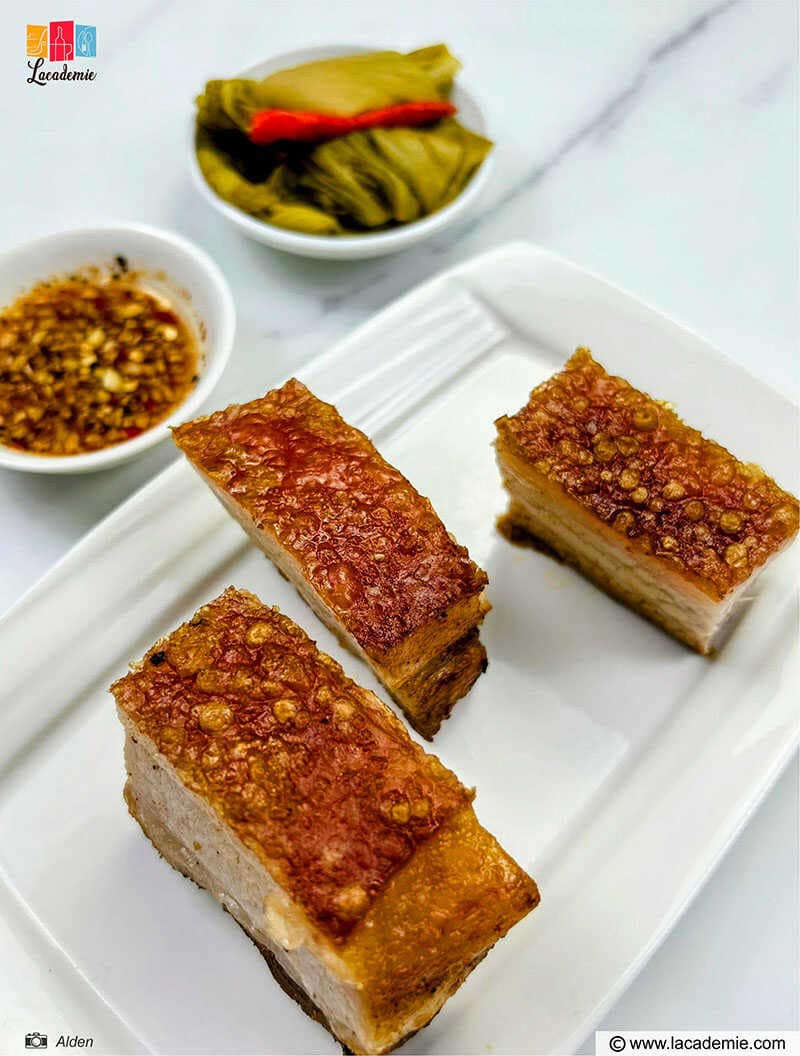 The pork skin must be completely dry in order to achieve the desired crispiness.
Leave the skin uncovered when refrigerating.
If you don't have a needle meat tenderizer, you can use a spike, fork, or toothpick to puncture the skin.
Baking powder, baking soda, mirin, and lime juice also provide the same effect as vinegar, so you can use them instead.
Some people also like to add a little fermented red bean curd to the marinade to give it a unique twist of flavor. Personally, I'm not really a big fan of this, but feel free to experiment!
Tips For Choosing The Best Pork Belly
It's vital to choose the right piece of pork belly, as it can easily make or break your dish. Note down these tips before you go shopping.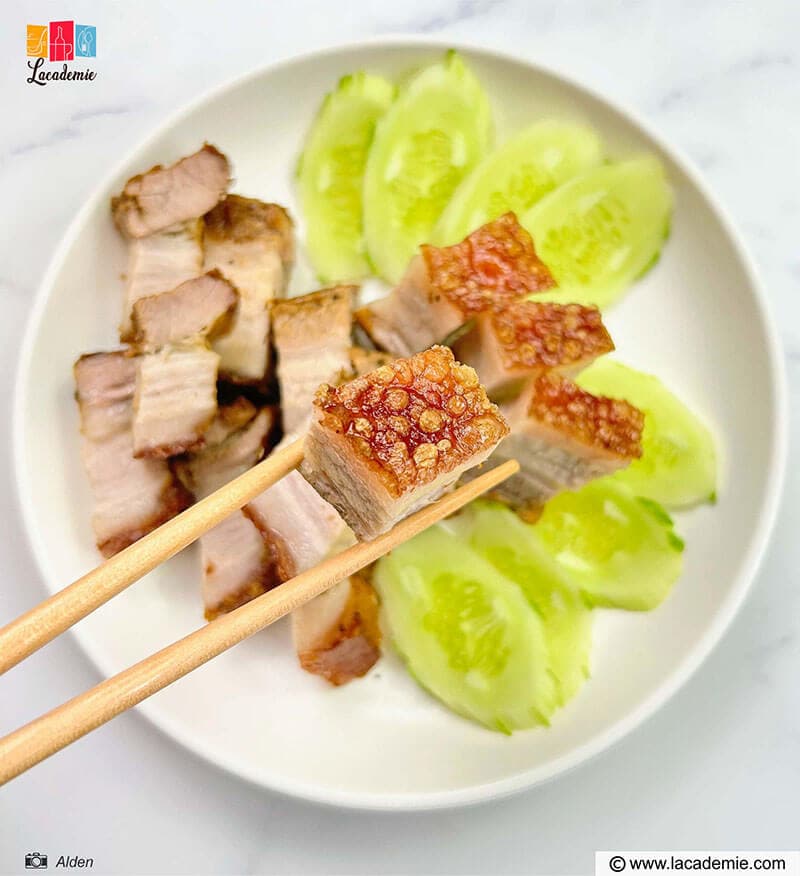 Be mindful of the color: Opt for a piece with a rich pink color and a creamy fat layer. Avoid the ones that are gray or brown.
Texture matters: High-quality pork cuts will be firm both on the meat and the fat part.
Look for an even distribution of lean meat and fat: An even thickness of the meat and fatty part allows the meat to cook better.
Always go for a piece that is even in height: Ideally, your pork belly should have consistent size on all sides. Otherwise, achieving the perfect crunchy skin will be a little tricky. In case you need a quick fix, cut the pork into even pieces and cook them in different batches.
Get a cut from a younger pig, if possible: These cuts will generally have thinner skin, which is easier to crisp up. Pork bellies from older pigs will be thicker, which is still fine, but you'll have a harder time making them crispy without burning them.
Excellent Side Dish Suggestions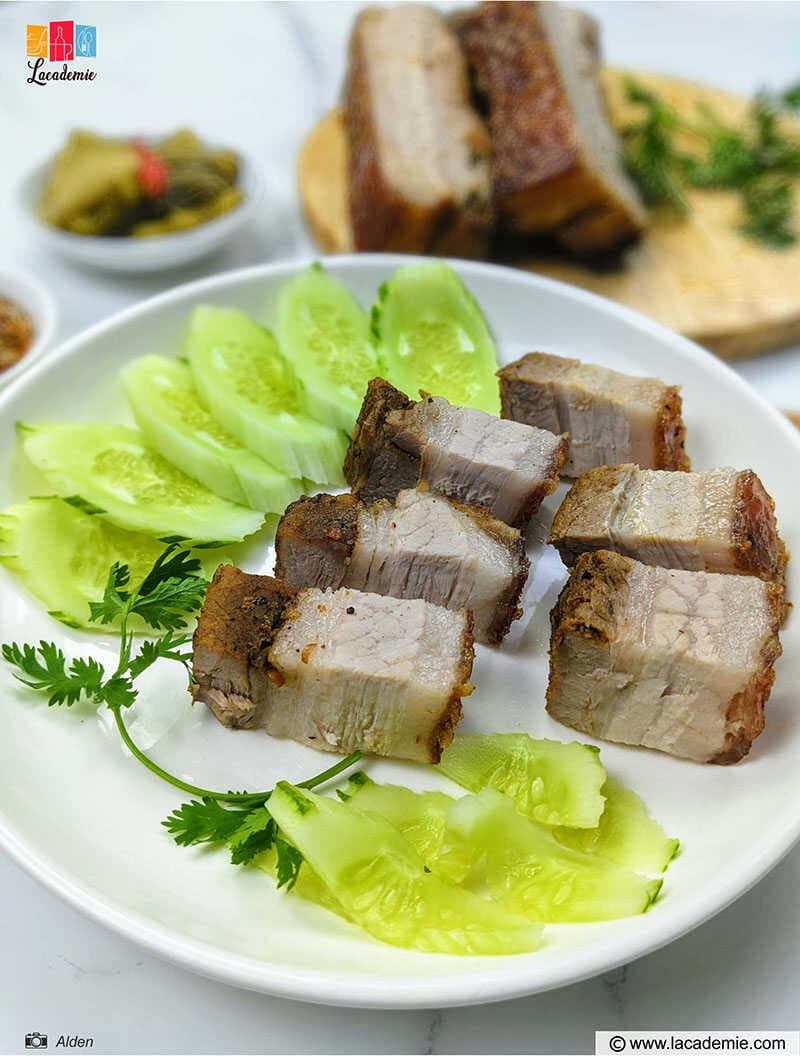 Vietnamese crispy pork belly pairs well with a lot of dishes. If you want some vegetables to balance the fattiness, I recommend giving Vietnamese Pickled Mustard Greens (Dưa Chua) a try. You can even stir-fry the pork with these pickles. Sliced cucumber or lettuce are good options, too, in case you want something quick.
Besides, you can serve your Thit Heo Quay with steamed rice, Banh Mi, vermicelli noodles, or Vietnamese woven vermicelli (Banh Hoi). For an extra decadent meal, I also suggest pairing the pork with fried baozi (Banh Bao Chien).
Storing Your Thit Heo Quay The Proper Ways
Have some leftovers? The best way to store them is to put them in an airtight container and refrigerate them. The pork will stay good for 3 to 5 days this way. If possible, only slice the part you plan to eat and leave the rest whole to retain its moisture.
You can also freeze the roasted pork for up to 3 months, but I don't recommend doing so. The skin tends to get soggy after thawing.
To reheat, air fry your pork belly or cook it in a toaster oven for about 5 minutes at 325 degrees F.
FAQs
Check out the frequently asked questions in this last section for more knowledge about Thit Heo Quay.
Time To Feast On The Crispiest Pork Belly!
With its succulent meat, irresistibly crispy skin, and the perfect balance of spices, Thit Heo Quay is sure to steal the show at your next family gathering or dinner party. And by using the air fryer instead of deep frying, the dish will be healthier and easier to cook than ever.
Did you enjoy making this delicious Vietnamese delicacy? Remember to leave a comment below sharing any feedback, tips, or thoughts that you have. If you find the recipe delightful, be sure to like and share it with other people who also enjoy cooking tasty dishes!
Nutrition Facts
4 servings per container
---
Amount Per ServingCalories770
% Daily Value *
Total Fat 41.1g

64

%
Cholesterol 174mg

58

%
Sodium 4412mg

184

%
Potassium 236mg

7

%
Total Carbohydrate 17.5g

6

%

Dietary Fiber 4g

16

%
Sugars 3.9g

Protein 71.6g

142

%
---
* The % Daily Value tells you how much a nutrient in a serving of food contributes to a daily diet. 2,000 calories a day is used for general nutrition advice.