Even the most common Asian food ingredients can turn your dishes into phenomenal delights. I will show you the magic hidden in them, from aromatic herbs and exotic spices to mouthwatering sauces and vegetables.
By delving into these ingredients, you'll not only expand your culinary repertoire but also unlock a world of endless possibilities in your kitchen. Get ready to embark on an epic journey to unravel the secrets behind Asian deliciousness!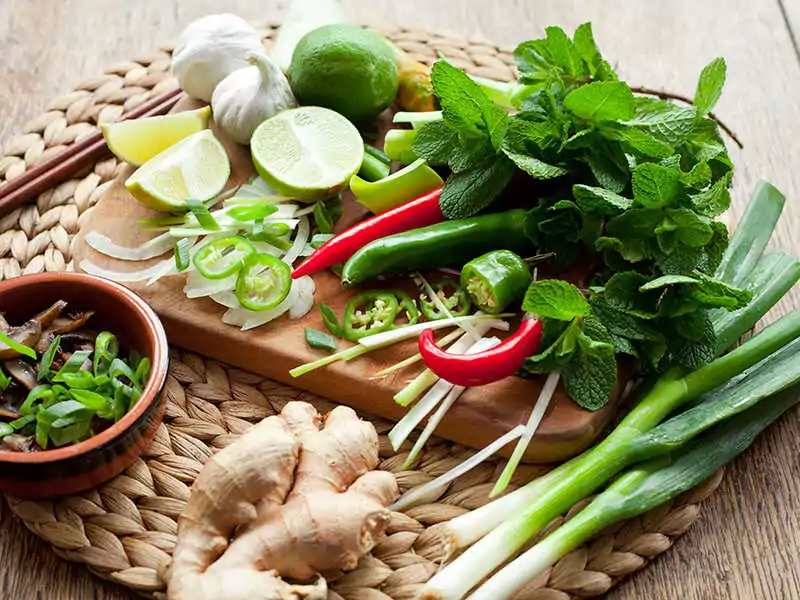 Meat And Seafood
1. Chicken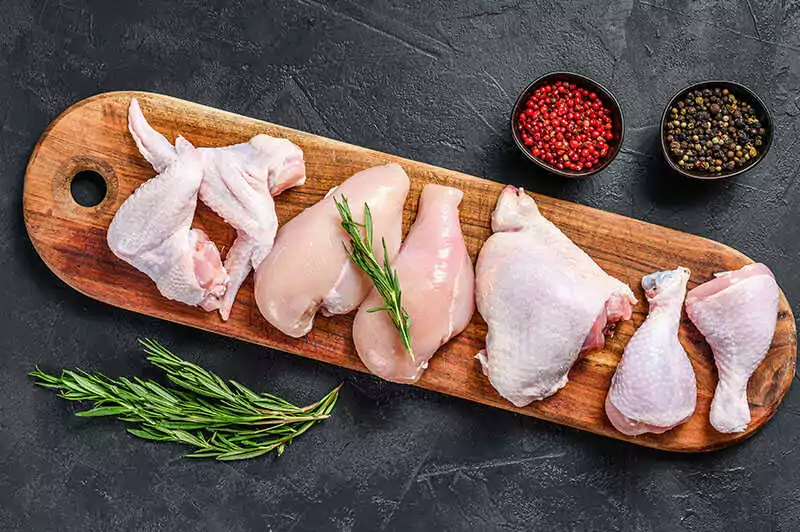 Chicken is one of the most popular protein sources in the world. For example, an average American devoured 68.1 pounds in 2021 (1), a figure that even surpassed beef.
This affordable, versatile meat can play any role in the kitchen. Its mild, somewhat bland taste when unseasoned makes it a perfect canvas for any flavor. I've used it in stir-fries, stews, sandwiches, and soups. Unsurprisingly, many traditional Asian delicacies have it as the main ingredient.
Whether you prefer the lean breast or the richer dark meat of thighs and drumsticks, there's a cut for everyone. My personal favorites are breasts, thighs, drumsticks, wings, and tenderloins. But remember: never eat it raw, or you may suffer from food poisoning!
Chicken is firm yet tender when cooked right, with a delightful mouthfeel. Plus, it is chock-full of nutrients like vitamin B12, zinc, and copper (2). In addition, its rich protein content can go a long way to building your muscles and lifting your mood.
When choosing chicken, avoid anything slimy or foul-smelling; that is a surefire sign that the meat has gone off.
2. Beef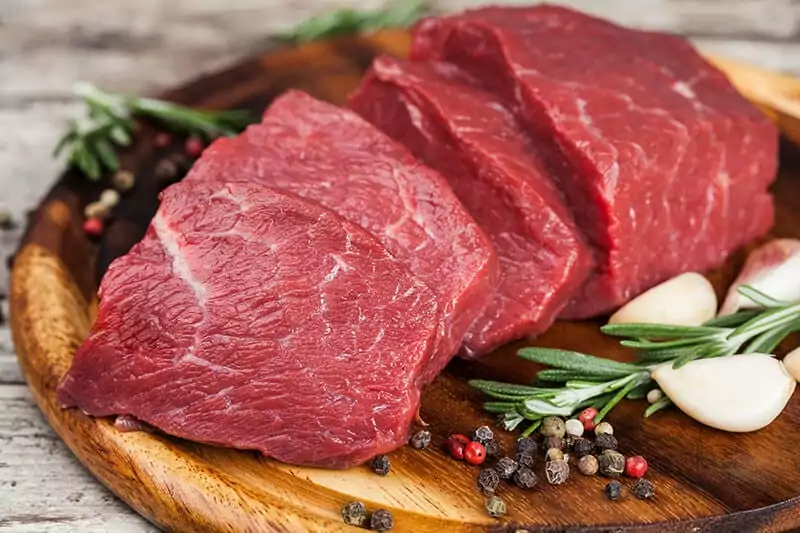 My weekly meal plan rarely lacks this wonderful type of red meat, which is sourced from cattle and comes in various cuts. The main reason is that it is versatile: I can fry, pan-sear, roast, grill, and stew it. And that are just a few popular ways I can tell off the top of my head!
Due to Western influence, beef is now a top meat in Asia. There are various types of beef cuts, each with its own strengths. Chuck and bone-in short ribs stew beautifully, while a ribeye or flank steak sizzles perfectly on the grill. For quick stir-fries, I tend to grab sirloin, rump, or skirt cuts.
My second reason to love beef is that it is also a nutritional powerhouse. It is packed with protein, iron, zinc, and B vitamins (3). If you want to improve your blood health, muscles, and immunity, you will love beef!
3. Pork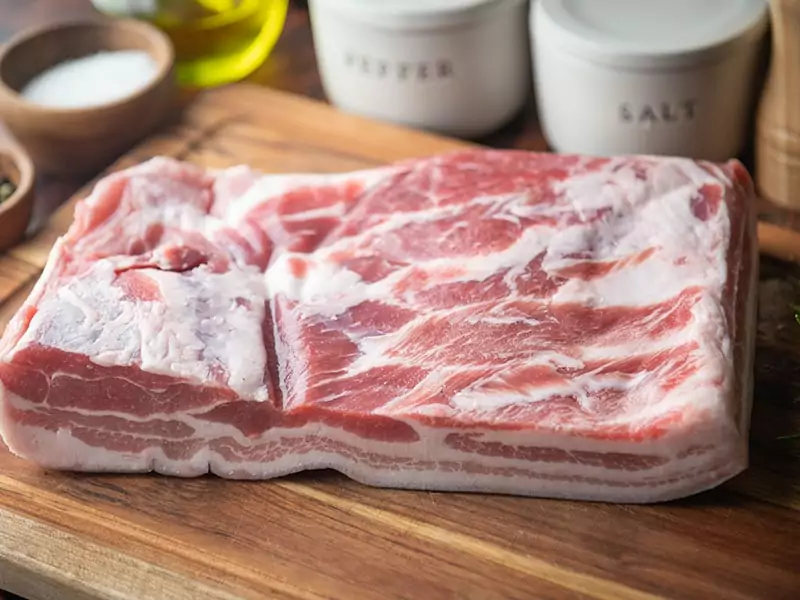 Pork, or pig meat, is the most commonly consumed red meat in the world, including Asia. However, not all regional Asian cooking cultures consume it due to religious beliefs. For example, it is banned by Islam teachings. But pork is still prevalent in Asian cooking.
This kind of meat is great for making ham, bacon, and sausages. Whether it's grilling tender cuts or slow-cooking ribs to perfection, pork is also an ideal ingredient.
My personal favorite? BBQ ribs, slow-cooked until they're falling off the bone. Remember, always ensure pork reaches 145 ºF for safety (4).
Pork is a splendid source of vitamins like B6, B12, and thiamin, which provide you with sufficient energy and help keep your muscles in tip-top shape (5). But moderation is key – too much of a good thing isn't always best!
4. Fish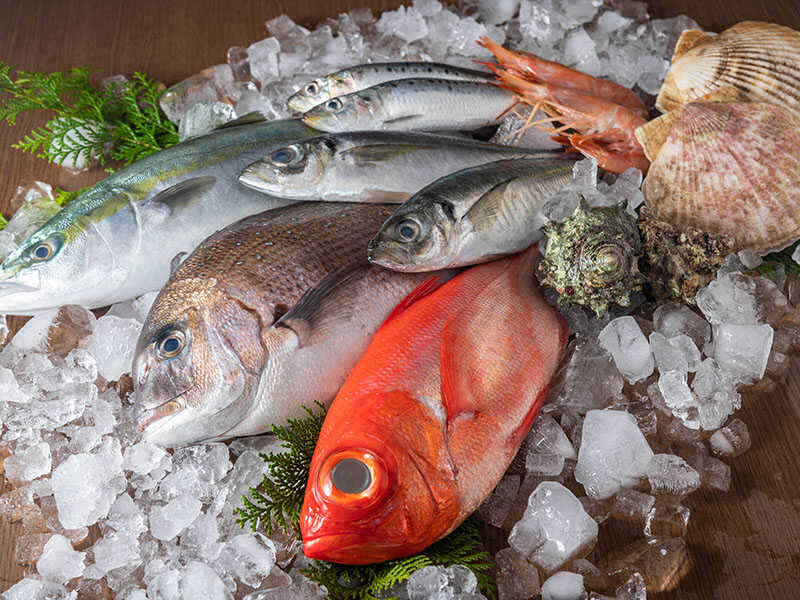 Many Asians love fish because of their diversity. There are two main types of fish: freshwater (from ponds, streams, or rivers) and saltwater ones (from the seas). From the mild-tasting tuna and anchovies to the earthy catfish or even eels, each has a unique taste and texture.
I love them in all forms: baked, grilled, or even raw (like sashimi and sushi in Japanese cuisine). Steamed fish, a Chinese staple, holds a special place in my heart. Poaching and smoking are other great methods to prepare fish.
The American Heart Association recommends two servings a week, which I happily follow because I know that fish are full of omega-3 fatty acids, minerals, and vitamins (6). These nutrients can protect you from heart diseases, improve your eyesight, strengthen your brain health, etc.
But don't forget to source your fish responsibly: mercury or bacterial contamination due to improper handling are real threats.
5. Shrimp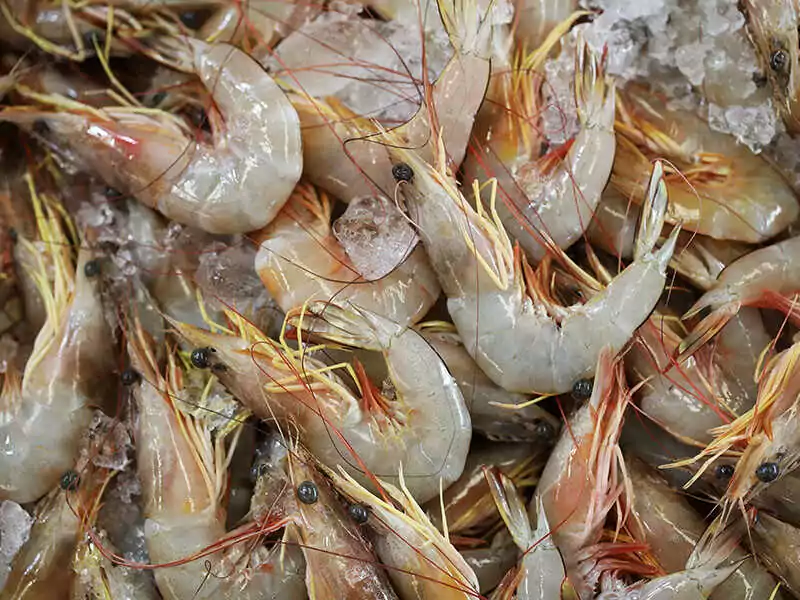 In my opinion, shrimp are like the mini lobsters of the sea. Their neutral taste is excellent at pairing with seasonings like garlic, paprika, lime juice, and fresh herbs.
A spicy shrimp stir-fry that doesn't take much time to cook is my favorite. When it comes to a shrimp cocktail, shrimp salad, or any dish with shrimp paste, I find myself unable to say no, too!
This type of shellfish offers little fat but a lot of proteins, minerals (especially iodine), and omega-3s (7). Your brain and heart will be very healthy with these nutrients. But shrimp are high in cholesterol, so enjoy them in moderation.
Sauces
6. Soy Sauce and/or Tamari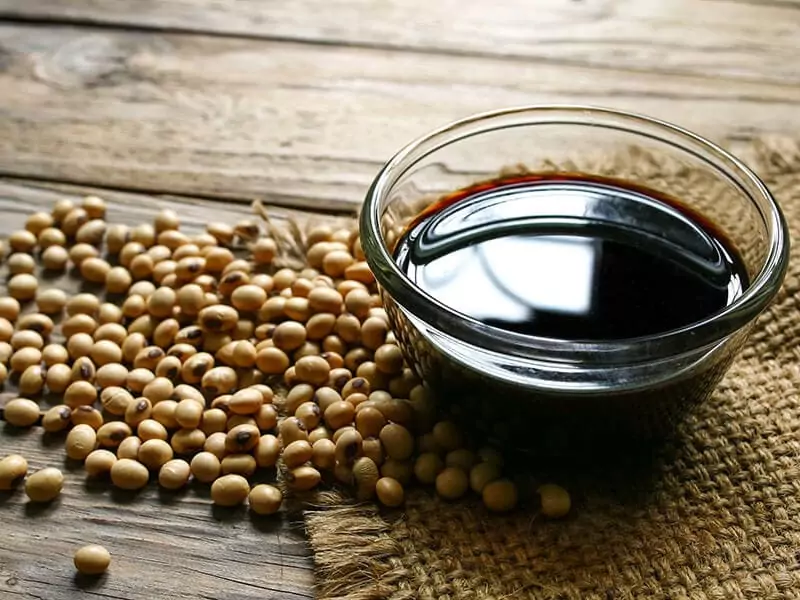 Soy sauce is my secret ingredient to add umami to many dishes. Originally from China, it's become essential in many Asian cuisines. Its main ingredients are soybeans, koji mold, salt, and water.
There are many varieties of soy sauce with various qualities. Dark soy sauce can give the food a bolder color and flavor, while light soy sauce is thinner and has an amber hue. In Indonesia, locals use sweet soy sauce, which is pleasantly sweet and known as Kecap Manis.
Whether you use soy sauce for marinating meat or vegetables, seasoning stir-fries, making your salami more savory, or adding a flavor punch to sushi or noodles, it is always a fantastic choice. You can add it directly to dishes or mix it with other condiments, such as wasabi.
Another good thing about this Asian pantry staple is its accessibility. You can effortlessly find an inexpensive bottle in most supermarkets. Soy sauce is vegan, too, but some types may contain meat or fish flavorings, so always check the label if that's a concern.
The same goes for gluten-free options. Yes, there are gluten-free soy sauce brands, such as Kikkoman. Read the label, and you may find something that fits your dietary preferences. Quality soy sauce should be naturally fermented with no artificial additives.
But natural or not, keep in mind that moderation is key. Soy sauce overuse can lead to high blood pressure due to its salt content, and some might experience headaches or dizziness due to its histamine content.
7. Fish Sauce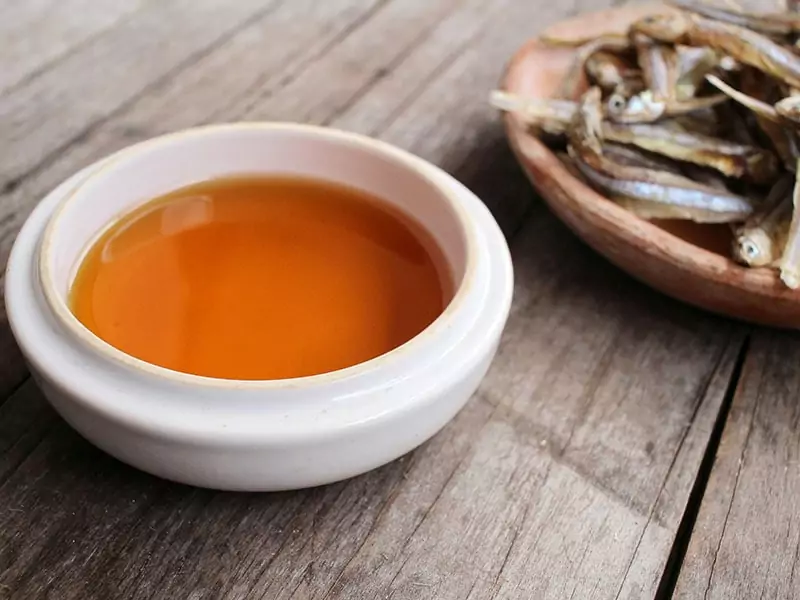 Fish sauce is another umami bomb. Its salty, fishy flavor is a cornerstone of Southeast Asian and East Asian cuisines, especially in countries like Vietnam, Thailand, Cambodia, etc.
People in those countries use soy sauce every day and with everything. Made from fermented fish, it adds depth to soups, stews, and stir-fries, and works well on marinade.
One of my favorite uses is in a Vietnamese-style dipping sauce made by mixing fish sauce with garlic, chili, and lime juice. This recipe also exists in Thai cuisine under the name of Nam Pla Prik. Don't be scared to experiment – it can bring an unexpected twist to non-Asian dishes as well!
Still, anyone not into fish sauce can use Worcestershire sauce as a decent substitute, according to a 1:1 ratio. But for me, it lacks the distinctive fishy flavor that makes the Asian version unforgettable.
8. Chilli Sauce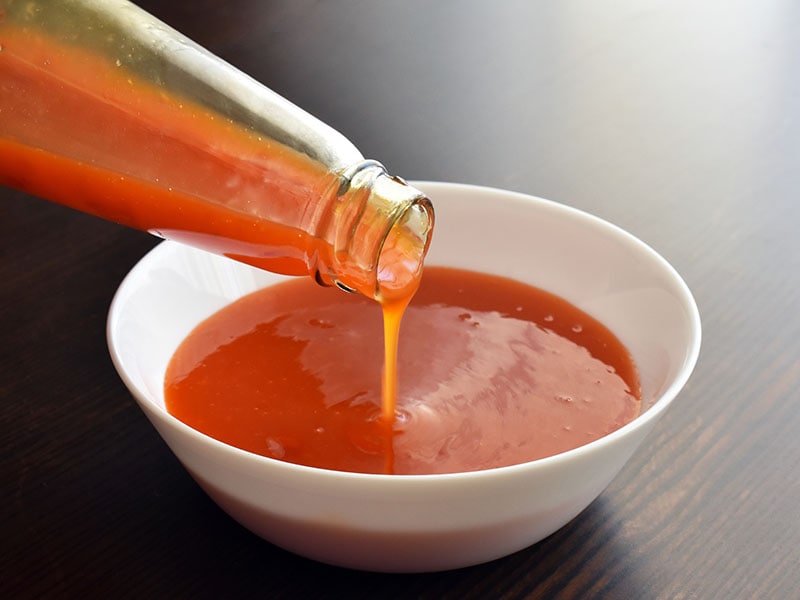 In Asia, chili sauce is a mix of sugar, salt, vinegar, and chopped or pureed chili peppers that are cooked until thickened. But not just any type of chili: locals often use Thai bird's eye chili, which has around 50,000 – 100,000 Scoville units. That means Asian chili sauce is very hot.
But the range of chili sauces is as varied as Asia itself, as some varieties offer a sweet flavor. Their ingredients can change, too. Take the Chiu chow sauce or chao zhou sauce, which is a flavored sauce made from chili, oil, and garlic.
If you want to make it at home, roasting the chilis before blending is a game-changer!
Whether I want to jazz up veggies, chips, or egg rolls, chili sauce is my go-to. Brands like Lao Gan Ma, Huy Fong, and Lee Kum Kee have earned a special place on my shelf. If you prefer to make the sauce at home, roasting the chilis before blending is necessary.
9. Oyster Sauce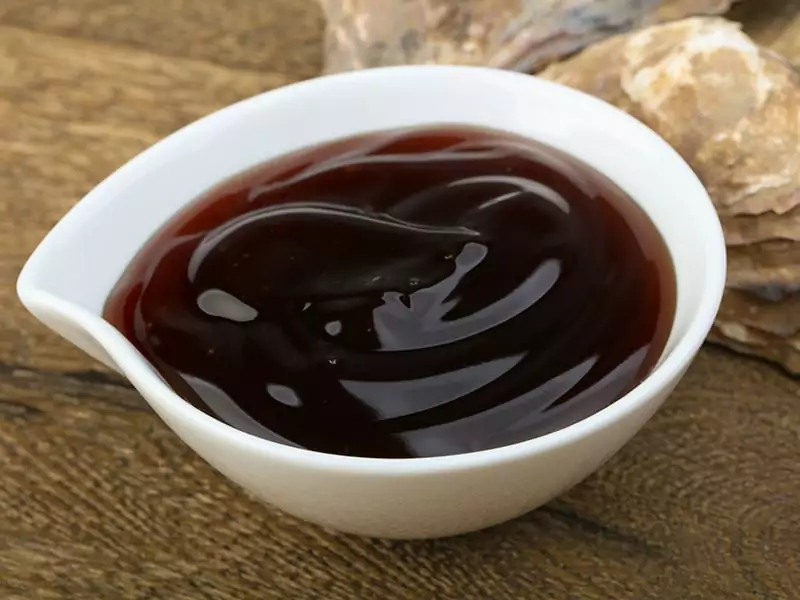 Oyster sauce is a wonder-condiment that brings earthy sweetness to my dishes, especially stir-fries. Deeply rooted in Asian culinary tradition, it is a staple in various Chinese-inspired dishes.
Its rich, dark brown color comes from oyster extracts combined with water, sugar, salt, and cornstarch. While it is a bit pricier than other sauces, it's worth every penny! And if you're vegan, there is a mushroom-based alternative that is just as delectable but with a lower price tag.
From glazing meats to seasoning veggies, oyster sauce can fulfill many roles. It's like a magic wand for chow mein and other rice-based dishes. And let's not get started on the comparison with fish sauce – they're worlds apart in taste and texture!
Just a word of caution: do check the label for harmful chemicals. Some products may contain cancer-related chloropropanol chemicals.
10. Hoisin Sauce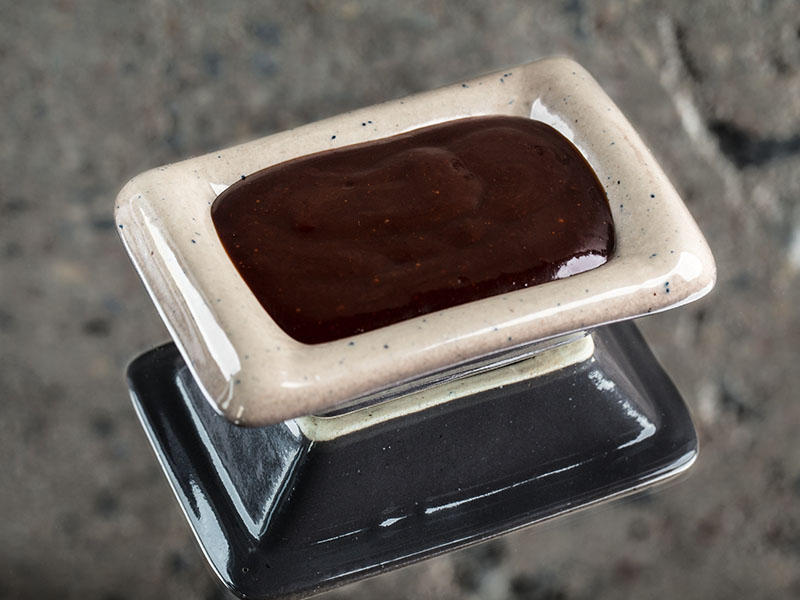 Don't let hoisin sauce's resemblance to oyster sauce fool you: they are two entirely different things. While also having a thick consistency and a dark color, hoisin sauce is a mix of soybeans, red chili peppers, fennel, and garlic. Some variants even add a dash of sugar and vinegar.
This sauce is a superstar in Cantonese culinary arts, offering a beautiful balance of tangy, salty, and subtly sweet flavors that sets it apart. Whether I'm stir-frying veggies or marinating meat for char siu (Chinese BBQ pork), hoisin sauce is the first condiment I turn to.
And let's not forget about its role in Vietnamese food culture. Known as "tương đen", it's an essential companion to Phở. You can drizzle it directly into the broth or use it as a dipping sauce for the meat. It is similarly irresistible with Vietnamese spring rolls.
11. Chili Garlic Sauce
This condiment is like a marriage of your regular chili sauce and garlic, and the result is magical. If you live in Asia, you probably know about the Huy Fong brand – they do a fantastic job with this sauce. If not, replace it with Sriracha sauce, Sambal Oelek sauce, or simple chili sauce.
In case you're feeling adventurous, you can make chili garlic sauce at home. Blend chili pepper, garlic, vinegar, and sugar until chunky, but keep some of the mixture aside.
Next, filter out the juice, then mix the juice with the reserved chunky stuff, and cook everything with some cornstarch. Once it's cool, you can use it or store it for later.
Pastes
12. Curry Paste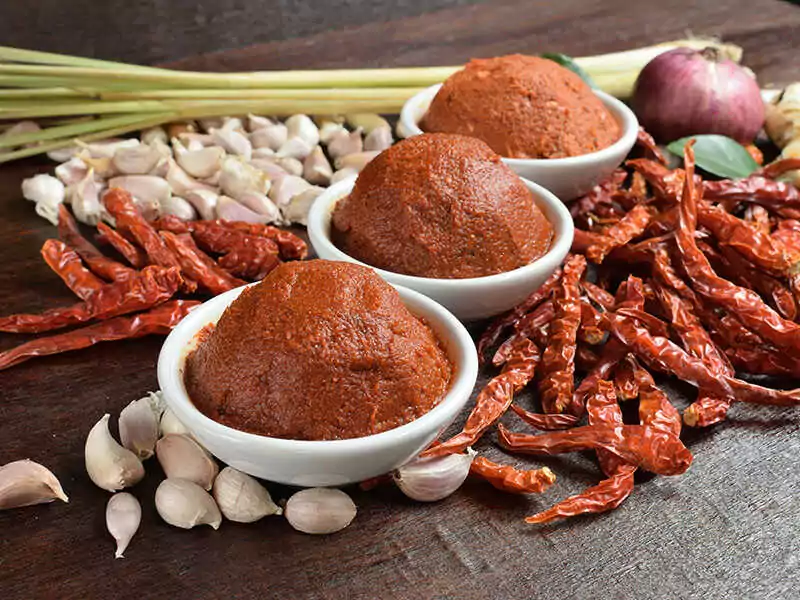 Curry paste is a very common ingredient in Thai cooking, known for its blend of spices like cumin, chili, turmeric, coriander, lemongrass, and garlic. I have discovered three main types: green, yellow, and red.
Green curry paste is the mildest one, thanks to having fresh chilies, kaffir lime leaves, and cilantro. The yellow one gets its hue from turmeric and curry powder, and the red one? It's made with dried chilies and brings the most heat!
All varieties can be used as a marinade, in soups, stews, and more. If you're replacing curry paste with curry powder, it's a straight 1:1 ratio. One more fact: Indian curry paste differs from Thai one in that it includes tomato paste.
13. Garlic Paste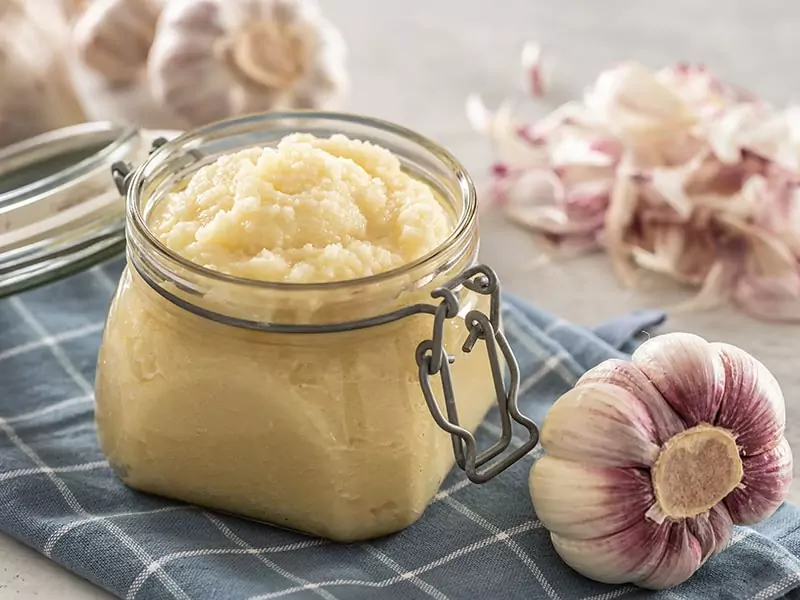 Garlic paste is essentially pureed raw garlic blended with either water or oil. This stuff packs a lot of flavor; a tiny dollop is enough to turn any dish into a garlic lover's dream.
The standout feature of this paste is its adaptability – it seamlessly integrates into marinades, dressings, stir-fries, and many other dishes. Garlic paste can also pair flawlessly with pasta, vegetables, curries, rice, and more.
What's the cherry on top? Its longevity. Garlic paste remains fresh in the refrigerator for a week, and can last in the freezer for 3 – 4 months. So, bid goodbye to the tedious tasks of chopping, grating, or mincing garlic since this condiment is a more chic and convenient way to enjoy garlic!
14. Miso Paste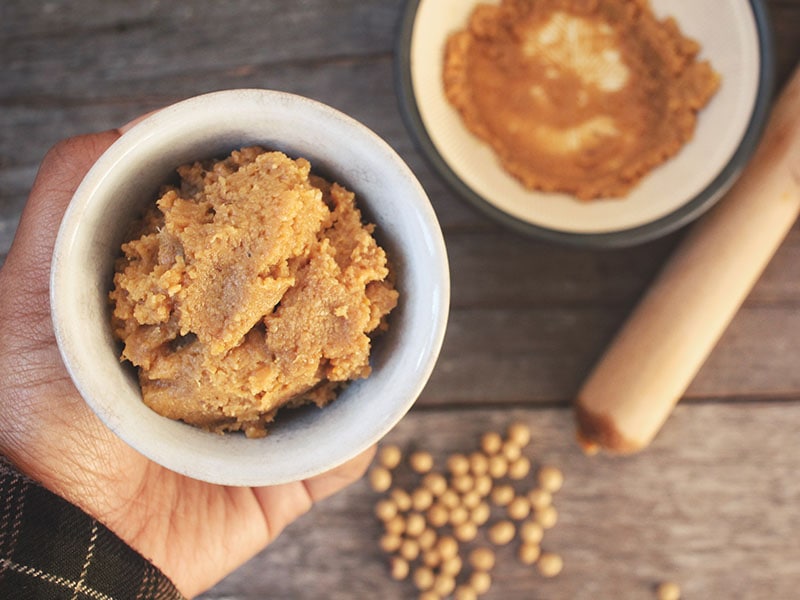 Miso paste is a cornerstone of Japanese cuisine, a thick, savory condiment made by fermenting soybeans, salt, and kōji (a starter culture). Sometimes, it includes extras like rice, barley, or seaweed. This paste is a magic key that unlocks rich, salty, and umami flavors in many dishes.
There are three miso varieties with different combos of those flavors.
Shiro miso, or white miso, is the most frequently seen one. Its taste balances between umami and a pleasing sweetness. On the other hand, aka miso (red miso) sports a robust, strong flavor profile. For a more mellow, less salty option, try awase miso, the "mixed miso".
Miso can be a game-changer in both traditional and modern recipes. Think of it as a secret weapon for sauces and spreads or for pickling fish or meats. Stir it into dashi soup stock, and you have the foundation for miso soup, a staple in Japanese households.
Beyond its culinary versatility, miso is a friend to your health since it is brimming with protein, vitamins, and minerals (8).
15. Doenjang & Gochujang Paste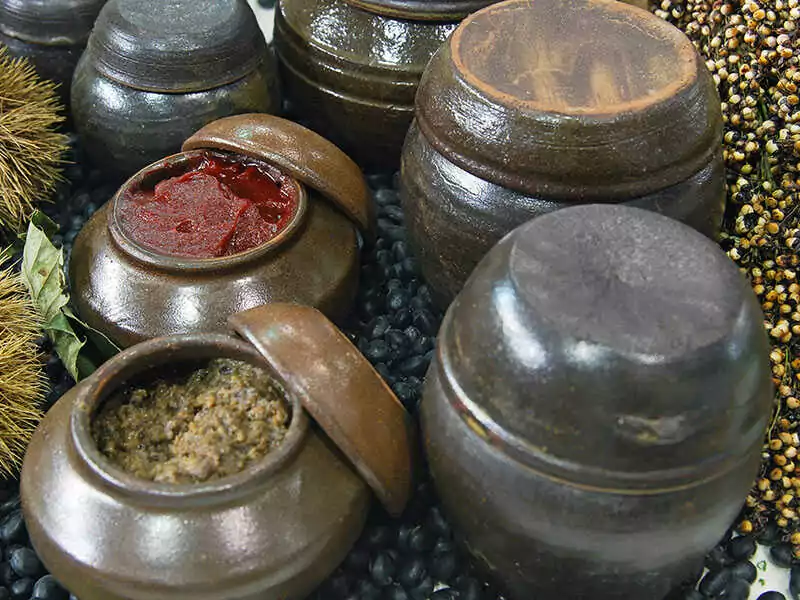 In the realm of Korean delicacy, Doenjang and Gochujang pastes are two invaluable condiments. The former is a brown paste produced from fermented soybeans. It has a distinctive salty and umami taste that is funkier and savory than miso, which might surprise first-timers.
Achieving this flavor takes a long time: the fermentation process requires at least six weeks. You can stir Doenjang into soups, stews, or sauces, such as doenjang jjigae, a traditional soybean soup. Plus, it might help improve blood pressure when consumed properly (9).
On the other hand, Gochujang paste is a fiery red blend of red chilies, fermented soybeans, salt, and glutinous rice. This paste tantalizes the palate with a unique sweet, savory, and spicy trifecta.
It's a go-to for BBQ sauces, marinades, and dishes like bibimbap or kimchi jjigae. And do you know that this condiment can protect your heart as well as keep your glucose levels in check? (10)
16. Shrimp Paste / Prawn Sauce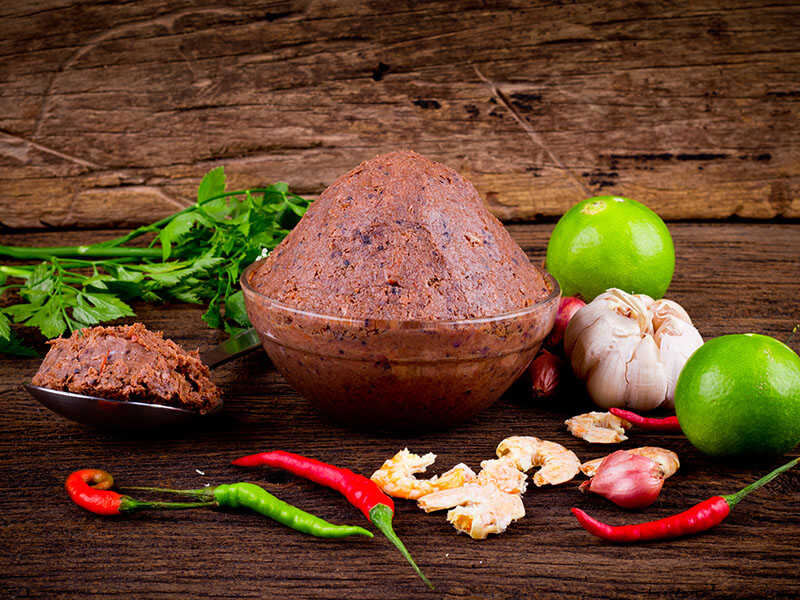 If there is a condiment that unifies the culinary tastes across Southeast Asia and Southern China, it has to be shrimp paste. People produce it by fermenting shrimp and salt over weeks into a flavor-packed paste.
The love for shrimp paste spans across Indonesia, Vietnam, the Philippines, Malaysia, Thailand, and more, each region lending its unique spin to the preparation.
In Vietnam, for instance, it's known as "mắm tôm" and comes in two forms – a thickened paste or a vibrant purple liquid sauce. I've seen it mixed with kumquat juice, sugar, and chili to make an irresistible dipping sauce for Bún Đậu Mắm Tôm, a local rice noodle delicacy.
In Cambodia and Thailand, shrimp paste takes on the name Kapi and plays a pivotal role in crafting spicy sauces, dips, and even curry paste. Indonesian Petis Udang, on the other hand, is a dark-colored paste with a hint of sweetness, thanks to the added sugar.
Spices and Herbs
17. Lemongrass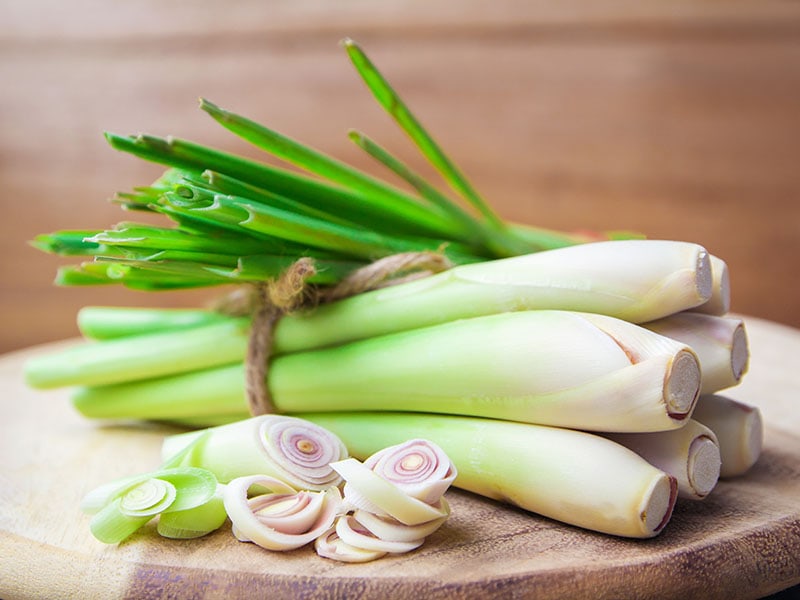 Native to India and Southeast Asia, lemongrass is a multi-purpose marvel. This tropical plant is far more than meets the eye, offering many culinary, medical, and even cleaning uses.
You can add it to broths, stews, soups, sauces, marinades, or anything! It infuses the dish with a sublime citrusy and floral flavor, reminiscent of lemon and lemon mint. Whether used whole or chopped, lemongrass never fails to charm with its distinctive aroma and flavor.
To extract the most flavor, I suggest you peel off the dried outer layers, snip off the stalk bottom, and slightly bash the woody body with a rolling pin. This little trick releases a delightful aroma and precious lemongrass oil, bringing an irresistible depth to any dish.
18. Thai Basil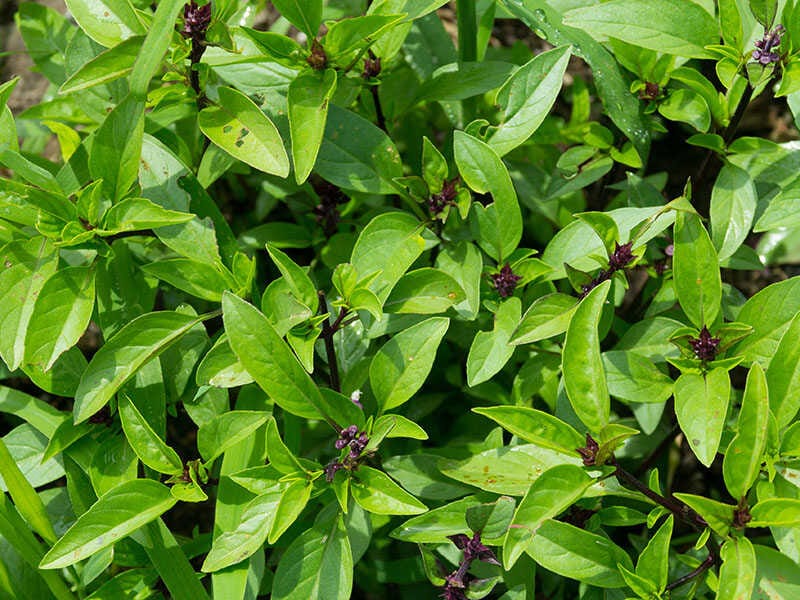 This Southeast Asian gem is the heart of many Thailand, Cambodia, Vietnam, and Laos specialties. I love its unique anise-like, slightly spicy flavor that is more peppery than ordinary basil.
Thai basil is the first thing I reach for whenever I make Thai green or red curry. It also elevates the taste of the beloved Vietnamese Pho, especially the Southern-style one.
In addition, if you want to spice up a hearty dish of poultry, pork, seafood, or a light salad, Thai basil is an absolute game-changer. Try eating it raw and fresh: the flavor is just unmatched!
19. Cilantro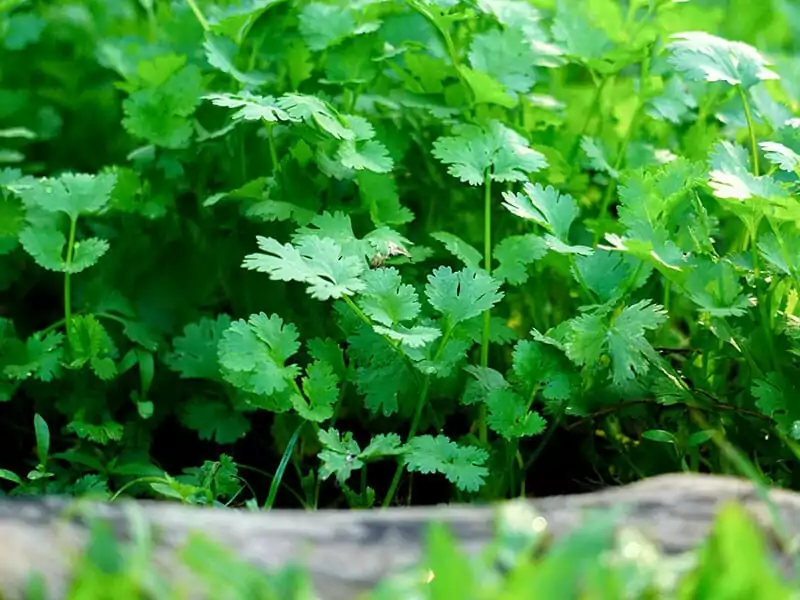 Cilantro is the popular American term for this herb, but people call it coriander outside America. It is a staple in both Asia and the West, where people often sell this flat-leaf herb by the bunch.
What fascinates me most about cilantro is its distinctive flavor. It's like a peppery, citrusy party in my mouth and definitely bolder than parsley. I love sprinkling it on salads, soups, stir-fries, and curries.
And let's not forget the health benefits. Cilantro is like a natural tonic for the heart, skin, hair, and weight control (11). So next time you're in the kitchen, try cilantro – it's a small herb with a big impact.
20. Peppercorn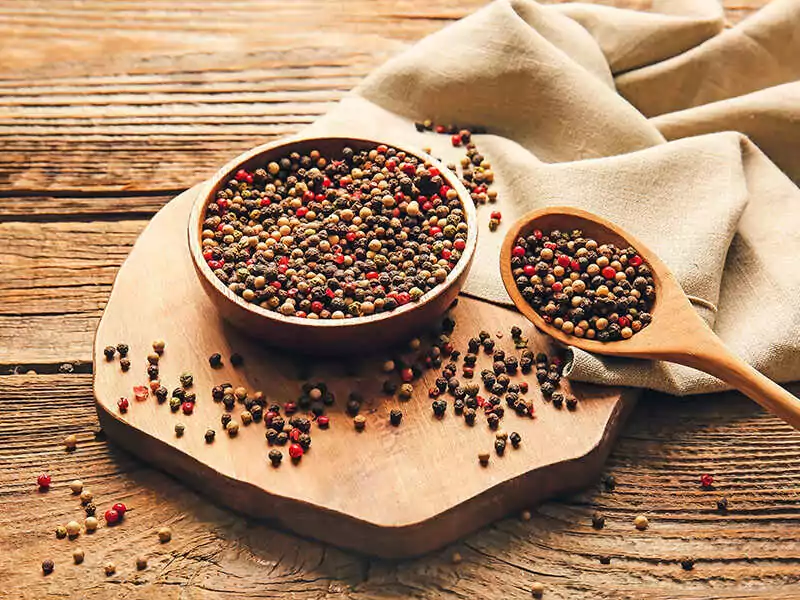 Peppercorn is a delightful spice and seasoning that adds heat and flavors to various dishes, both vegan and meaty. It comes from the fruit of the Piper nigrum plant and is available in whole or ground form.
There are three main types of peppercorns: white, black, and green. White pepper is milder and picked at full ripeness, while black pepper is the cooked and dried form of unripe fruits. Green pepper is also dried but made from uncooked and unripe fruits.
There's even red pepper, made by preserving ripe fruit in vinegar and brine. You can use any variety to season meat, fish, vegetables, and any dish that needs a little kick. Peppercorn can be added during or after cooking.
For liquid dishes like curries, stews, stocks, or sauces, you can even add whole peppercorns for a burst of flavor. It's also a key ingredient in peppercorn sauce, often served with steak. You can try black peppercorn from Vietnam, which was the world's leading producer in 2020.
21. Ginger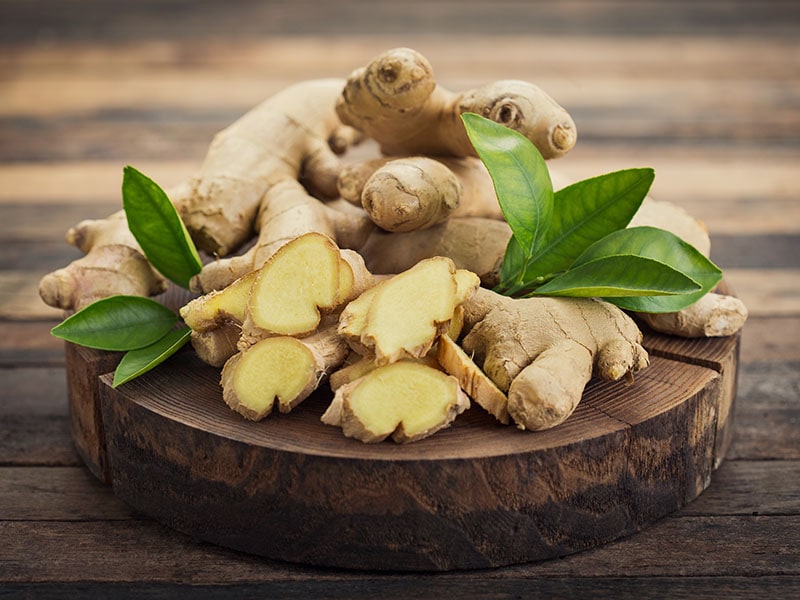 Derived from the Zingiber officinale plant, ginger is a spice known for its spicy taste and warm aroma. It contains gingerol, a compound that creates its signature pungency. India is the leading producer of ginger (nearly half the world's production), which explains the prevalence of ginger in Indian gastronomy.
This versatile spice can enhance savory dishes like soups, stews, stir-fries, and pickles. Sweet treats like cakes and cookies can also benefit from their warm flavor. Ginger-based tea or juice is a great beverage to try. And, of course, you can't make ginger paste without ginger.
This spice can be purchased in fresh, dried, or powdered form. But don't mistake it for galangal, a similar-looking spice with a more peppery taste.
Besides its culinary uses, ginger is also valued as a folk medicine in India and China. Its gingerol content offers various health benefits: reducing inflammation, relieving anxiety and stress, and treating motion sickness or an upset stomach (12).
22. Shichimi Spice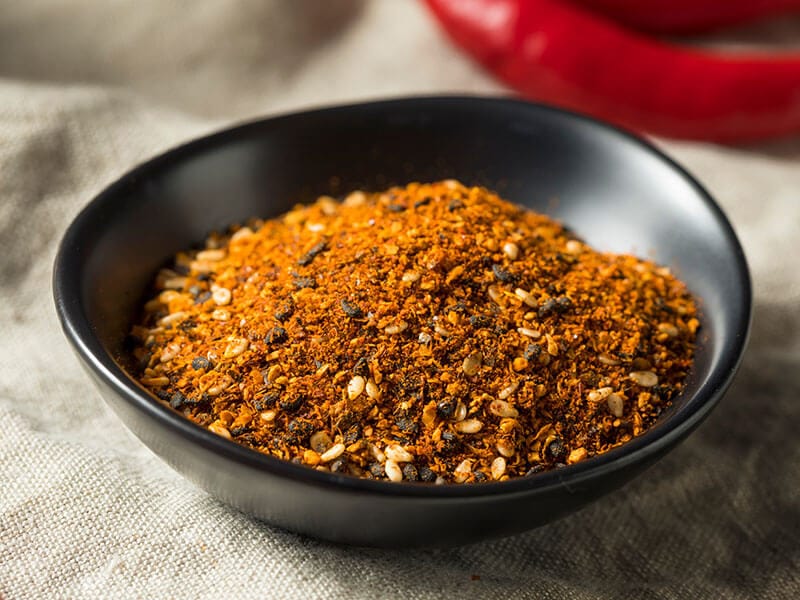 Shichimi Spice, also known as nana-iro tōgarashi, is a captivating Japanese spice blend with a long history dating back to the 17th century. It combines seven ingredients: red chili pepper, sanshō pepper, sesame seeds, nori (seaweeds), poppy seeds, hemp seeds, and ginger.
The result is a complex yet pleasant sensation, without too much spiciness or saltiness. You can sprinkle it on steamed rice, vegetables, udon noodles, hot pot, tempura, or grilled food to create a harmonious blend of flavors.
Shichimi Spice is readily available as a formulated product, making it convenient to enjoy. You can find it in Japanese specialty stores or online. Keep in mind that the ratios of the ingredients can vary.
23. Sichuan Peppercorn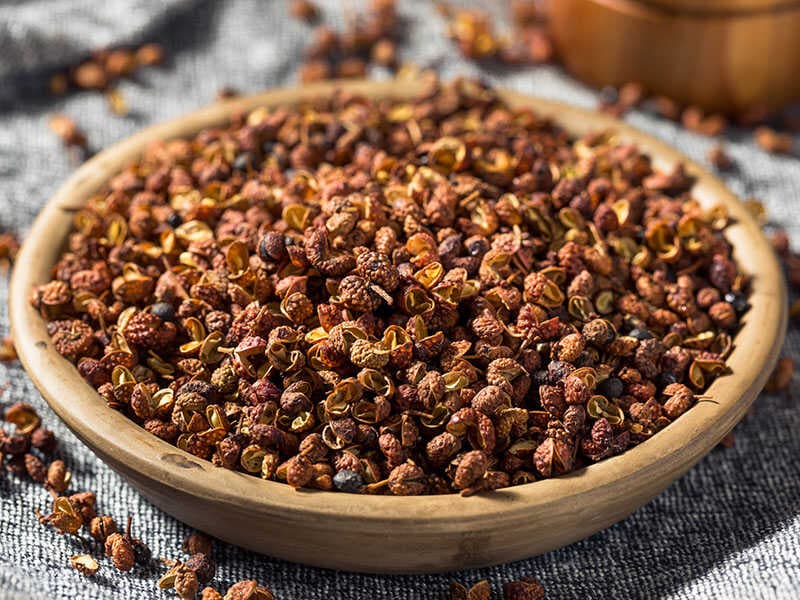 First, Sichuan peppercorn has nothing to do with black or chili pepper! Instead, it is harvested from the Zanthoxylum bungeanum and Zanthoxylum armatum plants and is a unique spice commonly found in Sichuan and Nepali cuisines.
Flavorwise, I find it slightly bitter at first before being struck by a numbing heat with a hint of citrus. The red variety packs a stronger flavor compared to the green one. Keep this in mind the next time you try it!
In China, dried Sichuan peppercorn is often used in ground or whole form. It plays a vital role in dishes like the spicy Chongqing hot pot. Locals often mix the spice with salt as a condiment for meat dishes.
24. Chinese Five-Spice Powder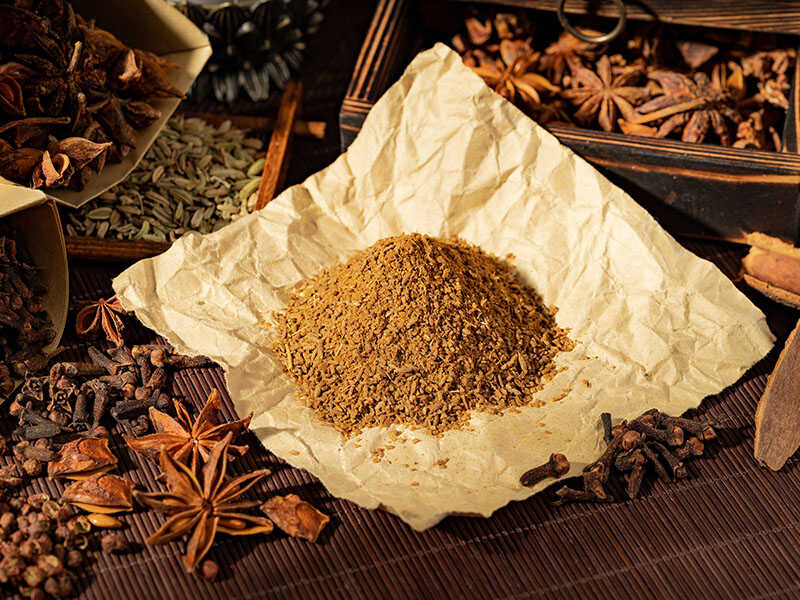 This bewitching mix typically features star anise, fennel seeds, Sichuan pepper, cloves, and Chinese cinnamon. It masterfully captures the five essential tastes: sweet, bitter, salty, savory, and sour. This flavor passport transports me right to the bustling street markets of China and Taiwan
From flavoring succulent meat, fish, or chicken to improving the breading of a perfectly fried dish, the spice mix never lets me down. But if you run out of it, garam masala can step in as a suitable replacement. You can look for both at your local Asian grocery stores.
25. Star Anise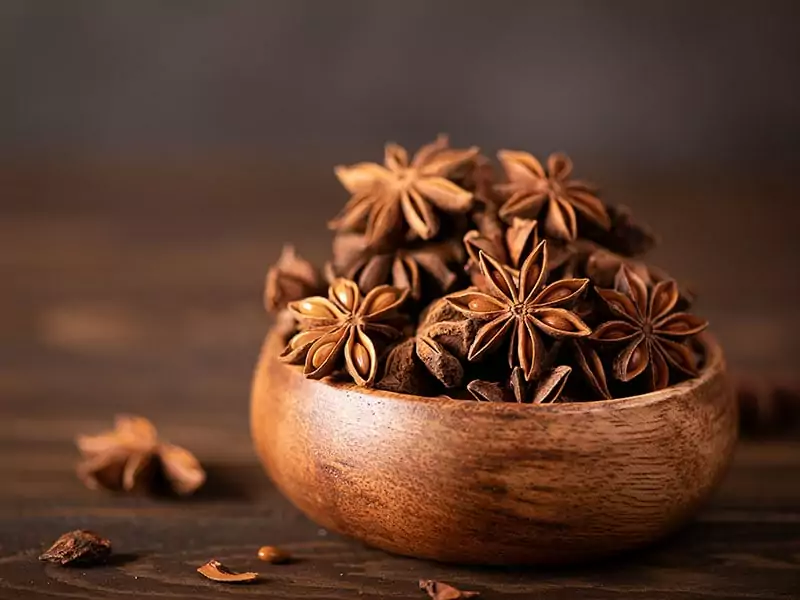 This star-shaped wonder hails from northeast Vietnam and southwest China. Each pod is packed with aromatic seeds ready to impart their magic. You can use separate seeds or the whole pod.
The taste is a beautiful blend of licorice with a lot of warmth, akin to cinnamon or cloves. Star anise is a fantastic ingredient in savory recipes, especially those meaty dishes. Just slip it into a simmering broth or a slow-cooked stew, and your dish will be ten times better.
But let's clear up one thing: consuming it alone might not be the best idea. Also, this spice is more than just a flavor enhancer: It is also a warrior that can fight bacteria and fungi (13).
Oils, Seeds, and Condiments
26. Sesame Oil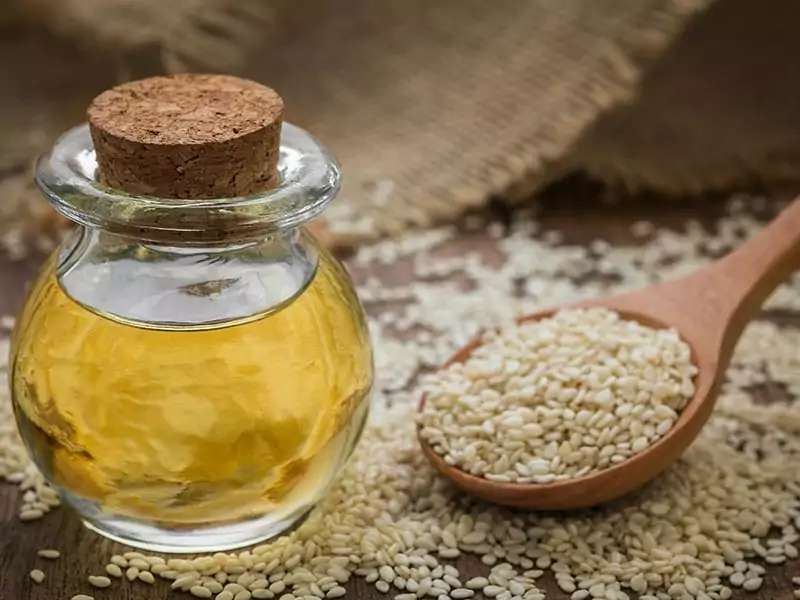 Derived from sesame seeds, this vegetable oil reigns supreme in continental Asia. Its distinctive nutty aroma and taste have won hearts from East Asia to the South Indian states, such as Karnataka, Andhra Pradesh, and Tamil Nadu.
I've got two varieties in my pantry. The pale yellow one, made from untoasted seeds, is my secret weapon for frying. Meanwhile, the amber-colored version, pressed from toasted sesame seeds, adds an aromatic kick to my dishes. Both offer a distinctively nutty aroma and taste.
Sesame oil is a star in many culinary traditions. Chinese one uses it to cook meals, Japanese one mixes with vinegar and soy sauce to make dipping sauces. Rāyu, a blend of chili and sesame oil, is popular as a spicy topping for Japanese food.
Lastly, South Indian cooks love to add oil to curries and gravies or mix it with hot and spicy dishes to balance the heat.
You can find sesame oil in the Asian section of your local supermarket. Ensure it's 100 % sesame, with nothing else blended in. And remember: the darker the toasted sesame oil, the stronger the flavor.
27. Sesame Seeds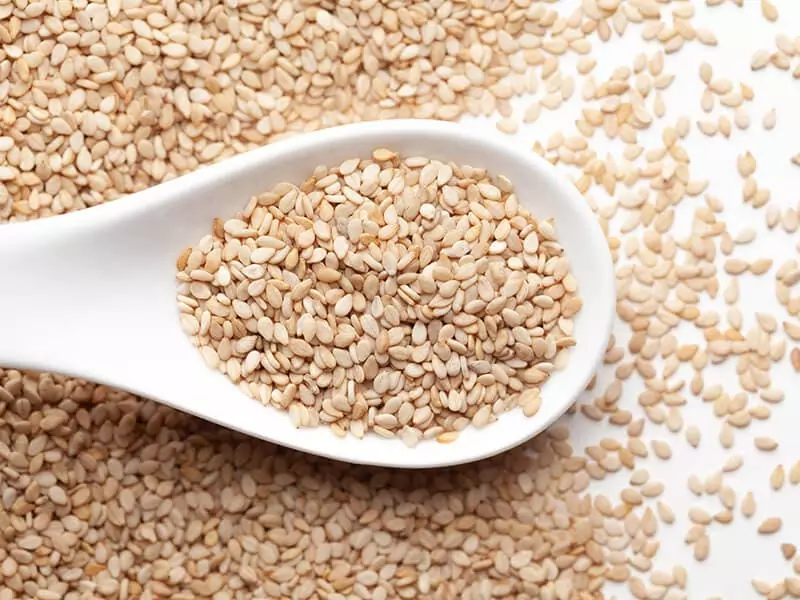 Despite their small size, sesame seeds are bursting with a pleasant nutty and oily flavor that I simply adore. They are available in both white and black varieties.
Here's a fun fact: the black ones still have their hulls, lending them a slightly bitter edge, while the hulled white seeds are a tad sweeter. Both are my go-to garnish for stir-fries, salads, and noodle dishes.
Plus, they find their way into both sweet and savory dishes across Asian, Mediterranean, and Middle Eastern gastro arts. Picture Japanese salads sprinkled with whole seeds. Gomashio, a popular condiment consisting of sesame seeds and salt, is another example.
In Chinese cuisine, many dim sum (small dishes for breakfast) items and snacks use sesame seeds, such as sesame seed balls ("jin deui" in Cantonese). I'd also like to introduce the Vietnamese Bánh rán, a deep-fried glutinous rice ball studded with these tiny gems.
28. Tahini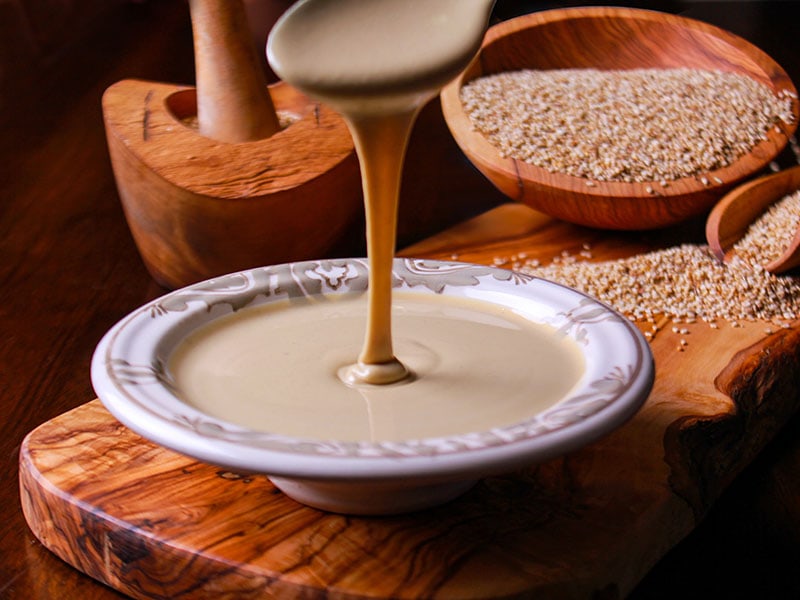 I almost forgot the applications of sesame seeds in Middle Eastern cuisine. Meet tahini, a terrific condiment made from toasted hulled sesame seeds. Locals grind the seeds into a paste before blending it with a neutral oil to reach a creamy texture.
The result? A savory, slightly bitter, and nutty flavor that is just irresistible. I enjoy it thoroughly as a standalone dip and in delicious sauces when mixed with ingredients like garlic and olive oil.
It appears in iconic dishes like hummus, baba ganoush, and halva. Even sweet dishes become better with tahini. From the Levant to the Eastern Mediterranean, Central Asia to North Africa, and even some East Asian cuisines, tahini has made a name for itself.
29. Kerisik (Toasted Coconut Paste)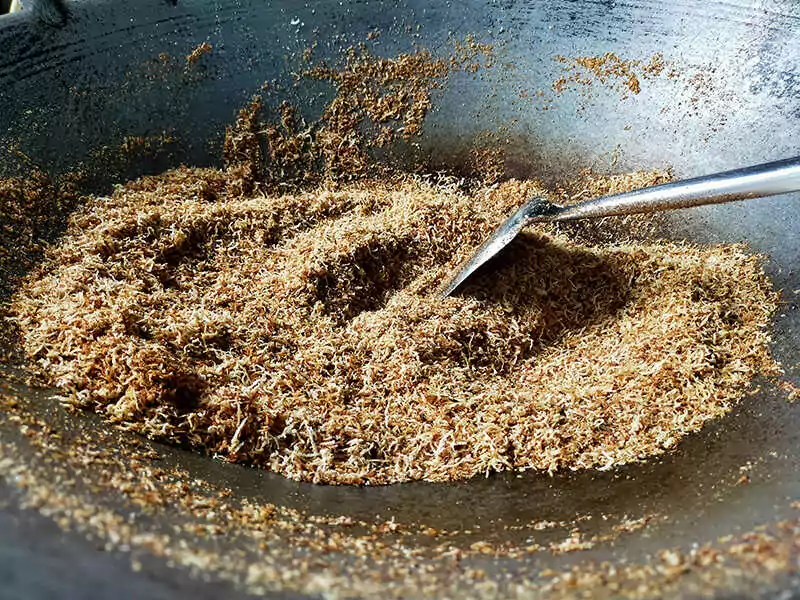 Also known as coconut butter, Kerisik is a well-loved culinary wonder in Indonesian, Malaysian, and Singaporean kitchens. Its main ingredient is grated coconut which is toasted and ground into a paste.
The top-notch 'A' grade Kerisik has a creamy texture, sweet taste, nutty aftertaste, and intoxicating fragrance. The lower grades, 'B' and 'C', lack the full-bodied aroma and can leave a bland, husky aftertaste. The 'C' grade tends to be manufactured from coconut milk leftovers.
Many Indonesian, Malaysian, and Singaporean-inspired dishes feature this condiment heavily, like Kerabu salads and Rendang. While it is easy to find Kerisik in supermarkets in those three Southeast Asian countries, buying the condiment in other countries is daunting.
In that case, you can try your luck at Asian specialty food shops.
30. Bonito Flakes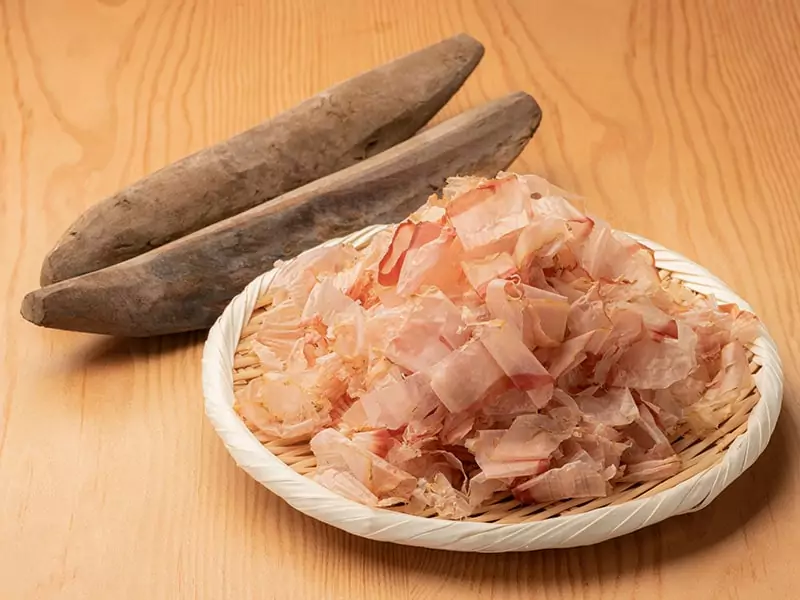 Have you ever wondered what gives Japanese cuisine its unique and deeply satisfying umami flavor? It's bonito flakes, also known as Katsuobushi or Okaka. This magical ingredient is made from skipjack tuna, whose Japanese name is bonito.
The flavor is very diverse: mildly salty, slightly smoky, slightly fishy, and brimming with umami goodness. Bonito flakes are wonderfully versatile, from making stock to garnishing and seasoning dishes.
One of its most common uses for bonito flakes is in preparing the traditional kombu dashi. You can also chop them finely and dress them in soy sauce to make stuffing for onigiri (rice balls).
Here are other applications: a seasoning for cold tofu or century eggs, a topping on soba noodles, takoyaki, and okonomiyaki, and even mixed with salt to sprinkle on ramen.
You can find bonito flakes at your local Asian or Japanese grocery store. There's also a plethora of online retailers that stock it. One final tip: you need to grab a box grater for shaving the flakes.
31. Chinese Fermented Black Beans (Douchi)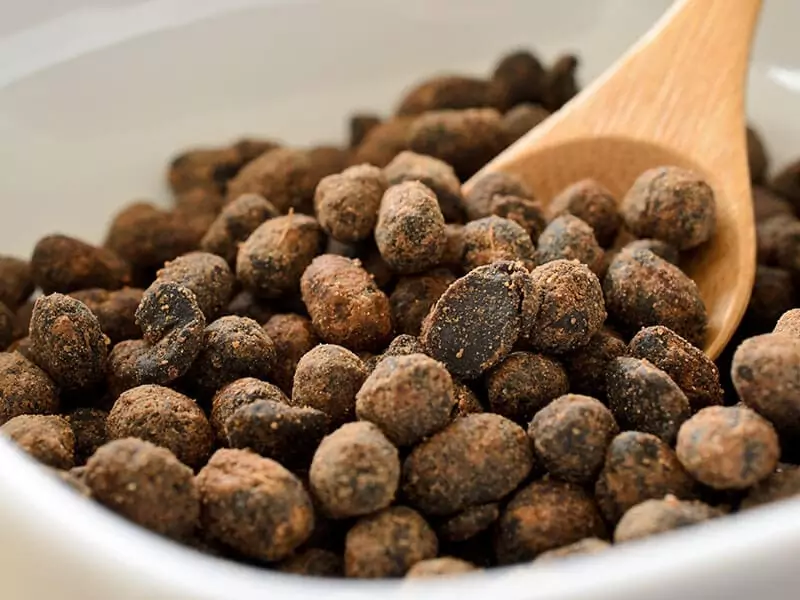 These fermented and salted black soybeans pack a punch with their salty, savory, and slightly bitter flavor profile. I find them indispensable in Chinese cooking, especially when making black bean sauce dishes.
These little gems add depth to dishes like mapo tofu, seafood, stir-fried veggies. They also significantly liven up steamed spare ribs and braised mud carp. Just remember, they have a very potent flavor, so a little goes a long way. Don't consume them in large quantities!
Fermented black beans are popular outside of China. You might hear them referred to as daitokuji natto in Japan, tàu xì in Vietnam, or tausi in the Philippines. They are also famous in Thailand and Cambodia.
So, why not give them a try? They may go by many other names in Western countries, such as tochi, salted black beans, or just black beans.
Rice, Noodles, and Starches
32. Noodles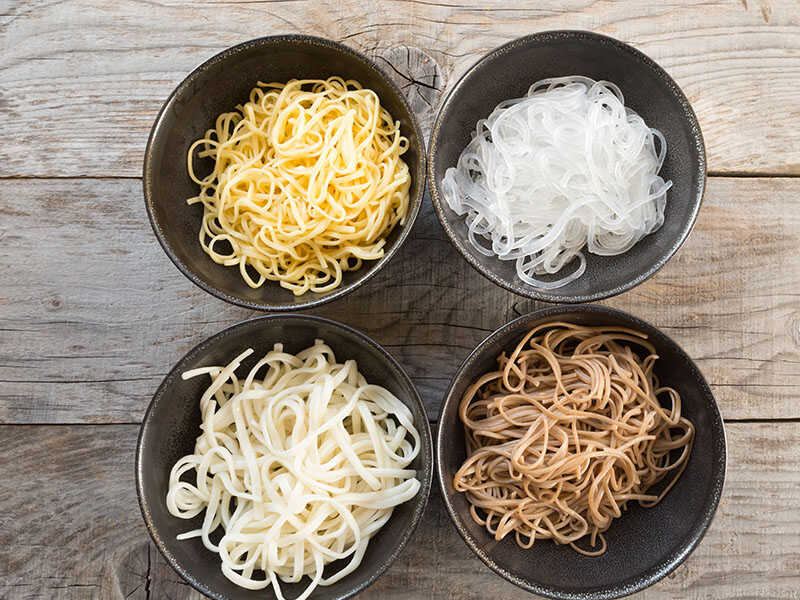 Noodles are a cornerstone of Asian cooking, whether served hot or cold. There are three main types that will make your taste buds sing: wheat noodles, rice noodles, and glass or cellophane noodles.
Wheat noodle has a wheat flour and egg base, offering a familiar texture. In China, chow mein and lo mein are two favorites, the first being crispier and the latter soft.
Japanese food fans must know about thin ramen noodles and chewy udon noodles. They are traditionally served in a steaming, fragrant broth. Among the best cold dishes are buckwheat-based soba noodles, which are light to dark brown.
Rice noodles are another favorite. They are made from rice starch and boast a firm, springy texture. They come in various lengths and widths and often appear in soups and stir-fries.
Finally, you have to try glass or cellophane noodles, so named for their translucent appearance. They are incredibly springy and excellent for stir-fries. Deep-fry them, and they turn beautifully crispy!
33. Tapioca Flour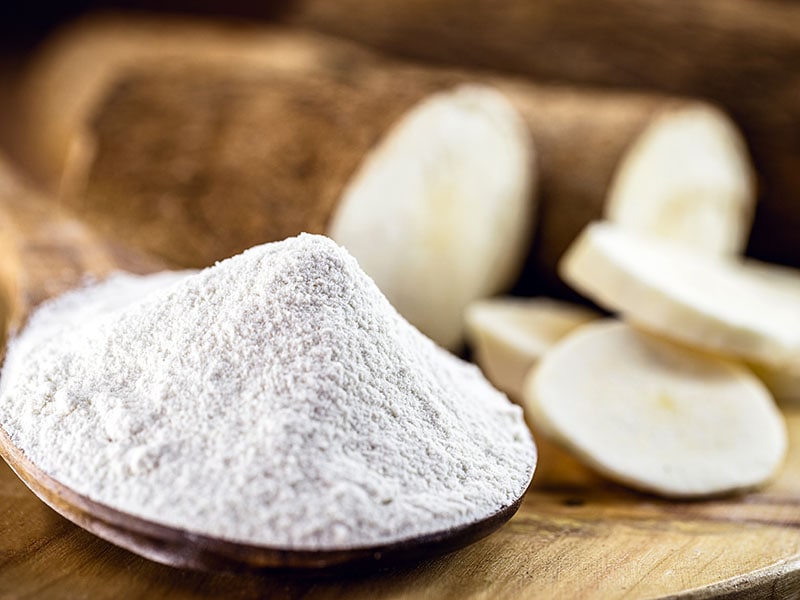 Tapioca flour has cassava root starch as its base, making it an excellent thickening agent. This versatile flour is a favorite staple in Southeast Asian cuisines and beyond.
For me, the magic of tapioca flour lies in its power to transform textures. It can give soups, stews, and sauces a silky, velvety touch that I find absolutely irresistible. In baking, it lends a unique chewiness to treats.
In addition, tapioca flour adopts a mild sweetness. This makes it the perfect ingredient for chewy boba pearls in bubble tea, a drink I have a soft spot for. Finding tapioca flour is a breeze: just head over to an Asian grocery store.
34. Rice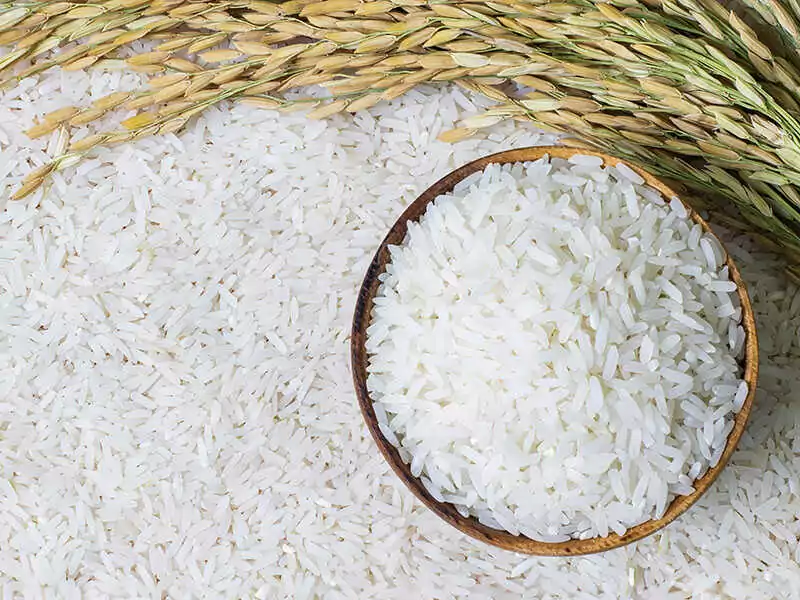 Rice is the staple food for over half the world's population, especially in Asia and Africa. It's versatile, satisfying, and wonderful to accompany any dish. If you need a side dish for curries, stews, meats, or vegetables, piping hot steamed rice is the best choice.
Among the three main rice varieties, I passionately love how the long-grain varieties like basmati and jasmine cook up fluffy and tender, ideal for pairing with aromatic curries and stews.
On the other hand, medium-grain rice offers a perfect balance, fluffy just after cooking and solidifying as it cools, while short-grain rice has a sticky texture ideal for sushi and sweet desserts.
Rice is the main star in the spicy Biryani, the colorful Bibimbap, the flavorful Yangzhou fried rice, the rich Khao Pad, and more dishes in Asian countries. Honestly, I cannot imagine a world without this versatile grain!
35. Rice Vermicelli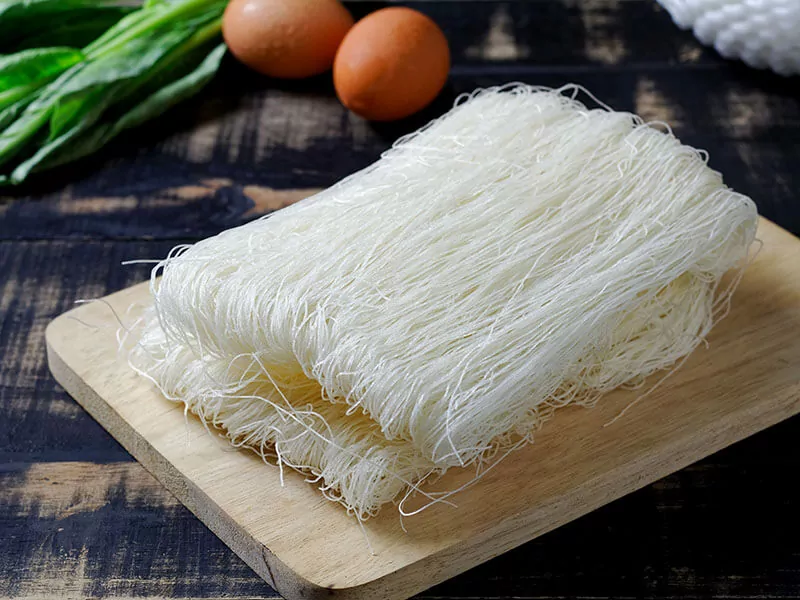 Rice vermicelli is a type of thin, delicate noodle that appears in many Asian cuisines. It is amazing for soups, stir-fries, and noodle salads. You may know it simply as "rice noodles" or "rice sticks", but there are many more names associated with it.
For example: mifen or maifun (米粉) in China (with the Cantonese dialect, to be specific), beehoon in Malaysia and Singapore, bún in Vietnam, and bihon in the Philippines.
Whether it is in a spicy Pad Mee, the succulent Bún Chả Hà Nội (Hanoi-style vermicelli noodles with grilled pork), or the flavorful Mee Siam, rice vermicelli absorb flavors beautifully and create a unique texture. I am grateful for its lightness when I crave something satisfying yet not too heavy.
Vinegar and Wines
36. Mirin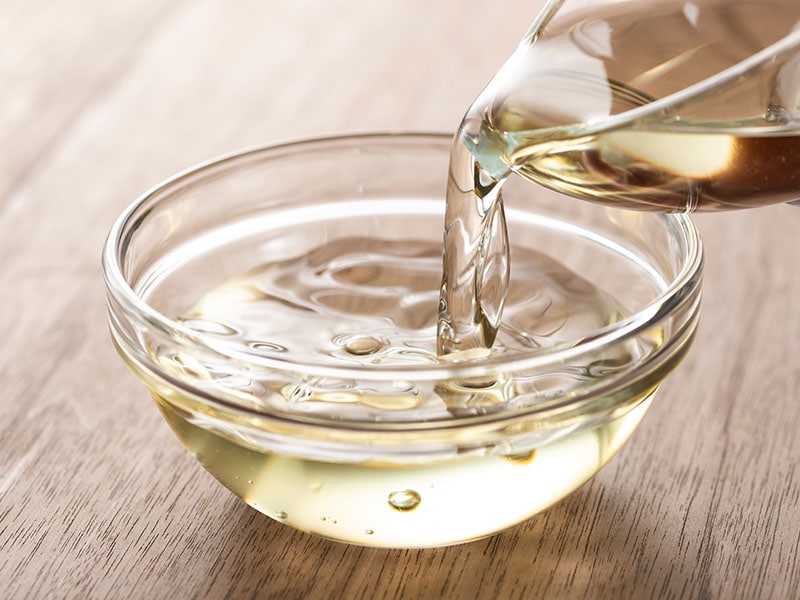 With its golden hue and captivating aroma, mirin is a ubiquitous condiment in Japanese epicurean delight. This clear rice wine is similar to sake but provides a sweeter profile and lower alcohol content. Therefore, it brings a harmonious balance of subtle sweetness, umami, and tang to dishes.
Mirin is the backbone of many traditional sauces like teriyaki and ponzu, and I find it enhances the flavors of both meat and fish beautifully. It is also vital to miso soup, adding an extra hint of umami.
37. Rice Vinegar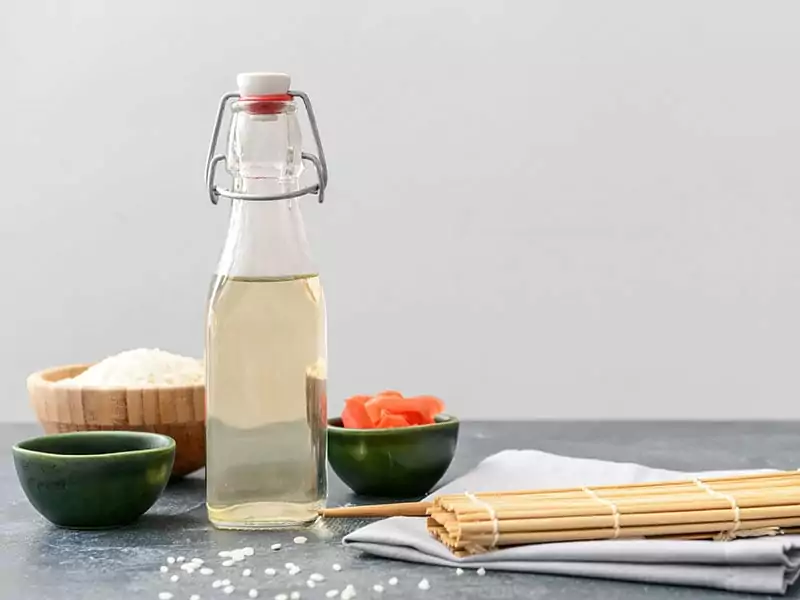 Originating from the fermented rice of East and Southeast Asia (especially Vietnam), rice vinegar (or rice wine vinegar) is a popular ingredient for seasoning, dressing, and dipping. It's the secret behind many famous dishes, from sushi to Jiaozi (Chinese dumplings) and Banchan (Korean small plates).
Interestingly, I've even seen some folks enjoy it as a drink! There are subtle differences between rice vinegar varieties. The Chinese ones are robust and colorful, ranging from clear to black, whereas the Japanese counterparts are mild and mellow, with a charming pale yellow hue.
The Koreans, on the other hand, prefer using brown rice vinegar, adding a sweet and sour twist to their spicy/ non-spicy sauces and glazes.
And the Vietnamese? They call it giấm gạo (or dấm gạo). There are different Vietnamese versions of rice vinegar, including a spicy, sour version called "giấm bỗng" and another variant with lighter sourness called "hèm".
38. Shaoxing Wine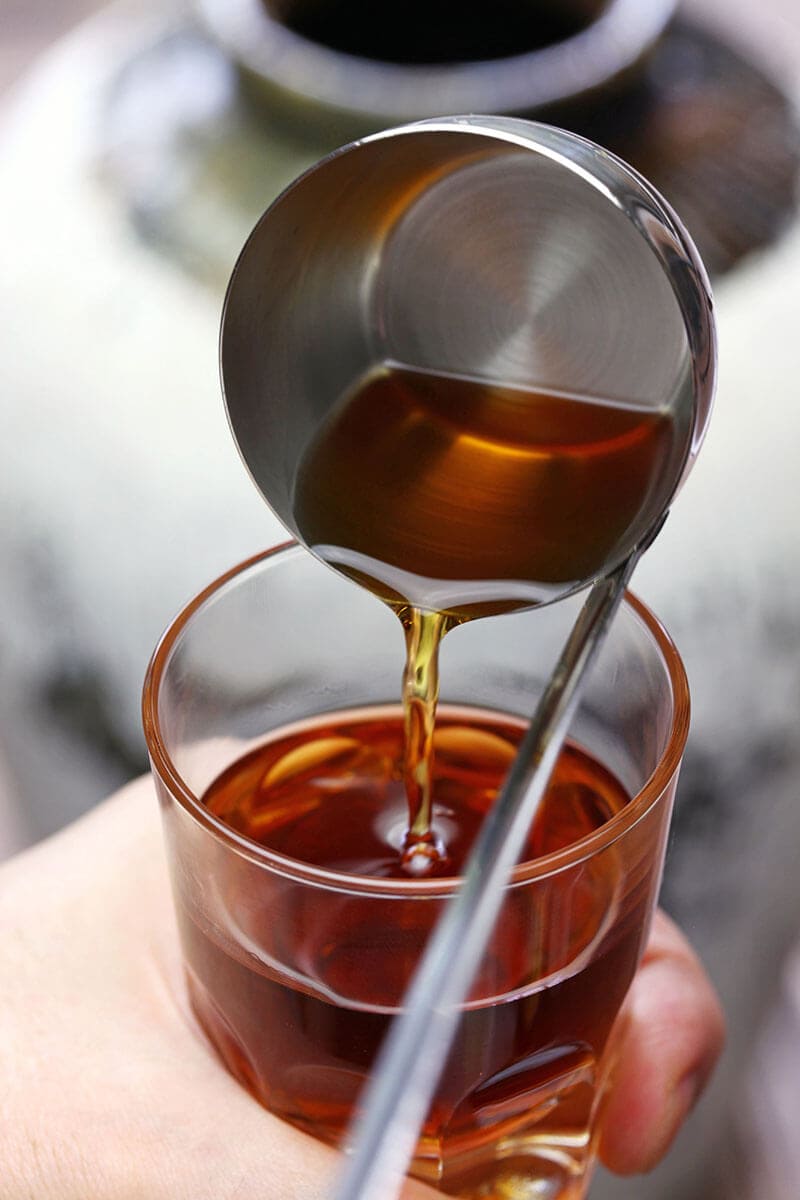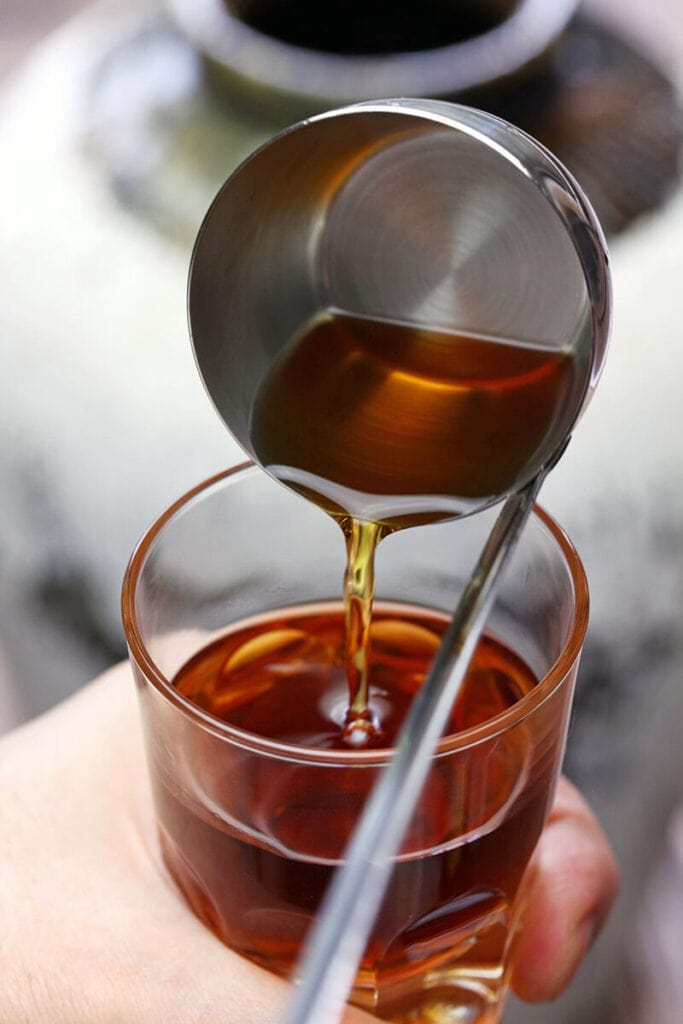 Shaoxing wine, often dubbed as "yellow wine," is named after its birthplace, China's Shaoxing city. Born from a blend of fermented glutinous rice, water, and wheat-based yeast, it has a clear, dark amber color and a mildly sweet, fragrant aroma.
For me, this cooking wine flawlessly adds depth and complexity to many dishes. From meat marinades to wontons and dumpling fillings, it is my trusted companion. And when it's time to deglaze my wok or boost the flavors of my stir-fries, braised dishes, and sauces, I count on the wine every time.
Nothing can replicate the flavor it brings to hong shao (red-cooked dishes), like hong shao yu (braised fish), Shanghai-style braised pork belly, or the aptly named appetizer "drunken chicken." And the best part? You can find it at any Chinese grocery store!
Others
39. Dried Shiitake Mushrooms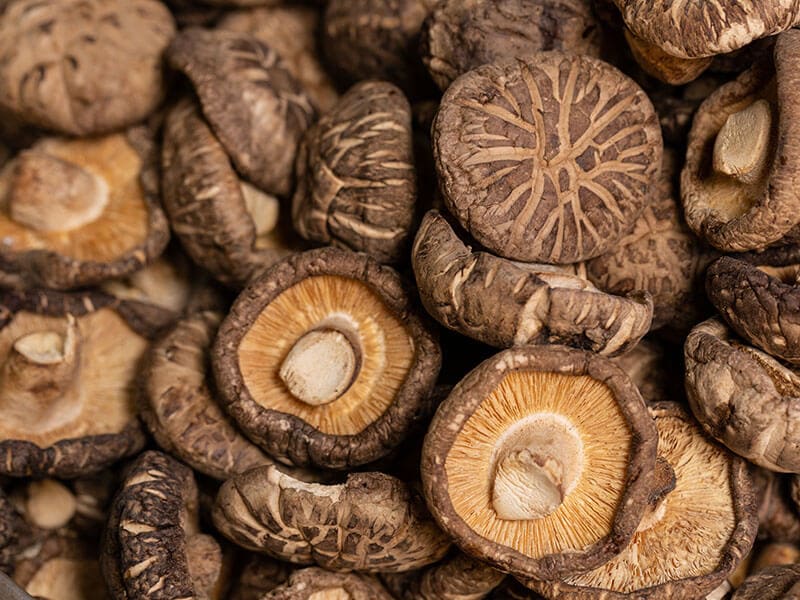 Dried shiitake mushrooms are a reliable way to infuse an intense umami flavor and a rich aroma into Asian soups, stews, stir-fries, and braised dishes. Even better, they have an excellent shelf life and can sit patiently in the pantry for months or years until they're called upon.
To add them to the mix, a quick soak in hot water is all they need to come back to life. And don't discard that soaking liquid because it is loaded with mushroomy goodness and makes for an excellent flavor booster in any recipe.
So, next time you stumble upon these mushrooms at an Asian grocery store, don't hesitate to grab a pack. Your taste buds will appreciate the gesture!
40. Bok Choy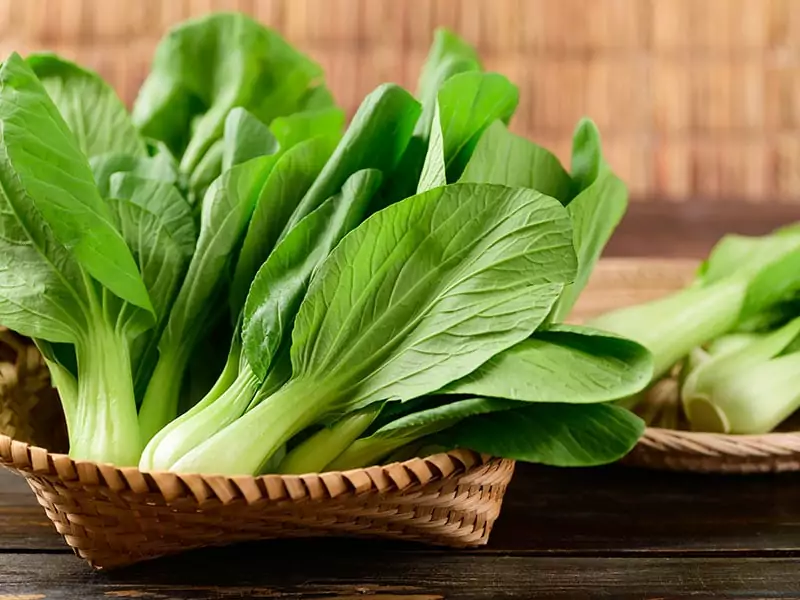 Also known as pak choi or pok choi, this type of Chinese cabbage is a beloved veggie across southern China, East Asia, and Southeast Asia, and it's easy to see why.
Its flavor dances between spinach and water chestnuts, with more sweetness and a mild peppery undertone. The green leaves pack a punch of flavor that outshines the milder white bulb.
Bok choy is among the most versatile and common Asian fruits and vegetables. Whether you're simmering a hearty soup, whipping up a quick stir-fry, or crafting fillings for spring rolls or dumplings, bok choy is always a brilliant choice.
And this vegetable is more than just a treat for the taste buds. It's a nutritional powerhouse, too, loaded with calcium, phosphorus, iron, magnesium, and vitamin K (14).
41. Nori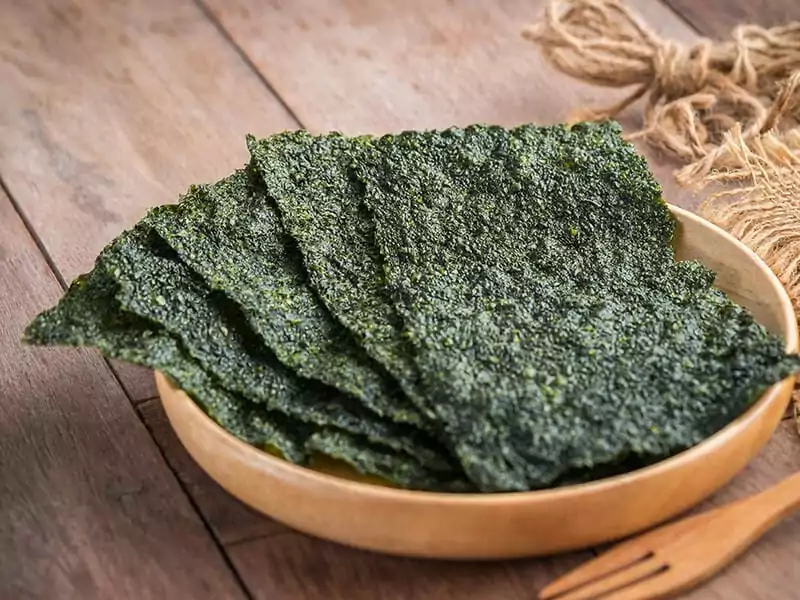 Nori is one of my all-time favorite ingredients! This amazing dried edible seaweed adds so much flavor to dishes. I love its strong and distinctive taste that instantly elevates any meal.
You'll often find nori wrapped around sushi rolls or those yummy rice balls called onigiri. But it doesn't stop there! Nori is also great for garnishing or flavoring in noodle dishes and soups, giving them a delightful umami kick.
The best part is that nori has this unique blend of sweetness and saltiness that just hits the spot. For buying, you can easily find packs of this culinary gem in your local grocery store.
42. Dried Anchovies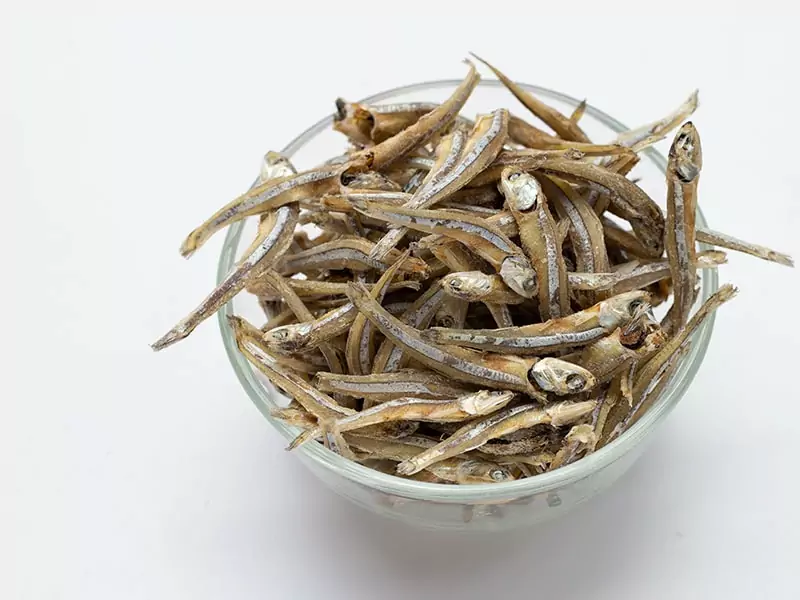 Have you ever tried dried anchovies, or as they call them in Japan, Iriko or niboshi? They are a staple in Japanese and Korean cuisine, coming in large or small sizes.
Normally, the larger ones are perfect for making a flavorful dashi broth, which forms the base for many delicious soups and stews. As for the smaller dried anchovies, they make a fantastic snack by sauteing them with garlic and oil to bring out their savory flavor.
Furthermore, small anchovies also make a great topping or side dish to enjoy with a bowl of rice. In addition, the key to picking good dried anchovies is to find ones that aren't too salty or dry.
43. Chicken Bouillon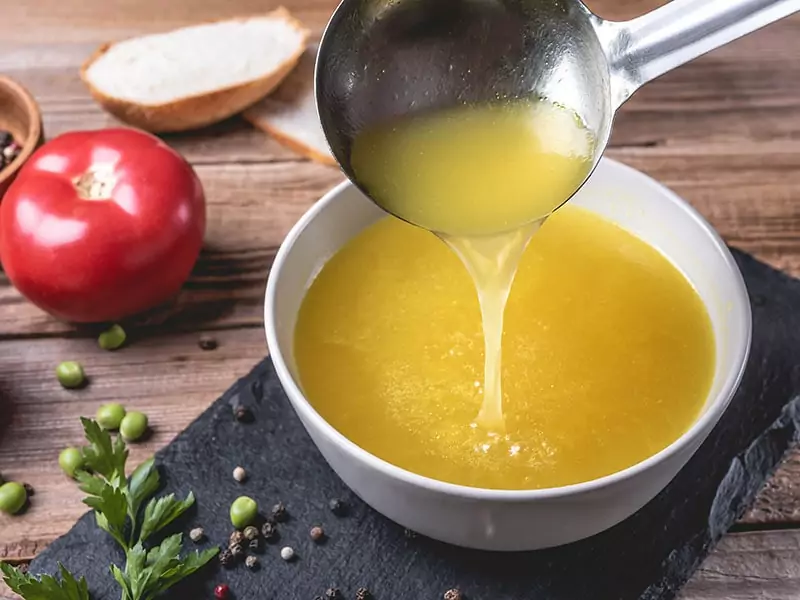 Chicken bouillon is one of my favorite flavor boosters in the kitchen. This magical seasoning comes in powder, paste, or dry cube form, making it super convenient to use. Some top brands in Asia that I love are Maggi, Knorr, and Lee Kum Kee.
Whenever I want to add some oomph to my soups, sauces, broths, curries, or even noodle and rice dishes, chicken bouillon does the trick. It's all about that umami taste it brings to the table that easily infuses it into any recipe.
If you're using the bouillon cubes, remember to dissolve them in water first to unleash their full flavor potential. Typically, you can easily find chicken bouillon in local markets, supermarkets, or grocery stores. If you're out of chicken bouillon, chicken broth is a good substitution.
44. Shallot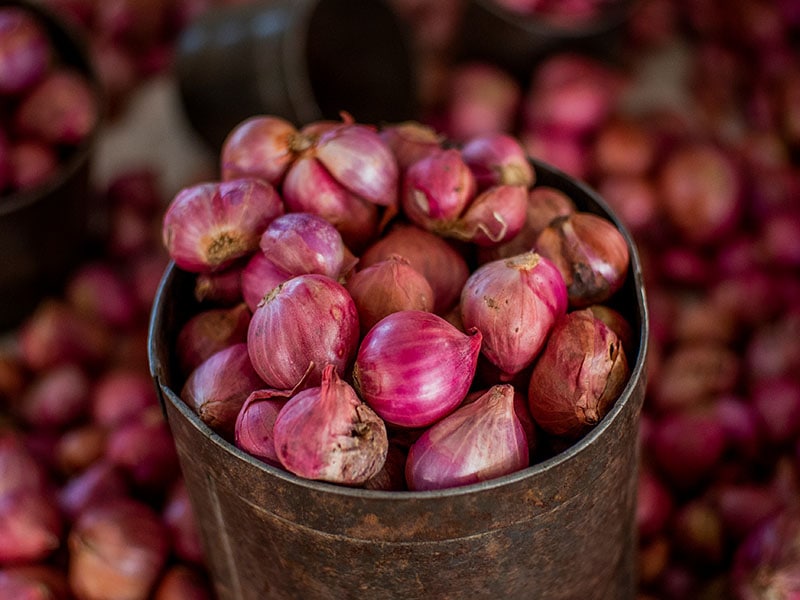 Shallots are an allium family member, just like garlic, chives, and onions. They have a delicate and sweet flavor with a hint of sharpness, which adds a lovely touch to dishes. When using shallots, peel off their papery skin first and then slice them into your desired pieces, usually chopped or minced.
They're perfect for dressings, marinades, and salads when used raw. If you want to enhance the flavor of meat or vegetable dishes, you can cook them over medium heat until they become fragrant. Additionally, shallots can even be pickled, too!
During my stay in Vietnam, I've learned that Vietnamese love making crispy caramelized shallots to sprinkle on their traditional dishes like bánh cuốn (steamed rice rolls) and xôi xéo (Hanoi-style yellow sticky rice). They add a wonderful crunch and flavor to these dishes excellently!
45. Limes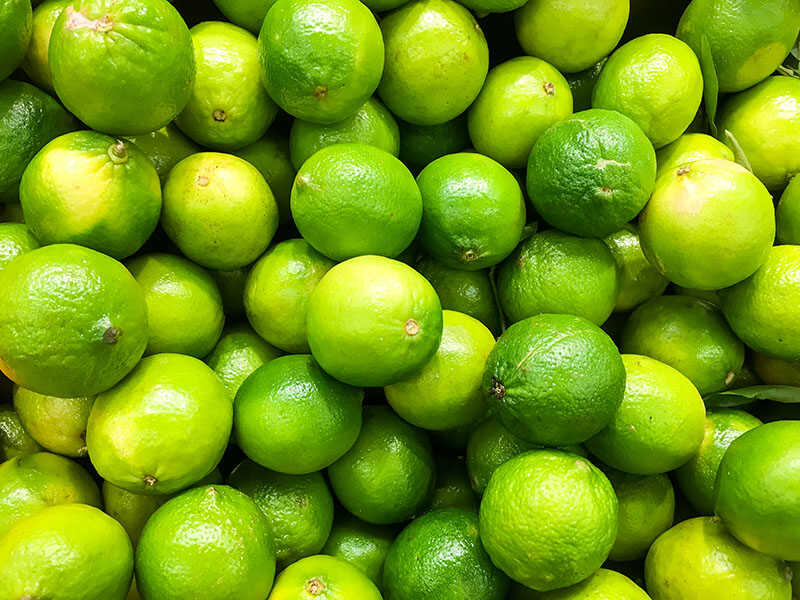 I absolutely adore limes! These citrus fruits bring such a zesty and refreshing flavor to my dishes alongside the acidic and sour profile that provides a delightful tanginess to everything.
In Asia, green limes are more popular than yellow lemons. They also have more sugar and acidity. For more information, China and India are the biggest producers of limes.
I often use lime juice in the kitchen to add flavor to my recipes, from simple limeade or cocktails to tangy salad dressings. You can pair the juice, fish sauce, garlic, and a bit of chili to create a perfect dip.
Interestingly, lime zest is also a common ingredient in Thai and Vietnamese dishes, adding a burst of citrus aroma.
46. Coconut Milk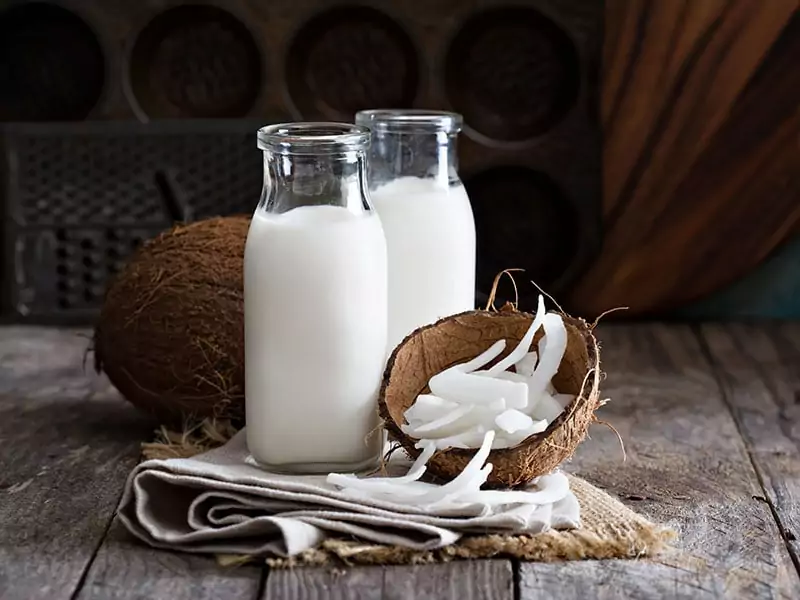 Coconut milk is like a creamy liquid that goes well in many recipes! It's especially popular in Southeast and South Asia.
This milky-white liquid is traditionally made from the grated flesh of coconuts, having a rich and indulgent profile. Also, the fat content can vary, with coconut milk ranging from 5-20% fat and coconut cream packing a higher stat of 20-50% fat.
The flavor of coconut milk is absolutely divine, with a rich, sweet, and delightfully nutty taste. It's incredibly versatile too!
I love using coconut milk in both sweet and savory dishes. Thai food culture, in particular, knows how to make the most of coconut milk, using it in their curries, stews, and soups. And let's not forget about the amazing flavor it adds to many Asian desserts.
47. Tofu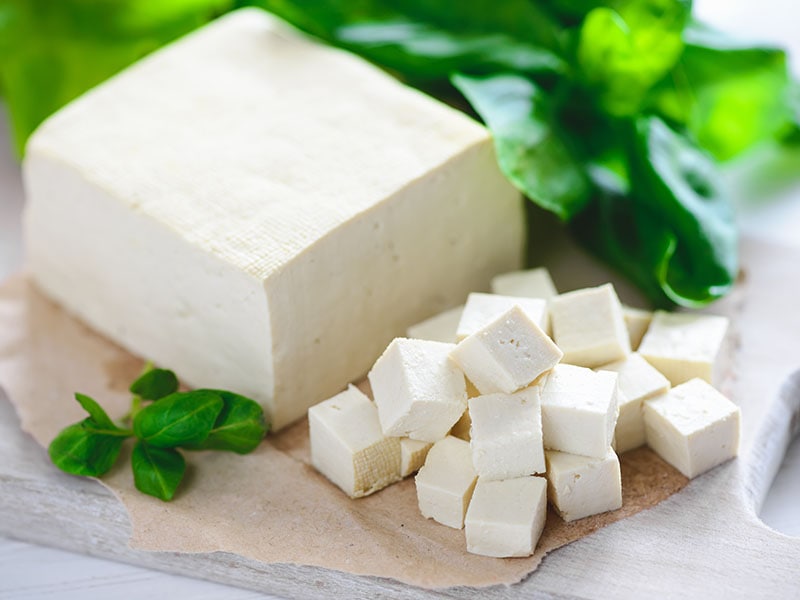 Tofu, also known as bean curd, originated in China and has become a beloved ingredient worldwide. This food is made by coagulating soy milk and shaping it into a solid block. Commonly, tofu comes in different textures, ranging from silky and soft to firm, extra firm, or even super firm.
It may seem bland on its own, but that makes it so fantastic for absorbing the flavors of various seasonings and spices. Plus, tofu is a fantastic option for vegan and vegetarian diets, providing a good source of protein in place of red meat.
You can add tofu to stir-fries, noodle dishes, soups, stews, and more. In addition, some studies suggest that tofu can offer benefits such as protecting against diabetes and promoting bone, brain, and heart health, making it a wonderful addition to any plate!
48. Egg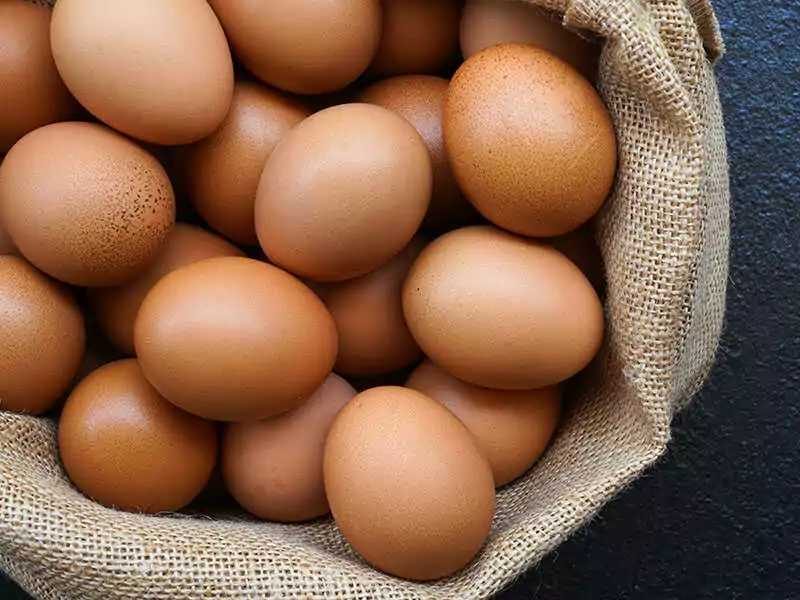 Eggs are one of the most versatile and beloved foods in any place. These round, fragile, and affordable items can come from chickens, ducks, turkeys, or any other bird.
Furthermore, I can cook them in so many delightful ways! Soft, medium, or hard-boiled, poached, fluffy omelets, scrambled, or baked, there are numerous ways to turn eggs into a delicious meal.
However, timing is key in cooking eggs and is based on what cooking method you follow. For instance, a perfect hard-boiled egg usually takes around 10 minutes.
Regarding the benefits, eggs pack a punch of nutrients! They're a good source of vitamin B12, selenium, choline, antioxidants, and more, benefiting our brain, eyes, and heart health (15). Plus, they're affordable!
East Asia (China, Japan, Korea)
In Chinese cuisine, unique ingredients include Sichuan peppercorns, fermented black beans, and bok choy.
Japanese cuisine is known for ingredients such as wasabi, mirin, and a variety of seaweeds like nori and wakame.
Korean cuisine utilizes ingredients like Gochujang (fermented chili paste), Doenjang (fermented soybean paste), and kimchi.
Southeast Asia (Thailand, Vietnam, Philippines)
Southeast Asian cuisines are famous for their bold flavors.
Thai cuisine incorporates ingredients like galangal, kaffir lime leaves, and Thai basil.
Vietnamese cuisine often includes ingredients like lemongrass, Vietnamese coriander, fish sauce, and rice paper wrappers.
Filipino cuisine uses exotic ingredients like calamansi (Philippine limes), banana ketchup, and annatto seeds.
South Asia (India, Pakistan, Sri Lanka)
South Asian cuisine is rich in spices.
Indian cooking often includes unique ingredients like ghee, masala blends, and a variety of lentils.
Pakistani cuisine is known for ingredients such as basmati rice, yogurt, and meat like beef and lamb.
Sri Lankan cuisine uses ingredients like curry leaves, coconut milk, and Maldive fish (usually cured tuna).
Central Asia (Kazakhstan, Uzbekistan)
Central Asian cuisine is heavily influenced by their nomadic past.
Ingredients like mutton, horse meat, and various dairy products like kumis are common in Kazakhstan.
Uzbekistan is known for its pilaf, which uses ingredients like long-grain rice, carrots, and mutton.
West Asia (Turkey, Iran)
West Asian cuisine is diverse and flavorful.
Turkish cuisine incorporates ingredients like sumac (a red spice), pomegranate molasses, and red pepper flakes.
In Iranian cuisine, ingredients like saffron, dried limes, and barberries are often used.
Incorporation of Asian Ingredients in Western Cuisine
Fusion Dishes
The fusion of Asian and Western cuisines has led to innovative dishes. Examples include sushi burritos, which combine Japanese sushi concepts with Mexican burrito elements, and Korean BBQ tacos that integrate Korean flavors into the Mexican-American street food staple.
Adaptations And Substitutes
Western cuisine has adapted many Asian ingredients, such as using soy sauce in marinades, or coconut milk in desserts. Substitutions for them are also readily available. For instance, ginger can be substituted for galangal in Thai dishes, or jalapenos for bird's eye chili.
Health Benefits of Asian Food Ingredients
Nutritional Values Of Common Ingredients
Many Asian ingredients have high nutritional values. For instance, seaweed is rich in iodine and vitamins A and C. Ginger and garlic have anti-inflammatory properties, while tofu is a good source of plant-based protein and contains all nine essential amino acids.
Role In Diet And Wellness
Asian diets are often considered balanced and healthy due to the variety of wholesome ingredients and cooking methods.
For example, the Japanese diet is renowned for promoting longevity, partially due to its emphasis on fish, seaweed, and fermented foods. The Ayurvedic system in India also uses food and spices for wellness and balance.
Common Cooking Techniques In Asia
To prepare ingredients like rice, seafood, spices, and vegetables, there are several Asian-style cooking techniques, ranging from stir-frying to fermenting, steaming to grilling.
For instance, stir-frying, a method prevalent in Chinese cuisine, quickly cooks food at high heat with constant stirring. Steaming, mainly associated with dumplings and pork buns, preserves the food's flavor and nutrients.
Sushi preparation is an iconic Japanese technique that deals with raw or lightly cooked seafood. The Indian tandoor oven grills meats and breads at high temperatures. In Korean cuisine, fermentation is key for foods like kimchi.
Southeast Asian dishes often use simmering to blend spices and ingredients in soups and curries. Lastly, satay grilling, popular in Indonesia and Malaysia, cooks marinated meat skewers over charcoal. These techniques reflect the diverse culinary traditions across Asia.
FAQs
Unveiling The Uniting Flavors In Food Ingredients In Asia
Before ending the exploration of Asian food ingredients, I invite you to embrace the vibrant flavors they offer. Let your kitchen become a canvas for creativity as you experiment with these diverse elements. From traditional favorites to innovative fusion, the possibilities are endless.
Now it's your turn. Feel free to share your favorite condiments or dishes made with them in the comments. Do you know wonderful ways to use them that this article fails to mention? Go ahead and share them with me!
Lastly, please tell your friends about this post so that more people will know more about the beauty of Asian cooking!
Paragraph
Chicken leads U.S. per person availability of meat over last decade (no date) USDA ERS – Chart Detail.
Chicken: Health benefits, nutrients per serving, preparation information, and more (no date) WebMD.
Beef: Nutrients, health benefits, preparation, and more (no date) WebMD.
Van, P. by D. (2011) Cooking meat? check the new recommended temperatures, USDA.
BSc, A.A. (2019) Pork 101: Nutrition Facts and health effects, Healthline.
Health benefits of fish (no date) Washington State Department of Health.benefits.
Elliott, B. (2023) Is shrimp good for you? nutrition, calories & more, Healthline.
Petre, A. (2017) Why miso is incredibly healthy, Healthline.
Mun, E.-G., Park, J.E. and Cha, Y.-S. (2019) Effects of Doenjang, a traditional Korean soybean paste, with high-salt diet on blood pressure in Sprague-Dawley rats, Nutrients.
What you need to know about health benefits of Gochujang (no date) WebMD.
Bennett, C. (2019) The health benefits of CILANTRO (coriander), News.
11 scientifically proven health benefits of ginger (no date) Healthline.
Hill, A. (2018) Star anise: Benefits, uses and potential risks, Healthline.
Bok choy: Health benefits, nutrition information, how to prepare it, and more (no date) WebMD.
Health benefits of eggs (no date) WebMD.