It would be a pity to miss the incredible Iraqi foods this Middle Eastern country has to offer. The taste of these unique dishes will leave an indelible impression on your mind, so let's discover all things about them right now.
I will give you a list of great Iraqi dishes that you need to know to understand more about this country. After reading this post, you will get the basics of flavors, origins, and other exciting trivia about these dishes.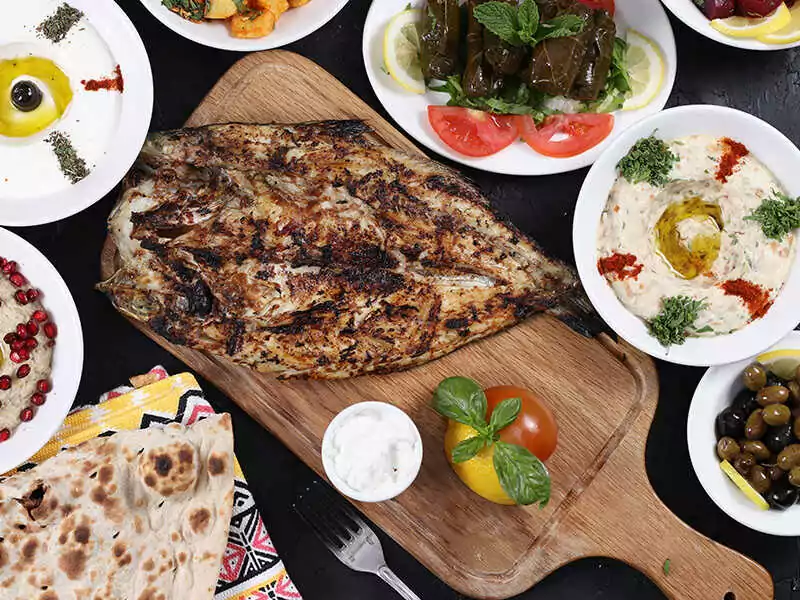 Iraqi Appetizers
There are many fantastic Iraqi appetizers you can choose to start your meals. The flavor of these foods in this section will make you fall in love with them.
1. Dolma – Stuffed Meat and Vegetable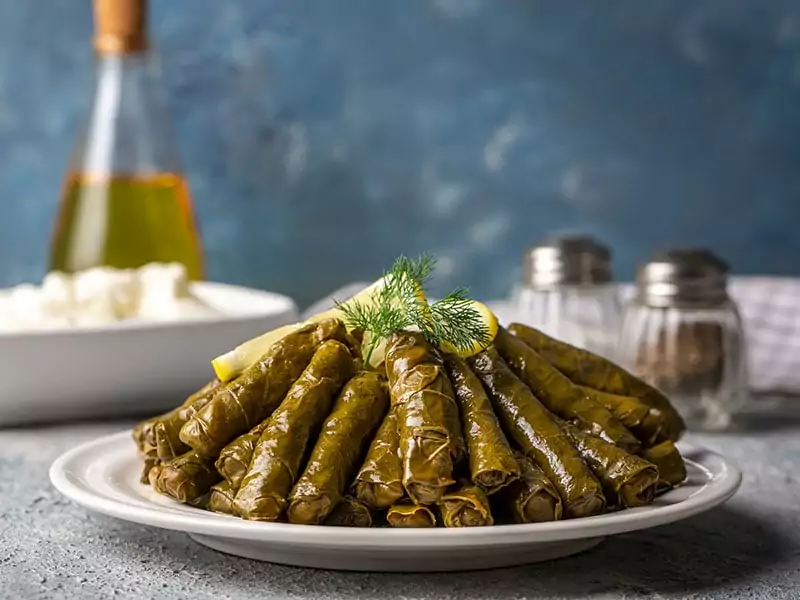 A well-loved recipe among most diners is Dolma. This vegetable stuffed meat recipe will make you addicted. Dolma Mahshi is the most famous version of Iraq, where the meat is stuffed in onions. It is a good choice for the main course or appetizer.
This traditional dish has many variations in regions, such as Central Asia, the Middle East, the Balkans, and Turkey. If you have a chance to experience Armenian native cuisine, you'll see that the Armenians have no less than 50 variants of this dish!
Although Dolma originated in Turkey, it has played a vital role in Middle Eastern cuisine for centuries and appears in cookbooks from pre-Ottoman times.
2. Sfiha – Arab Pizza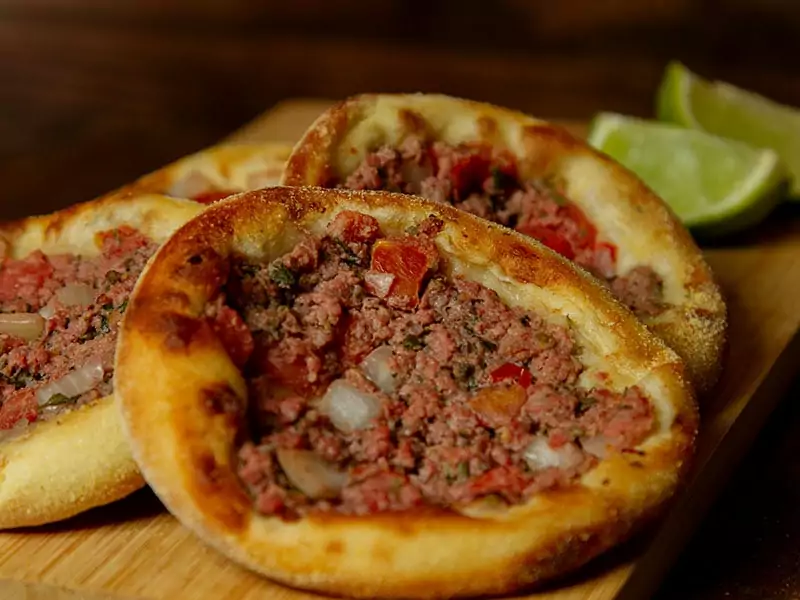 Natives choose Sfiha as great food for breakfast and appetizers too. People often call it "Arab Pizza", and it was born in the Arabian Peninsula and the Levant. This recipe spread to many other countries, such as Brazil when Levantine migrants arrived in South America.
Yummy flatbreads with the size of an adult hand will be topped with minced mutton or lamb that brings tenderness and enticing flavor to the pizza. The chef will add tomatoes, local spices, and pine nuts.
3. Tabbouleh – Iraqi Salad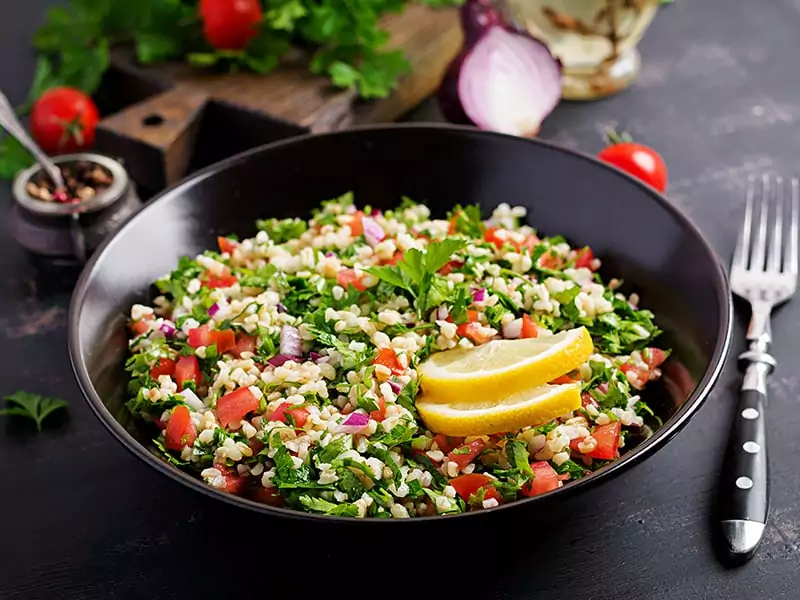 If you are looking for an Iraqi starter for your party, you should consider Tabbouleh. This is a famous salad in all meals of Iraqis thanks to its incredible and tasty flavor.
It appeared first in the Middle Ages and has spread widely in many nations. You can see them in the wonderful Israeli cuisine, or in other Arab countries.
The main ingredients creating the fantastic taste are tomatoes, red onions, mint, lemon juice, and bulgur wheat. In some cases, cucumber and lettuce can change the flavor. All elements are mixed to create a whole fascinating flavor.
It is not complicated to make mouthwatering Tabbouleh.
4. Falafel – Ground Bean Fritters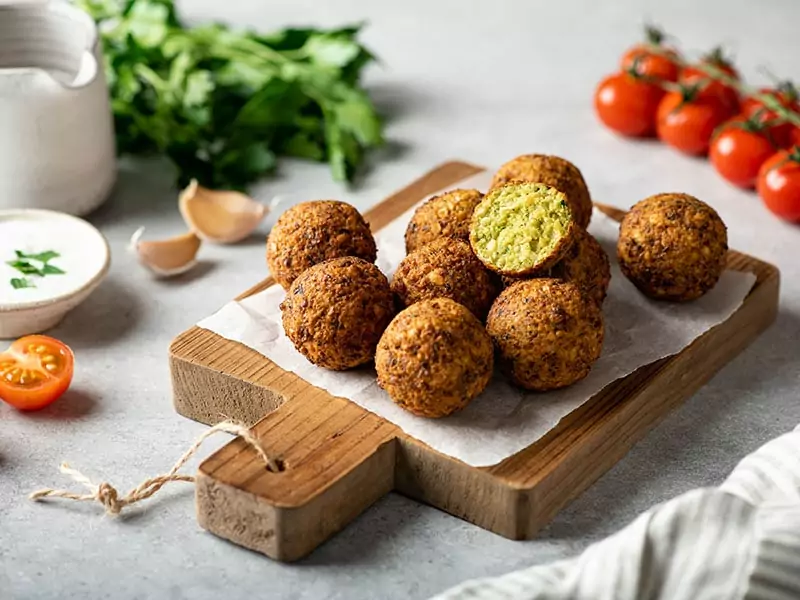 There are two views on the birth of Falafel. One theory is that it was born 1000 years ago, and the Egyptian Copts brought it to the Middle Eastern countries. Another opinion is that it dates back to the 6th century in India.
In Iraq, Falafel is one of the national dishes. Chefs will bake yeast bread with this diamond shape in a stove oven. While other regions serve Tahini sauce, Iraqis will pair it with Amba sauce.
5. Kubba – Rice and Ground Meat Patties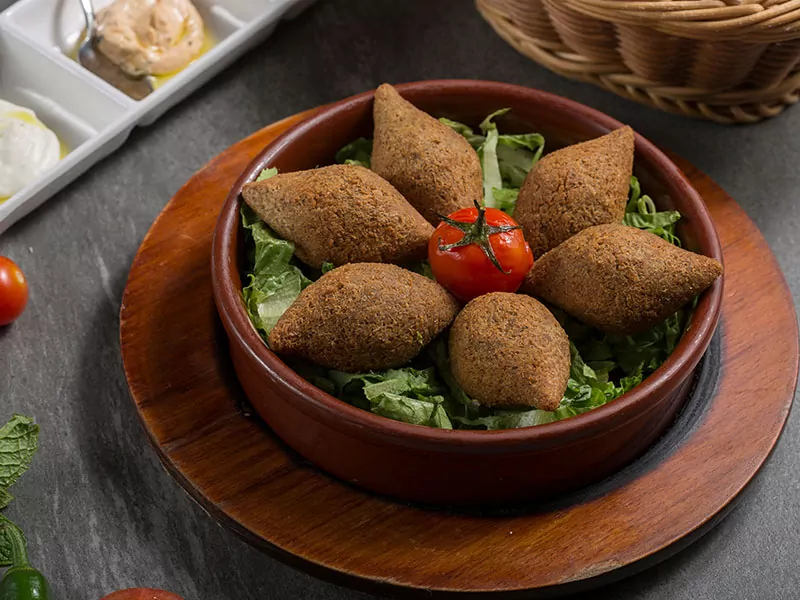 Kubba is a well-known dish in many Middle Eastern countries. This is an iconic recipe of Middle Eastern cuisine, predominantly Iraqi, Syrian, and Lebanese. This food is also known as Kibbeh and has many different variations.
The Iraqi version is a combination of ground meat and minced rice. The meat will be stuffed in a bulgur shell to make dumplings. You can choose from the deep-fried version to feel the crunchiness of the crust or the tender type when it is boiled.
Iraqi Main Dishes
The fastest way to fill your hungry stomach is to eat delicious main foods in this section of Iraqi cuisine. Moreover, the appealing flavor will make you fall in love immediately after trying them.
6. Iraqi Kebab – Grilled Meat with Spices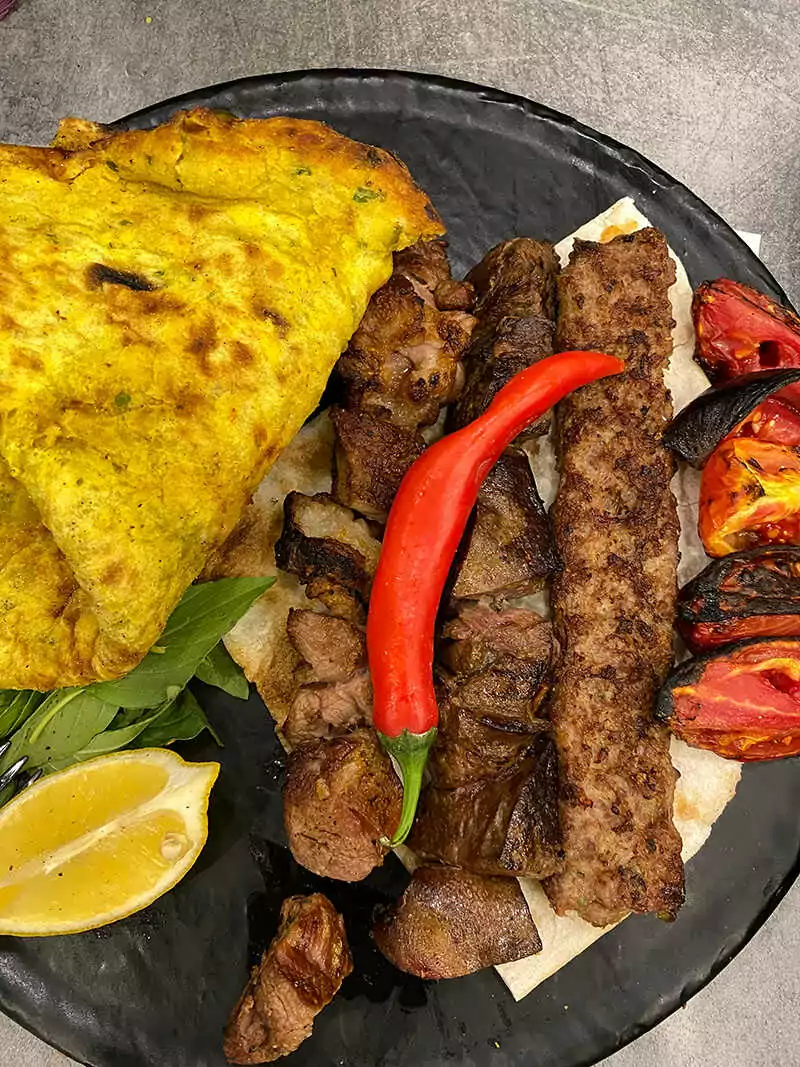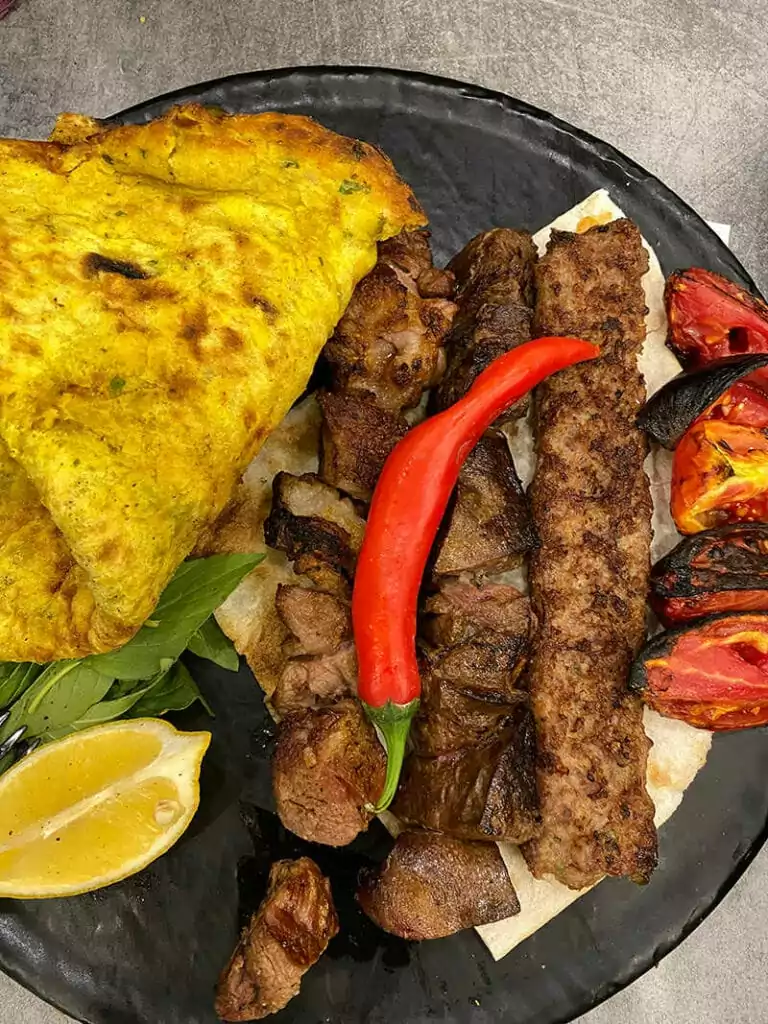 Kebab is an indispensable dish in the list of Iraqi lunch dishes. There is much controversy about the origin of Kebab as Iraqis and Middle Easterners claim that kebab is their invention. However, this grilled recipe appeared in Iraqi cookbooks in the 9th century.
Iraq has various Kebabs made of different meat varieties, like lamb, mutton, or other red meat. The most common version is spiced ground lamb grilled over charcoal. You will love the softness and subtle flavor of the kebab.
7. Masgouf – Grilled Fish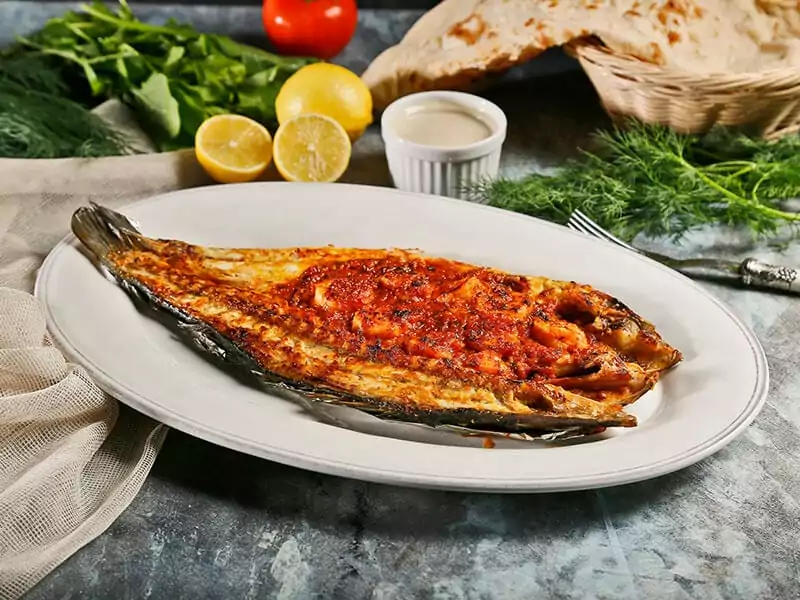 It is hard to forget the enticing taste of Iraq's Mesopotamian grilled fish. The Iraqis would catch freshwater fish (carp) from the Tigris River and season it with spices like tamarind, turmeric, salt, and olive oil and bake it at low heat vertically.
The flesh of the fish remains soft and succulent, and the outer layer brings a rich flavor and crispy texture to diners. This national dish dates back to Akkadian and Sumerian times. The Masgouf of the capital Baghdad is rated as the best in Iraq.
8. Quzi – Stuffed Whole Lamb Roast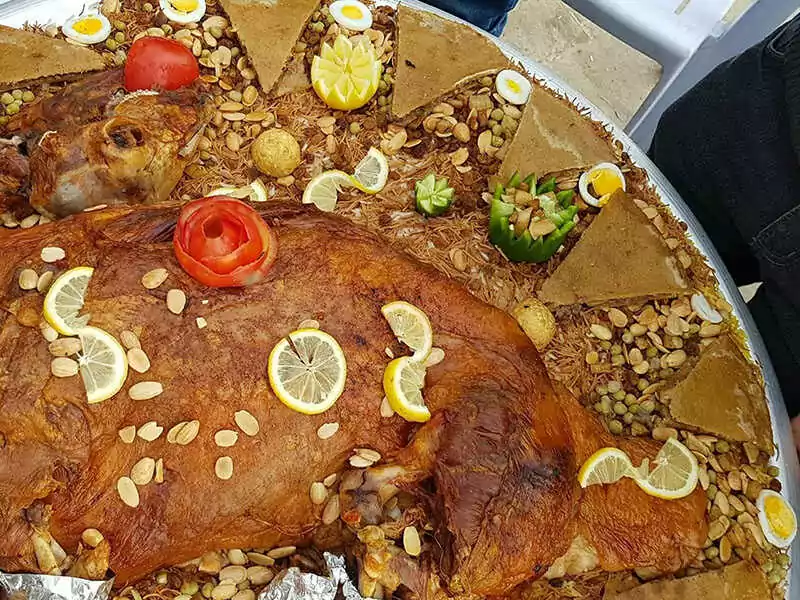 Quzi or Qoozi, Ghozi, Khouzi is a traditional dish of Iraqi cuisine. This roasted lamb dish stuffed with vegetables, nuts, and rice will take your breath away. Dishes cooked with charcoal will create a unique smoky flavor that is appealing.
Coming from Iraq, it has become a popular delicacy in Turkey, the Persian Gulf, and Arab countries. This dish has different variations, which can be buried in burning coal or wrapped in foil for cooking.
9. Iraqi Tashreeb – Bread Meat Soup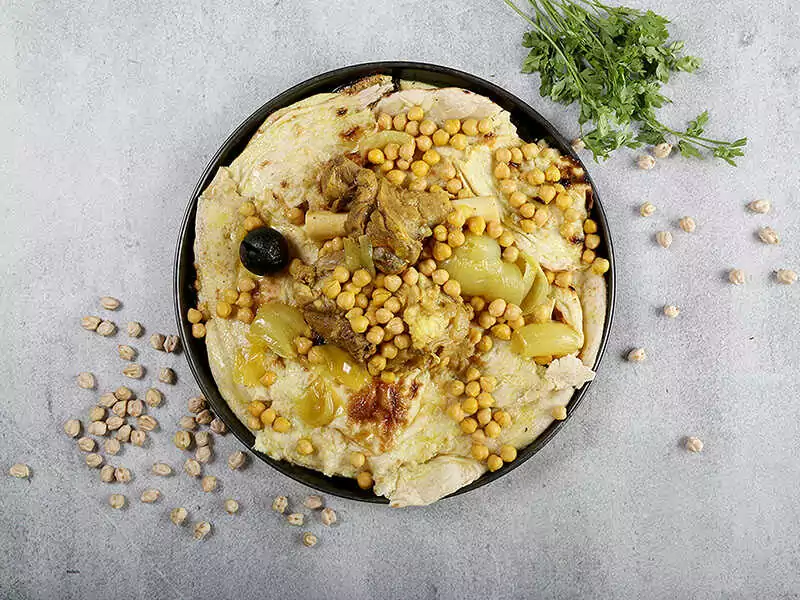 You should immediately add Tashreeb to your Iraqi dinner dishes because its taste will leave you hooked. This excellent soup contains chickpeas, lamb, or chicken. This spicy soup goes well with bread called "nan".
Iraqi peasants first created this recipe, and it gradually became a favorite choice for almost every family in Iraq. In Arabic, Tashreeb means "soak". The name comes from the steeping of flatbreads in the broth of the soup.
10. Makhlama – Eggs and Lamb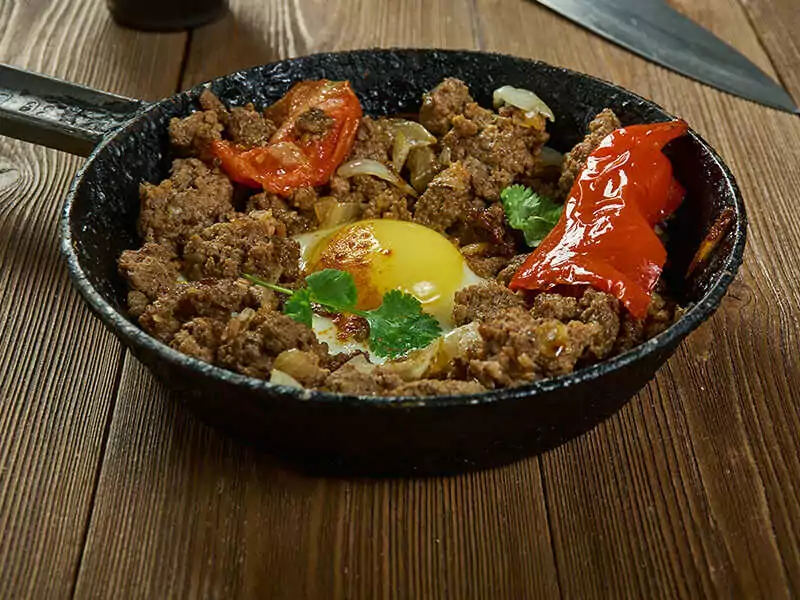 Makhlama is one of the most preferred Iraqi breakfast dishes of the Middle Eastern country. It is a perfect combination of ground lamb, tomato sauce, and eggs. You will love the inciting flavor of lamb and the nutty taste of tomato sauce when enjoying it.
The mouthwatering food has its origins in Iraq and has spread widely in many other Arab countries. This incredible food first appeared in the Mesopotamian cookbook in the 10th century.
11. Margat Bamia – Okra Stew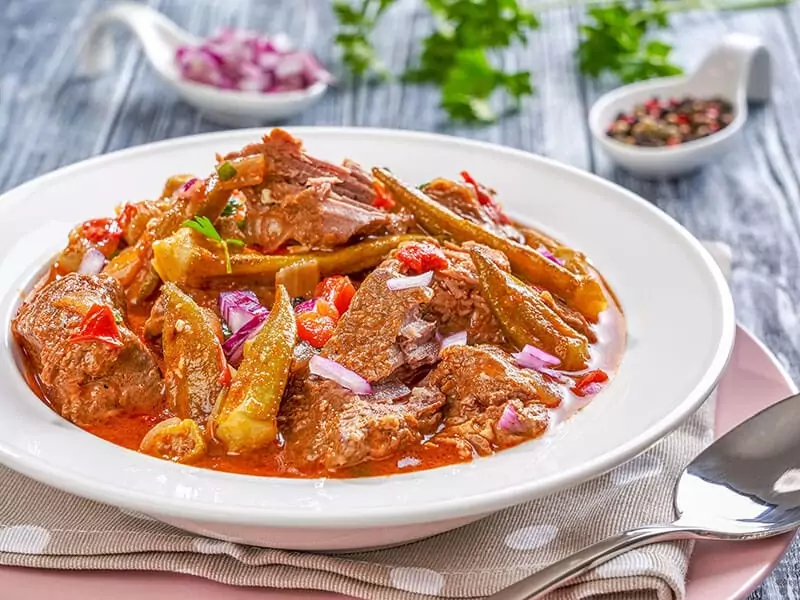 Fill your stomach with delicious Marget Bamia of Iraqi cuisine. This great recipe featuring okra, lamb, and tomatoes comes from the Middle East. Today, you can easily find it in Arab countries, Anatolia, and Greece. In Arabic, "bamya" means "okra".
You will go crazy over the rich flavor of this food. The lamb, in particular, has perfect tenderness. The characteristic flavor of okra will blend with the tastes of meat and spices to make a perfect whole.
12. Shorbat Rumman – Pomegranate Stew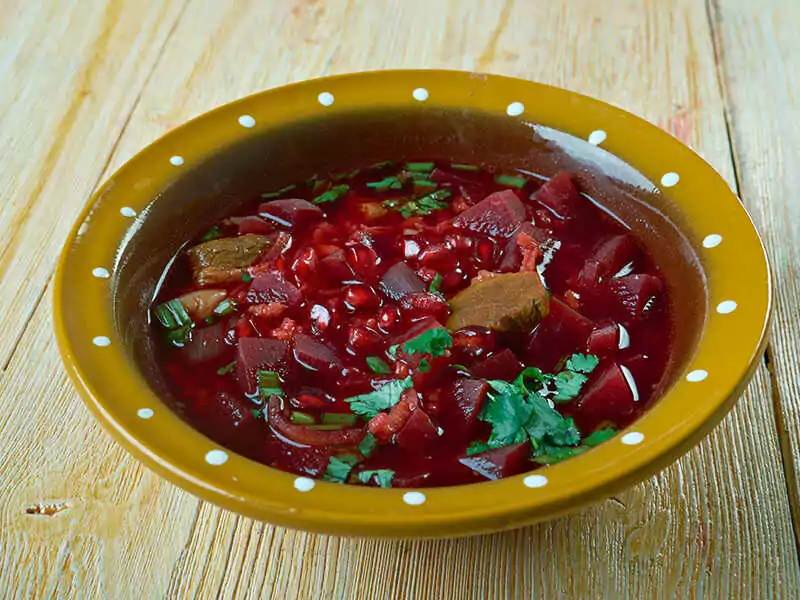 Shorbat Rumman is a product of the tradition of incorporating sweet ingredients into savory dishes of Iraqi cuisine. There is much controversy about its origin as many argue that it is an Iranian food specialty, while others think it's from Iraq.
Shorbat Rumman is also known as pomegranate soup when the chef uses the juice and succulent pomegranate seeds to make this food. In addition, the taste of the soup is more robust with the appearance of split peas and a little mints.
13. Maqluba – Upside-Down Rice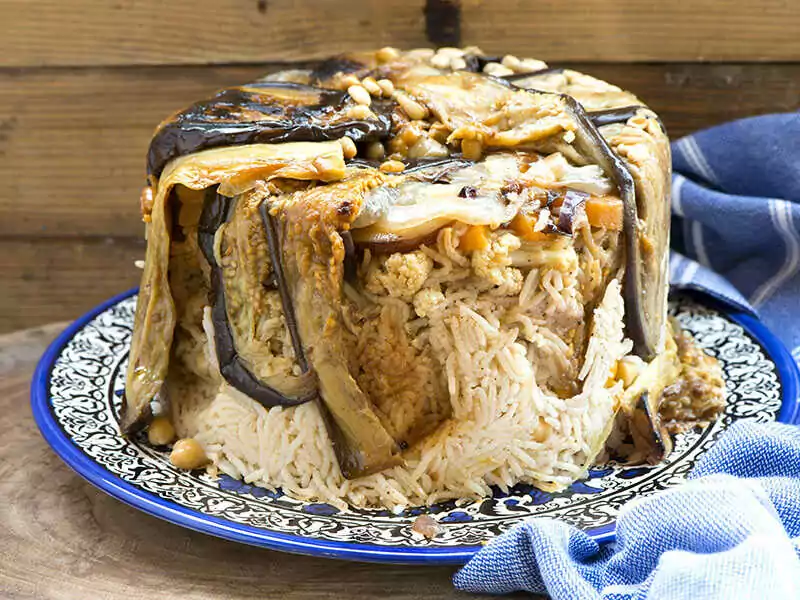 This delicious recipe with lamb, rice, and fried vegetables is not missed. A few other variations would use aubergine, potato, or cauliflower. This fantastic food looks like a birthday cake when created from a pot.
The exact origin is unknown, but Muqluba appeared in the Baghdad Cookery Book in the 13th century. The name "Maqluba" means "upside-down", which describes how the dish is served.
Find out the directions to create incredible Maqluba.
14. Bagila Bil Dihin – Fried Eggs Over Broad Beans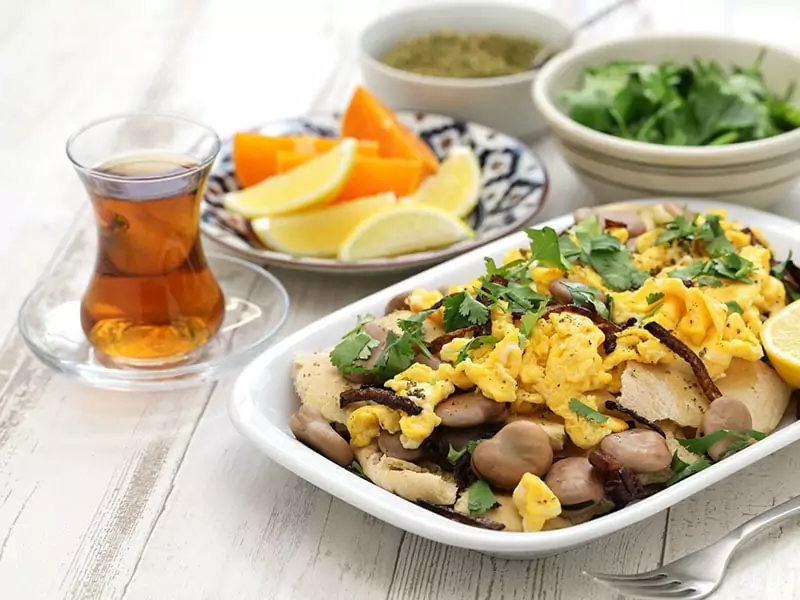 Until now, I still cannot forget the charismatic flavor of Bagila Bil Dihin. It is a famous breakfast dish of Iraqi cuisine with dried broad beans and eggs as the main ingredients. Also, a few pieces of tannour bread – a typical Iraqi flatbread will add flavor to it.
You can feel the mildly sour taste of lemon juice in this recipe and a hint of the signature flavor of dried Stachys. In particular, beans soaked overnight will bring the perfect softness and sponginess to the food.
Iraqi Sweet Foods
Your party will be complete with the appearance of awesome sweet foods to refresh your taste buds. It is good to refer to these mouthwatering Iraqi sweet foods in this part to add to your meals.
15. Kanafeh – Iraqi Pastry Dessert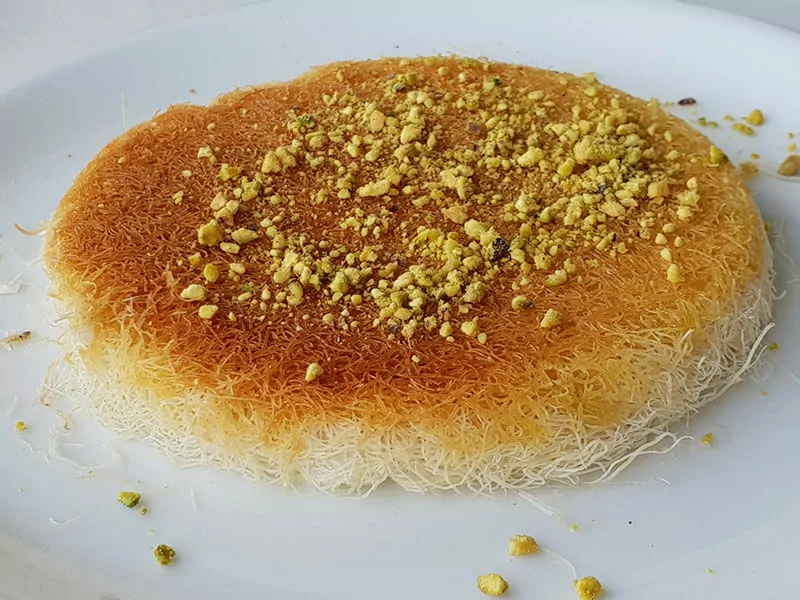 It is time to add Kanafeh to your Middle Eastern dessert list right away. The spun pastry is the crucial ingredient in this sweet dessert. In addition, sweet syrup and a layer of cheese, and other elements contribute to its appeal.
Its name in Arabic means string pastry. There are many stories about its origin. Many people think that doctors created it to relieve hunger during Ramadan. Other views suggest that it was present in Fatimid Egypt.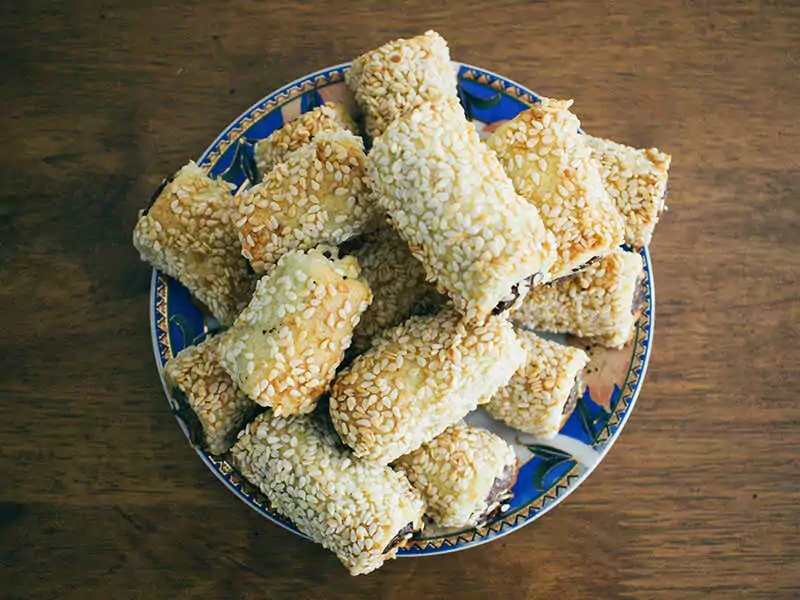 Kleicha is a sweet cookie recipe available in many stores in Europe and North America. It is shaped like a slice of Swiss roll. However, instead of using cream filling, date paste will fill the inside of the rolls.
You can find other versions of this tasty dessert in the form of half-moons filled with chopped nuts, sugar, or coconut and Kleichat Tamur with date filling. This recipe dates back to ancient Mesopotamia, when the ancient Sumerians made cookies for New Year and Ishtar.
---
I hope this list of famous Iraqi foods have helped you expand your culinary knowledge. Please take advantage of the valuable information and let me know what you think in the comments below.
And don't forget to share it so this incredible knowledge can spread to more people. This also gives me more motivation to bring more quality articles. Thanks for your time!