Asparagus vs. Broccoli: Which is the "king" of your green meal? You probably heard a lot of their benefits from advertisements. But would asparagus or broccoli suit your needs better?
Since childhood, we have often heard the advice that eating green vegetables will help us stay healthy. Therefore, nowadays, vegetable dishes appear more frequently than ever on our dining table.
However, not all vegetables have the same taste, preparation, and nutritional qualities, and so are asparagus and broccoli. What are you waiting for? Explore them in this article! I will give you their specific information and amazing health benefits.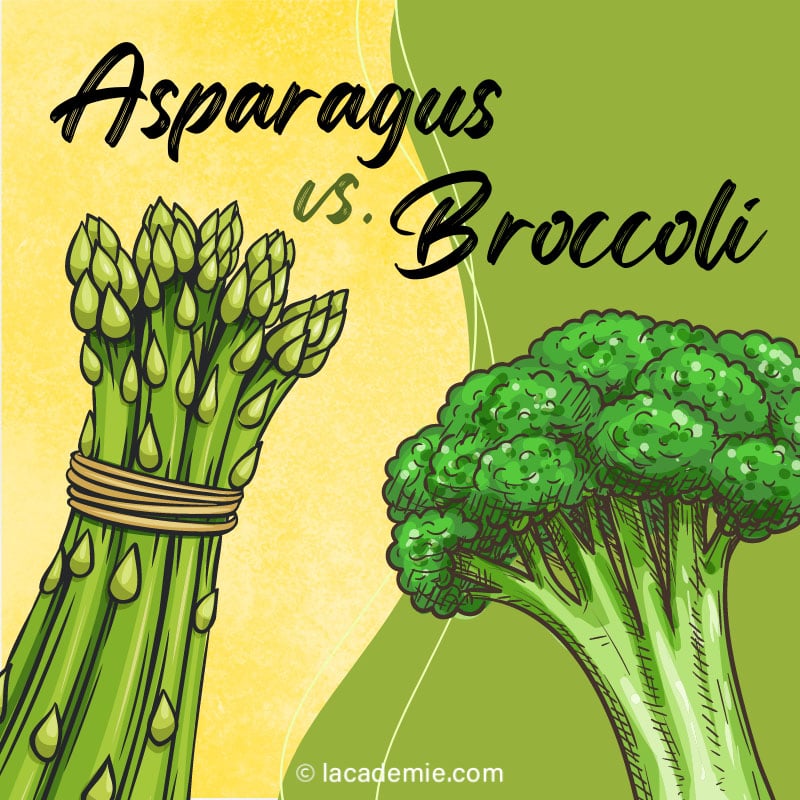 The Origin Of Asparagus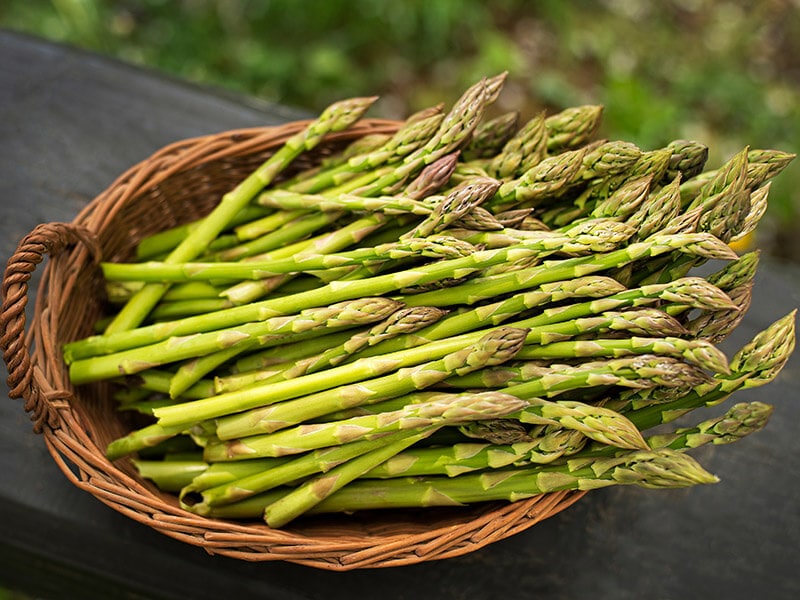 Asparagus is known as an outstanding member of the family Asparagaceae. Its name is derived from the Greek word which means "sprout". Regarding its origin, many researchers claimed that asparagus originated 2,000 years ago in the Eastern Mediterranean.
Historically, the ancient Greeks considered asparagus a plant with sacred qualities and high medicinal value. Meanwhile, the Romans appreciated its culinary qualities. They often prepare them as appetizers or as a vegetable to accompany fish.
Since the 16th century, Europeans have used asparagus to serve dishes to noble people in the court. Until the 18th century, asparagus appeared on the local market and in many culinary creations.
Today, asparagus is widely grown and consumed around the world due to its delicate taste and great health benefits.
What About The Broccoli's History?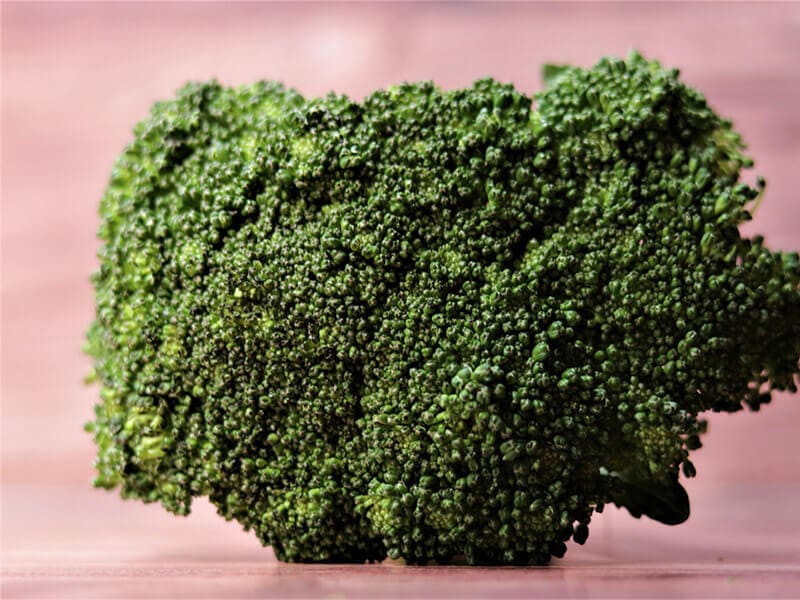 Broccoli is classified in the Italica group of Brassica oleracea (in the cruciferous group) together with vegetables like cabbage and cauliflower. The word "broccoli" means "cabbage's flowering crest".
Like asparagus, broccoli is also native to the Mediterranean but from the north. What a surprising coincidence, isn't it?
Used in Italy as early as the Roman Empire, broccoli was first introduced to England in the mid-18th century by the nickname "Italian asparagus".
Broccoli became more popular after its commercial variety was harvested in Brooklyn, New York. Recently, it has gained an excellent reputation as a fantastic vegetable for healthy menus, especially in Europe and Asia.
How much do you know about broccoli? If you are unsure of the answer, this explanation will help you.
Asparagus and Broccoli Comparison: What Catches Your Eyes?
I admit that these 2 vegetables are hard to confuse in appearance but other than that, do you know what the similarities and differences are?
Read this summary table together and find out what's special!
| Main Characteristics | Asparagus | Broccoli |
| --- | --- | --- |
| Origin | Eastern Mediterranean | Northern Mediterranean |
| Growing conditions | Can grow all year round, suitable for tropical climates. | Broccoli is a cool-loving vegetable usually grown in the spring but can also be planted in the fall. |
| Appearance | A spear-shaped vegetable. The most common variety is green asparagus (other: white, purple). | It has a thick stem, a cloud-like head, and is dark green. |
| Smell | Raw asparagus has an earthy, slightly acidic smell. When cooked, it smells like eggs. | Raw broccoli has an earthy smell. When cooked, the smell is a bit like eggs. |
| Taste | It tastes like green beans or broccoli. | A grassy flavor with a slight bitterness. |
| Texture | Raw asparagus has a fibrous, crunchy, and firm texture. | It is hard and crispy. |
| Shelf life | 3 days to 8 months | 3 days to 12 months |
| Uses | It's best to cook it instead of eating it raw. | Can be eaten raw or cooked. |
Growing Conditions
If you plan to grow these vegetables in your beautiful garden, read these short pieces of information!
Asparagus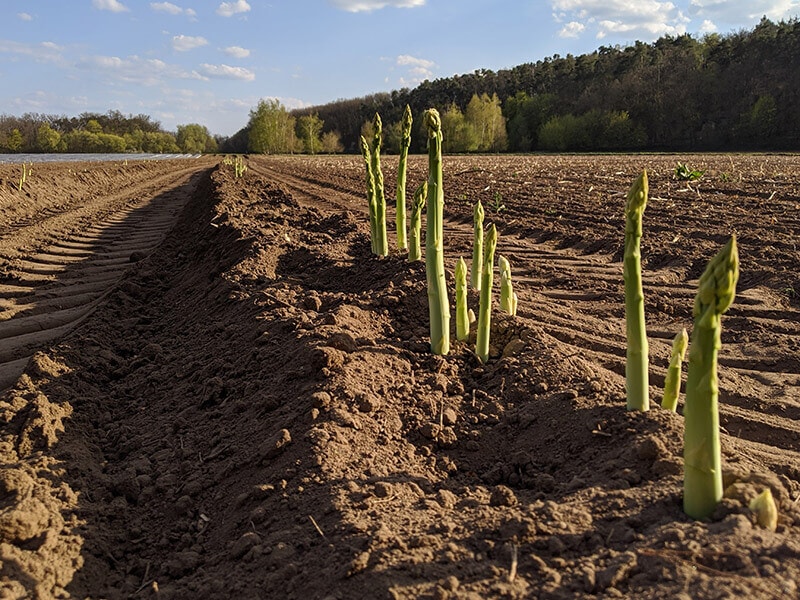 Asparagus is a light-loving plant. So make sure you plant them in a sunny and unshaded place.
It is great when your garden is in an area with hot days (75.2°F to 79.7°F), cool nights (59°F to 69.8°C), and low rainfall of less than 1000mm/year. They are all ideal conditions for asparagus to grow to its maximum!
Pay attention that soil moisture and pH should be controlled between 70-75% and 6.5-7.0pH, respectively!
To make sure your soil is good enough, check it with a Tester Kit for Moisture, Light & pH.
Of course, you also need to avoid planting them in low-lying areas or you don't want late frosts to destroy your tiny asparagus shoots!
It is not too challenging to plant asparagus with this instruction.
Broccoli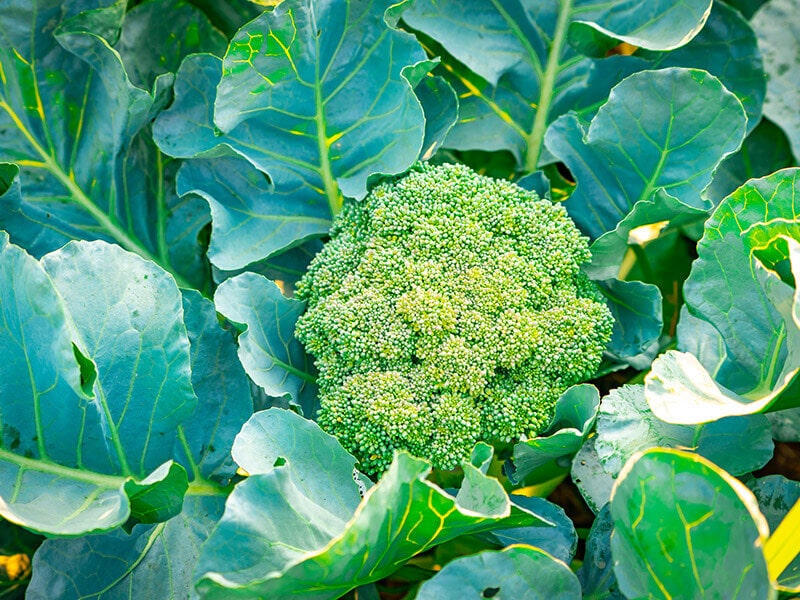 Broccoli likes cool seasons when the temperature is between 64.4°F and 69.8°C. Note that too high air temperature will affect the growth of broccoli head!
In my experience, you should also plant them in a location that has at least 6 hours of sun daily, enough water, and nutrient-rich soil.
With consistent moisture, broccoli will grow fast and well, please remember to "wet" them often!
Ensure that you control the pH of your soil between 6.0 and 7.0 pH for your broccoli to grow at its best and prevent root rot!
Flavor Profile And Smell
In this part, let's find out their flavor to find out which one is better for your cooking recipes.
Asparagus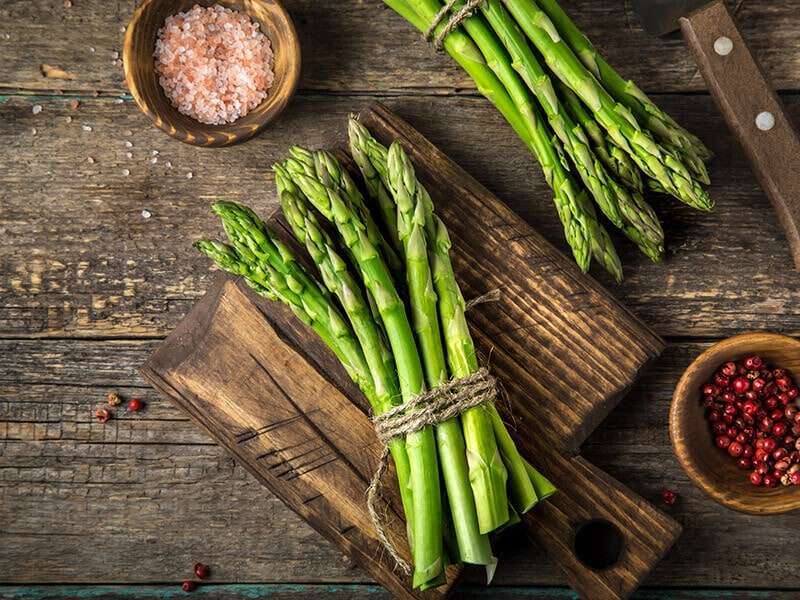 Asparagus typically have a slight earthy scent.
The taste of cooked asparagus will depend on how you process it. Strangely, while some people think they taste like broccoli, others suppose they are quite similar to green beans.
The white and purple varieties are relatively sweeter when comparing green asparagus with white asparagus and purple asparagus. Asparagus tends to taste slightly sour as it ages. To my taste buds, asparagus has a more robust flavor than broccoli.
Broccoli
Like asparagus, when raw, broccoli has an earthy smell. But when the broccoli is cooked, I also feel the egg aroma from this vegetable.
If you have the same experience as me, believe me, this is completely normal, and it does not mean that your asparagus has gone bad.
Honestly, I find broccoli quite bland at first. But when I slowly consume this veggie to find out its authentic flavor, I feel its grassy and slightly bitter taste.
Appearance And Texture
Amazingly, the taste and smell of these two vegetables are quite similar, isn't it? So how about their texture?
Asparagus
Asparagus is a perennial crop for vegetables, planted once but can be harvested many times a year. Its height can reach 100–150cm.
The most common asparagus kind is green asparagus. You can sometimes come across two other varieties in supermarkets and restaurants: white, thinner and more complex to harvest, and purple, which is smaller, sweeter, and softer.
Raw asparagus is quite hard, crunchy, and very fibrous. But once it's cooked, it can be soft or still crispy, depending on how you prepare it. If you overcook it, it will be pretty mushy!
Note that the bottom of the asparagus is extremely hard and needs to be removed before cooking.
Broccoli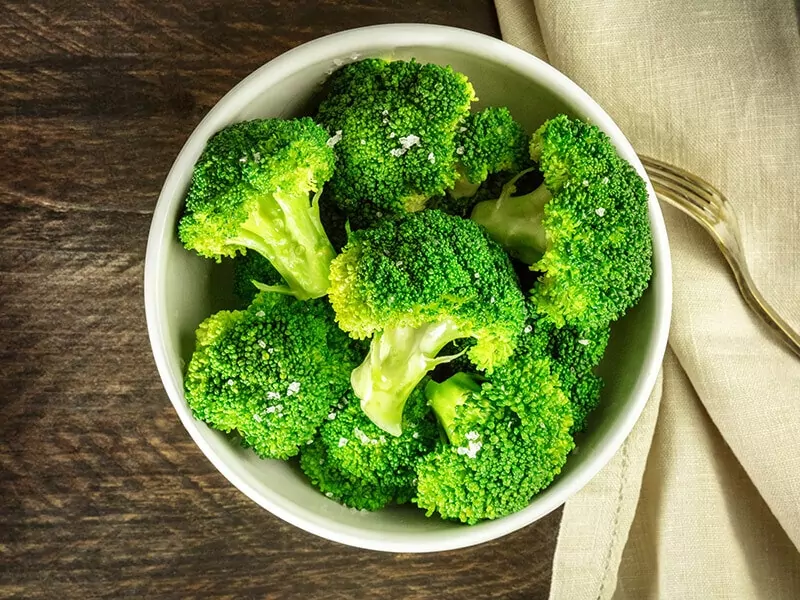 Broccoli has a green color and resembles a miniature plant. It has small, dark green flowers and a thick stalk.
Like many other vegetables, broccoli comes in a wide variety that provides a cooking and tasting experience to its users.
When you eat raw broccoli, you will feel it's crunchy and hard. Like asparagus, the bottom part of the broccoli is also quite tough, fibrous, and difficult to chew.
It is easy to guess that if cooked, not only the head of broccoli but also its whole body becomes soft and easy to bite!
Shelf Life
The shelf life of asparagus and broccoli will depend on how you store them.
Asparagus
At room temperature, raw asparagus will stay fresh for a day. Noticeably, asparagus is an easily-perishable vegetable. Especially when it's hot, asparagus will start to lose moisture and go bad.
A fairly common method to preserve asparagus longer is to refrigerate it. You can keep it for 3-14 days, depending on how it is stored.
If you keep asparagus in a container with a bit of water (about 1 inch) and put them in the fridge, your food will stay fresh for 10-14 days!
Meanwhile, if stored properly in the freezer, asparagus can maintain its quality for about 8 months. Luckily, it is possible to cook frozen asparagus directly without thawing it!
Do you know how to store asparagus in the refrigerator for a long time?
Broccoli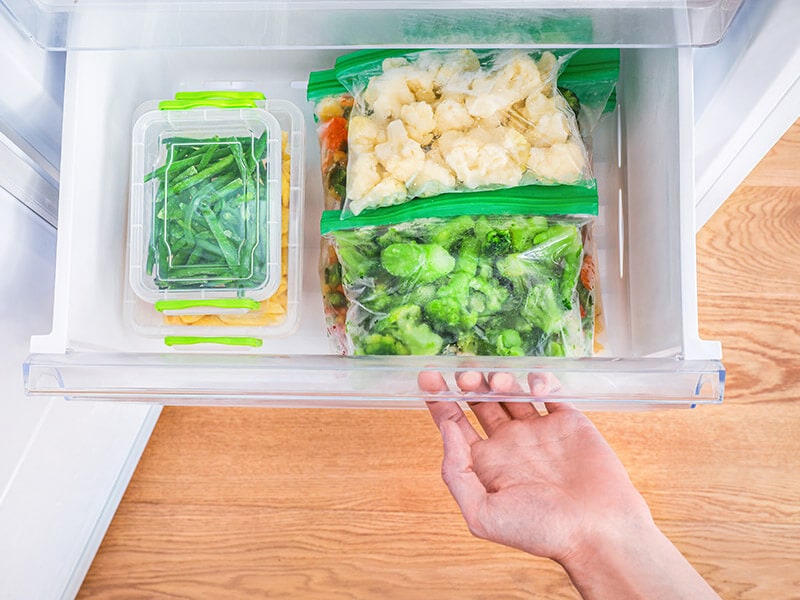 Freshly broccoli can be kept for 1-2 days at room temperature, but there is a high possibility that it will degrade and turn yellow.
Therefore, the refrigerator is a good place to store fresh broccoli for up to 7 days. If you tend to keep broccoli in sealed bags in the fridge like other foods? Forget it!
Try my method: wrap broccoli in damp paper towels before storing it in the fridge. You will find it to taste great as this way will provide the ideal environment for your broccoli, which is moist and breathable.
Important note: do not wash broccoli before storing to avoid excess moisture and mold growth!
Broccoli has a shelf life of up to 12 months in the freezer (if you've blanched it), but it certainly won't taste as good!
How To Use These Veggies?
Asparagus and broccoli are both nutritious foods, so how do you consume them?
Asparagus
The best way to use asparagus is to cook it instead of eating it raw because it is hard and difficult to digest.
There are many ways to process asparagus, the most popular being sauteed, grilled, steamed, and pickled with your favorite seasonings.
I will briefly review the 2 ways to prepare asparagus that I love to apply the most.
Stir-Fried Asparagus With Garlic
I swear this is such a simple recipe that even the worst cook can follow it!
First, wash the asparagus, cut off the hard part at the bottom and cut it into bite-sized pieces.
Next, heat the cooking oil in a pan and add the garlic. When the garlic is fragrant, add asparagus and stir-fry with soy sauce, sugar, and sherry to create great flavors that your whole family will love.
Stir on the stove for about 2 minutes, and you will have a delicious dish!
This is an extremely attractive dish that I have fallen in love with in recent years! The first step is to melt the butter and stir-fry the garlic until they are fragrant. Right after that, saute asparagus with salt and pepper until golden.
Next, add the broth and simmer until the asparagus is soft, then put in the blender. Finally, bring the pureed mixture to a hot pot and add cream.
You can smell its fragrance just by reading this description, right? What are you waiting for, try it!
This asparagus soup is a perfect meal for a vegan diet. Let's try it!
Broccoli
Unlike asparagus, it's great to inform you that you can absolutely eat broccoli raw and still taste great!
To my taste, I always find broccoli to have a bland flavor so I wouldn't choose to eat them alone. Normally, I'll mix them up with my favorite seasonings.
Here are 2 broccoli recipes that I think it's suitable for everyone, even kids.
After you've washed, chopped raw broccoli and purple cabbage, you just need to mix them with golden raisins, almonds, green onions, and orange sauce. And, a fresh green salad for your nutritious meal is on your plate!
However, I still prefer the taste of broccoli when it is cooked. Out of countless recipes, grilling broccoli is the fastest way to get my plate of veggies out of the way!
This recipe is incredibly simple!
You will start by washing the broccoli and cutting them into bite-sized pieces. After that, sprinkle them with salt, pepper, lemon juice, lemon slices, and olive or avocado oil.
Next step, pay attention to spread them evenly on a baking tray and grill them at a temperature of about 350 °F for 7 to 10 minutes.
Finally, all you need to do is place your fragrant grilled broccoli on a plate with parmesan cheese!
Otherwise, broccoli is also commonly prepared by steaming – a healthy recipe, or pan-frying and frying.
Asparagus Vs. Broccoli – Which One Is Winner Regarding Nutrition?
Did the information above give you a complete overview of asparagus and broccoli? Not yet, an extremely important piece of information you should not ignore is their nutritional value (1).
I have compiled the nutrients that I consider important in the table below:
| Nutrient (Based on 100 grams) | Asparagus | Broccoli |
| --- | --- | --- |
| Calories (Atwater General Factors) | 20 kcal | 39 kcal |
| Protein | 2.2 g | 2.57 g |
| Carbohydrates | 3.88 g | 6.3 g |
| Total Lipid (Fat) | 0.12 g | 0.34 g |
| Vitamin A | 38 µg | 8 µg |
| Vitamin B1 (Thiamin) | 0.14 mg | 0.1 mg |
| Vitamin B2 (Riboflavin) | 0.14 mg | 0.11 mg |
| Vitamin B6 | 0.09 mg | 0.19 mg |
| Vitamin C | 5.6 mg | 91.3 mg |
| Vitamin E | 1.13 mg | 0.15 mg |
| Vitamin K | 41.6 µg | 102 µg |
| Calcium | 24 mg | 46 mg |
| Iron | 2.14 mg | 0.69 mg |
| ZinC | 0.54 mg | 0.42 mg |
| Potassium | 202 mg | 303 mg |
Calories
Estimated per 100 grams, asparagus can be found to be slightly lower in calories than broccoli (about 14 calories).
Macronutrients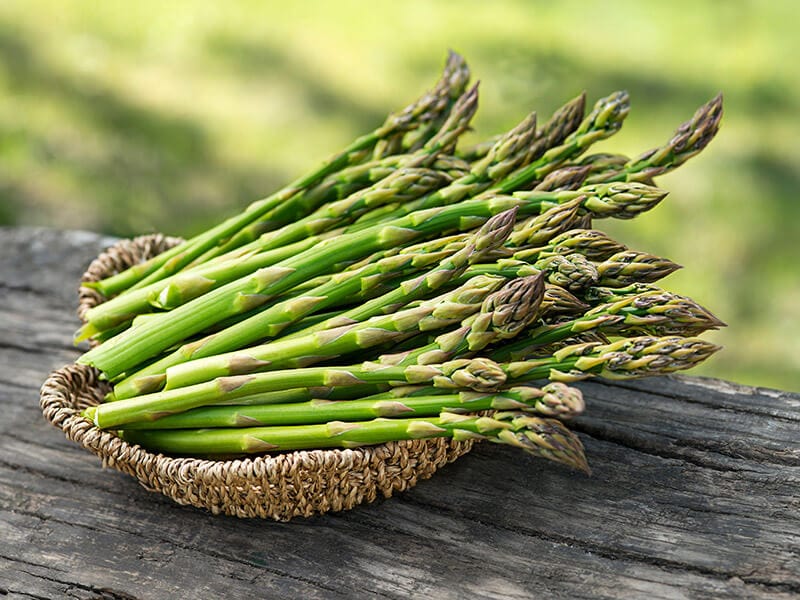 In terms of macronutrient ratio (protein: carbon: lipid), the figure for asparagus is 35:63:2 and that of broccoli is 28:68:4. You see, in asparagus and broccoli, most of the calories come from carbs.
There are about 3.38g of carbohydrates in 100g of asparagus and 6.3g of carbohydrates in 100g of broccoli. Let me do the math again – the difference is about to 86%.
Moreover, although both of these vegetables are rich sources of fiber, broccoli has 24% more fiber than asparagus.
Vitamins
First, I would like to mention vitamin B because its deficiency can lead to diseases such as immune disorders, gastritis, and muscle weakness.
According to statistics, asparagus has a greater amount of thiamin and riboflavin, while the amount of Vitamin B6 in broccoli is higher.
However, it's worth noting that neither asparagus nor broccoli has vitamin B12 that so many vegans lack in their diets.
An interesting fact is that nutritionists often link broccoli as a perfect source of vitamin C as it has 16 times more vitamin C than asparagus. Broccoli has 91.3mg of vitamin C per 100 grams, whereas asparagus has only 5.6mg of vitamin C.
Likewise, broccoli also provides you a higher amount of vitamin K as it contains almost 3 times the vitamin K of asparagus. In return, the amount of vitamin A and vitamin E in asparagus is higher than that of broccoli.
Minerals
When it comes to calcium in your vegetable diet, broccoli will be a worthy choice. It gives you up to 46 mg of calcium per 100g, almost 2 times more than asparagus!
Calcium is one of the key minerals that make up most of your bone mass. Please remember to get enough calcium needed each day to maintain body growth!
Meanwhile, iron is the more abundant micronutrient in asparagus. However, this type of iron is non-heme iron, which is not easily absorbed. On the other hand, although broccoli has 1.5 times more potassium than asparagus, they are both low-potassium foods.
How broccoli improves your health? Check here for more details.
Other Interesting Facts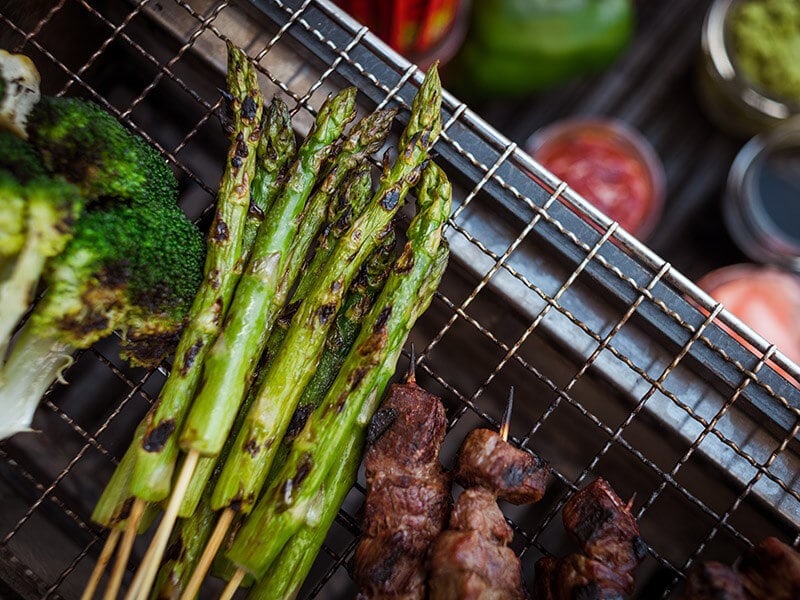 From the information above, do you have a better understanding of asparagus and broccoli? But it doesn't stop there, I will tell you some funny secrets about these two vegetables that you might probably be surprised by!
The Amount Of Antioxidants In Asparagus Is Higher Than In Broccoli
Antioxidants play a very important role in preventing aging, cardiovascular diseases, diabetes, and cancer.
Both of these vegetables are high in antioxidants with other nutrients like vitamin C, vitamin E, polyphenols, and flavonoids.
However, according to studies, asparagus contains 3 to 5 times more flavonoids than broccoli, so it has a higher level of antioxidants than broccoli (2).
Broccoli Is A Promising Solution For Diabetics
Scientists have discovered evidence of broccoli's ability to fight type 2 diabetes (3) . Moreover, broccoli contains sulforaphane, a nutrient found in cruciferous vegetables.
This substance has insulin resistance properties and activates enzymes that have a protective function to limit damage to cells caused by high blood sugar levels.
Furthermore, sulforaphane has the ability to suppress glucose production and reduce fasting blood glucose levels in type 2 diabetics.
Both Are Good For Heart And Can Limit The Risks Of Some Cancers
Due to the richness of potassium and fiber, both asparagus and broccoli effectively dissolve the annoying cholesterol in the blood and regulate blood pressure.
The consumption of broccoli is especially recommended to avoid the risk of cardiovascular diseases because they have flavonoids that help reduce cholesterol levels in the blood.
Likewise, asparagus is also a rich source of flavonoids. Additionally, asparagus contains many saponins that can bind to cholesterol in the digestive tract, so they no longer have the opportunity to "travel" in your blood!
Besides being good for the heart and antioxidants, asparagus and broccoli also work to reduce the risk of cancer in some organs.
Compounds such as isothiocyanates and sulforaphane in broccoli can reduce the risks of breast, lung, kidney, and bladder cancer.
It has also been reported that the risk of prostate cancer in those who consumed three cups of broccoli per week was reduced by 40% compared to once weekly.
Meanwhile, asparagus contains components against breast, ovarian, and endometrial cancer.
FAQs
I researched and filtered out some common questions about asparagus and broccoli. I'm sure some of you here will share the same questions. Please find the answer here!
Which Should You Choose: Asparagus Or Broccoli?
Honestly, both are great choices for "green" nutrition on your dining table! They will give you amazing health benefits in terms of heart disease, cancer, and aging.
However, you should keep in mind that no single vegetable can give you all the nutrients your body needs. Asparagus or broccoli has its own values.
If you want a vegetable rich in vitamin A, vitamin E, iron, thiamin, and riboflavin, then what you need is asparagus.
Otherwise, when your need is more energy, protein, vitamin C, calcium, and potassium, what are you waiting for, choose broccoli!
Have you made your own choice yet? If you have any questions, let me know in the comments section. All in all, if you found this article useful, please share it with your friends and loved ones!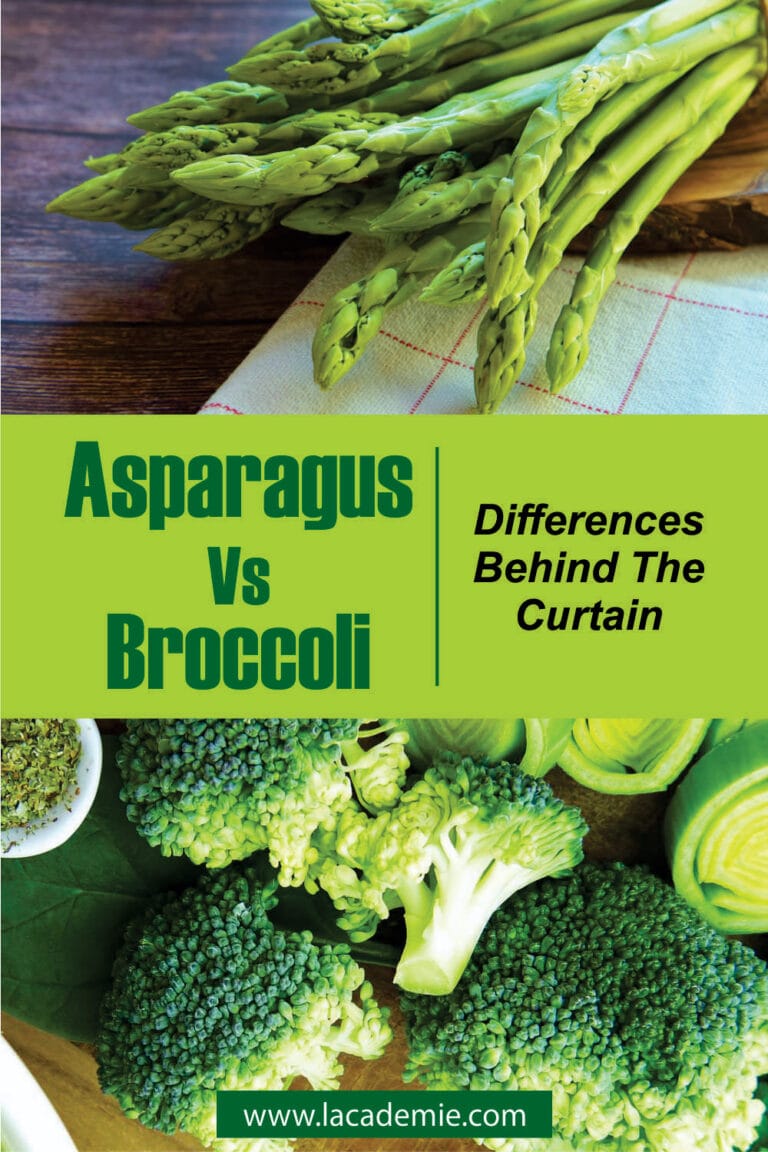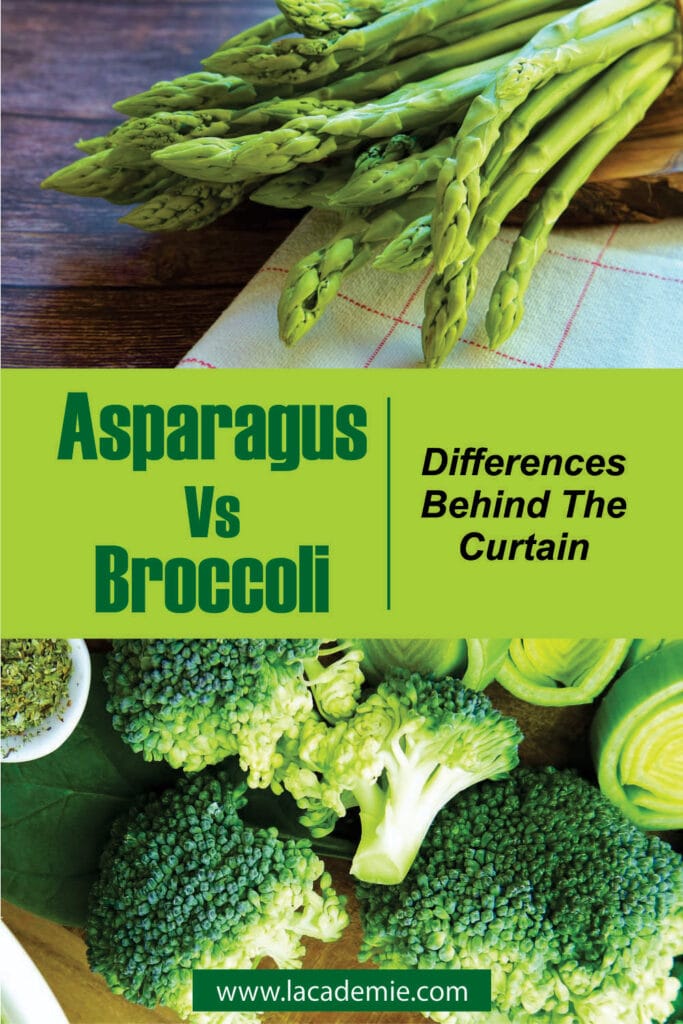 Reference
U.S. DEPARTMENT OF AGRICULTURE. 2019.
1998. Phenol Antioxidant Quantity and Quality in Foods:  Vegetables.
Taylor & Francis. 2012. Effect of broccoli sprouts on insulin resistance in type 2 diabetic patients: a randomized double-blind clinical trial.