How many times have you asked yourself "how to freeze asparagus"? If you just put the whole asparagus into the freezer, it may probably go bad really quickly before you have the chance to use it. So, how to do it the right way?
The method that I'm going to share with you here in this article is a bit meticulous, yet not complicated at all. So don't worry, everyone is new in this town!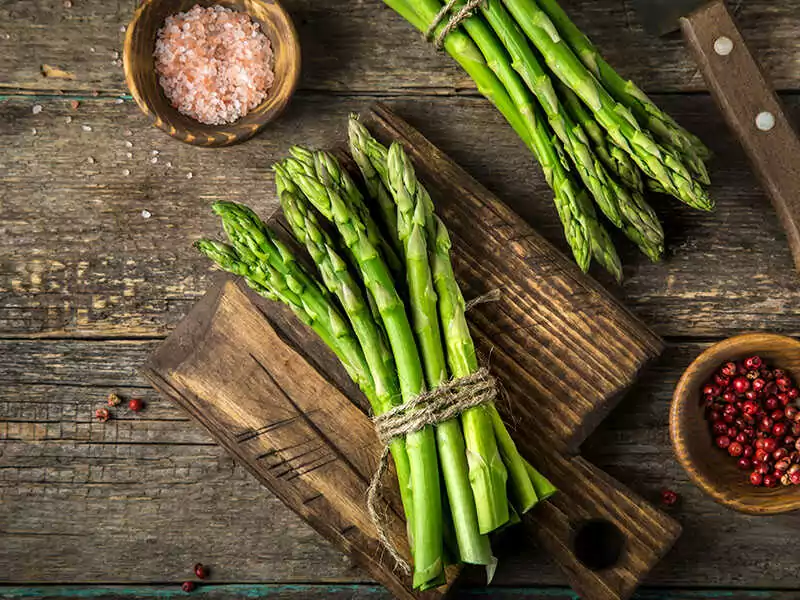 I will not waste your time anymore, let's jump to the brief solution to your problem:
Do You Know How To Store Asparagus In The Freezer?
Here's my recommendation:
Step 1: Choose the best asparagus.
Step 2: Prepare some essential items for freezing.
Step 3: Prepare the asparagus by sorting, washing, peeling, and trimming them.
Step 4: Blanch the asparagus.
Step 5: Freeze the asparagus in the freezer.
Still confused? See how they freeze asparagus with these quick steps!
Want to get more details about this instruction? Read more because I will show you the most detailed guide for freezing asparagus that you've ever seen!
Something You Should Know About Asparagus
Asparagus has been a common vegetable to serve in many main and side dishes. For instance, this veggie can be used to whip up lip-smacking roasted asparagus with garlic, an amazing side dish for cod fish. Asparagus also holds many interesting facts and information that may surprise you!
Brief Overview On Asparagus Plant
Asparagus, or also called garden asparagus, is a member of the Asparagaceae family. It is a perennial, flowering plant from Western Asia, Northern Africa, and Europe. Nowadays, it is cultivated worldwide in temperate climates.
Asparagus harvesting season is in spring, which is specifically from February to June, with the peak in April. This distinct plant is a great representative of the spring. (1)
Special Appearance And Taste
You can recognize asparagus with the green color, but asparagus also has other species with white and purple color. Violetto d'Albenga is the purple asparagus from Italy. White asparagus is actually the regular asparagus that grows without sunlight.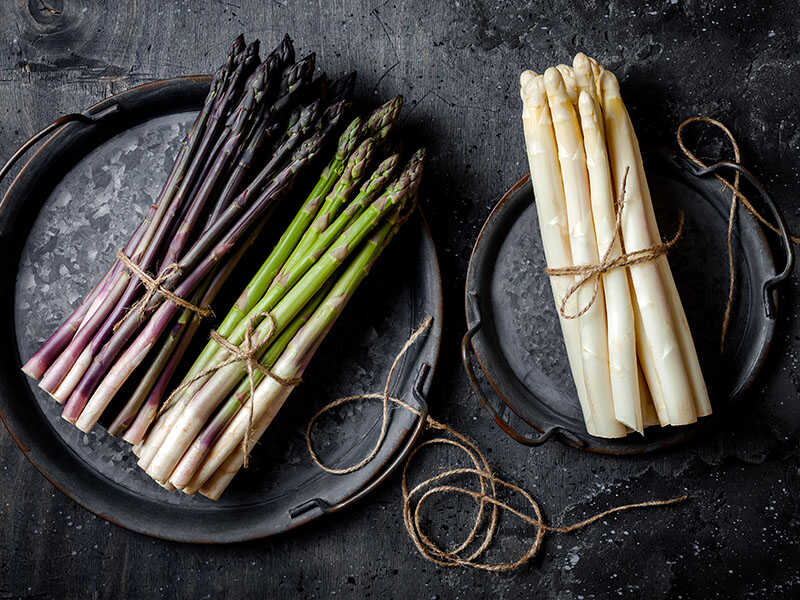 When it comes to the flavor of asparagus, many people find it quite hard to describe. Although it's hard to pin down the exact description for this vegetable's flavor, the general consensus is that asparagus is quite a pleasant-tasting food.
Overall, this versatile veggie has quite a strong flavor, which can be described differently based on personal tastes. Asparagus is most comparable to broccoli, mushroom, and green bean in taste. When joining in a dish with other ingredients, it can actually change its flavor.
While cooked asparagus is a popular dish, some people also wonder if they can consume asparagus raw. Well, indeed you can, but proper cleaning and preparation are required.
The Most Effective Method To Freeze Asparagus
Freezing is one of the best methods for storing asparagus as it can extend the vegetable's shelf life up to a year. Now, I'm going to show you the best guide and tips on how to freeze asparagus.
How To Pick The Fresh Asparagus Before Freezing
In order to get high-quality frozen asparagus, the first thing you need to do is to choose the best fresh asparagus from the market. The following tips may be helpful for you.
Appearance
Good asparagus has tender, crisp, and firm stalks. The asparagus tips hold the key taste of the whole stems, so observe them carefully. They should be strong, intact, and unwilted.
The color is also an important sign. Any good asparagus in green, white or purple should not be faded in color. They should have an even color on the whole stem, a slight purple tinge on green asparagus is acceptable.
There are various sizes of asparagus spears. It may be as thin as a pencil but sometimes as fat as a thumb. Try to choose the asparagus that stays at the same size, especially thicker spears, so when you get all of them frozen, they will have better quality in harmony.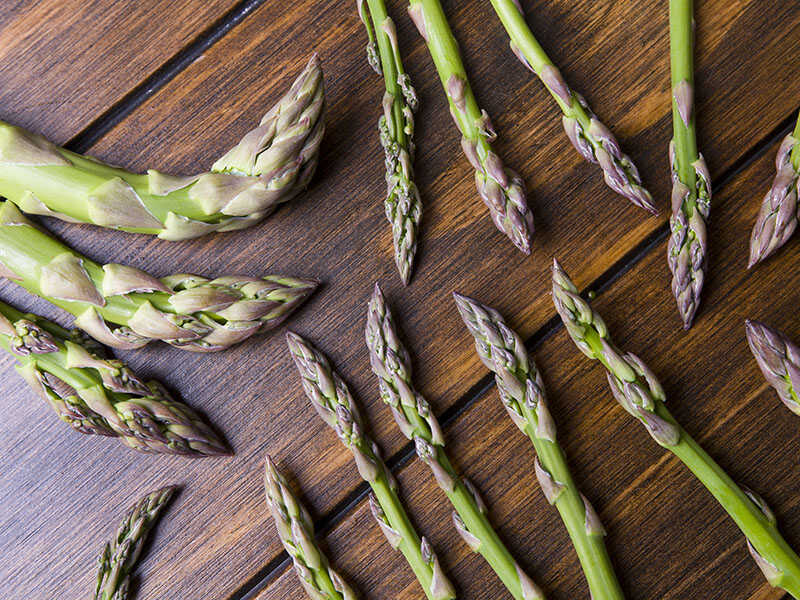 Tip: If you are purchasing asparagus at a local or farmer's market, you can actively ask the grocer or seller to pick out the same-sized bunch of asparagus spears and wrap them up for you.
Smell
You should also smell the asparagus when buying them. The one that passed its prime usually has a strange odor, while the fresh asparagus smells mild and natural or doesn't have any specific smell.
Remember, the fresher the asparagus spears are, the less you have to prepare for them in the freezing process. So try to look for the best asparagus right at the beginning!
Must-Have Equipment To Prepare
Before starting the process, there are some important tools that you have to prepare, which include:
A sharp knife
A cutting board
Pot(s)
Water
Ice cubes
Large bowl(s)
Kitchen towel
Parchment paper
Baking sheet
Ziploc airtight bag(s) or container(s)
Vacuum packing machine (optional)
Freezer/Refrigerator containing freezing drawer
Do you have everything from this checklist? If the answer is yes, let's start now!
The Best Instruction To Freeze Asparagus Ever
After finding all the essential items and kitchenware, now it's time for you to freeze your asparagus. Follow these steps for the best result!
Step 1: Prepare The Asparagus
First, pick out the best asparagus spears from all of those you bring home. The final bundle should not include any soft, soggy, wilted, faded, shriveled spears.
Although I have advised you to choose the same-sized asparagus at the beginning, some of you may accidentally buy bunches of asparagus spears with different sizes. If so, you need to sort them by size (small, medium, large) to support the next steps.
Wash them: Put all of the chosen asparagus in a colander or any container and rinse them under cold water. Carefully wash to eliminate all the dirt and impurities.
Peel them (optional): After rinsing, peel their tough outer layer with a swivel peeler. This is one of the things that differentiate green and white asparagus. White asparagus is usually peeled from the tip to the bottom, while green asparagus is peeled reversely.
Trim them: Always trim the woody end part of the asparagus. You can just snap them off with two fingers or cut them off. An inch counting from the bottom is fine to cut off. You can keep the trimming parts for later soups or you can just discard them.
Learn the most effective way to trim the woody ends of asparagus!
Step 2: Blanch The Prepared Asparagus
Some other methods will advise you just to put all the prepared asparagus into the freezer and finish the freezing process, but the best method will tell you to blanch them first. Blanching is a cooking method to expose your foods to boiling water or quickly stem them.
It is a little finicky but provides a positive long-term effect for your frozen asparagus. They will taste and look much better after being frozen if you blanch them at the starting point:
Cut the prepared asparagus in half with a sharp knife. Avoid using a blunt knife, as it can bruise and damage your vegetables. If it's too blunt, I recommend sharpening it with a good honing steel.
Next, choose 1 out of 2 following ways of blanching:
Option 1 – Boil method: Boil water in a large pot. The water should reach two-thirds of the pot. Put the asparagus inside the pot when the water is boiled, leave for 2 to 4 minutes. The larger the asparagus spears are, the longer they need to be blanched. (2)
Option 2 – Steam method: Pour water in your steaming basket and start to boil it. When you see boiling bubbles, add the asparagus spears in the basket and put a lid on. Wait for about 3 to 6 minutes based on the sizes of the asparagus.
While waiting for the blanching step, prepare a big bowl containing cold water with ice cubes. Put the blanched asparagus in the prepared ice water until they cool down.
Take them out of the water, then pat them with a kitchen towel until they get completely dry. If they are still damp after this step, they will end up being frosty and freezer burnt.
Blanch your asparagus with these easiest steps ever!
Step 3: Freeze The Asparagus
Arrange the asparagus pieces evenly in a single layer onto a baking sheet lined with parchment paper.
Place the baking sheet with asparagus in the freezer for an hour.
After an hour, take it out and transfer it all into zip-lock airtight bags or containers. This step is important. Make sure that the outcome containers of asparagus contain no air. You can use a vacuum packaging machine for this step.
Put the airtight bags into the freezer again. Store them like that for long-term usage.
If this whole process is done properly, the frozen asparagus can last up to one year or more! Although it's a bit meticulous, I believe that if you follow this guide precisely, your asparagus will be stored in the fridge for a pretty long time!
You need to keep in mind that even if your asparagus is properly frozen, it can't last indefinitely. Paying attention to signs indicating that asparagus has gone bad will prevent you from accidentally consuming unsafe food.
Bonus tips: You can also store the fresh asparagus spears in the refrigerator for instant cooking. If you store them properly, they will last in the fridge for 3 to 5 days.
Incredible Dishes To Cook With Asparagus
There are different ways to cook asparagus. Some are based on the thickness of the asparagus spears. "Pencil-like" spears can be directly steamed, grilled, or stir-fried, while "thumb-like" ones have to be boiled or steamed more to get tender before cooking.
Don't just boil, try this amazing grilling method to cook your asparagus!
You don't need to thaw frozen asparagus before cooking them. However, you should leave them at room temperature for a few minutes before exposing them to heat.
Fresh and frozen asparagus can be used interchangeably. There's no significant difference between their texture and taste. So, in the following recipes, you can use both types of asparagus but still keep the original flavors of the dish! Try to make these delectable recipes!
This simple recipe has asparagus as the main ingredient. With some more easy-to-find components, you will get an absolutely delicious side dish in just 15 minutes! Roasting makes asparagus have a more intense and savory taste to tell. Try this recipe now
Cook perfect lemon garlic roasted asparagus in just a few steps!
If you love both the salty taste of bacon and the strong taste of asparagus, why not combine them into one dish? This recipe is a perfect combination of the two! Especially for the holidays, these bacon-wrapped asparagus bundles become the most delicious appetizer!
With all the amazing nutrients in these two main ingredients, salmon and asparagus, I believe that this dish is both healthy and tasty in every way! Once you try it, I'm sure it will be the must-have dish on your dietary meals recipe list!
Above are the recipes requiring asparagus and some simple ingredients! Try my suggestions and I think you'll totally love them!
Surprising Health Benefits Of Asparagus
Asparagus consists of several vitamins and minerals that can help boost your mood and immune system. This veggie includes vitamin K, vitamin C, vitamin E, vitamin B1, B3, and B6. It is also an amazing source of folic acid, potassium, fiber, zinc, iron, chromium, etc.
Asparagus is super low in calories, with only 20 calories in 100 grams, so it's a perfect food for your dietary meals. It is especially good for pregnant women with tons of nutrients like folic acid that can support them to go through a healthy pregnancy.
As a fiber-rich vegetable, asparagus makes a positive impact on your digestive system. You can meet your needs of fiber a day with just half a cup of asparagus! It also helps reduce blood pressure and heart-related illnesses. (3)
Amaze yourself with the incredible nutrient values of asparagus! Watch this video:
FAQs
Maybe all the above information is not enough for you in this entire freezing process, so here I provide you with some more frequently asked questions and brief answers to solve your confusion!
Try My Method Of Freezing Asparagus To Amaze Yourself!
I hope you love this method of freezing asparagus! It has a lot of steps and work to do, but it is not difficult at all! Try to follow the guide and you will get the best-frozen asparagus ever!
Also, try the recipes with asparagus that I suggest, and comment below if you like them! Which one is your favorite? I'd love to know!
Nutrition Facts
1 servings per container
Serving Size5 spears (75g)
---
Amount Per ServingCalories17
% Daily Value *
Total Fat 0.2g

0

%
Sodium 11mg

1

%
Potassium 168mg

5

%
Total Carbohydrate 3.1g

1

%

Dietary Fiber 1.5g

4

%
Sugars 1g

Protein 1.8g

2

%
---
Vitamin A

15

%
Vitamin C

9.6

%
Calcium

1.3

%
Iron

3.8

%
* The % Daily Value tells you how much a nutrient in a serving of food contributes to a daily diet. 2,000 calories a day is used for general nutrition advice.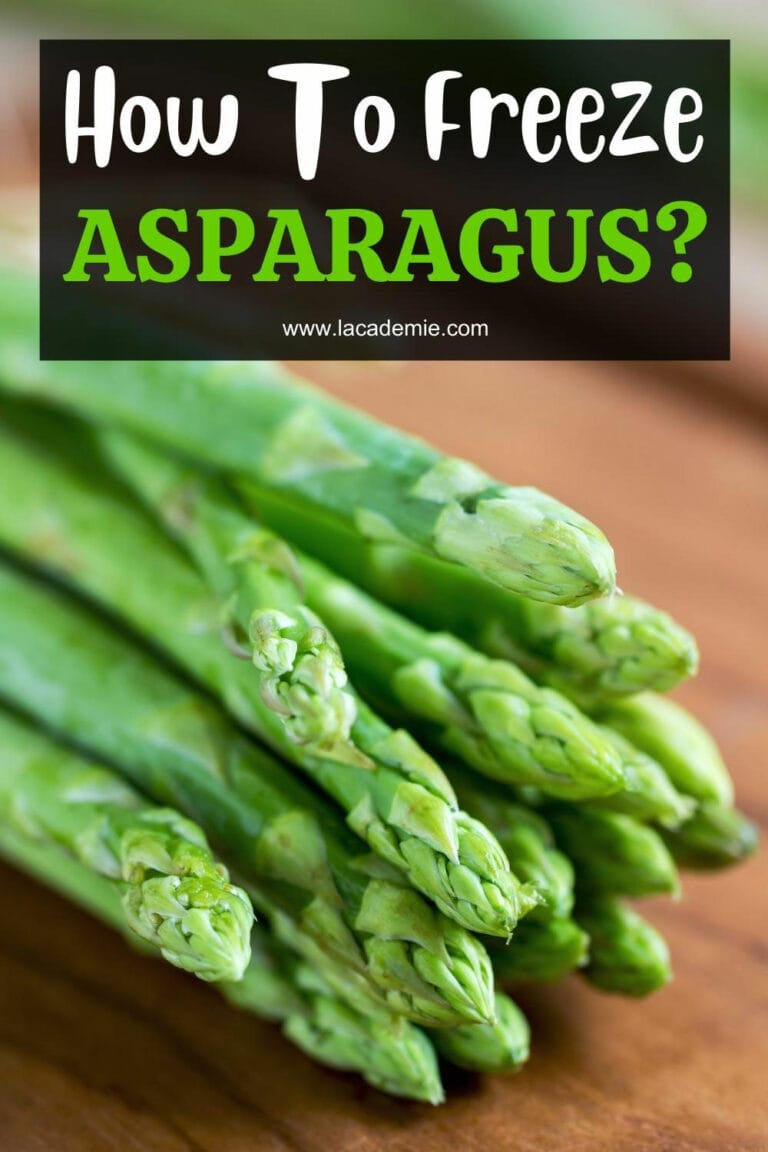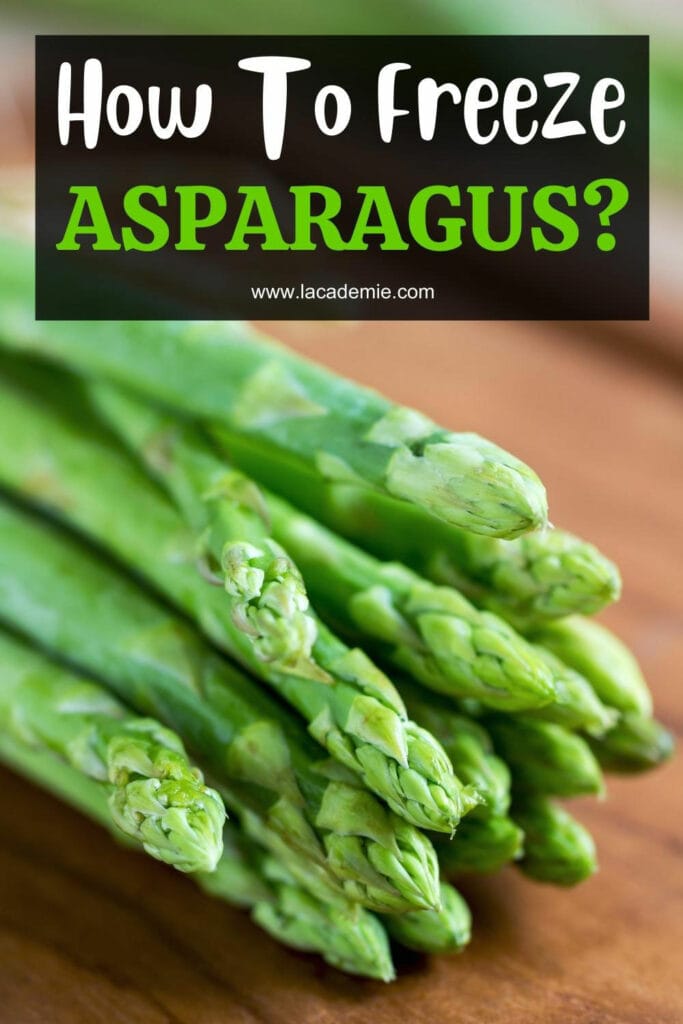 References
En.wikipedia.org. 2021. Asparagus – Wikipedia.
Nchfp.uga.edu. 2021. National Center for Home Food Preservation | How Do I? Freeze.
Healthline. 2018. Top 7 Health Benefits of Asparagus.