Have you ever wondered: can you eat asparagus raw? Given that it is a vegetable, I'm sure this question may or may not have popped into your head when you stand before fresh asparagus in the market or while eating one.
You can find all the answers you need to satisfy your curiosity here. And you can even learn how to distinguish different types of asparagus, what side dish to eat it with, some recipes, and more!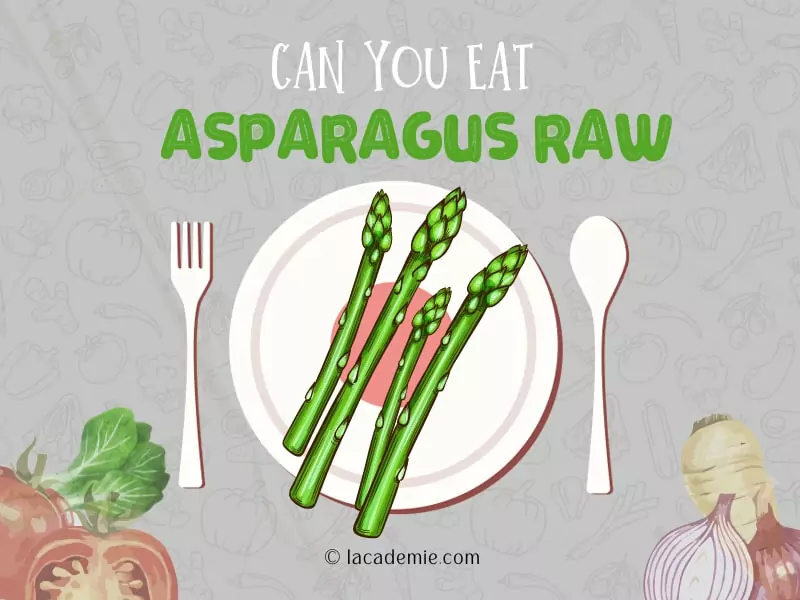 Can You Eat Asparagus Raw – The Definitive Answer
Yes. The answer is a big YES. Plus, there are reasons why you should eat asparagus raw rather than cooked. Its texture is generally tough, so some people may not like it raw. But with some proper knowledge and preparation, you are in for a great time.
The asparagus comes in several major varieties. The easiest way to distinguish them is by their colors: green, purple, and white. There's also the fourth one you'll unlikely see in markets and stores: wild asparagus. All of them are edible. They differ in terms of flavor and texture.
Learn more about the distinct characters and flavors of each variety by scrolling down below:
| Asparagus | Taste | Characteristics |
| --- | --- | --- |
| Green | Bold and grassy | Crisp yet tender |
| Purple | Sweetest | Very tender |
| White | Milder and slightly bitter | Thicker skin |
| Wild | More delicate and natural | Longer and thinner |
Green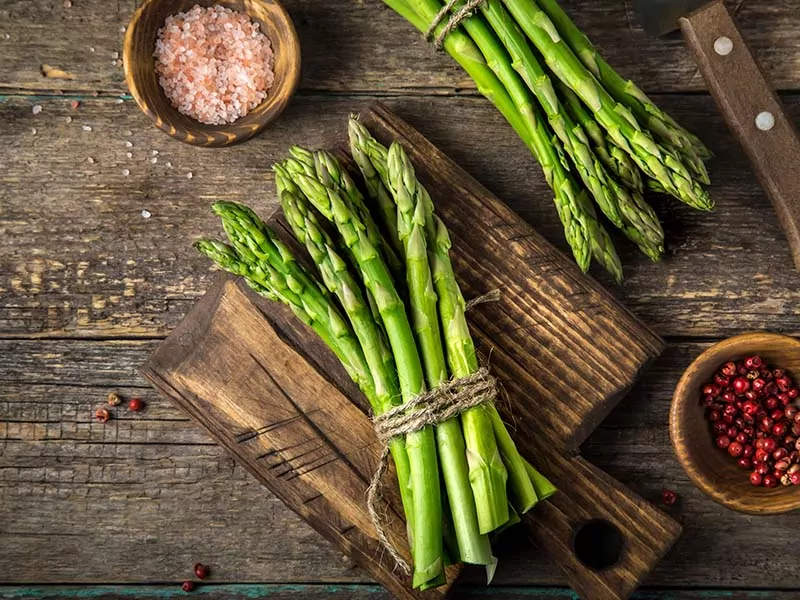 This is the most likely one you will find when shopping for asparagus. When talking about the flavor of asparagus, people often think of this type first: Strong taste with a bit of grassiness. The texture is also smooth to the touch.
Flavor-wise, some people compare green asparagus to green beans. However, the former is still bolder than the latter.
This variant sports a bright green color. Its fiber content is high, so it's tougher than others. Interestingly, the thicker green asparagus's texture is tender than thinner ones.
Learn more about how asparagus is grown and farmed here.
Purple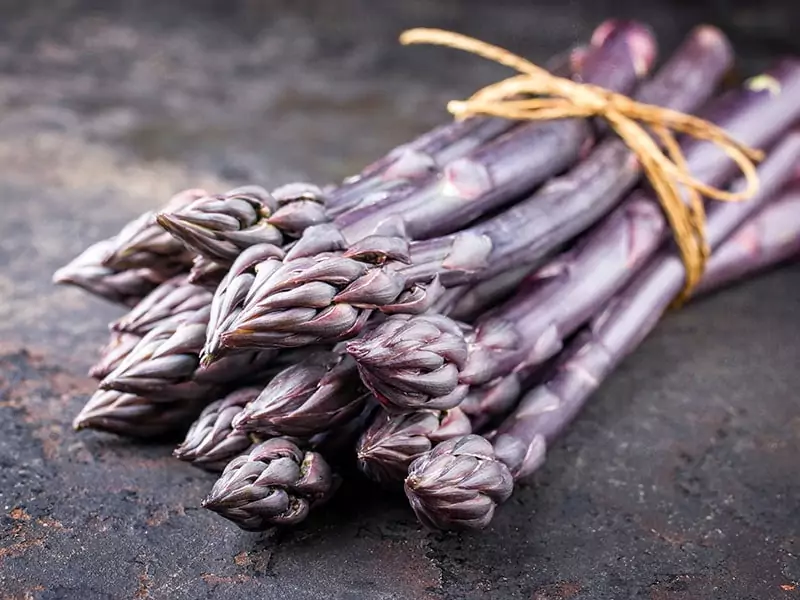 Purple asparagus is the most noticeable one out of all variants. It owes its vivid color to a high concentration of anthocyanin, an antioxidant. Purple asparagus's texture is also more tender than its siblings due to lower fiber counts.
As for the flavor, it's the sweetest among the varieties and a bit nuttier. Purple asparagus's color and tenderness may deteriorate upon contact with heat. So most people who want to preserve the purple hue prefer to consume this variant raw or barely cooked.
White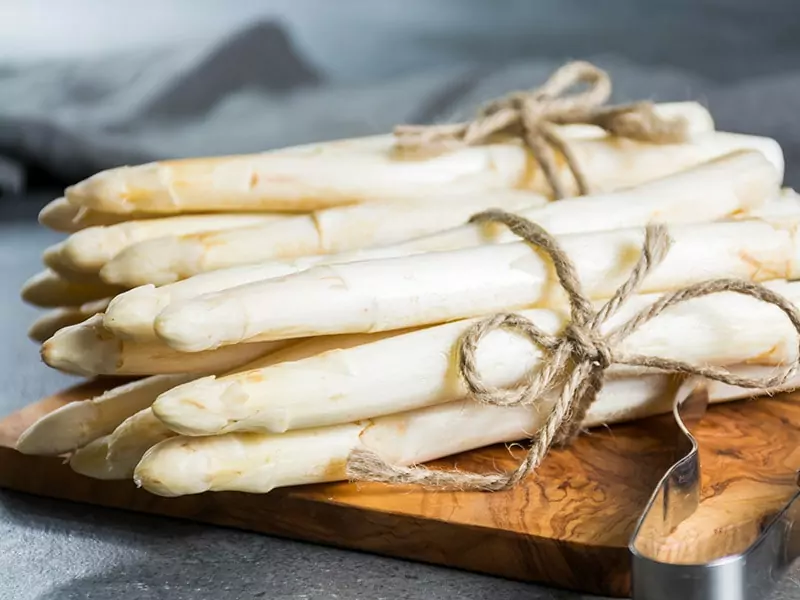 This type of asparagus lacks colors because it grows in dark places. Aside from that, it is very similar to the green ones in terms of size and texture. The flavor can be described as somewhat mild and bitter, though.
What sets white asparagus apart from its green counterpart is its thicker outer skin, which needs to be peeled if you want to avoid a stringy experience. White asparagus is also more expensive as the growing process requires more effort than the green.
Note: The white asparagus is edible. However, more often than not, it's tougher and more difficult to chew than its green counterparts. Thus, some people warn not to eat it raw.
Wild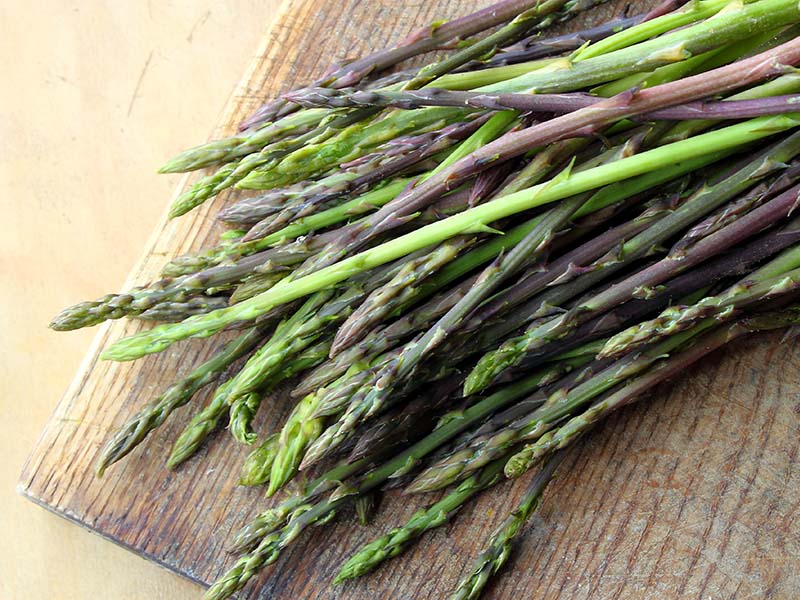 As the name implies, you can only find this type in the wild. It's less productive. Wild asparagus is longer, thinner, also more intense in flavor than its cultivated counterparts.
Similar to their cousins, you can eat these raw. However, you don't know about the contamination and quality of the plant and the soil. Some pests may have made wild asparagus their home, or the bad environmental condition may have affected its edibility.
So it's safer and better to consume store-bought asparagus as you can't always be sure if the wild asparagus you found is a real (bad) asparagus or a look-alike plant.
Why Asparagus Is Better Eaten Raw Than Cooked
Explore the benefits of the amazing asparagus, which can be eaten raw.
Many people want to know the proper time to bake asparagus at 400, so the idea of consuming raw asparagus seems to be odd. But it's feasible, and you can even get the benefits that the cooked asparagus doesn't offer. Plus, you can even surely avoid overcooking.
It's a known fact that cooking will affect the amounts and the availability of nutrients in vegetables, especially if you overcook them. (1) For example, in one study, people found that vitamin C content in cooked asparagus is lower by 52%. (2)
Raw asparagus is highly nutritional and low in calories. It's a rich source of fiber, folate, and vitamin K. There's also a high content of antioxidants, which may help prevent cancer. In short, you get all of these nutritional values and their full benefits from eating raw asparagus.
The texture of the asparagus also changes depending on whether it's cooked or not. If you are a crunchy lover, go for raw. On the other hand, if you order something tender and don't mind losing some of that nutrients, cook the asparagus.
Have you tried enjoying asparagus without any preparation? Find out more here.
Tips For An Enjoyable Asparagus Raw Eating Experience
You can't just buy asparagus from the store and dig into it immediately! There's an order to do things like this. It's not much of a hassle, but here are some simple steps to ensure you get the best out of your raw asparagus:
Pick Out The Freshest Ones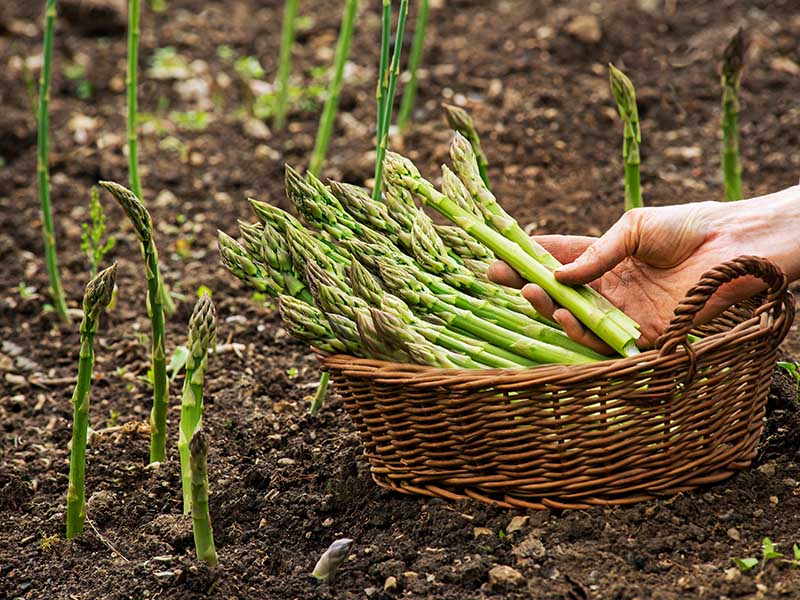 Choosing the right asparagus can be a little tricky. But aside from some guides to select out the bad asparagus, there are tips and tricks that you can use to pick out the most suitable ones for raw consumption. What's important is the freshness.
The Top End
Look closely and see if the tips (the foremost part of the plant) are closed tightly or not. If they are, it should be good. A nice dark green or purple shade on the spears (just below the tips) is another visual cue for good quality.
The Stalks
Touch the stalk (the body) of the plant. It should be firm but a bit tender with a smooth texture. If they are mushy or limp, put them down.
The Bottom End
Then check the bottom part (the woody ends) of the stalk. This part should be moist and plump. Ideally, the stores should store asparagus in a jar with some water or keep them chilled.
Wash The Whole Thing And Slice The Stalks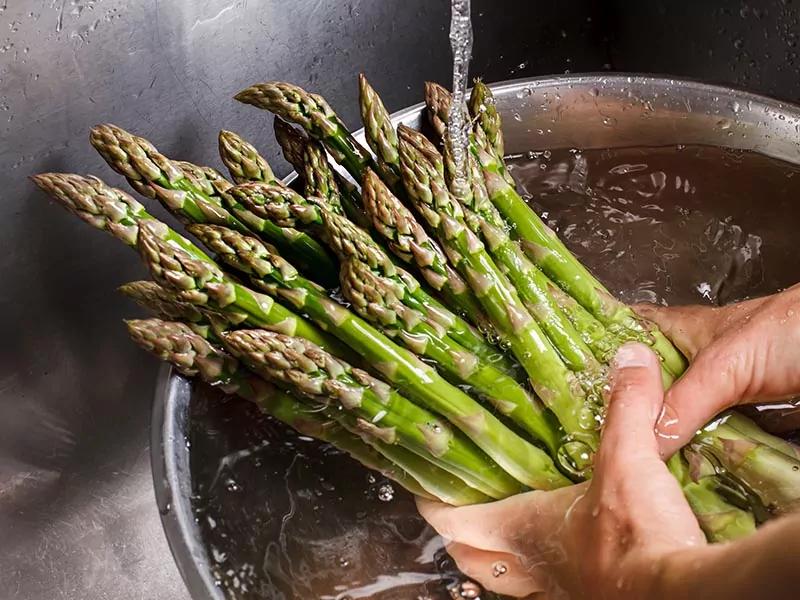 It's always a good practice to wash every fruit and vegetable before cooking. Asparagus is no exception. Free those store-bought asparagus spears from the rubber band or rope that ties them together (be careful not to damage the spears).
Then clean the asparagus under running water. Let them dry. Next comes the chopping part. Cut the white hardened end (where the color fades).
If you don't have a suitable chopper for vegetables or a sharp knife, you can snap the asparagus spears. Hold them at both ends and bend until they break off. You may also want to rinse them one more time.
Shave Or Peel (Optional)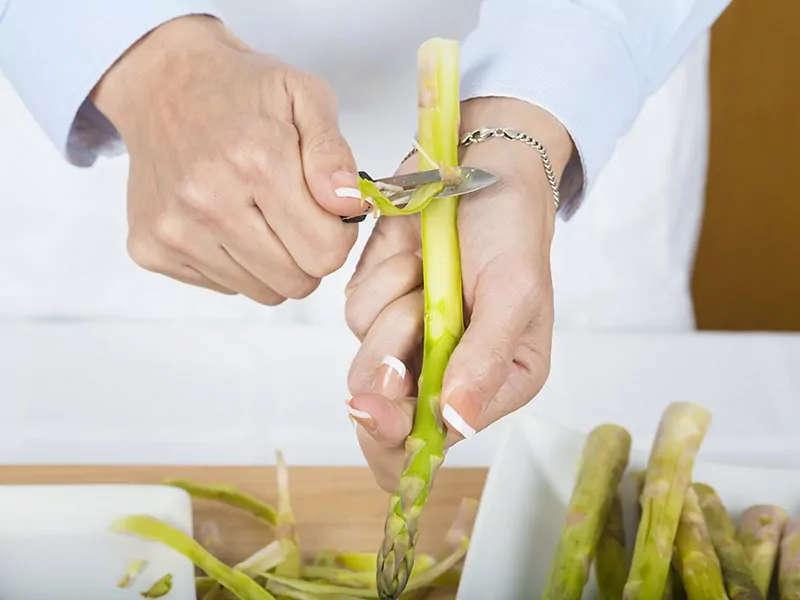 If the veggie is thicker than you want, simply shave it to a thinner form. Plus, it's a good way to ensure that you have an easier time chewing and digesting since raw asparagus can be tough and not as soft as cooked ones. A peeler is ideal for this task.
Shaving your asparagus is an awesome way to incorporate it into your salad.
Add Seasonings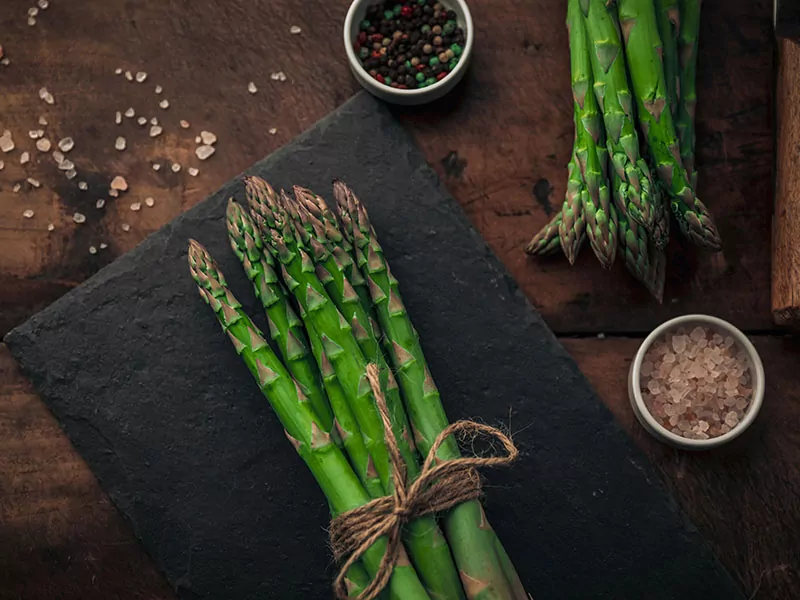 Now that you have conducted the meal prep properly, you just need to spice the dish. Salt and black pepper are the standard seasonings here. Just sprinkle them over the asparagus. You may also want to toss in lemon juice or vinegar to make the tougher parts of the stalk tender.
What Goes Well With Raw Asparagus
At this point, you can already bite into your raw asparagus pieces. But if you still crave something more, or feel like something's missing, then I've got just the thing for you. There are many ways you can enjoy raw asparagus for a more flavorful experience:
Dipped Into Sauces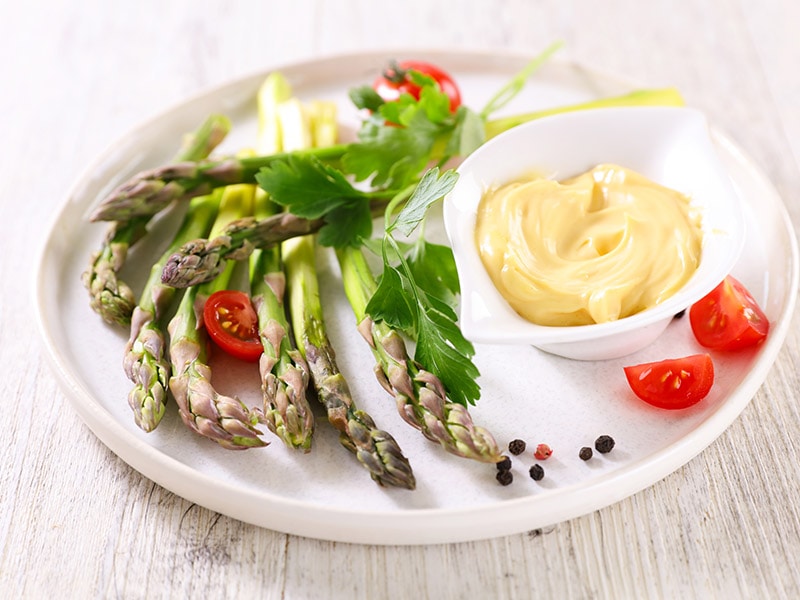 It's nice eating raw asparagus with various dipping sauces. For this method, you would want thinner asparagus so that you can hold it in your hands, dip it into the sauce, and eat it in one or two bites.
You can make a dipping sauce with raw asparagus as one of the ingredients and enjoy various dishes like potatoes, cucumber, etc., with this dip. You can even proceed to eat the raw asparagus with this sauce!
Topped/Shaved Onto A Salad Or Coleslaws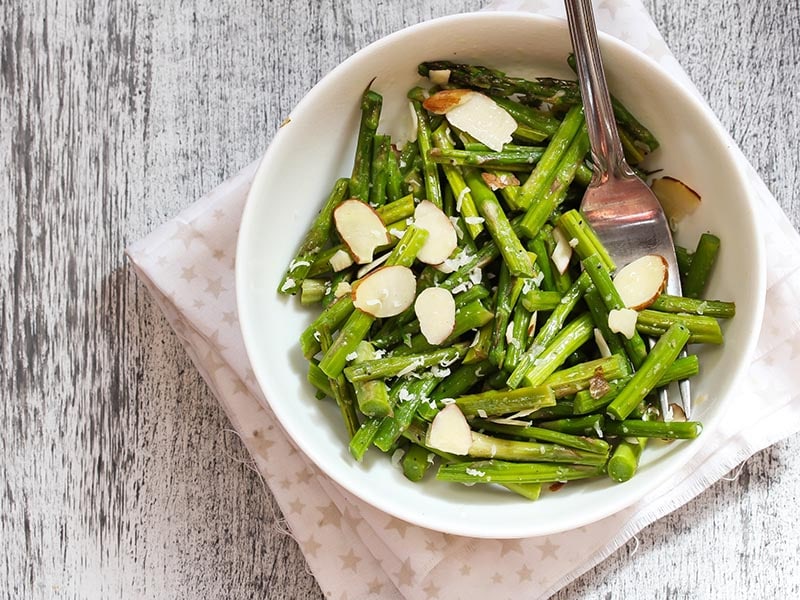 There's hardly anything easier than adding this green veggie to the salad. Asparagus is famous as a side dish for numerous delicacies. Simply chop the asparagus into bite-sized pieces or shave it to a thinner form.
Then just toss it into a bowl with lettuce, tomatoes, peas, spinach, etc., then mix them up nicely. You may add more olive oil or vinegar so you can stir them better. Sprinkling and crumbing some cheese is also a nice idea.
Added To Smoothies Or Juices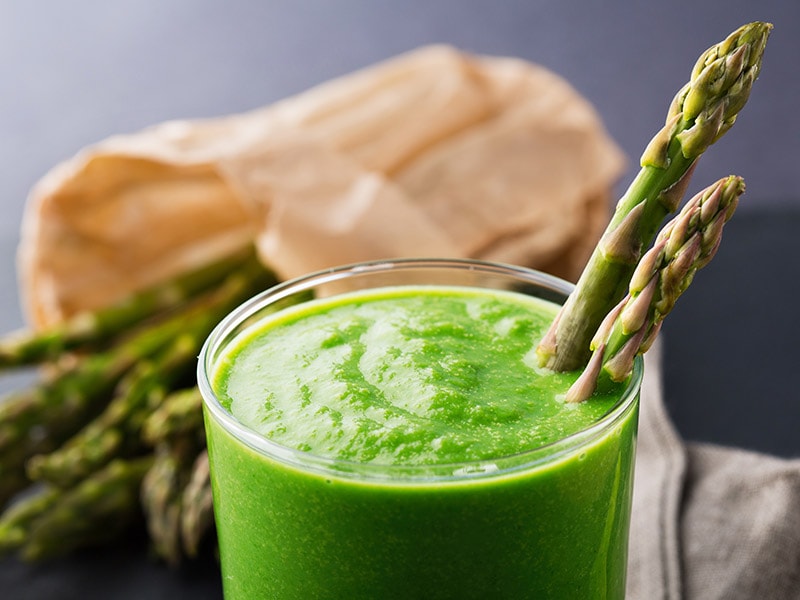 Similar to the above method, but instead of just mixing and stirring, this time, you blend the combination. Possible ingredients aside from asparagus may include spinach, grapes, kiwis, avocado, etc. While you are at that, you can also toss some juices into the mix.
Keep blending until you get a smooth surface. Add in more liquids if you want to adjust the texture. This is a nice refreshment for your afternoon relaxation. You can also snap the spears and dunk them in an upright standing position in the cup.
Amazing Raw Asparagus Recipes That You Don't Want To Miss
And here comes my favorite part of all, the recipes! They serve as a guide and an inspiration for you and me to try new things! Anyone can achieve these dishes and even come up with new versions by him or herself.
A simpler recipe but not less delicious. In this light and refreshing salad, you'd find lemon juice, minced garlic, asparagus, and walnuts for that extra crunchiness. It won't take longer than 30 minutes of your time to prepare. And after 1 hour of chilling, you can serve this delicious dish.
Do you crave something more creamy and springy? Then this Creamy Raw Asparagus Pesto is the perfect choice for you. It is a cross between the raw asparagus salad and ricotta pesto. I'm sure you will love exploring this spring treat's delightful and explosive taste.
Rest assured, this recipe also doesn't involve any cooking. All you need is a blender and a few ingredients. Plus, this can be served either hot or chilled. You can be a little creative and experiment with other toppings to give some twists to this soup.
Explore how to make such a delicious raw asparagus soup in just under 5 minutes.
Another salad, but this time with more flavors. After a glance at the list of ingredients, you can tell that this is a vegan and gluten-free recipe. It's also quick to make (just 10 minutes) and highly customizable, you are free to add more or take out ingredients to suit your taste.
The recipe is also more on the simpler side in terms of cooking technicality. It only takes a short time to prepare: 5 minutes. Put the listed ingredients into a food processor and let it handle the rest.
How Do I Store My Asparagus For Later Use?
You've had your fills of raw asparagus, but there are still some leftovers or fresh ones unprepared. You don't want them to go to waste.
The good news is that there are several proper methods to keep your asparagus fresh. You can preserve them for a few more days or even months.
Store In Glass With Water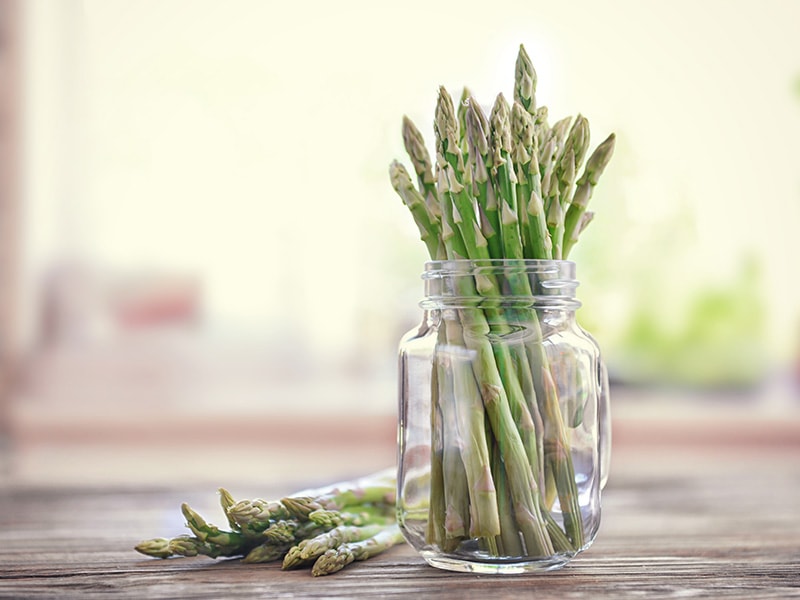 To preserve their crunchiness and snappiness, store those asparagus spears as you would store a cut flower. Put them in an upright standing position (the stalks should be pointing up) into a glass with some water.
Then put the whole thing into the fridge. The asparagus can stay fresh for up to 4 days in this state.
Tips: You can also cover them with a plastic bag for better preservation. Change the water if you see the plastic bag get cloudy.
Let's explore how you can preserve your asparagus with a quick guide.
Blanching And Freezing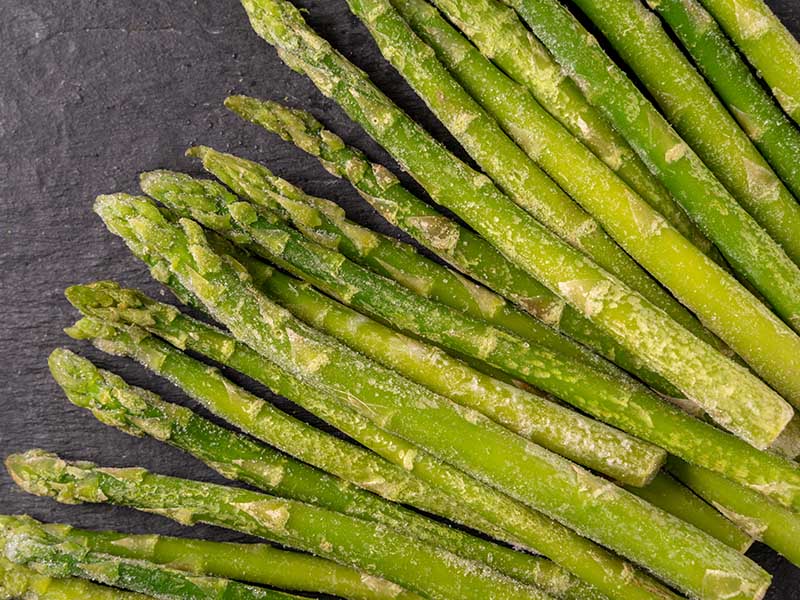 Frozen asparagus is another good way to preserve them. No matter which ways you choose to freeze asparagus, you may want to blanch it before freezing. This prevents discoloration and ensures the texture remains the same.
To blanch asparagus, you can try either boiling or steaming. When the blanching is done, you can transfer those asparagus to a large bowl of ice-cold water. When they have chilled and dried, put them in freezer bags or containers.
Blanching before freezing can preserve them for up to 8 months. If you want to make sure, label the bags or containers with the date they are first frozen.
FAQs
So far, you've learned all about different types of raw asparagus and how to prepare them. But I know that you may still have some questions unanswered. Worry not, for this section will provide you with answers to the most common problems with eating raw asparagus.
Asparagus, A Fine And Fulfilling Treat Either Way
Nonetheless, whether eaten raw or cooked, asparagus is a highly nutritional and enjoyable vegetable. They can be incorporated into your everyday life in the form of breakfast, snacks, or a side dish.
Making this far, I believe that now you have learned almost everything you need to know about how to prepare raw asparagus and its nutrition values. Plus, you also learned the proper storing methods and best dishes to consume alongside this crunchy springtime veggie.
If so, share this article so that your loved ones can check it out and gain the same knowledge that you've acquired as well. I'm sure they will appreciate it as you do.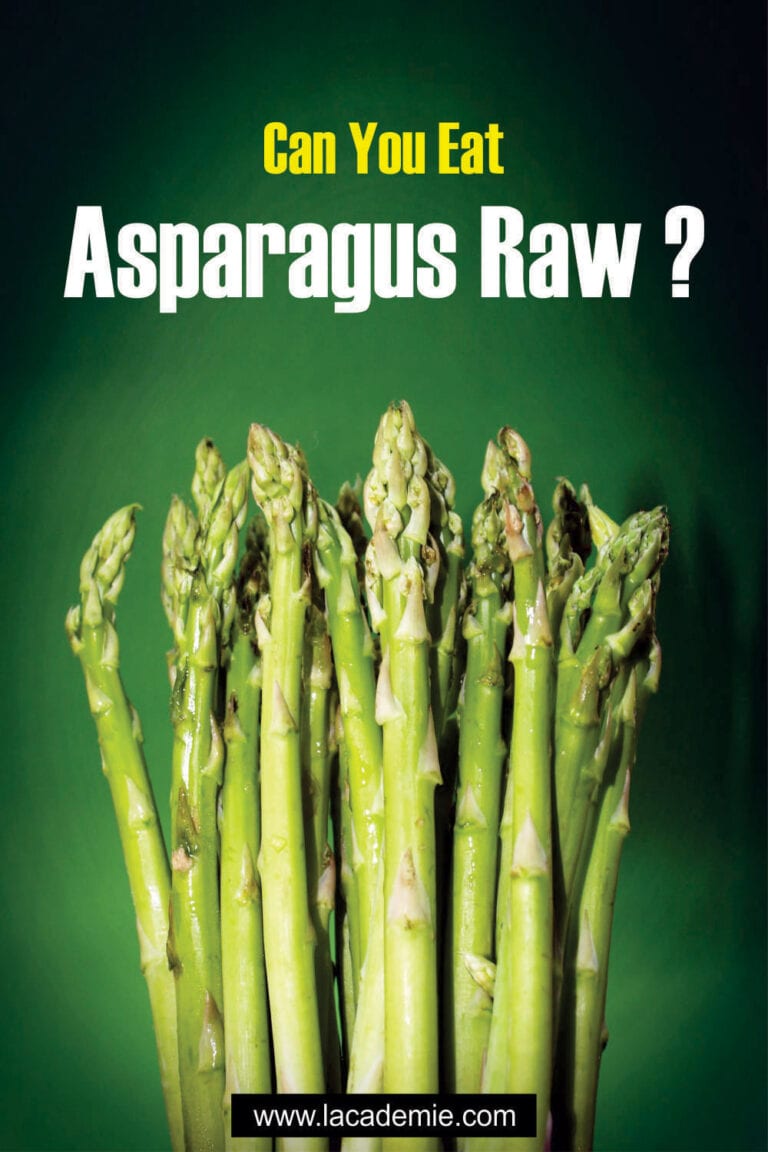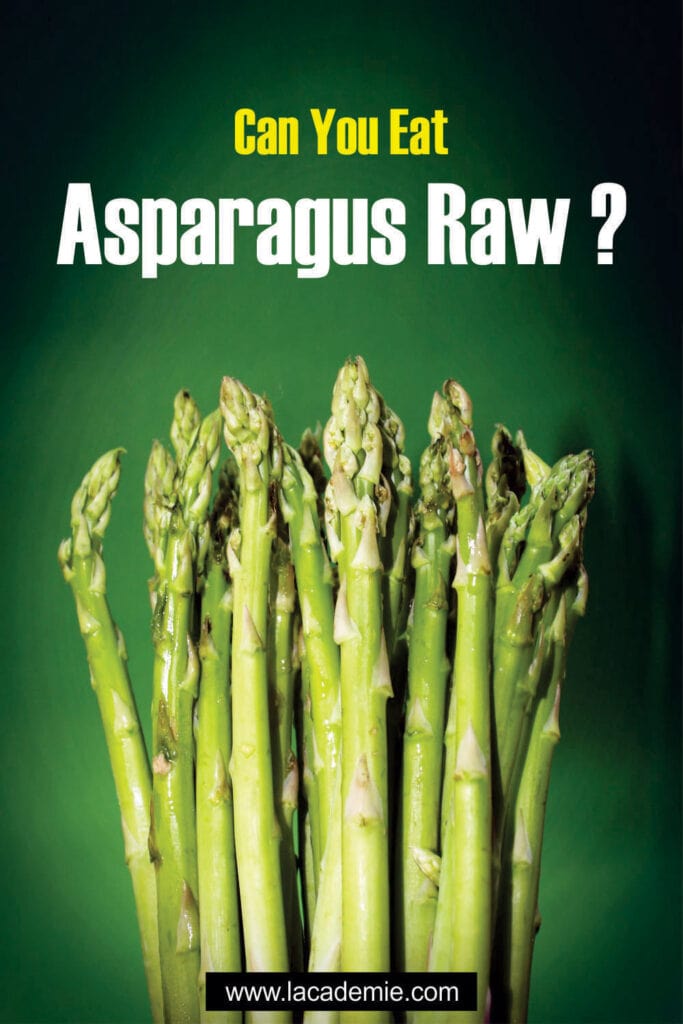 References
Health.qld.gov.au. 2019. Does how you cook veggies change how good they are for you?.
Papoulias, E., Siomos, A., Koukounaras, A., Gerasopoulos, D. and Kazakis, E., 2009. Effects of Genetic, Pre- and Post-Harvest Factors on Phenolic Content and Antioxidant Capacity of White Asparagus Spears. International Journal of Molecular Sciences, 10(12), pp.5370-5380.
Encyclopedia, M. and diarrhea, W., 2019. When you have diarrhea: MedlinePlus Medical Encyclopedia.