Before getting to how to store your lettuce, tell me how the current state of your lettuce. If you see all those slimy leaves or discoloration, though you just bought them, then this article is definitely made for you. It is going to show efficient ways to keep the lettuce flavourful for weeks long.
Storing it the right way has enormous effects on your lettuce's shelf life, especially when this vegetable easily has bacteria, causing some unwanted symptoms to the users. While they might not be serious, as you can get better after a few days(1) , better safe than sorry.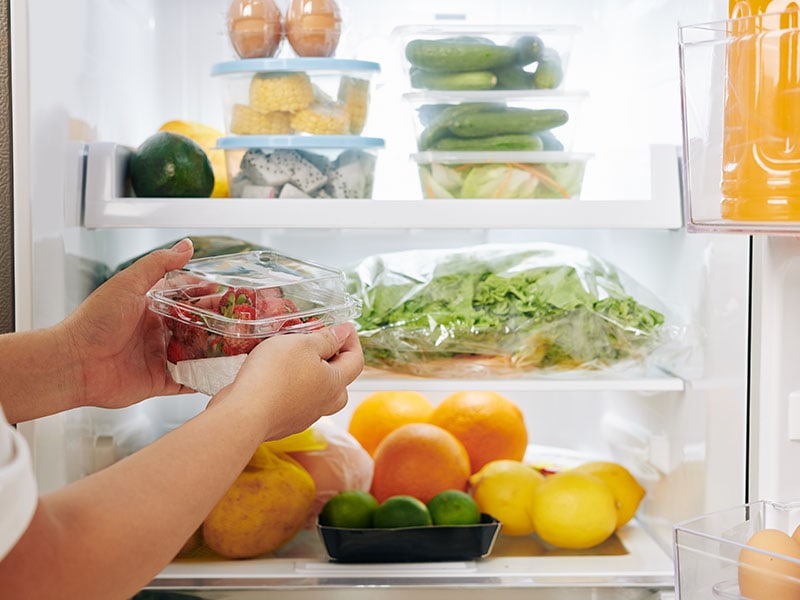 A General Guide To Pick Fresh Lettuce
To preserve the lettuce well, first of all, you need good quality lettuce. Therefore, before diving into how to store the lettuce, how about starting from the very beginning: how to choose good lettuce.
Choosing "Mr. Right" Lettuce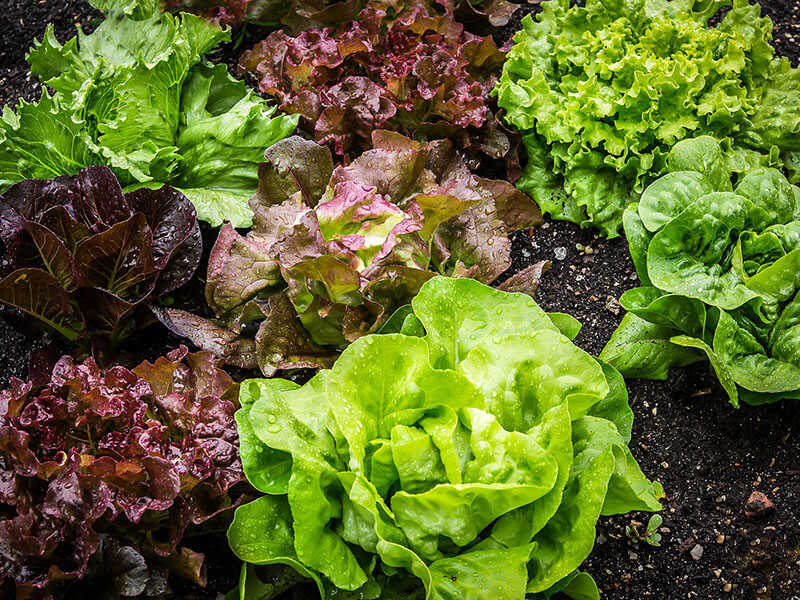 Aside from being tasty, this food with a "L" at the beginning also contains many nutrients, such as vitamin K, vitamin C, vitamin A, iron, and minerals. These nutrients will provides lots of health benefits: bone strengthening, vision improvement, good sleep, hydration, etc.
Feeling excited? Wait for a second because you need to know how to choose the right one first, especially when there are more than 10 different types of lettuce.
Step 1: Hm…What Lettuce Should I Choose?
You might not believe it, but there are almost 16 different types of lettuce: Batavia Lettuce, Arugula, Curly Endive, Belgian Endive, Butter Lettuce, Lam's Letter, Chrysanthemum Greens, Dandelion Green, Oak Leaf Lettuce, Little Gems Lettuce, Romaine, Watercress, Purslane, Speckled Radicchio, Mizuna and Spring Mix (2).
Woah, that's a lot of names to remember, but they are separated into 2 main categories: loose-leaf lettuce and head lettuce. Here are limits for some common types:
| | |
| --- | --- |
| Lettuce types and some other leafy green types | How long can they last in your fridge (counting from printed date) |
| Head Romaine lettuce | 7-10 days |
| Head Butterhead lettuce | 3-5 days |
| Kale | 5-7 days |
| Spinach | 5-7 days |
| Loose-leaf lettuce (green leaf, red leaf) | 3-7 days |
| Bagged lettuce (sealed) | 3-5 days |
| Bagged lettuce (opened) | 2-3 days (from opening date) |
The best tasting lettuce totally depends on you, so feel free to experience it. Yet, the best advice one can give is to always settle for the lettuce that is harvested at the latest and least process. Not only does it keep the freshest taste, but also because it is way more hygienic than the bagged lettuce.
In 2005, the scientists stated that the level of bacteria found on processed lettuce was higher than the original, non-processed one. The high amount of bacteria is also the top explanation for the rottenness of lettuce.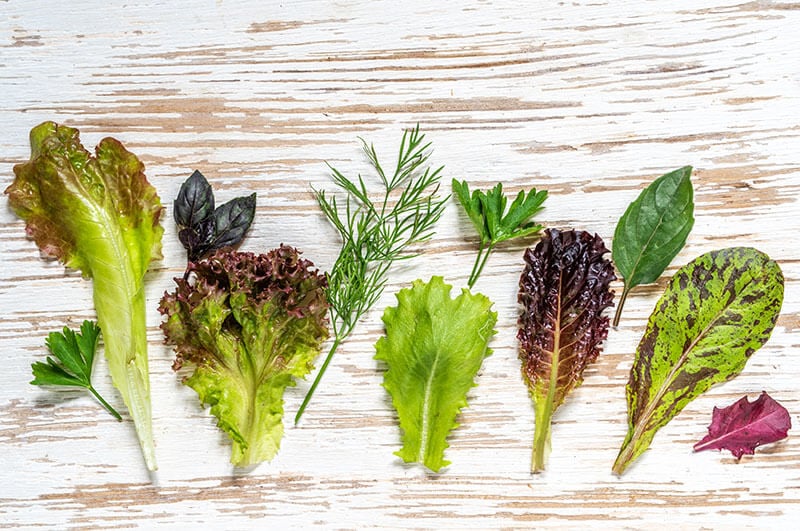 Step 2: "This One Looks Good. Wait! Does It?"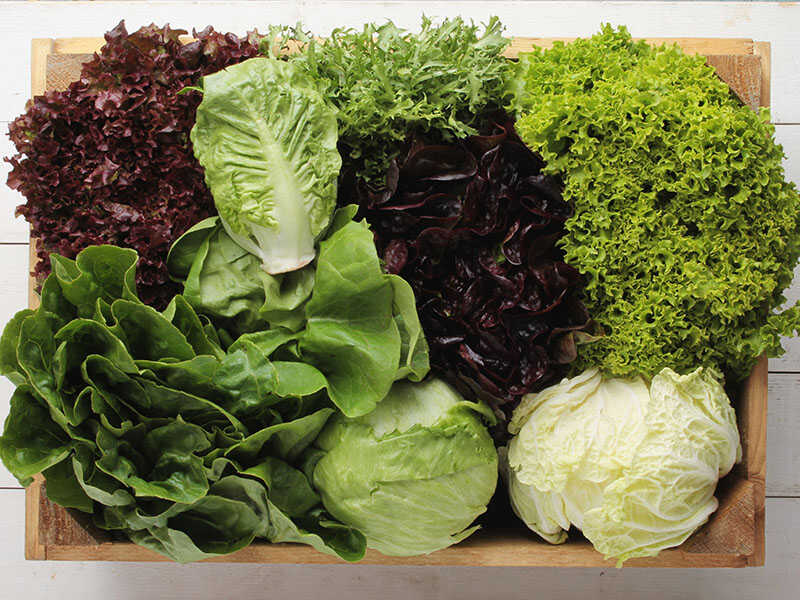 This is a very common question asked by customers to themselves when choosing the vegetable, and lettuce is not an exception. Don't worry because I am here to guide you, so take note carefully for the next time you are going to buy the lettuce.
Firstly, you will want the freshest lettuce possible, and this means you need to look at the cut ends. The ideal cut ends would have a clean and bright greenish color. Any sign such as discoloration or withering ends is a huge no-no.
Another notice is the leaves of the lettuce, and if the texture is crispy and smooth, it indicates that the lettuce is fresh. You might notice a few small holes on the leaves, but this is not a bad sign. In fact, this is good because this shows no pesticides used on the products.
Lastly, don't be afraid to ask. The growers would be more than happy to give you advice on their products for you.
Signs To Tell If You Lettuce Is Bad
It is very common for your lettuce to go "wrong" sometimes, even when you follow step by step. But how can you tell that they are no longer safe to eat? Here are a few signs to tell if lettuce has gone bad:
Discoloration
Soggy texture
Rotten odor
Soft and dark hue (almost black)
All in all, your sense is the most trustworthy tool to tell you if your lettuce is okay or not, even when they are not perfect. If you feel doubt, then keep in mind your safety goes first.
It's Time To Store Your Full Head Lettuce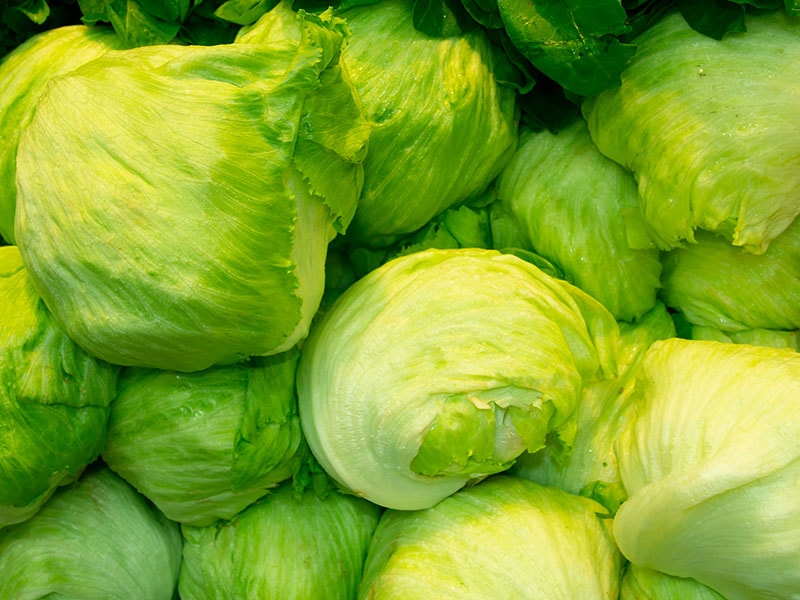 In this article, I would only focus on the varieties with medium to thick leaves, like butterhead or romaine lettuce. These are why people often mistake lettuce for cabbage. The leaf moisture is moderate, so they are the ideal material for preservation.
Storing full head lettuce is not a common decision because of the huge space it might take in the storage. But that does not mean there is no way to do it, as long as you remember to maintain the two most important elements in preserving the freshness and crispiness of the lettuce.
If You Want To Have Full Head Lettuce Soon (Short – Term)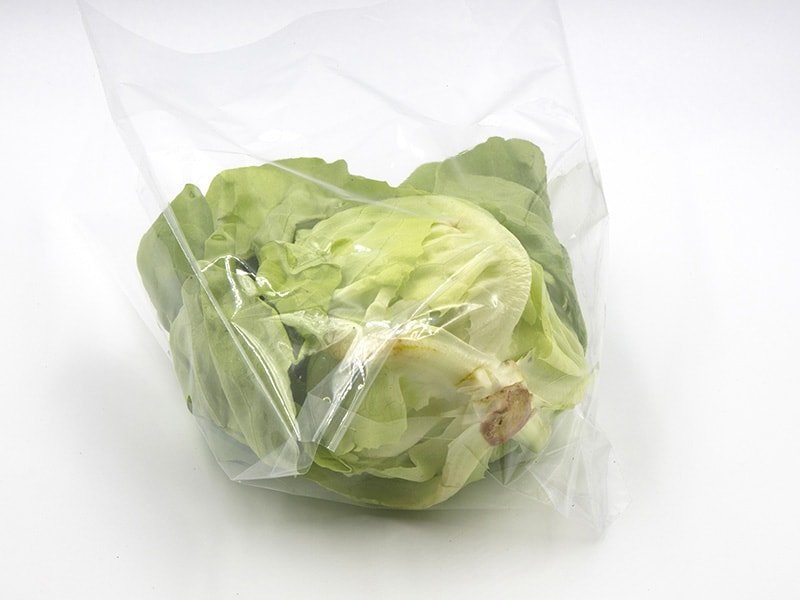 Just head out of the grocery store with the freshest full head of lettuce. Happy and want to keep that head lettuce the same in a while? Well, here is a way for you to long-lasting that happiness, let's get ready:
Here are some items you will need to store head lettuce:
Paper towel
Water
Plastic bag
Step 1: Prepping The Head Lettuce
If you just freshly buy it from the store, there is still some extra moisture on the lettuce. So you may need to air-dry it a bit.
Wait until there is no visible water drop on the leaves, then you are good to go to step 2.
Step 2: Giving Moisture
Dampen your paper towel with some water, and slightly wrap it around the head lettuce. Remember, only damp paper towels, not soaked.
Step 3: Bag Your Lettuce
Put the whole lettuce head in the plastic bag. Keep the bag slightly opened, so there is still some extra airflow.
Step 4: Put The Bag In The Fridge.
This way, you can keep the lettuce head fresh for 7-10 days. The lettuce leaves on the outside can turn bad earlier than those on the inside because they are most exposed to moisture. If this situation does happen, you should throw them away and use the leaves that are still fresh.
Keep Head Lettuce For Days And Days (Long-Term)
In the case where you want to keep your lettuce intact for a long time? No cutting, not tearing? Keeping the head lettuce for a whole month straight? Here is a method you need to read right away.
For this method, you will not need to do any prepping steps, hooray! But what if you want it to be extra clean and wash it beforehand? Still, don't do it, moisture would be the ultimate enemy to this method; so wait until you decide to unwrap the aluminum foil.
Step 1: Preparing Your Aluminum Foil
You need to take a huge aluminum foil that is enough to cover your lettuce. Wanna take 2, 3, or even 4 pieces? Go ahead because the whole point is to cover your lettuce completely.
Step 2: Store The Lettuce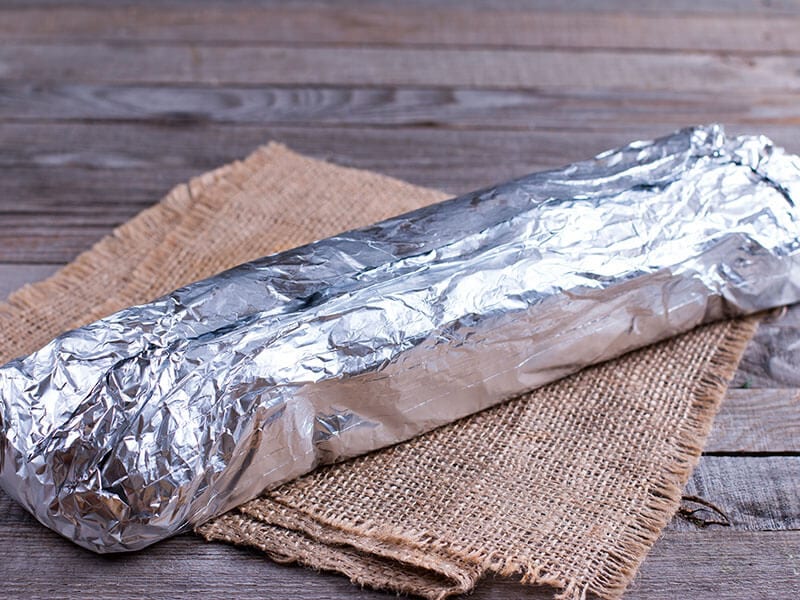 Now hold your lettuce, walk to the fridge, open the fridge, and put it in. There you go, a fully preserved lettuce that can last for a whole month.
When you want to use the lettuce, just take the leaves you want out of the aluminum foil(s) and put the lettuce you don't want to use yet back in the aluminum foil(s) in the fridge. Easy, right?
Loose-Leaf Lettuce And How To Store It Like An Expert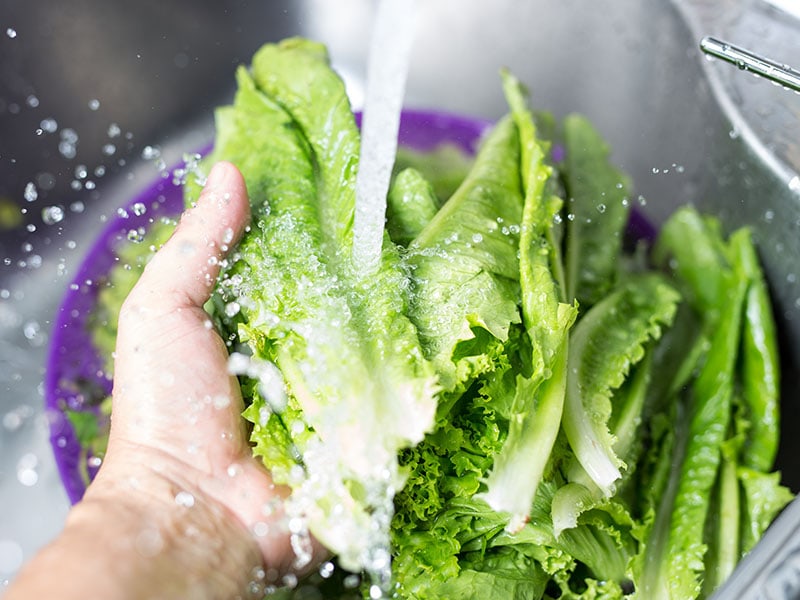 The steps in storing the loose-leaf lettuce will not be any more complicated than head lettuce, just a few more extra steps and the same"air-water" spell. Piece of cake!
Many people think that the best way to keep the lettuce tasty is to limit the airflow as much as possible or to keep the leaves super dry. Yet, this is the last thing you would want to keep crispy.
An Expert Way To Carefully Prepare Your Leaves In Short Term
This method of preparing the lettuce will only be applied to leaves that you want to preserve in the short term (less than 10 days). And here is a list of supplies you will need to prepare to get the best quality:
Water
Airflow
Damp paper towel
Salad spinner
A box or bag
Step 1: Preparing The Lettuce
Grab your lettuce and start separating all the leaves from each other. And then cut the trim off, this way, you can minimize the amount of unnecessary water that can later bruise or soften the leaves.
Step 2: Clean The Lettuce
Now fill your sink or a bowl with cold water (don't forget to make sure the lettuce holders are clean), slowly put all the prepared lettuce into the water. Gently move the lettuce in a circular motion so that any left-over dirt can detach from the leaves. Repeat this until you finish washing all the prepared lettuce.
Step 3: Dry The Lettuce
Now it is time to dry the leaves, you can leave all the work to the salad spinner and just let it gently dry the lettuce.
Step 4: Check The Lettuce
When spinning the salad spinner, you need to ensure that there is still a small amount of water left on the leaves. Completely dry leaves are a very unwanted result. Instead, you would want it to be slightly damp, still.
Step 5: Air-Dry The Lettuce
Remove the basket out of the spinner, and you can also take the lettuce and put it in another holder. But remember, the most important thing is that your different holder must have space (e.g., holes) for the airflow. After all, what you want is to dry the lettuce a bit more, right?
These are a few general steps to clean and prep your lettuce. However, depending on the way you store it, there can be fewer steps you need to go through.
Preserving Your Lettuce In A Limited Days
This part will be dedicated to how you can keep your lettuce fresh and tasty for 7-10 days. Lengthy as the preparations and steps may look, it is very simple when you actually practice it. So what are you waiting for? Roll up your sleeve, and let's get into work:
Store The Lettuce In The Fridge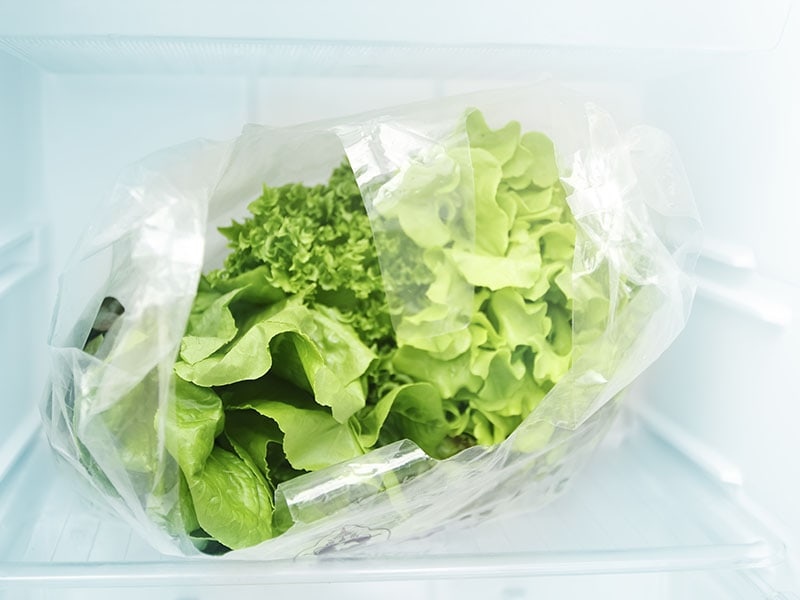 After letting the lettuce sit for 30 minutes, it is finally time to organize them into the box. The lettuce is tasty and ready to be used right away, but you can also store them within a week.
Think simple, do simple. Refrigerators will always help in storing lettuce.
Store Lettuce In Water
If you want to try a new way of storing your lettuce, this technique is a must. With a few steps, you will have fresh and crispy lettuce leaves for one week.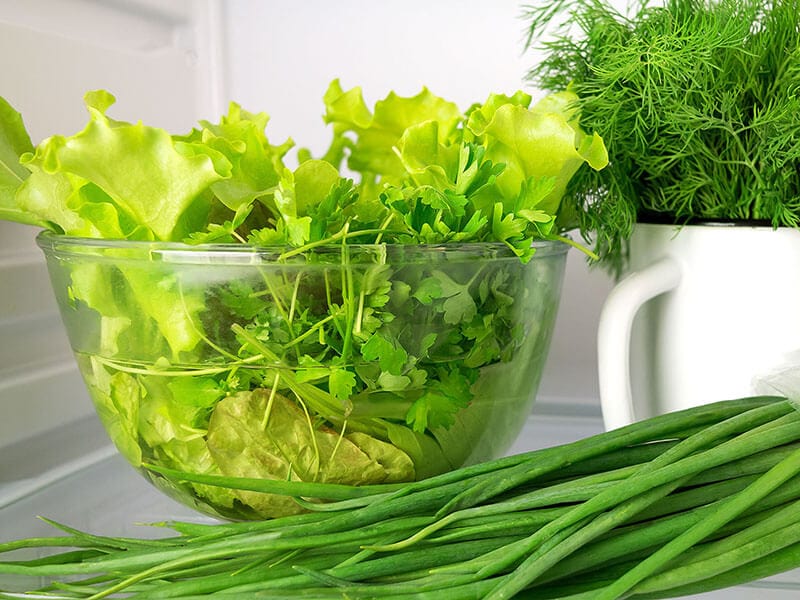 For this way of storing, you will only need to do 2 steps to prep your lettuce: cut and wash. And without needing to dry them, you move to the new steps:
Step 1: Lettuce, Container, Water. That's All You Need.
Grab your washed lettuce and put them in a container with a lid. Don't close the lid yet. Fill the container to the top with cool water, close the lid, and put it in the fridge.
Step 2: Check The Container Every Other Day And Switch It Out With Fresh Water.
This technique was tested by Test Kitchen, and the outcome is very positive. Within 5-7 days, the leaves remained green and crispy as if they were freshly bought. On day 10th, the leaves turned out to be a bit soft on the top; however, still very flavourful.
So what are you waiting for? Try this technique and find out whether you like it or not?
Store Lettuce In Mason Jar
In case you want an environmentally friendly way to store your lettuce, try using the mason jar. This is the best way to reduce the unnecessary use of plastic, and you also can keep your salad fresh and tasty for 8-10 days.
These are some tools you will need to store your lettuce in the jar:
Of course, a jar or two? Depends on how much lettuce you have.
Vacuum sealer
Already have your lettuce done? Cut the core, chop to favorite size, wash, air dry steps are all done? Good job! Let's go get the lettuce stored: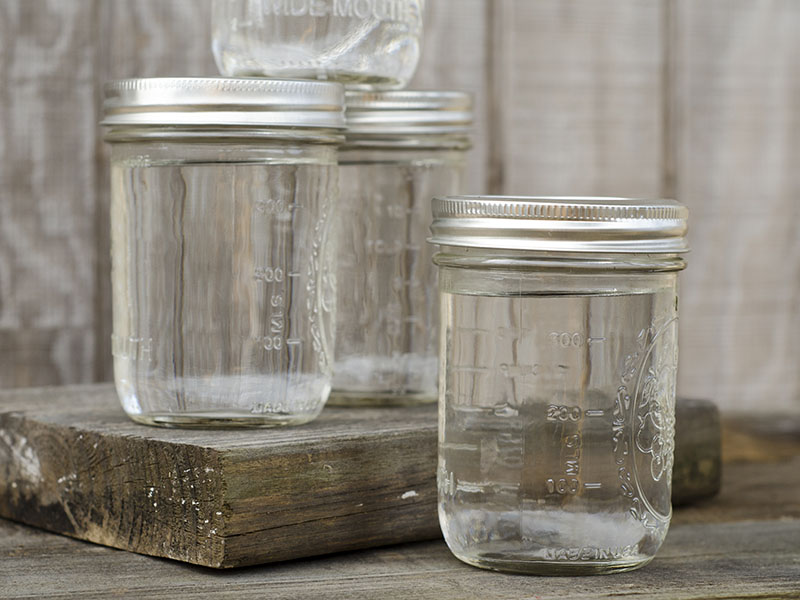 Step 1: See Any Mason Jar Around?
Put the lettuce into the glass jar(s). If you do have some extra lettuce, don't try to overstuff the lettuce into one jar because the leaves will still need space to "breath". So feel free to grab another jar for those extra leaves.
Step 2: Take Out Your Vacuum Sealer
To seal the lettuce, use a vacuum sealer from your trusted brand with a wide-mouth jar attachment. Turn on the machine and let it do the work for you.
Step 3: To The Fridge They Gooo
Put your mason jar(s) in the refrigerator. Don't forget the screw cap on top of the jar.
Putting your lettuce into the jar(s) is convenient when you have a rush, or you don't have the time to cook. All you need to do is grab one of the jars from the fridge along with your salad dressing, and you have a tasty lunch. So what are you waiting for? Try it now!
One video, and you become a professional in preserving your lettuce in jars.
How To Store Your Lettuce Leaves Long Term
Storing lettuce for a few days is pretty common for everyone, but what if you want to store it longer? A month or even more? I got you covered, so keep scrolling down to learn how to long-term storing your lettuce.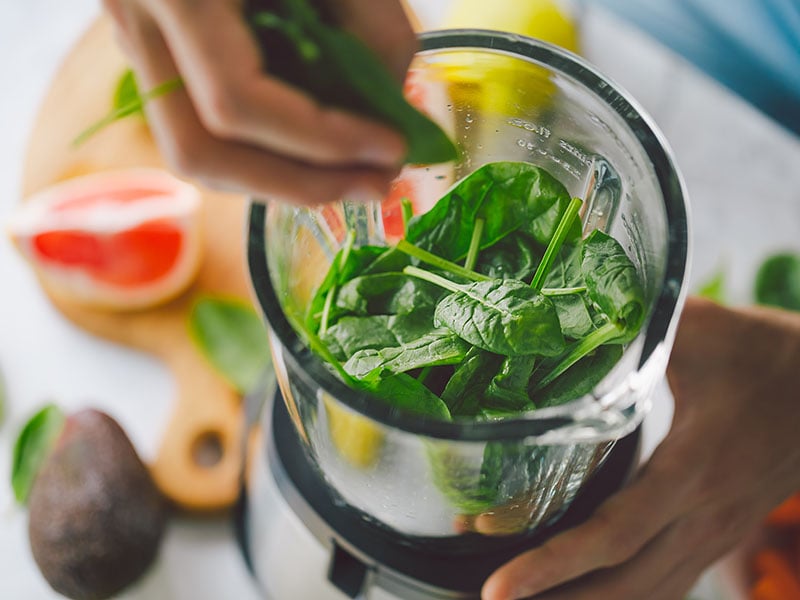 Store Lettuce In The Ice Tray
In the case where you expect to keep the lettuce longer, it is still possible, yet, the crispiness will possibly be gone due to a long time of freezing. Still, the lettuce can be used in many dishes: soup, smoothie, or stews. If you freeze it, the lettuce can last 6 months.
So why not give it a try?
After preparing and washing the leaves carefully, instead of drying them, you put them in the blender and turn them into liquid instead. The puree can be stored in the ice cube trays in the freezer, and the next time, you can use them for soup or smoothie recipes.
This maybe distort the leaves' original shape, but the vitamin and the tastiness in the lettuce will remain there.
"How on earth can you store lettuce in an ice tray?" – Say no more, and use these tips.
Store Lettuce In Ziplock Bag
If you want another way to store your lettuce for a month but do not want to change the shape of its texture? Try this method right away.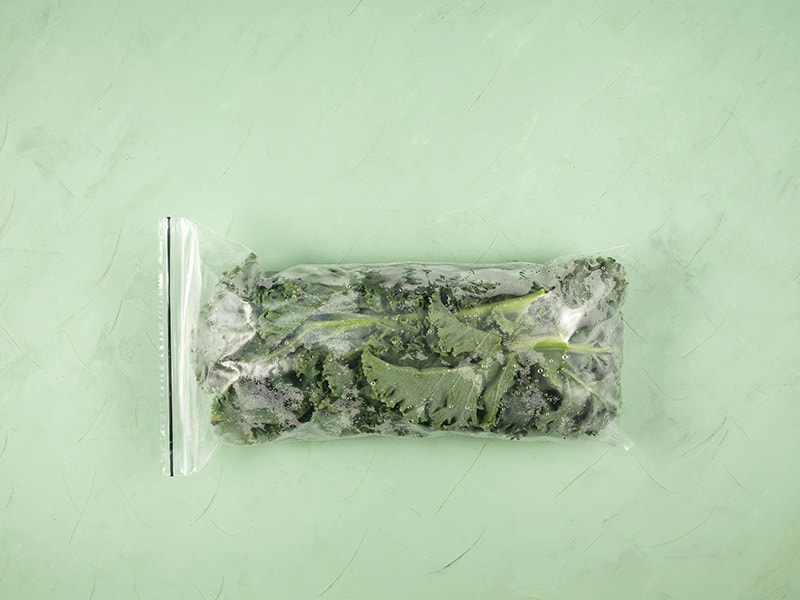 Here are what you need to prepare before trying this technique:
Step 1: Layout the leaves on the paper towel
You might think this step will take such a long time but think about how much lettuce you can save from throwing it in the trash because you cannot finish it all in a few days. That's right, be patient, and it will be done quickly, I promise.
If you still have some extra leaves but not enough space, take another paper towel and put it on top of the first layer. And keep laying out the leaves until you finish.
Step 2: Roll for the goal
Gently roll the paper towel(s) and put them into the ziplock bag.
Step 3: Put the ziplock bag into the fridge, ideally, the crisper drawer.
With this technique, you can keep the lettuce leaves still delicious and fresh after 1 month. However, the crispiness might not be the same as when you freshly buy it, but it's an efficient way to stop wasting the food.
Ziplock and refrigerator are lettuce's best friends. See how they keep your lettuce for a whole month.
Bonus Tips You Never Know To Store The Lettuce
You can follow all the guided steps of storing the lettuce in the article, but the result still does not meet your expectations. I recommend you to check these tips, and maybe they will help.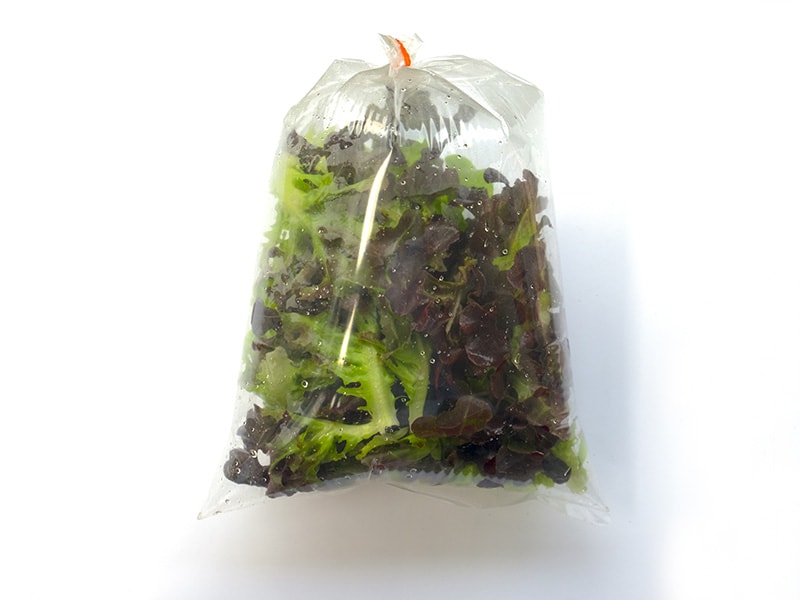 Tip no.1: Refrigerator Is Your Lettuce's Best Friend
The chill temperature in the refrigerator would help to delay the natural processes of vegetables. What's more, the enclosed and cool atmosphere can limit the growth of microorganisms. So the moral of the story? Put your lettuce in the fridge as soon as you can.
Tip no.2: Give Them Space
Remember the two most important elements in storing the lettuce? That's right, air and water. These two also apply to the lettuce when you already store it in the refrigerator. So next time preserving the lettuce, consider putting it on the shelf with lots of space.
Tip no.3: You Have Crisper Drawers?
Most modern refrigerators are equipped with crisper drawers that can help with adjusting the humidity within. This drawer will help to maintain the standard moisture level, giving you literally the same state as when you buy the lettuce.
Tip no.4: Separate The Fruits And Veggies Is A Must
Good for your body, bad when together. This means they should not be kept next to each other in the refrigerator. The freshly harvested fruits have a high tendency to release ethylene gas. And this gas can easily turn the leaves mushy and inedible.
Tip no.5: Mixed Salad
Can you preserve them the same way you keep other single-type lettuce fresh for a long time? The answer is no, sadly.
It is because mixed lettuce is usually processed and bagged in plastic, which is the cause of high bacteria that can quickly make the leaves rotten. Moreover, these leaves are strictly sealed in plastic bags, where there is no airflow, thus, they will turn all slimy and brown.
Then what is the solution here? This might not be a wanted answer, but it is best for you to have them as soon as you purchase. That way, the leaves would still be fresh and crispy.
Tip no.6: Extra Care To Your Lettuce
If you feel like plain cool water is not safe enough to protect you from the potential bacteria in the leaves, maybe consider mixing them with a bit of salt, vinegar, or hydroxide peroxide? These elements can help in eliminating bacteria in your veggies.
Tip no.7: Puff The Bag
You can extend the life of the lettuce bag by a simplified technique used in the produce industry. Blow air into your bag of lettuce until it puffs up, and then tie the top with a rubber band. The carbon dioxide in your breath will slow down the natural processing process of lettuce.
Tip no.8: Storing Finely Chopped Lettuce
Many dishes require finely cut lettuce like tacos or quesadillas, so what will you do if you cannot finish all the lettuce at once?
Easy peasy. Put all the chopped or shredded lettuce on the paper towel, roll them up, and secure with a rubber band. And to the fridge, it goes.
Tip no.9: Let The Lettuce Breath
If you have a processed lettuce bag, cut a little hole on top of the packaging before putting them in the fridge. Finally, put them in the crisper drawer; because remember either of the elements? Yes, air. It's the key, always.
Tip no.10: Put Your Lettuce Forward
Seriously, put them forward instead of pushing them into the back of the fridge. They will quickly be frozen, and all the leaves will turn mushy.
How To Continue Storing When Your Lettuce Are Wilted
Being human means, everyone will make mistakes sometimes. Letting your lettuce wilt is one of them, but don't worry, I can give you some advice on this.
Here is a list of things you will need to "save" your lettuce:
And you are ready to "revive" your green leaves.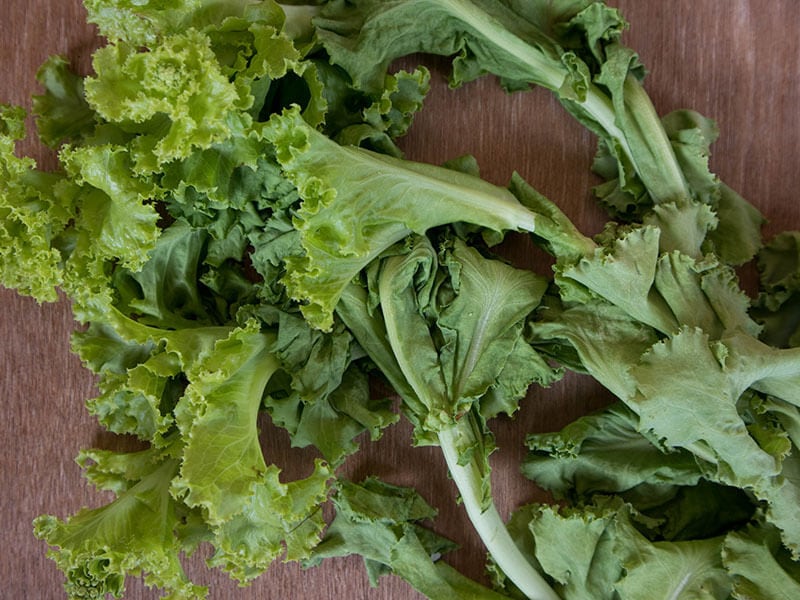 Step 1: Let Go Of What You Cannot Save
Remove the parts that are too damaged or parts that you will not eat, for example, wilted parts or leaves with small holes on them. Choose what you will retain to eat and then cut them into small, edible pieces.
Step 2: Cool Water!
After having prepared your lettuce, it is time to fill the sink (or a bowl) with cool water and soak your leaves in it. Let it sit for at least 15-20 minutes, if you worry that the water will not remain cool for that long, feel free to put it in the refrigerator.
Plants are made up of almost 80% water, so when they are collected, the amount of water within them will be retained. Due to a long storage time, many water cells will collapse because of the evaporation. Therefore, placing them in water will eventually help to gain back the water.
After that, you should move them gently so that all the unwanted dirt can fall out and sink to the bottom.
Step 3: Pat Dry
Take all your lettuce out of the water and lightly dab them with paper towels. The excess water will then be fully absorbed, leaving you lettuce with enough moisture. Then use the damp paper to go through all the leaves again.
Step 4: Store Or Use Them
After reviving them, luckily, the leaves will very likely go back to the same original state, with barely any loss in nutrition. Store them in the baskets that allow airflow and try to consume them within one week.
Important: Not all lettuce can be saved with this technique, especially when you notice the discoloration, many dark spots, or sliminess on the leaves. It is best to throw them away or turn them into compost.
Have some wilted lettuce that you don't want to waste. Don't miss this guide.
FAQs
Some questions pop up while following all the steps to store your lettuce? No worries, I am here:
Storing Lettuce – Not Everyone Is Doing It Correctly
Storing lettuce seems like an easy job to do, isn't it? However, when you want results to happen well for a long time, you always have to put out the effort and time; this is the same case with storing lettuce.
Well, that's all I have to teach you how to store lettuce properly. From now on, you can finally do it the right way without worrying when your lettuce is going bad. I'm sure you will do well, don't forget to share your outcome in the comment section. Thank you and goodbye!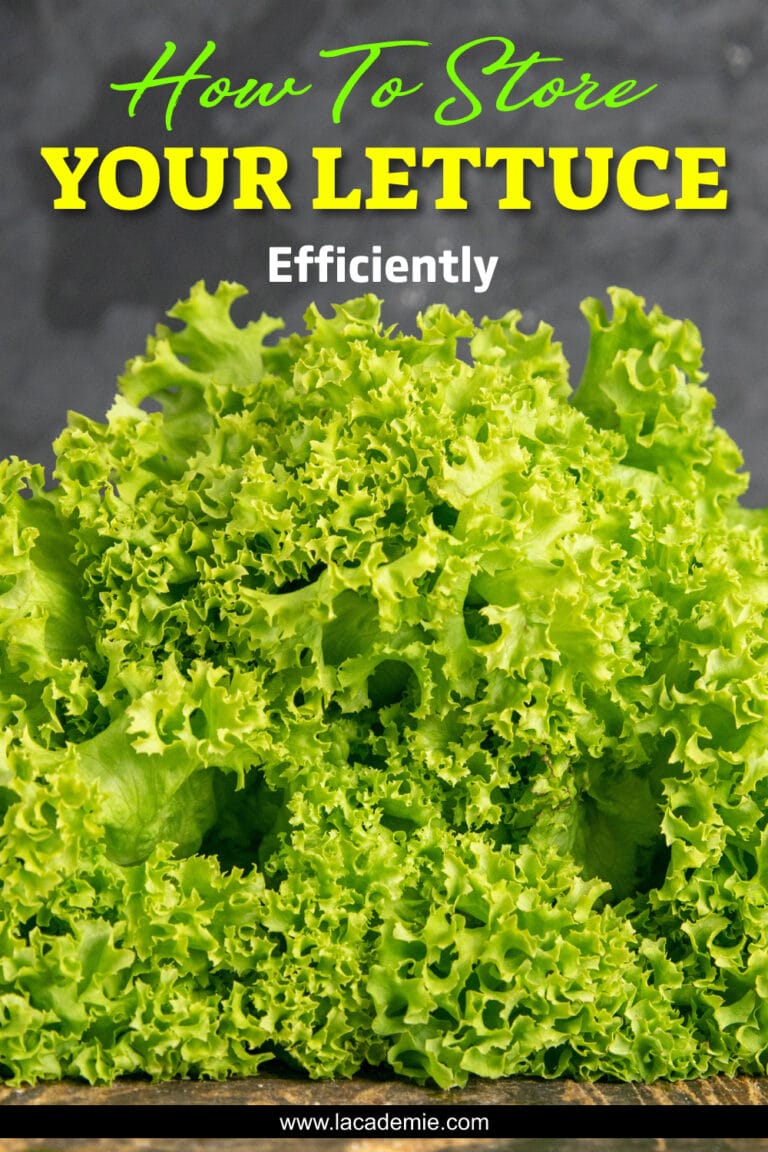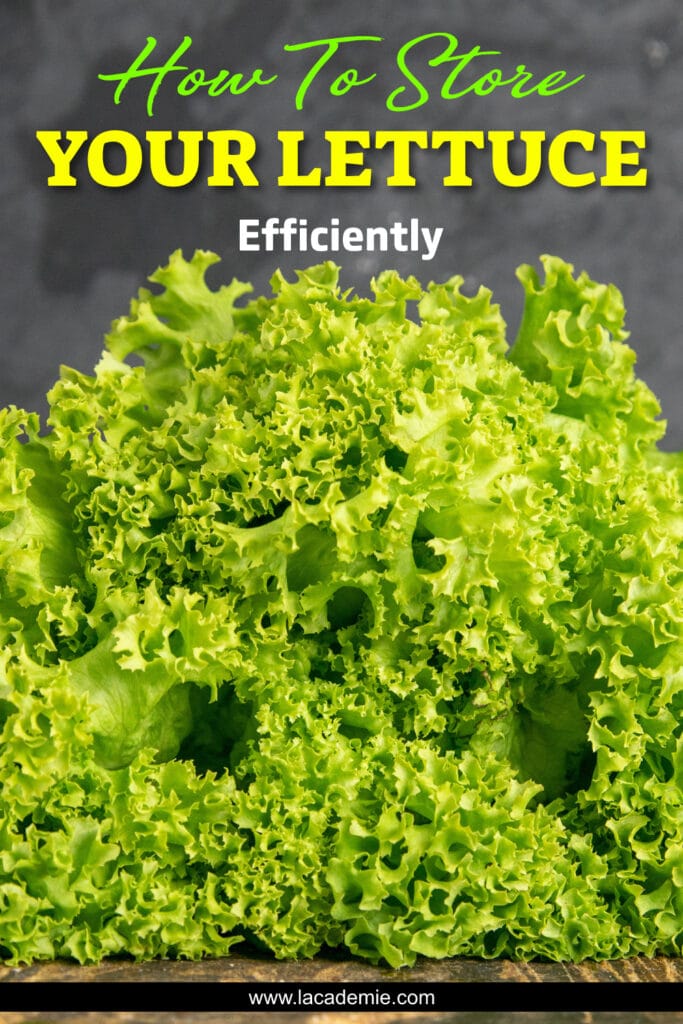 References
Centers for Disease Control and Prevention. 2022. Lettuce, Other Leafy Greens, and Food Safety.
En.wikipedia.org. 2022. Lettuce – Wikipedia.