"Food that starts with M" might seem like a quirky topic, but trust me, it's more enticing than you'd imagine. By diving into this post, you'll discover the diversity of these foods, from sweet to savory, or vegetables and fruits starting with M, to consume and increase your meals' quality.
I'll guide you through their origins, characteristics, and why they're worth your attention. Besides satisfying your curiosity, you'll gain culinary knowledge that might inspire your next kitchen creation or foodie adventure. So, stick around – there's a tasty world waiting to be explored!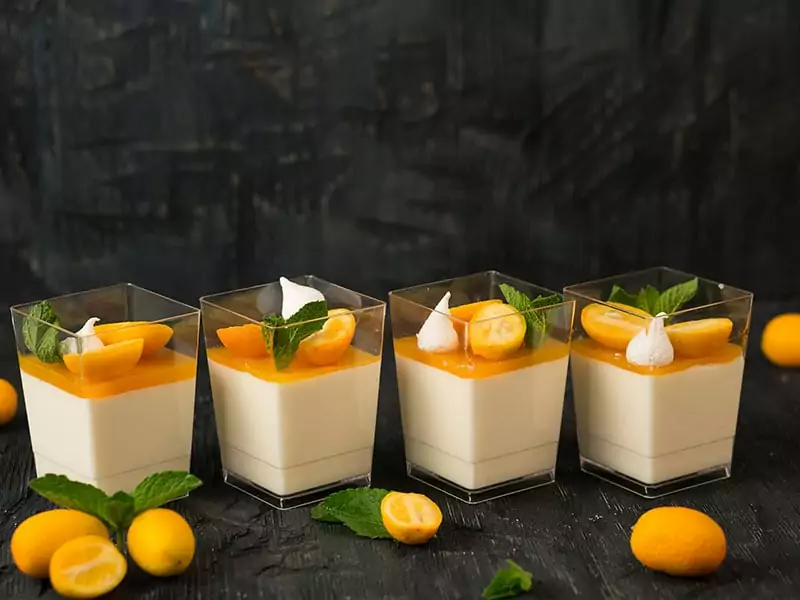 Uncooked and Cooked Food Starting With M Letter
The below list of foods that start with M will definitely meet your needs as it includes both uncooked and cooked foods, which gives you ideas for your meals!
Fruits
Mandarin
Maracuya
Mango
Melon
Malay Apple
Mamey Sapote
Merlot Grape
Maraschino Cherry
Mulberry
Marrow
Mahkota Dewa
Malabar Gourd
Mamoncillo
Vegetables And Legumes
Mustard Greens
Magic Molly Potato
Malabar Spinach
Mung Beans
Mangetout
Grains, Cereals, Nuts, And Legumes
Muesli
Macadamia Nut
Maize
Malt
Millet
Mixed Nuts
Fish
Mullet
Mackerel
Mahi Mahi
Morwong
Monkfish
Mirror Dory
Sweets and Desserts
Marshmallows
M&M's
Milk Chocolate
M&M Popcorn
Mixed Dried Fruits
Muffins
Mango Panna Cotta
Mint Chocolate Chip Ice Cream
Madeleines
Mochi
Maine Blueberry Pie
Meringue Cookies
Macarons
Moon Pies
Madeira Cake
Marzipan
Mousse
Mince Pie
Snacks, Appetizers, And Side Dishes
Mexican Guacamole
Mini Cheeseburger
Mac & Cheese Bites
Maultaschen
Macaroni Salad
Mediterranean Bean Salad
Mashed Potatoes
Mesclun
Mirepoix
Soups
Minestrone Soup
Miso Soup
Mulligatawny Soup
Madrilène
Main Courses
Mushroom Gnocchi
Mongolian Beef
Moussaka
Meatloaf
Masala Dosa
Massaman Chicken Curry
Meatballs
Macarona Bechamel
Macaroni
Macaroni & Cheese
Manicotti
Moo Goo Gai Pan
Mushroom Chicken
Mutton
Spices and Herbs
Mahlab
Marjoram
Mint
Mixed Spice
Mace
Condiments, Sauces, And Seasonings
Malt Vinegar
Maple Syrup
Margarine
Marinade
Marinara Sauce
Marmalade
Marmite
Mayonnaise
Mole (Sauce)
Mustard
Molasses
Mastic
Breads and Dairy
Milk Bread
Monkey Bread
Monterey Jack Cheese
Mozzarella
Muenster Cheese
Mascarpone
Matzo
Manchego Cheese
Mountain Bread
Beverages
Mocha
Mirin
Mulled Wine
Mojito
Mint Tea
Milk
Milkshake
Fruits
1. Mandarin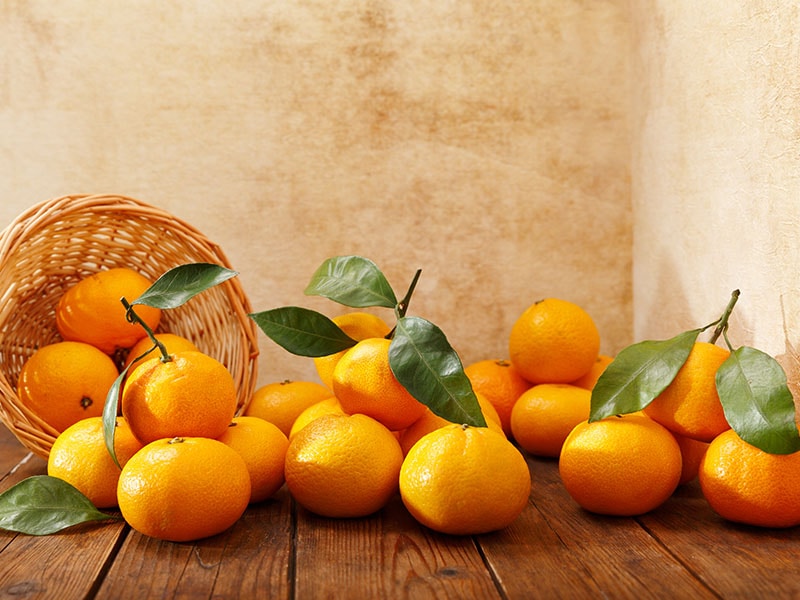 Without any doubt, mandarin oranges are the most popular citrus fruit in the world. It is a citrus from China.
This fruit has a vibrant bright orange color and a pleasant aroma. You can eat them after your greasy meal. If not, squeeze the juices and drink them. In addition, the amazing orange fruit can also be used to make jam or add to your salads!
Don't think that mandarin oranges' applications are limited to jam or salads only. They are also suitable for luscious desserts featuring oranges. Anyone who's a fan of fruity desserts definitely needs to try adding mandarin oranges to their sweets at least once.
This fruit is also very good for your health; mainly, it provides a large amount of vitamin C for your body (1).
2. Maracuya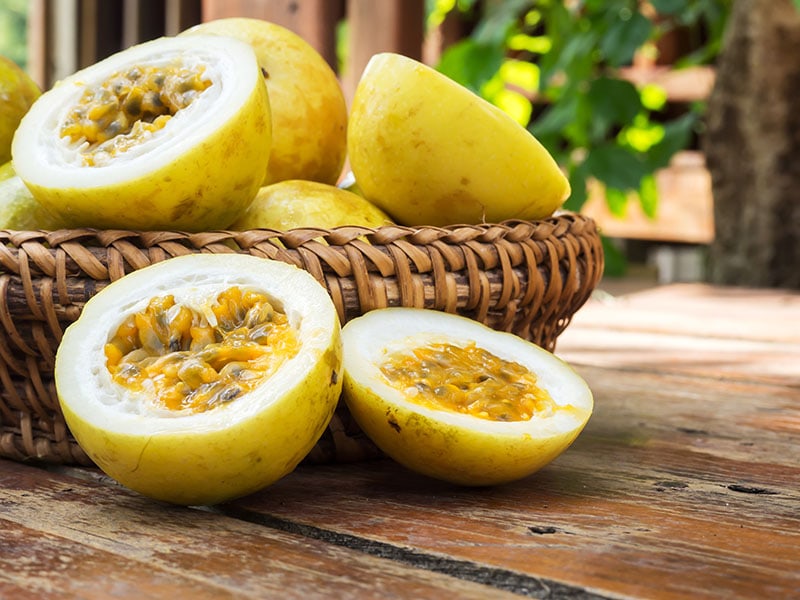 Maracuya is literally another kind of passion fruit. This fruit in Spanish means passion fruit as well. Different from ordinary passion fruit, maracuya has a yellow outside look.
Due to its bright yellow color, maracuya is also known as "yellow passion fruit". That's why technically speaking, it can also be classified as "foods beginning with y" as well. Whatever category you want to place it in, there's no denying that its flavor is quite enticing.
Although its taste is quite similar to the normal one, if you taste it carefully, you will find it has a milder smell and a sweeter flavor than regular passion fruit.
Use them to add to your salads or make passion fruit yogurt. I'm sure this is a great choice during hot summer days! And like most passion fruit varieties packed with vitamins A, C, potassium, antioxidants, and more (2), this fruit is a great addition to your meal.
3. Mango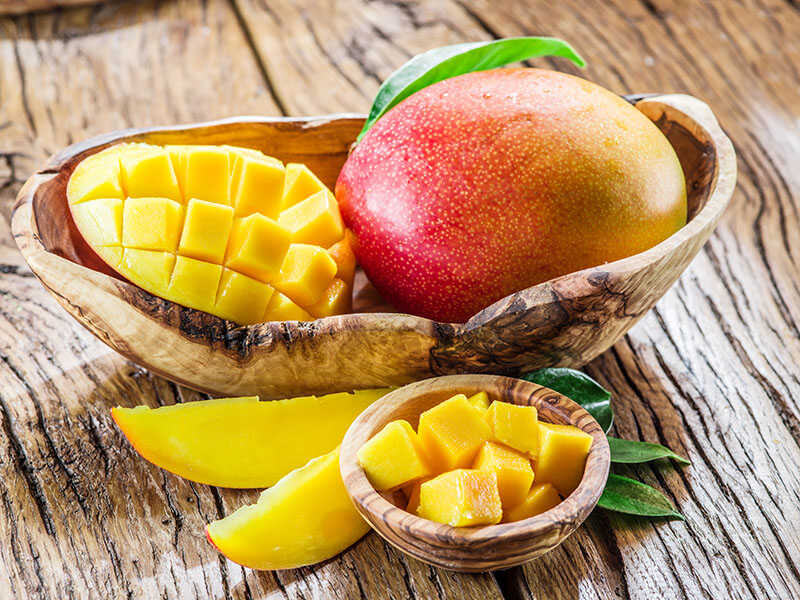 Mango is a favorite fruit of many people around the world, including me!
This stunning tropical fruit is planted most in South and Southeast Asia. The fruit was first grown in India around 5,000 years ago. Overall, the combination of sweetness and sourness of mango is like a hit to your tongue!
The fruit has an oval shape. The color can range from green (unripe) to yellow (ripe). Moreover, it has a big hairy seed in the center.
This is also one of the kinds of fruits with various recipes, from mango juice, mango smoothie, mango jam to mango salad, mango tart, mango kulfi, mango ice cream, etc. Not only that, but this fruit is also rich in vitamins, fiber, and antioxidants (3).
4. Melon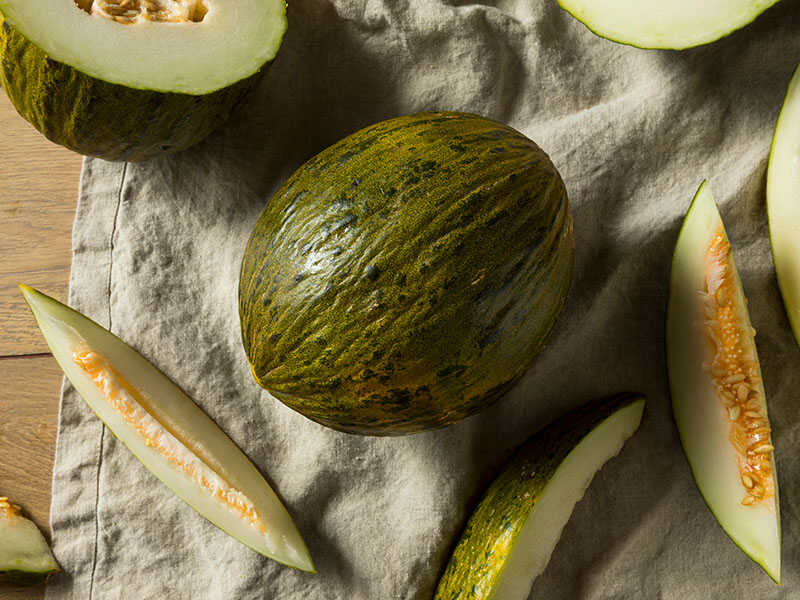 I'm sure you're no stranger to this fruit! This is a fruit you can buy at any fruit section in the supermarket.
In fact, this is a general term for various plants from the Cucurbitaceae family, like watermelon, bitter melon, pumpkins, cucumber, etc. There are also many kinds of melons with different shapes, sizes, and textures, such as cantaloupes, muskmelons, honeydew, and beyond.
However, melon is actually a berry botanically. They are extremely juicy, making them a perfect treat for hot summer.
So how many kinds of melon have you already tried? If you have any chance to see the ones I listed above, try it! They are really worth it!
5. Malay Apple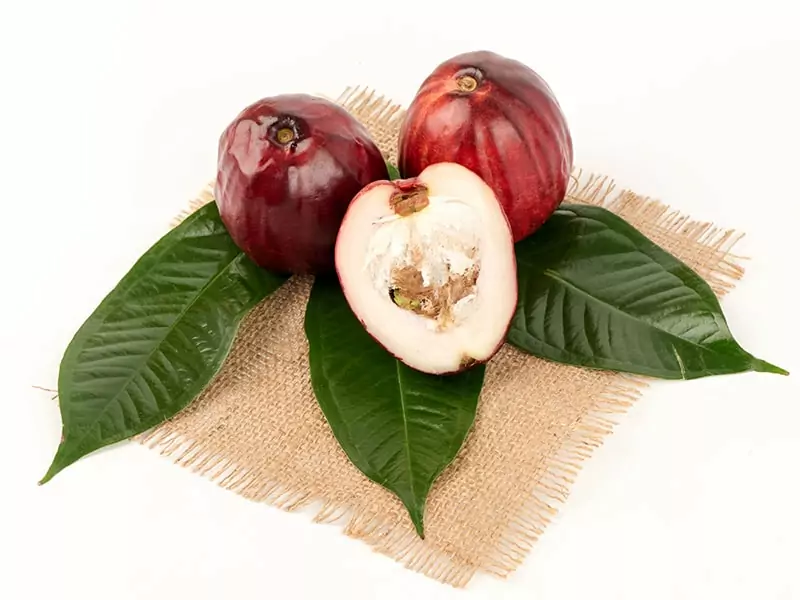 Despite the word "apple" in its name, the appearance and taste of Malay apples are very different from other popular apples you have known.
Malay apple is also a tropical fruit with the scientific name Syzygium malaccense. This fruit has a crunchy texture and a moderate sweetness. You can eat them fresh or apply them to your culinary recipes. In addition, in Puerto Rico, they are also used to make wine.
But sadly, it can be difficult to find them in the small supermarkets in towns.
6. Mamey Sapote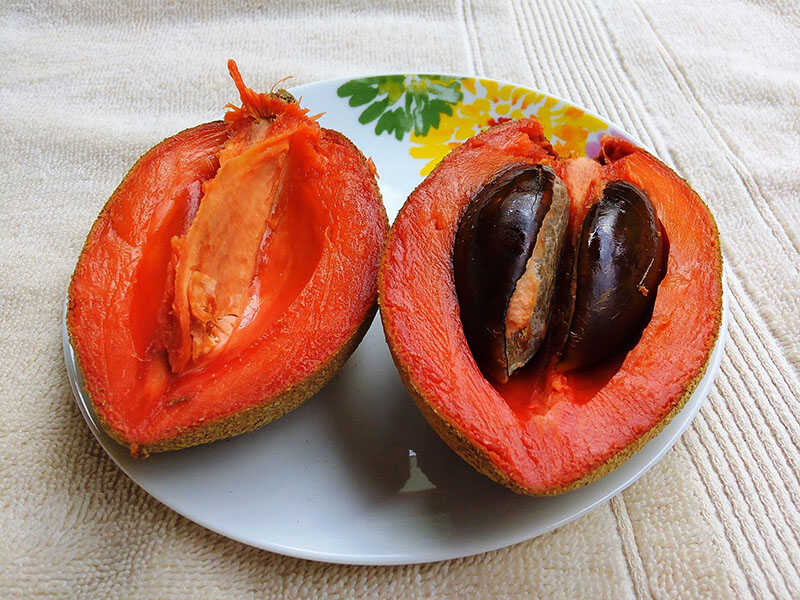 Mamey sapote has a creamy texture that is very similar to avocados. It's a tropical fruit with orange or reddish flesh and brown skin. The flesh is soft and not too sweet. Actually, its flavor is like a mixture of pumpkin, potato, and apricot.
Therefore, this fruit is easy to eat for children. Just like avocados, mamey sapotes taste best to eat fresh, and you need to remove the hard seed inside. But there are also other ways to use them, like making smoothies or desserts.
Regarding nutrients, the fruit is high in iron. It also contains vitamins A and C (4). You can buy them in the local markets when it is in season (usually from May to July). But if you want the best mamey sapotes, visit South Florida!
7. Merlot Grape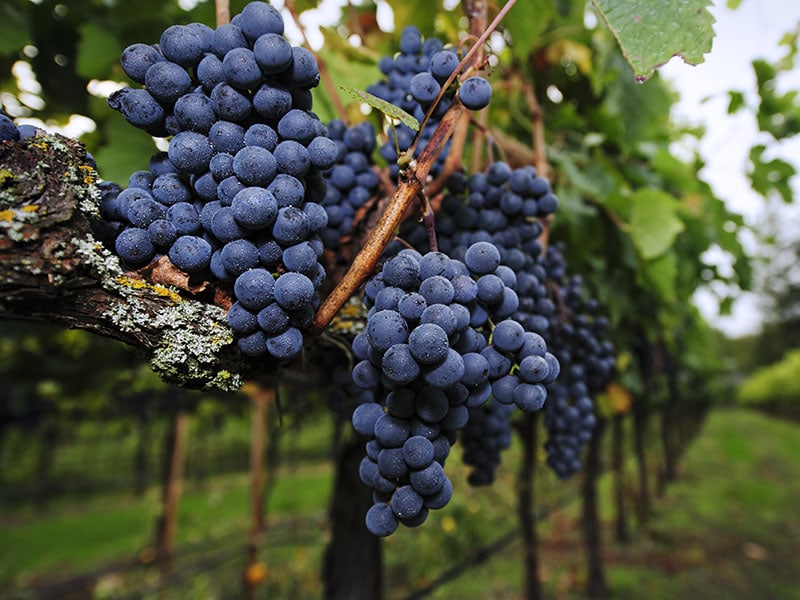 Who can forget merlot grapes when it comes to fruits and veggies with "M" as the first letter, especially among wine lovers?
Merlot grape is a dark blue–colored grape popular grown in France, and it is the main ingredient for making the world-famous wine – Bordeaux, a side that is often paired with beef wellington! They are the second most widely planted grape in the world.
Due to its well-known "wine grape" nickname, when mentioning the flavor of the Merlot grape, people normally describe the wine's flavor. In general, Merlot has a boisterous black cherry with vanilla undertones. They are fairly easy to drink.
8. Maraschino Cherry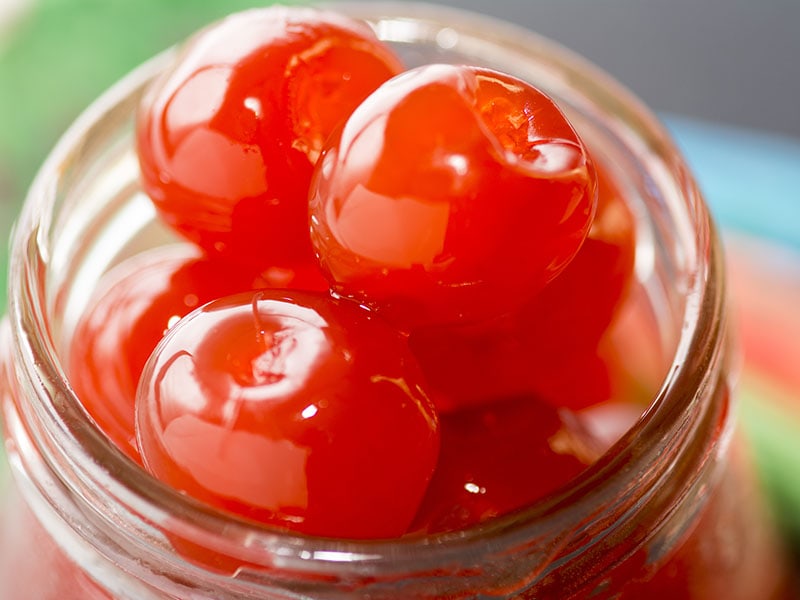 Maraschino cherries are sweet, vibrant, and quite the crowd-pleaser. Known as the cocktail cherry, these sweetened fruits are bleached in a brine before being submerged in syrup and food coloring.
Ideal cherry cultivars for making Maraschino cherries are Gold, Rainier, or Royal Ann varieties. In general, they're perfect for your favorite cocktails, non-alcoholic beverages, and desserts.
But remember, with 2 grams of sugar in just one cherry (5), it's best to enjoy them in moderation!
9. Mulberry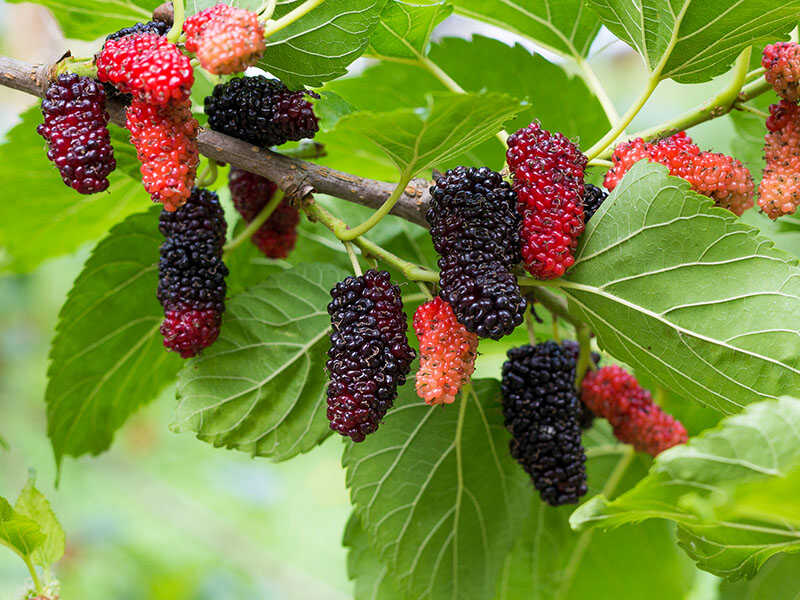 Mulberries grow wild in temperate areas with tantalizingly juicy and plump fruits larger than your average blackberry. They come in charming black, red, and white palettes, each flaunting a distinct taste profile.
These fruits usually have a sweet-tart flavor reminiscent of blackberries. From pies and tarts to wine and herbal teas, mulberries bring a fruity punch to your treats. Plus, they're nutrition powerhouses packed with vitamin C, K1, iron, and potassium (6).
10. Marrow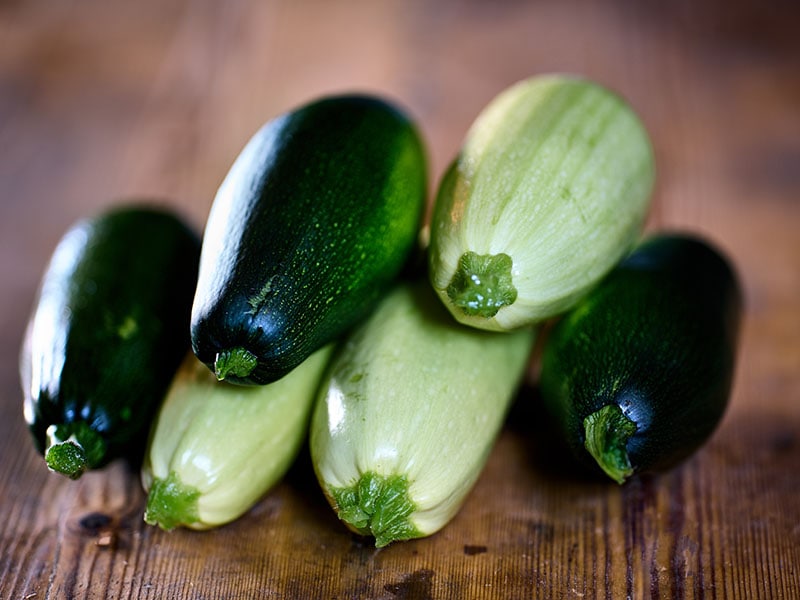 Marrow is a mature zucchini or courgette. It's technically a fruit but gets used like a veggie. Also, marrow is a part of the same family of squash, melon, cucumber, and its younger sibling, the zucchini.
With an oblong shape and firm green rind, it brings an extra choice to your shopping list for making meals. The neutral, watery taste of Marrow is ideal in savory or stuffed dishes.
11. Mahkota Dewa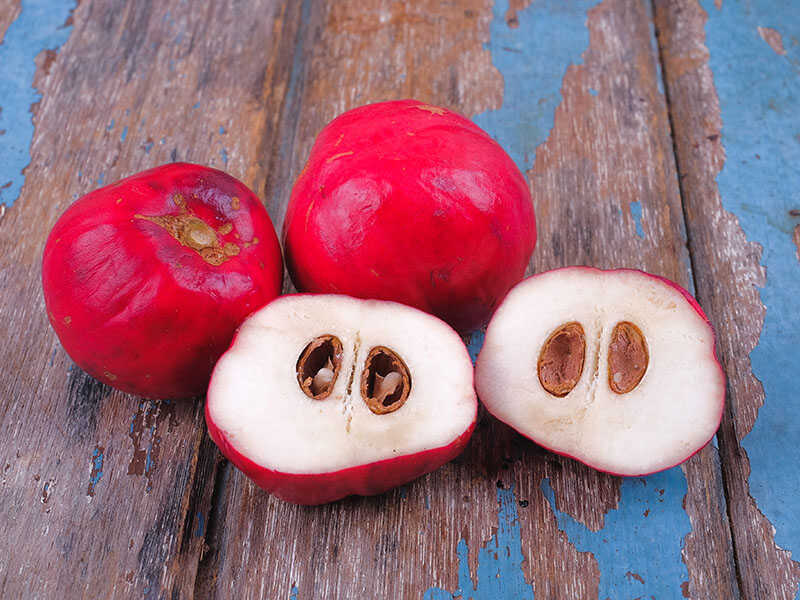 Mahkota Dewa, also known as God's Crown or Phaleria macrocarpa, comes from Indonesia and the tropical regions of New Guinea. This unique plant produces red fruits that hide white, fibrous flesh under their skin.
The mildly sweet profile of Mahkota only appears after careful processing, as eating them raw isn't recommended. However, you should always remember to discard one or two seeds within the fruit. They're a no-go due to their poisonous nature.
12. Malabar Gourd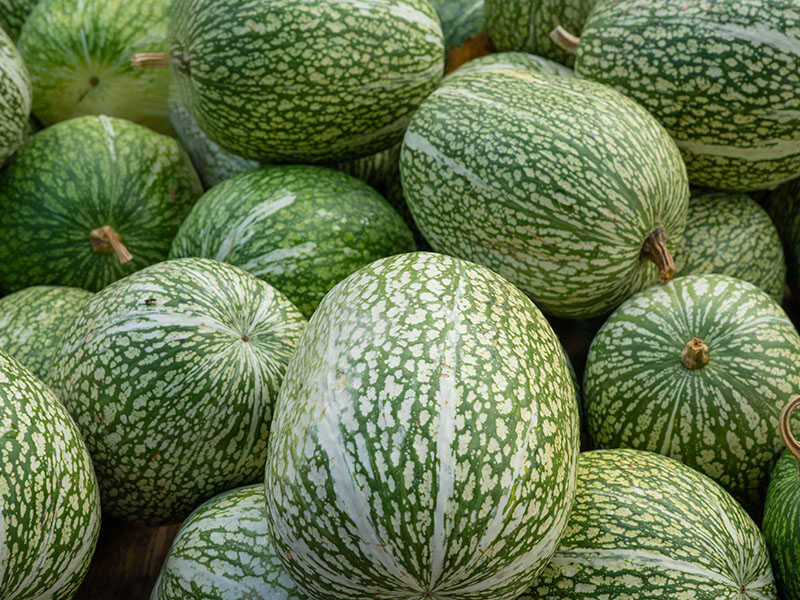 The Malabar gourd, also known as Asian pumpkin, chilacayote, Cucurbita ficifolia, or black seed squash, holds its roots in South and Central America. This variety of squash is a versatile food source with its edible fruit, leaves, and stems.
The fruit comes at a modest 4 inches in diameter with a very mild taste of flesh that absorbs the flavors of other ingredients well. Therefore, if you are looking for something new in your daily dishes, you can check this vegetable.
Beyond its culinary appeal, the Malabar gourd is a good fiber source and vitamin C and has anti-inflammatory properties.
13. Mamoncillo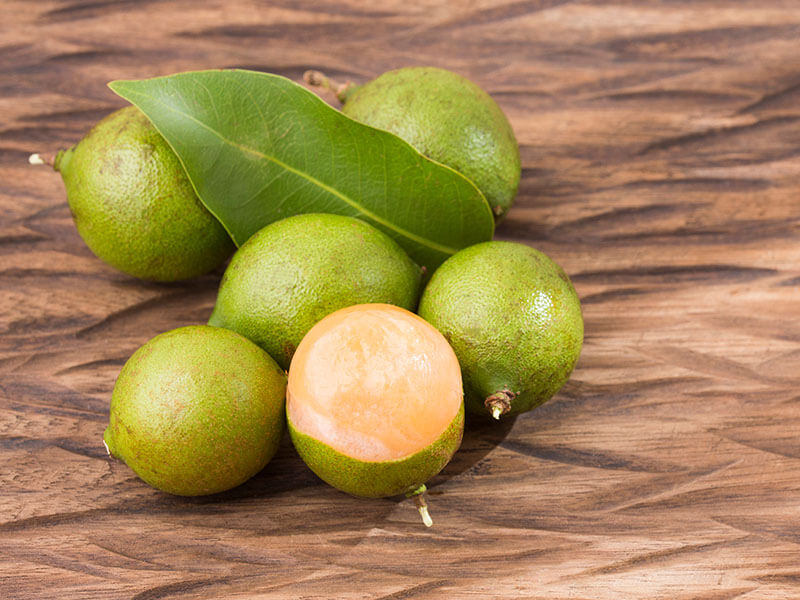 Also known as the Spanish lime, Mamoncillo is a delightful stone fruit native to Colombia and Venezuela. This member of the Sapindaceae family offers small, sweet fruits with a gelatinous pulp, boasting a unique, bittersweet, wine-like flavor.
Mamoncillo is fantastic for using fresh or featuring in canned foods. In addition, you may add a splash of juice to both alcoholic and soft drinks.
It's a great source of iron and phosphorus. Just a word of caution, though, the seed is quite slippery and could pose a choking hazard.
Vegetables And Legumes
14. Mustard Greens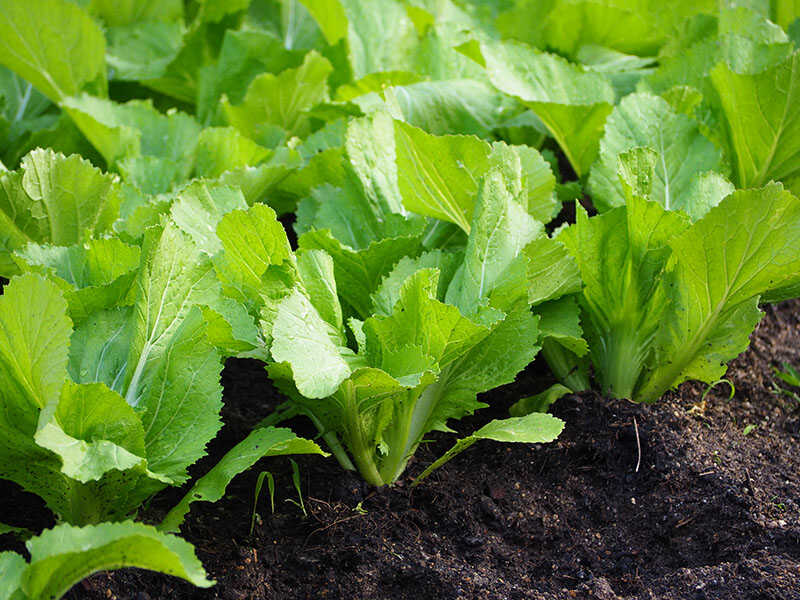 Mustard greens are a species of the mustard plant also known as brown mustard, Chinese mustard, or leaf mustard.
They are a versatile culinary delight with edible leaves, stems, and seeds having a peppery kick that is less bitter than kale. The leaf part is mostly used in African cooking and other cuisines.
These greens can be stir-fried, stewed, steamed, pickled, or even eaten raw. Though similar to spinach, when cooked, they pack a stronger taste. They're also a great source of vitamins A, C, and K (7).
15. Magic Molly Potato
Magic Molly Potato is a showstopper. This long tuber variety is cloaked in purple skin that is nearly black while hiding the firm, dark purple flesh beneath.
Even after cooking, that vibrant color remains on the potatoes. Once you bite this waxy flesh, it leaves you with an earthy flavor, making it a top choice for roasting, baking, sautéing, and boiling.
16. Malabar Spinach
Though it's a leaf vegetable popular in tropical Asia and Africa, Malabar spinach is a misnomer, as it isn't botanically a true spinach.
This leafy green is a member of the Basellaceae family, boasting a nutritional profile that includes magnesium, phosphorus, potassium, and triple the vitamin C of regular spinach (8).
So how to consume it properly? The vegetable makes its way into a medley of dishes – raw in salads, stir-fried, boiled, steamed, or incorporated into soups, stews, and curries.
17. Mung Beans
Mung beans, also known as green gram or moong beans, are a culinary staple across East, Southeast, and South Asia. This type of legume has a special place in Indian cuisine for its mild, slightly sweet, and nutty flavor.
Furthermore, these little bean grains are versatile ingredients for both sweet and savory recipes. Beyond their taste, these tiny beans pack a punch in terms of nutrition and antioxidants (9), although they should be eaten in moderation to avoid a dip in blood sugar levels.
18. Mangetout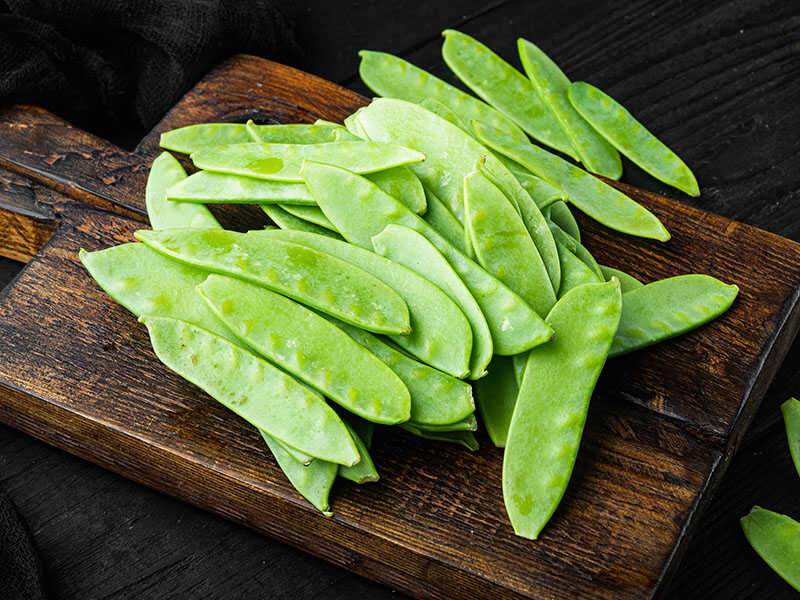 Mangetout is a term that translates to "eat all" in French. It also refers to young garden peas, including snap peas and snow peas. Commonly, snap peas come with rounded pods and thick walls, while snow peas are flat with thin walls.
These peas are harvested while still tender, allowing you to enjoy the sweet and crisp pods. If you can't find mangetout, thin green beans make a handy substitute.
Grains, Cereals, Nuts, And Legumes
19. Muesli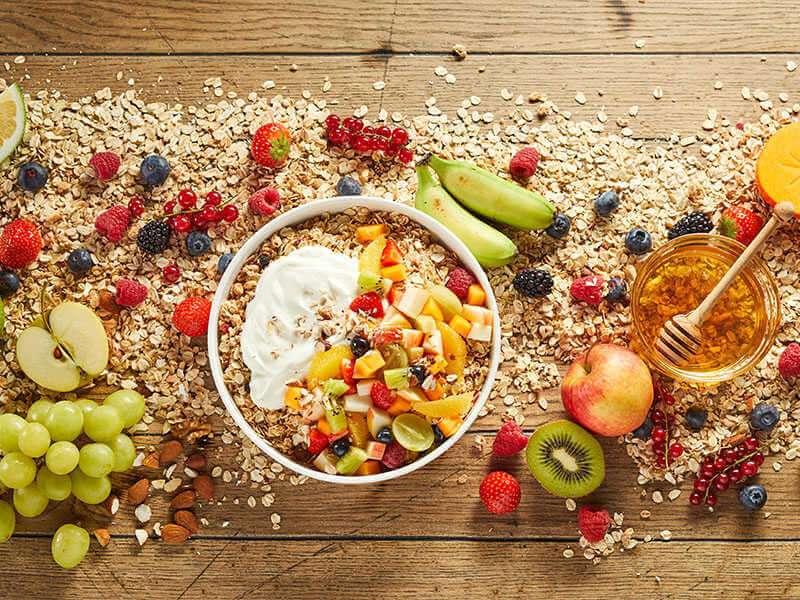 Muesli is a Swedish-style nutritious breakfast cereal made from a mixture of rolled oats, nuts, seeds, and dried fruits. It is typically eaten with milk or yogurt. And, of course, Muesli can be customized to suit individual tastes and dietary preferences.
In general, it is a healthy and delicious alternative to traditional breakfast cereals and is often enjoyed by those looking to maintain a balanced diet.
It is also a healthier alternative to granola, which uses similar ingredients but with the addition of sweeteners such as honey or maple syrup and oil to bind everything together. So Muesli has a lighter, less sweet taste compared to granola.
20. Macadamia Nut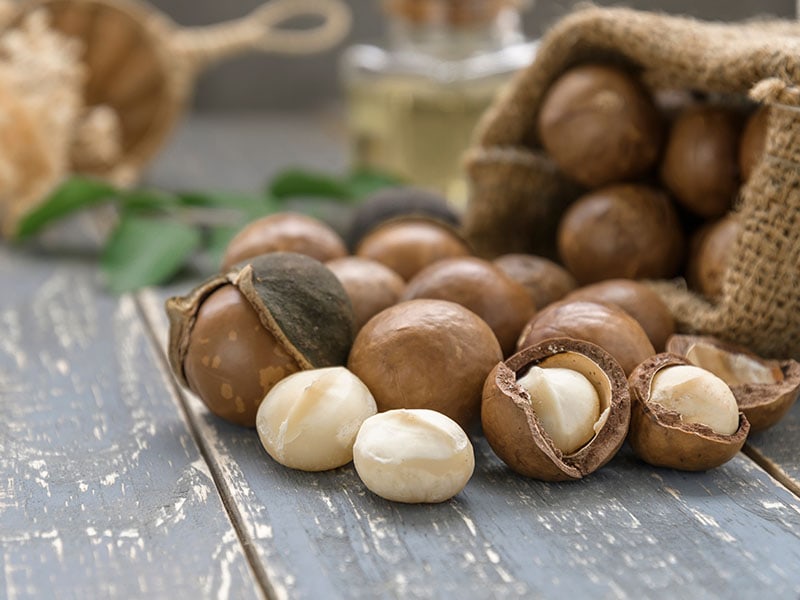 Macadamia nuts from Australia's northeastern New South Wales and southeastern Queensland can offer more than just a rich, buttery flavor and creamy texture. These low-sugar and low-carbohydrate nuts are a great dietary fiber and antioxidant source (10).
However, they're not for everyone as they can trigger allergies. Despite their high price tag, they pair beautifully with flavors such as coconut, lemon, and coffee, making them a luxurious addition to many recipes.
21. Maize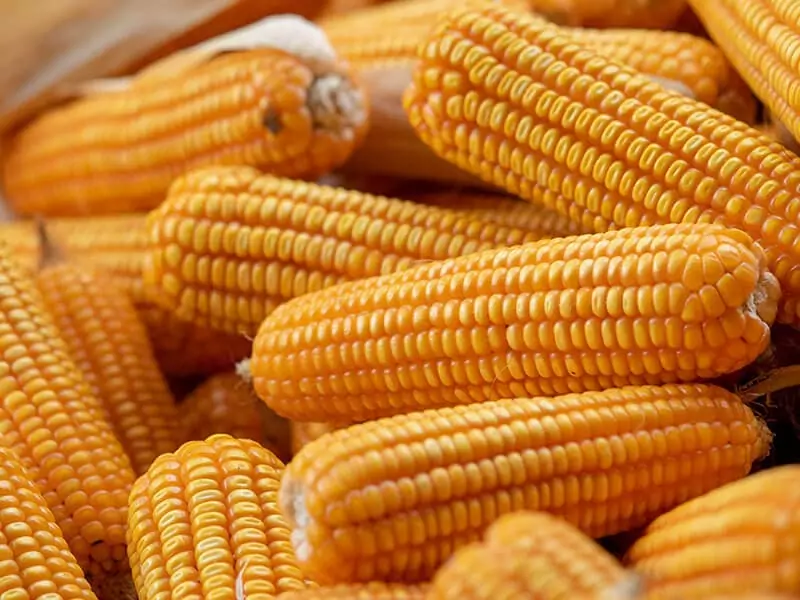 Maize, better known as corn in North America, is a significant food source for both animals and humans. It's indeed a cornerstone of Mexican cuisine, starring in dishes like tortillas and cornmeal.
Beyond that, maize even features in your breakfast cereals and snacks. But it's not just about taste – maize comes packed with carotenoids lutein and zeaxanthin, which are beneficial for eye health (11).
22. Malt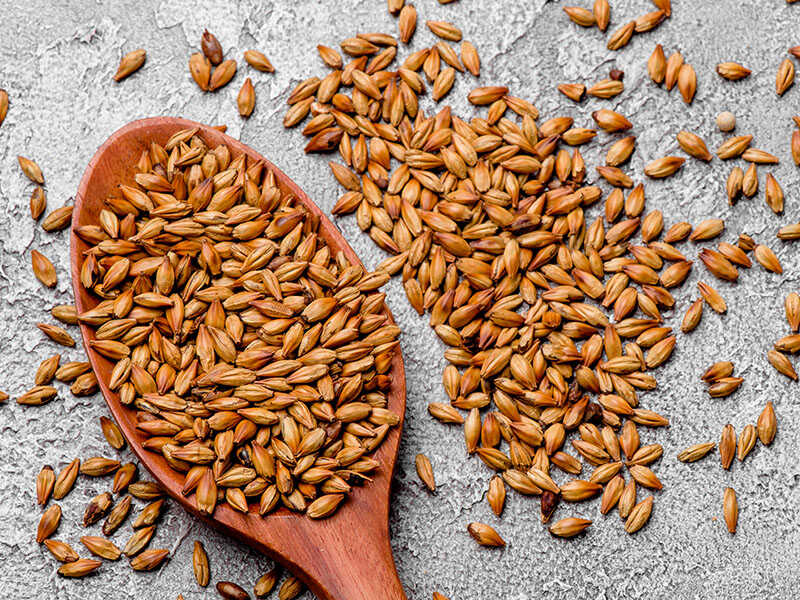 During the fascinating transformation of barley, you get the malt. Typically, people soak malt in water and halt at just the right moment for usage. This process gives it a pleasing nutty, mildly sweet taste with a hint of caramel.
Malt is a major player in brewing and distilling as it lends its fermented magic to certain foods. Since it does contain 8% simple sugars, it isn't a free-sugar product. Plus, it's a lovely source of fiber, potassium, folate, and vitamin B6.
23. Millet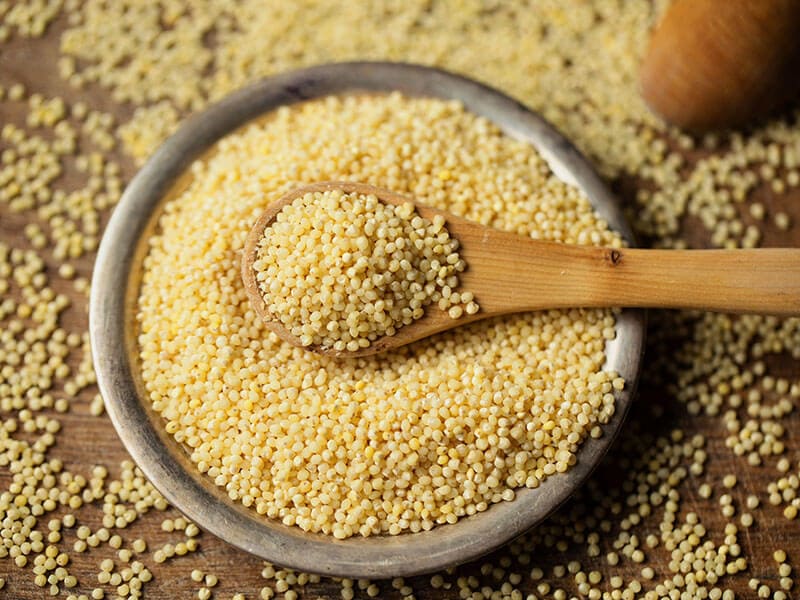 The small-seeded grasses called millet have a light yellow hue that can pair well into a range of dishes. Its mild, corn-like flavor carries a touch of sweetness, but once toasted, it takes on a delightfully nutty taste.
You can use millet to whip up a comforting porridge, use it as an oatmeal substitute, or incorporate it into bread, cereals, and other savory delights.
24. Mixed Nuts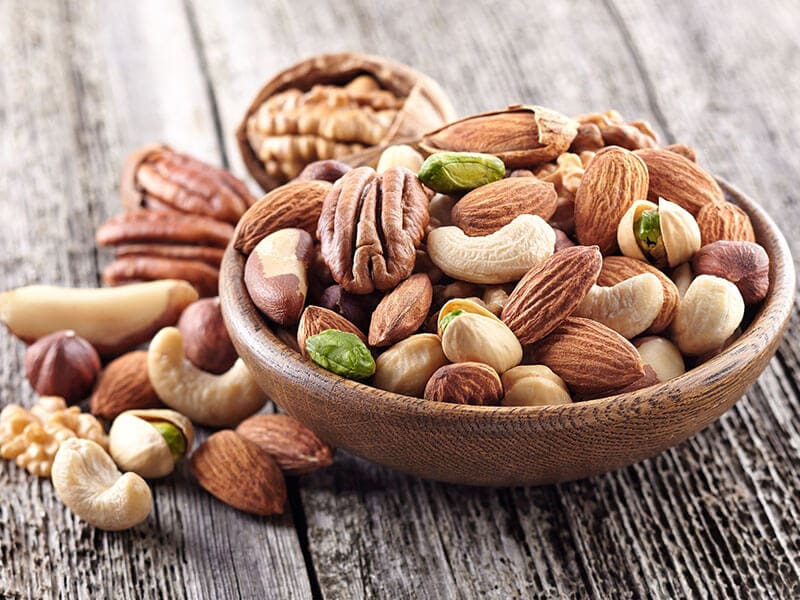 Mixed nuts bring together various nuts like Brazil nuts, cashews, peanuts, almonds, walnuts, hazelnuts, and pecans which are flavorful and nutritious choices. Whether you prefer them blanched, cooked, salted, or roasted, they can all meet your demands.
Furthermore, these nuts are packed with protein, antioxidants, fiber, and vitamins. They're easily found in supermarkets and serve as a versatile snack or a component in baked goods, such as toffee or tart.
Fish
25. Mullet
Mullet is a ray-finned fish from the Mugilidae family that is a coastal dweller in temperate and tropical waters. Its white, firm flesh carries a rich, nutty, and oily flavor that is adored in Mediterranean Europe.
Whether you like mullet fried, baked, or steamed, this versatile fish is the one to pick with a good dose of omega-3, vitamin B6, potassium, selenium, and phosphorus.
26. Mackerel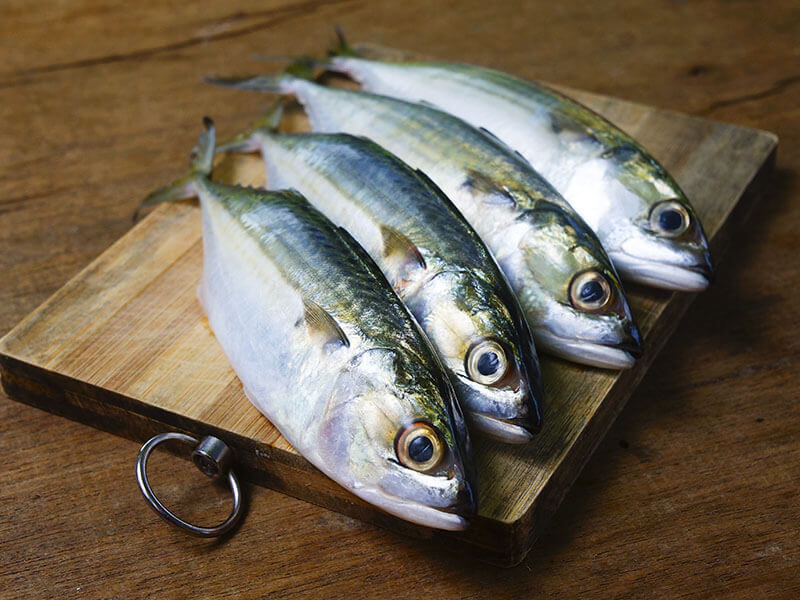 As a member of the Scombridae family, mackerel prefers coastal and offshore habitats in mild and tropical seas. Additionally, this oily fish, with a fishy and subtly sweet flavor profile, might remind you of fresh salmon.
The firm meat texture makes it a favorite choice in the kitchen, whether for grilling, frying, or incorporating it into curries and pasta.
What's more, mackerel matches salmon in terms of omega-3 levels, offering a boost to heart health by reducing blood pressure and cholesterol levels (12).
If you prefer a cheaper alternative, canned mackerel is a handy pantry staple for a quick, nutrient-packed meal.
27. Mahi Mahi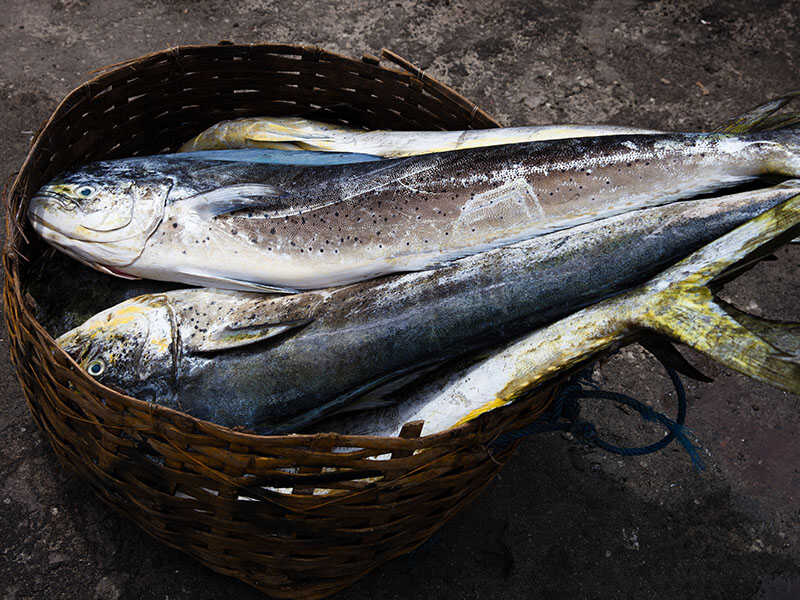 The common dolphinfish named mahi mahi often resides in temperate, tropical, and subtropical waters. This ray-finned fish, typically measuring between 33-55 inches and weighing from 15 to 40 pounds, is a favorite for its sweet and moderately mild flavor, similar to swordfish but milder.
In addition, its firm, lean flesh forms large, moist flakes when cooked, making it perfect for pan-searing, especially with a touch of lemony sauce. Furthermore, mahi mahi is also rich in B vitamins, offering a healthy and delicious choice.
28. Morwong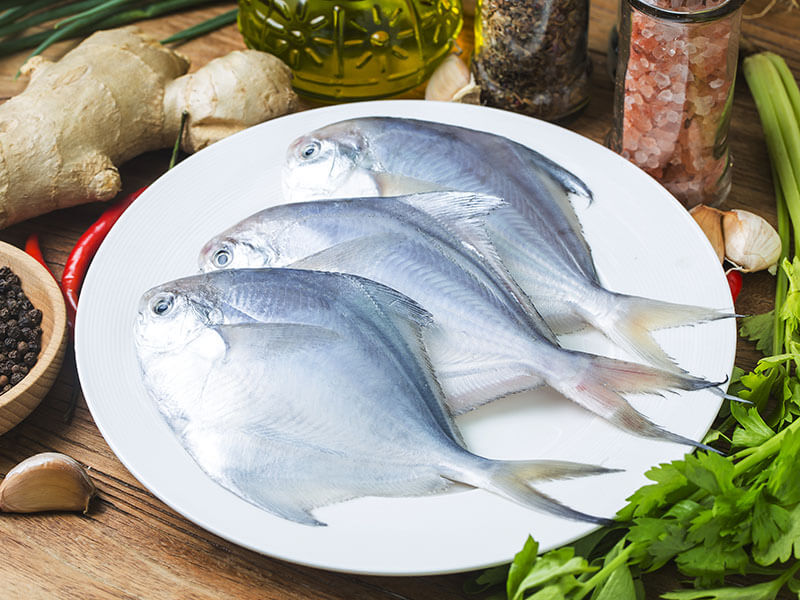 Morwong, also known as butterfish or finger fins, is a resident of subtropical oceans. The creamy flesh of this fish, characterized by a medium to firm texture, gives off a mild-fishy flavor that works wonderfully for frying, baking, steaming, or grilling.
What's more, its flavor shines when combined with various herbs, spices, or condiments. Usually, I prefer combining morwong with chili, coconut milk, teriyaki, or basil.
29. Monkfish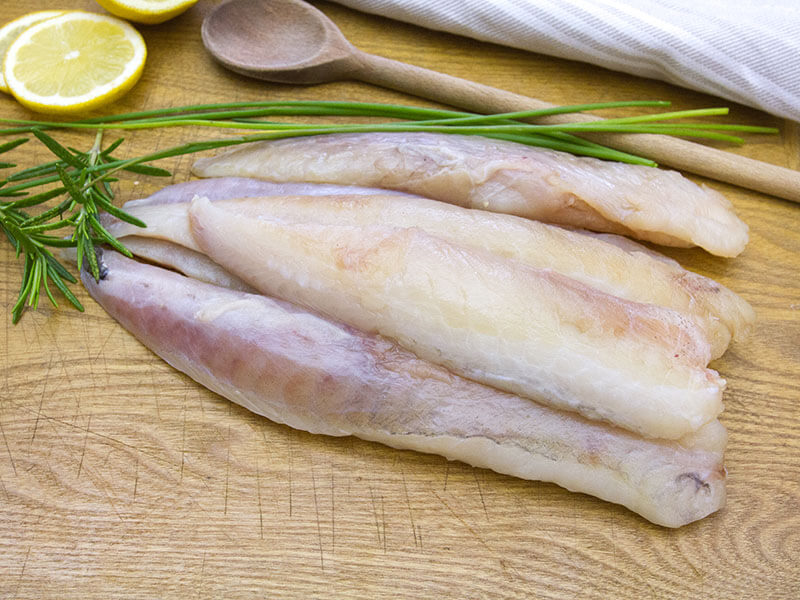 The native monkfish of the Atlantic and Indian Oceans carries a sweet, mild flavor that's anything but fishy. The meat has a white, firm flesh often likened to lobster, leading to its playful nickname, the "Poor Man's Lobster."
Monkfish are usually more affordable than their crustacean counterparts, with their tail filets being the most sought-after item. As for cooking? It's quite versatile, adapting beautifully to baking, grilling, roasting, or pan-frying.
30. Mirror Dory
Mirror dory is a popular sport fish mostly caught from Sydney to Portland. The fish brings joy not just for the thrill of the catch but also for its culinary potential. Its fine, moist flakes and mildly sweet flavor make for a delightful eating experience.
Furthermore, with low oiliness and bones that are a breeze to remove, mirror dory is as user-friendly in the kitchen as it is delicious on the plate.
Sweets and Desserts
31. Marshmallows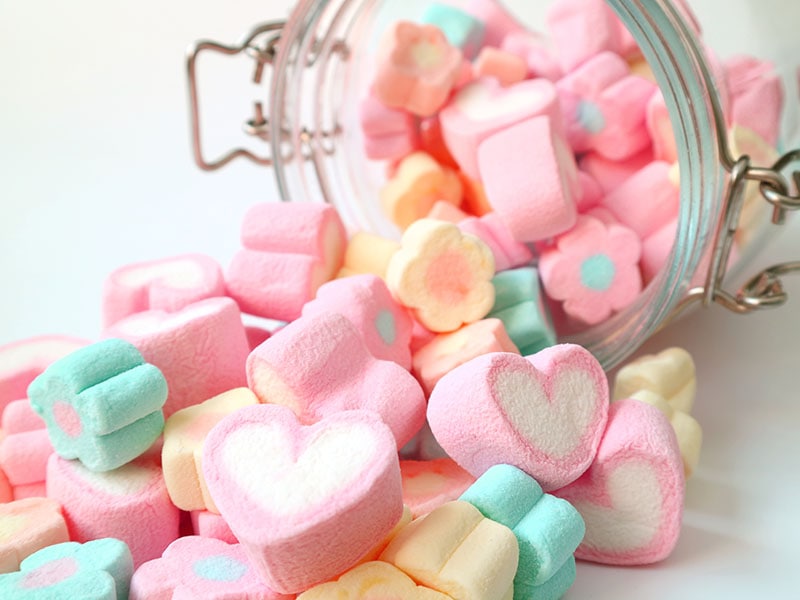 Marshmallows are a kind of confectionery with sugar, water, and gelatin as the main ingredients. They are made into small solid consistencies, but their texture is very soft. And also, because of its mild sweetness and soft feeling when eaten, children usually really like it.
Other than roasting the marshmallows over an open fire, there are several other ways to enjoy these spongy treats, like adding them to your cakes or drinks.
In fact, there are so many decadent recipes featuring marshmallows that it'll take forever to try them all. Certainly, they'll be enough to sate your inner sweet tooth.
During your picnics or travel, buy marshmallows and then take them with you to eat on the train.
32. M&M's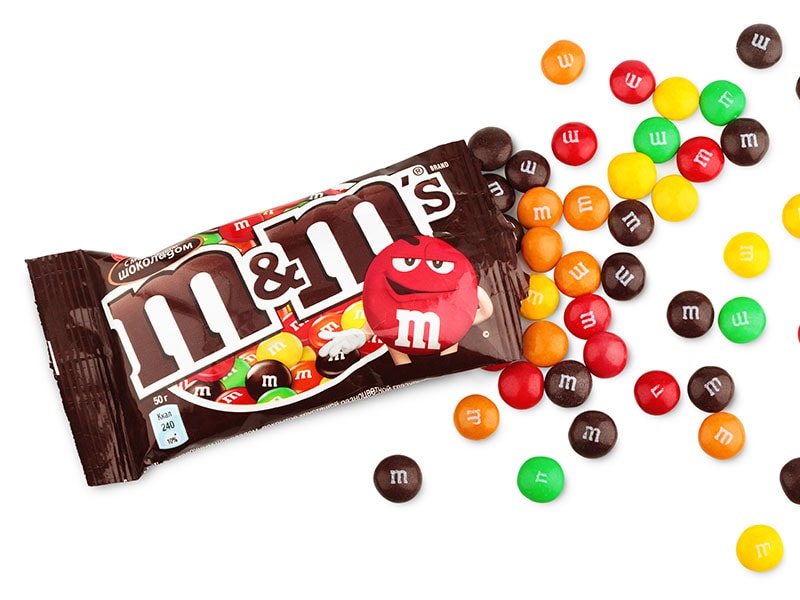 Another famous snack around the world! Introduced by Forrest Mars and William Murrie in 1941, this colorful button-shaped sweet chocolate candy will bring you back to your childhood when you were still a little kid in kindergarten.
You can eat it when you feel stressed or exhausted because of the overwhelming amount of work. Sweets, especially chocolate, are always an effective "treatment" to improve your mood.
Plus, they are available in various styles. Some come with nuts; some don't. But whatever M&M variation you choose, you can store it in your cupboard and enjoy it whenever you want.
33. Milk Chocolate
I can assure you that milk chocolate is a confectionery sold in every country on the earth. You can find them in any corner of the world.
It is demonstrated in many studies that chocolate, including milk chocolate, can help to calm your emotions, reduce the risk of heart disease, balance your body's internal water level, etc.
If you don't want to eat it directly, you can add it to your smoothies or your bread, or use it as a sub-ingredient in your cookie recipes. Milk chocolate never becomes "old-fashioned"!
34. M&M Popcorn
If you like popcorn and love to try new versions of foods, this snack undoubtedly belongs to you.
M&M popcorn is a good pick for you when planning a movie night on a work-free Sunday. This snack is a mixture of sweet and salty flavors with chocolate added to popcorn.
And why are M&M popcorn? Well, don't be suspicious!. It's light in sweetness, crunchy, and an affordable snack that you can easily buy. Nonetheless, there are two sides to the same coin. You shouldn't eat so much. It may make you gain more weight.
35. Mixed Dried Fruits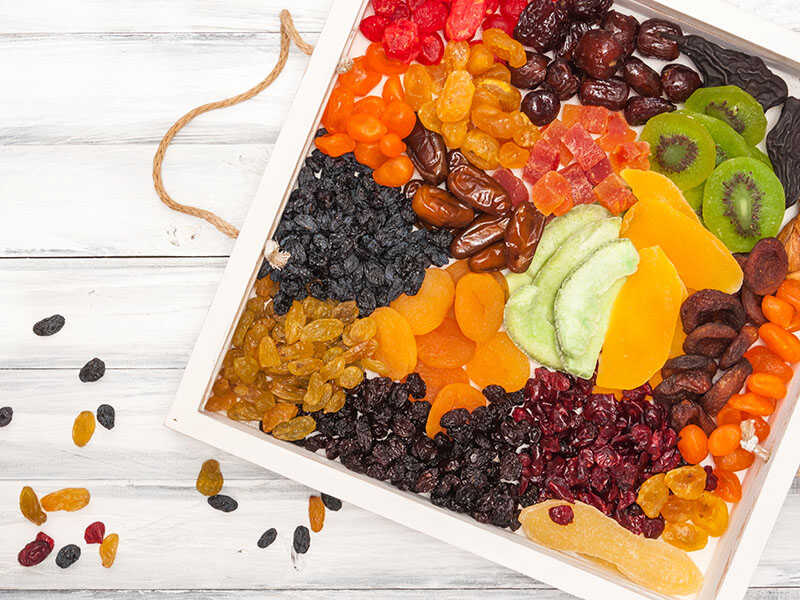 I've already heard complaints from fruit lovers. Don't be in a hurry like that. This kind of snack will definitely satisfy you!
Not only can fruits be eaten when they are fresh, but you can also eat them in the dried form as your side meals. Mixed dried fruits contain many nutrients and are a very healthy snack for those on a diet.
Better yet, you don't need to buy fresh fruit and make it yourself home. Mixed dried fruits are now available everywhere, including convenience stores near your house!
36. Muffins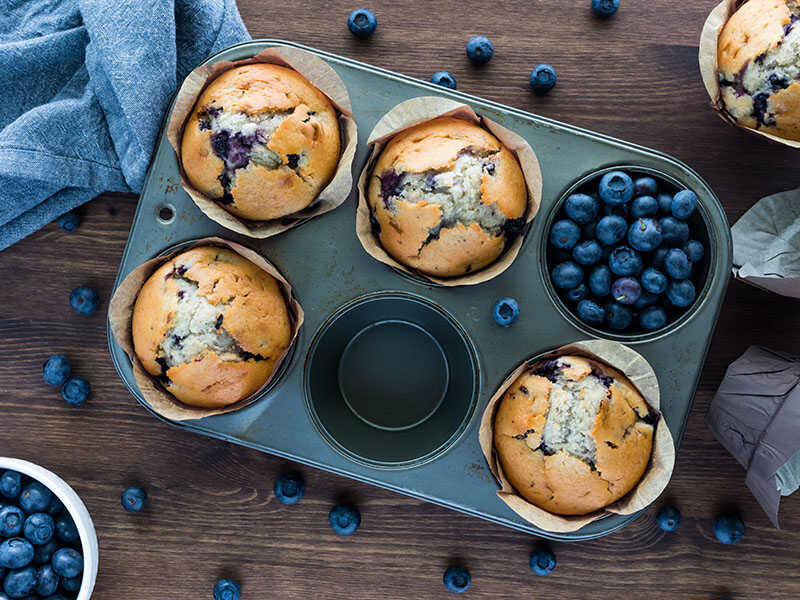 The reason I added muffins to this uncooked food list is because of their popularity. Let's visit any bakery in your city; I believe that you can find them.
Muffins are quick bread with fillings inside. This type of cake originates from France. They are delicious and suitable for snacking before the main meal. Plus, they also come in various flavors, from chocolate, pumpkin, cinnamon, or fruits, like berries.
It is also a great choice for a grab-and-go breakfast. But if you have more time, you can enjoy it with a cup of milk in the morning. I'm sure this delightful quick bread will calm your hunger.
In addition, you can choose between savory or sweet muffins, depending on your preference. These lovely cakes are also easily taken by your side: go to school, work, picnic, etc., without being spoiled quickly like burgers.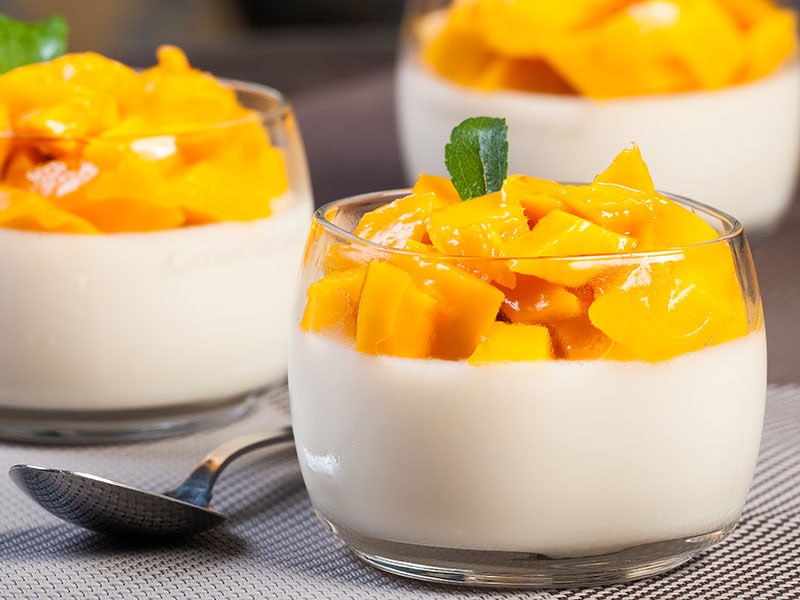 The top pick in my must-try Mediterranean desserts collection is mango panna cotta. This dish, if cooked perfectly, will become a "serial killer" that can easily take your heart away.
No, I'm not exaggerating at all! From the elegant taste to the smooth texture, this Italian dessert can satisfy the most discerning foodies.
And believe me, mango panna cotta deserves a spot on the menu of any high-end restaurant around the world!
You want a decent guide for this dessert, right? Check it out now!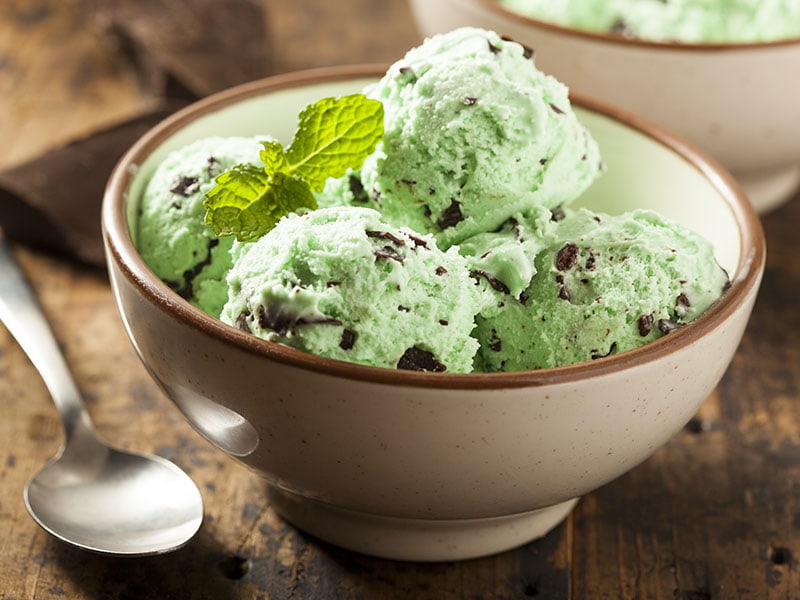 I'm sure there must have been a lot of ice cream fans waiting, right? Here, I would like to suggest you Mint Chocolate Chip Ice Cream.
This is one of the summer desserts that sell out fastest in the city's ice cream parlors. But don't worry, I will provide you with the most perfect mint chocolate chip ice cream recipes.
You can try to make it at home; the kids will love it. Moreover, homemade mint chocolate chips include heavy cream, peppermint extract, chocolate chips, and an ice cream maker. This cold dessert will also be safer as it does not contain any harmful additives or dangerous chemicals.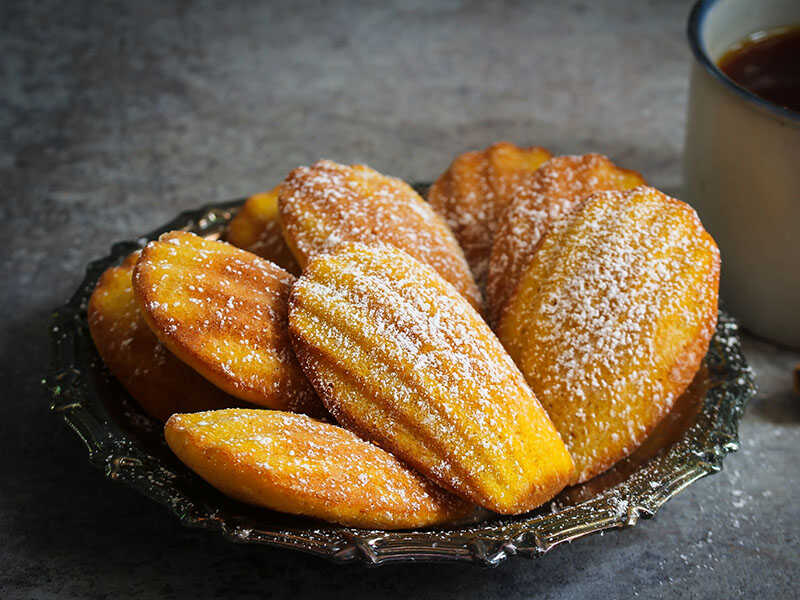 Madeleines – with the pretty look like small shells lying on the beach, can be the most addictive dessert in the world.
Madeleines are soft mini sponge cakes made with flour, sugar, eggs, and butter. It is also one of the most favorite desserts in France. On the other hand, Madeleines is also closely cemented into French culture.
In his autobiography, French writer Marcel Proust once described madeleines as a flavor reminiscent of his childhood memories when he enjoyed madeleines dipped in tea.
If you want to enjoy the best madeleines in France, let's go to visit Fabrice Le Bourdat's Blé Sucré.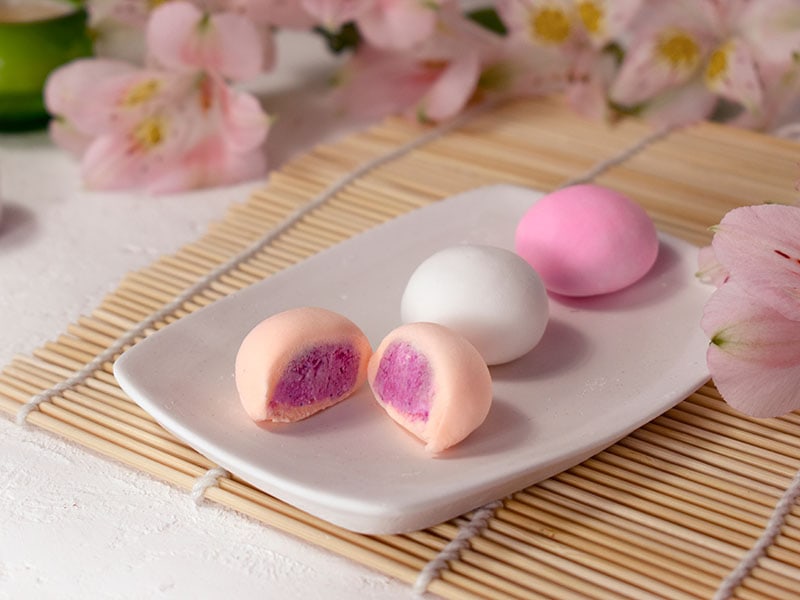 Mochi is a cake deeply associated with the culture of this country. Mochi is an indispensable worshipable offering of Japanese families during the New Year and other holidays of the year.
Mainly made from japonica glutinous rice, this sticky mochi has a sweet taste with a chewy and soft texture. Moreover, they also have a variety of fillings inside, including ice cream. FYI, in Japan, there is a ceremony where locals traditionally make mochi, called Mochitsuki.
Maine blueberry pie is one of my top 3 favorite desserts. As you might have guessed, the name of this dessert starts with the name of the rooted place of the main ingredient – Main blueberry.
Maine's blueberry is fresher and tastier than any kind of blueberry on the supermarket's fruit counter. Therefore, Maine blueberry pie will easily conquer you.
As soon as you try a piece of Maine blueberry pie, I'm sure you'll instantly fall in love with this dessert.
With just one bite, the fresh flavor of the Main blueberry will immediately hit the tip of your tongue.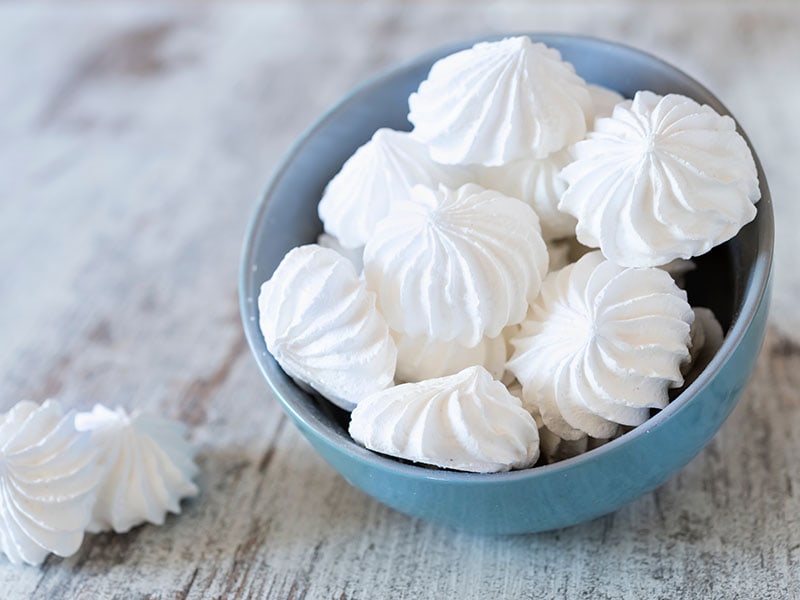 Not simply a snack to eat in your spare time, meringue cookies are also not a bad option after your meal. This is an eye-catching dessert for children because the meringue cookies have an attractive colorful appearance.
The vintage look of these cookies looks like they just came out from a comic book. But remember not to let their appearance trap you too long because they have a significantly high level of sugar inside.
Furthermore, please note that you should bake them at low temperatures to ensure they come out slightly chewy inside and crispy outside.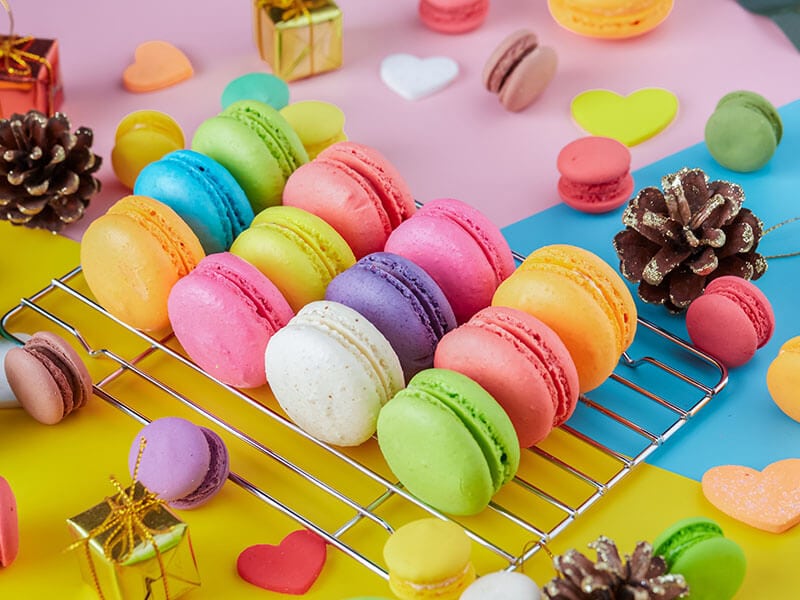 Another famous French dessert is macarons. It seems like almost all French food has a brilliant look; of course, macarons are no exception.
Nonetheless, be careful not to confuse them with a kind of coconut-y biscuit with a very similar name: "macaroon." They are two completely different desserts.
Macarons consist of egg white, sugar, almond flour, and food coloring to create a meringue-based confection. These tasty cookies are often put into classic plates with bright and cute pastel colors.
They also have a filling in the middle, mostly fruit jam or buttercream. A plate of macarons with a cup of hot tea is a peaceful and elegant experience you need to try once in your life.
These classic macarons have a variety of recipes. This video will absolutely be your right answer!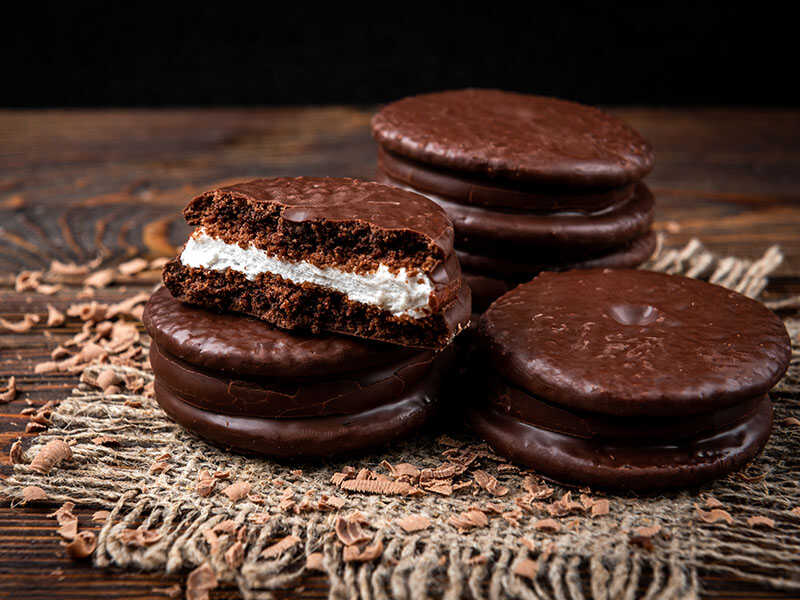 Moon Pie is a well-loved snack in the USA. They include 2 graham cookies with a marshmallow filling and flavored coating. They have 5 main flavors, such as salted caramel, chocolate, vanilla, strawberry, and banana.
If you prefer homemade recipes, combine wet and dry ingredients, bake chocolate cookies, then fill them with a marshmallow mixture and assemble them into delicious sandwich treats. If you like chocolate flavor, make sure to use high-quality cocoa powder for the best experience.
45. Madeira Cake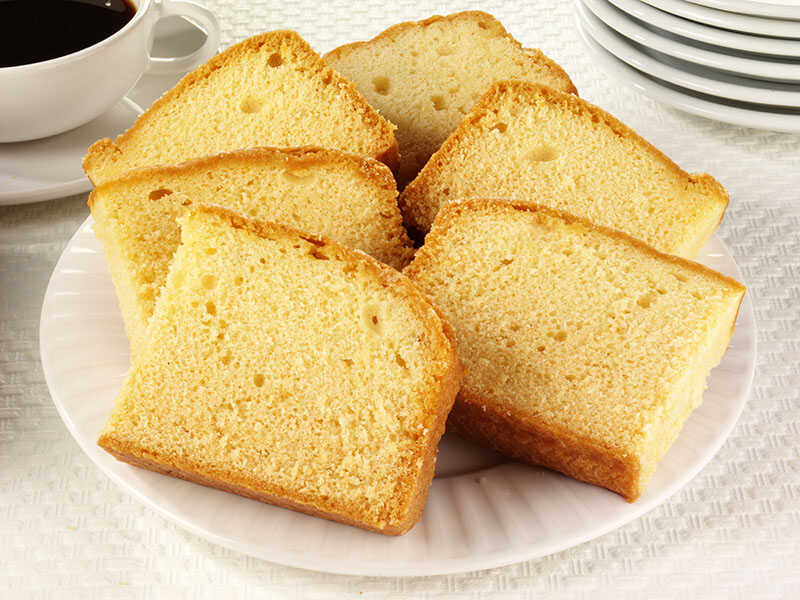 Madeira cake is a well-known delight in British and Irish cuisine. The cake possesses a loaf sponge or butter cake made with simple ingredients like butter, sugar, eggs, and flour.
This firm yet light cake boasts a traditional lemony flavor, thanks to the addition of lemon rind or lemon flavoring.
When you're in the mood for a tasty breakfast, try pairing a slice of Madeira cake with your favorite cup of tea.
46. Marzipan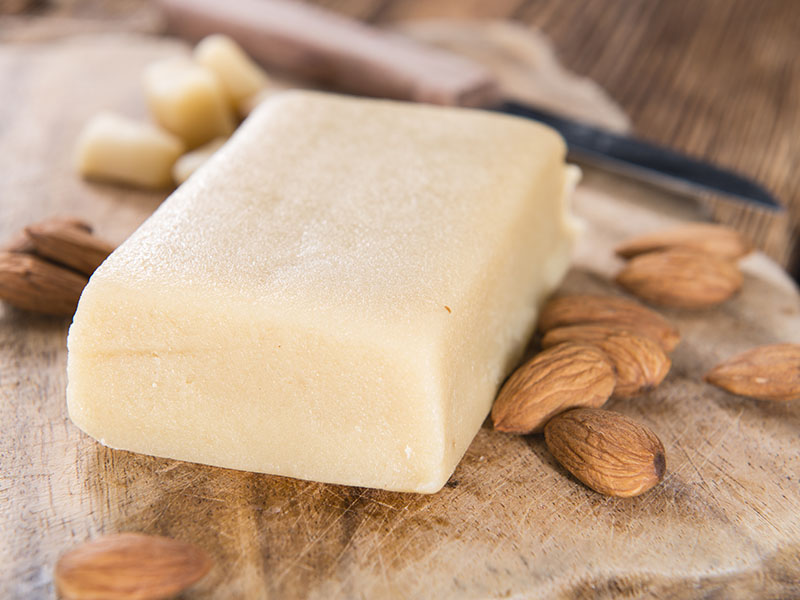 Marzipan is a confection with its origin often linked to Lübeck, Germany. The treat consists primarily of sugar, eggs, and ground almonds or almond paste. In America, Marzipan is also called almond paste or almond candy.
Commonly, this sweet treat can be enjoyed on its own, or as an ingredient in candies, chocolates, cookies, and other desserts. It even serves well as a cake fondant. With its almond flavor and sweet, nutty notes, Marzipan offers a chewy, soft, and clay-like consistency.
47. Mousse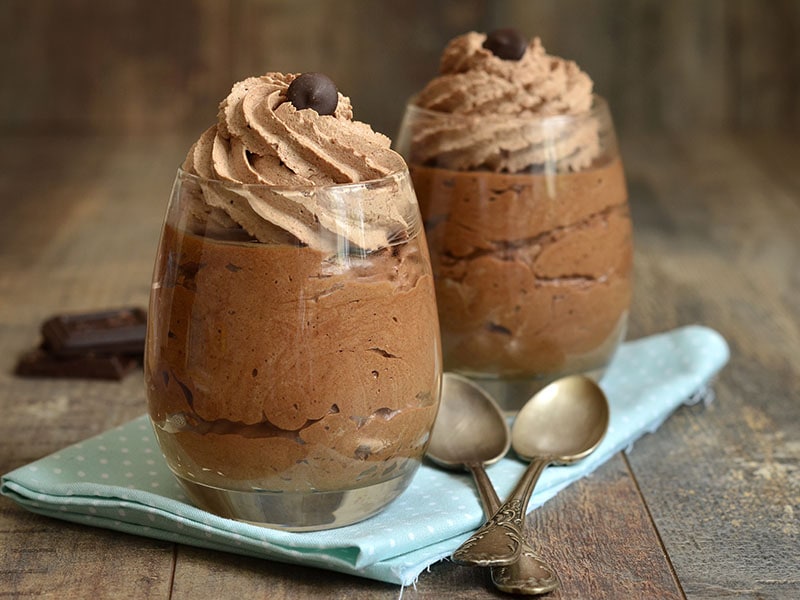 Mousse is undoubtedly a crowd favorite with its light, airy texture. Yet, it can also embrace a creamy, thick consistency, depending on the preparation process. Whisked to become airy, the basic cream, eggs, and sugar trio transforms into this foamy masterpiece.
It's a cooling pleasure, especially when topped with fresh fruit or a dollop of whipping cream. Most associate mousse with a sweet course, but don't be fooled – savory versions exist too! On the other hand, what distinguishes it from pudding is its uncooked nature.
48. Mince Pie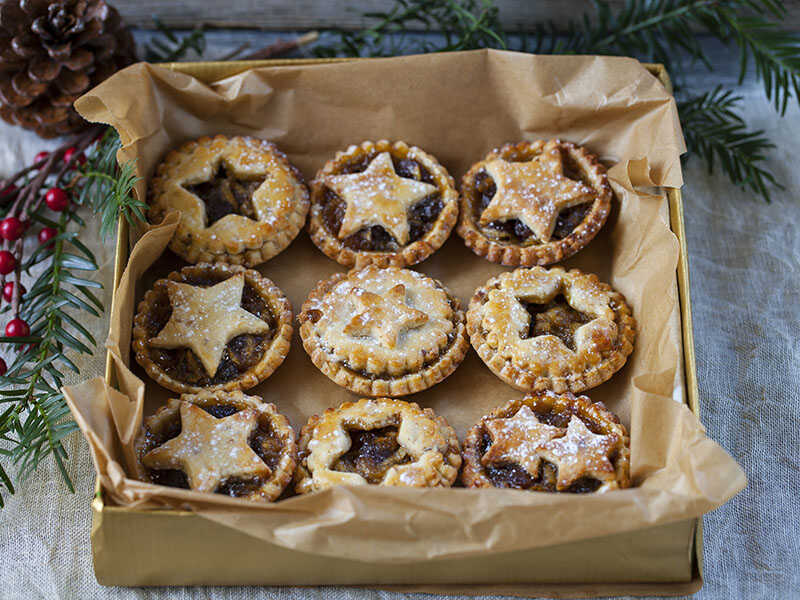 Mince pie, a sweet pie from English culinary traditions, carries the essence of the Christmas season within its signature round shape. Inside is the filling, a festive medley of fresh and dried fruits with a vibrant citrus zest touch.
Some versions even introduce actual meat, like minced beef, sprinkled with aromatic spices, leading to an intriguing range of flavors.
Snacks, Appetizers, And Side Dishes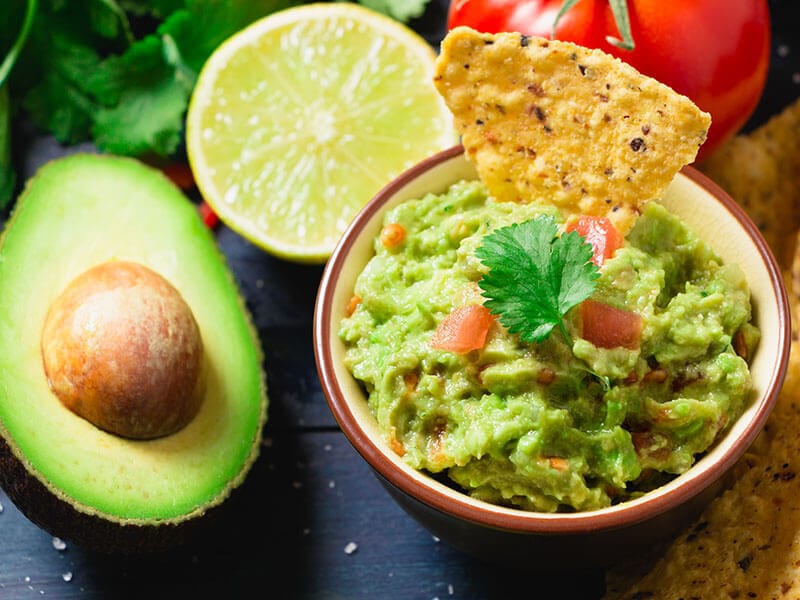 When mentioning Mexican cuisine, I'm sure you will immediately think of the familiar hot, crispy tacos, right? But did you know that Mexico also has thousands of delicious foods waiting for you to discover, excluding tacos?
Yep! Mexican Guacamole is one of them.
Mexican guacamole is a soft, mild dish suitable for both hot summer and cold winter days. It doesn't bring you the heaviness in your stomach after eating; therefore, it's often on the perfect appetizer list with main dishes cooked with fatty and rich cheese.
In addition, it is also the best combination with toast or sandwiches.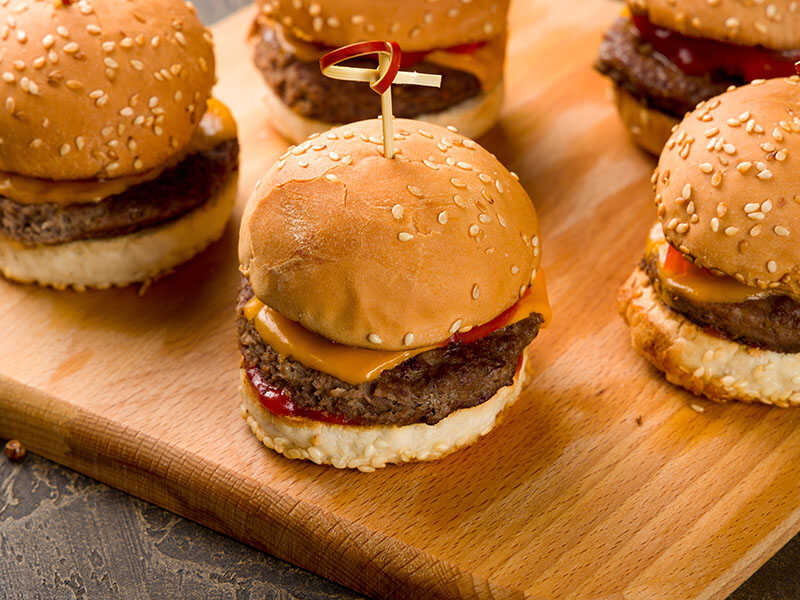 The burger is a typical American food. No matter where you go, you can easily find them anywhere in the city. This dish is not only suitable for busy ones, but through many times of change, its mini version is also a perfect choice for your children's birthday buffet.
This dish is made from simple ingredients such as beef, cheese, etc., that you can buy at a supermarket near your house. Not only that, but it is also an uncomplicated dish to make for unprofessional home cooks.
And I believe the taste of this dish will remind you of your grandma's tiny cozy kitchen when you visit her in your childhood.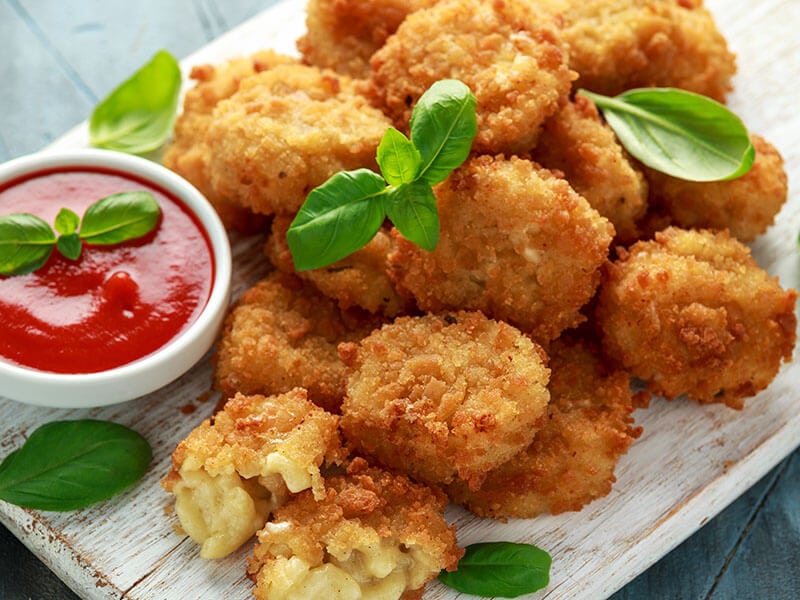 Come on, don't hurriedly give me such a sharp glance like that. When you see Mac and Cheese Bites on my list, you probably think of unhealthy packaged fast foods, right?
But wait, have you ever made this dish yourself at home? Let's go to the kitchen and try to make Mac and Cheese Bites once. I believe Mac and Cheese Bites will be a delicious dish that can calm your hungry stomach on cold rainy days.
The smell of greasy cheese, the typical aroma of milk and eggs, and the smell of flour after baking will make your kitchen the coziest corner in the world.
52. Maultaschen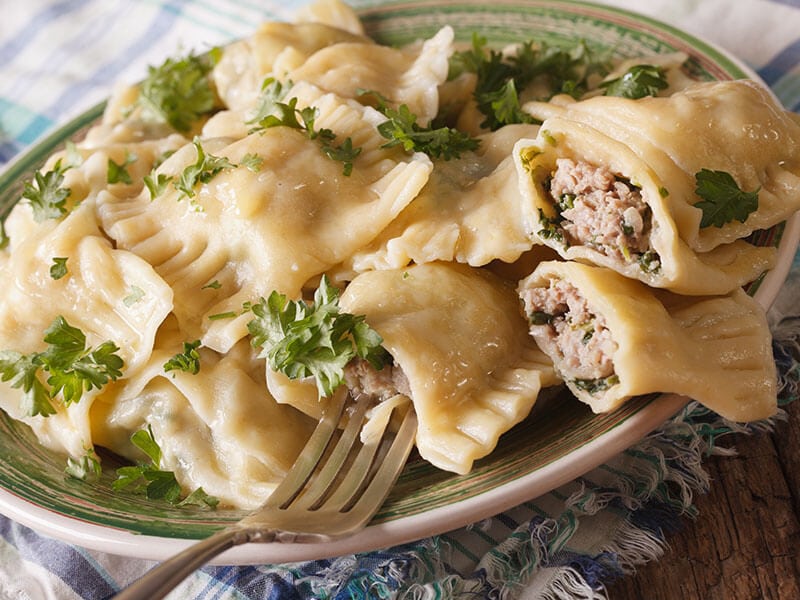 Maultaschen – the last dish I would like to recommend will probably surprise you. Yes, Maultaschen is a traditional German food.
Germany is not only famous for having the best beer and sausages in the world but also for being the motherland of delicious and greasy food. However, the dish I want to introduce to you today is one with a light and mild flavor.
Maultaschen consists of a layer of pasta dough enclosing many fillings inside. They look like Italian ravioli from the outside, but the usual Maultaschen will be cooked with broth or fried.
In 2009, it was recognized as a "regional specialty" of Baden-Württemberg by the European Union because of its important meaning.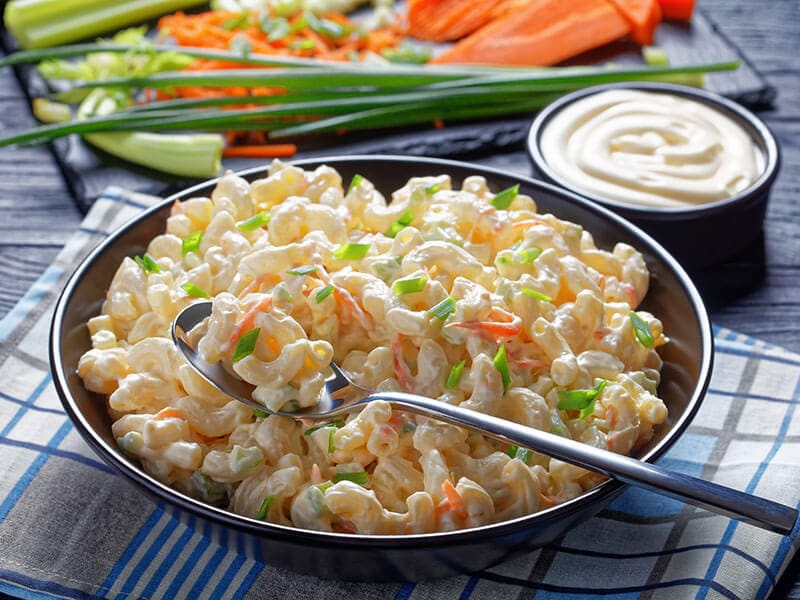 When it comes to macaroni salad, you might immediately assume that this dish comes from pasta's motherland – Italy. But, wait! Let me tell you. Macaroni may be Italian, but macaroni salad is actually a dish invented by Americans.
In the past, macaroni was considered a cheap, boring ingredient. At that time, chefs have tried to improve and create more special dishes from macaroni, and they have been successful because of the birth of Macaroni salad.
Excluding treating it as an appetizer, similar to potato salad, macaroni salad is also served as a side dish to grilled meats, fried chicken, or other picnic-style ones.
This instruction video will give you specific tips on this tasty macaroni salad!
54. Mediterranean Bean Salad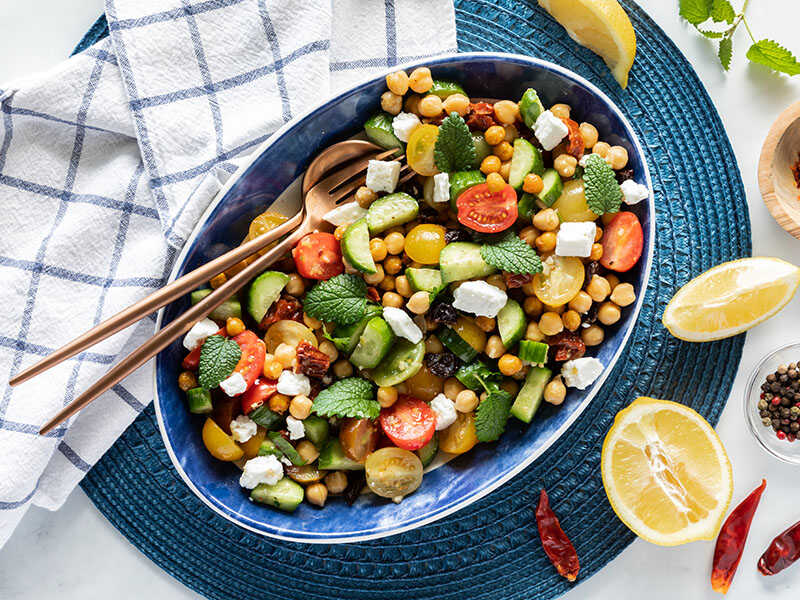 Mediterranean cuisine and salad? What else are you worried about? This is a perfect combination for a fresh and healthy appetizer many foodies always seek.
Mediterranean bean salad is a dish made from various fresh vegetables with beans, olive oil, onions, red wine vinegar, mint, etc. Mediterranean cuisine emphasizes plant-originated ingredients, and most people in this area prefer a diet with fewer animal-originated products.
As a result, dishes originating from the Mediterranean are often listed on the list of the healthiest foods in the world.
55. Mashed Potatoes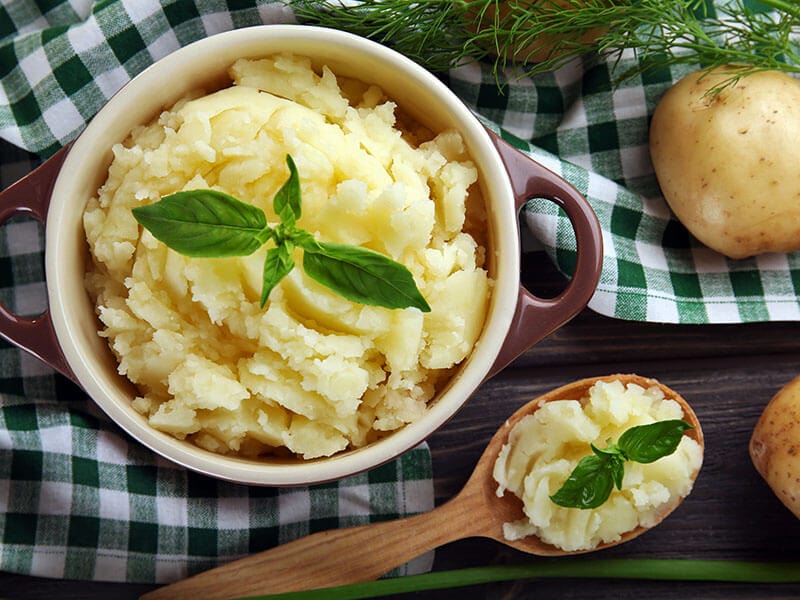 Mashed potatoes seem to be a dish that almost every child in the US must have eaten at least once in their life.
Few people know that potato – the main ingredient of this dish-was once considered food for livestock and mistakenly thought to be the cause of leprosy in humans.
However, today, mashed potatoes appear on every table of American families. This dish is also good for children and adults with simple ingredients (potato, butter, milk, garlic, etc.) and a soft texture.
56. Mesclun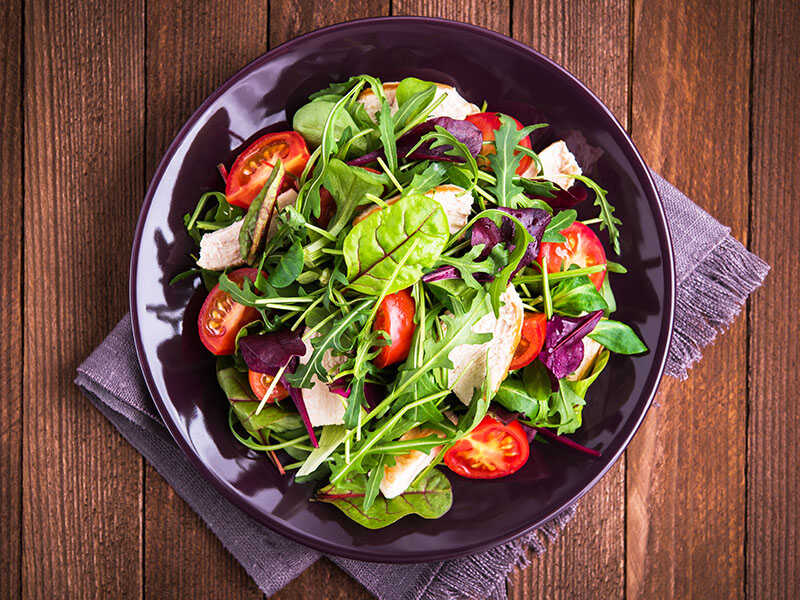 Mesclun is a word from the Provençal dialect that derives from "mesclar," which means "to mix together thoroughly."
This flavorful salad mix has its roots in Provence, France, and is a delightful blend of flavors of young greens such as arugula, endive, chervil, and various leafy lettuce.
A little-known tip: if you cut or tear the greens 24 hours before eating, you can potentially double their phytonutrient content, providing you with even more antioxidant and anti-inflammatory benefits.
57. Mirepoix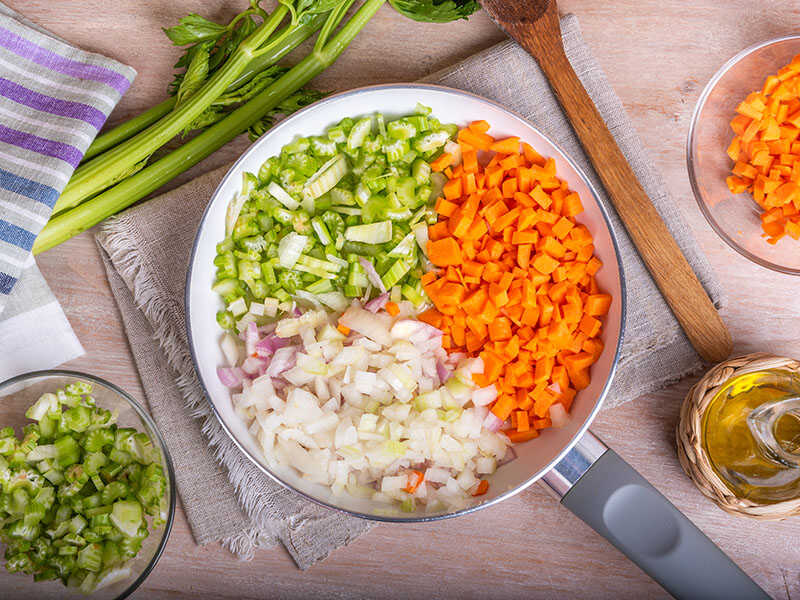 The harmonious combination of diced vegetables known as Mirepoix traces its origins back to an 18th-century French duke's personal chef. This mix of one part celery, one part carrot, and two parts onion is the secret to a perfect flavor base for soups, stocks, stews, and more.
To achieve the desired sweetness, these vegetables are gently cooked over low heat with butter, a process known as "sweating." This method sweetens the veggies without browning or caramelizing them, creating a versatile and aromatic base for many culinary creations.
Soups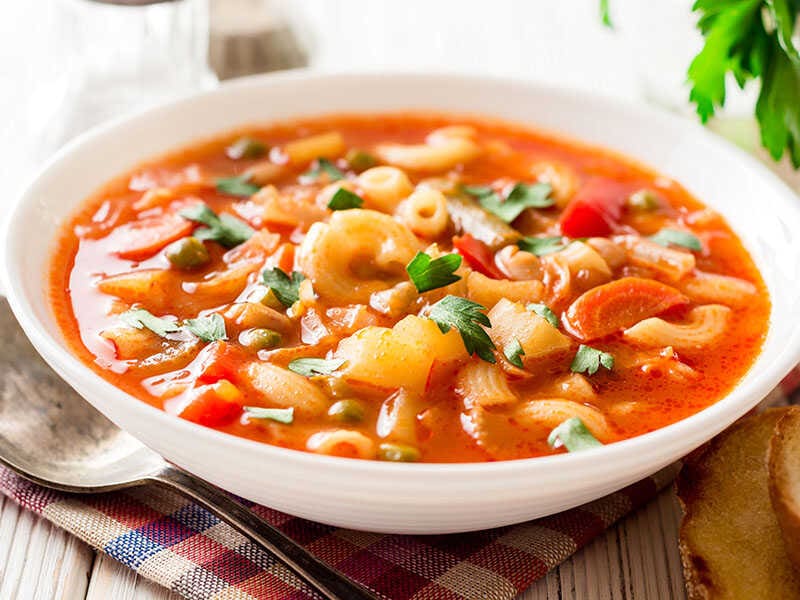 You must have heard about Minestrone, aren't you? But I'm sure that excluding Italian American families, very few of you have tried it once.
Minestrone soup is an appetizer made from pasta and different kinds of vegetables. Therefore, this dish usually does not have a specific fixed recipe.
Common ingredients for this dish usually include carrots, celery, beans, onions, tomatoes, croutons, stock, etc. However, depending on local preferences and eating habits, this dish can have different recipes.
It is a fact that Minestrone in Italy belongs to the rural roots cooking style called "cucina povera," which means "poor kitchen." But you see, despite that, this flavourful dish is still appreciated and handed down until now.
Making minestrone soup? It's not as hard as you think!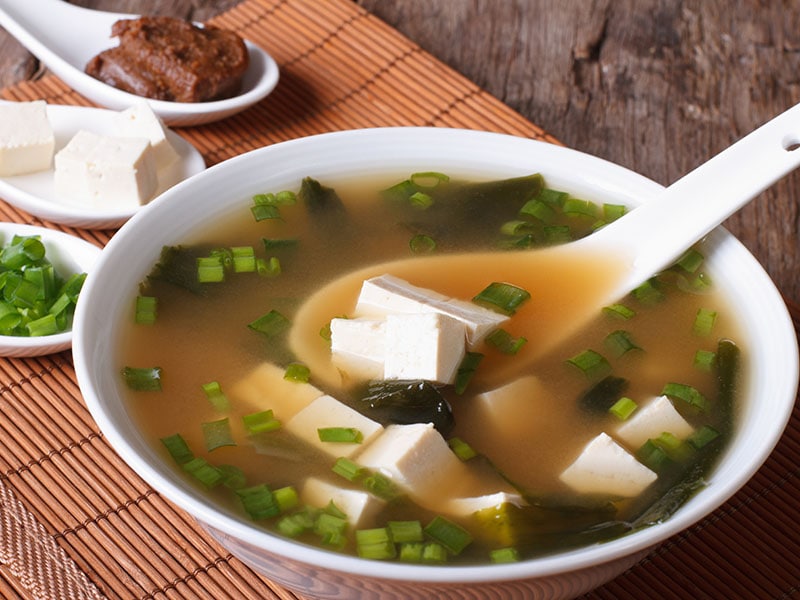 The 5th place in my top 8 recommended appetizers is miso soup. This dish seems to be seen as the "national soup" of this beautiful cherry blossom country – Japan.
This traditional soup is still regularly served in the daily meals of Japanese people, from the royal family to the ordinary families.
Miso soup consists of a "dashi" broth cooked with miso paste and other ingredients such as tofu, vegetables, seaweed, etc. And if you are looking for a new appetizer from Asian countries, miso soup would be a good pick.
60. Mulligatawny Soup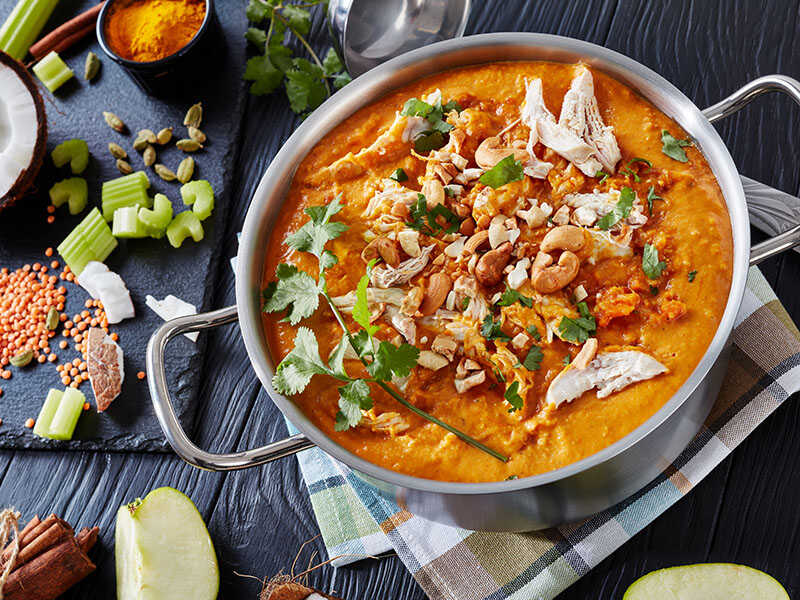 Mulligatawny soup has its roots in South Indian cuisine, with its name from the Tamil words "miḷagu" (black pepper) and "taṇṇi" (water), which translates to "pepper-water."
This delicious soup is related to the dish Rasam and often features chicken, mutton, or lentils. By the end of the 18th century, it had become popular in India, and it even found a place in the New Year's Eve broadcast of the sketch "Dinner for One" in Scandinavia and Germany.
61. Madrilène
With another name Jellied Consommé Madrilène, Madrilène is a clear soup with a jell-o-like consistency. Often served chilled, it is typically flavored with tomato and offers a pure and clean taste. To elevate its presentation, it's often served in coupes or other elegant cocktail glasses.
Main Courses
62. Mushroom Gnocchi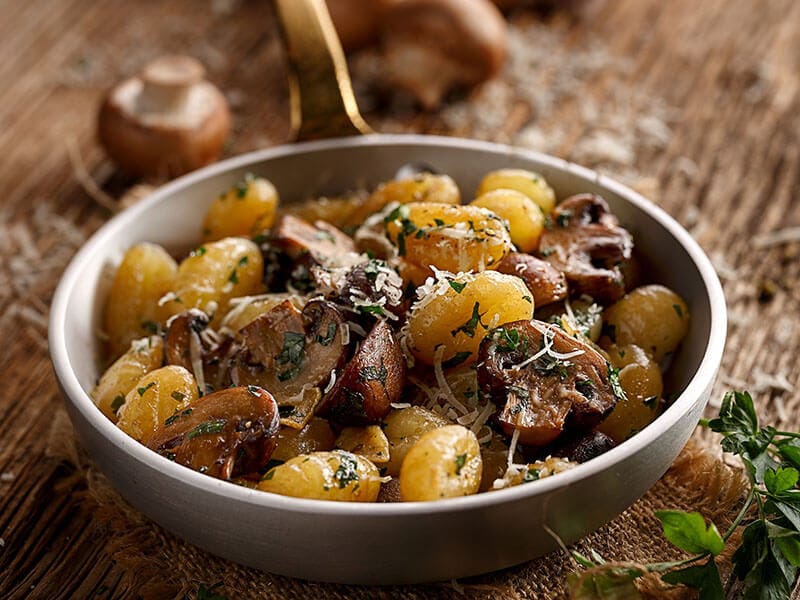 Gnocchi – Yep! You will immediately know where it came from by just hearing about its name. This is a member of the dumpling family in Italian cuisine. And mushroom gnocchi is a dish that uses gnocchi as the main ingredient.
Besides, chestnut mushrooms (or any kind of mushroom you like) are also an indispensable companion. This dish can be cooked according to the vegetarian recipe. Just replace regular butter with vegan butter, and you will immediately have perfect vegetarian food.
Cook them at friends' gatherings because maybe one of your friends is a vegetarian.
63. Mongolian Beef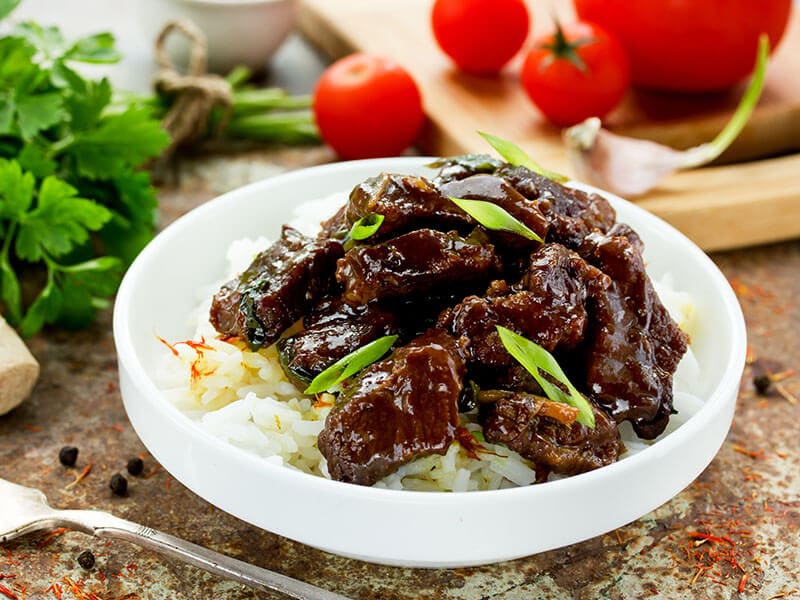 You're probably tired of the classic beefsteak served with french fries, right? This flavourful dish below can meet your needs.
If you need something new but made from a familiar kind of meat, try Mongolian beef. This dish is a symphony of sweetness and saltiness along with the fatty taste of beef.
And an interesting fact about this famous Mongolian dish is, despite the name Mongolian beef, this dish first appeared in Taiwan. However, because it was first cooked with Mongolian beef at a Mongolian restaurant, it has been called by the name of its main ingredient's origin.
64. Moussaka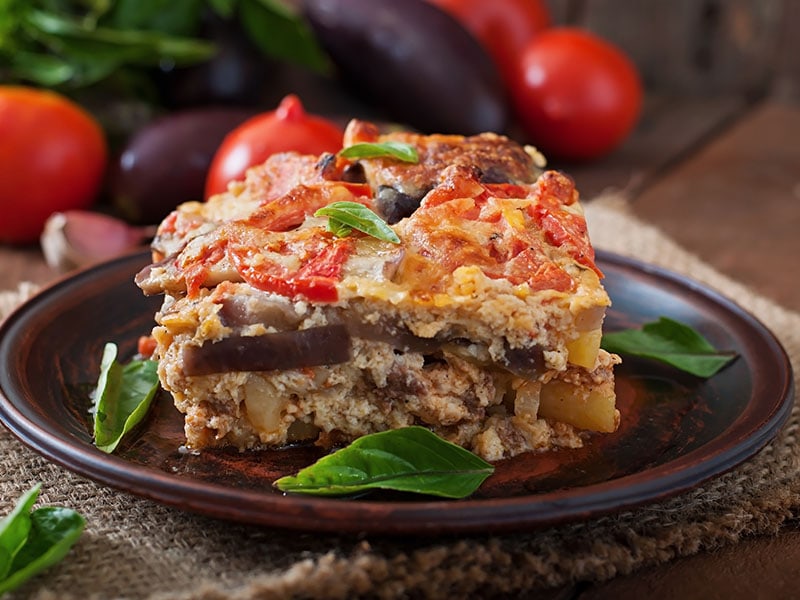 Moussaka is a dish prepared throughout the Balkans and the Middle East. However, it appears most often in Greek and Turkish meals.
This is a traditional dish made from ground lamb, fried eggplant, a mixture of eggs, butter, milk, and tomato sauce. In some versions, eggplant will be replaced with potatoes, and beef will replace lamb.
Moussaka is a dish with a pretty complicated recipe, but of course, that is the price you need to pay for the rich flavor it brings you after being taken from the oven.
65. Meatloaf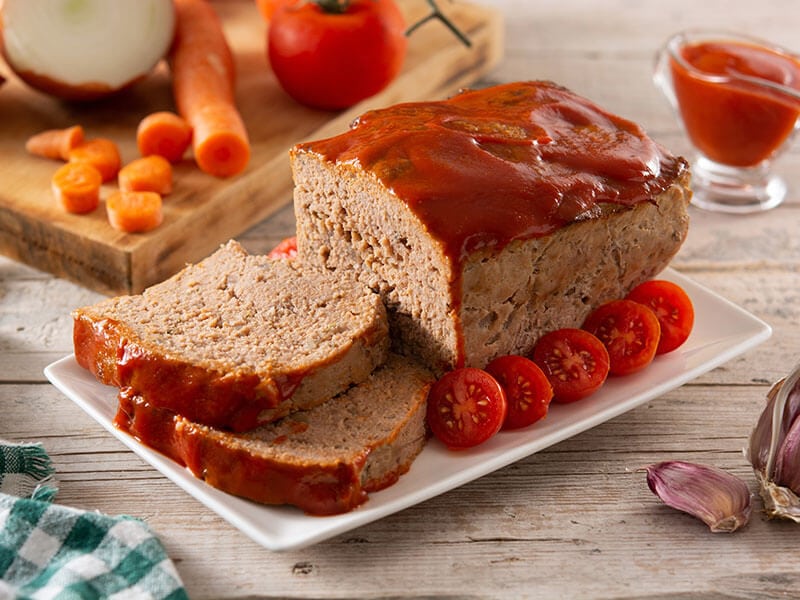 If moussaka is out of your league, meatloaf will be a good candidate for the main course with its easy-to-find ingredients and simple preparation.
With just ground beef, eggs, a small amount of onion, and dried bread crumbs, after seasoning, mix them up and put them into the oven; you will have a delicious dish for dinner. If you run out of eggs, there are also plenty of great egg replacements for meatloaf to choose from.
Don't forget to eat with salad or grilled corn. Moreover, if you have a bag of toast, spread them on toast pieces while the toast is still hot and enjoy them. I'm sure that you will never forget its savory flavor!
Maybe you have missed some useful tricks. Go to this video right away!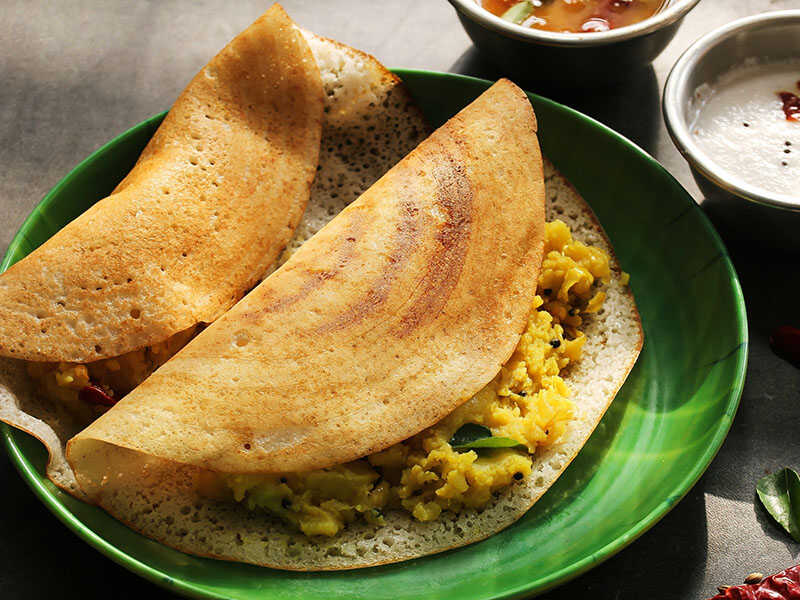 Masala dosa is a popular dish originating from South India. The traditional recipe is made from rice, lentils, potato, fenugreek, ghee, and curry leaves and served with chutneys and sambar – a well-loved dish in Tamil gastronomy.
This dish is also a dish that has many variations depending on each city in South India.
The outside of masala dosa looks like Mexican tacos, but the crust is soft and quite chewy, like a French crepe. However, this is not important. Its soul lies in the combination of mustard and typical Indian curry.
You can make it at home, but if you have a chance to travel to India, you should not miss this food.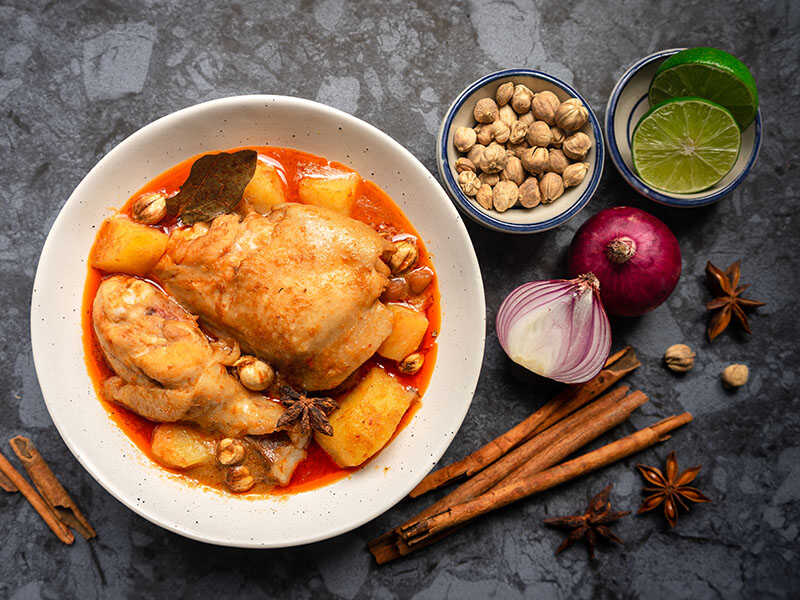 Curry is a familiar Asian dish to us, but do you know there are two places having the yummiest curry recipes? Common Indian curries will have a typical strong spicy and salty taste. In Thailand, curry will usually have a little bit of sweetness coming from coconut milk.
Massaman chicken curry is one of the most delicious Thai curries. It is an explosion of flavor with a combination of sweet and slightly spicy sauces. Serve it with crispy bread, and you will have a mouthwatering main food.
If you are not clear about Thai ingredients for cooking this food, jump into this video!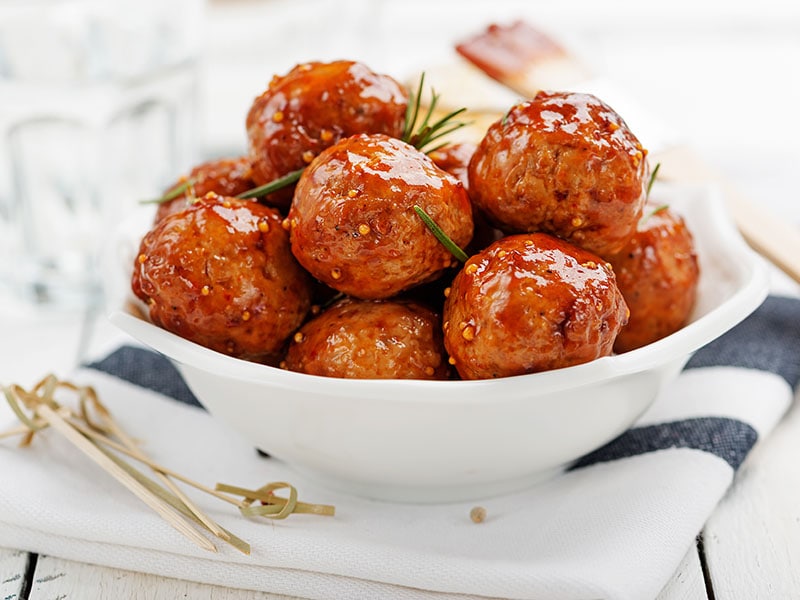 Famous for its popularity, the meatball is not only present in Europe and America, but it is also a part of Asian cuisine.
Meatballs are made from various spices, different ingredients in different countries worldwide. It can be said that this dish has the most various versions and recipes on the global culinary list.
As its name suggests, the main ingredient of meatballs is meat. Depending on the culture, religion, and living habits, it will be made with different types of meat, such as pork, beef, or even fish.
You can see meatballs in vegetable soups, and it is also grilled or fried. Besides, cooked with tomato sauce is a popular treat as well.
However you decide to prepare your meatballs, there are still several dishes to pair with meatballs. Even if you go for the most unconventional route of preparing meatballs, such as making a meatless "meatball", you'll still find that the dish can go well with almost anything.
69. Macarona Bechamel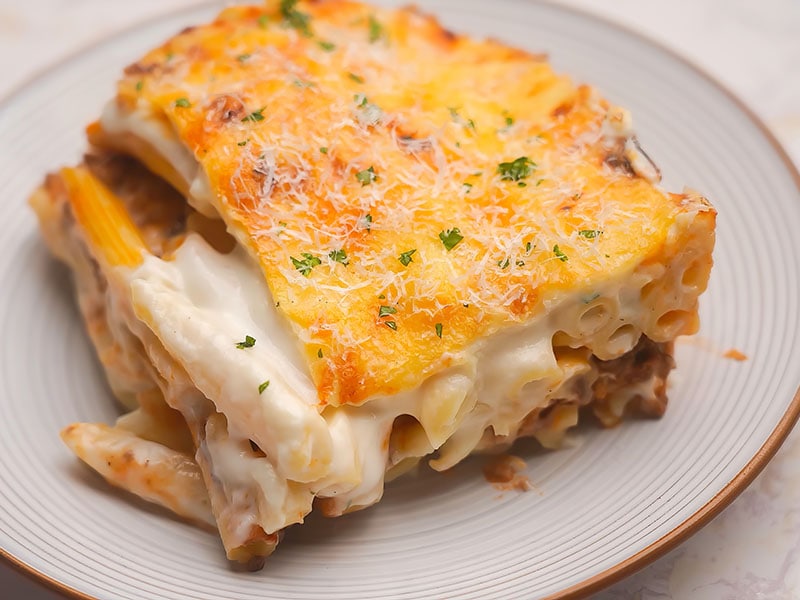 Macarona Béchamel, or Béchamel Macarona, is a popular Egyptian dish with a unique Egyptian spin on a Béchamel pasta bake.
With penne pasta and a spiced minced meat sauce, it's baked to perfection with a creamy, smooth sauce topping.
This flavorful dish has different versions throughout the Mediterranean, like Greece, Turkey and Cyprus, and the Middle East.
70. Macaroni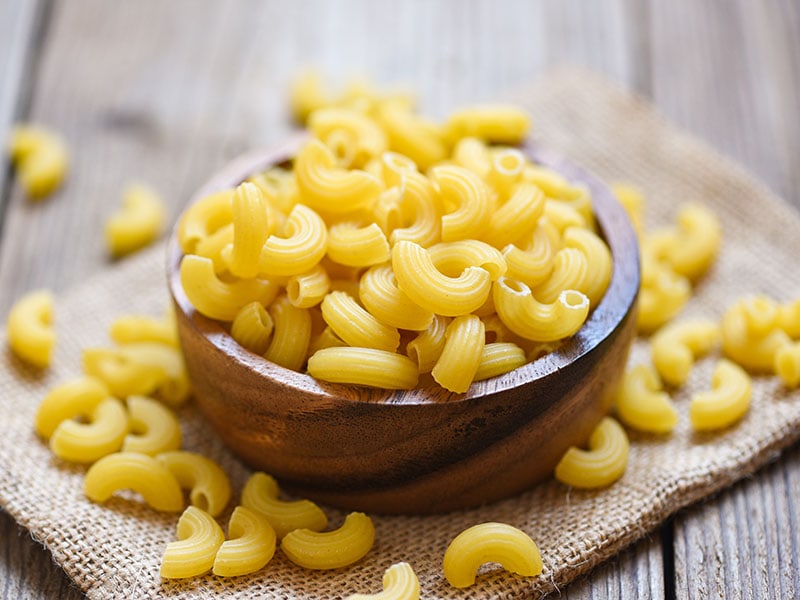 In Italian, macaroni is known as maccheroni, a dry pasta made from durum wheat shaped like narrow tubes. Furthermore, this versatile pasta comes in various sizes and lengths.
Interestingly, in Italy and other countries, maccheroni encompasses both short-length pasta, like straight square-ended pasta corta, and long pasta dishes.
Although you may also recognize the term "macaroni" as the elbow-shaped pasta used in macaroni and cheese recipes, there are many other shapes and styles that exist to discover and enjoy.
71. Macaroni & Cheese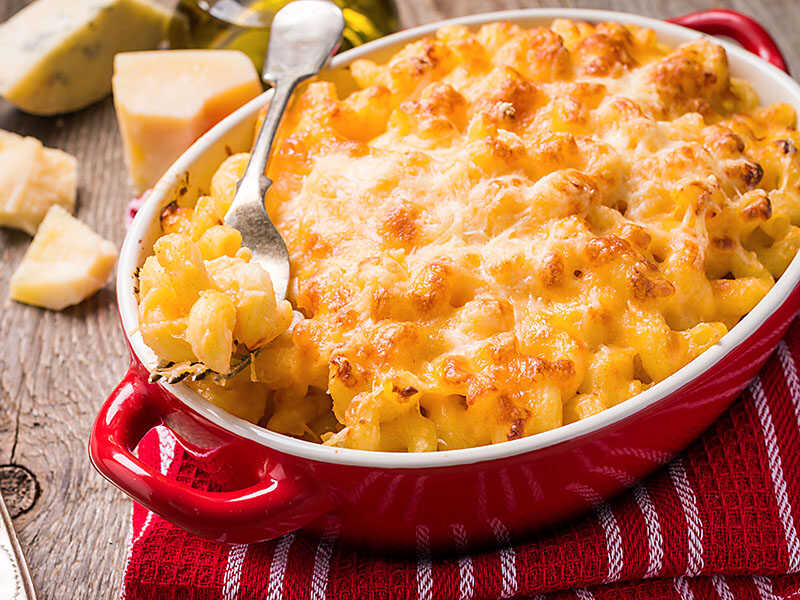 Macaroni and cheese is a family favorite and universal comfort food that has quite a history! Its earliest recorded recipe was from 1769, likely originating in Northern Europe. Also, Kraft Foods even sold 8 million boxes when it released its version in 1937.
This dish combines cheeses, layered and melted into a rich, creamy sauce – perfect for your comforting dinner or holiday side dish. Its popularity soared during the Great Depression, as it provided a low-cost, nourishing one-pot meal, earning the title "the housewife's best friend."
72. Manicotti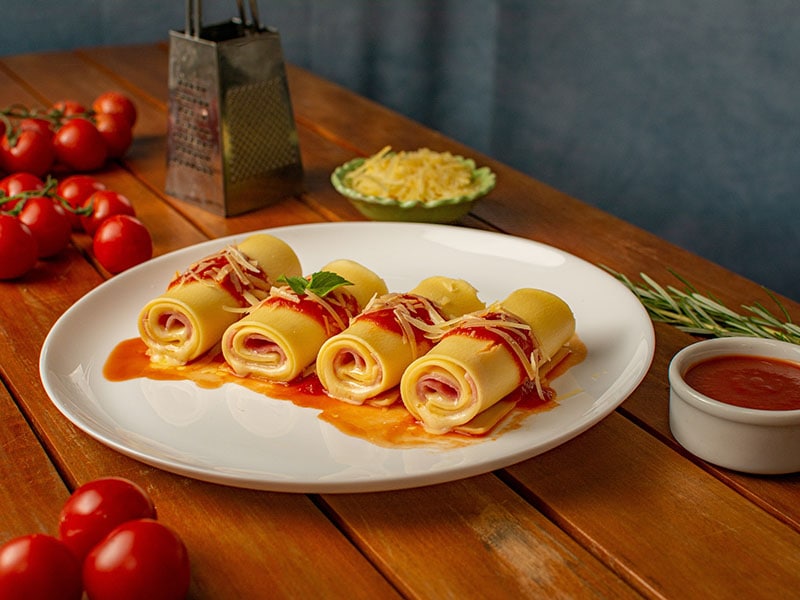 As a form of Italian-American pasta, Manicotti means "little sleeves" in Italian. While it's known as Cannelloni in Italy, Manicotti is more commonly used in America.
These large, ridged pasta tubes resemble oversized pennies that are perfect for filling with delicious ingredients like ricotta cheese or meat.
73. Moo Goo Gai Pan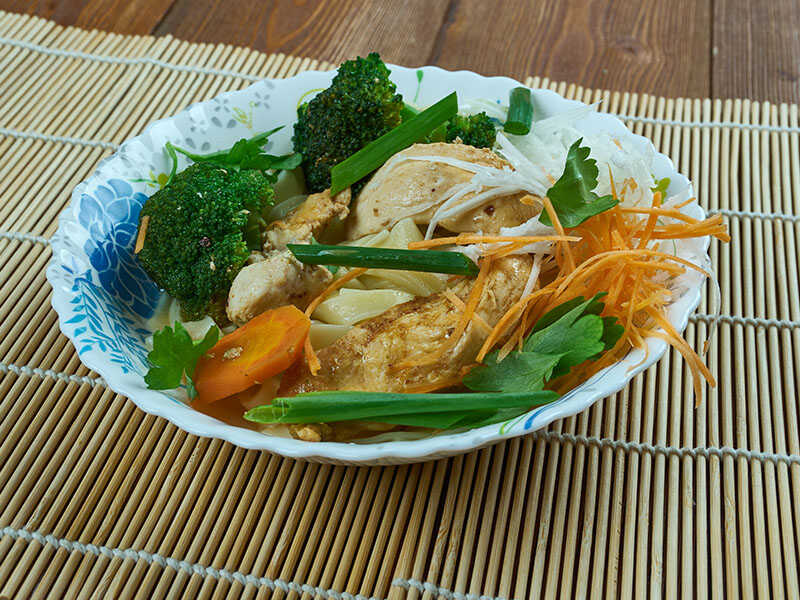 Moo Goo Gai Pan is an American-Chinese classic that translates to "mushroom chicken slices" in Cantonese (móh-gū gāi-pin).
The flavorful and healthy stir-fry dish combines chicken (called gai pin in Cantonese), mushrooms (mohgu), and other vegetables for a hearty mix best served over rice or a bed of noodles.
Here's another tip, if you don't want to cook it at home, you can find Moo Goo Gai Pan as a popular menu item in Chinese restaurants.
74. Mushroom Chicken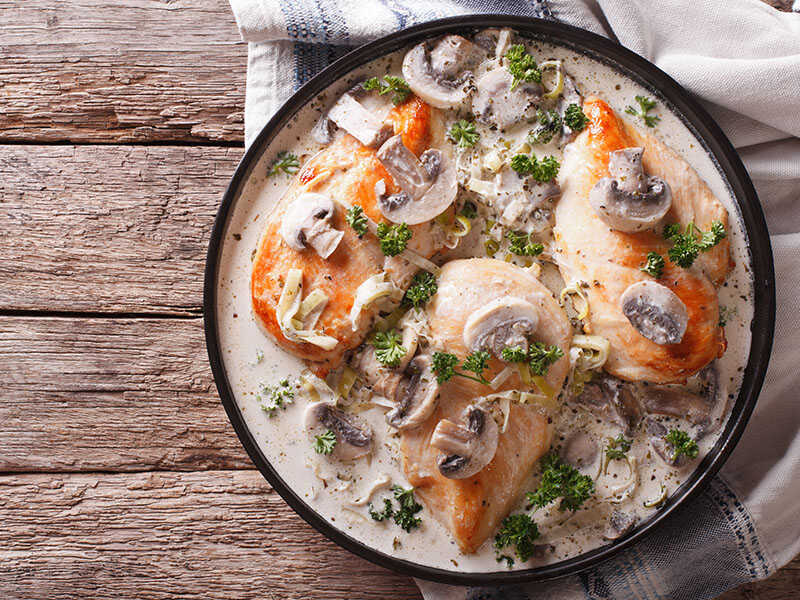 The mouthwatering dish features juicy chicken enveloped in a thick, creamy mushroom sauce to impress anyone on the first try.
This tender and flavorful creation comes together in just one skillet, making it a straightforward meal, perfect for family dinners.
75. Mutton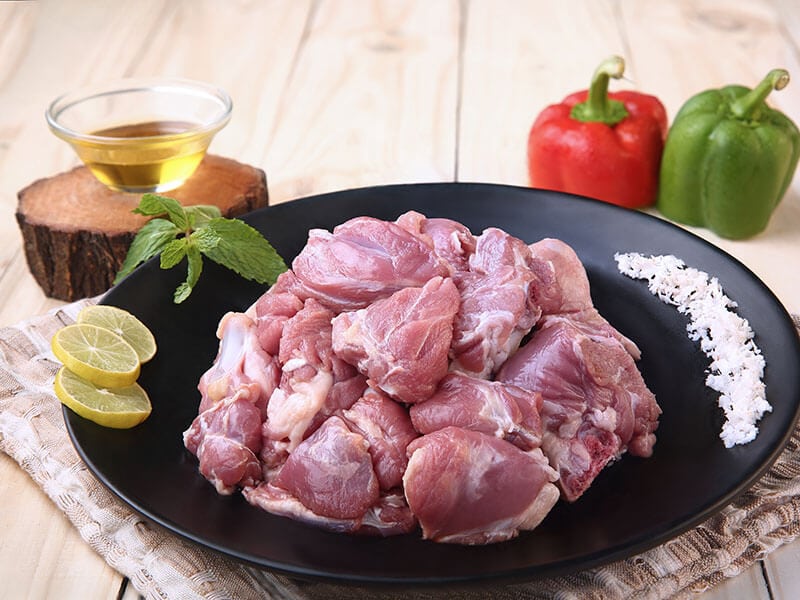 Although mutton, lamb, and hogget all refer to sheep meat, the former means the meat of sheep older than 2 years, while the lamb is the meat from younger sheep within their first year. Additionally, the term "hogget" is used for sheep in their second year only.
In South Asian and Caribbean cuisine, mutton is easily recognized as lamb meat. Typically, mutton has a deeper red hue with a higher fat content. It's a popular ingredient in soups and stews. This flavorful meat is also a great source of iron and zinc for your body.
Spices and Herbs
76. Mahlab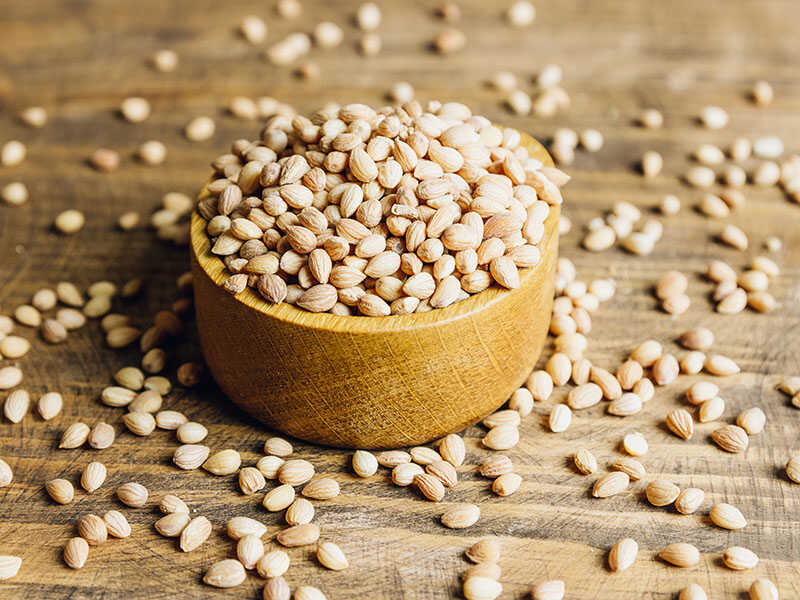 Known as Mahlepi, Mahlab is an aromatic spice originating from the seeds of the Prunus Mahaleb cherry. For centuries, it has been a staple in the Middle East and nearby regions, where it's used in a small amount to elevate the flavors of sweet treats and cakes.
Additionally, it contributes to Tresse cheese production – a Canadian-style cheese. Mahlab is also found in various Greek holiday Tsoureki bread recipes, such as Christmas bread and New Year's vasilopita, as well as in Armenian Cheoreg (braided Easter bread) and Turkish Paskalya çöreği.
77. Marjoram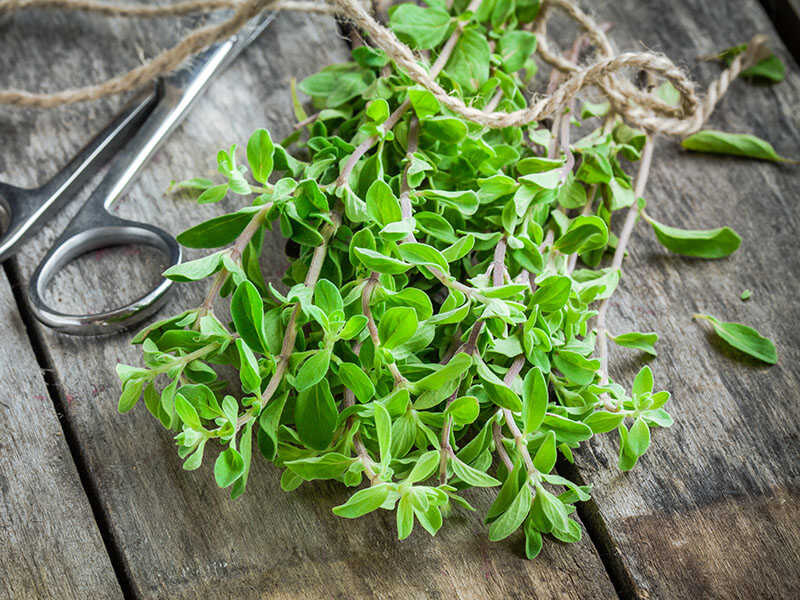 Marjoram, scientifically known as Origanum majorana, is a cold-sensitive perennial herb (undershrub) with sweet pine and citrus flavors.
Surprisingly, the herb once symbolized happiness for ancient Greeks and Romans. Some Middle Eastern countries see Marjoram as synonymous with oregano.
Nowadays, marjoram is widely used in cooking, particularly in low-fat and low-salt diets, to season soups, stews, salad dressings, sauces, and herbal teas.
Additionally, marjoram oil has been used for treating respiratory tract disorders or gastrointestinal problems (13).
78. Mint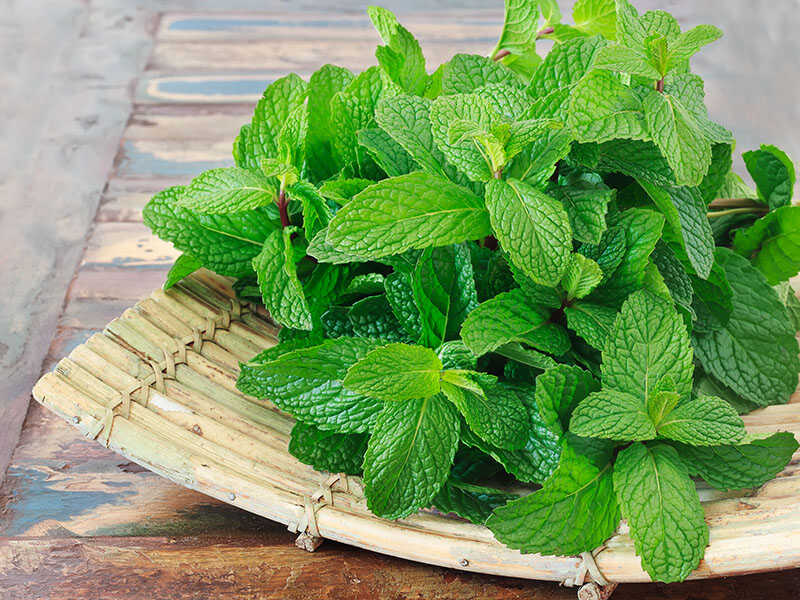 Mentha or menta are other names for mint. The herb is a part of the Lamiaceae family that thrives in moist soils and wet environments. With its warm, fresh, aromatic, sweet flavor and cool aftertaste, people often prefer using fresh mints to dried varieties.
This versatile herb can go great with teas, beverages, jellies, syrups, candies, and ice creams. It plays a key role in Middle Eastern lamb dishes, British and American mint sauces and jellies, and Touareg tea, a much-loved beverage in northern Africa and Arab countries.
79. Mixed Spice
Mixed spice, or pudding spice, is a flavorful British blend of sweet spices. It's similar to the American pumpkin pie spice in the States but with cinnamon as the dominant flavor, accompanied by nutmeg and allspice.
Some variations may include cloves, ginger, coriander seeds, caraway, or even cayenne pepper, as historically used. The versatile spice mix is a favorite in baking and works wonders with fruits and other sweet treats.
80. Mace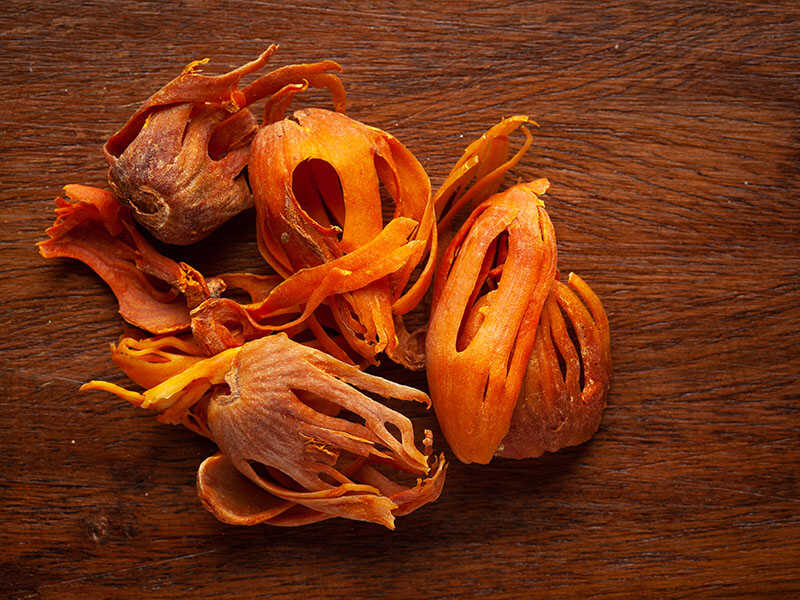 Mace is a spice that shares its origin with nutmeg, coming from the nutmeg tree of Myristica fragrans. To create mace, the lacy crimson layer known as the aril, which surrounds the nutmeg seed, is split and dried.
With a more pungent and citrusy flavor than ground nutmeg, mace has hints of black pepper and cinnamon. These two spices can replace each other, with mace being a versatile addition to baked goods, savory dishes, sauces, and vegetables.
However, it's worth noting that mace is generally more expensive than nutmeg.
Condiments, Sauces, And Seasonings
81. Malt Vinegar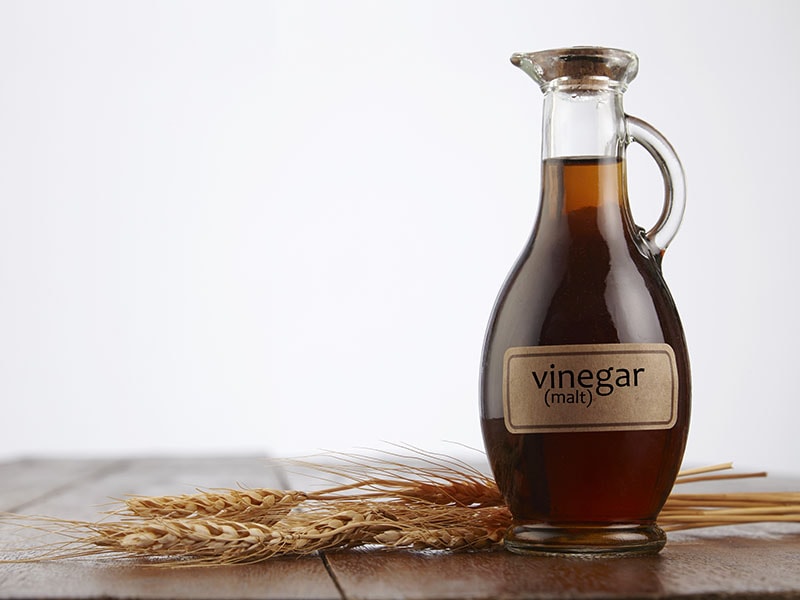 Malt vinegar is made from malted barley grains, offering a less tangy flavor than white vinegar. Remember to use a larger amount of malt vinegar to achieve the desired flavor if substituting white vinegar.
Its slightly sweet and nutty taste, with caramel undertones, makes malt vinegar a popular choice despite being more expensive than white vinegar. Malt vinegar is best known for drizzling over fish and chips, creating salad dressings, and pickling vegetables like onions.
82. Maple Syrup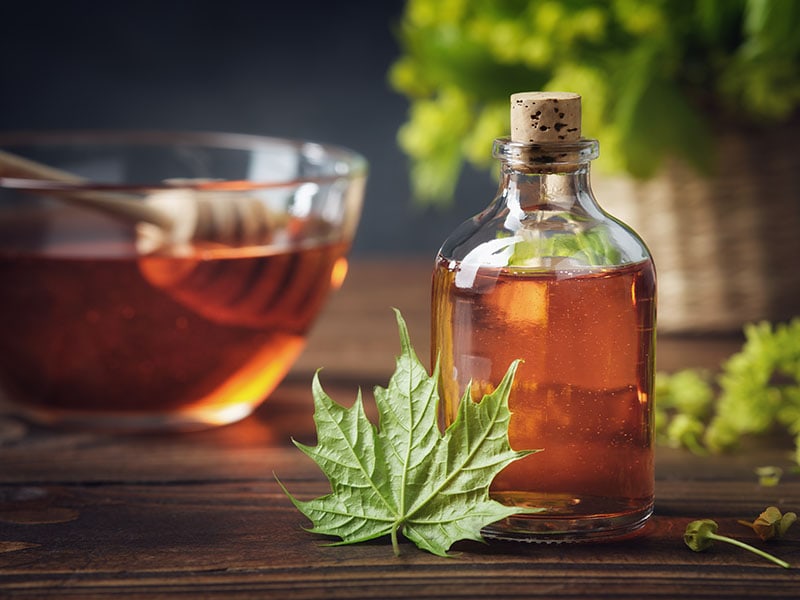 The sweet and woody natural product from maple tree sap is known to the public as maple syrup. Harvested between late winter and early spring, the harvesting season can vary from February to April.
Native peoples in North America were the first to tap into this delicious resource. Today, Canada, especially the Quebec province, leads the world in maple syrup exports.
Its vanilla and caramel notes pair beautifully with breakfast favorites like oatmeal, French toast, pancakes, and waffles. Plus, it's rich in antioxidants and minerals like zinc and calcium.
83. Margarine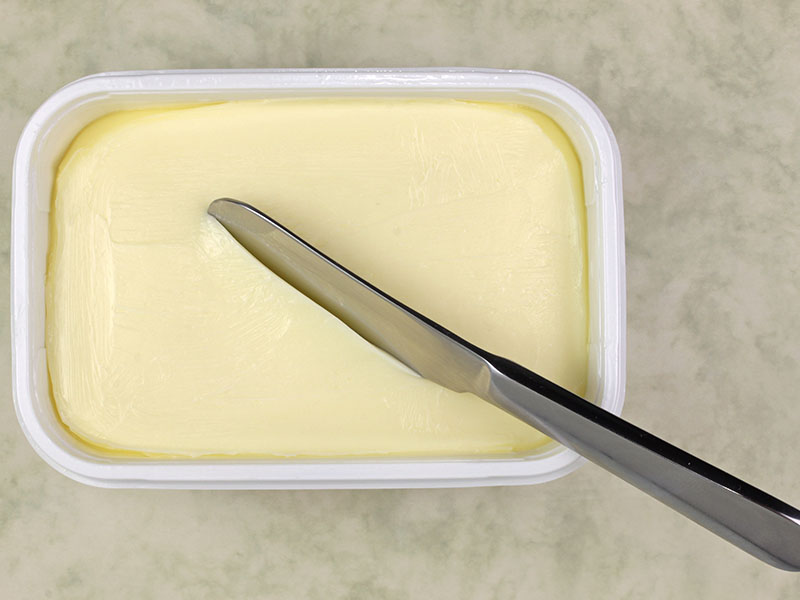 Margarine is a versatile food product containing vegetable oils, salt, water, and numerous ingredients. The product can pair with various oils, like soy, sunflower, safflower, and cottonseed while possessing both soft and hardened forms.
It's a type of shortening that comes in handy for baking and cooking, providing an alternative to butter and giving baked goods a softer texture. However, be mindful that it isn't always healthier.
Margarine contains unsaturated fats but may also have more harmful trans fats than butter (14). Soft Margarine is generally a wiser choice compared to its stick counterpart.
84. Marinade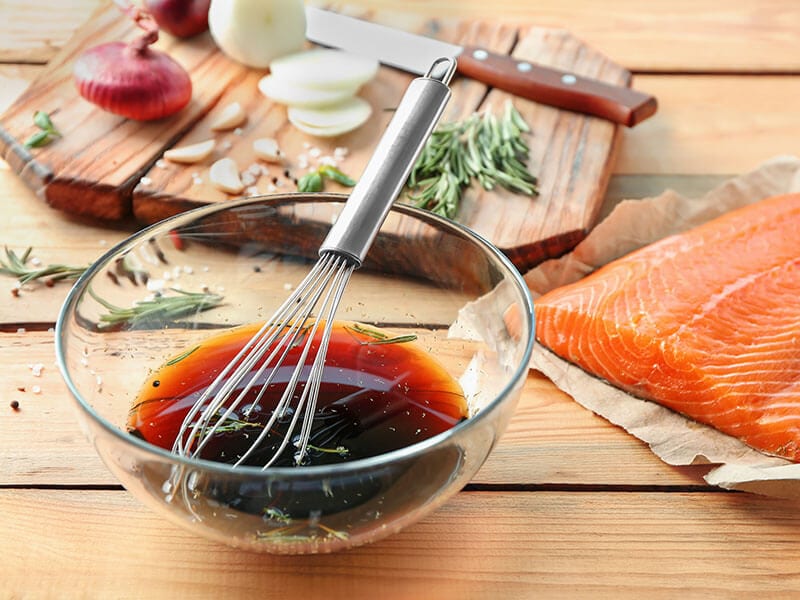 Marinade is a flavorful liquid to enhance your meats, poultry, fish, or seafood flavor before cooking to moisturize or tenderize the cut. The go-to ingredients are olive oil, an acid like lemon juice or vinegar, and herbal spices.
For tougher cuts, try swapping the acids for enzymatic ingredients such as ginger, papaya, or pineapple. Patience pays off here, with optimal marination time ranging from 30 minutes to a whole day. Remember, moderation is key, especially with salt and acids.
Here's a little tip: once your marinade has finished its job, you can transform it into a sauce with just a bit of boiling.
85. Marinara Sauce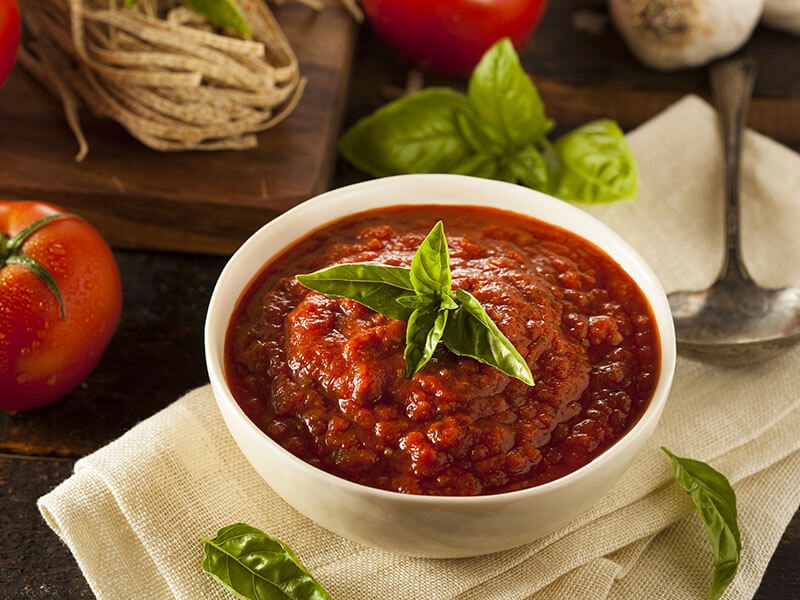 Marinara sauce, hailing from Naples, is a simple mix that captures the essence of ripe tomatoes, blended with the spicy kick of red pepper flakes, garlic, and aromatic herbs like basil or oregano. Sometimes, the recipe can include capers or olives for a twist of flavor.
This sauce is thinner, quicker to cook, and offers a more tomato flavor than other tomato-based sauces. It's an ideal companion for pasta, meatballs, and seafood creations for extra layers of flavors. Being usually vegan, it welcomes everyone to have a taste.
86. Marmalade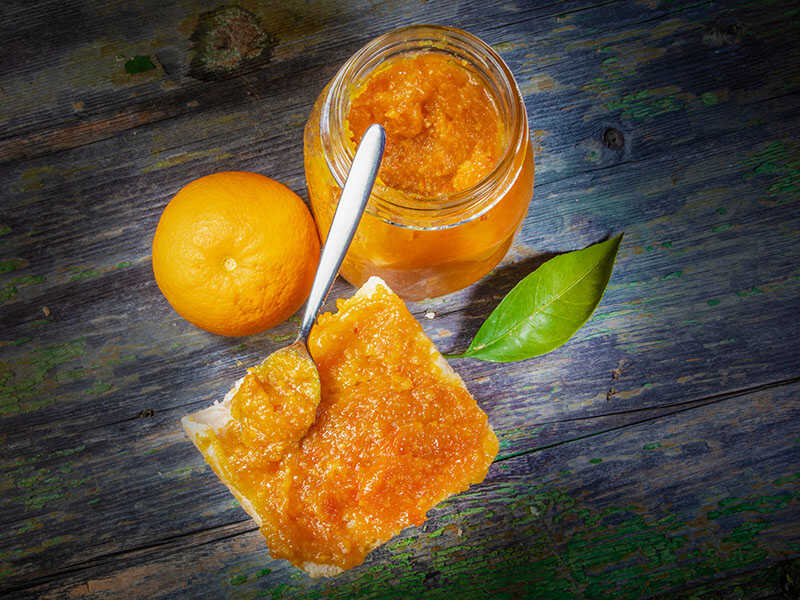 With its unique blend of citrus fruits' pulp, peel, and juice simmered in sugar water, marmalade creates a distinct preserve from jams.
Unlike jam, which uses an entire fruit or vegetable, bitter oranges often take center stage for marmalade, then followed by lemons, mandarins, and grapefruits.
Rooted in ancient Greek and Roman times, Marmalade became a favorite item in 17th-century Britain. The flavor experience is quite complex, offering a sweet yet tart sensation.
While it's a champion on toast and in baked goods, marmalade is also ideal for salad dressings and marinades.
87. Marmite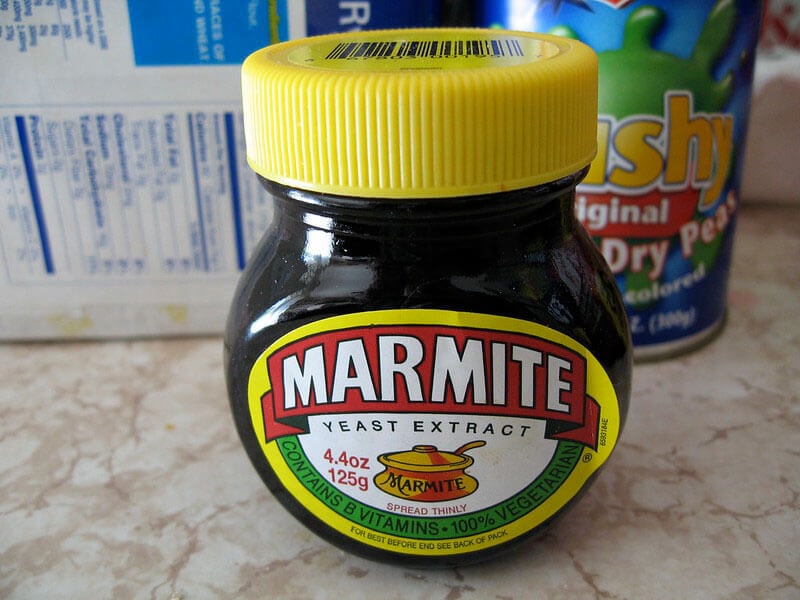 Being a product of Unilever, Marmite is a British food spread known for its sticky texture and dark brown color. It's a combination of yeast extract, spices, and vegetables, forming a yeasty and savory flavor.
What's interesting is that Marmite is both a halal and vegan-friendly item packed with B-complex vitamins. It's a bit like Vegemite, the Australian counterpart, that evokes a love-it-or-hate-it reaction.
You'll most likely find it slathered on toast, sandwiches, or crackers. Alternatively, people often pair it with margarine or butter to temper its strong flavor. Surprisingly, the exact recipe remains a tightly kept trade secret.
88. Mayonnaise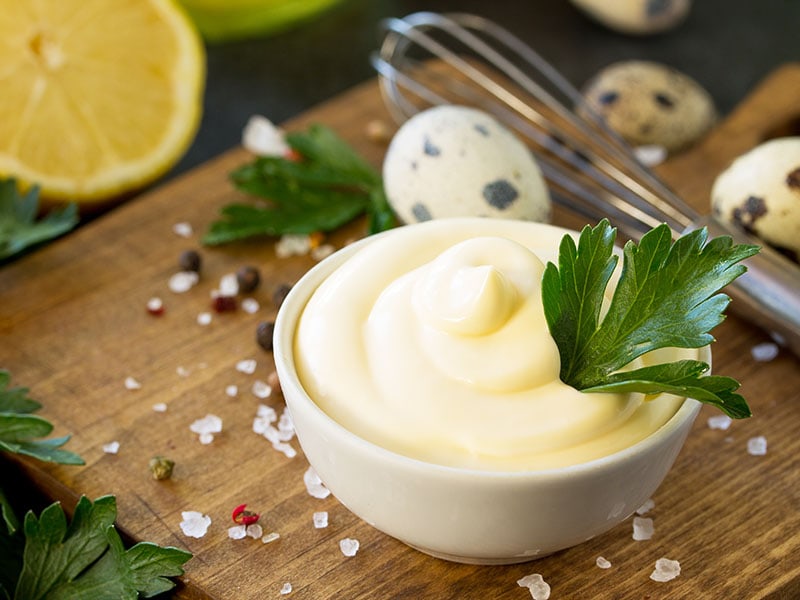 Mayonnaise, or 'mayo' for short, is a creamy French sauce with roots dating back to the early 19th century. Made from egg yolks, vegetable oil, vinegar or lemon juice, and a handful of flavorings, the sauce has a rich, tangy, and salty flavor.
It's not just a condiment for fast food, sandwiches, and salads but also an essential ingredient in ranch dressing and tartar sauce. While mayo isn't vegan-friendly, plant-based versions like Miracle Whip offer a good substitute.
Just remember, it's high in fat and calories, so moderate consumption is the golden rule.
89. Mole (Sauce)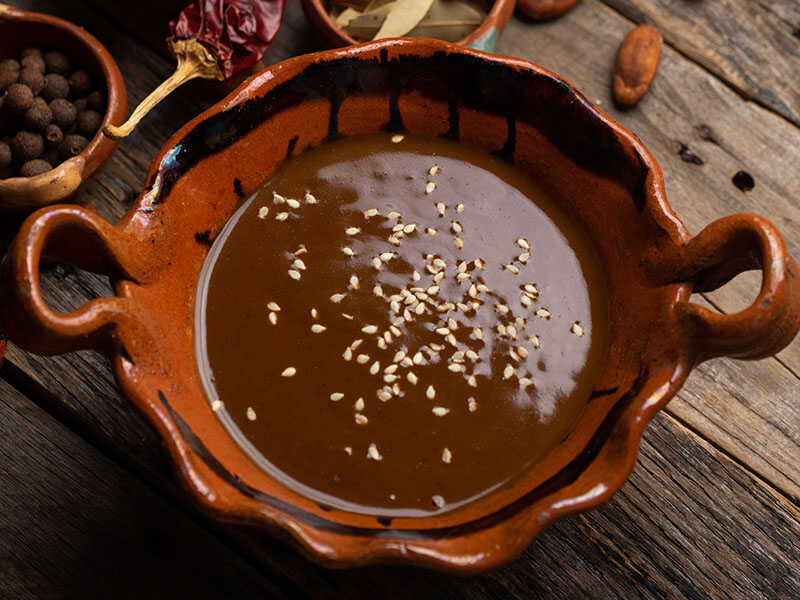 As a classic Mexican marvel, Mole is a sauce or marinade with sophisticated flavors. Originating from the Nahuatl word mōlli, which means "sauce" or "concoction", mole is packed with flavonoids, vitamin B, niacin, zinc, phosphorus, and other minerals.
From smoky to sweet and spicy, it owes its diversity to a rich mix of ingredients like chili peppers (jalapenos and tomatillos), pumpkin seeds, dried fruits (raisins and plantains), and an assortment of spices.
Some versions even have a hint of chocolate (mole poblano). Whether it's braised meat, rice and beans, or roasted veggies, Mole adds an irresistible depth of flavor. Remember, not every Mexican dish with 'mole' in the name refers to this sauce.
90. Mustard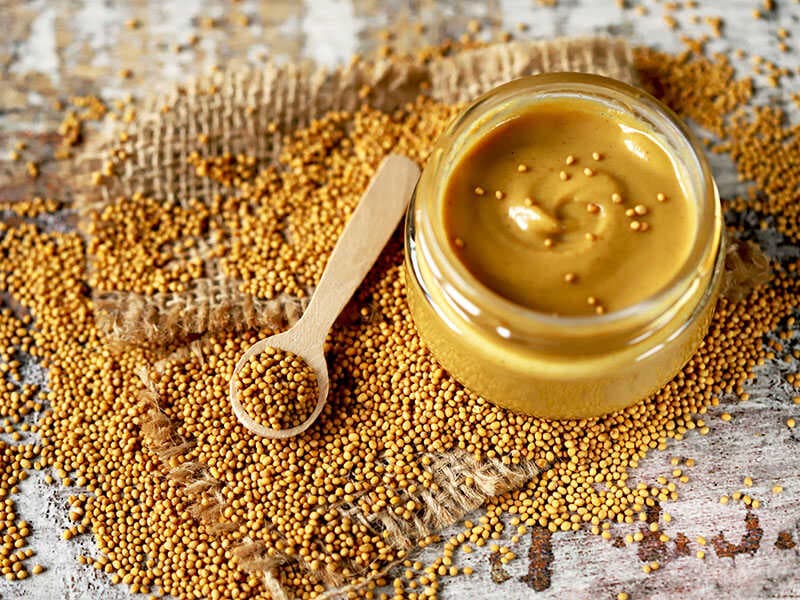 Mustard is a mix of ground mustard seeds, spices, and liquids like water and vinegar with a spicy and pungent profile that's a darling in fast food joints and kitchens alike. Typically, its vivid yellow hue owes itself to turmeric.
Though inherently spicy, sweet variants emerge when honey or similar sweeteners join the mix. Aside from spicing up hot dogs, hamburgers, and sandwiches, mustard also crafts exquisite salad dressings and complements meaty dishes.
Nutrient-wise, it outperforms mayonnaise, ketchup, and sweet relishes, packing in fewer calories and a bounty of antioxidants, B-complex vitamins, vitamin C, and proteins.
91. Molasses
Another name for molasses is treacle, a thick, dark, syrupy by-product derived from sugar-making. It emerges when sugar is crystallized from sugarcane or sugar beet juice.
The versatile syrup lends a dark hue to desserts, candies, or pastries, not to mention its role in sweetening food like regular sugar and creating brown sugar.
Molasses is a nutritional powerhouse, brimming with antioxidants, vitamin B6, and minerals like calcium, iron, and copper. And yes, you can have it daily in moderation. But keep an eye out for blackstrap molasses, the most concentrated form, as its bitter and salty flavor best complements savory dishes.
92. Mastic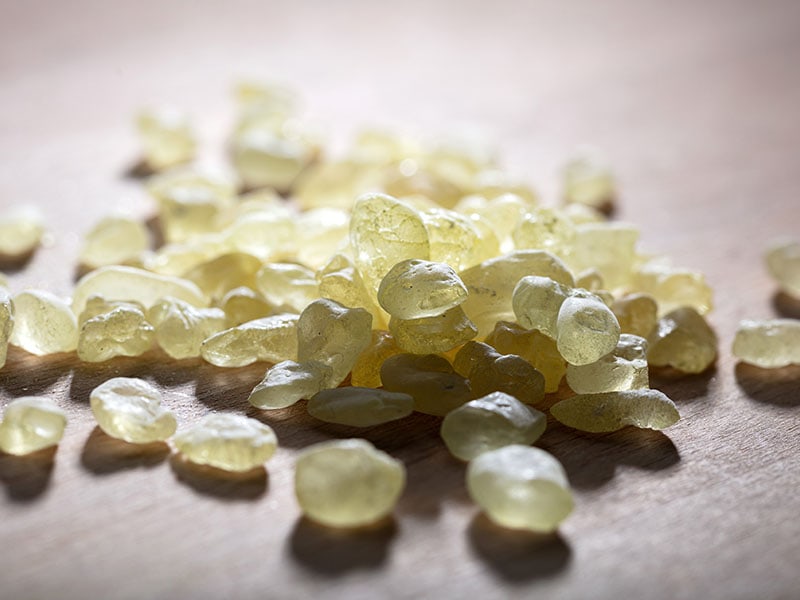 Mastic is an edible resin from the mastic tree (Pistacia lentiscus), which primarily grows in the Mediterranean, especially on the island of Chios. This unique resin is usually found in crystallized droplets called "tears," with a transparent or yellow hue.
The woody and pine-like flavor makes Mastic perfect for chewing like gum or grinding into a seasoning for combining with other condiments. It's also used to flavor various sweet dishes such as ice cream, custards, cakes, pastries, and Greek Easter bread.
Remember that Mastic is a bit expensive due to the scarcity of Mastic trees.
Breads and Dairy
93. Milk Bread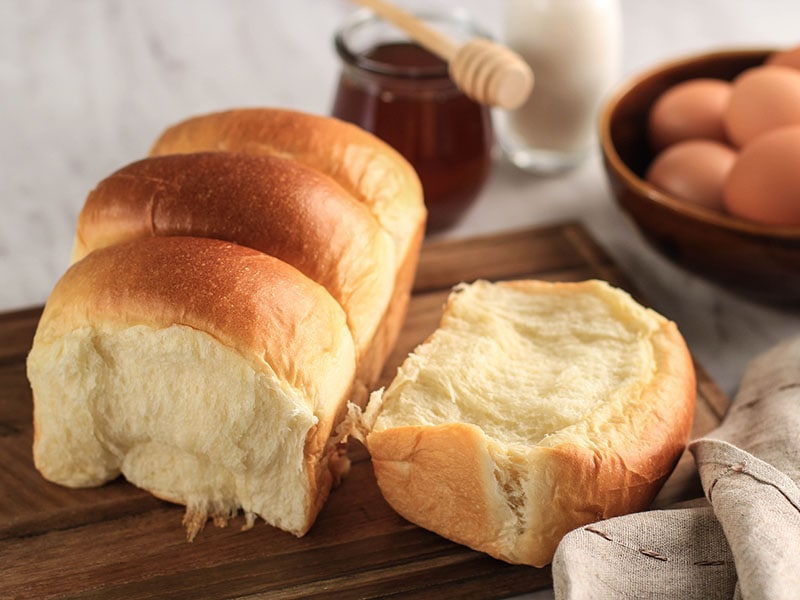 Though it might seem like regular bread at first glance, milk bread sets itself apart with a sweeter flavor and a softer, fluffier texture thanks to its special ingredient – milk or milk powder.
The treat is a popular choice globally with local varieties like Japan's 20th-century Shokupan and the British milk roll from Blackpool, Lancashire. Contrary to what some might think, eggs don't typically make an appearance in a milk bread recipe.
94. Monkey Bread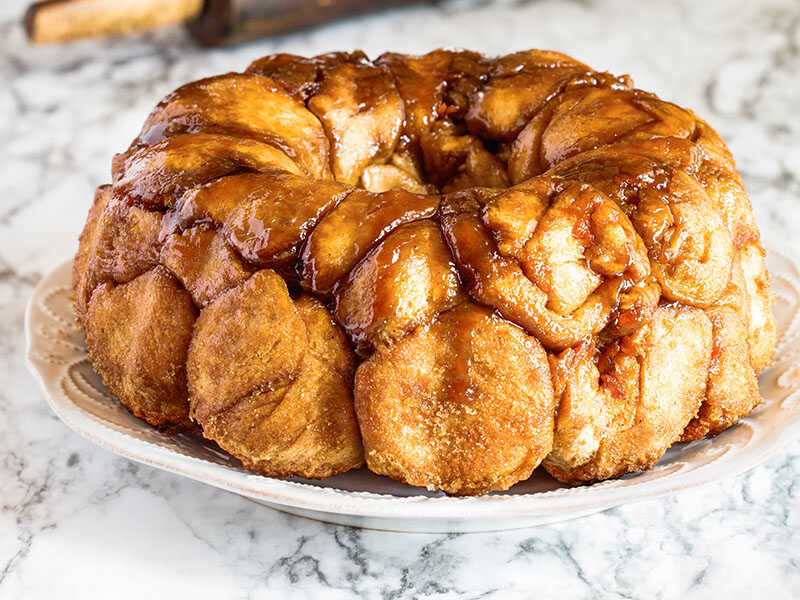 Made using soft and sweet American pastry, monkey bread has the flavor of a cinnamon roll. Thanks to Hungarian immigrants, you can savor this delightful combination of sweet yeast dough, cinnamon, butter, sugar, and sometimes chopped nuts.
The bread is a hands-on experience where you playfully tear off pieces with your fingers, much like a monkey to enjoy. Interestingly, that's where its name and its alternatives, pull-apart bread and plucking cake, come from. It's versatile for breakfast, snack time, or festive gatherings.
95. Monterey Jack Cheese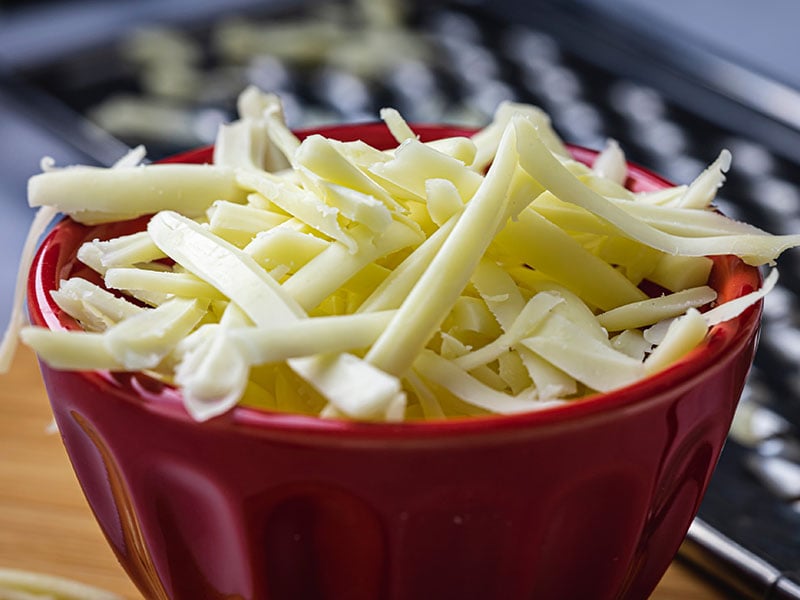 Monterey Jack, often referred to as just "Jack," is a semi-hard cheese hailing from the United States. This white to pale-yellow cheese, crafted from cow milk, has a low melting point, allowing it to melt swiftly and evenly.
Thanks to this characteristic, coupled with a mild, buttery flavor, Jack makes it a great companion to spicy Mexican dishes like burritos and quesadillas. It's also a fantastic choice for grilled cheese sandwiches.
You can get a spicier variant, Pepper Jack, enhanced with chili peppers and spices. Also, Jack is an excellent substitute if you're out of Colby or cheddar.
96. Mozzarella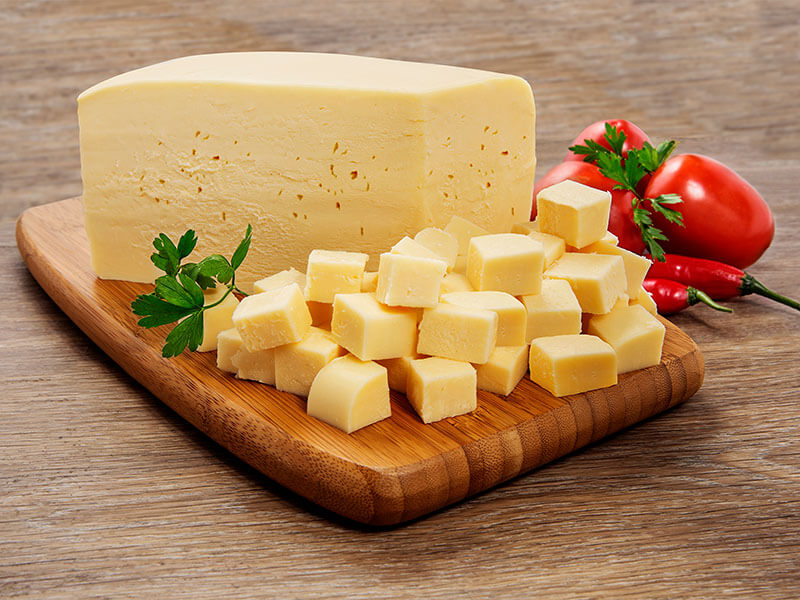 Mozzarella cheese is a smooth, creamy delight with its origins in southern Italy. Traditionally, the recipe calls for water buffalo milk, though you might come across modern variants made from cow milk.
Commonly made using the unique pasta filata (spun paste) method, mozzarella has an elastic, stringy texture ideal for topping your favorite pizza or pasta. It's also a star ingredient in risotto and frittatas.
The cheese usually sports a white color, sometimes leaning towards yellow, and is a healthier choice due to its higher moisture and lower saturated fat content. Mozzarella also offers a milky, slightly grassy taste with a hint of tanginess.
97. Muenster Cheese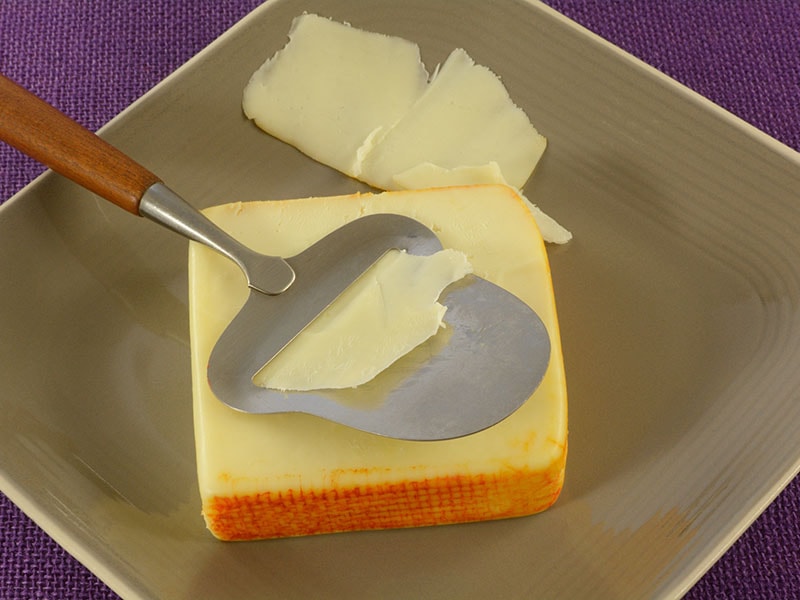 Muenster cheese is a semi-soft cheese from America that owes its creation to German immigrants and bears the name of the city of Munster in Alsace. Crafted from cow milk, Muenster flaunts a pale appearance contrasted by an orange rind.
This cheese offers a slightly buttery flavor that matures over time, with less fat than other famous varieties like mozzarella or cheddar.
Muenster's high melting point also makes it a star in grilled cheese, cheeseburgers, or mac and cheese. Plus, slicing or grating Muenster for any dish is a breeze.
98. Mascarpone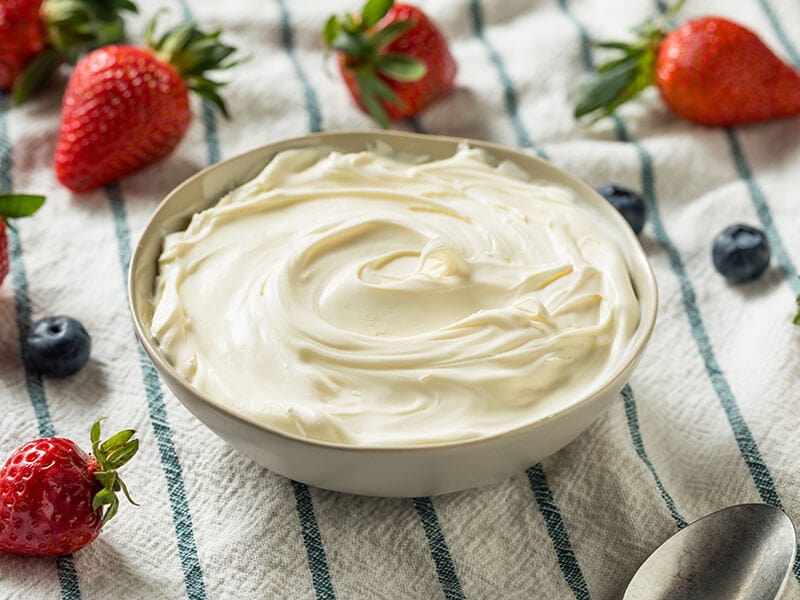 The Italian soft white cheese Mascarpone is crafted using whole cream. It shares a velvety texture with cream cheese but boasts a sweeter taste and higher fat content.
The cheese has a nutty flavor and a less tangy profile, distinguishing it from peers like ricotta. Mascarpone tastes great on its own, able to substitute for cream cheese or whipped cream.
Whether you're whipping up cake frosting, crafting a pizza, or creating pastry fillings, mascarpone is your go-to companion.
99. Matzo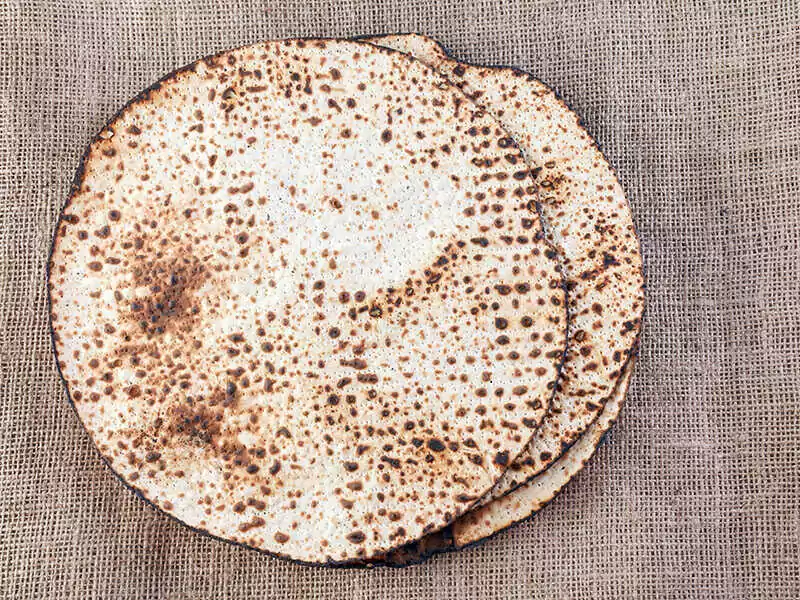 Also known as mazzah or matzah, Matzo is a flat unleavened bread with deep cultural and religious significance. Commonly, Jewish people savor this bread during Passover, a tradition symbolizing their ancestors' hurried escape from Egypt during the Exodus.
Prepared quickly with only flour and water before baking the unrisen dough, Matzo comes in two types: soft and crisp. Additionally, since soft matzo has a shorter shelf life, it's less commercially popular.
100. Manchego Cheese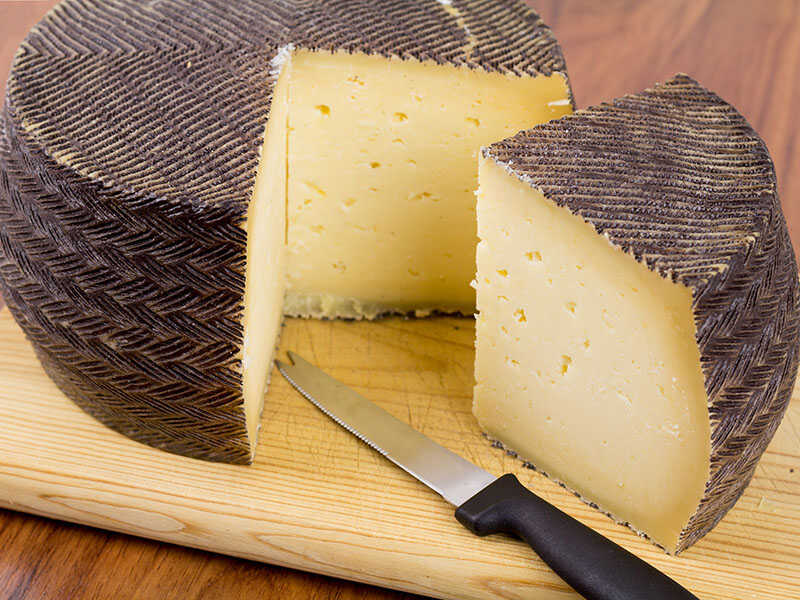 Manchego cheese is a semi-hard delight from Spain's La Mancha region. This premium cheese possesses a unique flavor profile from the milk of the Manchega sheep.
After a minimum aging period of two months, Manchego develops a sweet yet zesty taste with a firm, compact consistency. It pairs wonderfully with crusty bread, soups, salads, and a glass of red wine. Since it's a bit pricier, cheddar, Asiago, or Pecorino Romano can substitute for Manchego.
101. Mountain Bread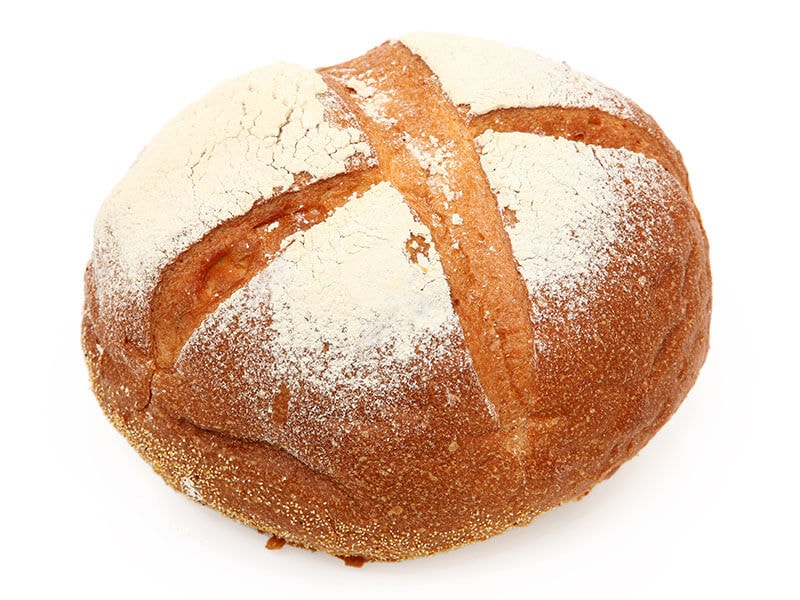 Made with just flour, salt, and water, without any leavening agents, mountain bread is a one-of-a-kind creation. Because of this, the batter doesn't rise or adopt the doughy texture of regular bread.
This bread exhibits delightful global variations from Lebanon's thin, flat shapes to Austria's round loaves. Plus, with fewer calories compared to traditional bread, it's a lighter choice for those mindful of their intake.
Beverages
102. Mocha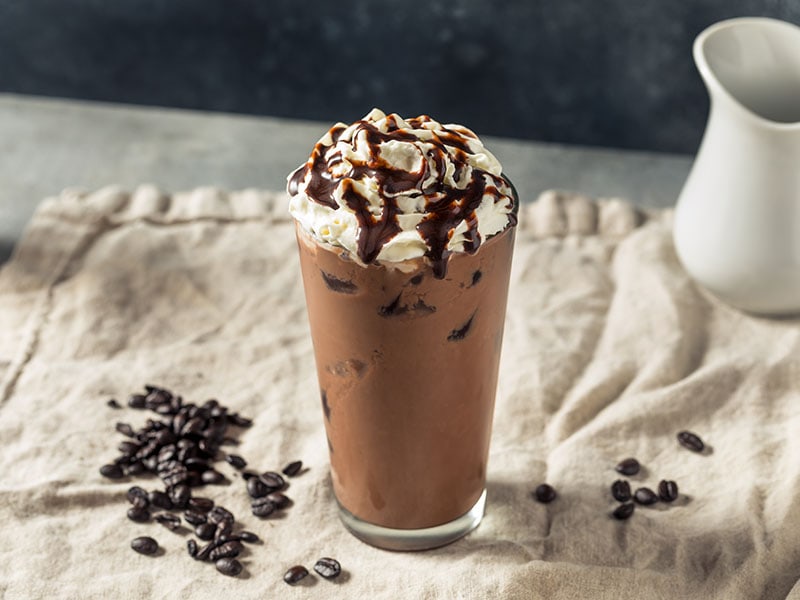 As a short form for caffè mocha or mocaccino, Mocha is named after Mokha, a historic Yemeni port crucial to the coffee trade between the 15th and 17th centuries. Following a 1:2 ratio of coffee to milk, mocha offers a milder coffee flavor, similar to hot chocolate with a touch of coffee.
This delightful beverage is a blend of coffee (usually espresso), hot milk, cacao powder, and sugar, with the option to swap the last two ingredients for milk chocolate or chocolate syrup.
It's an ideal choice for those who prefer less intense coffee mixes. Furthermore, Starbucks even offers a version topped with bittersweet mocha sauce, whipped cream, and chocolate shavings.
103. Mirin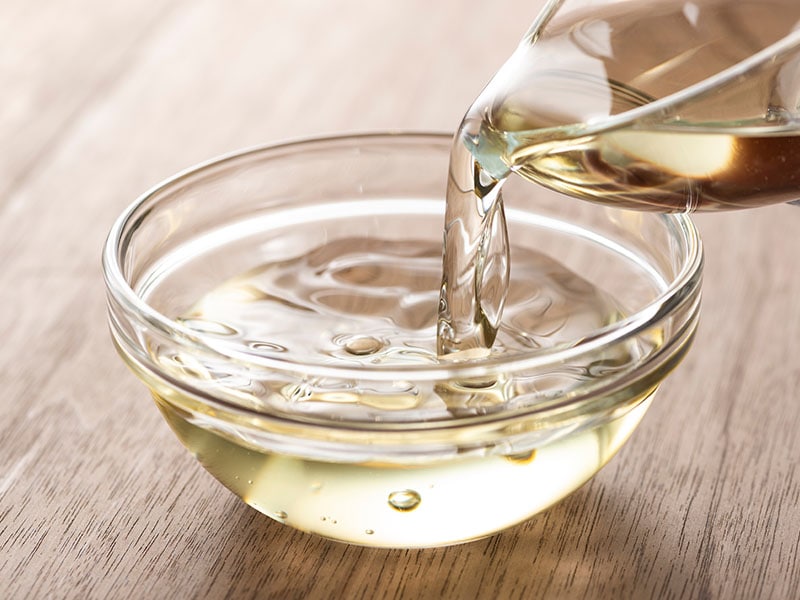 Mirin is a sweet Japanese rice wine, low in alcohol, and can be sipped like sake. It's popular in cooking, especially with soy sauce, as its umami-rich flavor enhances savory condiments.
Perfect for marinades, sauces, glazes, and dressings, some mirin versions are crafted exclusively for culinary purposes, containing lower alcohol content or additional ingredients like salt and pepper.
If you need a substitute, try a dry white wine sweetened with a bit of sugar to mimic mirin's unique taste.
104. Mulled Wine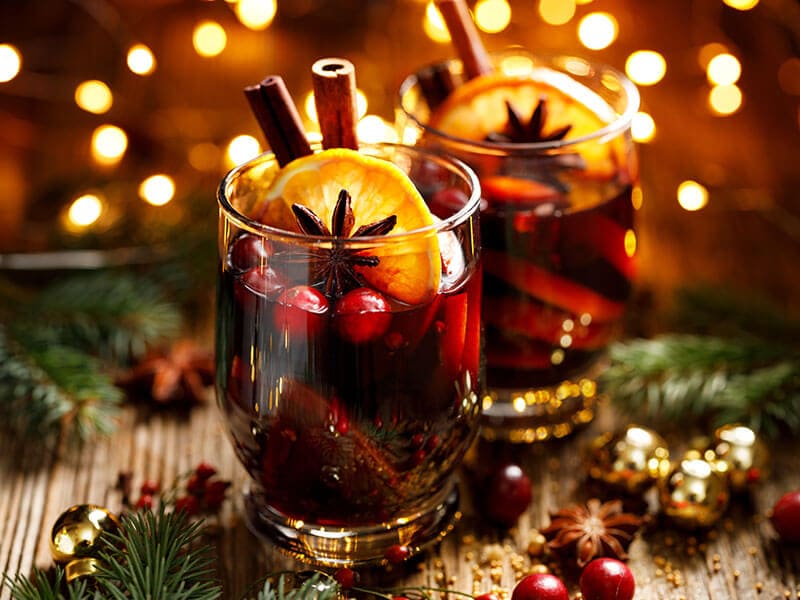 As winter approaches and Christmas draws near, there's nothing quite as comforting as a warm glass of mulled wine, also known as spiced wine.
Steeped in Roman history and enjoyed all over Europe, this fragrant beverage is created by mulling – or simmering – red wine with citrus fruits, spices like cinnamon and cloves, raisins, and sweeteners such as honey or maple syrup.
The result is a sweeter, more aromatic wine best served warm or at room temperature. Ideally, you should match strong spices like nutmeg with full-bodied wines or green spices such as basil and cardamom with lighter ones. For a twist, consider using white wine instead of red.
105. Mojito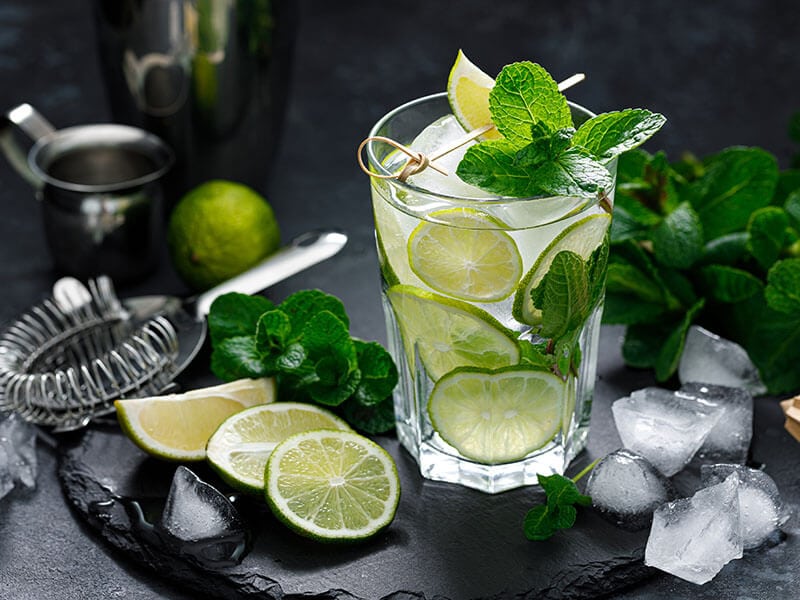 Hailing from Cuba, the mojito is a classic cocktail that combines fresh lime juice, rum, sugar, and gently muddled mint leaves. This refreshing drink strikes a perfect balance between sweetness and tartness while also providing a boost of vitamin C.
Remember, don't over-crush the mint, as it can release bitter compounds and spoil the taste. For your information, some bars may not serve mojitos if they lack fresh mint on hand.
106. Mint Tea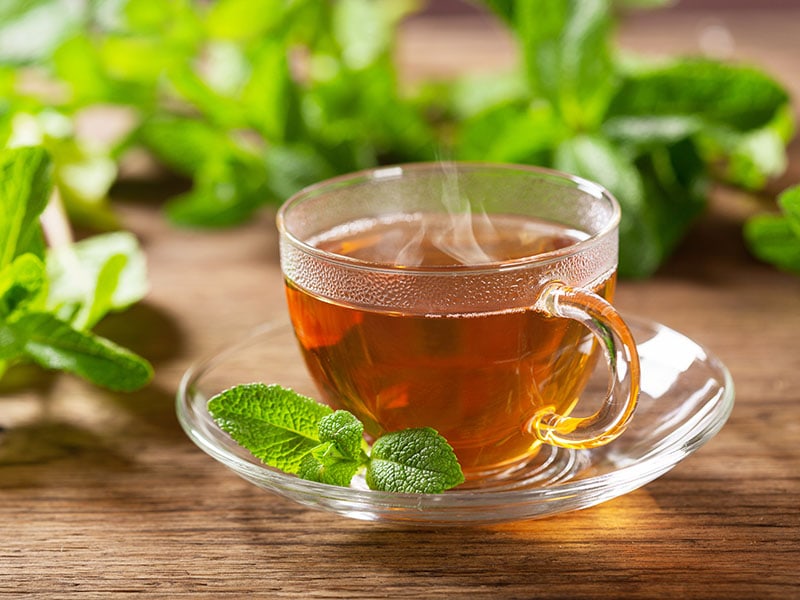 Mint tea is a refreshing herbal infusion made with either spearmint or peppermint leaves steeped in hot water. This versatile beverage is enjoyed in many different cuisines and can be consumed daily.
With no sugar or caffeine, it also comes with various benefits, such as improved sleep, immune system support, sore throat relief, digestive aid, and congestion clearing. For an extra flavor boost, feel free to add lemon, ginger, berries, honey, or even lavender.
107. Milk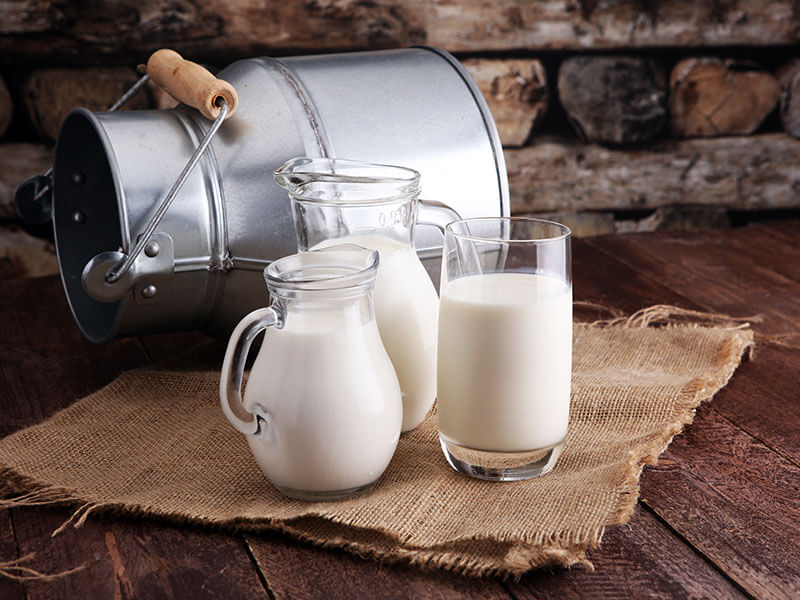 The well-known liquid white liquid food known as milk is produced by female mammals to nourish their young. While cow milk is the most popular, breast milk holds significant importance for humans during their baby stage.
In cooking, vegetarian diets may include milk but are excluded from veganism due to their animal origins. Many people also struggle to digest lactose found in milk, but there's always an alternative option.
Plant-based milk, such as soy, coconut, almond, and oat milk made from protein- or fat-rich legumes and nuts, offers an easier-to-digest option.
The drink is an excellent source of vitamins, proteins, and minerals, particularly calcium. Its health benefits range from improving physical and mental well-being to strengthening bones, teeth, hair, and skin.
108. Milkshake
The beloved beverage utilizing milk, ice cream, and various flavorings is a beloved option for many with the name milkshake. They're characterized by their sweet taste and thick, creamy texture.
To achieve that frothy consistency, ingredients like caramel sauce, chocolate or fruit syrup, or whole fruits are mixed. Widely available at restaurants, milkshakes are often prepared using a special milkshake machine. In some places, you might hear them referred to as a "frappe."
FAQs
From mousse to mince pie, it's clear that foods beginning with 'M' hold a world of culinary delight. I hope you've enjoyed this delicious journey as much as I have. Whether it's the airy elegance of mousse or the festive allure of a mince pie, each dish has a unique charm.
Do you have a favorite 'M' food that wasn't mentioned? Let me know more about your favorite M-dishes in the comment section, or share this article with people around you. Let's keep this foodie conversation going!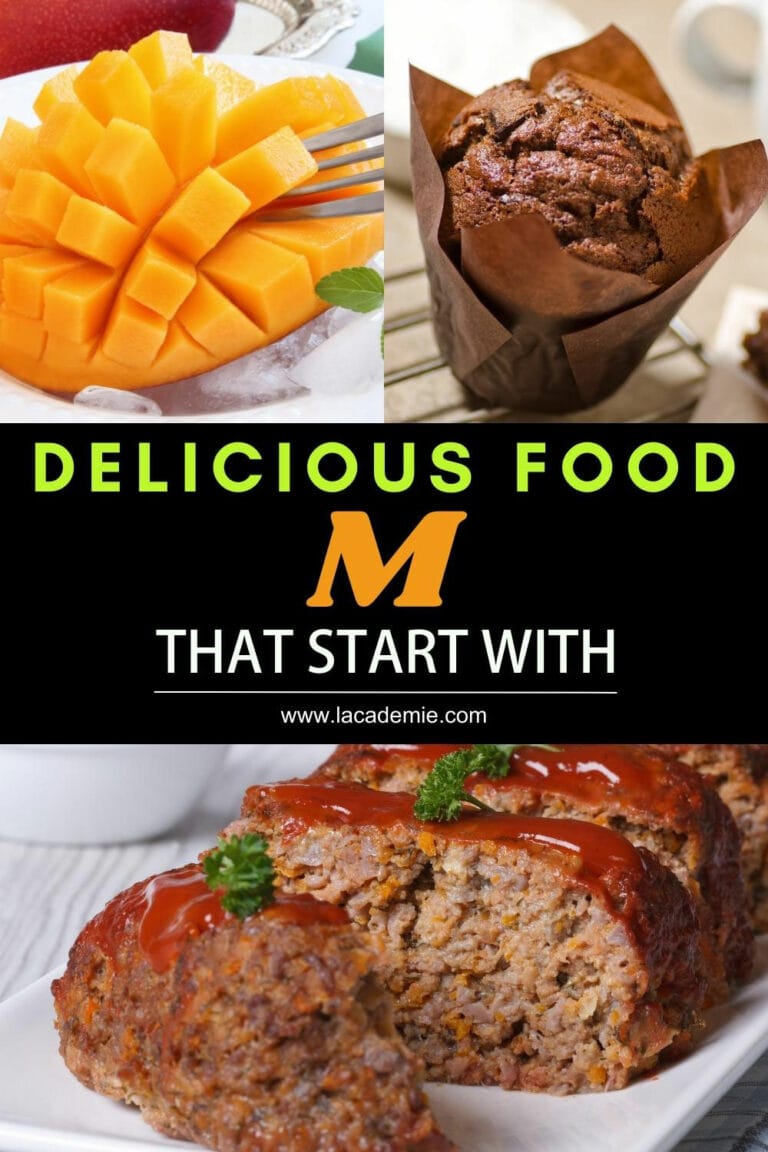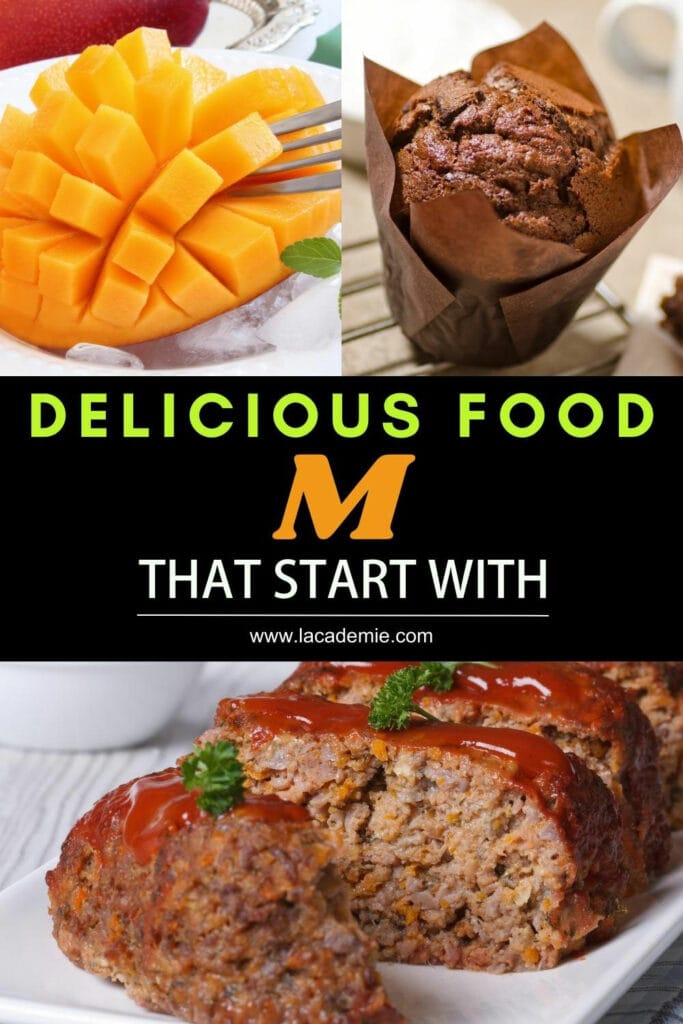 References
Health Benefits of Mandarin Oranges (2022). Webmd.com.
What are the health benefits of passion fruit? (2023). Medicalnewstoday.com.
10 Health Benefits of Mango (2023). Healthline.com.
Health Benefits of Mamey Fruit (2022). Webmd.com
How Are Maraschino Cherries Made? 6 Reasons to Avoid Them (2019). Healthline.com.
Mulberries 101: Nutrition Facts and Health Benefits (2019). Healthline.com.
Mustard Greens: Nutrition Facts and Health Benefits (2019). Healthline.com.
Malabar spinach (Basella alba) is a Nutritious and Ornamental Plant (2019). University of the District of Columbia report.
10 Impressive Health Benefits of Mung Beans (2019). Healthline.com.
Health Benefits of Macadamia Nuts (2022). Webmd.com.
Corn (2022). Webmd.com.
What Are the Health Benefits of Mackerel? (2022). Webmd.com.
Fatemeh Bina and Roja Rahimi (2016). Sweet Marjoram.
Butter vs. Margarine (2020). health.harvard.edu.