Egg substitute for meatloaf is a headache problem for all meatloaf lovers. Without eggs, your meatloaf can lack firmness and may fall apart, which is an unwanted thing when baking meatloaf. And I am sure you agree with me, too.
But you do not have to overthink it. I will show you all in this article. You will know more than 20 egg substitutes, including vegan ones, if you are in need. Besides, you will also collect an easy eggless meatloaf recipe for your dinner into your cookbook.
So, shall I begin now? Keep up until the end for full gains!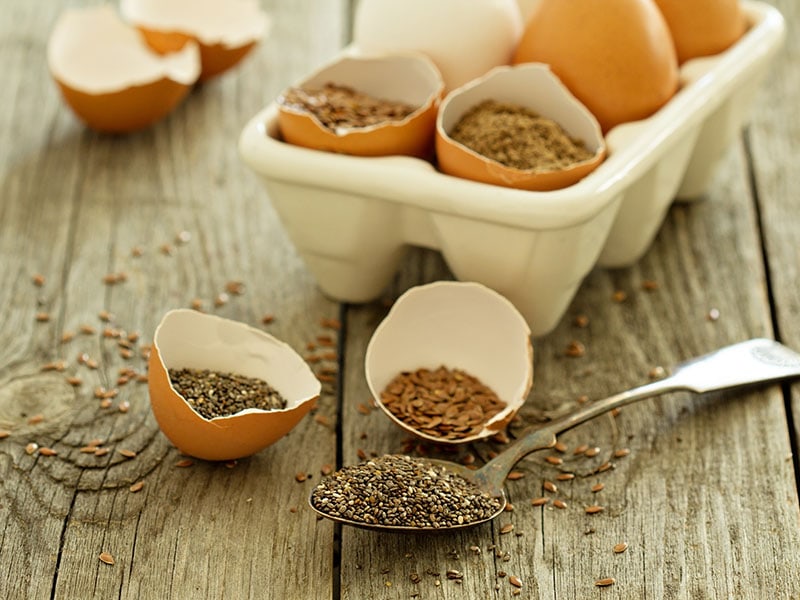 The Role Of Egg In Your Meatloaf Recipe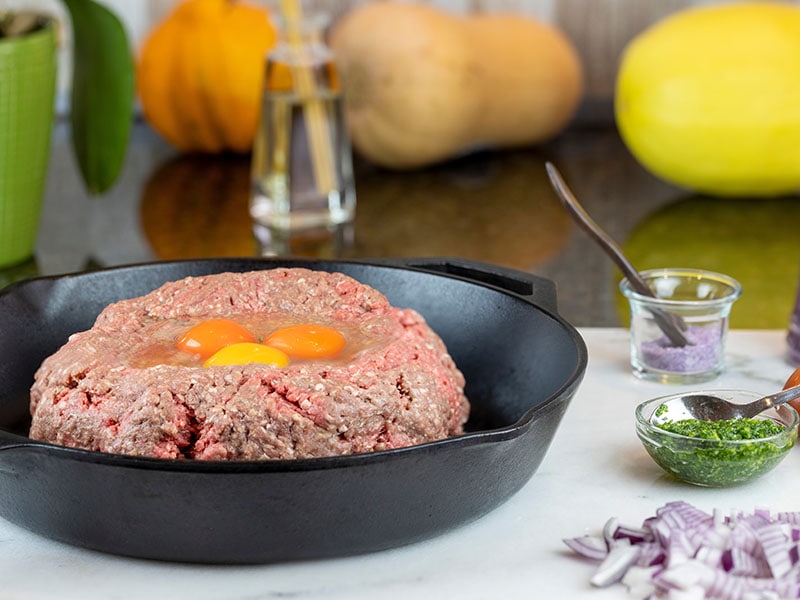 Meatloaf is a famous ground meat dish with many regional variations. Beef is the most common choice for making this dish, but poultry, lamb, pork, or veal meatloaf also tastes excellent. You can freeze meatloaf with proper techniques to have a delicious comfort food at your disposal.
In almost every meatloaf recipe, you will see eggs as the indispensable ingredient. It is because the eggs have two important main roles in the meatloaf-making process, namely binder and loosened protein provider.
In particular, the egg yolk in the egg will be in charge of binding the meatloaf mix. Also, it adds flavor and moisture to your meatloaf thanks to its water-filled structure. Besides, the egg white with loosened proteins will assist the egg yolk in structuring the texture of your meatloaf.
Given the egg's special structure, not only for baking meatloaf, it has wide use in cooking other kinds of food, namely cakes, fried chicken, etc. But, it is not the only binder in the world. So, relax and keep reading to save some best substitutes for it!
14 Incredible Egg Substitutes For Your Vegan Meatloaf
You may think the egg is non-vegan, so its substitutes should be non-vegan, too. It is not true! On this list, there are up to 14 alternatives that vegans can take advantage of. The table below will show you their substitute ratio compared with eggs in addition to their names.
| | |
| --- | --- |
| Substitutes | Substitute Ratio |
| Olive Oil | 1 egg = ¼ cup of olive oil |
| Avocado | 1 egg = ¼ cup of mashed avocado |
| Flax Eggs | 1 egg = 1 flax egg |
| Aquafaba | 1 egg = 3 tablespoons of Aquafaba |
| Chia Seeds | 1 egg = 1 tablespoon of chia seeds + ¼ cup of warm water |
| Applesauce | 1 egg = ¼ cup of applesauce |
| Tofu | 1 egg = ¼ cup of tofu |
| Tapioca Starch | 1 egg = 1 tablespoon of tapioca starch + 3 teaspoons of water |
| All-purpose Flour | 1 egg = 3 tablespoons of all-purpose flour + 3 tablespoons of water |
| Arrowroot Powder | 1 egg = 2 tablespoons of arrowroot flour + 2 tablespoons of water |
| Chickpea Flour | 1 egg = 3 tablespoons of chickpea flour + 3 tablespoons of water |
| Cornstarch | 1 egg = 2 tablespoons of cornstarch + 3 tablespoon of water |
| Oatmeal | 1 egg = 2 tablespoons oats + 3 tablespoons of boiling water |
| Mashed Potatoes | 1 egg = ¼ cup of mashed potatoes |
| Nut Butter | 1 egg = 3 tablespoons of nut butter |
| Egg Replacers | 1 egg = 1 tablespoon of egg replacer + 2 tablespoon of water |
| Homemade Egg Replacer | 1 egg = 1½ tablespoons of homemade egg replacer + 3 tablespoons of water |
1. Olive Oil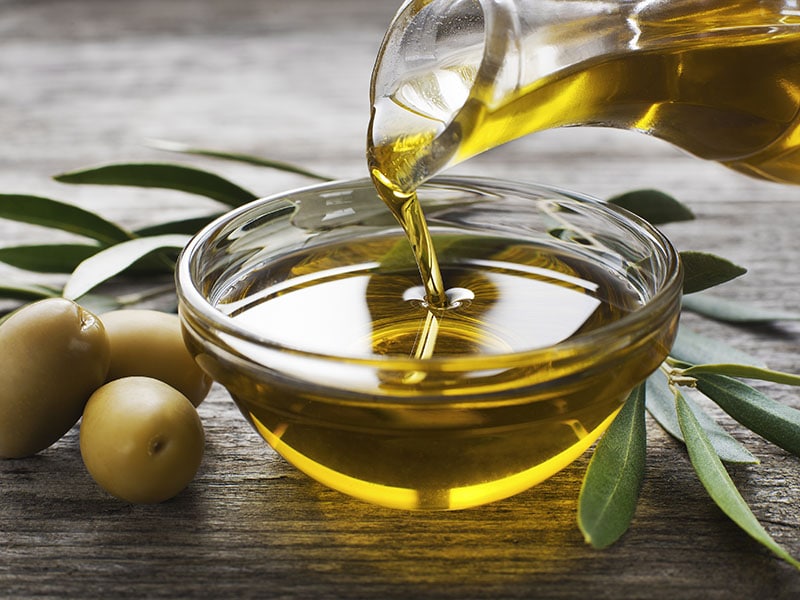 When you have run out of eggs for making meatloaf, do not pause but grab your olive oil right away! Olive oil will be a great substitute for the egg in your meatloaf.
Olive oil has a wide range of colors, which is usually between dark green and golden yellow. As a tasty provider to many foods, olive oil has an attractive aroma with a combination of bitterness and sharpness.
To bind your meatloaf with olive oil, use the virgin or the extra virgin one. These virgin olive oils have a lot of health benefits according to their high nutritional value, such as antioxidants and vitamin E, which will even make your meatloaf healthier.
However, olive oil is still a liquid, which is runnier and oilier than eggs. Thus, you should add olive oil to your meatloaf gradually. I suggest adding a tablespoon or so at a time.
For one egg replaced, you will need to use a quarter cup of olive oil.
2. Avocado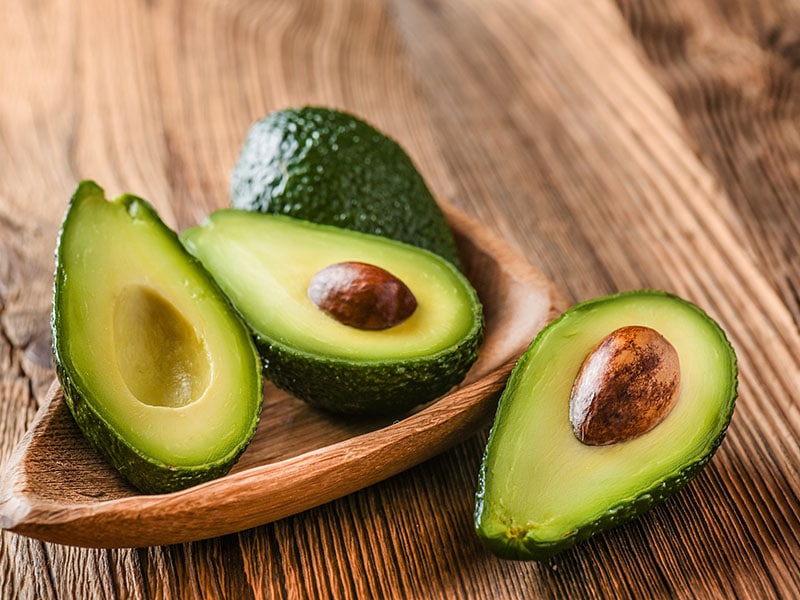 Avocado has an origin in Western Hemisphere, which ranges from Southern Mexico to the Andean regions (1). This type of fruit is usually green mixed with a little yellow color. With its buttery taste, avocado is a key ingredient in many famous dishes.
In replacing eggs, avocado is a decent candidate for a meatloaf binder, thanks to its amount of fat. However, you should add avocado moderately since it will somehow alter the flavor of your meatloaf.
To replace one egg, you should use a one-quarter cup of mashed avocado in your meatloaf recipe. Attentionally, avocado is easier to turn to brown color during baking than other egg replacers. For that reason, your meatloaf may be well done outside but still softer inside.
Thus, if you want a soft and buttery meatloaf, this alternative will be the best in town!
3. Flax Eggs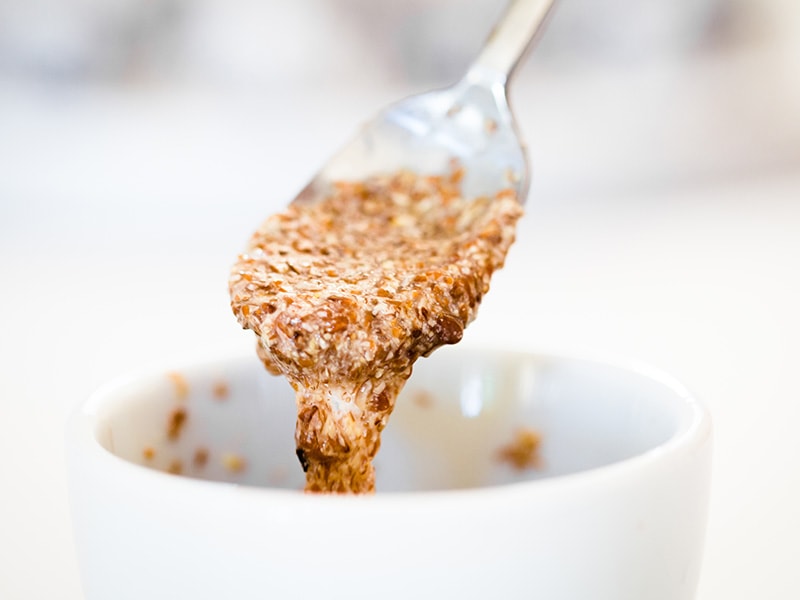 The most famous binder in the vegan community is flax egg, which is a blend of ground flaxseeds and water. When the ground flaxseeds meet the water, they become gelatinous and sticky, a great binding substance to your meatloaf dish.
However, a flax egg is not an excellent binder as a whole since it uses polysaccharides instead of a protein network for the binding process. Therefore, your texture will be moist, and your meat will stick well together but not wholly bind.
To make a flax egg, you will need a tablespoon of flaxseeds meal and three tablespoons of water. Mix them well and let the mixture rest for about 5 minutes. Then, your flax egg is ready!
Noticeably, a flax egg can not be made from the whole flaxseeds. Hence, if you buy the whole ones, remember to grind them before using them!
The substitute ratio of flax egg to egg is 1:1.
How to make flax eggs at home and their uses in cooking.
4. Aquafaba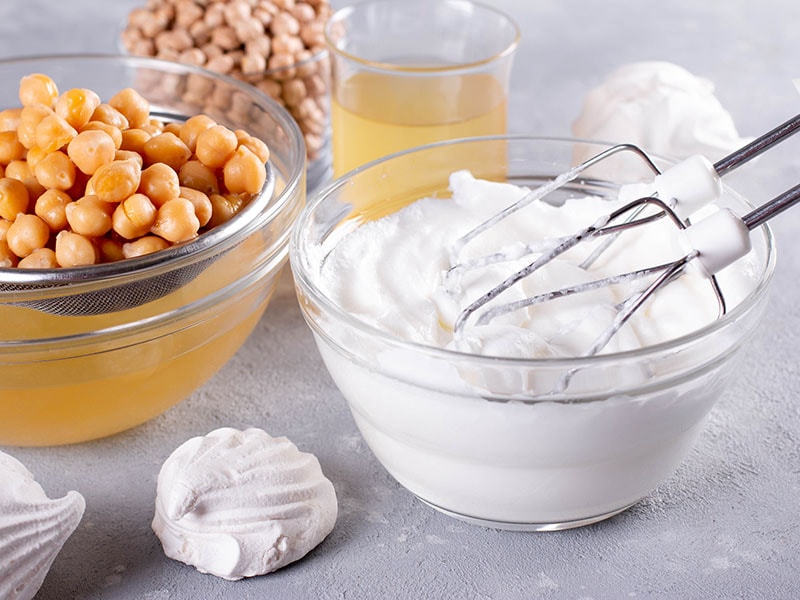 Although Aquafaba was an accidental discovery, it does make a big bang in the vegan community. Thanks to its creamy texture and nutrients, people usually have it in their vegan baking dishes such as muffins, macarons, and mousse cake.
To make Aquafaba, you will need water from beans or chickpeas, maybe from your leftovers. Simply boil or microwave pulses until you get a thicker and yellow liquid. Then, your Aquafaba is ready!
Plus, you do not have to worry about its taste because there is no flavor like chickpeas or beans after you cook it. You can freely use homemade Aquafaba for any recipe, salty or sweet. All your choice!
But, in using canned chickpea water to make Aquafaba, you need to pay attention to its label. If it is salted, you better change your meatloaf recipe again.
To alternate one egg in meatloaf, you should have three tablespoons of Aquafaba.
Do you know how to make Aquafaba? Jump in!
5. Chia Seeds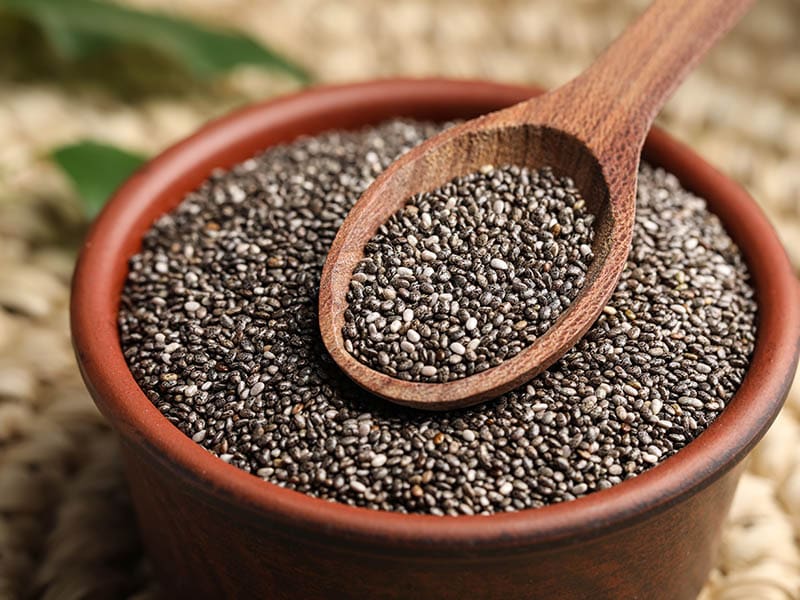 Chia seeds are an edible part of Salvia hispanica, species of flowering plant in the mint family. (2) It is super high in fiber and antioxidants, which will help you prevent heart diseases and support your bone system.
Unlike flax seeds, using chia seeds in your meatloaf does not require any grinding. To replace one 1 egg, all you will do is put one tablespoon of chia seeds in a quarter cup of warm water.
After they absorb water and become gelatinous, you can add the mixture to meatloaf mixes for binding purposes. Using chia seeds is convenient. It is a little milder than the nutty taste of flaxseeds. Thus, according to your purposes, you can have a choice between two of them.
6. Applesauce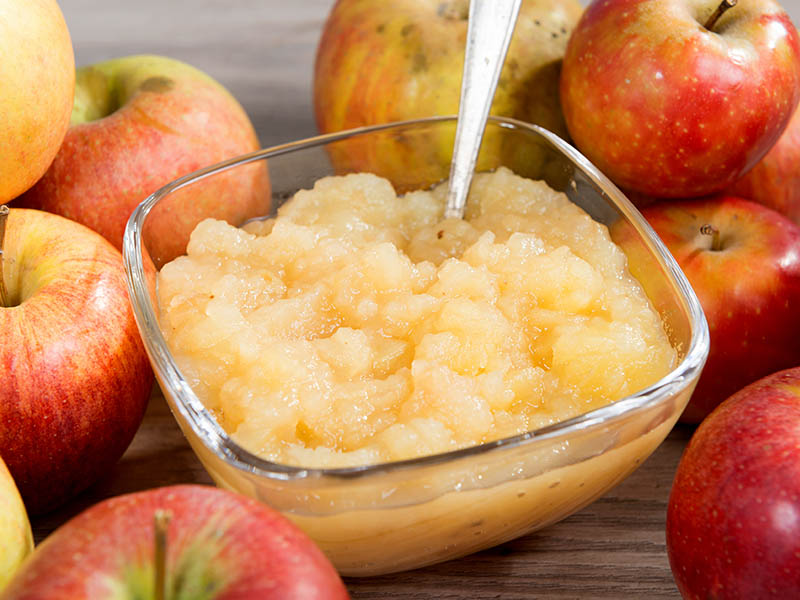 If you look for an egg replacer with a moisten mission, applesauce is the best in town, with nature being full of water. Besides, the applesauce is also one of the affordable alternatives in your shopping cart. To replace an egg, you just need a quarter cup of unsweetened applesauce.
Using applesauce in the meatloaf will bring many health benefits, including preventing heart diseases and cancer. Thanks to its low content in sugar, applesauce is also a perfect egg substitute for people with diabetes.
Still, there is one thing you should be cautious about using in your meatloaf. That is, your meatloaf may have plenty of apple flavor in it. So, if you do not like the apple smell, cross it off your list!
Easy homemade applesauce directions for you.
7. Tofu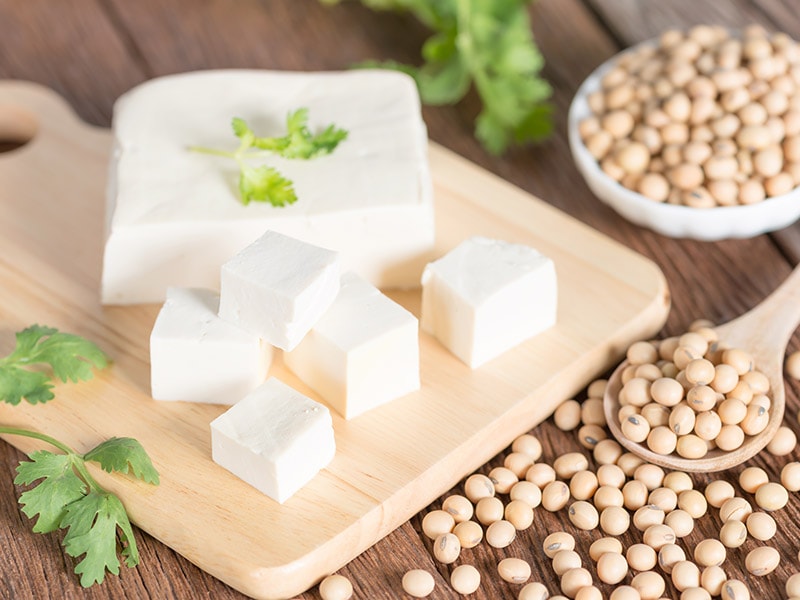 Given its eggy texture, tofu is a wonderful egg alternative to your meatloaf. It has an origin in China and has been an indispensable part of Chinese cuisine since the Han dynasty. (3)
Despite the spongy texture, tofu is an excellent source of protein, which is essential to vegan diets. Therefore, adding tofu to your vegan meatloaf will make it more nutritious and healthier. To substitute egg with tofu, mash ¼ cup of tofu and add it directly to your meatloaf.
A small note is that the silken or softer types of tofu will bring the best moist texture to your meatloaf. Thus, it's all your decision!
8. Flour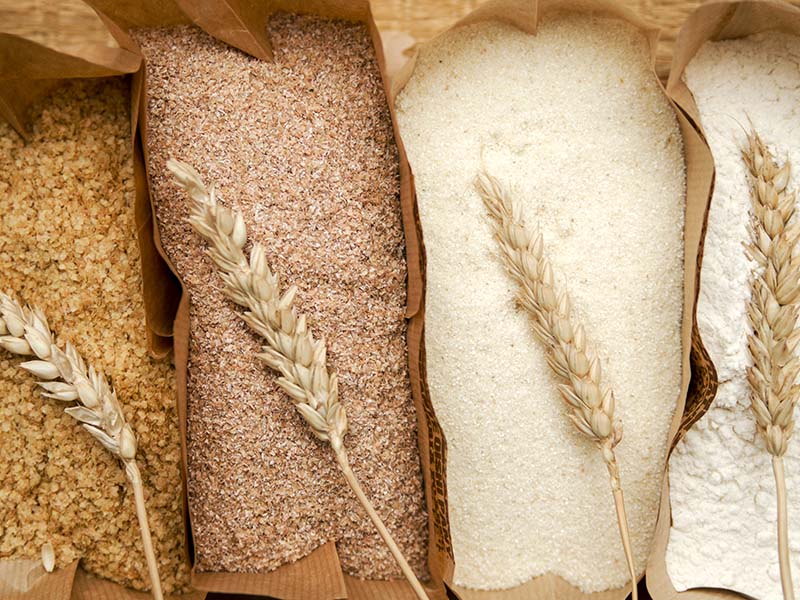 Flour, a natural product made from grinding grains, seeds, and nuts, is a magic ingredient for the vegan community. Not only is flour nutritious, but it also contributes to many vegan foods, including vegan meatloaf.
Particularly, four popular types of flour often used as a binder are tapioca starch, all-purpose flour, arrowroot flour, and chickpea flour. While all-purpose flour creates a firm texture, tapioca starch, arrowroot powder, and chickpea flour will create a soft texture for your meatloaf.
But, to all, chickpea flour is the most suitable one. Unlike other flour, it has both roles of binder and raising agent, which assures your meatloaf has a sturdy yet tender texture. If you want more eggy for your meatloaf, you can put 1 more spoon of chickpea flour than the ratio told.
To clarify, I have generated the substitute ratio according to each type of flour for you on the table down here.
| | |
| --- | --- |
| Types Of Flour | Substitute Ratio |
| Tapioca Starch | 1 egg = 1 tablespoon of tapioca starch + 3 teaspoons of water |
| All-purpose Flour | 1 egg = 3 tablespoons of all-purpose flour + 3 tablespoons of water |
| Arrowroot Flour | 1 egg = 2 tablespoons of arrowroot flour + 2 tablespoons of water |
| Chickpea Flour | 1 egg = 3 tablespoons of chickpea flour + 3 tablespoons of water |
Learn more about chickpea flour and how to make it? Check it out!
9. Cornstarch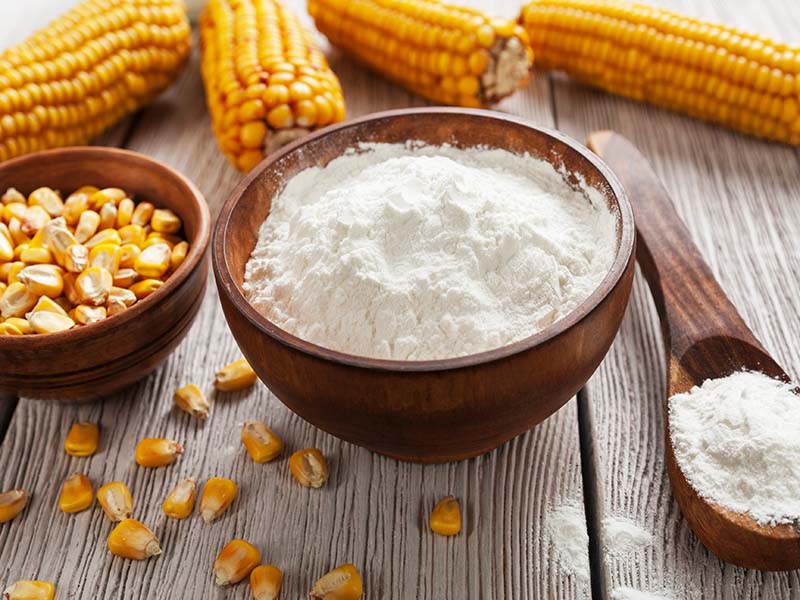 To make cornstarch, people take out the endosperm in the center of the corn kernel and grind it into a fine powder. Hence, cornstarch contains a lot of carbs instead of fiber, which will provide energy to your body quicker than other whole grains.
Besides, due to its water absorption, cornstarch will be a bright candidate for your eggless meatloaf when you mix it in the right proportion. Use 2 tablespoons of cornstarch mixed with 3 tablespoons of water to replace one egg in your meatloaf recipe.
Even if the cornstarch is a great help for binding your meatloaf, be careful to overuse or overheat it because it could make the dish become hard and solid.
10. Oatmeal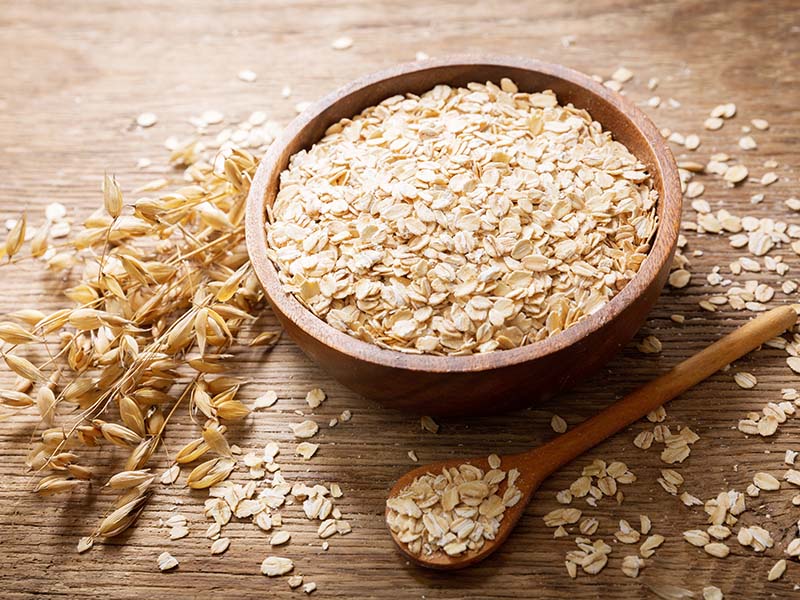 I believe that every American has their oatmeal at home for breakfast. Perhaps, they have figured out the health benefits of oatmeal. Not merely does it provide you with soluble fiber but also antioxidants, which will help reduce heart problems and the risk of cancer.
To have oatmeal in your meatloaf, you will need to prepare 3 tablespoons of boiling water and 2 tablespoons of oats. Simply put oats in a small bowl and pour boiling water into it. After setting aside for minutes, you will have a thickened mix that will alternate eggs in your meatloaf.
11. Mashed Potatoes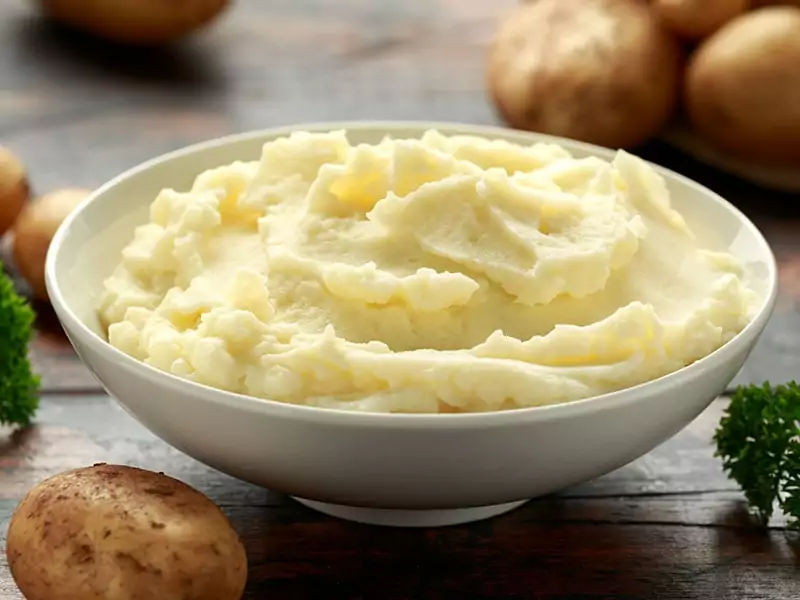 As the name suggests, you can use mashed potatoes to replace eggs by mashing and mixing potatoes in your meatloaf. The starch of potatoes will bind the ingredients in your meatloaf together.
To use mashed potatoes, you must remember not to add any seasonings to the potatoes, which will alter the flavor. You can also add milk or butter to achieve a creamy texture. You can use almond milk or other vegan ones to moisten your mashed potatoes if you are vegan.
Don't have time for steaming potatoes? No worries! Instant mashed potatoes are fine to work for the same result, but you need to choose the plain one to easily control the taste of your meatloaf!
The substitute ratio of mashed potatoes to an egg in your meatloaf is ¼ cup of mashed potatoes for 1 egg.
Review some popular brands of instant mashed potatoes. Click in!
12. Nut Butter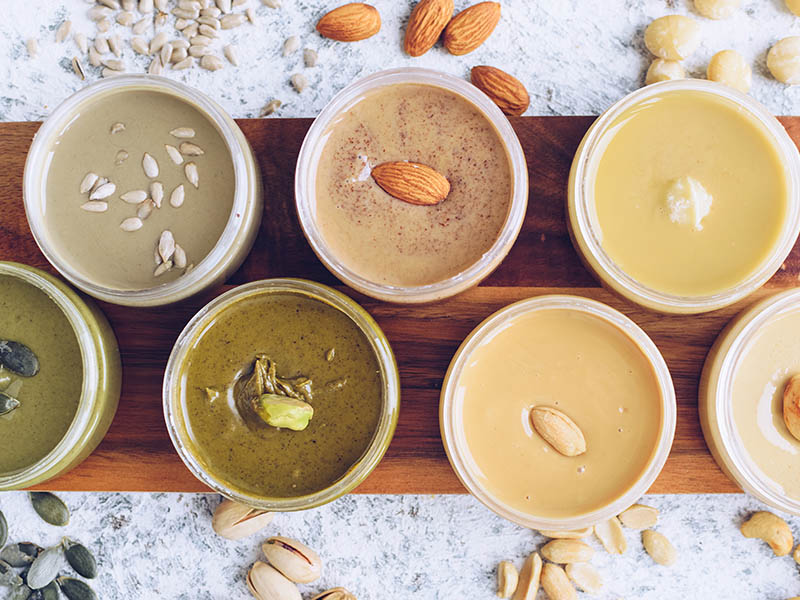 Nut butter, which is often on your local supermarket shelves, is a spread made by blending nuts. There are varieties of nut butter that you can name, including almond, peanut, cashew, etc. Thanks to their nutritional values, these butter do have many health benefits.
Nut butter generally contains a balanced content of healthy fat, fiber, proteins, and vitamins. Thus, using nut butter in your recipe will not only help you bind your meatloaf but also help improve your cholesterol levels, which are hard to find in baked dishes.
Nevertheless, there is one disadvantage of using nut butter for your meatloaf. The nut butter may affect your original taste of meatloaf. So if you cannot handle the nutty taste, turn to the next ones!
Three tablespoons of nut butter to 1 egg is the substitute ratio of nut butter to an egg in your meatloaf.
Tips: Choosing creamy nut butter instead of the chunky one to have a perfect mix of meatloaf.
13. Egg Replacer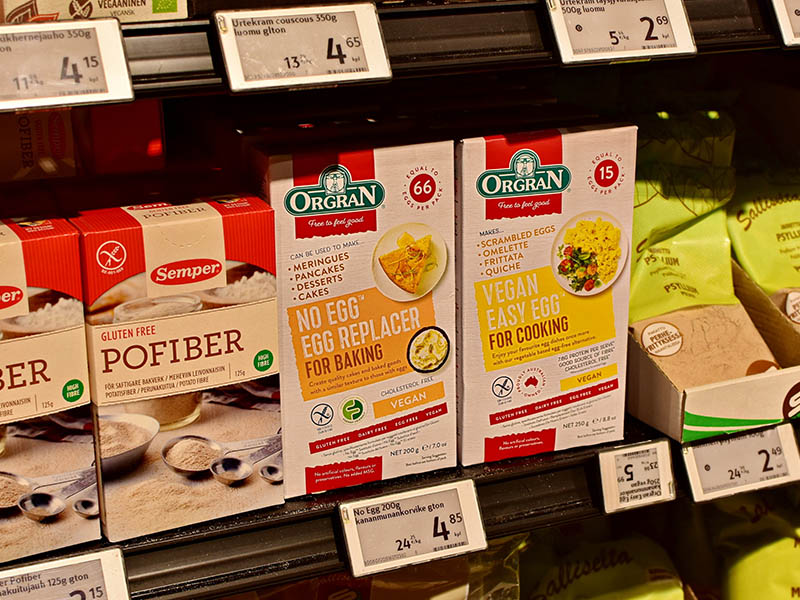 To vegans, egg replacer sounds familiar because it is the savior of the diversity of vegan dishes. Usually, egg replacer consists of potato starch, tapioca flour, leavening, and some other modified substances.
About its usage instructions, you will simply mix this commercial powder with water. Specifically, there are three ways for three purposes to mix it:
For alternating a whole egg, mix 1 tablespoon of egg replacer with 2 tablespoons of water.
For alternating the egg white, mix 1.5 tablespoons of egg replacer with 2 tablespoons of water.
For alternating the egg yolk, mix 1.5 tablespoons of egg replacer with 1 tablespoon of water.
Therefore, if you want to substitute one egg in your meatloaf, one tablespoon of egg replacer is enough.
14. Homemade Egg Replacer
In case you do not have any commercial egg replacer in the pantry, you can follow my guide to make a homemade version. There are three needed ingredients: 2.5 cups of tapioca starch or arrowroot powder, 0.5 cups of baking powder, and 1 tablespoon of guar gum powder.
After you have all of the ingredients, mix them well, and then you have a homemade egg replacer mixture. To replace one egg in your meatloaf, just simply mix 1.5 teaspoons of the mixture with 3 tablespoons of water, and well done! You've made it!
7 Non-Vegan Ingredients Best Replacing Eggs In Your Meatloaf
Have gone more than half the way, but you have not found the right one for your dish? Do not rush to leave! Stay tuned because I am sure that the following 7 ingredients will impress you.
Let's first go through the list of their names and their substitute ratio for 1 egg!
| | |
| --- | --- |
| Substitutes | Substitute Ratio |
| Bread Crumbs | 1 egg = ¼ cup of bread crumbs |
| Bread | Adjust accordingly |
| Mayonnaise | 1 egg = 3 teaspoons of mayonnaise |
| Cream | 1 egg = ¼ cup of cream |
| Cream Cheese | 1 egg = ¼ cup of cream cheese |
| Yogurt | 1 egg = ¼ cup of yogurt |
| Gelatin | 1 egg = 1 tablespoon of gelatin |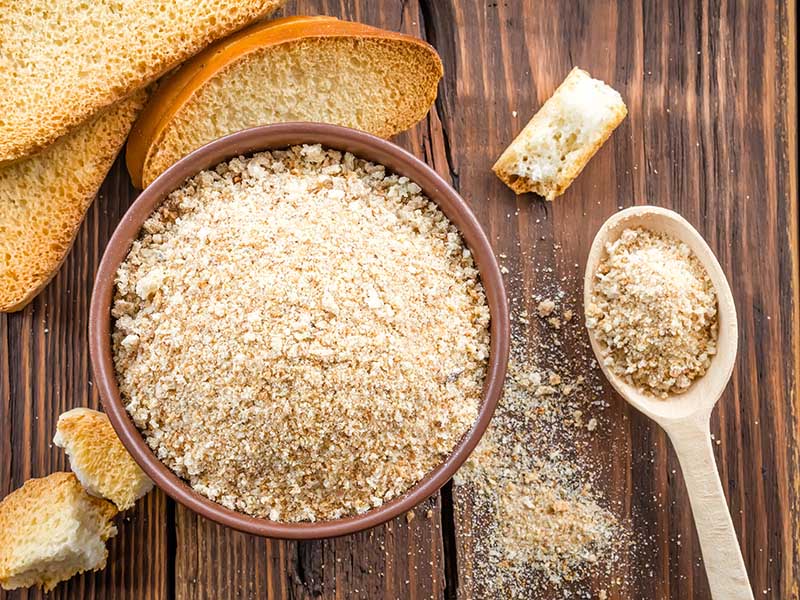 Although some bread crumbs are added to your meatloaf recipe as a filler, you can still have it in a different role as a binder. With the ability to absorb moisture, bread crumbs can bind meat with other ingredients in your meatloaf.
However, unlike bread crumbs used as filler in some meatloaf recipes, the bread crumbs used for alternating eggs should be drier to make the best result. The tip here is that you should have left your fresh bread for 3 to 4 days before using it.
To replace eggs in meatloaf, you need to substitute ¼ cup of bread crumbs with one egg.
16. Bread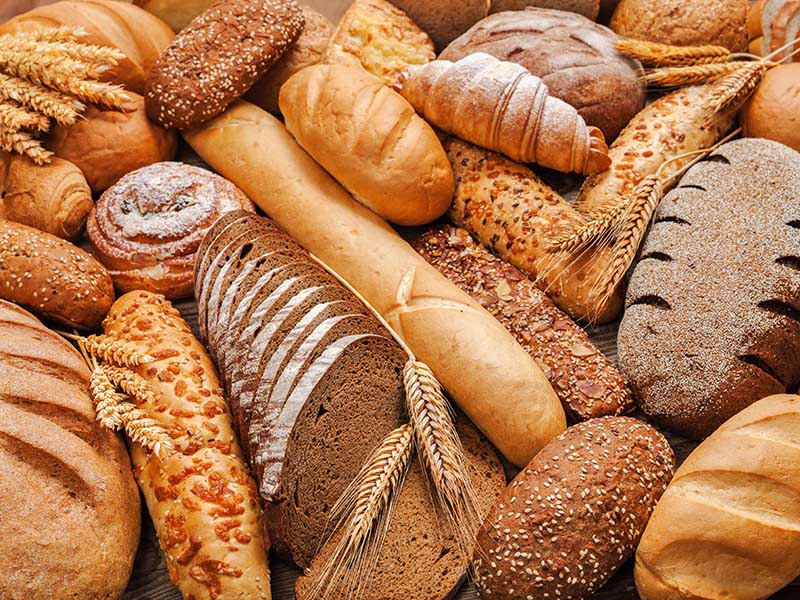 Like bread crumbs, bread may appear as a filler in some meatloaf recipes. Thanks to its starch characteristics, bread is very hydrophilic, especially when it's dry. Therefore, besides being a filler, it is still a special binder for your eggless meatloaf.
To alternate bread to egg, you need to soak pieces of bread in milk or water and then put it in your meatloaf for binding.
17. Mayonnaise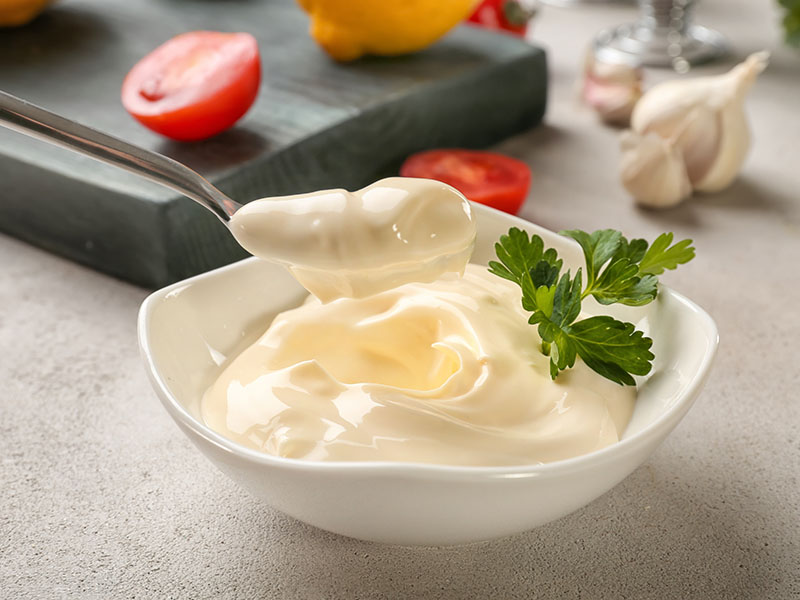 Made from eggs, salt, and oil, you can think of mayonnaise as a descendant of egg, which has great potential as an egg replacer. To replace each egg your meatloaf recipe calls for, you can change it into 3 teaspoons of mayonnaise.
With its creamy texture, mayonnaise will create a rich flavor and certain moisture for your meatloaf. In addition, mayonnaise also provides a load of fat and calories in your dish. For that reason, you will feel full of energy after eating the mayonnaise meatloaf.
Mayonnaise recipe from professional chef Gordon Ramsey.
18. Cream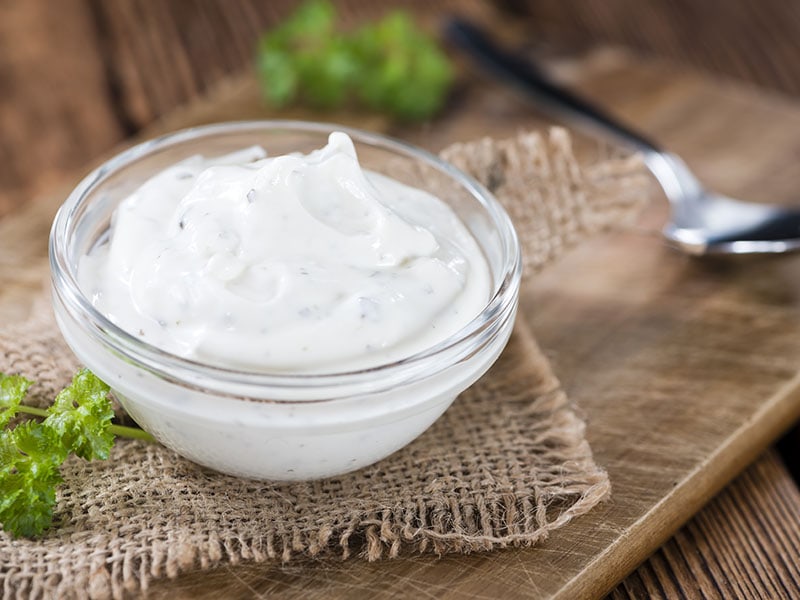 Instead of egg, you can add cream to bind your meatloaf mixture. Compared to Aquafaba, some cream even has a much more spongy texture, which ensures that it will work for your meatloaf recipe.
In particular, there are several products of cream for you to choose such as coconut cream and sour cream. In addition, you can also make your cream at home by mixing milk and butter if you have free time. Just ¼ cup of cream is enough for one egg substitution.
A small suggestion for you is that you should buy or make plain cream instead of a flavored one to gain the best meatloaf taste.
Do you want to know how to make cream at home? This is for you.
19. Cream Cheese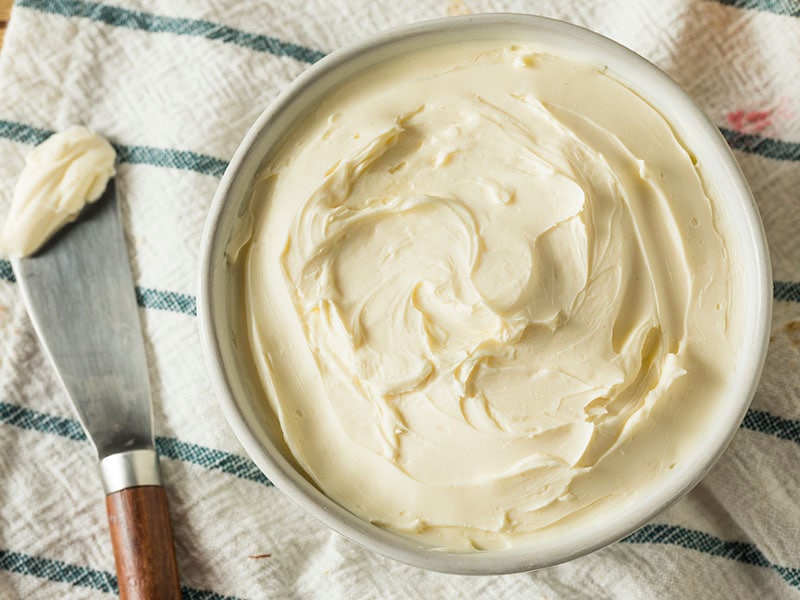 Cream cheese is a type of fresh cheese made from milk and cream. Cream cheese usually has a white or light yellow color. It tastes somewhat mildly salty and sour, which makes it not too greasy like other cheeses. Thus, many people prefer eating it.
Particularly, you will need a quarter cup of cream cheese to exchange for one egg in meatloaf. Remember to avoid flavored cream cheese because it may alter your meatloaf aroma!
20. Yogurt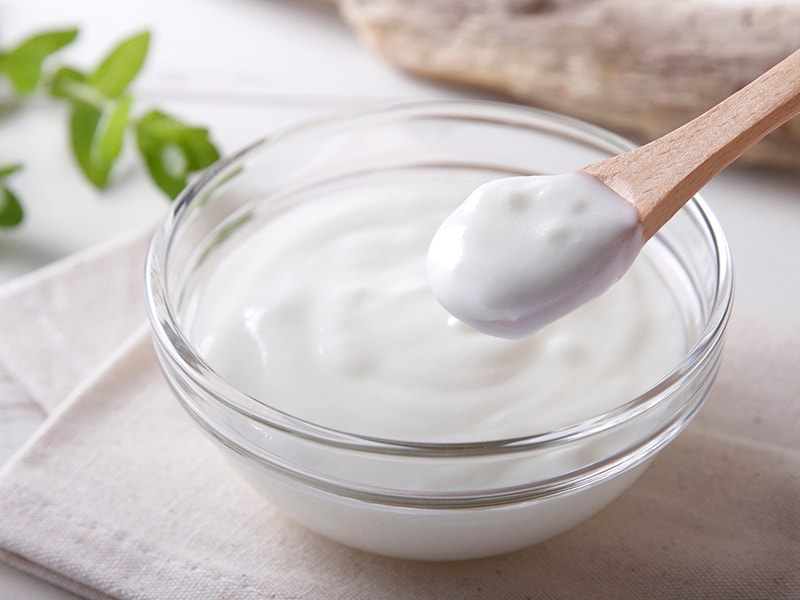 Yogurt is a product of bacterially fermented milk, which has a typically sour and fatty taste. In daily meals, many people worldwide take yogurt seriously thanks to the health benefits it brings. But, besides being a healthy dessert, it can also be a binder for your meatloaf.
Like applesauce, yogurt is a fantastic substitute for eggs with its sticky and spongy texture. However, it is unable to raise your meatloaf as an egg does. Thus, to ensure your meatloaf is perfect, adding a half teaspoon of baking powder to ¼ cup of yogurt will help.
21. Gelatin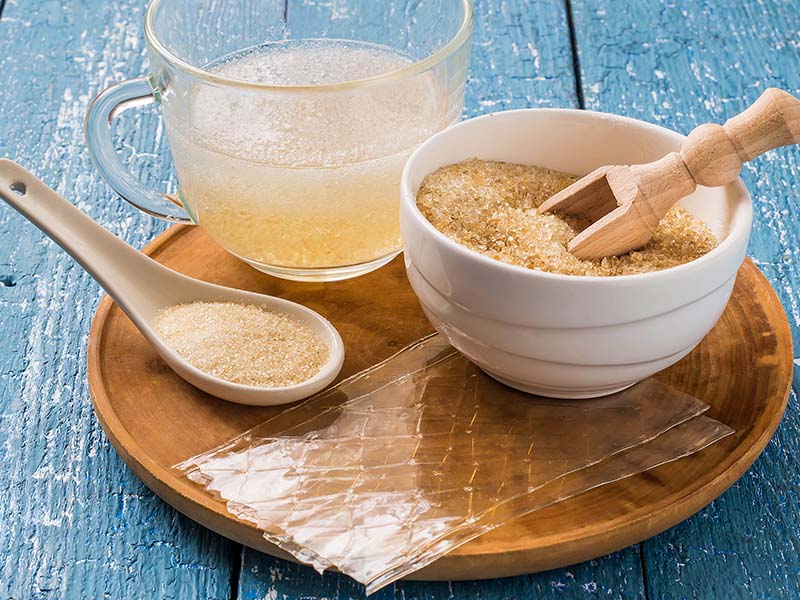 Gelatin is a product made from boiling animal bones or skins, often from pigs and cows. When it dissolves in water, the mixture will become gelatinous or jellied, in other words. For that reason, gelation has become a well-known substitute for eggs, especially for egg allergy people.
Generally, to substitute one egg, you will need to dissolve one tablespoon of gelatin with three tablespoons of water. And depending on your recipe, you can double or triple it up with the same ratio.
Want to know more about gelatin? Click on!
Easy Eggless Meatloaf Recipe For Your Dinner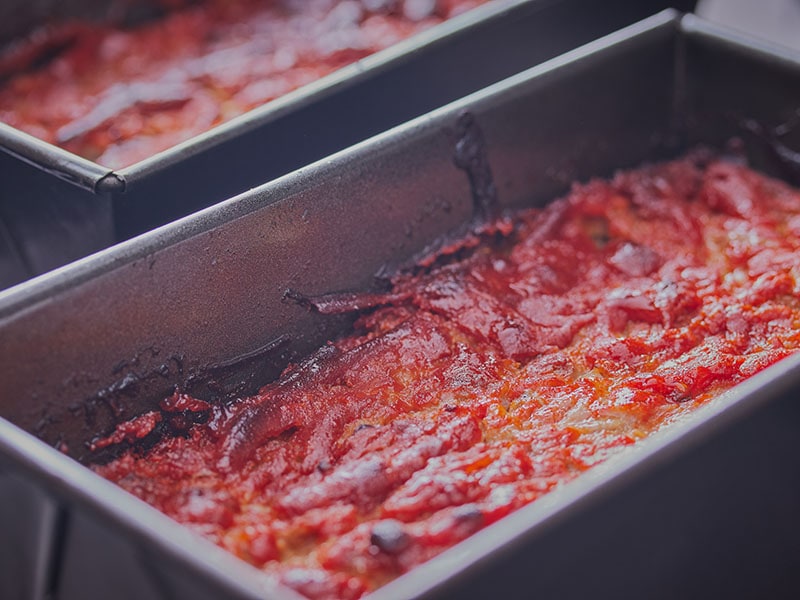 For ease of cooking, I will introduce you to an easy recipe of eggless meatloaf that you can make for your dinner. If you're familiar with this dish, you might know that many recipes require you to cook meatloaf at 400 degrees F for some time. However, 350 degrees F is the prefered temperature for this recipe.
Ingredients
Because this recipe has no egg, it only has 8 basic ingredients, including ground beef, onion, milk, ketchup, and some other seasonings. Here is the required weight of each item.
One pound of ground beef
One cup of dried bread crumbs
A half-cup of minced onion
A cup of milk
One tablespoon of ketchup
One tablespoon of Worcestershire sauce
One tablespoon of mustard
Salt and pepper
Step By Step Instructions
If you have prepared all of the required ingredients, it's time for you to go on. No worries! These step-by-step instructions will guide you.
Step 1: Preheat An Oven
Before getting to cook, you will preheat the oven by setting the temperature at 350 degrees F, which is about 175 degrees C if you use this temperature unit.
Step 2: Prepare The Meat Mix
Step 3: Season The Mix
You will add salt and pepper to the mixture. Be careful of the salt! If you add too much, your meatloaf can be hopeless to save. After seasoning, you will place your flavored meatloaf on the pan and turn to prepare the sauce.
Step 4: Prepare The Topping
Take a small bowl and put in it the ketchup, Worcestershire sauce, and mustard. Blend them well and pour the mixture over the meatloaf. Use a spoon or something to spread the sauce evenly into a layer.
Step 5: Bake The Loaf
You will bake your eggless meatloaf uncovered for about an hour at 350 degrees F (175 degrees C).
Step 6: Rest Your Meatloaf
When your meatloaf is done, do not serve it out immediately! Instead, let it rest for about 10 minutes, then it will be ready to eat.
Check out this step-by-step guide to making an eggless meatloaf.
FAQs
In this part, I have answered some frequently asked questions from meatloaf lovers. Take a look at it for more information!
There Are Many Other Binders You Can Use In Making Meatloaf Besides Eggs
You have got it! Now you are at the end of this post. I am sure you already have a complete list of egg substitutes in your hand. In addition, there is also an eggless recipe and some useful questions for you to follow.
Since the list could be useful to some egg allergy friends and family members, feel free to share and spread it to your community. Honestly, I cannot help but look forward to your next eggless meatloaf. So, comment in this post if you have successfully done it!
Nutrition Facts
6 servings per container
---
Amount Per ServingCalories249
% Daily Value *
Total Fat 7.1g

11

%
Cholesterol 71mg

24

%
Sodium 257mg

11

%
Potassium 399mg

12

%
Total Carbohydrate 17.6g

6

%

Dietary Fiber 1.3g

4

%
Sugars 4.6g

Protein 27.3g

54

%
---
* The % Daily Value tells you how much a nutrient in a serving of food contributes to a daily diet. 2,000 calories a day is used for general nutrition advice.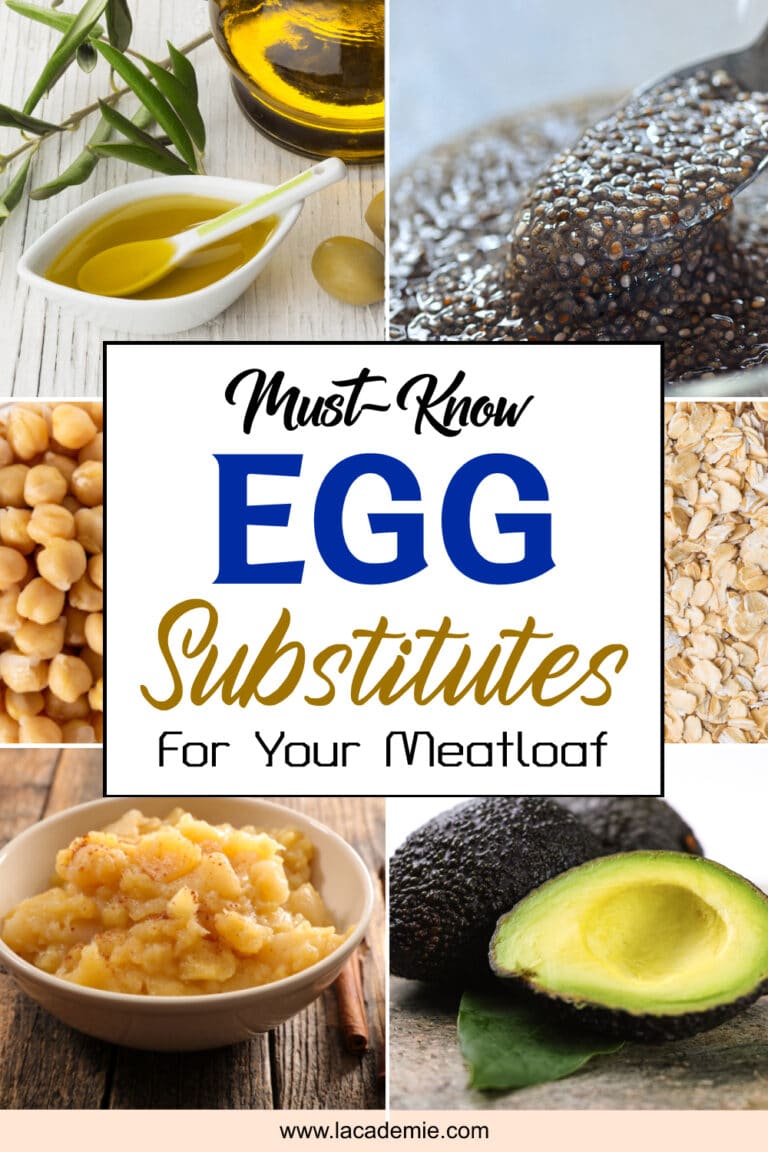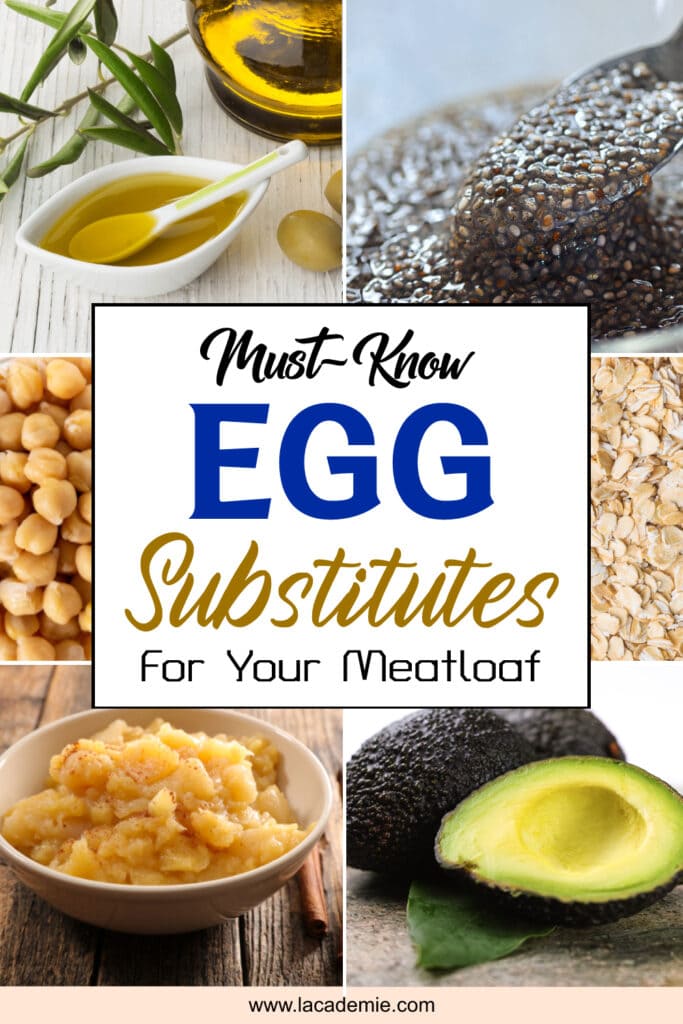 References
britannica.com. 2022. Avocado.
En.wikipedia.org. 2022. Chia seed.
En.wikipedia.org. 2022. Tofu.