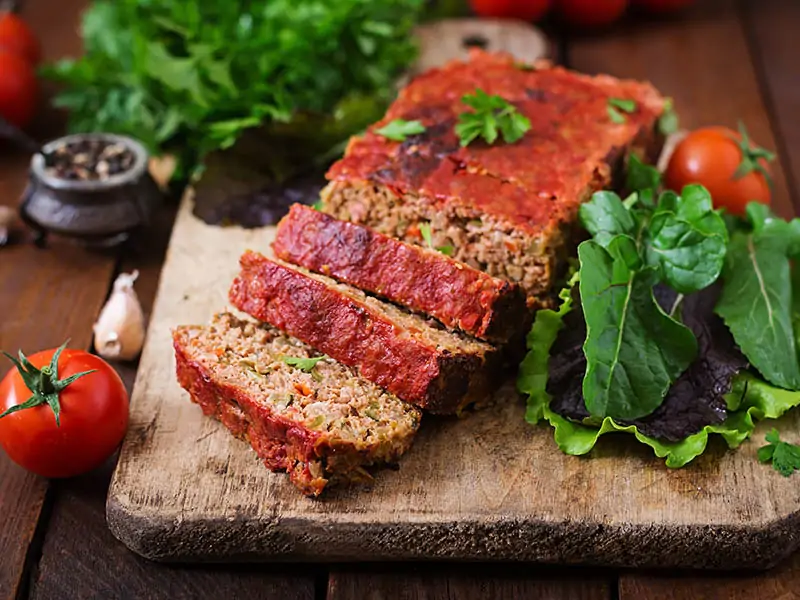 The question "can you freeze meatloaf?" pops into your head since it's the end of the family dinner, but you still have a big piece of meatloaf left. Do not panic! I am going to show you all about the frozen meatloaf.
Keep reading because this informative article will answer your biggest question. Besides that, it'll provide step-by-step guides on reheating your meatloaf, including defrosting steps. In case you are curious, I also have an add-in for a homemade meatloaf recipe.
So, why not get into the details? Scroll down and stay tuned!
A Quick Overview About Meatloaf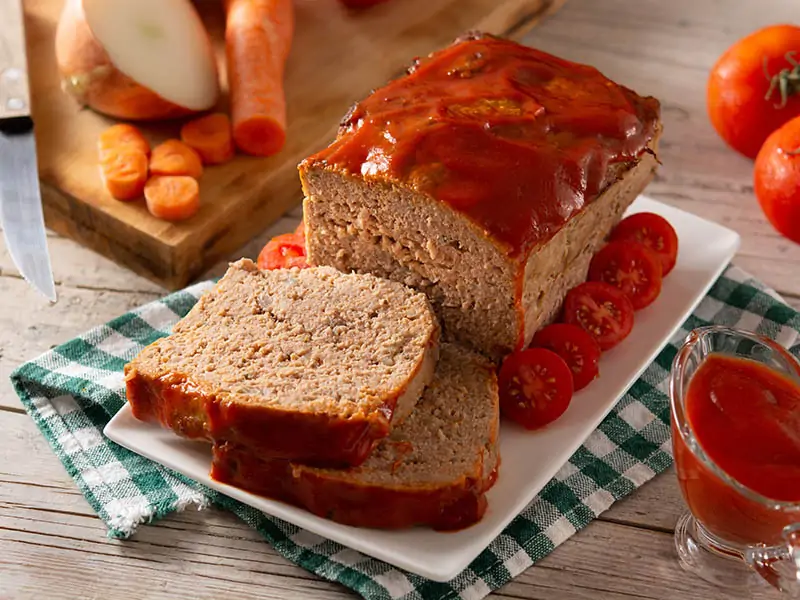 Meatloaf is a famous ground meat dish well-known for its diversity in cooking recipes. People can add anything they like to their meatloaf, from curry powder and chilies to lentils.
Usually, the main ingredient in meatloaf is ground beef, but you can also have other famous types of meat such as pork, veal, lamb, poultry, or seafood. After baking or smoking, the final result will be a mix of meat and some additional ingredients in a loaf shape.
In particular, the meatloaf can easily dry and fall apart. Therefore, keeping the moistness of the meatloaf is a technique that everyone loves to know. However, if you have already been good at baking meatloaf and are now wondering if you can freeze it, keep reading for more!
How do different chefs cook the meatloaf? Follow up!
Can You Freeze Meatloaf?
The answer, in brief, is yes, you can freeze your meatloaf. Specifically, you can freeze meatloaf raw or even after cooking. Then you can use this leftover meatloaf for your future dishes whenever you like!
So, should you store your meatloaf in the refrigerator or the freezer? Is there a difference between the two methods? Yes, there is a difference in storage time between the two methods. Thus, your future cooking purposes will decide which device you use to store your meatloaf.
Meatloaf Shelf Life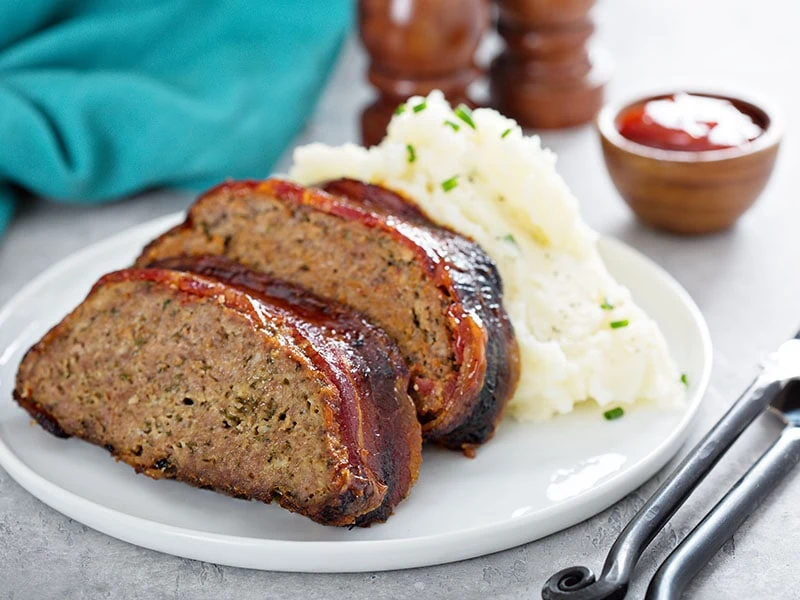 | Types Of Meatloaves | In The Refrigerator | In The Freezer |
| --- | --- | --- |
| Unbaked Meatloaf | 1-2 days | 6 months |
| Baked Meatloaf | 3-4 days | 3-4 months |
The meatloaf shelf life will vary according to the types of your meatloaves and your storage device. Particularly, there are two types of meatloaves, unbaked and baked meatloaves, and two types of storage devices, refrigerators and freezers.
In the case of unbaked meatloaf, if you store it well, it could last for 1 to 2 days in the refrigerator, which is suitable for your preparation of advanced meals of the week. But if you want to increase the shelf life of your meatloaf, you can store it in the freezer for up to 6 months.
Regarding the shelf life of baked meatloaf, it can last 3 to 4 days if you put it in the refrigerator. However, if you put the baked meatloaf in the freezer, it can only last for 3 to 4 months, which is three months shorter than the shelf life of an unbaked one.
The Best Ways To Freeze Your Meatloaf
Now, you know the available shelf life of your meatloaf if you properly store it. But, how can you store it correctly? Let me help you.
Unbaked Meatloaf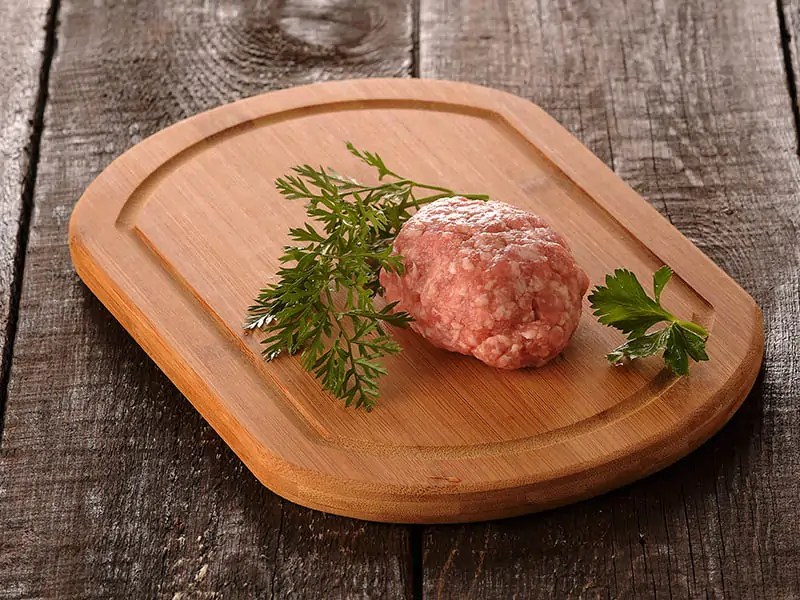 Before going into the detailed guidelines, please be aware that the store may have stored your meat in frozen condition before. Therefore, you should check if the store has handled it properly. If the meat has been left outside the refrigerator for more than 2 hours, do not refreeze it. (1)
Step 1: Preparation
First, you need to find the right recipe for you and your family. After getting all the ingredients, follow the recipe and prepare your uncooked meatloaf.
Step 2: Line The Pan
To effortlessly take your meatloaf out of the pan, a plastic wrap is necessary. Use the wrap to cover the loaf pan, then use your finger to push the wrap to the corners of the pan to make full use of the space. Make sure that the wrap is draping over the edges so you can pull the meatloaf out easily.
You can line your muffin pan the same way. If you're using a baking sheet, simply place a layer of plastic wrap on it.
Step 3: Divide Your Meatloaf
Before putting the meatloaf into the pan, you should think about the purpose of your meatloaf, whether it is for one big dish for a family party or separate breakfasts for weeks. If it is for your family's separate breakfasts, I suggest you use the muffin pan to divide your meatloaf.
By subdividing your meatloaf, you can estimate the amount of meatloaf for your meals in advance and make your frozen meatloaf easier to defrost.
Step 3: Flash Freeze The Meatloaf
After dividing and placing all the meatloaf pieces on the pan, you can put them into the freezer for a flash freeze. The needed time will be about 2 hours, or as soon as you feel the firm structure of your meatloaves.
Step 4: Wrap, Pack, And Seal
When your meatloaves have had a firm shape, take them out of the freezer and wrap them up with plastic wrap or aluminum foil wrap. Then, pack them into the freezer bags and carefully seal them.
You should remember to keep the air out of the wraps and the sealed freezer bags for proper storage.
Step 5: Note Your Meatloaves Date And Freeze Them
Finally, you will label the storage date of your meatloaves so you can track their shelf life in the future. And eventually, your unbaked meatloaves are ready to freeze!
Baked Meatloaf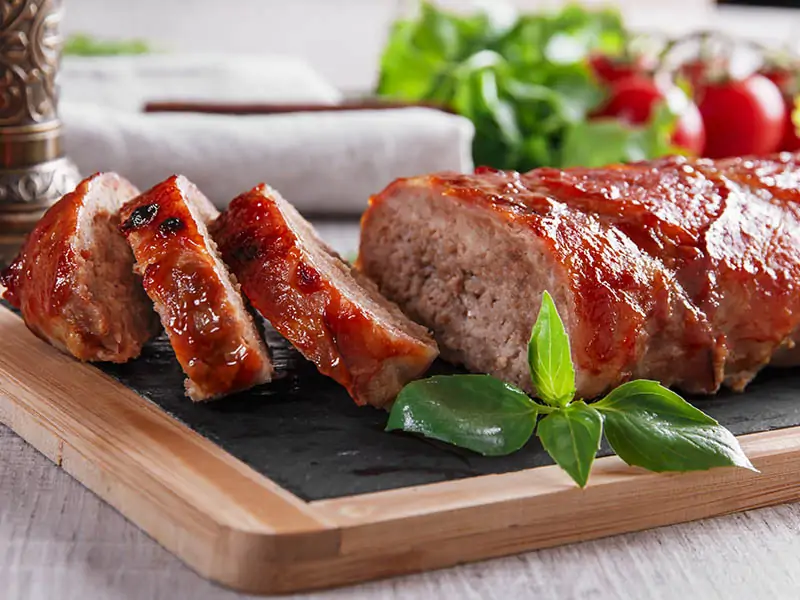 Regarding the baked meatloaf, it is way simpler to freeze it. Let's check it out!
Step 1: Cool Your Baked Meatloaf
Freezing meatloaf that is still warm is not a good idea since the steam may cause ice crystals and reduce the taste of your meatloaf. Thus, at first, please be relaxed and let the meatloaf cool down to room temperature.
Step 2: Divide Your Meatloaf If Needed
In this step, you will divide your big meatloaf into small pieces according to your future purposes. Your meatloaves will keep the moisture inside and make it easier for you to defrost them. Besides, this way also helps you to thaw just the amount of meatloaf you need at a specific time.
Step 3: Wrap, Pack, And Seal
Like unbaked ones, you need to carefully wrap, pack, and seal baked meatloaves for proper storage. First, carefully wrap your loaf in cling film or foil, and don't leave any gaps. Doing this will keep it from drying out and prevent food contamination.
Then, place the meatloaf in a freezer bag and squeeze the air out by hand before sealing it. Remember that the less air in your freezer bag, the more proper your storage will be!
Step 4: Note Your Meatloaves Date And Freeze Them
All you need to do now is label your meatloaves bags with a date to track their storage life in the future. And well done! Let's put your baked meatloaves into the freezer.
Learn more about instructions for freezing your food correctly!
How To Defrost Meatloaf The Right Way?
There are three safe ways to defrost your meatloaf, including using water, leaving them overnight in a fridge, and using the microwave. Do you know how to thaw meatloaf in the right way? Let's go over this part!
Use Cold Water
Using the cold water to thaw your meatloaf will take you an hour to defrost it until it is soft enough to slice. However, this method is the most proper way to defrost meat-related dishes. (2)
Particularly, besides the obvious step of dipping the bag of meatloaf into the water bowl, you also need to pay attention to regular water changes. You should change the water every 30 minutes to ensure the water temperature can continuously defrost your meatloaf.
This defrosting method is suitable for both uncooked and cooked meatloaves.
Note: You should cook or refrigerate any meatloaf defrosted using this method promptly. Until you've cooked the thawed meatloaf, I do not encourage you to refreeze it since doing so may negatively affect its flavor and nutrition values.
Leave Overnight In A Fridge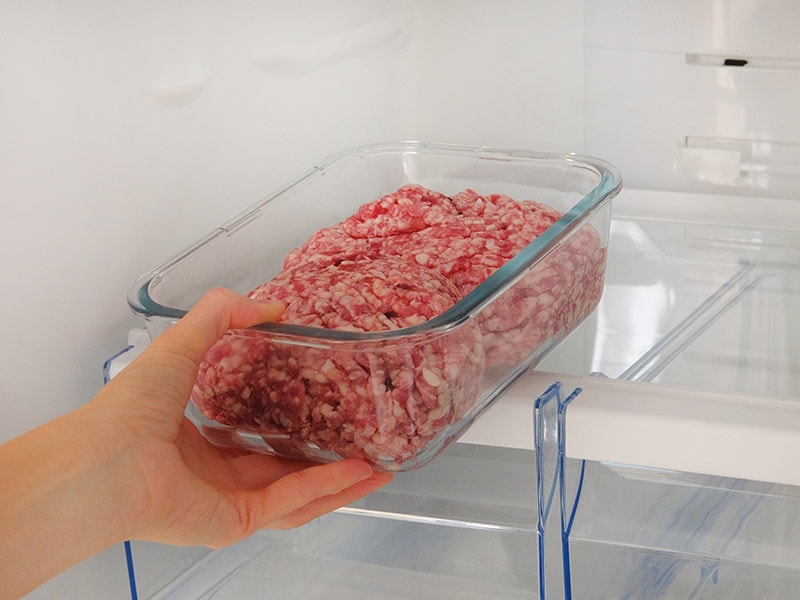 Although this defrosting method costs you an overnight process, it is the simplest way to thaw your meatloaf.
All you have to do is simply bring your frozen meatloaf bag from the freezer to the fridge and take a good night's sleep. After you wake up, your meatloaf will be ready to cook. It is super easy to do, isn't it?
Leaving overnight in a fridge is a great choice for both cooked and uncooked meatloaves.
Use A Microwave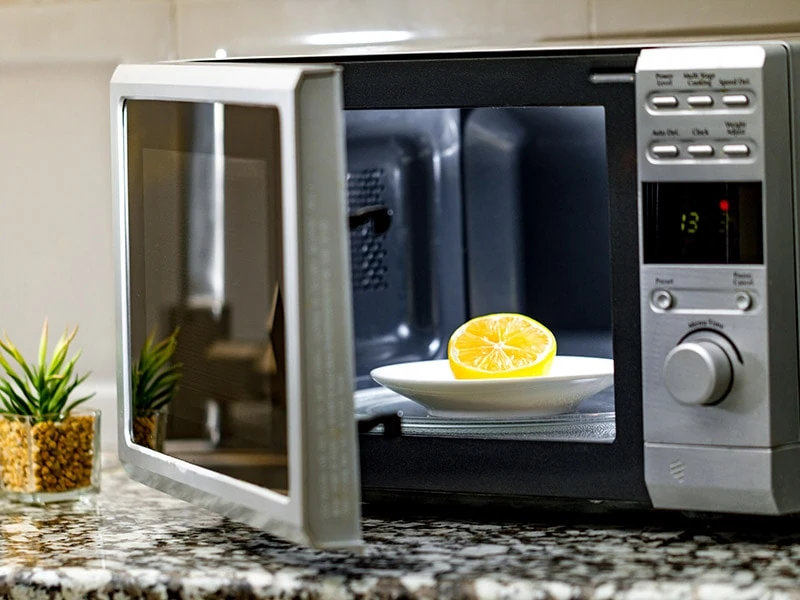 Indeed, the microwave method requires a lot of experience and effort even though it seems like the easiest way out of the three. However, if you want to cook meatloaf suddenly, it is a worthwhile method to try.
The microwave method works on both uncooked and cooked meatloaves.
To use a microwave, you just need to remove the wrap and place your frozen meatloaf on a microwave-safe plate. If you cannot take out the plastic wrap, put the wrapped meatloaf back in the freezer bag and let it under the hot running water for one minute.
When microwaving uncooked meatloaf, you should set the temperature low and the heating time short. Please carefully check the meatloaf because the microwave can cook your meatloaf instead of defrosting it. Usually, it takes you about 10 minutes to defrost 2 pounds of raw meatloaf.
In the case of the cooked meatloaf, you should heat it at a low temperature at 2-minute intervals. Also, you should cover the meatloaf with a damp paper towel to prevent dryness.
Nevertheless, it is better if your microwave has a setting for defrosting. After reading this post, go and check your microwave!
Learn more about how to defrost food properly!
Use The Oven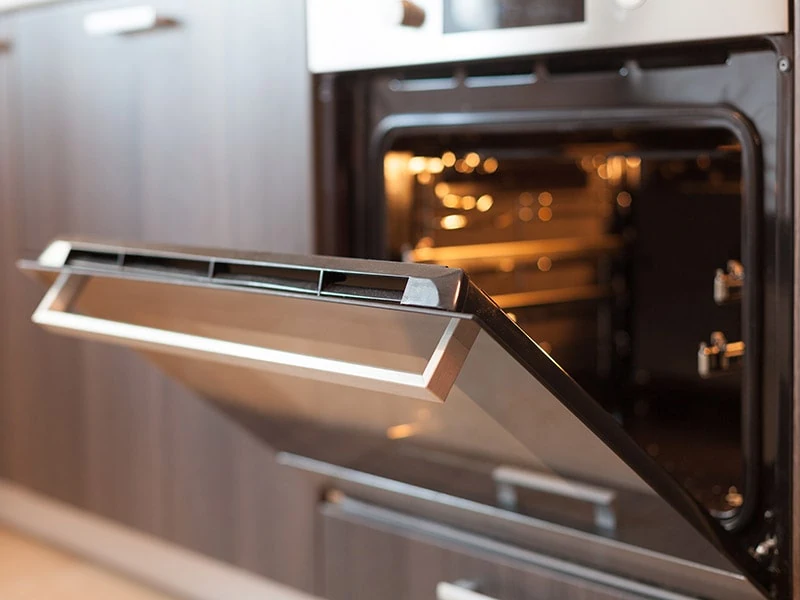 If you forget to thaw your meatloaf in the fridge the night before, it is not a big deal! The oven method will be your savior.
To defrost a frozen meatloaf, put it in an oven at 350 degrees F. The defrosting time will take you from 1 hour 30 minutes to 1 hour 45 minutes.
However, this amount is not 100% correct all of the time. Depending on your meatloaf's levels of freezing, the time needed for thawing can be longer or shorter.
You can use this defrosting method for both uncooked and cooked meatloaf.
Cook Directly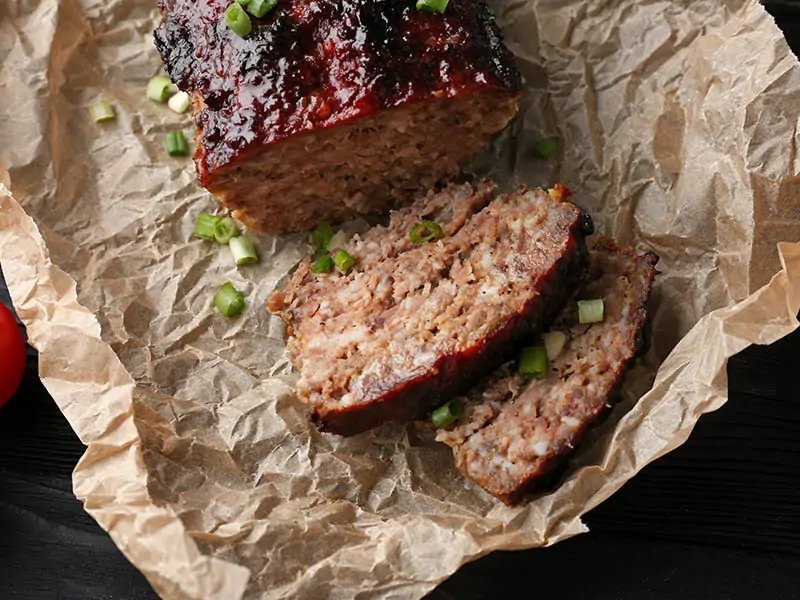 If you do not have time to thaw your raw meatloaf, it is fine to directly cook it. You can simply place your frozen meatloaf in the oven and cook it at 350 degrees F. However, it will take you longer since you do both the defrosting and cooking at the same time.
Particularly, it often takes 1.5 or double the recommended cooking time for a fresh meatloaf. To make sure, you should check the thermometer before serving. The internal temperature should be 160 degrees F for beef meatloaf and 165 degrees F for poultry.
Alternatively, you can also cook your meatloaf at 400 with a different cooking time. Each cooking temperature has its own merits, but the final result will always be delicious.
The Best Reheating Methods For Your Meatloaf
Even if you've already known how to reheat your meatloaf, these methods will go beyond general advice. Dig in and gain some useful knowledge!
Use A Microwave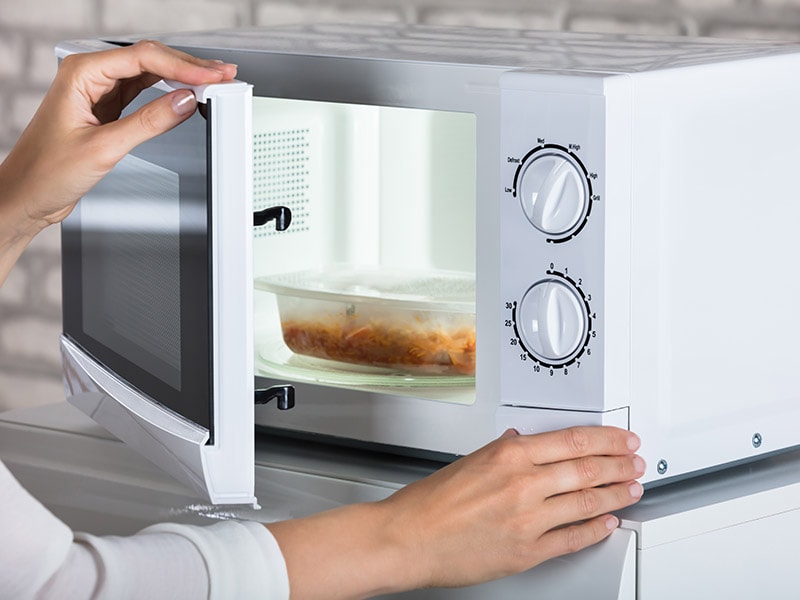 In its natural uses, the microwave is a popular device for reheating meatloaf. However, you should reheat your meatloaf with a cover on it to make sure the temperature in the microwave does not dry out your meatloaf dish.
Specifically, you should cut your meatloaf into slices first for easy reheating. Then cover the container with a slightly open lid and put the container into the microwave for 1 to 2 minutes. Finally, flip your meatloaf and microwave for the same amount of time.
Tips: Put a heat-proof glass of water in the microwave to keep the moisture of your meatloaf.
Use An Oven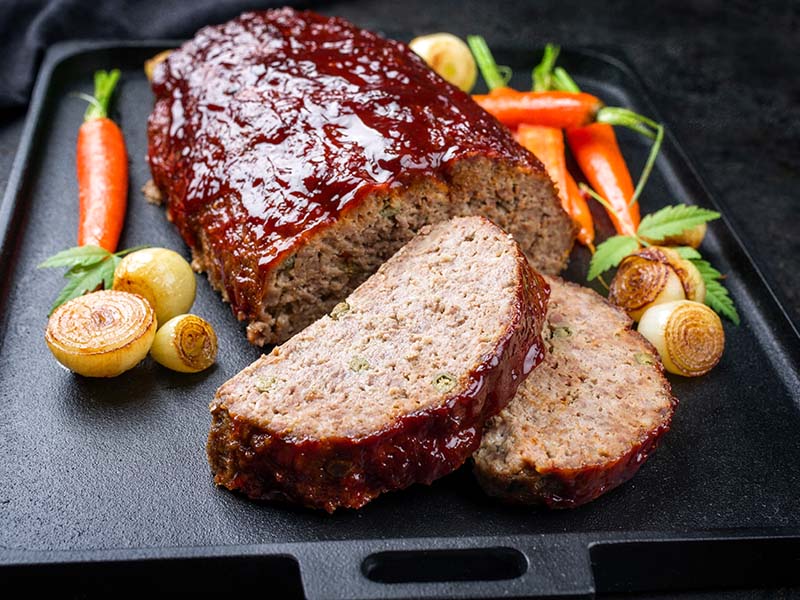 Reheating the meatloaf in your oven is a great way to have more control. You can set your own time and temperature or use the default setting for reheating the oven. It's all your choice!
To reheat in an oven, you will need to preheat the oven to 250 degrees F. Then, place your meatloaf on the plate and put it into the oven for 25 to 30 minutes. To moisten your meatloaf, sprinkle a small spoon of water or beef broth on it and cover it with foil.
In addition, you can also choose to cover your meatloaf or not according to the texture you like, moist or crispy. No matter what you choose to do, the oven will warm your food well.
Use A Skillet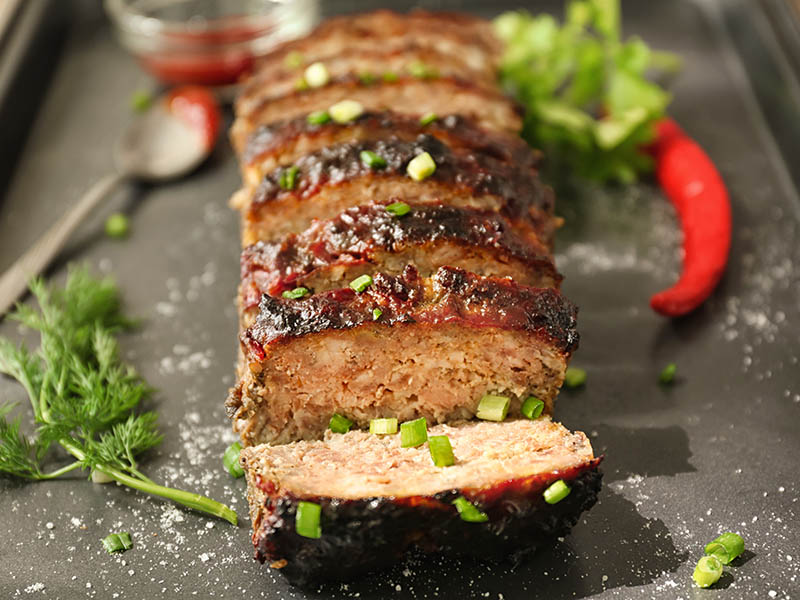 The way you use this method will be similar to the way you fry your pancake. You just need a simple gas cooker or electric stove to fry the meatloaf.
However, like other frying dishes, you should pay attention to the fire and the food condition. If the fire is too high, you could burn your meatloaf outside while still frozen inside.
To reheat your meatloaf by using a skillet, you need to turn on your stove to a medium-low heat setting. Then place a skillet with a little oil on the stovetop. After the oil is hot enough, lower the heat to low and gently put a slice of your meatloaf in the skillet.
Cook the meatloaf for 3 to 4 minutes before flipping it to the other side.
Tips: Add a spoon of beef stock to the meatloaf for more moisture and flavor.
Use The Steaming Method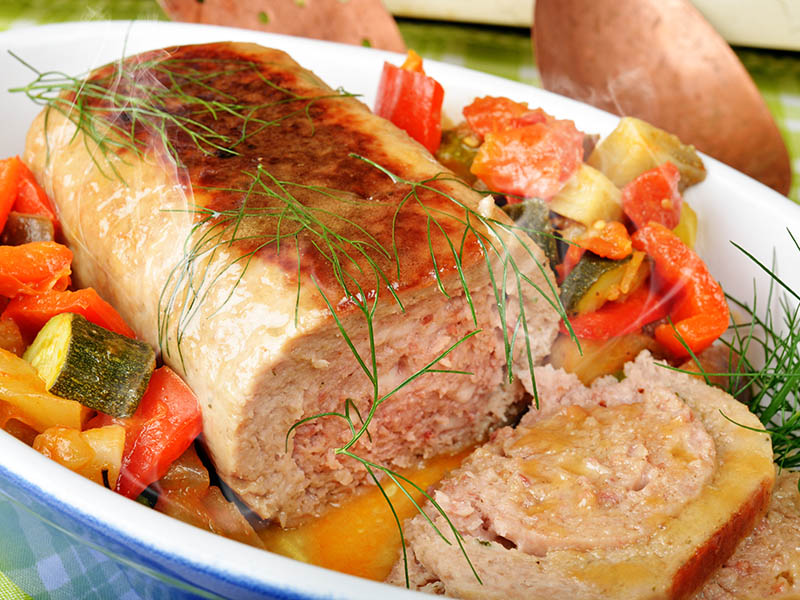 If you would like to eat a moist meatloaf, this reheating method is for you. Using a steamer not only helps reheat your dish but also adds more water to your meatloaf texture. Indeed, carrying out this method is the same as when you steam your vegetables or dumplings.
You will need to pour 1 to 2 inches of water into the steamer pot and wait for the water to boil. After there is a simmer on the surface, gently put your meatloaf in the steamer basket. Then cover the pan and wait for a few minutes to warm your dish.
Dig in to know how to properly reheat your food!
Homemade Meatloaf Recipe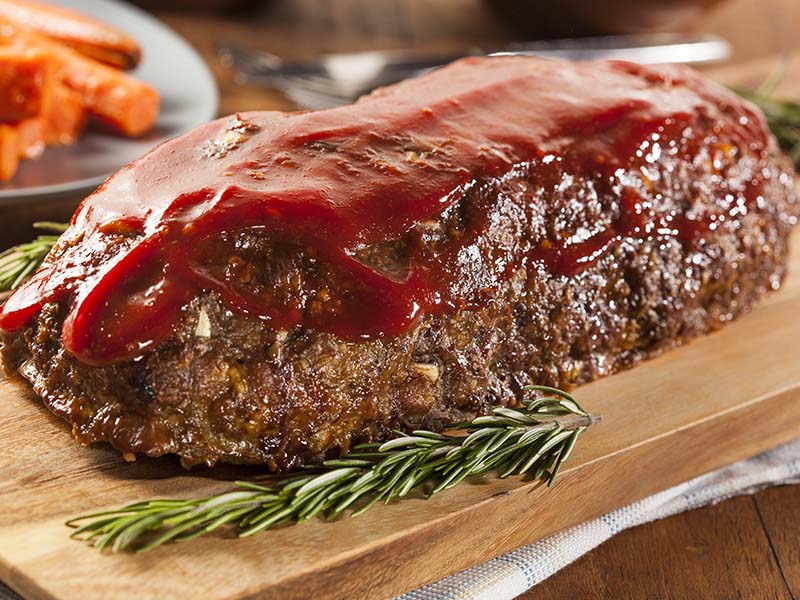 You feel inspired and want to make a meatloaf for tomorrow's breakfast. Here is an easy homemade meatloaf recipe for you. With simple ingredients at home, you can get to work on it immediately.
Ingredients
As usual, before any cooking instructions, you have to check out the ingredients you need first. In this recipe, there will be 13 ingredients for 2 main parts of meatloaf, meat mixes and topping. Below are the names and the required amount of them.
Meat Mixes
One pound of lean ground beef (90/10 ratio)
A cup of bread crumbs
Half a cup of diced yellow onion (large size)
Half a cup of milk
One large egg
Two teaspoons of ketchup
One teaspoon of Worcestershire sauce
A three-fourths teaspoon of salt
A one-fourths teaspoon of ground black pepper
Half teaspoon of garlic powder
Topping
A quarter cup of ketchup
Two teaspoons of brown sugar
One teaspoon of red wine vinegar
Tips:
If you don't want to use eggs, there are plenty of egg alternatives for making meatloaf. For example, you can choose flax eggs, bread crumbs, or olive oil.
Try to buy lean meat with no lower than an 85/15 ratio because high-fat content will reduce the volume of your meatloaf after baking.
Step By Step Instructions
After you check all the ingredients, next I will guide you through the steps to conquer this meatloaf dish at home. Follow me!
Step 1: Preheat The Oven To 350 Degrees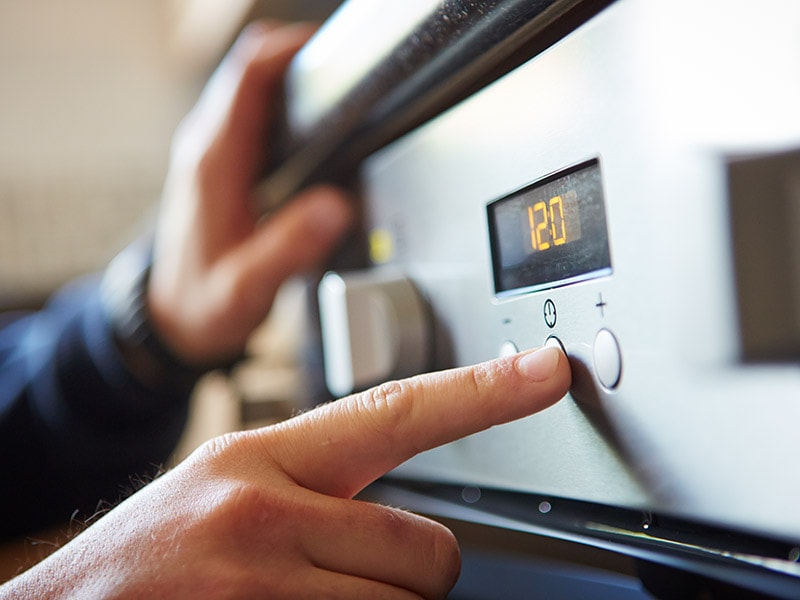 The first step of all is to preheat your oven to 350 degrees, which is essential in cooking and baking food. Preheating during the preparation process will help your oven have more time to reach the right temperature for your baked products.
Tips: Preheat your oven for at least 20 minutes since the average oven needs about that amount of time to reach the right temperature.
Step 2: Meatloaf Preparation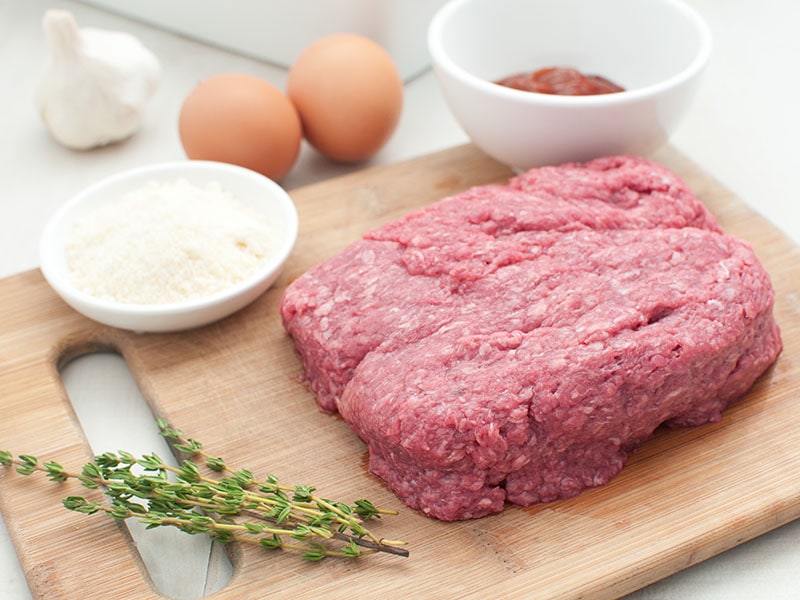 For the meatloaf, you will mix all the ingredients into a big bowl. Try to mix them well by using your hand. When everything is well-mixed, transfer the mixture to a loaf pan and flatten it down to create an even surface.
Tips: Don't overwork your meat, or it will be tough and dry.
Step 3: Topping Sauce Preparation
Next, make the topping sauce by mixing the ketchup, vinegar, and brown sugar into a small bowl. After the mix has become one, you will spill it on top of the meatloaf and spread it out into a flat layer.
Step 4: Baking Your Meatloaf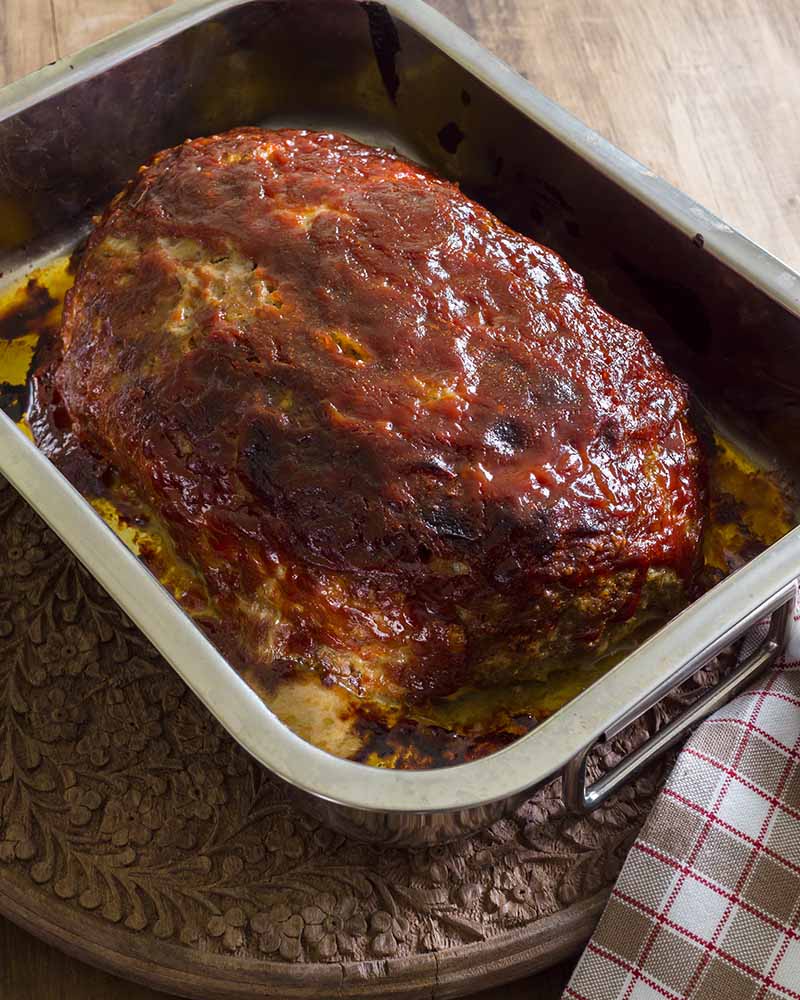 Now it is time for you to bake your meatloaf. Put your final product into the oven and bake the meatloaf for 55 minutes without any cover. Wait for a "ding" sound and after that, have a great meal of homemade meatloaf with your family!
Tips: Do not rush to serve the meatloaf dish! You should wait for 8 to 10 minutes to let the meatloaf set, which will help prevent your meatloaf from falling apart.
Want to try another recipe? Here is an easy one!
Tips For Using Up Leftover Meatloaf
There are too many meatloaves left in your fridge, and you do not know what to do with them. Do not worry because meatloaves are a great addition to various interesting dishes. Check some below!
Tip 1: Ground Beef Substitute In Pasta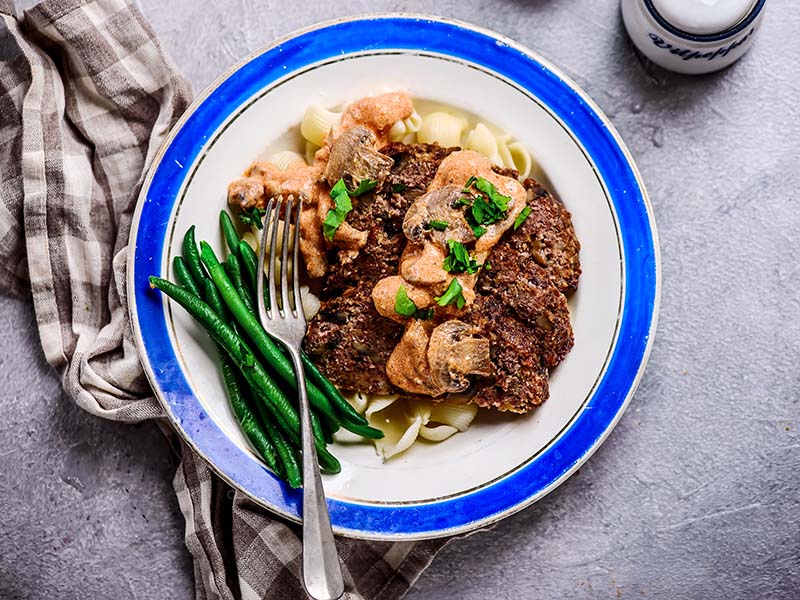 You can use leftover meatloaf as a ground beef substitute in your pasta dish. Like the common pasta-making process, but instead of putting beef in the pan after draining your pasta, you will utilize your leftover meatloaf.
Tip 2: A Filling For Hamburgers And Sandwiches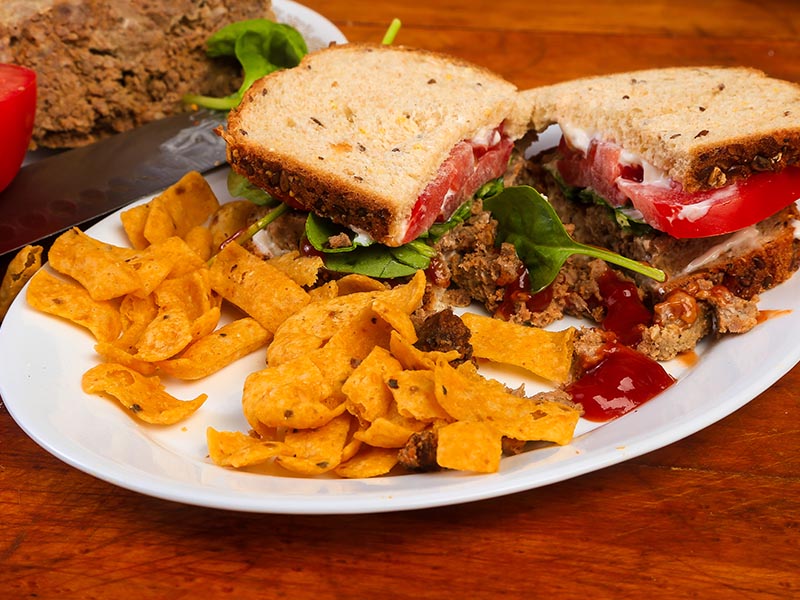 You can also utilize your leftover meatloaf by turning it into a filling for hamburgers and sandwiches. Take a slice of your leftover meatloaf and reheat it in the skillet or oven. Then, you can sandwich it in the center as a filling.
Tip 3: A Filling For Empanadas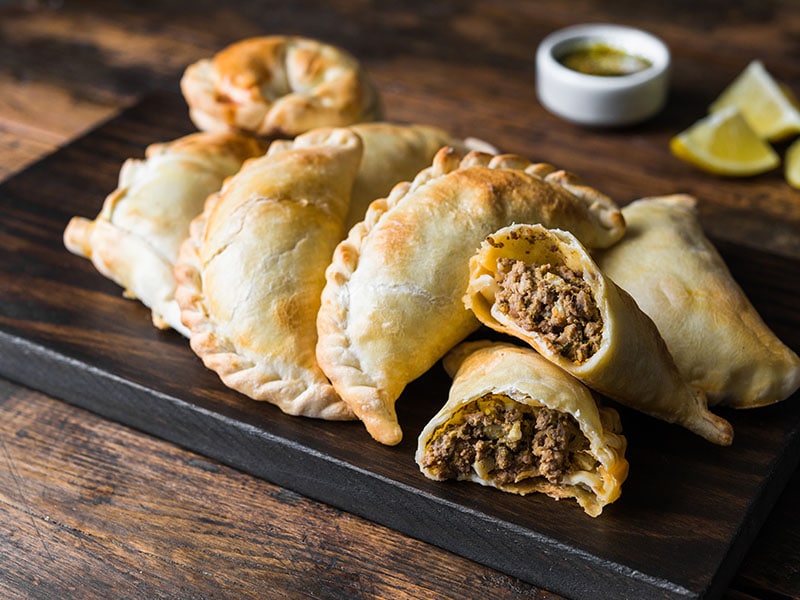 Besides, your leftover meatloaf can be a delicious filling for empanadas dishes, too. To make leftover meatloaf empanadas, you need to mash the meatloaf with seasonings. Then, put it into pastry dough, seal the dough and bake the complete empanadas in the oven till brown.
Tip 4: Ground Beef Substitute In Tater Tots Casserole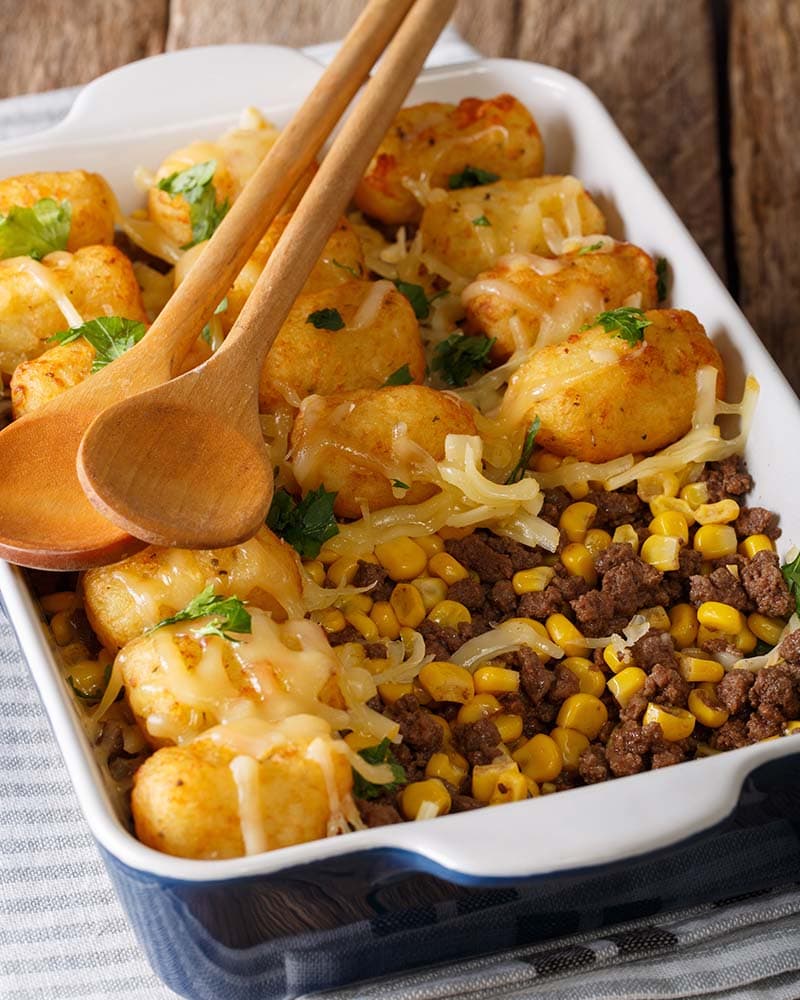 The leftover meatloaf is an incredible substitute for ground beef in the Tater Tots Casserole recipe. After you stir all the ingredients into the mixture coated with cream, you will put your leftover meatloaf on the top and bake it with the Cheddar cheese over it. And ding! That's it!
Tip 5: An Ingredient For Cold Appetizer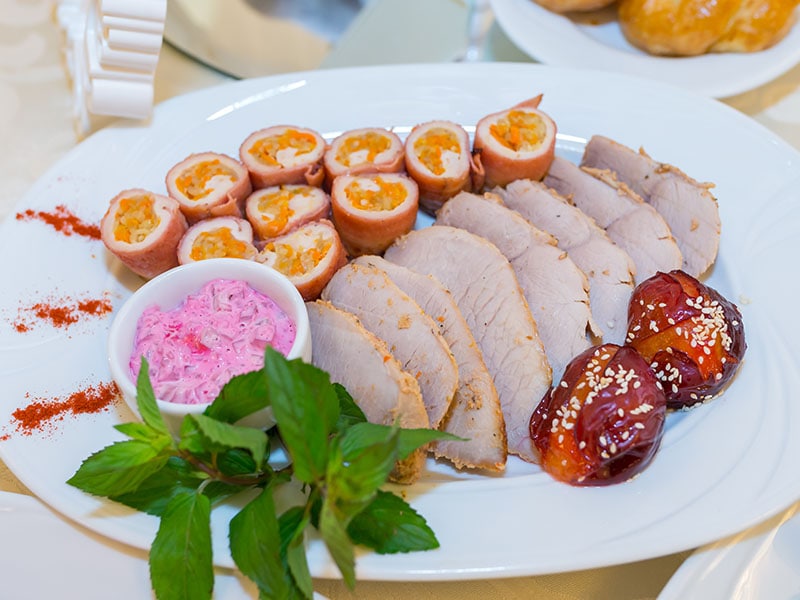 It sounds a little weird, but your meatloaf can be a part of those appetizers that don't require to be served hot. For instance, put small pieces of meatloaf on cocktail bread with mustard and cut olives, and you have a delicious appetizer for your party.
There are also many other dishes using leftover meatloaf. Check them out!
FAQs
For your curiosity, below are some frequently asked questions that people care about. Have a look at them.
Your Meatloaf Is Safe In The Freezer
Congratulations! You make it to the end of the article. Let's briefly summarize what you have learned. Today, you have learned how to freeze, defrost, and reheat the meatloaf. Also, you have gone through an easy homemade meatloaf recipe and some frequently asked questions.
The information provided in this article will surely help you master the art of cooking and storing meatloaf. Thus, I am looking forward to the next time you make this dish and use some of my tips. Please share the post with other people If you feel it can help them. Thank you, and stay healthy!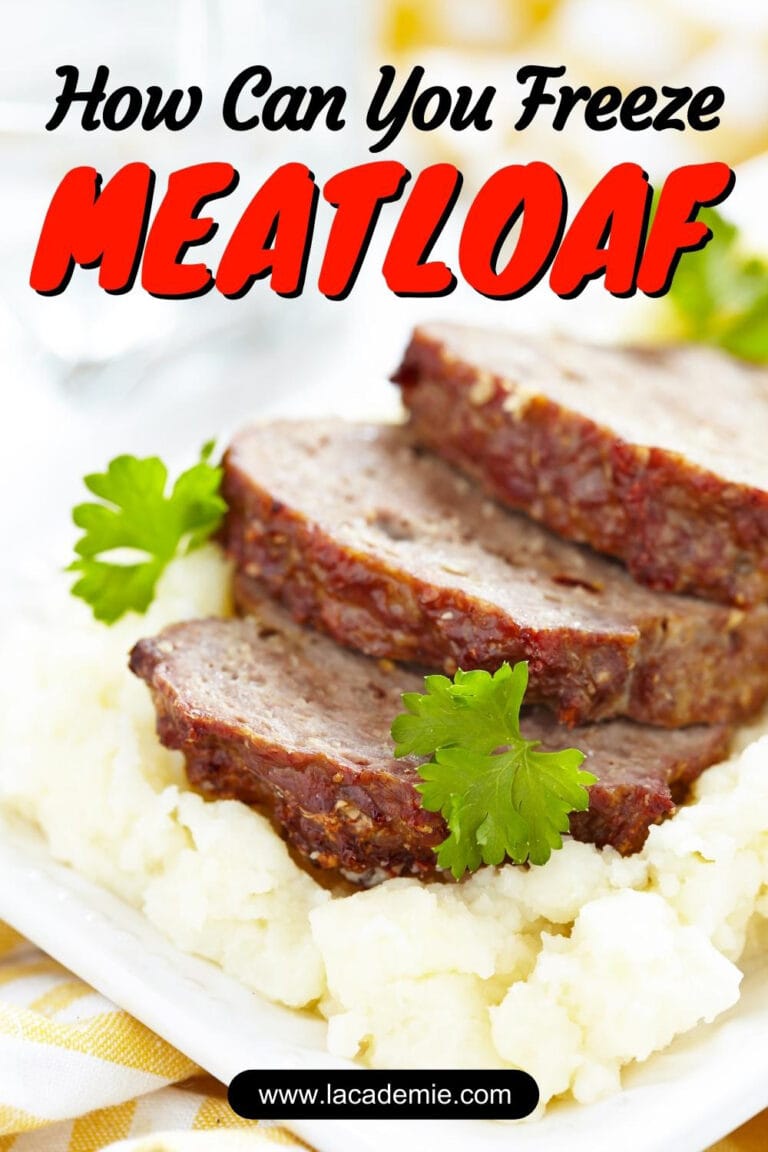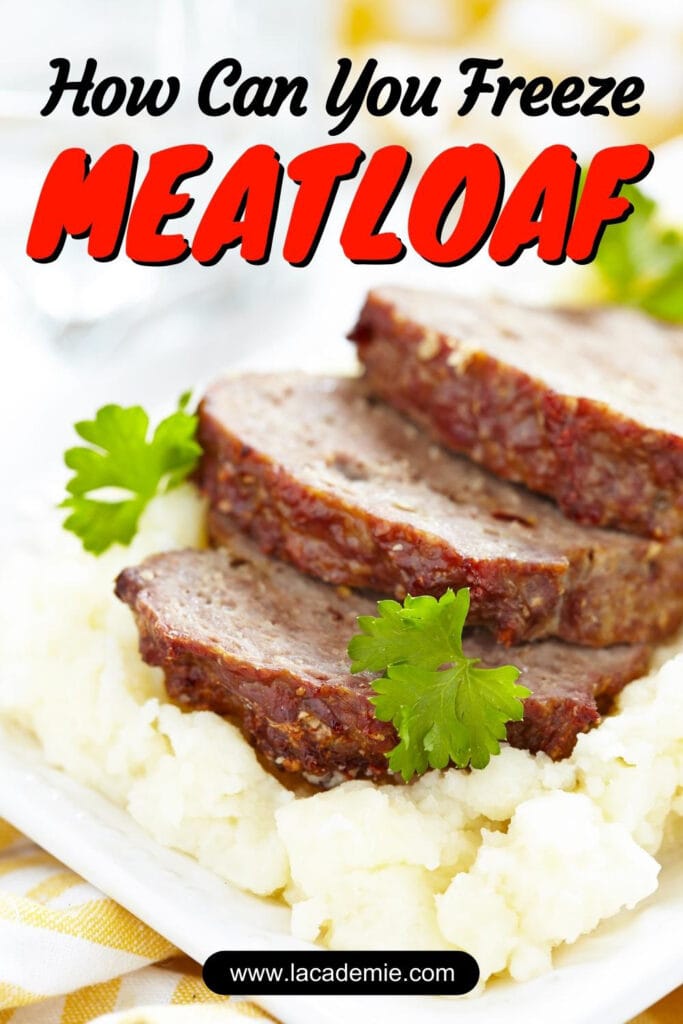 References
Ask.usda.gov. 2019. Is it safe to refreeze food that has thawed?
Web.extension.illinois.edu. 2022. Thawing Meat.