There will probably be many cases where you need mascarpone cheese substitutes if you are a regular baker. This can have many reasons, it could be because you need to make the cake in a hurry, but your kitchen is out of Mascarpone. Maybe you're afraid of fat!
Another reason is that you may want to change your nutritional profile with a different ingredient, you want to find a dairy-free cheese, or you simply want to invent a new taste!
Whatever the reason, I'm here to help you find as many mascarpone cheese substitutes as possible. You'll get non-dairy to vegan alternatives, with different nourishing elements to suit your diet.
Not only that, but I'll also help you learn everything about mascarpone cheese, as well as how to make mascarpone cheese at home and the famous tiramisu recipe with Mascarpone and its substitutes. Jump in with me!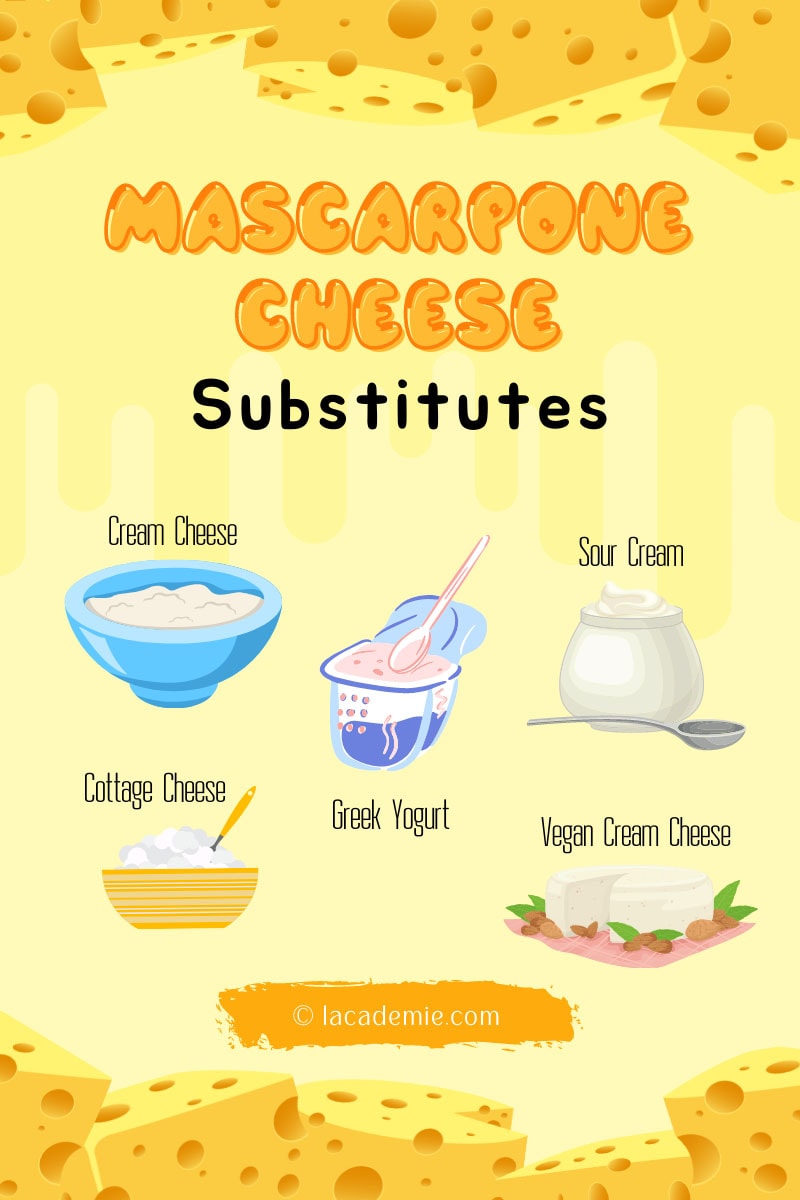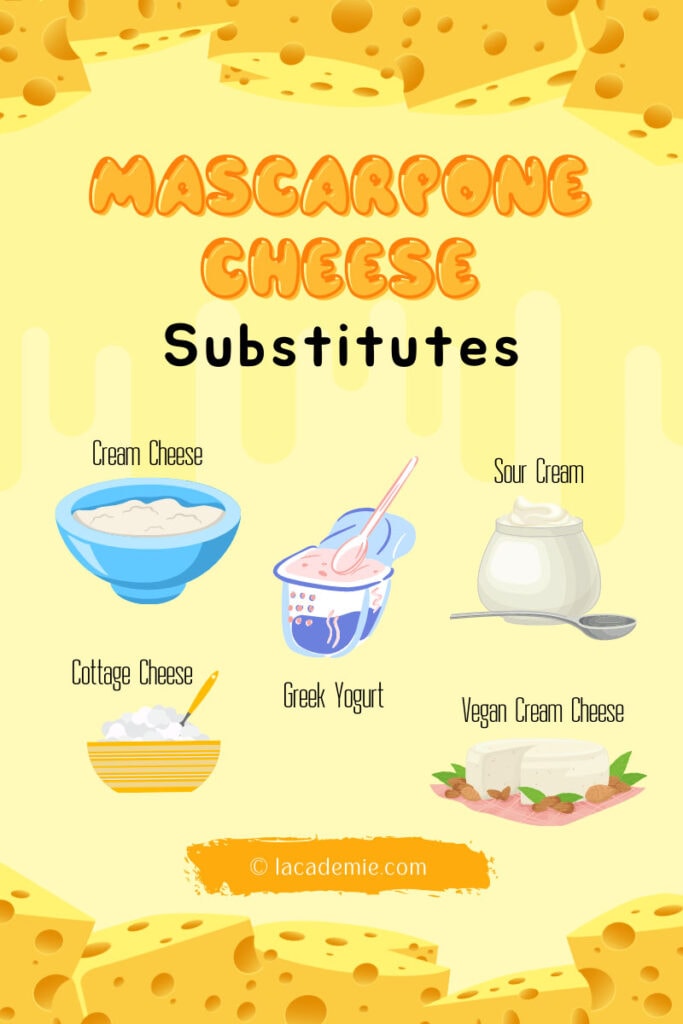 What Are The Best Mascarpone Cheese Substitutes?
Well, today, I have many good choices as mascarpone cheese substitutes for you to take a look at. They are divided into two groups for your reference, dairy-contained, and dairy-free:
Dairy-Contained Substitutes:
Ricotta Cheese
Cream Cheese
Cottage Cheese
Crème Fraîche
Greek Yogurt
Sour Cream
Clotted Cream
Dairy-Free Substitutes:
Vegan Cream Cheese
Coconut Cream & Lemon Juice
Coconut Milk & Cashew Butter
Soft tofu & Vegan Cream Cheese
What Is Mascarpone Cheese?
First, let's learn a little bit about mascarpone cheese. This is a soft cream cheese that originated in Italy (1). In fact, Mascarpone is not really cheese but just a product created by adding additives and the process of separating cream from milk.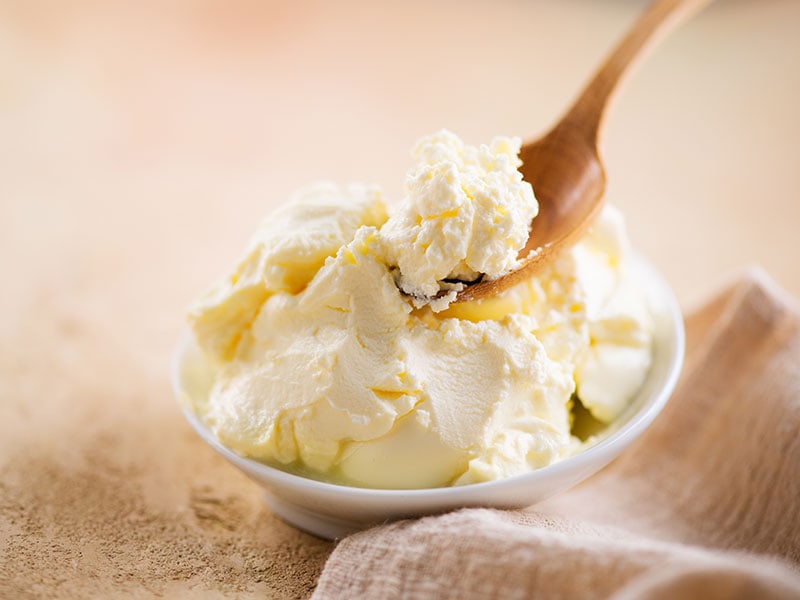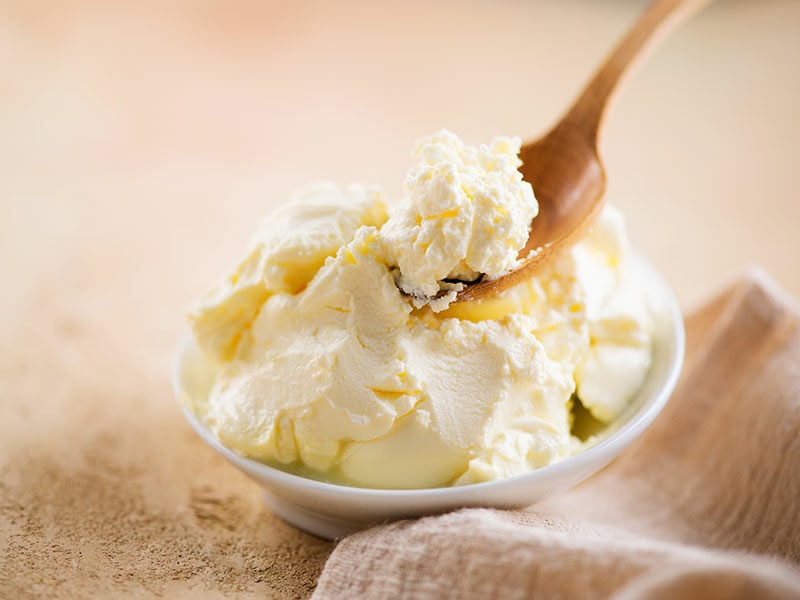 In other words, Mascarpone is skimmed from milk and then thickened with acidic ingredients such as vinegar, lemon juice, citric acid, or acetic acid without having to wait for fermentation or pressing.
Finally, the Mascarpone is left to cool at room temperature before being poured into a container (lined with a cheesecloth or similar items) and then refrigerated for 1-2 days. Finished mascarpone cheese is white, soft, and fresh; it looks like cheese but not cream cheese.
Mascarpone cheese is an important ingredient indispensable in the recipe for Tiramisu, cheesecakes or cream, risottos soup, and pasta sauce. In addition, you can also use Mascarpone to eat with fruit, bread, or cookies depending on your preference.
What Does Mascarpone Taste Like?
In terms of taste, mascarpone cheese has a slightly sour taste thanks to the use of lemon juice, vinegar, or a compound of acetic or citric acid.
In addition, it also has a mildly sweet, almost nutty taste with a fresh buttery taste. Mascarpone is less fatty than comparable cheeses like Ricotta and American cream cheese.
Origin Of Mascarpone Cheese
Mascarpone is a cream cheese that originated in the countries between Lodi and Abbiategrasso, south of Milan and Italy, dating from the late 16th to early 17th centuries.
Its name comes from the local language, which means Ricotta, but Mascarpone is made from cream instead of milk like Ricotta.
What Is Mascarpone Cheese Used For?
Mascarpone is an important ingredient in cooking and baking. You can create a bunch of mascarpone desserts, like cheesecakes or other cakes. One of the famous cakes that use Mascarpone is the classic Italian Tiramisu.
The rich cream cheese of Mascarpone adds to the softness, smoothness, and fat of the cheesecake. Moreover, Mascarpone contributes to the shaping of other cakes.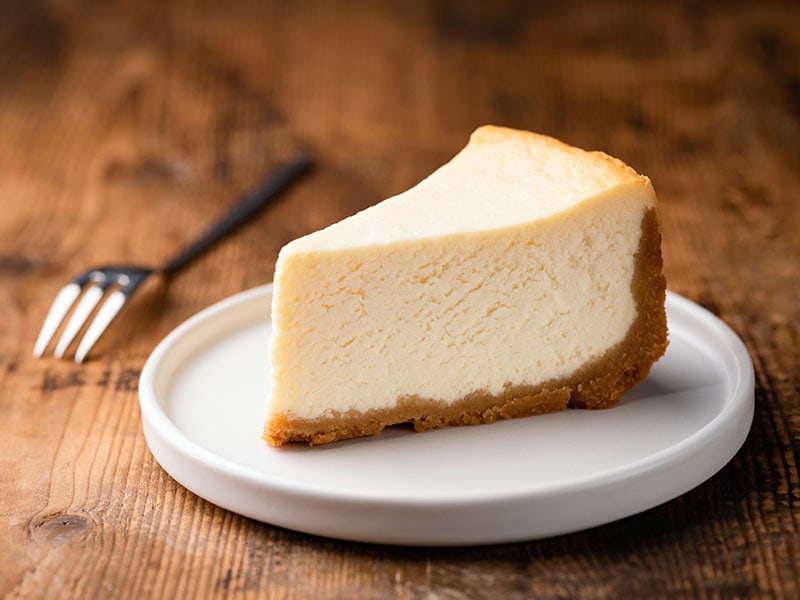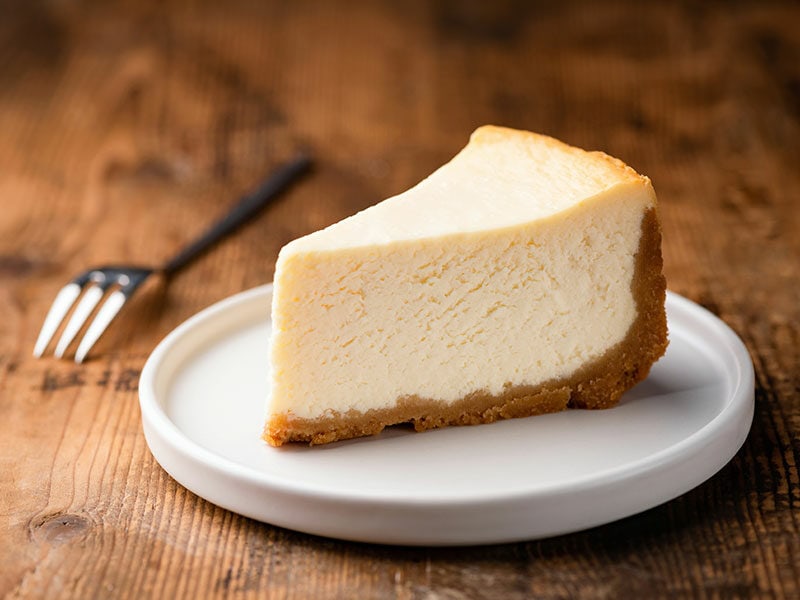 Besides, Mascarpone can be eaten immediately with desserts, with fruits, as cheesecake without baking, or added to soups when making cream soups to increase the fatness and aroma of the dish.
Mascarpone can also be used to thicken many sauces, such as spaghetti and others. More specifically, when using Mascarpone, you will not need to cook by heat but can eat it directly and add it to the dish.
Mascarpone Cheese Substitutes In 2021
And now I will bring what you are looking for! Whatever your reason, I believe the mascarpone cheese I recommend to you below will help you. I will divide them into two groups for you to easily pick up your choice: dairy and dairy-free.
Dairy-Contained Substitutes
There are many similar dairy products that you can substitute for mascarpone cheese. Let's learn about them:
Ricotta Cheese
Ricotta cheese is a genuine Italian sourced and manufactured cheese made from cow's or sheep's milk. In fact, Ricotta is the leftover whey of mozzarella cheese and is cooked until curd is formed. This curd mass is used to make Ricotta.
It is soft, white in color, slightly sweet in taste, and not greasy or too fatty like many other cheeses. So it can be an ideal substitute for mascarpone cheese if you want to reduce the fat in dishes. Likewise, you can use Mascarpone as the substitution for Ricotta. They can replace each other.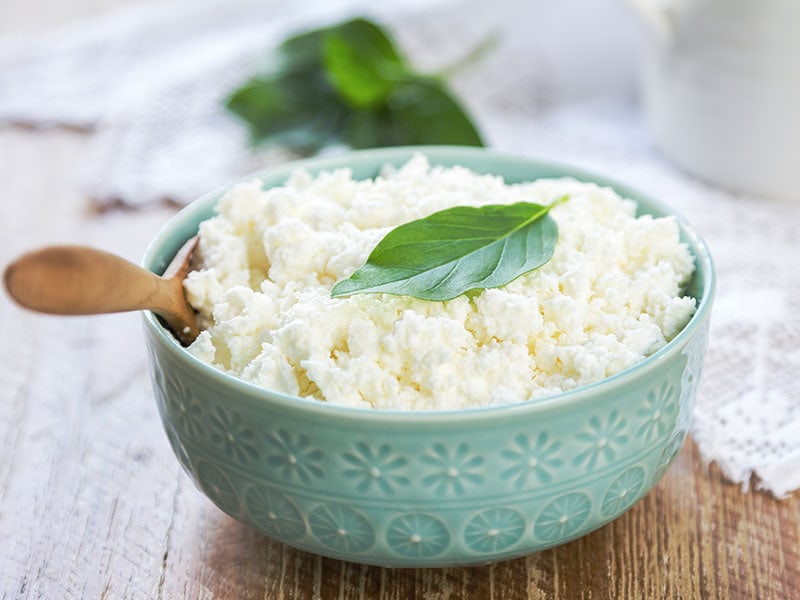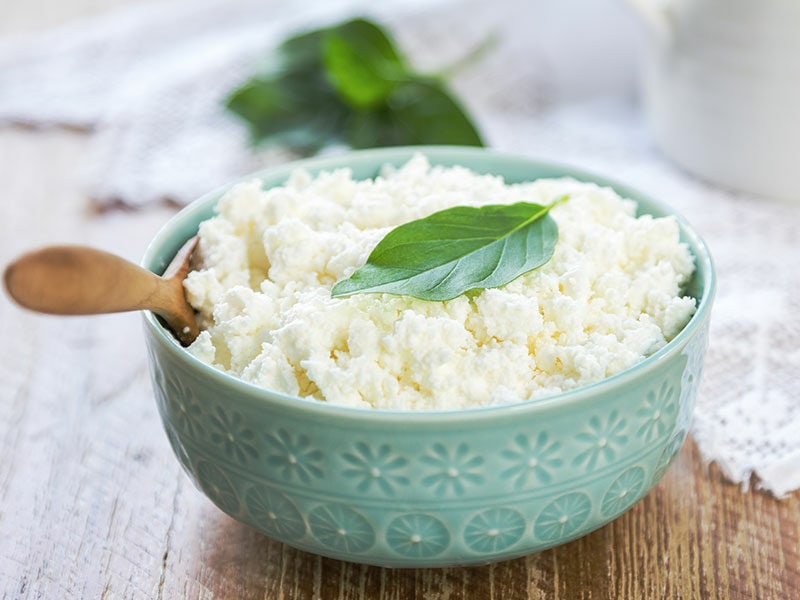 Not only is it low in fat, Ricotta actually contains less fat than Mascarpone, so it's good for a healthy diet, reducing fat and cholesterol.
On the other hand, Ricotta will produce a softer and chewier cake with a texture that is not as smooth as Mascarpone. But don't worry, there's a trick to making it look like Mascarpone: mixing Ricotta and whipped cream and cream cheese will make it smoother and richer.
Ricotta can be used as a substitute for Mascarpone as an accompaniment to fruit, biscuits, and more especially as a condiment to make pasta. You can also serve it with other desserts. Besides, you can use Ricotta instead of mascarpone cheese to make cheesecake and a variety of cookies.
Cream Cheese
Mascarpone cheese is a substitute for cream cheese and vice versa. This type of cheese is white or light yellow, soft, mildly salty, and sour. Although it is very fatty, it does not feel cloying when eating.
Cream cheese contains a large amount of protein and fat. They also contain a significant amount of vitamin A, which is 10% of the recommended daily intake. Cream cheese also contains a good amount of vitamin B2 and several antioxidants beneficial to the body (2).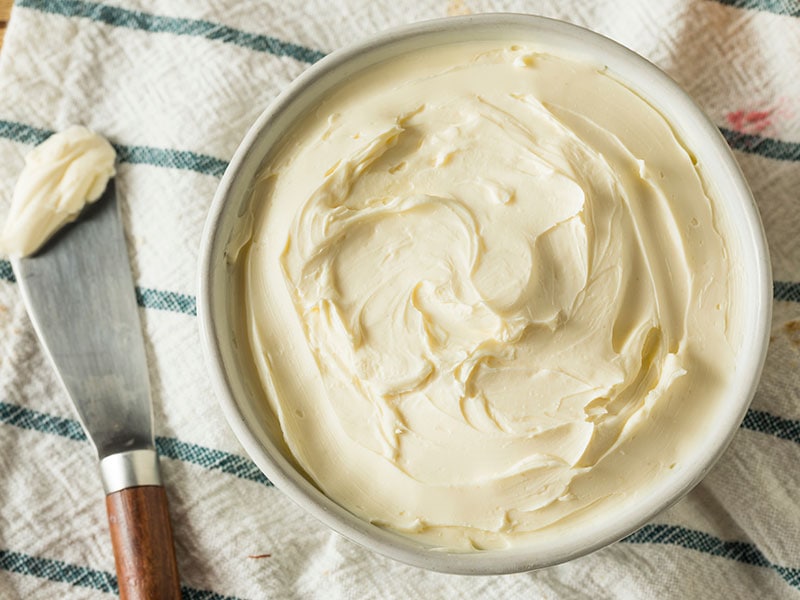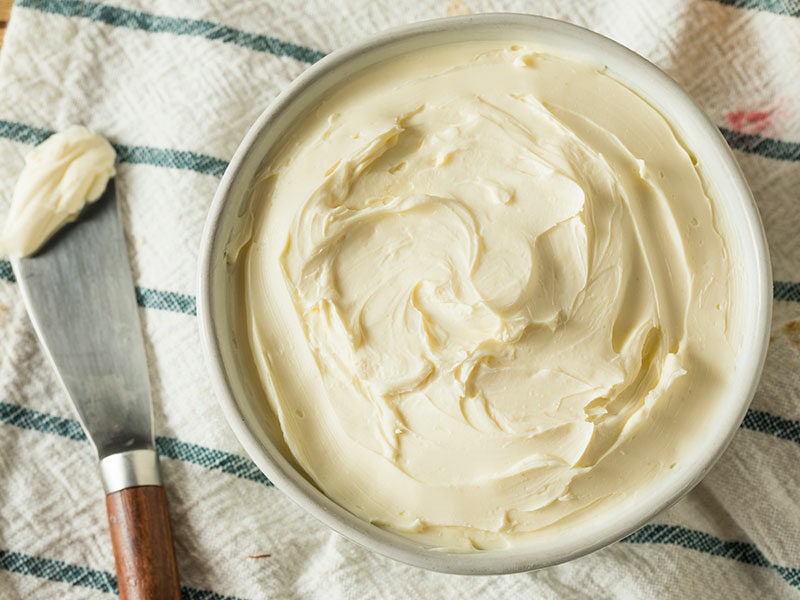 Cream cheese is an ingredient that relatively meets the requirements you need to replace mascarpone cheese. This cheese is often used as an ingredient in cakes, desserts, drinks, and even soups.
As a substitute for Mascarpone, you can mix room-temperature cream cheese with a cup of heavy cream and a little sour cream until they're evenly mixed. The whipped cream will cut some of the creaminess of the cream cheese, while the result will be milky, sweet, and aromatic like Mascarpone.
If you do it this way, even if you use cream cheese to make your Tiramisu or cheesecake, no one will notice you've replaced mascarpone cheese with cream cheese. This also helps you reduce more than 40% of the milk fat in Mascarpone.
Cottage Cheese
In fact, you can use Mascarpone cheese in place of Cottage cheese. Cottage cheese is a mildly flavored cheese commonly used in everyday life. Cottage cheese is considered a good food for the human body because it provides many vitamins and many essential nutrients.
Its texture is soft and smooth like cream. It's considered fresh cheese curd (3), so it doesn't go through any processing or heating to enhance its flavor. Therefore, cottage cheese does not have the strong taste such as other cheeses, including Mascarpone.
This type of cheese is made from pasteurized cow's milk curds with varying milk fat concentrations, and lower in calories than Mascarpone and other cheeses. Besides, the amount of protein in Cottage cheese is large. Therefore, if you want to increase the amount of protein in your meal, you can replace Mascarpone with cottage cheese.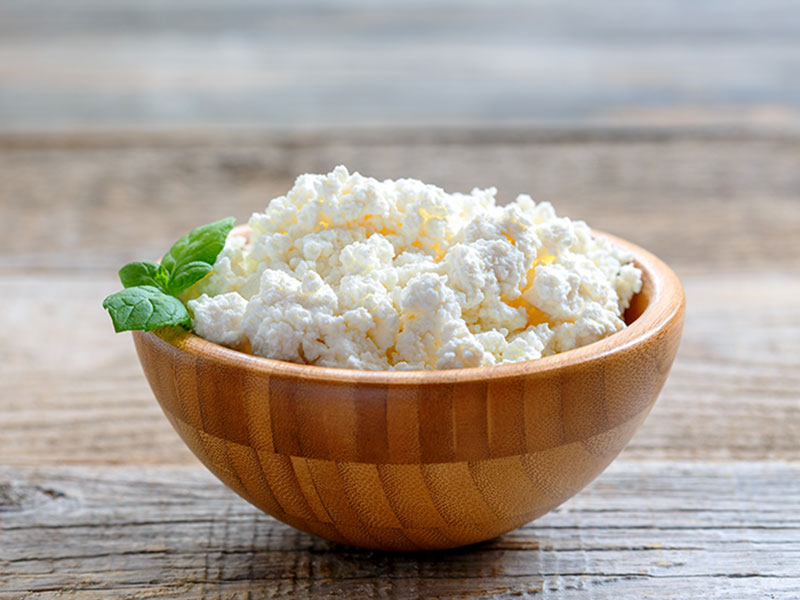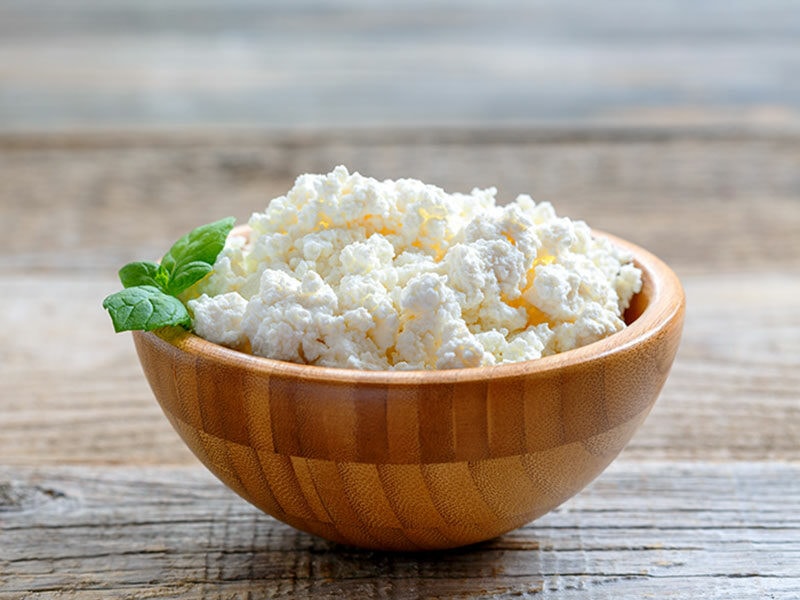 You can substitute cottage cheese for Mascarpone in many recipes that incorporate foods such as fruit, toast, granola, salads, etc., to add flavor to the dish.
The only feature that makes cottage cheese different from Mascarpone is that it contains curds. But don't worry, you can make it as smooth as Mascarpone in just a few minutes in a food processor or something like that.
Crème Fraîche
Crème fraîche is a traditional cream that is very popular in France and is gradually gaining popularity in the US. Traditional crème fraîche is made by adding a traditional yeast to cream, allowing it to ferment and thicken. This cream is high in fat and is a blend of heavy cream and sour cream, with a hint of yogurt.
Therefore, crème fraîche is often used in recipes, both as an indispensable ingredient for sauces and as a garnish for soups. It is used to thicken soups, thicken eggs, and make cakes more fluffy.
Crème fraîche has both a fatty and slightly sour taste but is not as harsh as sour cream, so it is quite suitable to replace Mascarpone cheese.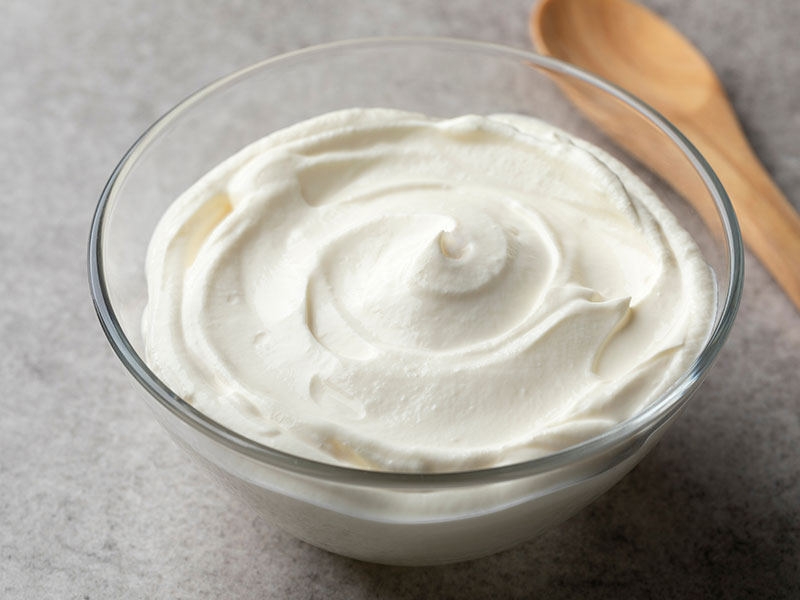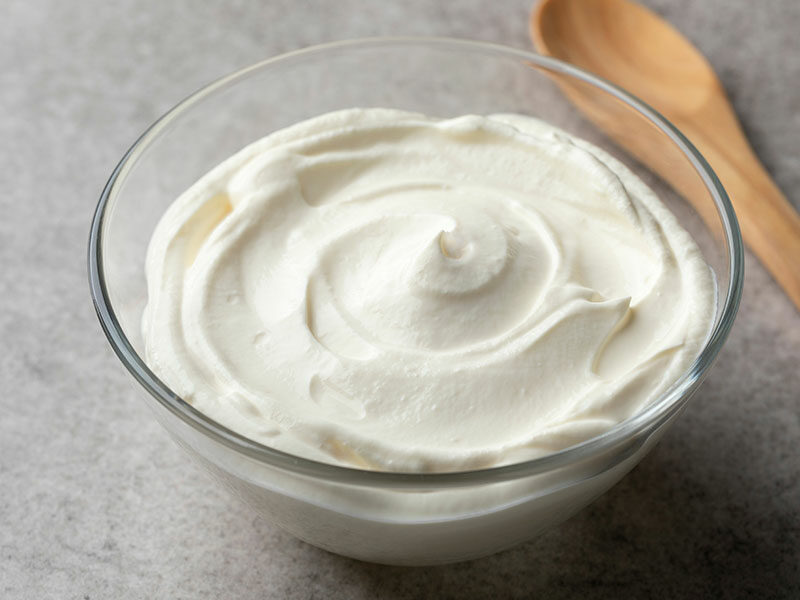 Best of all, crème fraîche contains only half the calories and cholesterol of mascarpone cheese. However, crème fraîche does not have the thick, rich and chewy texture of Mascarpone and is also less sweet than Mascarpone.
But don't worry, you can still use it as a good substitute for mascarpone cheese in cooked dishes like soups, stews, sauces, pizza, etc. No one will notice any difference!
Greek Yogurt
If you are looking to control your weight, then Greek yogurt will be a good substitute for mascarpone cheese. Greek Yogurt is highly nutritious, high in protein, and low in fat. And thanks to the abundance of beneficial bacteria, Greek yogurt helps the digestive system work healthy.
Therefore, Greek Yogurt is popular and used by many people every day to supplement energy and control weight effectively. Although the ingredients are the same as regular Yogurt, Greek Yogurt is completely dehydrated and has a creamy texture.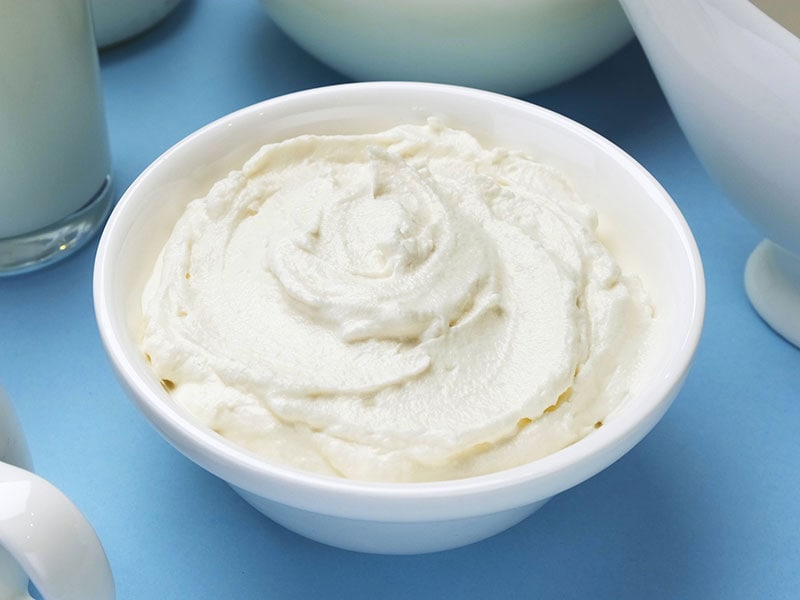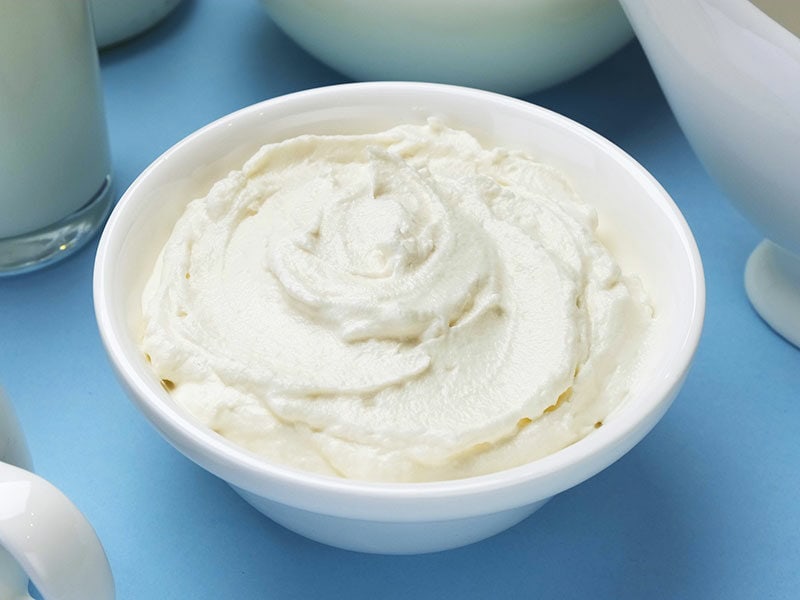 You should note that Greek yogurt is not as creamy as Mascarpone, and it has a more aromatic flavor. Its taste will also be slightly sourer than Mascarpone so that it won't be very suitable for savory dishes.
But this will be the perfect alternative if eaten with mixed fruit recipes such as strawberry, blueberry, kiwi, salad, tomato, etc., or sauces such as chocolate, caramel, dried jam, raisins, cocoa powder, apple cider vinegar, honey, etc.
Besides, some of you might question if it is acceptable to freeze Greek yogurt for longer use. The answer is yes. However, you should not use it to replace Mascarpone cheese in dishes that need to be cooked as it will create a lumpy texture and unsightly appearance at high temperatures.
Sour Cream
Sour cream is a dairy product, one of the familiar ingredients in baking and processing dishes. This is a dairy product fermented to create a sour taste, with a fat content of 12 – 16%.
Unlike other dairy products for making cakes, such as whipping cream or heavy cream, sour cream usually has high heat resistance properties, so it is usually not frozen or delaminated, or dewatered during food processing.
Besides, sour cream helps provide probiotics for the body because sour cream has a high content of lactic acid bacteria to create a sour taste. This probiotic will benefit our intestines and digestive system. You can use it as a substitute for Mascarpone for those purposes.
"Does sour cream have gluten?" is a concern of many people, partly due to the product's immense popularity. Lucky for you and I, sour cream is mostly considered a gluten-free ingredient.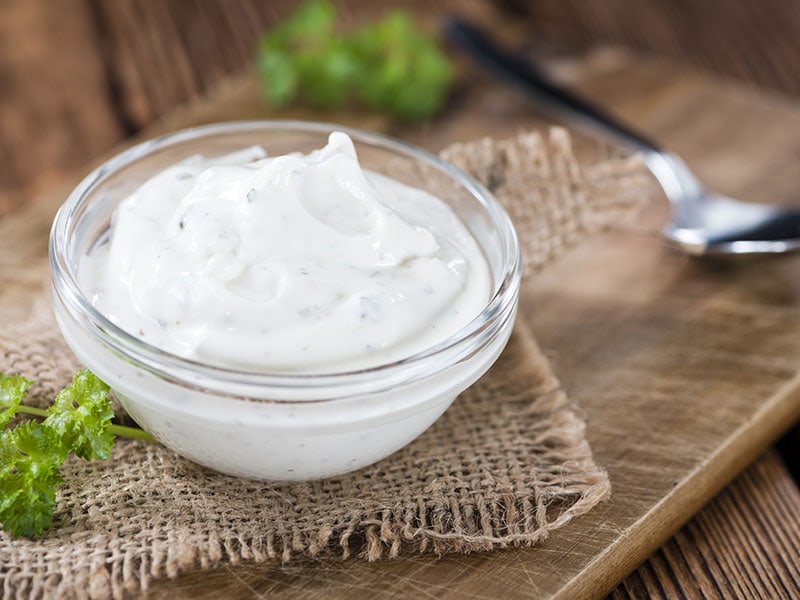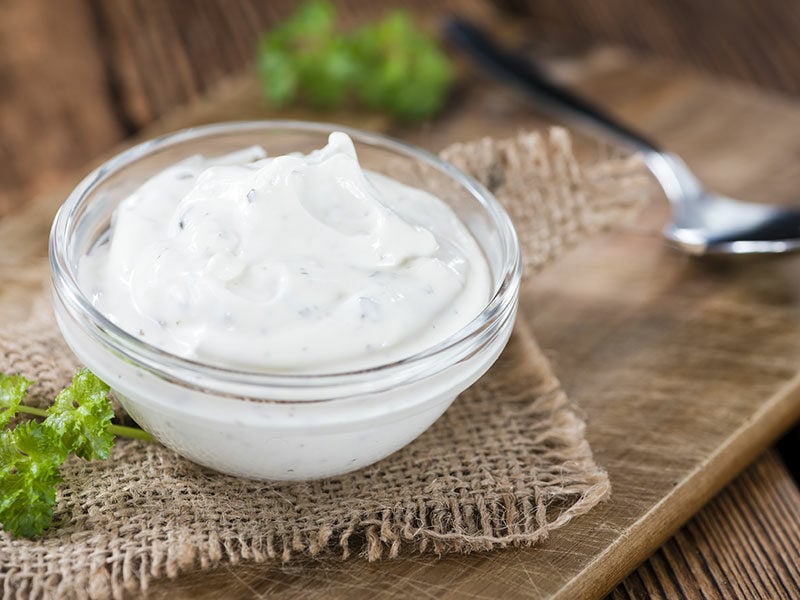 While not as creamy as Mascarpone, sour cream has a similar texture. It is a fragrant and less fatty alternative. You can use sour cream instead of Mascarpone best in savory dishes. Sweets and desserts may not match well because they have a sour taste.
Sour cream will be a perfect accompaniment to soups, dips, and sauces, or salad dressings. To make the cake more delicious, you can also whip up sour cream to serve with cake or cream.
The delicious taste of sour cream makes the dishes more special and attractive. In addition, sour cream is also used as an ingredient in the preparation of drinks. Especially using sour cream with salads or fresh fruit instead of Mascarpone will help the dish become more attractive.
Clotted Cream
Clotted cream is a famous fresh cream of England with an extremely delicious taste (4). This cream is closely associated with British life, appearing in many dishes and becoming the pride of this European national cuisine.
This type of cream is the fattest fresh cream with more than 55% fat. Unlike other creams, Clotted cream is almost thick, with a pale yellow color of whey. Standard clotted cream will have two layers. The lower layer is soft, very light yellow, while the upper layer is darker yellow.
It also has a thicker texture than regular milk types you've met but not as hard as normal cream. When put in the mouth, it will immediately melt. The fatty flavor is very gentle, not too sweet, leaving a particular aroma.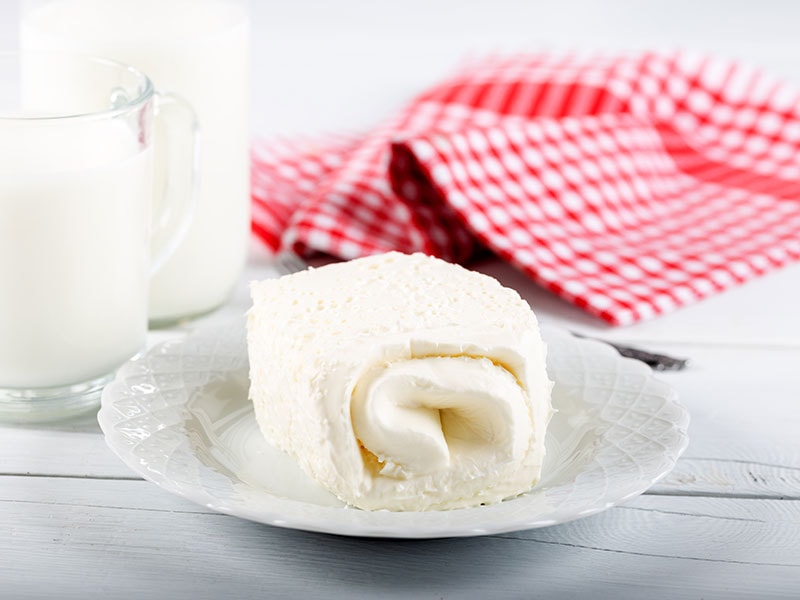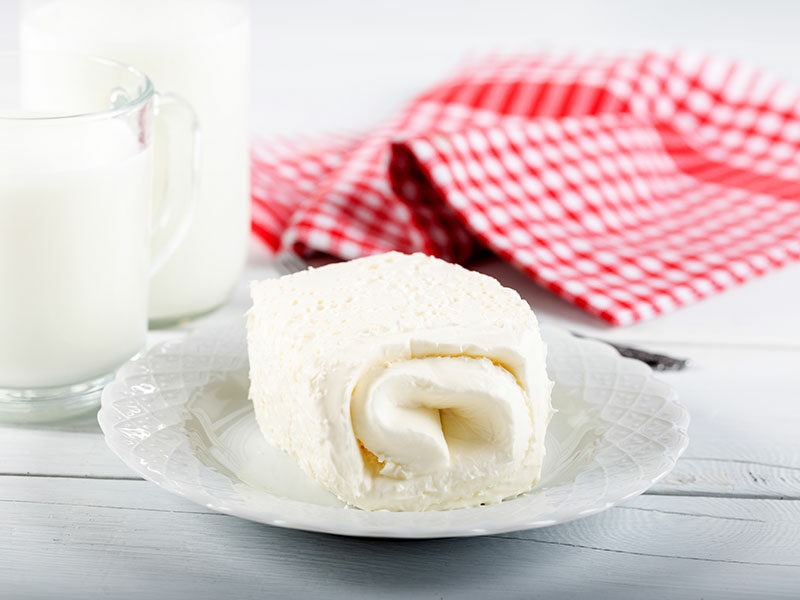 Because of its buttery, sweet and creamy taste, along with its high-fat content, clotted cream can be the perfect substitute for Mascarpone. It has a similar buttery texture and flavor to mascarpone cheese.
Besides, you can make this cream by steaming milk in a large pot, leaving it in a shallow pan for several hours. This technique helps the entire cream to rise to the top of the milk layer and retain the full delicious flavor.
Dairy-Free Substitutes
If you are a vegetarian looking for the dairy-free substitutes for mascarpone cheese, you can try some excellent options such as:
Vegan Cream Cheese
There are many types of vegan cream cheese on the market today that you can choose to replace Mascarpone. Not only is this a great alternative, but it's also lower in fat and cholesterol-free than milk-based mascarpone cheese.
New innovative dairy-free vegan cream cheese made with superfood coconut oil, nutritious nuts, and other plant-based proteins. It retains the delicious taste of cream cheese and replaces Mascarpone as well as cream cheese.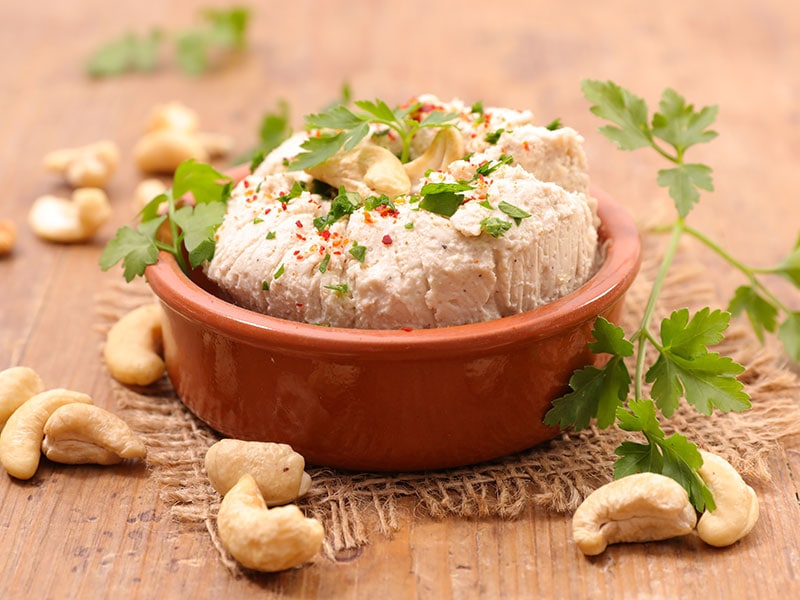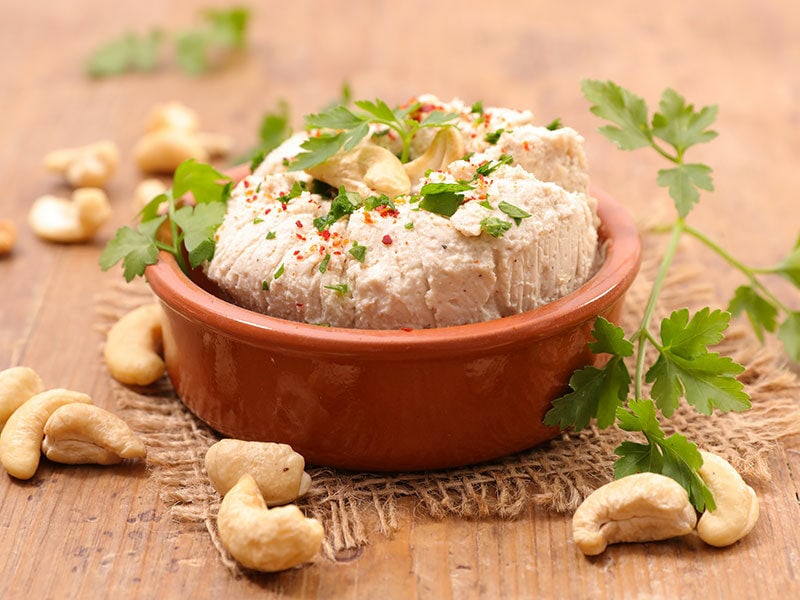 Besides, vegan cheese is a more sustainable alternative to milk-based mascarpone cheese and more allergen-friendly options for those who are sensitive to milk or lactose in milk.
Using vegan cream cheese is the same as regular cream cheese or Mascarpone. You can apply it to any dish you want. You can find vegan cream cheese in any store around. You can also make your own special vegan cream cheese at home.
Coconut Cream & Lemon Juice
The second option is coconut cream and lemon juice mixed together to create a smooth and slightly acidic paste resembling mascarpone cheese. The method is the same as above. You just need to put everything in a blender and let it run.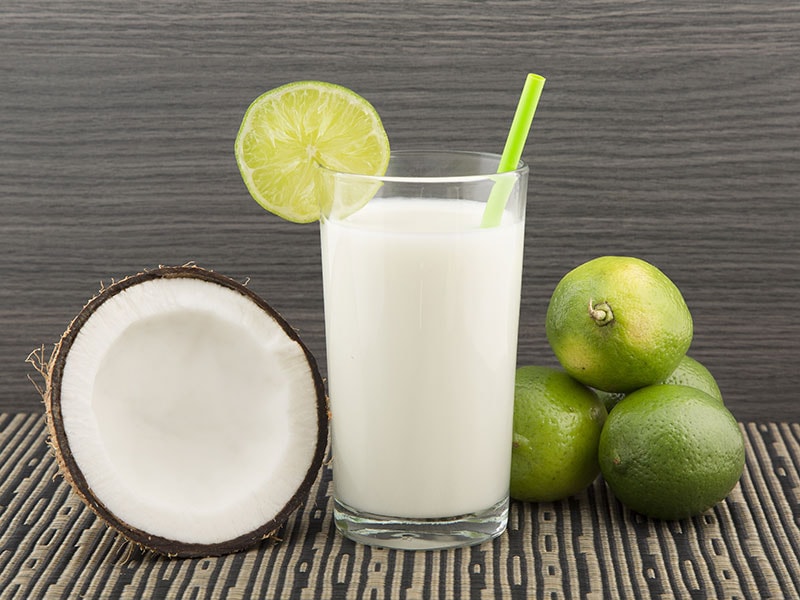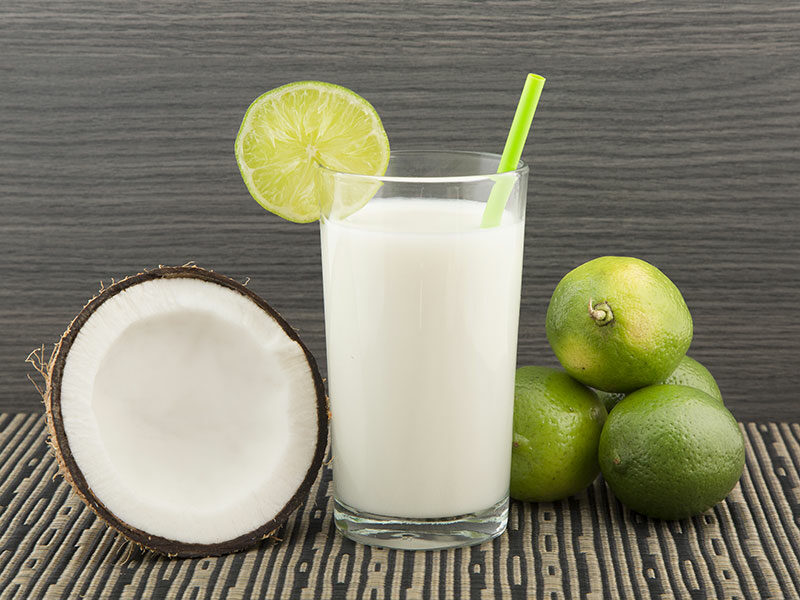 This recipe takes less than five minutes to make and includes wonderfully simple spices that you always have on hand. Feel free to adjust the amount of lemon juice, and you can add salt to your liking. It will stay fresh in the refrigerator for a few days.
Coconut Milk & Cashew Butter
If you are a vegetarian or you are allergic to dairy, you can make your own vegan Mascarpone using only vegetarian ingredients. The trick here is to use coconut milk and a unique kind of nut butter made from cashew.
All you have to do is mix the prepared coconut milk and cashew butter in a blender. Then you'll get a smooth, mascarpone-like mixture in your recipes.
Soft Tofu & Vegan Cream Cheese
Soft tofu mix with vegan cream cheese is a great dairy-free alternative to mascarpone cheese. You can use a silken soft tofu blend with vegan cream cheese easily. This recipe is very easy to make, creamy, low-fat, and more delicious and healthy.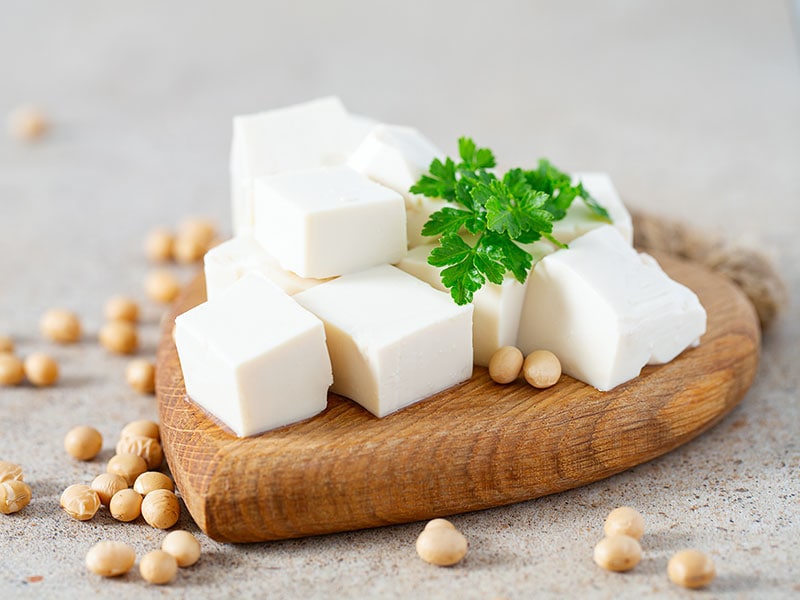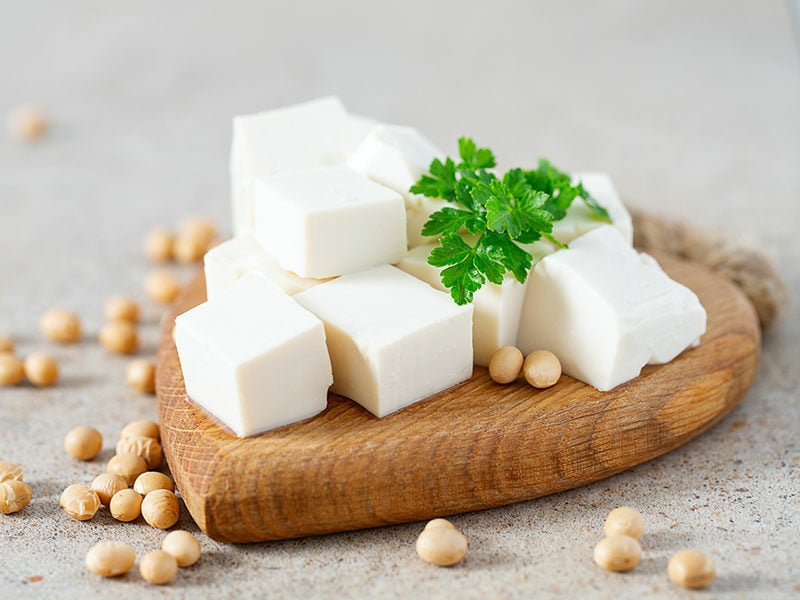 Indeed, this soft tofu mixed with vegan cream cheese is much healthier than regular Mascarpone. In terms of usage, you can use it with dishes that you normally eat with Mascarpone or as a dipping sauce for vegetables and chips.
How To Make Mascarpone Cheese At Home
Why don't you try making your own mascarpone cheese at home? I will show you in detail how to make Mascarpone from the easiest ingredients and by the simplest method:
Prepare Ingredients and Tools:
Heavy Cream: 11 g
Fresh lemon: 1 fruit
Deep-sided pot
Filter, food warp, and whip
Processing:
Step 1: Put 11 g of Heavy Cream in a deep pot and then put it on the stove to melt. Cook while stirring with a hand whisk.
Step 2: Wash fresh lemon, peel off the skin, cut in half, and squeeze out the juice. Then, put about 4 g of lemon juice into the Heavy Cream pot, continue to boil for another 5 minutes, and then turn off the heat.
Note: Before squeezing lemon juice, you must peel off the peel. Otherwise, the essential oils in the lemon peel will make the lemon juice bitter. When mixed with Heavy Cream will affect the quality of the Mascarpone.
Step 3: Put the filter on the small pot and then slowly pour the mixture obtained in step 2 through to get a smooth, smooth mixture without residue.
Step 4: Cover the mouth of the bowl with the heavy cream mixture and carefully filtered lemon juice, and put it in the refrigerator for at least 8 hours.
Step 5: The drained mixture on the filter is the fresh Mascarpone we need.
Just simple like that, we're done with Mascarpone. It's very easy and fast, isn't it?
Are Mascarpone And Cream Cheese The Same?
Mascarpone and cream cheese are actually two different types that many people still confuse because, at first glance, they are quite similar in product characteristics, such as having a fatty taste and a slightly sour taste when eaten.
However, Mascarpone is made from cream. Mascarpone has a softer texture and a better taste, so it can be eaten directly in desserts or cheesecake. Cream cheese, on the other hand, is usually available in a solid form. Besides, it cannot be eaten directly like mascarpone cheese.
How To Store Mascarpone Cheese?
Mascarpone is one of the soft cheeses, so the preservation process of Mascarpone cheese is also much more difficult than hard cheeses like Mozzarella or cream cheese, etc. However, if you know how to preserve them, you can also extend their useful life quite a lot.
The advice for you is that when you need to use Mascarpone, buy a sufficient amount to avoid wasting. From the moment you buy it, you should never forget that Mascarpone always needs to be stored in the refrigerator.
You can cover it discreetly with parchment paper and store it in the refrigerator when you have used the remaining Mascarpone cheese. With this preservation method, you can keep Mascarpone good for 5-7 days.
Let's Pick Your Best Mascarpone Substitute!
So through this article, you have learned what Mascarpone is, the great substitutes for mascarpone cheese, how to make Mascarpone at home as well as how to preserve it when you have used Mascarpone most effectively.
Whether you're choosing one of the mascarpone cheese substitutes presented above, or want to prepare your own Mascarpone at home, I hope you always find great flavors for your family! Don't forget to leave a comment to share your recipe with me.
Nutrition Facts
10 servings per container
---
Amount Per ServingCalories84
% Daily Value *
Total Fat 8.9g

13

%
Cholesterol 33mg

11

%
Sodium 10mg

1

%
Potassium 22mg

1

%
Total Carbohydrate 0.7g

0

%
Protein 0.5g

0

%
---
* The % Daily Value tells you how much a nutrient in a serving of food contributes to a daily diet. 2,000 calories a day is used for general nutrition advice.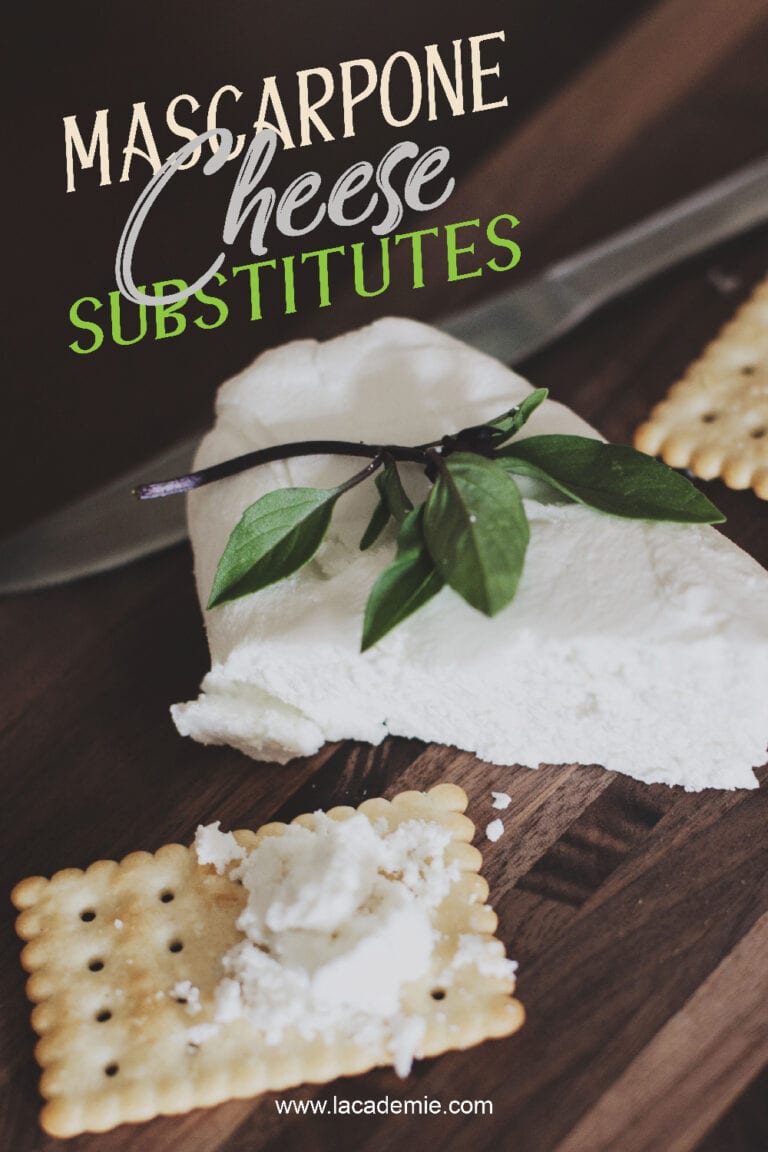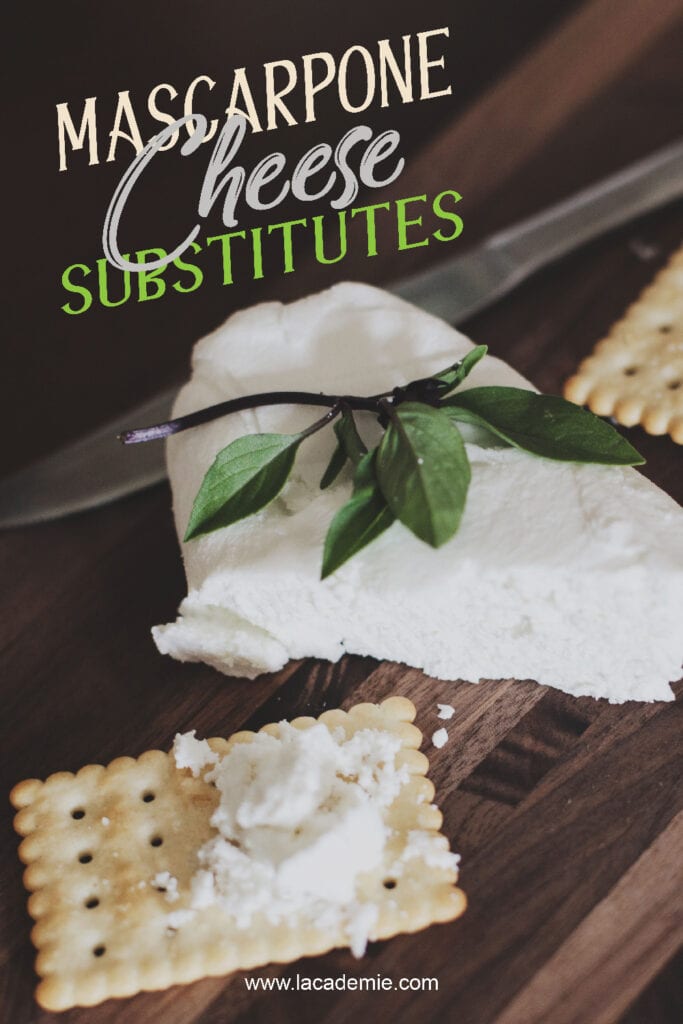 References
(1) En.wikipedia.org. 2021. Mascarpone – Wikipedia.
(2) Healthline. 2021. Is Cream Cheese Healthy? Nutrition, Benefits, and Downsides.
(3) En.wikipedia.org. 2021. Cottage cheese – Wikipedia.
(4) En.wikipedia.org. 2021. Clotted cream – Wikipedia.