Not only are these Greek yogurt recipes crazy-easy, but they can also save your mid-afternoon snack time in case you have no other idea to go for. You will know so many new dishes that utilize this wonderful ingredient to fill your empty stomach.
Are you ready to learn more about how to make these exquisite dishes with Greek yogurt at home? Just keep following this article as it will provide you not only the names of these comfort foods but also tell you how attractive these delicacies can be.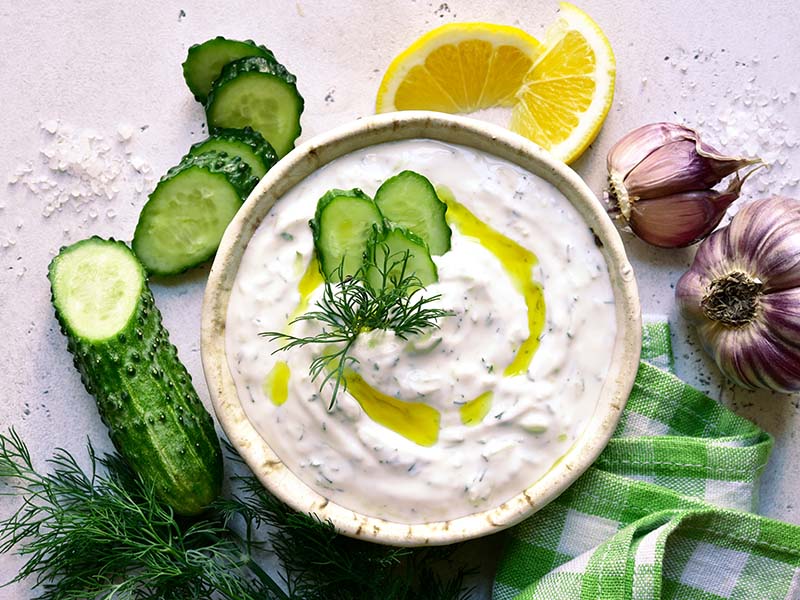 Tasty Dishes With Greek Yogurt That You Should Never Ignore
Greek yogurt never fails to become one of the most necessary components for your meals. Don't waste this wonderful ingredient as you will never have a headache in cooking if having it in the kitchen. No further ado, check the information below for more.
Total time: 1 hour 10 minutes.
There is nothing better than having a delicious loaf of Greek Yogurt Zucchini Bread at breakfast, right? From its name, you can easily guess that this delight possesses a slightly sweet and grassy taste of zucchini.
Moreover, the inclusion of Greek yogurt also adds a depth of tangy and creamy flavor to this recipe. This delicacy is very straightforward to prepare. You just need to mix all the ingredients well and bake this mixture for about 1 hour at 350 degrees F.
Your baked goods will be very soft and moist. Moreover, Greek Yogurt Zucchini Bread also boasts a slight citrus note of cinnamon. This will be your favorite idea to substitute your traditional Greek-style bread, making you want to try it more and more.
Follow this guide, and you will have a delicious loaf of Greek Yogurt Zucchini Bread to enjoy.
Total time: 5 minutes.
Do you want to enjoy a quick yet healthy dish at lunch? Creating the excellent combination of Greek Yogurt Egg Salad With Dill And Lemon with whole grain bread, lettuce wraps, or crackers will be a perfect choice for you.
Packed with a lot of nutritious ingredients, this delight just requires you 5 minutes to prepare. All you need to do is to combine all the components, including lemon juice, deliciously fresh dill with a citrus-like taste, eggs, and other things. Lunch has never been so simple, right?
However, you should add eggs last to make sure the mixture is combined well, and the eggs aren't crushed. If you are interested in a richer flavor, you can also replace non-fat yogurt with a full-fat one or add a little olive oil.
Total time: About 25 minutes.
If you are looking for a good option for a gluten-free diet, Greek Yogurt Buttermilk Drop Biscuits are made for you. Buttermilk plays an important role in boosting the flavor of this delight. This thick-textured ingredient gives your biscuits a slightly sour and tangy hint.
Flavored with creamy yogurt and buttery butter, these baked goods come with a flaky appearance. However, you will feel the tenderness and fluffiness of these cakes at the first bite, making them irresistible.
Remember to let your biscuits cool before serving them with some of your favorite toppings to get the best taste. You can pair these golden brown biscuits with a drizzle of honey, fresh jam, or butter. This blend will delight your taste magnificently.
Total time: 25 minutes.
Within 25 minutes, you will have a delicious European dish for a hearty breakfast. Lemon Poppy Seed Muffins are a good idea to refresh your boring menu.
This is a nice combination of Greek yogurt, poppy seeds with a little nutty flavor, and some citrus notes from lemon, etc.
First of all, you need to mix all the different types of flour until this mixture is smooth. The next step is to add the rest of the ingredients to the combination. Finally, just fill it with muffin batter and bake.
Don't forget to create a sweet and tart glaze with lemon juice and powdered sugar to drizzle over the muffins. It is very important to make your results get the best taste.
These muffins are crunchy yet retain the softness and moisture inside, making them more addictive than ever.
Total time: 15 minutes.
Tzatziki, also known as Greek yogurt cucumber sauce is a traditional Greece-themed appetizer. Tangy and luscious, this classic sauce is an ideal partner for different types of Greek salad, pita bread, and a variety of veggies.
Let's start with preparing the cucumbers. First of all, you should slice them and use a cheesecloth or a fine-mesh sieve to drain them before leaving them in the fridge overnight. Or you can also press them in the sieve.
The next step is to mix the other ingredients, including yogurt, garlic, and vinegar in a separate container. Next, place your smooth and consistent mixture in the fridge overnight. Before serving, you just need to add the grated cucumbers and dill.
Your result will be creamy, slightly sour, and has a background garlic flavor with an herbal aroma. Is it enough to make you want to whip up this ideal Greece-made delicacy right now?
If you are interested in Tzatziki, you shouldn't ignore this instruction.
Total time: 1 hour 30 minutes (including 1 hour of resting time for chocolate).
If you are a lover of chocolate, Greek Yogurt Creme Brulee is a must for your desserts. If you like sweet things, go for semi-sweet chocolates. On the other hand, give bittersweet chocolates a chance to refresh your taste.
It's not exaggerating to call Greek Yogurt Creme Brulee a perfect mash-up of caramel and vanilla. This blend is an indispensable flavor booster for this recipe. This treat comes with a hard surface sugar; however, you will be surprised by its smooth texture beneath.
Moreover, this delicacy is also creamier and healthier thanks to Greek yogurt. The succulent and refreshing family of berries such as blueberries and blackberries are always a great choice to serve with this healthy delicacy.
Total time: 10 minutes.
Known for its thick texture, canned pumpkin is the pivotal ingredient in this recipe, playing an important role in improving the smoothness of Pumpkin Spice Whipped Greek Yogurt.
Furthermore, it is also loaded with nutrients such as potassium, fiber, vitamin C, etc. So making this delicacy an ideal choice to enhance your health. The combination of canned pumpkin and maple syrup gives a slightly sweet flavor to your dish.
Moreover, a touch of cinnamon also adds a citrusy note and spicy taste to this recipe. In this recipe, you should use a hand mixer or a stand mixer to whip your yogurt combination for about 2 minutes and 20 seconds.
In the first 20 seconds, you should adjust the speed slowly to gradually reach the maximum speed and maintain it for the rest of the time. This helps your blend to be well mixed and prevents the cream from splashing.
You can enjoy it right after whipping, but I recommend you store it in the fridge for a short time because I'm sure that you will love the thicker and whippier texture of this delight later.
Total time: 20 minutes.
This Greek Yogurt Mashed Potatoes recipe is as creamy and fluffy as other mashed potatoes, but it is lighter and healthier. But how can this delight be different from others? Let's find the answer right now.
The inclusion of Greek yogurt is the exact reply to this question. It is a perfect alternative to butter and cream people usually use in making mashed potatoes. Greek yogurt not only adds a superb creaminess but also gives this treat a great flavor.
The way to prepare this luscious dish will greatly surprise you. You just need to mash your boiled potatoes and then add Greek yogurt in. Finally, just add virgin olive oil and other spices to enhance your experience.
This delicacy goes perfectly with roast beef, fried chicken, fish cakes, and a lot of other main courses. Is it flexible enough to be present in your daily menu?
Total time: 5 minutes.
The sweet taste of chocolate mixed with the freshness of fruits is what you can imagine about this wonderful dish. Greek Yogurt Chocolate Fruit Dip consists of Greek yogurt, cocoa powder, vanilla with an aromatic flavor, and many types of fruits.
This dip only takes a tiny amount of time to prepare. Let's combine all the ingredients above, and you will have a delicious dip to serve right away.
The pairings for this dip are your favorite fruits, such as strawberries, bananas, raspberries, etc. Also, you can serve it with wafers or graham crackers. It's really a pleasant experience.
Total time: 40 minutes.
Coming with a light and fluffy texture, Applesauce Cake will score a big win with you for its deliciousness and convenience. Besides being a nutritious snack, applesauce is an ideal alternative to oil and butter, keeping your baked goods fresh and moist longer.
This is a perfect combination of vanilla with an aromatic taste, creamy Greek yogurt, brown sugar with a molasses-like flavor, and other necessary ingredients. This results in a delectable Applesauce Cake with a moist and gooey texture.
This hearty dish takes only half an hour to prepare; plus, you don't need too many baking tools. All you need is a baking pan. You wouldn't want to miss out on a delicious yet convenient meal, right?
Total time: 35 minutes.
You will be surprised by the versatility of this delicacy. Lemon Herb Yogurt Dressing is an ideal accompaniment for salad or sandwiches. Furthermore, you can also serve it as a dip for fresh veggies such as radishes, cucumbers, and iceberg lettuce.
Is it enough to pique your curiosity about this dish? For the dressing itself, you just need to prepare some simple ingredients such as Greek yogurt, avocado mayonnaise, and a variety of herbs to enhance the taste of this delight.
The fresh and herby flavor of a lot of veggies and herbs are the key factors that set this dressing apart from other relishes. However, it can't get a creamier texture without Greek yogurt. I ensure that you can't wait to enjoy this dressing the second time.
Total time: 40 minutes.
Greek Yogurt Macaroni And Cheese, those beautiful words can bring you all sorts of cozy feelings. This delight is seriously creamy and flavored with a touch of different types of cheeses such as cheddar cheese, and Monterey Jack cheese.
This delicacy is very easy to make. First of all, you should make a roux by combining flour, milk, cheese, and other spices. You have to make sure that the mixture is perfectly smooth. After that, add your yogurt in and continue to whisk this blend.
The next step is to add your cooked pasta to the mixture and top your dish with some of your favorite toppings. After that, bake the combination for about 10 minutes, and you will have a delicious dish to enjoy at any time of the day.
You will learn how to make Greek Yogurt Macaroni And Cheese through this tutorial.
Total time: 30 minutes.
Among the dips made from Greek yogurt, Greek Yogurt Spinach Artichoke Dip is a must-try. Serving this wonderful snack with potato chips, pita bread, pita chips, and party crackers will make your appetizers more amazing than ever.
As you know, chopped artichoke hearts are a good alternative to meat in a vegetarian-friendly diet. This ingredient is not only packed with a lot of nutrients but also has a soft texture which gives a more intense flavor to your dip.
The inclusion of mozzarella and parmesan gives this recipe a slightly sour and nutty flavor. Moreover, this dip also takes the creaminess from yogurt and feta cheese.
An interesting fact about this dip is that you have to bake the mixture of the above ingredients for about 30-35 minutes until the cheese on the surface turns golden. Don't miss this delicious treat because you will regret it.
Total time: 10 minutes.
Greek yogurt gives this delight a creamy texture as well as adds a good source of protein, minerals, and vitamins to your smoothie, making it an ideal option for a filling breakfast.
Just grab some easy-to-find ingredients such as strawberries, honey, Greek yogurt, and almond milk, and you will have a glass of refreshing smoothie to enjoy.
This tasty treat takes the gorgeous pink color from strawberries and a nutty flavor from almond milk. Don't hesitate to spend 10 minutes on this healthy breakfast to start a new day full of energy!
Total time: From 50 minutes to 1 hour 5 minutes.
Portokalopita is an ideal option for an authentic Greek dessert. From its name, you can guess that oranges will be the principal ingredient boosting the flavor of this wonderful cake.
Coming with an orange appearance, this luscious Greek-style delight will amaze you with its gorgeous exterior. That is a perfect blend of fresh oranges, eggs, phyllo dough, and Greek yogurt.
Making Portokalopita is a child's play. Start with blending orange and other ingredients until the mix is thick. After that, just add phyllo to the mixture and bake it.
This combination results in a creamy and sticky cake with a sweet-tart taste from oranges. Moreover, some slices of fruit for garnishes will make your cake more attractive than ever.
Total time: 25 minutes.
Can you resist the cravings for delicious pancakes topped with honey or maple syrup and flanked with nutritious fresh fruits? If the answer is a "no", don't ignore this recipe because it will delight you.
The way to make these splendid pancakes is also as simple as that of other baked goods. All you need to do is to combine all the prepared ingredients like flour, eggs, butter, Greek yogurt, and other things.
However, remember to make sure your flour mixture is completely smooth for your snack's taste to be at its peak. Lending both moisture and flavor to your pancakes, yogurt plays a key role in improving the fluffy and creamy texture of this delight.
Furthermore, lemon zest and lemon juice also add a citrus depth of flavor to your dish, making it an ideal option for every morning.
Check these step-by-step instructions to make Greek Yogurt Pancakes for breakfast right now.
Total time: 25 minutes.
Next up is a great treat for your busy mornings. Banana Puddings Parfaits are packed with a lot of healthy nutrients from bananas and topped with sweetened whipped cream and crushed cookies.
They are creamy and comforting enough to satiate your hunger. Let's start with mixing the combination of bananas, Greek yogurt, and sugar to create those thick and smooth puddings.
After that, you just need to place your pudding and banana slices to create a glass of fabulous sweet treats. You can also enjoy this luscious dish as a dessert; it will enormously please your taste buds.
Total time: 15-30 minutes.
If you are craving something flavorful, healthy, and delicious for dinner, Kale Salad With Lemon Yogurt Dressing is made for you. As you can speculate from its name, you will have to prepare the dressing from Greek yogurt for this recipe.
First of all, let's start with the dressing. You should prepare a smooth mixture of yogurt, olive oil, vinegar, and a lot of different ingredients. Next, mix the dressing with kale and wait for some minutes to make sure that your kale has soaked up the sauce.
The final step is to combine the bitter and earthly-tasting kale mixture with almonds and buttery avocados. Your salad will be more attractive with some slices of gorgeous pink strawberries.
Total time: 30 minutes.
Are you a mayo lover and do you always use this ingredient for your dressing? This recipe will make you forget the role of mayo in your kitchen. Instead of using mayo to enhance the taste of the salad, you will use Greek yogurt for a creamier and tangier result.
Besides yogurt, this recipe appears to contain a few ingredients, such as potatoes, which are packed with lots of health benefits, cucumbers, and celery with a mild and earthy flavor.
This moist-textured delight is worth including in your next fun gathering, picnics, or even parties. Don't waste this luscious delicacy!
Total time: 10 minutes.
A luscious delight only requires 10 minutes and some simple ingredients including Greek yogurt, peanut butter, and vanilla extract. Yes, the dish I am mentioning is Peanut Butter Yogurt Fruit Dip.
The peanut butter adds a salty and nutty flavor to this recipe. This is a perfect side dish to pair with some of your favorite fruits, such as strawberries, apples, crackers, and pretzels to suit your appetite better.
It's also very straightforward to prepare. All you need to do is to mix all the ingredients and blend the mixture in a food processor until it gets a creamy and smooth texture. If you want your dip sweeter, just add more maple syrup to indulge yourself.
Don't skip this guide if you don't want to miss a delicious Peanut Butter Yogurt Dip.
Total time: 5 minutes.
Cilantro, also known as coriander, is one of the popular leafy herbs used as a food or a spice in Greek cuisine. People may confuse this herb with parsley as they share the same characteristics. However, the taste of cilantro is richer than that of parsley.
Cilantro with an irresistible tangy citrus note is the main flavor booster in Cilantro Yogurt Dressing. Along with this fragrant herb, Greek yogurt holds a crucial position in keeping the creamy and moist texture of this relish.
This dressing is not only aromatic but also tasty. Topping this type of sauce onto salads and burrito bowls will help enhance your experience.
Total time: From 50 minutes to 1 hour 25 minutes.
Milopita or Greek apple cinnamon cake is an ideal Greek treat for breakfast. However, it is also an ideal option if you need a fabulous recipe for desserts.
Let's start with mixing the dry ingredients like flour, baking powder, and sugar. After that, combine all the wet components, and incorporate these two mixtures together. The final step is to place your apple slices in and bake everything for about 1 hour.
You can serve this golden cake with popular beverages in Greece, such as Greek coffee, tea, or vanilla ice cream.
With a woody flavor, your baked goods have slightly sweet and tart hints from apples and an amazingly thick texture. Let's enjoy it right away!
Total time: 1 hour 20 minutes.
Crispy crust and creamy filling, Tyropitakia, or Feta cheese hand pie, is a savory Greek pie made of butter with just a hint of sweetness, Greek yogurt, slightly salty feta cheese, and other simple ingredients.
For the dough, you will create a smooth mixture of yogurt, eggs, and butter. Using feta cheese as the filling of this fabulous recipe will add a depth of flavor to Tyropitakia. Next, just shape your pies into semicircles and bake them.
With their crispy exterior and cheesy interior, your baked goods will be a tremendous hit and a good option for an European dessert menu. Don't forget to pair these treats with a cup of coffee or tea to make your experience more memorable.
Total time: 2 hours 25 minutes (including 2 hours of marinating time).
Once mentioning the main dish made with Greek yogurt, you shouldn't miss out on Greek Yogurt Marinated Chicken as it is a wise choice for a cook. Chicken, its pivotal ingredient, boasts a significant nutritional value for this simple recipe.
Moreover, the marinade plays an important role in the success of this dish. It's a nice combination of bitter and pungent garlic, paprika, creamy yogurt, and lemon juice with a citrus flavor.
You can grill your chicken after marinating it for about 2 hours, but I recommend you place it in the fridge overnight because this will help your dish get the optimum flavor. Your grilled chicken tastes delicious and juicy with a hot and comforting scent.
Is making Greek Yogurt Marinated Chicken as easy as I told you? Check here for the answer!
Total time: 30 minutes.
Brilliant and luxurious, Berry Quinoa Breakfast Bowl is an ideal choice for your hearty breakfast. For those not in the know, quinoa is a good substitute for starchy grains because it's packed with a good amount of protein.
This delight is a perfect blend of quinoa with a firm texture, creamy Greek yogurt, and cinnamon which add a citrus flavor to this wonderful recipe. Succulent and juicy berries are a must in this recipe.
They are essential for garnishing and mix well with other ingredients. This dish will keep you full longer thanks to the inclusion of Greek yogurt. Make this dish, and discover for yourself why quinoa is said to be a great alternative to oatmeal!
Total time: 7 minutes.
Greek Yogurt Alfredo Sauce is a perfect blend of butter, Greek yogurt, nutty and fruity parmesan cheese, and white wine with a floral aroma. This smooth and creamy sauce will perfectly satisfy you with its amazing flavor.
Pairing choices for this Alfredo sauce recipe are unlimited. You can serve it with stuffed pasta and cooked veggies, or even use it as a sauce in casseroles and lasagne. Believe me: These combinations will please your taste buds enormously.
You can store this sauce for later use, but remember that your sauce will be thicker. To make it smoother, you can add a little water or milk and reheat it before serving for a better taste.
Total time: 20 minutes.
Are you surprised by the name of this type of bread? Yes, this is really a baked good made from 2 ingredients. All you need to prepare for this recipe is self-rising flour and Greek yogurt. Let me tell you how they can work well.
First of all, you should mix your prepared ingredients until you get the smooth texture for this combination. A touch of olive oil will make your flour dough less sticky and create a favorable condition for you to shape these flatbreads.
Finally, just fry your flatbreads and then bake them for a few minutes. They will turn a little golden when cooked, and your task right now is to enjoy them.
Consuming Greek Yogurt Is Now More Exciting Than Ever
What do you think about these Greek yogurt recipes? Whether it's breakfast, lunch, or dinner, these recipes are perfect for you. Now, you don't have to worry about cooking when you have Greek yogurt in your kitchen.
Finally, if these Greek yogurt delights are helpful for your cooking, please share them with the others. Let me know in the comments below what are your favorite recipes and how you can enjoy them. Thank you, and I hope my sharing is useful for you.