Though it may sound unrelated, frozen yogurt always appears as a solution when people wonder if their yogurt can get spoiled over time. I admit it is a tasty, spoon-licking way that refreshes your mind.
But do you know how many carbs are there in a serving? Suppose that you have too much of this delicious kind of frozen dessert, what can possibly go wrong?
This article will give you insights into carbs in frozen yogurt and the best ways to curb them. You will also learn about the role of carbs in your diet – it's not that harmful to your health like you might have thought!
Don't waste your time. Check out this article right now!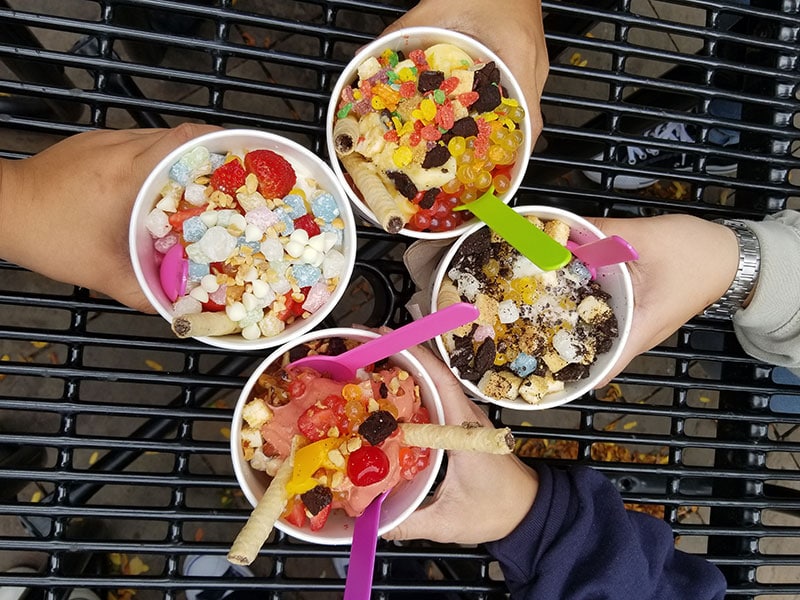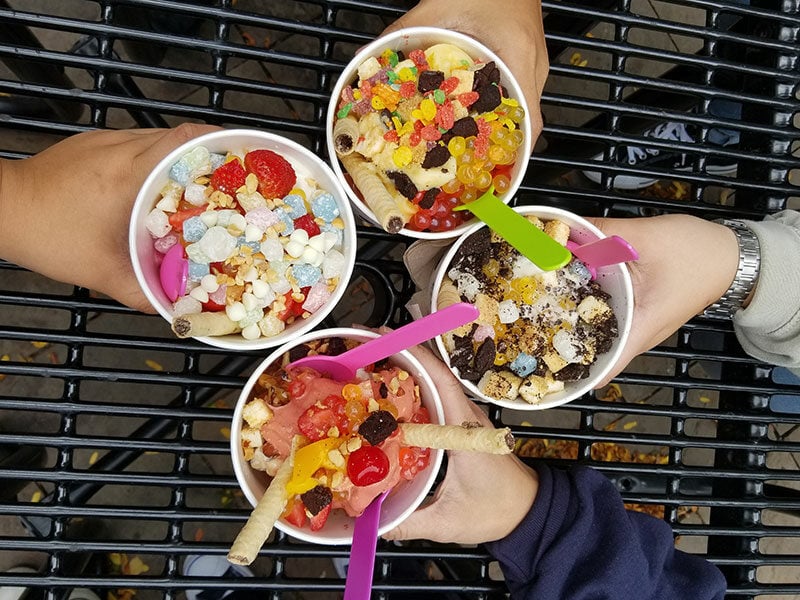 On average, a serving of frozen yogurt has 24g carbs.
The Role Of Carbs In Your Diet
Carbs, along with protein and fat, are the vital macronutrients that can be found in our food. Together they give us the energy which helps our body function regularly.
It is common these days to see people seek healthier alternatives instead of following a cutting diet. Given that, manufacturers have brought forward endless choices of low-carb desserts that cater to different needs.
With the surge in demand for low-carb desserts, Good Humor-Breyers introduced a line of low-carb fro-yo in 1984, a solution that later became a healthy obsession for the general public, particularly for those who want to keep fit without feeling guilty.
It's essential to know the difference between sugar and carbs to know what you're trying to cut down on. There are two kinds of carbohydrates: simple and complex. Sugar is a type of simple carb, and it is bad for your health if consumed to excess. Complex carbs, however, are packed with nutrients that are beneficial for our health, and you may want to include them in your diet.
From this point, to avoid any confusion, the word "carbs" I use shall refer to "simple carbs," which are sugars.
The Relationship Between Carbohydrates And Obesity
Self-claimed nutritionists have long spread the rumors that carbs are linked to obesity, a serious health issue that has been a significant concern in recent years. However, simple carbs, or sugars, are not the sole reason behind this, yet they indirectly create new fat cells if consumed too much.
Here's how it works: if you eat too many simple carbs, your blood sugar will rise, followed by increased insulin levels, and culminates in insulin spikes. It is these spikes that trigger the creation of fat cells, making you gain a few pounds.
However, let's not pin the blame on carbs solely as many factors that contribute to a person's weight gain, for example:
Lack of physical exercises
Sleep deprivation
Genetic factors
Junk food or fast food that is high in calories
Stress or anxiety
And the list goes on. Surprisingly, a carb-restricted diet is not as healthy as it has been promoted. Carbs are essential, especially complex ones. If your personal trainer tells you to go on a low-carb diet, he or she means that you need to lower your simple carbs intake; in other words, the amount of sugar you eat.
So, what do you need to avoid eating? Any kind of sweet food, including ice cream, chocolate, cupcakes, and even frozen yogurt. I know it's easy to give in to the temptation, but, trust me, you will be surprised to know how many carbs there are in a single scoop of fro-yo.
Classification Of Frozen Yogurt With Carbs Content Per Scoop
Before I guide you through, let me explain the difference between net carbs and total carbs. To put it shortly, net carbs are the number of carbs with no fiber. When planning your diet, I recommend that you should count the total carbs. (1)
Regular Frozen Yogurt
Milk fat makes up for somewhat 0.5-6% of the yogurt, with 15-17% sugar or sweeteners added.
| Regular Frozen Yogurt | Net Carbs | Fiber | Total Carbs |
| --- | --- | --- | --- |
| 1 small scoop | 12.33 | 0.2 | 12.53 |
| 1 medium scoop | 18.49 | 0.3 | 18.79 |
| 1 large scoop | 24.76 | 0.3 | 25.06 |
| 1 cup | 37.08 | 0.5 | 37.58 |
Low-Fat Frozen Yogurt
Low or relatively low saturated fat, this type of frozen yogurt contains at least 25 percent less fat than the regular kind. Looking at the figures, we can see that low-fat frozen yogurt has the most carbs.
| Low Fat Frozen Yogurt | Net Carbs | Fiber | Total Carbs |
| --- | --- | --- | --- |
| 1 small scoop | 12.95 | 0.2 | 13.15 |
| 1 medium scoop | 19.32 | 0.3 | 19.62 |
| 1 large scoop | 25.69 | 0.4 | 26.09 |
| 1 cup | 38.64 | 0.6 | 39.24 |
Nonfat Or Fat-Free Frozen Yogurt
You can tell by the name that this type of yogurt has, indeed, no fat in it. However, it is evident that fat-free frozen yogurt contains no fiber, and it does not have as many carbs as the low fat and the regular kind.
| Non Fat/Fat Free Frozen Yogurt | Net Carbs | Fiber | Total Carbs |
| --- | --- | --- | --- |
| 1 small scoop | 11.61 | - | 11.61 |
| 1 medium scoop | 17.53 | - | 17.53 |
| 1 large scoop | 23.22 | - | 23.22 |
| 1 cup | 34.84 | - | 34.84 |
Carbs can be found not only in frozen yogurt but also in extra toppings such as whole grains and cereals, fresh fruits, and nuts.
Most Popular Frozen Yogurt Flavors With The Carbs Content
Either you buy some frozen yogurt or you make some with your own favorite yogurt maker, there are always some flavors appearing. Follow me and see how many carbs these flavors will bring you.
Vanilla
For anyone who does not know what to choose, vanilla is always a go-to option for any dessert. It is sweet but not too overwhelming and is often used to enhance the flavor of fruits or chocolates.
Carbs: 34.8 grams
Chocolate
Chocolate has long been everyone's favorite, and this is no exception when it comes to yogurt. If you want to tone down the inherent bitterness, add some fresh slices of banana, sprinkles, or whipped cream.
Carbs: 17.9 grams (16.3 grams of net carbs and 1.6 grams of fiber)
If vanilla and chocolate had a daughter, it would be cookies and cream. Although it may sound odd, you think, this bittersweet combination turns out to be one of the most popular frozen yogurt flavors.
Carbs: 23.4 grams
Most Popular Frozen Yogurt Toppings With The Carbs Content
Toppings are more than just colorful decorations for your cup of frozen yogurt; they bring an extra taste to your cup of fro-yo. Even if you are trying to lessen the carbs, don't be scared to pile up some toppings as long as you choose wisely. (2) Here are some common toppings with their carbs content:
Fresh Fruits
Grapes: 6.8 grams per 1/4 cup
Strawberries: 2.9 grams per 1/4 cup
Raspberries: 3.7 grams per 1/4 cup
Bananas: 23.1 grams per small banana
Blueberries: 5.4 grams per 1/4 cup
Dried Fruits
Dates: 20 grams per 1 date
Raisins: 22.4 grams per 1 ounce
Grains
Kellogg's Special K Honey, Almond, Ancient Grains Protein Cereal: 38 grams per 1 and 1/3 cup
Post Grape-Nuts Cereal: 47 grams per 1/2 cup
Kashi GOLEAN Crunch Cereal: 38 grams per 3/4 cup
Nuts And Seeds
Almond butter: 3 grams per tablespoon
Walnuts: 4 grams per ounce
Hemp seeds: 2.6 grams per ounce
Chia seeds: 12 grams per ounce
Pumpkin seeds: 3 grams per ounce
Cacao nibs: 10 grams per ounce
Other
Honey: 17.3 grams per tablespoon
Coconut flakes: 6.7 grams per ounce.
Is It Really As Healthy As We Have Thought?
Why do people seek frozen yogurt? Is it merely just for the taste? Or is it because of the fun of mix-and-match at the topping bar? It's much more than that.
"Is yogurt safe for gluten-sensitive people?" is a common question among yogurt lovers. The good news is that most yogurts are gluten-free unless they contain seeds or grains.
Most people claim that when comparing this yogurt with sour cream or other products in terms of nutrients, frozen yogurt is much healthier. The question is, are they correct?
Frozen Yogurt Vs. Regular Yogurt
Same same but different. If you have tried both variants or once tried making Greek yogurt with a specialized-designed machine, you can tell a big difference in taste. Regular yogurt and Greek yogurt have a sourness that makes you frown.
In contrast, frozen yogurt is reduced to a great extent thanks to sugar. However, sugar does more than balance the flavor; it is added to create a smooth finishing for frozen yogurt and prevents crystallization so that it melts down slower.
More sugar means more carbs, and if we take that into account, regular yogurt is a slam dunk. A serving of regular yogurt contains only 11.4g carbs, while this amount in frozen yogurt is almost 40g.
Frozen Yogurt Vs. Ice Cream
As some people claim, frozen yogurt is much healthier than ice cream because it contains less fat – while the latter is true, I'm sorry to say that the former idea is a myth.
To make up for the insufficient amount of fat, sugar is added to frozen yogurt. Sugar is a type of carb that plays an integral part in maintaining the structure and texture of frozen yogurt. The amount of sugar used varies between different kinds (non-fat frozen yogurt has the most sugar), but, in a nutshell, it is always higher than the amount you can find in ice cream.
On average, a serving of ice cream has 32.45g carbs, 7g fewer than frozen yogurt. If we add up the toppings, this gap will become much more extensive.
So, how can you control the number of carbs you eat? Pick the small size, choose toppings low in carbs, and opt for the low-sugar variety for the best result.
FAQs
By the time you are here, I'm sure you are hungry for a cup of frozen yogurt rather than a list of questions. But, trust me, these questions are informative, and they will certainly not waste much of your time.
Bonus Tips To Fully Enjoy Frozen Yogurt
For a better taste, I suggest that you choose the ingredients that complement each other instead of going head-to-head. Try these scrumptious combos for a whole new culinary experience:
Oreo cookies – strawberries
Coconut flakes – chocolate
Bananas – maple syrup
The list goes on. Avoid having toppings that are too similar to each other regarding the texture (granola and peanuts) or similar to the flavor of the yogurt (fresh strawberries or strawberry yogurt). Don't use more than two kinds of syrup – you don't want your bowl to become a sticky mess. Leave out the candies, too – they become solid fast when served with yogurt.
If you want to limit carbs, stay away from dried nuts and whole grains. They have more carbs than any others on the topping bar.
After reading this article, I hope that you can treat yourself with a delectable cup of yogurt filled with an abundance of toppings without having to worry about the carbs. Feel free to share your knowledge about carbs in frozen yogurt with other readers in the comment section below and me if I miss anything.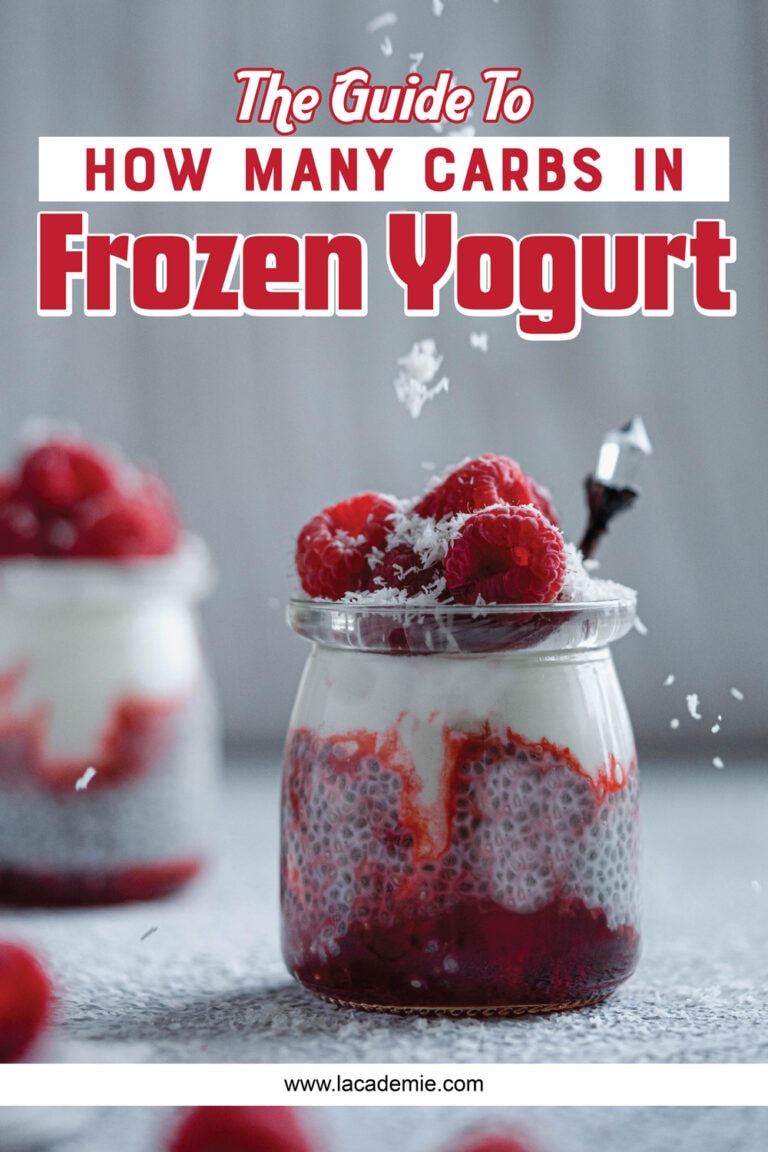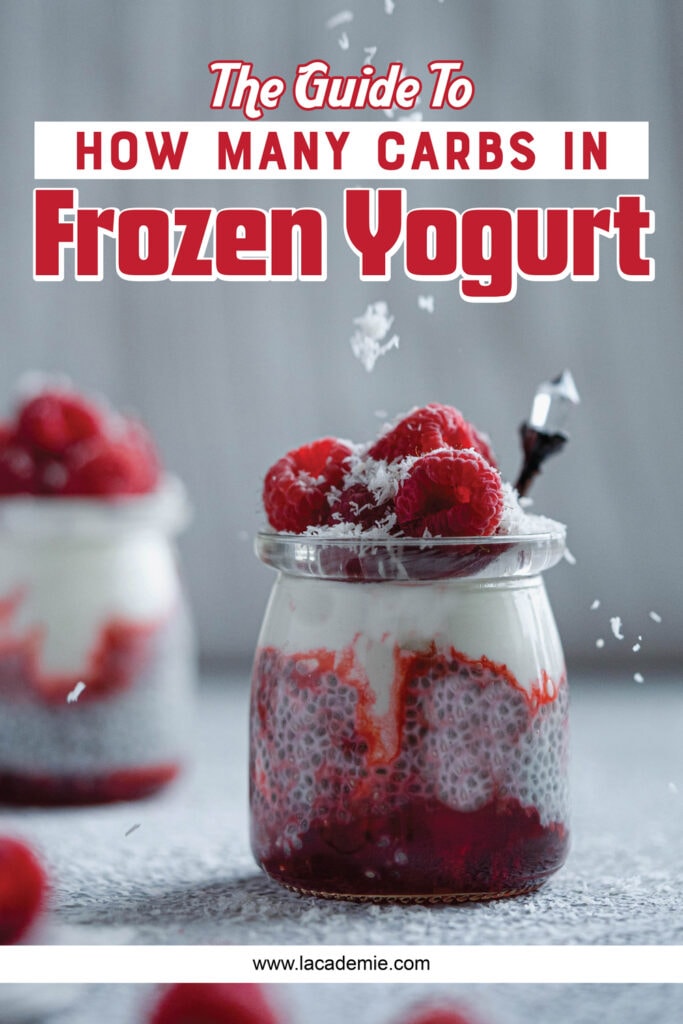 Reference
Carbs in Frozen Yogurt. (2021). From https://www.fatsecret.com/calories-nutrition/food/frozen-yogurt/carbohydrate
Jessica, M (2020, Mar 8). The 20 Best Healthy Yogurt Toppings, According To Nutritionists. Women's Health <https://www.womenshealthmag.com/food/g31209341/healthy-yogurt-toppings>