"Is yogurt gluten-free?" can have ever happened in your mind and then gradually disappeared without getting the full answer. If yes, have a look at this post right away because you are about to discover helpful nutrition knowledge.
Yogurt is a nutritious dairy product. However, you need to know well about its ingredients, particularly whether it contains gluten or not as it will greatly affect your health at present and even in the future.
Health is your most important asset, so let's take a few minutes to explore the truth in the following post and become smarter in buying yogurts suitable to your wellbeing.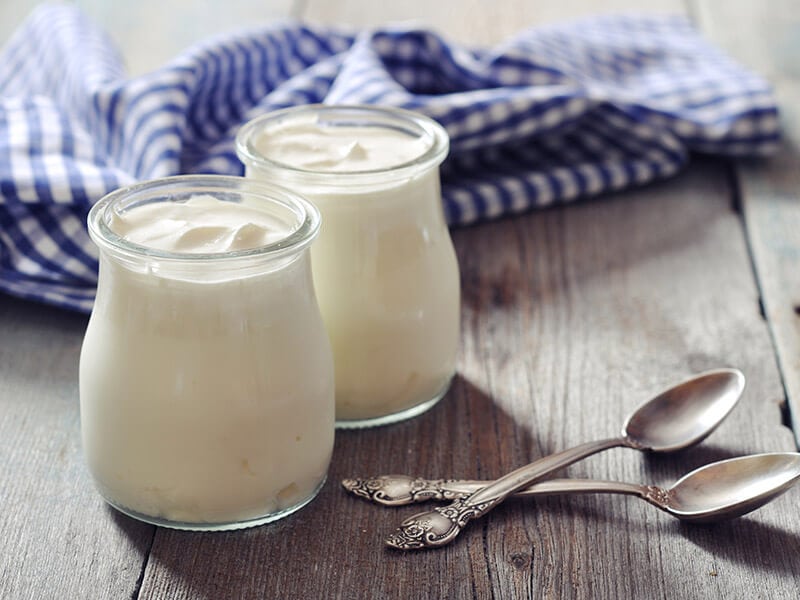 What Is Gluten?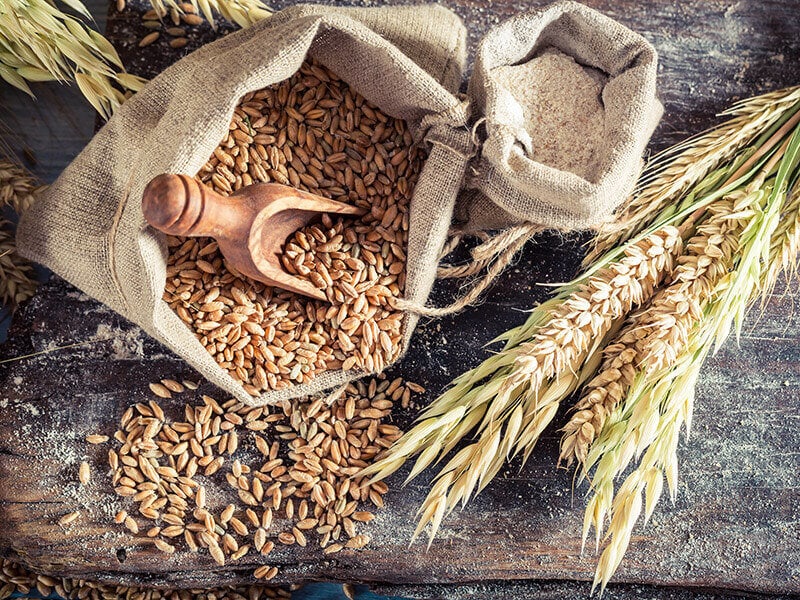 Gluten is a "popular" ingredient and can be found in many types of foods such as bread, pasta, soups, rye bread, malt, cereals, etc. (1)
Technically, it is a big group of insoluble proteins, in which glutenin and gliadin are the two main proteins. These proteins help create the dough's elastic consistency and make it rise.
Gluten brings us health benefits and even harmful effects. Especially, for those with Celiac disease, non-celiac gluten sensitivity, and wheat allergy have to eliminate all gluten-containing foods in their daily diets.
Yogurt Is An Indispensable Food In Your Daily Diet
Yogurt is a "familiar" item in the refrigerator of every family due to its great benefits for physical health. However, it is significant to have a general knowledge about yogurt, helping you choose the best and most appropriate for your health conditions.
What Is Yogurt?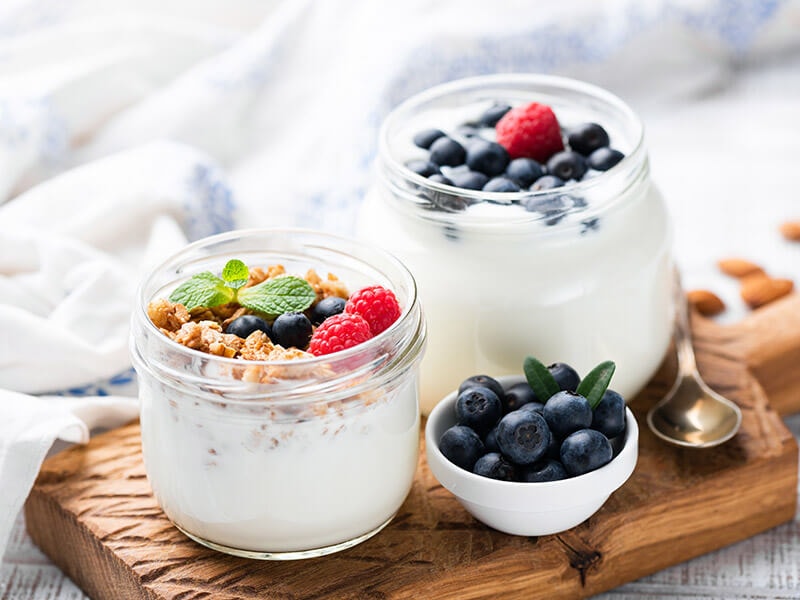 Yogurt or yoghurt, known as American popular food, is produced by the bacterial fermentation of milk.
It is a great source of protein, calcium, vitamins, and probiotics – the most important element helping to enhance the gut microbiota and improve your digestive system.
Main Ingredients Of Yogurt
Milk and live active cultures are two major ingredients of yogurt.
The choice of milk is crucial because it will lead to the difference in yogurt's thickness and texture. Generally, several types of milk can be used to make yogurt.
Here are some types of milk you need to know:
Grass-Fed Milk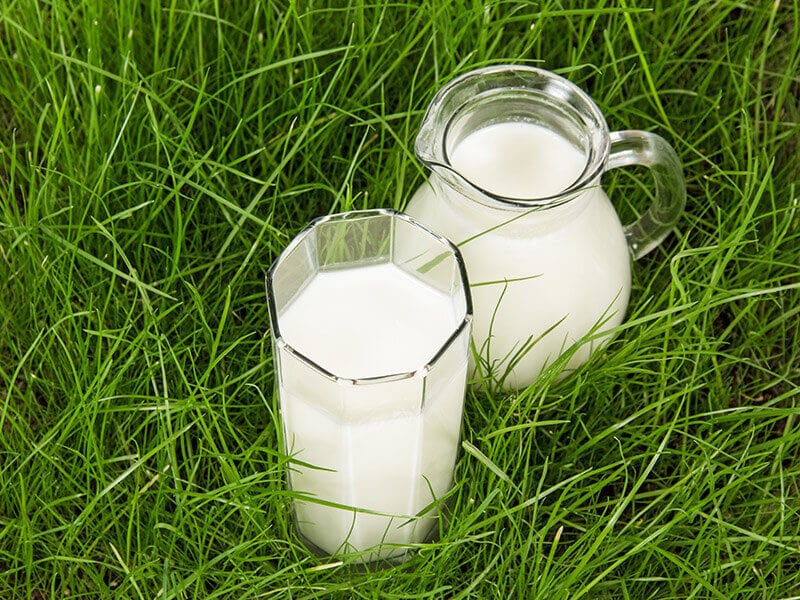 Grass-fed milk or cow milk is the most popular choice. It was heated during the pasteurization, encouraging the protein to congeal and thus producing thicker yogurt than unheated milk.
Pasteurized Milk
Pasteurized milk is raw milk that was heated to a particular temperature to kill viruses, so it's safe and another good choice for making yogurt.
Whole Homogenized Milk
Whole homogenized milk prevents the top layer of yogurt from being thicker because the homogenization breaks down the fat in the milk, helping the cream spread to other parts of the milk.
Non-Dairy Milk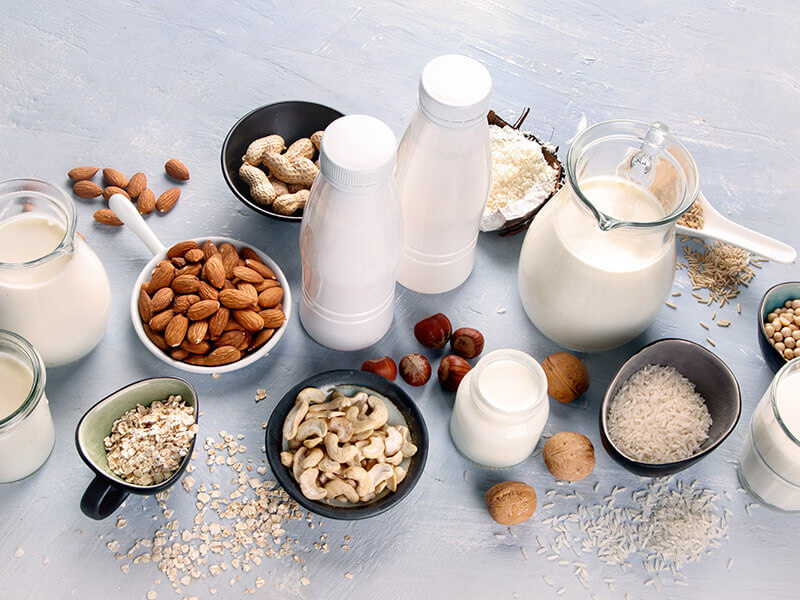 Non-dairy milk or plant-based milk such as soy milk, almond milk, coconut milk, rice milk, etc., can be used to make yogurt.
Live active cultures or bacteria is the most critical element causing the fermentation of milk. Lactic acid bacteria, including Lactobacillus and Streptococcus (2), are added to kick-start the fermentation process and change milk into yogurt.
Are you a big fan of yogurt, but don't know how it is made. Let's explore the process of making yogurt.
Is Yogurt Gluten-Free?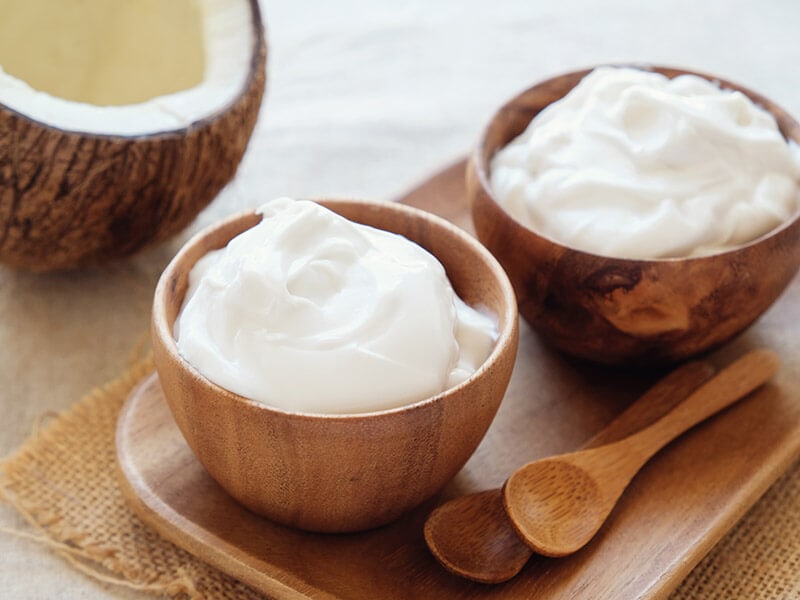 Now let's come to the most important section of this post to find the full answer to the question " Does yogurt contain gluten?".
You all know that the main ingredient of yogurt is milk and all plain milk is gluten-free. So the answer is that plain yogurt is generally gluten-free.
However, some brands can add grains and seeds like granola that may contain gluten during the process of using the same facilities.
Also, yogurt made with oats can be contaminated with gluten because oats are grown together with wheat, rye, or barley. Be alert and cautious with other ingredients added to yogurt!
Therefore, to make sure that it is gluten-free yogurt, remember to look for the gluten-free label. If you don't find the gluten-free label on it, you can find more information about its ingredients on the product website or ask dieticians if necessary.
Types Of Yogurt
There are many types of yogurt in the market, below is the list of popular ones you need to know.
Traditional Cow's Milk Yogurt
As its name suggests, this classic yogurt type is made from cow's milk and is the most popular one appearing on the shelves of all supermarkets. Some brands also add fruits and natural flavors to make it tastier as well as balance the sour flavor in plain yogurt.
Traditional cow's milk yogurt is gluten-free if it doesn't contain any other gluten-containing ingredients.
Greek Yogurt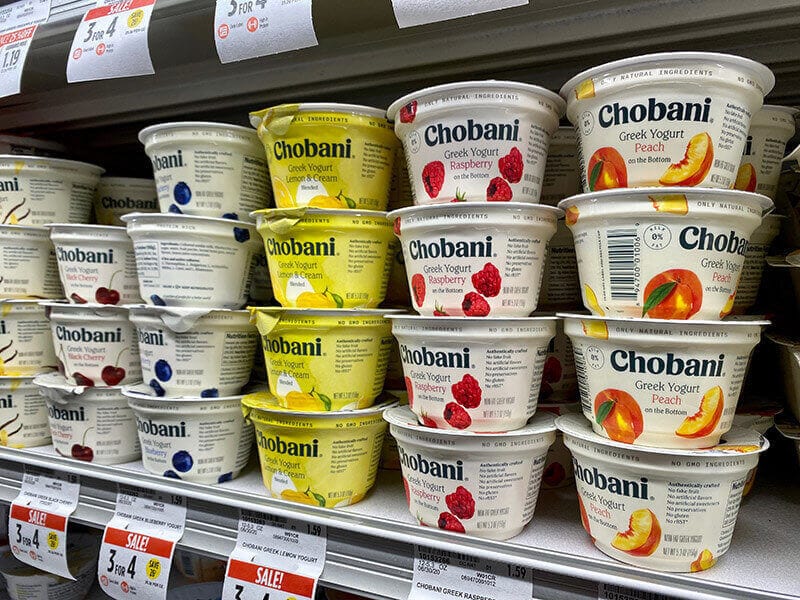 Greek yogurt, also known as strained yogurt, is made by removing the whey liquid, so it needs more milk than traditional yogurt. Getting rid of the whey makes its texture thicker and even makes it taste sourer if there is no sugar and flavors.
Greek yogurt is gluten-free providing that it doesn't contain any other mix-ins or toppings that can be gluten-containing foods. To be sure, you can make it at home with a good Greek yogurt making machine.
When purchasing Greek yogurt at a grocery store, remember to check the ingredients on the yogurt carton or ask a dietitian when necessary.
Goat Milk Yogurt
It tastes like goat cheese, and if you are a fan of various goat cheese types, it's just for you. The texture of goat milk yogurt is richer and creamier than traditional cow milk yogurt.
Also, goat milk yogurt is gluten-free and it is made with only natural ingredients and no refined sugar, it's completely safe for your health.
Sheep Milk Yogurt
Sheep milk yogurt and cow milk yogurt are quite alike, but sheep milk yogurt is thicker and creamier. Also, its fat content is higher, so it's appropriate for cooking as sheep milk yogurt doesn't break down at high temperatures.
Sheep milk yogurt is gluten-free as long as there are no gluten-containing foods in it.
Skyr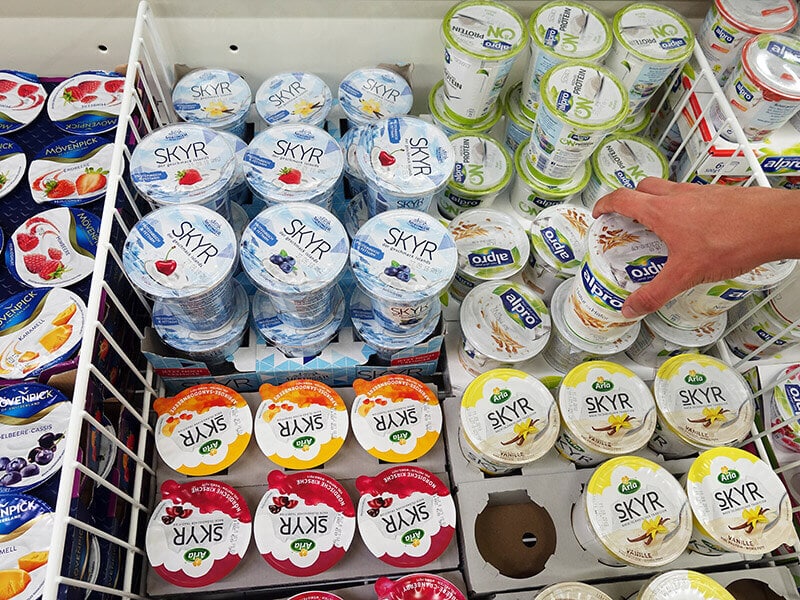 Skyr or Icelandic yogurt is an indispensable food in Icelandic cuisine mixed with sugar, skim milk and live active cultures. Because it was strained 4 times, Skyr is thicker but less tangy than Greek yogurt.
Though it isn't certified gluten-free, its products are gluten-free.
Australian Yogurt
Australian yogurt is made with whole milk, and this creates the creaminess of yogurt. It's not strained but cooks longer during the fermentation process to get a thicker texture.
Like other types of yogurt, Australian yogurt is gluten-free too but has a difference in the way of processing milk.
Soy Yogurt
It's gluten-free and entirely appropriate for vegans because soy yogurt is made with soy milk and live cultures. It's a non-dairy healthy food with low in cholesterol and high in proteins and vitamins. However, it tastes a little sweet and has some tangy flavor.
Almond Yogurt
Almond yogurt is another nutritious non-dairy yogurt, providing a high amount of fiber and calcium for your body. It's quite similar to traditional yogurt in texture and taste, but it's denser and less sweet.
It's naturally gluten-free unless it contains gluten from mix-ins or toppings.
Coconut Yogurt
Coconut yogurt is made with coconut milk and sometimes coconut cream, so it can be high in calories and fat. If you are on a diet, avoid using it frequently.
This gluten-free yogurt is also a great choice for those who avoid dairy products.
Kefir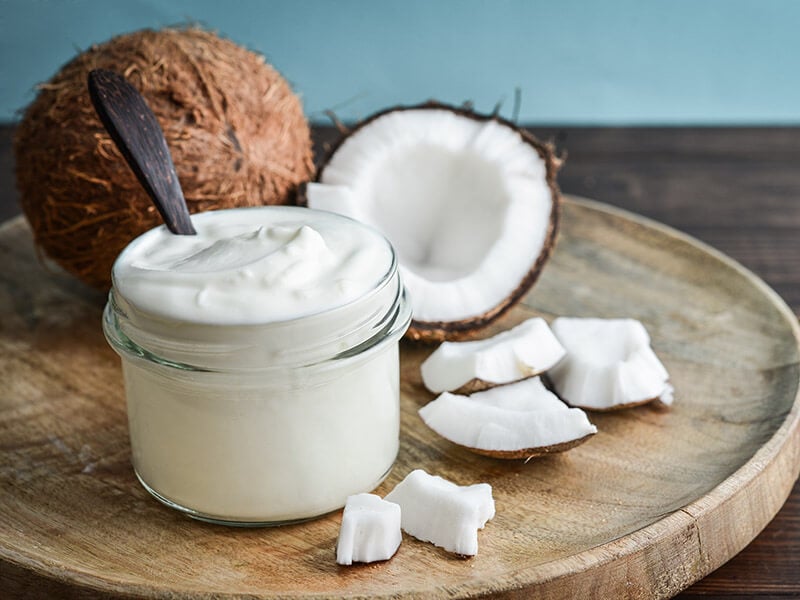 Kefir or Drinkable yogurt is the best option for kids or those who are on the go and in a hurry to work. Although it ferments at room temperature, it has more probiotics than traditional yogurt.
Most Kefir yogurt is gluten-free, but some brands can add other flavors having gluten from oats or grains.
Some Gluten-Free Yogurt Brands You Should Buy
If you are confused about which yogurt brands are gluten-free, read below straight away and find the ones you love to eat. Give it a try with the brands you have never known before as it can be the one you are looking for.
Here are some of the best gluten-free yogurt brands you can try and choose ones that are to your taste: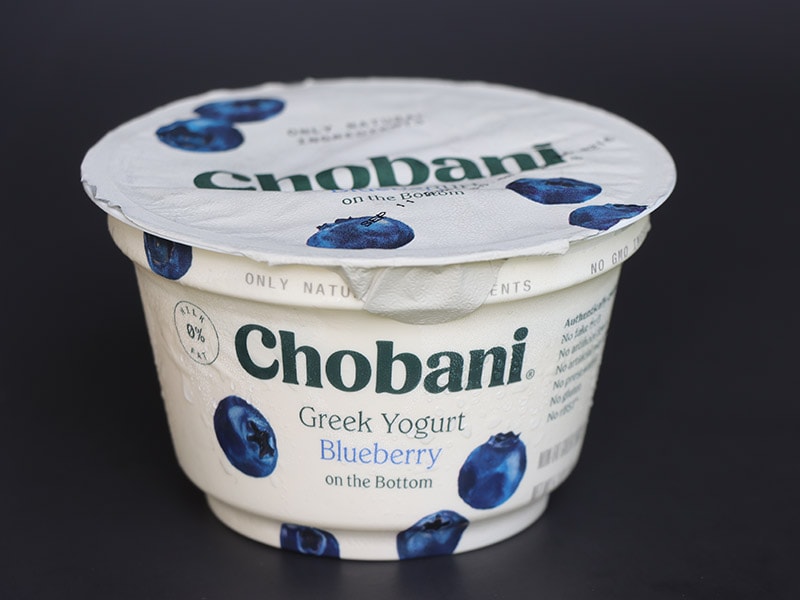 Chobani is where you can find plain Greek yogurt mixed with plenty of flavors such as blackberry, black cherry, mango, peach, pineapple, etc. The fruit at the bottom is real fruit, and generally, it's made only with natural ingredients and no preservatives.
Remarkably, all products of Chobani, except for the new Chobani Flip, are marked with the gluten-free symbol certified by the Gluten-Free Certification Organization (GRCO).
The new Chobani Flip has added some flavors that can have gluten-containing ingredients and that is why you don't see the gluten-free symbol on its cup. Be careful when purchasing, or else you'll buy Chobani Flip.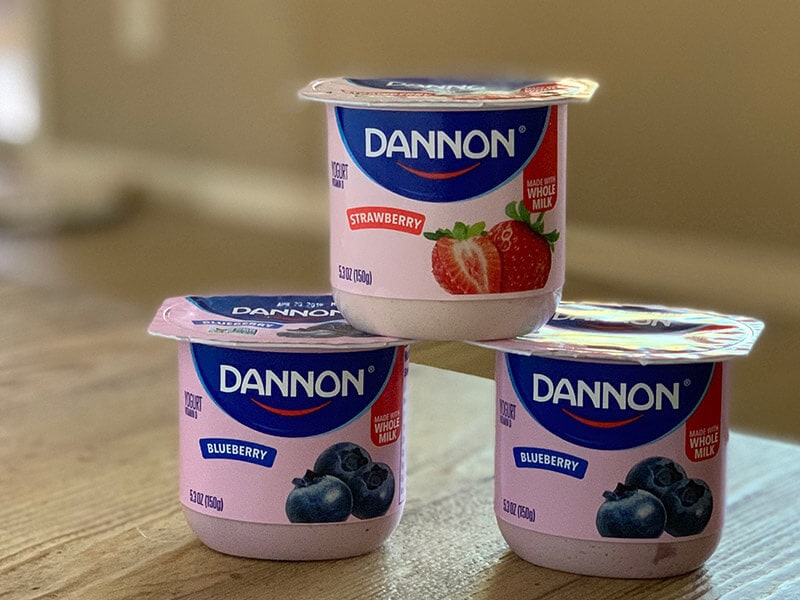 Dannon provides a different variety of flavors with six types of yogurt namely Plain yogurt, Fruit on the bottom, Low Fat yogurt, Blended yogurt, Creamy yogurt, and Yogurt drinks.
Most of them are gluten-free, excluding Activia Fiber and Activia Parfait, which contain gluten. Also, Dannon Parfait is only served in cafeterias.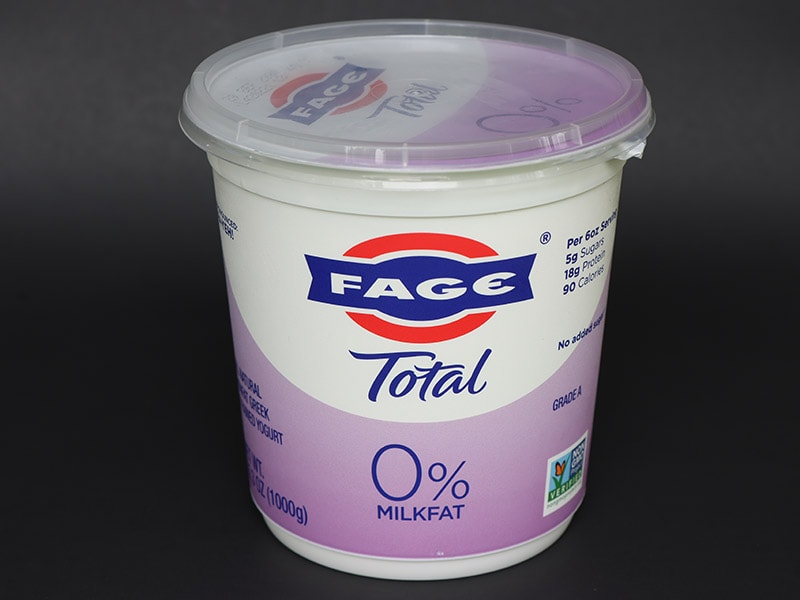 Fage is Greek strained yogurt, offering rich and creamy yogurt with exceptional taste and source of nutrition around the world for nearly 100 years. The majority of its flavors are gluten-free and certified by the Gluten-Free Certification Organization (GRCO) like Chobani.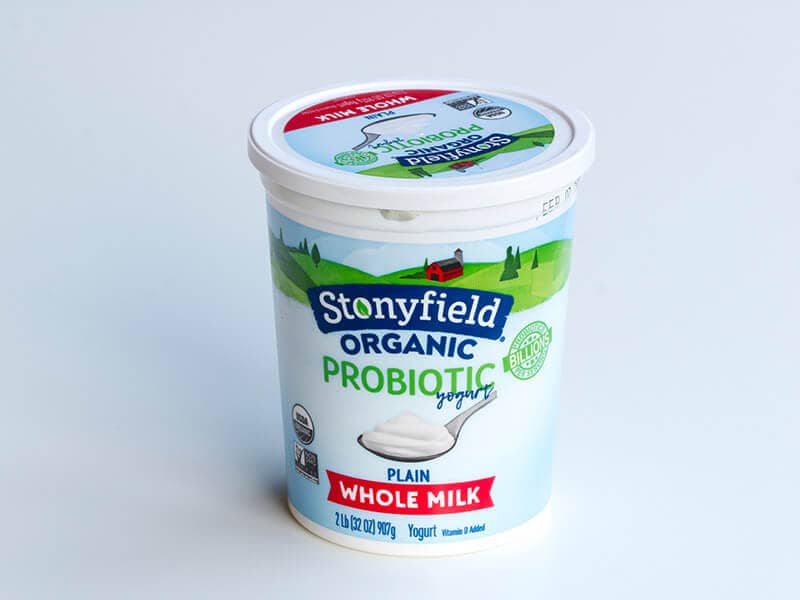 At Stonyfield, you can find smoothies, Oikos organic Greek yogurt, YoBaby yogurt, and soy yogurt. All Stonyfield yogurt, soy yogurt, and smoothies are certified gluten-free, aside from YoBaby Plus Fruit & Cereal and Oikos Greek yogurt.
In addition, Stonyfield is certified as B Corporation and is trying its best to make all products certified gluten-free.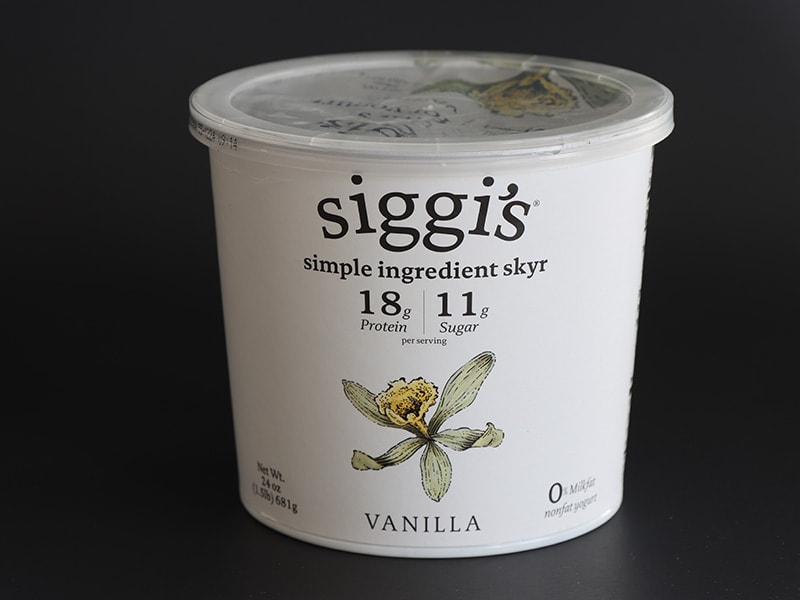 The best news is that all Siggi's products are certified gluten-free by the Gluten-Free Certification Organization (GRCO). At Siggi's, yogurt is made with simple ingredients and less sugar, being suitable for those who prefer natural flavors and low sugar diets.
Its products are based on Scandinavian dairy traditions and don't include harmful artificial sweeteners.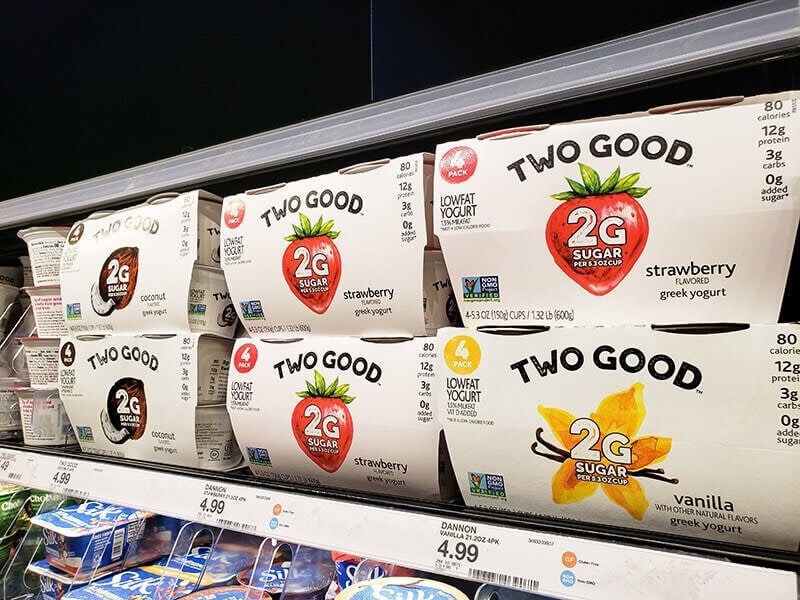 Two Good, certified gluten-free, producing delicious but less sugar yogurt with the creamy taste that you love. Especially, it uses a special slow straining process that helps to get rid of most sugar from milk and brings you the best products.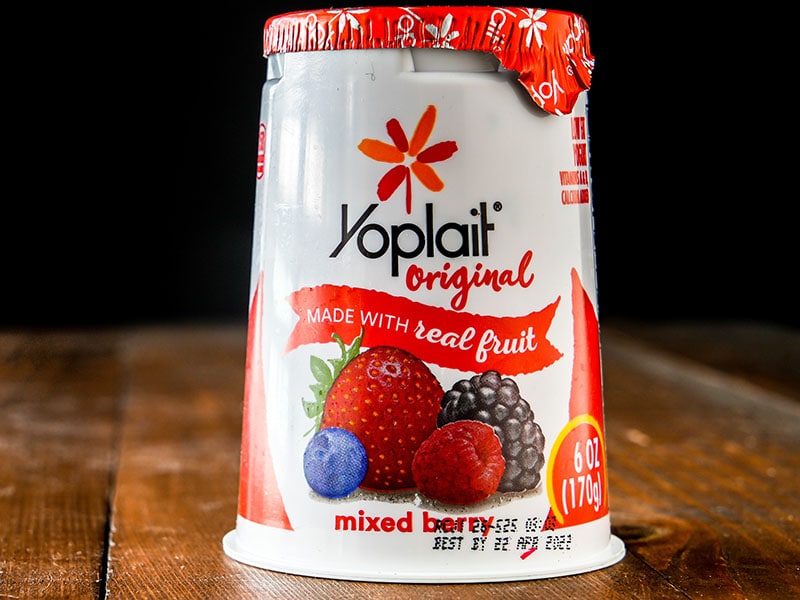 Most Yoplait yogurt is gluten-free, except Yoplait Parfait which contains gluten from oats and malt. Additionally, Yoplait takes care of your kids with Go-GURT products and many of them are gluten-free too.
How To Make Yogurt At Home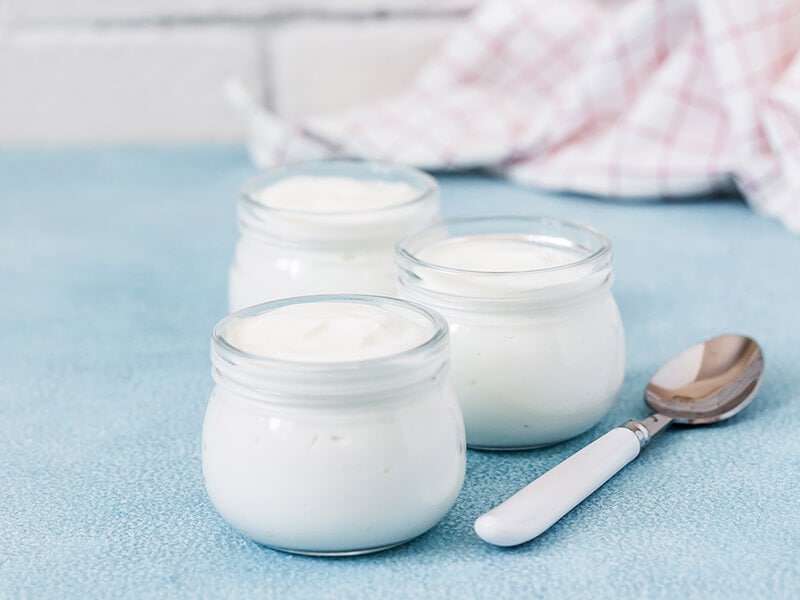 There is nothing more wonderful than you can make yourself and your family delicious and nutritious food, right? But before getting ready to make it, you need to prepare some following ingredients and equipment that will make the process easier and smoother.
Here are the ingredients and equipment you need to prepare:
Ingredients
½ gallon of whole milk (or low-fat milk)
4 tablespoons of plain yogurt with live active cultures
Equipment
A saucepan
A dozen single jars
A kitchen thermometer
A medium-large cooler
Now I'll walk you through a step-by-step guide to make your homemade yogurt. Follow me and I'll show you how to make it immediately.
Step 1: Heat The Milk
First, pour the milk into the saucepan and put medium-low heat to avoid burning the milk. Your goal is to heat the milk to 180 degrees Fahrenheit (82 degrees Celsius) and remember to stir the milk constantly to prevent the skin at the top of the milk.
When it reaches 180 degrees Fahrenheit, turn off the burn, but continue stirring the milk for another 3-4 minutes to make it impossible to scorch at the bottom of your pot.
Step 2: Cool The Milk To 110 Degrees Fahrenheit
Let it cool to 110 degrees Fahrenheit. You can put the saucepan in a larger container of cold water to make it cool faster. Once it reaches 110 degrees Fahrenheit, remove it from the container of cold water. Use the kitchen thermometer to know the exact temperature.
Step 3: Add The Plain Yogurt – The Yogurt Starter
Pour out a cup of warm milk and mix it with plain yogurt, stirring it for a couple of minutes until it dissolves completely into the warm milk. Then pour this mix up into the saucepan of warm milk and stir thoroughly for a few minutes.
Step 4: Pour The Milk Into Jars And Incubate
Pour the milk into single jars with lids closed. Then you pour hot water into the cooler and put single jars into the cooler. Make sure that the jars drain well in hot water of the cooler.
Cover the cooler and put it in a warm place for 7 to 9 hours without being disturbed. The longer you incubate, the thicker and tangier the yogurt will be.
Step 5: Check Yogurt To See Whether It's Done
After about 8 or 9 hours, let's check the thickness of the yogurt that you are satisfied with. You can test it by gently turning it to see its ability to keep its shape.
Step 6: Place The Jars In The Refrigerator To Cool And Store
Remove the jars from the cooler, put them in the refrigerator for a couple of hours, and enjoy your finished yogurt. The yogurt can last for two weeks. If you like eating yogurt with other flavorings, remember to add them before refrigerating.
How to make homemade yogurt with these easy steps. Try now and enjoy your success!
I hope that you will have appetizing, healthy, and thick yogurt as you desire easily and economically with my guide.
Recipes Made With Gluten-Free Yogurt You Need To Know
You can make plenty of healthy and delicious dishes with gluten-free yogurt for yourself and your family. Here are some recipes you can apply to cook great meals and enjoy those happy moments together.
With simple ingredients and flavors, Gluten-free chicken salad brings you a healthy and nutritious diet without taking too much time to make it. It can be eaten with sandwiches and you can have it for lunch or dinner.
This delicious and easy-to-make cake will be your best choice for breakfast or a light snack. Let's try to make it and I'm sure you'll be impressed by the flavor of lemon as it always smells tangy and comfortable.
If you like Lemon Yogurt Cake but don't have much time, this recipe can help since it takes less than 10 minutes.
Gluten-free spinach artichoke dip is easy to make and provides you with lots of nutrients. Give it a try right now if you are on a diet or a veggie because it's completely for you.
If you are a big fan of pancakes and gluten-free diets, you definitely try to make gluten-free yogurt pancakes at least once because they'll surprise you with their distinctive flavor and soft texture. It's also suitable for breakfast or a light dessert.
This easy and quick-to-make recipe will surprise you on the first try. Do it and enjoy your best version of pancakes!
Gluten-free yogurt pizza is healthy food for any pizza lover because it's 100% gluten-free. Let's try to make it for your family and I believe they'll love it too.
FAQs
I hope that this post will be of use to you, and especially it will help you have a satisfactory answer to the question "Is yogurt non-gluten?" as well as know some extra relevant information.
Here I want to provide another piece of information that I think you need to know about yogurt and gluten-free yogurt.
Gluten-Free Yogurt Maintains Good Health For You And Your Family
In this post, I have provided you with useful nutrition knowledge about whether yogurt is gluten-free or not. I hope that you are all clear about it and have your own choice of eating gluten-free yogurt suitable for your health.
If you have any other ideas or confusion about this topic, let's be comfortable sharing them with me in the comment box below because I'm always happy to listen to your all experience and feelings.
If you find this post beneficial, don't hesitate to give me the thumbs up and share it with your relatives and friends so that they can get this useful nutrition knowledge too.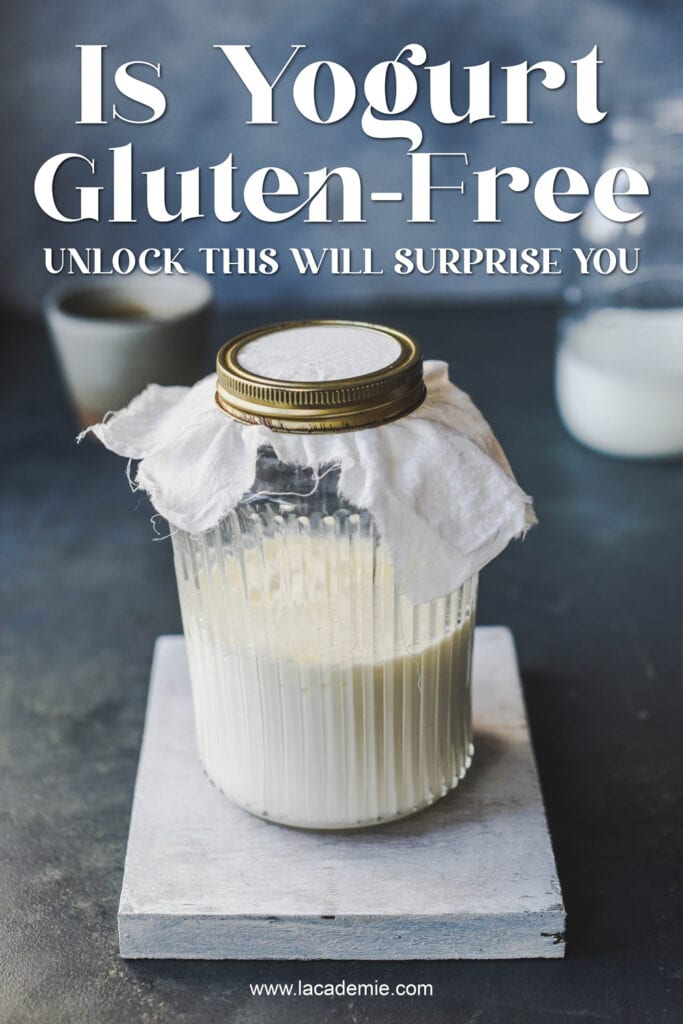 References
Celiac Disease Foundation. 2022. What is Gluten?.
Sciencedirect.com. 2022. Lactic Acid Bacterium – an overview | ScienceDirect Topics.