Greek drinks are as important to Greek society as gods and cuisine. Liqueurs from Greece, in particular, are gaining popularity across the world. People like sampling various liqueurs, and the Greeks are keen to impart their unique perspectives.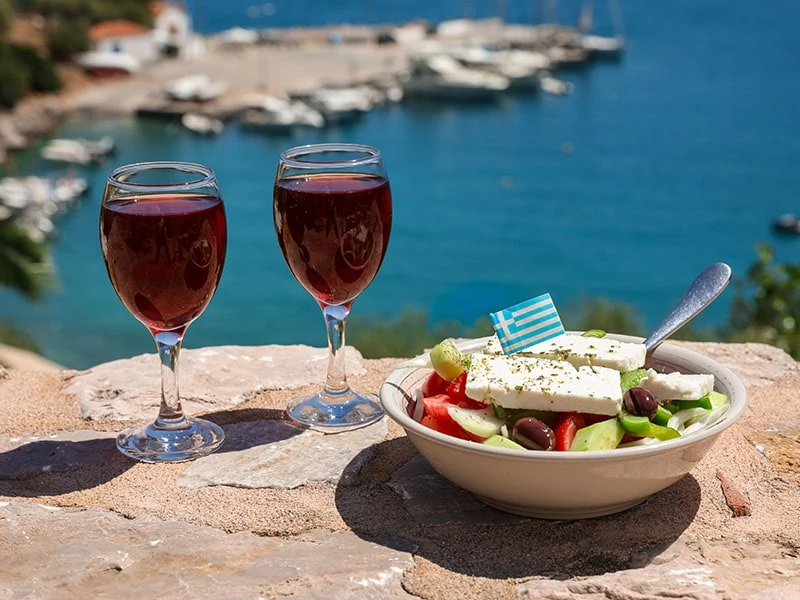 So if you want to get a taste of this country's unique cuisine culture, you need to start with the drinks.
Below is a checklist of the most iconic alcoholic and non-alcoholic refreshments in Greece; just take a look and see which one you like most.
Greek Alcoholic Drinks
Greek Alcoholic Drinks have played a pivotal role in the nation's culinary landscape, undergoing shifts and evolutions over time. Historically, Greece was renowned for its robust wine culture, but in recent years, the allure of beer and spirits has surged.
1. Tsikoudia
Alcoholic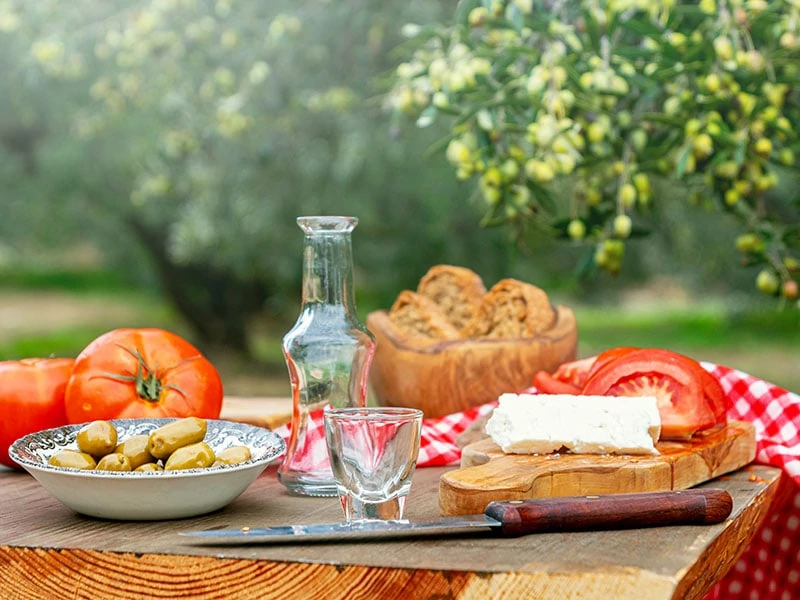 If you have the opportunity to visit Crete, the largest and most populous island in Greece, you have to look for Tsikoudia and give it a try. This is a Cretan spirit made from fermented grape pomace, which is the remains of grapes in winemaking.
To make this grape-based pomace brandy, the locals ferment the pomace for 6 weeks in small copper stills and distill it. They usually do this between October and November. If done right, the result will be a clear and fragrant drink with up to 65% alcohol by volume.
Because it is frequently made at home in communities around Crete, the alcohol concentration varies. Each Cretan village only has one or two families permitted to make Tsikoudia.
This drink is usually served after dinner with different types of fruits and classic Greek sweets. The locals typically keep bottles of Tsikoudia in a freezer and serve them cold.
Where to find it: You can find this Tsikoudia at the tavernas in Crete. It is also available in bars, pubs, liquor stores, and supermarkets throughout Crete and Greece.
2. Rakomelo
Alcoholic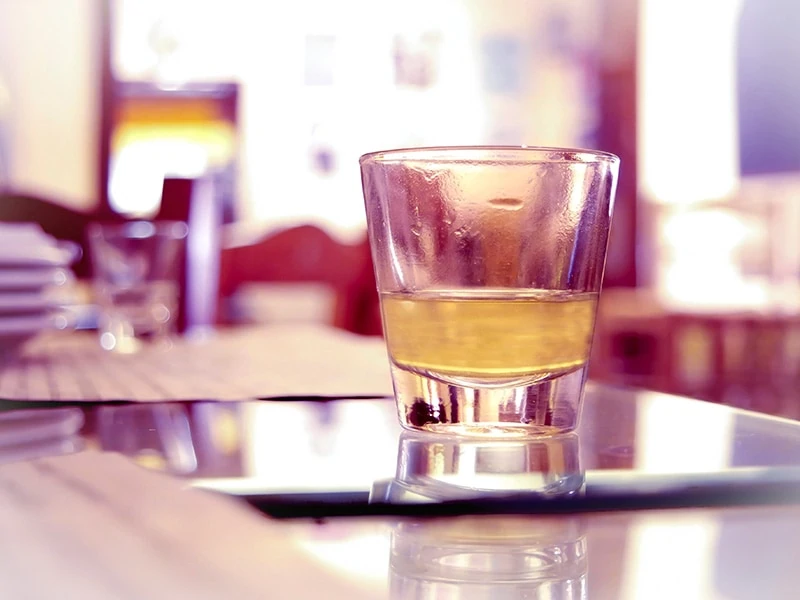 Besides being an excellent drink on its own, Tsikoudia is also a necessary ingredient for another Cretan spirit – Rakomelo. Rakomelo contains Tsikoudia, honey, cardamom, cinnamon, or other regional herbs.
This classic Greek mixed alcoholic drink is not only a well-known aperitif or digestif in Crete, but it is also popular on the Greek mainland and other islands of the Aegean Sea. The Greeks traditionally used this drink as a calming winter drink or home remedy for a sore throat or cough.
Nowadays, there are many commercially produced Rakomelo available in supermarkets and liquor stores across the country. However, many still prefer preparing this drink at home.
Where to find it: At liquor stores and supermarkets throughout Crete and Greece. You can also make it yourself by combining Tsikoudia and honey.
3. Retsina
Alcoholic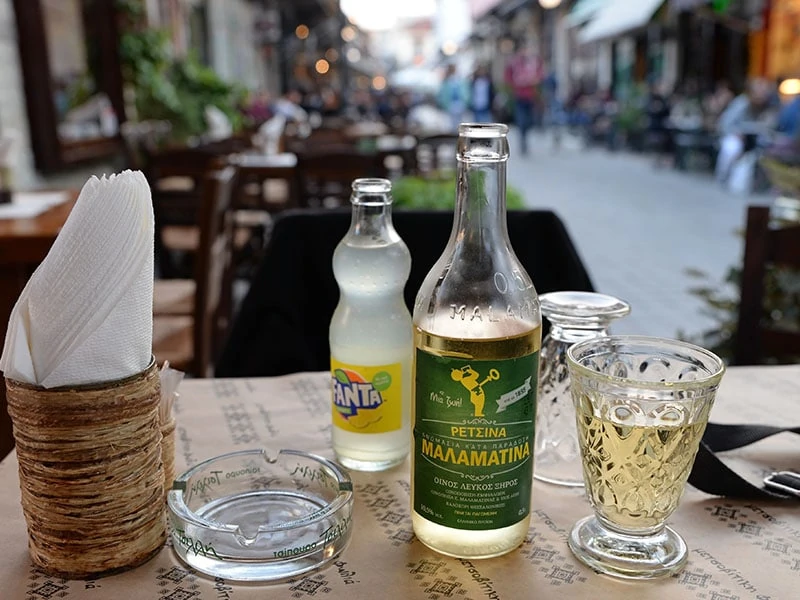 Retsina has been around for more than 2000 years. But despite its long history, it is still one of the most talked-about wines in Greece. This wine is produced in many regions around this lovely country.
This ancient wine is flavored with resin, which is a sticky substance produced by pine trees. While the resin's original use was to seal and insulate wine in clay amphorae, locals started using it as a preservative to keep the wines from spoiling.
Even when barrels and glass bottles were invented, people love the resin flavor in wines so much that this winemaking style is still widespread. Nowadays, the Greeks often use Aleppo pine to make Retsina.
Where to find it: At any taverna, bar, pub, or liquor store in Greece, especially in Boeotia, Euboea and Attica.
4. Vinsanto
Alcoholic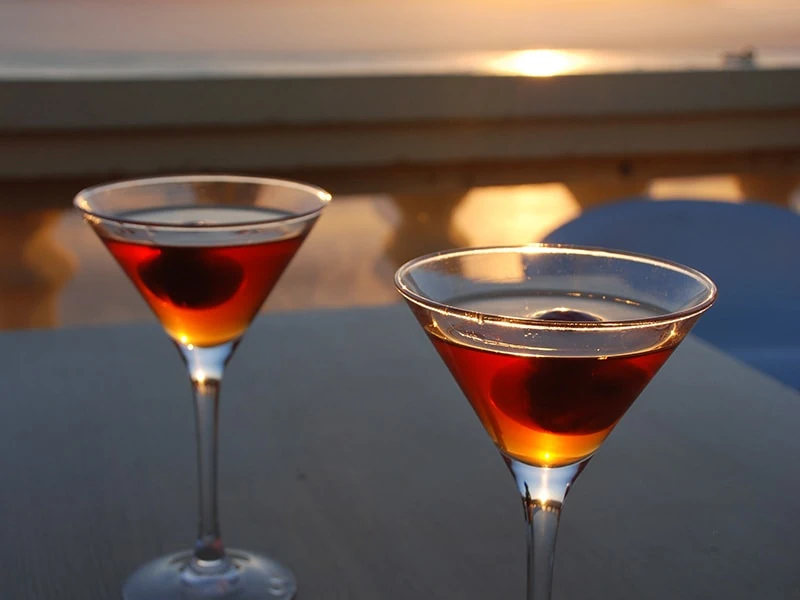 Santorini is the most well-known island in Greece and home to a nationwide favorite dessert wine called Vinsanto. Making Vinsanto has been a tradition of this island for thousands of years. Some even said this drink represents a crucial part of Santorini's history.
This wine is prepared with at least 51% Assyrtiko grapes and 49% Athiri and Aidani grapes. The grapes are sun-dried for about fourteen days before being fermented and matured.
This wine must be matured in oak barrels for at least two years, although most winemakers choose a more extended period.
Vinsanto is distinguished by its golden-orange to dark amber hue, and the rich scent of dried apricots, golden raisins, and other dried fruits. As this wine ages, its color will become darker and darker.
This popular dessert wine was even awarded a Gold Medal in the Challenge International du Vin in 2019. So it is safe to say that Vinsanto is the one of the best wine in the world.
Where to find it: At any taverna, bar, pub, or liquor store across Santorini and Greece.
5. Tsipouro
Alcoholic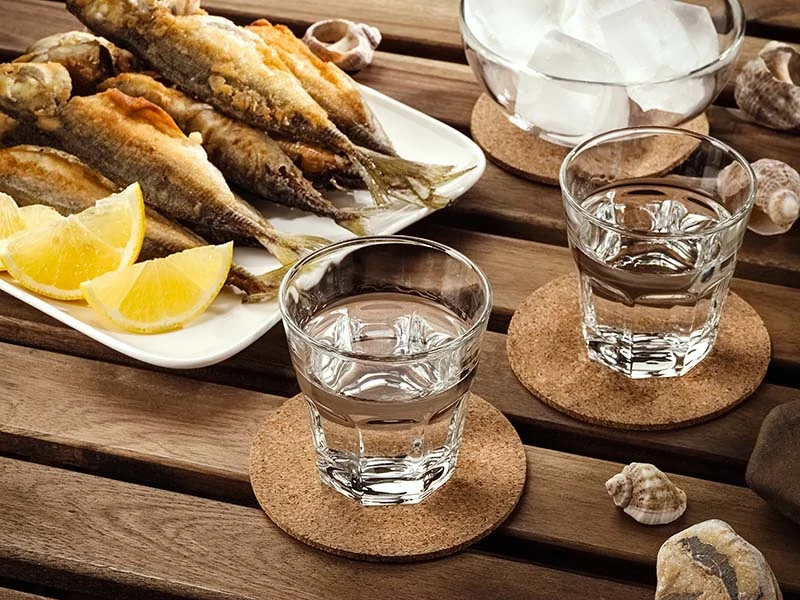 Similar to Tsikoudia, this Greek spirit is made from distilled pomace. Although the drink is available in its purest form, some distillers infuse it with botanicals, especially anise. Furthermore, it is traditionally not aged in barrels.
Tsipouro was initially made by Orthodox monks in the 14th century. From that point on, it quickly became one of the most iconic drinks in Macedonia and other regions in Greece.
Plain Tsipouro is best served right after it is taken from the freezer. Some will dilute it with water or add ice but drinking it neat is preferred. The locals often enjoy savory European recipes like fish, meat, halva, or meze (an assorted side dish) with this drink.
The Greeks often drink Tsikoudia instead of coffee or wine, depending on the time of day. It can either be a refreshment or a hot beverage.
Where to find it: At bars, pubs, tavernas, or liquor stores around Greece, especially Macedonia.
6. Metaxa
Alcoholic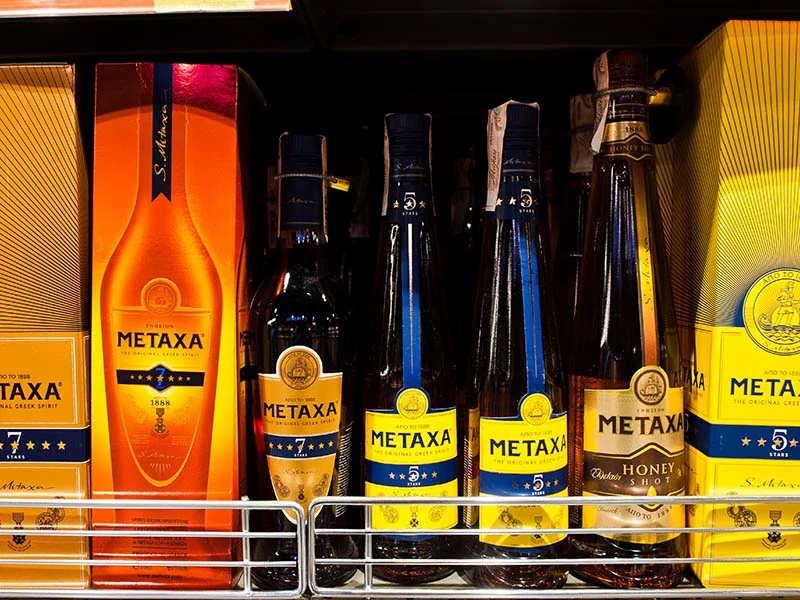 Spyros Metaxa created this Greek amber spirit in 1888. With a combination of aged wine distillates, Mediterranean botanicals, and Muscat wines from Samos, Metaxa has an incredibly complex flavor and intense aroma that no alcohol enthusiast can resist.
The name Metaxa actually means "silk" in Greek, which is understandable since it is considered the silkiest spirit in the world.
To make this drink, the Muscat wine and wine distillates are aged separately. Then they will be blended in Limousin wood barrels. Once combined, the winemakers will add Mediterranean botanicals as part of the finishing process.
This drink is not only famous in Greece, but it is also sold in over 50 countries like America, China, Canada, and Australia.
Where to find it: At bars, pubs, tavernas, or liquor stores around Greece. It is also available in many countries worldwide.
7. Mastika
Alcoholic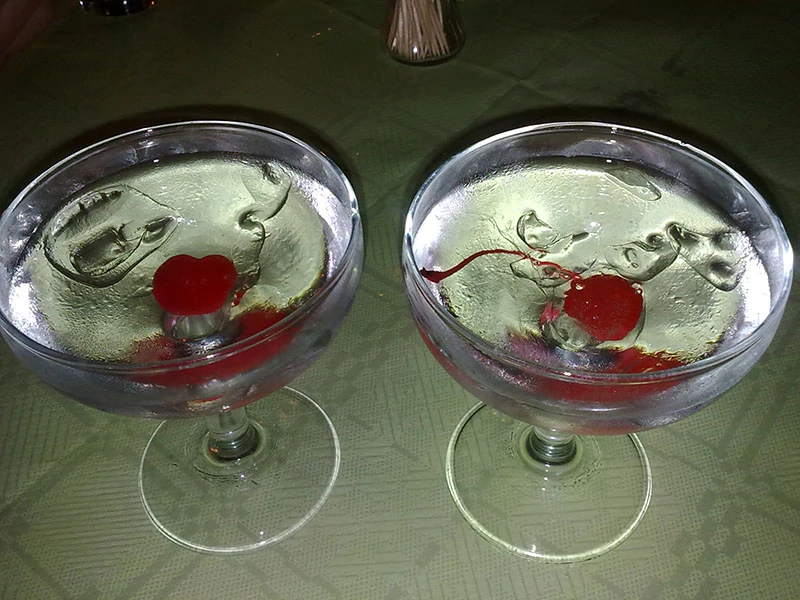 Mastika, or mastiha, is a famous liqueur flavored with mastic, a resin from the mastic tree that grows abundantly on Chios island. This unique ingredient gives this liquor a distinctive pine and herbs flavor.
The locals will distill mastika crystals and add sugar to make this drink. It tastes best when served cold at the end of a meal. However, many locals mix it with Prosecco and serve it as an aperitif.
Since ancient times, Mastika has been manufactured on the southern half of Chios island. Many people believed that Mastika could help with digestion and relieve stomach ulcers back in the day. Nowadays, these medicinal properties are still the main reason behind its success.
Where to find it: At bars, pubs, tavernas, or liquor stores around Greece, especially the island of Chios.
8. Kitron
Alcoholic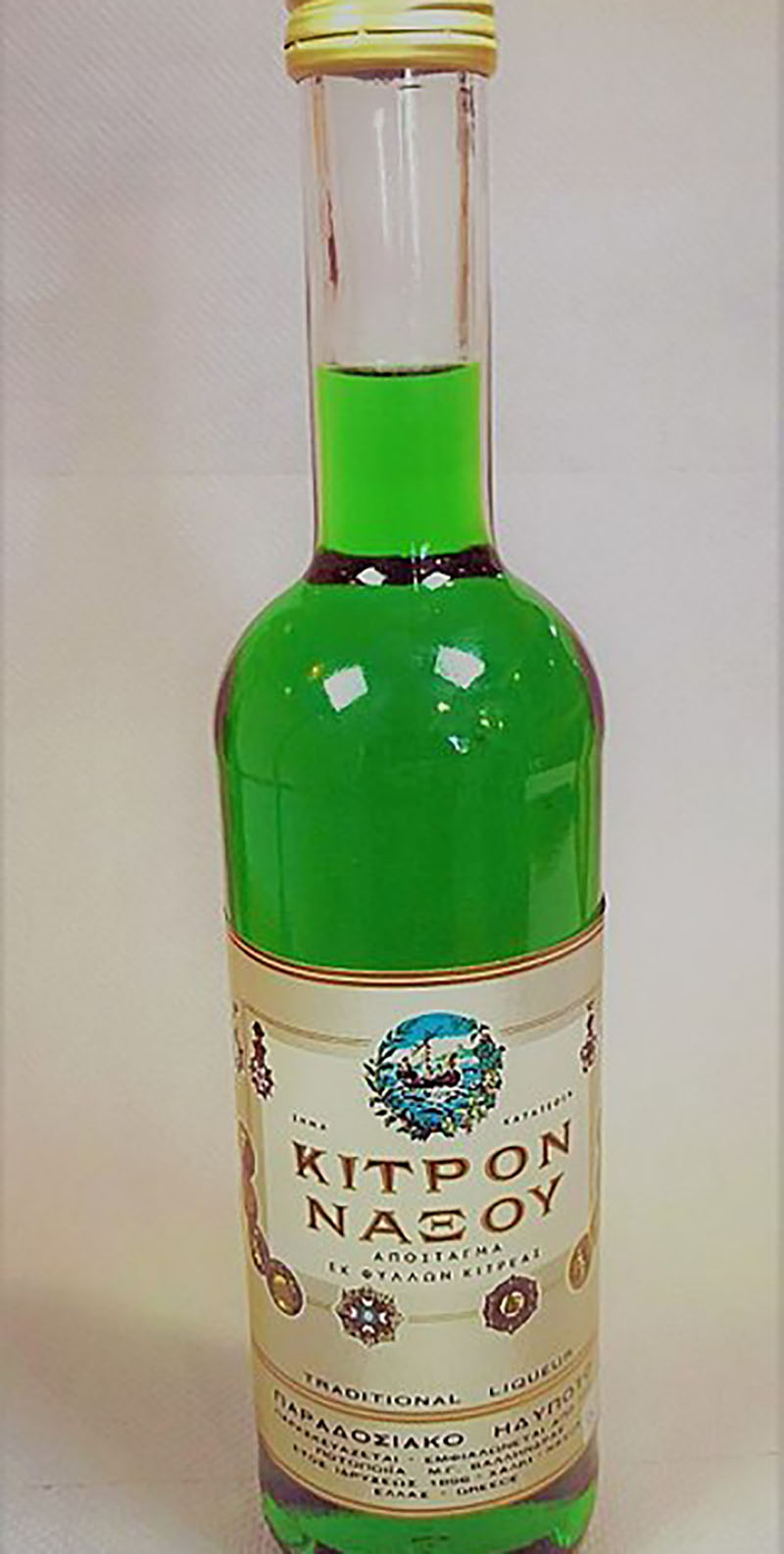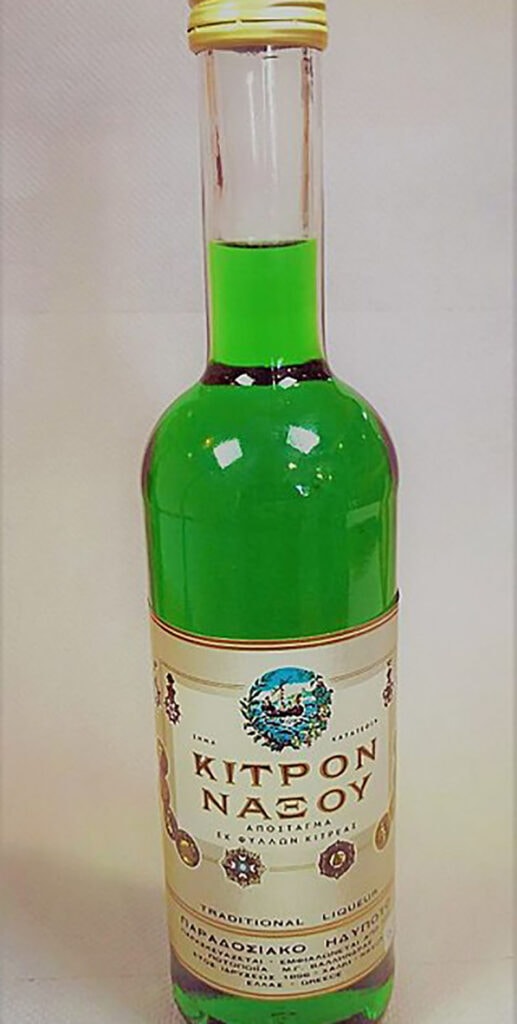 Kitron is one of three Greek liqueurs with a Protected Designation of Origin on the market, which means it can only be made in Greece. So if your Kitron is not manufactured on the Greek island of Naxos, it is not real Kitron!
Kitron is a citron liqueur made in Naxos, a Greek island. It's manufactured from the citron tree's fruit and leaves, which are similar to lemon trees but have a stronger and more distinct flavor.
Citron tree leaves are picked at the end of fall or the beginning of winter when they have the maximum flavor. The collected leaves will then be soaked in water and alcohol and distilled up to three times. After that, distillers add sugar and water to get the desired ABV.
Kitron is available in three different flavors. The green version is sweeter and has a lower alcohol content. The yellow type is the most powerful and has the least amount of sugar. Clear Kitron falls somewhere in the middle.
The drink was popular in the early 1980s, but it is now difficult to locate outside of Naxos due to a scarcity of citron trees.
Where to find it: At tavernas, liquor stores, bars, or pubs in Naxos. You may find it in other regions around Greece, but it is pretty rare.
9. Ouzo
Alcoholic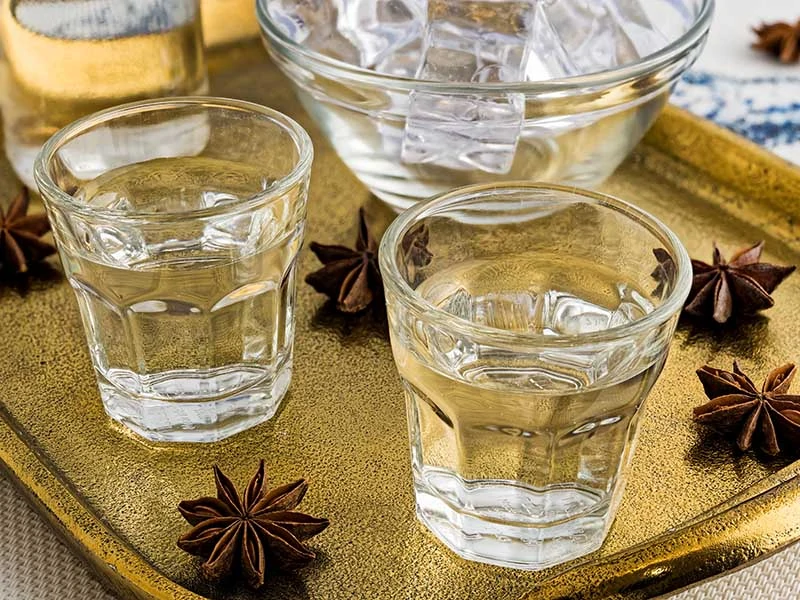 If you are a fan of anise liquors, this is the perfect drink for you! Ouzo is a well-known Greek specialty that took off in the early nineteenth century following Greek independence. It has its root in Tsipouro, but this version is flavored with anise.
The dry flavored aperitif is made from distilled neutral alcohol with fennel seeds, cardamom, coriander, and of course, anise. The chosen herbs determine the ultimate flavor character and quality.
There are many ways to enjoy this liquor. Some will drink it with water while others might pair it with tomato or orange juice. The locals also love to enjoy Ouzo with assorted side dishes.
Ouzo is protected by European legislation, and it can only be made in Greece and the Greek half of Cyprus, with Lezbos becoming a hub of Ouzo production.
Where to find it: At bars, pubs, tavernas, or liquor stores around Greece.
10. Assyrtiko
Alcoholic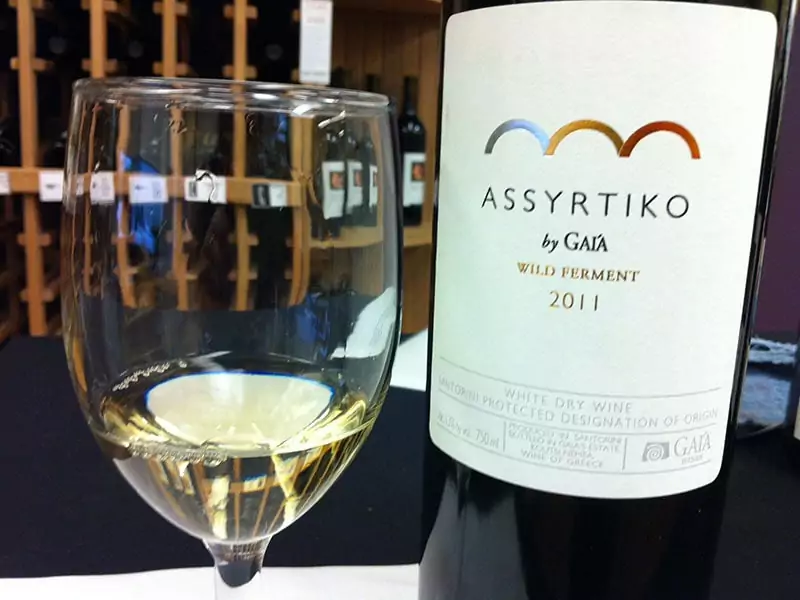 Assyrtiko is the name of a white Greek wine grape on the island of Santorini, but it can also be used to describe the famous dry, full-bodied white wines.
Assyrtiko is commonly grown in the arid volcanic ash soil of Santorini and other Aegean islands. You can find it in other parts of Greece, such as Chalkidiki. The volcanic ash-rich soil on the island allows the grapes to keep their acidity no matter how long they mature.
These exceptional grapes can create a range of dry and sweet wines in Greece. Assyrtiko wines are known for their delightful minerality and lovely citrus flavors.
Where to find it: At liquor stores, bars, pubs, and tavernas on Santorini island and other Greek regions.
11. Agiorgitiko
Alcoholic
While Assyrtiko is a well-loved white wine grape variety, Agiorgitiko is the country's most famous red grape variety. It is grown in numerous wine areas, especially Nemea, where the grape originated. Attica and Macedonia are also familiar places to grow Assyrtiko.
Assyrtiko grapes are frequently transformed into rosés of oak-aged red wines in the Nemea region. The wines are recognized for their fruitiness, spicy taste, beautiful color, and low acidity.
Wines made from Assyrtiko grapes work well with many traditional European dishes. The locals often pair it with meat, lamb, pasta, or stews.
Where to find it: At liquor stores, bars, pubs, and tavernas in Greece, especially Nemea.
12. Greek Beer
Alcoholic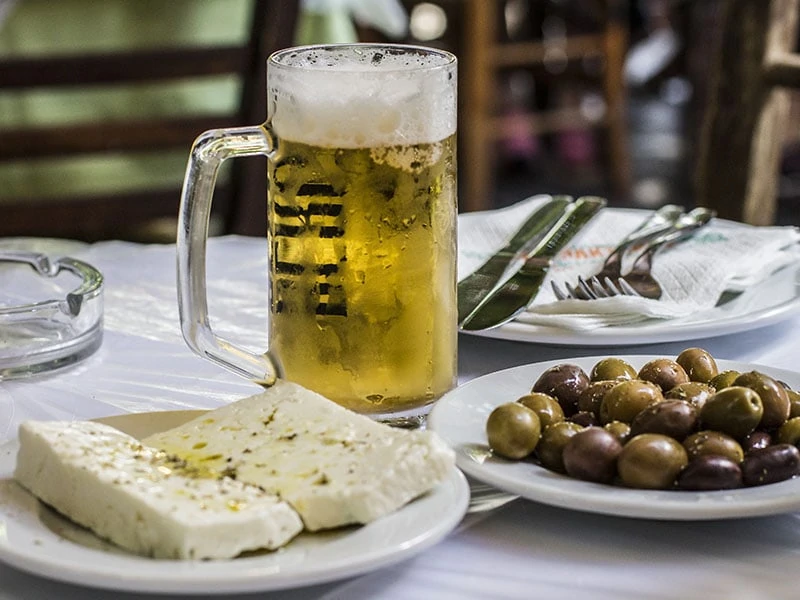 Had enough of wines? How about some good ol' beer? Greek is a heaven for beer lovers with over 70 distinct traditional beers. If you don't know where to start, I recommend trying Fix and Mythos since they are the most well-known brands.
In 1864, Greece's first recognized brewery was established. From that point on, countless breweries and microbreweries were opened due to the increasing demand.
Until recently, hops and barley were imported into Greece, but numerous microbreweries have begun cultivating their own crops to make this refreshment. Some microbreweries even received international awards for their beers.
Where to find it: The Barley Cargo in Athens is the place to go if you want to sample a range of Greek beers in one location. Besides, you can find Greek beer in any supermarket, restaurant, liquor store, or bar.
13. Tentura
Alcoholic
Tentura is a traditional liqueur of Patras, Greece's third largest city. This drink has been well-loved and consumed since the 15th century. Basically, Tentura is distillate alcohol that has been infused and flavored with various kinds of herbs and spices.
The locals usually use Brandy produced in Patras' wineries to make this delicacy. Alternatively, the alcoholic base can sometimes be grain alcohol or rum. As for the flavoring agents, cloves, cinnamons, citrus fruits, and nutmeg are the most popular choices.
Thanks to the addition of aromatic herbs, Tentura has a unique amber or dark-red color and a distinct flavor of spices combined with vanilla. The Greeks often enjoy it chilled or "on the rock" in small glasses.
Traditionally, Tentura is considered an aperitif and digestif, but today, people also utilize this fragrant drink to make long drinks and delicious Greek cocktails or add it to cooking recipes. For example, espresso corretto is a caffeinated cocktail that mixes espresso and Tentura.
Greek Non-Alcoholic Drinks
Greek Non-Alcoholic Drinks are abundant and delightful, perfect for those who prefer to skip the alcohol. This beautiful nation boasts a range of refreshing beverages suitable for all ages. Dive in to explore these kid-friendly options and more!
14. Ellinikos – Greek Coffee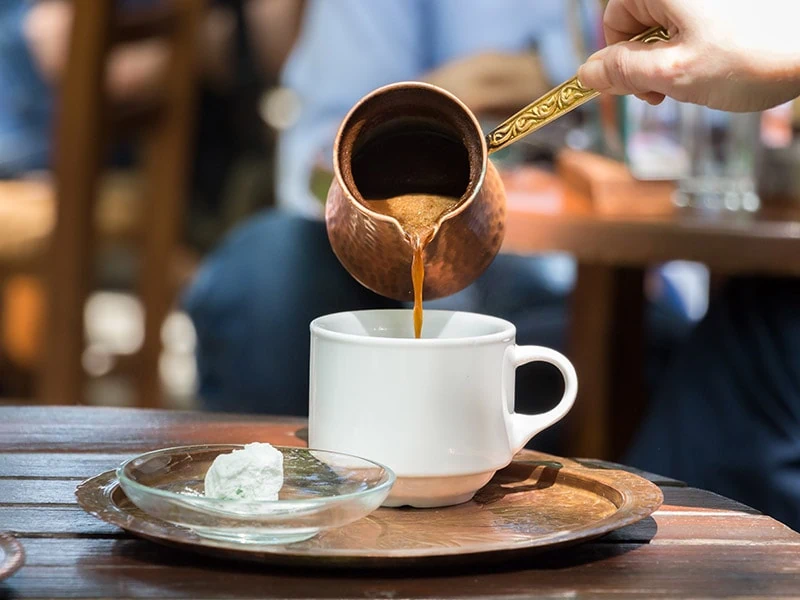 To make a classic cup of Ellinikos, you will need a coffee pot called cezve or briki. First, you must put water and finely ground roasted coffee beans in the traditional coffee pot. Then, you will brew it over low heat until it becomes frothy and on the verge of boiling.
There are as many ways to make Greek coffee as there are Greeks. Some will boil the coffee three times and stir it once, while others boil it only once and stir constantly. But no matter how you prepare it, the ending result will be a robust dark coffee with thick foam on the surface.
This unique brewing style originated from the Turks, which is why Ellinikos can also be called Turkish coffee.
Where to find it: At many cafes and restaurants in Greece.
15. Frappe – Iced Coffee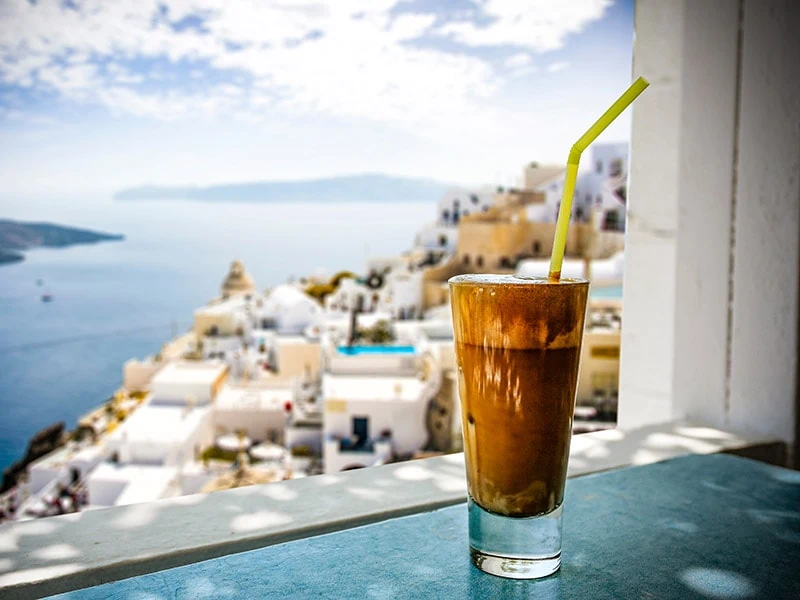 The name of this drink actually comes from French. Although people initially used it in the nineteenth century, this Greek coffee variant was first created in 1957. Now, Frappe has become a symbol of postwar Greek outdoor coffee culture.
The locals make this iced coffee drink with instant coffee (usually spray-dried Nescafé), sugar, water, and milk. They can either use a cocktail shaker or an electric milk frother to blend the ingredients together and create a thick foam.
This coffee is traditionally served in a tall glass and comes in three sweetness levels. The thick foam on top is quite bitter, so people often drink Frappe with a drinking straw.
Where to find it: At many cafes or restaurants in Greece.
16. Espresso Freddo – Greek Iced Espresso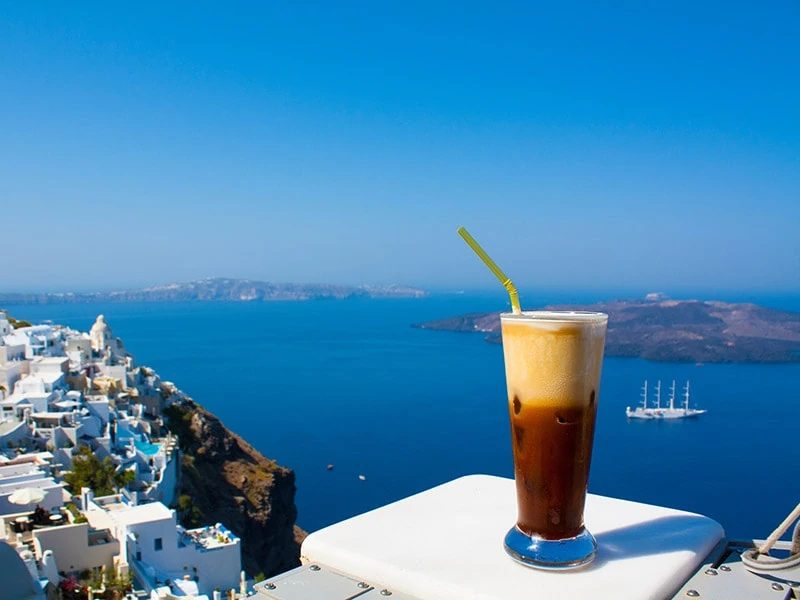 After creating the Frappe in the 1950s, Greece quickly came up with the Espresso Freddo in the early 90s. This sophisticated drink has evolved through time, but it is still one of the most talked-about morning drinks in this country.
This Greek recipe only call for 2 ingredients: espresso and ice. If you've ever seen an Espresso Freddo, you'll note that the top has a thick, frothy crown. That's why some people assume it contains milk.
However, authentic Espresso Freddo doesn't require any milk or particular appliance. You just need to shake the drink, and the lovely foam will magically appear.
Where to find it: At many cafes or restaurants in Greece. You can also make this drink at home with ice and instant coffee.
17. Tsai Tou Vounou – Greek Mountain Tea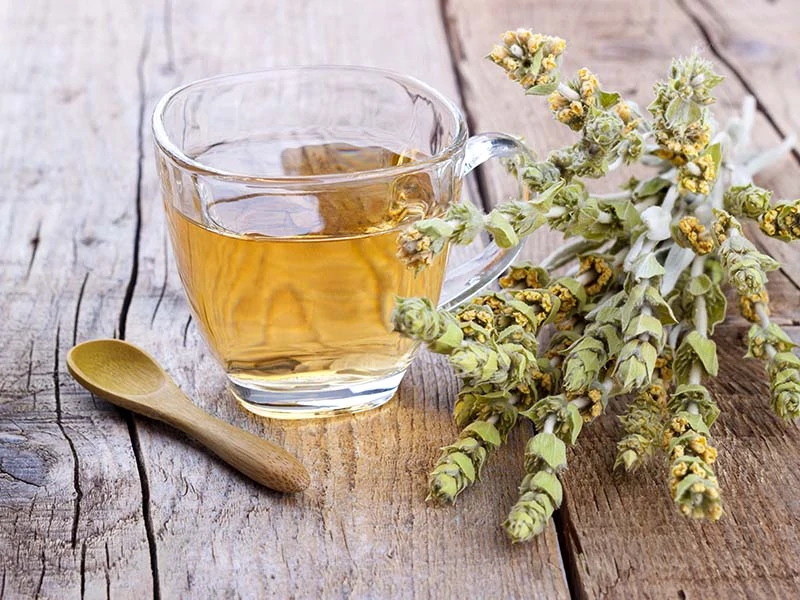 Besides coffee, there are many other hot beverage alternatives in Greece. Tsai Tou Vounou is a super comforting drink that many locals have when they are sick.
Despite being called "mountain tea", Tsai Tou Vounou is not made of tea leaves. Instead, the Greeks use a plant called Sideritis (or ironwort) that grows high in Greece's rocky mountains.
This plant contains a lot of iron, essential oils, and natural antioxidants. Drinking mountain tea daily can reduce stress and anxiety, strengthen the immune system and improve digestion. It can also easily fight off the common flu or cold.
This floral flavored tea is the perfect drink to yourself up after a long day of sightseeing. Plus, since it is caffeine-free, you can also drink it at night.
Where to find it: At many cafes in Greece. Packaged Tsai Tou Vounou is also available in Greek supermarkets.
18. Ayran/Ariani – Yogurt Drink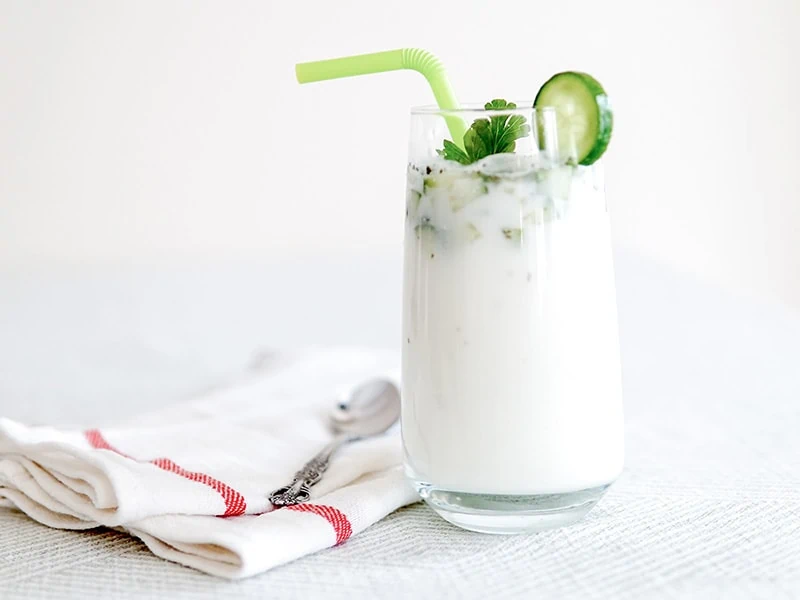 Ayran, also known as Ayrani in Greek, is a cold savory yogurt-based beverage. Despite being a Turkish-originated drink, it is incredibly well-known in Greece and other Southeastern European regions.
Sour sheep yogurt, water, and salt are the main components, but mint or other herbs might be added afterward for extra flavor. Some Ayran varieties are carbonated.
This tasty drink is commonly served chilled as a Greek side dish. You can have it for breakfast, lunch, dinner, or at any time of day.
Where to find it: At cafes and street vendors around Greece.
19. Soumada – Greek Almond-Based Drink
Soumada is a syrupy non-alcoholic almond-based drink made on the Greek island of Crete. This traditional Cretan drink is prepared with a blend of almonds, sugar, and water. Sometimes, locals add almond extract or bitter almond essence to enhance the flavor.
Traditionally, locals will pound the almonds using a mortar and pestle, but nowadays, this time-consuming procedure is frequently shortened by using a food processor.
Soumada has a long history, dating back to the Roman era. Legend has it that King Peter II of Cyprus presented this drink to King Casimir the Great of Poland at the Congress of Kraków in Poland in 1364.
This delightful almond drink has a foggy white hue, a distinct scent, and a sweet and somewhat bitter flavor. Soumada is a popular drink for weddings and engagements on Crete, and it's often given as a welcome gift on the Greek islands of Nisyros and Chios.
Locals usually mix this drink with cold water or club soda and ice during the summer. However, they will mix it with hot water or add it to herbal tea in the winter.
Where to find it: At cafes and restaurants around Greece, especially Crete island.
20. Visinada – Sour Cherries Drink
Visinada is one of the most popular non-alcoholic beverages served on the beaches of Athens. It's created using sour cherry juice and sugar, boiled until condensed into a thick, dark purple syrup.
Visinada contains a high level of vitamin C, making it the best summer drink in Greece. You can easily find this refreshing beverage in the local cafe or fast food restaurants. Many beachside cafes also offer bottled Visinada.
The Visinada in fast food restaurants is usually made with diluted sweet cherry syrup. It is quite tasty, but real blended sour cherries will make this drink taste 10 times more delicious.
Where to find it: At cafes, taverns, and fast-food restaurants around Greece. It is also served on the beaches of Athens.
21. Lemonade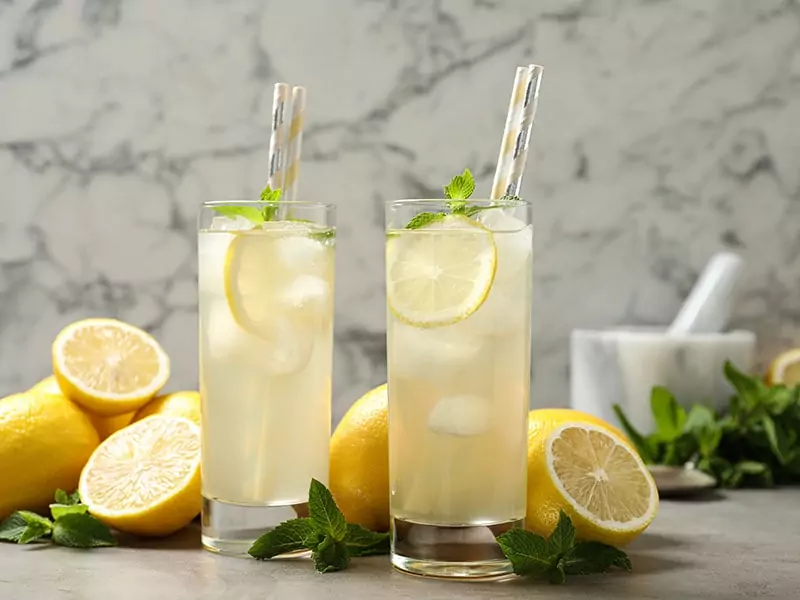 Lemonade is a popular drink in nearly every country around the world, and that, of course, includes Greece. This refreshing non-alcoholic drink has been consumed in Greece for millennia, particularly during the summer.
The Greek lemonade recipe is pretty standard. You just need to combine fresh lemon juice, sugar to taste, soda or water, and you're good to go! Some bars and restaurants will use lime juice as the base instead.
Where to find it: At bars, street vendors, and restaurants around Greece.
22. Orange Juice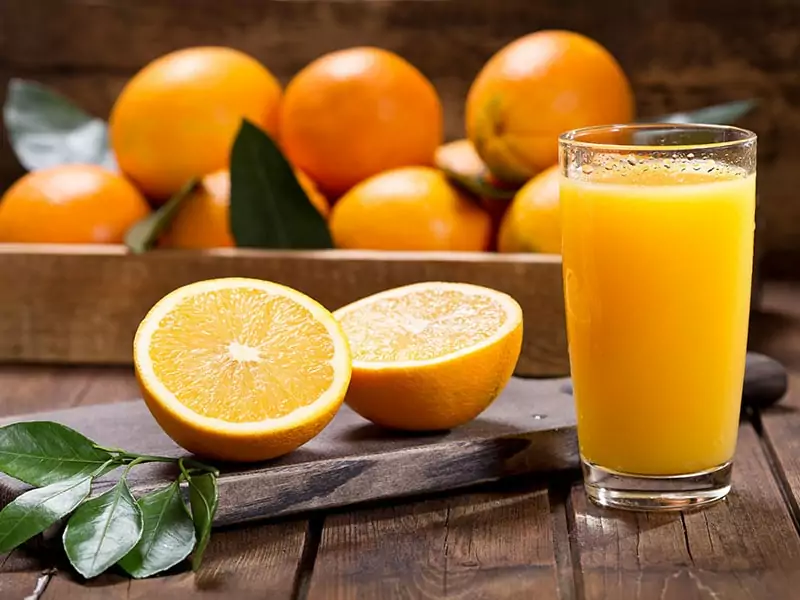 Here's another worldwide famous drink to quench your thirst during the summer – orange juice. This vitamin C-packed drink is made with freshly squeezed oranges, water, and sugar. Overall, it is pretty similar to lemonade.
If the sweltering heat in Greece is getting to you, this cool, tangy drink will surely brighten your day. You can order a glass of fresh orange juice at any cafe or restaurant across the country, but the locals prefer making their own at home.
Where to find it: At street vendors, cafes, and restaurants across Greece.
---
Enjoy Your Delicious Beverages!
Nowadays, Greek drinks have gradually but steadily been ingrained in local culture and cuisine. The demand for these beverages has grown in a number of nations across the world, so you can easily find and buy them outside of this lovely country.
However, if you have the chance to, you should try all these drinks out while eating the local delicacies and enjoying the scenery of Greece. Trust me, they will taste much better this way.
Do you have any questions about this post? Let me know in the comment section below. Remember to show your support by liking and sharing this post if you have time. Thank you, goodbye, and I'll see you in the next article!