What to serve with mac and cheese? You wondered this question since you have run out of ideas about mac and cheese accompaniments for your daily meal. Or you just get fed up with the foods you often serve with mac and cheese regularly. You come to the right place!
It is time to reveal the diverse recipes served with mac and cheese to enhance the dish's flavor. They will bring you a whole new flavor experience.
On the other hand, you can also serve mac and cheese as the accompaniment to sausage dishes. So this dish is very flexible, you can use them in any way you want.
Without any further ado, let's jump right into the article and take notes of these recipes for later uses and impress your family by adding them to your daily menu!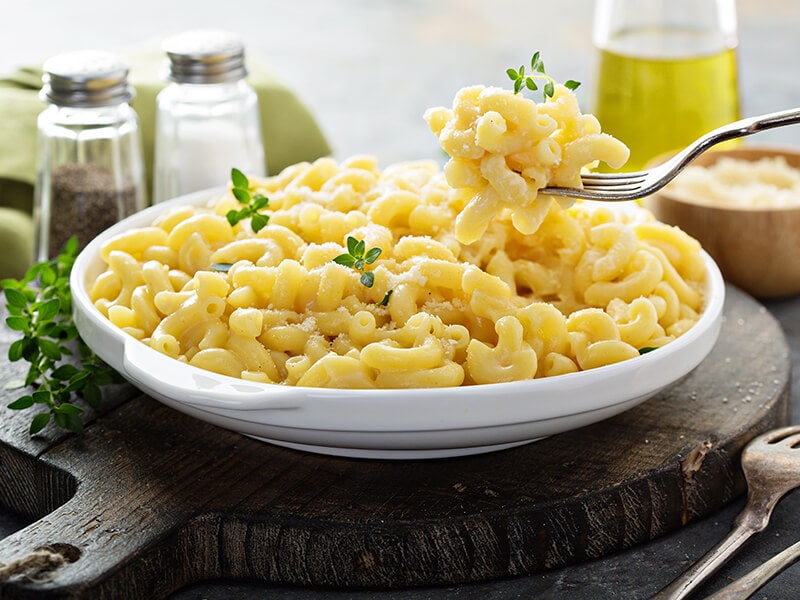 24 Excellent Recipes To Serve With Mac And Cheese
You can serve foods that have a savory, burst, or spicy flavor, as well as desserts and beverages to balance the cheesy flavor of mac and cheese. Grab the ingredients and carry out your most favorite suggestion below:
Vegetables
Arugula Salad
Brussel Sprouts Caesar Salad
Cobb Salad
Cucumber Tomato Salad
Succotash
Korean-Style Popcorn Cauliflower
Crispy Garlic Roasted Potatoes
Red Cabbage And Carrot Slaw
Air Fryer Mushrooms
Meat
Meatloaf
BBQ Ribs
Baked Chicken And Ricotta Meatballs
Sloppy Joes
Air Fryer Beef Empanadas
Air Fryer Chicken Nuggets
Skillet Pepper Steak
Sriracha Shrimp
Sausages
Piglets In The Blanket
Little Smokies
Italian Sausages, Peppers, And Onions
Twisted Tornado Dog
Fruit Desserts
Dutch Apple Pie
Lemon Cupcake
Watermelon Smoothies
Add A Fresh Note To Mac And Cheese With These Veggies!
Apparently, the healthiest side dishes are made with veggies. So people tend to serve fresh vegetables, both salad or cooked ones, with various dishes, including mac and cheese. These treats are not only good for your health but also balance the rich flavor for the whole meal.
It is perfect for adding a dish full of salad to every day's menu as it contains a high level of fiber and other beneficial nutrients. Arugula salad's peppery and slightly sour taste will prevent you from getting fed up with the cheesy mac and cheese.
Besides being topped with sliced aged Parmesan cheese, you can also make your arugula salad creatively by adding other toppings. Some choices are tomatoes, peppers, sliced peaches, or sliced strawberries.
Topping the arugula salad with goat cheese and pears is also a must-try! Let's see this video to know:
The mild flavor of thin-sliced Brussel sprouts combined with the distinct sour and garlicky taste of Caesar dressing is perfect for serving with mac and cheese. The sourdough bread added in this is also a plus point, thanks to its crunchy texture.
If you think that sliced those tiny sprouts take your time and annoy you, pulse them in the processor set with sliced attachment. In addition, you can lower or increase the amount of cheese in this recipe since the mac and cheese are so creamy itself.
The ingredients of Cobb salad are surprisingly diverse, ranging from fresh veggies to chicken breasts and boiled eggs, etc. The dressing of Cobb salad is usually made with vinegar, mustard, and olive oil, which matches well with mac and cheese.
There is one tip for you on serving obb salad effectively: do not mix all the ingredients before serving. Separate them so your guests or family members can pick what they want as Cobb salad is various in ingredients.
Cucumber tomato salad brings a fresh flavor and crunchy texture that can balance mac and cheese's rich and cheesy flavor. Since you will use unpeeled cucumber in this salad, thinner skins and seeds cucumbers are preferred.
English cucumbers or mini cucumbers are suggested to be used in this salad. In case you only have thick skin cucumbers, peel them to have a better flavor experience. Also, you should choose fresh and juicy tomatoes.
Succotash is considered a summer side dish. The indispensable ingredients of succotash are fresh tomatoes, lima beans, and okras. Those fresh ingredients can reduce the burst flavor of mac and cheese and keep you from getting fed up with it.
Succotash also gives an aromatic smell as it is flavored with fresh basils. But, you can substitute basils with other herbs, like chives, dills, or parsley. If you do not prefer the slimy texture of cooked okras, roast them instead of boiling them.
Blow a "summer" breath to your mac and cheese by serving with succotash!
This dish may sound strange to you, but you will be impressed by the heaven-like taste it brings. Korean-style popcorn cauliflower is simply cauliflower coated with a unique Korean gochujang-honey sauce.
The sweet honey and lightly spicy taste of the sauce make this dish full-flavored and perfect for serving mac and cheese as a side dish. You can sprinkle some chopped onions on top to make it more aromatic.
This garlicky dish can be a perfect appetizer for a meal containing mac and cheese. You will fall in love with this highly aromatic smell from garlic that comes along with crispy roasted potatoes. I have nothing more to say about this combination.
Making crispy garlic roasted potatoes is also easy and quick. So, what are you waiting for? Grab those simple ingredients needed and make these golden delights now!
The colorful and tangy red cabbage with carrot can be a perfect side dish of mac and cheese or an appetizer. You won't be able to resist the crunchy texture of fresh red cabbages and carrots with the slightly tart taste of apple cider vinegar.
Furthermore, you can save many times by making it in advance. You can refrigerate and use it within 4 days. Remember to add extra dressing when serving to enjoy its full flavor.
If you are craving fried mushrooms to eat with mac and cheese but are afraid of gaining weight, choosing air fryer mushrooms instead of deep-fried ones can help.
Indeed, there are numerous cooking ideas for air-fryer keto dishes, but this one is my favorite one because the health benefits of mushrooms are awesome.
Many types of mushrooms can be fried, including oyster mushrooms and Portobello mushrooms. You can make a mouth-watering dip for it, such as blue cheese sauce or garlic butter sauce.
Serve These Amazing Meat Recipes With Mac And Cheese
Serving meat with mac and cheese is a classic combination in many family's daily meals as they taste delightful together. Let's have some ideas about recipes that call for meat through the amazing recommended recipes below.
Meatloaf can pop in your mind first whenever talking about what kind of meat to serve with mac and cheese. A delightful meatloaf that is tender and juicy in texture with a sweet and tangy glaze is the best to serve your family and friends.
Besides, the homemade meatloaf can also be made gluten-free, which provides many health benefits. Although this recipe asks you to bake the meatloaf at 375F, you can also make a tasty meatloaf at 400F with different cooking time.
What's more, the recipe is surprisingly easy to make, and you can freeze it for eating later. That's why you will have many options to turn your frozen or leftover meatloaf into something amazing. So convenient, right?
Mac and cheese with meatloaf will be a meal that you can not resist! Watch this video:
Serving BBQ ribs with mac and cheese is also a popular combination. The fusion of the distinct smoky flavor of BBQ ribs with cheesy mac and cheese will satisfy your hungry tummy at the end of the day.
Do not ignore these sweet and spicy BBQ ribs when you have no idea what to serve with your mac and cheese for dinner. You won't regret it!
The baked chicken and ricotta meatballs recipe is quick and easy. Baked chicken and ricotta meatballs have a savory flavor that is perfect when serving with mac and cheese.
Although this recipe has various ingredients, you can easily substitute one for each other. It depends on what you desire. For instance, you can use basil instead of parsley, double the amount of garlic, or skip the pepper flakes to avoid a spicy taste.
Homemade Sloppy Joes is a dinner recipe that appears in various family's daily meals as it does not require effort, and the ingredients are simple and inexpensive. You can combine it with mac and cheese or enjoy sloppy joes as the main dish.
If you serve it as a main course, you might want to upgrade your meal with some easy sloppy joes' side dishes. They will make your dinner more special, and your kids will never get bored from eating it.
Forget the industrial canned sauces and give this easy and affordable Sloppy Joes a try when you need to serve your family or guests in the holiday season.
An iconic food in Venezuela, beef Empanadas is a savory pastry to eat as a snack or lunch's side dish with mac and cheese. What a pity if you ignore the crispy and golden brown air-fried Empanadas dough filled with juicy and tender ground beef.
Although people tend to deep fry the beef empanadas, I highly recommend you to cook them in the air fryer to reduce as much oil as possible. The cooking results of both methods are nearly the same, both crunchy and delicious!
Here is another air fryer recipe for you to try. Compared to deep-fried foods, air-fried ones are healthier and suitable for people sticking to a balanced diet. Air fryer chicken nuggets are warm and juicy in the interior with a crumbling exterior.
Air fryer chicken nuggets are also kid-friendly. You can add this dish to your kid's daily menu with mac and cheese. Top any kind of salad with air fryer chicken nuggets to increase the level of fiber is also a good idea!
Get fed up with the basic yellow color of mac and cheese? Try to serve this colorful and flavorful skillet pepper steak with it, and enjoy! Skillet pepper steak is also a one-pan recipe that is easy to make and time-saving.
In addition to eating skillet pepper steak alone, you can wrap it in a soft tortilla shell and a dollop of sour cream and eat with mac and cheese. It will make the dish have an intense flavor.
This mouth-watering and easy-to-follow skillet pepper steak deserves a try! Watch this video:
It's time for an Indian-inspired recipe that pairs well with mac and cheese. The rich and creamy mac and cheese flavor will not be overpowered when combined with this fiery, sweet, and savory Sriracha shrimp.
Sriracha shrimp also smells good with garlic and green onions. You can use either peeled shrimp or shrimp with shell and tail. It depends on your eating habits.
Sausages Also Pair Excellently With Mac And Cheese
Since meat is an excellent accompaniment to mac and cheese, why not sausages? The smoky sausages will balance the flavor of mac and cheese. Let's see how you can serve sausages with mac and cheese through the following recipes!
The combination of piglets in the blanket with mac and cheese may bring you many good memories of the old days because it is childhood's standard breakfast or lunch.
This cooking method is also quick and easy. Furthermore, you can make it as meal prep and freeze it for later uses. The outstanding convenience of this food is that you do not have to defrost it before reheating. You just need to extend the reheating time.
Little smokies are literally smoked sausages simmered with a tangy, sweet, and savory BBQ sauce. The flavor of little smokies combined with mac and cheese creates a perfect flavor experience.
What are you waiting for? Go to your cozy kitchen and make this recipe now for meal prep or serving at your upcoming party. Your family and friends will be impressed!
This recipe is somehow similar to the skillet pepper steak recipe above. But the flavor of sausages makes it different!
This Italian sausages with peppers and onions recipe will be your savior when you are struggling with the dinner menu to serve with mac and cheese. It is a quick and easy recipe. You just need to spend under 30 minutes cooking it.
Time to try something not only delicious but also fun to eat with mac and cheese. I'm sure you will be obsessed with the attractive appearance of twisted tornado dogs.
Try to add twisted tornado dogs with mac and cheese in your children's lunchboxes to surprise them! Do not forget a sweet and sour ketchup sauce to complete a perfect meal ever!
Don't know how to twist sausages perfectly with dough? Follow this detailed guide!
How About Serving Fruit Desserts With Mac And Cheese?
Besides the versatile accompaniments listed above, do not forget the fresh and juicy fruits can pair with mac and cheese as desserts and complete the meal perfectly. Keep on reading to save yourself some interesting fruit desserts you want to try!
Dutch apple pie is also called apple crumble pie. Just like its name, this yummy Dutch dessert has a crunchy sweet crumble on top of the buttery crust filled with fresh apples.
Finishing a typical comfort meal containing mac and cheese with warm apple pie is an excellent idea. You can top the warm apple pie with a scoop of ice cream to make a perfectly warm and cold flavor in your mouth. You won't be able to resist this pie.
Is there anything better than a fluffy cupcake that is full of citrus and sweet flavor to serve with mac and cheese? The subtly sour taste of lemon cupcake will be the best dessert to end your mac and cheese meal.
The lemon cupcakes' shiny and vibrant yellow color can also be an excellent option for decorating and serving at your birthday party. Give it a try!
People usually opt for a healthy smoothie for their refreshing breakfast. However, it can also be a perfect drink to serve with mac and cheese. A watermelon smoothie recipe just consists of not only watermelon but also other fruits and liquids.
I suggest you add frozen banana, strawberries, almond milk, and Greek yogurt along with watermelon to make the best watermelon smoothie ever! You can add honey to enhance the sweet flavor of this drink as you prefer.
Here is a mouth-watering and refreshing watermelon smoothie instruction for you to try! Watch this video:
I hope you have the best time reading my article with plenty of recommendations on what to serve with mac and cheese. I will be very happy if you are not curious about mac and cheese accompaniments anymore after reading this post.
Do not hesitate to like and share if the recipes listed here are helpful. Leave a comment to share your thoughts and feelings or experiences with these mac and cheese accompaniments. I'll be back with other useful information.
Nutrition Facts
6 servings per container
---
Amount Per ServingCalories300
% Daily Value *
Total Fat 46.9g

73

%
Cholesterol 141mg

47

%
Sodium 1233mg

52

%
Potassium 431mg

13

%
Total Carbohydrate 7.1g

3

%

Dietary Fiber 2.6g

11

%
Sugars 2.4g

Protein 23.1g

47

%
---
* The % Daily Value tells you how much a nutrient in a serving of food contributes to a daily diet. 2,000 calories a day is used for general nutrition advice.