Every country has its own special attractions, and Venezuelan foods are one of the countries' most appealing aspects. Though it is located in the northern end of South America, Venezuela's cooking recipes are influenced by West African, European, and some indigenous cuisines.
Therefore, they are diverse and abundant in the number of recipes, flavors, and of course, they are so delectable. If you have not visited Venezuela yet, why don't you expand your knowledge about this country through its dishes first?
Wait no more, let's join me to explore this beautiful country to understand why it should be your next foodie destination.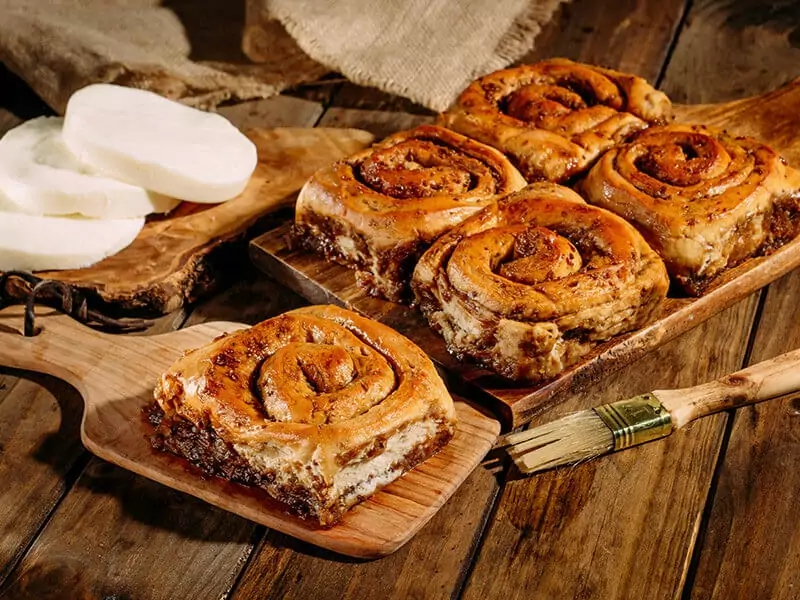 Venezuelan Appetizers or Side Dishes
Nothing can stimulate your hunger better than tasty appetizers. Plus, some of them are also ideal for serving as accompaniments.
With 2 food groups consisting and non-consisting of meat, let's dig into how Venezuelans usually make for their starters or side items with the following treats.
You will find these non-meat foods in many Venezuelan families and restaurants. Some are famous street foods too!
1. Arepa (Corn Griddle Cake)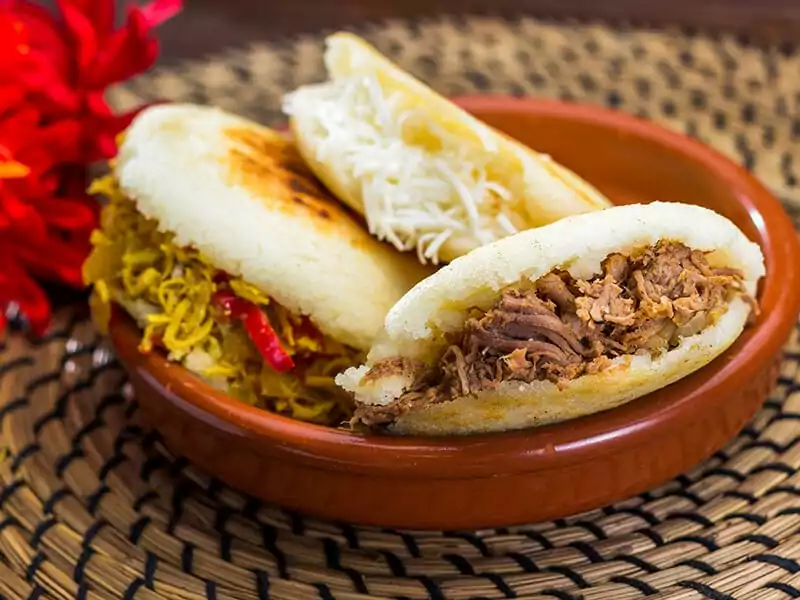 The first Arepa was a pre-Columbian food, but this dish is also famous in Panama, Venezuela, and Colombia. The most interesting fact is that today's Arepa has barely changed from its initial form.
In addition, the name "Arepa" comes from the word "Erepa" from the indigenous language, which means corn. And Arepa's ingredients in Venezuelan's style are warm water, salt, oil, and masarepa – a precooked and ground corn flour.
Then you can shape them into bite-sized patties with 1/2 inch thickness. Grilling, baking, or frying is all acceptable to cook them. You can eat Arepa alone or stuff them with other foods like eggs for delicious Venezuelan-spirit breakfast, shredded beef, cheese, or butter for simple lunch.
2. Tequeños (Venezuelan Cheese Sticks)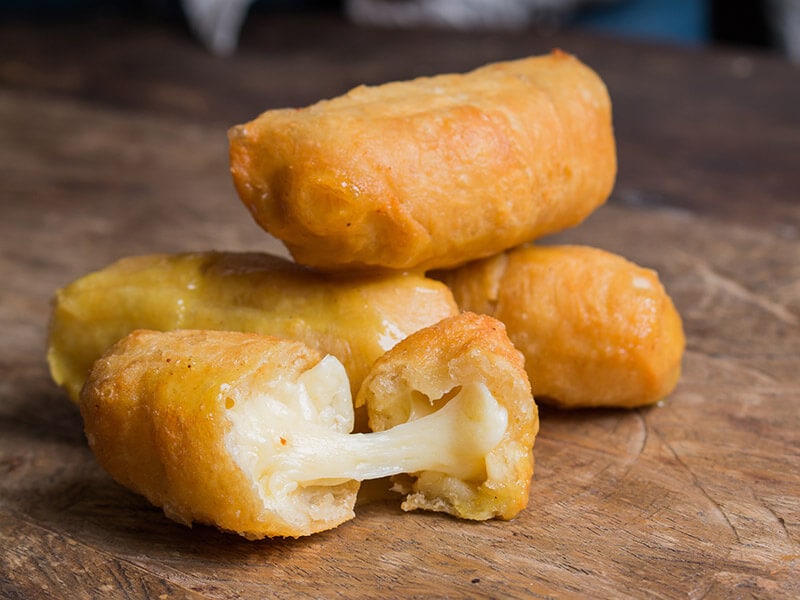 Tequeño (or Dedito de queso) is a fried cheese stick made of bread dough and queso blanco (a type of white cheese). If you have tried mozzarella sticks, this dish is similar, but instead of melted mozzarella filling, now you can feel the saltiness of queso blanco along with a golden pastry-like coat.
Tequeño originated from Los Teques. This is the capital city of Venezuela's state – Mirand. And people think this dish is named after this city. They are flexible because you can consume them for tasty Venezuelan starters, side orders, snacks, or even breakfast.
Overall, what impresses me most is its slight chewiness with buttery, creamy, and salty flavor inside that mixes so well with the flaky texture outside.
Making Tequeño is not too challenging. If you can buy queso blanco cheese, give them a shot.
3. Caraotas Negras (Black Beans)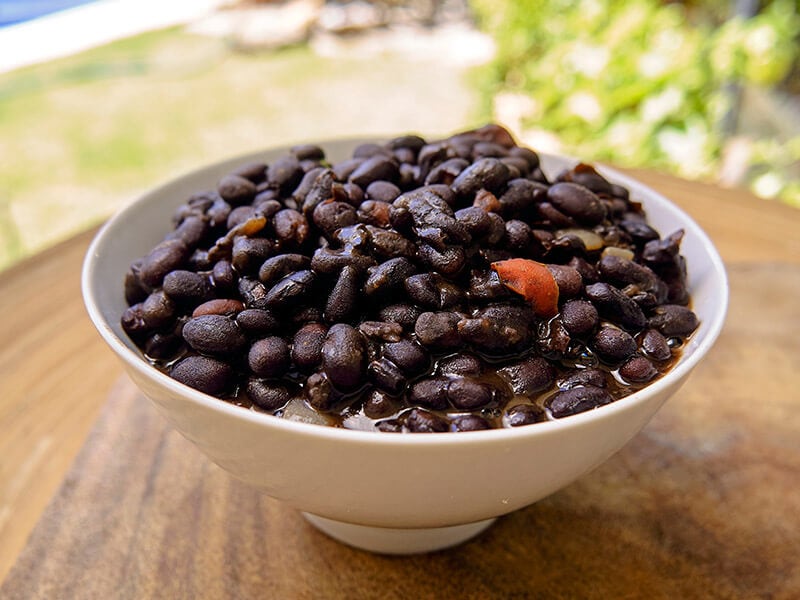 Caraotas Negras are black beans in Venezuelan. Based on their regions, there are other names for this type of bean. People in Northeastern Venezuela prefer to call them Caraotas or Histe in Colombia. That's right, this is also a must-try food in Colombia, the locals there are quite passionate about this dish.
Besides Venezuela, this legume is also important in Mexican dishes. But overall, they have a long history in the human food world from 7,000 years ago, particularly in many Latin American countries.
Also, black beans are an essential Venenezuelan accompaniment to go with Pabellón Criollo – a national dish in the country. But you can still enjoy them alone to feel the mushroom-like taste with dense texture.
They can be stuffed in Arepas with cheese too! If you want to make them at home, please remember to soak them in water overnight or for 24 hours.
4. Patacones (Plantain Fritters)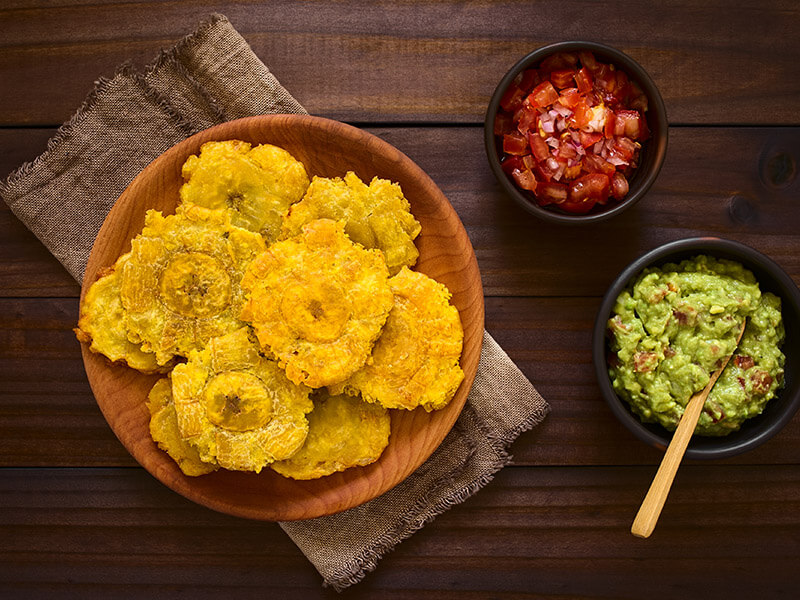 Patacones (or Tostones) are simply fried plantain. They are normally eaten in South American countries, like Venezuela. Or you can find them in some Caribbean special appetizers, like those in the Dominican Republic's most famous food list or Cuban menu.
They are very simple to prepare at home, as you just need to cut plantains into thin slices, fry them until they turn into a delicious golden yellow color with the crunchiest texture.
You can enjoy them on their own, or you can top them on your coleslaw salad. For your reference, the citizens who live on the Venezuelan coast usually combine it with their fried fish.
How to fry plantains properly for the most delicious fritters? Check this instruction, guys!
5. Hallaca (Tamales)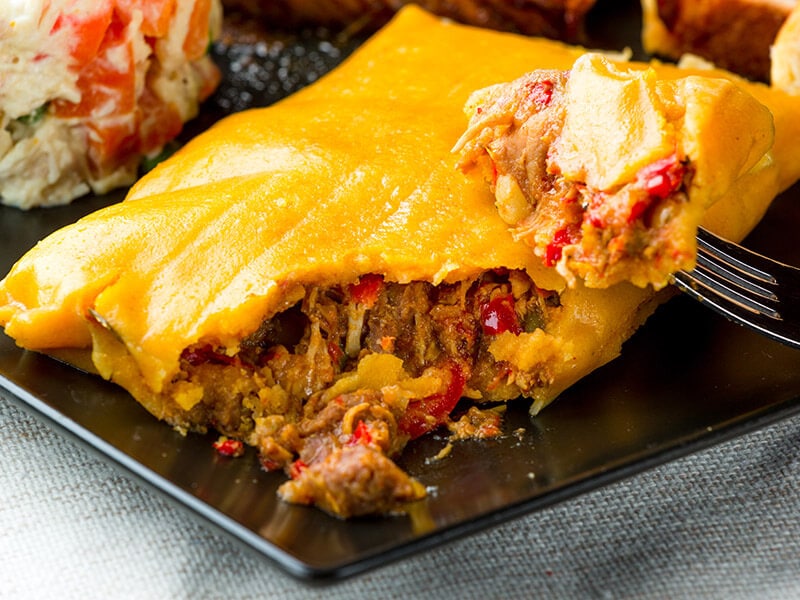 Hallaca is an authentic Venezuelan meal that resembles Tamal. However, there are distinctions between Hallaca and Tamal in terms of texture, flavor, or ingredients.
It is said that Hallaca was created by slaves in the colonial era, particularly on Christmas Eve. The slaves use the leftover meat of the landowners. The daughter in this landowner family asked to try them and found Hallacas so tasty, thus asking them to make more for their dinner.
And since then, Hallaca has become a national dish for special occasions, like Christmas. They include a corn dough layer and meat filling (chicken, beef, or pork), wrapped in plantain leaves, then boiled in water.
This food might require many ingredients and preparation steps, but they are pretty straightforward so that everyone can do it with a little effort and time.
A short introduction of Hallacas – a national dish to increase the Christmas vibe in Venezuela.
6. Cachapas (Corn Pancakes)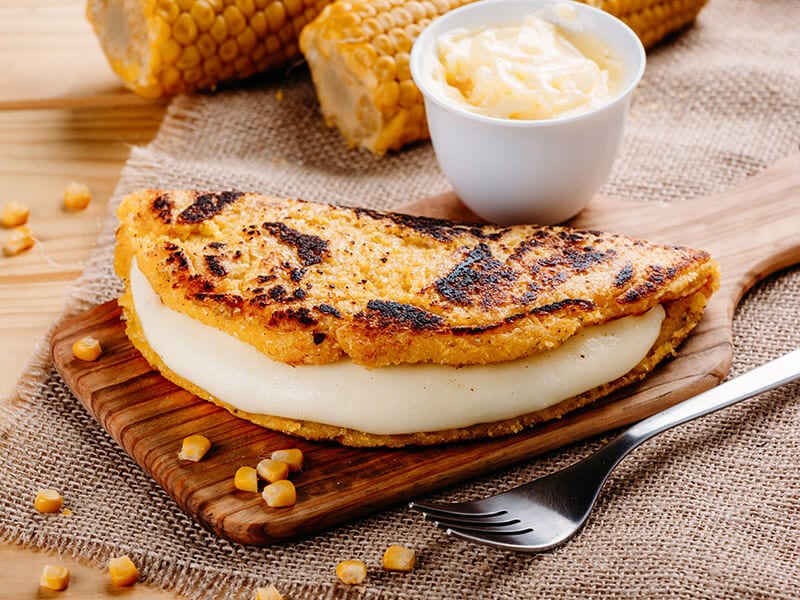 Cachapas (or Arepa de Chócolo) are an inherently classic Venezuelan food. However, they are native to pre-Columbian, when people found a way to grind corn by stone and cook them under the fireplace. At this point, you can assume Cachapas's ingredients must contain corn, right?
Exactly! They are corn pancakes that you can buy in many street vendors or restaurants in Venezuela. Like Arepas, they are also a perfect diet for vegetarians or those looking for gluten-free food.
To make them in the Venezuelan way, you need to use fresh corn, milk, water, salt, sugar, water with the filling of meat, for example, roasted pork and queso de mano (a soft white cheese). But if you can not find fresh corn, go for canned corn.
You can prepare them for an appetizer, or if you combine Cachapas with fried pork or more cheese, they can become a fulfilling breakfast.
You need to check this brief documentary about how Cachapas is made in the restaurant.
7. Empanadas (Venezuelan Turnovers)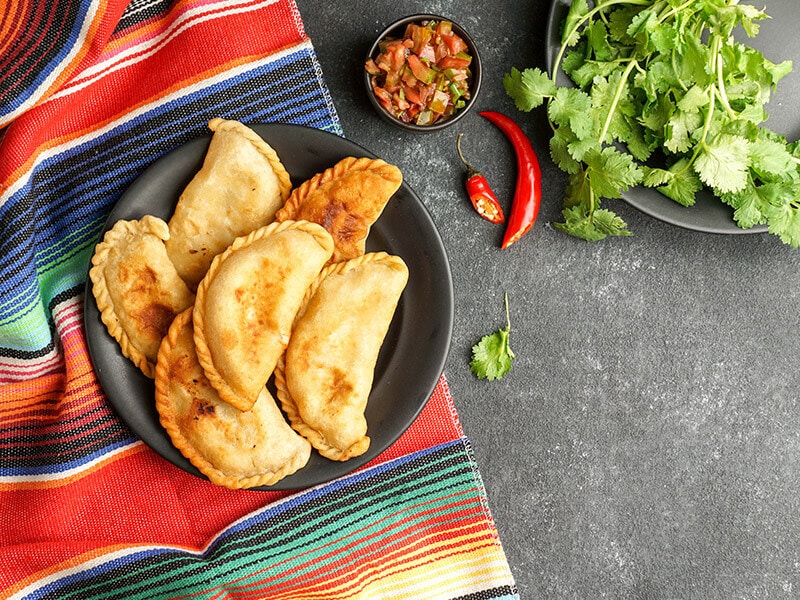 Venezuelan empanadas consist of ground corn dough and filling with various ingredients, like shredded beef, chicken, or cheese. You can also find a filling version with cazon (a school shark) in Isla Margarita – a Venezuelan island.
The origin of empanadas is from Spain as a kind of baked or fried turnover. The regular shape of them is half-moon shape. And as they are fried or baked dishes, they always come in an eye-catching golden brown color.
Nowadays, empanadas can be seen in many Caribbean countries. Aside from Venezuela, this memorable treat is also a famous sweet treat in the Cuban culinary world. In Cuba, empanadas can also be stuffed with citrus apples for a tasty dessert full of mouth-watering tart flavors.
If you want to eat them in larger quantities, they can become the main meal, like dinner in the Venezuelan way. But ideally, Empanadas are best to enjoy as a starter.
8. Pan de Jamón (Ham Bread)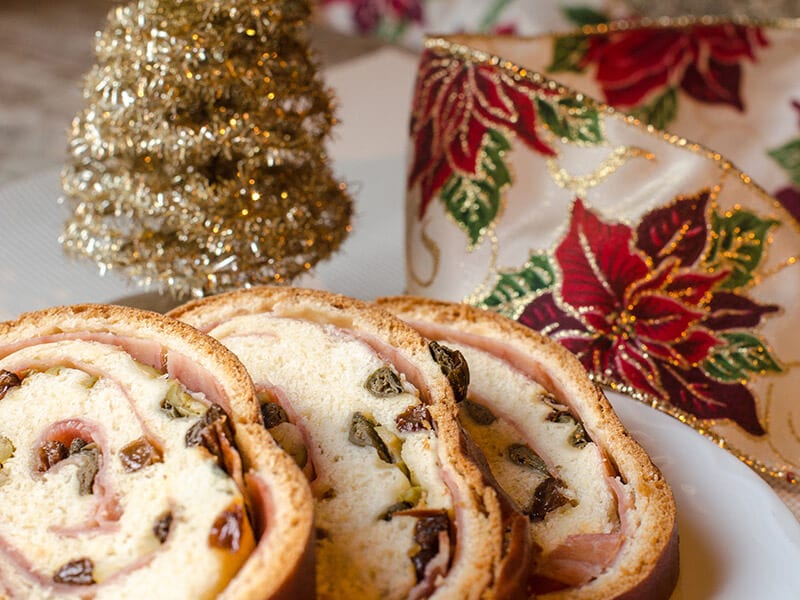 Another classic Christmas dish in this nation is Pan de jamón. They are a mixture of bread, ham, green olives, and raisins. Unlike other national dishes, this one does not have a long history.
The first Pan de Jamón appearance was from the early 20th century. As stated by Mico Popic – a Venezuelan journalist and gastronomy commentator, this food was made by Gustavo Ramella, a bakery owner in Caracas, the capital of Venezuela, in late 1905.
Nowadays, it is one of many unique dishes contributing to Venezuelan rich culture. Their flavor is so contrasting with sweet raisins and salty olives. But that is the beauty of it. Combining with slightly sweet and sweet dough, it is truly a must-try treat if you visit this country.
Fun fact: Gustavo Ramella, the proprietor of Pan de Jamon, created this recipe by repurposing leftover hams.
Wanna be a baker? Try this ham bread in Venezuelan style.
9. Chicharron (Fried Pork)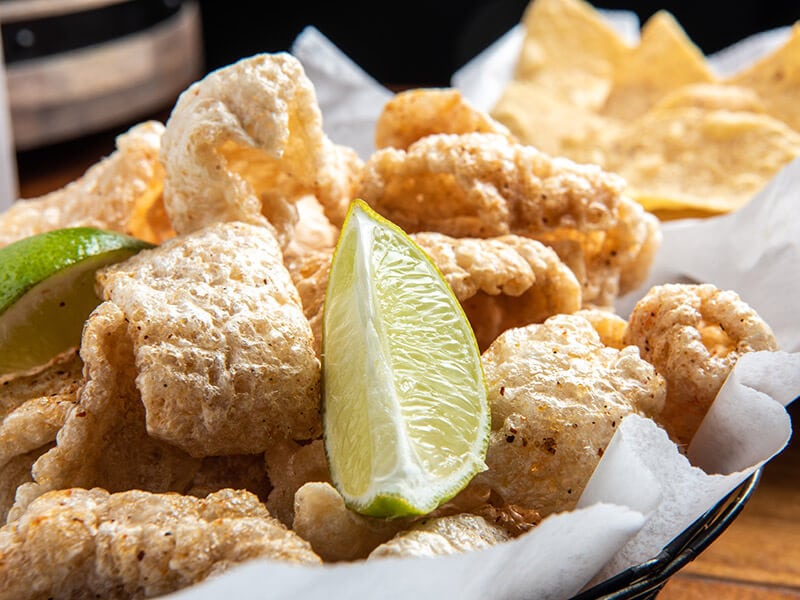 Chicharrón is a popular fried pork belly or pork rind dish among Latin Americans and Spanish. And in Venezuela, people generally enjoy them on their own as a snack or combine them with other main dishes.
On the other hand, you might find the natives eating them with Cachapas in the center of this country. They normally have a crispy look with golden-brown pork skin and meat underneath.
Therefore, to have a perfect piece of Chicharrón, you need to cook them in a quality pan, like a saute pan, for the correct duration. And you will need a lidded pan to prevent splashing oil; that's why there is no better choice than a saute pan.
10. Mandoca (Deep-fried Cornmeal)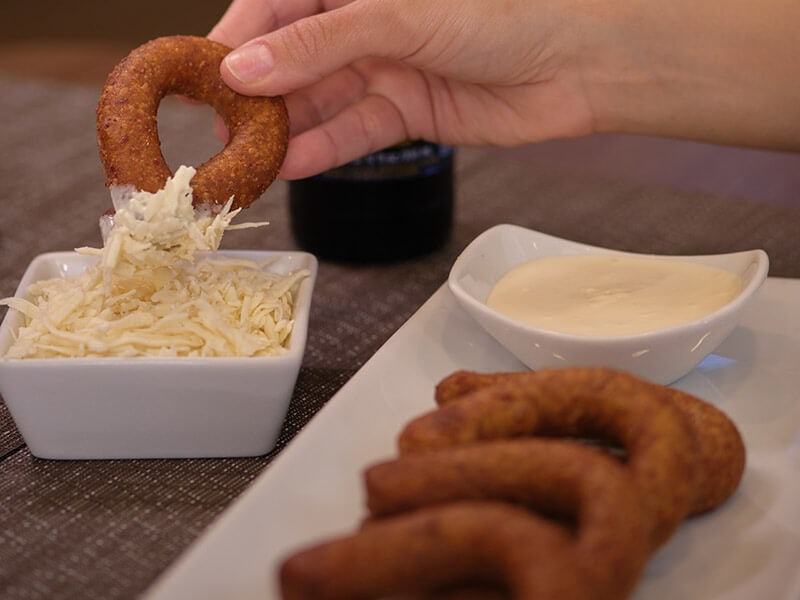 If you want to start your day with deep-fried food, Mandoca is an excellent answer for you. They are Venezuelan cornmeal with a ring shape served in the morning with a cup of coffee.
Its popularity is especially highlighted in Zulia – one of 23 states of this country as they are exclusively and originally made in the Western part of this state.
However, you can still find its other variations throughout Venezuela. Still, the main ingredients for this specialty are water, salt, cornmeal, panela (unrefined whole cane sugar), queso blanco (a type of white cheese with salty flavor and hard texture), and ripe plantain.
As they are deep-fried food, they have a nice golden-brown color. And it would be best to enjoy them while it is still hot with a bit of butter or cheese.
Venezuelan Main Dishes
The primary food in any meal is the main dishes, which need to be delicious and fulfilling. With below 11 culinary ideas, I will walk you through from the first meal of the day to a hearty dinner to enjoy with your family.
11. Pisca Andina (Potato Soup)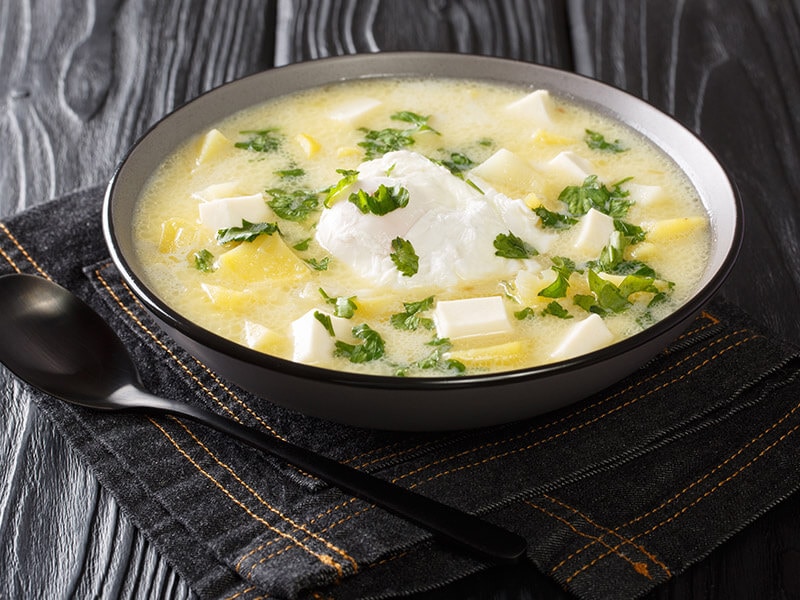 If you visit Venezuela, this heavenly-sent soup deserves a try on the first day. Why? Let me tell you how amazing it is.
First, Pisca Andina originated from the Andes in Venezuela. That's why you can find them on every street or corner of the Andes' villages.
As it is from a cold place, Pisca Andina can deliver warmth to your cold and empty stomach when you visit here. It is usually eaten in the morning for breakfast. If you need some heartwarming dishes at night, Pisca Andina is also fit for your dinner meal.
Generally, this hearty soup contains potatoes, eggs, milk, French cheese, and herbs, especially cilantro. And they are such a wonderful choice to please and comfort your soul.
12. Cachito de Jamón (Ham Crescent Rolls)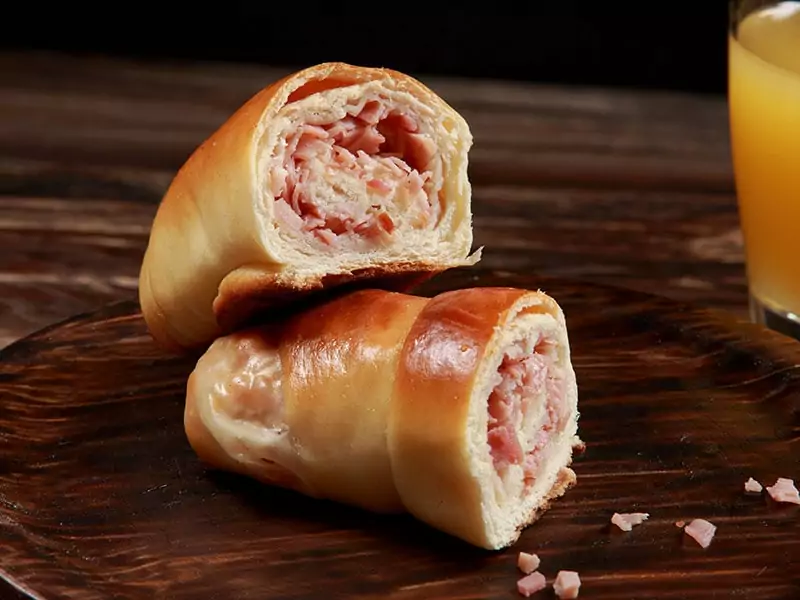 You might be too familiar with croissants, and Venezuelan Ham Crescent rolls are a similar version of these croissants. The native name of this treat is Cachitos de Jamón, but its root is pretty vague.
Some claim it is a product of Italian and Portuguese bakers in the 19th century, while many think it is closely associated with Pan de Jamon, a special Venezuelan dish on Christmas that I just introduced above.
Overall, they are made from wheat flour, eggs, milk, yeast, and ham or cheese fillings. You can buy them in many bakeries in this country or prepare them at home by yourself as Cachitos de Jamón is too difficult to make. Pair them with coffee, juices, or malta – a malt beverage for the best meal.
Venezuela Lunch or Dinner Dishes
The following are ideal dishes to enjoy at mid-day and night. There are 6 recipes that all Venezuelans love to have in their main meals. Made from various ingredients and cooking methods, these foods all convey different stories in terms of tastiness in this country's gastronomy.
13. Pasticho (Lasagna)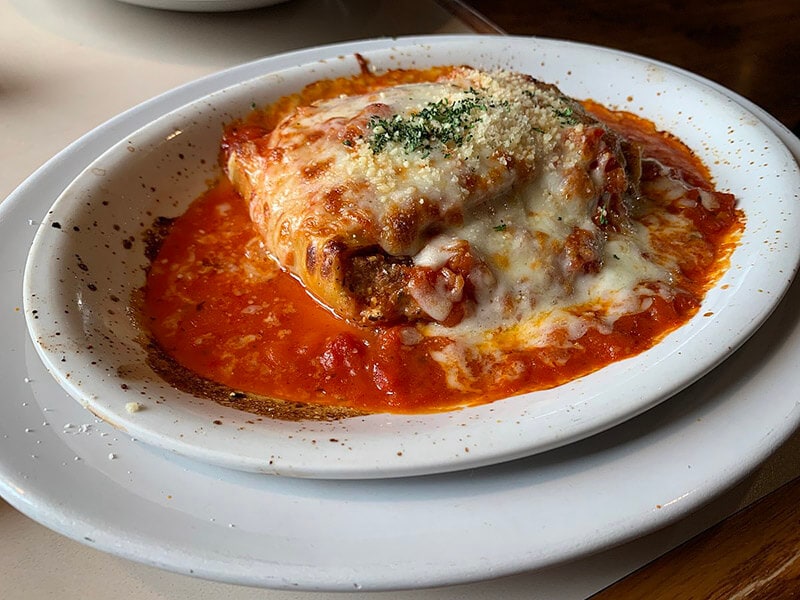 In Venezuelan cuisine, Pasticcio can be seen as their traditional lasagna. The name "Pasticcio" also means "lasagna" in Italian. For your reference, Italian Pasticcio is a baked pie with meat, fish, or pasta that appears from the 16th century.
Basically, Pasticcio (or Pasticho Venezolano) is delicious food with several layers of pasta, tomato sauce, cheese, and béchamel sauce. They are also related to the baked pasta from Greek cuisine, which has the same name.
The cooking process for this main dish might take some extra steps, but once you nailed it, the result is amazing.
14. Polvorosa de Pollo (Chicken Pot Pie)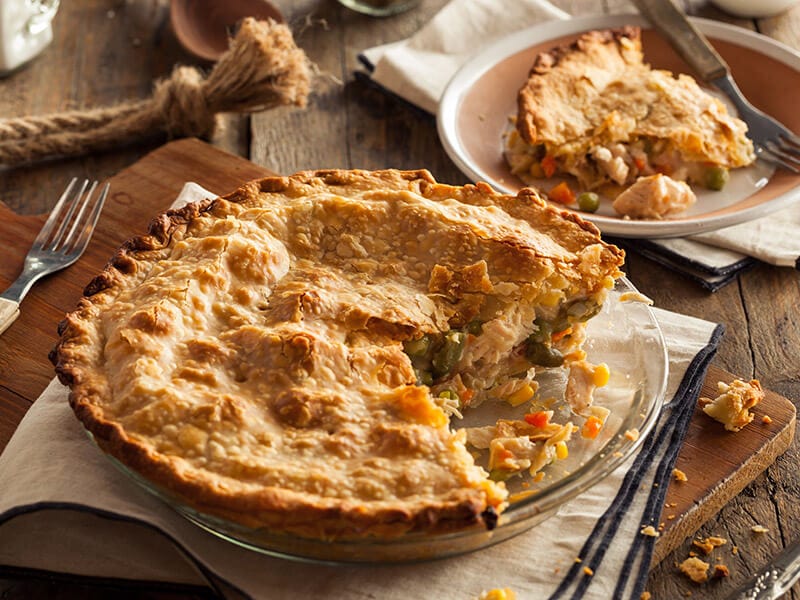 Polvorosa de Pollo is a Venezuela-style chicken pot pie. Apparently, chicken pot pie sounds so familiar in American food specialties, but how does it look and taste in this Venezuelan recipe?
In reality, Polvorosa de Pollo is 100% from Venezuela, with certain popularity throughout the country. If anything, it's also a highly regarded dish throughout the Caribbean. Featuring pie dough with shredded chicken and vegetable filling, they are elegant yet packed with many flavors.
Indeed, the number of its ingredients varies, but once mixed together, they are an excellent example of perfection. Trust me! I am not even exaggerating.
They are so delicious and convenient that you have to add to your cooking list of Venezuelan-based lunches or dinner. And don't forget to prepare other side foods like salad to enjoy with your chicken pot pie.
15. Pabellón Criollo (Meat, Rice, and Beans)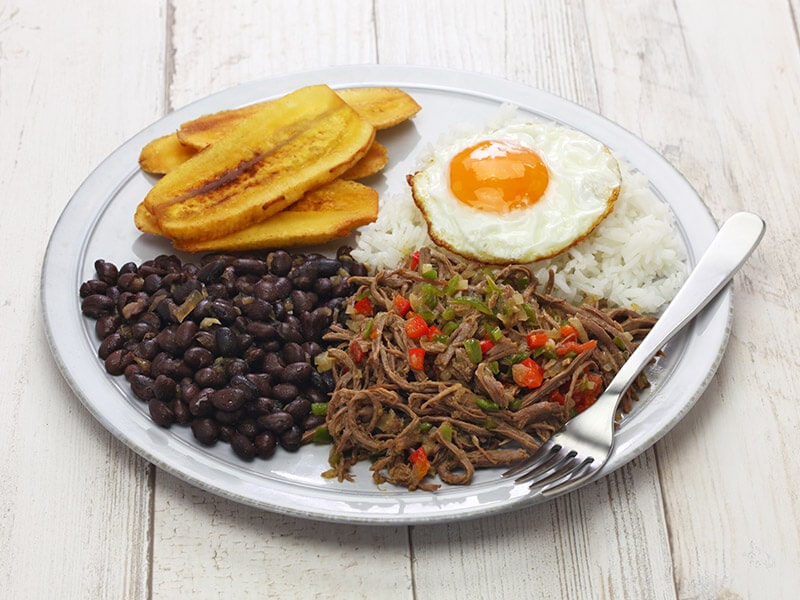 It will be a big mistake if you do not try Pabellón Criollo when visiting Venezuela. Why? Because this dish captures the soul and its gastronomy uniqueness of the country that everyone has to try at least once in their lives.
Pabellón Criollo is a local dish with black beans (Caraotas Negras), rice, and shredded beef. The term "pabellón" refers to a flag, resembling this dish's appearance with red tomatoes and meat, black beans, and white rice as the tri-color flag.
On the other hand, there are various variants of this dish that include fried plantain or fried eggs on top. With all of the ingredients in Pabellón Criollo, it would be the richest dish you have ever eaten.
Let's see how natives cook the one-and-only dish – Pabellón Criollo with this short instruction.
16. Asado Negro (Beef Braised)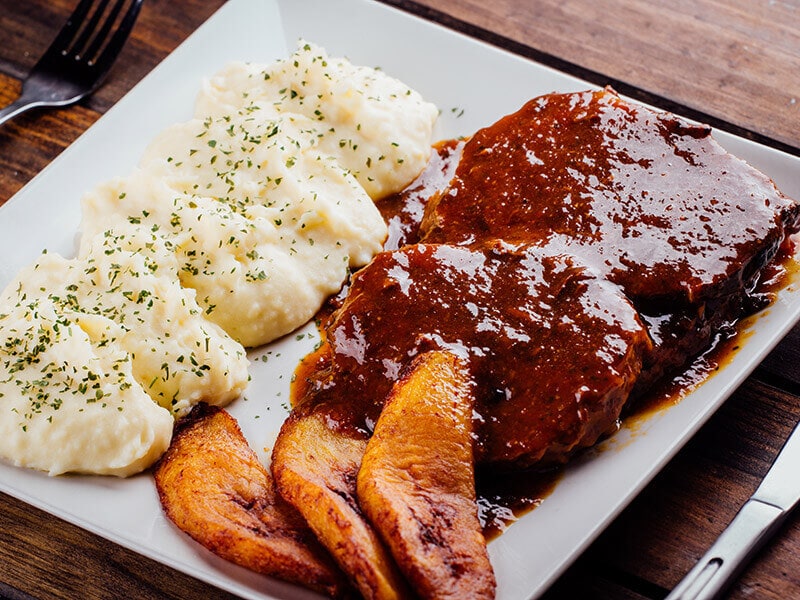 If you are in love with beef dishes, then you will surely love Asado Neggro. Plus, it is a favorite Venezuelan recipe for many home cooks.
Ideally, they are made of muchacho redondo – an eye of round lean cut similar to tenderloin but less tender. But as they are slow-braised in hours, the meat comes out so perfectly that it can melt in your mouth literally.
As they are marinated with red wine, they normally have black color. Serving them with sauce, mashed potatoes, rice, or fried plantains is also a good choice.
17. Sopa de Mondongo (Tripe Soup)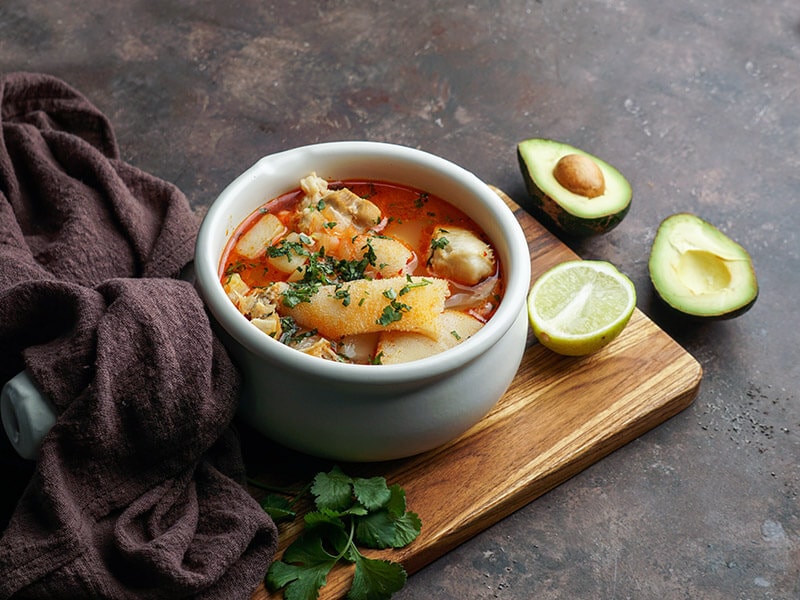 Sopa de Mondongo is a generic word to describe a soup made of tripe and veggies. It is especially popular in many South American countries, including this beautiful nation. Besides Venezuela, it's also a famous dish in Bolivia, Nicaragua, and many more. 
Each place will have different recipes for Sopa de Mondongo, but the main star in this dish is beef or pork tripe. And as this part is tough, they are normally cut into smaller pieces to cook with other ingredients.
Natives also soften them by soaking in citrus juice or using sturdy and versatile meat tenderizers to process them before cooking. The veggie ingredient varies. They can be sweet potatoes, corn, plantains, avocado, etc., with a handful of cilantro to garnish this soup.
This soup is already good by itself, but feel free to serve with rice as you desire.
18. Bollos Pelones (Meatballs)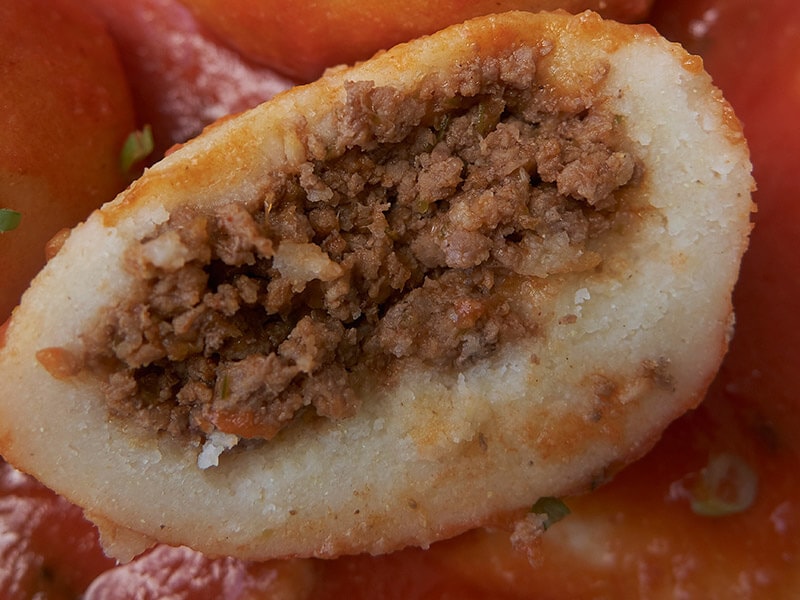 Here is another dish that you can please everyone at the dinner. This is Bollos Pelones, Venezuelan-style meatballs made of ground beef, vegetables and covered by Arepa dough. Of course, tomato sauce also plays an important role in delivering the most comforting meal ever.
As this one is a typical family meal, you might rarely see them on the menu of Venezuelan restaurants. But as they are homemade meatballs, you will not face any challenges to prepare them.
You can make the filling and sauce ahead. On the other hand, you can also replace beef with chicken or turkey if you need a lighter meal.
Let's hear the chef explain about this amazing dish and how to make Bollos Pelones easily at home.
Venezuelan Desserts
Last but not least, let's take a glance at what well-loved desserts in Venezuela are. In this part, I will classify them into 2 groups: Cake/Cookies and Drinks, so you will have more choices to find your favorite ones to try in this country or prepare at home.
Sweet treats from Caribbean cuisine, especially Venezuelan desserts, are famous for their beauty. Indeed, they can be seen as masterpieces that sometimes I feel so bad about putting in my mouth, but after one bite, my mind is blown away by their overwhelming taste.
And these cakes and cookies here will prove what I just said. So make sure you will not skip it.
19. Golfeados (Sticky Buns)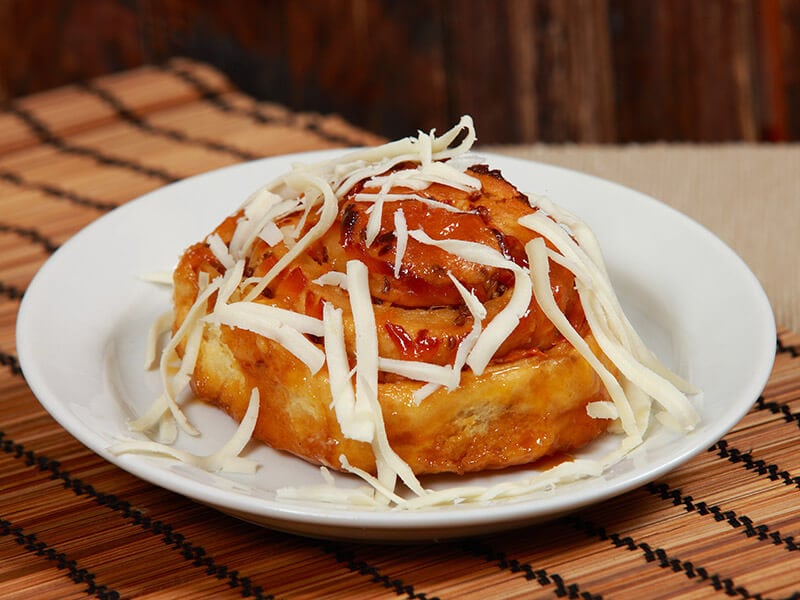 Sticky buns can be both breakfast and dessert in many countries. They normally feature leavened dough, brown sugar, and honey. But in Venezuela, they take sticky buns to a different level of deliciousness.
Technically, Golfeado is another perfect version of cinnamon rolls – a basic breakfast in the fall. With sticky-cheesy texture and sweet-salty taste, they are a mixture of milk, flour, yeast, eggs, sugar, butter, and shredded cheese, making them stand out from regular sticky buns.
They are also flavored with strong aroma spices like anise and cinnamon. After baking, these Golfeados have a crunchy exterior and soft-and-buttery interior. And remember to pair it with a cup of coffee. Sounds so good, doesn't it?
Need a sweet and salty breakfast? Golfeados might be your ultimate choice.
20. Papitas de Leche (Milk Truffles)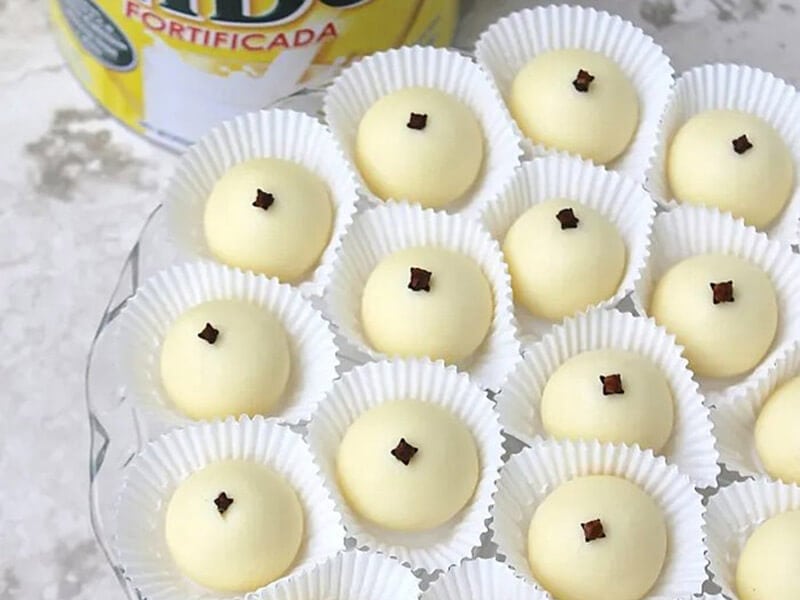 If you are looking for an easy 3-ingredients sweet course, Papitas de Leche is perfect for you. Moreover, they are also a bake-free dessert, so you can easily prepare without a baking oven.
Their origin is the ​​Venezuelan Andean region. Moreover, Papitas de Leche means "little milk potatoes" since they look cute and small like peeled potatoes.
But there are no potatoes in its recipe. The ingredients to prepare them are condensed milk, confectioners sugar, and dry whole milk, making them an affordable choice for sweetened food.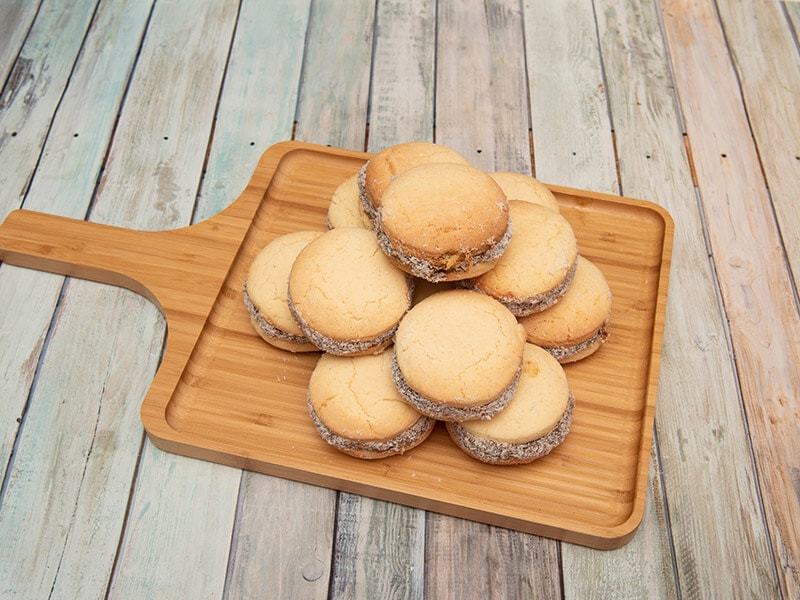 Alfajor (or Alajú) is another special food in Spain and South America, including Venezuela. The root of this tiny but might dessert is vague, but there was a similar sweet named alaú in the Arabic-Hispanic cookbook.
Until the early 18th century, their appearance started to spread through South America, especially in Venezuela and Peru. So don't be surprised to see this dessert in Peru, Chile, Argentina, the Philippines, Uruguay, etc.
Traditionally, they are sandwich cookies with dulce de leche filling and topped with shredded coconut. What is dulce de leche, by the way? It is simply caramelized milk or milk jam made of milk and sugar.
Actually, there are various versions of Alfajor with different types of filling. Some variations come with spices like cloves, cinnamon, anise, etc.
What makes Alfajores such a crowd-pleaser? Your answer is here.
22. Quesillo (Flan)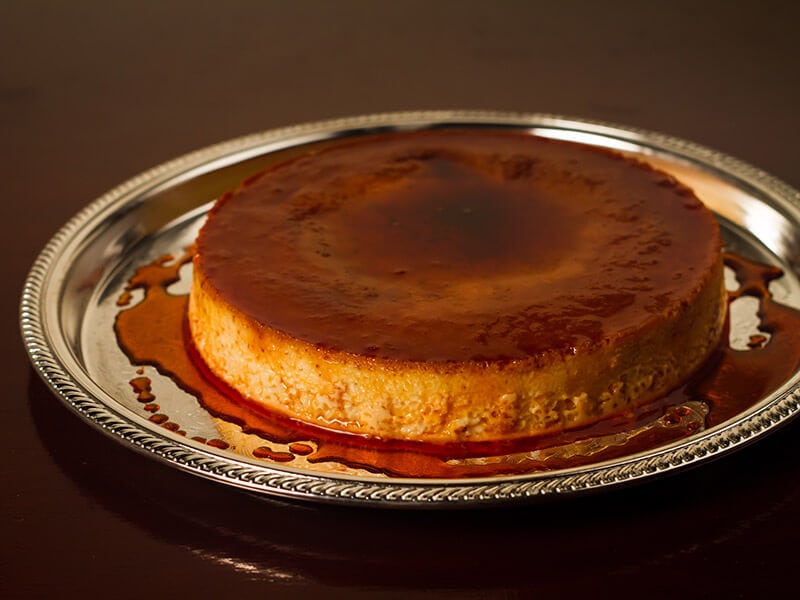 Many food specialists suggest the origin of Quesillo is from the Canary Islands – a Spanish archipelago. It is a type of flan made from eggs and sweetened condensed milk. Nowadays, Venezuelan Quesillo has a similar style to the Canary or Spanish version.
On the other hand, Quesillo is "little cheese" in Spanish, and they also come in many versions, depending on the country where they are made.
So if you have tried flan before, you can imagine the deliciousness and sweetness of this treat. But in Venezuela, they use a mold called quesillera to make Quesillo exclusively. Moreover, this dessert is more sponge than regular flan.
They also have a spongy look with plenty of holes as cheese's appearance; that's why they have this name Quesillo.
23. Marquesa de Chocolate (Chocolate Marquesa)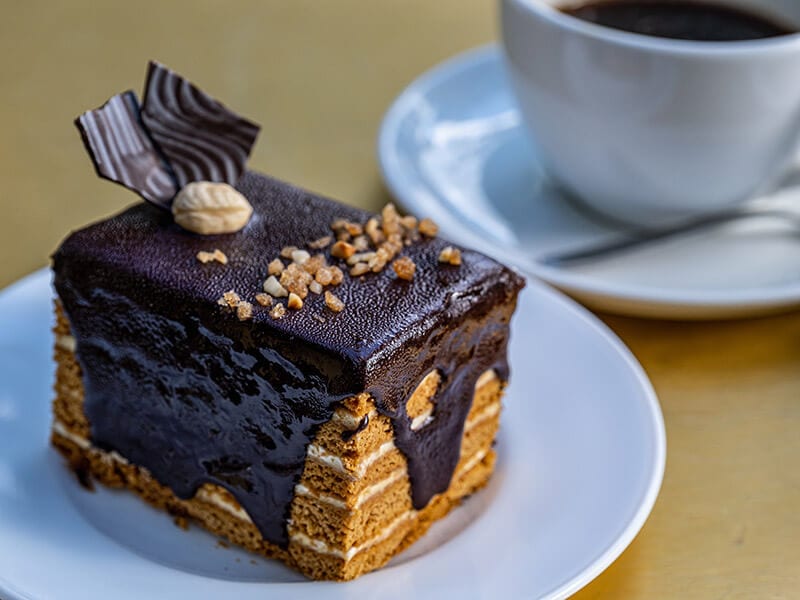 Although this sweet is not from Venezuela traditionally, it is one of several sweets on the list of famous Venezuelan desserts. Plus, its first appearance in this country from the beginning of the 20th century.
The term "marquesa" can be traced back to Creole cuisine of European and black descents born in Spanish America or West Indies. In which Marquesa refers to desserts made of chocolate.
The historians also think these sweets were derived from Marquise au Chocolat, a French chocolate dessert. But overall, in Venezuela, Marquesa de Chocolate is a layered cookie and chocolate pudding and requires no baking process.
This dessert can be listed under the curd or mousses category in the dessert dictionary as well.
You will not need a baking oven to prepare this delightful Chocolate Marquesa cake.
24. Bienmesabe (Coconut Cream Cake)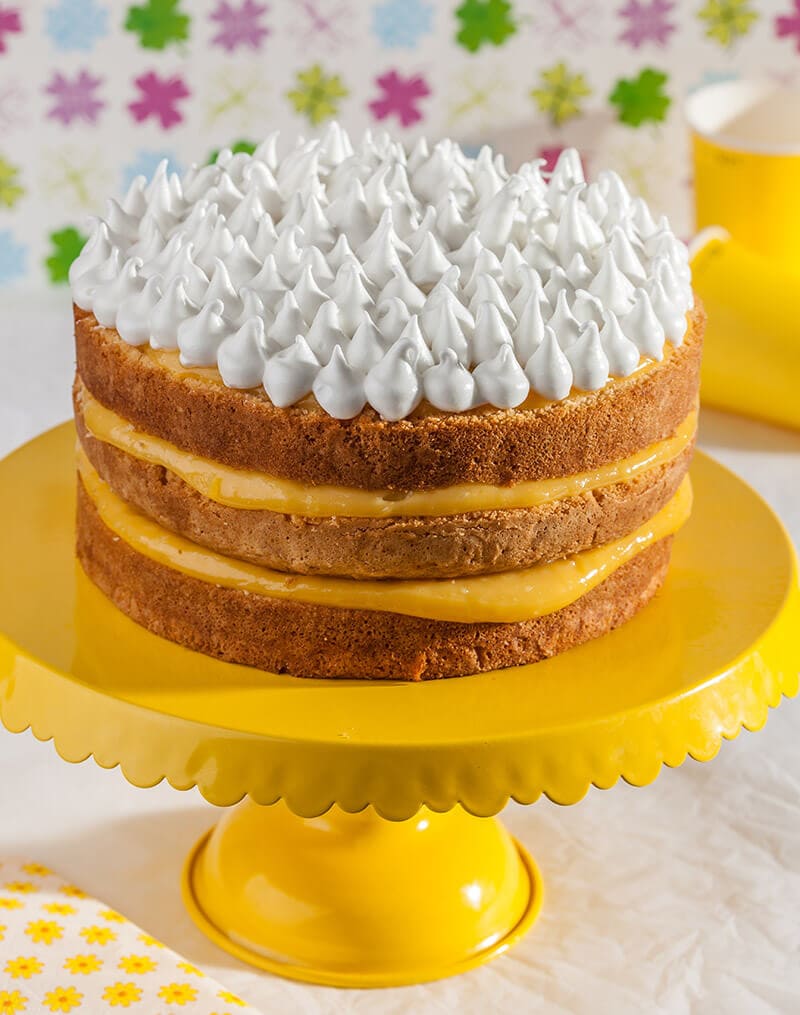 Bienmesabe means "it tastes good to me", and yes, its flavor is amazing. This is not a Venezuelan-originated dessert either. It has its roots in Spain, influenced by Moorish's cooking idea.
This dessert does not ask for too much effort. The key components in the Venezuelan recipe are egg yolk, coconut, and Sherry – fortified liqueur made from white grapes, but their appearance is stunning.
There are also many variations of this sweet based on their preparation. In general, if you search for the perfect combination of smoothness and creaminess, Bienmesabe is good for you.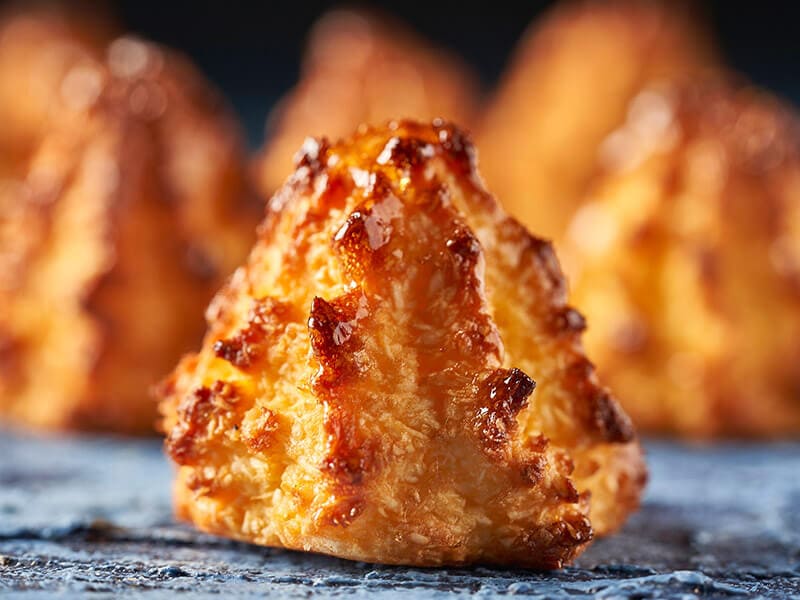 Here is another coconut-based dessert that is so famous in this nation. You can also find them in many Latin American regions with different names.
Besitos de Coco (or Coquitos) means "coconut kisses". They have a long history in Venezuela, which began at the end of 1700. Some people also think the true origin of this food is from Puerto Rico, where slaves used coconut milk to replace lard in creating desserts.
Today, these Besitos de Coco in Venezuela variations consist of flour, coconut, spices, and papelón (panela). They are an ideal choice for gluten-free treats that require minimal preparation.
So try to make some, take a bite, and feel their subtle sweetness and light creamy aroma from coconut. I guarantee no one can resist them.
Venezuelan Drinks
What I love about these must-try Venezuelan beverages is they are so perfect for hot days, particularly in summer. Indeed, Venezuela's summer temperature is approximately 82 F degrees, so with a sip of these cool drinks, you will feel like paradise.
26. Chicha (Rice Drink)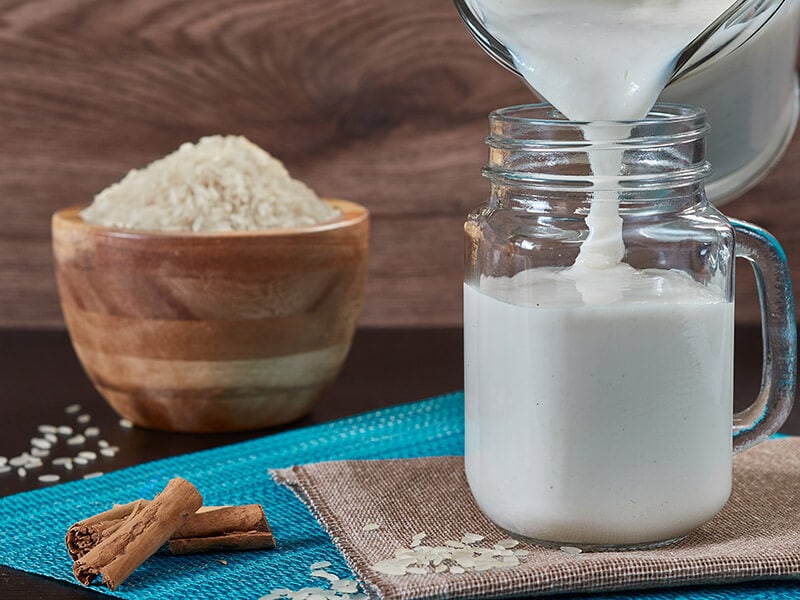 Chicha is an ancient drink in South America in the Andes. It can be a fermented or unfermented drink in Latin America. And, of course, there are many Chicha variations around the world.
No one knows the root of the term "chicha", but in the Kuna word, "chicha" comes from "chiab" with the meaning as "maize". Moreover, it is the generic word that Spanish use to describe fermented beverages of indigenous people.
In this country, Chicha is also called Chicha de Arroz and is made of milk, sugar, and boiled rice. Therefore, they have a white color with a consistency resembling eggnog. You can enjoy it as a drink with a touch of cinnamon.
What is Chicha, and why should they be on your dessert list? Do not miss this explanation.
27. Tizana (Fruit Punch)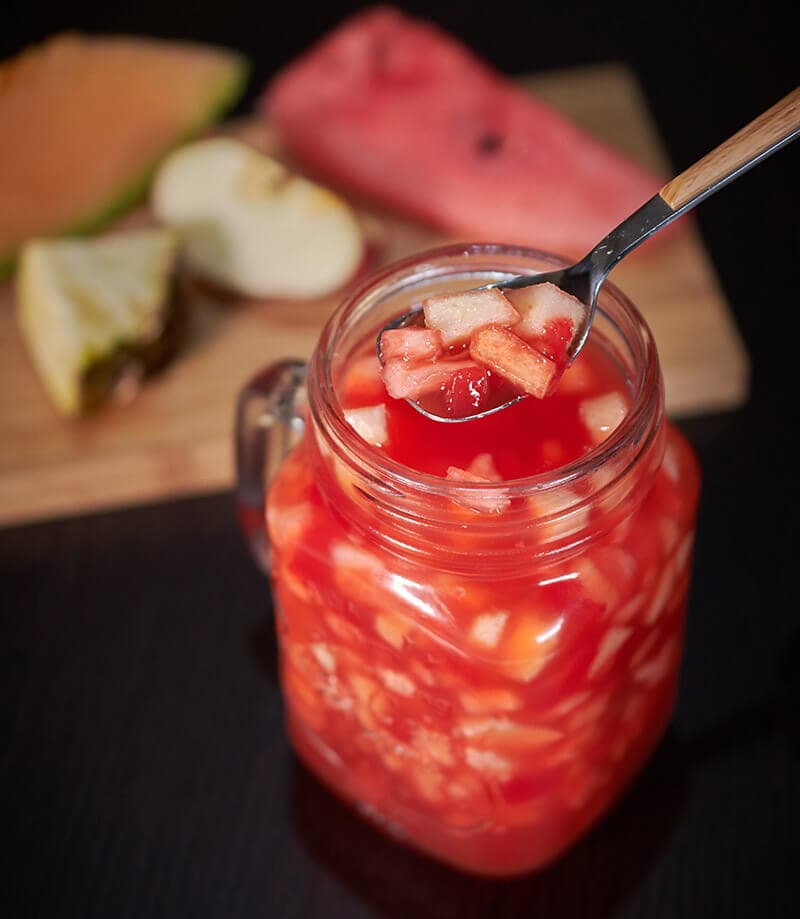 Though Venezuela's climate is a combination of tropical and isothermal, you can still find many tropical fruits like papaya, pineapple, melon, watermelon, or mango in this country.
And with this fruit punch, it is time to get away from hot days. Tizana is a traditional Venezuelan drink that you can serve at any party, as dessert or afternoon snack.
They originated from Spanish Sangria – an alcoholic beverage with fruit. On the other hand, the term "tizana" in Spanish is "tisane", which refers to herbal tea. But in Venezuela, they carry the taste of tropical fruit and grenadine – an alcoholic-free syrup with an iconic deep red color.
The preparation, obviously, is so easy. All you have to do is mix them together and place them in the fridge to chill, or you can add ice before serving.
28. Papelón con limón (Piloncillo and Lime Drink)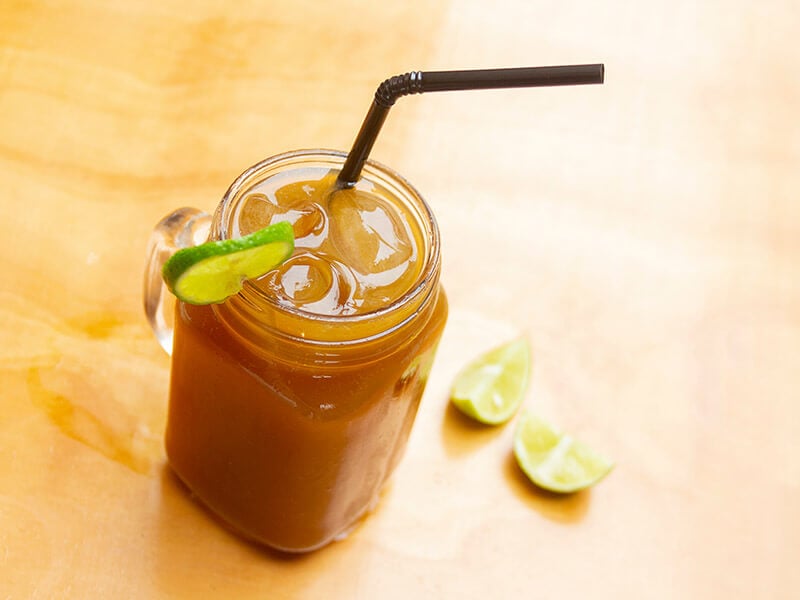 Papelón con limón is Venezuelan-traditional beverage with various names, such as Panela con limón, Guarapo de papelón con limón, Aguapanela, etc.
As explained above, papelón is brown unrefined cane sugar. So technically, this drink is a sweet lemonade as "limón" is lime. People believe this drink existed from colonial times in Venezuela and was derived from an old sugar cane mill.
Nowadays, they are a super refreshing drink available in many Venuzelans' fridges as they only need a few ingredients like lime, blocks of papelón, water, and ice. You can enjoy them as a cool dessert or accompaniment in any meal.
No-fuss drink called Papelón con limón will be your lifesaver this summer.
---
What Are Your Favorite Ideas In This List Of Venezuelan Foods?
Venezuela is a blessed country with many delicious and healthy foods. Their cuisine is diverse, which can impress everyone, even the pickiest person. And above 28 treats are ideal examples to prove the wonderfulness of Venezuelan foods.
So have you found your favorite dish to try in this country yet? Tell me your opinion in the comment section. And do not forget to click like if you love my post. Thank you so much!