With my list, you'll have endless choices of Caribbean appetizers for a romantic date or a cozy family party. Hurry up and grab one of my tasty Caribbean ideas below.
The cuisine of the Caribbean is very diverse. It is widely affected by exotic Cuban cuisine. But you'll also find Jamaican cuisine, Puerto Rican cuisine, and cuisines from other Caribbean island nations in it.
In addition, the list includes a couple of vegetarian dishes that will undoubtedly suit some specific diners.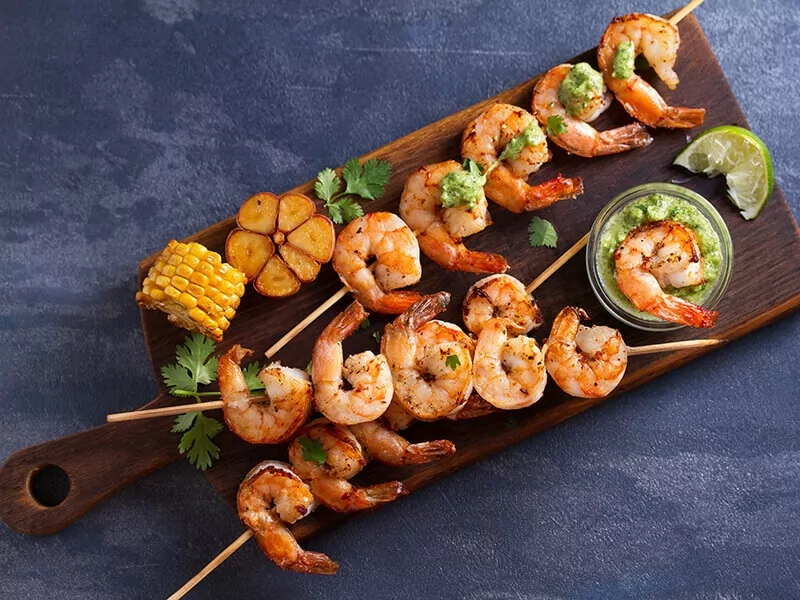 23 Yummy Caribbean Appetizers With Tropical Flavors
The suggestions for Caribbean appetizers that I give you are famous and very well-reviewed dishes. I believe that you'll try them soon because they all are effortless to do.
Finger Food:
Yaniqueques (Crispy Dominican Fritters)
Pholourie
Sorullitos de Maiz (Puerto Rican Cornmeal Fritters)
Bacalaitos (Codfish Fritters)
Stuffed Plantain Cups
Puerto Rican Papas Rellenas (Stuffed Potatoes)
Jerk Chicken Tacos
Jerk Style Cauliflower Wings
Salad:
Caribbean Salad
Caribbean Potato Salad
Caribbean Three Bean Salad
Caribbean Coleslaw
Soup:
Caribbean Sweet Potato Soup
Trinidad Corn Soup
Jamaican Pumpkin Soup
Dip:
Caribbean Shrimp Spread
Caribbean Guacamole
Caribbean Layered Dip
Warm Cuban Sandwich Dip
Bread:
Caribbean Shrimp Bruschetta
Caribbean Sweet Cornbread
Cassava Bread
Jamaican Coco Bread
Next, just keep scrolling down. Recipes are waiting for you!
Let's Start With 8 Simple Caribbean Finger Food Dishes!
Why is it simple? You can find these finger food dishes anywhere, and the ingredients are available to see at many grocery stores. Suppose this is your first time doing it; I believe it will also be very successful and exciting!
And if you wish for a Caribbean drink to get you going, Haitian Rhum is a good choice. This popular delicacy from Haitian cuisine is made from sugarcane, resulting in a lighter yet more flavorful alcoholic beverage.
Dominican fritters are incredibly high-quality appetizers. These classic Dominican dishes are very popular with simple ingredients such as flour, baking soda, water, and cooking oil.
They'll be crispy and flaky when you eat them. It makes me feel good when chewing them with a bit of sauce. Try doing it! You won't regret it.
Crave For Some of These Crispy Bites? Why Don't You Make Them Right Now!
This amazingly flavorful street snack is enjoyed all over the Caribbean, especially in Trinidad and Guyana. Pholourie is a well-known snack, but it also can be a simple yet perfect appetizer as well.
It's soft, chewy, fluffy, and salty. I was able to eat a large portion by myself and enjoyed it with tamarind sauce. It makes me feel excited. Make your pholourie balls with this recipe for simple yet delicious street food.
Sorullitos are a delicious cornmeal-based sweet treat that originated in Puerto Rico. They are commonly served as a side dish or appetizer and are crispy on the outside and deliciously moist and buttery inside.
They are great for brunch, as a dinner appetizer, or as a snack at any time of the day. Let's make it right away!
Bacalaitos are the perfect appetizer, snack, and even a side dish with beans! The chef makes Bacalaitos from salted codfish that is shredded and deep-fried with flour. To enjoy the dish's best performance, make sure that the fish is boneless.
As a result, you can eat incredibly delicious codfish cakes that are crispy on the outside, spongy, and salty on the inside. Shouldn't you try some?
How To Make Stunning Bacalaitos Right At Your Place! Let's watch this video:
Stuffed plantain cups, also known as Tostone Rellenos, are cute little cups filled with chopped filling and topped with mayo and ketchup. Easy to make, they are a fun and luscious appetizer to serve friends and family.
The fillings for this dish can be very diverse: octopus salad, sauce, garlic shrimp. Rellenos got stuffed with ground beef with cheese, or you can be more creative if you want something more refreshing.
Puerto Rican Papas Rellenas are an all-time favorite in the Caribbean. These authentic dishes from Puerto Rico are fried golden on the outside while the inside is still creamy. Meat and potatoes come together to make the perfect appetizer.
As a first look, you will see how adorable and stunning these little puffs are. Moreover, the taste hints that only when you shred it in half and bite. In addition, the dish flavor is typically mild, so you can prepare an extra sauce to enhance the flavor.
Learning how to make delicious chicken tacos with plenty of tropical ingredients is suitable for your warming dinner or a fabulous party too.
In my view, minced fruit is a beautiful feature of the dish. It gives the taco a delightful and fascinating appearance and spices up the other companies. Moreover, when combined with the excellent chicken jerk, the whole mixture interestingly merges.
If you are a vegetarian, these beautiful cauliflower wings are the best dish to satisfy your taste.
In general, this beautiful cauliflower dish is a substitution for chicken wings. You still probably taste how crispy, savory, and succulent the wings are. Moreover, the Jamaican jerk style gives the wings an incredible feature that cleverly suits the whole thing.
Making Caribbean Salad Is Not As Difficult As You Imagine!
It is not only suitable as a nutritious appetizer but also a favorite of a healthy lifestyle. With Salad, the preparation stage is not too fussy. Suitable for those who do not have much time for cooking.
The mix of sweet oranges with savory chicken and herbs topped with sweet dressing is magical.
This fantastic salad is an excellent combination of sweet and sour in the whole thing. Thus, you can plan a picnic with your family and prepare this Caribbean salad. When you eat, you will feel more about the taste and enjoy it to the fullest.
Suppose you like a greasy, creamy, delicious, and full of vegetable Caribbean salad. Potato salad is the first choice that you should try out.
Here's a recipe that can fit right into a menu, no matter what the main dish is. It is a great side dish to make ahead, and you can use any potatoes. In addition, a tip for handling potatoes is to boil them with a few salts. Thus, it will get easier to cook.
Want to impress your friends and family? I hope you try this recipe out. Watch this video:
Three Bean Salad is the perfect colorful appetizer when served on the table. This dish attracts diners with its multi-layered cereals, textured beans, and crunchy veggies.
Ingredients include red kidney beans, chickpeas, sweet corn, sticky beans with horn chili, cilantro, and honey lemon sauce. If you try it once, you will probably do it again.
Caribbean Coleslaw is a no-dressing salad that is a side dish requiring simple preparation. Easy and quick to prepare for a busy morning. It will be sweet, nutritious, with some spice added and give it many tropical vibes.
This Caribbean Coleslaw is crisp and refreshing with some mangoes, pineapple, and other veggies thrown in the mix. A perfect balance of tangy and sweet. It is hard to stop the bite.
Top 3 Most Popular Caribbean Soups
I love soup because it's an easy dish to make. The Caribbean soup recipe offers a distinctly different taste. If you like soups as I do, I don't think you can give up on the list below.
Are you looking forward to the explosive flavors of Caribbean soup? Trust me; this Caribbean sweet potato soup will give you the best experience.
The soup seems to be an extensive exposure of creamy, comforting soup. Plus, it is a beautiful feature of bold and earthy spices, coconut milk, and sweet potatoes. Generally, the soup combination is so delicious and memorable in its way.
Trinidad corn soup is the best vegan street food that is hearty and flavorful. This staple food from Trinidad and Tobago cuisine is a delicious soup in the Caribbean that most tourists will try when visiting here. If you're looking for a taste, why not give it a try?
When the weather is cold, soup can comfort the body very well. In addition, the recipe is not too difficult; just follow the mentioned recipes, and I believe that you will nail it.
Why look for the best Trinidad corn soup when it's right under your nose? Watch this video:
A great vegetarian Jamaican dish that probably many restaurants will serve as a tasty appetizer. Pumpkin soup is no longer a strange dish with anyone. The soup cooking preparation is a bit extensive, but it is worth every minute waiting.
Jamaican pumpkin soup is an excellent dish that tastes creamy and has a squash-like flavor. I like a couple of slices of sourdough bread to enjoy while the main dishes are on the stove. Plus, some extra cashew is not a bad idea to cream up the soup taste.
Unique Caribbean Dip Ideas That You Should Not Miss!
The blend of ingredients together creates the perfect dip sauce. Plus, there are plenty of choices with many different flavors for you to pick up.
The Caribbean spread, an easy seafood-based appetizer recipe with cream cheese, shrimp, jam, and the Caribbean season is enough for you to have a nutritious meal.
There are only five ingredients in the Curry Shrimp Spread, but if you want to add a little more to this dish, it is possible to add some coriander and chili to raise a fresh, herby taste for the plate gently.
Behold a beautiful Caribbean dish that you may fall in love with. Guacamole seems to be a well-known appetizer that plays a significant role in Mexican cuisine. However, I guarantee that this Caribbean feature is also delicious in its way.
You can quickly taste something as flavorful and delightful as the first time trying the sauce. It happens thanks to significant exposure to plenty of Caribbean tropical ingredients in the recipe so that you can eat it all day without feeling bored at all.
Another Caribbean dip sauce for you to note on your cooking list. The sauce is very fruity, creamy, and a bit sour that fits many dishes.
Suppose that you are looking for a tasty snack, not too fussy, or require many preparations. Well, you are in the right place. This Caribbean layered dip sauce is effortless so that you can have an excellent snack or an appetizer for a dinner party in just a few minutes.
You want a snack or an appetizer that is not only tasty but also simple to make. I believe that this excellent Cuban sandwich dip is a bright candidate for you to try.
As its name suggests, the dipping sauce goes pretty well with sandwiches or baguettes and sourdough. The recipe's creamy taste of cheese, swiss cheese, and mayonnaise spread out a succulent and aromatic flavor for the dish.
4 Yummy Bread Recipes With Caribbean Spices
Bread in the Caribbean region varies from sweet ones used in desserts to crunchy and crispy slices. Follow me and discover some of the fantastic bread ideas below.
Bruschetta is a typical Italian antipasto containing seafood or meat, olive, and cheese in the dish. This Caribbean recipe is a beautiful remake of the bruschetta that will give you a delightful eating experience.
As a first bite, you can quickly tell how crispy the toasted bread is. Then follow the crumbs to a savory and shrimp spread versus minced fruits are very flavorful and delightsome. Note it down and give it a try when you have a chance to.
Another noteworthy merit of this recipe is that it's a dish you can make from leftover shrimps. As long as you know the proper way to keep cooked shrimp fresh, this crispy bruschetta recipe will still taste heavenly.
I love making this when I feel upset. Cornbread is a friend who can help you relieve that destructive energy. Trust me! The recipe for the cake is also simple for you to make.
Cornbread is extremely popular with people who like the bread texture as well as its taste. If you are one of them, spend your spare time and enjoy the dish with your family. The food tastes so delicious, spongy, fragrant, and you would never make it any other way.
Besides those mentioned tasty appetizers, there is still one more delicious dish from Jamaica for an energetic morning. Cassava Bread is a light and suitable breakfast for everyone.
This bread is perfect for sandwiches, eating with soup or toasting, and topping with grass-fed butter or avocado. With how versatile and tasty it is, cassava bread has soon become a popular food in Saint Lucia and is available in many flavors here as well. Enjoy!
As a bread fanatic, you will certainly not be able to ignore Coco bread. It is a popular appetizer dish in Jamaica and other parts of the Caribbean sea countries.
The first taste is buttery, slightly sweet with a firmed point on the outside, and soft inside. It seems to be a great deal for breakfast, lunch, or even dinner! Here is the bread recipe that will surely make a successful appetizer.
The Softest and Creamiest Coco Bread For You To Snack!! Easy To Make At Home!
Take Care of Your Order!
In my perspective, the best way to comfort everyone is through the stomach. When you eat well, the mood will be happy and gives out positive energy.
Therefore, these beautiful Caribbean appetizers are an excellent solution or addition to providing a fantastic meal for your lovely family members.
Plus, you may find some of them are so familiar to your daily cooking list with effortless recipes. Hence, making a great meal is never getting more accessible.
If you want to discover the Caribbean region, these recipes will be an excellent start for you.
Take care and have a good day!
Nutrition Facts
6 servings per container
---
Amount Per ServingCalories186
% Daily Value *
Total Fat 4.3g

7

%
Cholesterol 10mg

4

%
Sodium 223mg

10

%
Potassium 130mg

4

%
Total Carbohydrate 32.2g

11

%

Dietary Fiber 1.2g

4

%
Sugars 0.1g

Protein 4.3g

8

%
---
Calcium

44

%
Iron

2

%
Vitamin D

3

%
* The % Daily Value tells you how much a nutrient in a serving of food contributes to a daily diet. 2,000 calories a day is used for general nutrition advice.