Have you ever tried Trinidad and Tobago foods? If not, then you are missing out on an important delight that this Caribbean country can give you. Well-known for its beaches, carnivals, limbo, and music, the island country is also home to many mouth-watering dishes.
The diverse cultural makeup of the country translates into a rich and impressive cuisine. You can find in its foods a vigorous identity that is forged from various great cultures. Scroll down to discover the best that Trinidad and Tobago cuisine has to offer!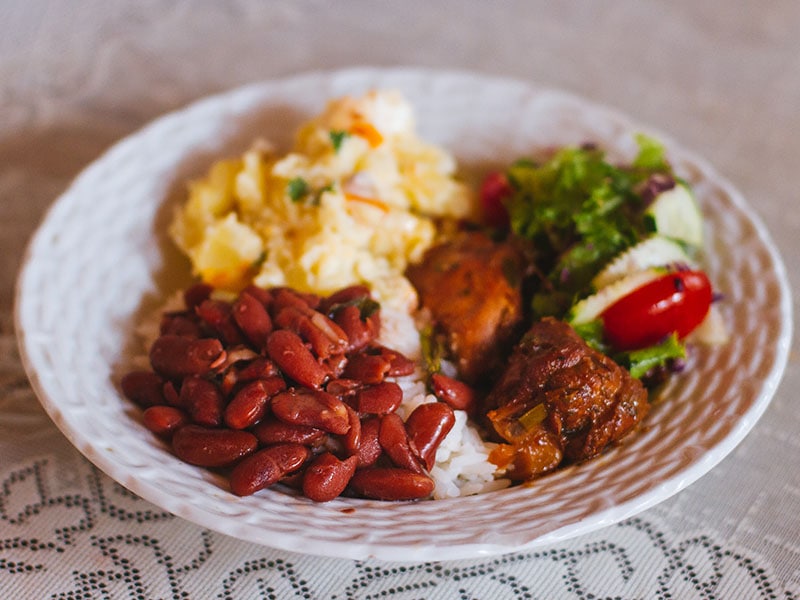 Trinidad and Tobago Side Dishes and Appetizers
What is the name that the people of Trinidad and Tobago call their appetizers? Read to the end of this section to find out the answer. Anyway, I'm going to introduce a few popular Trinidadian and Tobagonian ideas to start or supplement your meals.
1. Trinidad Roti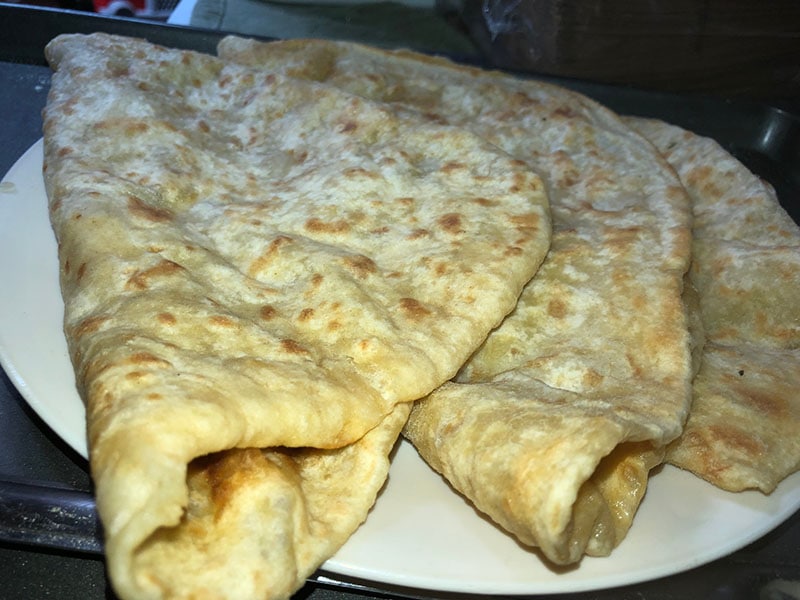 How on earth did the iconic Indian flatbread end up as one of the staple foods of the islands? Because Trinidad and Tobago used to be a British colony, during which time a lot of Indian indentured laborers were brought to work there. Many of them eventually settled down.
As a result, a large number of Trinis (the colloquial name for the people of the island nation) follow Hinduism or have Indian descent, or both. The fusion of Indian culture brought many foods from the mainland to the islands. And so, Roti became an important part of the cuisine.
The flatbread is a popular side dish to accompany many dishes, like stews, curries, or broth. The most popular type is probably Sada Roti which is part of most Trinidad and Tobago breakfast dishes. Meanwhile, Dhal Puri Roti is thicker and mainly used for wrapping meat.
2. Macaroni Pie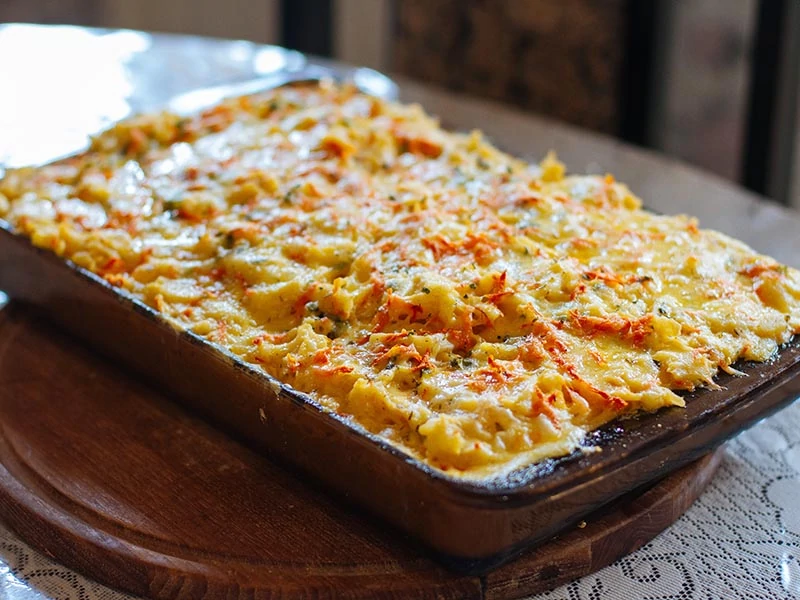 This casserole dish represents a strong American influence on Trinidadian and Tobagonian cuisine. A popular story goes that the American troops who were stationed at the island's Chaguaramas Naval Base after World War II popularized the dish with local people.
Trinis quickly discovered that the macaroni pie was a filling and delicious side dish to substitute for rice, Roti, or fried plantains. The local version follows the same instructions as the original, consisting of macaroni, butter, eggs, milk, and cheddar cheese.
In the past, however, cheddar cheese was expensive for many people, so they reduced the amount of cheese and added sauteed onions and condensed milk. As time went by, people used plenty of spices in the pie. That's how the macaroni pie of the Trinis stands out in a crowd.  
3. Callaloo – Vegetable Stew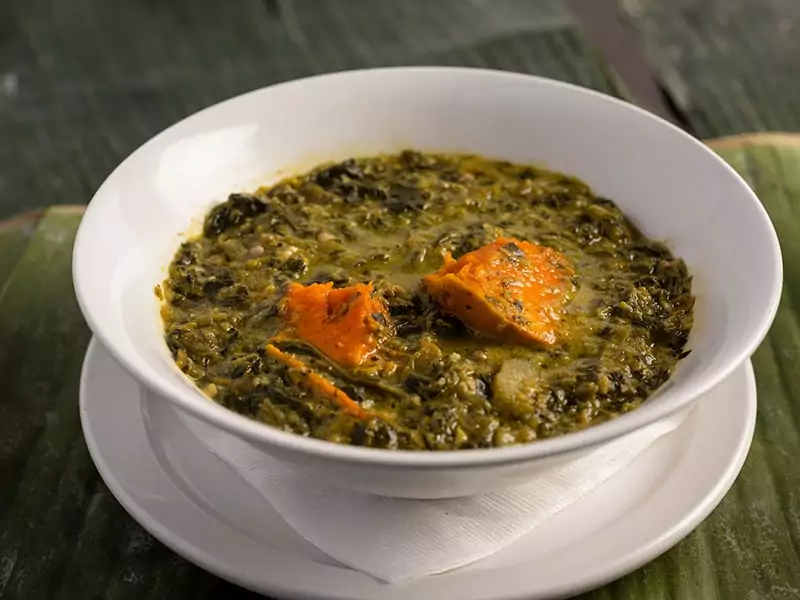 African descendants make up a significant portion of the populations of Caribbean nations. An important part of their heritage is a wide array of exotic dishes from the "Mother Continent". Among them, Callaloo is an excellent specimen, especially popular in Trinidad and Tobago.
It is a rich stew made from vegetables, spices, and, most importantly, coconut milk. The most popular choices of greens in the islands are the leaves of ground provisions (a West Indian term for local root vegetables, for example, yams, sweet potatoes, cassava, or taro).
Callaloo is a creamy, delicious, and chewy stew that nicely complements rice, chicken, or fish.  It's so popular that many Trinis consider it the informal national dish of the country.  
4. Baigan Choka – Roasted Eggplants
"Baigan Choka" means something like "roasted eggplants" in the local Hindi dialect, so you've got an idea of what this dish is. If you are dreaming of an attractive vegan Trinidad and Tobago recipe, this is the answer to your prayer.
Baigan Choka is made by simply roasting an eggplant (preferably in an aluminum foil), scooping the flesh out, and mashing it with roasted tomatoes, sliced onions, spices, and garlic. Prevalent in the West Indies, this dish is usually paired with Roti or rice.
5. Traditional Trinidad Corn Soup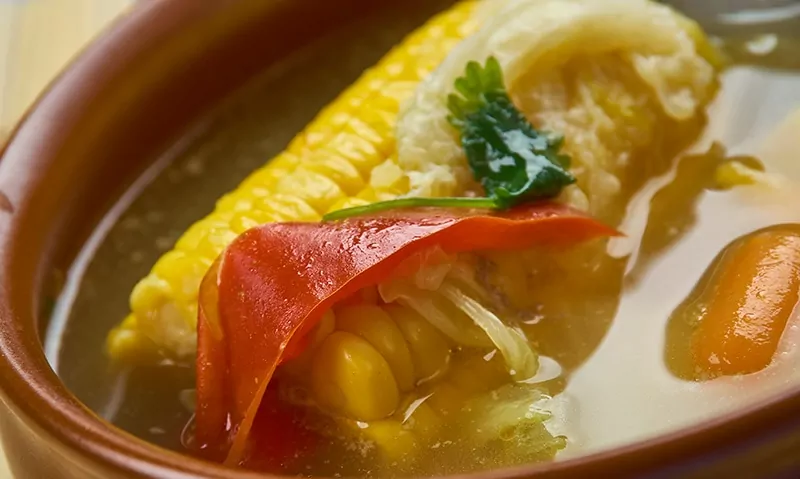 The islands are a magnet for international tourists, which, in turn, gives them very exciting nightlife. Taking a trip to local bars or carnivals in the wee hours, you can easily come across the traditional sweet, spicy, appetite-awakening corn soup.
Of course, corn is the main ingredient. People cook it along with yellow split beans, sweet potatoes, carrots, and a lot of peppers in coconut milk. Eating it hot out of the pot with dumplings or grilled pigtails (that's right!) is a tasty way to recharge in the midst of a wild night.
Discover a great vegan recipe for cooking Trinidad corn soup here.
6. Geera Pork – Spicy Cumin Pork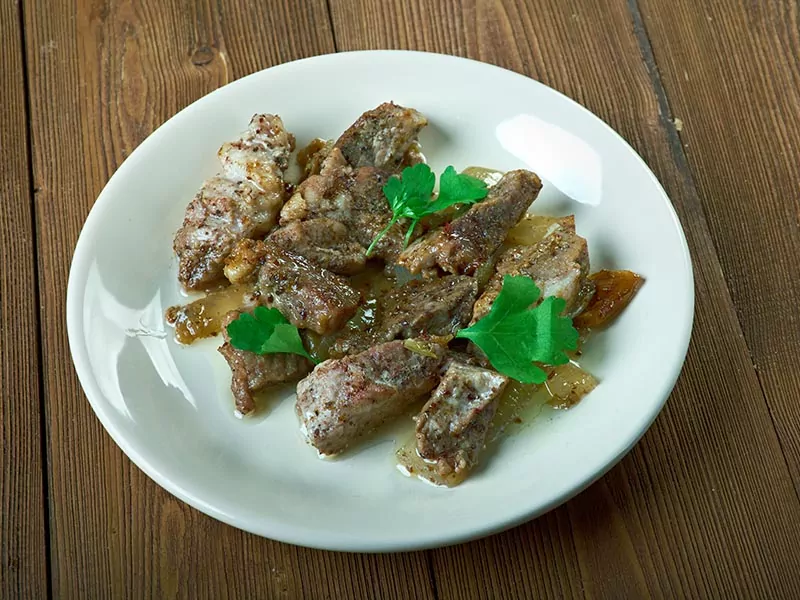 Trinidad and Tobago is a culturally and linguistically diverse country, so it isn't strange for a dish to have a mixed name. For example, "geera" is the Hindi word for "cumin". Geera Pork is a savory cumin-infused meat dish that originates from the Indian-descent community.
To make this dish, people cut the pork into many small pieces and marinate them in a mixture of strong spices for many hours. The mixture includes cumin, lime juice, chives, onions, peppers, bandanya (a native herb), and salt to taste. Finally, the pork is cooked in water until tender.
Geera Pork falls into the category of "cutters". Roughly equivalent to appetizers, it's the local term for dishes that you should enjoy with beer or liquor so that you can consume a larger amount of alcohol.
7. Trinidad Black Pudding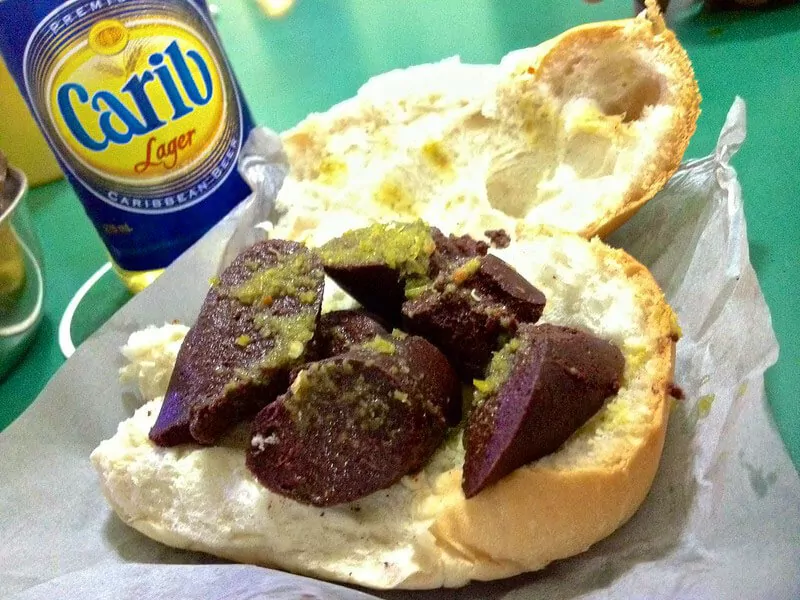 First thing first, this isn't a pudding but rather a type of blood sausage. It is undoubtedly an acquired taste, but the sausage is one of the best and most widely sold "cutters" on the islands.
Trinidad Black Pudding is made from various pig parts. Its main ingredients are pig's blood, pig's fat, pig's liver, bread crumbs (optional), and a lot of spices, all stuffed in pig's intestines. The last step is to boil the sausage and possibly to sear it a bit before serving alone or with bread.
Black Pudding is a famous English dish that was spread to its former colonies. The Trinidad version not only retains the spicy and savory virtues of the original but also enhances it with the islands' abundance of tropical heat and vigor.
8. Souse – Pig's Trotter Stew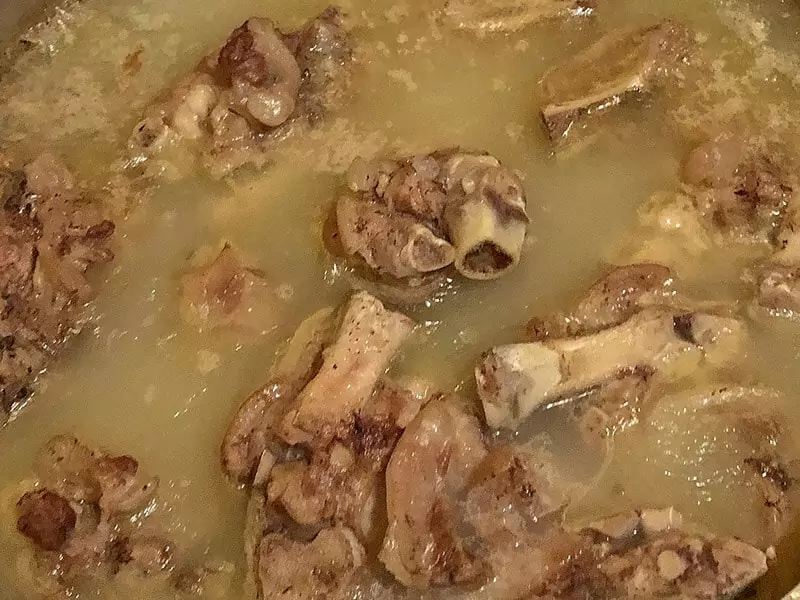 Before you jump to any negative conclusion about this interesting dish, let's hear what the locals have to say. Their general opinion is that Souse is a wonderful hangover cure, a delicious pickled recipe for everybody, and a "cutter" that all late-night restaurants and food stalls should offer.
Trinis usually cook Souse from pig's feet (or trotter), but those of cow or chicken are popular as well. The feet are boiled then marinated with spices in cold water, and served with vegetables. Souse is a fatty, meaty-smelling, gelatin-rich pickled dish that makes a great feel-good factor.
Trinidad And Tobago Main Dishes
Tourists flock to the islands to behold their breathtaking sights and get immersed in their beautiful beaches. But Trinidad and Tobago foods are another allure that will get them hooked. The following dishes will keep you happy for a long time.
9. Oil Down – Breadfruit and Pigtail Stew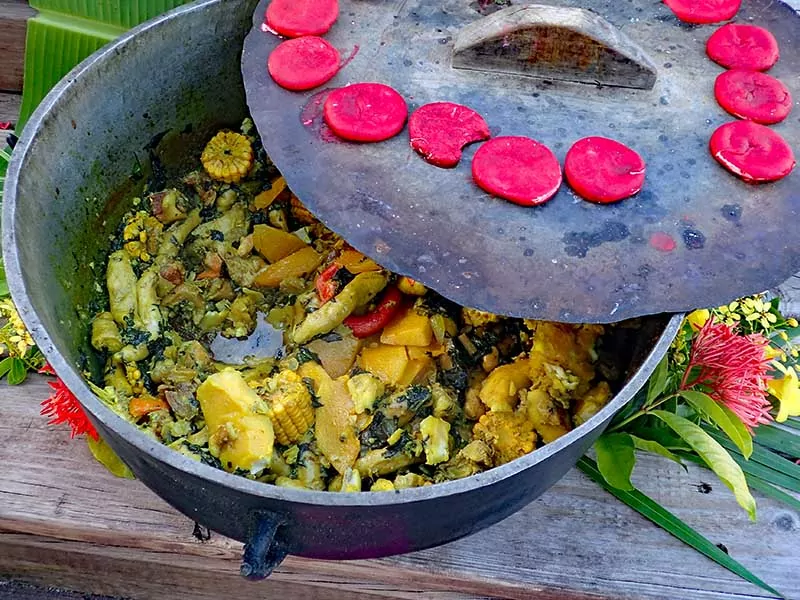 Near the islands of Trinidad and Tobago is Grenada, a tiny West Indian island country. The two have had numerous cultural exchanges, such as the latter's national dish Oil Down. It is also a common sight at Trinis' family meals on Sunday.
Basically, Oil Down is a coconut milk-based stew of breadfruit, pigtails (surprise!), green plantains, chicken (optional), peppers, and spices. Its interesting name, "Oil Down," stems from the fact that the coconut milk's oil usually settles down at the bottom of the pot.
However, the mark of a good pot of Oil Down is that its vegetables and pigtails should fully absorb the delicious oil to become a creamy and mouth-watering stew. Oil Down started as poor man's food, but it is now a beloved dish of every Trini.
Check out how the local Trinis prepare Oil Down here.
10. Pelau – Rice Dish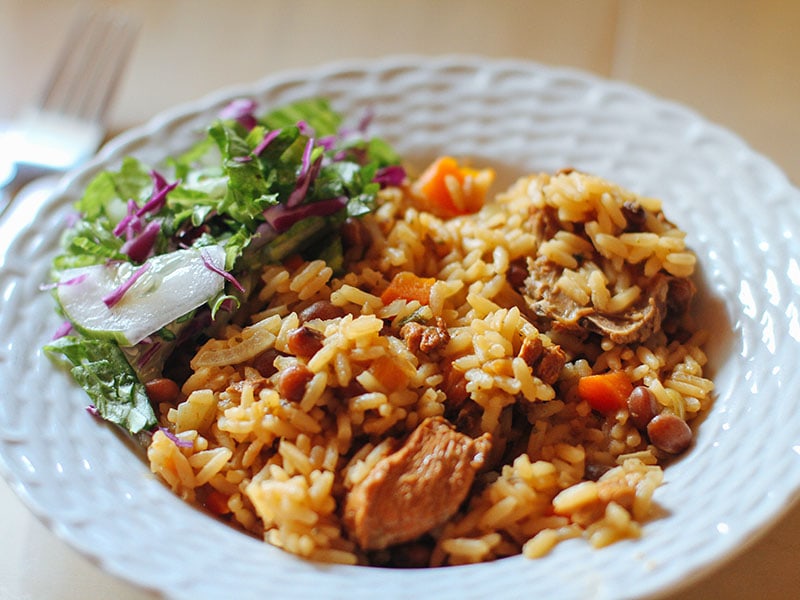 Some people say Callaloo is the national dish of Trinidad and Tobago, but many claim the title should go to Pelau. Possibly with African roots, it is a traditional rice dish of many Caribbean countries. Trying the dish is a must in your Trinidadian and Tobagonian experience.
For all its sophisticated taste, Pelau is incredibly easy to prepare. It involves cooking aromatic rice, browned meat (beef or chicken), and vegetables in coconut milk. Pigeon peas can be added to the rice, while the meat must be caramelized in sugar and oil.
Trinis usually cook and contain Pelau in a pot to carry around easily. It is an extremely rich, savory dish to serve with salads and stews. But if you're in for a moment of tropical giddiness, try it with some slices of nutty avocado.
11. Trinidad-Style Curry Chicken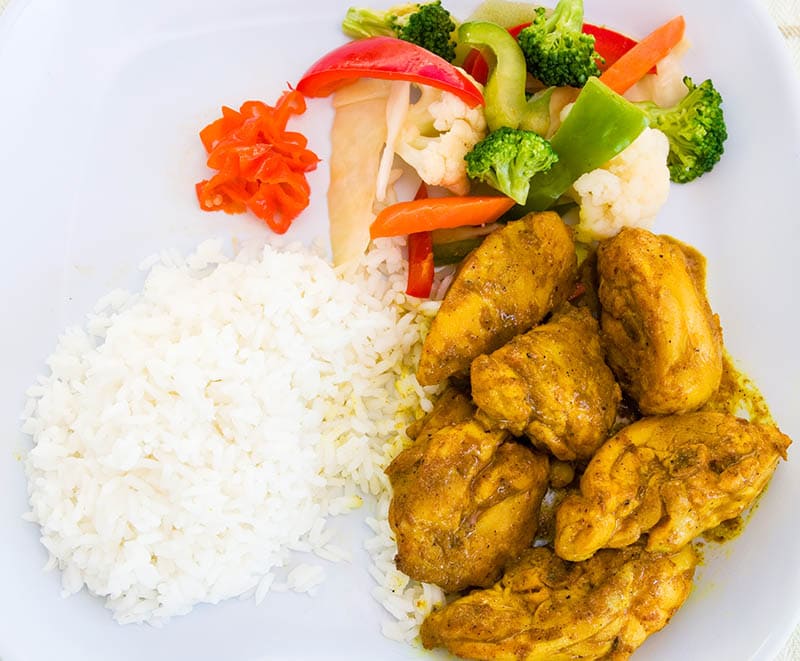 Don't be surprised if Curry Chicken is one of the most popular Trinidad and Tobago lunch dishes. Remember that the country has a sizable Indian-descendant population. After centuries of adaptation, Curry Chicken is now a mainstay of the country's culinary arts.
Many Indian elements in the dish are replaced with local Caribbean ingredients. For example, Trinis use coconut milk in place of yogurt and ghee to create a sweeter curry, or they add more spices to the pot. But people still serve Trinidad-style Curry Chicken with rice and Roti.
Learn how to cook Curry Chicken from a Trinidadian mother here.
12. Tobago Curried Crab And Dumplings
Curried Crab And Dumplings are a great traditional dish of the country, but it is more identified with the island of Tobago. Put aside your knives, forks, and spoons because this is a sublime delight that you have to enjoy by getting your hands dirty.
The dish requires the preparation of both crabs and dumplings. A popular choice for crabs is big Caribbean blue crabs seasoned with strong spices and cooked in a rich, coconut milk-based curry. The dumplings should be made from flour and grated cassava (also known as yuca).
After the dumplings are well cooked in the curry broth, everything is ready to serve. Break apart the shells and savor the sweet, umami-packed crab meat inside. Don't forget to simultaneously use the dumplings to soak up the rich sauce dipping from the crabs and devour them.
Check out how to prepare perfect Tobago Curried Crab And Dumplings from start to finish here.
13. Trinidad Fish Broth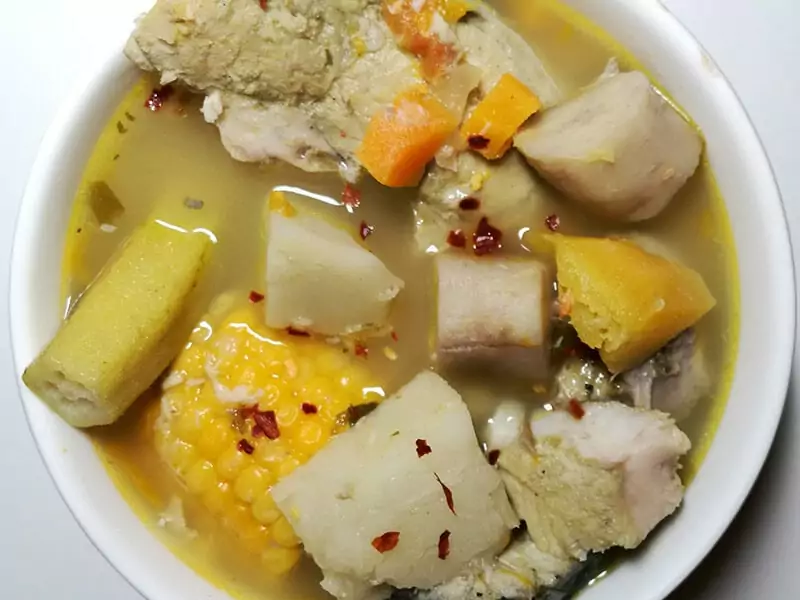 If you think of fish broth as a mundane, ordinary dish, let's try the Trinidad upgraded version. It is a popular comfort food and an effective hangover cure for many locals as well as foreign tourists.
Because I'm talking about an island nation, there is no shortage of fresh, succulent fish. Any type of fish will do, but it should be carefully seasoned and marinated in lime juice and spices. Stew it with plantains, cassava, peppers, some herbs, and your fish broth is good to go.
If you need a pot of fish broth, especially in the aftermath of a night party, look for one with a higher content of salt and water. Otherwise, you can pair the broth with noodles or dumplings for a tasty and hearty meal.
14. Buljol – Salad With Fish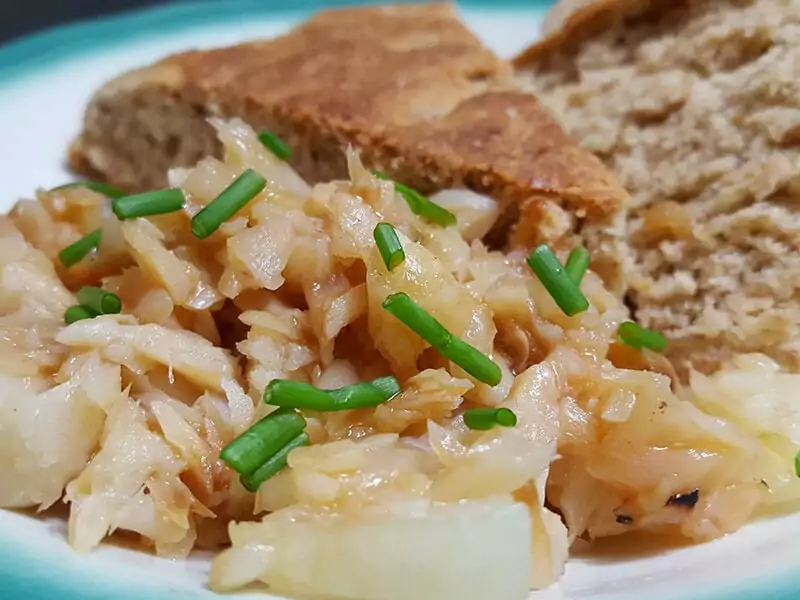 For many reasons, French culinary culture holds strong sway over Trinidad and Tobago. A sign of that influence can be found in the traditional salad Buljol. Its name is a combination of two corrupted French words meaning "muzzle" and "burned", referring to the spiciness of the dish.
The star of Buljol is salted fish (usually cod) that has to be boiled to remove salt from the fish. It is later shredded and mixed with onions, hot peppers, tomatoes, garlic, and oil. The quantity of pepper should be large enough to give it the "burned" quality.
Buljol used to be the domain of poor families' meals. But Trinis from all walks of life now enjoy it as a popular breakfast item. The best accompaniments with it are bread (locally known as hops) or boiled ground provisions.
This in-depth tutorial will show you how to cook Buljol at home.
Trinidad And Tobago Desserts
Trinidad and Tobago sweets and cakes aren't for the faint of heart. They have immensely strong flavors and will arouse your taste buds a lot. Have a taste of them to enrich your culinary experience.
15. Black Cake – Rum-Based Fruitcake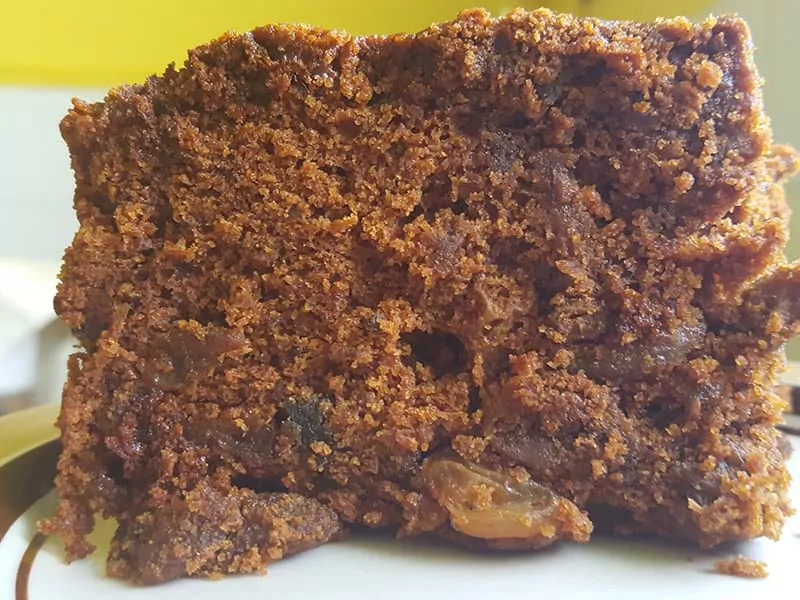 You're probably familiar with the Caribbean pirates' much-popularized liking for rum (courtesy of Disney, I guess). Anyway, rum is the key ingredient for one of the best Trinidad and Tobago desserts, the notorious Black Cake.
This is an adapted version of the original fruitcake recipe that British colonists brought to the island. Instead of soaking dried fruits in spirits, Trinis douse them in rum instead. After the cake is baked, they also pour rum over it at regular intervals until it acquires a distinct ebony color.
The Black Cake is a must-have dessert for Christmas, which is a big holiday in the country whose half the population is Christians. A slice of moist, sweet, slightly rum-scented cake is a good way to liven up the festive spirit.
16. Pone – Cassava Cake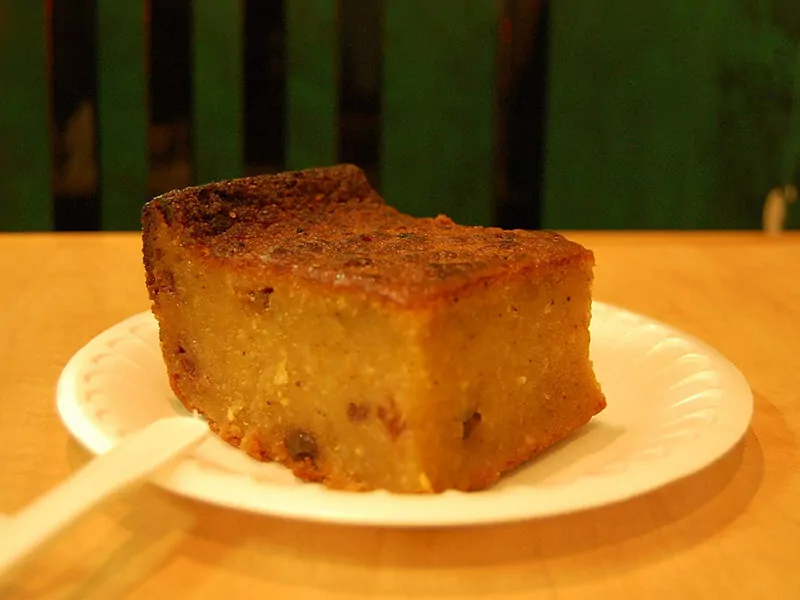 Cassava (or yuca) is the staple foods of many American countries. The term "staple foods" gives out a vibe of culinary mundanity and plainness. But if you visit Trinidad and Tobago, you will see how its people turn it into tasty and lively Pone, a type of baked cake.
There isn't a fixed recipe for Pone, but it's always made from a mixture of grated cassava, mashed potatoes, coconut, and spices like cinnamon for flavoring. Local people bake them until crisp and brown on the outside while soft and moist on the inside.
Discover an easy homemade Pone recipe here.
17. Barfi – Spiced Milk Sweet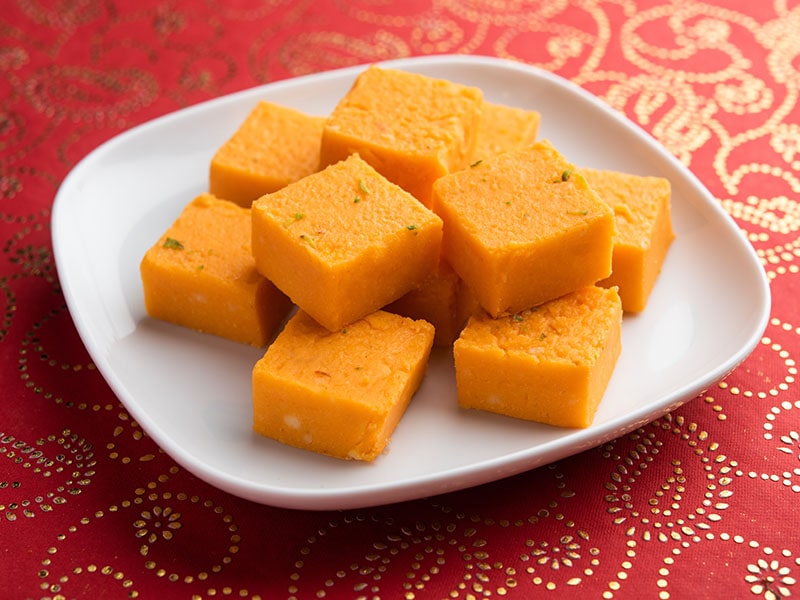 The influence of rich Indian cuisine is palpable in many desserts of the Caribbean islands. Barfi, a spice-flavored milk-based sweet, arrived in Trinidad and Tobago from India around the 19th century. Local people lost no time in modifying the recipe to suit their taste.
Like the Indian counterpart, this version of Barfi involves mixing sugar syrup with a mixture of milk powder, evaporated milk, and cream. But the spices are less diverse: only grated fresh ginger and cardamom powder are present.
In addition, the Caribbean Barfi is decorated with colorful rainbow sprinkles on the surface. Interestingly, Trinis prepare the sweet for ceremonies of various religions, such as Diwali (a Hindu festival), Eid al-Fitr (an Islam celebration), and Christmas.
18. Sawine – Sweet Milk with Vermicelli and Spices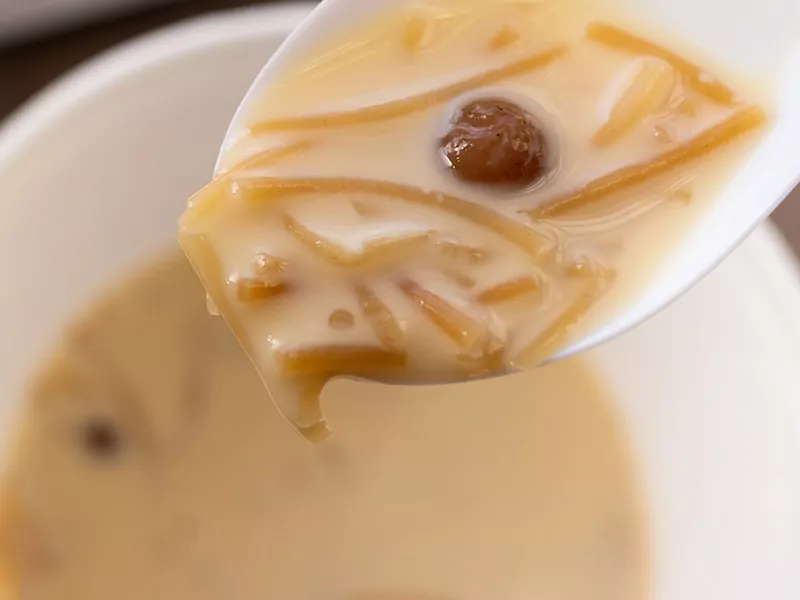 A large number of Indian workers who were resettled to Trinidad and Tobago in the past were Muslims. Now, about one in every twenty Trinis follows Islam. They contribute to the country's cuisine a delicious milk-based dish called Sawine.
It is a pudding-like dessert made from condensed milk, ghee (clarified butter), vermicelli (a type of pasta), cinnamon, and raisins. Some people top the finished dish with toasted almonds.
Muslims usually enjoy Sawine at Eid al-Fitr, an Islamic holiday that celebrates the end of Ramadan. But they don't keep the creamy, delicious dessert to themselves. It is a heart-warming local custom to share Sawine with neighbors, regardless of their faith.
Let's learn about how to make Sawine and what the dessert signifies here.
19. Coconut Bake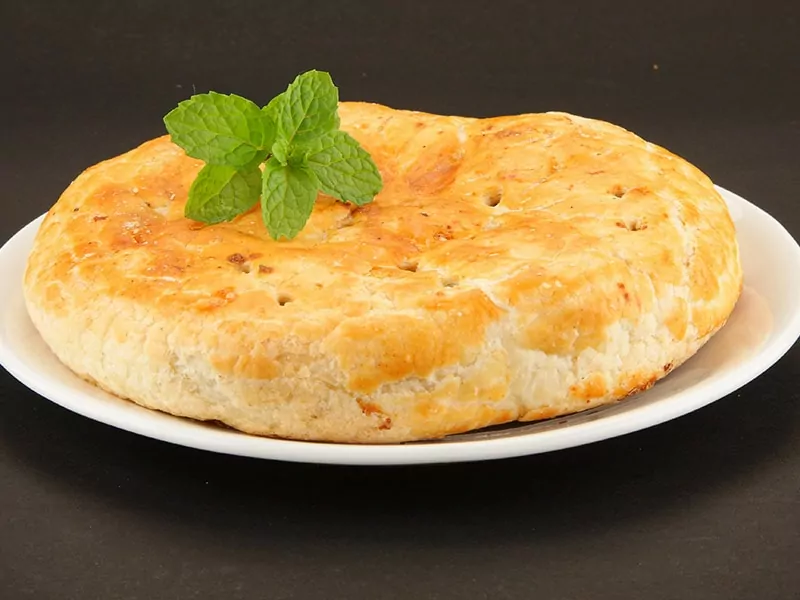 The abundance of coconut trees surely plays a role in the popularity of coconut-derived foods in Trinidad and Tobago. One of such dishes is Coconut Bake ("bake" is a local word for bread) which probably draws some inspiration from a similar Indian dish called Dilkush.
The dough of the cake is made from leavened flour, while its filling consists of flour, yeast, desiccated coconut, coconut milk, sugar, butter, and nutmeg. Coconut Bake is a sweet and fluffy dessert that you can find at many food stalls or cafes in the islands.
Trinidad And Tobago Street Foods
Although many Trinidad and Tobago main dishes are borrowed elsewhere, it manages to come up with an impressive arsenal of unique street food items that you can eat to your heart's content.
20. Saheena – Spinach Fritter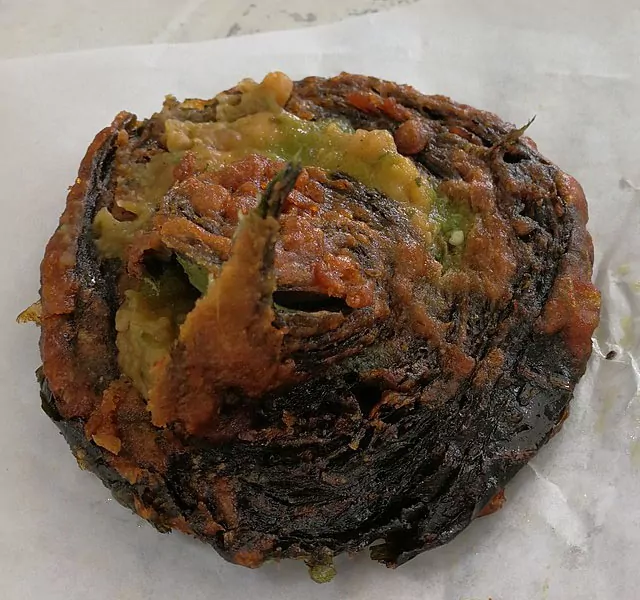 If you think that greens can't make tasty snacks, Trinis beg to differ. On the islands reigns a scrumptious street food made from a variety of local leafy vegetables, mainly spinach, called Shaheena. It has Indian roots and is popular with everybody, children and adults alike.
People make Shaheena from chickpea flour, spinach or taro leaves, garlic, onions, and spices. There are two methods of cooking Shaheena. The simple one involves chopping the leaves, mixing them with the dough, dividing them into small balls to deep-fry in oil.
A more complicated method requires stacking a layer of dough between two layers of whole leaves and rolling the stacks up like a roulade. The process goes through further stages of preparation that culminate in baking the Shaheena.
Most street vendors sell simple Shaheena, while the more elaborate variety is reserved for big celebrations. Shaheena is a must-have snack for many Hindi and Islamic holidays in the country. People usually dip it in pepper sauce or mango chutney.
Saheena is easy to make; see the professionals at work here.
21. Aloo Pie – Trinidad Potato Pie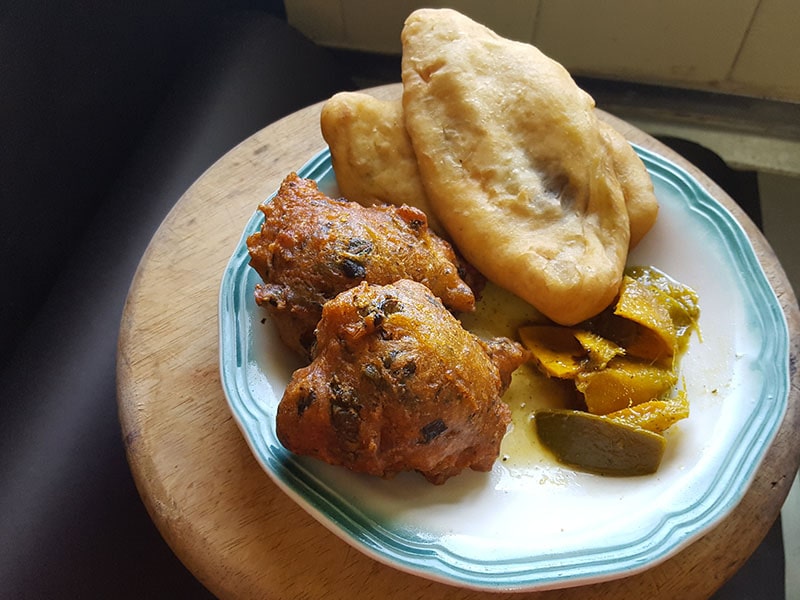 The Caribbean country might be small, but it is mighty in terms of street food. Aloo Pie ("aloo" meaning "potato" in Hindi) is one of the vital things you've got to try, or you can't confidently say that you've visited Trinidad and Tobago.
The exterior of Aloo pie is made from the dough of flour, yeast, and water, while its filling includes mashed and spiced potatoes. The pasty is also enhanced with flavorful channa, sweet and spicy sauces of tamarind or mango.
Aloo Pie is a compact Trinidad and Tobago dinner dish in itself. If you're feeling a little peckish in the middle of a fun night, you can easily buy the pie from any local street vendor. Munch on the rich, tasty pastry to get an energy boost and back to the party!
22. Doubles – Curry Chickpeas and Spicy Flat Bread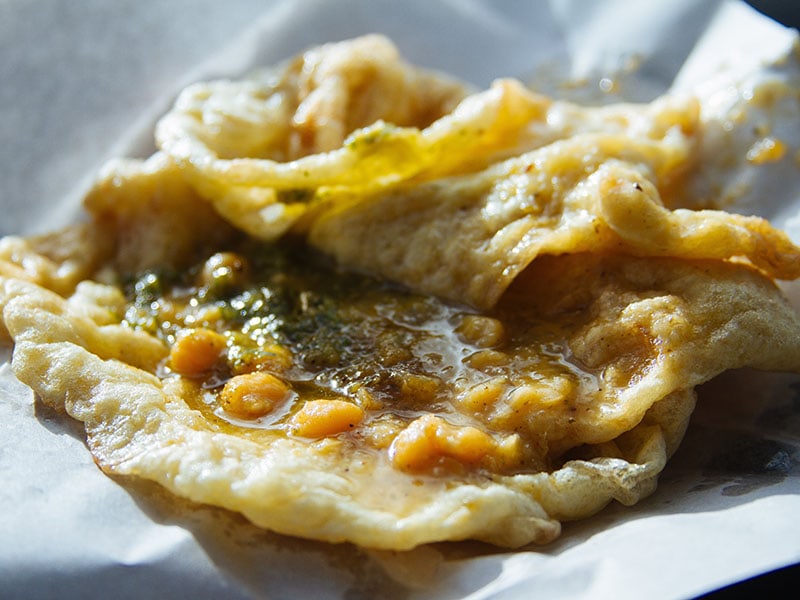 Nothing says Trinidad and Botago cuisine more than Doubles, the iconic street food of the islands. Possibly with inspiration from Indian spicy snacks, a couple of Muslim Indian couple invented Doubles in 1936. It soon took the islands by storm.
Doubles expands on many great existing culinary inventions. It consists of 2 bara (fluffy fried dough) sandwiching some chana (a curried chickpea stew) and topped with coconut chutney or spicy sauces. Doubles can be very sweet or burn your tongue, depending on the sauces.
Originally, Doubles only had one bara, but customers, mainly hungry indentured workers, constantly demanded to "double-up" the bara. The vendors agreed, and that led to its current name and shape.
Another origin story attributed the "double" nature to a moment's experiment that turned out to work extremely well. Whatever the case might be, Doubles is surely a delightful breakfast item/ late-night snack that links various islands of the Caribbean nation together.
23. Pholourie – Split Pea Flour Fritter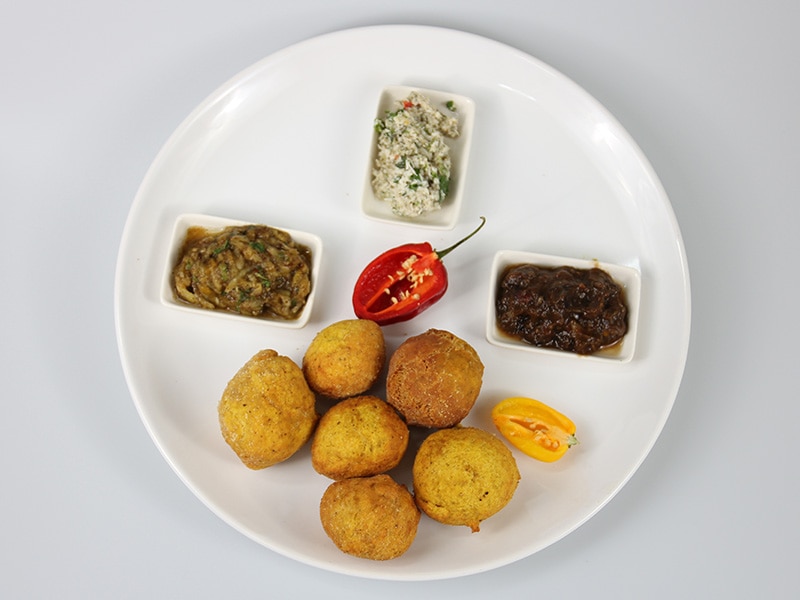 For an island country of fewer than 1.5 million people, Trinidad and Tobago has more street food delights than you can imagine.
A precious jewel in its culinary treasure is Pholourie, a mouth-watering snack for special occasions like birthday parties or religious gatherings. Besides, you may also see it served as a delectable Caribbean appetizer.
Pholourie is made from flour, ground split peas or chickpeas, onions, pepper, garlic, and spices (usually cumin, pepper, and turmeric). The batter is divided into bite-sized balls and deep-fried in oil. It is best to go with mango or tamarind chutney.
Like many dishes of the country, Pholourie accompanied Indian laborers when they came here. It is now the favorite snack of all the local people. It will be yours, too, if you sink your teeth into its crisp texture and your tongue into its spectacularly rich flavor.
24. Chow – Spiced Fruit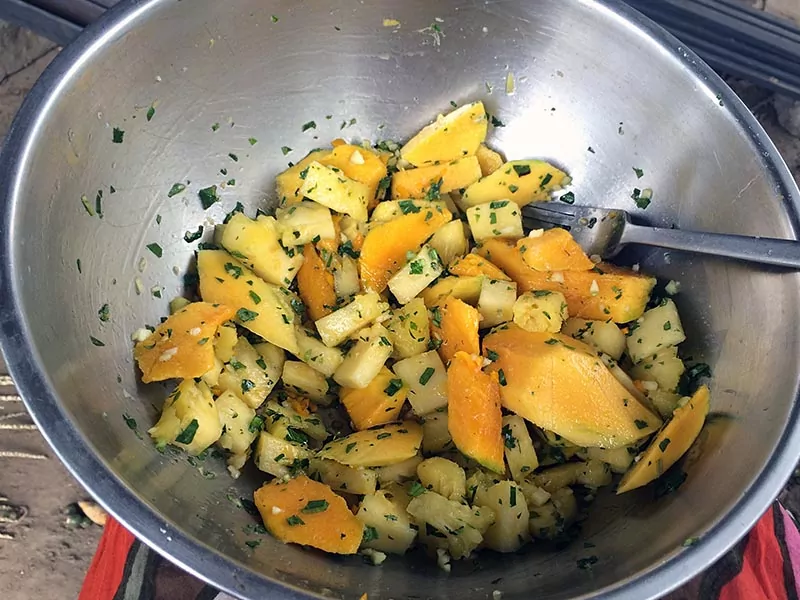 What can you do with fresh fruits? Besides eating them raw or squeezing the juice out of them, Trinis have another idea. They tone them up with spices into Chow, a dish that will leave you speechless (because of its spiciness/ tastiness, or both).
The most common ingredient for Chow is mango, but it will do with apple, pineapple, plum, or anything you have at hand. To make Chow is to simply marinate chopped fresh fruits in a mixture of salt, garlic, lime juice, hot pepper, and chadon-beni.
Wait for the fruits to soak up the seasonings and enjoy the peppery fruitiness! While both green and ripe fruits are suitable to make chow, you should choose ones of just the right ripeness so that they can give you a crisp, chewy texture.
25. Grilled Pigtail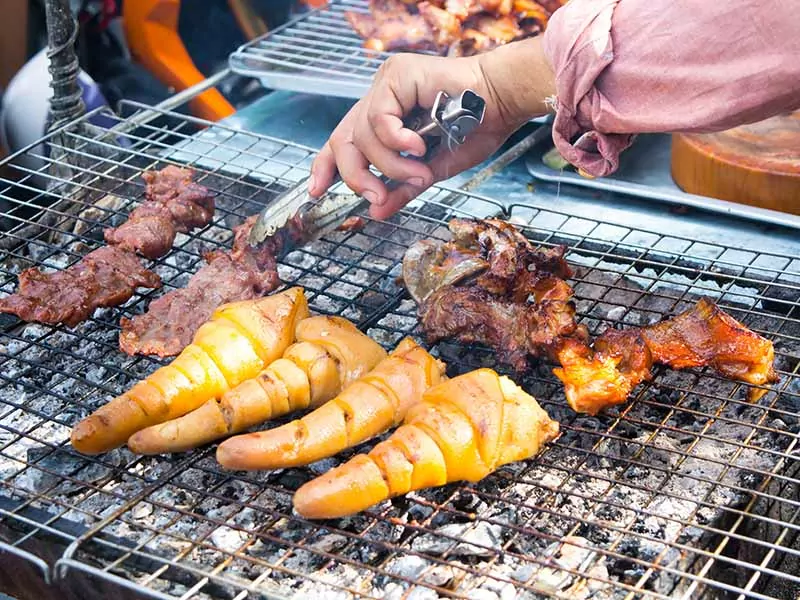 If you can't make head or tail of how delicious pigtails are, the people of Trinidad and Tobago are ready to answer you. Countless people on the islands are madly in love with this interesting dish and enjoy it as a way to energize their nightlife activities.
Grilled pigtails that are dipped in a savory mixture of spices, garlic, and barbecue sauce are prevalent at many local street food stalls. They can be eaten alone, but many people like to pair them with Callaloo. Suspend your disbelief, and you may find them as meaty-tasting as pork.
26. Bake and Shark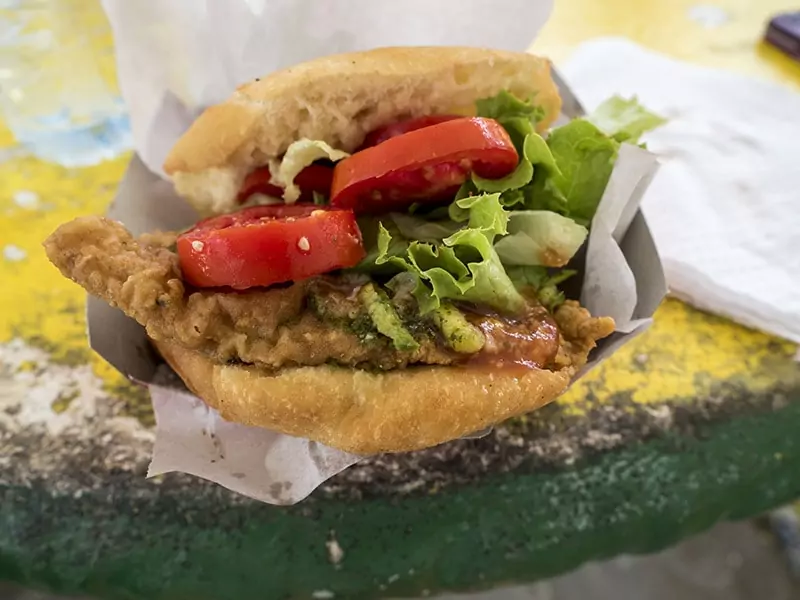 Does the famous Trinidadian and Tobagonian dish of Bake And Shark contain real shark meat? The answer is 100% yes.
The dish consists of two pieces of fried flatbread (that the locals call "bake") with fried shark meat, onions, pineapples, mustard, chili sauce, and garlic sauce in between.
Bake And Shark is an extremely popular fast food item in Trinidad and Tobago. Many outsiders will certainly find its taste really exotic and delicious. Some food stalls covertly substitute shark meat for other fish, leading many vendors to explicitly advertise the use of real sharks.
Discover everything you need to know about the iconic Bake And Shark here.
---
Trinidad And Tobago Bids You To Explore Its Cuisine
The Caribbean country is like a chain of beautiful pearl-like islands rich in good foods. The stunning white beaches and balmy weather shouldn't be the only things that draw you there; the foods are equally alluring.
The Spanish, the British, Indians, Americans, and more came and left the islands. But their culinary legacies remain and enrich the local cuisine in every way possible. A piece of Roti or a bite of Doubles will reveal to you why Trinidad and Tobago foods should be high on your list.
You can get on a plane to fly to the islands or recreate their amazing dishes at home. Either way, please share your thoughts and experiences in the comment section. Please feel free to share this post with your friends. Thank you for your time!