Today, when the culinary cross-cultural culture has become so popular, traditional Cuban side dishes are not too strange. In addition to the main dishes, the side dishes also make a very important contribution to a completely delicious meal.
Not only its specialty cigars, but most international tourists also remember Cuba for its vibrant and unique cuisine. Let's find out all the delicious and attractive side dishes right here.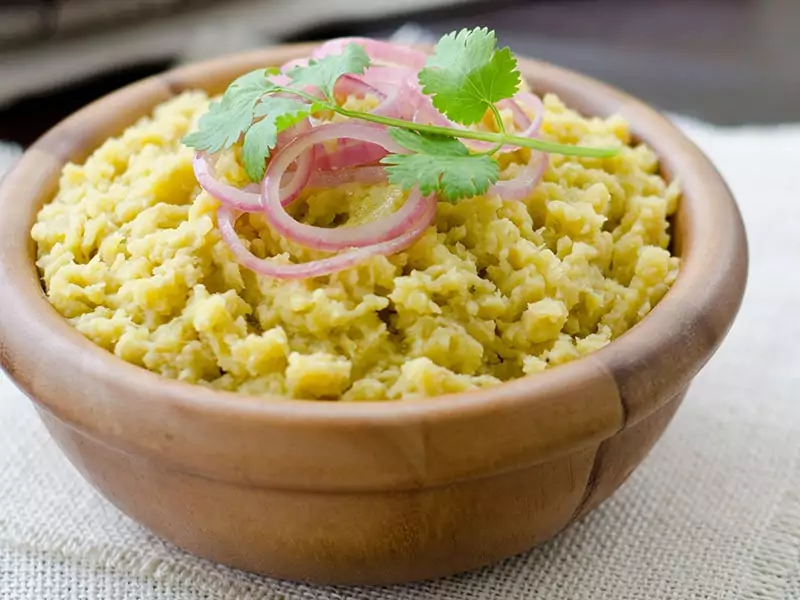 Looking For Traditional Cuban Side Dishes, Right? Check This List Out!
To make it easier to imagine, I will divide the traditional Cuban side dishes into starch side dishes and salad side dishes.
Starchy Traditional Cuban Side Dishes
Starchy Cuban Side Dishes With Rice
Cuban Red Beans and Rice
Cuban Yellow Rice
Rice With Corn
Other Starchy Cuban Side Dishes With Beans, Potatoes, And More
Cuban Black Beans
Cuban Fries
Cuban-style Pork And Sweet Potato Slow Cooker Stew
Cuban Yuca
Roasted Chickpea
Fried Green Plantains
Mashed Plantains
Baked Plantains
Mashed Malanga
Traditional Cuban Side Dishes With Salad
Cuban Style Avocado Salad
Herbed Cuban Black Bean Salad
Roasted Eggplant Salad
Roasted Artichoke Salad
Cuban Pasta Salad
Cuban Caesar Salad
Black-Eyed Pea Salad
Beet Salad
Overview Of Cuban Cuisine Culture
Once a Spanish colony, Cuban cuisine has a hint of Spanish flavor mixed with Caribbean style. Cuban cuisine is both traditional and modern due to the innovation of these dishes according to the local regions and different ways of processing.
In the meals of Cuban people, the dishes will be served at the same time, not serving each dish like in Western countries. A typical Cuban meal usually consists of rice and beans cooked together or separately.
Along with the main dishes are traditional side dishes to create a complete meal. Take a deep dive below.
10+ Delicious Traditional Cuban Dishes With Starch That Are Hard To Resist
Starchy foods are an important and necessary source of energy for the body. So let's find out the following traditional Cuban side dishes high in starch to supplement this nutrient for your family entirely.
Traditional Cuban Side Dishes With Rice
These traditional Cuban side dishes with rice will fill your hungry stomach. Let's see what we have.
Cuban red beans and rice is a very popular Cuban side dish of rice and red beans. The rice is cooked with a rich flavored bean broth.
In this classic Cuban side dish, red beans are seasoned with onions, bell peppers, garlic, cumin, and oregano. You can also substitute with black beans and sprinkle with cilantro if you like.
Usually, this side dish will be eaten with smoked ham bones, ham, andouille sausage, onions, green bell peppers, and celery. The highlight of this dish is red beans. Red beans will be simmered until creamy with garlic, Worcestershire sauce to create harmony in the dish.
With its beautiful flavor and color, yellow rice is a very popular Cuban side dish. In fact, yellow rice is white rice that has been colored with turmeric.
In this way, the yellow rice not only has a brighter color but also produces attractive flavors with the aroma of turmeric. The more special thing is the heat-clearing effect of turmeric. That is why this side dish is a favorite of many people.
With Cuban yellow rice, you can use it as an accompaniment with pulled pork or different meats depending on your preference. The meat dishes that are often cooked with yellow rice are chicken, roast pork. Together with the sauce, it will make a particularly delicious dish.
A very impressive side dish recipe is waiting to be discovered here. You can see this video to know more:
For this side dish, you can use white rice or yellow rice. The combination of rice and corn will create a novelty for the side dish.
Another equally important part is the Cuban sofrito. This is the soul of the dish, not only creating a special taste but also making the dish look more beautiful.
The way to do it is very simple. Turn to high heat and heat the oil, then add the chopped garlic, pepper, and tomato. Next, add rice and water and bring to a boil.
Let the mixture cook for about 20 minutes. Then just add the corn and simmer for another 10 minutes, and it's done.
Other Traditional Cuban Starchy Side Dishes (With Beans, Sweet Potatoes, And More)
In addition to rice, other foods such as beans and potatoes are also a rich source of starch that you can use for side dishes.
Cuban black beans are a traditional and very popular Cuban side dish. When it comes to Cuban dishes, black beans are an indispensable ingredient.
The most important thing to get good Cuban black beans is the softness. This dish will be more delicious when combined with onions, green bell peppers, and garlic. It is this mixture that will add a delightful flavor to the Cuban black bean dish.
Unlike most other dishes seasoned with vinegar and sugar, Cuban black beans are often added with fresh cilantro and lime juice to accentuate the dish's flavor.
If you like the dish a bit thick, you can also grind a small number of black beans to cook together. It's really easy!
This Cuban fries features Cuban sandwich ingredients like pickles, mustard, ham, and Swiss cheese sauce. You can use fresh or frozen fries to save a lot of time.
To make delicious Cuban fries, the key is the sauce. You need to prepare some Swiss cheese with the finest quality and cook it with flour, butter, and milk on the stove. Next, you need to fry the ham in a pan and then cut it into pieces.
All the steps only take you about 20 minutes to have delicious french fries. Don't miss this simple dish.
Usually, stews take a lot of time. However, with this Cuban-style Pork And Sweet Potato Slow Cooker Stew, it only takes you 45 minutes. What a surprise, right?
This dish has a slightly spicy taste, and at the same time, has a slight sweetness of sweet potatoes. When it's done cooking, this dish should be thick and not too liquid. This dish is perfect for dinner.
With a combination of flavoring ingredients like garlic, onion, and nutmeg, you won't be able to resist at the first bite. Try it at home and enjoy!
Yuca can be cooked in many different styles, Cuban Yuca being one of them. But wait, what is Yuca? Perhaps you will wonder the same.
Yuca is a starchy root vegetable with a smooth and slightly sweet taste. With many different ways of processing, this ingredient is very preferred in Cuba.
When cooked in the Cuban style, Yuca is often combined with sautéed garlic and onion mojo, which is very delicious. Especially during the holidays, this dish is indispensable. They are usually served with Cuban roast pork and congri.
If you love chickpeas, you probably know that they have a rather soft texture. They are not only a safe source of protein but also add deliciousness to dishes.
So how to make them more crispy is to roast them. That way, you'll have a simple and delicious side dish for your next meal.
But note, if you want to keep the desired crispness, you should only eat roasted chickpeas during the day. Just leave it for the next day, and they will become chewy and soft. You don't like that at all, do you?
Some people often confuse bananas with plantains because they are quite similar in appearance. But in reality, plantains contain more starch and less sugar than bananas.
They are often made into savory dishes, and tostones are one of them. Tostones can be used as an accompaniment or as a snack.
Slices of plantains are dipped in a spiced flour mixture, and after frying, they will be extremely crispy and have a beautiful yellow color. You can dip it with a little salt to fully enjoy the taste of this dish.
You can also forgo the spiced flour mixture and prepare this treat the Saint Lucian way. One of the most iconic dishes from Saint Lucian cuisine, the plantains here are deep-fried until they're crispy and then sprinkled with some salt on top. There's no need to prepare a complex flour mixture.
Try making fried green plantains at home so easy with these detailed instructions.
Another Cuban side dish you can make with plantains is Fufu. There is a similar dish in Puerto Rico called Mofongo. Basically, this dish is quite similar to mashed potatoes in the US.
This fufu is a combination of mashed plantains with bacon and onions. All create a very delicious dish with both sweet and salty tastes.
Instead of keeping the traditional ingredients, you can add lemon juice and garlic instead of onions to create a novelty for your dish. Who knows, it will be even more delicious than the original dish?
One more side dish made from plantains is baked plantains. This side dish is also a familiar treat in Cuban sweet parties. It is quite similar to tostones, but the taste is also different because of the different cooking methods.
When choosing ingredients, there is a point to keep in mind that the plantains need to be ripe with a yellow color, not green plantains like in tostones. You won't be able to stop eating this delicious crunchy snack.
Malanga is a root that is similar in texture to a potato and is also commonly mashed up for use in dishes. It is a root that is rich in starch, fiber and also more nutritious than potatoes.
In this dish, malanga is also mashed for use. Just add a little garlic, you can turn them into an extremely delicious and nutritious side dish. This is also a very favorite side dish of Cubans.
7 Healthy Traditional Cuban Salad Side Dishes For Your Diet
If you are tired of starchy foods and are planning to lose weight, the side salads are definitely the first thing that comes to mind, right? Let's find out what salads come with traditional Cuban cuisine.
In fact, most Cubans do not like green salads very much, so they will choose avocado salad as a side dish.
In Cuba, Florida avocados are very popular because of their smoothness and large size. In addition, the mild sweetness and eye-catching bright green color when ripe is another reason why this avocado is often used in Cuban dishes.
The first thing you can see in this dish is many ingredients with eye-catching colors. Herbed Cuban black bean salad is a sweet and sour salad made with cooked black beans, plus other ingredients like corn, bell peppers, and the main highlight is mojo sauce.
As the dish's name, mojo sauce is a blend of herbs combined with lime juice, orange juice, and olive oil. This dish will taste better when eaten with a slice of bread.
Roasted eggplant salad is a very flavorful dish with eggplant as the main ingredient. Since eggplant has a somewhat mild taste with slight bitterness, it's often compared to zucchini. This is also the reason that eggplant is often included in rich dishes to enhance the flavor.
With extremely good permeability, eggplant can completely capture the flavor of spices when mixed with olive oil, red wine, vinegar. You can use it as a side dish or main course.
Not sure what to pair this dish with? How about pairing this with another dish from Caribbean cuisine? Eggplant stew, a must-try dish from Haitian cuisine, is a fantastic vegetarian dish that can capture the hearts of meat lovers also.
You can see this video to know more:
Artichoke is known to be an extremely healthy vegetable. They are often dried and used to make teas. But today, I will reveal to you a dish with artichokes that you can easily make at home.
Preparing artichokes and roasting them, sounds weird, but it's true, just do it. For extra flavor, add tomatoes, onions, and black olives to the dish. Then, cover it with a layer of garlic sauce, balsamic vinegar, olive oil, and other seasonings.
Thus, the dish is finished. Extremely simple, right?
Pasta salad is inspired by the Cubano Sandwich. Just add mojo dressing sauce to Cubano Sandwich, plus a few other ingredients, and you have a completely new and extremely attractive side dish.
This dish looks complicated, but it's actually so simple to make. It's hard to believe, isn't it? Why don't you try it now?
This Caesar Salad is a traditional Cuban vegan side dish. The main ingredients include fresh romaine, fried plantains, and caesar dressing, for sure. Wait, do you see something familiar? That's right. It's the fried plantains I talked about in the previous part.
The highlight of this dish is the Caesar dressing with ingredients of sea salt, oats, and coconut cream. The details are quite complicated.
For the dish to taste right, you should make the Caesar dressing a day in advance. When the sauce has had enough time, bring it out and create your own delicious salad.
Just like other beans, black-eyed peas have a distinctive beany taste but not as sweet as peas. In Cuban culture, black-eyed peas are an indispensable dish during the New Year holiday.
To make this salad, you need to add a few other ingredients such as tomatoes, peppers, onions, celery, and basil.
As for the dressing, there should be mustard, vegetable vinegar, salt, and pepper. Mix it all up, and you will have a delicious sauce for this salad.
This is an extremely attractive colorful salad with red and yellow beets as the main ingredients. They are mixed with pistachios, feta and garnished with coriander on top.
This is a perfect side dish to decorate your table. Your guests will surely be impressed with this dish.
It's Time To Add Something New To Your Meal!
Along with the general development, a lot of innovative recipes are born. Gradually we forget the traditional dishes. But also thanks to cultural interference, the traditional dishes of the countries are easily known more widely.
Next time, try changing out your usual side dishes with these traditional Cuban side dishes. Who knows, you might find something you fall in love with.
If you want to learn about Cuban culture, food is also an extremely effective channel. Of course, the best way to get into the heart of a culture is through food. Hopefully, this post will help you find the old values you want in Cuban cuisine.
If you know of any other traditional Cuban side dishes, let me know by leaving a comment below. Knowledge is limitless. I hope to be able to provide you with new information. And also look forward to receiving your comments.
Nutrition Facts
4 servings per container
---
Amount Per ServingCalories352
% Daily Value *
Total Fat 8.6g

13

%
Sodium 669mg

28

%
Potassium 492mg

15

%
Total Carbohydrate 57.1g

19

%

Dietary Fiber 7.3g

29

%
Sugars 3.2g

Protein 11.9g

22

%
---
* The % Daily Value tells you how much a nutrient in a serving of food contributes to a daily diet. 2,000 calories a day is used for general nutrition advice.