Many Saint Lucian foods include cultural influences from other countries. Some take inspiration from France, and some are similar to traditional British meals. Influences from the long-forgotten Amerindians can also be found in their fruits and vegetables.
Saint Lucia is a terrific travel destination for those looking for a unique dining experience. Since the residents on this island nation have an undying enthusiasm for local food, they also pass this energy on to visitors.
Overall, Saint Lucian dishes are all delicious and worth exploring. Check out my detailed list below to experience this unique culinary culture yourself.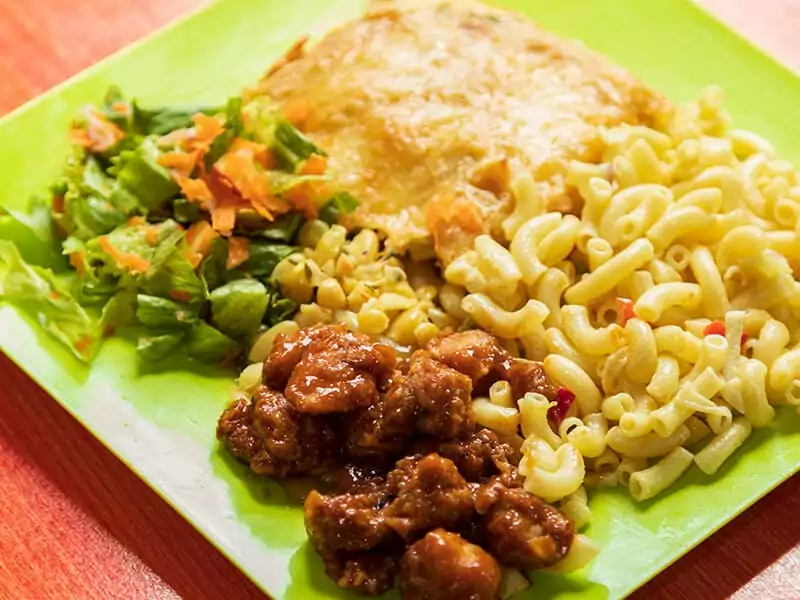 Saint Lucian Side Dishes
The side dishes' purpose is to balance out or complement the main course. The Saint Lucians did just that with their light and flavorful sides to bring the main dishes to the next level. Read on, and I will show you some mind-blowing delicacies!
1. Fish Stew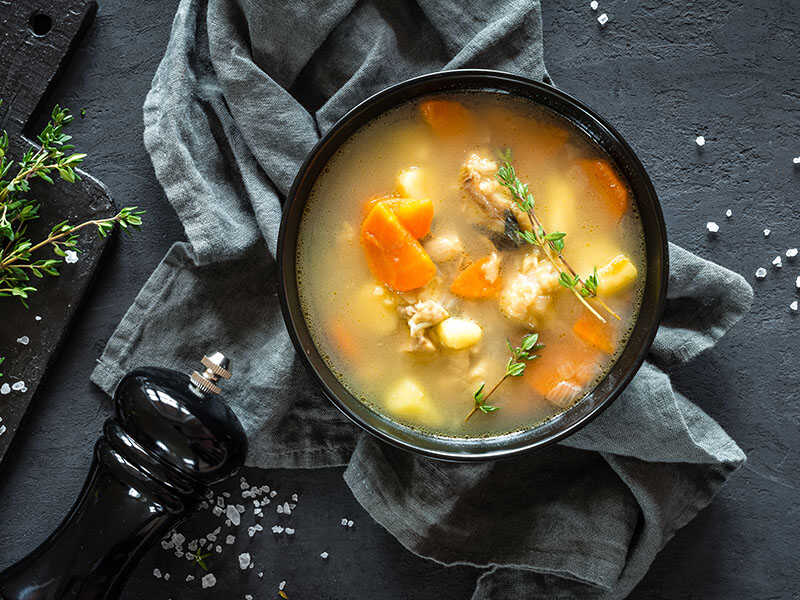 As I mentioned earlier, the seafood in this country is truly stunning, so it would be a pity if you don't make use of this opportunity to fill your stomach with as much Saint Lucian seafood as possible.
Each seafood dish here has its own distinct style and character, but the dish that I will highlight in this part is fish broth.
Fish stew, or fish soup, can be made in one pot and enjoyed as it is. However, the locals sometimes serve it to accompany larger meals. Saint Lucian fish broth contains various vegetables which can help flavor the broth and make it healthier.
Join the local kitchen and learn how to make fish broth in Saint Lucian style!
2. Callaloo Soup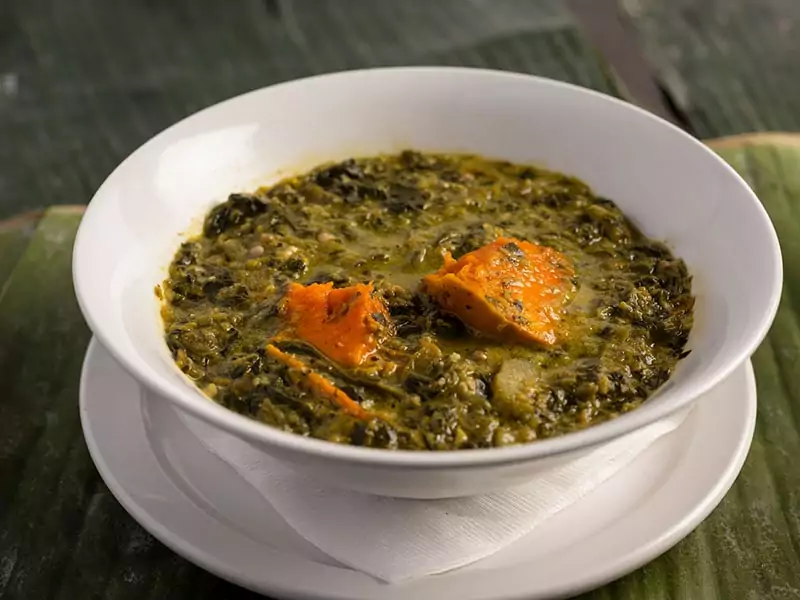 Crab hunting is a common activity here in Saint Lucia, especially on rainy days when the catch is plentiful. The crab is cleaned and cooked in a large pot with callaloo leaves, veggies, and seasonings once it has been purged.
There are many versions of this dish across the Caribbean, but in Saint Lucia, crab and pigtails are the two most preferred ingredients. If you have the chance to experience the native cuisine of Jamaica, you'll also see Callaloo cooked in many different ways.
Once you have a bowl of Callaloo soup, you won't be able to put it down. Overall, it's a nutritious, tasty, and soothing dish that you have to try out.
3. Cow Heel Soup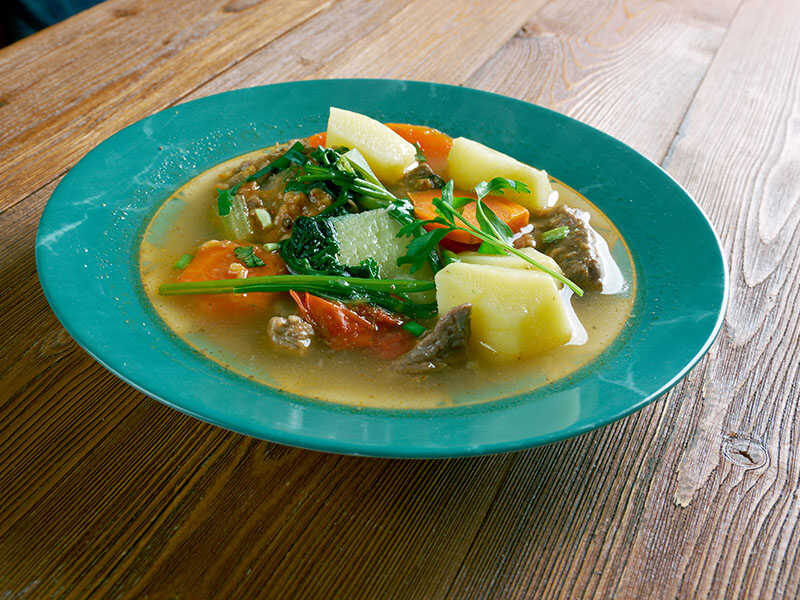 Cow heel soup is another traditional dish that Caribbean residents can hardly resist. This mouth-watering dish is made with a blend of dumplings, cow heels, and other ingredients.
If you're planning on making this soup at home, remember to take your time and cook the cow heels before adding broth since they are pretty tough.
This comforting dish is reported to be both aphrodisiac and anti-hangover. At some point in your trip, be sure to stop by the Castries Market for a steaming bowl of cow heel soup.
4. Roti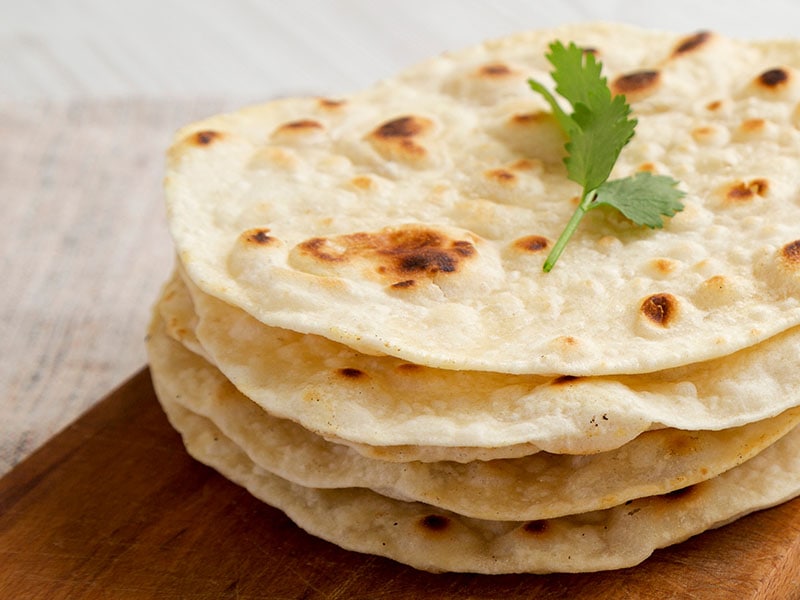 Roti, an Indian flatbread, is one of the most recent additions to Saint Lucian cuisine. The Caribbean residents don't use roti to sop up curry like the rest of the world; they prefer using it as a wrap and folding it around savory fillings.
In Saint Lucia, the locals usually use this flatbread to wrap around curried chickpeas, veggies, or meat, creating a quick and easy portable meal.
This dish, of course, originated in India. However, the roti in Saint Lucia is often imported from Trinidad and Tobago, where the wrap form of roti was first created in the mid-1940s.
5. Fried Fish Roe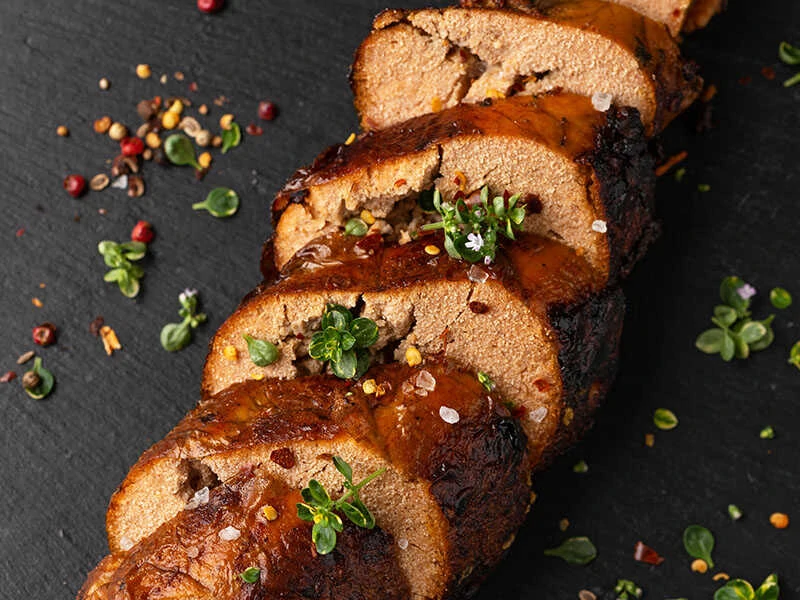 When a pregnant fish is caught, the fisherman can either save it for himself or sell it to restaurant owners. The fish egg can then be made into fried fish roe, a well-known delicacy in Saint Lucian.
The flavor of fish roe truly comes through when seasoned and fried, not when cooked in a fish broth. Saint Lucian fried fish roe can be eaten alone or with garlic sauce, tartar sauce, or mustard sauce. Sometimes, the locals also use fried fish roe to flavor soups or broths.
6. Fried Plantains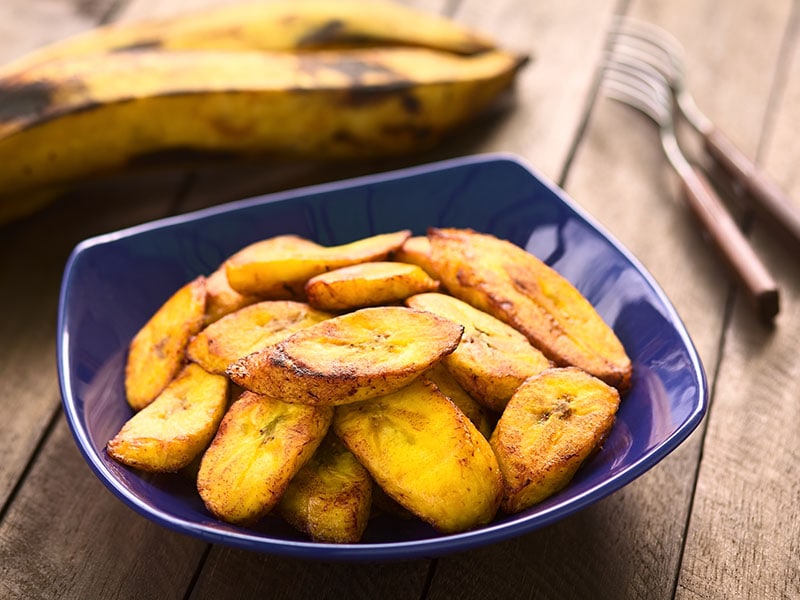 This Caribbean classic can be found on the menus of many local restaurants. Fried plantains can be a delightful quick snack or a delectable side dish that goes with other Saint Lucian dinner dishes.
This dish is so simple that even children can pull it off. You just have to peel and slice the plantains, fry them well, sprinkle sea salt on top, and pair them with the dipping sauce you like.
This crispy, caramelized dish is available in many other countries. They are a prevalent side dish in Cuban food culture. Some regions use fully ripe plantains, while others prefer using green ones.
Here's an easy fried plantain cooking tutorial that you shouldn't miss out on!
7. Cassava Bread
Cassava comes in many flavors. Chocolate, cherry, and even saltfish; you can try them all in Saint Lucia! These and other cassava bread flavors are available at Plas Kassav in Canaries Saint Lucia, a famous stop for Cassava Bread.
In addition, they are a famous appetizer in many Caribbean countries. The locals will also eat Cassava bread with soup, avocado, or butter for a light breakfast.
Cassava Bread is rarely made at home because it requires specialized equipment and procedures. But it has long been the go-to side dish for locals and tourists looking for something to satisfy their bread craving.
8. BBQ Kidney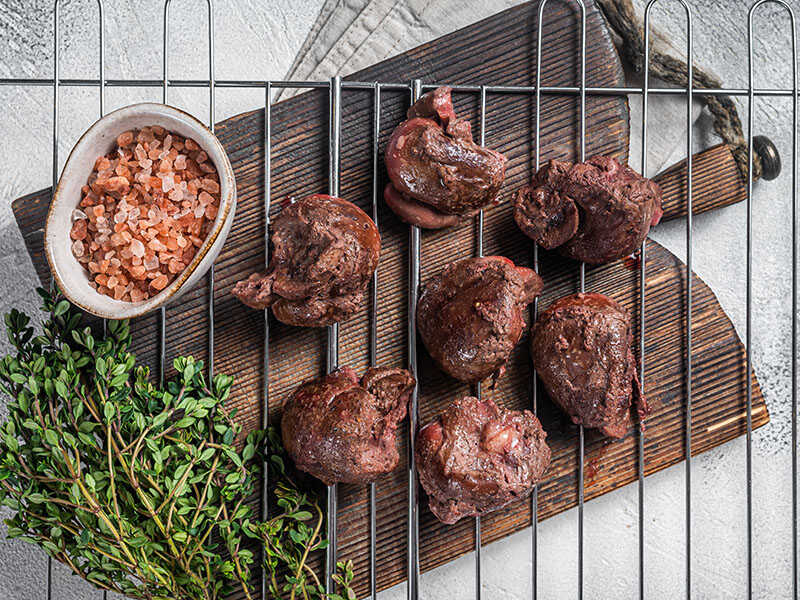 Suppose you consider yourself an adventurous traveler and want to try unfamiliar foods, BBQ kidney is the dish for you! Served with ketchup or pepper sauce, this special dish can be found on many food vendors alongside the streets of Saint Lucia.
If no one can convince you to try kidneys, you can also substitute them with chicken. Either way, it will be an excellent dish to pair with the Saint Lucian main dishes.
BBQ kidney is a popular dish to enjoy while exploring Saint Lucia's world-famous Friday Night Street Party. Don't leave Saint Lucia without giving this spiritual meal a try!
9. Accra – Fried Fish Cake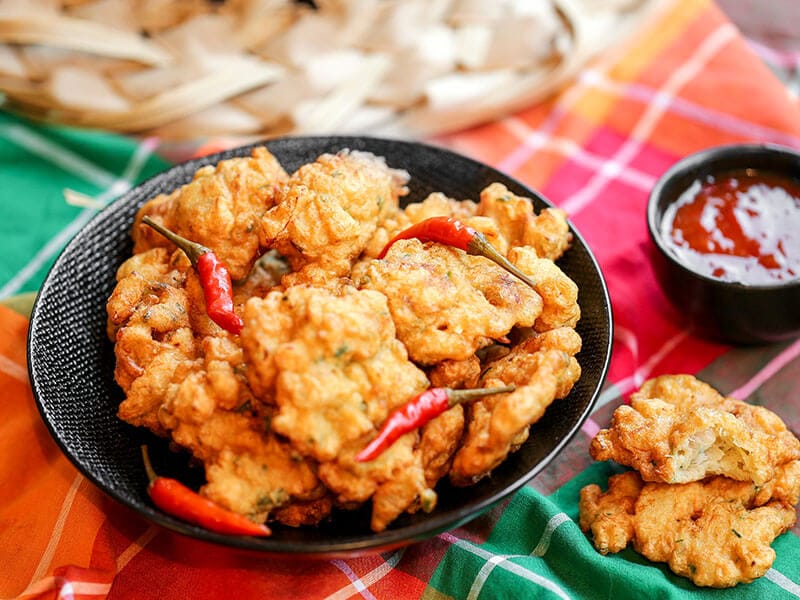 Here's another fish-based side dish that you would love: Accra, also known as fish cake. This dish is a deep-fried batter made of shredded fish, typically saltfish or tinned tuna. The fish and flour-based dough complement each other like love and marriage!
In Saint Lucia, these crispy and spicy treats are frequently seasoned with scotch bonnet pepper and served for breakfast. Some might not enjoy having hot deep-fried dishes in the morning, but it can be a great wake-up call.
10. Avocado Balls
Avocado balls are definitely a must-try while visiting this country. They're particularly popular around Saint Lucia's annual Creole Day, which takes place at the end of October. However, you may still find them at local restaurants at other times of the year.
This simple snack or side dish calls for avocados and farine (made from processed cassava). If you are looking for something healthy to improve your diet, maybe this dish will suit your interest.
11. Fried Bakes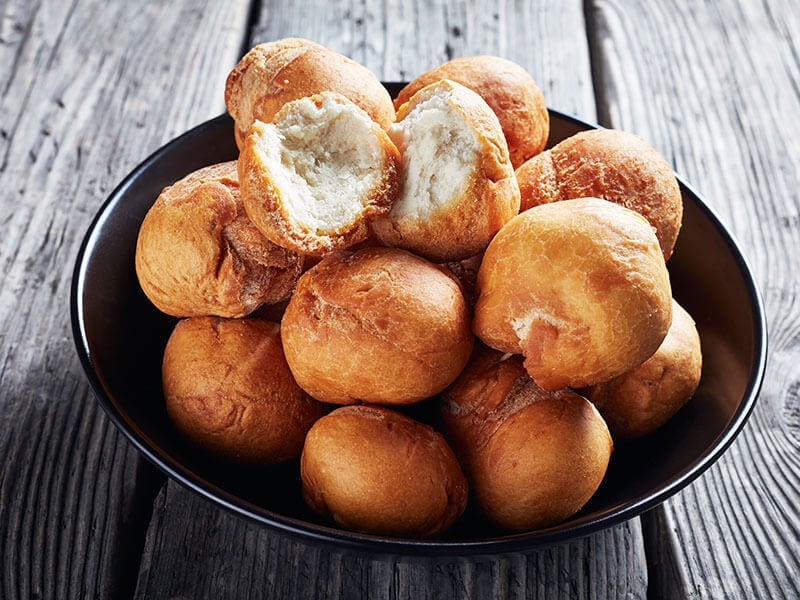 This Caribbean dish is eaten in many West Indian countries, including Saint Lucia, Grenada, and Guyana. Flour is the main ingredient needed to prepare Bakes. All you need to do is roll them out, deep fry them, and done! You now have yourself some delicious Caribbean bakes.
While in Saint Lucia, you won't have to worry about preparing these yourself. You can easily find fried bakes at any corner of the street.
If you don't have much luck finding these food vendors, try the Gros Islet Friday night street celebration. At that place, you can enjoy your bakes with BBQ chicken or grilled sausages.
Fried Bakes are not that hard to make if you have the right recipe!
Saint Lucian Main Dishes
Are you ready for the main course? If your answer is yes, this section will help you learn more about these fascinating Saint Lucian main dishes. So what're you waiting for? Give it a read right now!
12. Green Figs and Saltfish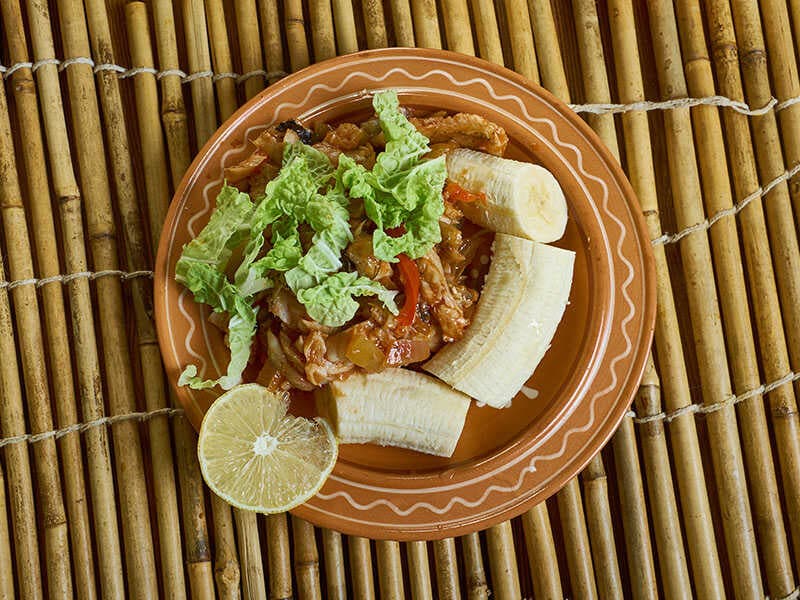 If you ask the Saint Lucians about their favorite homeland dishes, one of them will definitely be green figs and saltfish.
This Saint Lucian breakfast dish has its origins in the 19th-century (the time of slavery), when bananas were plentiful and dried, salted codfish from Canada was inexpensively imported to serve as slave food.
Over time, people began adding spices and turning them into a delectable family treat. The green figs are often cut up and added to the saltfish after being infused with flavor.
While the dish may appear to be bizarre to those who have never tried it, the flavor of this dish is truly spectacular. You can also pair it with an icy cold Piton Beer for a more authentic experience.
13. Smoked Herring and Roasted Breadfruit
Smoked fish is definitely a winner since it contains tons of protein and vitamin D that's beneficial for your teeth and bones. That's why this delicacy has been one of the most common daily foods for the Saint Lucians despite its unknown origin.
The smoked herring is simmered with local ingredients and served with cooked breadfruit and cucumber salad. The tender breadfruit goes nicely with the herring, while the cucumber salad rounds out the meal.
14. Lambi – Conch Stew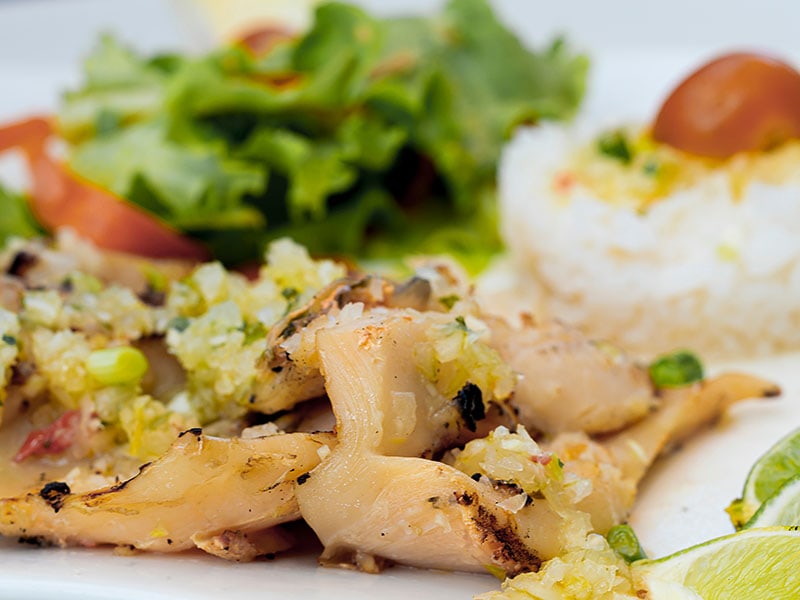 In case you don't know, conch is a medium or large-sized sea snail. These sea snails can be eaten raw, steamed, stir-fried, or cooked in a stew.
This Caribbean favorite has been prepared in many unique ways in both the Bahamas and Saint Lucia. To make this dish, the cleaned conch is flavored with red onions, cucumbers, carrots, and other spices, then seasoned to taste before frying.
This lip-smacking dish, known as Lambi among the Lucians, is a firm favorite of many foreign visitors. So if you want to be a part of the fun, you can easily find Lambi at street parties on Friday nights and the weekends. Be ready to be blown away by its flavor!
Learn how to make Lambi with this cooking tutorial here!
15. Pigtail and Red Bean Bouillon
Let's review some history behind bouillon. This dish is influenced by a mix of foreign cuisines and cultures, namely French, African, East Indian, and Amerindian.
The enslaved Africans and East Indian servants were the first to make this dish. Since they couldn't afford costly cuts of meat, they opted for pigtails, snouts, trotters, and chicken feet.
Starchy root foods such as yam or yucca were popular among the Amerindians. When these ingredients are mixed in a "one-pot", you can have a nutrient-dense bouillon that serves as a cultural map of Saint Lucian people.
Overall, this hearty Saint Lucian lunch dish is cooked with pigtails, ground provisions, and beans. The best time to enjoy this dish is during Creole Heritage Month, when everyone comes around to celebrate their cuisine and other cultural expressions.
16. Curried Goat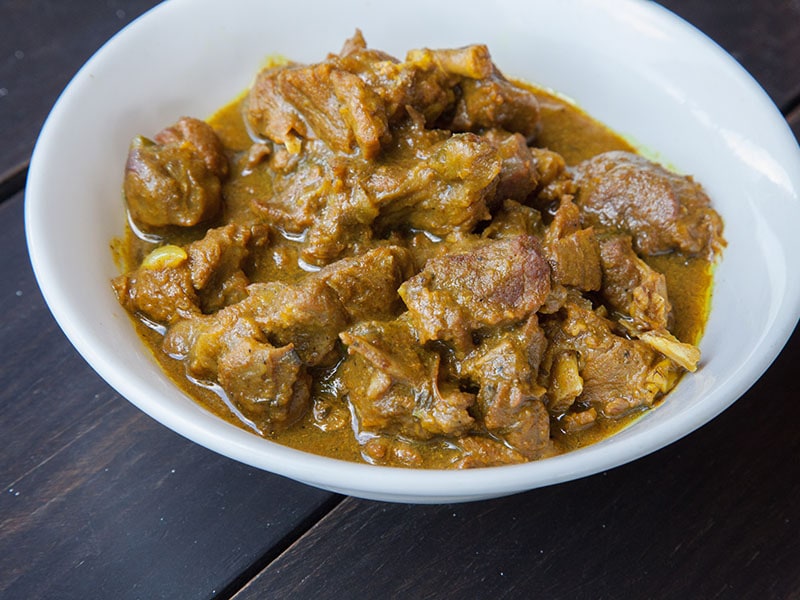 According to the Caribbean foodies, the G.O.A.T. stands for the Greatest Of All Tastes! This curried goat dish can be made with either boneless or bone-in goat, but I recommend the latter for flavor. If goat meat is unavailable, mutton is an excellent substitute.
With the inclusion of coconut milk, this Saint Lucian dish is truly soul-satisfying comfort food. Some locals serve curried goat with rice and peas. However, a vast army of Caribbeans said this dish should only be eaten with plain white rice.
17. Black Pudding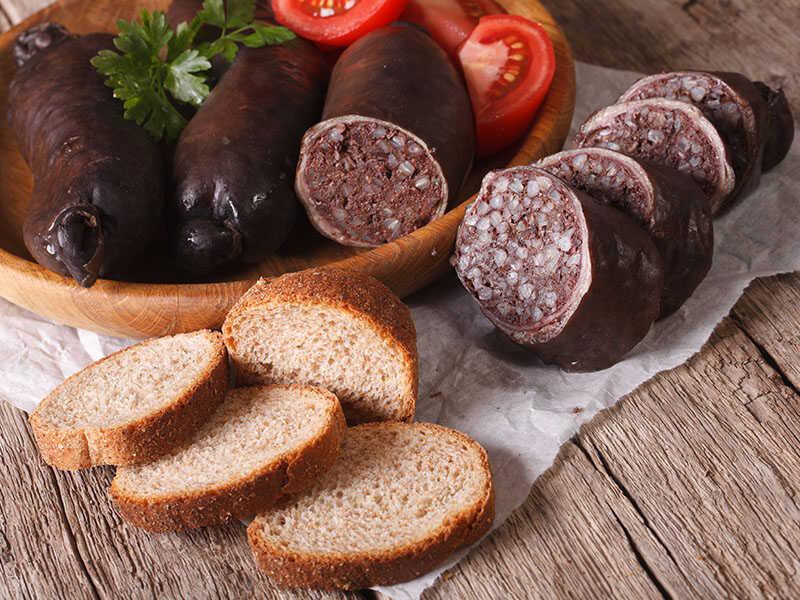 In contrast to the native Lambi, the black pudding is less famous. Some say the pudding's ingredients weirded them out, while others don't like the taste. Despite all that, Black Pudding is a genuinely divisive delicacy and an example of English cuisine influencing Saint Lucia.
Black Pudding has been around since 700 B.C. Some believe this meal migrated with the Romans as they conquered new areas and peoples, while others believe it spread among the general populace.
Oatmeal, swine fat or beef suet, and, most importantly, fresh pig's blood are used to make the black pudding. Those who have tried it have one of two reactions: either they will never try it again, or they get addicted!
18. Stewed Pork & Ground Provisions
Pork is high in iron and zinc – the two nutrients that your body requires to function properly. It also contains a lot of high-quality protein. Because of that reason, pork is considered one of the most preferred meats in Saint Lucia.
On the other hand, ground provisions can be made out of a wide variety of tubular root vegetables native to the Caribbean. The most common ones are cassava, taro, sweet potato, and yam.
Cooked and sliced ground provisions and stewed pork are a match made in heaven. However, you can also replace ground provisions with breadfruit or green figs if you're not a fan of them.
19. Stewed Chicken Backs
The back of the chicken is considered a delicacy in Saint Lucia. Even though there is less meat and more bone, this section is exceptionally flavorful and multifunctional. The stock from backbones has plenty of collagen, which can strengthen your skin.
Stewed chicken backs have always been a staple in Saint Lucian households, and it is an all-time favorite that no traveler can resist. It's usually served with rice, plantains, or yam as a side dish.
20. Fresh Lobster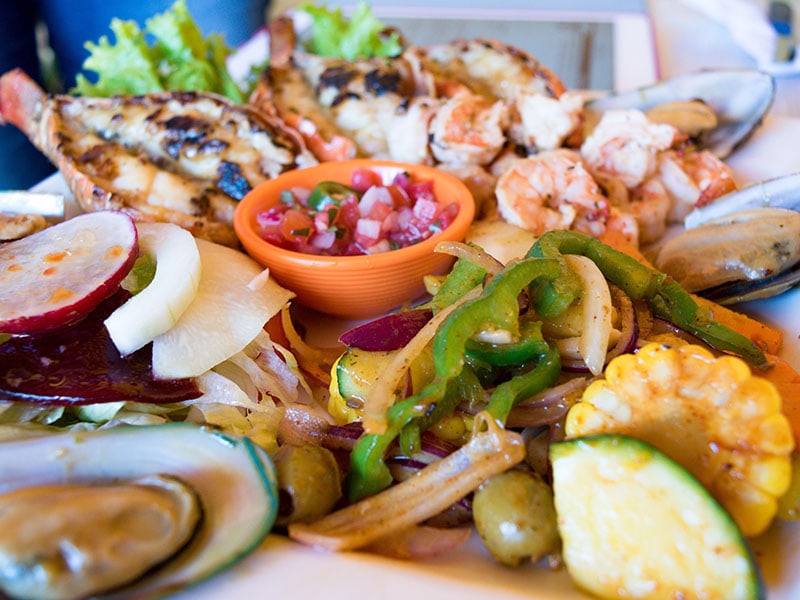 The country's coastline is home to a variety of fish and shellfish. So don't be surprised when fresh seafood is always on the menu of almost every Saint Lucian restaurant. The most loved kinds of seafood, of course, include lobsters.
Lobsters caught here aren't the same as those seen in colder climates. Instead of claws, these spiny creatures have long tails and pointy barbs.
Saint Lucian lobsters are served in various ways, including steamed, ceviche, and even sushi. Imagine having some fresh lobster for lunch after a short swim; how satisfying can that be!
Saint Lucian Sweet Treats
After finishing the main dishes, do you feel like missing something? Yes, you need something sweet to balance the savory main dishes and sides! Here are some inspiring ideas for you to check out!
21. Paime – Sweet Cornmeal Pie
The traditional savory dishes are not the only thing Saint Lucia cuisine is known for. It also offers a variety of regional desserts. Paime is a creole name for a cornmeal-based treat with spices, coconut, and occasionally raisins.
The mixture is placed on a green banana leaf and tightly tied before being boiled. It's not an everyday item, but it's one of the most anticipated dishes for Creole Day celebrations on the last Sunday in October.
Different regions have different ways to call this dish. People call them Paime or Payme in Trinidad and Tobago, while it is known as Conkies in Barbados and perhaps Guyana. Regardless of its names, this dish is definitely a crowd-pleaser in any of these countries.
22. Banana Bread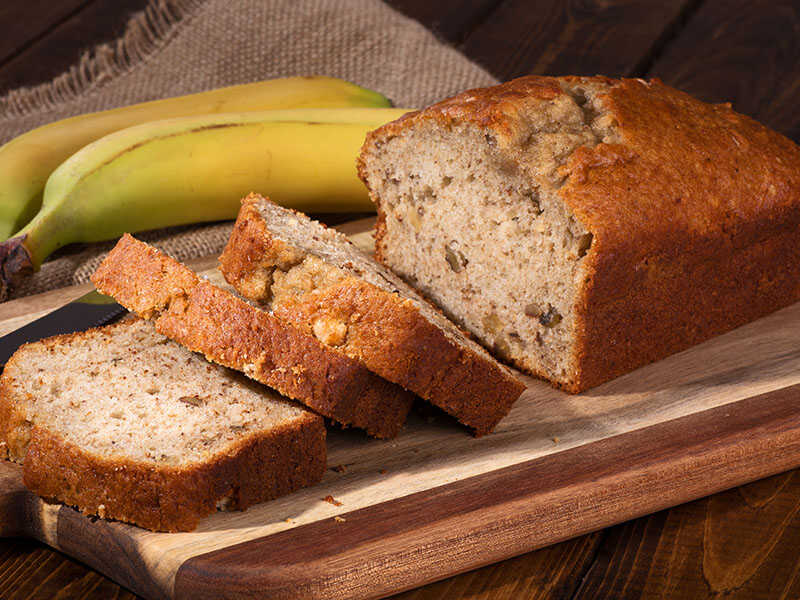 Whether homemade or store-bought, Banana bread is a popular delicacy in Saint Lucia. Bananas, nuts, and spices are some of the primary ingredients for this dessert.
Banana bread is a healthier option compared to a traditional cake. This Saint Lucian dessert provides you with enough protein for muscle growth and recovery. It also has good nutrients to boost your energy to perform daily activities better.
So if you're searching for a delicious yet healthy dessert to satisfy your sweet craving, Saint Lucian banana bread is a good choice.
23. Coconut Cake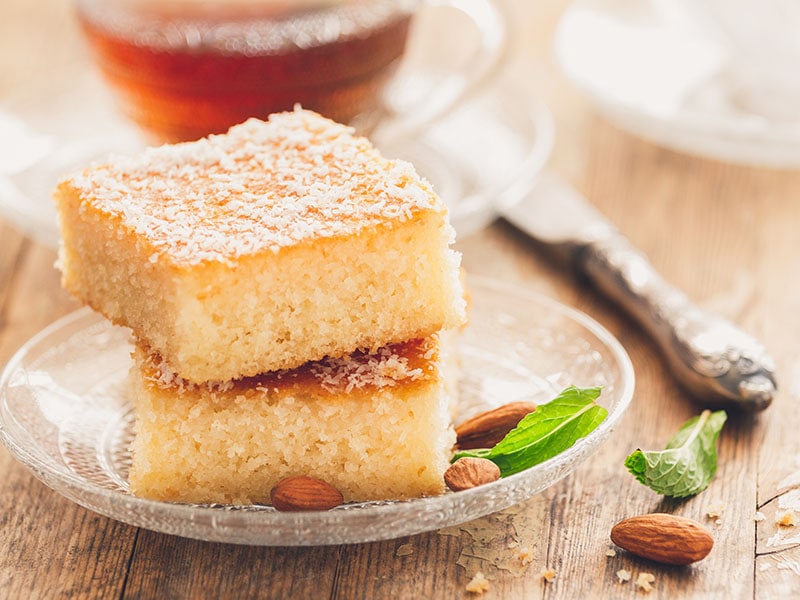 Saint Lucia is known for its breathtaking beaches. And where there's a beach, there's a coconut tree! The locals here like to utilize these coconuts for dessert, and one of the most famous coconut-based desserts is coconut cakes.
This sweet treat is a square-shaped cake available for purchase every day at local bakeries. Not only does it have a great flavor, but it also has a fascinating back story.
Many believed hungry enslaved people invented this dish. They combined coconut molasses with flour and cooked it on hot coals. This delicious life-saver gives them the energy they need after working all day without enough food.
Saint Lucian Beverages
A nice glass of cold alcoholic beverage can also be the perfect ending to your meals. So treat yourself to these refreshing drinks to
24. Rum Punch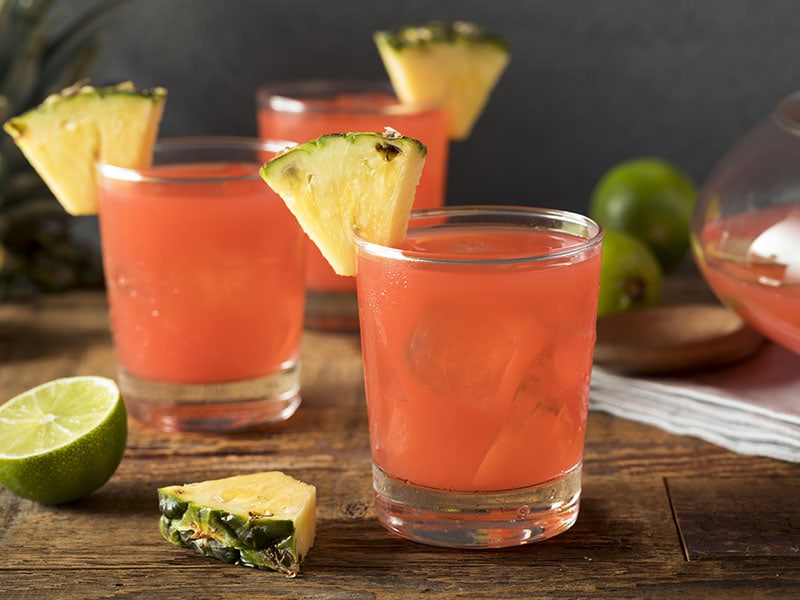 Rum, sometimes known as the "Spirit of Saint Lucia", is a popular drink on the island. Combining it with sugar, lemon juice, and spices, you will have a delightful glass of tropical-flavored rum punch.
Although this simple cocktail is available at many bars and pubs worldwide, it has a different charm when it is made on this island.
Perhaps it's because the local rum tastes better, or Saint Lucian bartenders use fresher ingredients for this drink; either way, rum punch just tastes better in the Caribbean!
25. Piton Beer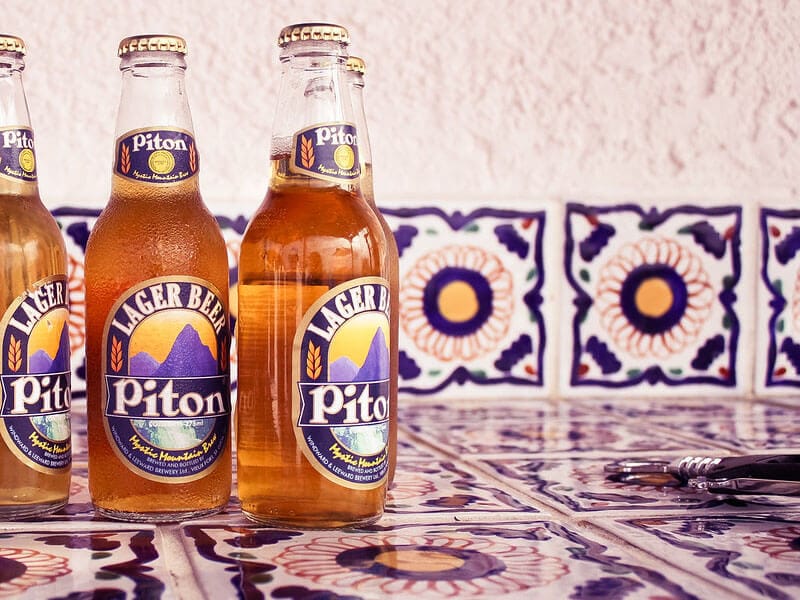 Piton Beer, named after Saint Lucia's famed Piton Mountains, is super refreshing, crisp, and light. So if you want to satisfy your thirst like a real Saint Lucian, order a bottle of traditional Piton beer and enjoy!
Since its inception in 1972, Piton beer has won numerous international prizes in France, Prague, and Belgium. This beer is brewed at the Windward and Leeward Brewery, where Strongbow, Heineken, Guinness, and Desperados were produced.
While Piton beer is available all across the Caribbean, nothing beats sipping it with the Piton Mountains right in front of you on the island of Saint Lucia.
26. Cocoa Tea
Cocoa Tea is a staple breakfast beverage in Saint Lucian cuisine. Despite its name, this iconic drink doesn't require any tea leaves. Instead, the locals concoct it from cocoa – an abundantly grown fruit in Saint Lucia.
Cocoa has been an important crop in Saint Lucian since the beginning of the 18th century. Following the abolishment of slavery in the 1800s, the newly freed Saint Lucians invented Cocoa Tea as an alternative to imported tea and coffee, which were very expensive at the time.
It takes a lot of effort to prepare Cocoa Tea from scratch. The process begins with harvesting the seeds. Then you'll need to crack and clean them. The roasting and grinding parts come afterward, but that's not the end of it.
Fortunately, you can purchase cocoa balls or sticks in the local market to save time. Traditionally, people also boil small flour dumplings in the drink to create a fulfilling meal.
---
Saint Lucia – The Beautiful Caribbean Island Blessed With Extraordinary Food Culture
The island of Saint Lucia is made up of a multitude of cities and villages that spread across the landscape, each with its own distinct style and character.
The same goes for the cuisine of this country. Saint Lucian foods are all incredible and unique, so be sure to experience them when you have the chance to!
In your opinion, which dishes above are the best? Which one do you look forward to the most on your next trip? I can't wait to hear your thoughts in the comment section below.
Also, don't forget to give this post a like and send it to your family and friends. After all, sharing is caring, right?