Why go to all the high-priced restaurants when you can have a whole Cuban experience with these best recipes? Prepare to have your mind blow with various exotic Cuban dishes in this article. Even the pickiest cooking judges can't say no to this list!
Once colonized by Spain, Cuban cuisine is highly influenced by various Spanish foods. Many of them are created upon the original Spanish dishes and altered by Cuban people's creativity.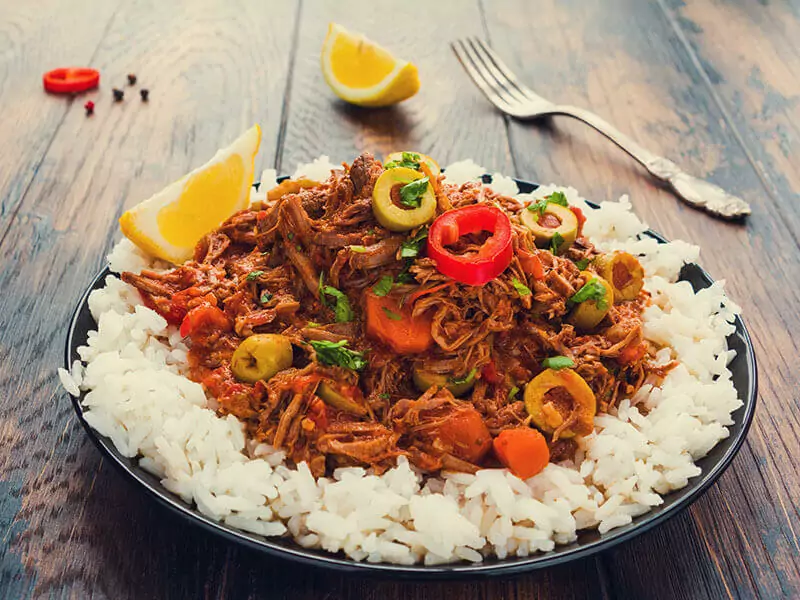 Are You Ready To Try These Mouthwatering Cuban Recipes?
It's not wrong saying these are the best Cuban recipes. Not only are they mouthwatering, but they are also diverse so that anyone can enjoy them.
Side Dishes
Yuca con Mojo (Cassava with Garlic Sauce)
Frijoles Negros (Cuban Black Beans)
Papas Rellenas (Cuban Stuffed Potatoes)
Sopa De Pollo (Cuban Chicken Noodle Soup)
Main Dishes
Poultry Meat
Arroz Con Pollo (Rice With Chicken)
Fricase de Pollo (Cuban Chicken Stew)
Bistec Empanizado (Cuban Breaded Steak)
Elena Ruz Sandwiches (Cuban Turkey Sandwiches)
Beef
Frita Cubana (Cuban Frita Burger)
Ropa Vieja (Cuban Beef Stew)
Vaca Frita (Cuban Shredded Beef)
Cuban Picadillo (Cuban Stew Ground Beef)
Pork
Lechon Asado (Cuban Roasted Pork)
Cuban Sandwiches
Others
Camarones Enchilados (Cuban Shrimp Creole)
Imperial Rice
Desserts And Snacks
Pastelito de Guayaba (Cuban Guava Pastries)
Flan de Calabaza (Cuban Pumpkin Flan)
Arroz Con Leche (Cuban Rice Pudding)
Platanos Maduros (Cuban Fried Sweet Plantains)
Tostones (Cuban Fried Green Plantains)
Ham Croquettes
Beverages
Cafecito (Cuban Coffee)
Cuba Libre
Daiquiri
Mojito
El Presidente
Let's start your journey in Cuban cuisine now!
4 Cuban Side Dishes That'll Leave You Crave For More
Whether you want to make a huge party dinner or just a simple meal, these accompaniments from Cuba are all suitable. While they satisfy your palate, these recipes are still light-flavored enough not to overpower the next course.
This dish has more flavors than other vegetarian dishes since it gets simmered in the mojo sauce.
For those accustomed to this Cuban-exclusive recipe, it's a sauce made with lemon and orange, so it's full of citrus flavor. If you feel it too tangy for your taste, you can add a little coconut oil to cut down the sourness.
After perfecting this sauce, all you need to do is simmer the yuca root for a few minutes before serving.
You can't talk about Cuban cuisine without mentioning black beans. However, how to cook them depends on the chef. Some turn these beans into soup, while others mash them to gain a thicker texture.
All in all, no matter what way you choose, don't forget sofrito, a Cuban seasoning mixture of onions, bell peppers, and garlic. You can also add lime juice, cilantro, or vinegar for the finishing touch.
These humble-looking Cuban black beans can surprise you with their flavor!
If you have too many mashed potatoes and picadillo in your fridge, these stuffed potatoes should be your first choice. Don't get tricked by their strange name! This dish is actually a Cuban version of typical croquettes.
However, compared to the regular ground beef filling, this dish is filled with picadillo, which is more flavorful and tastier. You can even alter the taste to your likings, such as adding paprika and cayenne for more spiciness and smokiness.
Chicken soup is always the first soup choice made with a crock pot in many households when someone gets sick. That applies to my family too, except for one thing: We use this Cuban version instead of the regular ones.
Why is that? It's because I feel like this dish is much healthier with all the veggies in it. Not to mention, angel hair pasta makes it heartier yet remains easy to digest.
These Cuban Main Dishes Will Meet Even The Highest Demands
Main courses are always the deciding factor whether your party is successful or not. And with these Cuban recipes, you don't have to worry about your guests' thoughts when eating anymore.
Have You Ever Tried Cuban Recipes With Poultry Meat?
Besides chicken, Cuban cuisine also uses other poultry meats for their recipes. For example, turkey is one of their favorite ingredients.
However, before learning what they do with this everyday meat, make sure you have a sharp shear exclusive for poultry meat. This tool can help you prepare much faster. Are you ready? Let's go now!
Just like its name indicates, arroz con pollo is simply a rice dish with chicken. From that basic recipe, each chef spun their own variations and made this dish their own. So in Honduras cuisine and other Latin American countries, this dish will have different distinct versions.
Among those recipes, Cuban types stand out thanks to sofrito, Cuban tradition seasonings made of spices, and sauteed tomatoes. With sofrito, your chicken rice will taste much more complex and have more flavor layers.
Here is the perfect recipe for arroz con pollo!
You may know about fricassee as a French stew, but this dish is different from that original recipe since Spanish people hve changed it. Unlike the initial one, this chicken stew uses tomato sauce instead of white wine.
However, as this recipe is still a stew, it needs time to simmer the ingredients. But if you have a pressure cooker, your cooking time will be shortened by a lot. The tomato sauce with citrus-flavored chicken makes a perfect dinner meal for your family.a
While it's called "steak," this dish isn't your regular beef steak. In fact, its main ingredient is chicken. Yes, you can use chicken to make a steak. And with the breadcrumb coating, your chicken will still come out juicy and not dry in the slightest.
However, to get that, you need to butterfly your steak or buy thin steak so that you don't need to fry it for too long. Just quickly sear both sides in the pan until golden brown, and your breaded steak is ready to be served.
Turkey, strawberry jam, and mayonnaise, all of these sound like a bizarre combination. But believe it or not, these sandwiches are delicious beyond imagination.
And you don't have to stick with the original recipe. Feel free to make some changes based on your conditions. For example, switch strawberry jam with strawberry jelly if you can't find the former option.
You Can't Miss Out These Cuban Beef Dishes!
Of course, there's no cuisine not having main dishes with beef. In Cuba, some of them are even considered national dishes for their luscious flavor!
Forget all your fast-food burgers! This frita burger will carve a new flavor horizon for you! One glance at it may make you wonder, what about this ordinary-looking burger that makes me so excited?
Well, first, it's because it contains tons of shoestring fries. Each bite gives you the crunchy feeling that everyone loves. But the best thing about this frita burger is its secret sauce made with tomato sauce and other seasonings, making this dish so irresistible!
No one can resist this Cuban frita burger!
Its name might make you think this dish is born for the poor ("ropa vieja" means "old clothes"). However, this stew is actually loved by everyone from every class. In fact, it's considered a national dish in Cuba.
The reason for that name is because both the beef and vegetables are shredded into various strips. By cooking at low heat for a long time, the meat umami is well-blended with the natural sweetness from veggies, creating harmony right in your mouth.
Based on its name, you may confuse this dish with ropa vieja as they both contain shredded beef. However, once you see them, you'll never make that mistake again since, in vaca frita, the meat gets fried quickly, while the latter is a beef stew.
For this dish, you need to marinate the beef with other seasonings like lime juice for a night so that the flavor can soak thoroughly. This way, even though it's just stir-fried with onions, vaca frita still bursts with flavor in your mouth.
In Spanish, "picadillo" means "mince." And from that, you may guess what the main ingredient of this dish is. Yes, it's ground beef mixed with tomato sauce and sometimes potatoes.
But that's not all with the Cuban version. In Cuba, people would add raisins and olives to the mixture for more sweetness and sourness. Rice is a perfect match with picadillo. But you can also make it into a sandwich filling.
Even your children will love this Cuban picadillo!
These Pork Recipes Are Cuban Favorite!
Compared to beef, pork is more affordable. So, it's an ideal option for when you want to try Cuban dishes without spending too much money. Don't worry, these recipes are just as tasty as those above!
Just like arroz con pollo, this roasted pork has multiple versions in different countries. All share one similarity, which involves roasting the whole pig over charcoal. However, if you want a homemade version, you can roast a portion of the pig in your oven.
What makes this Cuban variant unique is the mojo sauce used to marinate the pork. This sauce is made of orange juice with tons of seasonings and herbs, making it both sweet and sour. I suggest marinating your pork in mojo sauce overnight so that the flavor can soak thoroughly.
These Cuban sandwiches are your answer if you don't know what to do with the lechon asado besides eating it with rice.
You may feel unfamiliar with them now but just think of this dish as your regular grilled cheese, only having more ingredients like roasted pork, ham, and pickles.
Among these components, there is one element that has caused discord throughout Cuba: salami. While the Tampa region claims this dish should include salami, Key West people beg to differ. So, it's your decision on whether to add this ingredient to your sandwiches.
These Cuban sandwiches are perfect for a convenient lunch!
You Might Never Hear About These Unique Cuban Main Dishes
In this part, you'll have a seafood dish and a rice dish; all are full of Cuban flavors. Apart from that, they are also suitable for your friend gatherings as their taste can capture anyone's heart.
Spicy lovers will indeed like this shrimp creole. Traditional recipes only refer to cooking shrimp in a tomato sauce.
However, you can add more heat to this dish with paprika or cayenne pepper. Also, some chefs prefer having a bit of honey to tone down the tomatoes' sourness.
Shrimp creole goes best with any rice or noodles. You can even enjoy this dish with just some bread for your dinner.
Arroz con pollo is tasty enough to be a Cuban national dish. However, if you want something richer, this recipe is what you should look for. Basically, it's still rice with chicken, but now cheese and mayonnaise are added.
To be precise, chefs will add mayonnaise to cooked rice. And then, every ingredient is layered on top of each other with cheese in between. Mild cheese is the best choice as it doesn't cover the taste of chicken and rice.
Treat yourself like a royal with this imperial rice!
Make Your Own Cuban Experience With These Desserts And Snacks
Just like other cuisines, Cuba also has its own desserts and snacks. These dishes below are all simple, suitable for whenever you crave something quick and tasty to pass the time.
Traditional Cuban pastries are filled with cream cheese. And now, I'll add guava flavor to this recipe as it is perfect for cream cheese. The fruity sweetness from guava will balance the sourness of rich cream cheese.
You can use either guava paste or jelly to make this snack. However, remember that the latter choice is easier to melt and leak through your pastries when baking.
Tell me, who in this world doesn't love flan? Lovely smooth, creamy custard and slightly burnt caramel topping, this dessert has captured anyone that tried it. And now, you'll get an even richer pudding with this pumpkin version.
According to traditional recipes, you'll need to puree roasted pumpkin. However, in this rushing area, you can just use canned pumpkins to reduce the cooking time. If you want more of this fruit's flavor, feel free to add pumpkin spice to the flan.
This is also a dish coming from Spain and spreading its flavor throughout Cuba. Actually, there are various countries following Spanish recipes, such as Chile, Uruguay, Paraguay,…
However, among those, Cuban versions are the sweetest, thickest, and also creamiest. The reason may be because Cuban people use condensed milk for this recipe. Also, in this rice pudding, you get to enjoy a hint of cinnamon, making it more fragrant.
Tired of all the seasonings needed in every recipe? Well, these fried plantains will save you from that problem. Once you get perfect sweet plantains, ripen and completely turn black, you just have to fry them without any preparation.
As your bananas are overripe, their natural sugar will caramelize right when frying, making this dish sweet even when no sugar is added. This lovely recipe is suitable as a side dish for every food: eggs, meat, fish, or even vegetables.
Make these fried sweet plantains to share with your friends!
Raw green plantains don't taste good. However, if you cook them in the right way, and there are various ways for them, you'll get a batch of delicious snacks. And these tostones are one of those cooking methods.
And what makes this dish unique is that you need to fry your plantain slices twice. And between each time, you have to pound your bananas until they turn flat before starting to fry for the second time.
Aside from Cuba, tostones are also popular dishes in Dominica, Venezuela, and Nicaragua. So if you're not convinced that tostones are amazing treats, you should trust the judgment of the citizens from these countries.
If you have a chance to go to Cuba, be sure to try this lovely street food. And, of course, you can make it right in your kitchen. While Cuban street carts usually deep-fry these croquettes, baking in the oven is an excellent choice to cut down the oil and still leaves them as crunchy as ever.
Also, to get a full ham flavor in every bite, make sure to dice your ham finely. Besides that, Cuban people often include cheese or potatoes in this recipe for a more satisfying feeling.
What's Better Than Enjoying These Cuban Drinks?
These tasty Cuban beverages are just as famous, if not more, as all the foods above. And they are all simple drinks with thousands of varieties for you to try mixing at any drinking party.
While many people prefer a cup of coffee in the morning, in Cuban, cafecito is initially served as a dessert after meals. Why is that? It's because this drink is sweetened and thickened with sugar that it's way more like a sweet treat than a beverage.
To make cafecito, you need to mix roasted coffee with sugar, either brown or granulated. Then, use all your strength to whip this mixture until it becomes some kind of foam. Believe me, after practicing this Cuban coffee, you won't have to go to the gym anymore.
This Cuban coffee can wake you up in an instant!
Any enthusiast about Cuba history should know about this cocktail made of rum and coke. But what sets it apart from just rum mixed with coke is the appearance of lime. Even just a squeeze of fresh lime can change the taste significantly.
Actually, original recipes even require muddling lime's skin in the glass bottom to create more scent and bitterness. However, nowadays, bartenders only use it to tone down the sweetness of cocoa and as a garnish.
Daiquiri is a simple cocktail with only three ingredients: rum, citrus juice, and sugar. As time passes, other components are added to the recipe, like various Cuban fruits and wines.
However, as for me, this classic one is still the best, with all the sourness, sweetness balancing each other perfectly.
Everyone has a different ideal ratio of these three elements, so it might take a while for you to find out your true recipe. But I promise the result is worth all these trials and errors.
A glass of mojito has everything I need on a hot summer day: Sweet and refreshing. And that comes from these five simple ingredients: rum, mint leaves, sugar, lime juice, and soda water. Even just two of these components combining are enough to cool your head, not to mention five.
And my favorite part about this beverage is when you have mastered the basic recipe, you can elevate it to how you want. For example, my favorite recipe even included apple juice and vodka. Find your own masterpiece and serve it for any friend gathering.
This mojito can chase away all the summer heat with just one sip!
Unlike other beverages I've introduced above, this cocktail is more complicated with harder-to-find ingredients: aged rum, blanc vermouth, orange liqueur, and grenadine.
Despite sounding troublesome, its taste is really worth your effort as it's exquisite and refined with a hint of freshness, making it a perfect summer drink. But of course, you can enjoy it at any time of the year, especially when you need some delicate drink for your party.
Have You Found Your Favorite Cuban Recipes?
As I've said above, even the choosiest food critics will fall in love with at least one or two of these Cuban recipes. So, I hope you'll find your favorite after trying them all. Or, it's okay if you love them all the same.
I bet your relatives are also eager to learn about these Cuban recipes, so don't hesitate to show this article to them. And if you have any thoughts regarding this topic, feel free to share them with other readers via comment.