Besides its heroic history, Cuba is also the birthplace of many attractive and unique dishes, including Cuban appetizers. These are the most invested and most interesting dishes with a unique blend of many different cultures.
Here, the appetizer is the perfect blend of Cuban cooking with Spanish or African flavors and techniques, plus Caribbean spices and palates. A small number of people from China who come to live in the Havana region also contribute to the complex flavor of Cuban appetizers.
Cuban appetizers are both traditional and modern due to the local regions and different ways of preparation. Do not miss these 25 unique and exquisite Cuban appetizers that I will introduce in this article!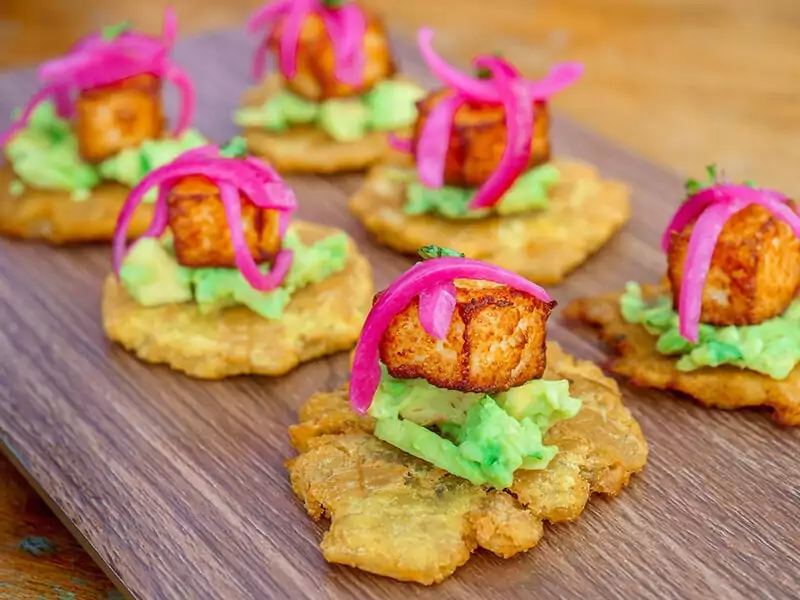 Let's Find Out 25 Delicious Cuban Appetizers Right Now!
Here are some wonderful Cuban appetizers that you should try once. They will definitely bring a new feeling to your dinner party:
Cuban Appetizers with Meat
Pastelitos de Carne (Picadillo-Filled Pastries)
Cuban Style Ham Croquettes (Croquetas de Jamón)
Papas Rellenas (Fried Stuffed Potatoes)
Cuban Beef Empanadas
Cuban Ham Roll-Ups
Cuban Egg Rolls
Cuban Appetizers with Vegetables
Cheese Stuffed Fried Yuca Balls (Bolitas de Yuca)
Cuban Style Yuca (Yuca Con Mojo)
Frituras de malanga (Malanga Fritters)
Cuban Salad
Cuban Lentil Soup (Potaje de Lentejas)
Cuban Black Bean Soup
Cuban Appetizers with Bread
Cuban Sandwich Dip
Cuban Sliders
Miami Cuban Dip
Sheet Pan Cubano Sandwich
Cuban Appetizers with Plantain
Tostones
Cuban Plantain Chips (Chicharitas or Mariquitas)
Fried ripe plantains (Platanos maduros fritos)
Other Cuban Appetizers
Mojo Shrimp Kabobs
Cuban Style Ceviche
Cuban Sandwich on a Stick Appetizer
Cuban Quesadillas
Cuban Ham Spread
Pastelitos De Guayaba y Queso (Guava Cheese Pastries)
25 Must-Try Cuban Appetizers: The Best Choices to Start Your Party
The Cuban appetizers that linger on the tip of your tongue will surely make you unforgettable once you have enjoyed them. Let's take a look at some attractive appetizers in Cuba with bold traditional flavors of this country.
6 Amazing Cuban Appetizers with Meat That Make You Feel Starving!
Cuban meat appetizers are diverse, attractive and are often used with sauces. One of the most common sauces used with meat appetizers is mojo. Let's see more details below:
Pastelitos de Carne with peppers and onions blended with picadillo then served with pastries will be the appetizer you need to keep an eye on this season. The balance of sweet and savory ingredients will delight you.
This dish is relatively simple to make at home with ingredients you already have in your kitchen cupboard. You can also use leftover food to make this delicious dish. Whatever combination of ingredients you like in this pastry, it's delicious.
Making Pastelitos de Carne is easier than ever with this method! So why not try now to enjoy the great taste of this appetizer!
Cuban style ham croquettes are a harmonious combination of crispy crust and rich flavor from the ingredients in the filling, deep-fried in oil until golden—the smell of milk and greasy butter blends with all that is wonderful.
The croquettes with soft, rich Jamon inside will definitely make you irresistible if you try it once. When dipped with your favorite sauce, this dish creates a very harmonious and delicious taste.
Cuban Style ham croquettes is the perfect recipe for all people. Try it now!
Papas rellenas has crispy fried potato skin, rich beef filling, plus the sweet taste of nutritious vegetables. These Cuban-style potato balls are pretty simple to make and serving them with dipping sauces is nothing to discuss!
These stuffed potato balls will give you a crispy texture that will make you want to eat more and more. How to make this dish is also speedy. Let's go to the kitchen to make this delicious dish right away!
Empanadas are often used for breakfast and snacks. Especially during festivals, Cuban families often elevate this dish into an accompaniment to enrich the meal. This dish has many different versions, so you won't be bored eating it.
Cuban beef empanadas have two important main parts: the dough skin outside and the beef inside. It usually has a common shape which is a semicircle. You can also make Empanadas in a circular shape if you like.
One of the reasons Empanadas are so popular in many Western countries is that they are quite easy to make. In particular, the filling of the cake depends on the specialties of each region, you can change it according to your preferences.
This savory Cuban pastry will be great as an appetizer to impress your guests! Watch this video:
This is a combination of ham and cheese rolls. After layering the cheeses and hams on top of each other, you just need to roll them together to turn them into a quick appetizer that everyone loves.
Surely this dish is ideal for your energy breakfast! You can add a little butter and pickle to them, they are even better.
Have you ever heard about delicious Cuban egg rolls with roasted beef, and attractive Swiss cheese flavor? Each roll is crispy and fragrant with a simple recipe that will help you easily show off your talents to invite family and friends..
It is so attractive that if you eat it once, you will always remember the taste of this Cuban dish. This dish is so simple and quick to make. What are you waiting for? If you haven't tried it in the kitchen, let's do it right away!
6 Incredible Cuban Appetizers With Vegetables For A Healthy Life:
Given the island's tropical climate, vegetables have always been an important part of the Cuban diet. Please take a look at how diverse vegetables are in their appetizers!
These round cheese stuffed yuca balls look extremely cute and will make you fall in love. The recipe is simple to prepare, with the outside being a deep-fried dough layer, and the inside is a shredded cheese.
The cheese-stuffed fried yuca balls in the Cuban version are even better with a thin and crispy skin melting in your mouth. Don't forget to enjoy a glass of beer or cold soda!
When it comes to Cuban cuisine, you definitely shouldn't forget yuca con mojo. This is an indispensable appetizer for Cubans and lovers loving this country's cuisine. This dish is very simple, consisting of yuca and fragrant citrus sauce.
You can tailor yuca con mojo to your recipe, for example, adding more flavor with some of your favorite spices or herbs. It's great to kick off any meal with this.
Malanga is a tuber popular in Cuba with a taste and texture similar to potatoes. To make malanga fritters, you will crush them and combine them with eggs and some other aromatic spices.
The fried malanga balls are beautiful and sure to delight you with their crunchy texture on the outside, while the inside is light and soft to the touch. A couple of malanga fritters for an appetizer or mid-day snack are great.
Cuban salad has become familiar to those who love vegetables. This is a famous appetizer of European cuisine in general and in Cuba, it is a super fresh appetizer with simple ingredients, a quick and easy way to make it.
This delightful salad is a fusion of traditional Cuban flavors. This will definitely help you save time on busy days. Use this salad to make your meal menu richer!
On days when the weather changes seasons, you will easily feel tired or lose your appetite. That's when you should change your taste with some strange but still delicious and nutritious dishes. Try Cuban lentil soup, the bean is known as the "queen" of cereals.
Lentil soup provides little energy but is very high in protein. It is suitable for both adults and children. There are many creative ways to make delicious Cuban lentil soup. If you want to change your taste with exotic dishes, don't forget this dish.
Black bean soup with a combination of ingredients such as black beans, onions, and spices, bringing a rich taste to the soup. The black bean soup with some simple ingredients is a wonderfully flavorful and healthy filling that only takes 35 minutes.
With this black bean soup, you should add it to your summer menu. In addition, you also need to pay attention to eating the soup when it is still a little warm to ensure full nutrition and absorb best.
You Will Adore 4 Delicious Cuban Appetizers with Bread!
Cuban bread is a traditional Cuban appetizer that you should not miss. The ingredients inside can vary depending on the taste and characteristics of each person. Let's try 4 appetizers with bread right now.
Because of the variety of processing methods and interesting combinations of ingredients, the sandwich dip has become the pride of Cuban cuisine. Depending on the taste of each region, the filling may vary but must still include some essential Cuban flavors.
The crispy grilled sandwich with a fragrant dough crust, full of flavors when eaten with melted fatty cheese, is what makes you fall in love. You can add or subtract flavors to your liking to create a favorite appetizer.
Cuban sliders have always been a favorite of many people. It consists of many layers of delicious, buttery, egg-flavored, and extremely delicious ingredients inside a golden brown sandwich.
Packed with delicious, creamy ingredients, Cuban sliders truly taste great. Not only delicious, but these sliders also provide all the necessary nutrients so that you and your family members can start a new day full of energy.
Cuban sliders are the perfect appetizers for your amazing party! Check out this video to know:
Another variation on the Cuban sandwich is the easy-to-make Miami Cuban dip with a rich flavor of melted cheese. In this dish, all the typical flavors of Cuban cuisine come together. You have pickles, cheese, and ham.
All of your favorite Cuban flavors are brought together in this Miami Cuban dip. Eating it right out of the oven and everything is still hot will make you feel so much better!
Sheet pan Cubano sandwich is another typical Cuban sandwich that you should enjoy. When finished, this sandwich has a crispy outside and fatty flavor of cheese.
This recipe is a smart way to make use of leftover pork meat in the fridge. This sandwich is not dry at all. It retains moisture and tastes better. Moreover, this dish will provide more energy for your working morning.
3 Interesting Cuban Appetizers with Plantain to Serve in Your Spare Time:
Plantains are one of the favorite ingredients in Cuban cuisine, as it is nutritious and easy to make into unique and delicious appetizers. These recipes have spread and evolved into cuisines around the world with many different variations:
Tostones are a unique and intriguing variation from plantain. Plantain has a high starch content and incredibly very little sugar and is finished after frying twice.
Plantain pieces are pressed into thin cakes to combine with salad, cheese, or even replacing bread to eat with meat.
The mild sweetness, along with the crispness and moistness of the plantain slices, blend well with the accompaniments, have completely changed the definition of this familiar street food and taken it to a whole new level.
Making the perfect tostones is pretty simple with these tips and tricks! Watch this video:
Plantain is a very familiar ingredient and can process countless attractive dishes, from cakes to delicious baked goods. Therefore, Cuban plantain chips not only possess a delightful taste, but also bring excellent health benefits thanks to its high content of vitamins and essential nutrients.
Plantain chips are the favorite snack of Cuban people because they are attractive and crispy. Besides, they contain more starch, so they are easier to prepare.
On the surface of each fried plantain chip, a golden brown color gradually appears, a glossy layer of oil. Each piece is very crispy, not hard, not burnt. What's better than this with mojo sauce?
It's time to use ripe plantains for another interesting dish. This is a delicious snack, simple to make, and nutritious. This dish is extremely suitable to add to your home appetizer menu.
Because this plantain is ripe, it is already sweet, so you don't need to worry about their spice. This appetizer, when finished, has a beautiful golden color and a rich aroma. They will be slightly crispy on the outside, soft and fragrant on the inside, naturally without seasoning.
Other Great Cuban Appetizers for Seafood's Lovers:
Because of its location on the island, seafood is always an extremely attractive part of a Cuban meal. You will definitely love the Cuban appetizers with seafood.
Moji shrimp kabobs are made from familiar ingredients but give you an exceptional taste. The delicious taste of shrimp mixed with mojo and spices on a skewer creates a dish that anyone will love.
Shrimp is stuffed with vegetables and the combination of the natural sweetness of vegetables with the rich taste of mojo always gives people a special feeling. Shrimps, after processing, are golden, fragrant, and eating them right away while still hot is too great.
Not only that, everyone in your family can sit together to prepare, skewer ingredients on sticks to bring a happy atmosphere together at a party!
Cuban style ceviche is a very popular seafood salad served as a great beginning course for your summer party. Because it is made with fresh ingredients, the dish should be served immediately after processing.
It consists of fresh seafood mixed with spices and, most importantly, lemon juice. Although no heat is used for cooking, seafood is still cooked thanks to the acid in the lemon juice and the spice mix.
Yes, and this is probably the most enjoyable sandwich you'll ever see. They look so much fun with their layers of bread, meat, and vegetables stacked by skewering through a stick.
Not only adult guests but even younger guests will love this dish. Spruce up your party table with this adorable Cuban appetizer sandwich!
Quesadillas are famous Cuban street food. These appetizers will enhance your meal with its wonderful taste. The layers of interesting flavors of meat and cheese will make you feel happy.
Quesadillas are the pride of Cuban cuisine. It is gradually being included in daily meals by many families around the world. With the recipe I suggest, you can completely bring home the taste of Cuba when you prepare your own Quesadillas.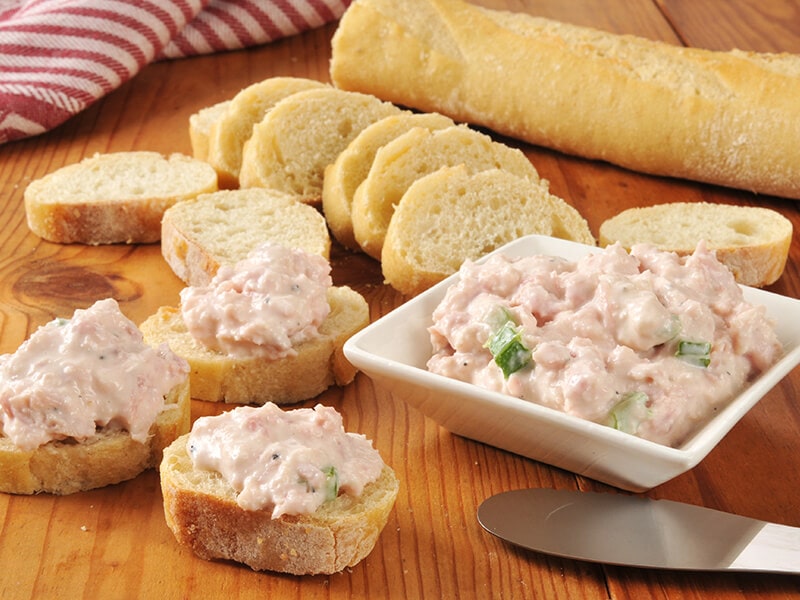 Do you need some Cuban spread to eat with your sandwiches? And here's another appetizer that is worth trying! Combining deviled ham and cream cheese, along with some other flavoring seasonings, it will be a great spread to your bread or crackers.
You can combine this with mustard to take the flavor to the next level. In addition, it is also suitable for those who are busy because it only takes you less than 10 minutes to make.
Pastelitos de Guayaba y Queso deserves to be a light Cuban pastry to kick off your table. This appetizer is delicious and easy to make with few ingredients available and goes well with any meal.
Imagine being surrounded by sweet tropical guava and brimming with cream cheese is a creamy, buttery soft sponge cake. It will awaken anyone's taste buds. Each soft sponge bite melts out a delicious filling that will leave you hooked.
This recipe is a super easy and delicious Cuban guava and cheese pastry! Watch this video:
Pick Your Favorite Cuban Appetizer and Enjoy!
It will be a pity for you if you do not enjoy the traditional appetizers in this beautiful country – Cuba. You're sure to love them, so don't hesitate to give them a try!
If someone does not know about Cuban cuisine in general and Cuban appetizers in particular, be sure to share this article with them right away! There will be nothing more wonderful than being rewarded with a new taste made by your own hands, right? Good luck!
Nutrition Facts
10 servings per container
---
Amount Per ServingCalories455
% Daily Value *
Total Fat 27.1g

42

%
Cholesterol 41mg

14

%
Sodium 2459mg

103

%
Potassium 333mg

10

%
Total Carbohydrate 35.9g

12

%

Dietary Fiber 1.5g

4

%
Sugars 5.7g

Protein 17.2g

34

%
---
* The % Daily Value tells you how much a nutrient in a serving of food contributes to a daily diet. 2,000 calories a day is used for general nutrition advice.