As part of a well-known cuisine, Jamaican appetizers are very nutritious and culturally rich, just like other specialty dishes from Jamaica. Therefore, you should expect a mix of different cultures and races in the recipes list.
The majority of Jamaican cuisine is adequately healthy, not to mention vegetarian or Ital dishes that are included in the list. Thus, with Jamaican appetizers, not only can you enjoy delicious foods but also manage to control your weight and take care of your family's health!
This article will help you choose the best fit appetizers for your dinner, lunch, gathering, buffet, or even party! In addition, many selected appetizers can also become a snack between your daily meals. What a bargain!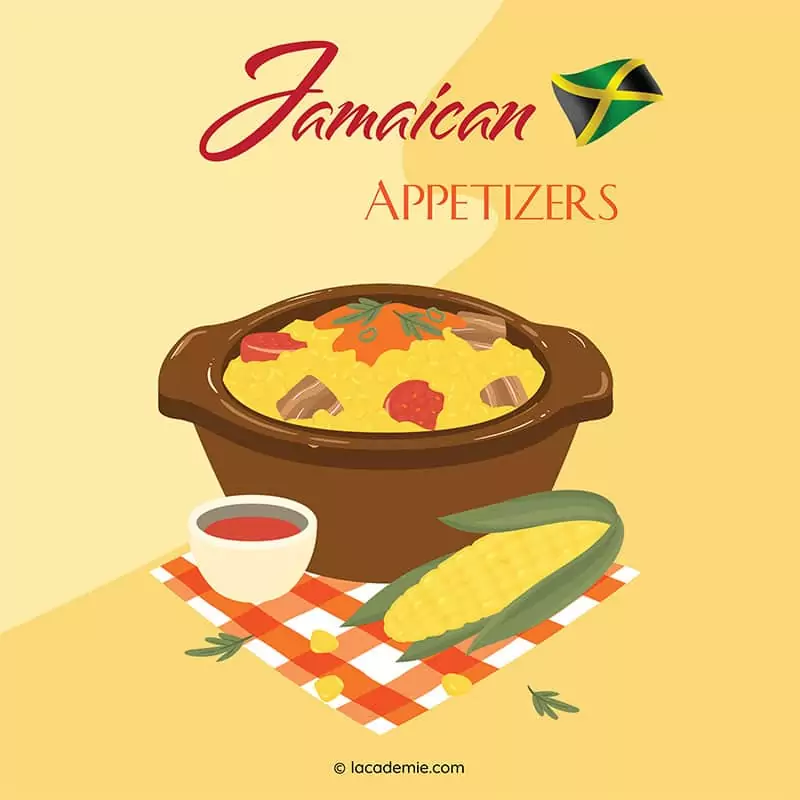 20 Jamaican Appetizers Recipes That Are Perfect For Every Party
You're looking for something new for the upcoming family gatherings but haven't found anything promising yet? Then, you've come to the right place! Below are the 20 Jamaican appetizers that can be perfect teasers for the main dishes to come.
Total time: 25 minutes
It's not an exaggeration to say that Ackee and Saltfish is representative of Jamaican cuisine. A bonus point is that this recipe is completely gluten-free, so don't hesitate to try it even if you have gluten intolerance.
The dish is a blend between soft, nutty ackee (a native fruit of West Africa), Jamaican seasonings, and dried codfish. Generally, I think that you can describe the overall flavor as a little bit sweet and taste something like beans or peas.
Historically, ackee was first brought to Jamaica in the 1700s from Ghana. Saltfish had its name because the codfish were salted in order to endure the long journey on the ocean. However, you can also use Mahi Mahi or mackerel to replace the codfish.
Here is a must-watch guide on how to cook Ackee and Saltfish.
Total time: 1 hour
While coco bread is a popular side dish in many Caribbean countries, Jamaica is the birthplace of it. You can combine it with literally anything else, ranging from jerk seasonings and curry to beef or seafood.
Just from the very first bite of coco bread, you can taste a sweet flavor of butter and a subtle fragrance of coconut milk. When it comes to the dough, you can make it into any shape that you like, from circle to oval, and add a little folding detail to the bread.
If you are familiar with baking, then this dish can't challenge you in any step. However, it's recommended to follow the recipe step-by-step to ensure that you can pull out the pleasantly sweet flavor and firm texture of coco bread.
Total time: About 1 hour
This recipe is an altered version of the famous Caribbean Macaroni and Cheese. It is quite sweeter, so be aware of the amount of sugar that you put in. In addition to enjoying the treat as an appetizer, you can have macaroni pie as a main dish or a breakfast meal.
Before mixing all the ingredients (eggs, milk, pepper, and sugar), you need to preheat the oven and boil macaroni with salted water for approximately 8 minutes. After baking, the cake should rest for about 15 minutes before being served to the table.
Remember to go through this tutorial before taking any step to make Caribbean macaroni pie!
Total time: 25 minutes
Different from conventional Jamaican fried dumplings, festival dumplings (or festivals) are deep-fried bread that has an oval shape. They are thinner and longer than round fried dumplings. Festivals can be an appetizer or a side dish next to saltfish or steamed cabbage.
With this recipe, you can make about 8 portions of slightly sweet festival dumplings. And it's recommended that you should use milk instead of water when making the dough because it will make the dumplings more fluffy.
Total time: 30 minutes
Normally, Jamaicans eat porridge at breakfast or serve it as an appetizer. Apparently, there are many fruits and vegetables that are used in different porridge recipes, including spinach, pumpkin, and so on.
However, I believe green banana porridge is a one-of-a-kind dish for you to try in Jamaica.
To cook this meal, you have to prepare green bananas because they have a sour flavor (in addition to sweetness) which creates the unique flavor of the porridge. Besides, Jamaican spices are also needed, such as nutmeg, cinnamon, almond, etc.
You need to watch this guide before making Jamaican green banana porridge!
Total time: 30 minutes
Banana fritter is the favorite sweet fried snack for any Jamaican. Because it can be too sweet to be an appetizer, you can adjust it by reducing the sugar amount or using just slightly ripe bananas.
Because the fritters are already sweet, you need cinnamon, nutmeg, and salt to create a perfect balance of flavor. What's more, you can choose any type of toppings to go with these fritters after you are done cooking; coriander and butter are recommended.
Total time: 25 minutes
Is this the first time you hear about Jerk? Basically, Jerk is the Jamaican style of cooking meat with native spices such as bay leaf, cinnamon, ginger, etc. As you may realize, this technique will make any dish's flavor much more powerful and spicy.
Following this recipe, you will make one of the most basic salad dishes in Jamaican cuisine. First of all, you have to make sure that the chicken is boneless and skinless. After that, you need to add olive oil and set the time for the seasoned chicken to be cooked in the oven.
Chicken is topped with jerk seasoning, and you will have to flip it several times throughout the cooking time. Finally, you decorate your plate or bowl with salad and vegetables, slice the chicken and serve the dish to the table.
Note: You can adjust the temperature and timing according to your cooking experience.
Do you want a low-carb version of Jamaican Jerk Chicken Salad? If yes, this video is for you!
Total time: 35 minutes
This recipe is a very healthy version of Jamaican tacos, with vegetables like cauliflower and spinach. What's more, this recipe requires you to use avocado and avocado lime crema, which will help enhance the color and texture of the mixture.
Taco, a Mexican dish, is basically fried Tortillas with filling insides. The filling of taco is usually meat and vegetables like tomatoes or lettuce. While the jerk seasoning is special enough, cauliflower will add a refreshing and sweet flavor to this recipe.
Besides, there are two options for you to choose from when it comes to jerk seasoning: the premade sauce and the homemade one. Even though it's nice to prepare the sauce on your own, the premade version will pull out the correct flavor.
Total time: 35 minutes
Here comes another dish that uses saltfish as the main ingredient! Traditionally, saltfish fritters (also called Stamp and Go) is a fast-food breakfast dish for Jamaicans. But with this recipe, you can have a perfect appetizer version of this specialty.
The savory flavor of the fish and the crispy yet soft dough, marinated together with native seasonings, have made many people addicted to saltfish fritters. Scotch bonnet will add a powerful flavor to the dish, but you can leave it out if you can't stand the spiciness.
This tutorial has many tips awaiting for you to make awesome Jamaican saltfish fritters!
Total time: About 2 hours and 25 minutes (including 2 hours of marinating time)
What will be more luscious than a combination between jerk chicken and mango avocado salsa? I believe the answer probably is none. It can fit both as a savory appetizer and a perfect main dish when combined with rice.
If you're wondering, salsa is a spicy tomato sauce that originates from Mexico. Salsa is a dip, but its overpowering flavor is always the highlight of many dishes. In this recipe, mango is added to balance that flavor with a sweet and sour taste.
To ensure the recipes go well, you need to first marinate your chicken with flavors and sweeteners. You can either store the chicken in the refrigerator or leave it in the container inside a ziplock for about 2 hours. After that, you will use a grill or skillet to cook the chicken.
Finally, let the chicken rest for a few minutes before adding the mango salsa sauce and serving it. Mango salsa is very simple to make: You can just mix all of the necessary ingredients (mango, avocado, lime juice, etc.) and adjust the amount based on your taste.
Total time: 20 minutes
This is the first dish to make an appearance among the many scrumptious foods from the Caribbean that I have prepared. Even though you may be too familiar with Guacamole, this recipe will bring the tropical and island flavors to your kitchen!
Basically, Guacamole is an avocado dip/sauce that has its origin in Mexico. Normally, Guacamole can go well with many foods such as toast, salad, fried fish, etc. Its main ingredients (avocados, onion, cilantro, etc.) are also very easy to find.
In this recipe, avocado plays an important role in balancing different ingredients and spices, so be careful while choosing the type of avocados you want to use at the market. With a creamy texture and nutty flavor, Jamaican seasoning will be the star of this appetizer!
Do you find Caribbean Guacamole too complicated? This tutorial will help you go through the recipe smoothly!
Total time: 25 minutes
Do you want to try seafood and salad combined with Jamaican jerk seasonings? If yes, then this recipe is created for you! While this dish is a versatile appetizer, you can also combine it with rice to become the main dish.
To accurately create a tropical and island flavor, it's important that all of your ingredients have to be fresh and just truly ripe, ranging from pepper and tomatoes to avocado and mango. With the salmon, you can salt it before cooking or season it with anything you want.
Apparently, it's fine to use the barbecue to cook the salmon, but it's recommended to use the hot grill. Throughout the process, you need to flip the salmon several times so that both the skin and meat are well-cooked.
With the salsa, you will first add lime juice and red onions before mixing them to create the base liquid for the sauce. After that, add other ingredients (mango, chili, tomato, etc.), stir the mixture, and let the sauce sit for a while before serving it with the salmon.
Total time: 28 minutes
Mango sauce will be a perfect addition to the already savory meatballs. Therefore, it's essential to follow exactly the instructions to make the sauce, and don't forget that you need to buy the Caribbean or Jamaican sauce because this recipe won't show you how to make it.
The main ingredients to make the sauce are mango juice, hot sauce, and honey. You mix those in a hot saucepan, wait for them to boil, add the cornstarch and finally stir the mixture in about 1 minute. After that, you can pour the sauce over the meatballs and enjoy the dish!
Overall, I think this is a delicate-looking dish. But the second that you taste the meatballs, you will realize that the flavor is no joke. The blend of spiciness, sweetness, and fruity flavor is the perfect appetizer for any party you are planning to throw.
You don't want to miss this detailed guide when making the Caribbean mango sauced meatballs, do you?
Total time: 35 minutes
This is a very special recipe because it incorporates a variety of ingredients (such as black beans, Jamaican spices, and corn) into wholesome tacos. Also, this recipe is gluten-free and soy-free, so you can put it in your tasteful Jamaica-themed vegetarian recipes list.
There are three stages of this dish that you have to separately take care of: the jerk seasonings plus the black beans, the tacos, and roasted corn. In the end, your efforts will be paid well with the delicious, flavorful, and healthy tacos.
Total time: 60 minutes
As a matter of fact, pepper shrimp is a popular dish not only in Jamaica but also in other countries of the Caribbean region. Coming to Jamaica, you can easily find this snack, which has an intriguing red color and a flavor reminiscent of the seas, at many roadside food stalls.
Scotch bonnet pepper is native to Jamaica, and it plays an important role in this dish to create a wildly spicy flavor. What's more: This recipe uses garlic and onion powder, so if you are allergic to spice powder, you can switch to fresh ingredients.
Do the red delicious-looking shrimps make your mouth water? Let's make Jamaican pepper shrimp right away!
Total time: 25 minutes
Besides banana fritters, cornmeal fritters are also a common dish of Jamaican daily life. This is a very simple recipe to make, and you can also serve cornmeal fritters together with many main dishes or even with Ackee and Saltfish to prepare a delicious meal.
Cornmeal fritters are just a little sweet and full of cornflour fragrance. Therefore, cornmeal fritters are also served together with other desserts by the Jamaicans. You can tell that they are softer and fluffier than other types of fritters.
Total time: 55 minutes
I can bet that if you ask Jamaicans what food they recommend foreigners to try, 9 out of 10 people will answer Jamaican Beef Patties. This dish can be served as a snack, appetizer, breakfast meal, or even the main dish for dinner.
Interestingly, the two bread pieces which hold the beef in between are traditionally coco-bread! However, in this recipe, you only need plain flour and a few Jamaican seasonings to make the patty.
Overall, when you eat beef patties, you can taste the savory beef which is seasoned with Jamaican hot spices such as garlic, allspice, thyme, etc. What's more, if you want a spicy dish, you can also add scotch bonnet peppers to the recipe.
Don't skip this video if you want to make perfect beef patties!
Total time: 17 minutes
If you want to try jerk seasonings with meat and rice on a daily basis, I think that this recipe is dedicated to you! You can also serve Jamaican jerk meatballs as the main dish at lunch. What's more: You will need an air fryer and meatball maker according to this recipe.
In addition to traditional jerk seasonings, honey and soy sauce will make the sauce sweeter, more stunning, and more impressive. There are three more ingredients that help refine the meatballs: jerk chicken dry rub, chicken mince, and breadcrumbs.
You need to mix all three of those ingredients and shape the mixture into equal meatballs. After that, you put the meatballs in the air fryer and let them cook for about 14 minutes. Finally, you toss the meatballs in the homemade sauce and serve the dish to the table.
Total time: 1 hour 15 minutes
If you don't know, breadfruit is a native fruit in Jamaica, and its taste can be similar to a potato but like a sweeter version. Breadfruit is very rich in nutrition, has many health benefits, and is also diabetic-friendly.
Before cooking, you need to do a few steps to prepare the breadfruit, such as getting rid of the sap and soaking the fruit in clean water. After that, you will boil the fruit before removing the inedible core of it.
After mixing the boiled breadfruit with other ingredients and turning the mixture into little balls, you will deep fry it in oil. About the flavor, the puffs are crispy and tasteful. If you are a fan of American fast food, you will love this!
It's fine if you fail on the first try. Let's follow this guide to make Jamaican breadfruit puffs again!
Total time: 30 minutes
Last but not least, I offer you Tostones–the plantain slices that are deep-fried twice before being served to the table. Tostones is a native dish to many Caribbean and Latin American countries.
What's more, in terms of the dish's origin, it's believed that Tostones were brought to the Caribbean in the early 16th century from Southeast Asia. The overall taste of tostones is just like a savory fresh fruit combined with a crispy texture, just like French fries.
Let's Start Your Party With Lucious Jamaican Appetizers!
Don't you want to disappoint your friends or family members by repeating the same old dishes? Let's prepare the necessary ingredients and follow the instructions to bring all the above recipes into reality.
Because appetizers play a vital role in every meal, you need to impress your guests right from the beginning! And certainly, Jamaican appetizers are absolutely mouthwatering and memorable dishes that can make anyone remember the flavors for the rest of their life.
Most of the time, learning and cooking new dishes will change your life for the better. Thus, don't hesitate to share this article and leave a comment so that everyone can refresh their daily, weekly, and monthly menus to explore different aspects of their life like you!
Nutrition Facts
4 servings per container
---
Amount Per ServingCalories403
% Daily Value *
Total Fat 27g

42

%
Cholesterol 30mg

10

%
Sodium 3877mg

162

%
Potassium 205mg

6

%
Total Carbohydrate 22.7g

8

%

Dietary Fiber 5g

20

%
Sugars 8.9g

Protein 21.6g

42

%
---
* The % Daily Value tells you how much a nutrient in a serving of food contributes to a daily diet. 2,000 calories a day is used for general nutrition advice.