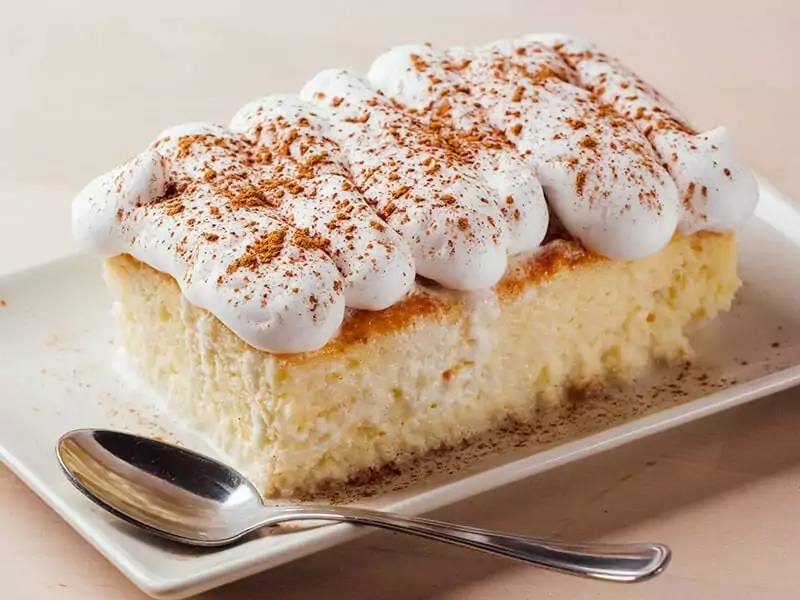 Venezuelan desserts are mainly influenced by the regional cuisine and climate of the region. Caracas is the capital of Venezuela, so it inherits the influences of multiple places and comes together perfectly.
The Venezuelan sugar industry rose strongly in colonial times with African labor. The two main types of sugar are refined white sugar and brown sugar called panela. They contribute to the character of Venezuelan cooking ideas, from sweets to beverages and foods.
These simple, easy-to-make sweet treats are made with local ingredients, an explosion of Caribbean flavors. Along the landscape of Venezuela, the rich colors, diverse flavors, and unique textures fulfill your soul. Let's dive in, and the goodies are on the way!
Which Venezuelan Cake Can You Make A Day Ahead?
A collection of many excellent Venezuelan cakes and traditional flairs combined with modern flavors will surprise you. Go ahead. Cream cakes of various types, pumpkin Christmas cake, and choco goodies are on the way!
Prep + cooking time: 20 minutes
Imagine Cachapas as a thin pancake made with cheese, arepa flour, and freshly ground corn. It is prepared with a budare, iron plate, or clay pot. The sweet is crispy outside and soft inside, filled with queso de mano white cheese.
There are two other types of cheese to pick up, either queso telita or jack cheese. You can also choose low-moisture mozzarella cheese for its melting benefits. What a striking contrast to the sweet taste of Cachapas!
Be mindful of choosing between fresh corn and canned corn. With fresh corn, find some liquid and add it to the mix. Because canned corn contains more water than fresh corn due to partial water absorption, the cake would be softer with little oil, and the baking soda would surely make the pancakes fluffy and light.
Are you the same as me? See the corn poured into the blender and think about the Cachapas? Let's dive in and pick the appropriate flour quantity
Prep + cooking time: 25 minutes + cooling time: 1 hour
Truly a perfect match for its name, the "delicious to me" character impresses everybody. It's one of Venezuela's most luxurious cake creations with meringue, rum, and coconut cream layers.
Pay more attention to the mixture of La Lechera condensed milk and coconut milk, the soul of coconut cream cake. Trust me. It is undoubtedly worth the effort while taking you a little longer to complete.
Why not try a no-oven recipe? Simply use ladyfingers instead of sliced cakes. However, you can also use your favorite sponge cake or white cake recipe to save time. Cake mix is also available.
As soon as you taste the Bienmesabe chilled overnight, you will feel the magic of Jerez or rum syrup. Make the cake a day in advance, friends!
Prep + cooking time: 20 minutes
This oven-free cake is perfect for baking with kids. The Marquesa De Chocolate goes for the chocolate that is not too dark or strong.
The Maria cookies keep this recipe a traditional baking flavor of dark chocolate and elevate the cake to a new distinct flair. You can control the sugar quantity easier when making your homemade chocolate pudding.
Furthermore, you have quite a few Marquesa flavors to change, like passion fruit, lemon, vanilla, oreo, and coconut. Decorate with melted chocolate over the cake's top and sprinkle chopped nuts on the side.
Prep + cooking time: 50 minutes
It's beautiful to enjoy the warm weather on Margarita Island. You and your family will love eating Torta De Auyama cold. Do you adore its creamy and rich taste?
Use autumn yellow pumpkin or cinderella instead of butternut, as you'll need a bolder flavor. And, of course, use any squash you like.
Let the cake cool completely to fulfill the perfect taste. A day after, the cake will taste more fragrant. You can eat it right away without whipping cream or add a little cream and cinnamon on top to make the cake look more attractive.
Prep + Cooking Time: 30 minutes
The impressive thing is that this Pastel De Tres Leches doesn't have any fat. It's one of the butter-free desserts, very soft and light. What a challenging task to find someone who isn't addicted to the whipped egg whites over the top. Condensed milk, evaporated milk and whole milk help achieve the perfect moistness.
Are you a milk lover? This three milks sweet treat would be a good candidate. If you want the milk to seep into the cake evenly, poke lots of tiny holes and wait for them to soak.
Plus, you can decorate fruits over the cake's tip. Add fresh berries like raspberries and strawberries to give the dish an appealing look. Otherwise, the torched meringue is stunning on its own!
Life is short to ignore sweet goodies, and these Venezuelan cookie ideas are some of the most impressive. Everyone knows the typical South American cookies, such as coconut and dulce de leche cookies. The baking ideas below are classic and portable for you to custom!
Prep + cooking time: 35 minutes
The shortening is necessary for every traditional Polvorosas. The shortbread cookies will melt softly in your mouth. It will help when you pick pure vanilla extract instead of artificial extract for the best results. Kindly check if the vanilla extract is good or not good to use.
The original cake has three main ingredients: vegetable shortening, flour, and sugar. Be comfortable! You can make a gluten-free version by replacing the wheat flour or all-purpose flour with gluten-free flour.
Remember you shouldn't mix the cookie dough too much, or it will become too dense. Once the dough is sticky, you can place it in the fridge for 10 minutes, then roll it conveniently.
Get to know how to bake these Polvorosa without using a mixer and sprinkle all the pieces with powdered sugar.
Prep + cooking time: 30 minutes
I like to call coconut kisses or "Besitos de Coco," it's not complicated to make. You can decorate many things on top like choco chips and cherries. To achieve the desired consistency, many people add flour to cookies. Upgrade the flavor to a new level by adding sweetened condensed milk, coconut flakes, and salt, then mix well.
Talking about traditional Venezuelan desserts, it is impossible not to mention the sweet coconut ideas. If you want to decorate with chocolate, put the chocolate balls in a bowl and then in the microwave. Next, continue to stir every 15-20 seconds until the chocolate is melted and thickened.
You can replace vanilla extract with coconut extract for a more authentic taste. Are you planning to bake the eggless Besitos de Coco? Try substituting egg yolks with condensed milk.
A New Trend Of Breads & Pastries In Venezuela
Gradually, the pastries and cakes from the Caracas capital became famous all over the country. They are mildly sweet and chewy, super soft, spongy, and tasty. It is not difficult for you to distinguish between different types of bread. They have various unique shapes as well as signature ingredients.
Prep + cooking time: 1 hour 30 minutes
This traditional Casabe flatbread is famous in Latin America and Central America. This bread has a unique crunch and firmness, made with only cassava, without fat or sourdough.
You can easily find Casabe paired with a sweet treat from Dominican, Habichuelas con dulce, or savory peanut butter. Make a cup of hot chocolate and serve it with your family's dinner!
Both sweet and savory dishes combine well with this light, aromatic bread. People in the Caribbean Islands and Latin America often add other ingredients for breakfast, dinner, or as an appetizer. Is this the no sodium and rich in fiber sweet you adore?
This Casabe baking guide will give you a hand, even when it's the first time you work with cassava (yuca). Hard work pays off!
Prep + cooking time: 3 hours 40 minutes
A soft roll cake, topped with melado, the base of Latin American white cheese and some aniseed is Golfeados. After kneading, the dough needs a good rest, and it is easier to knead after the first rise.
When the baking is almost over, spread the brown sugar mixture across the rolls to give them a golden brown color. It's a twist to swap the brown sugar with panela syrup. Panela is usually in the shape of a cone, which is unrefined cane sugar.
Golfeados are great for pairing with queso de mano, a soft white cheese. Be confident with other alternatives for cream cheese, Cypriot goat's milk cheese or mozzarella queso halloumi, or a fresco. Are you ready?
This Golfeados baking guide will give you a hand, even when it's the first time you divide panela into a half boil and a half shred. Be confident!
Prep + cooking time: 50 minutes
Arepas are often served as a snack, dessert-like bagels, or toast. Venezuelans have Arepas in almost every meal and serve hot with cheese or butter along with the country.
Talk about sweet goodies in Colombia or Venezuela, and corn cakes are famous in South American countries, often using pre-cooked cornmeal. Please make this Arepas from pre-cooked cornmeal without other additives or preservatives.
Depending on your feelings, you can eat it as a savory sandwich or a sweet toast with various toppings. Comment down there the choice you go for, my dear!
Are Rice & Cornstarch The Keys In Venezuela's Puddings?
Let's call pudding one of the most common Venezuelan after-dinner sweets. A convenient thing about this dish is that the longer it is kept in the refrigerator, the more delicious the pudding will be. You need to check them out and make them a day before serving. Hurry up!
Prep time: 15 minutes + Cooking time: 1 hour 7 minutes + Additional time: 8 hours 25 minutes
Calling Quesillo like traditional Venezuelan flan, you cook caramel, milk, and eggs in a heated bath "bain-marie." Indeed caramel is vital. When the sugar comes to a boil, be very careful as it turns from light yellow to dark very quickly, and once the sugar is burnt, you have to cook a new batch.
When steaming, pay attention to the water level to ensure that the water does not overflow into the mixture, keep the water level low, cook over medium heat, and cover the steamer.
Don't hesitate to replace condensed milk with coconut milk or whole milk. A few tablespoons of grated coconut will also create a highlight for your flan. To make chocolate Quesillo, you can add cocoa to milk. Also, if you like a little sour taste, try substituting the whole milk for orange juice and a spoonful of orange zest.
Another add-in element is lime zest. After one and a half-hour cooking, give the Quesillo a good rest for up to 1 more hour before cooling in the fridge.
Prep + cooking time: 50 minutes
Your family gathers together on a fabulous weather day, and the rich, delicious taste of Arroz con Leche will be the no-way-missing candidate. Venezuelans usually have a routine to add cloves to the pudding mixture.
Let's treat it like a shortcake, and pretty fantastic when you try a less sweet version, then drizzle the berries on top. It's beautiful to dress up in glass cups and lightly sprinkle some ground cinnamon for decoration.
You'll impress by the liquid version and delectable smell of this pudding at first. It's critical in the stage from rice to a creamy dessert with released starch!
Prep + cooking time: 3 hour 10 minutes
A delicious pudding from Venezuela cuisine, you can easily find nutmeg and cinnamon in this rich Majarete sweet. And it is impossible not to mention brown sugar, which contributes to the unique flavor.
Traditionally, people used to use fresh corn. Feel free to choose cornstarch and its substitutes if you want to make a creamier cake. You can add vanilla, grated coconut, cloves, or condensed milk to upgrade the diversity.
Add 1/4 cup of pre-cooked white cornstarch if you like the pudding firmer. Serve the puddings cool! Let me show you a sugar garnish, sprinkle 1/2 teaspoon of sugar on top, and then use a torch to burn and create a crispy coat for your Majarete. Are you ready?
Other Exquisite Sweets From Venezuela You'll Adore
Still not yet visited Venezuela, and my article is here to help update most of the well-known and regional desserts that amaze everybody. Soon you will find how quick it is to make these staples. A combination of aroma and sweetness, head up now!
Prep + cooking time: 30 minutes
Referring to Mandocas, it is impossible to ignore Zulia, an area with Venezuela's typical diverse cuisine and culture. You'll be hooked on these cute little pieces. Plantain, queso fresco, and cornmeal flavors will greet you right at the first bite.
Here's the perfect combo of salty cheese and sweet plantains. Better eat them hot with butter. To shape the Mandocas, you need to roll the dough into balls and create the horseshoe shapes.
If you don't care too much about fats, fry in hot oil, then drain out to make it crispy. Trust me, and it's worth a day skipping your diet!
Here's how to boil the plantains for about 10 minutes until they turn soft. Check the plantains' size to decide if you should add water or flour. Happy Mandocas time!
Prep + cooking time: 35 minutes
The highlight of the Buñuelos De Yuca dish is made from mashed yucca, eggs, hard white cheese, and all-purpose flour. Yuca is another name for cassava. This hot dessert is usually served with panel syrup.
It's hard to ignore the harmonious mix of sugar syrup and salty taste from cheese and yucca. Are you having anything better than a hot cup of coffee with yucca & cheese fritters at noon?
The crispy crust enhances the smooth taste of the cheese inside. You'd better use fresh yucca because canned yucca usually has a lot of water, making the mixture mushy and quite difficult to shape.
Prep + cooking time: 20 minutes
The citizens in Venezuela always see Tajadas as "a compliment" to the fruitful forests laden with plantains. There are so many ways to eat Tajadas. When you feel craving some sweets during break times, quickly make a batch and serve with melted cheese.
You need two main ingredients: yellow plantains and frying oil to get this dessert. It would be best to use ripe plantains for a sweeter taste, not acrid. You can swap from vegetable oil to oil from truffles or any suitable oil for your health to fry.
It is a precious gift of nature to give humans this fruit. These tajadas are crispy on the outside and oozing with ripe banana molasses on the inside. Are you hungry?
Prep + cooking time: 10 minutes
It's hard to find any Venezuelan children's birthday party without a dessert called Papitas de Leche. And this sweet also appears on special occasions such as Easter, First Communions, Christmas, Halloween, Baptism, baby showers, or wedding parties.
The Venezuelan milk truffles are similar to the peeled potatoes and are translated as "tiny milk potatoes." Soon you will crave the sweet aroma of milk mixed with cloves.
Do you like inserting cloves into each truffle? Or do you prefer mixing into cake mixes? Once you're done with the balls, cover them with the confectioner's sugar to create a matte finish.
Prep + cooking time: 1 hour 5 minutes
One dessert people eat a lot in December is Dulce de Lechosa. The secret ingredient for this sweet is green papaya.
The candied papaya's initial taste and result depend on the cloves and raw cane sugar. A signature scent comes from the regular clove, and the brown hue is from natural cane sugar.
An interesting point about the culture of this beautiful country, you will love to smell Dulce de Lechoza in Venezuela's granny houses at Christmas.
Not everyone is passionate about papaya or the characteristic sweetness of candies, but when they pair together, you can't resist the allure of this candied papaya warrior.
Top Venezuelan Drinks Go Beyond The Basics
Just like in the Andean countries, fermented drinks are also trendy among Venezuelans. The beverages from Venezuela are often made with recipes in detail, and you can ultimately make your own at home. Occasionally, you will see these drinks bottled and sold at supermarkets or shops.
Prep + cooking time: 2 hours 5 minutes
Chicha is a popular drink throughout the territory, and beyond the Venezuelan border, you can easily find a lot of Chicha chains when coming here. Comfort and relaxation are how to describe this traditional drink!
You could feel full when drinking a whole cup because the main ingredients are rice, milk, and sweetened condensed milk. If you want your rice drink to be a little sweeter, you can add sugar.
​​For this drink to achieve the standard sweetness, you should soak the rice in water for about 2 hours or preferably overnight. After that, you need to wash and cook with water until the rice is wholly softened, then blend it with other components. Ready to go!
Check out this easy and quick Chicha guide. I hope you get one of the standard decorations for this rice drink.
Prep + cooking time: 40 minutes
The Papelón Con Limón requires 3 main ingredients: lemon, water and panela. This drink will help you cool down instantly in hot weather and is refreshing.
You can choose between putting the panela on the stove and cooking it or soaking the panela in hot water for 30 to 40 minutes. You can also cut the panela into small cubes, put them in a jar of water, and leave them in the fridge overnight. The choice is yours!
When the sugar syrup is ready, add water and lime juice for serving. Depending on your personal preference, you can make lime & piloncillo drink weaker or stronger, or if you prefer sour, you can add more lime.
Prep + cooking time: 10 minutes
This Venezuelan smoothie is pretty easy to prepare. You need frozen coconut meat, ice, milk, condensed milk, coconut cream, and cinnamon. Just utilize the blender you blend green smoothies every day; the Cocada Venezolana will be even more creamy and smooth with a good blending machine.
If you want something to chew on for fun, don't hesitate to add one or two tablespoons of coconut stick in the filter into the drink.
You can use many other substances to sweeten, such as coconut sugar. The coconut sugar combines with coconut milk to turn your drink dairy-free or vegan. How healthy it is!
Prep + cooking time: 30 minutes
Ponche Crema recipes may differ in many regions, but they generally have rum, eggs, milk, sugar, nutmeg, and cinnamon. Venezuela is usually served cold in small cups, and it's best when having some crushed ice.
The secret is to beat egg yolks with evaporated milk and sweetened condensed milk. This beating technique is flourishing as it produces a rich golden color, and the fatness of the drink is out of expectation.
You need an electric mixer, and it's great when having a standing version because you should beat from 10 to 12 minutes until the egg yolks reach the standard fluffy.
It's a rich, creamy, spiced, slightly fermented taste of white rum or golden-aged rum. The aroma of nutmeg and the warm sweetness of this masterpiece is bringing happiness to you!
The Best Venezuelan Sweets Are Yet To Come
Whether you want to bring Venezuelan desserts to your dinner table today or are planning a trip to South America, it's time to explore and cook all the masterpieces in my review for friends and family.
Don't hesitate and quickly share these stunning recipes with your loved ones! Let's invite friends to your house and make a Majarete or a Chicha drink for an afternoon tea talk.
As soon as you feel the sophistication of sweet dishes, drinks, and foods from Venezuela, you will partly grasp the message: "The most lavish and hearty sweets often derive from European cuisine, Latin American culture, and abundant inspiration from Africa." Are you excited?
Nutrition Facts
6 servings per container
---
Amount Per ServingCalories291
% Daily Value *
Total Fat 14.1g

22

%
Cholesterol 94mg

32

%
Sodium 688mg

29

%
Potassium 336mg

10

%
Total Carbohydrate 27.7g

9

%

Dietary Fiber 2.9g

8

%
Sugars 6.5g

Protein 17.3g

34

%
---
Calcium

61

%
Iron

3

%
Vitamin D

17

%
* The % Daily Value tells you how much a nutrient in a serving of food contributes to a daily diet. 2,000 calories a day is used for general nutrition advice.