Colombian desserts don't look like other Western desserts in their look, taste, and garnish; however, they themselves have a distinct and irresistible flavor. The differences between local people contribute to the diversity of specialties, and desserts too.
It's not difficult to find the Colombian desserts served in Western restaurants, but if you love and want to try them, you can make them by yourself, and I think that you find it so easy to get a wonderful dessert.
More or less, these below-presented Colombian desserts satisfy your taste and make you get joyful moments as nice final touches of your meal. Let's discover together and find out what's your favorite one!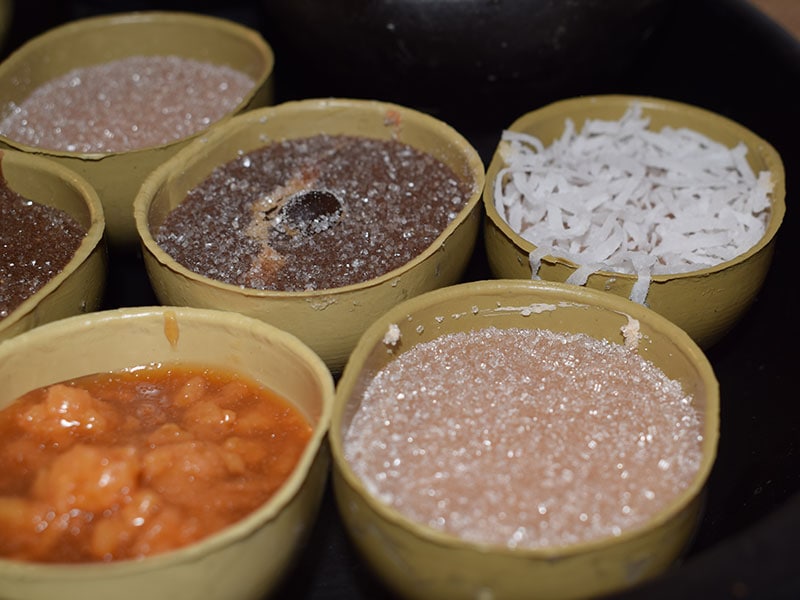 Let's Shine Your Meals With These Colombian Desserts
Numerous Colombian desserts can give your meals an incredibly wonderful final touch. They can be cakes, sweet snacks, pudding, a fabulous drink, or some stuff like this. Let's see what they are?
Colombian Cakes For Stunning Desserts
Tres Leches Cake (Triple Milk Cake)
Torta Negra (Black Cake)
Nidos de Fresa (Strawberry Thumbprint Cookies)
Enyucado (Colombian Style Cassava Cake)
Colombian Puddings And Sweets
Postre De Milo
Cocadas Blancas (Colombian-Style Coconut Candy)
Merengon De Fresas (Colombian Strawberry Meringue Dessert)
Polvorosas (Colombian Butter And Sugar Cookies)
Drinks As Easy Colombian Desserts
Salpicon De Frutas (Colombian Fruit Cocktail)
Limonada De Coco (Coconut Limeade)
Masato De Arroz (Colombian Rice Drink)
Cholados Colombianos (Colombian Cholados)
Lulada ( Colombian Naranjilla Juice)
Other Wonderful Colombian Desserts
Bunuelos (Cheese Fritters)
Bananos Calados ( Colombian Fried Bananas)
15 Awesome Desserts Take You To Colombia
The list above gives you an overall perspective about famous and familiar Colombian desserts. This section will describe them in some detail related to flavor, essential components, and distinctive elements to form the desserts.
Colombian Cakes For Stunning Desserts
When it comes to desserts, wonderful cakes are what come to my mind first. I have a sweet tooth, and I love finishing my meal with a piece of fabulous cake. Now, I will recommend some of them from the Colombian style.
In Colombia, you call the dessert tres leches cake that is one of the most well-known Colombian cakes. The soft and melt-in-mouth texture is what I love. Besides, topping the cake with a layer of cream will make it tangier and more appealing to eat.
Colombians surely love tres leches, for in Puerto Rico, a municipality in Colombia, tres leches is an insanely popular treat. It's so beloved that when talking about desserts from Puerto Rico, almost any one will mention tres leches first. Talk about a dessert no one can hate.
It will be better if you serve the dessert with fresh fruits like strawberries, grapes, or mango. The slight sourness and juiciness of fruits join with the sweetness of the cake and the creaminess of the cream top layer to make an irresistible cake.
Another Colombian cake option for you is a torta Negra or a black cake just because it has a dark black color and a dense but so tangy flavor.
One of the five most popular Colombian cakes, torta Negra has made a name for itself among Caribbean cuisine and its desserts. After all, what's not to like about torta Negra? The soft texture, tangy flavor, and good look make it an ideal choice for a date or dinner dessert.
You can see this video to know more: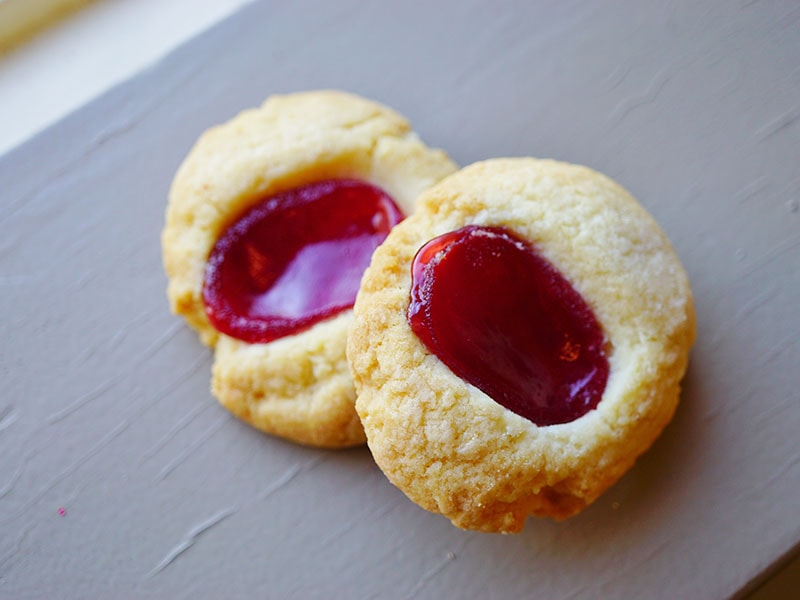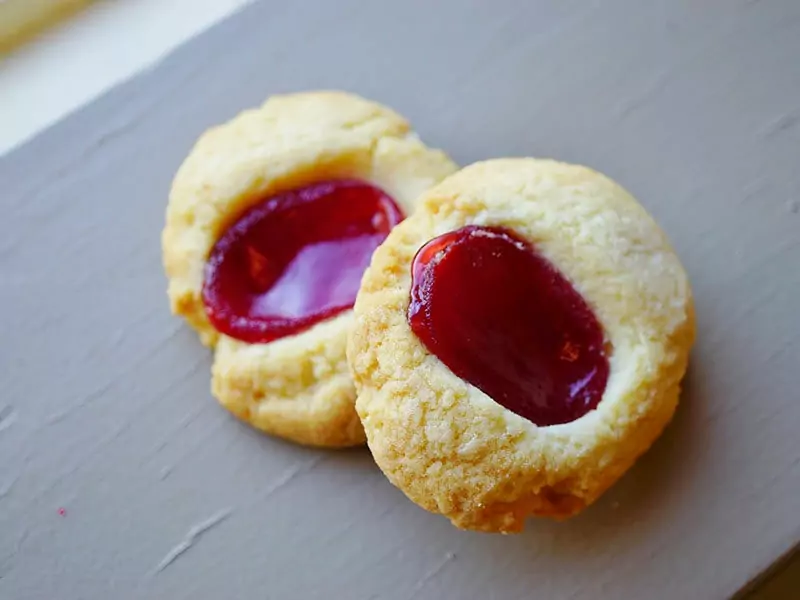 If you are super into cake dessert, strawberry thumbprint cookies are one option for you to serve as light, decent, and comforting Colombian desserts.
Basically, these cookies are one of the most accessible cakes you can make for your beloved children, I think. They are just cookies topped with strawberry jam that has an exciting flavor to everyone.
You will take a lot of time to finish the cakes; however, it is a fantastic idea to make them with your family members on weekends and enjoy free time together.
Enyucado is a type of Colombian-style cassava cake that is made with shredded cassava as the main ingredient together with coconut milk, making the cake more appealing and tangier.
The Colombian-style cassava cake was one of my favorite cakes when my grandfather had the cassava farm next to my house. I enjoyed cooking with my family members and tasted a delightful cake as dessert.
If you're thinking to yourself that this dessert seems vaguely familiar, then it's probably because cassava cake is also a super popular dessert in the Philippines. And while two cakes appear to be more or less the same, I'd say that each version has something unique to offer.
How About These Colombian Puddings And Sweet?
Pudding and sweets always play an essential role in diversifying desserts. With Colombian desserts, you always get more ideas about using impressive pudding and sweets to give your meals a final touch.
Although postre de milo is an authentic Colombian dessert, did you know that milo is actually a food originating from Australia? This fudgy drink was created back in 1934 by an Australian chemist at Nesté and soon became a popular drink in this country.
To maximize the flavor of this pudding, just let it chill in the fridge about some hours before serving, making the pudding a wonderful summer Colombian dessert.
Try finishing your meal with Colombian-style coconut candy – one of the traditional and common desserts in Colombia made with shredded coconut. I think that your family members will love this idea, especially children.
What makes using cicadas Blancas to serve as desserts convenient is that you can make the candies in advance and store them for up to two weeks. Thus, you can save a lot of cooking time.
If you are a big fan of strawberry flavor or fresh and juicy strawberry, you can consider making traditional Colombian strawberry meringue to serve your meal as a beautiful dessert.
Merengon shines because it manages to strike the perfect balance between sugary sweetness and fruity tartness. This incredibly delicious Colombian recipe definitely deserves its place as one of the most swoon-worthy desserts on the planet.
Being ranked in a hard-candy, the Merengon De Fresas is filled with strawberry and heavy cream to create a good touch for your meals
Ready to enjoy Colombian strawberry meringue dessert by following this video:
You can make Colombian butter and sugar cookies a fancy dessert for your meals because they are easy and quick to make. Besides, they can pair well with a glass of milk, coffee, or tea.
Polvorosas are always the best recipe for children because of their sweetness and crunchiness.
Cookies are not difficult to make as other cakes, thus, if you have free time, just make them for your family.
Why Don't You Use Drinks As Easy Colombian Desserts?
Besides cakes, pudding, or sweets, several beverages from Colombia can also serve your meals as a dessert as some of them can add a perfect touch to your meal at the end of meals. Various Colombian drinks give you chances to change, not to cause boredom.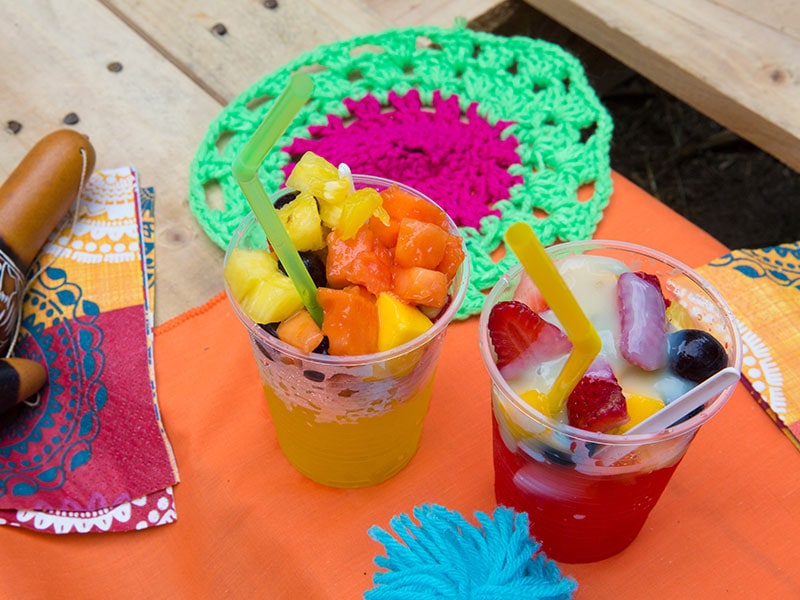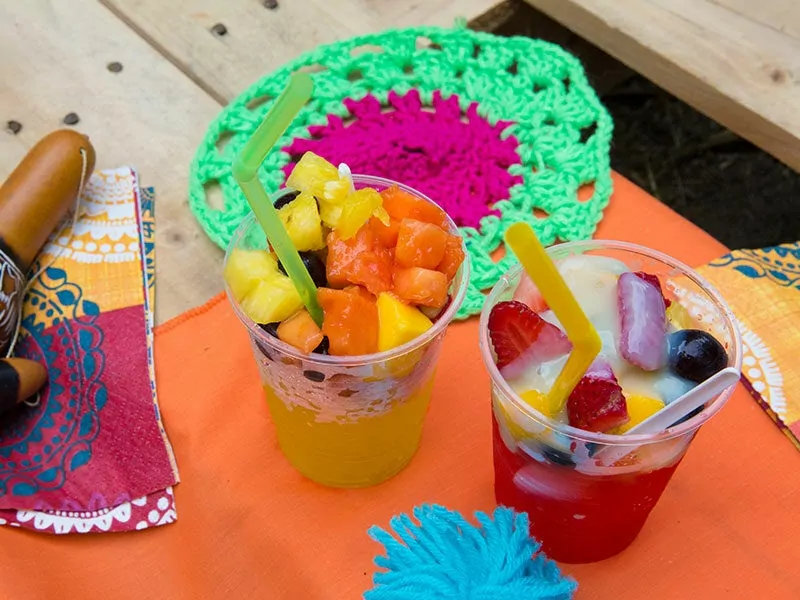 Fruit cocktail is a simple dessert that manifests in different forms in different countries. For the desserts from Lebanon, fruit cocktails must have rose water, orange blossom water, and even milk. In Vietnam, coconut milk and tapioca starch are essential ingredients.
What about Colombian fruit cocktails? Aside from the various types of fruit featured in this treat, you'll need Sprite or champagne kola to complete the recipe. As a result, Colombian fruit cocktails have a versatile, tangy, and comforting flavor.
Let's finish your meal with a wonderful Colombian fruit cocktail in some minutes. You can see this video to know more: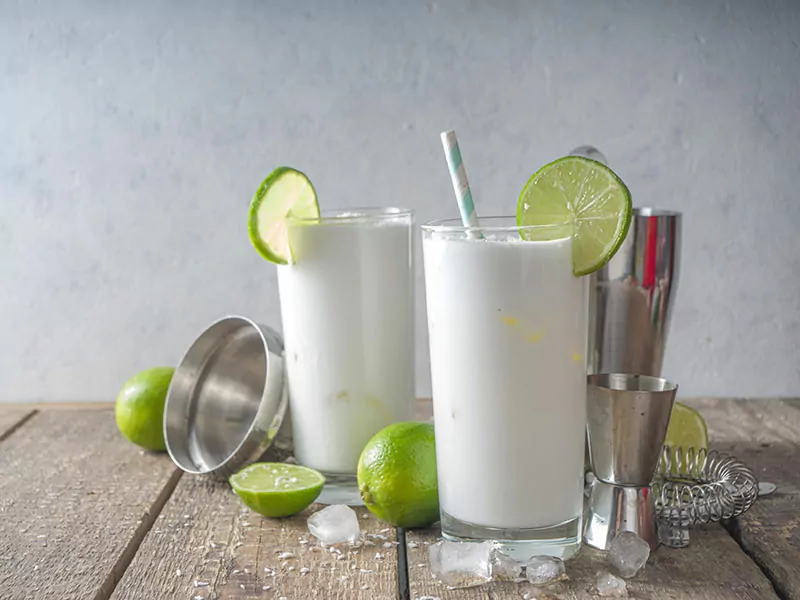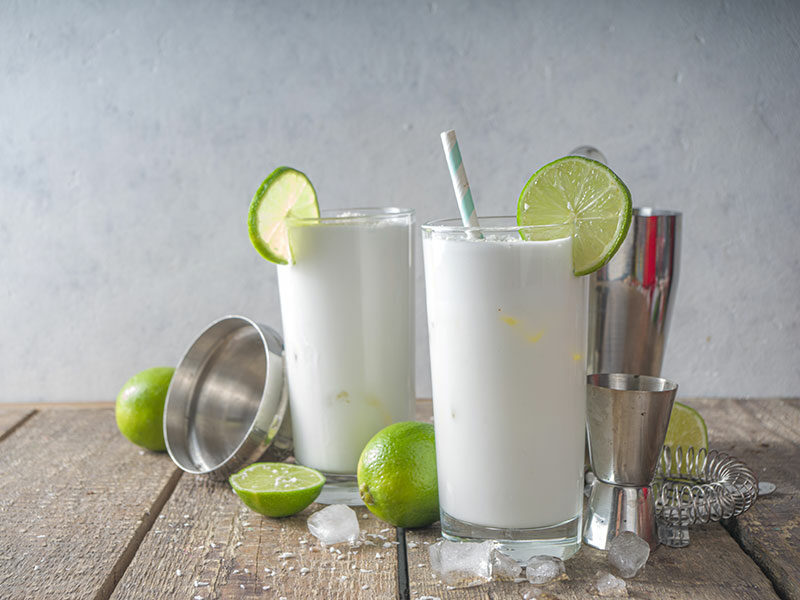 In Colombian cuisine, coconut cream participates in the majority of dishes and drinks because the natural flavor of coconut often causes a strong smell that makes you irresistible to the dishes or drinks.
This coconut limeade shows a fascinating drink of coconut cream, lime juice, and ice, making the drink a go-to beverage after eating. I think that your children will get addicted to this drink. However, don't worry because the drink is easy and quick to make.
Let's coconut limeade finish your meal with a refreshing taste. You can see this video to know more:
11. Masato De Arroz (Colombian Rice Drink)
Another Colombian beverage that you can serve as a dessert is rice drink; it sounds strange to you, right? But I do think that you can get taste satisfaction from the drink, a blend of sweet, creamy, and sour.
Use these three main ingredients like uncooked rice, cloves, and sugar, in an appropriate ratio to get the drink finished.
The drink will be better if you let it chill in the fridge and use it with some ice if you like.
One more type of drink you can consider enjoying after your meal is Colombian Cholados. The beverage must be the best dish for children, and especially it is the best deal in summer meals.
The Colombian Cholados has a sweet, creamy, crunchy, and aromatic texture when it is made with diverse fresh tropical fruits and syrup.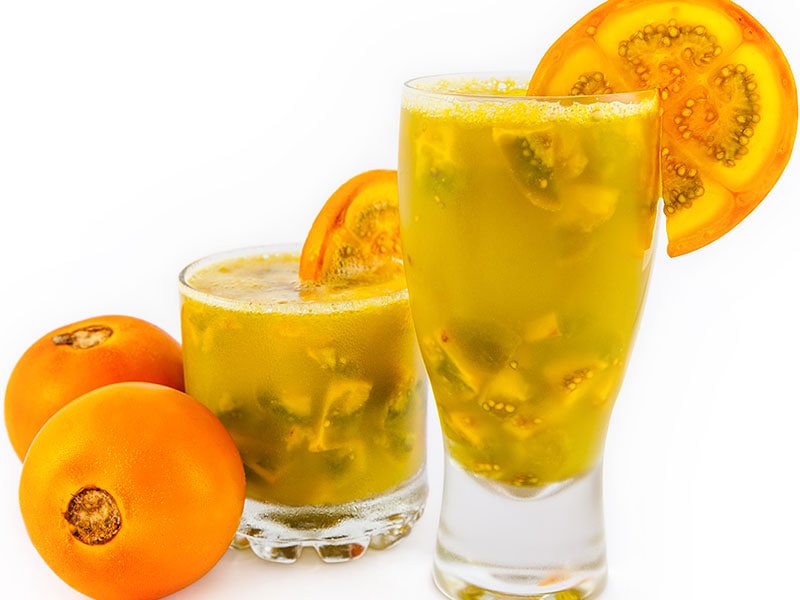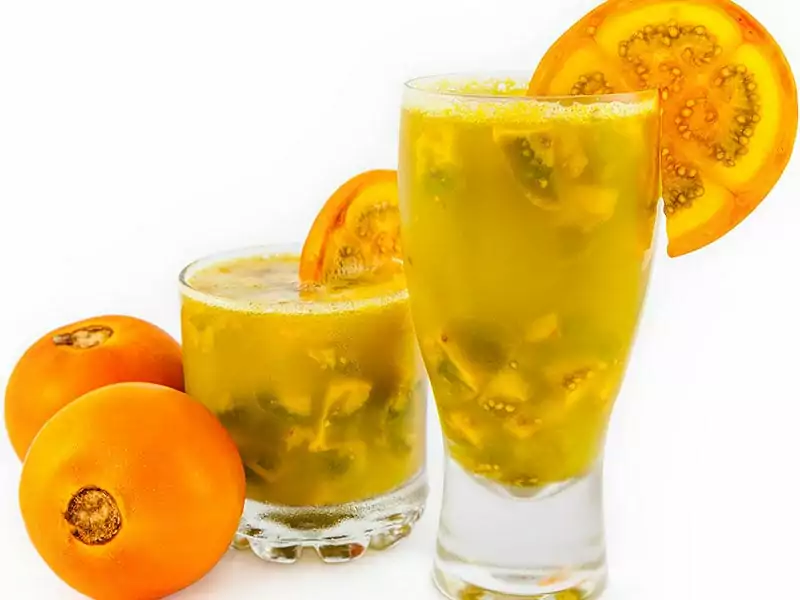 If you love to try something new, I think you might love Colombian naranjilla juice being the final touch of your meals because it can bring you a sense of freshness and excitement.
Naranjilla fruits have a tart and acidic flavor, so when their juice mixes with the sourness and sweetness of other ingredients, the drink will be versatile.
You can see this video to know more:
Other Wonderful Colombian Desserts To Fill Your Heart With Sweetness
There are still many Colombian dishes or snacks that can give your meal a beautifully incredible dessert. Let's see what they can be!
If you love eating cheese, don't hesitate to take Colombian cheese fritters to be the final touch of the meal. Cheese fritters will bring you a sense of tanginess, cheesiness, and slight sweetness when enjoying.
Deep-frying gives the snacks crispy edges but a tender and tangy texture on the inside. You can use aged Mexican cheese to get a strong flavor.
Different versions of fried bananas can be found in many parts of the world. For example, when found among Brazilian luscious treats, fried bananas are coated in layers of flour and eggs. Klaui khaek, Thai's version of this treat, features shredded coconut for an extra crunchy texture.
Colombian banana fritters are my father's favorite dessert, so my mother often makes them for him. The tender, tangy, and naturally sweet banana flesh undoubtedly makes the snack a typical dessert for people of all ages.
You should serve these bananas with some ice cream or just serve them warm to get the perfect taste.
What Else To Serve As Colombian Desserts?
You have got 15 ideas about Colombian desserts, from cakes, pudding, sweets, drinks, and snacks. However, the list definitely doesn't show you all, thus if you get any ideas related to Colombian desserts, just share them in the comment section, and I will add them whenever I can.
With the recommended recipes, you are free to remake them to get your new favorite version. You can taste the dish as you want!
In case you find my post helpful to you and your relatives, share the post with them. Maybe one day, they also need it as you do.
Nutrition Facts
10 servings per container
---
Amount Per ServingCalories861
% Daily Value *
Total Fat 43.3g

67

%
Cholesterol 321mg

107

%
Sodium 351mg

15

%
Potassium 423mg

13

%
Total Carbohydrate 100.3g

34

%

Dietary Fiber 2.7g

8

%
Sugars 59.2g

Protein 13.1g

26

%
---
Calcium

100

%
Iron

4

%
Vitamin D

46

%
* The % Daily Value tells you how much a nutrient in a serving of food contributes to a daily diet. 2,000 calories a day is used for general nutrition advice.