I had a great tour in Chile to experience many delicious Chilean fruits. Fruits are served as desserts or prepared in many excellent recipes. If you are searching for refreshing treats for your meal, these fruits are fantastic recommendations.
There are many delicious varieties of fruit you can try in this beautiful country. This article will provide a list of famous fruits that will instantly steal your soul because of their incredible flavor. Let's discover them right away.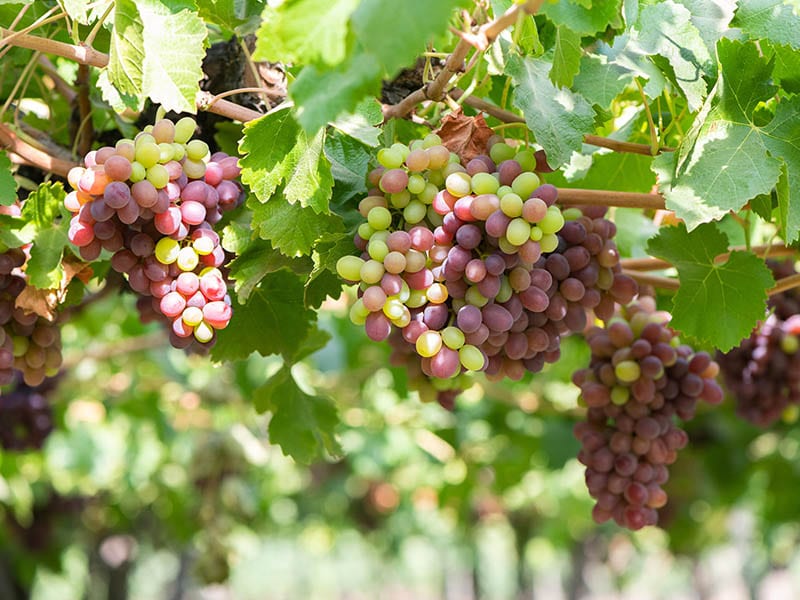 List Of Amazing Multiple And Aggregate Chilean Fruits
This part will show a list of excellent multiple and aggregate fruits you can enjoy in Chile. Multiple fruits are products made from a bunch of flowers. Meanwhile, aggregate fruits are products that form from the merger of flower ovaries.
1. White Strawberries – Frutilla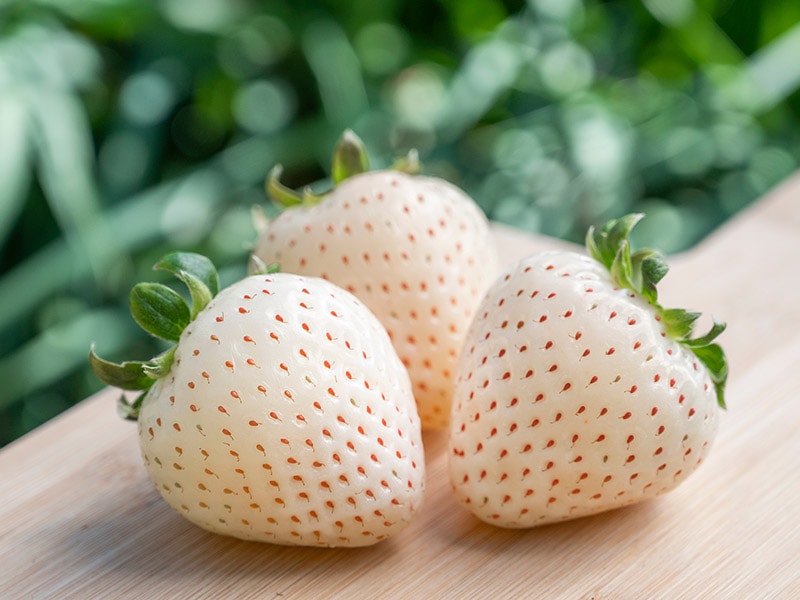 The red strawberries are familiar to you, but have you ever heard about white strawberries? It is an iconic fruit of Chile. You can call it beach strawberries or Fragaria chiloensis. This multiple fruit is native to Hawaii, South and North America.
Strawberries were introduced to Chile in 1714. Although white strawberries are commonly planted in Chile, it is hard to find these fruits in the local markets in this country. Chileans often use these fruits as gifts on essential occasions.
Unlike other varieties of strawberry, this variety has a distinctive white skin. The pale pink flesh of white strawberries will be sweeter than the red version. This fruit will help reduce inflammation and improve the immune system.
Chileans use these fruits in the same ways as red strawberries. They often enjoy the fresh strawberries for dessert. These fruits will enhance the flavor of shakes, smoothies, and baked goods.
Nutrients: It contains potent antioxidants, vitamin C, fiber, potassium, folate, and carbs.
Season: December to early January is the best time for collecting white strawberries in South Hemisphere countries.
How to eat: Eating strawberries is simple because you can enjoy the fruits after rinsing them with water.
2. Pineapple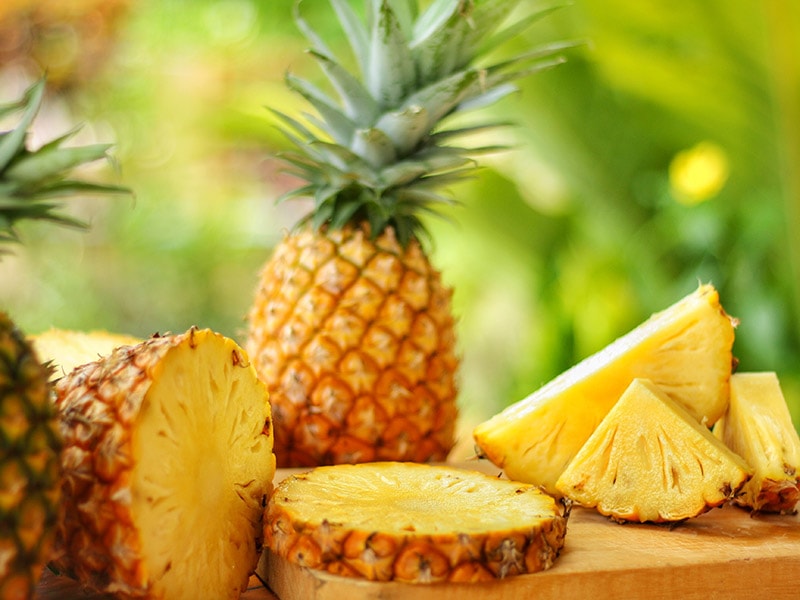 Pineapple is a multiple fruit and belongs to the Bromeliaceae family. Pineapple is an indigenous fruit of South America, so it is not difficult to find this excellent treat in Chile. Pineapple appeared in Europe in the 17th century.
Ripe pineapple might be yellow, orange, reddish, or deep green. When you touch the skin, you will feel the harsh texture of its skin because it is made up of many hexagonal units. The succulent and bright yellow flesh knocks you out instantly.
When trying pineapple, the incredible sweet taste and a bit of tartness will awaken you right away. The high water content of pineapple is a good recommendation for making juices, smoothies, and other desserts.
Nutrients: Plenty of carbs, protein, manganese, vitamin C, and fiber.
Season: Available all year round, and the peak season runs from March to July.
The best way to eat pineapple is to remove the rind with a knife and cut it into small parts to consume.
3. Custard Apple – Cherimoya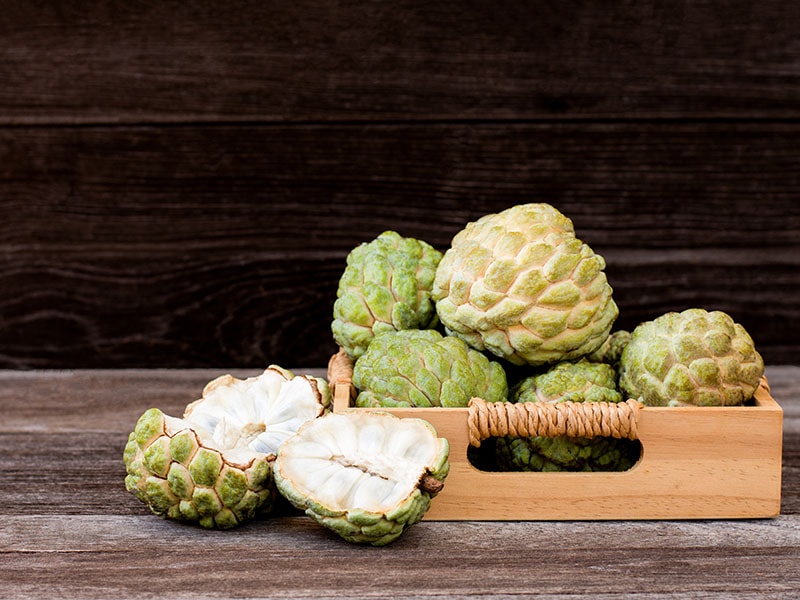 Custard apple is the favorite dessert of Chileans after each party. It is also known as cherimoya in many other regions. Thanks to its heart-like shape and green color, you can acknowledge this fruit simply.
Also, the custard apple is an outstanding Guatemalan fruit, and people will call it "Annona" in this country. Its name "cherimoya" means "cold seeds" in Incan. This excellent fruit is native to the Americas, and it is grown widely in other tropical regions.
Due to the creamy texture, people call it "custard apple". Beneath the velvety rind, there are countless tiny segments. These segments have a soft and creamy texture and attractive aroma. You can see small black seeds inside each segment.
This aggregate fruit tastes similar to papaya, coconut, banana, and vanilla. You will immerse yourself in the sweet flavor of custard apple in smoothies, tarts, and yogurts. Primarily, you should try fresh custard apples in Chile.
Nutrients: A source of vitamin C, calcium, calories, potassium, and manganese.
Season: Its season runs from June to December in Chile.
How to eat: You can separate custard apples with your hand. Eat the flesh with a spoon and remove the seeds while eating.
Learn all exciting knowledge about the delicious custard apple.
4. Rose Hip – Rosa Mosqueta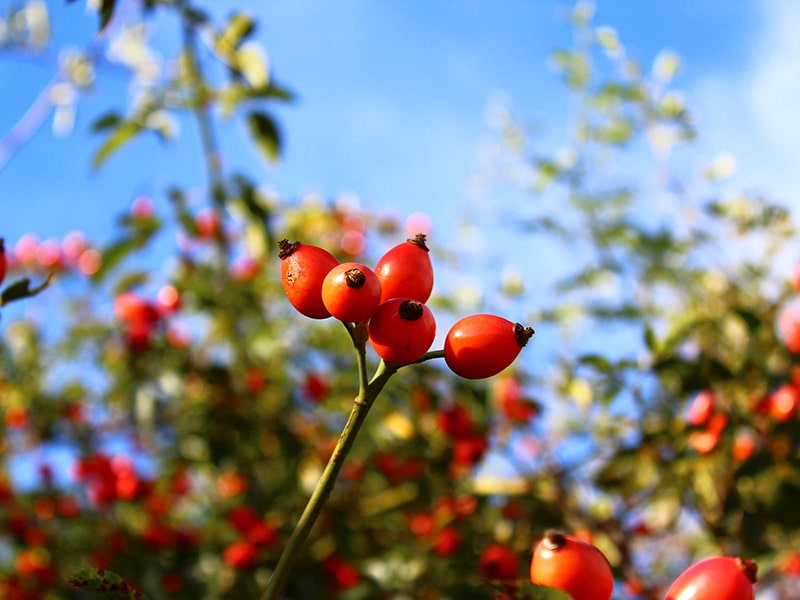 When talking about Chilean fruits, you need to try rosehip or rose haw. This fruit belongs to the aggregate group. Particularly, it is an accessory fruit with typical red or orange shades. However, in some varieties, you can find it in deep purple or black.
This excellent fruit is a rich source of vitamins, beta carotene, and lycopene. Its nutrients are valuable for your skin cell and weight loss. Therefore, you can see this fruit in many beauty products.
In terms of cuisine, it is possible to eat raw rosehip as a berry. In addition, this fruit is a common choice of natives in pies, jams, bread, and marmalade. Your body will refresh after enjoying a cup of herbal tea containing rosehip.
Nutrients: A source of calories, carbs, fiber, vitamin A, E, C, and B5.
Season: Chileans often harvest this fruit from March to May.
How to eat: Slice the fruit in half and get the seeds out before eating the flesh from the skin.
Learn how to verify rosehip and the health benefits of this fruit.
Yummy Chilean Fruits Belonging To Berry Group
If you are looking for delicious berries for dessert, you should refer to this section. It is a source of mouthwatering fruits belonging to the berry category you can use to end the party.
5. Blueberries – Arandano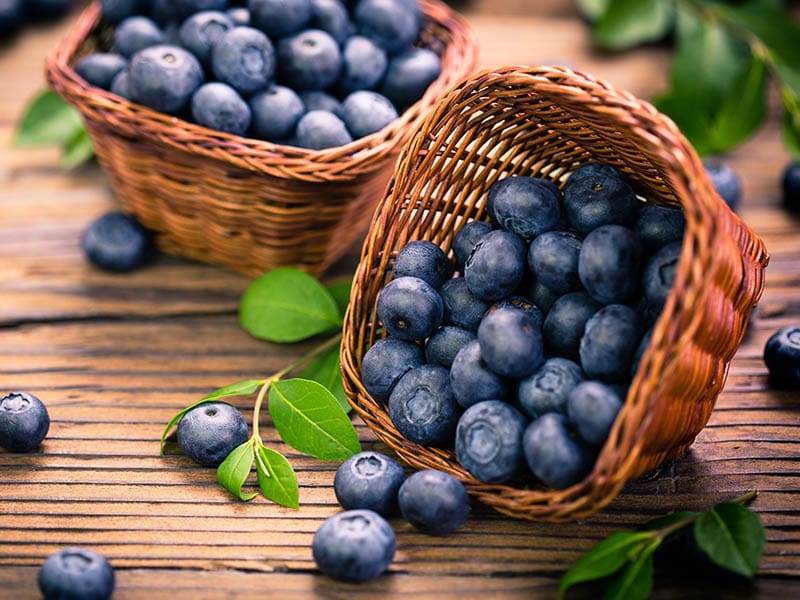 Blueberries or arandano is a long-standing fruit in Chile since people have consumed them for a long time to treat many diseases like heart ailments. This fruit is a high source of antioxidants, fiber, and low caloric value.
Although blueberries originate in North America, it is common in Chile and many other South American countries. This excellent fruit appeared in Europe in the 1930s and gradually spread to many other parts worldwide.
When immature, blueberries are green and will turn reddish-purple and blue when ripe totally. You will love its skin's glossy and smooth texture since it is covered by a layer of epicuticular wax (bloom).
The excellent flavor of blueberries will conquer you right away. It is simple to be addicted to their charming and appealing sweet taste. Moreover, you can realize the distinctive acidity of this easily.
When you come to the local markets in Chile, you can purchase dried, pureed, or canned blueberries. Commonly, Chileans like eating fresh blueberries to enjoy their freshness and authentic taste. Sometimes, they are used in baked goods.
Nutrients: Fiber, protein, vitamin K, C, calcium, potassium, and magnesium.
Season: Its season lasts from November to March in this country.
How to eat: You can eat the whole fruit because its seeds are edible.
6. Kiwi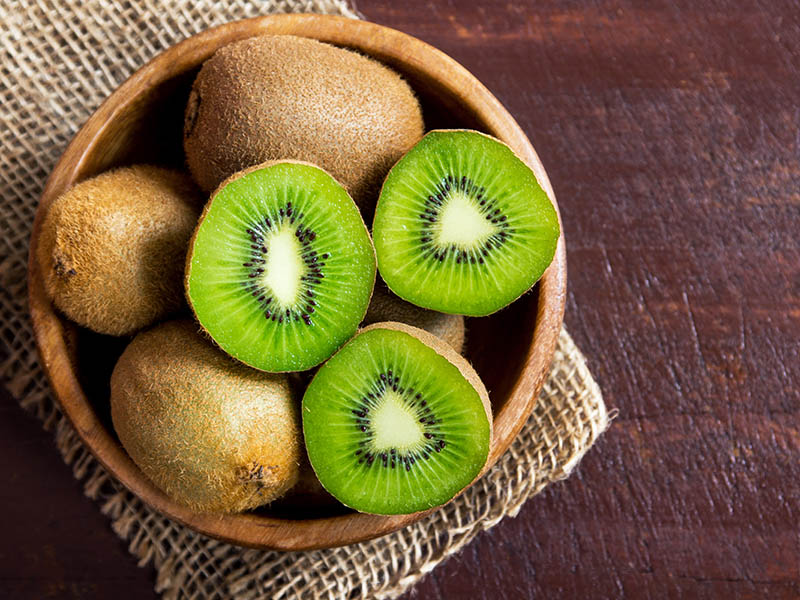 Kiwi is a fantastic Chilean dessert for your meal. Chinese gooseberry is another name for this excellent fruit. Kiwi is a domestic fruit of China, and its records existed in the 12th century during the Song dynasty.
Kiwi appeared in Chile in the 1980s, and this country has become one of the top producers of kiwi globally. This fruit looks like a chicken egg that has brownish-yellow skin. You will feel the velvety texture when touching its skin.
Its flesh seems attractive in the light green or golden hues. In particular, there are many tiny and edible seeds inside the fruit. The tender consistency and enchanting sweet flavor will make you flutter immediately.
Furthermore, it has a slightly tangy taste that can make you refer to strawberries when eating. Kiwi is a beautiful fruit dessert. You can make salads by combining kiwi with other fruits. The taste of kiwi in sherbet, yogurt, or tarts will not disappoint you.
Nutrients: Rich in calories, fiber, vitamin C, E, calcium, potassium, and phosphorus.
Season: This fruit is often mature from March to November in Chile.
How to eat: Let's start peeling the rind and cutting it into slices. Consume the portions with a toothpick.
7. Pomegranate – Granada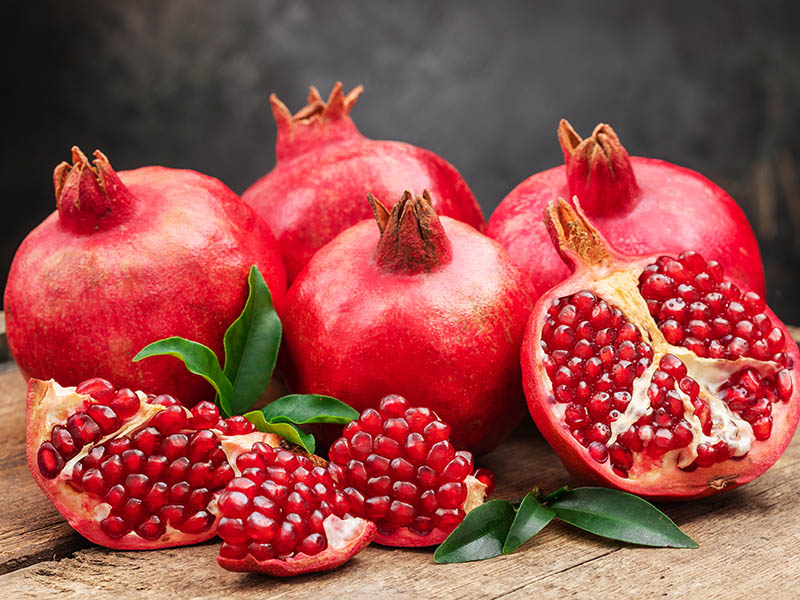 Chile is one of the top suppliers of pomegranate for Europe and the United States. This fruit has been cultivated widely in this country for a long time. Originally, pomegranate was a native fruit of the Mediterranean region.
Spanish settlers delivered this fantastic fruit to Spanish America in the 16th century, and this fruit has become famous across the Americas. The locals consider the pomegranate the fruit kingdom's crown jewel in Chile.
Typically, pomegranate often exists in a round shape and red-purple shade. It is the combination of 2 layers, including the outer layer and the mesocarp. The outer layer will protect the fruit, and the mesocarp contains many red and succulent seeds.
Its seeds are edible, and you can add them to salads, yogurts, or gelato. In addition, it is good to enjoy a glass of pomegranate juice on summer days. In savory recipes, you can use this fruit to marinate beef to raise the taste.
Nutrients: A source of calories, protein, carbs, fiber, and vitamin C.
Season: Its season extends from March to May in Chile.
How to eat: Break the fruit into 2 parts. Get the succulent seeds of this fruit to eat.
Listen to all the fantastic information about pomegranates.
8. Persimmon – Caqui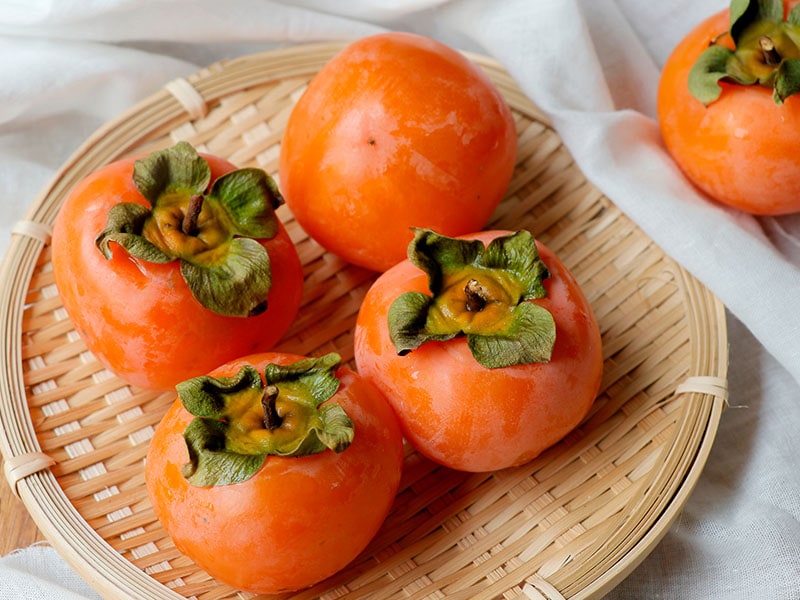 Persimmon is a wonderful suggestion for your desserts menu. This excellent fruit is a product of people in China and Japan. Now, you can find it in O'Higgins and Valparaiso, and it is a loved fruit of Chileans.
The yellow-orange or deep red-orange shades or persimmon will allure you right away. Depending on the various kinds of persimmon, this fruit can have acorn, spherical, or pumpkin-like shapes.
Its flesh hue ranges from orange to yellow or dark-brown. You will fall in love with the attractive sweetness of persimmon. Furthermore, its taste becomes unique and memorable with the slight astringent taste.
Besides eating raw persimmon, you can try the excellent taste of dried or cooked persimmon. Locals often use this fruit to create unforgettable and yummy curries, cakes, puddings, or salads in Chile.
Nutrients: Plenty of calories, vitamin C, calcium, iron, phosphorus, and potassium.
Season: Its season runs from April to May in this country.
How to eat: Normally, the locals will peel the rind of the persimmon and slice it into small sections to eat.
9. Chilean Guava – Murtilla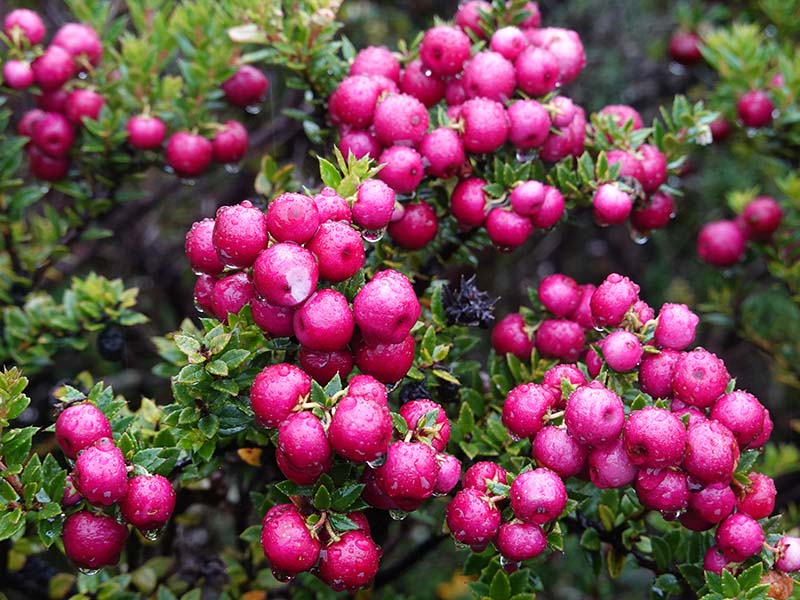 You can see a lot of guava species worldwide. You should try the typical guava (or called murtilla) of this country when going here. In English, it is also known as Chilean guava. This delicious fruit is native to Chile, and you can also enjoy it in southern Argentina.
Compared to other common guavas, Chilean guava is smaller. You can catch this mouthwatering fruit in red, purple, or white colors. The natives in Chile love to make traditional liqueur Murtado by mixing murtilla with sugar, aguardiente, and sugar can alcohol.
Chilean guava flavor resembles cotton candy or strawberry. Outside of Chile, you can come across this fruit with the name "New Zealand cranberry" in New Zealand and "Ugniberry" in Australia. In England, it is considered an ornamental plant.
Nutrients: Rich in vitamin C, A, phosphorus, iron, and antioxidants.
Season: This fruit is popular in Chile from fall to winter.
How to eat: Let's peel the skin of guava with a knife and chop the fruit into small pieces to eat easily.
Discover the authentic flavor of unique Chilean guava instantly.
10. Banana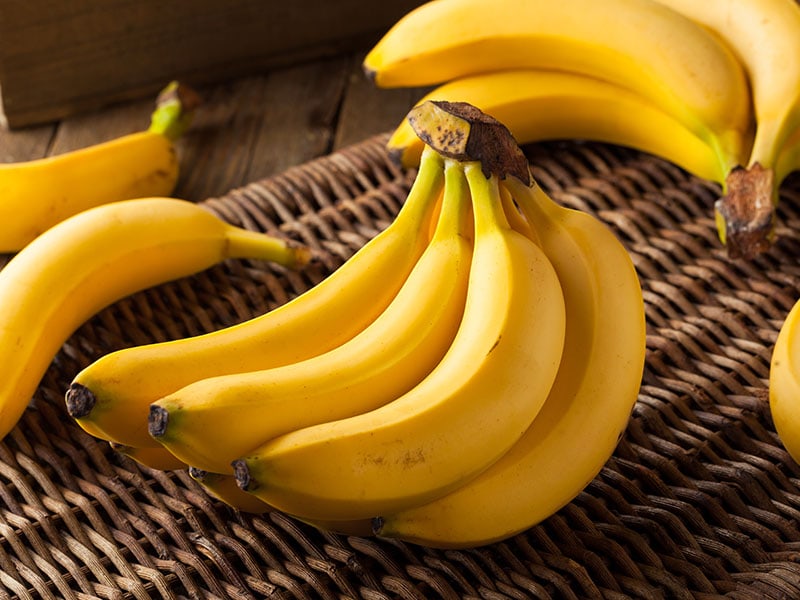 I love to consume a banana after each meal or before intense activities to add proteins, vitamins, and calories to the body. Therefore, bananas are the healthy and famous Chilean fruit I want to recommend in this list.
It is a versatile choice because the delicate and subtle flavor is suitable for many mouthwatering Chilean recipes. Banana cultivation took place for the first time in New Guinea, and it is an international fruit now.
You can see many cultivars of bananas in various sizes and colors. Commonly, the banana looks unique in its elongated shape. The soft flesh is surrounded by a green, brown, yellow, or red rind.
There is no problem eating its tiny seeds. Almost all bananas taste sweet, and you can feel a note of citrus fruit taste while eating bananas. Eating raw bananas is the common choice of Chileans.
Nutrients: High in calories, carbs, choline, vitamin C, potassium, and magnesium.
Season: This fruit is available all year round.
How to eat: You can consume the soft flesh inside after peeling the rind of the banana.
Expand your knowledge of the incredible health benefits of bananas.
11. Loquat – Nispero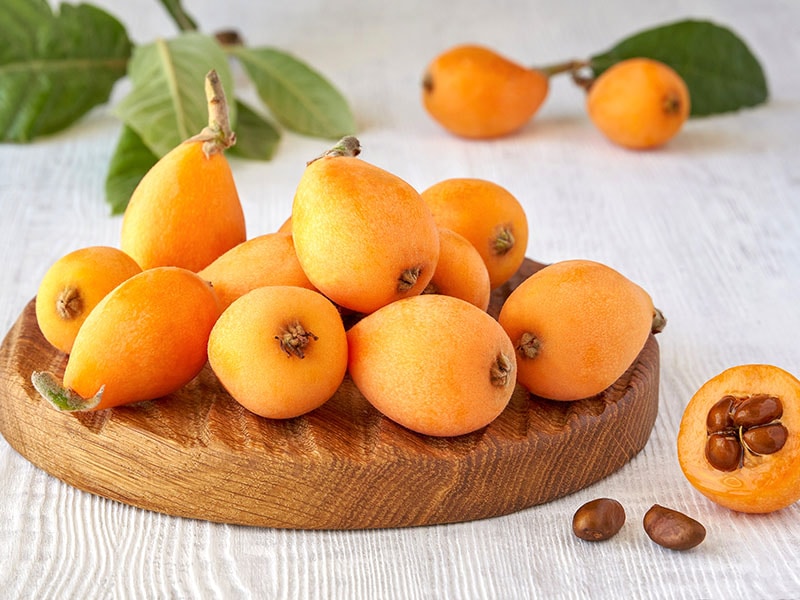 Loquat or nispero is a favorite fruit of natives in Chile. It belongs to the Rosaceae family and originates in South-Central China. Besides these names, you can call it Japanese plum or Chinese plum. Loquat is also a popular Costa Rican fruit that many locals love.
This fruit is a practical option for treating diabetes, cough, chronic bronchitis, and cancer. The shape of the loquat is similar to a pear. The smooth texture of its yellow or orange peel will fascinate you right away.
Until now, I still remember the loquat's excellent tender and juicy texture. This fruit's white, orange, or yellow flesh will bring a fantastic tangy, sweet, and slightly sour taste. Depending on the different loquat species, they will be diverse in flavor.
If you do not want to eat fresh loquat, you can try making jams and preserves from this excellent fruit. Significantly, the incredible flavor of this fruit is a common choice for salads, pies, and tarts.
Nutrients: High in calories, carbs, fiber, folate, calcium, potassium, and phosphorus.
Season: This fantastic fruit is common in early spring in Chile.
How to eat: To eat loquat, you just need to dice it in half and remove the seeds.
12. Chilean Papaya/Mountain Papaya – Papayuelo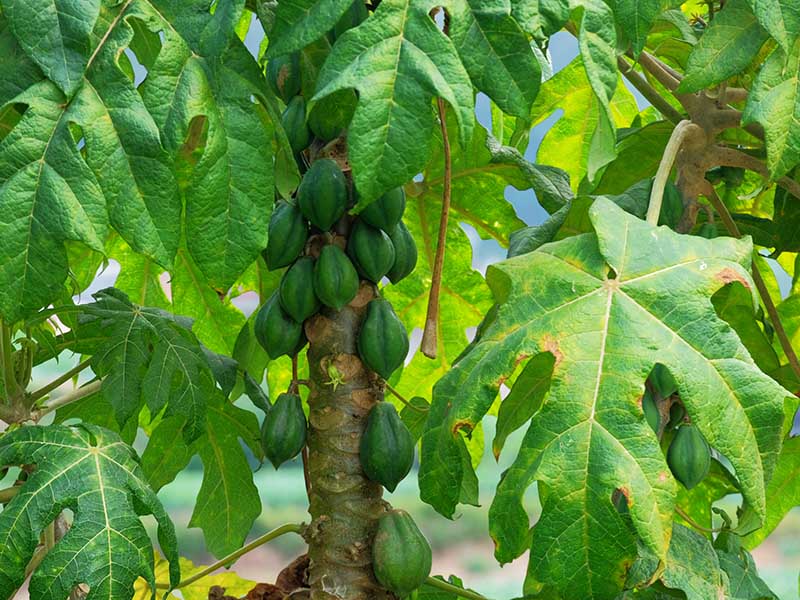 Mountain papaya or Chilean papaya is an exceptional fruit you should not miss in Chile. Also, this fruit is a widespread Colombian fruit. This unique papaya is derived from the Andes Mountains.
The migrations of pre-Columbian peoples brought this fruit to the North of Chile, and gradually it became standard across the country. This fruit has a particular shape with 5 longitudinal ribs running from base to apex.
When mature, the color turns from green to yellow or orange. The texture and taste of its jelly-like flesh resemble the standard papayas. It contains many inedible and black seeds inside. It is safe to consume it raw or make jellies and jams from Chilean papaya.
Nutrients: High in vitamin A, B, C, flavonols, papain, carotenoids, and antioxidants.
Season: It is available all year round in Chile.
How to eat: Cut the fruit into 2 halves and remove the seeds before eating the flesh with a spoon.
13. Grapes – Uvas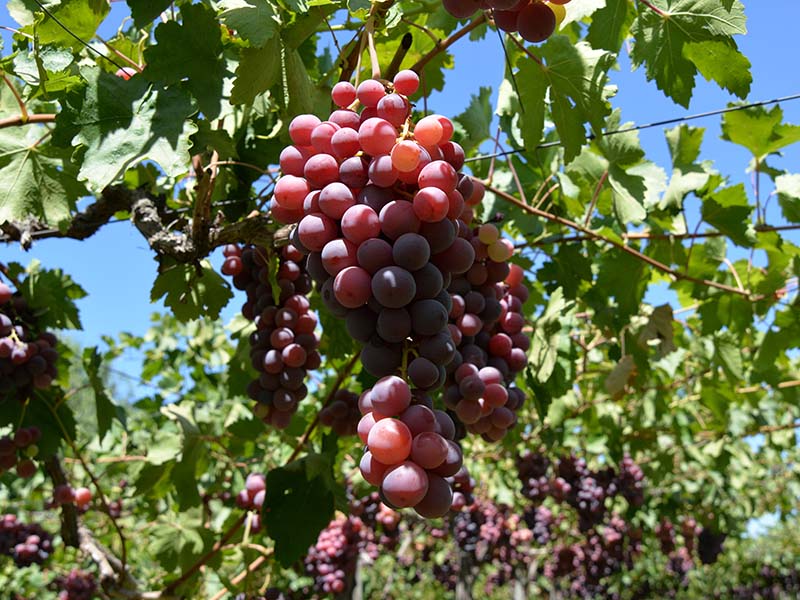 If you love the incredible Chilean drinks, wine made from grapes is an ideal suggestion. Grape is a berry that grows from vine plants. You can feel grape taste in jam, juice, jelly, or vinegar. Chileans love to eat fresh grapes after each party.
Grape was born in the Middle East 6000 to 8000 years ago. Today, the grape is a worldwide fruit because it is loved everywhere. Many other kinds of grapes have various colors, from black, yellow, blue, orange, and white, to pink and crimson.
Depending on your preference, you can consume or remove the grape's thin skin. It comprises some tiny and bitter seeds inside. The grape's sweet taste and jelly-like texture will tickle your taste buds immediately.
This fruit contains many nutrients to help prevent allergies, diabetes, and cancer. Furthermore, if you have high blood pressure or heart problems, the grape is your savior.
Nutrients: It contains calories, carbs, vitamin K, C, calcium, phosphorus, and potassium.
Season: Its season extends from late February to early May.
How to eat: You can eat the grape after washing it with water, but you need to remove its seeds. In addition, you can peel the skin before eating.
Chile is a paradise of excellent fruits, so it is not complicated to find other options. If you want to diversify the menu for the upcoming party, do not hesitate to read this section.
14. Palm Tree Nuts – Coquitos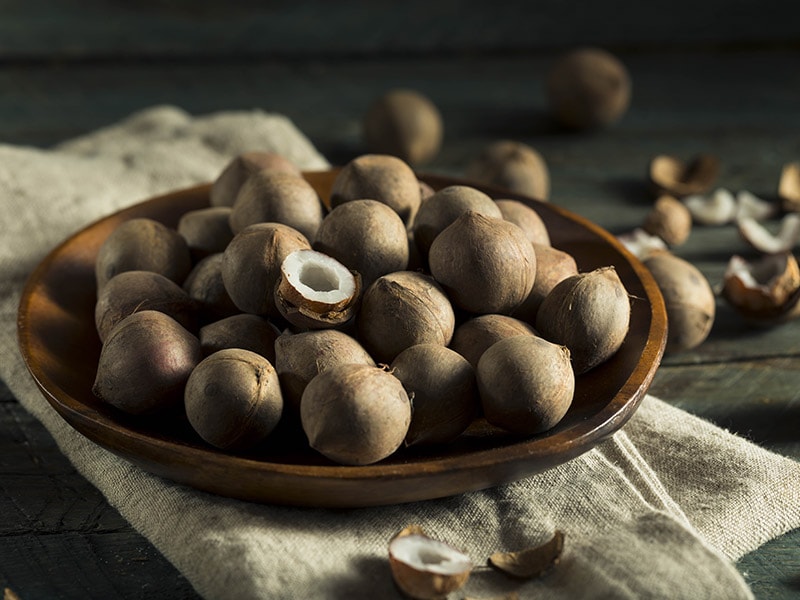 If you are a fan of exceptional wines and syrups of Chilean cuisine, you should not ignore the products made from coquitos or palm tree nuts. This unique fruit has its origin in Chile and is associated with the coastal valleys of Chile.
The appearance of this fruit can make you imagine a coconut, and its taste is also similar. You will love the rustic exterior of this fruit because it is saved by a brown and hard rind. After breaking this layer, the creamy and white pulp will show up.
In particular, the crunchy texture of coquitos will make you flutter. In Chile, people often consume raw fruit or add it to drinks, salads, custards, or yogurts. Furthermore, enjoying the cakes or cookies made with it will be an exciting experience.
Nutrients: Contain calories, fat, sodium, potassium, and carbs.
Season: This fruit is available all year round in this country.
How to eat: Normally, it is common to consume this fruit raw. Moreover, you can mix this fruit in many dishes and drinks.
Let's try palm tree nuts to enjoy the real flavor right now.
15. Prickly Pear – Tuna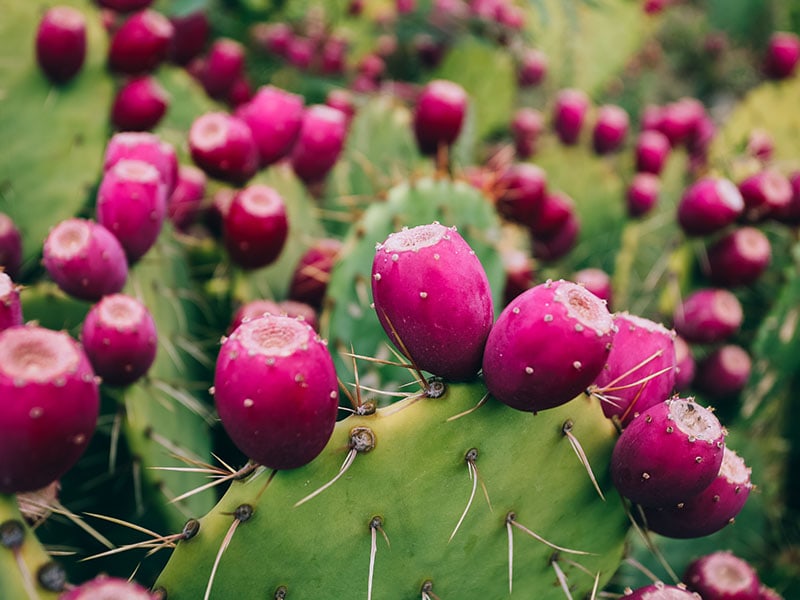 Prickly pear or tuna is one of the most popular fruits in Latin America. Moreover, this fruit is abundant in the Caribbean, Central America, and Mexico. Prickly pears were introduced in Europe in the 1500s.
The shape of this fruit can make you think of a small pear. A thick rind guards the juicy and soft flesh. It looks eye-catching in the red or yellow color. You have to peel the skin before eating, and you can consume its seeds.
You cannot forget the sweet taste of the bright red or pink flesh. Its flavor is the same as the taste of berry and fig. After removing the skin of this fruit, you can eat it raw as a dessert. Moreover, it is compatible with making jams, jellies, juices, and preserves.
Nutrients: A source of calories, fiber, vitamin C, magnesium, calcium, and potassium.
Season: Its season lasts from September to December.
How to eat: Before enjoying its flesh, you need to remove the skin. You can eat the seeds inside.
16. Cherries – Cerezas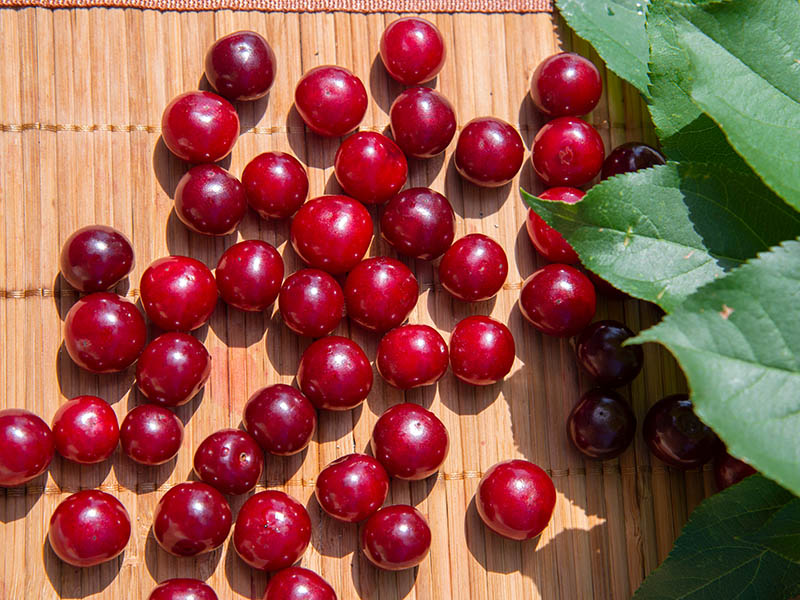 After eating mouthwatering Chilean foods, a plate of fresh cherries is the ideal choice to refresh your taste buds. Before spreading globally, cherries were planted for the first time in Southwest Asia.
Chile is one of the primary producers of cherries worldwide, and this country became the leading cherries exporter in 2019 globally. Cherries are ideal for treating cancer, gout, and cardiovascular diseases.
Cherries are small and have a distinctive heart-like form. These renowned fruits often appear attractively with the dark red color. Significantly, the glossy texture of its skin will captivate your sight immediately.
You can explore many cherries in different categories worldwide, such as true cherries, bush cherries, cherry laurels, and bird cherries. The taste of cherries is similar to almonds, with a nutty and woody flavor. Besides, you can feel the hint of cinnamon and rose in its taste.
Eating raw cherries is the best way to enjoy the natural flavor of these healthy fruits. Furthermore, Chileans often mix cherries with ice cream, jams, jellies, preserves, and other excellent desserts.
Nutrients: High in vitamin C, K, calcium, magnesium, and potassium.
Season: You can buy this fruit easily in Chile between October and January.
How to eat: Consume the cherries after washing with water and discard the seeds.
17. Eggfruit – Lucuma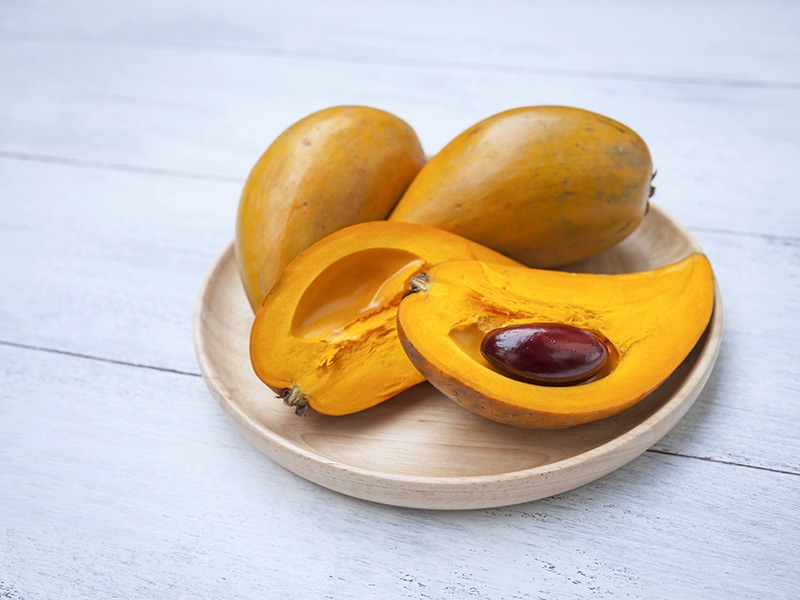 Lucuma is one of the iconic fruits of Chile because this country is the homeland of this fruit. Lucuma is native to the Andean valleys, so it is also a well-known Peruvian fruit. It is not complicated to see it in many tropical lands worldwide.
Lucuma is a staple fruit of the Incas and is an essential part of culture and celebrations in Chile. At first sight, you can confuse it with mango or pear because of the similarities in appearance. Mature lucuma will have the typical russet or yellow color.
The bright yellow flesh of lucuma will make you want to try it instantly. But you should remove the inedible seeds of this fruit while consuming it. You cannot forget the characteristic tangy taste of lucuma after eating it.
In addition, the creamy texture of this fruit is a good suggestion for making smoothies, ice cream, pudding, and shakes. You can consume the raw lucuma to enjoy the natural flavor.
Nutrients: A source of calories, protein, vitamin C, potassium, phosphorus, and calcium.
Season: June to November in Chile.
How to eat: Use a knife to slice the fruit into 2 sections, remove the seeds, and get the flesh with a spoon.
18. Apple – Manzana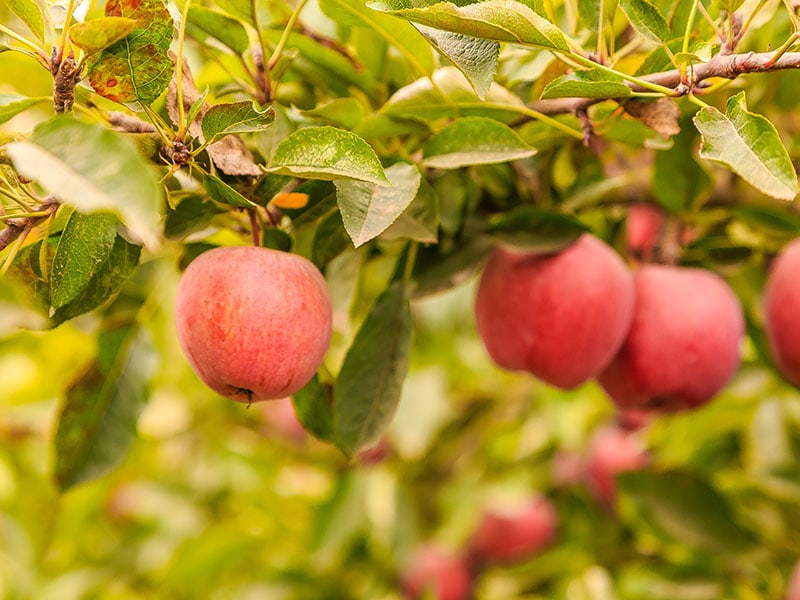 Apple is a universal fruit, so you can easily find it in Chile and any other region worldwide. This famous fruit has originated in Central Asia for thousands of years. European colonists introduced this fruit to North and South America.
Seven thousand five hundred various sorts of apples have been explored globally. And they are different in shapes, colors, and flavors. Typically, the apple is a pome fruit with green, red, yellow, or pink shades.
The epicuticular wax layer creates the glossy texture of its peel. You will be addicted to the fantastic taste of its yellow-white, yellow, pink, or green flesh. Apple is a good fruit for preventing cancer and improving your heart health.
You can eat the raw apples to feel the appealing sweetness and the distinctive astringent taste of this fruit. In Chile, apples are the main ingredient in making vinegar, sauce, salads, and many other delicious desserts.
Nutrients: A rich source of calories, carbs, protein, vitamin C, K, calcium, and potassium.
Season: Its season begins in June and ends in November in Chile.
How to eat: It is easy to eat apples because you can eat apples after removing the skin.
19. Chilean Wineberry – Maqui Berry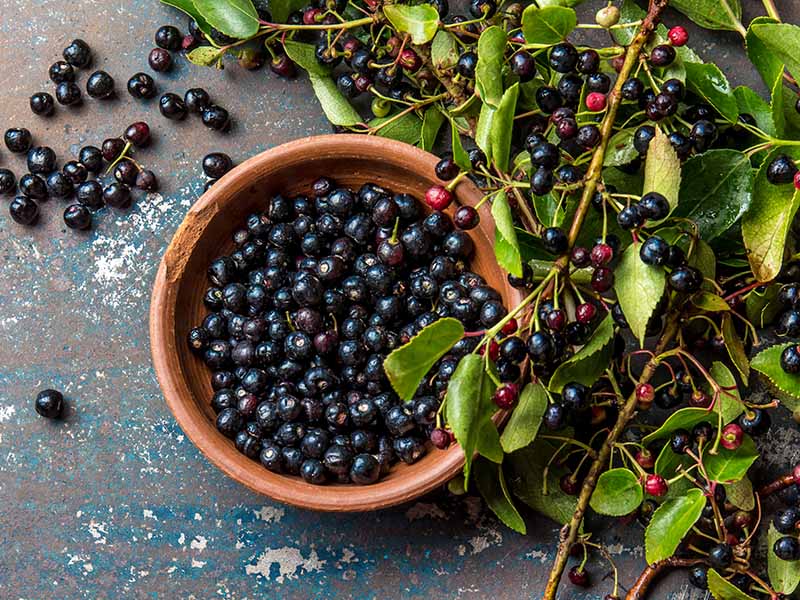 If you want to try a famous wild fruit in Chile, maqui berry or Chilean wineberry is a fantastic option. This excellent fruit that begins with W grows widely in the Valdivian rainforests of Chile and southern Argentina. 
In Chile, the Mapuche people have cultivated this fruit for centuries. They have used maqui berry for making Chicha – a famous traditional Chilean drink. These berries are small, and you can acknowledge this fruit with the distinctive purple-black shade.
It has the same flavor as blackberries. In the natural environment, maqui berries are the loved food of many birds. The natives often consume raw Chilean wineberries. These berries help prevent cancer and boost the immune system.
Nutrients: Plenty of calories, carbs, fiber, protein, potassium, and vitamin C.
Season: This fruit is often ripe from December to March in Chile.
How to eat: You can eat the fruit after rinsing with water, and remember to remove the seed.
20. Pepino Melon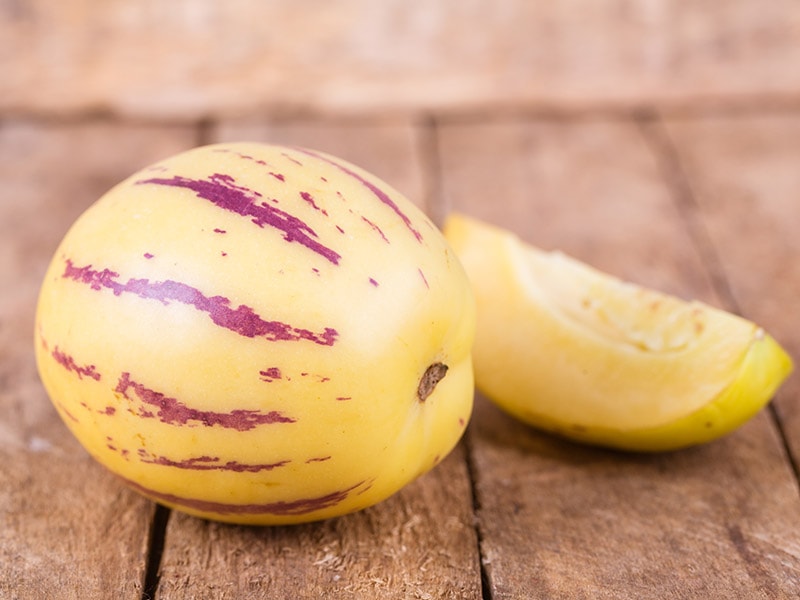 Pepino melon, also known as Pepino dulce (sweet cucumber), melon pear, or just Pepino, is a delicious fruit native to the temperate Andean areas of Chile, Columbia, and Peru. You can also find this fruit in other South American countries such as Kenya and Bolivia.
However, Pepino melons are a bit hard to come across outside South America as they're relatively sensitive and tricky to export. New Zealand and California are among a few regions that have successfully cultivated this tasty melon fruit.
Pepino melon boasts unique golden skin with beautiful purple-ish stripes. This distinct skin is quite soft and edible. The main attraction of this fruit, though, is its mildly sweet flesh, which is often described as a combination of cucumber and honeydew melon.
People often cut the fruit in half and enjoy it as is for a simple yet yummy fruit dessert. Alternatively, you can also add it to your fruit salad.
Nutrients: Low in calories while contains plenty of minerals, vitamins, and fiber.
Season: Year-round but usually fruit fromSeptember to November
How to eat: Peel the skin off, cut the Pepino melon in half, remove the seeds, and enjoy.
Have You Ever Tried Any Chilean Fruits?
Nowadays, fruits have become an indispensable part of many people's daily diet. So, this post will give you many options to refresh your taste buds. In addition, you can make many delicious dishes from these fruits.
Do you want to learn any other information related to this topic? If yes, you should tell me about your concerns or requests in the comment sections. I will try to reply as soon as possible. Thanks for your time!