Finding a great Cointreau substitute can be a godsend when you're in the middle of preparing some crowd-pleasing recipes and not having any of this liqueur in hand. Though Cointreau is the best bet for a classic glass of margarita, it's not entirely irreplaceable if you know how to.
Whether you've run out of this spirit in your at-home bar, can't find any at the local store, or choose to take a permanent break from alcohol, you're in luck!
Today, we're breaking down the best substitutions for the premium Cointreau from alcoholic to non-alcoholic options. By keeping this guide on hand, it's only a breeze to impress your guests with the perfect batch of margaritas or pop some color and flavor into your moreish desserts.
If you're all set to discover what's out there, scroll down and let our amazing online cooking class begin!
What's A Good Substitute For Cointreau?
If you're in a hurry to finish up your recipe, here's a list of the best Cointreau substitutes to look around your kitchen for.
Triple Sec
Grand Marnier
Curaçao
Combier Liqueur d'Orange
Luxardo Triplum
Bols
Patron Citronge
Orange Extract
Orange Juice
Orange Zest
Without further ado, let's dive in and figure out how to make your food just as delicious when you don't have any bottle of Cointreau in hand!
What Is Cointreau?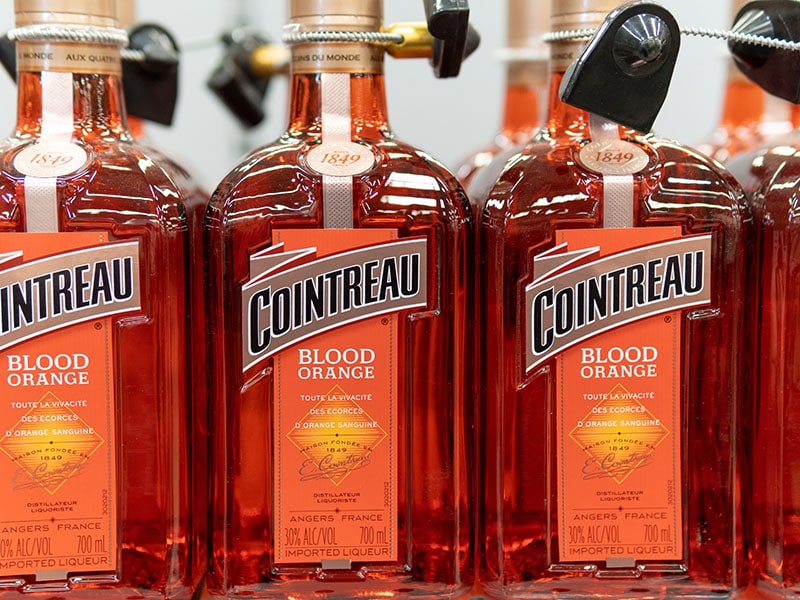 Besides being a part of the standard index of cocktails, this top-quality spirit also stars in a variety of dessert recipes. Whether you're new to the liqueur world or have been sipping on it for a while, here are some cool facts about Cointreau to get the scoop on.
Cointreau is one of the most well-known brands of triple sec liqueur, first released in 1875. It's an orange-flavored spirit made with a mix of sweet, bitter orange peels and sugar beet alcohol.
Whether drunk neat or in cocktails, this drink yields a citrusy, clean flavor, complexity, and occasional sweetness that's second to none. Despite the intense note of orange, Cointreau is actually a colorless liqueur and is often characterized for its brightness.
Cointreau is fantastic as a standalone drink or mixed into other beverages. A great way to enjoy this is to mix it with apple juice for a fruity and intoxicating drink with apple juice and vodka. This is a drink suitable for both chilly days and when the weather gets too hot to stay outside for long.
Compared to other triple sec spirits, this orange-flavored drink is comparatively more potent, with alcohol content at 40%. However, for most peeps, it's pretty drinkable and is a staple in almost every well-stocked bar as one of the most perfectly balanced and fragrant spirits.
Before seeking its perfect alternatives, let's take a moment and dive into what Cointreau really is in essence!
Watch this video to know more:
What Can You Do With Cointreau?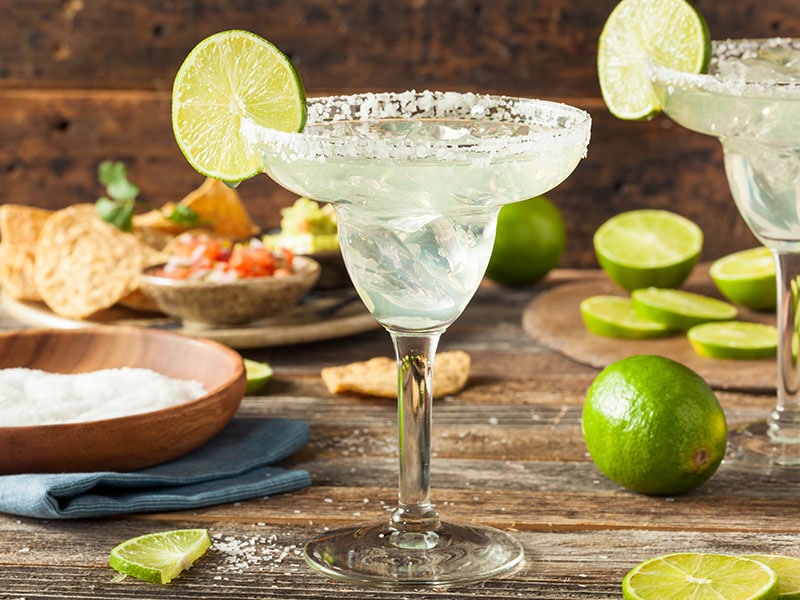 Due to its high-quality production, Cointreau is one of the most versatile liqueurs in cocktails and baked dishes. It's at the heart of some of the world's most celebrated cocktails, including Sidecars (a popular cocktail in France), Margaritas, and Cosmopolitans.
This French spirit brings freshness and depth into the mix with a marriage between sweetness and bitterness to produce an elevated drink. Plus, it carries a high amount of essential oil, giving the drink intensely aromatic notes without the need for additional sugar.
As an orange-flavored drink, Cointreau is quite easily drinkable, both neat and on the rocks. A small glass of homemade Cointreau cocktail is perfect as an aperitif to whet your appetite for future courses. Or you can serve it as a digestif to round up dinner and boost your digestion.
Besides starring in cocktails, the spirit also makes a great addition to lots of cooking recipes whenever they call for an orange flavor. From prepping salad dressings, sauces to classy desserts like mousses, Cointreau can add an extra dimension of flavor to your dish.
How Much Does It Cost?
In the world of liqueurs, Cointreau is considered a very exclusive spirit. Though we know the basic ingredients it's made of, its distillery process remains unknown to public knowledge.
Thus, it's slightly more expensive compared to other triple sec varieties and mid-priced when set against all types of liquors. A 350ml bottle typically ranges from $20 to $25, while a 750ml bottle costs roughly $30 to $45.
Cointreau is usually served in small amounts of around 1 ounce per cocktail or drink, so you can rest assured that one bottle can last you for quite some time.
What To Consider When Substituting Cointreau?
From moreish and sophisticated cocktail recipes to elegant appetizers, Cointreau is at the hearts of many people with its distinctively bittersweet flavor. Thus, to mimic its essence with another spirit, there're three key factors to consider: alcohol content, flavor, and price.
Keep in mind that Cointreau has a 40% alcohol content, so you'll want to opt for an equally potent liqueur to produce the same impact on the drink. For instance, to whip up a refreshing margarita without Cointreau on hand, look for Grand Marnier at your local liquor store instead.
Besides, Cointreau can be a bit pricey for many of us. So if you don't want to pay much for a few glasses, there're other triple sec liquors that allow for a late-night orange liqueur indulgence minus the budget concern.
Lastly, if alcohol is just off-limits for your cooking recipes, your food will still taste as delicious with the right non-alcoholic alternative. Orange juice concentrate, orange zest, and extract are some of the most commonly used ingredients to get you to a similar place.
The Best Substitutes For Cointreau In A Recipe
There's no need to drop off everything and run to the liquor store when you suddenly realize there's no Cointreau for your cocktail or dessert recipe. Here's a rundown on the best Cointreau substitutes that might be lurking around your pantry already!
1. Triple Sec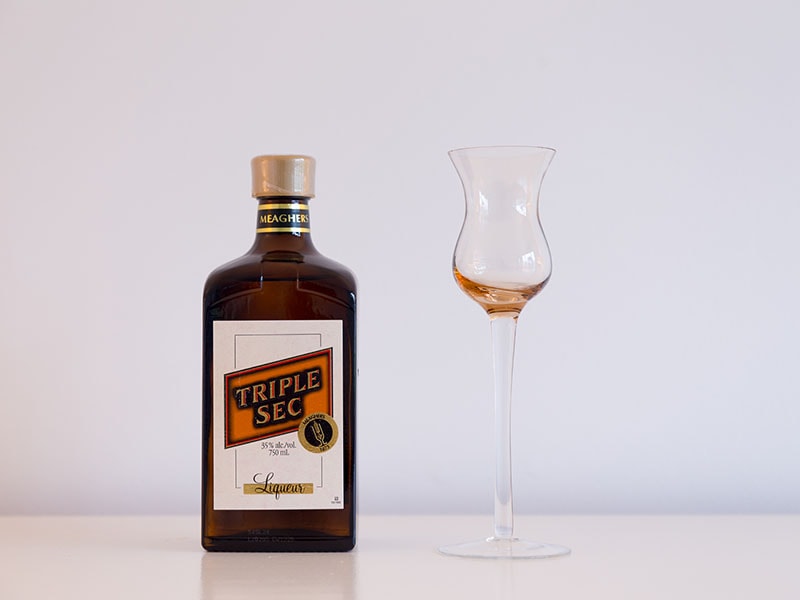 Given that Cointreau is an authentic triple sec variety, these two liqueurs can be used interchangeably in numerous cocktail recipes. The term "sec" merely means dry in French, so the name essentially translates to "triple distilled" or "triple dry."
Triple sec refers to a style of clear liqueur made with orange peels, brandy, and distilled water. Compared to Cointreau, it's a more neutral spirit with a lower alcohol content that typically ranges between 20% and 40% for when you need a less boozy night in.
When you lack Cointreau to whip up a big batch of margaritas for your friends or party guests, triple sec is the perfect alternative that will knock your socks off. The strong, citrusy, and mildly bitter flavor makes it a real treat on a hot summer day.
Any brand of triple sec that you may have in your hidden home bar will get the job done, but the most famous of all seems to be Hiram Walker triple sec. At $10-$12 per bottle, it's an affordable option to make pitchers of margarita or sidecar punch without breaking the bank.
Do you need a specific guide on what Triple Sec is and how to drink it like a connoisseur? Here're some words from the expert!
2. Grand Marnier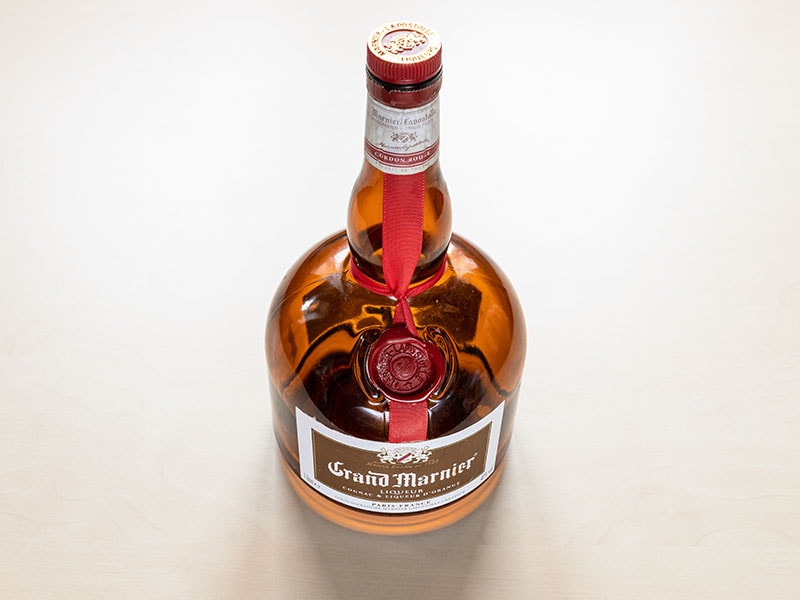 Grand Marnier is a famous alcoholic drink from France created with a combination of triple sec, cognac, and some sugar. The presence of cognac gives this spirit a much sweeter and heavier taste profile and a unique amber-gold color compared to other triple sec varieties.
These two orange liqueur share a lot in common, which makes them interchangeable in many cases. In essence, they're both bottled at 40% ABV or 80 proof, orange-flavored, and sweetened with natural sugar.
However, Grand Marnier tends to yield a more robust, deeper tone with a hint of oaky sweetness that makes it unideal for making cocktails like Sangria, Fizz, or White Lady. A bottle of Grand Marnier can make the base to more types of drink for every drinking occasion.
Grand Marnier's applications are not limited to making beverages only. When combined with a few ingredients, Grand Marnier can make lip-smacking dishes. For instance, Grand Marnier sauce – a side dish usually served with cornish hen, will take the crowd by storm anywhere it goes.
When you find yourself in a place to use this orange liqueur in place of Cointreau, the secret is to cut back on it. Otherwise, you'll likely end up with an overly heavy and sweet cocktail. If it's for a baking recipe, the difference isn't very apparent, and you can use the same amount.
Let's take a glance at how the exquisite Grand Marnier can spark your dining experience with this short video!
3. Curaçao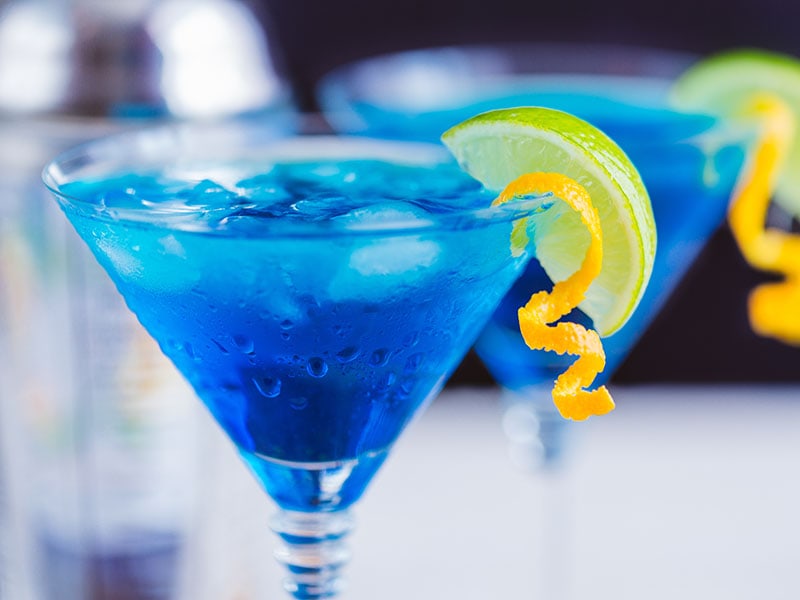 Let's take a short trip to the tropics and have a sip on the first orange-flavored liqueur ever invented: Curaçao. This spirit gets its name from the island off the Venezuelan coast, where it originated in the 19th century. Therefore, it's the predecessor of the entire triple sec spectrum.
The traditional liqueur is made with a special type of orange that's too bitter for consumption. However, its sun-dried peels were soon discovered to have a pleasant fragrance that can be added to a sugar brandy base to create a distinctive spirit that we know today.
What sets Curaçao from the crowd is the wide variety of colors it's available in. From brown, red, blue, white, and even green, it's not too big a stretch to say there's an entire rainbow to choose from. But don't let it fool you! All these vibrant colors don't change its flavor.
This drink is slightly bitter and often runs on the sweeter side. It carries a moderate alcohol content of around 15% to 40%. Compared to Cointreau, this is an inexpensive option to serve pitchers of margaritas to a crowd.
Curacao is also an excellent option to consider when you need a boozy beverage to cool off the summer heat. Blue Hawaiian cocktail, a famous recipe originating from Hawaii, is a fantastic drink to start with. Lagoon cocktail, Curacao Mojito, Seven Seas Martini are also noteworthy choices.
Though colored Curaçao is very recognizable as a drink on its own, you'll probably want to opt for the naturally colorless version when using it as an alternative. That is unless your intention is to put a little twist on the cocktail.
Are you interested in recreating a warm and sunny summer day? Treat yourself to four different Blue Curaçao drinks with this easy tutorial!
4. Combier Liqueur d'Orange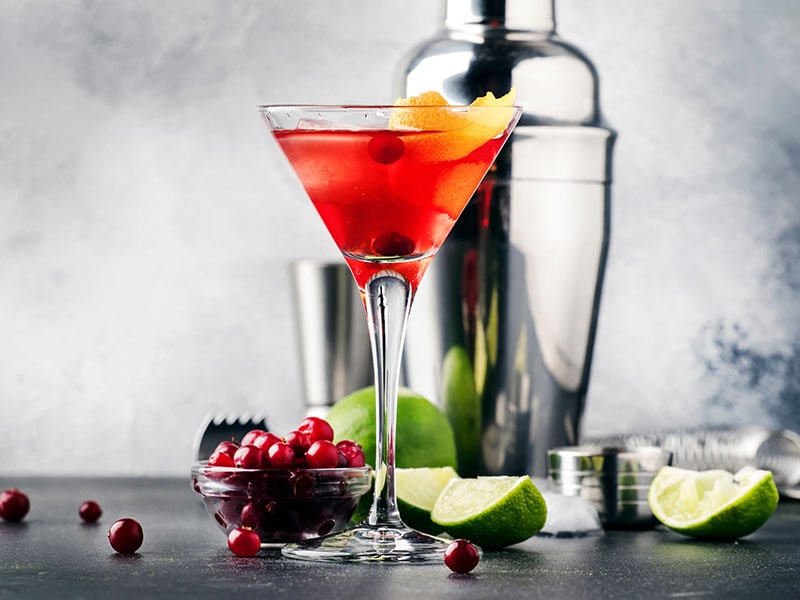 There's no such thing as orange liqueur shortage in the world of wines and spirits. Combier Liqueur d'Orange is another proud French heritage that's been in many well-stocked bars for nearly 175 years that makes a great alternate for Cointreau.
Most liqueur connoisseurs describe these spirits as interchangeable in many classic cocktails and recipes. Distilled from orange peels and French sugar beets, this drink has a pure, clear character and a bright, citrus flavor that hits plenty of the same marks as Cointreau.
The only difference that may be noticeable to discerning palettes is that Combier Liqueur d'Orange has a subtle bitter tinge in its finish.
When served as a neat shot, the drink tends to run on the sweeter, more semi-dry side, but it produces pretty much the same effect as Cointreau in most classic cocktails like Cosmopolitan or Caipirinha.
If you enjoy a standalone sipper or two as a nighttime ritual, Cointreau is the better choice. But when in need of an equally exceptional spirit without breaking the bank, Combier Liqueur d'Orange will save you a few bucks as it's typically cheaper.
Want a sneak peek at the famous distillery of Combier Liqueur d'Orange? Here's how the spirit came from dried orange peels to life.
Watch this video to know more:
5. Luxardo Triplum
Luxardo Triplum is a classic triple sec from Italia, with its distillation strictly follows the original recipe in the first half of the 19th century. It's made with three types of dried orange peels: curaçao, sweet orange, and mandarins.
The result is a lovely balance of sweetness and bitterness tempered by a uniquely refined aroma that makes it absolutely moreish. Compared to Cointreau, this Italian spirit is on the more matured and drier side, with a floral note that sets it apart from its counterpart.
When the recipe calls for an orange cocktail accompaniment, many peeps use Luxardo Triplum to get a wonderful, rich taste that's quite hard to beat. Plus, each 750ml bottle sells for roughly $22. So when you need a cheaper offering to replace Cointreau, this should be it.
If you're a wine lover who takes smell as a prime, this spirit is one of the top-notch choices out there. A sniff of Luxardo Triplum can be truly pleasurable and even fascinating, not to mention having a sipper of it will make up the perfect indulgent night in.
Let's see why Luxardo Triplum is different from the rest, and even a sip of it is so satisfying right here!
6. Bols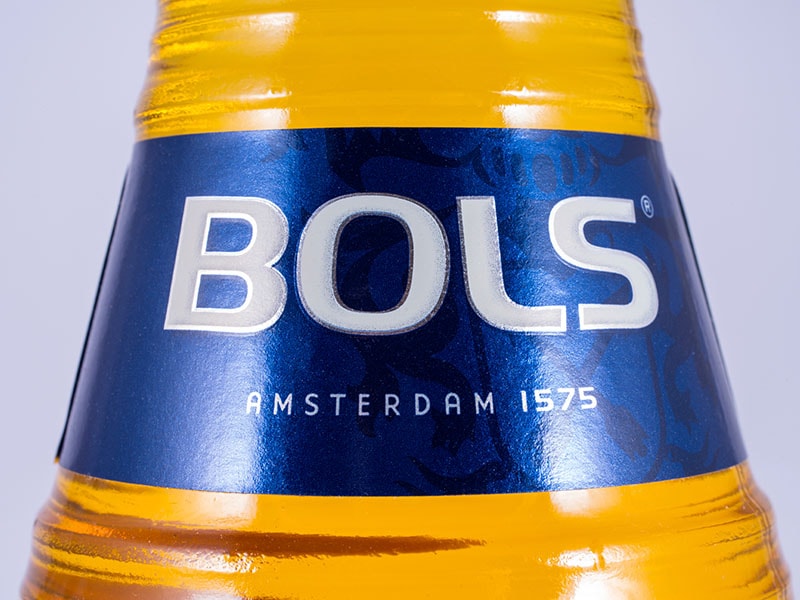 There's no needs to pay a fortune for some decent bottles of liqueur. If you're thinking of the cost of hosting a fun and boozy party at which alcohol is served, Bols is the go-to orange-flavored spirit that can't go far wrong.
Though Bols is typically priced at only $10 per liter, it's not one of those conventional bottom-shelf drinks. As one of the oldest distillery brands dating back to 1575, it's considered a type of triple sec bottled at 15% ABV, or 30 proof.
It's safe to say that this spirit's note is rather intense, somewhat artificially orange for some. However, it tastes way better than it smells, especially as a mixer in cocktails.
Besides the regular orange flavor, the drink also gives off a hint of cinnamon and glove. These warm spice notes do a great job of adding an extra dimension of flavor into the cocktail recipe.
It's certainly not the best standalone sipper compared to Cointreau, but it will save you some money if you're planning to throw an epic party without an extravagant budget.
7. Patron Citronge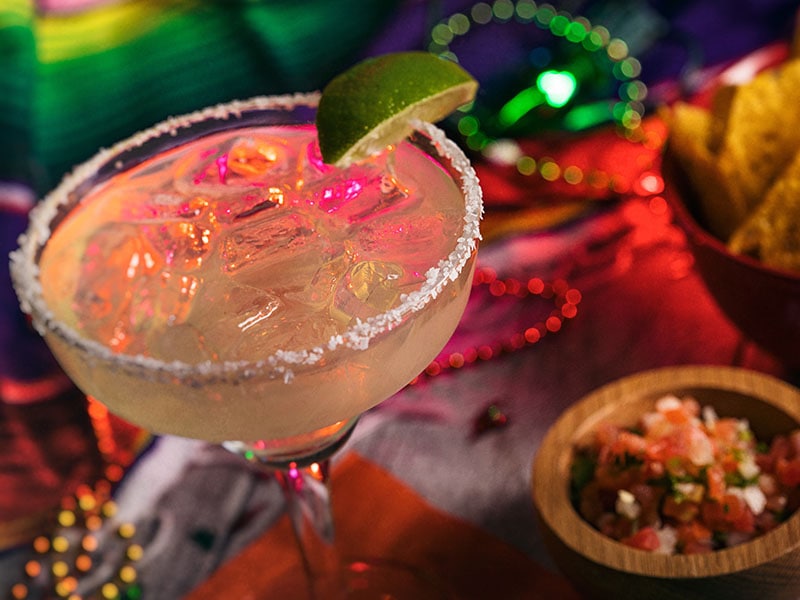 Some orange liqueurs are developed for specific drinks, and Patron Citronge belongs to that category. Every wine connoisseur knows that Cointreau is the best bet for a satisfying glass of margarita. But when it runs out, look for Patron Citronge instead.
This orange liqueur is a heritage of Mexican distillery and is often considered a premium reserve. It's made with the dried peels of Jamaican sweet oranges, Haitian bittersweet oranges based on a neutral spirit and flavored with sugar.
With a burst of zesty citrus and a balanced bittersweet base, it seems like this spirit is custom-made for margaritas and tequila-based drinks. At $22 for each 750ml bottle, it's delicate fruity alcohol that's excellent for replacing Cointreau in a pinch.
Making an iconic glass of margarita without Cointreau at hand? Here's how you can make the drink with some delish Patron Citronge.
Watch this video to know more:
What're The Best Cointreau Substitutes For Baking?
Did you know that a bottle of orange liqueur stocked in your pantry or home bar is like liquid gold? When mixed into desserts, this spirit adds an orange-y warmth and intensifies the orange flavor. Here're the best picks for these projects when you don't have Cointreau on hand.
8. Orange Extract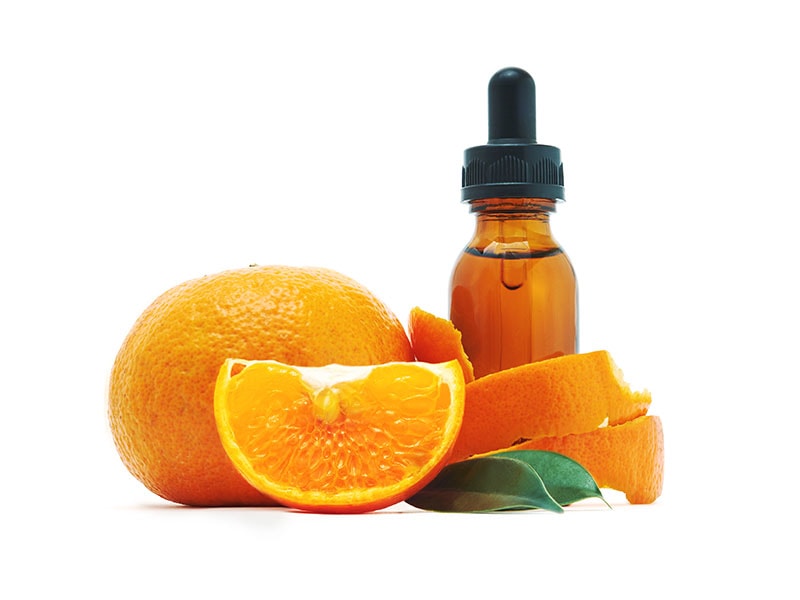 When you want to add a burst of citrus to your savory baked goods and drinks without using liqueurs, look around your kitchen for some orange extract. In essence, it's a concentrated flavoring agent made with orange peels on an alcohol base.
If you haven't tried adding the pure orange extract to brighten up buttercream, icing, batters, and beverages, you're missing out. During the cooking process, all the alcohol burns off, making your dish tasty and safe to enjoy for the whole family, including children.
You might not have this ingredient lurking around your kitchen yet, but the orange extract is available in almost any grocery store and supermarket. With a prominent orange taste, it's normally used in small amounts, so you can rest assured that one bottle will last for a while.
It's safe to say that orange extract is the ideal substitute for Cointreau in delicious mocktails, as well as an alternate for vanilla extracts in baked goods. However, as an alcoholic drink to sip on, this might not be the best option due to the lack of depth and booziness as in a liqueur.
With some oranges on hand, you can easily make a batch of orange extract following this tutorial.
9. Orange Juice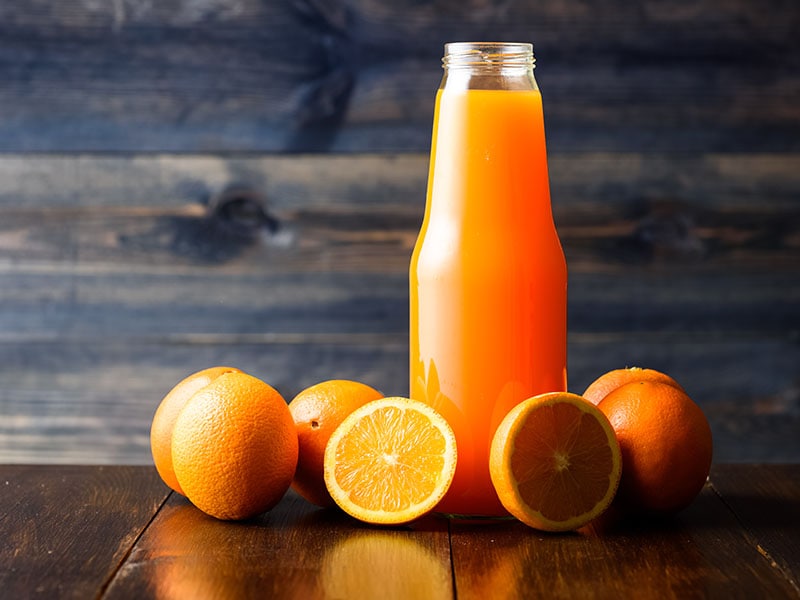 For people trying to cut back or taking a permanent break from alcohol, orange juice makes a sophisticated substitute for an orange liqueur like Cointreau. It's easily one of the most available ingredients stocked in your own fridge.
Even when you don't have orange juice ready at home, you can squeeze some fresh, healthy oranges for juicing by hand. Just make sure to pick the right oranges for juicing and a proper tool like a manual juicer or a compact juicer to get the best orange flesh.
If your cooking recipe calls for a hint of tanginess and citrus flavor, orange juice concentrate is the best way to achieve desired results, as you would Cointreau. It can be a challenge striking the perfect balance, but with a bit of trial and error, it gets better every time.
Another reason orange juice can be a tricky substitute lies in its shelf-life. Everyone probably knows the answer to the question "Will orange juice get spoiled?" but when it comes to how long it can last, it's hard to come to a general consensus. So it's better to use freshly squeezed juice.
But if you want to use orange juice to make cocktails instead of Cointreau, the result will lack some intensity. A no-proof, spirit-free margarita can still taste fine with orange juice, but be aware that the drink will drastically change in clarity and texture.
If you're not in a rush, a trick to getting a higher concentration of flavor is to reduce it to a syrup. This is easily achieved by letting the juice simmer on a pan while stirring it frequently. Also, you can add some zest for extra bitterness until you're satisfied with the end liquid.
If you're ready for some modern, non-alcoholic margaritas, here's how to do it properly!
10. Orange Zest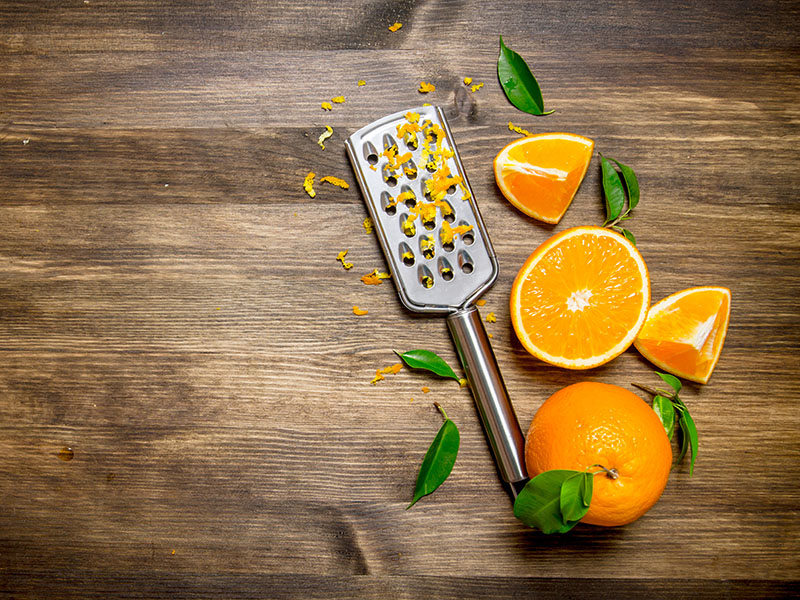 Orange zest is the perfect substitute for those who are trying to get rid of alcohol without skimming on the pop of orange flavor and aroma in their baked goods. Surely you've eaten an orange's flesh or two, but did you know that its colored, oily zest also makes a lovely ingredient?
In short, orange zest's the colored portion on an orange peel that's commonly used for a boost of tangy, citrusy flavor to a dish. The strong and pungent sweetness makes it different from the peel, which contains bitter pith.
With any organic kind of orange in hand, there're plenty of ways you can extract the zest for your recipe. To carefully remove the outer layer without getting any pith, you'll want to gently grate the outside of it with a fine grater or a zester.
The lovely tart and vibrant flavor of orange zest make a great addition to many of your favorite food, from savory dishes to sweet baked goods.
But what if there's no orange zest at your home? Is there any alternative for orange zest in this case? While you can technically use zest from other citrus fruits, I doubt they can achieve the same effects, especially when orange zest itself is a hard-to-use substitute in the first place.
However, it can take lots of adjustment to achieve the distinctive and satisfying taste as you would Cointreau in a recipe. Thus, take your time and keep an ongoing record of what you've used if you plan to incorporate this ingredient in the long run.
If you're zesting an orange for the first time, you might need some help with the right technique as follows.
FAQs
As you can see, there're plenty of Cointreau substitutes to achieve desired results, whether it be a sipper for the evening or a moreish baked good. To give you a better understanding of these ingredients, here're the most commonly asked questions that you can flick through.
Give Your Classic Crowd-Pleaser A Fun Twist!
And that was the end of my handy guideline on finding the best substitute for Cointreau. I hope you've picked up some useful pieces of information to serve delicious cocktails and recipes without the use of this famous liqueur in a pinch.
While Cointreau isn't completely irreplaceable, it's safe to remember that not all alternate liqueurs are created equal. So it's best to slowly take your time and make adjustments until you're satisfied with the outcome.
The world certainly has no shortages when it comes to orange liqueurs and liquids. I'm sure at least one of these options will find its way to become your new favorite staple. After all, your cocktails can always use a new and interesting twist to impress your guests.
What's your most favorite pick? Did you achieve success with this new approach? Let me know everything in the comment section down here!
Nutrition Facts
1 servings per container
Serving Size1 shot (1.5 fl oz) (37g)
---
Amount Per ServingCalories102
% Daily Value *
Sodium 0.4mg

0

%
Potassium 0.7mg

0

%
Total Carbohydrate 11g

4

%
---
* The % Daily Value tells you how much a nutrient in a serving of food contributes to a daily diet. 2,000 calories a day is used for general nutrition advice.