Spanish salads are the result of many years of culinary development within the country. Thanks to southern Spain's more favorable farming conditions, vegetables have become a staple food source for a lot of Spaniards.
And with an abundance of vegetables comes a lot of interesting recipes. They can go from sweet to savory, from vegan-friendly to carnivore-friendly. It is not an understatement to say that Spanish salads might be one of the best in the Mediterranean region.
If you're wondering how imaginative Spaniards can get with their salads, this might be your lucky day. I've already prepared some of the most iconic recipes from Spain that will blow your mind. What are you waiting for then? Let's jump right in.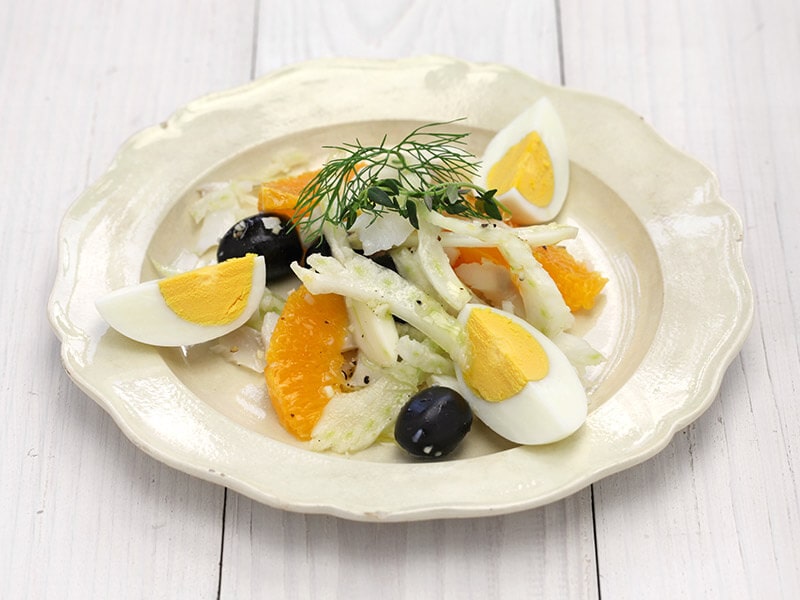 Out of the many great Spanish specialties, I have picked some of the more notable salad dishes that you can make easily. But don't be fooled by their simplicity in design because everything else about these foods will impress you.
Total time: 30 minutes
Ensalada Mixta, or Spanish Mixed Salad, is one of the most straightforward Spanish starters you can find in Spain. Ensalada Mixta is very simple to make, which is why you can find this salad available during meal times in the country.
In order to recreate this, you will have to get these ingredients: vegetables, tuna, and dressing. For the veggies, it depends on what you like, but I suggest lettuce, tomatoes, and carrots. You should cut the vegetables and arrange them on a plate. Add hard-boiled eggs to improve texture.
The final step is to add the dressing on top. You make the dressing with olive oil and vinegar. The end result is a very refreshing and healthy plate of salad. The crunchy lettuce and carrots, the soft and sweet tomatoes, as well as the creamy eggs blend really well together.
Total time: 50 minutes
Despite being a Russian creation in the latter half of the 19th century, Ensalada Rusa, or Olivier Salad, still managed to take over the world with its interesting and refreshing ingredients. And nowhere else do we see such a big influence than the land of bull-fighting, Spain.
First, this recipe requires cubed-up potatoes, chopped carrots, and green peas. These are the main vegetables, but you are welcome to add more of your favorites if you want. The dressing is just mayonnaise and a little bit of salt.
You make the salad by mixing the ingredients inside of a bowl before drizzling the dressing over. Continue to slowly combine the dressing with the veggies. In the end, you will have a creamy salad full of healthy carbs and fiber. Boiled eggs are also good if you want to add protein.
This tutorial will teach how to make Spain's popular Ensalada Rusa.
Total time: 15 minutes
Chickpeas are an important part of Mediterranean cooking. High in protein, this particular vegetable is a beloved ingredient in many European delicacies, from hot and comforting soup to cold and refreshing salad. In this recipe, I will show you how to make Spanish Chickpea Salad.
For the recipe, you will need chickpeas as the most important ingredients, other accompanying vegetables (tomatoes, bell peppers, olives, etc.), along with dressing (vinegar and olive oil). You add the vegetables into a bowl and combine them with the dressing.
As a result, you will have a nice serving of freshly made Spanish Chickpea Salad. Chickpeas are a great replacement for meat if you want a meat-free recipe from Spain. They add a lot of nuttiness to the salad.
Total time: 10 minutes
Like many great vegetable-based delicacies in Spain, Pipirrana, or Spanish Summer Salad, comes from the region of Andalusia, southern Spain. While Pipirrana varies in different provinces, its core ingredients are always the same.
The main vegetables are tomatoes, cucumbers, and green peppers. Aside from those, you can customize this salad with whatever is available during the season. With the seasoning and dressing, you can mix olive oil and vinegar.
The preparation is easy: toss cubed-up vegetables inside a bowl with the dressing and seasoning. The result is a salad that you can eat with crunchy Spanish toast during the summer. The flavors from the dressing and vegetables are exquisite.
Total time: 6 minutes
From deep within the island of Majorca, east of mainland Spain, comes a very interesting delicacy that rivals some of the best Spanish salads. Trampo, or Majorcan Salad, gives off a very homely feel since many Majorcan locals tend to make it during the summer.
What you should have to make this dish is tomatoes, green peppers, and onion. The dressing for this salad is just olive oil and a little bit of salt. You dice up the vegetables and add all of them into a bowl. Drizzle the dressing on top and incorporate everything.
The last thing to do is to leave the salad to chill in the refrigerator for a few days before serving. Upon taking a bit, you will understand why Majorcans make this fantastic specialty in the summer. The cold vegetables permeate every little corner of your body, driving that heat away.
Total time: 25 minutes
Despite their late arrival in the 16th century, tomatoes have become a major part of many European countries' cuisine. And this is true especially for Spain since the country was the one responsible for introducing the vegetable to Europe.
Tomatoes are used in so many Spanish delicacies. However, I will focus on a special salad with tomatoes as the core ingredient. Aside from that veggie, you must get Serrano ham and Manchego cheese as well. The dressing is just a combination of Sherry vinegar and olive oil.
First, you slice the tomatoes and place the slices onto a plate. Then, drizzle the dressing on the tomatoes. You can cap it off with slices of Serrano ham and grated Manchego cheese.
In the end, you finally create a simple yet nutritious plate of Spanish-style Tomato Salad. This dish consists of everything: protein, vitamin C, and fiber.
Nothing is better than making a fresh plate of Spanish Tomato Salad.
Total time: From 40 minute to 1 hour
In the Catalonia region, northeast of Spain, there is another type of summer salad. Esqueixada, or Spanish Cod Salad, takes advantage of Spain's vast coastline and an abundance of seafood. The name of this delicacy comes from the word "to tear" in the Catalonian language.
For this dish, you are required to get the following ingredients: salt codfish, onions, and tomatoes. For the dressing, it's still the same with the use of olive oil and vinegar. First, you marinate the cod and onions in olive oil for an hour. After one hour, place them in another bowl.
The final step is to add in the tomatoes and dressing. You can also put in hard-boiled eggs for extra protein. Similar to other summertime salads, you leave this to chill before serving. The saltiness from the cod offsets the tangy dressing really well. It adds depth to this delicacy.
Total time: 30 minutes
Not to be outdone by its northern brother, the southern side of Spain also has its own codfish-based salad. Remojon, or Orange & Codfish Salad, comes from the region of Andalusia, particularly the city of Granada.
To make Remojon, you must get salt codfish, orange, and an assortment of vegetables. The dressing is just simply olive oil this time. First, you must soak the codfish in water to get rid of the brininess. Then, you boil the fish and saute it in olive oil.
Next, peel and cut the orange. Place all of the ingredients on a plate and drizzle olive oil on top. Mix them lightly and then serve the salad. Similar to Esqueixada, the slight saltiness from the cod complements the vegetables. The orange gives that extra sourness to the whole dish.
Total time: 40 minutes
Salpicón De Pulpo, or Spanish Octopus Salad, is another recipe based on seafood from Spain. No one knows exactly how Salpicon De Pulpo got its start. They just know that it became a popular summer salad in the region of Andalusia.
In order to prepare the delicacy, I suggest you should get ingredients like octopus, vegetables, as well as dressing (olive oil and vinegar)l. First, boil the octopus and cut it into similar portions. Then, you chop the vegetables like tomatoes, onions, and parsley. Mix them with the dressing.
At the end, you must transfer the octopus and put the salad inside a refrigerator for 30 minutes. Salpicon De Pulpo will be unlike whatever salad you have eaten. The chewy octopus makes the texture really interesting. The dressing is standard, yet the flavor is still great.
Let's learn how to make an exotic Octopus Salad with this recipe.
Total time: 60 minutes
If you're a vegan, this is a perfect choice. If not, you can add anchovies for extra proteins. Xato comes from the region of Catalonia. The selling point of this delicacy is in the sauce. The sauce, also named Xato, consists of a combination of hazelnuts, almonds, and vinegar.
For the vegetables, you only have two main ones, endives and spring onions. The magic will be in the sauce. To make it, you begin by grilling the almonds and hazelnuts. After that, you blend them with tomatoes, garlic, and vinegar.
To complete the salad, roast the vegetables, cut them into slices, and drizzle the Xato sauce across the veggies. Aside from tasting the green freshness, you can feel a hint of the charred nuttiness in the nuts and the slight acidity from the vinegar.
Total time: 5 minutes
After exotic Spanish salads, it's time to step back to make a simple side dish from Spain. The Spanish Bean Salad doesn't require anything crazy. Just a few simple ingredients are enough to keep you cool and healthy.
You can use fresh or canned white beans. With fresh beans, you will have to wash and boil them. On the other hand, canned beans are much faster to prepare. Next, you dice the onions and red peppers before adding them to the beans.
The final step is to mix them with a dressing consisting of olive oil and vinegar. This dish is versatile as a side dish or appetizer. You can make this anytime and anywhere to help you fight off the summer heat.
Total time: 1 hour 15 minutes
This entry can be considered a great Spanish breakfast meal. The interesting part is that it doesn't contain any vegetables at all. Instead, the ingredients are mostly fruits exclusive to Spain, but ones from the southern side are better.
In order to make the Spanish Fruit Salad, you can use any type of fruit. However, I recommend papaya, pineapple, and mango as the core ingredients. You need to wash and peel the fruits before cutting them into bite-sized cubes. Then, toss them in a bowl with honey dressing.
Finally, you can plate the salad and refrigerate it for an hour. What you will have at the end is a fruity dessert or a very nutritious breakfast. The salad is full of vitamin C and fiber to detox your body. Not only that, this delicacy is tasty with the fruits being covered in cane honey.
Spanish Fruit Salad can be both a good breakfast and dessert.
Nutrition Facts
2 servings per container
---
Amount Per ServingCalories316
% Daily Value *
Total Fat 24.2g

37

%
Cholesterol 93mg

31

%
Sodium 635mg

27

%
Potassium 931mg

27

%
Total Carbohydrate 22.4g

8

%

Dietary Fiber 5.6g

20

%
Sugars 12g

Protein 7.2g

15

%
---
Calcium

83

%
Iron

2

%
Vitamin D

21

%
* The % Daily Value tells you how much a nutrient in a serving of food contributes to a daily diet. 2,000 calories a day is used for general nutrition advice.