When you ask "can you steam in an air fryer", I know you need to steam food, but there is only an air fryer in your kitchen. Don't freak out! I'm here to help.
In my post below, I will give you the answer to this main question above. Also, I'll show you what can and can't be done in air fryers. At the end of the day, you will know how to use your air fryer properly if you read through my article.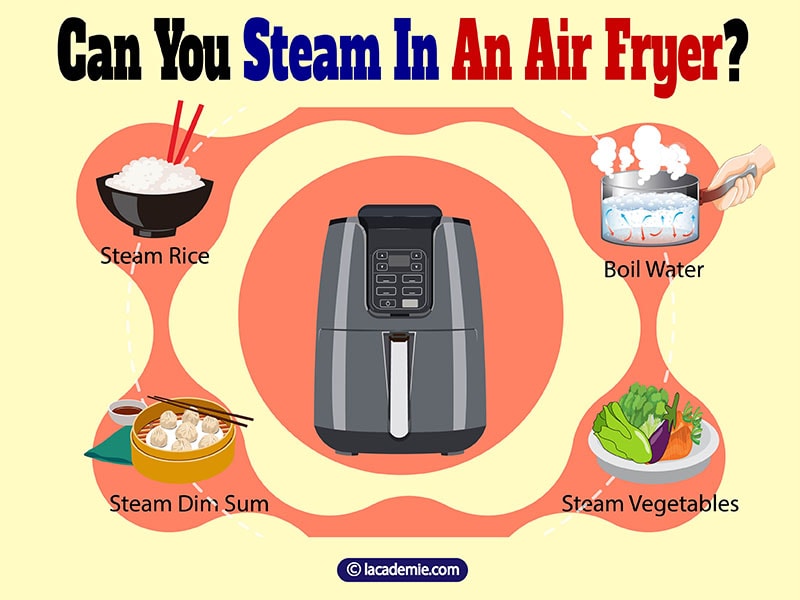 What Is An Air Fryer?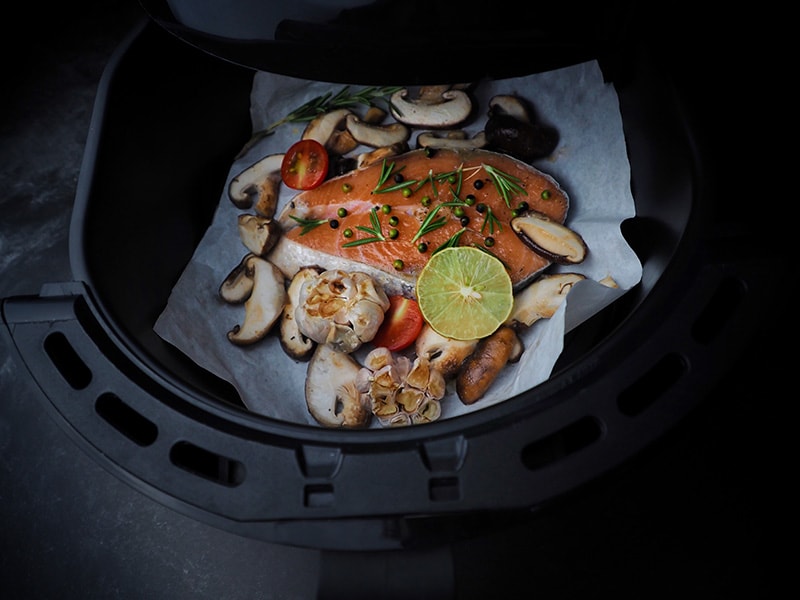 Generally, an air fryer is a compact countertop convection oven. It has the key ability to fry food without using or using minimal cooking oil. Depending on the kinds of air fryers you're using, this handy kitchen appliance can also do lots of other things.
Some air fryers include a rotisserie function that allows you to make tasty rotisserie dishes with ease. Additionally, they can also bake and roast food.
Moreover, while there are differences between an air fryer and an dehydrator, you can even use this machine to dry food in a pinch. Of course, it won't be as effective as a dehydrator, but it's always better to know what your handy air fryer can do.
How does it work to fry food without oil? The air fryer has the same working principle as a convection oven. It uses the convection effect to cook meals.
The heating coil from the top of the device creates radiant heat. At that time, the fan system below will spin rapidly to circulate the super-hot air around the food chamber, then cook the food. (1)
What Is A Food Steamer?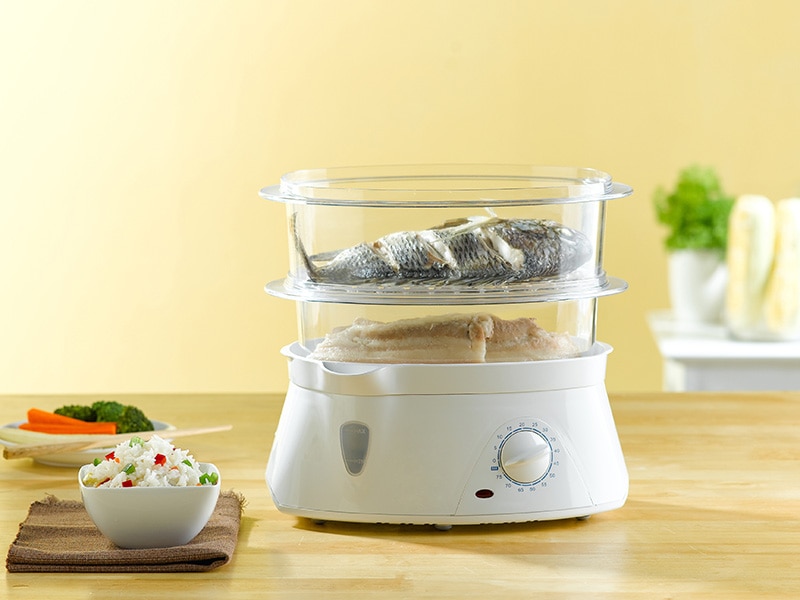 A food steamer is a small kitchen device that uses hot steam to cook food. Unlike air fryers, the steamer boils the water in the lowest vessel to create upward steam. And it holds the vapor as much as possible to cook the food.
It is recommended that every family have a steamer because it doesn't require cooking oil and consumes less electricity to cook. Also, it encourages health-oriented diets, such as macrobiotic diet, some rawism, Okinawa diet, cuisine minceur, and so on. (2)
Air Fryer Vs. Steamer – The Similarities And Differences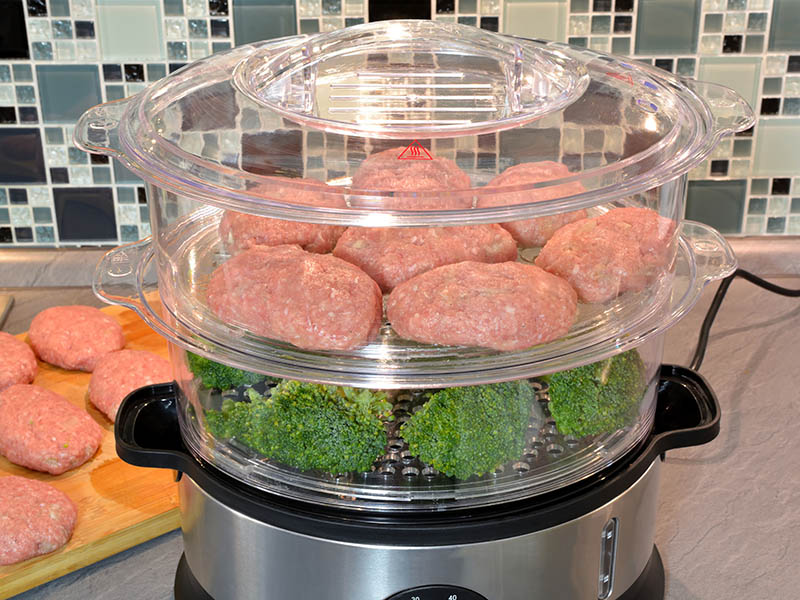 Comparing two kitchen gadgets together, I have both similarities and dissimilarities. To understand them clearly, I will give you a brief comparison of air fryers and food steamers.
There are three points that air fryers and food steamers share:
Produce healthy meals: Obviously, they don't require oil for the cooking process but still ensure the food output quality that doesn't contain fatty factors and is low-calorie. As a result, you can make many meal preps with an air fryer and a steamer.
Compact design: Both air fryers and food steamers are small countertop devices. They are easy to move and can stay tidily in a corner of your kitchen.
Working concept: Steamers and air fryers tend to warm the surrounding air of your cooking food.
Besides, air fryers and food steamers have several differences. Check this table to see those different factors:
Factors
Air Fryers
Food Steamers
Technique

Use hot air circulation

Require minimal oil (in some cases) or no oil

Use hot steam

Need no oil

Cooking Modes
Frying, roasting, baking, dehydrating, rotisserie
Steaming
Food Taste & Output

Crunchy and crispy flavors

Oil-free fried

Bland taste

High moisture

Time Taking
Fast
Slow
Control Panel
You can easily adjust the time and temperature for each food recipe.
You can't adapt the temperature because steamers only reach the proper temperature for boiling water.
Power Consumption
1200 to 1500 watts
100 to 400 watts
Price
Expensive
Affordable
Capacity
Small (only one food drawer for standard air fryers)
Large (more food vessels)
Maintenance
Difficult
Easy
The air fryer cooks food by creating hot air circulation from its heating element and fan system. On the other hand, the steamer boils water to make upward steam and cook meals.
There are several functions available in air fryers, such as roasting, baking, dehydrating, rotisserie and frying, whereas steamers only do steam. Additionally, steamers offer more than two food cases for more food containing; while air fryers have a single food chamber.
Can You Steam Food In The Air Fryer?
Unfortunately, you can not steam food in air fryers. Although air fryers have multiple cooking functions, there is no steamer button in their control panel. Keep reading to see the reasons.
The first reason is the high temperature. Depending on the food category, the air fryer temperature can reach up to 450oF, as high as a convection oven, to cook that food. While the proper degree for steaming is 212 to 240oF. (3)
Secondly, the air fryer's design is not possible for steaming. The steamer requires boiling water to create steam, and you can't directly pour water into the air fryer's drawer. Also, air fryers have only one food case, so there is no place for containing water.
Moreover, water will damage your air fryer, which is dangerous for you. What's more, air fryers make food crispy, while steamed food tastes bland. Therefore, I recommend using steamers or pressure cookers to make steamed meals instead.
The most important aspect is ventilation. Air fryers come with vents from the backside to the steam to get out. However, the steamer must keep as much steam as possible to warm food.
Don't miss this guide if you want to steam food without the steamer.
Can You Steam Dim Sum In The Air Fryer?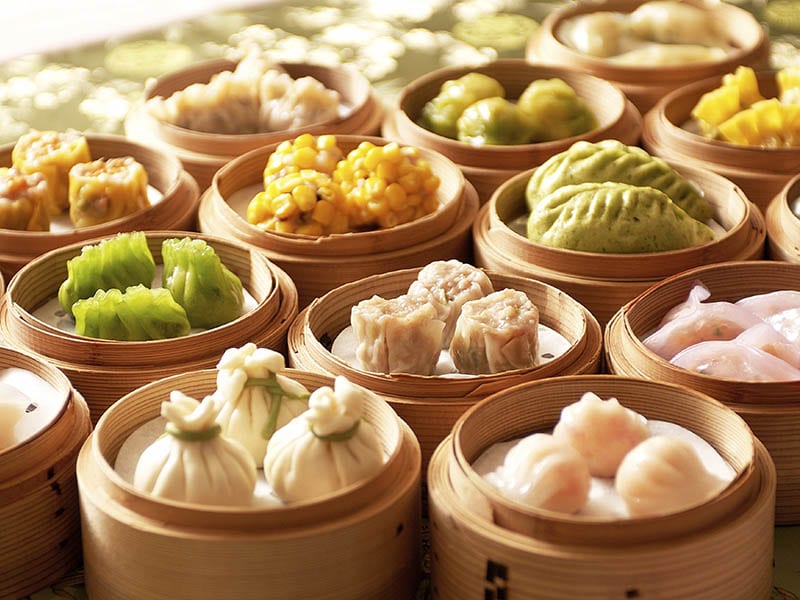 You can cook dim sum in the air fryer but not steaming. Air-fried dim sum and steamed dim sum are not the same in terms of taste. Air-fried dim sum is crispy on the outside and a little juicy from the inside. Yet, steamed dim sum is moist and succulent.
You may use both devices in the process of making dim sum. You steam the dim sum first in your steamer, then take it to fry for a few minutes in the air fryer. With this method, you could have a perfect taste from inside to outer space of the dim sum.
Can You Steam Rice In The Air Fryer?
Based on the actual air fryer's instructions, raw rice is one of the forbidden things to cook in the air fryer. That's true. However, if you follow my tricks, you will find that cooking rice in the air fryer is so easy. Follow my steps below to steam your rice in the right ways:
Step 1: Find A Non-Stick Container
These carriers will prevent the rice from getting stuck to the bottom after cooking. A cake pan is a great option. Make sure the size fits your air fryer chamber.
Step 2: Choose Rice Type
It is important to find suitable rice so that it will be dry enough after cooking. Jasmine, Suriname, and Pandan rice are long-grain and non-stick rice that can be one of your choices.
Step 3: Prepare Rice
Rinse your rice thoroughly to wash away dirt, starch, and debris. This step is necessary because it makes sure your rice won't be dirty after cooking.
Step 4: Boil Water
Usually, you just pour water directly into the rice after rinsing. Then the cooker will boil it automatically. But, in air fryers, you need to pour boiled water that you prepared a few minutes ago.
Step 5: Cover The Rice
Use aluminum foil to cover the pan tightly, then place the pan in the air fryer. The foil will absorb the hot temperature, making your rice fastly heated.
Step 6: Set Up The Machine
Adjust the temperature to 370oF to cook for 25 minutes, and press start. Check it frequently to make sure there is no problem.
Check this example to advance your rice cooking recipes in the air fryer.
Can You Boil Water In The Air Fryer?
It is impossible to boil water in an air fryer. An air fryer doesn't reach the right temperature for boiling water. Boiling water needs a proper temperature (212 to 240oF), so air fryers don't excel at cooking liquid-based foods.
Anyway, it is fine to place a glass of water to heat in air fryers. You can't boil the water, but still, you have a warm steamy glass of water. The glass container is safe to use in air fryers.
Remember not to let the water contact directly with your air fryer's heating element or interior parts. You can only wash the removable drawer and basket, then reassemble them in the air fryer.
Yet, a small amount of water could be no problem in some cases. When cooking fatty and greasy foods like sausage, bacon, and meat, their smoke will come out of the air fryer, which will leave stains on walls and unpleasant odors in your kitchen.
Therefore, adding a few tablespoons of water to the drawer underneath the basket will cool down and reduce this smoke.
Remember that an air fryer is not supposed to get well with water. And I don't recommend you put an excessive amount of water into your air fryer.
Follow this instruction to wash your air fryer in the right ways.
Can I Steam Vegetables In The Air Fryer?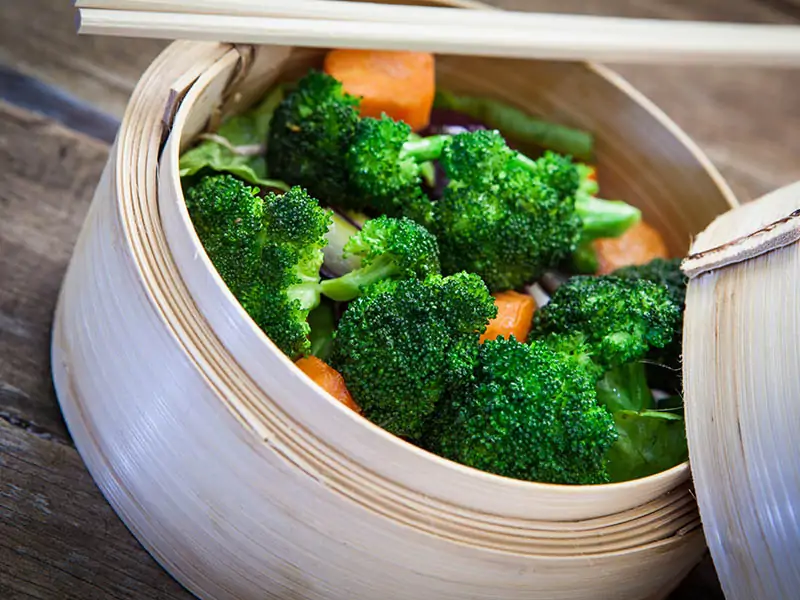 Air fryers use convection air to remove water content in food, making it crispy. On the other hand, steamers utilize warm heat from the water to steam and moisturize food. All in all, steaming in air fryers is not going to occur.
While you can't steam, you can fry or dehydrate vegetables to have excellent results. If you try to cook vegetables in air fryers, you won't get the same taste as food steamers.
But, I can share with you my tips to cook vegetables in air fryers but still have a taste as you steam them. You shouldn't overcrowd the baskets at first. And you may add a few tablespoons of water to the vegetables to soften them inside.
What Functions Can An Air Fryer Do?
We have gone so far on what an air fryer can not do. In this section, I would like to tell you about the multiple functions of this wonderful kitchen gadget. Stay awhile to read through!
Air Frying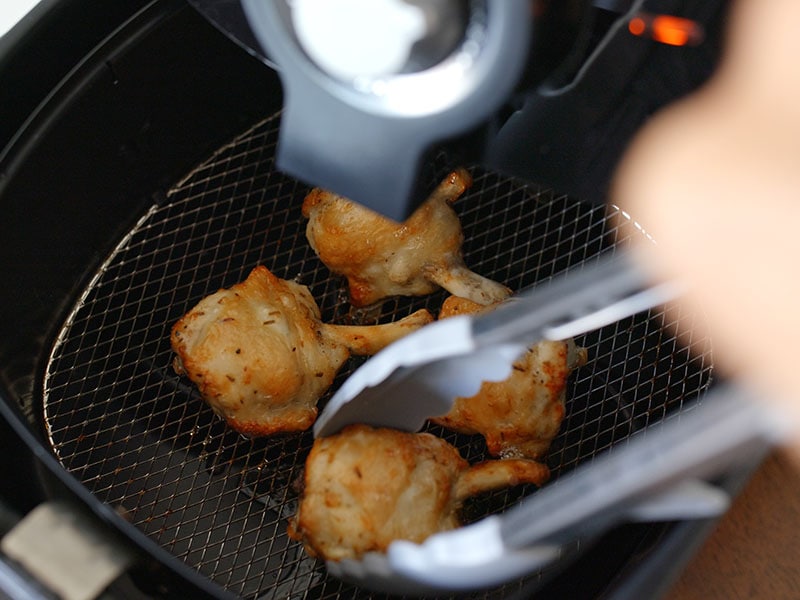 The main feature of air fryers is to mimic the deep fryers to fry food, use hot air convection instead of hot oil and still result in crunchy and crispy food. Just place your food in the basket, put the basket back in the machine, then let it cook.
You can save more time in cleaning by using a plate to put your food on. Is it possible to place a plate in air fryers? The correct answer depends on the material of the plate.
It is important to adjust the temperature and time suitable for each meal, which helps prevent overheating food. And you need to not overcrowd the food basket, making sure the food is evenly distributed. You can fry dim sum, vegetables, and broccoli in air fryers.
Dehydrating
Additionally, the air fryer is a good alternative to a dehydrator in some ways. It is also easy to dehydrate food in an air fryer because the two appliances' operating principles are quite similar. It extracts moisture from the food without altering the nutrient factors.
Dehydration can expand the date of fruits and vegetables. The temperature and time should be appropriate for what food is dehydrating.
Making apple chips in the air fryer is easier with this illustrator.
Rotisserie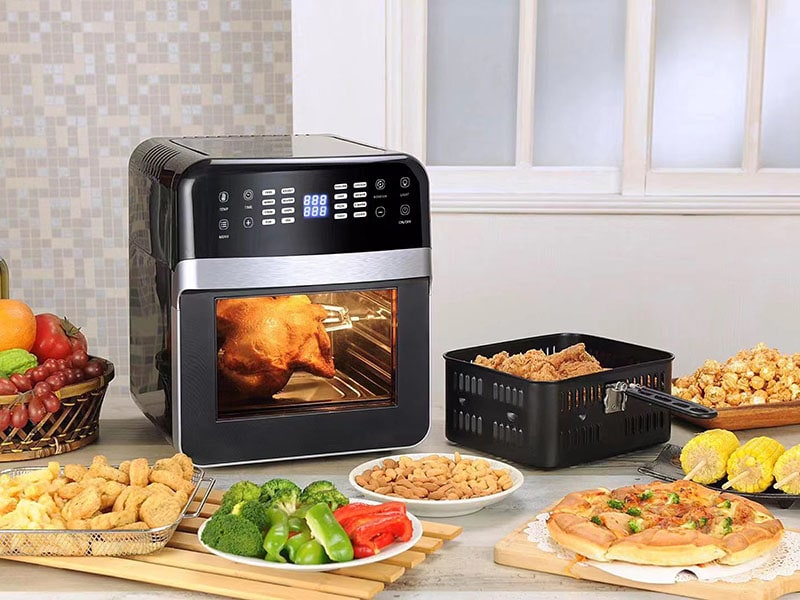 It is hard to believe that you can use the rotisserie function in air fryers, but you certainly can do that function. Some updated air fryers, like the oven air fryer, come with the rotisserie feature. These versions have a big food case and a skewer to hold a big portion of meat or a whole chicken.
Defrosting & Reheating
Moreover, using an air fryer is also time-saving when cooking frozen foods and vegetables. With high working temperatures, air fryers will help defrost and cook at the same time.
If you need to warm up food leftovers, air fryers will do that easily. You can reheat the food at 350 to 400oF for 3 to 4 minutes. After that, your leftover food will be exactly as crispy as yesterday.
Here are 7 ways to reheat your food in air fryers.
Baking & Roasting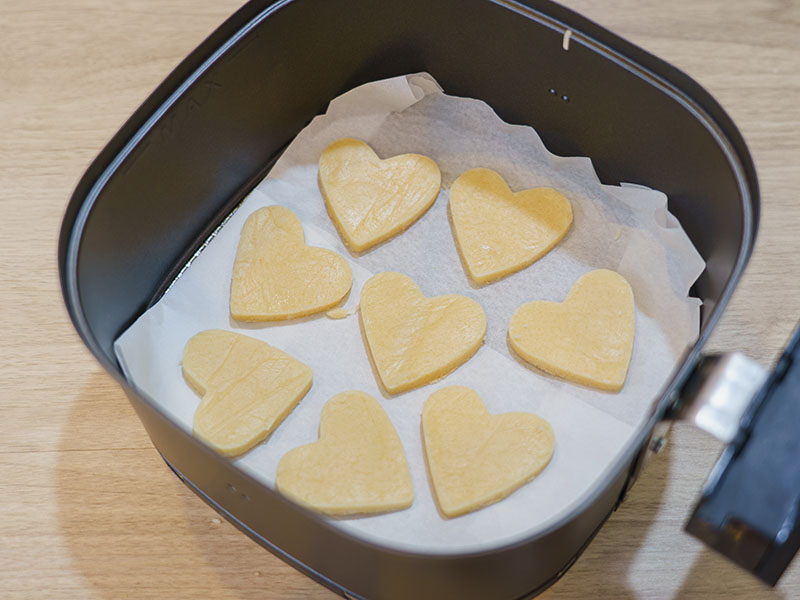 Last but not least, air fryers can bake and roast food. Baking is always my favorite function to do in air fryers. It is quick and as effective as baking in ovens.
As for roasting, I advise you shouldn't add water to avoid food taste changing after the process. And don't over-roast to retain the pleasant smell.
FAQs
I guess there are still a lot of questions you may hold in your head. Let this section help you to answer those questions.
Use Your Air Fryer Properly!
Although the air fryer has multiple cooking functions, steaming is not yet possible for the machine to do. You need to carefully think before coming to an act if you don't want to damage your air fryer.
That is all my knowledge I want to share with you in this blog. Have you found your answer in it? Just tell me your feelings in the comment part below. Save and share this article with loved ones. Thank you so much!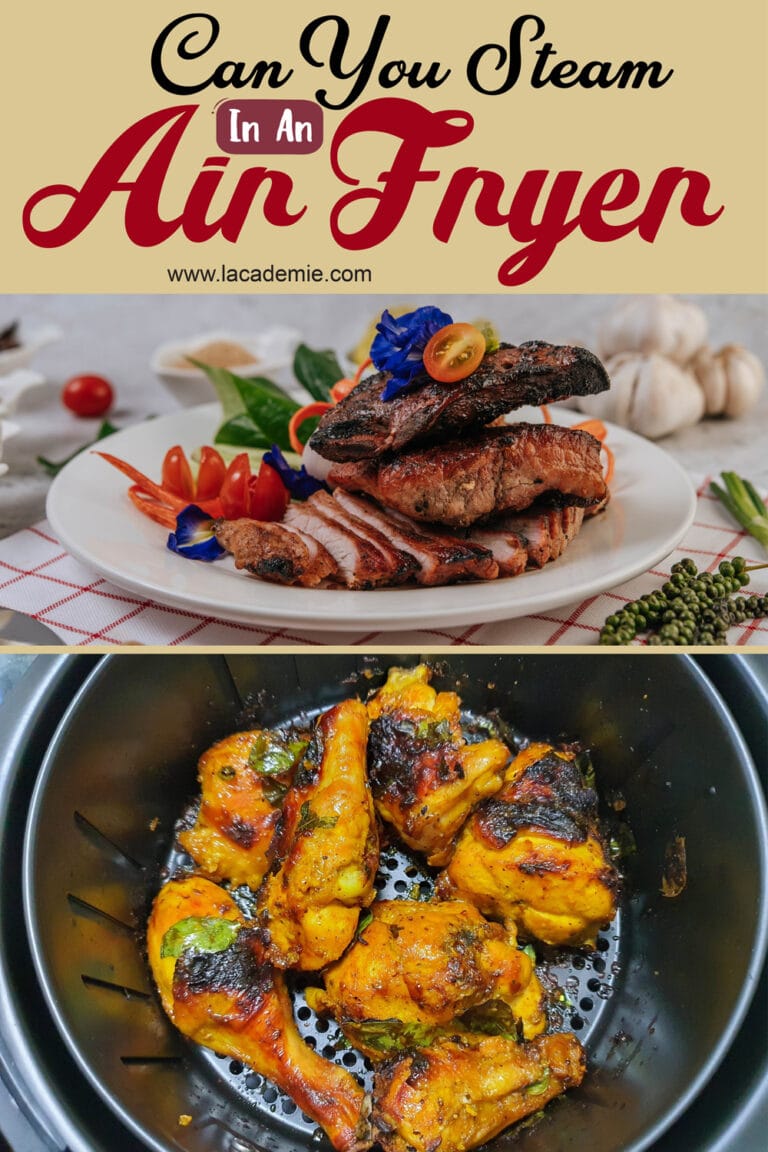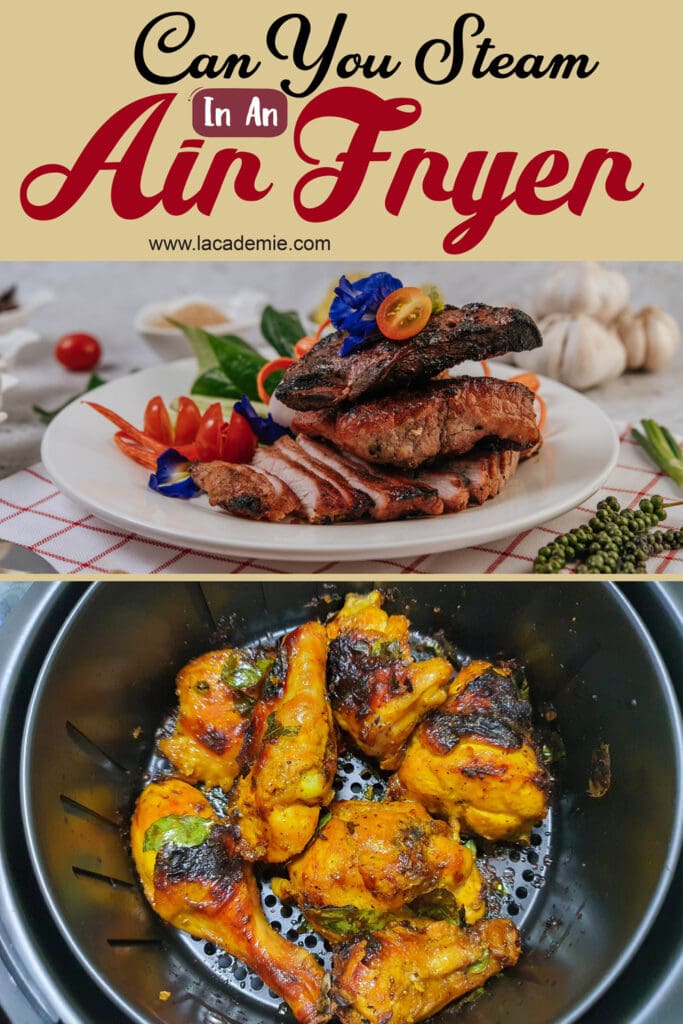 References
En.wikipedia.org. 2022. Air fryer.
En.wikipedia.org. 2022. Food steamer.
C03.apogee.net. 2022. Steamers.