How to dehydrate in an air fryer? People can dehydrate in air fryers. Of course, it can not completely replace the dehydrator in your kitchen for its unique features. So, it is crucial to understand how your air fryer works and how to utilize your air fryer to the fullest.
In this post, I will show you the information related to dehydrating in an air fryer. If you still wonder whether your air fryer can or can not do that, don't miss this blog!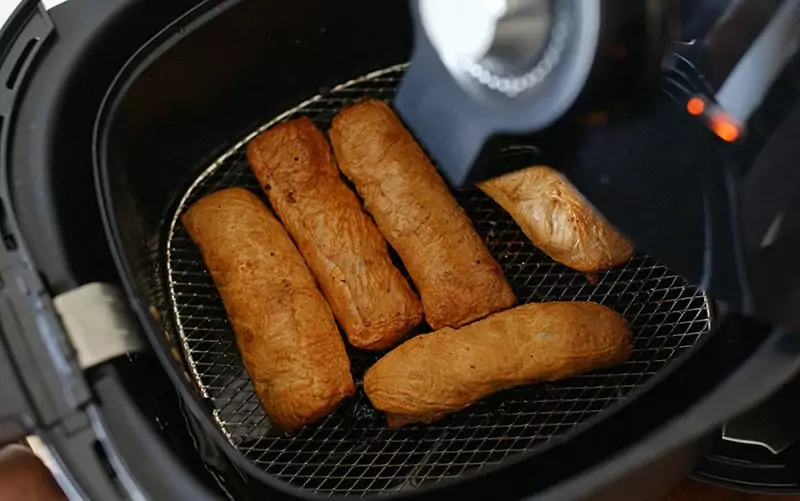 Something You Need To Know About An Air Fryer
The first air fryer made its debut in 2010. This new creation aims to make healthy food by not using cooking oil. Despite a big gap between air fryers and convection ovens, many people still consider the former a modern version of the latter.
Usually, an air fryer looks like a barrel. It comes with a handled basket, a removable drawer, a fan system with the heating mechanism on the top section, and a digital or manual control panel.
The machine starts working when the heating mechanism releases radiant heat around the food space. Then the fan will circulate that super-hot air. The rapid heat movement will make the food complete-fried without using oil.
The maximum temperature inside the basket usually depends on the different models of air fryers. But some air fryers could create a temperature of more than 400°F to fry food. (1)
In addition to frying, some homecooks also wonder if they can use an air fryer for steaming food. While modern air fryers come with many functions, steaming typically isn't one of them.
Discover the air fryer's components with this maintenance instruction.
Why Can I Use An Air Fryer To Dehydrate Food?
The key reason making an air fryer can dehydrate food is the heating mechanism, which spreads the super-hot air around the food. At the different temperature levels, the air fryer's function will not be the same.
At a temperature up to 400oF, the super-hot air plays the role of spoiled oil circulating that air to fry them. But at a temperature from 120 to 140oF, it will dehydrate the food.
What Makes A Good Air Fryer For Dehydrating?
Air fryers do dehydrate food, but not all of them can do it best. Keep reading to know some important aspects when choosing an air fryer that does dehydration well.
Quality
Many types of air fryers are available in stock. The higher the quality is, the better the dehydrating function does. Choose the one that fits your needs. I don't recommend you choose the price over the quality.
Designs & Capacity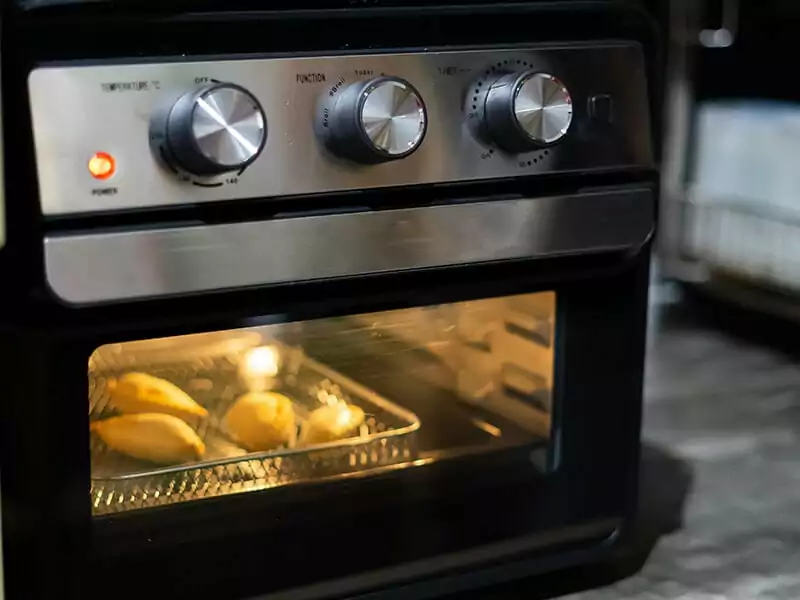 The air fryer's capacity is also noticeable in some cases. If the food quantity is plenty, your air fryer needs a big food capacity to save money on buying dehydrators. I suggest buying the oven-type air fryer because it includes many trays and racks for placing food.
A good ventilation system plays an important role. When dehydrating, the food moisture will come out. If not, it becomes trapped. Check the vents carefully with the merchants before purchasing.
Last but not least, the control panel is a must-have in your air fryer. This is beneficial to choose the right dehydrating time and degree.
Temperature & Time Consumption
Dehydration requires a long period (up to 36 hours) to finish the food. And the best dehydration temperature is 140oF (depending on a specific food kind). (2)
For air fryer dehydration, the temperature should be lower than 123oF. Remember, if the temperature goes higher than that, it is cooking, not drying.
Most recent air fryers can run up to hours. You should choose a model that allows the dehydration mode to work as long as possible.
The Significances Of Dehydrating Food
Dehydration method was applied to preserve food a long time ago. In the past, people utilized the heat of the sunray to remove moisture and harmful components out of the food. Currently, the invention of new cooking devices makes that method more efficient.
There are numerous benefits of dehydrating food:
Fewer Costs
Dehydration helps save money. Foods like fruits and vegetables are perishable, and people tend to buy them in bulk, so it is wasted if you don't know how to preserve them. The air fryer with the dehydration function has solved this problem.
High Food Quality
Dehydrated foods remain natural key nutritional components without using chemical preservative substances.
The dehydration method can maintain and improve the food taste in some cases. For example, dehydration can sweeten your fruits, although some do not have a naturally sweet taste.
Long Lifespans
Dehydrated foods are moisture-free. By removing water content from them, mold and bacteria are unable to grow. They only require proper environmental conditions and temperature to store for an extended time (months to a few years).
Convenience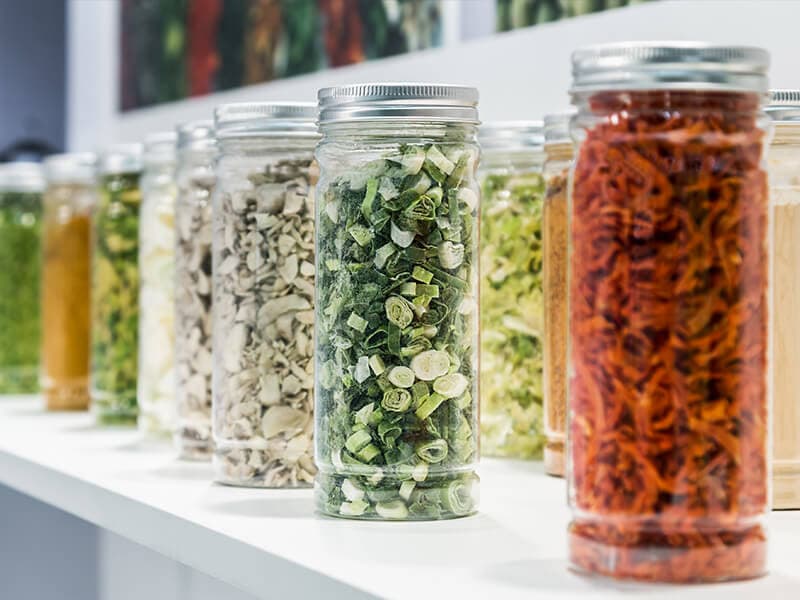 The dehydrating method also reduces the food weight and size, which benefits the product packaging process and transportation costs. Besides, dehydrated foods are easy to carry for travelers.
Healthy Lifestyle Encouragement
By not using oil, dehydration produces healthy meals. Since the process is simple and quickly finished, it encourages people to cook at home so that they can enjoy a good time with family.
What Food Types Can I Dehydrate In An Air Fryer?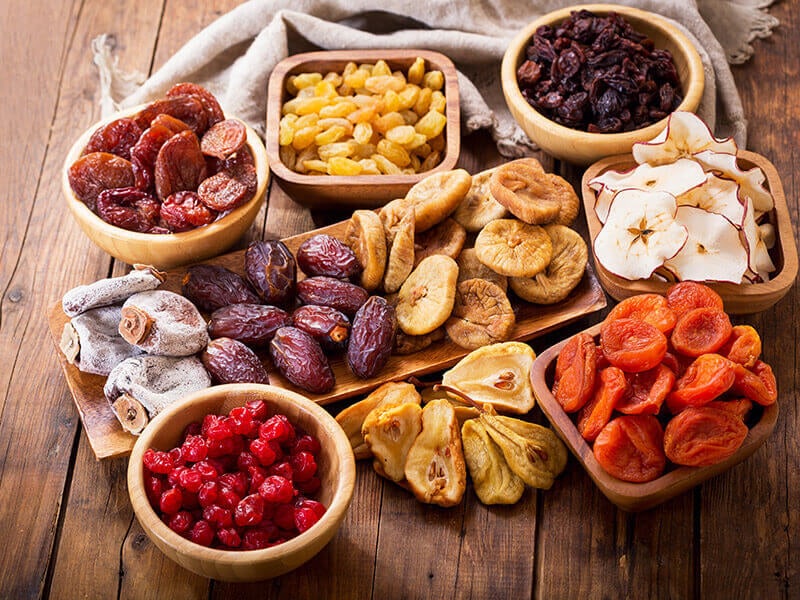 Although air fryers accept unlimited types of food, the dehydration function only allows limited food input to have the best food output, also avoids damage problems. Some typical items you can dehydrate in your air fryer like:
Fruits & vegetables: bananas, apples, mangoes, berries, carrots, tomatoes, peppers, banana chips, apricot chips, mushrooms, and so on.
Meat jerky: chicken, beef, and venison.
Herbs & nuts: parsley, basil, peanuts, almonds, and so on.
How To Dehydrate Food In An Air Fryer
The air fryer is a multiple-purpose cooking machine, while the dehydrator is only good at one function. It is too broad to answer how to dehydrate in an air fryer, yet I have listed some general steps:
Step 1: Preparation
Food pretreatment is important because you can't dehydrate a raw apple or a big banana. Remember to wash all ingredients from the start.
Then, slice or cut them into thin pieces. You can make whatever shapes you desire. The small or thin pieces will be easy to dehydrate. Don't make foods like venison and beef too thin to avoid getting burned.
Step 2: Flavoring Food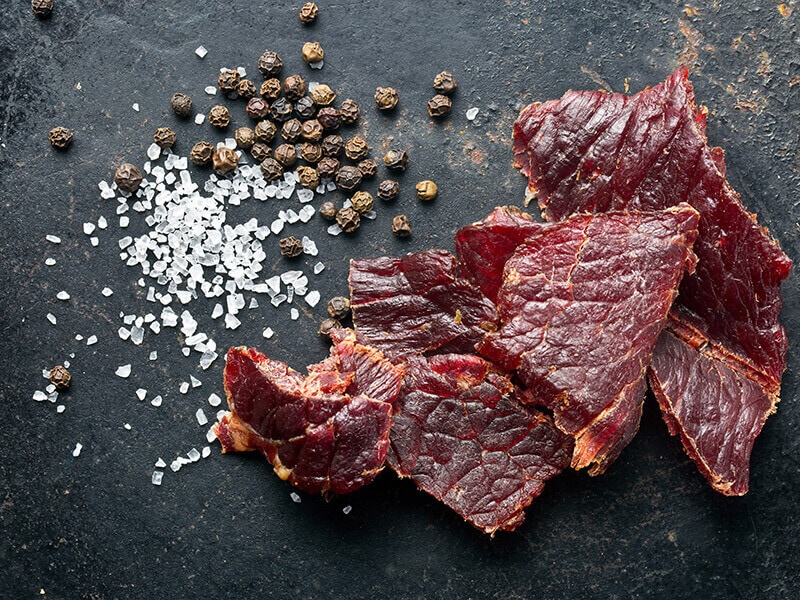 If you find industrial food taste boring, this step will allow you to show you creativity.
For the jerky, you can add wine or soybean sauce, peppers, garlic powder, salt, and some optional sauces. Don't add too much salt, it could make the jerky hard to eat.
For fruits, you should brush lemon juice for banana and apple chips to avoid browning. If you want to improve the smell, cinnamon is recommended. Do not add any oils.
For vegetables, sea salt will make your carrots or curly kales tastier.
Step 3: Placing Food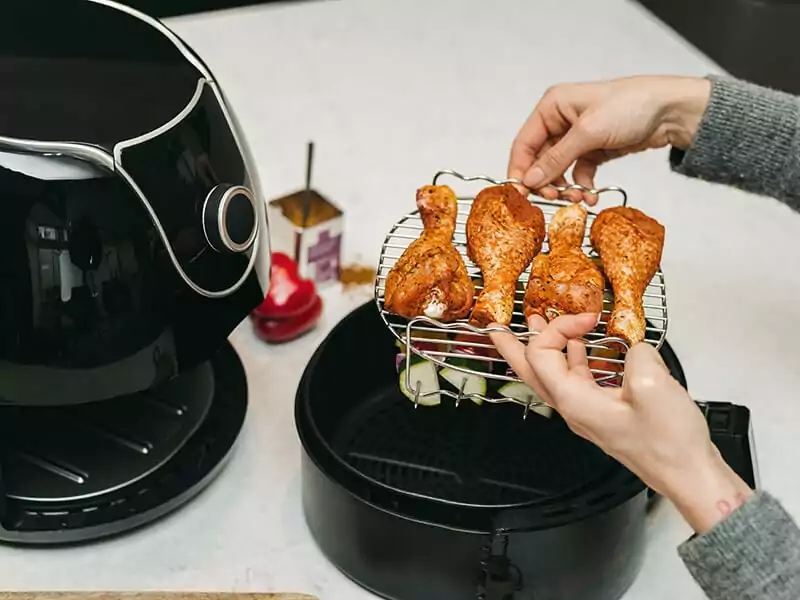 Spread food in a single layer on the basket or each air fryer's trays (in some models).
Ensure that the crease divider is in position to enable air to flow around and underneath the food. Make some space between each food slice to allow proper airflow circulation.
If you don't follow this step, you can end up with half dehydrated food, which will be unpleasant to eat.
Step 4: Setting Up
Depending on the food types, choose the time and temperature accordingly. After finishing the setup, simply place the food in the air fryer, and let it do its job.
Don't interrupt the dehydrating process by removing the trays or basket too frequently; instead, check it periodically.
Step 5: Enjoy Your Meal!
Just enjoy your result and do some storage processes for the leftovers. Keep reading to know exactly how to preserve dehydrated food in the tips below.
Let's learn more about dehydrating in air fryers.
Tips For The Best Dehydration In Your Air Fryer
Although your air fryer can dehydrate food, it is not only its main function. To have your air fryer best at dehydrating, please notice some factors below:
Right Temperature And Time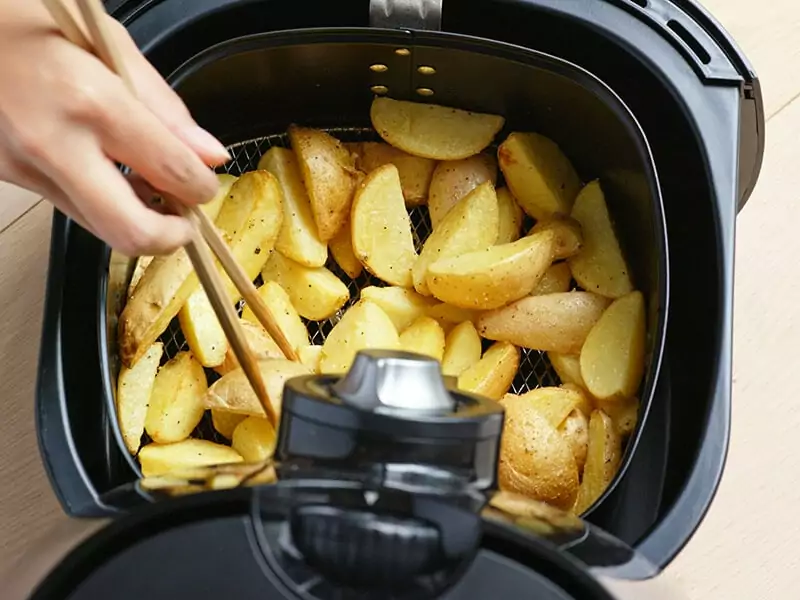 If you increase the heat to hasten dehydration time, it can cause your food to spoil before finishing.
Use drying recipes for dehydrators if you have one. If not, just start drying at the lowest temperature of the air fryer and adjust based on your preferences.
Good Preparation
Prep is necessary. Wash carefully, pat foods dry, and slice them into the same size and thickness. Some foods and fruits are easily oxidant, so I suggest spraying citrus juice (lemon or lime) over them to avoid being brown.
Avoid stacking your foods. Spread them into a single layer in each food tray. By doing that, the food can be dried evenly.
Preheating step helps you check your air fryer if it's problem-free, and the dehydration could work smoothly. Also, I suggest preparing items that demand the same temperature and time consumption.
Frequent Rechecking Food
If your food items are not crunchy and hard, still sticky, you must keep dehydrating. Consistent rechecking to know whether your food is completely dehydrated or not.
Storing Afterwards
You can not store the food right after dehydrating. Keep them cool at room temperature, and far away from moisture, light, and heat. After that, use airtight boxes or zipped bags to seal the food and put them in a cool, dry, and dark pantry.
Recommended Recipes
To know exactly how to dehydrate each type of food, I am going to recommend to you some examples of my cooking recipes. Keep reading to find your favorite.
Beef Jerky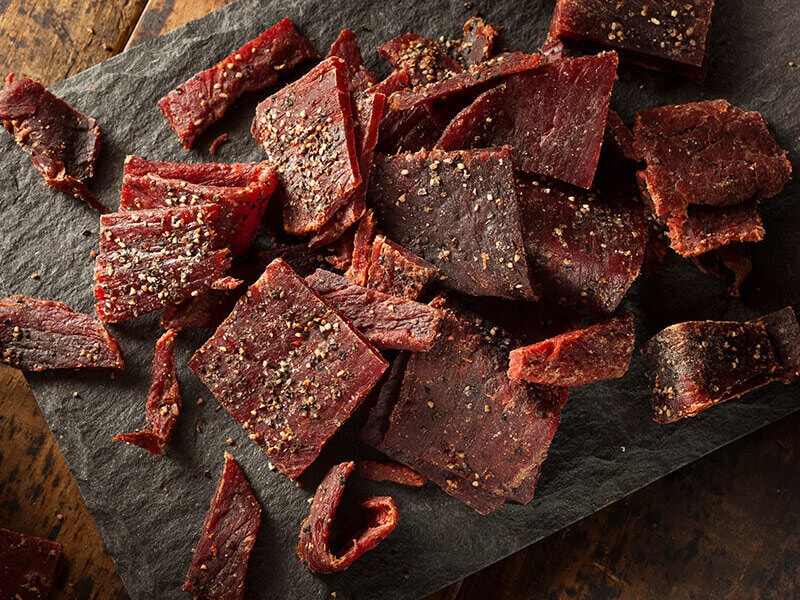 It is said that buying beef jerky at stores is expensive, and not tasty sometimes. If you have leftover beef meat leftover in your kitchen, now follow the steps below to make homemade beef jerky with your air fryer:
Ingredients: ½ lb brown sugar, 3 cups soybean sauce, 3-5 lbs beef meat.
Step 1: Slice the meat thinly enough into what shapes you like.
Step 2: Combine all the above ingredients to make a mixture, and let it sit for 15 minutes.
Step 3: Dissolve the brown sugar. Pour the mixture into the dissolved sugar, mix well, and cover it. Put it in the fridge for 10 minutes.
Step 4: Place the beef meat onto the trays.
Step 5: Set the temperature at 158oF and dehydrate for 24-36 hours.
Step 6: Check it occasionally during dehydration.
If you're still not sure how to make air fryer beef jerky, this instruction will help you.
Dried Bananas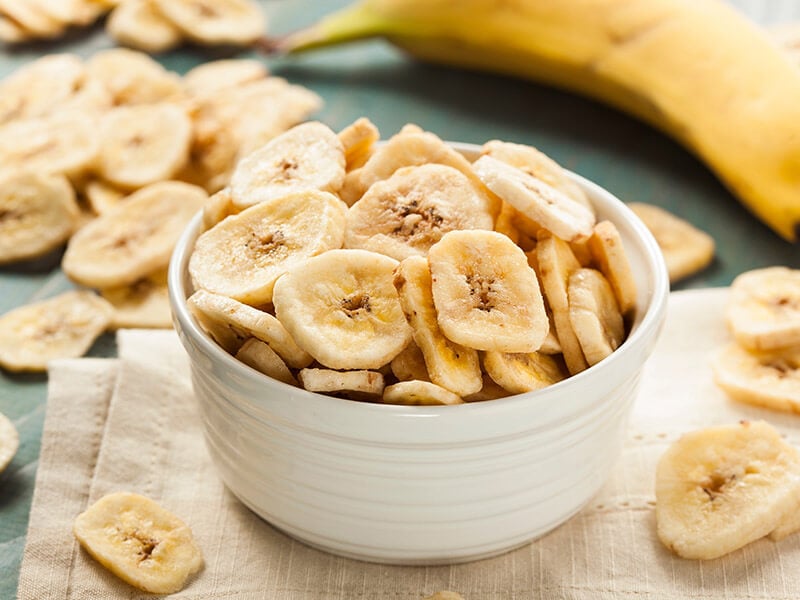 Banana is a popular fruit that provides many vital minerals for health. Dehydrated bananas still retain those key nutrients. Let's make some banana snacks for your family and yourself.
Ingredients: 5 ounces of bananas (about 1 small banana).
Step 1: Remove the skin.
Step 2: Slice the banana ⅛ inch thick in a round shape.
Step 3: Use the fresh lime juice to brush two sides of each slice.
Step 4: Lay the banana slices on the trays.
Step 5: Set the temperature at 149oF and dry in 3 hours.
Step 6: Check it sometimes during dehydration.
Check this demonstration to make dehydrated banana chips in your air fryer.
Dried Curly Kale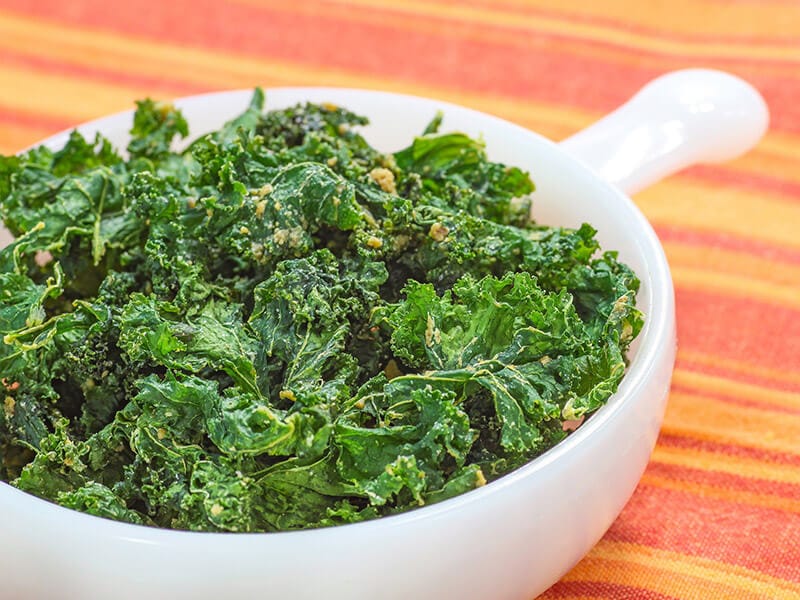 I have so many kale recipes. Today, I would like to share my favorite kale meal that you can save for your reference; dried curly kale. Of course, you can do it with the air fryer.
Ingredients: 3 ounces of curly kale (2 big curly kale stalks).
Step 1: Remove the stems.
Step 2: Tear the leaves into 1-2 inches pieces by hand.
Step 3: Lay the banana slices on the trays.
Step 4: Set the temperature at 175oF and dry in 1 hour.
Air Fryers Vs. Dehydrators
Both air fryers and dehydrators have their own differences based on various aspects. In this section, I would like to show you a brief comparison of these two appliances. Check it out to advance your information about them.
| Factors | Air Fryers | Dehydrators |
| --- | --- | --- |
| Function | Multiple cooking purposes | Dehydration |
| Time Consumption | Quick (depending on food types) | Slow (up to 24 hours, even more depending on food types) |
| Working Temperature | Up to 400oF (depending on food types) | 140oF (at best performance) |
| Capacity | Up to 30 liters | Up to 100 liters |
| Food Input | Meats, fish, fruits, vegetables, nuts, eggs, herbs, chips, cooked rice, noodles, etc. | Fruits, vegetables, herbs, nuts, meats & fish |
| Food Output Appearance | Oil-free fried | Dehydrated |
Best Air Fryers For Food Dehydrating
There are several air fryers that perform best at dehydrating food available in the marketplace. In this section, I'll list 4 of them.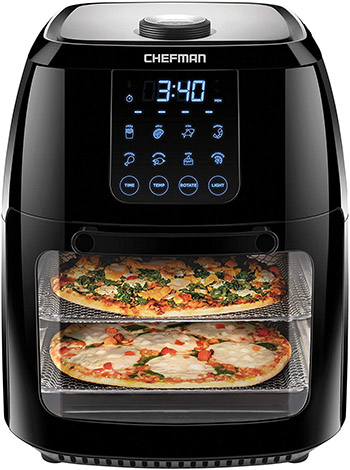 The first pick on my list is Chefman 6.3 Quarts Digital Air Fryer. It comes out 6 quarts large, so the machine will be the best choice for a family with 4 to 5 people.
The control panel is high-tech. This allows you to set the cooking temperature from 90oF to 450oF. As for the dehydrator button, the temperature range is from 112oF to 120oF, good for dehydrating fruits and vegetables.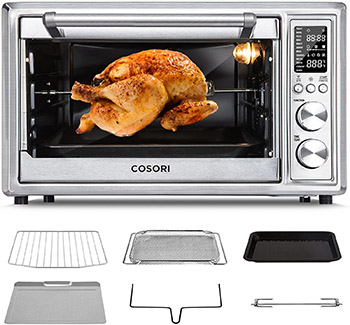 The Cosori CO130-AO Air Fryer Toaster Oven is a high digital air fryer that allows you to control it via WIFI. Luckily, there are two capacity variants, 25L and 35L, in the same price range.
The design is reliable with stainless materials. And the dehydrating temperature is from 100oF to 400oF, best for making bacon.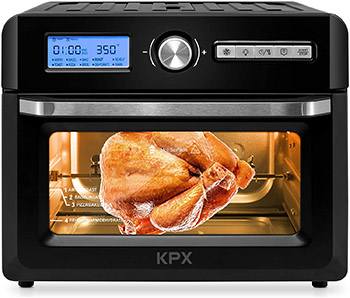 The next representative is the KPX Air Fryer Toaster Oven. The 20 quarts capacity is ideal for big families or events.
With 10 cooking functions and a wide temperature range (100oF to 450oF), this model works nicely for well-dehydrated food.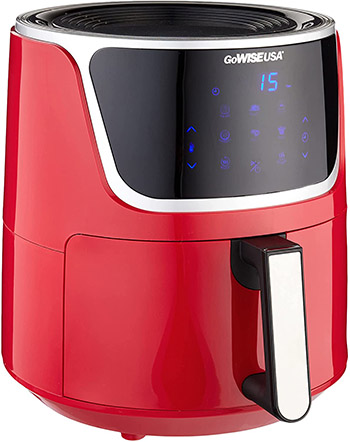 This CoWise USA 7-Quarts Electric Air Fryer is the best versatile-function air fryer under $100. It is 7-quart big with 3 stackable racks, suitable for families under 10 people. You can extend the temperature range from 90oF to 400oF.
FAQs
As always, this part is served for the most frequently asked questions. Don't miss this out!
Don't Take It Seriously!
Both air fryers and dehydrators are great cooking equipment for your kitchen. Each one has its field to show strong points. Yet, I don't choose one over the other.
Do you succeed in dehydrating food in your air fryer? Is there anything I haven't known yet? Please let me know in the comment section. And if you find my post interesting, then share it with your friends. Many thanks to my readers.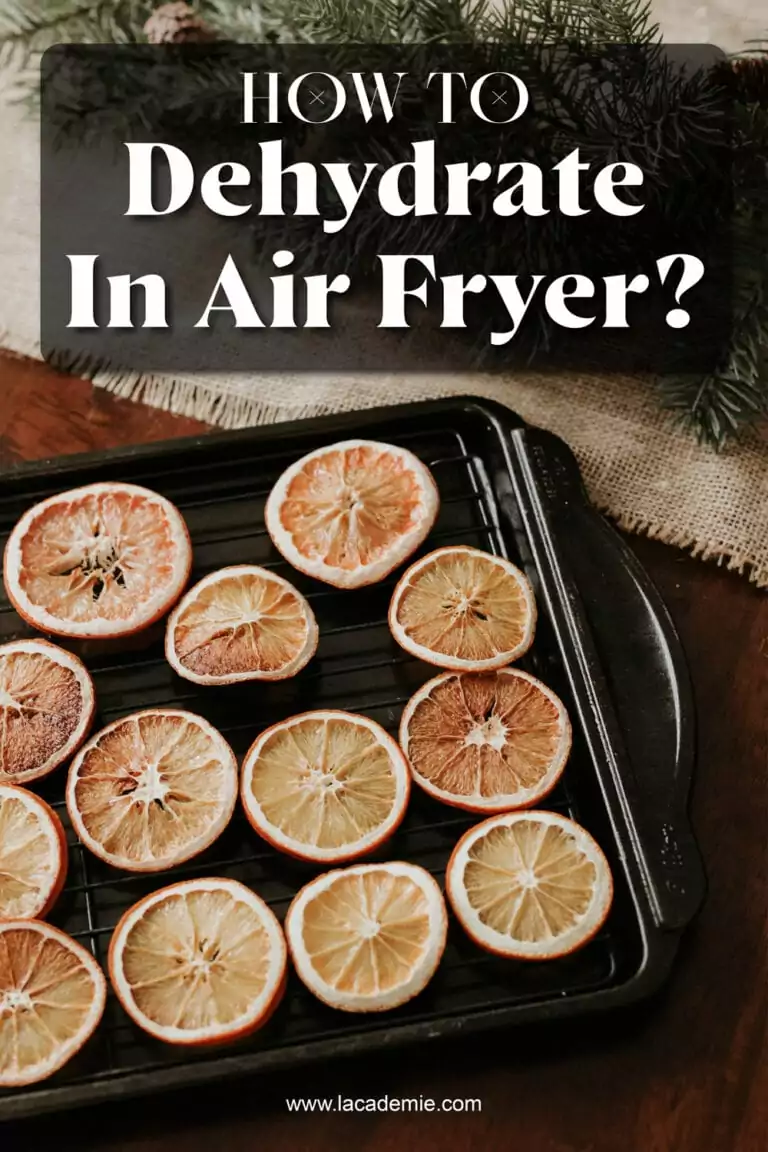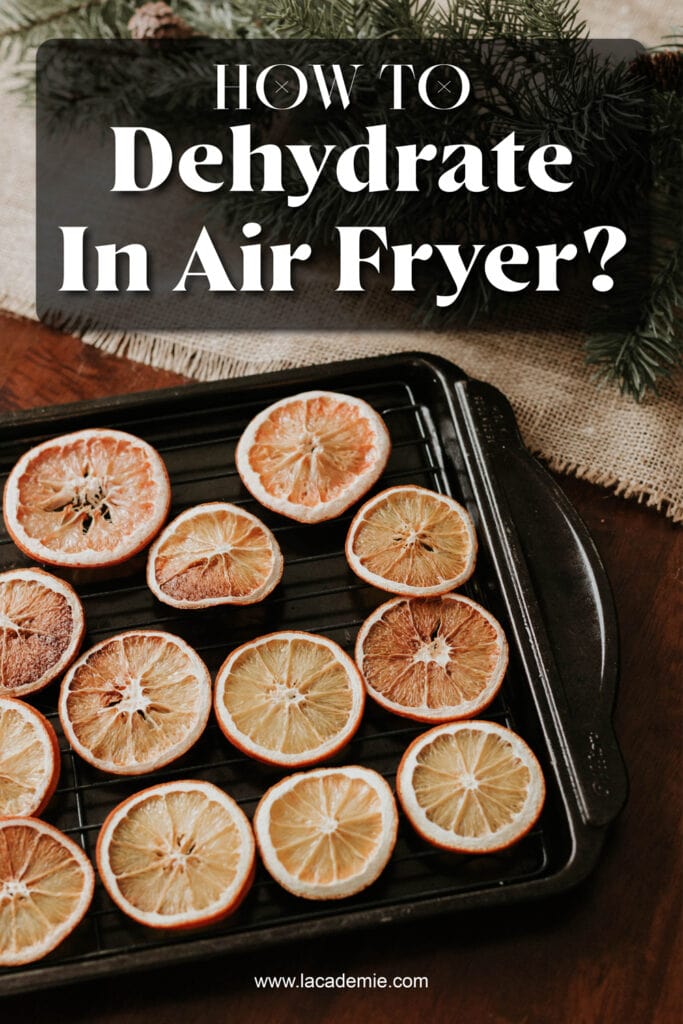 References
en.wikipedia.org. 2022. Air fryer.
Schmutz, P. and Hoyle, E., 2022. Drying Foods.