Air fryers vs. deep fryers? You don't know which fryer is appropriate in your life. So there are even more reasons for you to check this post out.
Understanding the purpose of these machines makes your time in the kitchen a lot easier. Now, all you need to do is read this article.
This article provides you with the necessary information about frying machines, such as capacity, feature, price, and recommended devices. Scrolling down to know more details and become a wise customer in choosing kitchen machines.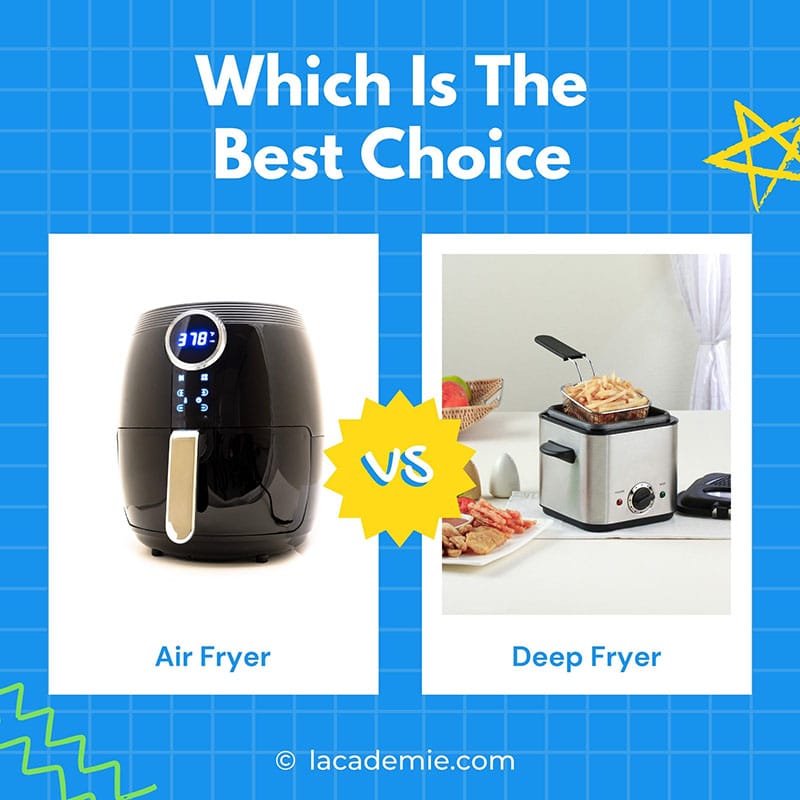 Overview About Air Fryer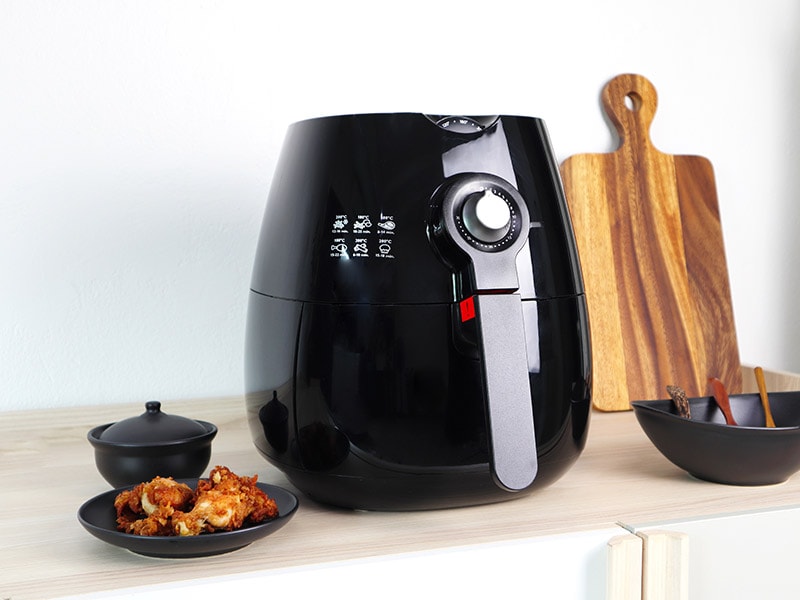 Daily, you can hear the word "air fryer" several times. There is no question about the air fryer's popularity. But for those who haven't or barely heard about it, an air fryer is similar to the oven on the baking or roasting missions, and it actually does not fry foods.
Not to mention, the upgraded model has a powerful fan located on top of the machine. That fan is the reason for your crispy food in a short time.
How Does It Work?
For you to easily imagine, that special fan corporate with a heating mechanism creates certain circulations and swiftly moves from the top to the bottom of the basket.
The rushes of circulation will impact the food down and around and give the air fryer ability to fry food without a touch of an oil drop.
Because of the combination between the heating mechanism, the fan, and the fan's placement, the cooking process of an air fryer runs quickly and evenly. One of the best things about this fryer is its removable parts are dishwasher-friendly. (1)
4 Steps To Start Using An Air Fryer
Every machine exists with a manual, and an air fryer is not an exception. I'll show you the easiest way to run an air fryer. Let's check these steps below!
Step 1: Powering Up
Place your machine in a stable position, so it doesn't affect the air fryer during the working process and plugin.
Step 2: Basket Mission
Choose suitable foods and put them in the basket of your air fryer. It would help your fryer work better. Then, pull the basket back inside.
Step 3: Choosing Temperature
Setting the temperature is very important. The air fryer's cooking times and temperatures are officially from 5 to 20 minutes at 350 F degrees to 400 F degrees, depending on your chosen food.
Step 4: Let's Cook
After hitting the initiate button, sometimes, you have to flip the foods to avoid burning them accidentally.
This instruction will teach you how to operate an air fryer in several simple steps.
4 Types Of Air Fryer
Nowadays, there are a variety of air fryers. I will show you 4 types of model air fryers available in the market.
Cylindrical Basket Air Fryer
The name of it tells you what it looks like. It includes a drawer with a removable basket. The highlight features are preheating in literally 2 minutes and giving more space to cook.
The drawbacks of this type are capacity and functionality. This air fryer is designed to cook for a single function. If you want to have a multiple-function air fryer, you should consider other types. In addition, you have to cook in batches if you have a big party.
Basket Type Air Fryer
This air fryer is typically similar to the one above. But it has many tiny holes, playing a role as a drain, so hot air can flow and heat the food inside. This design prevents your food from absorbing too much oil.
Oven Air Fryer
Many people compare air fryers and toaster ovens. But have you thought of combining these two into one? I can say this is the progress of the basket air fryer. The racks feature a crisper and baking tray in place, which is the lacks of a cylindrical basket air fryer.
More than that, oven air fryers are multiple function machines. You can bake, broil, grill, fry, toast, roast,… with a single oven air fryer. Plus, it has a glass cover on the front, allowing you to watch the food cooking process.
Two drawbacks of this genius are it takes a long time to preheat entirely and consumes a big place in your kitchen.
Paddle Type Air Fryer
This fryer is for a busy mind cooker. The other fryer might not cook the food evenly without flipping. This type of specialty is the automatically-flipping function, the paddle inside moves across the basket to drain the circulation and touch the food equally.
A plus point in this type is you can remove the paddle to have more space if you want to.
Overview Of Deep Fryer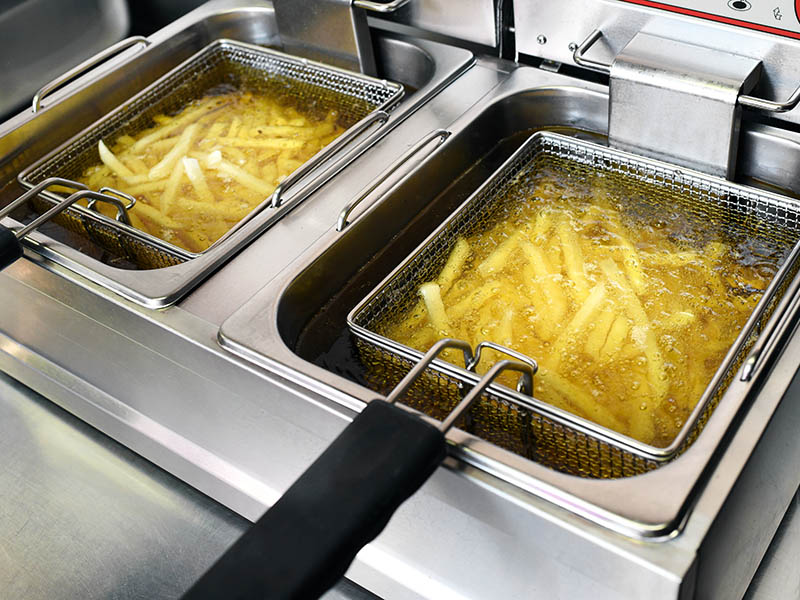 If you are a crispy fried food fan, a deep fryer is not strange to you, right? A deep fryer is a kitchen appliance used for frying food by dipping it under a vat of hot oil.
Three Main Types Of Deep Fryer
Nowadays, there are several types of deep fryers. Here, I introduce to you three main types of deep fryers. Note for you, the deep fryer has two sources of power: electricity and gas.
Tube Deep Fryer
This fryer is designed with tubes located right on the bottom of the machine. These tubes will heat the oil for you.
The power from the source goes through the tubes and makes it hot to boil the oil. They also have a cooler under the tubes for sediments. This allows small pieces of food to make their way to a cooler area away from the hot oil above, thus helping maintain the oil quality.
One drawback of this fryer is the tube makes cleaning more difficult. The significant feature is also the drawback. What a funny realization!
Open Pot Deep Fryer
Open pot deep fryer is flexible in choosing power sources. It can be heated by either gas or electricity. This fryer has a heating system surrounding the bottom of the machine to heat the base and boil the oil.
Like the tube deep fryer, an open pot fryer has a zone for sediment to settle out from the hot oil, avoiding burnt food and keeping the oil clean.
Flat Bottom Deep Fryer
The difference between this type and the others is it doesn't have a sediment zone. I assure you that the flat bottom deep fryer offers to cook slight food like French fry or tacos, etc.
You can cook everything with a deep fryer.
Comparison Between Air Fryer And Deep Fryer
After learning some basic information, it is easy to indicate the similarities and dissimilarities between an air fryer and a deep fryer. But the comparison below will fulfill your knowledge about these machines.
3 Similarities Between Air Fryers And Deep Fryer
Apparently, their name shows you they are relatives, aren't they? Theoretically, the answer is yes. They are both fryers, so they have some in common.
Purpose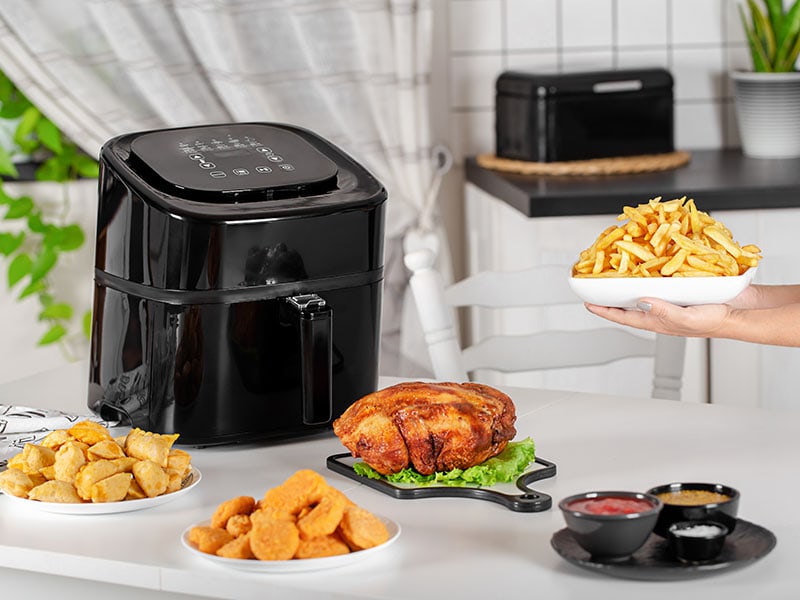 The main duty of these two machines is to help people prepare meals. Truly, they fry food. This is the first similarity between these two.
Convenience
They are claimed to be machines, so obviously, they make life easier. You are afraid of frying food on the pan. The flashes of hot oil can hurt you and stick to your kitchen as a stubborn stain. The machine helps you avoid flashing oil, frying food faster and effortlessly.
Maintenance
For years, an air fryer and deep fryer can be your companion in the kitchen if you know how to keep it good. I suggest 6 months for an entire check and cleaning up after a single use of the time to retain the good qualities of your machine as long as possible.
8 Differences Between These Machines Will Blow Up Your Mind
Despite the similarity, there are reasons for these machines to stand for different names. I will indicate some vital differences between them, which is the main purpose of this article.
This board will give you a quick skim about the differences between an air fryer and a deep fryer. Scroll down to have the full information!
The differences
Air fryer
Deep fryer
Texture of the food
A bit dryer and easily overcook
Original taste of fried food and easy to avoid overcooking
Health care

Versatility

A lot of cooking styles

Incapable of cooking wet batter

Only frying function

Good at cooking wet batter

Cooking time

Faster in preheating

Slower in cook time

Slower in preheating

Faster in cook time

Cleaning
Effortlessly

Take a lot of time

Dealing with used oil

Price

Around 60 dollars to 130 dollars

Low operating cost

From 30 dollars up to 700 dollars

High operating cost

Safety
No more hot oil splashes
Hot oil splashing
Size
Small size
Big size
Food's Taste And Texture
The texture of foods coming out from air fryers and deep fryers can be different if you pay attention to small details.
First, foods prepared with air fryers have a bigger chance of being burnt than deep fryers. Besides, they are quite dry and fragile. But you can add a bit of oil to make them better.
On the other hand, a fan of fried food will love this from the deep fryer. The direct impact of oil on the food makes it taste like original fried food, soft inside and crunchy outside. If your priority is taste, you should choose a deep fryer.
This video describes exactly how the food tastes from air fryers and deep fryers!
Health Care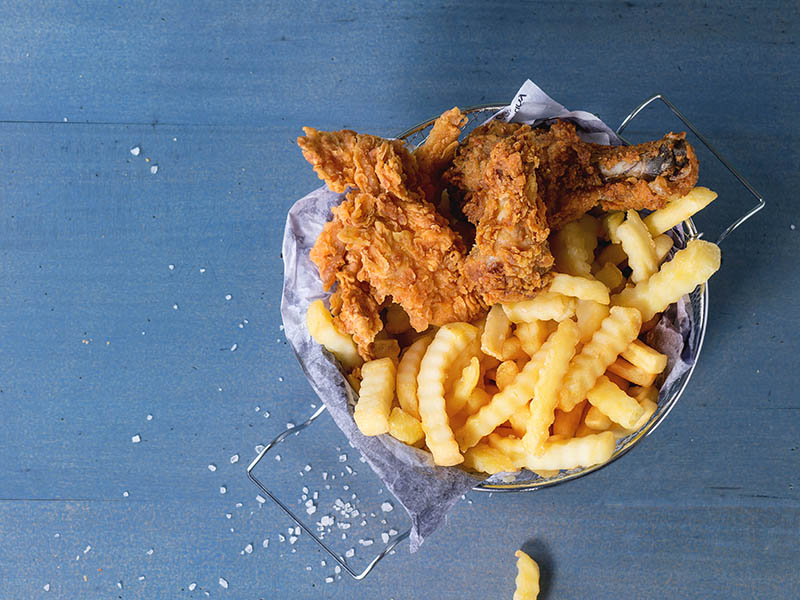 Air fryer is recommended for health care because it cooks the food by hot air rushes. So, the food coming from an air fryer is theoretically good for health or costs no negative impact on your body. If you want to know more, there are tons of Keto dishes that your air fryer can produce.
Deep fryer's foods are covered entirely in hot oil, so they absorb tons of oil, meaning the calorie content is higher than ever. If you consume these foods for a long time, they could cause various diseases, such as obesity, heart attack or stroke, diabetes, etc. (2)
If your priority is health care, I suggest you go for an air fryer.
Versatility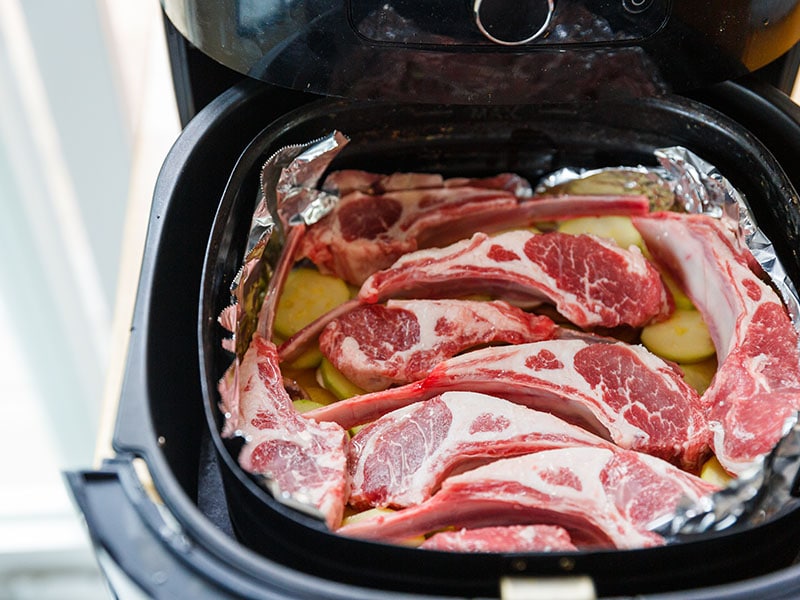 Back to the main purpose, two machines are used for helping in the kitchen. Air fryers have some advantages in this field, as with one model air fryer. You can bake, broil, roast, fry,… your food. Do you know that there are various ways to reheat pizza with your air fryer?
At the same time, a deep fryer can only fry food. But, there are some recipes that air fryers cannot cook, such as foods with wet batter. These foods can only be cooked with deep fryers, such as corn dog, doughnut, batter-fried chicken, etc.
Cooking Time
Cooking time is a very required element of choosing a machine. As I said, both need a preheat period for the best result.
The air fryer only needs 2 to 5 minutes to preheat, while the deep fryer takes around 10 minutes to complete. Clearly, the deep fryer requires more time to heat the oil.
How about cooking time? For example, how long does it take to fry a fish in a deep fryer and an air fryer? Hot air takes longer to cook foods than hot oil as the latter needs 3 to 5 minutes to finish cooking. In contrast, hot air requires 10 to 20 minutes. So, it's one plus point for deep fryers.
Cleaning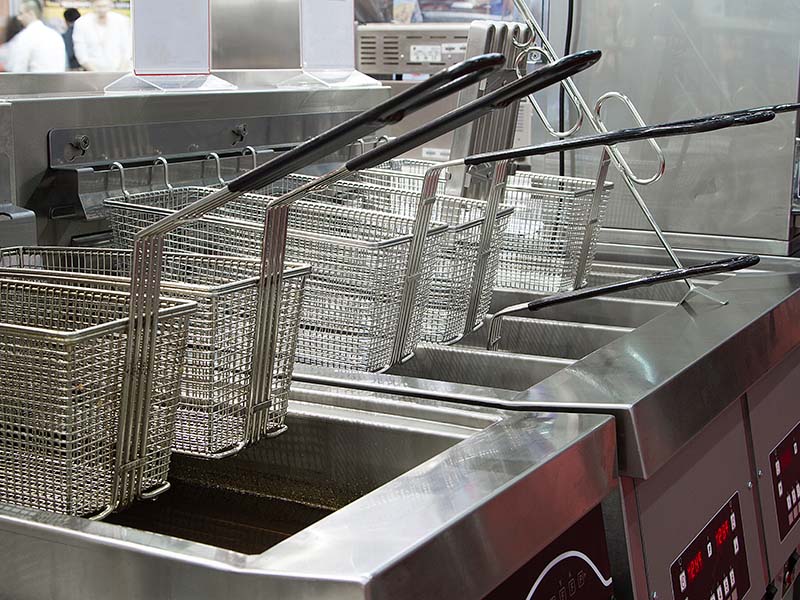 Thanks to the removable part of an air fryer, it is easy to clean it up. You can take out the basket, soak it in water, and remove the stains in the machine effortlessly.
Besides, the basket of air fryers is non-stick, so it is easy to deal with paper towels. Because of their small size, the air fryers take less effort in cleaning than deep fryers.
About the deep fryer, it will take a lot of effort to clean the whole base with oil lying around on the edges. Deep fryers need to be cleaned daily and carefully. Otherwise, your food will have a bad smell after frying.
Dealing with the used oil is such a big problem since a single deep fryer needs a vat of oil to run. The only option is to pour it into the recycling container.
Cleaning the air fryer seems easy in this video. Just by 5 steps, you are done!
Price
Problems related to price could turn the situation upside down! It seems like deep fryers are more expensive than air fryers because they are bigger. But in fact, most air fryers tend to cost more because they are equipped with cutting-edge technology or innovative frying systems.
A regular air fryer should be around 60 dollars to 130 dollars, while the best ones can cost you nearly 200 dollars. But it's worth your money because of its low operating cost.
In this section, a deep fryer is more varied. The cost of a deep fryer can start from a small number like 30 dollars and go up to 700 dollars. However, you have to deal with the operating cost later.
Safety
To some people, safety is even more important than other factors in purchasing a machine. The air fryer's power source is electricity, and the deep fryer's energy sources are either gas or electricity. They both have hazards.
Most people are afraid of frying because of oil splashes. With an air fryer, you will say no to hot oil splashes. On the other side, deep fryers stand a big chance to splash out the hot oil. It could hurt you.
In addition, burning oil can cause a fire if you unconsciously leave the boiled oil there. Aside from this, both devices stand the same chances of causing an electrical fire as they are electrical machines. So, remember to plug out after using either of them.
Size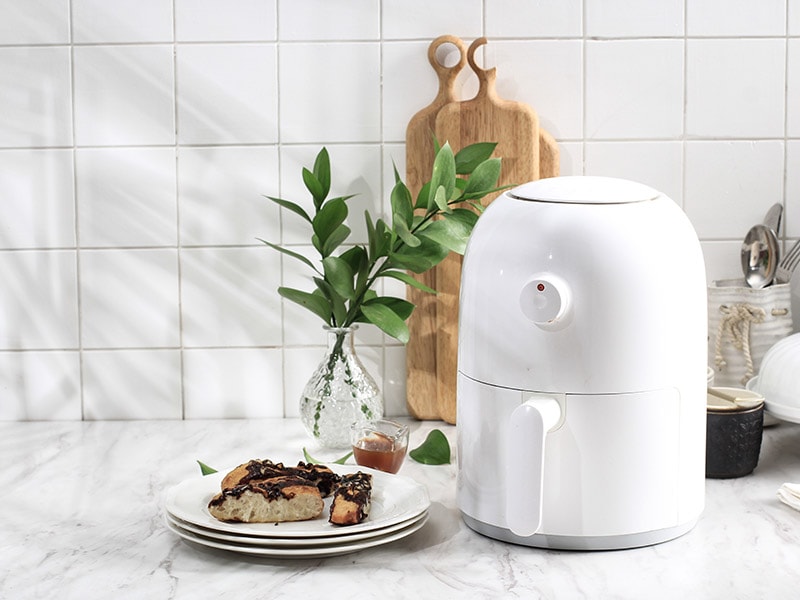 The term of these machines could be the main reason why you hesitate to buy them. Air fryers come in small sizes, fitting perfectly in small spaces.
On the other hand, deep fryers are quite big compared to air fryers. Thus, you have to check your kitchen beforehand to choose which fryer is suitable.
Tips For Choosing The Suitable Fryer
No matter what kind of machine it is, before purchasing a thing you need to know all the necessary information, from that you would determine which is the best for you.
Purpose
First, you have to define what you will do with this machine. What are your demands for this fryer?
If you only want to serve a dinner meal for your family, an air fryer is suitable for the healthy factor. In contrast, a deep fryer is also a nicer choice for a restaurant. It can cook lots of foods simultaneously, so you don't have to divide your foods into smaller batches.
Cooking Capacity
As you know, a deep fryer is only capable of frying. But an air fryer can do more than that. It'll make your meal interesting with more dishes.
Deep fryers might only be good at frying, but this is its greatest strength. Foods from deep fryers taste delicious, especially wet batter dishes.
Price
It is a lack of consideration if I don't mention the price here. Don't be so economized and receive a low-standard machine that could go wrong while using. Choose a reliable brand to buy your fryer.
Recommended Air Fryer And Deep Fryer
You intended to buy a fryer after reading this article, I got you back! Here is the list of the best air fryers and deep fryers. You should have a look.
5 Best Air Fryers To Buy In 2023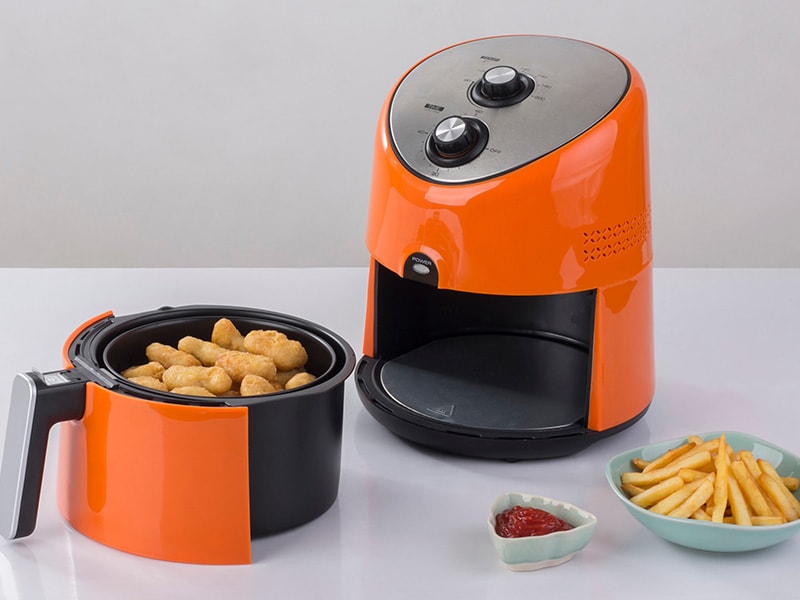 Because of the air fryer's popularity, many types of them are available in the market. If you intend to upgrade your kitchen, I have the best air fryers for you.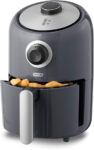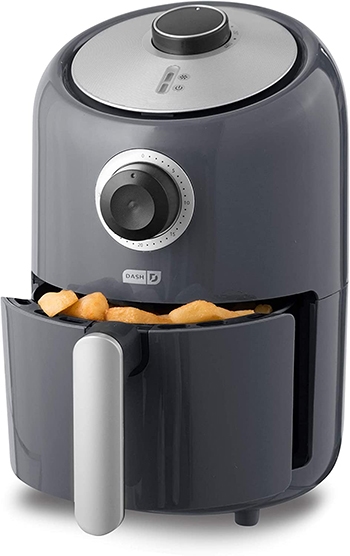 This air fryer is a must-have if you want a high-quality air fryer under $100. Only weighing as half as a regular fryer, it's suitable for small kitchens, college dorm life, or traveling. Plus, the design is sleek and trendy, with many colors for you to choose from.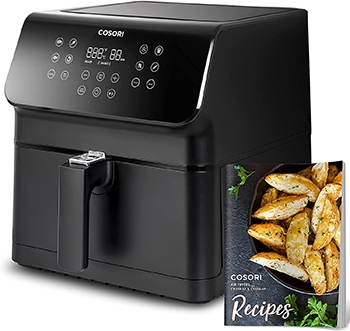 This design has non-stick square baskets with 12 cooking functions that come with a shake reminder to flip or shake food halfway through cooking.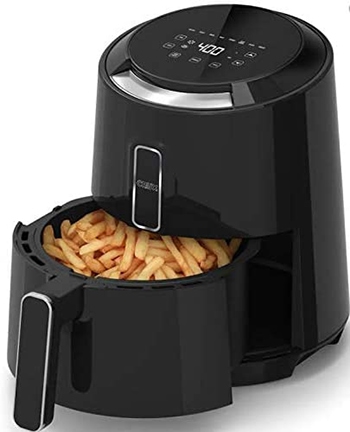 This machine is equipped with a touchscreen control panel and 1400 watts of power to decrease your cooking time effectively.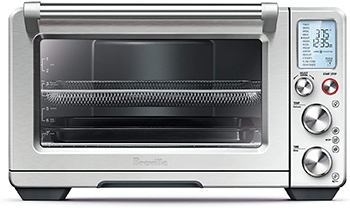 Super convection provides greater air circulation and is perfect for air frying, dehydrating, and roasting. Also, this machine comes with a microwave shape, making it easy to check on your food.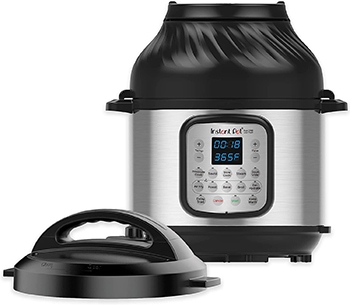 New functions such as cooking rice, making yogurt, steamer,… make it one of the most suitable air fryers for a 4-person family. You will have more options in daily food meals.
5 Best Deep Fryer Options In 2023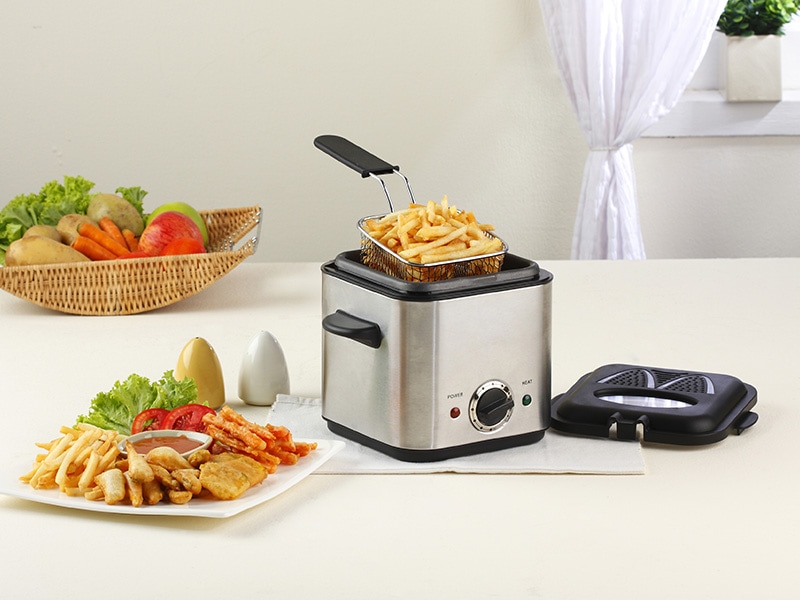 The best deep fryers for purchasing are all here now. I recommend the 5 best deep fryers! You can make fried foods with restaurant quality right at your home with them!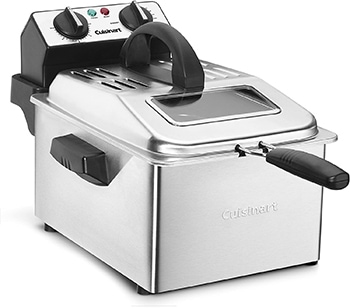 It has a large 4-quart capacity and can cook up to 2, 3-pound food. It also comes with stainless mesh and a cool-touch handle. This device is perfect for frying chicken, potatoes, seafood, etc.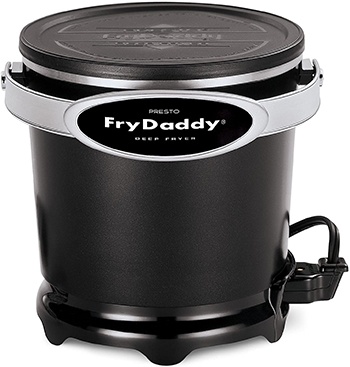 The machine has a non-stick surface inside and out. Its greatest function is saving oil as it only needs 4 cups of oil for 4 big servings. More than that, the fryer is equipped with handy scoop lifts and drains.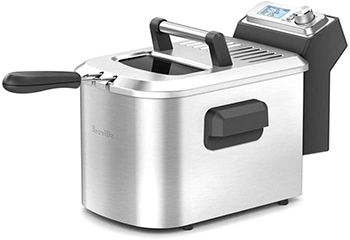 The first fryer has a twice-cooked function for super crispy French fries. Its powerful immersed 1800W element helps recover the temperature quickly.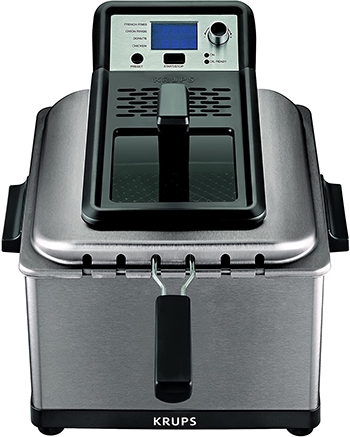 This one has three frying baskets, suitable for cooking different dishes at the same time. It also comes with 4 preset functions to adjust time and temperature.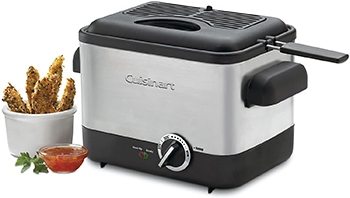 About this fryer, the basket holds up to ¾ pound. The Cuisinart Compact Deep Fryer's bowl is attached with a heating element for super-fast heating. The brand assures 3 years of warranty.
FAQs
After all the differences and similarities above, I see you might have other questions regarding this topic. So, you may need to read this section to release your mind.
Air Fryer And Deep Fryer Are Very Useful For Cooking
The undeniable fact is both air fryers and deep fryers are very handy in the kitchen. Each of those has its purpose. If you love fried foods and don't have any health concerns, you go straight to the deep fryer, and an air fryer is a good machine for health care.
After all the information I provided to you, I hope that you will understand more about frying machines and make a good decision in purchasing. Be a wise customer! Thank you for your attention.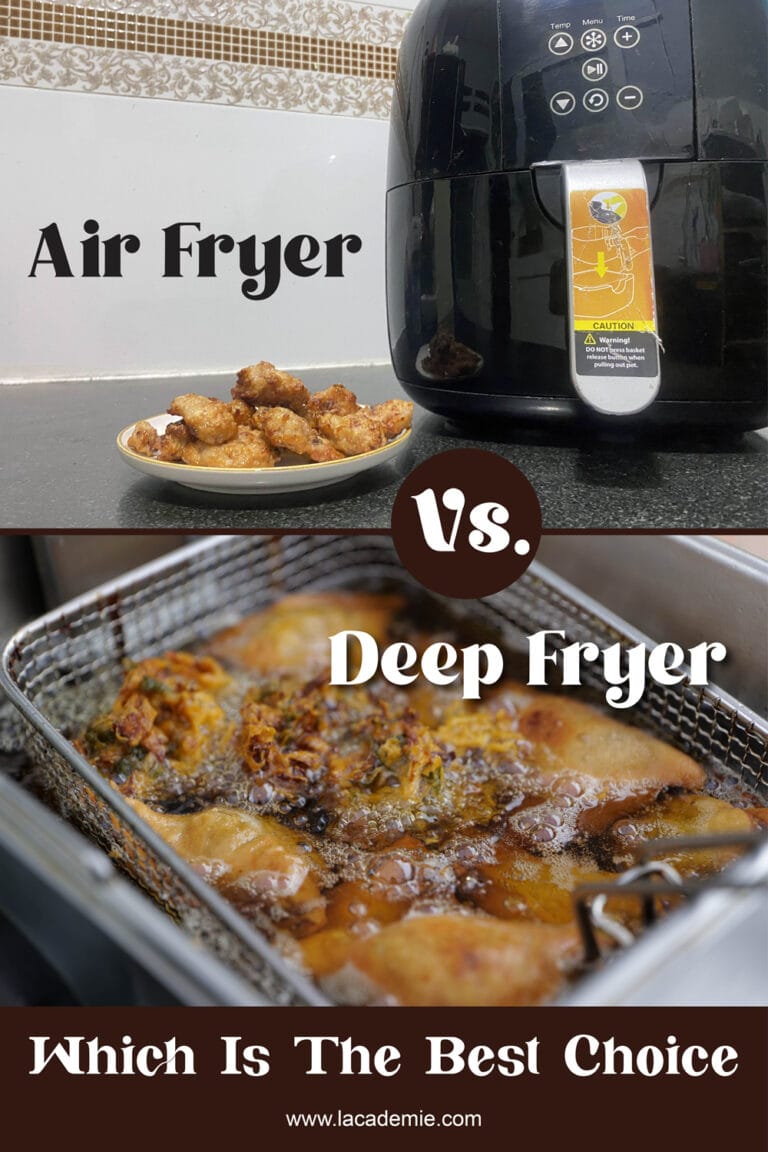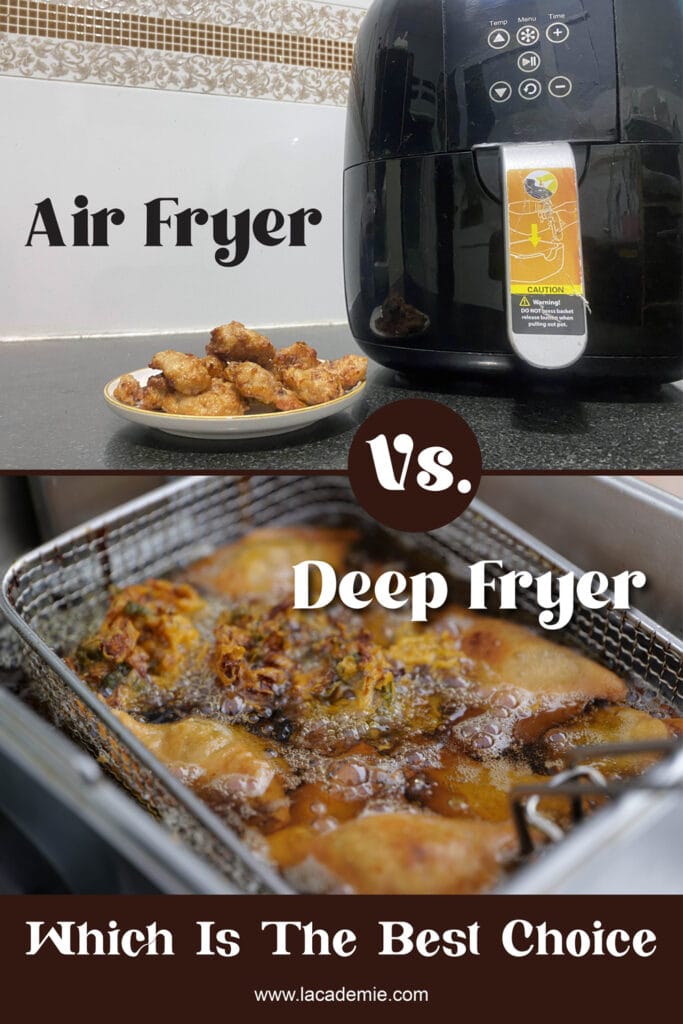 References
En.wikipedia.org. 2022. Air fryer – Wikipedia.
Eatthis.com. 2022. Dangerous Side Effects of Eating Fried Foods, According to Science