This air fryer pizza recipe is a quick and easy way to satisfy your craving without the need for baking in an oven or ordering delivery. By utilizing the air fryer, you can achieve a crispy crust and perfectly melted cheese in just under 15 minutes.
Since the dish is one hundred percent homemade, you are free to customize the toppings to your liking. Pepperoni, salami, mushrooms, and even pineapple, there's nothing stopping you from creating your favorite pizza! Scroll down to learn this delicious recipe right away!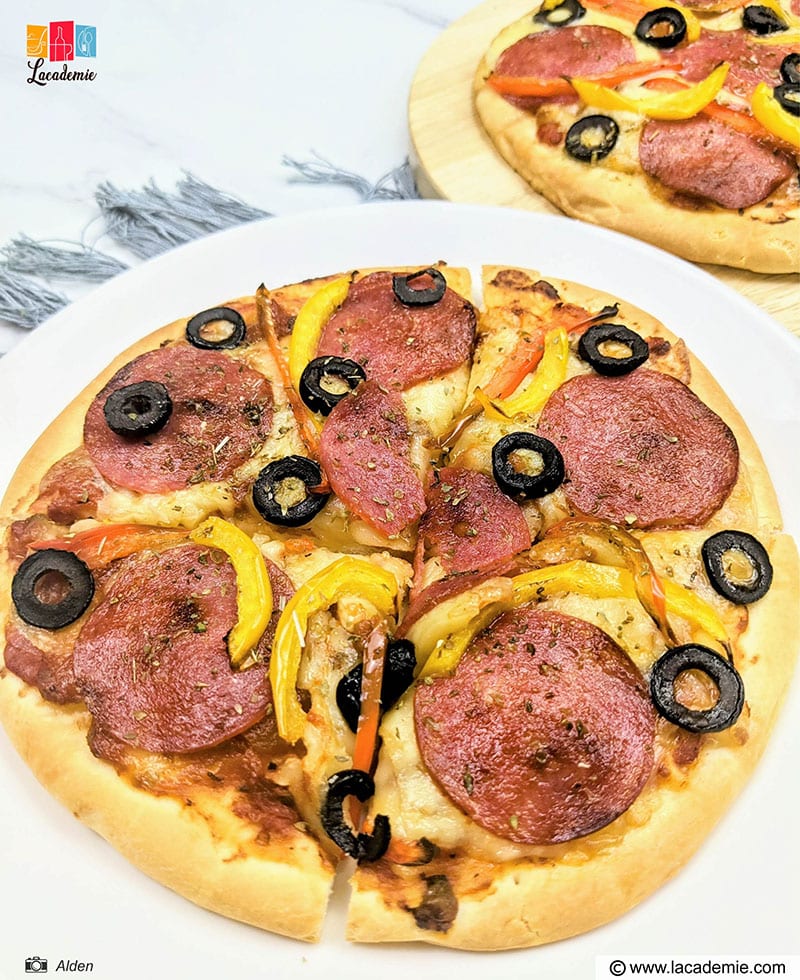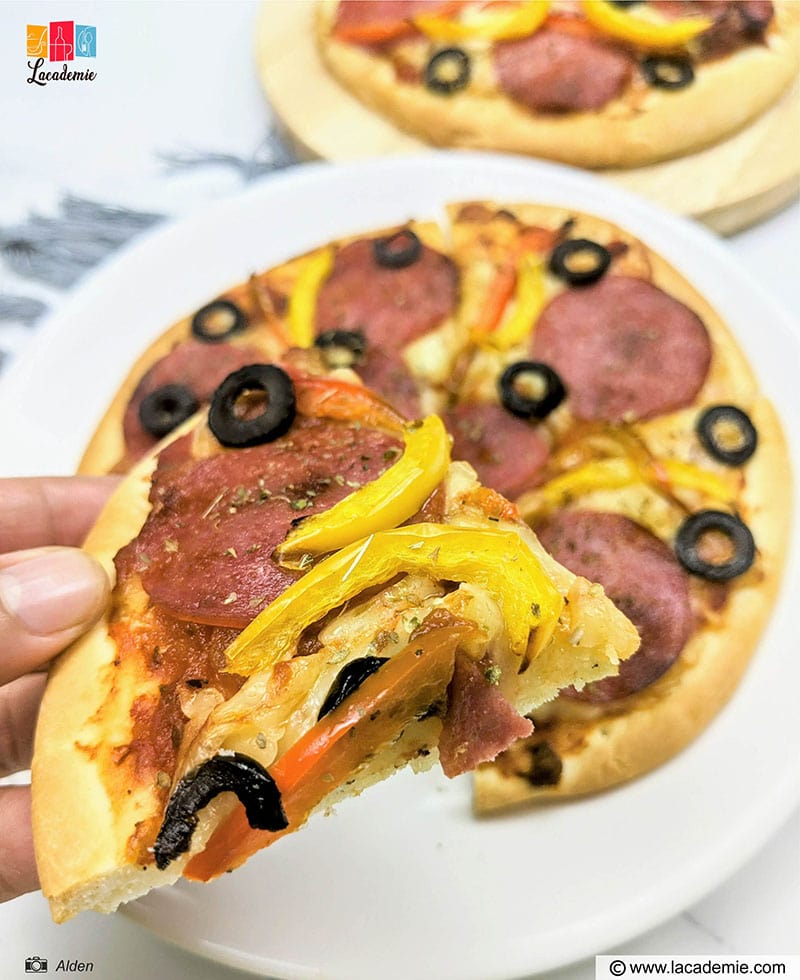 Why Air Fryer Pizza Will Become Your Go-To
Besides the reasons mentioned above, there are a couple more things that I believe you'll love about air fryer pizzas.
A full-size oven is costly and takes up quite a lot of space in the kitchen. Additionally, not everyone is keen on baking enough to invest in one. On the other hand, the air fryer can fit into any cooking space and can do more than just baking, making it an excellent device in a modern kitchen.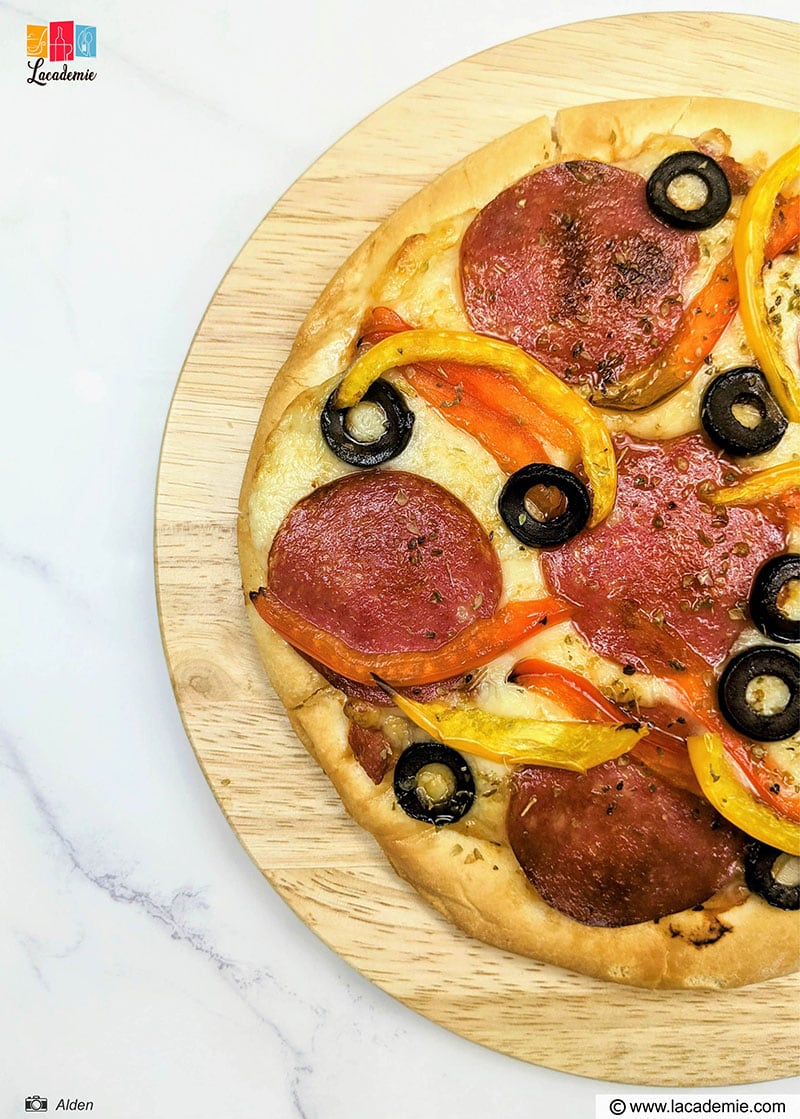 On the topic of cost-effectiveness, making pizza at home is undoubtedly cheaper than ordering one in a restaurant. You can buy the ingredients in bulk for a good price and use them to make multiple pizza batches.
Lastly, the size of an air fryer pizza is usually under 12 inches (depending on the size of your air fryer, mine can only fit a 7-inch). This is the ideal size for serving 1 to 2 people, so you can eat all your pizza at once and won't have to deal with the leftovers. I mean, microwave pizza is not bad, but nothing beats a freshly baked one.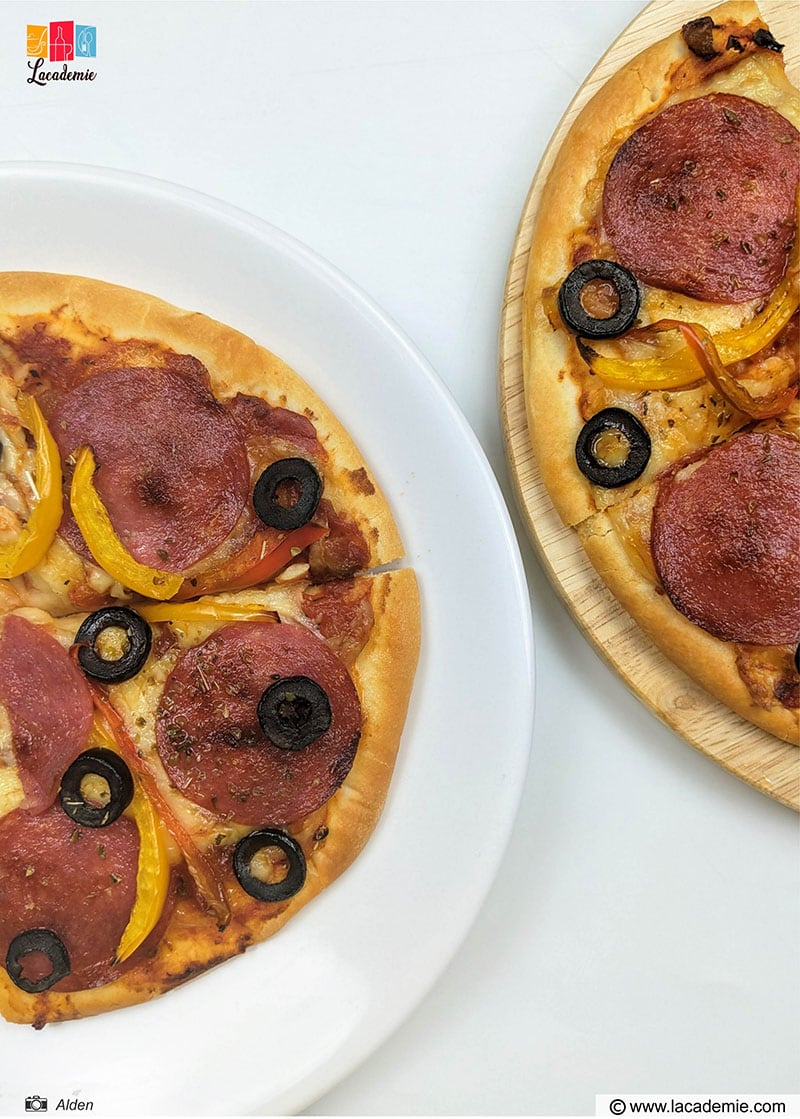 Tools
Making yummy air fryer pizzas start with having all the required tools. Ensure you own the following:
Air fryer: I use the COSORI Pro I, but I suggest you get the Pro II, which is the latest model.
Tongs: For turning the pizzas.
Parchment paper: For lining the air fryer basket and preventing the pizza from sticking.
Basting brush: For brushing the pizza crusts.
Fork: For puncturing the crust, ensuring that it raises evenly without unwanted bubbles.
Pizza slicer/cutter (optional): Helps you cut the pizza easily and precisely.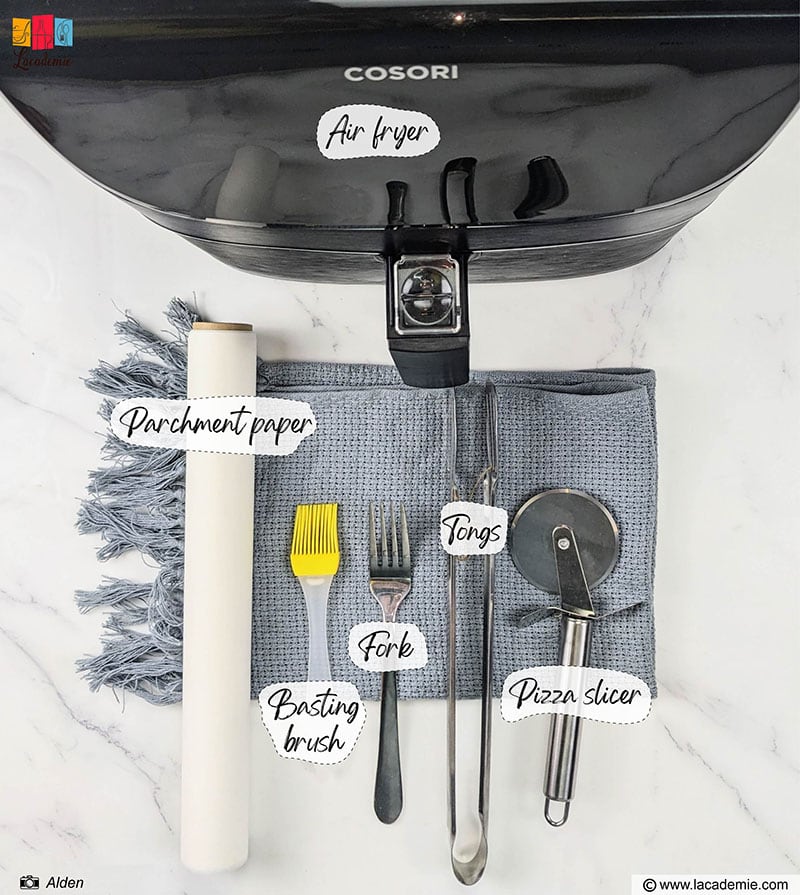 Ingredients
When you've got all the right tools, the next step is gathering the necessary ingredients. You will need the following:
Mozzarella cheese: Fresh mozzarella cheese that you shred yourself is the best option. But pre-shredded cheese is also not a bad choice.
Pizza crusts: You can make your own, but for the sake of saving time, I often use
Olive oil: For brushing the dough. You can also use cooking spray.
Pizza sauce: The ingredient that gives pizzas their iconic taste. Marinara sauce and tomato sauce are viable alternatives.
Dried oregano: For garnishing.
For the topping: Bell peppers, black olives, and salami. Of course, these are my choices, and you are free to add your favorite toppings.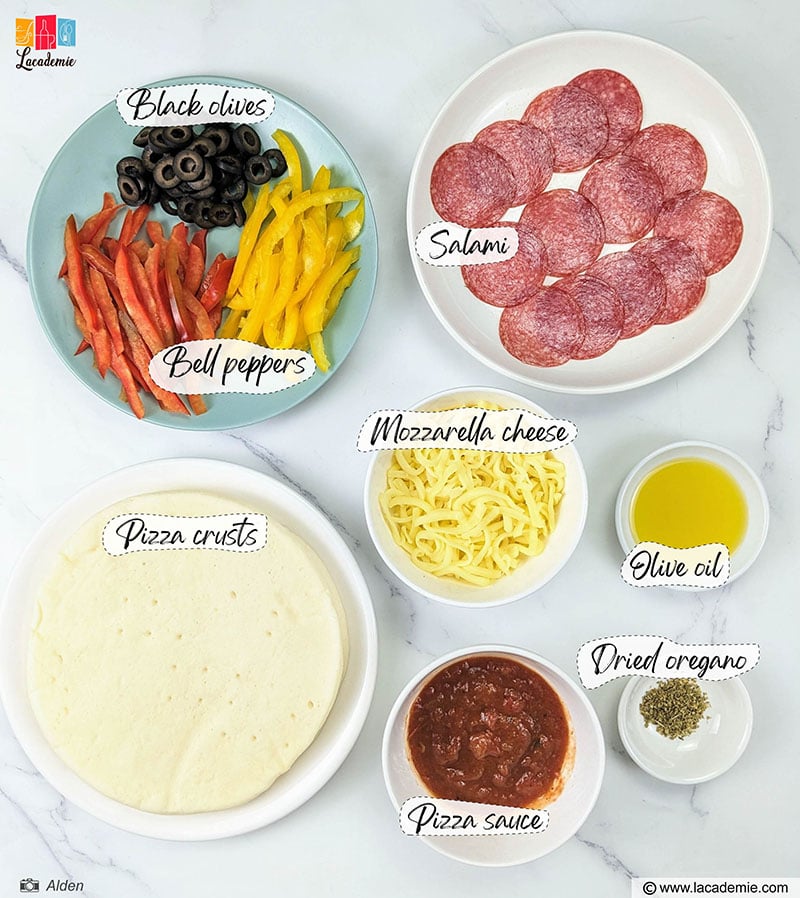 Directions
This is the part that you've been waiting for. Let's start baking your air fryer pizza!
Step 1: Place The Pizza In The Basket
Preheat the air fryer to 385°F for 4 minutes.
Once done, take the air fryer basket out and line it with parchment paper. Place one pizza crust into the lined basket. Brush the crust with a thin layer of olive oil.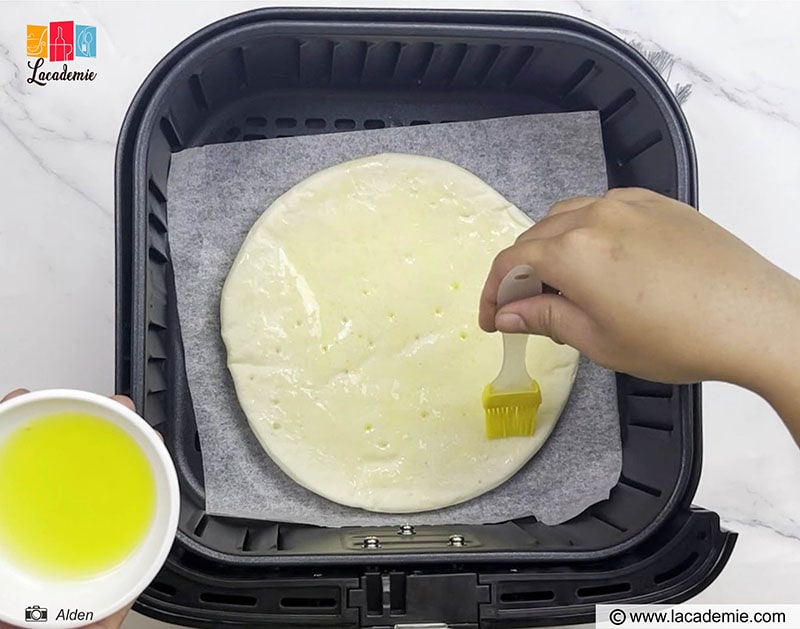 Next, use a fork to carefully puncture the pizza base. Doing this will prevent the pizza from puffing up during air frying.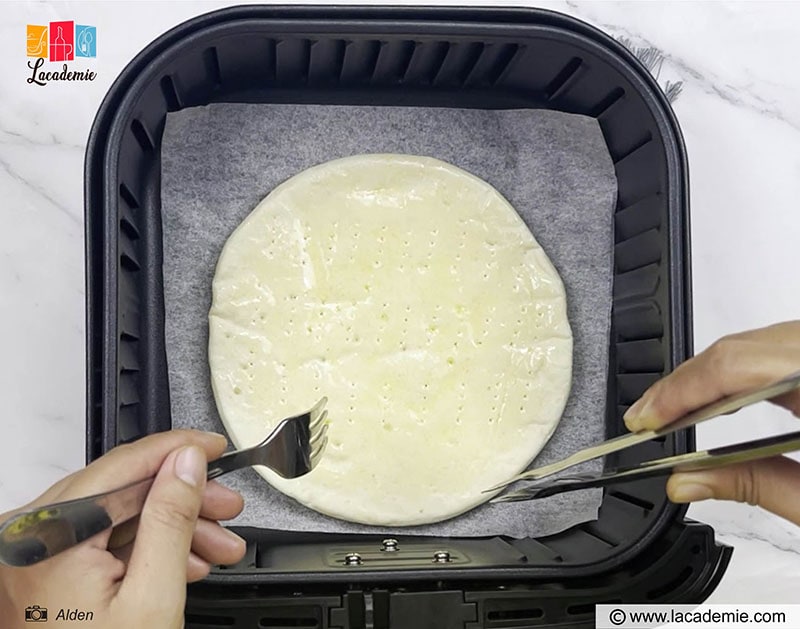 Note: Do notpoke holes in the "cornicione" (the outer rim).
Step 2: Add The Toppings
Air-fry the pizza crust for 3 minutes at 385°F, then flip it.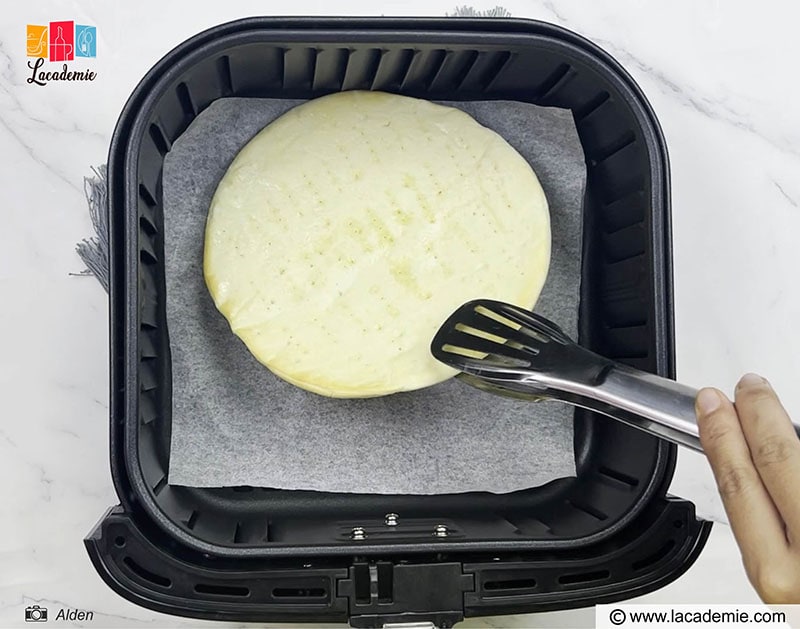 Spread pizza sauce onto the base. As tempting as it is, don't go overboard with the sauce, or your pizza will turn soggy.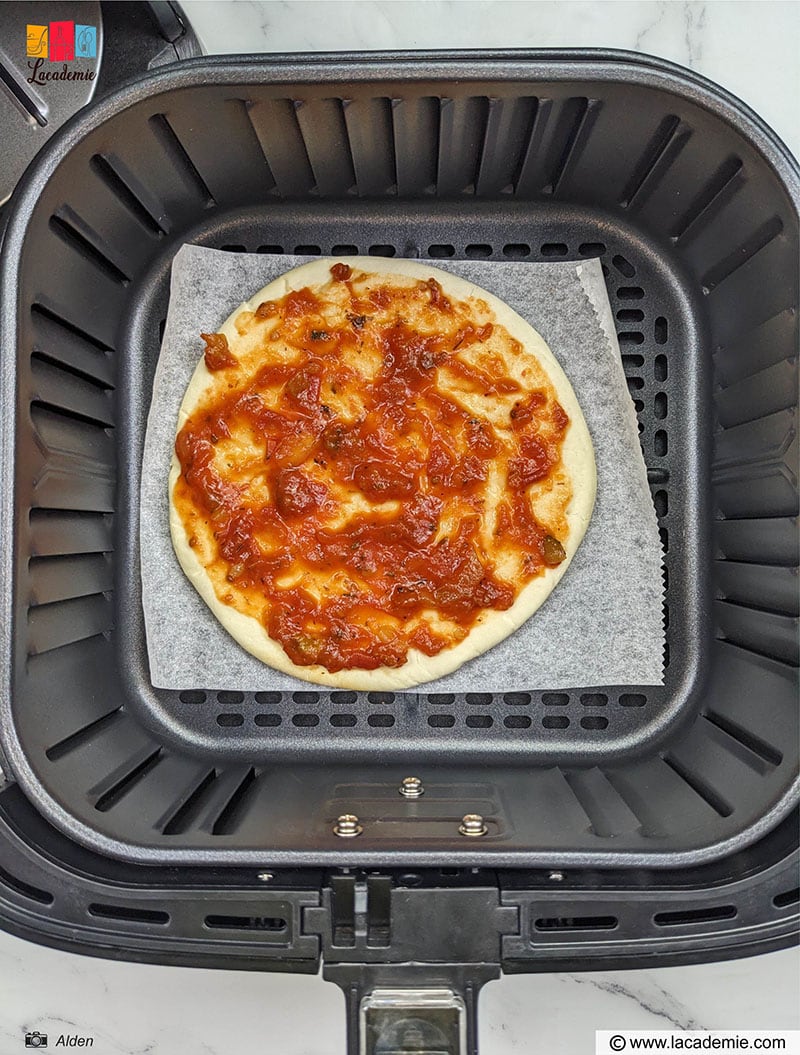 Sprinkle shredded mozzarella cheese over the sauce.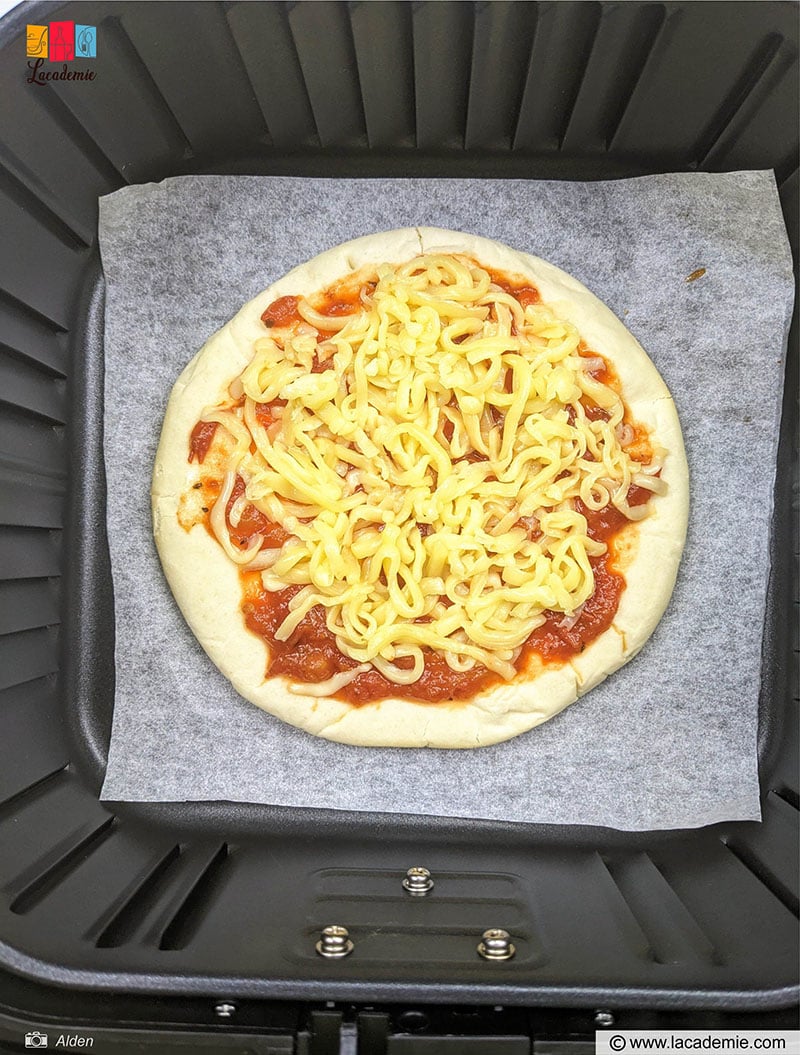 Top the pizza with salami, yellow and green bell peppers, and black olive.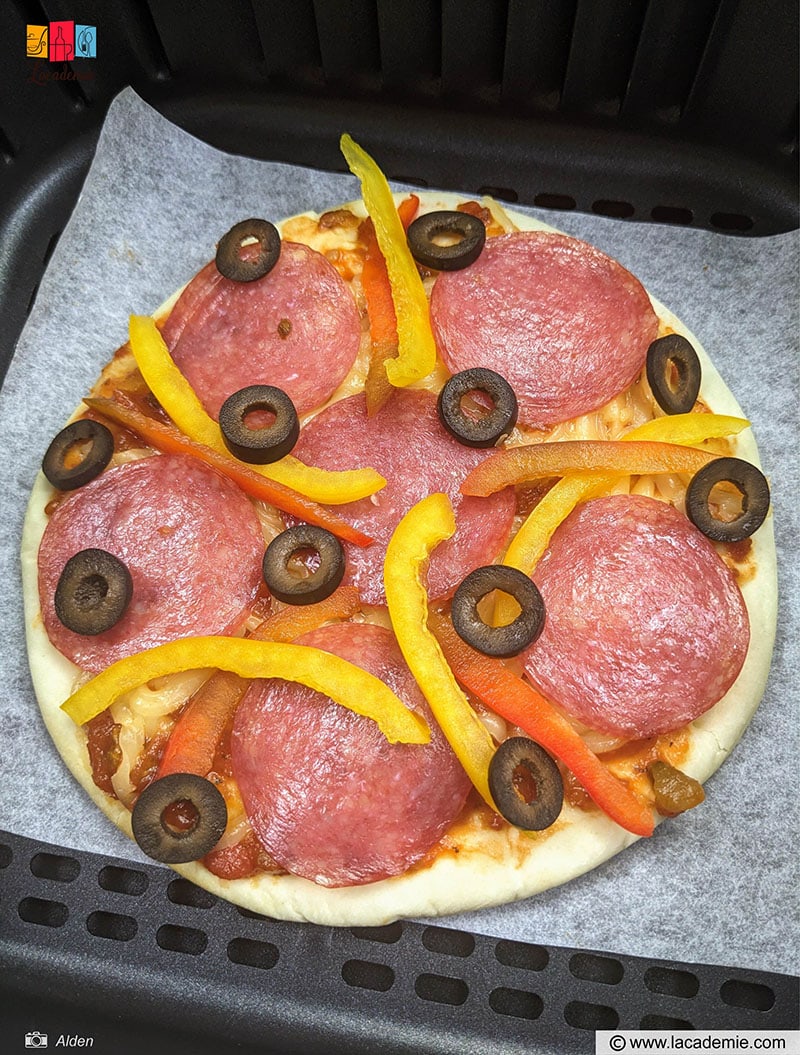 Step 3: Bake The Pizza
Bake the pizza at 385°F for 6 minutes, or until the crust is golden and crispy and the cheese has melted.
Remove the cooked pizza from the air fryer and garnish it with dried oregano. Allow it to rest for 1 to 2 minutes before slicing. Enjoy!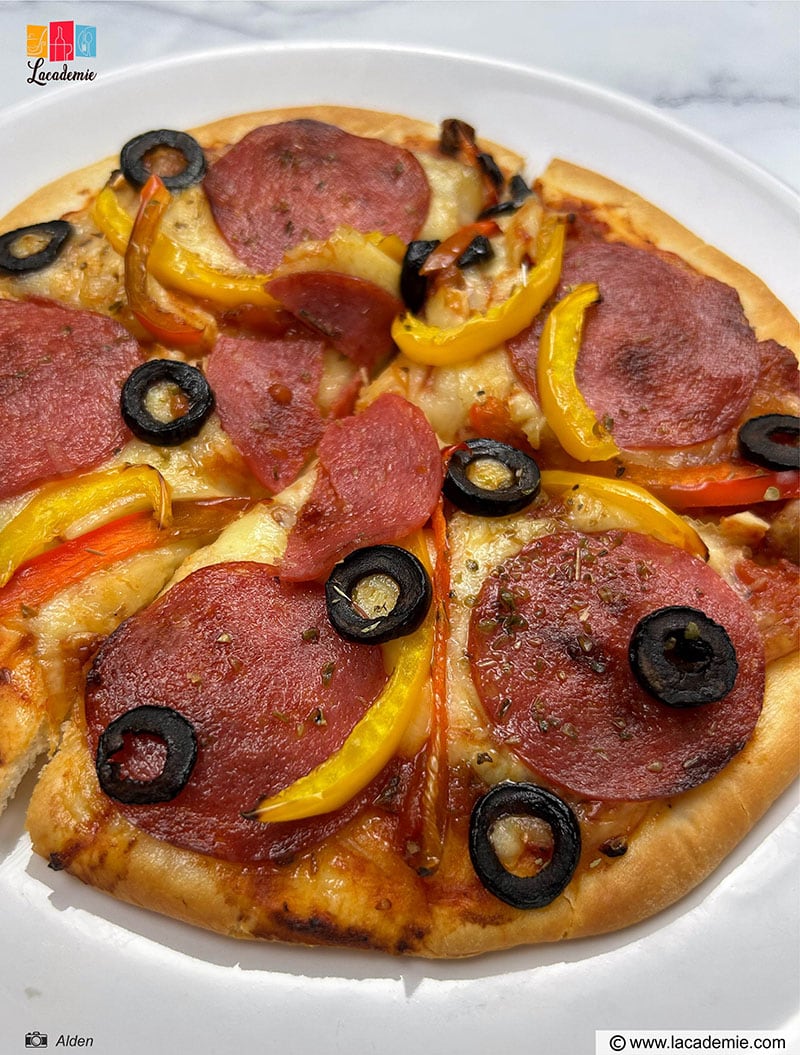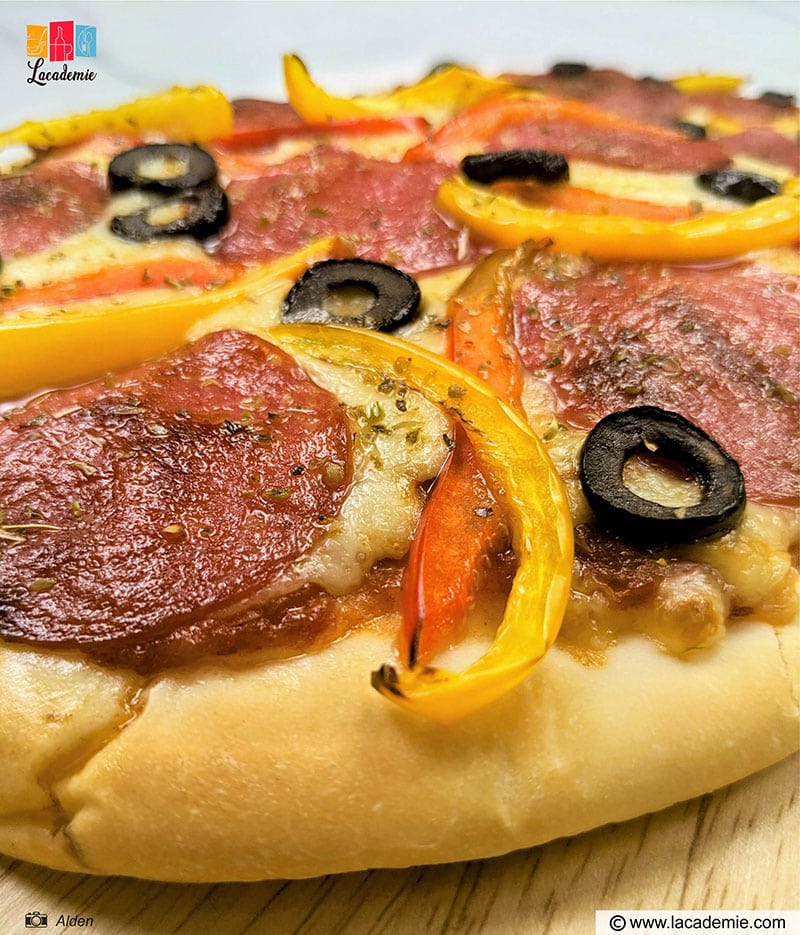 Tips And Tricks
Here are some tips and tricks that I believe will come in handy when you want to start customizing your pizzas.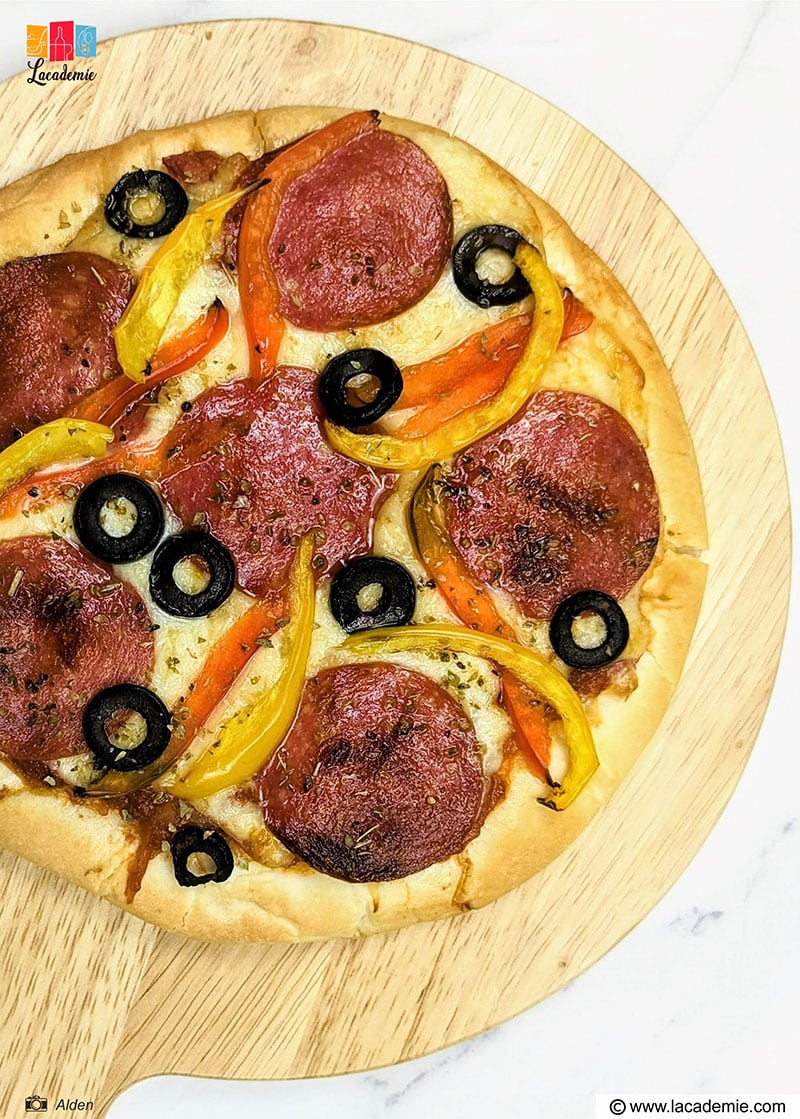 Besides oregano, you can garnish the pizza with some fresh or dried basil.
Feel free to add more cheese! Mini mozzarella balls are also excellent choices.
There are other great options for the toppings, including pepperoni, mushrooms, bacon, ham, pineapple, etc.
You can use smaller or larger pizza crusts as long as they fit into your air fryer basket. Note that the cooking time might be a bit different.
Do not stack the crusts during cooking. You should only cook one pizza at a time unless the basket is large enough to hold more than one in a single layer.
Air Fryer Pizza All The Way!
Using an air fryer is one of (if not) the easiest ways to whip up pizzas at home. Thanks to the surprisingly short cooking and ease of preparation, you can pretty much enjoy some delectable pizzas with your loved ones anytime you want!
I believe there are many pizza fans among my readers, so what are your thoughts on today's dish? Please write your feedback and (hopefully) encouraging messages in the comment section. If you enjoy my recipe, kindly like and share it around!
Nutrition Facts
2 servings per container
---
Amount Per ServingCalories418
% Daily Value *
Total Fat 21.6g

33

%
Cholesterol 33mg

11

%
Sodium 935mg

39

%
Potassium 343mg

10

%
Total Carbohydrate 42.6g

15

%

Dietary Fiber 4g

16

%
Sugars 8.1g

Protein 14.7g

29

%
---
Calcium

155

%
Iron

5

%
Vitamin D

19

%
* The % Daily Value tells you how much a nutrient in a serving of food contributes to a daily diet. 2,000 calories a day is used for general nutrition advice.