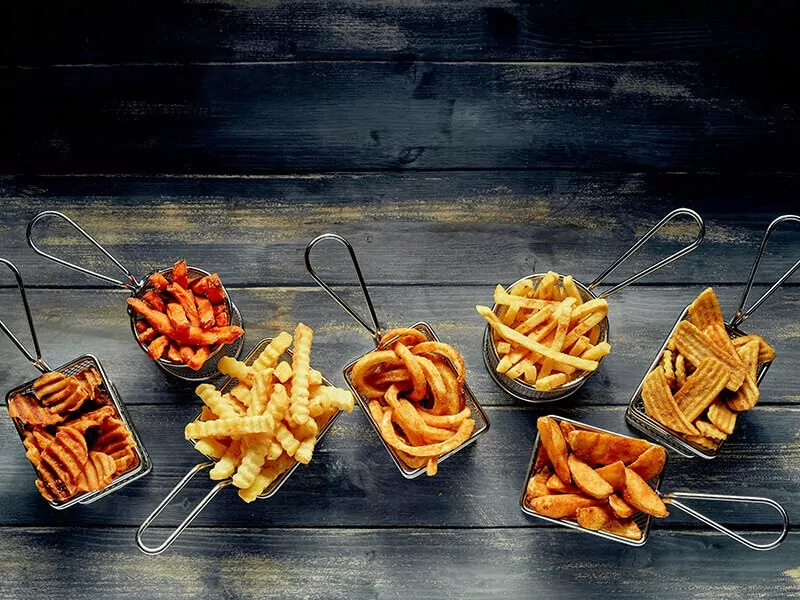 Types of fries are more diverse than you thought. And, of course, they are all crispy, starchy, and super delicious. So if you are curious about how many types of them, you should check this article.
Indeed, everything you need to know about them, regarding taste, texture, and how to serve different fries variations is here. In the last section, I also provide some recipes so that you can make them yourself at home. Check them out, now!
30 Types Of Fries That Both Kids And Adults Love
How many types of fries you have tried? When it comes to fries, it is just not about french fries, there are more! And they are waiting for you to discover.
18 Tastiest Types Of Fries With Different Preparation Styles
Fries can come in plenty of preparation methods and flavors. In this section, let me present to you 18 types of fries that will make you crave. First, let's look at this table for a quick introduction to these varieties.
| Types of fries | Characteristics |
| --- | --- |
| Standard fries | Long and thin (¼ inches), soft and crispy |
| Carne asada | Have carne asada topping, served with sour cream, guacamole, cheese, and pico de gallo |
| Bistro | Soft crispy, made by deep frying twice or blanching before frying |
| Boardwalk | Long, think, and square, served in a basket or paper cup |
| Newfie | Flavored with spiced stuffing or dressing and beef gravy |
| Cheese fries | Topped with swiss, cheddar, parmesan, or mozzarella cheese |
| Home fries | Irregular in shape, ½ to 1 inch long, served with bacon, sausage, or eggs |
| Chili cheese fries | Topped cheese and a spicy and delicious chili sauce |
| Poutine | Consist of standard French fries, brown gravy, and cheese curds, soft and crispy |
| Seasoned fries | Flavored with salt, peppers, herbs, and spices |
| Patatje Oorlog | Contain French fries, Indonesian satay sauce, raw onions, and mayonnaise |
| Disco fries | Consist of French fries, gravy, and mozzarella cheese. |
| Sweet potato fries | Sweeter, healthier, but not as crispy as standard fries |
| Steak fries | Think, have a few seasonings, served with steak, ketchup, or dipping sauce |
| Garlic fries | Seasoned with minced/dry garlic and dried/chopped parsley |
| Chimichurri fries | Topped with chimichurri sauce, feta cheese, and chopped scallions |
| Animal-style fries | Resembles a kind of animal, topped with a sauce, shredded cheese, and grilled onions |
| Patatas Bravas | Crispy, made by par-boiling and deep-frying, and spicy tomato sauce |
| Oven-Baked Fries | Healthier, not as crispy as other types of fries |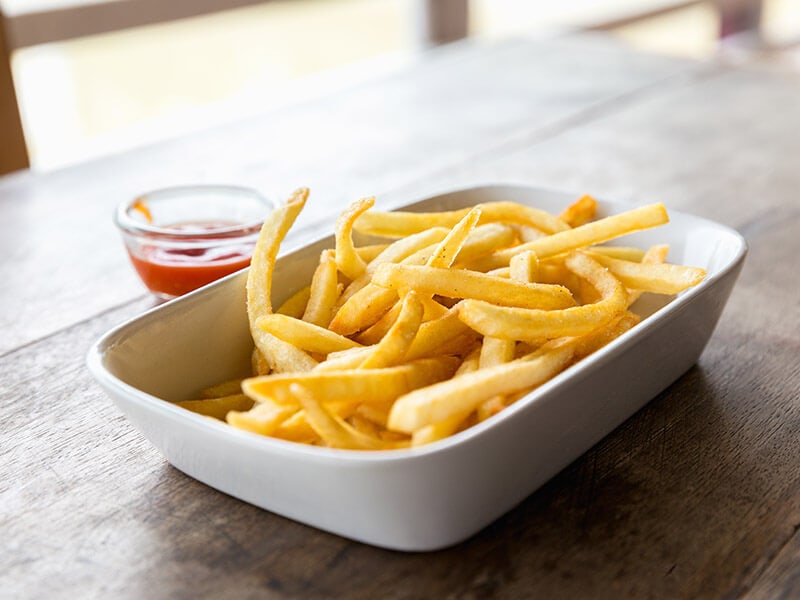 Standard fries are probably the most common type of fries. They are long and quite thin (roughly ¼ inches).
People make these fries by deep frying the cut potatoes and coating them with a thin layer of salt. Seasoning them with parsley, garlic, and peppers is also good.
This results in soft and crispy fries to serve with sandwiches or dipping sauce. You can also serve it as a side dish to enjoy alongside burgers. They always taste delicious.
I am sure that everyone should be able to make this standard fry recipe.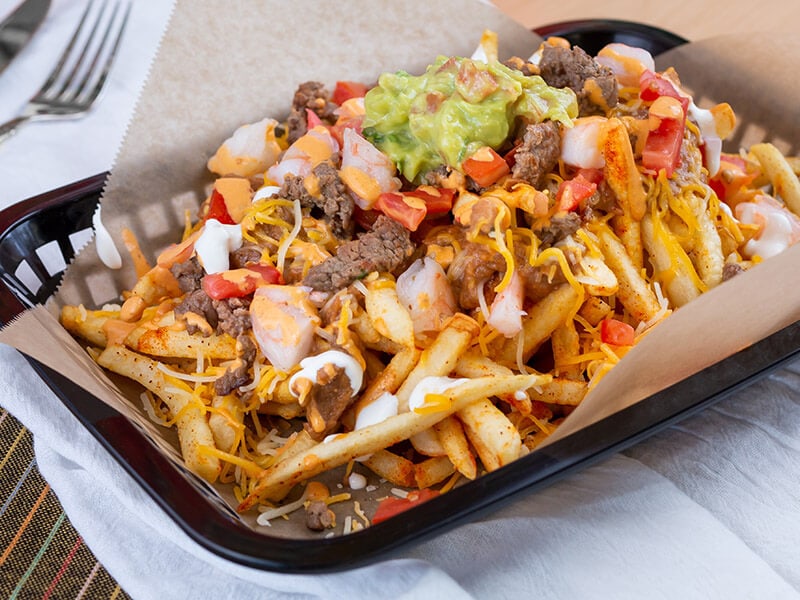 Carne Asada is a Mexican dish that features skirt steak or flank steak that is seasoned and grilled. In addition to Mexico, it's also popular throughout Latin America, especially in Guatemalan food culture.
People often top fries with this dish, resulting in a type of fries called "Carne Asada". They also top the fries with Guacamole, cheese, sour cream, and Pico De Gallo.
You can find Carne Asada fries in Mexican restaurants. They are particularly popular in San Diego.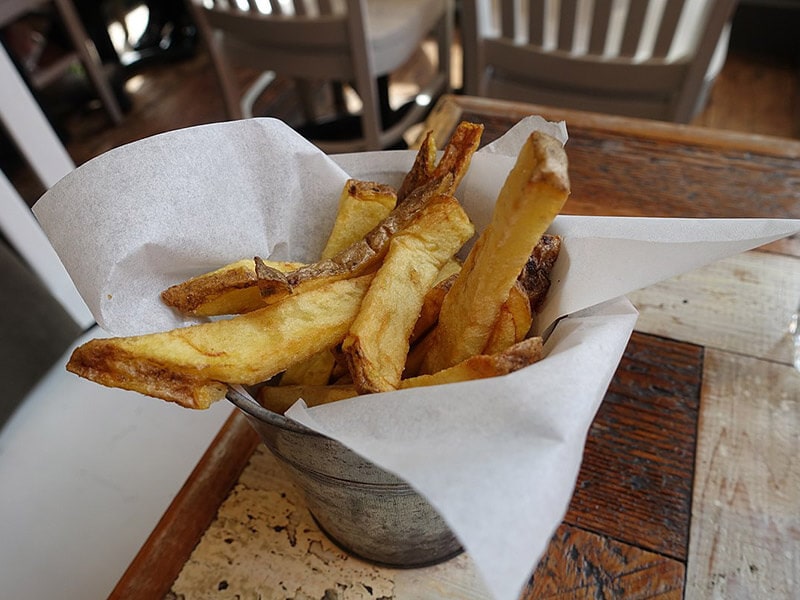 Fries are always present on the menus of the bistro. They can excellently accompany the main dish and beer. You should never miss this delicious side whenever you come to a bistro.
People call these fries "Bistro" because they are a signature dish in Belgian and French bistros. To create a crispy exterior and soft interior, the cooks often deep fry the potatoes twice using different degrees of heat or blanch them before deep frying.
They normally cut the potatoes into medium-sized sticks. After frying, they turn to an attractive golden brown color.
The cooks often place Bistro fries on metal cups or paper cones. The arrangement styles vary from restaurant to restaurant.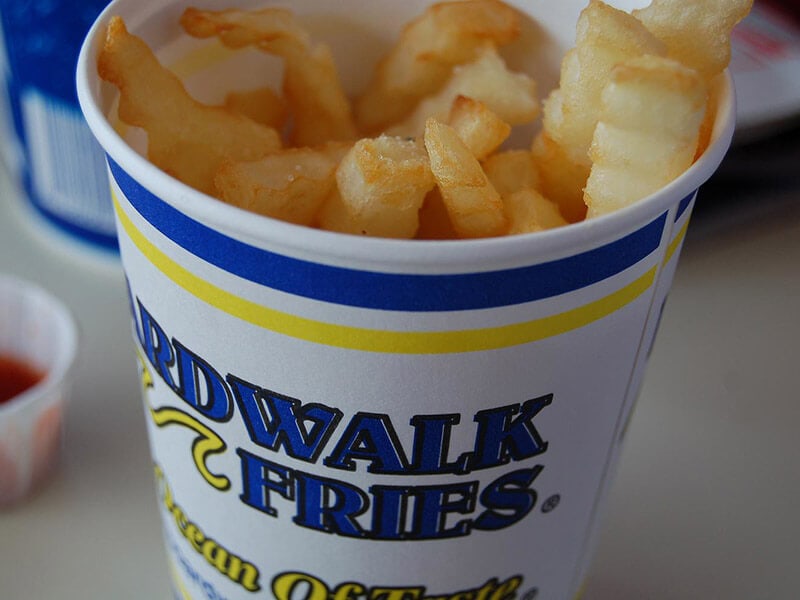 If you walk on the boardwalk in the Ocean City of Maryland, you will probably see a lot of food stands selling Boardwalk fries. These fries have a long, thick, and square shape. The sellers put them in a basket or paper cup for serving.
To make Boardwalk fries, people first cut the potatoes into medium-sized pieces, then season them with salt and vinegar. Finally, they fry the potatoes twice using different degrees of heat. Some cooks immerse the fries in salt water before frying.
Although Boardwalk fries are rather a street food, they are also available in restaurants. Nowadays, they are popular in other parts of the world.
Another name of Newfie fries is "Newfoundland fries." They are a very flavorful variety. People flavor the fries with spiced stuffing and dressing, then pour a delicious beef gravy on the top. The recipe for the stuffing and gravy vary a lot.
Most people serve Newfie fries as a snack to enjoy at night. Sometimes, people serve them for Thanksgiving.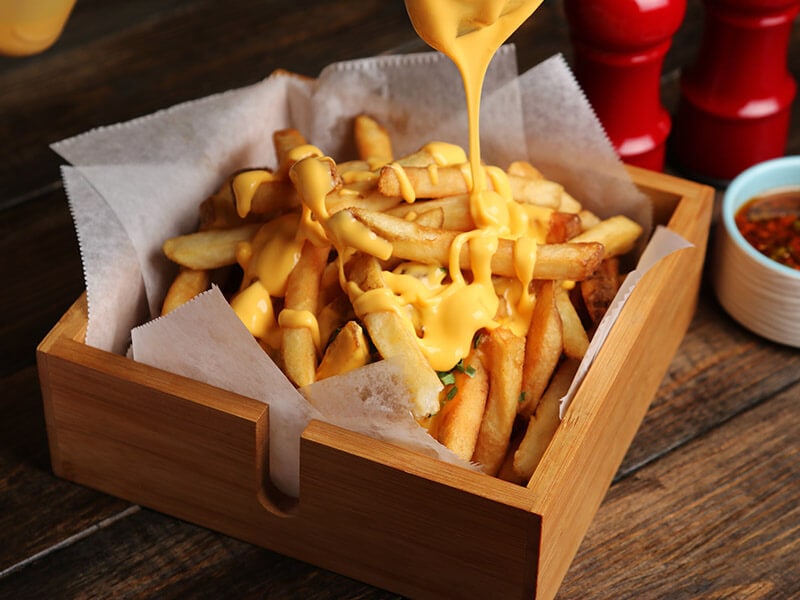 American people love to add cheese to fries. Now it has become a very common way to serve fries. Cheese fries are super prevalent at fast-food restaurants. They often top cheese on Julienne-cut fries or crinkle fries.
The cheeses used for topping can be Swiss, cheddar, parmesan, or mozzarella cheese. Some restaurants use liquid cheese to make the dish more affordable.
People often melt the cheese by baking or broiling it for a few minutes or top it directly on the fries that have just been out of the oven. It is best to serve cheese fries for lunch or dinner.
Top your French fries with delicious cheese to enhance their taste.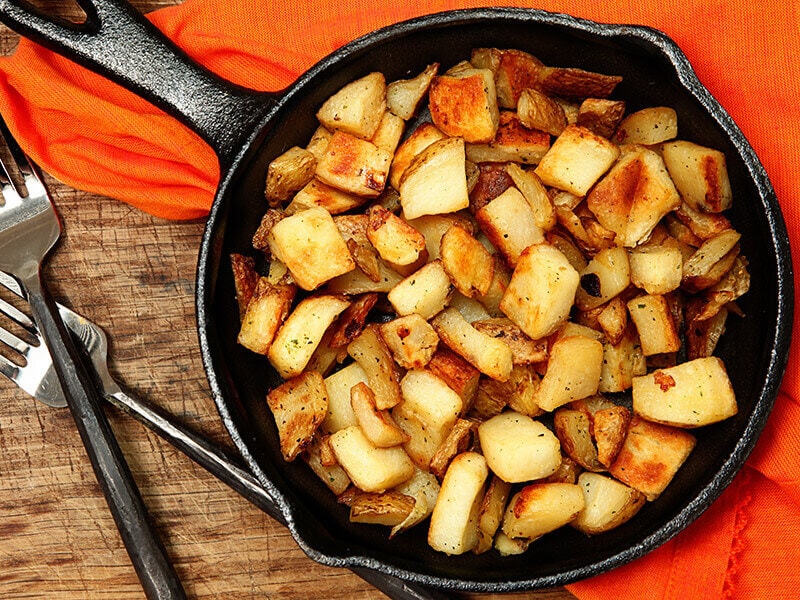 Homemade fries are often irregular in shape. They are about ½ to 1 inch long. Interestingly, people tend to keep the skin instead of peeling it. You can use a lot of methods to make home fries, such as shallow frying or deep frying.
Before frying, you should par-cook them in boiling water or throw them in the microwave. This will create a soft and crispy texture.
Home fries are very versatile. People often serve it for breakfast and enjoy it with bacon, sausage, or eggs. They even dip it into egg yolks. Feel free to eat it all day round.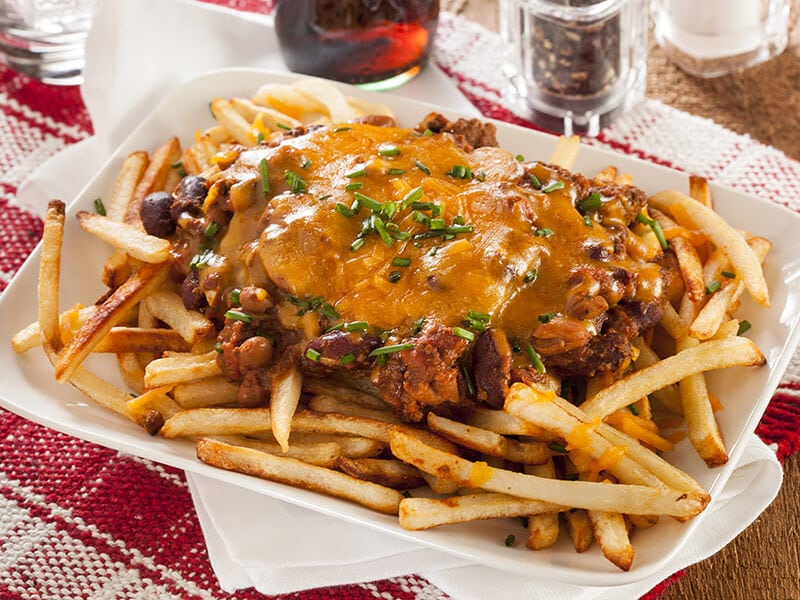 If you are a fan of spicy food, chili cheese fries will become your favorite dish. The fries are complemented by cheese, a spicy and delicious chili sauce. There are plenty of ways to make chili sauce. You can make it from ground beef, turkey, chicken, or vegetables.
You can buy store-bought chili sauce and top chili sauce on any fries, such as crinkle-cut or shoestring fries. Chili cheese fries can be a side dish and an entrée because they are fulfilling. Make sure you use a fork when eating them.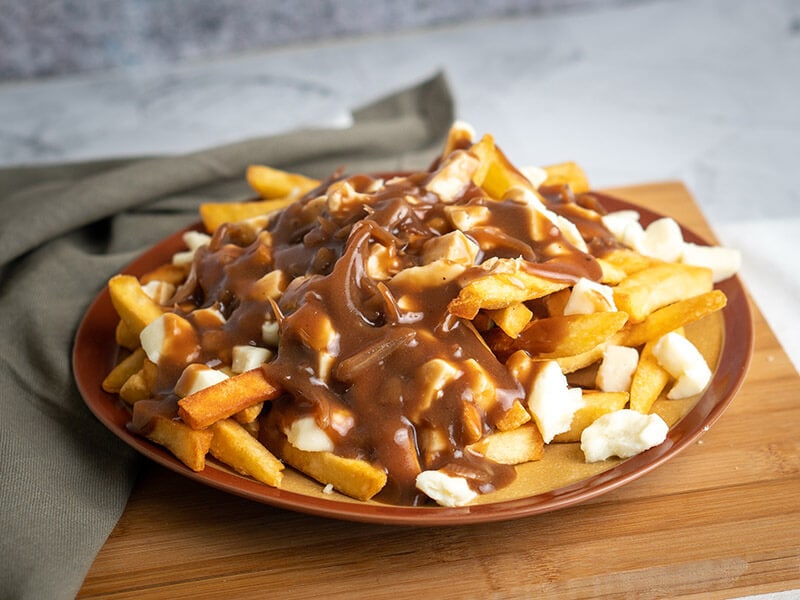 Poutine is a delicacy of Quebec. People serve it as a side dish, snack, or even a main dish. Overall, it is a signature dish in Canada.
It consists of standard French fries, brown gravy, and cheese curds. The fries have a medium degree of thickness. They are crispy on the outside and soft on the inside.
The cheese curds in Poutine are very special because it is the local cheese of French-Canadian people
The gravy of Poutine comprises chicken or beef stock and pepper. It tastes light and has a thin texture.
These fries are available everywhere in Quebec. You can find it at food trucks and restaurants.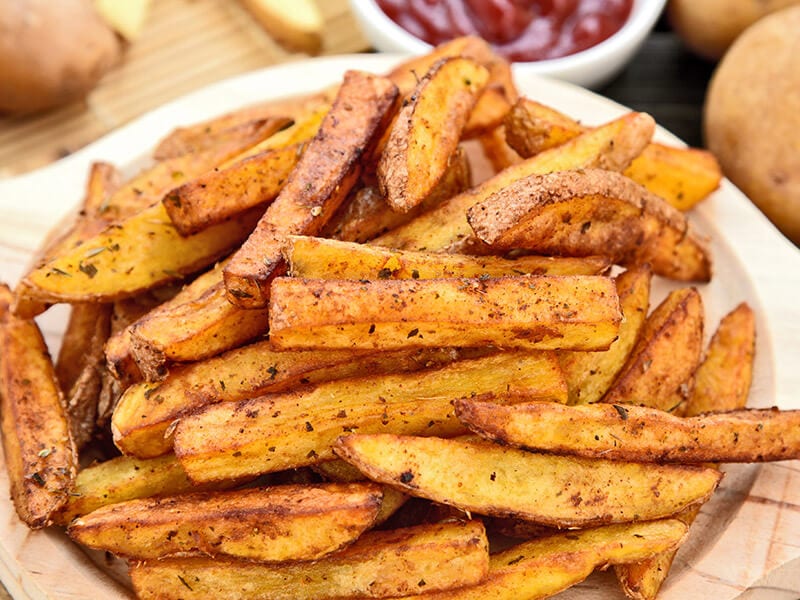 People often season fries with salt, pepper, herbs, and spices, such as Cajun spice or Old Bay spices. They season the fries before frying or when they have just been out of the oven. This is not the case for standard fries since people often season them when serving.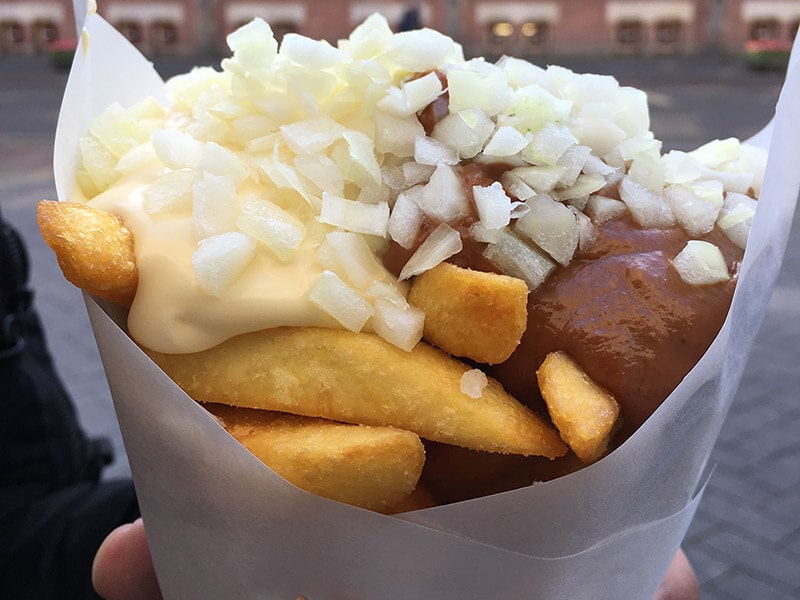 Patatje Oorlog fries are one of the signature street foods of Belgium and a traditional Dutch dish. Their name means "war fries". Because of their tasty flavor, they are now popular in other European countries, including the Scandinavian countries.
This type of fries contains French fries, Indonesian satay sauce, raw onions, and mayonnaise. Some cooks add peanut butter to create the thickness. You have approximately 40 choices for condiment and more than 8 choices for sauce.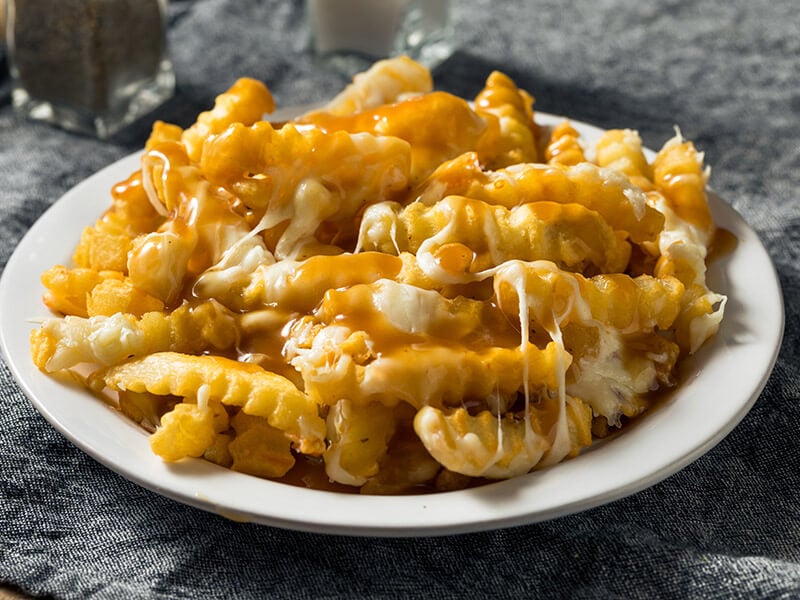 Disco fries got their name from a cultural practice. They were a ubiquitous dish in the 1970s in New Jersey. People consider them drunk food and often eat them when the disco closes. This type of fries consists of French fries, gravy, and mozzarella cheese.
Nowadays, people also call them "Elvis fries". They are a variation of Canadian Poutine. However, Disco fries are different in that they have larger steak, dark, thick gravy, and mozzarella cheese.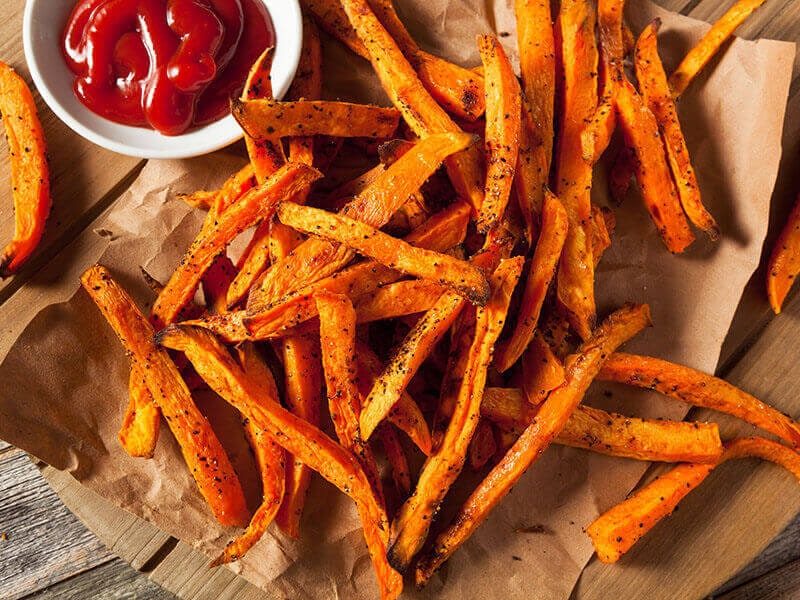 Some people love to make fries from sweet potatoes rather than standard potatoes because they are sweeter and healthier. They have a high amount of vitamin A yet a low level of carbs and calories.
However, sweet potato fries tend to be not as crispy as standard potato fries. But their distinctive sweet taste is what people love about them. You can feel free to cook them in the oven.
Besides fries, you can make plenty of recipes with leftover sweet potatoes or fresh ones.
If you top sweet potato fries with sugar syrup, honey, or marshmallow cream, they will become a delicious dessert.
Make extra-sweet and extra-crispy fries with this recipe!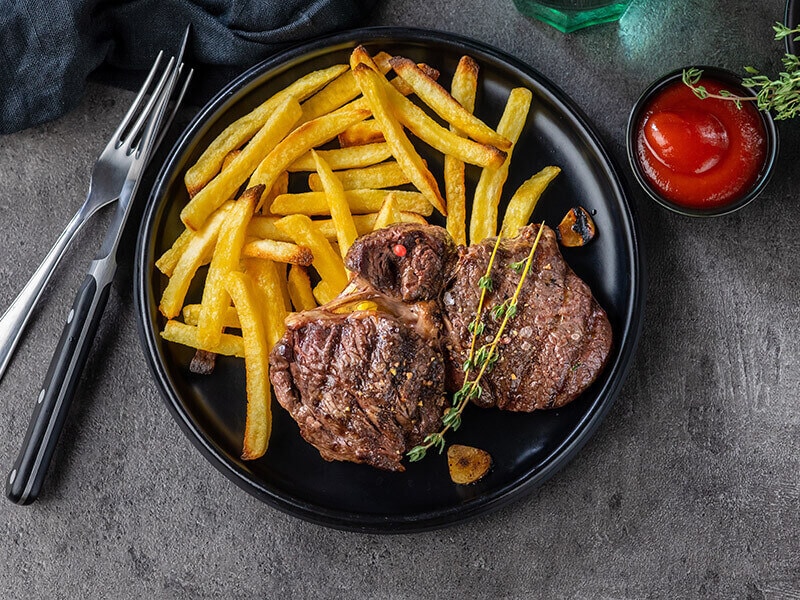 It is impossible to enjoy steak without fries, right? The type of fries that go alongside steak and look like a steak as well. They are often very thick and have just a few seasonings.
In addition, if you look at the top of the fries, you may also see potato skin. This type of fries is not as crunchy as the others because they are super thick. Since steak fries go with steak, it is available at almost all steak restaurants.
You can also serve steak fries with some other recipes besides steak. They can also be a delicious complement of chicken fries. Dipping them into sauce and ketchup is also a great idea.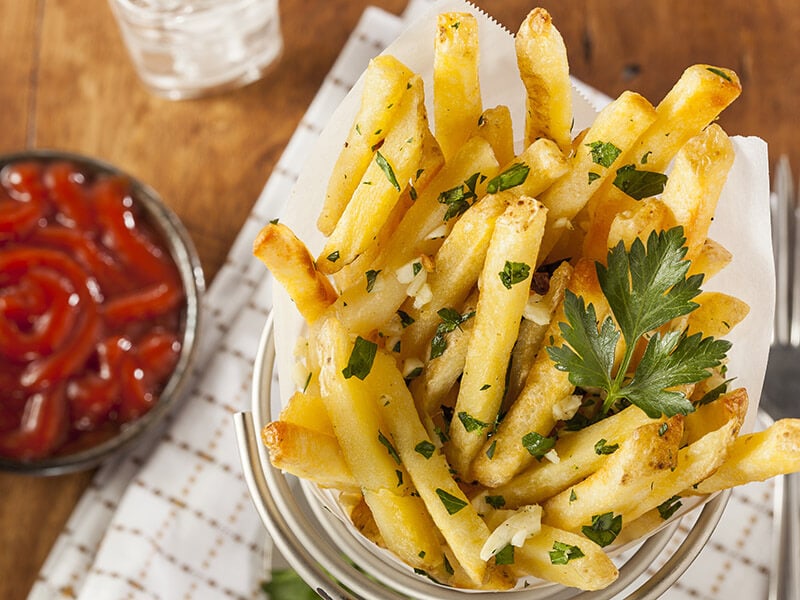 Garlic fries are a perfect appetizer for your meal. They are available in most restaurants. They are home fries that consist of fresh minced or dried garlic and dried or chopped parsley. To make it richer and more flavorsome, you can add some Parmesan cheese.
This type of fries came from Argentina. People make it by topping common French fries with Chimichurri sauce. That's why they call it "Chimichurri fries". The sauce consists of red wine vinegar, kosher salt, paprika, and herbs.
It is best to serve Chimichurri fries with a slice of steak. This dish will make an excellent meal. Don't forget to garnish it with crumbled feta cheese and chopped scallions.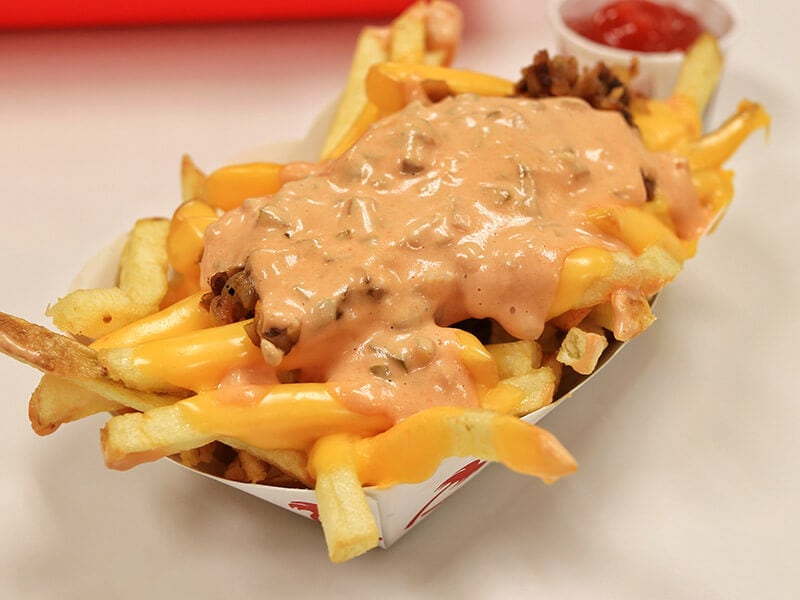 What pops up in your mind when seeing the name "animal-style" fries? Well, the name refers to the way of decorating the fries. Through the skill of the cooks, the plate often resembles a kind of animal, such as chicken.
Such an interesting type of fries belongs to a fast-food restaurant brand called "In-n-Out". The cooks top it with a sauce, shredded cheese, and grilled onions.
If you want to try making animal-style fries, you can replace the restaurants' sauce with thousand island dressing.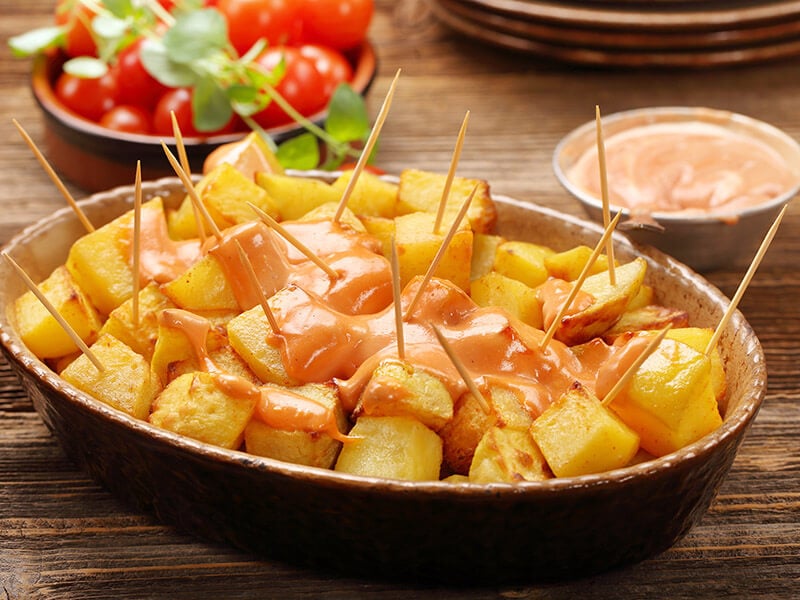 This type of fries is a variety of fries coming from Spain. In Spanish, Patatas Bravas means "spicy potatoes". Local people serve it as patas. These fries are larger than other varieties.
They make Patatas Bravas by first cutting the potatoes into 2-centimeters-wide pieces, par-boiling the potatoes, then deep-frying them. The fries come out crispy. They then serve them with spicy tomato sauce or aioli.
Patatas Bravas will be one of the tastiest fries you have ever tried.
Classification Of Fries Based On Cutting Methods
Fries do not only have a long and thin shape. They can be even thinner or thicker or unusual in shape. In this section, let's explore different cutting styles of fries. Some of them look stunning. First, see this table for an overview.
| Type of fries | Characteristics |
| --- | --- |
| Crinkle-Cut | Wavy, crispier than ordinary French fries |
| Curly Fries | Curly, long, flavorful, medium-thick |
| Julienne Fries | Long and thin, ⅛" thick and 2" long |
| Batonnet Fries | ¼ inches thick, crispy |
| Waffle Fries | Have a grid-like and ellipsis shape, very crispy, can absorb flavorings |
| Wedges Fries | Thick and triangular in shape, seasoned, served with sour cream and sweet chili sauce. |
| Tornado Fries | Spiral shape, served on a stick, can have sausage |
| Tater Tots | Cylinder shape, made by grating potatoes, shaping, and deep-frying |
| Chips | Very thin, crispiest variety |
| Shoestring Fries | Long, thin, super crispy, served with burgers, chili dogs, BBG, and grilled cheese. |
| Matchstick Fries | Crisper and shorter than Shoestring fries |
| Pommes Souffles | Very crispy, oblong shape, look like balloons |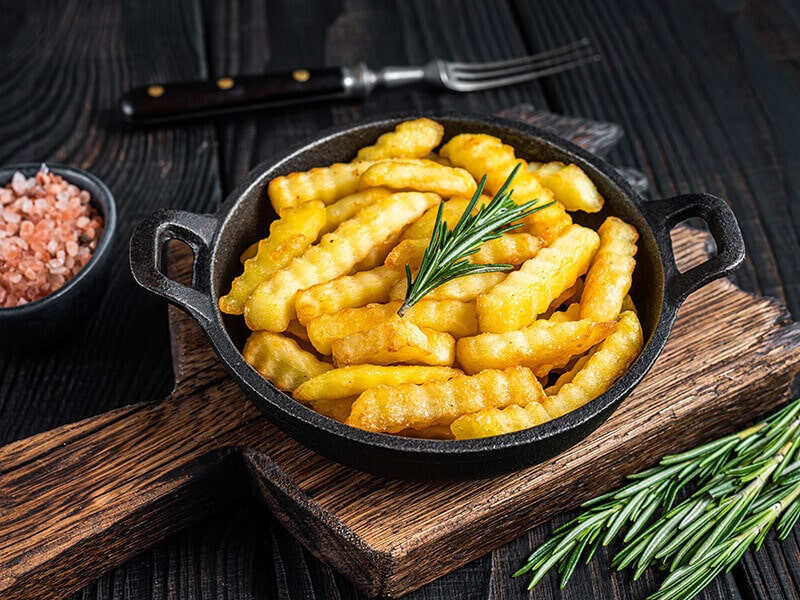 These fries have a funny and adorable look. They are quite wavy. However, their taste is just the same as ordinary French fries. But they are crispier, thanks to the edges. They also absorb ketchup and other flavorings very well.
Because of their lovely appearance, they are usually available at restaurants. You can buy frozen crinkle fries and deep fry or bake them at home, or you can make them on your own. The equipment needed is a crinkle-cutting blade or a crinkle cutter.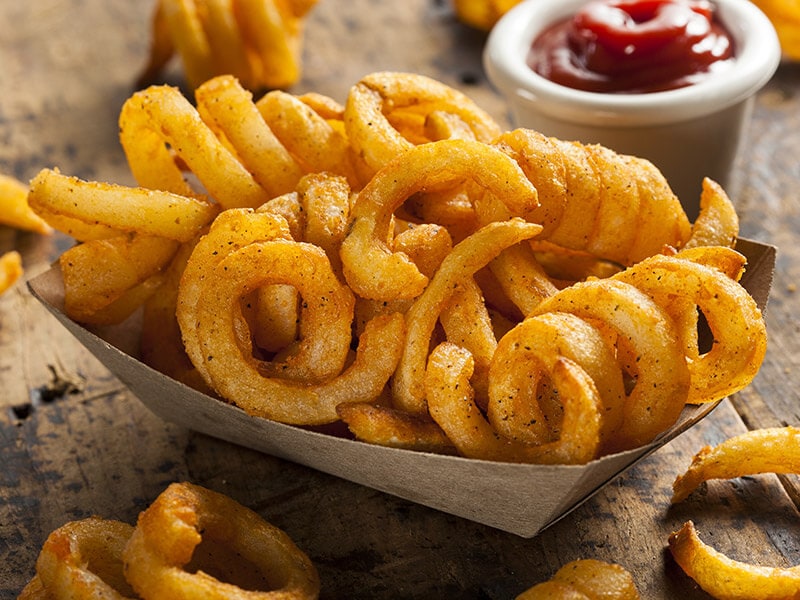 Curly fries are the kids' favorite variety of fries. They have an adorable appearance and are also very flavorful, thanks to the seasonings.
They also appeal to the kid because of the medium level of thickness and soft texture. Yet they are long, so you need to bite several times to finish each fry.
People also call this type of fries "Goldilocks fries" or "Suzi-Q fries". Before frying, they season the potato with garlic powder, paprika, and onion.
You can make curly fries by buying the frozen version and deep-frying them at home. Or you can try to create their amazing shape with a spiralizer tool.
21. Julienne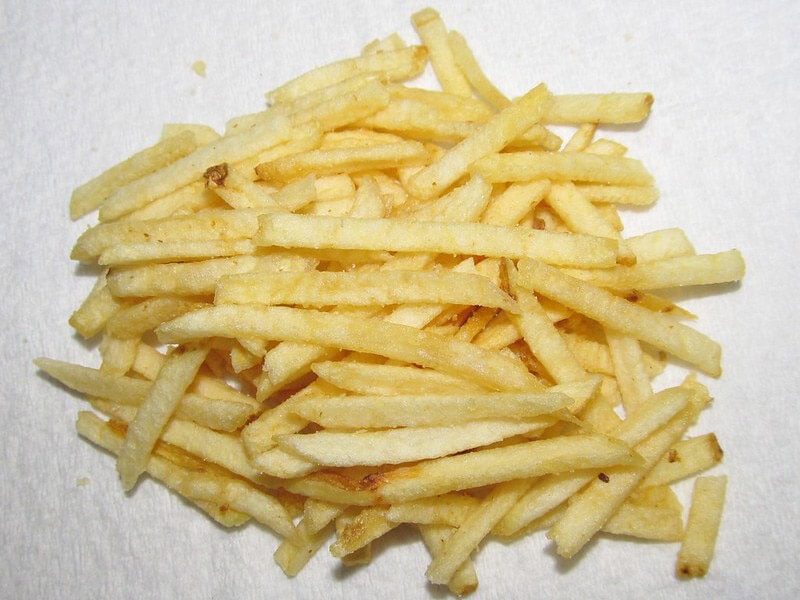 Julienne fries are the fries that follow the Julienne measurements. Normally, each fry is about 2" long and ⅛" thick. Sometimes, they are just 1/16" thick, which are called "fine Julienne". They are quite long and thin.
If you have a professional cutter, you can easily produce even fries. Alternatively, you have to measure the strips yourself.
22. Batonnet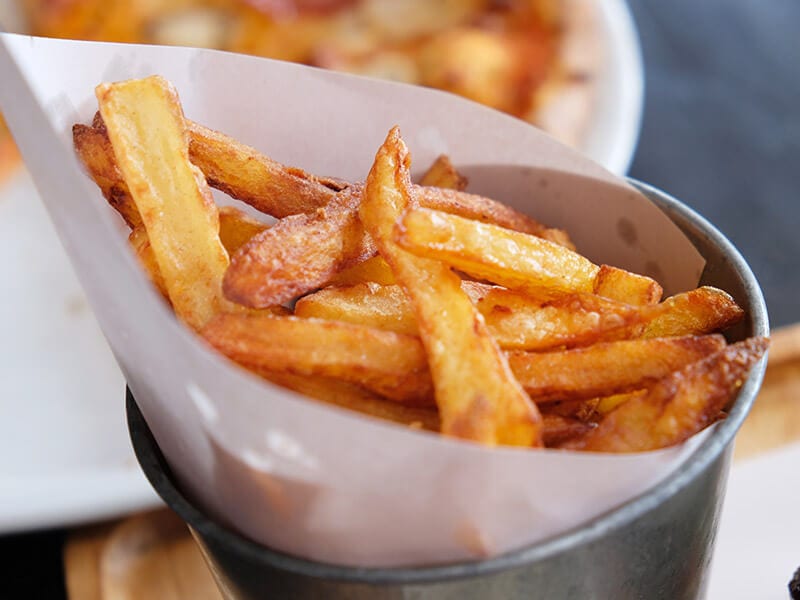 Batonnet fries are about ¼ inches thick or more. They are thicker than Julienne fries. The word "Batonnet" means "little stick" in French.
Batonnet fries usually come in uniform shapes, making frying them even much easier. This leads to a more beautiful texture. If you want to try Batonnet cuts, you need a sharp chef's knife and a cutting board.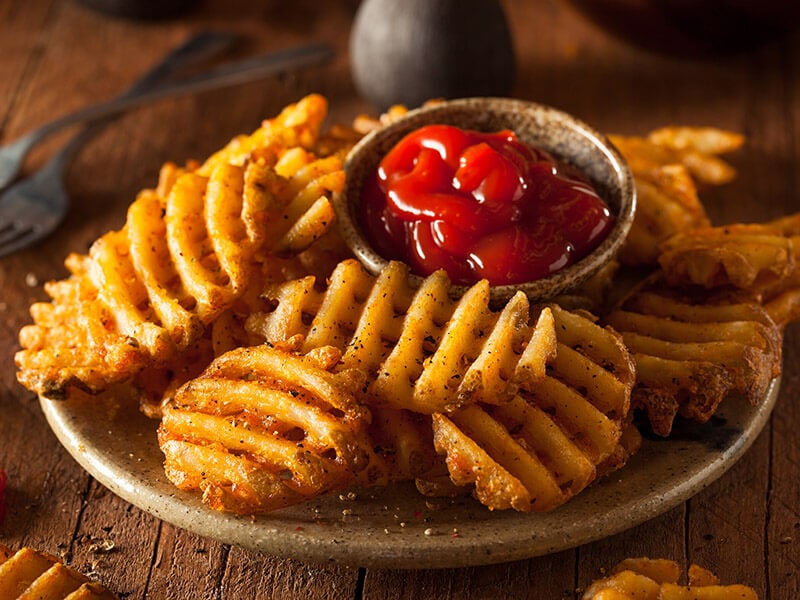 Waffle fries have a grid-like and ellipsis shape. Are you curious about how to create such a beautiful shape? People make them by first removing the potatoes' ends and cutting them horizontally and vertically until they become grid-like.
If you want to make waffle fries at home, you need a mandolin blade or corrugated slicer to slice the potatoes. Choose an excellent French fry cutter to make the best waffle fries.
You don't have to peel the skin but feel free to do that if you want to. Regarding the cooking method, you can choose to bake or deep-fry them.
What is excellent about waffle fries is that they have extra crispiness and the ability to absorb the sauce and seasoning. They pair well with eggs, gravy, burgers, and melted cheese.
Challenge your cooking skill by making beautiful waffle fries.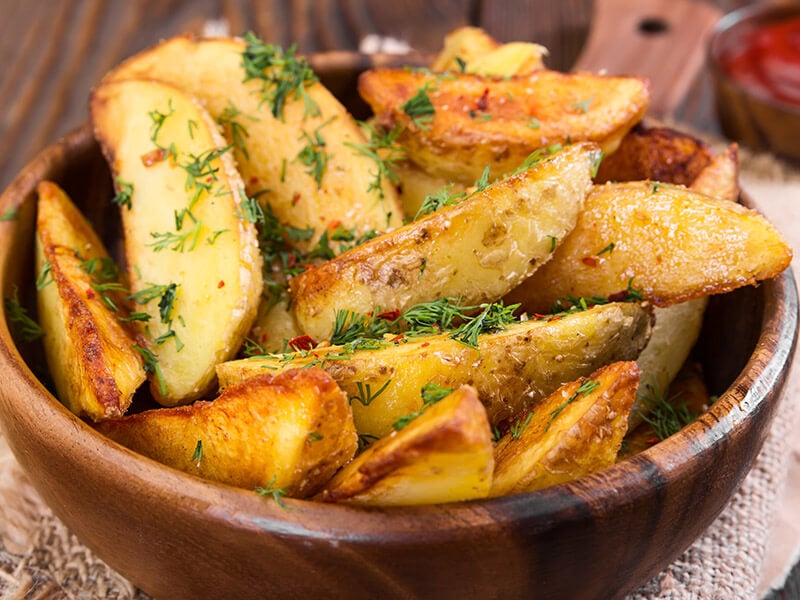 Most fries are thin. However, wedges stand out by their thick and triangular shape. The thick nature makes it hard to get tender uniformly, so people usually par-boil or cook them in the microwave before frying or baking. You should also give them more cooking time.
People almost always season wedge fries. They serve the fries with sour cream and sweet chili sauce.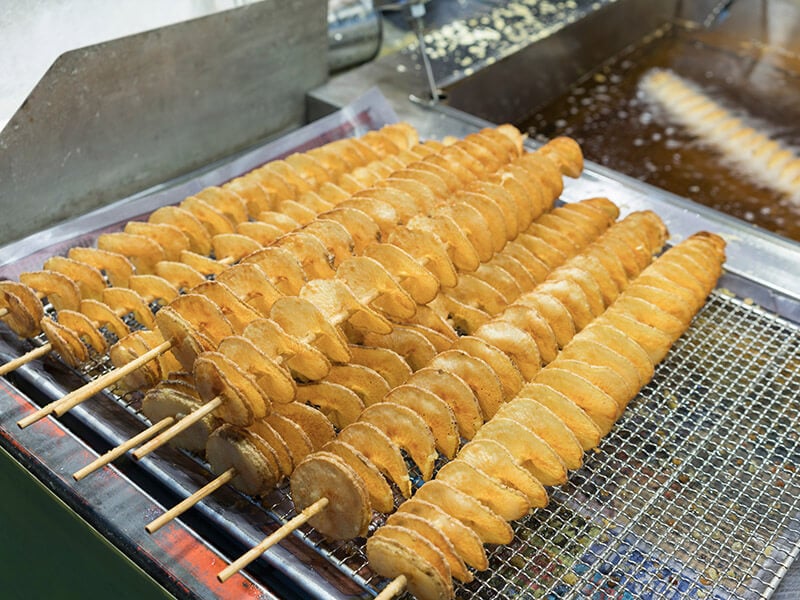 Tornado fries are a very famous street food, especially in Korea. You can find them at fairs. This type of fries is special because people do not serve it on a plate but a stick. They cut the potatoes to a spiral shape.
Usually, people season the potatoes before frying. Some sellers even add sausage to the stick.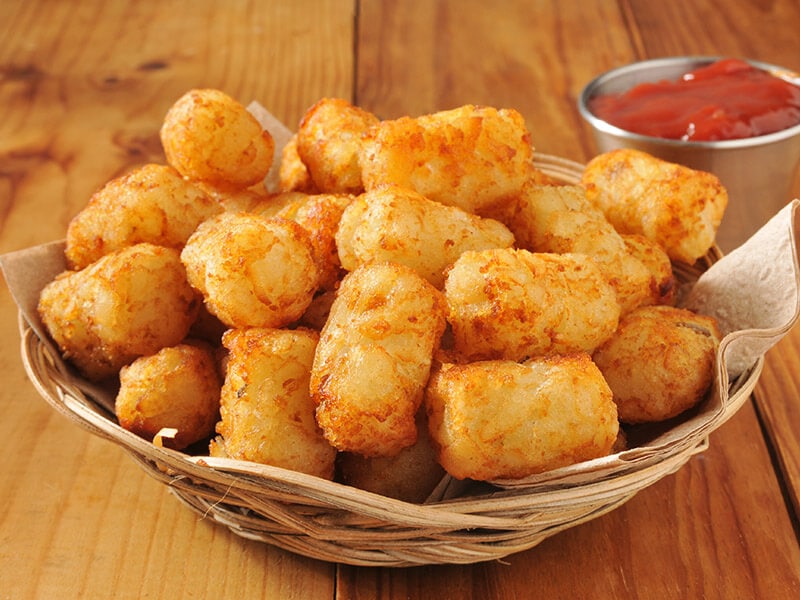 Tater Tots feature small pieces of potato fries. People grate the potatoes then shape and deep-fry them. The fries have a cylinder shape. You can make Tater Tots right at home or buy the frozen version in the supermarket.
This type of fries is popular among children. They often enjoy Tater Tots with ketchup, dips, or sauces.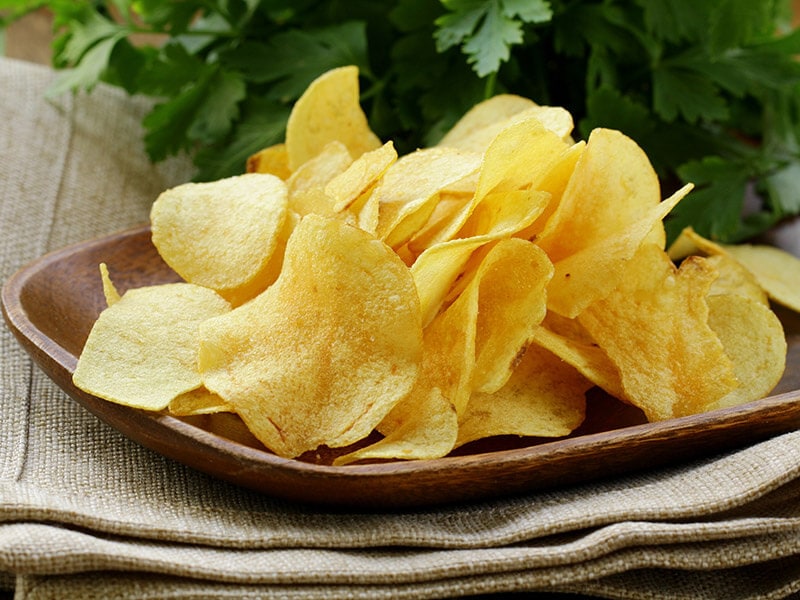 British-style fries are "chips". They are different from standard fries because they feature thinly sliced potatoes. When tasting them, you will feel a crispy texture. They are the crispiest variety of fries.
If you want to make chips at home, try to produce thin slices of potatoes. But don't put it in the oven. The best way to create that crispiness is to deep-fry them in oil, which can be peanut, canola, vegetable, or corn oil.
After frying, you should put them on a wire rack to cool them. Then sprinkle some salt over them before serving.
This classic potato chip recipe will be a perfect mid-day snack.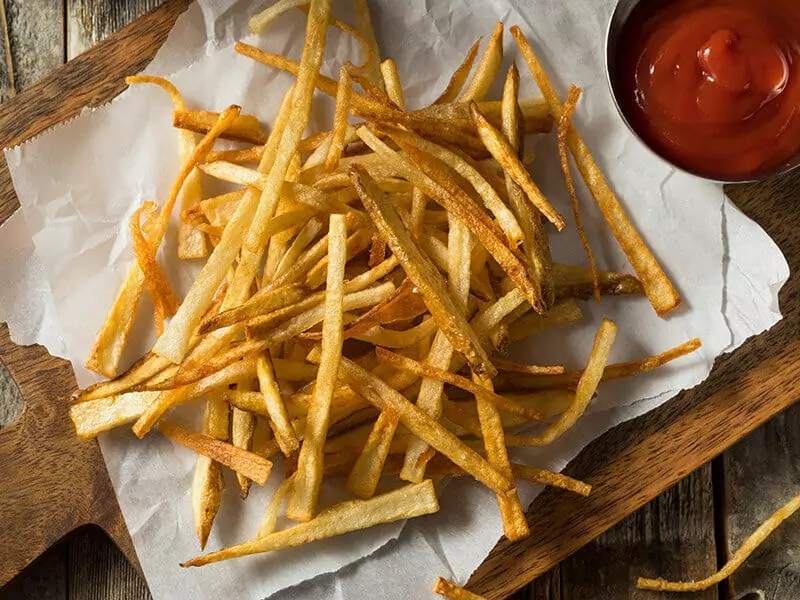 If you have ever tried a type of long and thin fries, you probably came across shoestring fries. They are even thinner than ⅛". Thanks to the thin shape and the process of deep-drying, they are super crispy. They are often as long as Julienne fries.
Another name of shoestring fries is "Papas Julianas". In Cuba, people serve it as a delicious side for sandwiches.
This type of fries will lose its crispness after a short time, so it is best to enjoy them right after frying. You can use a food processor with a slicer or mandolin attachment to create such thin cuts.
People often enjoy them by themself as a snack or serve them with chili dogs, burgers, BBQ, and sandwiches. They also make a great accompaniment to grilled cheese. Some love to eat multiple sticks at a time.
Another variety of thin fries is Matchstick fries. They are as thin as Shoestring fries. Amazingly, they are even crisper and shorter than Shoestring fries. When eating this type of fries, everything you can feel is the crispiness.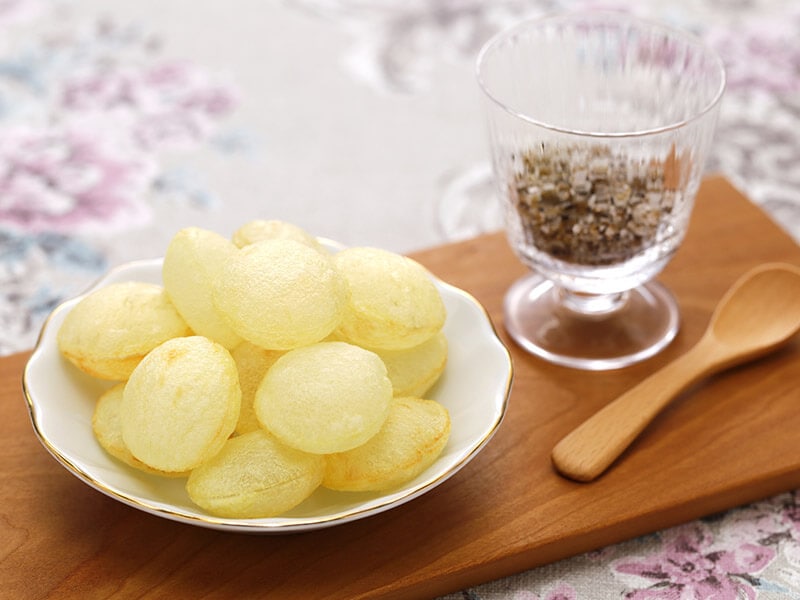 This is probably the most special type of French fries. The fries have a stunning appearance and a sophisticated cooking process.
First, people slice the potatoes into oblong pieces. Then, they deep fry them at 300 degrees Fahrenheit and deep fry them again at 375 degrees Fahrenheit. The fries will gradually puff up and turn to a beautiful golden brown color.
The potato slides will then look like mini balloons, and they are super crispy. People serve Pommes Souffles right after frying to enjoy their best taste.
4 French Fry Recipes That Are Simple And Delicate
This is my favorite section. I love to explore different fry recipes and try making them. Below are those that I found most delicious and easy to make. If you haven't thought of any recipe to try, I highly recommend you take a look at them.
You can cook garlic fries in an oven or turn them into a delicate appetizer with an air fryer. Feel free to either use frozen French fries or make them from scratch. If you want to add some richness, consider adding some Parmesan cheese.
Garlic fries recipe will certainly be a crowd-pleaser.
Steak fries are versatile and delicious. They have a super crispy and flavorful exterior and a soft and fluffy interior. They have a little bit of heat provided by paprika powder. They are also salty and garlicky.
No one can resist the thin and extremely crispy slices of potatoes. The traditional recipe only requires salt and olive oil. But you can make them more flavorful and delicate by adding other spices, such as garlic powder and chili powder.
Creating a curly shape may be a challenging task. But it won't be so if you have a specialized spiralizer. For the seasonings and cooking methods, you can have plenty of choices. You can fry them in an oven or air fryer.
Fries Are A Versatile And Diverse Food That Anyone Must Try
I am sure that you have tried at least a few types of fries on this list. But you can't imagine that there are too many of them, can you? I have the same feeling when I discover these types. Fries vary a lot in shapes, methods of cooking, and serving.
I believe that there are many people out there who don't know about these types of fries. Why don't you make this article accessible to them so that they can also learn about these amazingly delicious varieties?
And please click like if you find this post interesting and helpful. Thank you so much!