This article features many types of French sausages exclusively for those barbecue-loving carnivores. These easy French food ideas can still make your fantasy of juicy sausages come true without actually traveling to France.
Without further ado, let's discover some of the most well-known varieties of this globally adored staple food. Keep scrolling down for more information!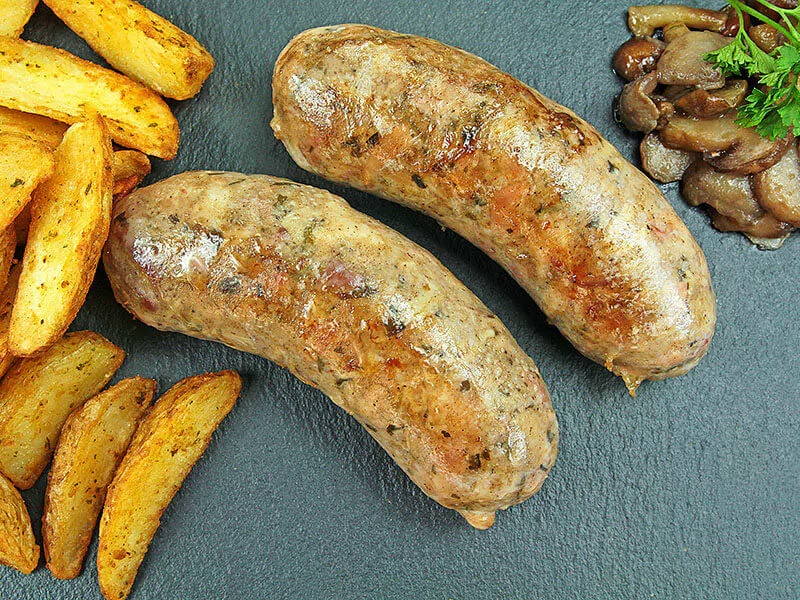 French Sausage 101: Understanding Saucisse And Saucisson
To begin, here is a helpful comparison recap about the two terms just for you:
| Aspect | Saucisse | Saucisson |
| --- | --- | --- |
| Meaning | Fresh and smoked sausages | Cooked and dried sausages |
| Size | Smaller, thinner | Bigger, thicker |
| Edibility | Requiring further processing before becoming edible | Edible immediately after purchase |
| Serving method | Hot or reheated | Cold in slices |
The first stepping stone in becoming an expert in French sausages, or in European dishes as a whole, is to distinguish Saucisse and Saucisson. If you get this idea right from the get-go, you are already ahead of many people, even the French themselves!
Generally speaking, Saucisse is a broad term to refer to fresh and smoked sausages upon purchase. On the other hand, Saucisson means specifically sausages that have been cooked and dried.
Therefore, Saucisson is consumable right away, while Saucisse requires further processing efforts before it becomes edible. Usually, Saucisse is smaller and thinner than Saucisson.
Another distinction between the two terms is how people enjoy it. If it is a tendency to consume Saucisse hot or reheated, people love to slice Saucisson and enjoy it cold.
2 Unique French Blood Sausages
Blood sausage is one of France's most ancient and traditional sausage types, dating back to 2000 BC. Below are the two most common varieties of French blood sausages that every sausage learner must know.
Before discovering this sausage pair, let's have an overall look at them!
| French Blood Sausages | Region | Texture | Flavor |
| --- | --- | --- | --- |
| Boudin Noir | Avignon (Southern France) | Dense, lush | Creamy, rich |
| Boudin Blanc | Champagne Ardenne | Uniformly fine, moist | Meaty, subtly savory |
TOTAL TIME: 40 minutes.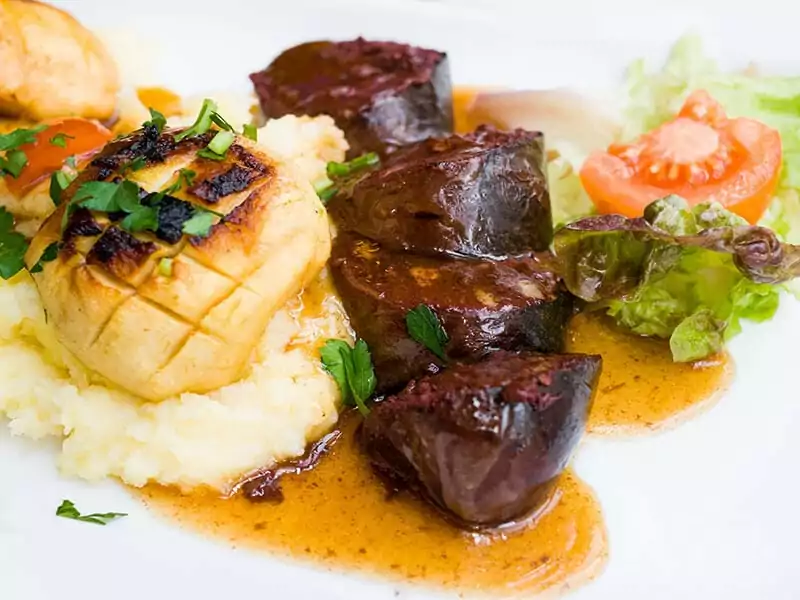 Boudin Noir is a classic blood pudding sausage from Southern France whose ingredients include pig blood, pork snouts, onions, and spices.
Prior to World War II, it was a mainstay of every typical family's diet. However, as the practice of maintaining a pig for slaughter dwindled, Boudin Noir changed from a family mainstay to a distinct sausage variety only available at reputable butcher shops.
Before being packed into shells, people often include dried fruits to counter the pungent flavor of the pig blood. In most cases, prunes and raisins are the most popular choice for such a task.
Unless pre-cooked, this blood sausage is perishable and should be prepared and consumed within a day or two after purchase.
Here is one delectable way to incorporate Boudin Noir into your dinner.
TOTAL TIME: 1 hour and 45 minutes.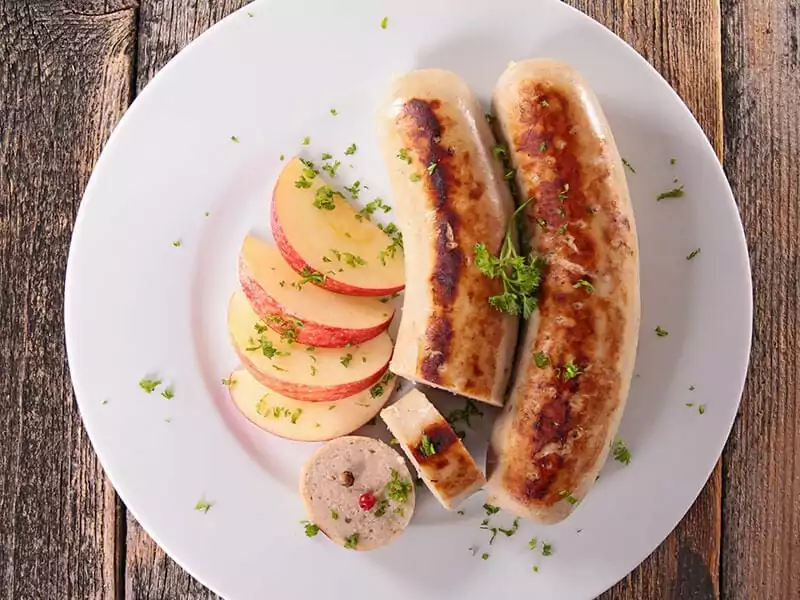 Unlike the distinctive black hue of Boudin Noir, Boudin Blanc is undoubtedly one of the most bizarre foods you will ever sample. In French, Noir means "black", and Blanc means "white", referring to the contrasting hue of the two Boudin sausage variants.
As the moniker describes, Boudin Blanc has a light-colored hue due to the use of full milk (or cream) and egg white (or whole egg). A qualified Boudin Blanc must be homogeneously white and reveal no sight of chopped spices and herbs.
White meat (pork, poultry, or veal), a bit of milk, and seasonings are what you need to compose Boudin Blanc. Most of the time, pork is the perfect ingredient for Boudin Blanc. When the sausage is made of other meats, it will carry a label to signal that!
Milk helps maintain the light color and provides a nuanced flavor. You can either apply the hot milk method (called À Chaud) or cold milk (À Froid method). Although the former takes more time, it generates a lighter texture for the sausage than the latter.
There is one particular Boudin Blanc's variant named Boudin Blanc De Rethel, which originated in Rethel (Eastern France). It has a striking white, pale color, composed entirely of savory ingredients.
The French often serve Boudin Blanc fried or grilled for a fulfilling breakfast in France. Pair it with roasted or mashed potatoes and a glass of Champagne on the side!
2 Well-Known French Fresh Sausages
Generally speaking, uncooked meat is the main component used to generate fresh sausages. Here are two fresh sausage varieties that you can utilize for your next BBQ party.
Similar to the previous part, let's have a sneak peek of these two popular French fresh sausages via the following table:
| French Fresh Sausages | Region | Texture | Flavor |
| --- | --- | --- | --- |
| Chipolata | N/A | Fine-coarse | Peppery, mildly tangy |
| Toulouse | Toulouse | Fine-coarse | Robust, garlicky |
TOTAL TIME: Under 30 minutes.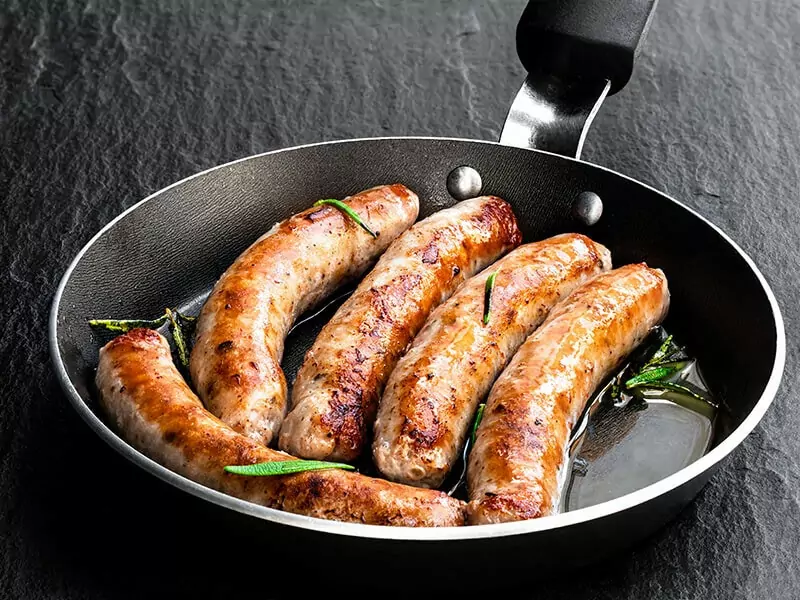 If someone is barbecuing in France, you can be sure that they are grilling either Merguez (a Northern Africa lamb sausage) or Chipolata. The latter is prepared from coarse-ground pork and often seasoned with herbs, salt, and pepper.
This fresh sausage was invented in France and appeared in Escoffier's 1903 cookbook named "Le Guide Culinaire" (A guide to modern cookery). Its moniker derives from the Italian word "cipollata", which means "prepared with onions".
The French love to grill or fry this thin, short sausage and enjoy it as breakfast. It is also prevalent in other nations, especially in the United Kingdom, where Chipolata is a popular part of a Christmas supper.
TOTAL TIME: 2 hours.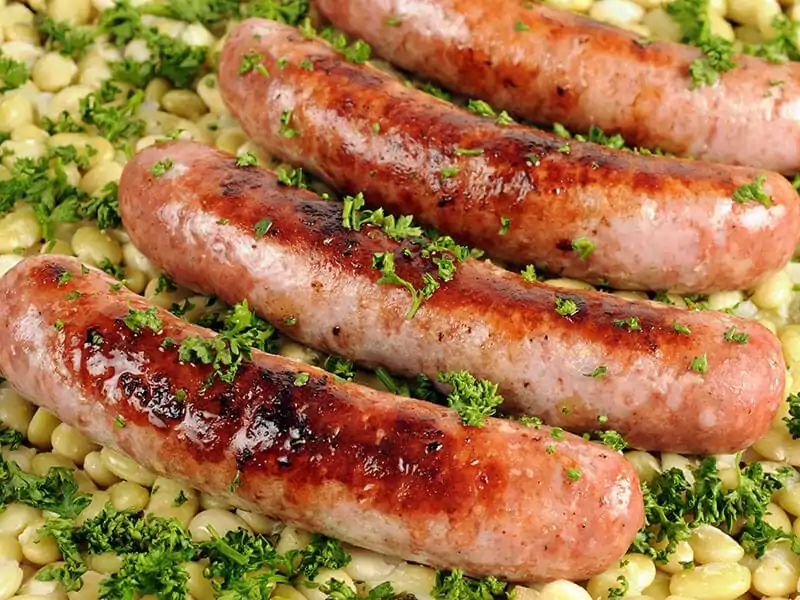 Also known as Saucisse De Toulouse, this recipe is a fresh sausage produced in Toulouse, France, featuring a natural casing whose diameter is 3 centimeters.
Similar to Cumberland sausage, a popular cultivar in the United Kingdom, Toulouse is manufactured from finely chopped pork, other seasonings, and is available in a coil.
Debuted in the 18th century, it has risen to become a signature dish at many local markets. Today, Toulouse sausage is an excellent dish for Cassoulet.
You can cook and consume this raw sausage as a main meal, or cure and dry it to form a dried sausage link. It is also a popular meat lump for forming a Charcuterie board. Stewing it with veggies or incorporating it in stews also works!
Toulouse is one sausage variety you can generate quickly at home.
5 Flavorful French Smoked Sausages
Smoked sausages are sausages exposed to wood smoke to impart a smoky flavor. They are often grilled, cured, dried, or cold-smoked. In France, the following three varieties are the most popular!
The broader the category, the more useful my summary table becomes! Let's spend a few minutes building a foundational knowledge of the top four French smoked sausages!
| French Smoked Sausages | Region | Texture | Flavor |
| --- | --- | --- | --- |
| Knack d'Alsace | Alsace | Crunchy, firm | Meaty, smoky |
| Diot | Savoy | Delicate | Extremely meaty, smoky |
| Morteau | Franche-Comté region | Extremely thick | Robust, smoky |
| Montbéliard | Franche-Comté region | Golden-brown | Extremely smoky |
| Andouille | Brittany, Normandy | Coarse-grained | Spicy, smoky |
TOTAL TIME: 1 hour and 25 minutes.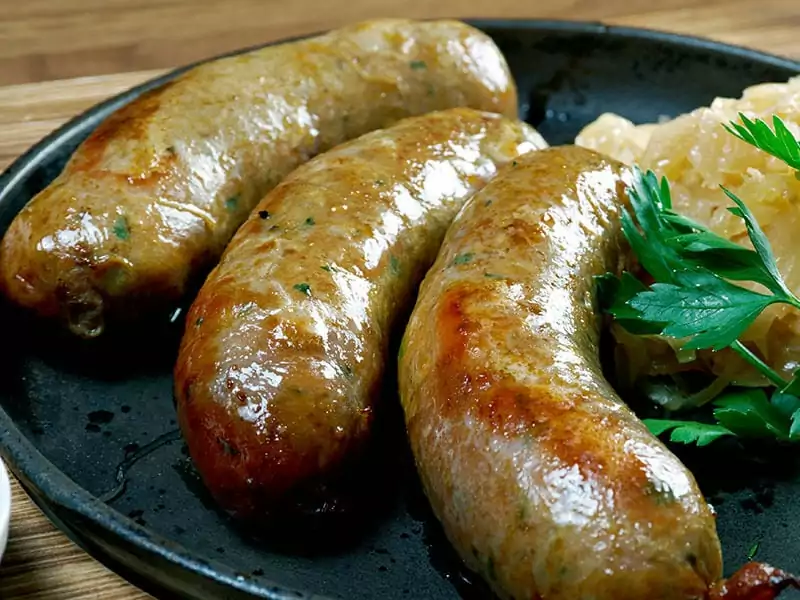 Also known as the Strasbourg sausage (Saucisse De Strasbourg), Knack d'Alsace is a smoked and grilled sausage made from pig and beef. It is somewhat pinker in color and longer than the Frankfurters (a classic Austrian smoked sausage).
You will be surprised at how similar Knack d'Alsace sausage and "hot dog" are in terms of both appearance and flavor. This French sausage gains its delectable taste from a pork-beef paste seasoned with natural additives prior to being stuffed into casings.
You can sense its light flavor blending with subtle aroma of wine and garlic in every bite. The sausage is delicious as an appetizer or as an addition to salads, casseroles, and pastas.
6. Diot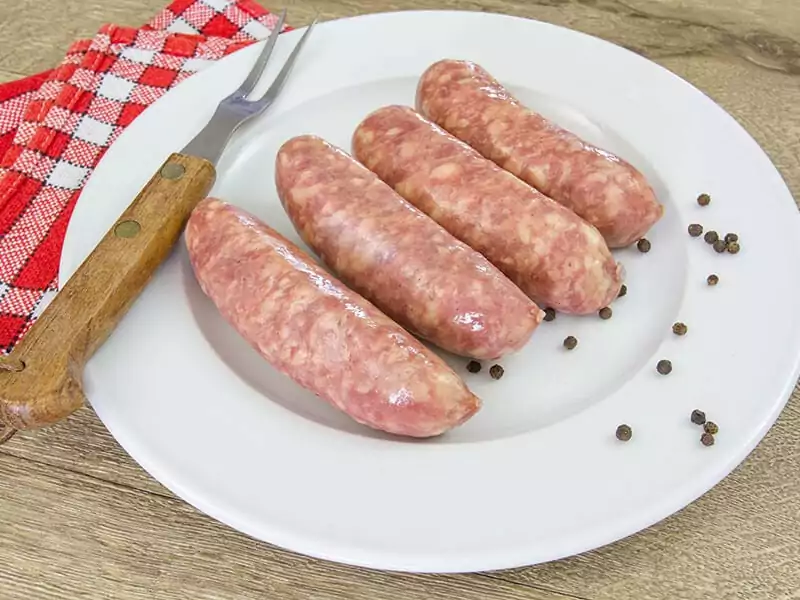 Originated from Savoy province, Diots are fairly substantial and meat-packed sausages featuring fatty pig mince seasoned with pepper, salt, and nutmeg. The sausages' thickness is around 5 centimeters, while their length can reach up to 15 centimeters.
You can easily spot Diot from a distance, thanks to its distinctive dark pink hue. When touched, you can also feel its delicate texture. After sampling this smoked sausage, you will be able to sense its highly meaty and smoky flavor.
Cooking Diot in white wine is the traditional way the French enjoy the sausage. Besides, you can serve it hot with polenta or boiled potatoes. Consuming Diot cold in a sandwich with Dijon mustard is also a brilliant idea.
7. Morteau Sausages
TOTAL TIME: 40 minutes.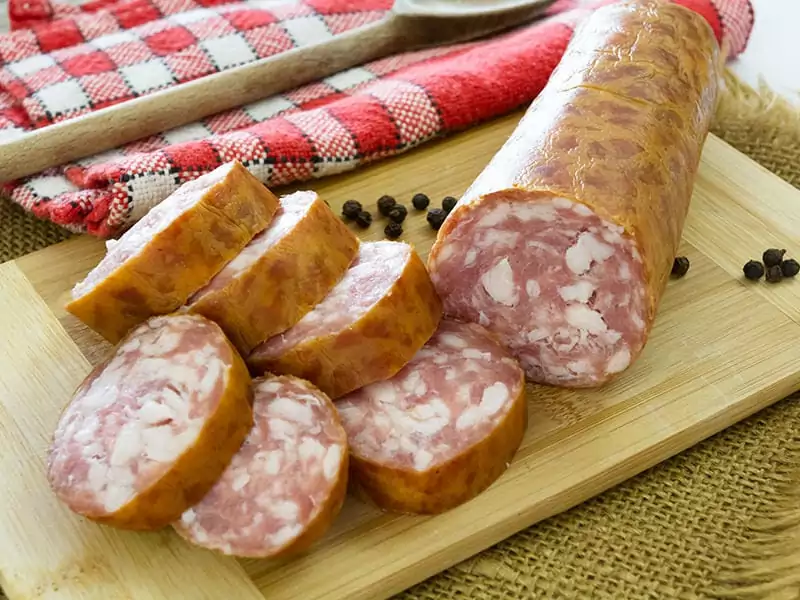 Also referred to as the Belle De Morteau, this traditional Franche-Comté sausage is a classic smoked variety featuring a strong flavor and an extremely thick texture.
To qualify as a Morteau, it must utilize only pork from the Franche-Comté region, where animals are traditionally fattened. You can also identify an authentic Morteau by the little piece of wood (called "cheville") used to seal one link's end and a metal tag.
Furthermore, it must undergo a smoking process with juniper and conifer sawdust that lasts at least 48 hours in the tuyé – a pyramidal chimney. Yet, this process does not cook the sausage, as there is a high stream of air following the burning.
Adding Morteau to cozy French soup meals or stews and gently simmering the food is a brilliant way to enjoy the sausage.
Nothing tops the experience of making this amber-colored sausage at home.
TOTAL TIME: 3 hours and 35 minutes.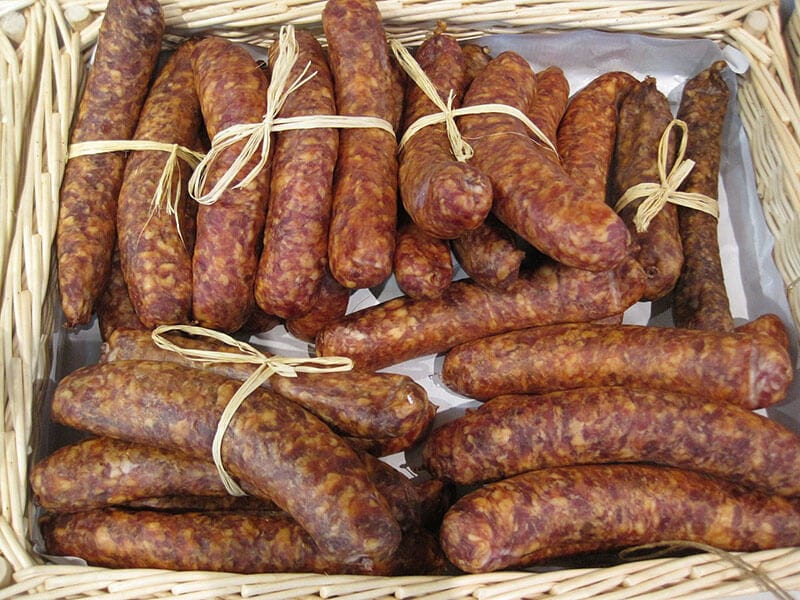 Along with Morteau, Montbéliard sausage is integral to the Franche-Comté culinary and gastronomic traditions. It is made with a finely minced blend of lean pork and firm pig fat.
The sausage is slightly curved and put inside a natural pork casing with a minimum diameter of 25 millimeters.
Thanks to the special 6-hour smoking process that utilizes soft resinous wood in a conventional smokehouse, Montbéliard produces an unusual smoky taste and an appealing golden-brown tint.
This sausage is exceptional when cooked in milk with French potatoes or veggies such as cabbage, leeks, carrots, or bay leaves.
TOTAL TIME: 1 hour and 35 minutes.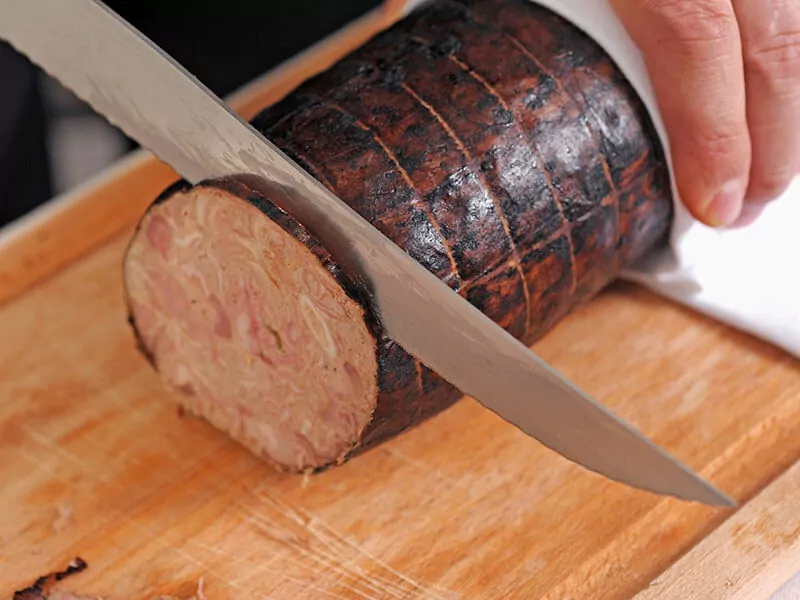 Andouille is another French smoked sausage with its iconic spicy taste, unique odor, and grayish tint. In Brittany and Normandy, Andouille usually comprises pig chitterlings, tripe, wine, onions, and spices.
Derived from the Vulgar Latin word "inducere", this sausage's moniker means "to lead in". Interestingly, Andouille has an American variety that is more popular than the original recipe.
This cultivar was brought to North America by French immigrants and has established a stronghold ever since. It is even an indispensable ingredient in many Cajun dishes, such as Jambalaya and Gumbo. Many people know Andouille via this Cajun version.
Since Andouille is smoked and cooked, you may enjoy it cold as a French nibble or appetizer. You can also enjoy it as a breakfast sausage, which pairs brilliantly with grits and eggs. Additionally, it works well with pastas and spicy pies as well.
2 French Dry Sausages
Unlike other types of French sausages, dry sausages must undergo a relatively lengthy air-drying process to remove moisture before being offered to customers. Follow me on learning about these two most classic French dry sausages below.
As usual, let's catch up on their overall information before diving into the details below.
| French Dry Sausages | Region | Texture | Flavor |
| --- | --- | --- | --- |
| Rosette De Lyon | Rhône-Alpes region | Dry, coarse | Sweet, mellow |
| Sabodet | Lyon | Coarse | Flavorful, rich |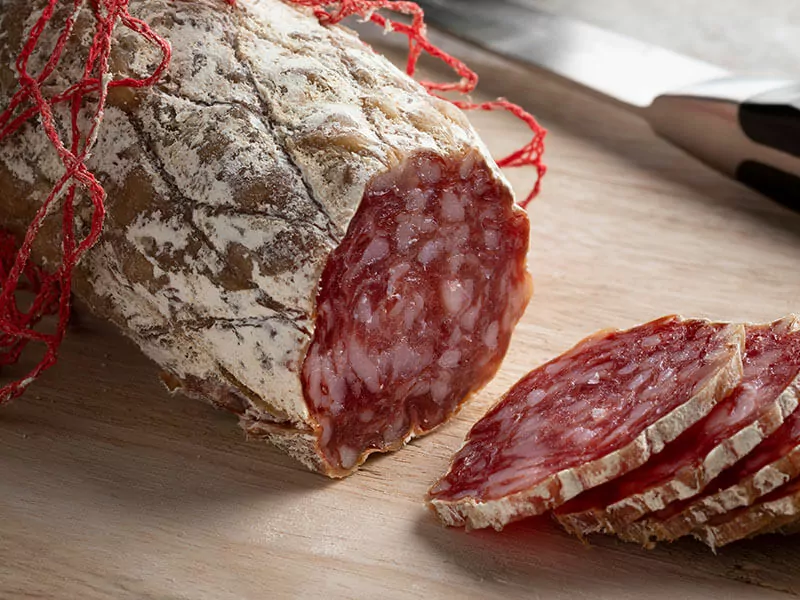 Rosette De Lyon is a robust and savory dry sausage whose moniker refers to the same-named city in French with a long tradition of handcrafted charcuterie. The term "rosette" is also said to allude to the sausage's rose tint.
The local people generate Rosette De Lyon by bathing the pig leg's skin in peppercorns then wrapping it in a natural pork casing. Also referred to as a bung, this casing sets Rosette De Lyon unique with a slightly conical form.
Then, this sausage will go through a maturing process that can last up to four months to gain its sweet, mellow, and substantial taste. Unlike other links which seldom weigh more than 300 grams, a matured Rosette can weigh up to three kilograms.
11. Sabodet (Pork Head Dry Sausages)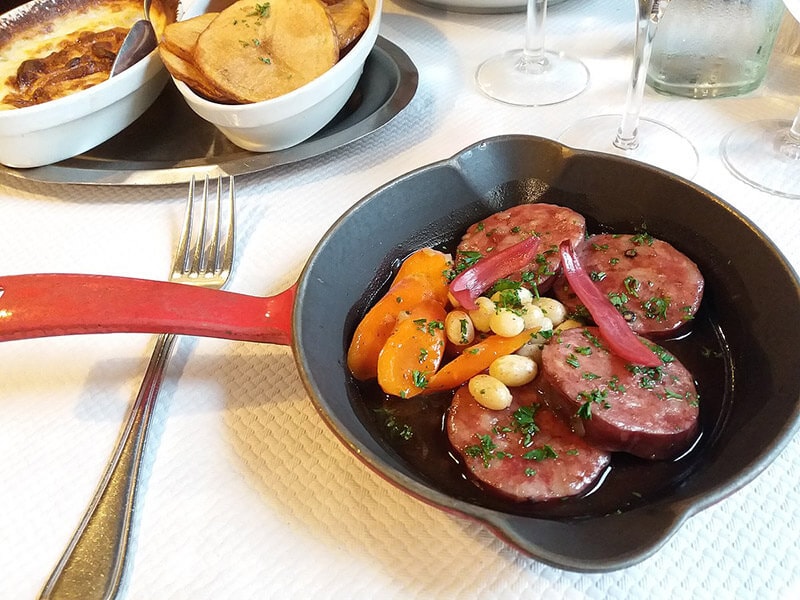 Also known as Coudenat or Coudernou, Sabodet is possibly the most peculiar sausage in this article. The sausage's name stems from its original form, which resembles that of a clog (sabot).
It is an amazing food from Lyonnaise cuisine whose ingredient is a pig's head. You've heard it right, everything on the head, including skin, ears, snouts, etc. All ingredients are covered in garlic, nutmeg, and red wine to generate a distinctive flavor.
French people love to consume Sabodet in thick warm slices. So, make sure you follow this practice for a perfect gastronomic experience.
3 Other French Sausages As Special Bonuses Just For You!
The following French sausage is my dedicated gift for my beloved readers! It is one of the most distinct varieties that not everyone is aware of! The good news is that you will know it thoroughly after this section!
Prior to learning these French sausages detailedly, let's take a look at the overview table below:
| Other French Sausages | Region | Texture | Flavor |
| --- | --- | --- | --- |
| Andouillette | Northern France | Rough | Robust and unique colon aroma |
| Cervelas De Lyon | Lyon | Soft, delicate | Crunchy, meaty |
| Crépinette | Gironde | Moist | Mildly sweet, bacon-like |
12. Andouillette Sausages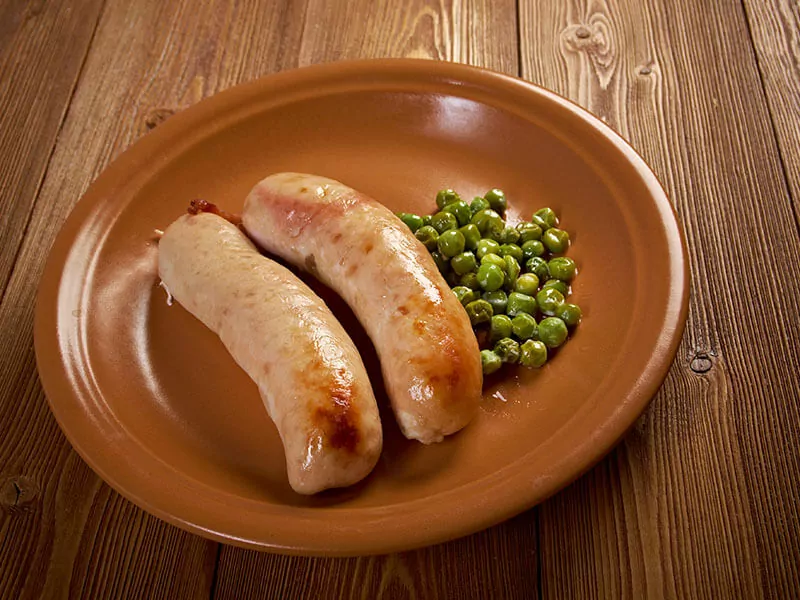 Andouillette is a tripe sausage variety that is popular in Northern France (Lyon, Troyes, Tours). Its texture is somewhat rougher than others as it contains coarsely sliced ingredients.
Prepared with pig chitterlings and stomach, as well as mustard and spices, Andouillette is a gourmet French sausage that may be served hot or cold. It has an acquired taste and pairs very well with dry white wine, brut champagne, or Pinot Noir.
Typically 7 to 10 centimeters in diameter, authentic Andouillettes are available in France only. You will have a hard time finding their robust and unique colon aroma outside of its originating nation.
Fresh salad and roasted potatoes are two popular side dishes that pair nicely with Andouillette. Further enhance your meal by broiling, pan-frying, or grilling the sausage before serving!
13. Cervelas De Lyon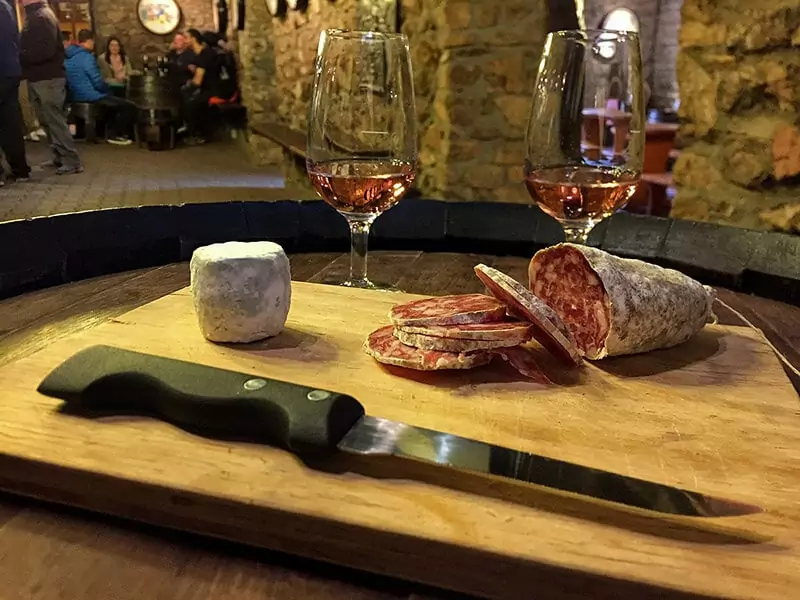 As the name implies, here comes another Lyon's indigenous sausage. Cervelas De Lyon is short, wide pork sausage brimming with truffles or pistachios as the filling. Make sure to boil the sausage before eating it, as what you get at the shops is uncooked.
This special sausage has already been produced in Lyon since Roman times and sent to Rome during the reigns of the Caesars. Initially, it did not successfully seduce the people of Lyon due to the lack of pistachios and truffles.
At the end of the 19th century, historical texts attest all French social classes consumed it, from workers to aristocrats. The whole population had fallen under the spell of Cervelas De Lyon via its soft texture and crunchy fillings of pistachios or truffles.
One interesting fact about Cervelas De Lyon is that its original recipe once called for the use of pig brains, which is how it got the moniker everybody knows today.
TOTAL TIME: 1 hour and 50 minutes.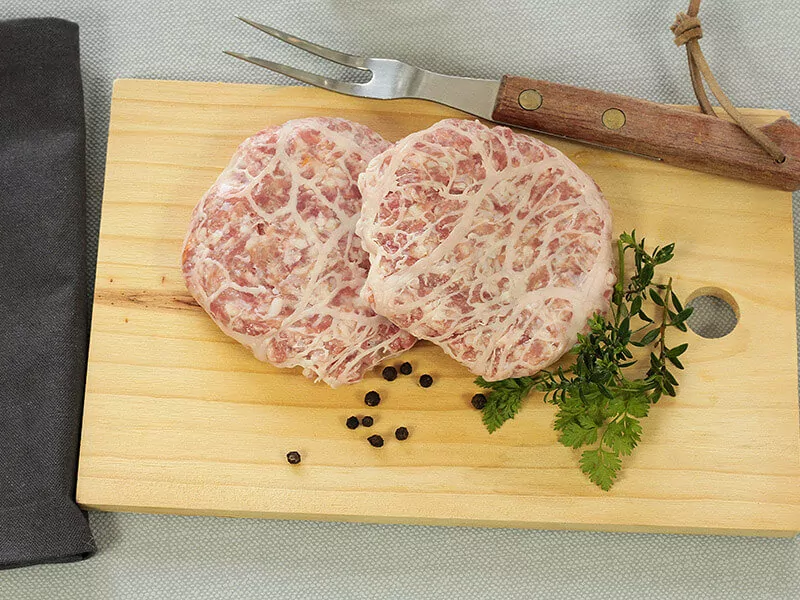 Shaped like a small meat patty, Crépinette is a round, flattened sausage that features minced meat wrapped in caul fat (or intestinal membrane). In most cases, this French sausage is baked with a covering of bread crust and then sautéed in butter.
The sausage has established a strong reputation in Gironde (Southwestern France) and has became a local tradition during year-end celebrations.
The stuffing content of Crépinettes comprises various meat ingredients, such as ground pork, chicken, and lamb, sometimes with truffles. In many renowned French cookbooks, the term "crépinette" only refers to the sausage's content.
Its name derives from the French word "crépine", which translates as "pig's caul". Other culinary documents from the 13th century pointed out that the sausage name actually stems from the word "crêpe" to indicate its miniature and appealing shape.
Prepare your culinary stuff and learn to make Crépinette right away!
Which Is Your Most Preferred French Sausage?
These amazing types of French sausage form an integral part of the nation's gastronomic culture. Although the category is not as diverse as German or Italian sausages, it features all the popular names in the field.
Let's share your favorite French sausage in the comment section below. Tell me if you know other options outside of my compilation's coverage. Thank you for reading!