Ham bone soup is like a warm hug on a cold day. Even if your appetite is low under such conditions, the full-flavored sensation this soup carries will totally energize you.
Imagine how tender ham flakes off the bone and melts in your mouth or the incredible mouth feel that the rich and silky marrow in the broth provides. Moreover, this amazing American soup always includes wholesome vegetables and, as a result, is overflowing with nutrients.
This recipe is also quite easy. You need to throw everything together and let them simmer for some time. The outcome will be delicious enough to awaken all your senses. On a cold fall or winter's day, this nutritious soup is a must!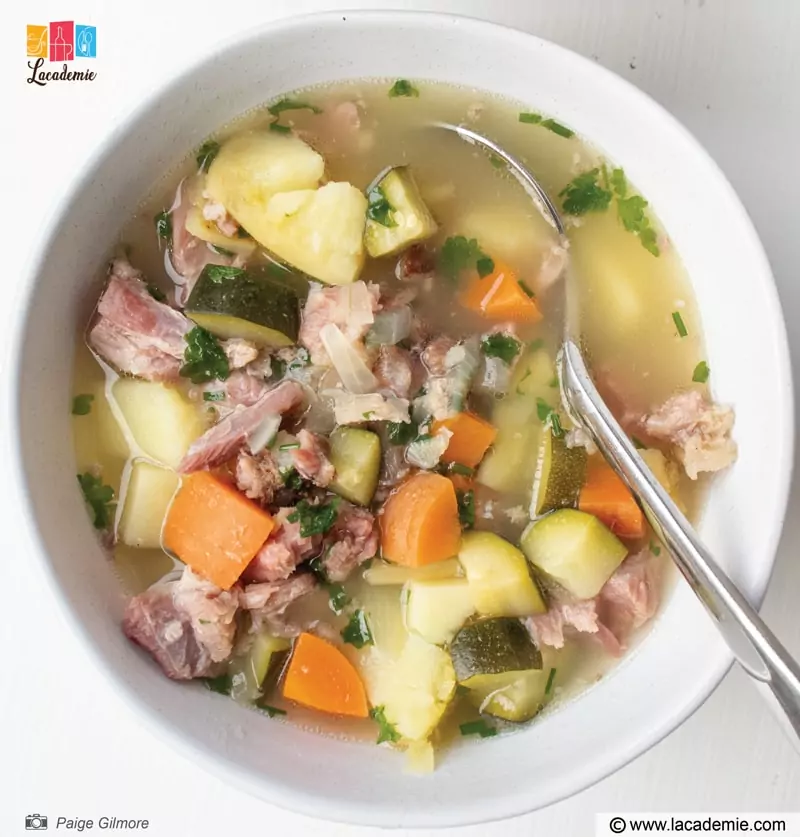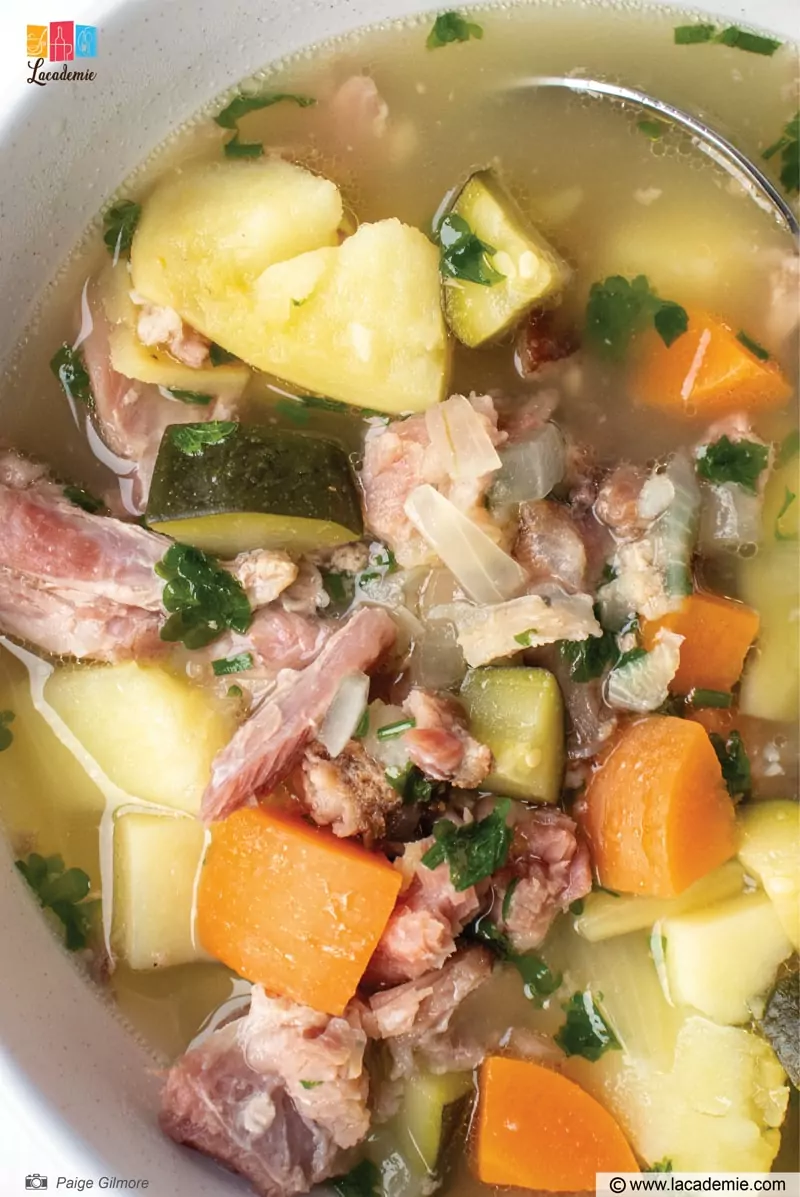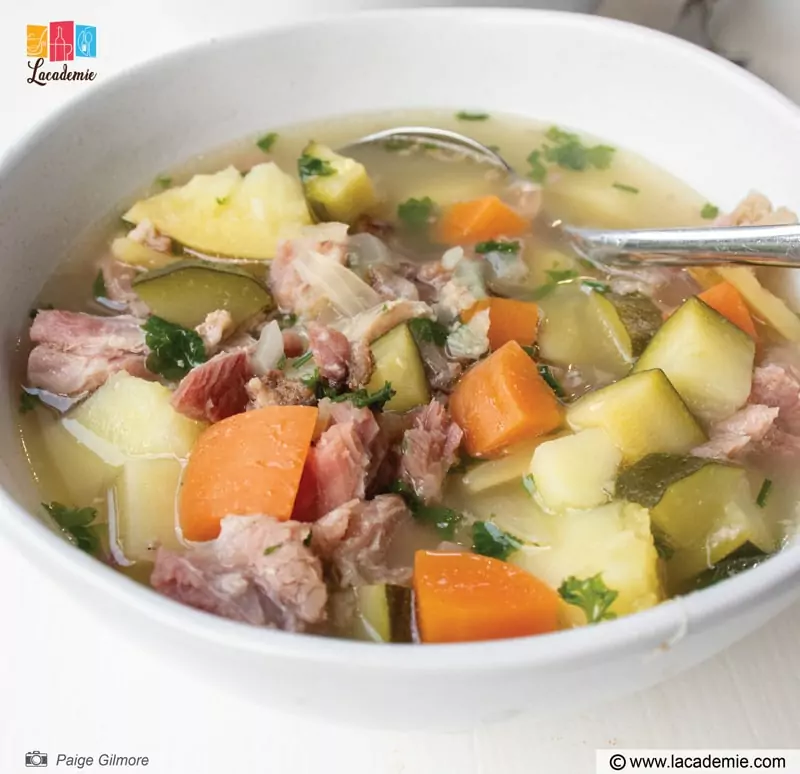 What Is Ham Bone Soup?
Ham bone soup is a great way to use leftover ham, especially after a big event where you're left with a ham bone that still has plenty of meat. Following up your lavish Christmas or Thanksgiving party with a steaming hot pot of soup sounds like a good idea.
Of course, you can also go buy a ham on the bone from your local supermarket and get a really nourishing soup. Fresh ingredients will give your meal an even better taste.
But meat isn't the only highlight. This recipe requires a vegetable stock base that is packed full of garden vegetables to create a really comforting and nutritious soup.
Tools
Soups are so fun and easy to make at home; this one is no exception! To recreate my ham bone soup, you will need:
Large soup pot: While you can use a slow cooker, an old-fashioned soup pot (or a Dutch oven, if you have one) will do the job just fine and give you more control over how much you want to cook the soup.
Chopping board: to cut the vegetables and cooked ham. Feel free to use two different boards for them.
Sharp knife: A normal kitchen knife will do.
Large spoon: to ladle out the soup.
Bowl: to serve the soup.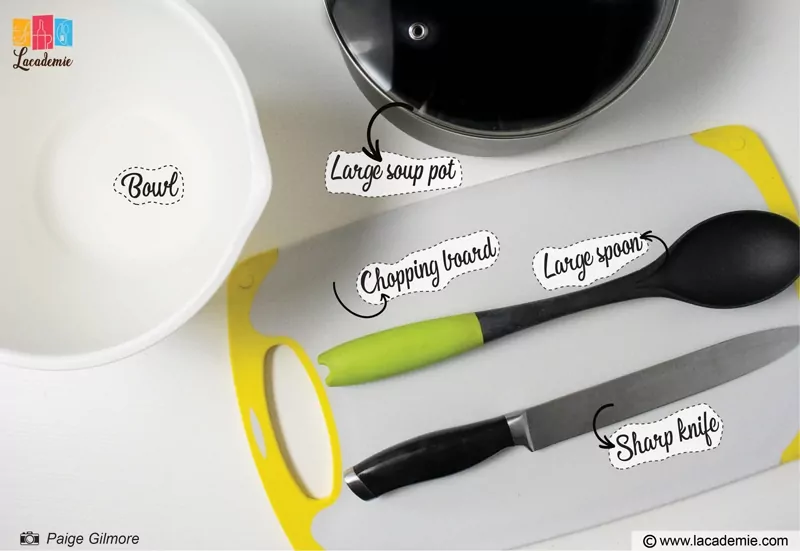 Ingredients
To cook this warm and wholesome home bone soup, you'll need the following ingredients: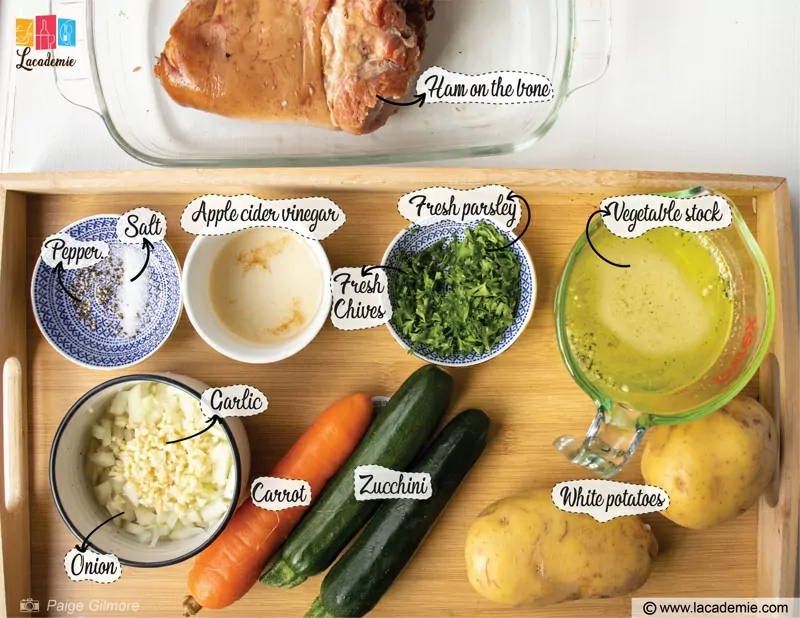 Ham on the bone: There wouldn't be ham bone soup without it. You can use leftover ham bone or buy it straight from any grocery store or butcher shop.
White potatoes, carrot, and zucchini: These three vegetables create a really scrummy addition to the ham soup.
Onion and garlic: Add warm, savory flavors.
Apple cider vinegar: Adds depth to the flavor profile.
Fresh parsley: This vibrant herb really livens up this soup in terms of color and flavor. It should be thrown in last to the soup.
Vegetable stock: It is the base of this soup and as important as the ham bone.
Fresh chives: Complements the soup base with its garlicky note.
Salt & pepper. Add to suit your tastes.
How To Make Ham Bone Soup
Follow these four steps to cook a delicious pot of ham bone soup at home. Trust me: they are more straightforward and less time-consuming than you think.
Step 1: Cook Ham And Prepare Vegetables
Place a large pot on the stove, add in stock and ham bone. Bring to a boil and then simmer for 1 hour. While the ham is cooking, prepare your vegetables. Chop potatoes, carrots, and zucchini into bite-sized pieces. Set aside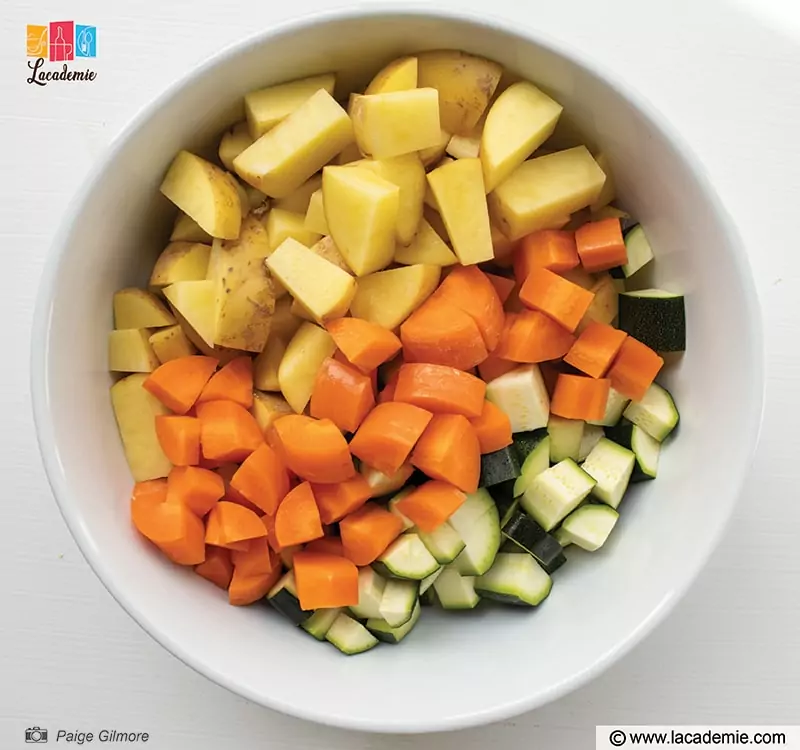 Step 2: Remove Cooked Ham
Remove your cooked ham from the pot with a spoon or a fork when it is soft enough. If possible, you can use a wireless thermometer designed for meat to check if the internal temperature of the ham reaches the safe point of 145°F or not.
Place the ham in a bowl to cool down for a couple of minutes before transferring it to a chopping board.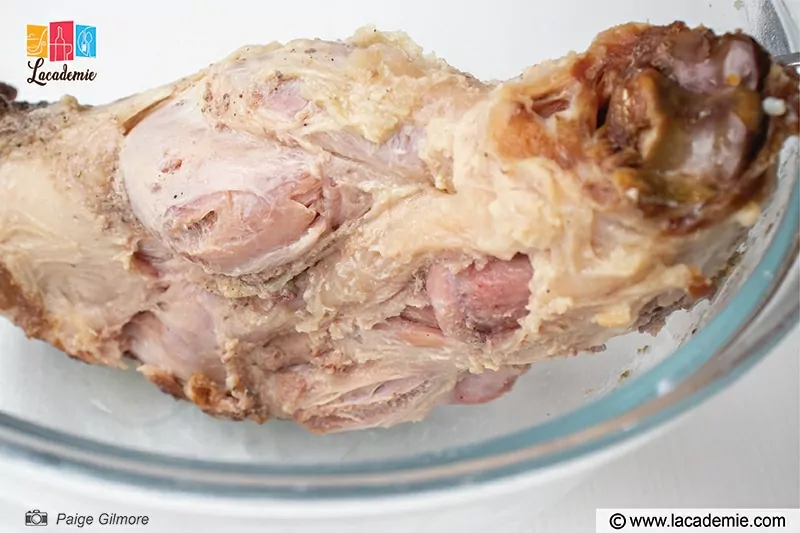 Step 3: Add Vegetables To The Soup
Carefully add your cut vegetables, onions, garlic, apple cider vinegar, and seasoning to your soup. Stir your soup and bring it to a boil again. Reduce to a simmer while you prepare the meat from your ham bone.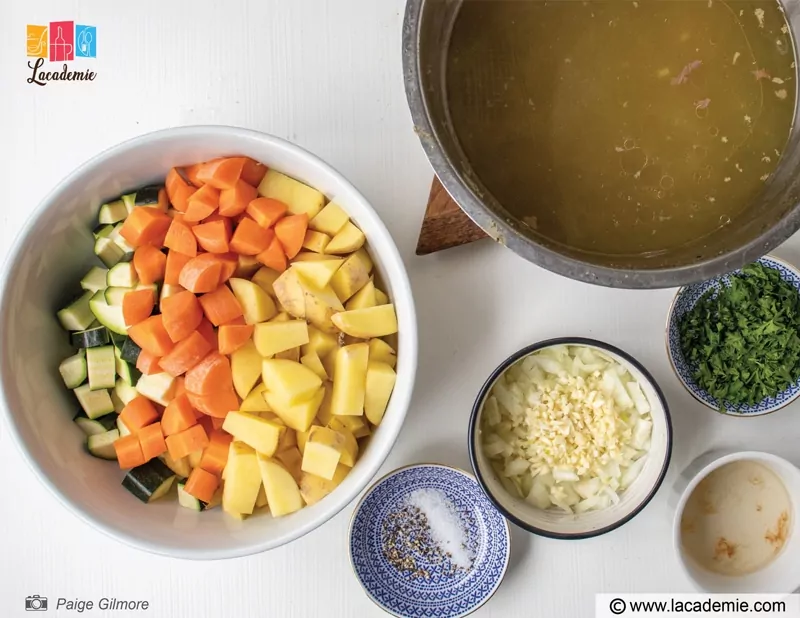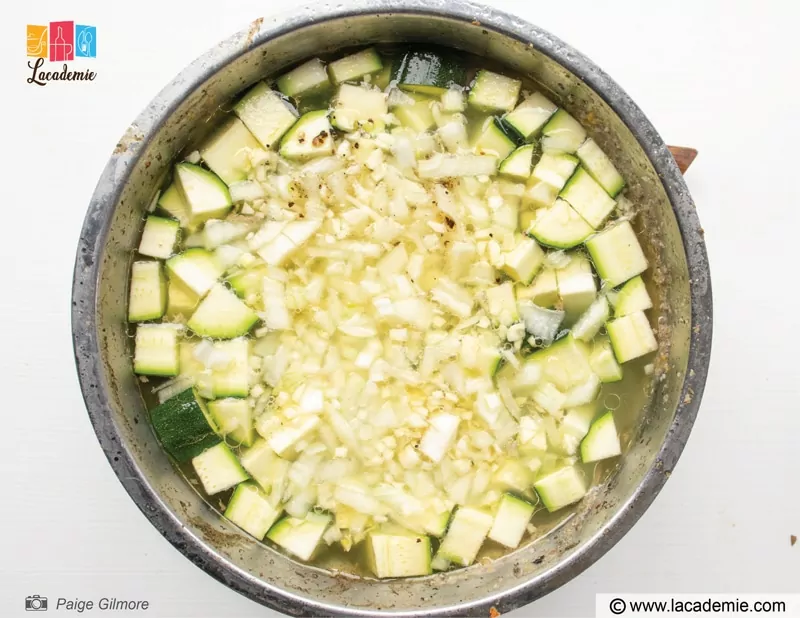 Step 4: Prepare Ham Meat And Cook Soup
Remove the meat from the bone using a sharp knife, then dice ham into bite-sized pieces. Add the ham back to the soup and sprinkle the fresh parsley plus chives before stirring the soup. Continue cooking your soup until the vegetables are tender (approximately 20 minutes).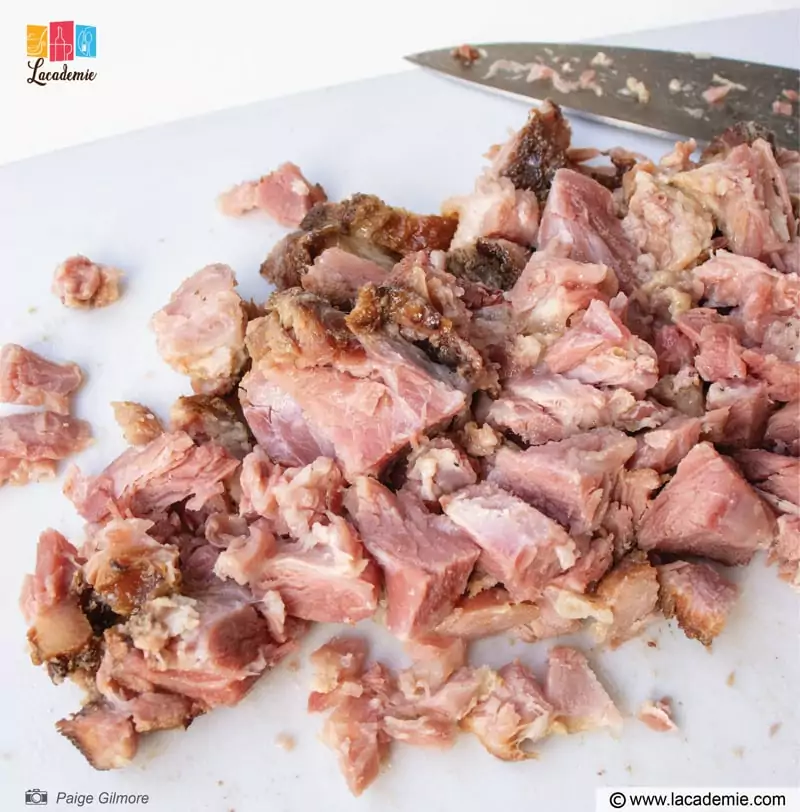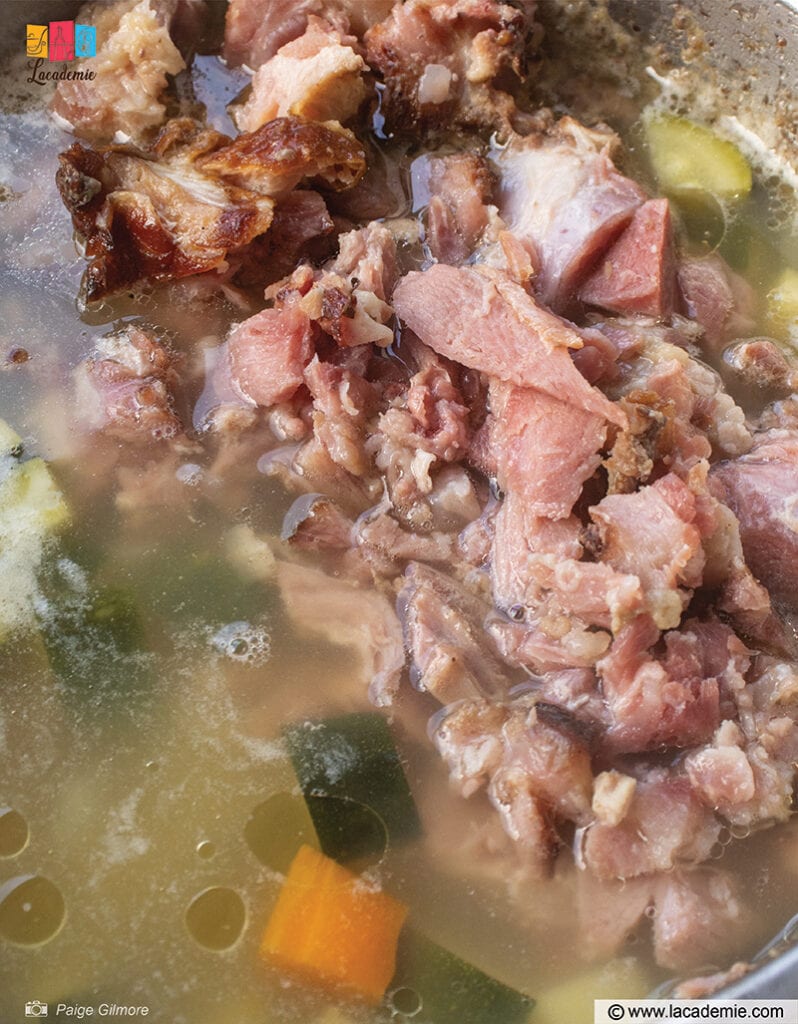 Step 5: Serve Your Soup
Check your vegetables are cooked through, then serve hot in individual bowls. Enjoy!
Remember Those Tips To Cook The Best Ham Bone Soup
My recipe for ham bone soup is very simple to follow, but learning about the following tips will ensure you get a well-rounded soup that is packed full of flavor in every bite.
This recipe calls for potatoes to give the soup a thicker and starchier consistency. If you don't have them on hand, you can substitute them for sweet potatoes or pumpkin.
When removing the cooked ham meat from the bone, ensure that you only add the meat back into the soup but not the cartilage or smaller bones.
While this recipe utilizes fresh parsley and chives, you can always use other herbs to replace parsley and chives as long as they are aromatic enough. Dill or cilantro will be lovely.
What To Serve With My Ham Bone Soup?
You can enjoy a warm and hearty ham bone soup as it is on a cold day. However, there is no harm in pairing it with other foods for a full meal. Here are a few possible side dishes to serve alongside this soup:
Warm Crusty Bread
Sour Cream
Cracked pepper
The Correct Way To Store Ham Bone Soup
This recipe is suitable for storing in the fridge for as long as 1 week, which is perfect for make-ahead meals. You can also freeze it for several months if using a freezer-friendly bag. Reheat them as you do with other types of foods.
Ham Bone Soup For The Soul, Why Not?
Not many recipes are as forgiving as this one: you can throw it all in the pot and let it simmer. It is so simple to create that you'll find yourself making it on cold winter and fall days. Try it, and you will agree this recipe is ideal for taking care of your leftover Christmas ham.
Some of my best memories are coming home to a heart-warming bowl of ham bone soup on a cold day. They can be yours now! Have fun with my recipe, and let me know in the comment section. Don't forget to share this post and spread its warmth to your friends.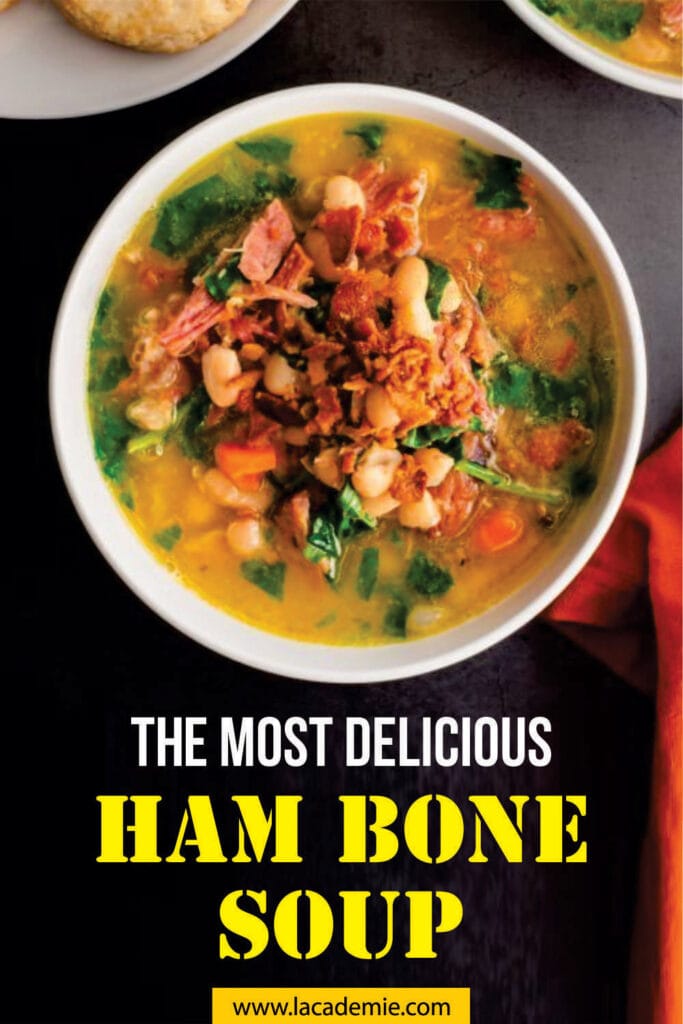 Nutrition Facts
8 servings per container
---
Amount Per ServingCalories356
% Daily Value *
Total Fat 22g

34

%
Cholesterol 67mg

23

%
Sodium 2476mg

104

%
Potassium 408mg

12

%
Total Carbohydrate 14.4g

5

%

Dietary Fiber 2.4g

10

%
Sugars 4.3g

Protein 19.7g

40

%
---
* The % Daily Value tells you how much a nutrient in a serving of food contributes to a daily diet. 2,000 calories a day is used for general nutrition advice.