These instant pot Indian recipes are your true saviors if you don't have much time to cook for your loved ones. You can find various suggestions in this article, from light Naan to a bowl of hearty Beef Vindaloo. Try them one, and you'll be a fan later.
It's not wrong that almost all Indian dishes take a pretty long time to make, but it is no longer a big problem from now on. With my recommended Indian recipes below, you can save your cooking time and still have a true feast. Scroll down now for more!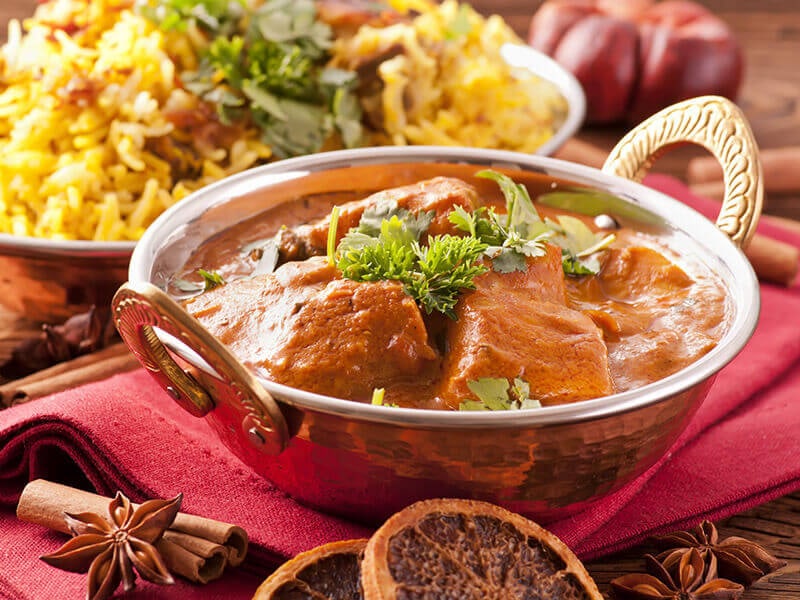 Let's Refer To These 27 Indian-Style Instant Pot Recipes!
Choosing what to have for a meal is always a hard-to-answer question, especially for busy people who hardly have time for cooking. How about giving the upcoming instant pot used recipes a go? I promise they will never disappoint you.
Referable total time: About 25 minutes.
This light Indian tomato coconut soup is the classic comfort food for many Indians, and it might also be yours later. With its rich coconut base combined with a mild sourness from tomatoes and plenty of spices, this beloved Indian delicacy can tempt anyone.
One particular ingredient in this Tamatar Nariyal soup is the agave nectar. It's a vegan alternative to honey and tastes sweeter than regular sugar.
When processing this dish in an instant pot, everything you should do is toss everything into your equipment, and all the flavors will harmonize with each other quickly. In the last step, to have a smoother soup consistency, you should blend the whole mixture with a blender.
Detailed video showing the best way to make a portion of tomato coconut soup is here!
Referable total time: From 20 to 57 minutes.
"Humble yet tasty" is the best term to describe the flavors of Jeera Rice, and this is the first rice dish in my article for you. To make cumin rice or (Jeera rice), you should soak the basmati rice for a while.
This kind of rice is a staple in Indian gastronomy, and it's loved for its gorgeous fragrance (just like its name). Regularly, basmati rice tastes relatively mild with a slight nutty note. But when pairing it with processed cumin seeds/cardamom, your whole dish will be warmer in taste.
Jeera Rice can be a great partner for any hearty Indian curry or stew below, so consider making this rice dish the starch base for any family meals. Your loved ones indeed are very appreciative of what you serve them.
Referable total time: From 45 minutes to 1 hour 5 minutes.
Indian cuisine is a heaven of Asian-style vegetarian delights as you can find various kinds of veggies-loaded or plant-based dishes here. Biryani is a must-try rice dish in Indian gastronomy, and it will be my first suggestion for a vegetable-loaded dish on this list.
The rice used for Biryani is not limited; you can use either regular rice or basmati. Vegetables for this vegetable mixed rice are varied: peas, carrots, and others are all good. For the spices, cumin seeds or Masala powder also exist to boost the dish's taste.
The ratio between rice and water plays a vital role in deciding if your Biryani is beautifully cooked or becomes soggy later. You should notice the guide to have an undoubtedly palatable portion of Vegetable Biryani.
Referable total time: Around 35 minutes.
Are you ready to know how to process Pudina Pulao in the instant pot? My preferred Pudina Pulao today is a great way to fancy up your basmati rice. Besides the leading role of refreshing mint leaves, Pudina Pulao also calls for a wide range of spices/condiments.
Most commonly must-have spices in your rice are cardamom and cinnamon with a touch of turmeric powder. Other fibrous ingredients like veggies are optional, and you can match anything you wish for.
After sautéeing all the spices and cutting vegetables, add your soaked basmati rice and water, close the lid, and let the instant pot do its magic.
Greet the best Pudina Pulao instruction ever here!
Referable total time: About 35 minutes.
This upcoming recommendation is a palatable South Indian delicacy with a lentil base. As you might have noticed, lentils or dals are frequently used in their diet, and you should definitely try this tangy and fragrant curry first.
In my suggested recipes, pigeon peas or toor dals and mixed root vegetables (carrots, potatoes) are the main ìngredients. These things can sustain well under high heat and deliver great texture after time in the instant pot.
Another signature component for this Sambar is the tamarind, which offers your food a prominent tangy and tart flavor. Never forget this part to have the best instant pot Sambar ever.
Referable total time: About 1 hour 20 minutes.
If you have never tried making cheese at home, then this first experience might blow your mind. In terms of flavor, Paneer tastes just as mild as the famous cottage cheese, but this Indian dairy product offers a bit firmer texture.
Making Indian-style cottage cheese in an instant pot helps you to deal with almost all the problems you might get with the normal stovetop boiling process.
To be clear, heating milk for Paneer with a saucepan will lead to the result of a mess on the stovetop or burnt cheese on the bottom of your pan. After cooking and waiting for the milk to curd (with the assistance of lime juice), make sure to drain out all the excess whey.
The excess water/whey after making Paneer can be utilized to make Naan or other Indian leavened breads. That's killing two birds with one stone.
Referable total time: About 8 hours 55 minutes.
It is time to utilize the "yogurt mode" on your instant pot and make something for which this function is born. Including sugar or any sweetener you wish to add in, my suggested recipes are the ideal Indian snack for your mid-afternoon light meal.
The main ingredients for your Indian yogurt are milk (whole milk is better) and some yogurt starters. Remember to pasteurize all the utensils used in the making process to prevent unwanted infection to your milk mixture later.
This is the easiest tutorial to make Indian Dahi you have ever seen!
Referable total time: About 1 hour 44 minutes.
With just a few simple ingredients, you can whip up this buttery, soft, and satisfying sensation at a fraction of the usual Naan-making time. Normally, local people proof the dough at room temperature, which takes a long time, but now you can utilize your instant pot.
Especially when your living place is cold, the instant pot can offer you an ideal constant warm, airtight area so that your Naan dough can be proofed evenly. After that, pan fry your yummy Indian bread directly on a cast iron pan until the food has beautiful sears on both sides.
On days when you have no idea what food to have for dinner, you can have a piece of Naan with some refreshing Raita (Indian cucumber salad) or the previous Sambar.
Referable total time: From 20 to 25 minutes.
I have recommended a way to make Paneer at home, then how about making a portion of food from it? Among all the mentioned curries in this article, this Palak or Saag Paneer is undoubtedly the least spicy option for your whole family's meals.
Since you only need washed spinach, Paneer, and some other Indian signature spices/condiments like turmeric or coriander powder. You can definitely have this Indian-originated vegetarian dish for lunch or dinner since it takes almost no time to make.
Palak Paneer is also a low-carb treat, so you can include it in your weight-loss diet.
Don't miss out on this instruction and make some instant pot Palak Paneer!
Referable total time: From 25 to 40 minutes.
The term "Jalfrezi" refers to cooking methods (stirring or quick frying), and you can utilize this tasty recipe to use up your leftover chicken. Otherwise, you can opt for chicken breast (or thigh) since these parts are pretty meaty.
Aside from spices like cumin seeds or turmeric, tomatoes are also the critical point here. The sources for these ingredients are varied; tinned or fresh tomatoes are all great, so you can feel free to use them.
After setting up your dish to cook in the instant pot, it is time to cook some hot rice. Nothing can go wrong when serving your rice with a savory delicacy.
Referable total time: 25 minutes.
Just as shown in the name, Paneer Butter Masala or Paneer Makhani is filled with a luscious tomato sauce base and spices (such as Garam Masala and ginger). The food's red color comes from Kashmiri red chili powder, adding a spicy note.
This buttery and satisfying Paneer Makhani can easily delight anyone at your next get-together Indian-inspired dinner. You don't have to wait for so long for a batch of steaming hot curry on the table.
You can also pre-make this food and freeze it for later use. But you should remember not to add heavy cream and let the dish cool entirely before putting it in an airtight container. Your yummy Paneer Makhani will be ready to serve within 1 month.
Referable total time: About 40 minutes.
Making a dish you have never tried might be daunting, but I will show you the easiest way to have your first ever Butter Chicken done now. From preparing spices to the meat used, you can make this Chicken Makhani recipe from scratch with an instant pot in less than an hour.
The first step is to prepare some fresh boneless and skinless chicken. To be honest, this Indian-style chicken dish is probably spicy (with the addition of Cayenne pepper/Garam Masala), but I'm sure that it won't knock your mood down.
The rich note is crucial to milden the fiery taste of pepper. Therefore, the existence of something like yogurt/heavy cream/full fat coconut milk is a must. You don't need to have all three; one of them is fine enough.
I will reveal how Indian people make their Chicken Makhani in an instant pot now!
Referable total time: From 25 minutes to 1 hour 30 minutes.
Making Chicken Tikka Masala in the traditional way is pretty time-consuming. However, you can shorten the cooking time effectively with an instant pot, and you can start processing right away.
About the food's flavor, Chicken Tikka Masala would taste a bit more intense than the previous Butter Chicken, yet it's still pretty balanced. You should marinate the meat (chicken) for at least 15 minutes before cooking.
In case you have a longer time to prepare this dish, you should let the primary protein chill in the masala paste mix for 1 hour (or more). White rice/Naan bread is the best companion on the side of your Chicken Tikka Masala, so you should try these things together once!
Referable total time: Approximately 35 to 50 minutes.
This humble Lentil curry is a dish to write home about. Generally, it's bursting with pungent Garam Masala, mild and subtle sweet potatoes combined with a gentle sourness from tomatoes.
I often prepare a whole big batch of this food beforehand as meal prep and reheat later for a convenient Indian-style lunch for a busy workday.
Lentils are the main part of this vegan-friendly recipe besides other mentioned ingredients, and they take the role of the main healthy protein source for your food.
Because all the ingredients for this dish are pretty affordable and straightforward, you can plan to have it year-round.
Referable total time: Approximately 10 to 14 minutes.
Cauliflower and potato curry or Aloo Gobi is a breeze to make at home, especially with an instant pot. Actually, besides aloo (meaning "cauliflower" ) and gobi (meaning "potato" ), your dish also needs tomatoes to offer this saucy delight a thicker base.
Whether you are on a gluten-free or vegan diet, this toothsome treat can still meet your requirements for a delicious, quick-to-make, and nutritious. Aloo Gobi tastes best when hot, so you have to warm this dish up every time you want a plate of it.
Referable total time: About 4 hours 30 minutes.
A piece of Tandoori Chicken might be a dream for those who have heard of this dish but haven't experienced its true taste yet. You're in luck now since I'll show you a way to make authentic Tandoori Chicken at home with an instant pot.
The marinating process with yogurt is an essential step for a batch of Tandoori Chicken since this dairy product helps tenderize the meat flesh so that the other spices absorb better.
Smoked paprika ạnd Garam Masala powder are the main aromatic spices used in your spice mix, offering your food a tongue-tickling-good flavor. Although you can choose any part of your chicken you want, it'll never go wrong with drumsticks!
Don't know what to have for a weekend get-together? Try this Tandoori Chicken!
Referable total time: Around 30 minutes.
Lamb Rogan Josh not only has a variety of ingredients, but the cooking method is also a bit complicated, so it usually takes quite a while to prepare. However, you can ultimately shorten the cooking process by using an instant pot.
Most of the seasonings of the Rogan Josh recipes I recommend are pretty common, such as Kashmiri chili powder/paprika, cardamom, or cinnamon.
The protein can be lamb or goat meat, depending on your preference. But you can be sure that this curry won't be too spicy thanks to the slightly fatty taste of Ghee (or yogurt), making it perfect for a family meal with children.
Referable total time: About 30 minutes.
Dal or lentil is the classic ingredient that every Indian loves, and here is a way to make this enjoyable component into a delicious curry. No fussy or surprising things included, your red lentils curry cooked in the instant pot is definitely affordable.
This uncomplicated instant pot lentils dish has a lot of Indian-style fragrance/flavor thanks to many dried spices (mustard seeds, cayenne) and coconut oil. Add a few more fresh herbs to the platter to make a full and visually striking meal.
Referable total time: Around 30 minutes.
This black eyed peas curry or Lobia Masala is the ultimate explosion of flavors. Typically, you can expect both mild tastes with a creamy consistency from the food's gravy. This flavor combines well with the slight sourness of tomatoes.
You can have those beautiful flavors on the same plate, and there is no reason not to do so. Garlic, onions, cumin, and turmeric are highly supportive when providing layers of earthiness and a warm base for your delight.
The general consistency of this dish should be a bit thick/dense, so you need to notice the time you set for this utensil. The whole dish comes together in no more than half an hour, so Lobia Masala is always a way to go when you have not much time to cook your meal.
Clear, detailed, and engaging; what else can you expect from a Lobia Masala-making guide?
Referable total time: From 30 minutes to 2 hours 40 minutes.
Lamb Biryani is the flavor-packed rice dish of your dreams. Simply made with lamb (marinated with ginger, yogurt, and plenty of spices like cumin/onion) and rice, this Lamb Biryani is tasty enough to be served on its own.
With all the requested spice ratios, you can adjust them more or less based on your preferences. More importantly, the water level is the key to the success of this dish as it keeps your rice from getting too dry or too burnt. Kindly notice it while cooking your food.
Referable total time: About 35 minutes.
There is nothing but vegetables in the ingredient list of this brown lentil curry, turning this dish into a worthy meal for any time of the day. What's better, it is a perfect summer dish cooked in an instant pot.
With any starch base, from a bowl of quinoa/rice to a piece of Roti (Indian flatbread)/Naan, your Masoor Dal tastes good already.
Another significant feature of this dish, besides its robust tastes, is its incredibly long shelf-life. If you store your curry properly in an airtight container, you can store it for up to 5 days in the fridge and 3 months in the freezer. Sounds great for an instant lunch idea, isn't it?
Time to whip up some instant pot Masoor Dal! Are you ready to know how to make it?
Referable total time: From 14 to 40 minutes.
Lean ground beef or chicken adds a welcome savory component to a flavor-packed Kheema Pulao. You need only a few basic components and spices to create this delight, and the outcome still tempts your taste buds straightforwardly.
The best rice to use for a typical Pulao is basmati rice, as it delivers a gorgeous chewy texture and nutty taste. The scent of Ghee is pretty prominent since you need this ingredient when sauteing the spices before cooking.
Referable total time: From 15 minutes to 1 hour 5 minutes.
Once mentioning Mulligatawny Soup, Indian people think of an ideal dinner dish. This recipe is quite simple, and you can make it in two variations, vegetarian-friendly and meatier ones. Your first bite into both varieties will surely be unforgettable.
Besides all the requested hot spices like black peppers or curry powder, you can add in some other things based on your preferred recipe. Coconut milk (or heavy cream) is also a must to contribute to the soothing sauce base of this delicacy.
Referable total time: From 40 minutes to 1 hour.
Vindaloo is a true challenge for one with a "braveheart" because it is indeed a kind of extremely spicy curry. This kind of dish was a Portuguese delicacy before coming to Goa state (India) in the 17th century.
Before moving to the cooking step, you should blend all the spices (whole Kashmiri chilies, cinnamon stick, mustard seeds, etc.) into fine powder. After that, you just need to put the blended spice mix with tamarind paste and other condiments together with pork to marinate.
The marinating step might take a bit of time (4 hours or overnight), but the result will surely pay off. When cooking, you just need to put the ingredients together and let the pot work. Prepare some basmati rice since you'll need a starch base to neutralize Pork Vindaloo.
Got 3 minutes to spare? Learn how to make some Pork Vindaloo today!
Referable total time: About 55 minutes or 1 hour to cook + at least 8 hours to marinate.
Another option for your spicy curry dish is this favorable Beef Vindaloo. Also, this Beef Vindaloo taste calls for similar spices/condiments to the previous Pork Vindaloo (such as Kashmiri chilies, tamarind pulp, or cardamom).
However, to reduce the beefy scent when eating, you should include some white vinegar in the marinating step. Vinegar also helps the beef part absorb all the flavors better. You should remember to turn on the "sauté" mode in the last 10 minutes when cooking.
Your final Beef Vindaloo won't be too dry or too soupy and tastes the best with jasmine rice or Indian flatbread.
Referable total time: Approximately 14 to 35 minutes.
I know the time it takes to make this delicious Indian drink is not too long, but an instant pot can help you to reduce the tea brewing time efficiently. Masala Chai typically calls for milk, tea, some spices (like cardamom/cinnamon), or sugar to taste.
The herbal warmth taste and mint-y/peppery notes from crushed cardamom greatly enhance the beverage's overall taste.
After brewing the tea leaves, milk, and spices in the same pot for a while, you should stir well when adding the sugar in so that it can dissolve better.
Trust me, you'll decide to make Masala Chai after seeing this video!
Referable total time: Around 20 minutes.
Suppose you want to find a toothsome Indian-inspired shrimp recipe for your meal. Your wait is not a waste as this Chungdi Malai (or coconut shrimp curry) offers a "massive spicy/richness bomb", making your effort genuinely pays off.
Unlike the other meat/protein, shrimp requires only a short time in the pot because it'll be rubbery when you overcook it. For this recipe, I often go for large, frozen, deveined tail-on shrimp.
It will be meatier when you have a big bite into this dish, which gives an absolutely satisfying feeling. Lastly, the saucy coconut milk-based gravy of this coconut shrimp curry is more harmonized when going with Naan or rice. How palatable!
Wish You Have A Cozy Meal With Your Family!
A family meal doesn't have to be fussy, and my recommended delicacies today are all worth trying once. Since they all help you save time for food processing, there is no reason to ignore them if you are a hard-working bee.
In case you don't know where to start, I highly suggest simple rice dishes like Pudina Pulao or Jeera Rice. You can move to other hearty treats later whenever you feel more confident.
Lastly, if you have tried the above dishes, please comment below and tell me what you think about them. Your contribution is an excellent motivation for me in the future.
Nutrition Facts
4 servings per container
---
Amount Per ServingCalories241
% Daily Value *
Total Fat 18.2g

28

%
Sodium 614mg

26

%
Potassium 505mg

15

%
Total Carbohydrate 17.7g

6

%

Dietary Fiber 3.3g

12

%
Sugars 11.3g

Protein 3.5g

6

%
---
* The % Daily Value tells you how much a nutrient in a serving of food contributes to a daily diet. 2,000 calories a day is used for general nutrition advice.