Shrimp is a favorite food for many people, and these Indian shrimp recipes will help you broaden your cooking list. They are all so toothsome that you can probably try one of them with no hesitation.
Based on the fact that local people pretty much love using shrimps in various common Indian recipes, there are plenty of recommendations calling for this ingredient for you here. From hearty curries or some lighter treats, let's refer to them now!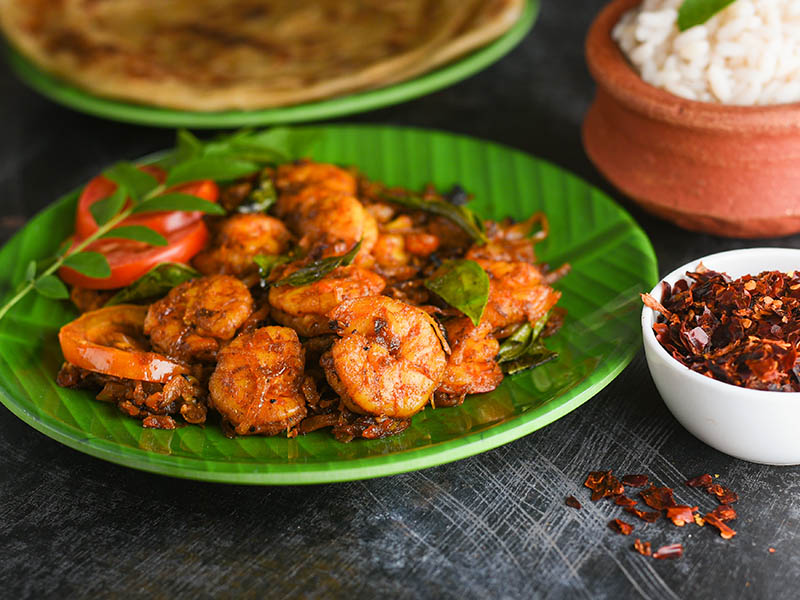 12 Must-Try Indian-Style Shrimp-Used Delicacies
Even if you are not living in India, you can easily find shrimp and the required spices to assemble these Indian delights. Check the upcoming section and collect your favorite ones to make in your next meal.
Total time: Up to 55 minutes.
How about starting today's list with Jhinga Makhani or Indian butter shrimp? This shrimp dish is indeed a twist on the classic butter chicken (or Murgh Makhani), yet some people love the use of shrimp more than the traditional version. Why so?
The secret may lie in the sweetness of the shrimp. Shrimp is a delicate protein, so you need to cook it pretty fast. Therefore, when making food consisting of this ingredient, never forget to follow the guidelines for cooking time, or your shrimp will be rubbery.
For this Jhinga Makhani, you can either use thawed, frozen, or fresh shrimp. You need to stir fry the shrimp part separately for a while before adding it into your pot later, in the nearly final step.
This simple technique helps your seafood absorb the spices well and prevents it from being too chewy.
Roll up your sleeves and make some Butter Shrimp now!
Total time: No more than 30 minutes.
Bhagari Jhinga is a specialty of Southern India, and here is the way to accomplish your own batch of this dish at home. Tomato paste, ground cumin, and Garam Masala are some main condiments/spices used for this delight.
These components help your tasty Indian curry deliver a bright orange color with perfect paste-like consistency. I highly recommend you use medium-size shrimp rather than the big ones. It will reduce the cooking time, and this kind of shrimp offers a bit better texture in this case.
You can also use fish as the alternative for shrimp; remember to cut the filets into smaller cubes before cooking. The firm fish meat like mahi-mahi (or dolphinfish) is a good suggestion.
Total time: At most 40 minutes.
If you are a true fan of seafood, especially shrimp, you'll enjoy this delight. Generally, Korma is a mild Mughlai curry consisting of coriander (seeds or leaves), groundnuts (such as almonds), and a creamy base (yogurt/coconut milk).
All the spices for this Indian-style curry dish are neutral; they mainly offer aroma instead of heat. Thanks to that, the velvety chicken-based gravy of this treat elevates the natural sweetness of your shrimp.
Prawn Korma is an amazing frozen shrimp recipe. That said, fresh shrimps are also perfect for making this dish. Prepare some basmati rice while processing your curry, and you can have an ideal dinner ready in no time.
I'm sure you will never regret making this Shrimp Korma!
Total time: Up to 1 hour.
Even if you have never tested Indian delicacies before, you might have heard of Biryani. Biryani is a typical mixed rice dish standing for Indian gastronomy, and its ingredients are varied from almost everything you might think of.
However, the use of shrimp and loads of spices (such as ginger or chili/jalapeno) in this delight provides a distinguished taste experience for the eaters. You can consider adding some additional veggies if you intend to make it a quick and nutritious Indian dinner for your family.
You also have several choices for how to serve this treat. Eating it alone for meals like lunches or dinners or serving it on the side of a Chicken curry portion, both ways are great.
No-fail Jhinga Biryani instruction you might look for is here.
Total time: At most 40 minutes.
Let's first talk about Caldine! Caldine or Caldinho is a mild, Goan-style seafood curry that often goes with fish. However, you can also use shrimp or boiled veggies, and the results are still mind-blowing.
The signature feature of this Prawn curry's taste is the coconut infusion. You can always taste a light coconut scent (from oil, milk, etc.), harmonizing well with other flavor layers of hot ginger or floral/citrusy coriander powder.
Since you can make it all in one pot, Prawn Caldine is a perfect nominee for an Indian lunch or dinner on busy weekdays. Serving it as a side dish is also great, so you can have more time to enjoy such a palatable and milky curry together with your loved ones.
Total time: About 35 minutes.
The term Gongura in the name of this dish refers to a kind of leaves with a signature sour taste and is often used in Andhra Pradesh's gastronomy (belongs to Indian culture). In English, people often call them sorrel or kenaf leaves.
This leafy veggie has a lot of health benefits, so there is no reason to neglect a good way to add it to your daily diet. When sauteing the shrimp, don't forget to add some ginger garlic paste.
This condiment can decrease any unwanted fishy scent from seafood and add a pleasant zing. The best companions for Gongura Shrimp are several kinds of Indian bread like Naan, or enjoy it with rice. All are good options.
These favorable starch bases can offer an outstanding balance to your dish, and your meal can be complete just like that.
Making Gongura Royyalu will never be so easy if you follow this guide.
Total time: From 19 to 40 minutes.
You might have heard of Tandoori chicken, but have you ever tried Tandoori shrimp? Tandoor is a unique clay oven belonging to Indian culinary culture, but the term "Tandoori" in this case is about the use of hot spices (signature for tandoori baked foods).
You can utilize the tandoori seasoning/sauce to shorten the cooking time. With tandoori seasoning, you should marinate it with shrimp in the fridge for a while before cooking. Otherwise, you can use tandoori sauce and add it like condiments while processing your dish.
You can consider adding some mint chutney or simply garnish your delight with some lime juice when serving. The citrus or refreshing, cooling effects from these suggested components can enhance your Tandoori shrimp's overall taste.
Total time: Approximately 40 minutes.
One word to describe the overall flavor of this treat is "authentic". Jhinga Masala curry tastes absolutely "Indian" with a hot spice kick since almost all the components offer robust heat. Chili, garlic, and Garam Masala, you can meet all of them here.
For the shrimp part, Jhinga Masala curry is best when going with large or king shrimp. Making your curry even more lovely is not to cook the shrimp for too long. Depending on the size and the conditions of your seafood (cooked/raw/frozen), you need to adjust the time.
If you do not have much time to prepare the meal, I suggest making some Indian instant pot recipes for a starch base (cumin rice, for example) while cooking the main course. On the other hand, Kachumber salad or Indian bread is also a good pair.
Trust me, this is the best Jhinga Masala Curry instruction you can find.
Total time: Around 50 minutes.
Don't let the ingredients list of this Goan Prawns Balchao scare you off; this recipe is easier to make than you might imagine. This Portuguese-originated dish is sorted as a Curry/sauce recipe with prominent fiery notes (the highlighted characteristic of Goan cuisine).
Besides various tongue-tickling spices inside this recipe, you should notice the vinegar. Although the suggested amount to use here is only half of a cup, it still provides a significant, alluring sourness for your shrimp dish.
Besides Naan or Roti as the base for this spicy delicacy, you can opt for some of India's traditional drinks to match it. I highly recommend cold beer as the refreshing and soothing effect of beer does help to neutralize your main dish.
Total time: Around 40 minutes.
Having its roots in Bengal, Ol Chingri, or prawns cooked with yam (mostly elephant foot yam), is more and more renowned nationwide, thanks to its deliciousness and rusticity.
To make this treat, the first step you should do is to cook the yam because this ingredient takes a longer time to be ready. The shrimp and potato cubes are also processed separately and set aside before returning with other spices like cardamom or cumin.
Eating this treat with steaming hot white rice is the best way to enjoy it fully. And if you're feeling extra, you can't go wrong with a delicious Indian cocktail on the side. I know it might be simple, but sometimes the allurement lies in its simplicity.
Total time: About 30 minutes.
The name of this treat is somehow similar to the previous Oi Chingri; however, they are different. Excluding yams, this recipe of Doi Chingri calls for curd or yogurt instead.
This ingredient adds a good richness/creaminess to this delicacy so the eaters won't feel bored with its spicy characteristic. About the shrimp, you can choose the medium and large ones so that your bite into this food will be absolutely more filling.
Doi Chingri is simply a great harmonization of a Masala-infused flavor with the lovely warmth/earthiness from turmeric/cinnamon. How yummy it is!
It is time to prepare some Doi Chingri in your own kitchen!
Total time: About 25 minutes.
Keralan is a beautiful beach region located in Southern India, and this spicy Malabar Shrimp Curry is a prevalent treat there. While coconut milk for a rich base is optional, tamarind and ripe tomatoes are must-haves.
They help your dish to have a denser consistency and a lovely tangy-tart profile. You know what? There is nothing better than jumbo/king-size or extra-large shrimp when it comes to this dish's main protein, and you should definitely try making it to testify.
Remember, put the prawn/shrimp into the pot in the nearly last step. You won't want it to be rubbery. After only a few minutes, you'll have your Goan-style Curry on the table, and it is time to pair it with Roti/Appam or ghee rice (rice with Indian butter).
No More Time To Waste! Whip Up Some Shrimp Delicacies Now!
So, above are various Indian-style shrimp dishes you can choose to make and diversify your family menu.
No matter which recipes you decide to pick, you should make sure not to overcook your delicate shrimp. It is so important that it can affect the overall result of your work.
I hope you will find my humble article helpful, and please share your thoughts/reviews if you have tried my recommendations. Do you have some other fascinating prawn treats in India to share? Please comment below and let me know!
Nutrition Facts
5 servings per container
---
Amount Per ServingCalories453
% Daily Value *
Total Fat 19.5g

30

%
Cholesterol 360mg

120

%
Sodium 619mg

26

%
Potassium 635mg

19

%
Total Carbohydrate 27.2g

10

%

Dietary Fiber 2.7g

11

%
Sugars 11.5g

Protein 41g

82

%
---
Calcium

113

%
Iron

6

%
Vitamin D

13

%
* The % Daily Value tells you how much a nutrient in a serving of food contributes to a daily diet. 2,000 calories a day is used for general nutrition advice.