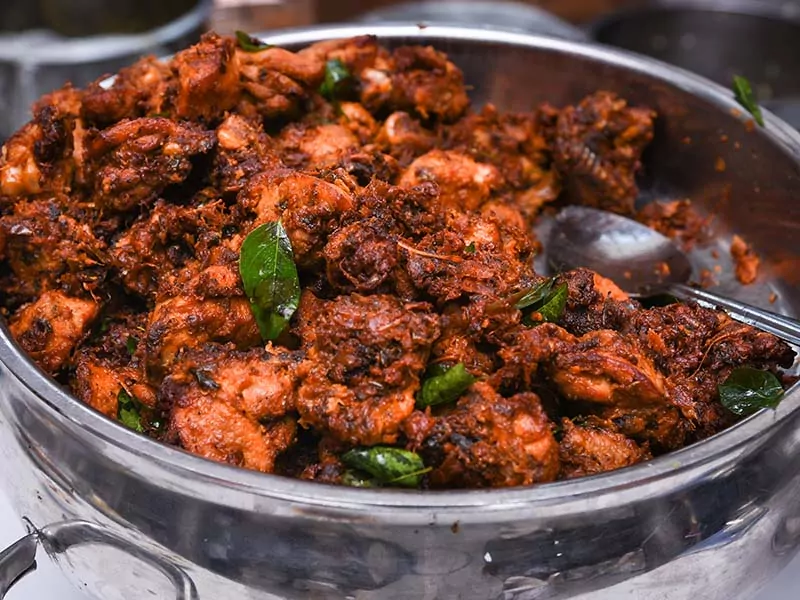 Indian chicken recipes should always be one of the first things to experience whenever it comes to this country's gastronomy since they are loaded with flavors and easy to consume. Then, what can you expect from them?
With various spices and different ways to mix them in a dish, these authentic Indian recipes will satisfy your taste buds in every mouthful. No more beating around the bush; it would be better if you give the below suggestions a chance.
27 Ideal Indian Chicken Dishes You Should Make Once
Tired of having the repeated chicken delights day by day? It is time to give these Indian specialties a chance to refresh your appetite. Who knows, you might find your next favorite food here!
Total time: From 2 hours 45 minutes to 7 hours 10 minutes (including 2 or 6 hours of marinating).
Rice is always an excellent way to start with any Asian food list, and this chicken Dum Biryani can easily appeal to you from the first time trying. This dish was actually a Persian delight before it came to India (during the British rule) and flourished there.
The term "dum" refers to an Indian cooking method that requires your cooking pot to be sealed with a layer of dough and cooked on low heat. It might be odd at first, but it causes no harm to experience something new.
Basmati rice is the most recommended rice type to match with Biryani, and my tip here is to soak it for about 10 minutes before cooking. This action helps your rice be softer afterward.
Then what to serve with this hearty rice dish? I suggest Raita (Indian yogurt condiments) or Indian refreshing salads as the rejuvenating taste can reduce the greasy feeling.
Total time: Up to 40 minutes (including 30 minutes of marinating).
The name of this food, Teekha Murgh (meaning "spicy chicken"), tells you a part of what you can expect from this delicacy. Based on that, don't be amazed by how many pungent spices/condiments (Kashmiri/regular red chili powder) this delicacy calls for.
Adding cumin or Nigella seeds will help boost the aroma without making your dish too spicy. In case you coincidentally make your food spicier than expected, a dollop of yogurt or a few drops of lemon is your savior.
Although Teekha Murgh is a dry Curry, your chicken meat is still tender when served. You can omit the marinating step by using boneless chicken cubes when forming this dish if you don't have time. This meat part will absorb all the goodness in the spice mix used.
Total time: About 30 minutes.
Chicken Saag, or chicken and spinach Curry, is a native food to North Indian cuisine, and this might be one of the quickest Curry you have ever made. Both chicken breasts and thighs are usable, yet, you'll love the breasts' lean meat.
Other ingredients besides spinach and chicken are pretty mild, so this Curry can please anyone's appetite. You can consider omitting it or not, but putting some plain yogurt into the pot does lift the deliciousness of this delight to another level.
Otherwise, cashew or heavy cream are also fine here. After cooking, the creamy taste and texture make Palak chicken perfectly paired with rice. Another thing to notice here is you should omit the spinach when meal-prepping this chicken dish.
Total time: Approximately 40 minutes.
"Dhaniya/Dania" means "coriander" in the Indian language, and this kind of citrusy, floral herb provides massive health benefits. For example, it can support heart/brain health and protect your digestive system. Therefore, there is no reason to apply this superfood to your daily meals.
This chicken Nimbu Dhaniya Shorba dish is quite adaptable because of the abundance of ingredients. You may add other veggies (such as carrots/cabbage) to make your dish more nutritious, or you can just prepare the soup with chicken and the suggested mild spices.
When you have the first sip into this tasty Indian soup, you can feel the ginger warmth calming your throat.
You can use chickpea/gram flour or cornflour to thicken the soup stock. While chickpea flour (also known as besan flour) has a faint beany flavor, cornflour has subtle earthy sweetness overtones.
Total time: Up to 1 hour 30 minutes.
"Karahi" refers to a traditional wok used in various South Asian cuisine, and the foods going with Karahi usually consist of a spicy tomato base. Green bell peppers (capsicum) always exist in Gosht Karahi's ingredient list. Its lovely color and crunchiness do appeal to me.
Unlike some previous dishes, I prefer using bone-in chicken in this recipe as your food can have a firm exterior with a fully-spiced soft interior. The homemade or freshly-made/ground Kadai Masala spice mix is the key to boosting the dish's aroma and taste.
Some rice, Naan, or Roti (authentic Indian bread) are delicious as the sides of this hearty treat. The mild, neutral and starchy taste assists you in accentuating the signature flavors from chicken Kadai better.
Total time: From 55 minutes to 1 hour 30 minutes.
This Kerala chicken roast is suitable for a variety of occasions. Despite the word "roast," this chicken dish is a semi-dry Curry with a compact and viscous sauce. The marinated chicken flesh (boneless or bone-in) is a must-have, and there are two methods for preparing it.
You can choose to marinate it with Kashmiri chili pepper and turmeric powder or make it a bit more fussy (for bone-in chicken) with additional curd/yogurt or garlic powder, of choice. You should use coconut oil for the roasting step to infuse your food with a nice coconut aroma.
Don't forget to make the sauce base with spices (fennel, onion, tomatoes, etc.) before adding your spiced raw chicken to the pan. It might take a little time until the chicken is cooked so that you should start to make some steaming hot rice to serve with it.
Total time: Around 1 hour 5 minutes.
Move to the legendary Indian delight, Tandoori chicken. Local people typically process this dish in a tandoor oven (a traditional clay oven used in South Asian cooking), but you can still make a good batch of this food without.
With proper spices used (coriander/cumin powder, garlic, ginger, or Garam Masala, of choice) and plain yogurt (of course). If you wonder why this food usually has a bright red shade, the secret is the red food coloring used. It's optional, so you can omit it.
The original idea for making this Indian dinner treat is to use the bone-in chicken; however, feel free to go for it if you prefer the boneless part. Skewing the marinated chicken cubes into the skewers, and it'll become a perfect part of your weekend BBQ party.
Total time: Around 1 hour (excluding 20 minutes or a day of marinating chicken).
Your family members will be thankful if you offer them this complimentary soul food. Murgh Makhani, or butter chicken, is a prevalent mild Curry standing for Indian cuisine. Compared to some other suggestions, this dish's buttered, creamy gravy is not spicy.
Thanks to that, this delight is perfect for kids and people with a neutral appetite. Besides the dominant richness and buttery flavor, you can also find other tongue-tickling notes from chili/cayenne pepper powder.
The appealing fragrance of coriander and the warm note from ginger make the overall taste of this food more pronounced. Now, take a bowl of rice and enjoy!
Total time: From 50 minutes to 4 hours 30 minutes (including the marinating time).
As another dry Curry recommendation on this list, this lemon chicken Curry is worth tasting once in a lifetime. Just like the food's name, the sourness of lime/lemon is pretty crucial in this recipe, and lime juice's taste should be prominent enough.
Local people add it to the pot in two ways: when marinating or when going to the few last steps of the cooking process.
I love to marinate my chicken with yogurt and other spices (chili, coriander, etc.); however, you can make it simpler with only lime juice and salt. The citric acid from lime juice has already made your chicken tender, but using yogurt helps your chicken richer.
Also, add some capsicum or green chilies to the pot if you wish, and remember to enjoy it with Naan or rice.
Total time: About 18 minutes (without sauce) or 40 minutes (including sauce-making steps).
One advantage when deciding to make this treat is you won't need to spend time marinating. You just need to mix your ground meat with spices (for example, cloves/garlic or Garam Masala).
This chicken meatballs dish is pretty versatile, and you can have it with or without gravy. If you want to prepare it as a party snack, I suggest the drier variation.
Otherwise, the saucy meatballs soaked in thick gravy can be an ideal option for an Indian-inspired lunch or other meals. Rice is a best friend beside any savory dish so that you can have it on the side of Chicken meatballs, either.
In case you want something gamier and leaner, you can make a slight twist and use minced turkey instead.
Total time: Around 30 minutes (excluding 6 to 8 hours of simmering).
Don't misunderstand this Murgh Korma with the previous Murgh Makhani even though they have a similar appearance. While Murgh Makhani has a tomato-based sauce with Ghee/butter, the creaminess from Korma comes from coconut products (milk/cream).
The existence of nuts (cashew/almonds) is pretty contributive here, and they all add a scrumptious nuttiness to the dish's gravy. Yogurt or poppy seeds are optional, and you can choose to put them in or not since these things won't affect the overall taste of your food.
Murgh Korma can be prepared promptly in almost no time, but simmering for additional 6 or 8 hours (to have a softer meat texture) is also an excellent way.
On the side of this Murgh Korma, I prefer having Chapati (Indian wheat bread) or Appams (Indian pancakes) to rice or Pulao (mixed rice). Yet, you can make a choice based on your preferences.
Total time: From 50 minutes to 2 hours 30 minutes (including 30 minutes/2 hours for marinating).
There is no better way to know detailedly about this Kalmi Kebab's taste than trying it at home. Traditionally, Indian people make this food with a tandoor oven, but you can make it on a frying pan or charcoal grill, making it a perfect BBQ side dish for your next backyard party.
You should use the chicken thighs for this grilled chicken dish, as this meat part will provide a much more succulent/juicy effect after cooking.
Cashew flavor is the must-have for this treat. You can utilize Kaju (or cashew) paste by putting it into the marinade with a mix of spices (from Haldi/turmeric, ginger, cumin, etc.). It would be best to let your chicken marinate for at least 30 minutes or overnight.
Total time: Maximum 7 hours 10 minutes (including 6 hours 30 minutes of marinating).
Filled with a mild sourness and creaminess from Greek yogurt (hung curd) harmonized with a light spiciness/warmth from chilies/garlic, this chicken skewer is highly recommended.
No matter which part of chicken meat (breasts or thighs, for example) you opt for, the last result will still be tasty. This Murgh Malai Tikka is an Indian dish compatible with air fryer cooking, so you can save your time monitoring the whole process.
The oven and grilling pan can also work well in this case, so you won't need to worry about the cooking gadgets for the best result. You can devour it as an Indian light meal, alone or with some sides when eating.
A simple onion-green chilies mixed salad or a portion of Indian flatbreads (such as Roti, Naan) can all take part in your meals with this chicken skewers recipe.
Total time: Approximately 1 hour.
The traditional ingredient for Rogan Josh (or "red spicy Curry") is actually not chicken but mutton or lamb. Those meats have a bit of an unpleasant scent, so matching them with pungent spices is a solution. But, it doesn't mean that utilizing chicken meat here is wrong.
With a lovely tender texture, chicken thighs are the best meat part to choose for Rogan Josh. Depending on the recipes, hot spices such as cayenne, Kashmiri chili powder, peppercorns, or paprika are varied. No matter what, this Curry can't be complete without a tickling note.
The good side of making chicken Rogan Josh is it takes a shorter time to make than the original recipe. More importantly, you cannot miss a portion of the neutral starchy base served with this dish. For example, rice, Pulao (mixed rice), Naan, or roasted potatoes.
Total time: Maximum 4 hours 30 minutes (including 4 hours for marinating).
Derived from an original Portuguese delight called Carne De Vinha D'alhos, this Indian Vindaloo encases various features from both cuisines. Traditionally, Vindaloo consists of pork; however, the use of chicken also offers a satisfying experience.
Due to the Scoville Heat Scale, Vindaloo Curry is considered a very hot or intensely hot dish. Therefore, you must include many pungent ingredients (such as mustard seeds, Kashmiri pepper, or cayenne pepper, alternatively).
Another essential part of this dish is the vinegar since the distinguished vinegary-tinged taste is the signature highlight in a portion of Vindaloo.
Furthermore, the marinating time should last at least 3 or 4 hours or overnight. The longer you let your meat rest, the better it tastes later.
Total time: Around 55 minutes (excluding the marinating time).
Even though Murg Malaiwala is also renowned for its prominent creamy flavor like Murgh Makhani, they are not the same. The most remarkable difference between them is that Murgh Malaiwala is much milder than butter chicken Curry.
The main ingredients for this Indian delicacy are hung curd/yogurt, cream, and milk with plenty of aromatic spices. Garam Masala does exist here, but in a small amount only so that it won't overwhelm the milky taste featured in this dish.
Remember, never add salt to your food during the gravy-making process, as it will make the dairy product curdle and change the quality of your food. Once you are done cooking, grab a bowl of rice or some Naan and enjoy!
Total time: Around 1 hour (including minimal marinating time of 20 or 30 minutes).
Mughlai chicken Curry was a royal dish from Central Asian cuisine and became widespread in the neighboring countries. In the old-time, local people added twists and made this a favorable side dish in a typical Indian meal or a main dish for a quick dinner.
You can utilize both boneless and bone-in chicken cubes for this creamy Curry recipe. Cashews or almonds (of choice) are essential here, and you can go for one of them. The nuttiness makes this delight so appealing that it can please even the pickiest eaters.
In the last step of plating, putting on a scoop of cream as a topping is a smart move to enhance the rich base of this treat. After that, you can pair the food with anything you want. A piece of flatbread or a cup of rice are both great here.
Total time: From 30 minutes (in an instant pot) to 1 hour 10 minutes (with the stovetop method).
For those on a ketogenic diet, this Chicken Tikka Masala can be a great keto-friendly Indian delight to add to your foodie list and diversify your daily menu.
Also calling for yogurt marinade and offering a milky taste (from coconut milk or heavy cream) just like some other ideas, the ratio of spices used makes this dish different. You can sense it is slightly earthy and spicy at the same time.
After sauteing all the veggies and spices, that is time to add some water or prepared stock into the pan and deglaze the whole mixture.
You can store your chicken Tikka Masala inside the freezer for up to 3 months and 3 days in the fridge, so you can totally make a big batch once and store it for later use.
Thinking of having a mouthful of chicken Tikka Masala with Naan or rice makes my mouth water. Who can resist such a mind-blowing flavor combination like that?
Total time: Around 1 hour.
I guarantee you'll fall in love with this chicken Sukka or Kori Sukka, since it has a subtle pungency with undertones of tangy flavor/sourness from tamarind. The dish will be even more satisfying if you enjoy it alongside India's signature cocktails.
The tip is to dry roast the spices before cooking instead of using ready-to-use ones to optimize the overall fragrance of this Kori Sukka. It may be a bit fussy, but the distinctive smoky aroma after roasting is valuable.
You cannot disregard the grated coconut part of this dish since the coconut hint is the genuine attraction of this cuisine. You should add this to the pot in the last few steps, and remember to keep the heat low. Simmering the food helps all flavors combine better.
Total time: Around 55 minutes.
I promise that this South Indian delicacy won't let you down with its diversity of flavor encased in it. It might be a bit spicy or robust, but it is not a problem since you can adjust the spices to make it milder.
The key to unlock the closest-to-authentic flavor of this Chettinad Curry is by grinding and roasting all of the spices right before cooking. It might sound complicated, but the outcome truly pays off. Even the ginger and garlic used should be fresh, too.
Notably, you should simmer the marinated chicken meat together with the gravy until tender so that every piece of it can quickly melt in your mouth once you have a bite. Serve your food with Appams (Indian wheat flatbread), Naan, or rice; believe me, they are great together.
Total time: Around 1 hour 10 minutes.
Fried chicken is a famous specialty, and no one can deny its popularity. It seems like every country has its own variation for this dish, and Indians do too. The highlight lies in the extra crispy texture of the treat's exterior (made of cornflour or Masala spiced breading mix).
Trust me; you cannot stop eating this food after tasting it. The chicken thighs are highly recommended when trying to make this Keralan chicken fry.
It is because this part of chicken has thicker and juicier meat, preventing it from becoming dry/rubbery as quickly as the breast meat. Never forget to marinate your meat, or it'll be bland later.
Lastly, what about the side dishes for this toothsome fried chicken? Some spiced yogurt or green Chutney are both excellent. Or else, just enjoy this treat alone since all the flavors packed inside the crust and chicken meat are balanced already.
Total time: Around 55 minutes.
Dahi or Yogurt chicken is a mild, semi-dry Curry that is hard to make wrong, even for beginners. Once you bite into the food, you can instantly sense the intense flavors from Kasuri methi (dried fenugreek leaves) based on the richness of the dairy products.
Notably, the yogurt/curd/dahi used here should be the fresh one that hasn't become sour yet. If you don't have some like that on hand, feel free to use the sour ones and omit the lemon juice later.
Typically, people might add red chili powder into the food, but you can omit it if you want an utterly mild one. Don't worry about this dish's partners; simply prepare some Roti, Paratha, steamed rice, or a piece of Naan. Trust me; they are all "best friends" of this treat.
Total time: Around 32 minutes.
If you have never heard of Pakoras/Pakodas (or Indian Fritters), you might not be a true fan of Indian gastronomy. To be short, they are an Indian street food staple, but people can also make them at home for snacks as they are effortless to make.
Commonly, you might find veggies-based Pakoras more than meaty ones. However, chicken is one of the favorite meat-based ingredients for these Indian Fritters. It's understandable because no one can resist the allurement of a fried chicken piece.
The secret to the outstanding crunchiness of this food lies in the spiced besan (or gram/chickpeas) flour. Additional rice flour can also make the crust even crispier. Dipping your fried treat in some Raita or chutneys is the best way. Just try doing that once to verify.
Total time: About 45 minutes (excluding marinating time).
The number 65 in the name of this classic Indian appetizer is from its "birth year," 1965 (from Hotel Bunari, in Chennai). If you are a fan of fried chicken nuggets, you should never ignore this Indian take (with a pronounced spiciness) on the legendary.
Basically, the steps to make you can describe this dish in 3 words: "marinating, frying, and coating". Like many chicken delicacies above, you need to marinate the chicken cubes (mostly thighs) for at least 30 minutes or 1 hour (overnight marinating would be best).
You can reduce the excess oil consumption by altering frying with baking or air frying when cooking. These two ways also help your cooking process easier since you just need to set the time/heat, and the machines take the rest.
Total time: Around 1 hour (including the marinating time).
Kasuri methi might not be a strange ingredient for ones who have tried making many Indian-style Curry however, its role in this dish brings a distinguished effect. Remember, only put the 3-minute soaked dried Kasuri methi in the last few minutes of the process.
Besides its featured maple syrup-resembling flavor, the combination of sweet and nutty hints can upgrade the mild poultry taste of chicken.
All form a particular allurement to this delicacy. This unique spice can also pair well with fish, bean sprouts, or potatoes so that you can opt for those variations later.
Total time: Around 45 minutes.
Handy and easy to eat are the two most significant advantages of this North Indian-style chicken Katti Rolls. Since the chicken part is marinated with various spices (from degi mirch/Indian cayenne pepper to Curry/tandoori powder), your main protein is tasty.
On the side of chicken, aromatic sulfur yet mildly sweet taste from fresh onions and sourness from lime juice do a great job in ensuring the "quality" of your first bite into the dish.
Since the exterior for this chicken wrap is Parathas (an Indian soft flatbread) or wheat tortillas, every flavor layer of this Katti Roll combines beautifully with each other. You cannot miss something to dip, and my suggestion here is a bowl of refreshing green Chutney.
Total time: Approximately 35 minutes.
If you don't have much time to pre-marinate your chicken meat, this dish's minced protein is good with flash marinating. You may marinate it with tomato products (sauce/paste) or, for a more straightforward marinade, turmeric and chili powder.
Add this chicken portion to the pot right after stir-frying the other spices. Keep in mind that onions or cumin seeds should always go first when making this ground chicken dish. It helps to infuse the oil so that the food can be more aromatic.
Peas are an excellent choice for extra vegetables because they are easy to consume for everyone, so you can also add them in. After putting all the wanted ingredients into the pot, simmer the Curry until the meat is tender.
Leftover chicken Keema can last in the freezer for up to 2 months, and you just need to reheat it a few minutes before serving. You just have to prepare some starchy sides like some crispy baguette slices or white rice, and your meal is ready in a blink of an eye.
Last but not least, this chicken Keema Curry won't fail to please your taste buds.
Whip Up These Chicken Delights And Enjoy them ASAP!
Are my recommendations above attractive enough to convince you to make some of them later? I would be happy to hear your feedback about all of my suggestions. If you have any other suggestions for Indian chicken-utilized treats, please share your ideas below.
Don't forget to share this humble article with your families and friends if you find it can also benefit them in the future. Every contributing action from you can become a massive motivation for me. Loving is sharing!
Nutrition Facts
3 servings per container
---
Amount Per ServingCalories300
% Daily Value *
Total Fat 9.9g

16

%
Cholesterol 108mg

36

%
Sodium 914mg

39

%
Potassium 1018mg

30

%
Total Carbohydrate 12.2g

5

%

Dietary Fiber 3.6g

15

%
Sugars 6.1g

Protein 38.8g

78

%
---
* The % Daily Value tells you how much a nutrient in a serving of food contributes to a daily diet. 2,000 calories a day is used for general nutrition advice.