If you are a fermented food lover, you should learn all about kimchi vs. sauerkraut differences. Simple and easy-to-find vegetables like cabbage are a kind of ingredient that is a part of many famous recipes, be they luxurious or common.
Kimchi and sauerkraut are from different cultures, but they have a lot in common. Both are fermented foods taking advantage of the process called lacto-fermentation. Both are gluten-free and highly healthy with probiotics.
Despite all the crucial similarities, these staple dishes are so different in many other ways. So what are they and why do they matter? Read this article to find out!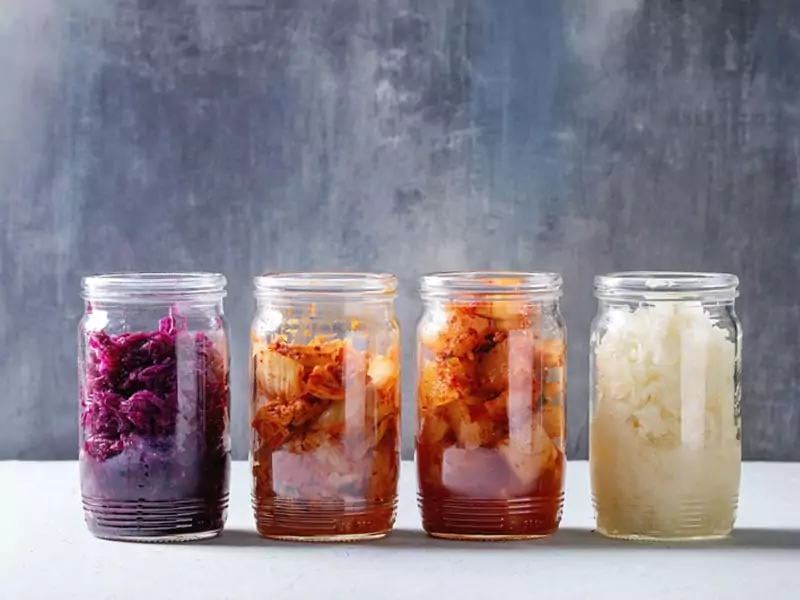 Differences And Unique Features of Kimchi and Sauerkraut
Both types of fermented veggies are wonderful dishes that you should try at least once in your life. But if you're reluctant to decide which one will appear on your dinner table tonight, it's important to know what sets them apart.
Here is a brief table of comparison for your knowledge:
| Properties | Kimchi | Sauerkraut |
| --- | --- | --- |
| Origin | Korea | China or ancient Rome |
| Key ingredients | Cabbage, Korean chili pepper, garlic, green onion, ginger | Cabbage |
| Preparation | Cabbage is cut in half or kept whole | Cabbage is shredded |
| Brining | The brine is discarded before fermentation | The brine is used during fermentation and in the final product |
| Fermentation time | 1-2 days at room temperature | 5 days - 4 weeks |
| Texture | Crunchy and crispy | Soft and a bit crunchy |
| Taste | Spicy, sour, salty, and umami | Sour and salty |
| Smell | Strong and pungent | Sour and vinegar-like |
| Shelf life | 3-6 months in the fridge | 4-7 months in the fridge |
Origins And Ingredients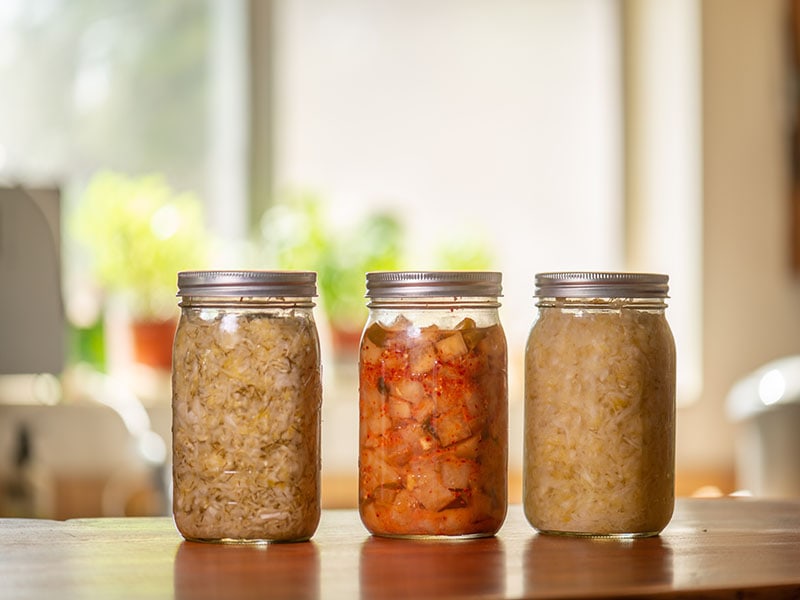 The first difference lies in their origins. Kimchi was a Korean invention that spread to Asia and the rest of the world. By contrast, though the origin of sauerkraut is not clear, it could either originate from China or ancient Rome and later spread to central Europe.
About the ingredients used to make the standard version of each dish, kimchi packs a variety of ingredients along with the cabbage, such as garlic, ginger, and chili pepper, while cabbage is the only ingredient in sauerkraut.
The cabbage in kimchi is usually napa or Chinese cabbage, while sauerkraut usually consists of white or green cabbage.
Preparation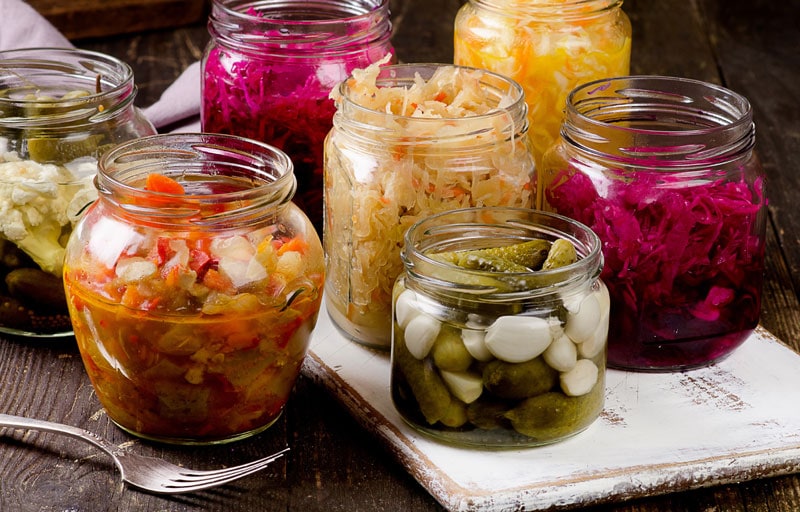 Their leaves are cut in half or used whole before going through the process of fermentation. By contrast, the cabbage in sauerkraut is finely shredded into small pieces.
In the salt-brining step of making kimchi, people only use the brine to draw out the moisture in vegetables. The excess brine is discarded after that. With sauerkraut, the brine is used in the fermentation process and also in the final product.
The time of fermentation makes a great difference. Kimchi only goes through a short fermenting time of 1 – 2 days at room temperature. By comparison, it takes sauerkraut 5 days – 4 weeks to become ready for use.
Taste, Textures, And Shelf Lives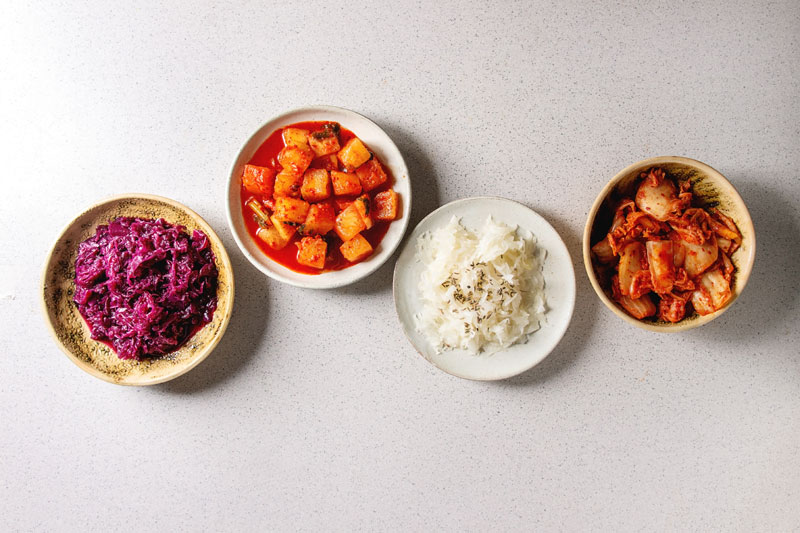 In terms of taste and texture, kimchi is much more complex due to having more ingredients. It is full of umami and spicy flavors. For those not in the know, the taste of sauerkraut can be tangy and salty. Kimchi also has those flavors, but not as strong.
Furthermore, the cabbage leaves in kimchi retain their crunchiness, but those in sauerkraut are softened. Let's move on to the aroma. Finished kimchi has a strong and pungent smell from various spices, while sauerkraut comes with a sour and vinegar-like smell.
Kimchi can stay in good condition for 3 – 6 months in the fridge while sauerkraut can last 4 – 7 months if refrigerated.
Get to know what benefits fermented foods bring to your health!
Kimchi Vs. Sauerkraut: Who Is The Ultimate Winner?
It will be a passionate debate among foodaholics to decide which one is better, kimchi or sauerkraut. However, based on the above comparison, I can give you some hints about which one has advantages over which in some perspectives.
The first thing that comes to many foodies' minds has to be the taste. In that aspect, kimchi is far more complex than sauerkraut due to the superior amount of ingredients. The former is also packed with more nutrients than the latter.
The Korean specialty also has a unique umami taste from the fish sauce in the recipes, which is not a part of sauerkraut. The combination of spices also gives kimchi a richer taste. If you're looking for a dish with more flavors, kimchi is your go-to. It also takes less time to ferment.
In terms of preparation, sauerkraut is much easier to prepare and make. You just have to shred the cabbage nicely, salt-brine it, and wait for the fermentation. With kimchi, there is tons of work to do before you can proceed to the main step of fermenting.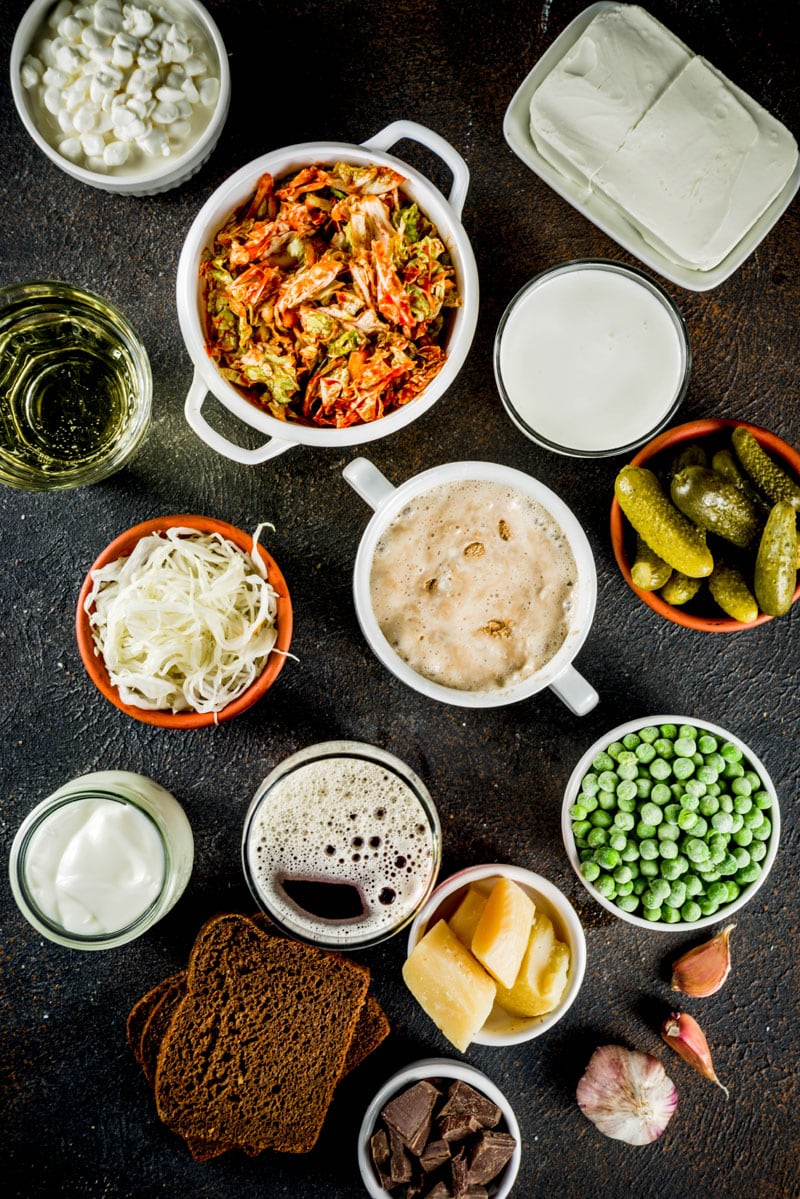 Kimchi, Sauerkraut, And Kombucha: What Are The Differences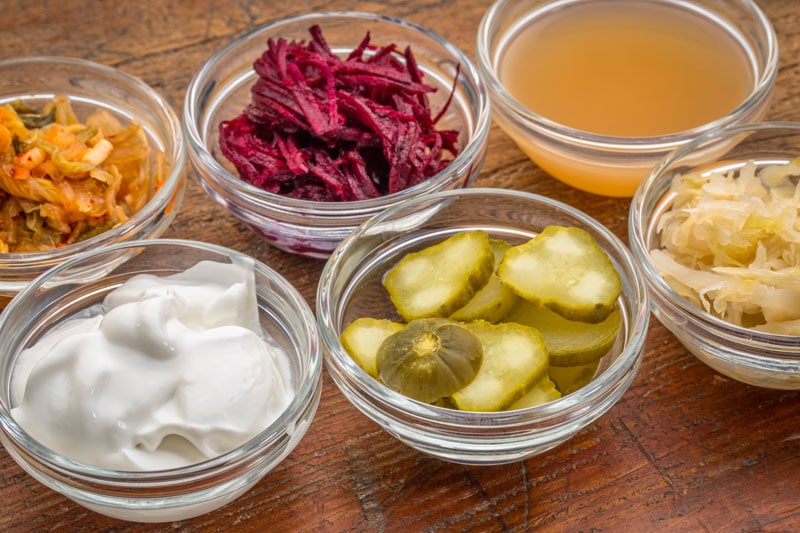 Kombucha is a fizzy and tart drink that is fermented from tea, sugar, bacteria, and yeast. I mention kombucha because it has a lot in common with kimchi and sauerkraut, but some key differences are worth your notice.
The most obvious difference between them is that kimchi and sauerkraut are pickled veggies while kombucha, a delicacy from China, is a fermented drink. Also, the first two use cabbage as the main ingredient, but black or green tea is the building block of kombucha.
Besides, unlike kimchi and sauerkraut, which are a result of lacto-fermentation, kombucha is made through alcoholic fermentation. Alcohol is not present in kimchi or sauerkraut.
Make your own kombucha to refresh yourself and give a boost to your health.
Delicate Kimchi And Beyond
Kimchi was not like it is nowadays. It has gone through dramatic changes to become the flavorful and sophisticated dish it is today. The history of kimchi dates back more than 2000 years.
Kimchi's History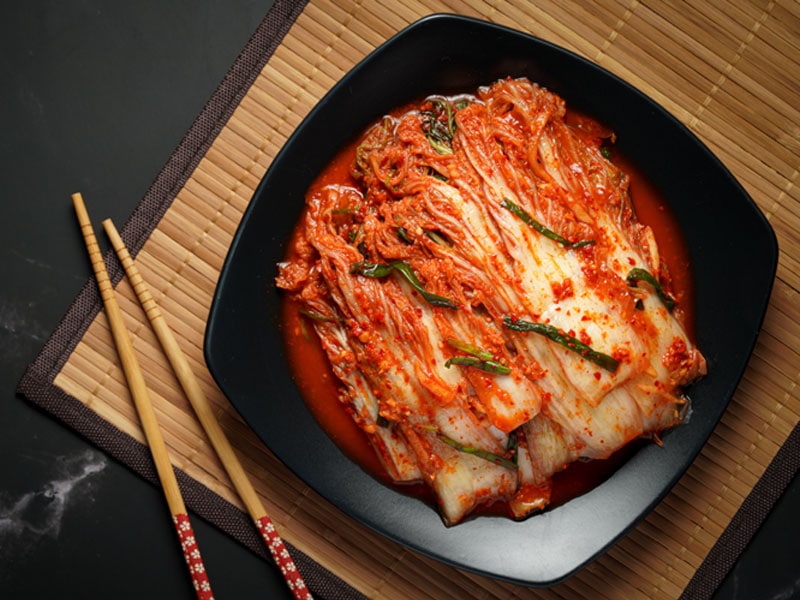 Kimchi's ingredients were not as diverse and complex as in the present recipes. It was originally a way to preserve vegetables by fermenting them to prepare for winter.
The popularity of kimchi began in the Silla dynasty (57 BCE – 935 CE) thanks to the rise of Buddhism and the following mass adoption of veganism. Originally, kimchi didn't come with chili pepper. (1)
In ancient Korea, vegetables were fermented by being soaked in salt brine or vinegar and stored in large pots called oongi that would be buried in the ground.
In the 17th century, chili pepper and garlic were introduced to Korea by the Portuguese when international trading routes became well-established. Until the 19th century, spicy kimchi became popular.
The Making Of Kimchi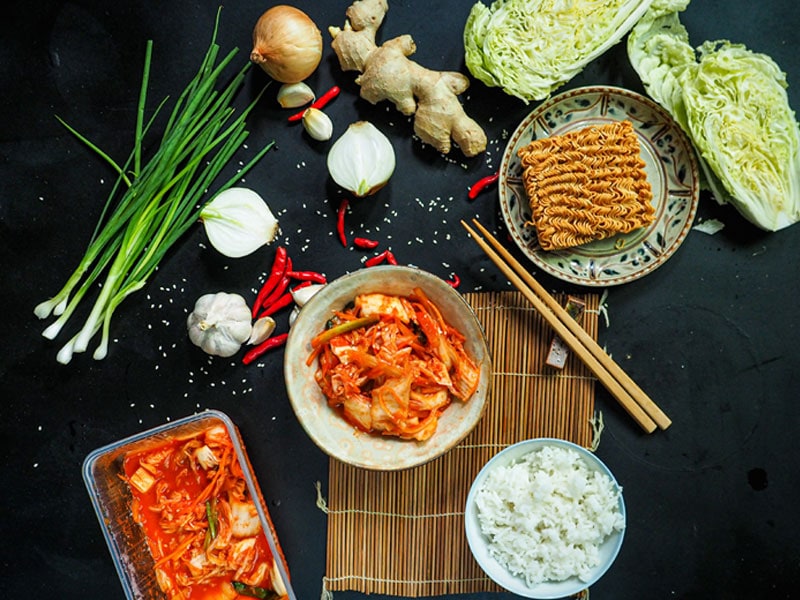 Standard Kimchi has a variety of ingredients, ranging from cabbage (or other types of vegetables), garlic, ginger, and chili pepper. The steps to make kimchi look simple, but producing a good batch of kimchi is more complicated than you might think.
Salt-Brine The Cabbage
Let's start with preparing the ingredients. You have to peel, wash, and slice them first.
There are 2 ways to do this step; you can choose either dry brining or wet brining. With dry brining, you can massage the cabbage leaves with salt, then let them sit there for 4 – 8 hours, then rinse off the salt.
With wet bringing, you have to soak the cabbage leaves in salt water for 3 – 7 hours. This step allows the cabbage to be dehydrated and develop flavors as well as kills the bad bacteria in the process.
Add Seasonings And Wait For Fermentation
The next step is to add spices and season your kimchi. Mix together chopped garlic, green onion, sliced ginger, Korean chili pepper, fish sauce, and water. Next, pour the mixture into the cabbage. Keep mixing until the vegetables are covered in the spicy liquid.
Finally, put the mixture in an airtight container and leave it to ferment for 1 – 2 days.
Try to make a batch of kimchi for your own family for home parties or daily meals.
Culinary Appeals
The first appealing factor of kimchi is its unique smell. That powerful and tangy smell from fish sauce and a variety of spices, such as garlic, green onion, ginger, and hot pepper, is indeed mesmerizing.
About the taste, kimchi is packed with many flavors: A little sourness, a lot of spiciness, a pinch of sweet and salty taste, and more (depending on spices and ingredients). This wonderful display of flavors also comes with an amazingly crunchy texture.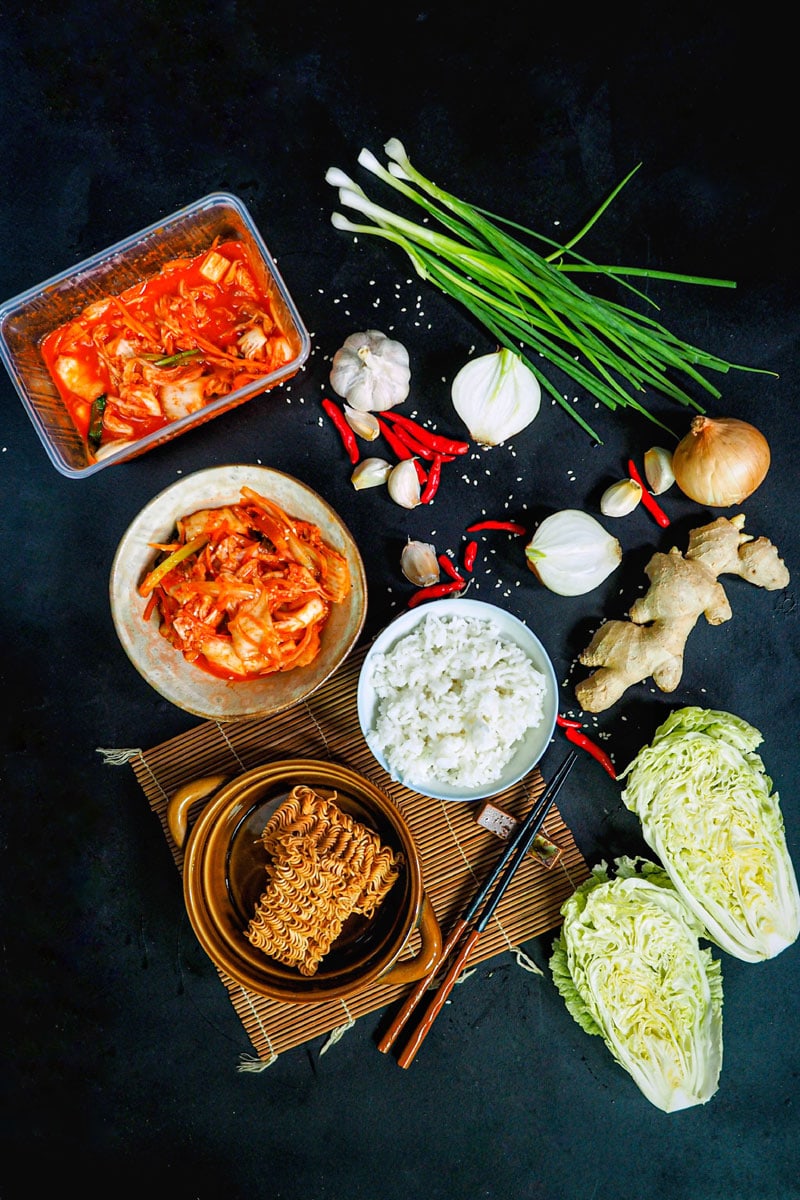 Foods That Go With Kimchi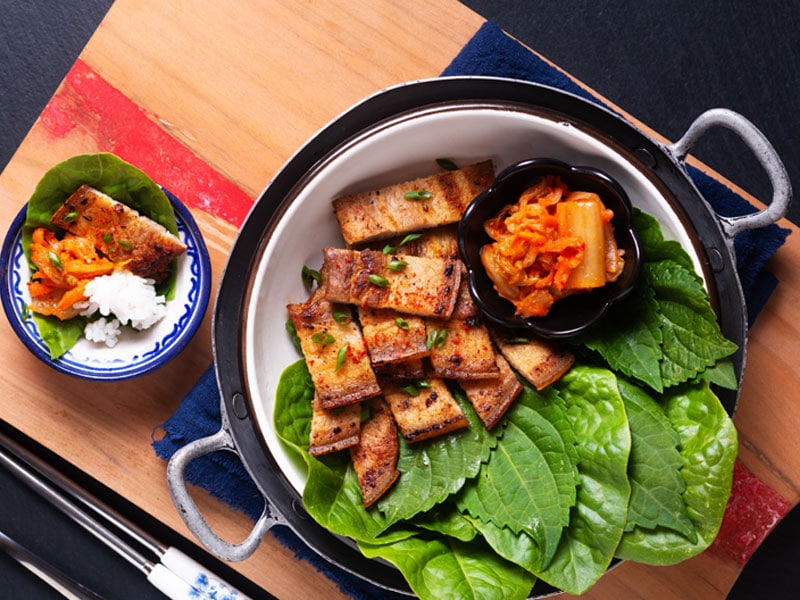 Kimchi can go with a lot of food. Kimchi rarely diminishes the taste of the main dish. In fact, it improves the texture and balances out the extra greasiness in your foods.
Don't be afraid to try out new dishes with kimchi, even if you have not seen such combinations anywhere.
Here are some common dishes with kimchi: dumplings, soup, burgers, grilled meat, spaghetti, Korean BBQ, kimchi Udon, and tofu.
Everything You Need To Know About Sauerkraut
The famous German fermented dish is made from shredded cabbage. It is well-known for its long shelf life and unique flavor as a result of the lactic-fermentation process.
History of Sauerkraut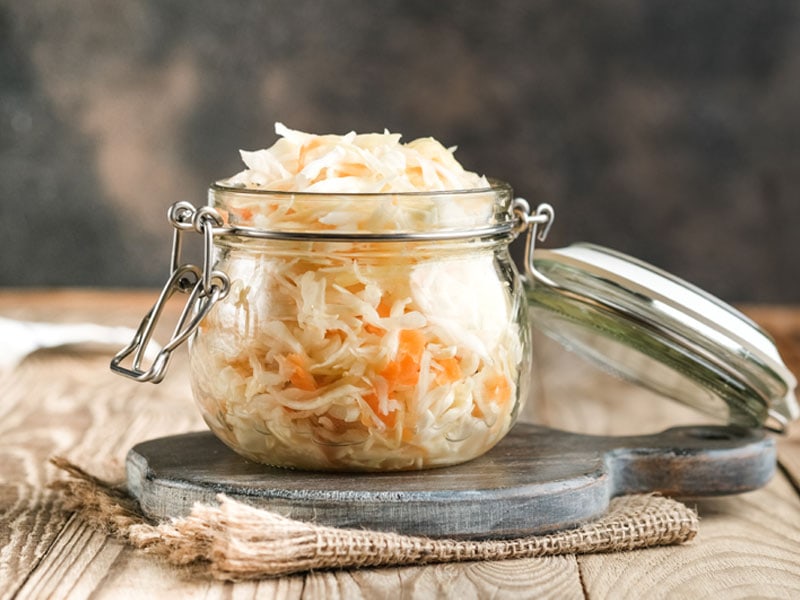 Sauerkraut is a German word that means "sour cabbage". Sauerkraut is one of the most famous traditional fermented foods of European cuisine. The dish has been a German staple dish since the 1600s. It did not originate from Germany, however.
There is a theory that its origin dates back to ancient China, where fermented cabbage was given to the workers that built the Great Wall of China. Later, the Tartars brought the dish to Europe. (2)
But some people say that the first sauerkraut was originally Roman pickled cabbage, with no Chinese connections. According to this theory, it later spread to Central and Eastern Europe, including what would be Germany.
Before refrigeration was a thing, sauerkraut was truly a lifesaver for many families during the harsh winter in many parts of Europe. Until today, this fermented food has made its way to the world stage of cuisine for its easy, tasty, and nutritious qualities.
The Making of Sauerkraut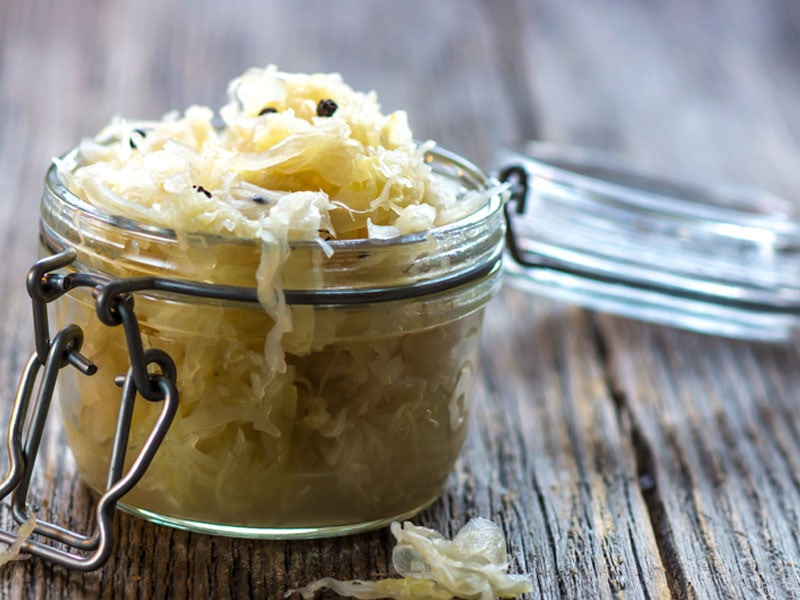 Cabbage is the main ingredient in sauerkraut. There is no restriction to your choice of cabbage, but green cabbage is the most commonly used kind.
Everything you need to make a standard sauerkraut batch is cabbage, salt, and water. However, there are some modern variations or improvements of sauerkraut. Some people add other ingredients like carrots, apples, or some kinds of berries.
Preparation
The cabbage should be washed and shredded beforehand. Shredded cabbage allows more exposure to the salt and makes the cabbage better dehydrated to create the brine.
Fermentation
Later on, the salt will be sprinkled on top of each layer of shredded cabbage. The mixture will then be stored in airtight containers and left to ferment from 5 days to 4 weeks. The ratio of salt to cabbage should be 2.25 – 2.5% by weight.
Make your sauerkraut and find out how easy and rewarding it is!
Culinary Appeals Of Sauerkraut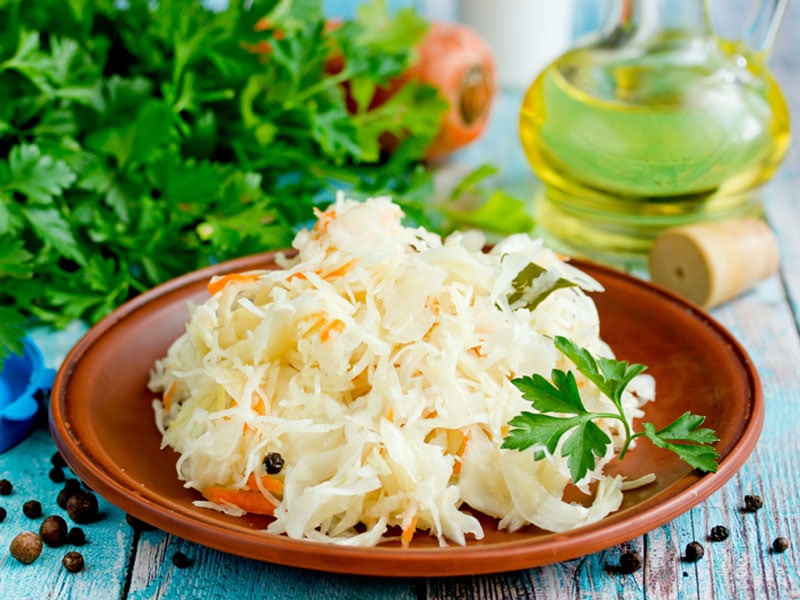 To people who are unfamiliar with sauerkraut, it can smell pretty bad. The sour and reminiscent vinegar can make people think twice before tasting it. But that feature makes sauerkraut special: it has a distinctive sour taste accompanied by a salty flavor.
Properly made sauerkraut should have a firm and a bit crunchy texture. Soft sauerkraut may be a result of insufficient salt or short fermentation time.
Best Dishes To Go With Sauerkraut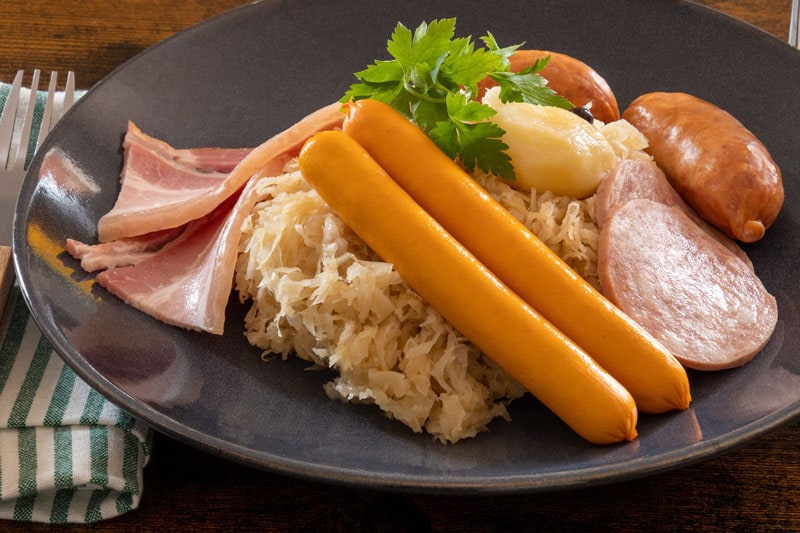 You can use sauerkraut as a condiment or a side dish with a lot of dishes. The sour and salty taste of sauerkraut is a great addition to many flavors. It can also reduce the greasiness of your main dishes.
People add sauerkraut to a variety of stews or soups. It can be served with smoked fish, eggs and hams, salted meat, and hotdogs. Sauerkraut also tastes good when cooked with beer or wine.
What Do Kimchi And Sauerkraut Have In Common?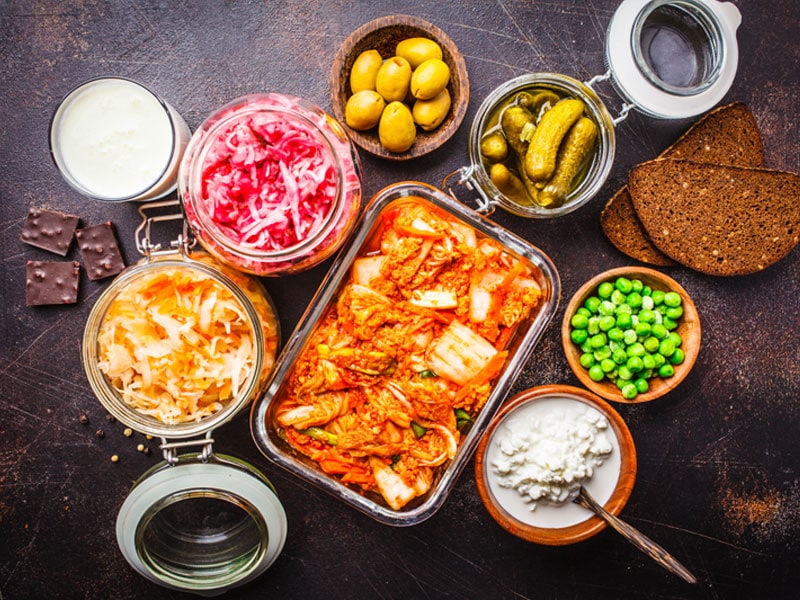 Despite originating from different cuisine cultures, kimchi and sauerkraut have many things in common. The main ingredient of them is cabbage, and both go through lacto-fermentation.
People prepare the fermented veggies at normal temperatures, with no heat treatment needed. That keeps the vegetables relatively raw and their nutrient contents intact.
They are both nutritious dishes due to containing a lot of probiotics and nutrients. You can find a high amount of fiber and low cholesterol content in them. Their probiotics are very healthy for your gut health. You can enjoy them as side dishes or use them to make other dishes.
FAQs
If you have reached this part of the article, you must have learned a lot about the similarities and differences between kimchi and sauerkraut. But I still have some further knowledge for you in this useful FAQs section:
Kimchi Vs. Sauerkraut: An Unsettled Fight
Kimchi and sauerkraut have their advantages and disadvantages over one, so it's impossible to decide which one is the better dish. Kimchi is more flavorful and nutritious, but sauerkraut is easier to make and has a better shelf life.
But you can always try both kimchi and sauerkraut to decide for yourself. One more thing: Your likes and comments will be a great encouragement for me to produce more content!
References:
Kimchi (2023) Wikipedia. Wikimedia Foundation.
Beyond sauerkraut: A brief history of fermented foods (no date) Living History Farms.