Meshana Skara/Мешана скара (Mixed Grill) is a traditional Bulgarian dish that showcases an array of sizzling grilled meats. It features everything from succulent pork chops and flavorful meatballs to juicy sausages, savory kebabs, and more.
Artfully arranged on a rustic wooden platter, this feast is crowned with a vibrant garnish of fresh vegetables and luscious roasted peppers. It's an enticing dish that generations of Bulgarians have been drawn to its hearty goodness.
Ready to introduce your kitchen to this Bulgarian culinary tradition? I've got an easy-to-follow guide that will help you recreate this delicious Meshana Skara (Мешана скара) – Mixed Grill recipe right at home. Let's dive in!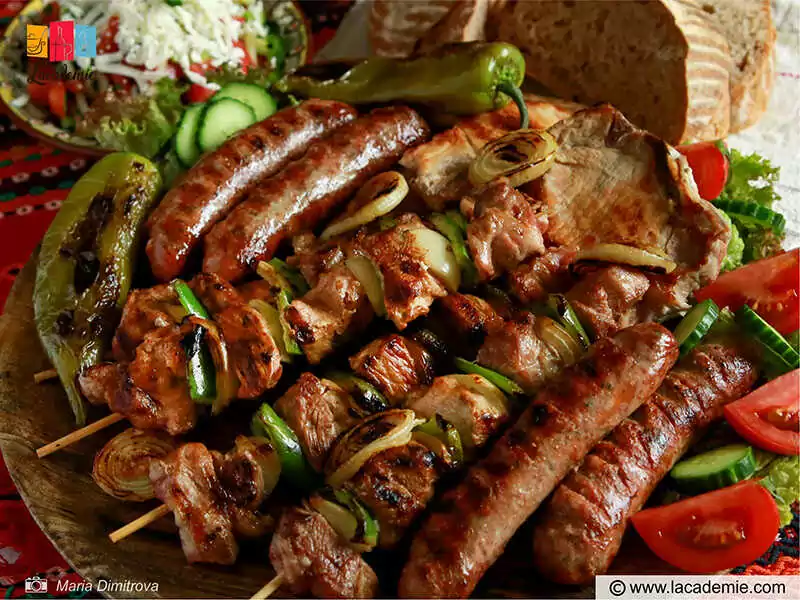 Why You Will Love Meshana Skara?
Variety: A medley of meats, including pork chops, meatballs, skewers, sausages, kebabs, and more, makes every bite an adventure in taste and texture.
Tradition: The Mixed Grill is an authentic Bulgarian dish, offering a unique opportunity to explore a rich culinary heritage.
Versatility: Complement the dish with spicy roasted peppers or a refreshing salad based on your preference.
Ubiquity: Restaurants across Bulgaria serve this crowd-pleaser, providing a delectable meal that will leave you satisfied and craving more.
Celebration: Traditionally served at large gatherings like weddings and christenings, the Mixed Grill brings a festive touch to any occasion.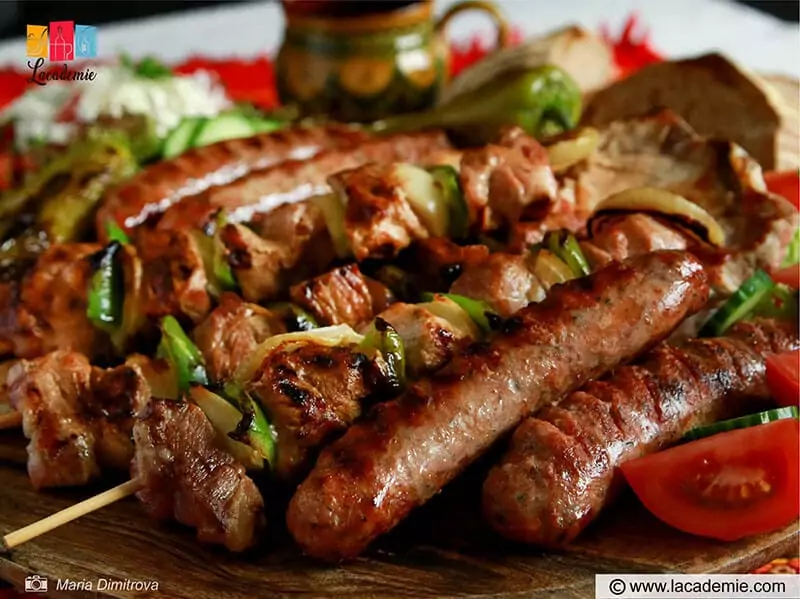 Tools
Grill Pan, or Electric Grill, or Barbecue: These are the central tools you'll need for cooking. They bring out the smoky flavors and lovely grill marks on your meats and vegetables.
Cooking Tongs: These are your best friends for safe, easy flipping of the meat as it grills. They'll help ensure your food cooks evenly and avoids sticking or burning.
Wooden Board: You'll need this for cutting your meat and vegetables, as well as for serving the finished dish for that rustic, hearty presentation.
Knife: This is essential for slicing and dicing your ingredients. Make sure it's sharp to ensure precise cuts.
Wooden Skewers: You'll use these to thread the meats and vegetables for grilling. Just remember to soak them in water before using them to prevent them from burning.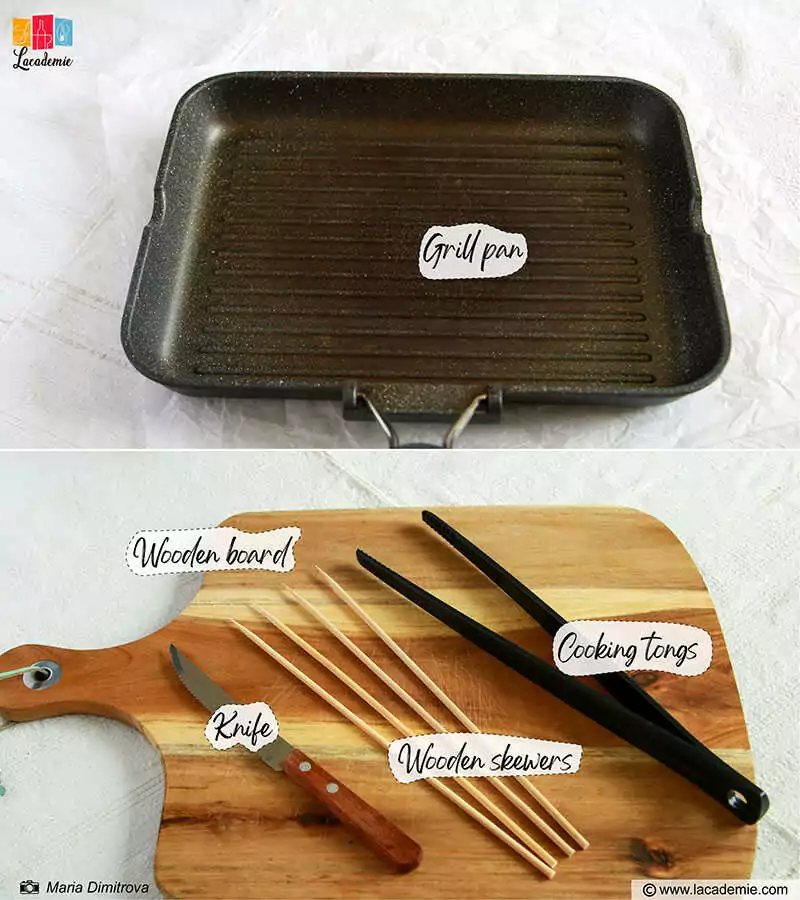 Ingredients
Pork Chops: A favorite in Bulgarian cuisine, pork chops are cut from the loin of the pig, resulting in tender, flavorful meat. You can enhance the flavor further by marinating them in a mixture of oil and spices before grilling.
Sausages: Pick any raw pork sausage that suits your palate. Go for spicy ones for an extra kick, or stick to regular ones for a more subtle flavor.
Skewers: Fresh pork neck or breast meat cut into skewer-friendly pieces. Remember, fresh meat trumps frozen in this recipe.
Vegetables: Think brown or purple onions, green or red peppers, zucchini, and cherry tomatoes. In this recipe, I use brown onions and green peppers. Grill any leftover veggies for a perfect side dish.
Salt: A key seasoning that'll bring out the best in your pork chops and skewers. Use fine salt for the best results.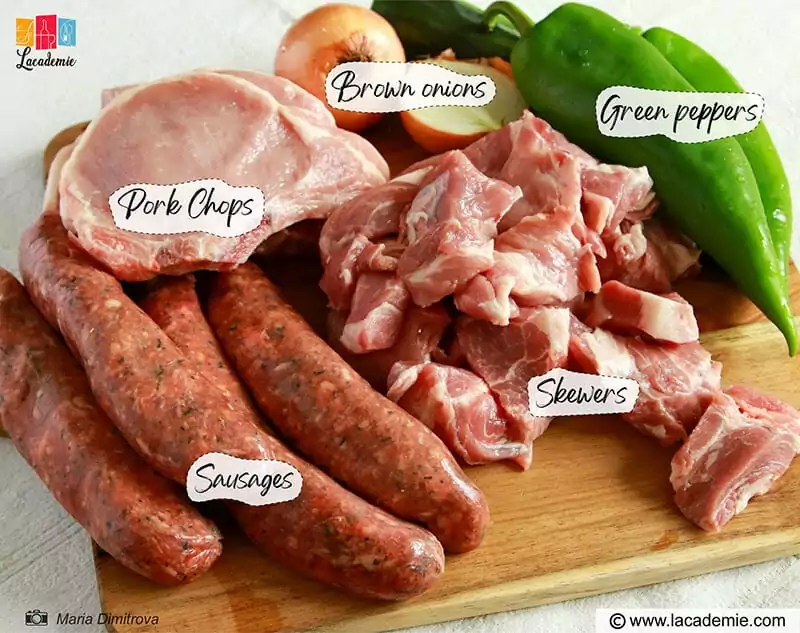 Instructions
Step 1: Prepare Your Ingredients
Pork Chops: Depending on your preference, you can marinate your pork chops in advance for added flavor. If you love the pure, natural taste of pork, just grilling them and sprinkling them with a little salt does the trick.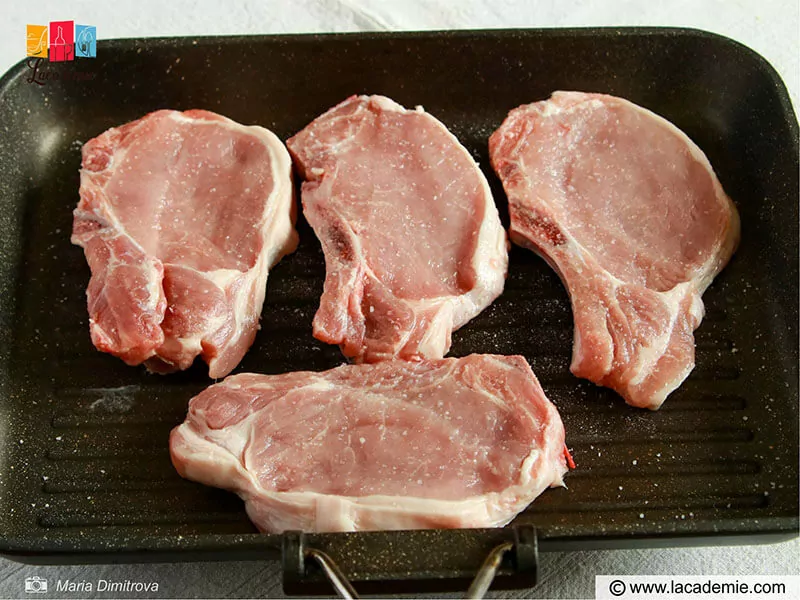 Sausages: Make delicate cuts along the sausages to prevent them from bursting while grilling. This also helps in cooking them thoroughly.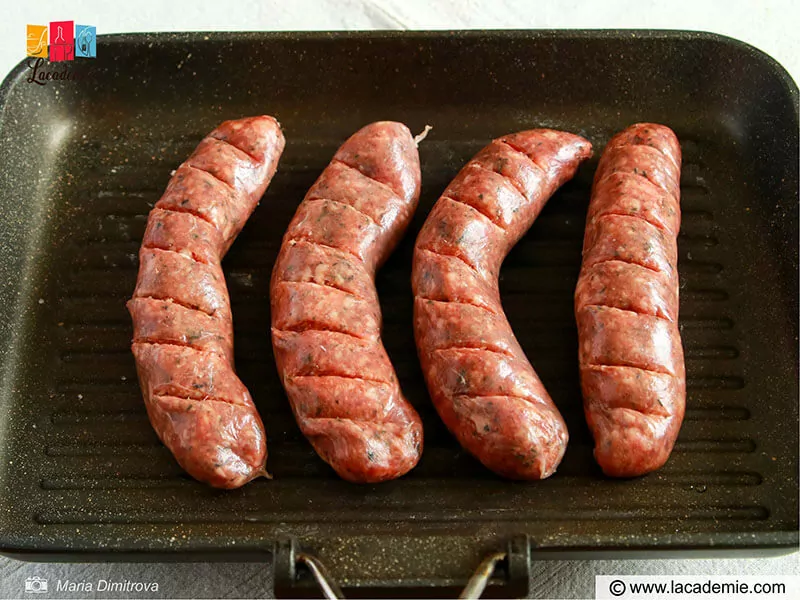 Skewers: Dice your selected meat and vegetables into bite-sized pieces. Make sure they're about the same size for even cooking. Thread the pieces onto your skewers, alternating meat with veggies like peppers and onions for color and taste variation.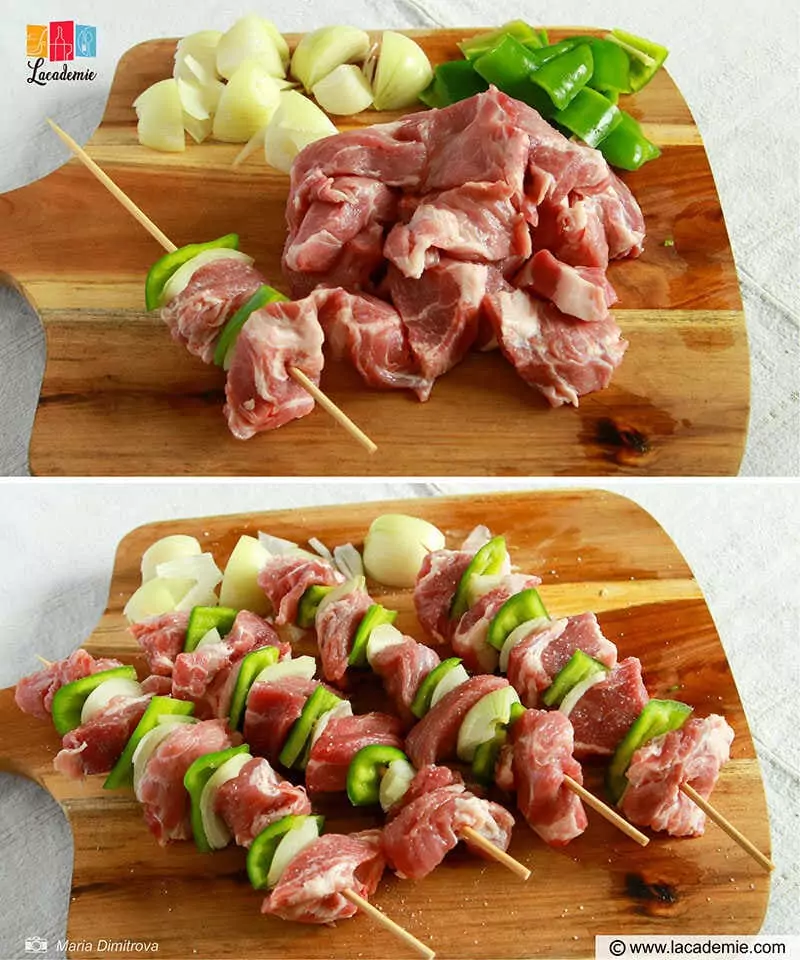 Step 2: Grill The Meat And Vegetables
Preheat your grill (grill pan, electric grill, or barbecue) to medium-high heat. Make sure your grates are clean before placing your meat and vegetables.
Pork Chops: Grill each side for approximately 4-5 minutes for a medium-rare finish. Adjust cooking time according to your preferred level of doneness.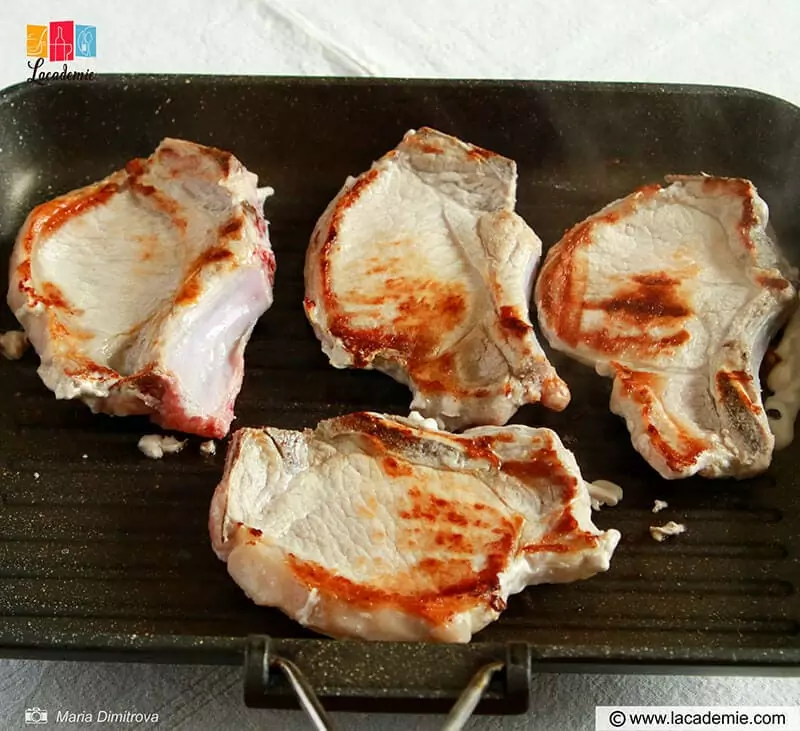 Sausages: Place sausages on the grill, occasionally turning, until they have a nice browned color and are cooked through.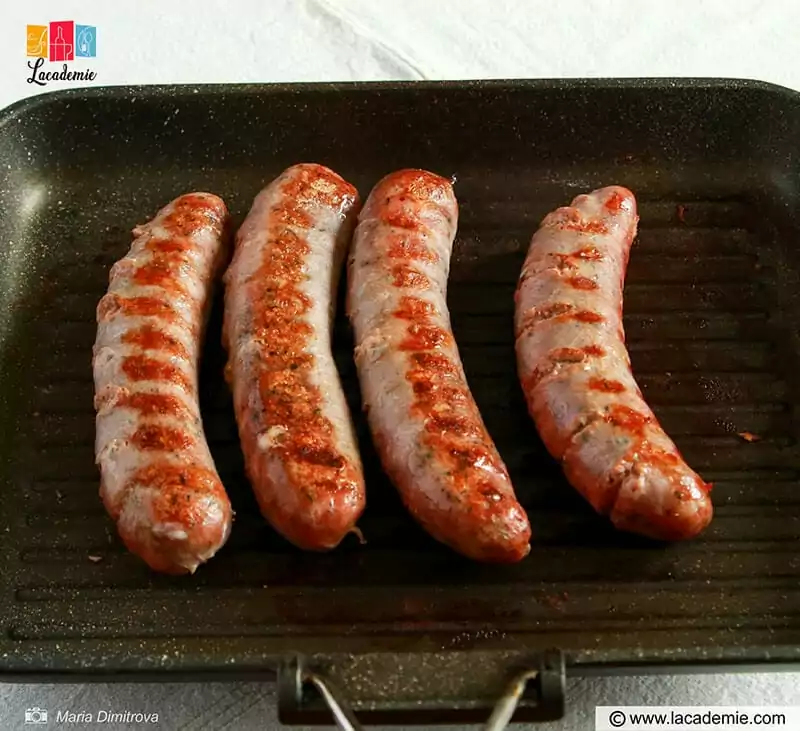 Skewers: Grill your skewers, rotating them periodically until the meat is done and the vegetables are tender.
Grill the leftover onions and peppers. They'll serve as an excellent garnish for your mixed grill.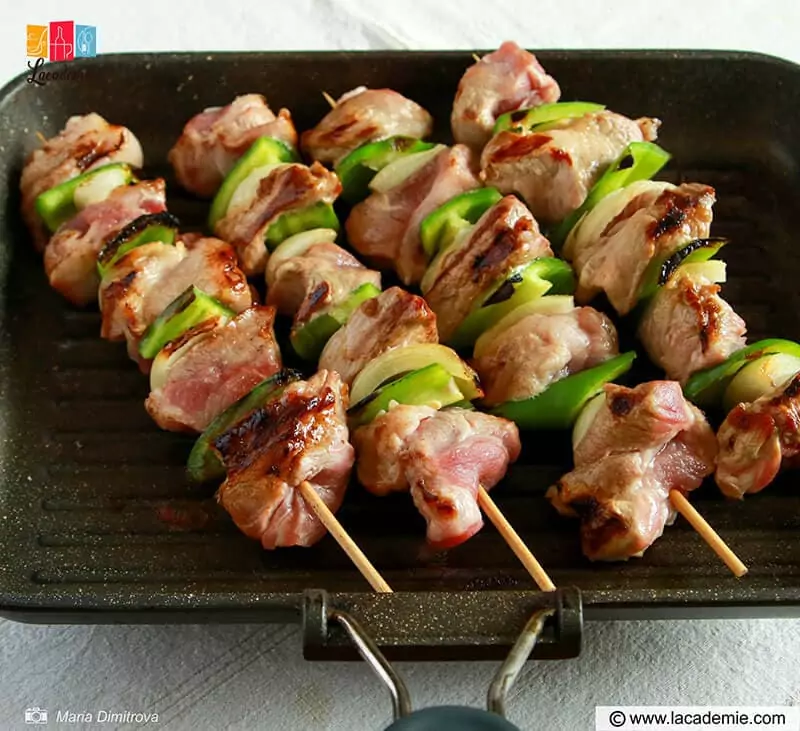 Note: Don't forget to season your pork chops and skewers while grilling. The sausages won't need any additional salt, as they're usually pre-seasoned.
Step 3: Rest And Serve Your Mixed Grill
Once your meat is grilled to your satisfaction, let it rest for a few minutes. This allows the juices to redistribute and enhance the flavors.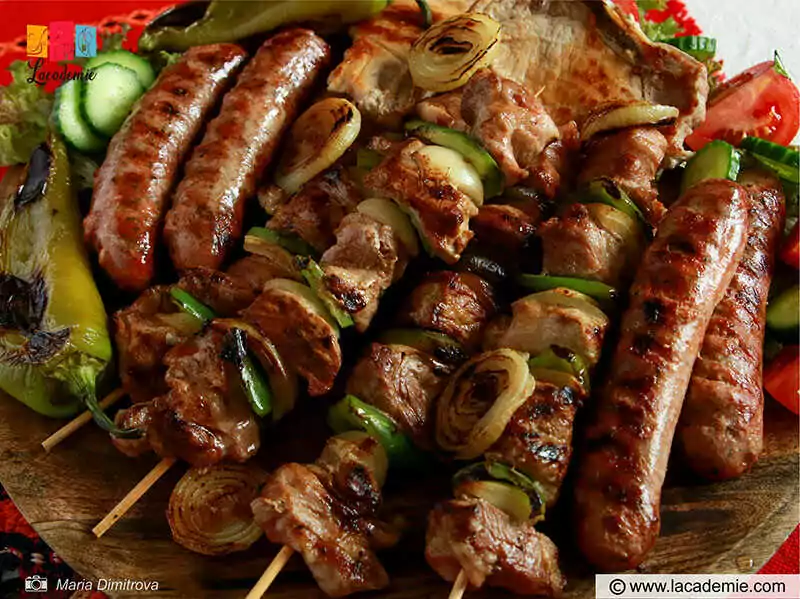 Serve your mixed grill on a wooden board or platter, arranging your pork chops, sausages, skewers, and roasted veggies together. Garnish with fresh veggies like lettuce, cucumbers, and tomatoes, and serve with your favorite sauces or condiments.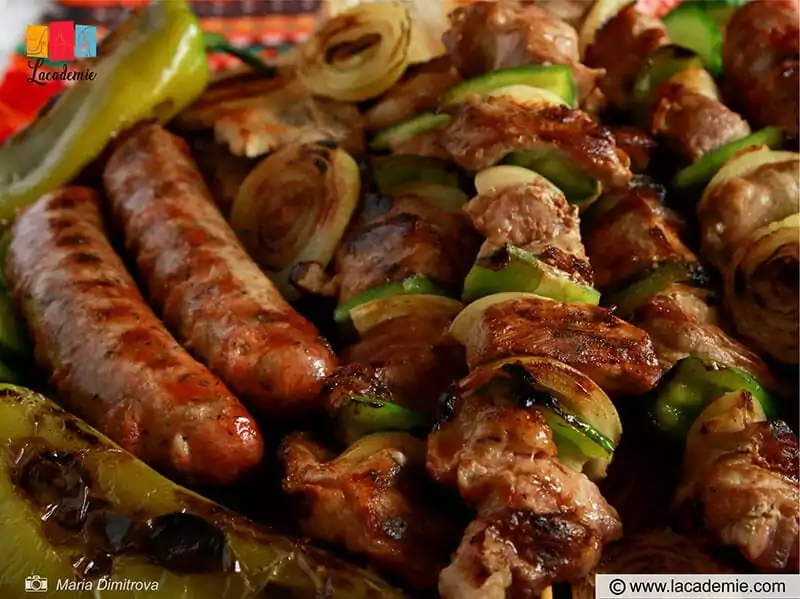 Finally, enjoy your homemade Mixed Grill. Its variety of flavors from the different meats and grilled vegetables are sure to impress!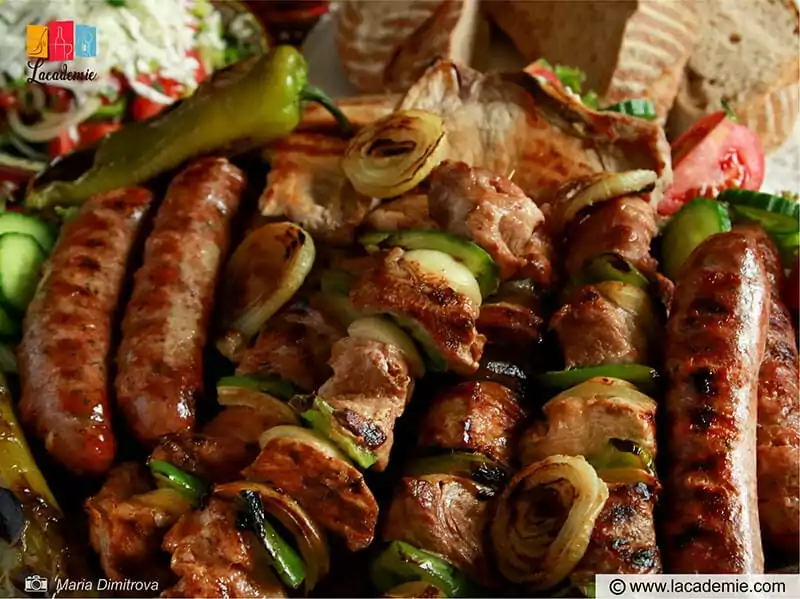 Tips And Tricks
Select Quality Meats: The taste of your Mixed Grill depends significantly on the quality of your meats. Choose fresh, high-quality cuts for the best flavor.
Marinate for Flavor: Marinating your meats, especially the pork chops, can significantly enhance the taste.
If you have time, consider creating a simple marinade using ingredients like olive oil, garlic, and paprika, and let your meat soak up these flavors for a few hours or even overnight.
Heat Management: It's crucial to manage your grill heat properly. Too hot, and your meat might burn on the outside while remaining raw inside. Too cool, and your meat might dry out before getting those beautiful grill marks. Medium-high heat is typically ideal.
Rest Your Meat: After grilling, let your meat rest for a few minutes before serving. This helps the juices redistribute throughout the cut, making it juicier and more flavorful.
Presentation Matters: Serving the dish on a wooden board adds a rustic touch. Garnishing with fresh veggies not only makes the platter look more appealing but also adds a fresh, crunchy contrast to the hearty grilled meats.
Ideal Sides For Your Meshana Skara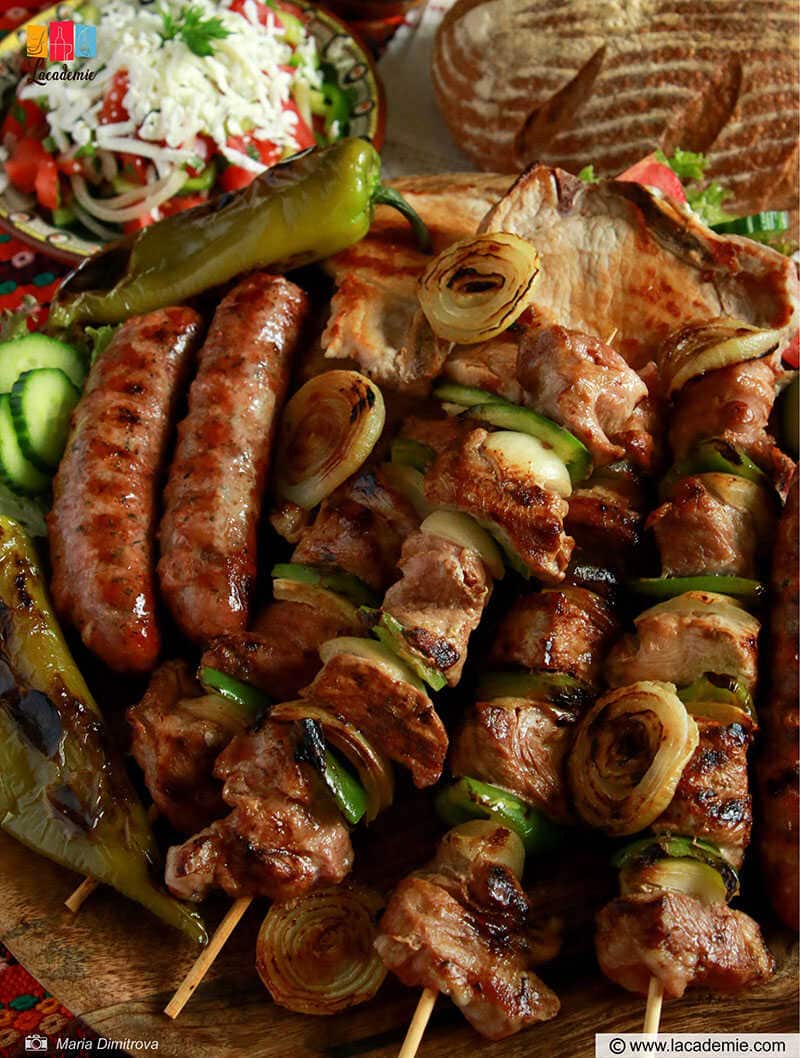 French Fries: A side of golden, crispy French fries is a classic companion to Meshana Skara. The lightly salted, crunchy fries provide a delightful contrast to the hearty meats.
Lyutenitsa: This tantalizingly tasty spread, made from roasted peppers, tomatoes, and aubergine, adds a layer of complexity to the meal. Its mildly spicy and sweet taste makes it an excellent partner to the robustly flavored grilled meats.
Bean Salad with Onions: A refreshing bean salad tossed with crisp onions provides a much-needed respite from the richness of the meats. It's a cooling and nutritious addition that balances the overall meal.
Drinks: As far as drinks are concerned, Bulgarians have a few traditional favorites to complement this meaty feast. Washing down Meshana Skara with a chilled glass of local beer is a common practice, enhancing the overall dining experience.
Alternatively, a shot or two of Rakia, the traditional fruit brandy of Bulgaria, can also be a delightful accompaniment. Its strong, fruity notes cut through the richness of the dish, creating a harmonious balance of flavors.
How To Store Bulgarian Mixed Grills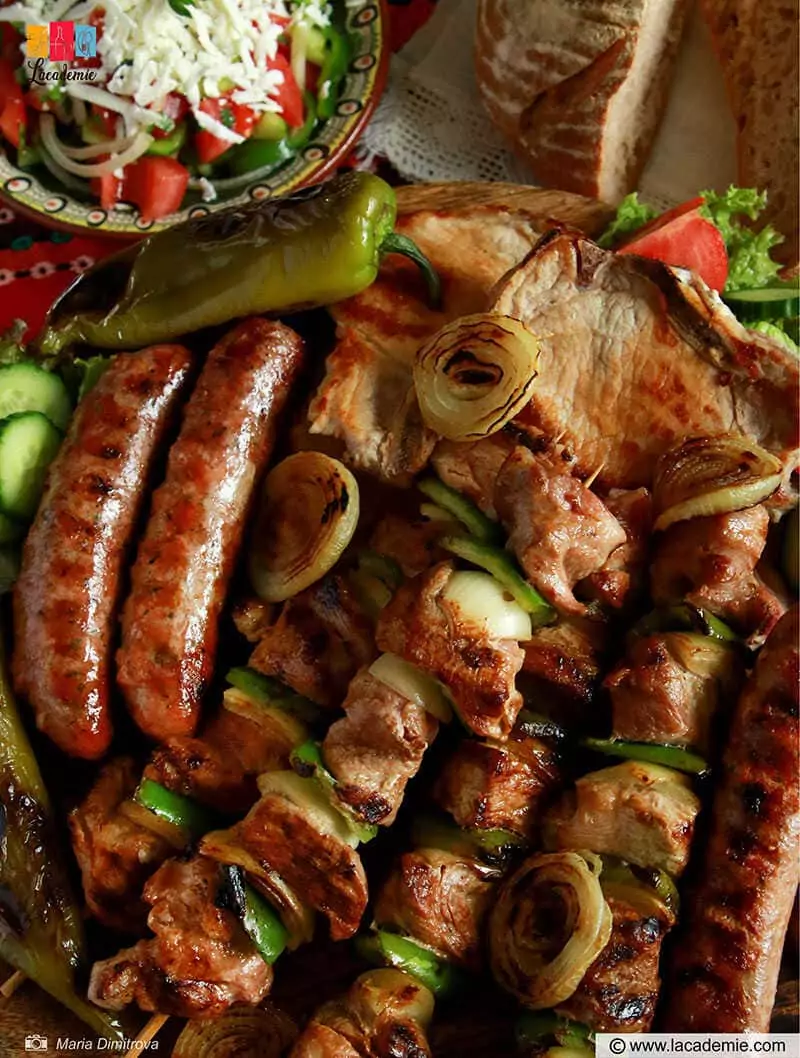 First, ensure that your meats have entirely cooled down. It's essential to avoid leaving them at room temperature for more than two hours for safety purposes.
Once your grilled meats have cooled, they can be placed in airtight containers or resealable zip-top bags. If you intend to eat the leftovers in the next few days, simply place them in the refrigerator. The chilled environment will safely preserve your meats for up to 3-4 days.
For more extended storage, freezing is your best bet. Transfer the cooled meats to freezer-safe bags or containers, making sure to remove as much air as possible before sealing. Properly stored, your Bulgarian Mixed Grill can last for up to 3 months in the freezer.
When it's time to reheat, if the meats were refrigerated, warm them up in a preheated oven at a low temperature, around 275°F, until heated through. If the meats were frozen, they should first be thawed overnight in the refrigerator before following the same reheating process.
Like This Recipe? Bulgarian Cuisine Has More To Offer!
Shopska Salad: This traditional Bulgarian salad, made with tomatoes, cucumbers, onions, peppers, and grated sirene cheese, provides a refreshing contrast to the richly flavored meats. It's a dish that goes perfectly alongside Meshana Skara.
Tikvenik: This is a traditional Bulgarian pastry roll filled with sweet pumpkin and spices. It's a delicious dessert, often dusted with powdered sugar and enjoyed during the winter season or on special occasions.
Supa Topcheta: Literally translating to 'soup with meatballs,' this is a popular comfort food in Bulgaria. It is a warm, flavorful broth with tender, bite-sized meatballs, vegetables, and herbs. It's a perfect dish to cozy up with on a chilly day.
Kebapche: It's a grilled dish made of minced meat that's been mixed with spices and then shaped into an elongated form. It's typically served with a side of Shopska Salad and fries, making it a hearty meal that's loved by locals and tourists alike.
FAQs
Grill To Your Heart Content!
Meshana Skara is a wonderful taste of Bulgarian cuisine that brings together diverse flavors and textures. I hope you'll enjoy making this tasty dish and have a great time savoring it with your loved ones!
If you enjoyed this recipe or have any questions or tips of your own, I'd love to hear from you. So please feel free to leave a comment below. Don't forget to hit the like button and share it with your friends and family. Let's spread the love for Bulgarian cuisine far and wide!
Nutrition Facts
8 servings per container
---
Amount Per ServingCalories259
% Daily Value *
Total Fat 14.1g

22

%
Cholesterol 85mg

29

%
Sodium 115mg

5

%
Potassium 538mg

16

%
Total Carbohydrate 4.6g

2

%

Dietary Fiber 1.4g

4

%
Sugars 2.2g

Protein 27.3g

54

%
---
* The % Daily Value tells you how much a nutrient in a serving of food contributes to a daily diet. 2,000 calories a day is used for general nutrition advice.